When most people think of Constant Contact they think of "Email Marketing". Over the years, Constant Contact has grown from a reliable email marketing solution to an all-in-one digital marketing platform for small businesses. But is it still a good choice for email marketing today? This article provides the information needed to decide if Constant Contact is the right email marketing system for your business.
What is Constant Contact?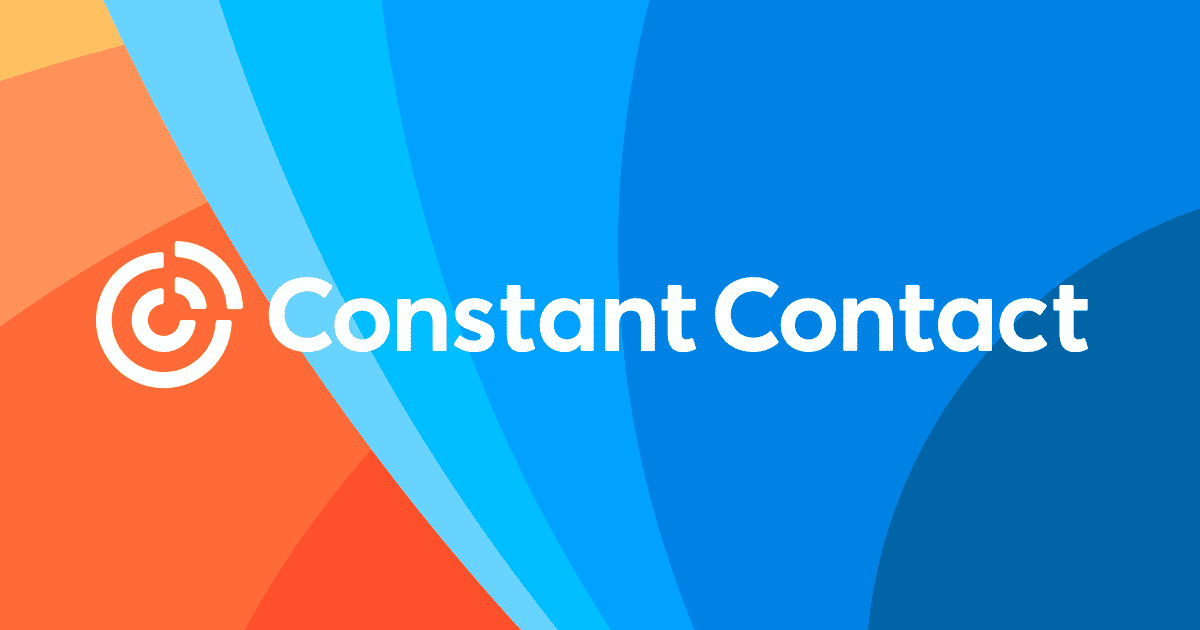 Constant Contact is an all-in-one digital marketing platform that has been a consumer favorite for decades as one of the best email marketing services. Although it is known to be incredibly stable for email marketing, in recent years, it has kicked up innovation to create a suite of performance tools for its small business customers.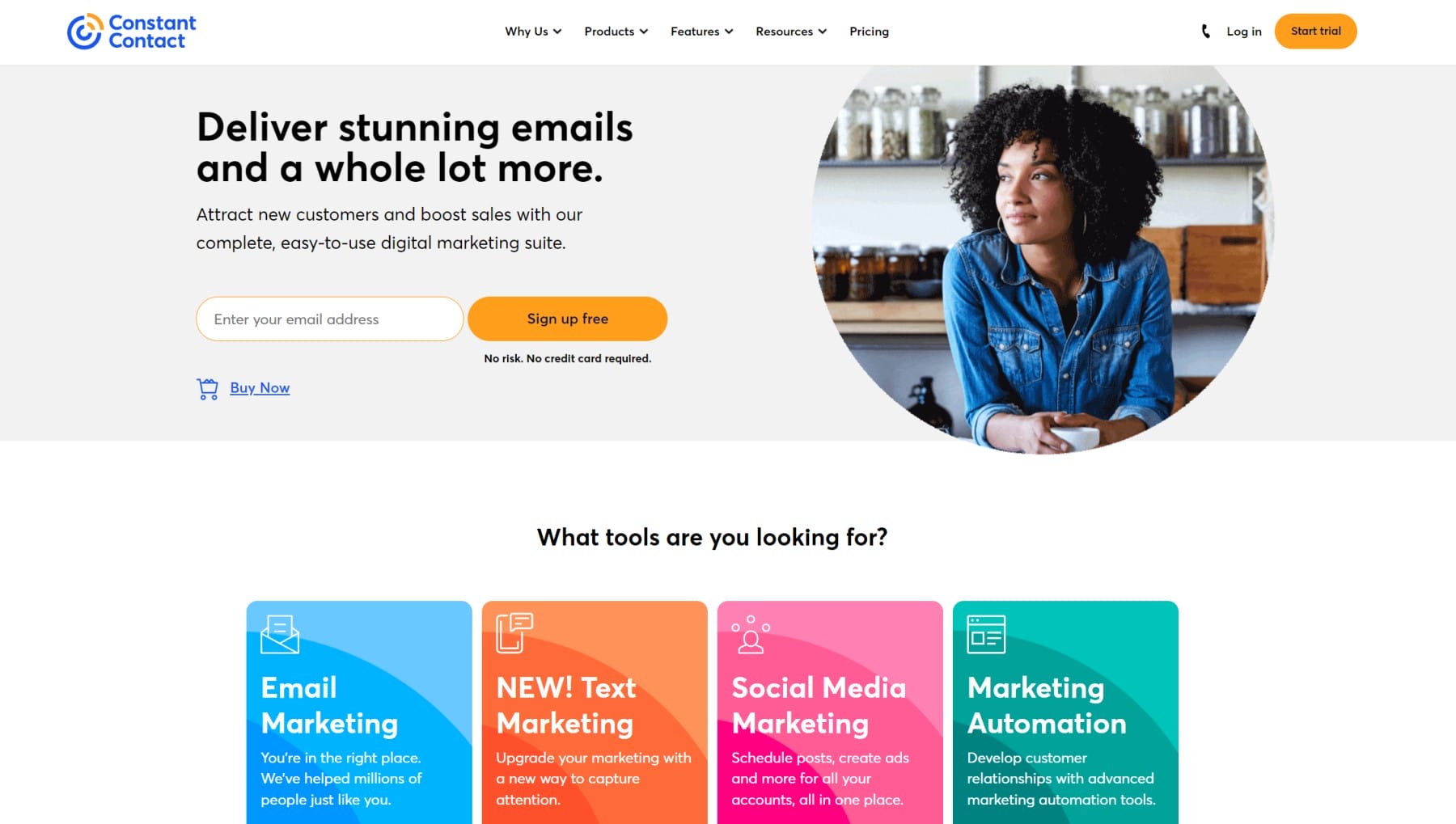 Constant Contact surpasses what is typically expected of email marketing with features such as email automation, social media handling, texting, eCommerce, and AI. So, whatever industry you are in, it seems that Constant Contact has the tools any small business would need to implement a successful marketing strategy.
Pros and Cons of Using Constant Contact
Any email marketing platform will have to make trade-offs with what it offers its customers. Overall, Constant Contact is a reliable platform that is investing heavily in innovation. Here is a brief look at some of the pros and cons of the platform:
Pros
Cons

Free Trial
Simplest Interface
Scalable Platform
Great Customer Service
High Deliverability Rate
Native SMS Marketing

No Free Plan ($9.99)
Low number of 3rd Party Integrations
Surveys & Event Solutions are pretty dated
No In-built CRM (Except in the $449 tier)
To fully understand what Constant Contact offers, we need to quickly dive into their tiered pricing structure and what features belong to each.
Constant Contact Pricing
With Constant Contact, plans start at $9.99. For Digital Marketing, it offers a Core Plan and a Plus plan. But it also offers an all-in-one Marketing Automation+ plan as well (though technically that is a separate product suite).
Core: Starting at $9.99/mo
Plus: Starting at $45/mo
Marketing Automation+: Starting at $449/mo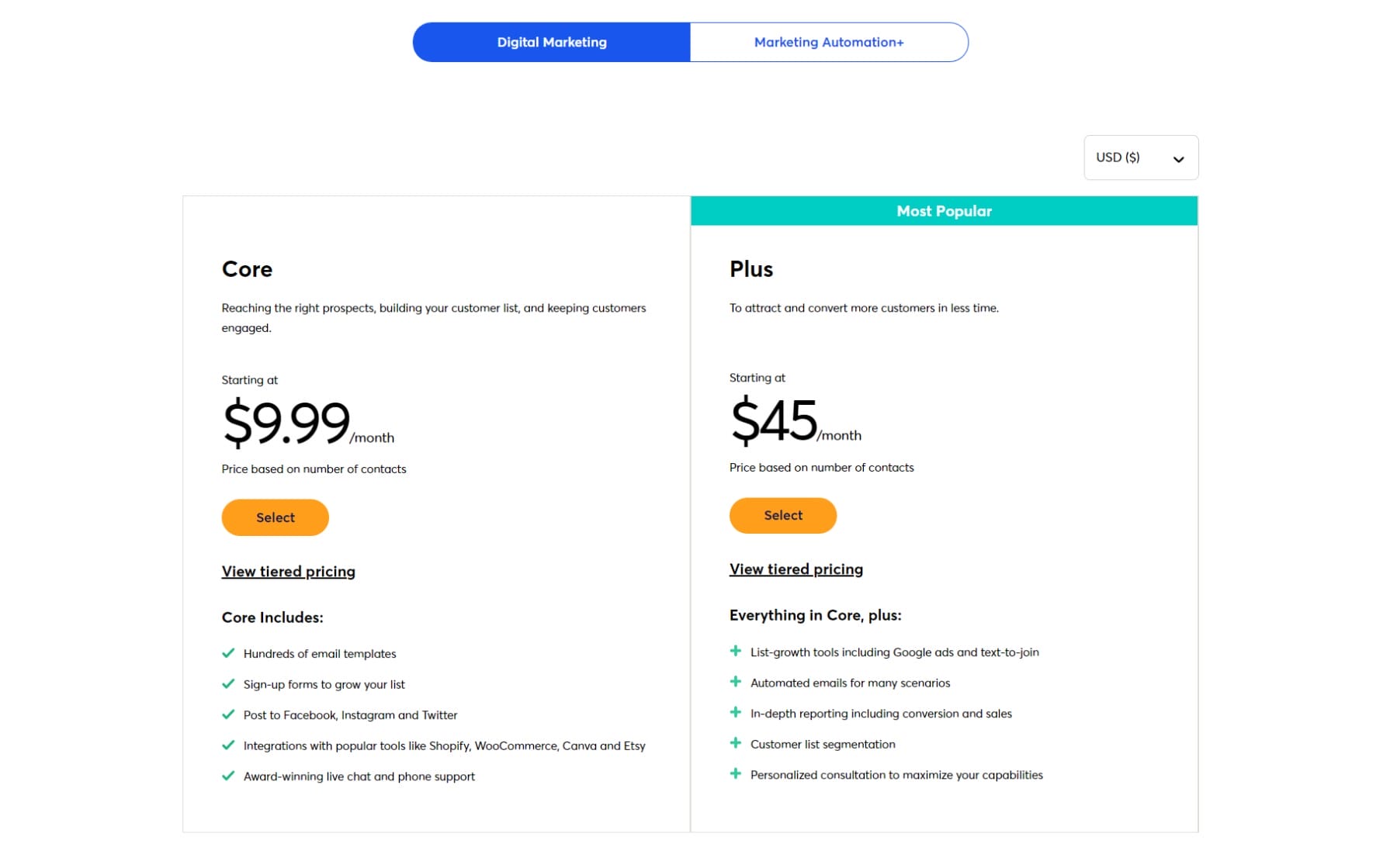 Each subsequent plan has more and more features offered to deliver exactly the solutions particular use cases need. The plans and their general use case are:
Core – Email Newsletters and Social Media Management
Plus – Mid-ranged Email Automations and eCommerce Insights/Segmentation
Marketing Automation+ – Advanced Automation, Lead Scoring, Opportunity Management, and CRM
*SMS – SMS can be added to Core and Plus plans
Currently, with the Core plan, you are allowed up to 500 contacts for $9.99/mo. The number of emails you can send per month is limited to 24 times your total contact count. You can upgrade for more contacts and email sends with their tiered pricing.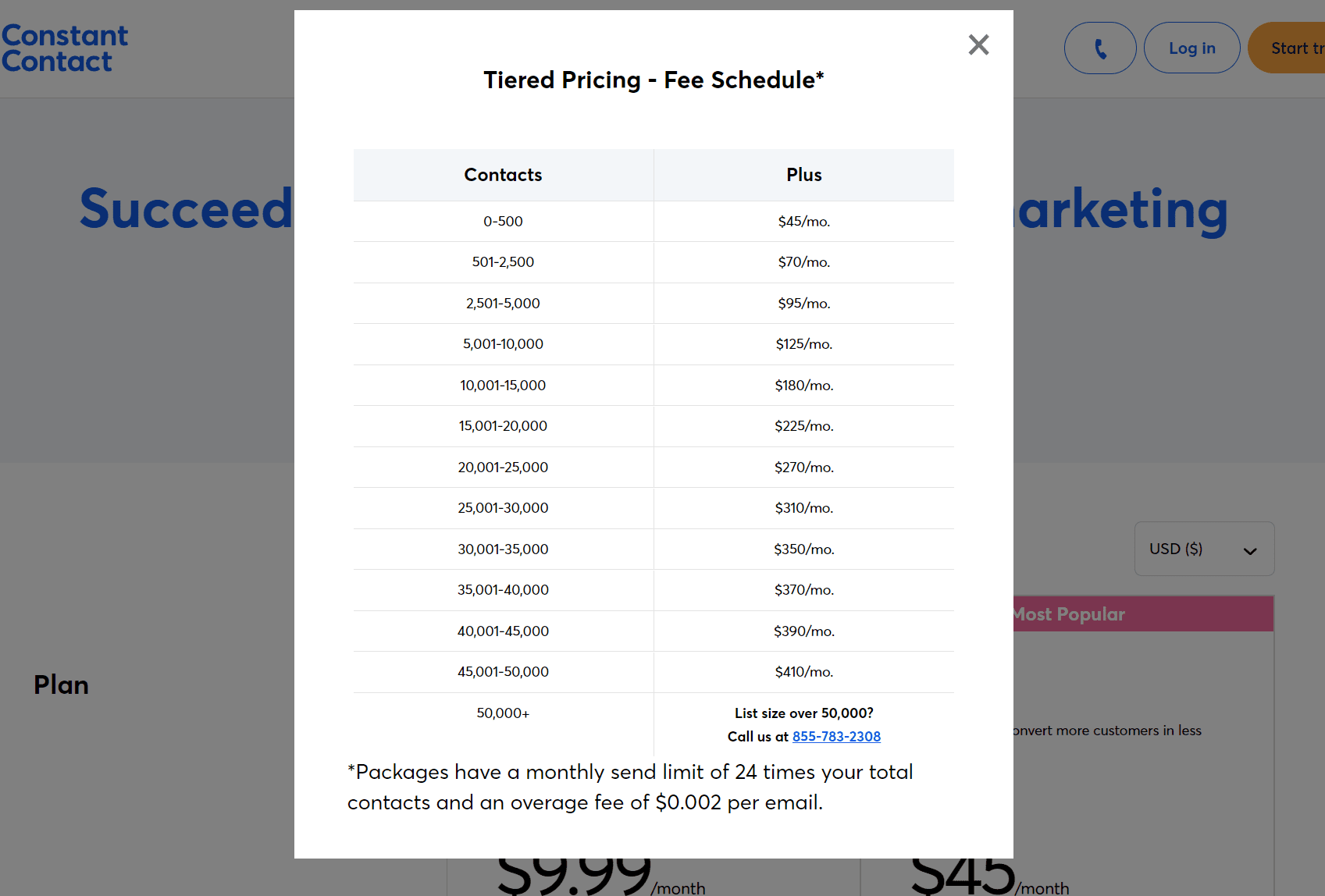 See the Current Constant Contact Pricing.
It isn't a hidden secret that Constant Contact's Marketing Automation+ plan is technically outside of Constant Contact itself. In late 2021, SharpSpring was acquired by the email marketing giant to add a professional suite of tools to the company's portfolio. Time will tell if the two platforms are merged or continue to operate as two separate tools.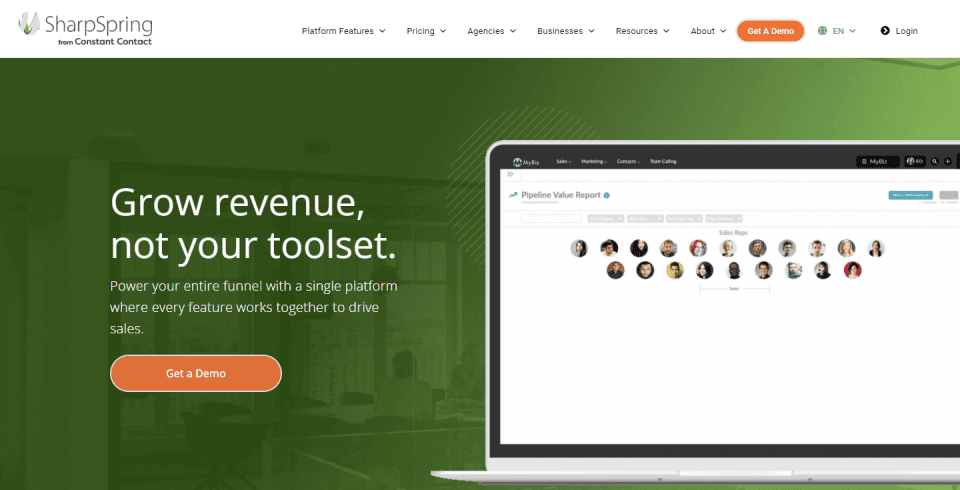 Regardless of the business details, Constant Contact has developed a strong set of tools for marketers and business owners at every stage of sophistication. Next, we'll take a deeper dive into the features of each of these plans that can be taken advantage of.
Constant Contact Email Marketing Features
Constant Contact is one of the most popular email marketing platforms available. It's known for its easy-to-use automation features and excellent customer support. We'll take a deep dive into several feature categories so you can understand what Constant Contact fully has to offer.
At the end of the day, managing contacts and sending email blasts is the basic job of an email marketing service. Some platforms offer more complex tools and services catered to professional marketers rather than to DIY small business owners who are juggling multiple tasks. Constant Contact allows users to easily create emails and manage their contact lists seamlessly. While it may not be perfect for everyone, the company has made great strides, providing various levels of complexity in its features.
Email Templates
To get into it, the cornerstone of the Constant Contact experience is in the email creation flow. For most, they start with one of the hundreds of email templates that are pre-built and ready to be customized.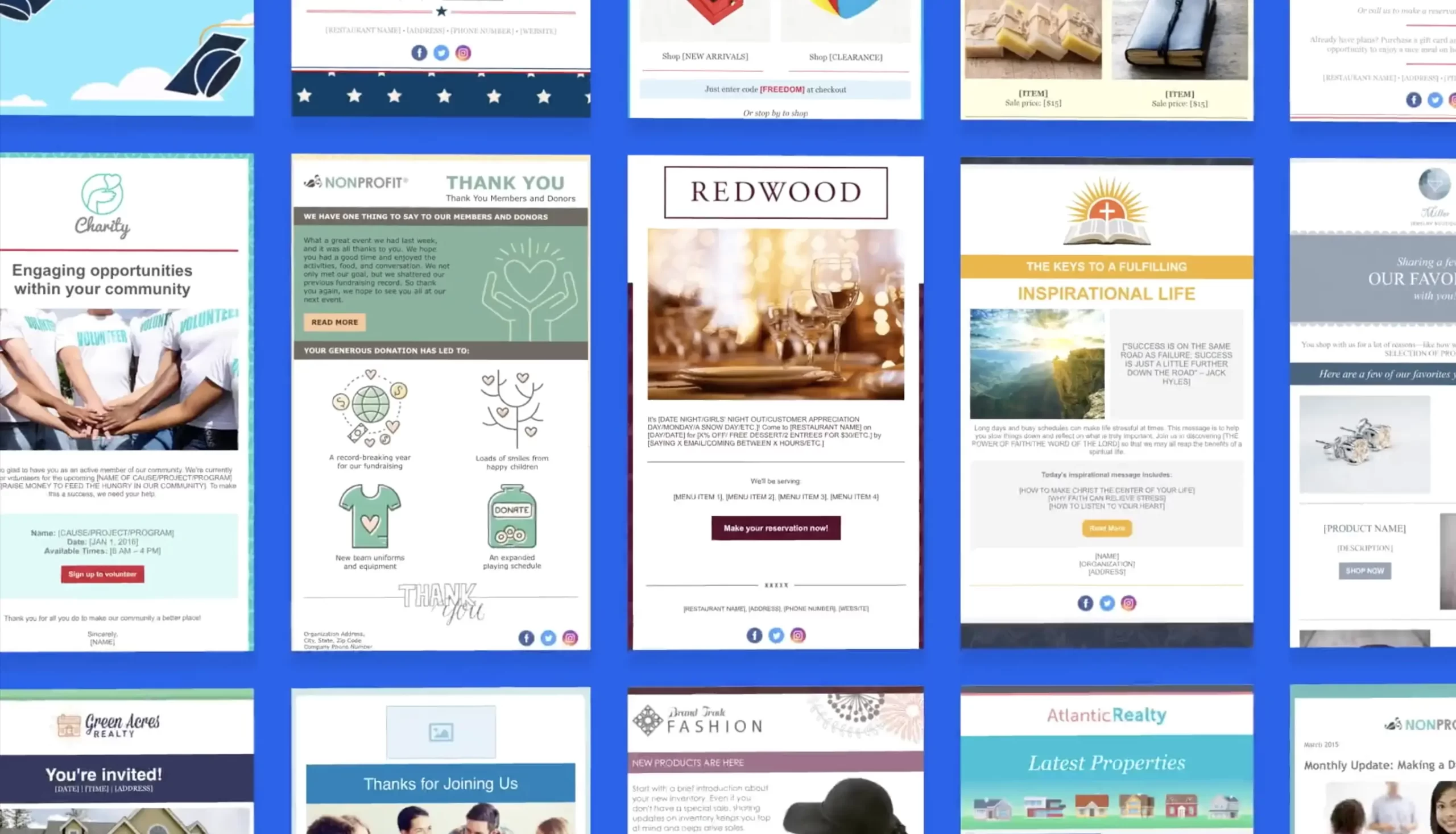 Constant Contact has also been slowly developing a brand template creator that works with a simple URL. For businesses just beginning, you can even use your Facebook business page instead of a website.

It works by quickly pulling in your website's logo and brand colors, and gives you a quick choice of layout preference for your template. Many drag-and-drop interfaces are great for building emails but can be difficult to when it comes to styling. The branded template option gives a headstart on those settings so that business owners can get to the meat of their email building.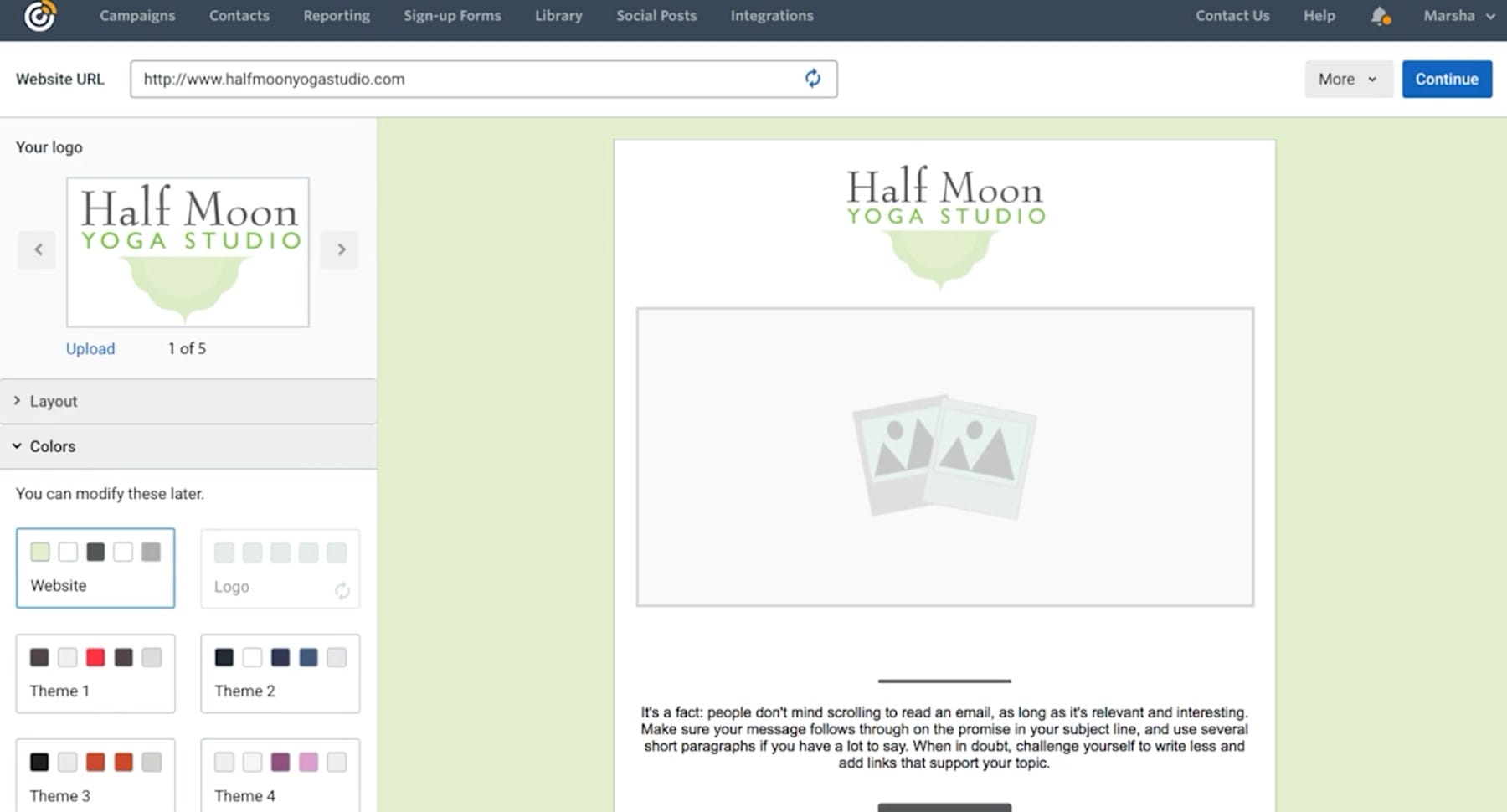 One downside to Constant Contact templates is that they save as "Campaigns". These campaigns are merely copied for reuse. Mailchimp, for instance, allows you to create a template that is altogether different from campaigns. This helps to differentiate between their use cases. In Constant Contact, you might find yourself editing a template without realizing it.
Creating Emails
Constant Contact has a strong drag-and-drop editor. There are several "blocks" that you can drag into the email to visually place them where you want. This is dead simple and lets you get right into creating your content.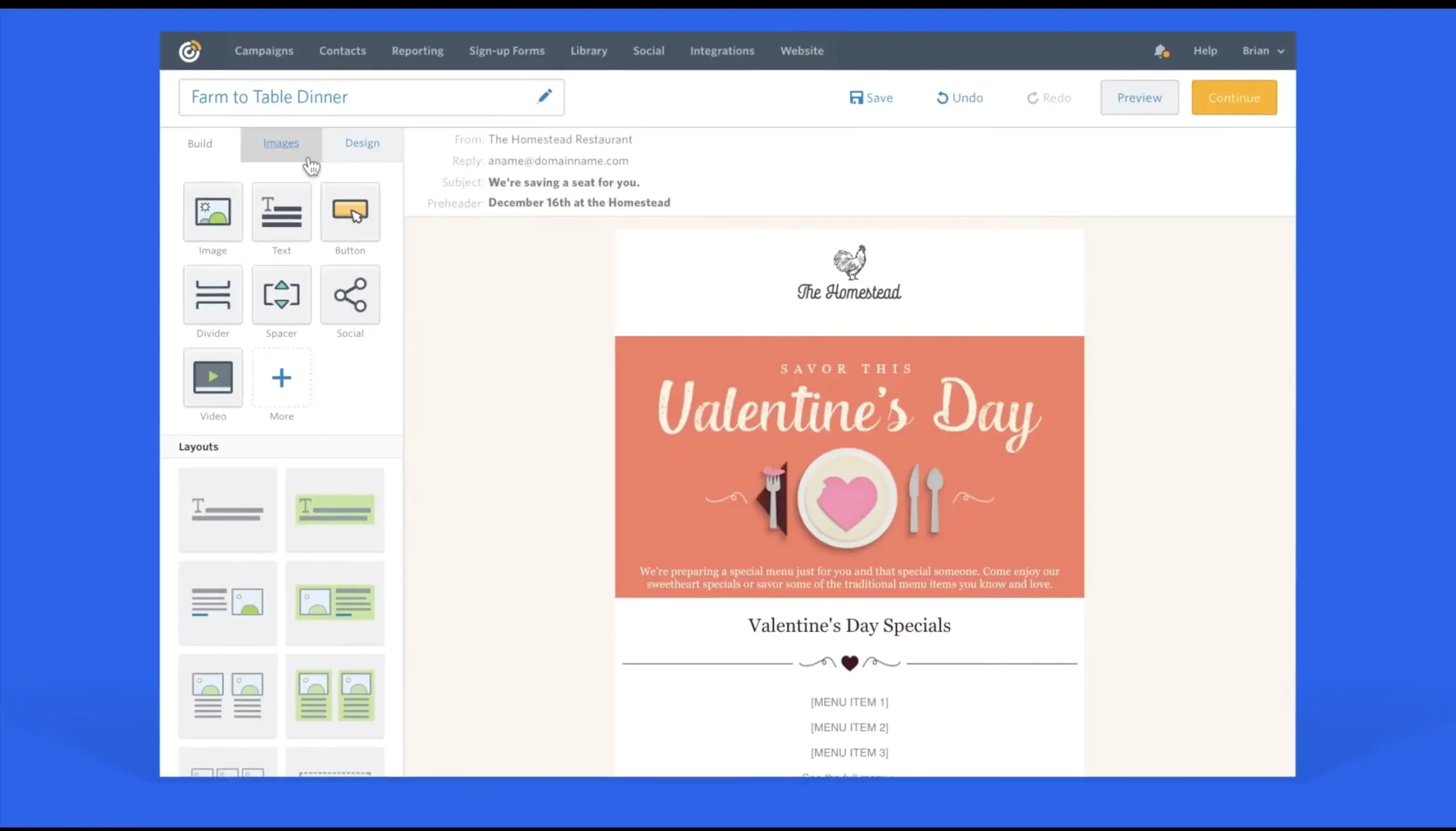 Constant Contact's emails are reliable in rendering fidelity to a myriad of email clients (new and old). It has solid industry relationships with email service providers (ESPs) that allow them to quickly troubleshoot new issues. In addition, Constant Contact emails are mobile responsive. And, the editor gives you a chance to see both desktop and mobile views of your email while you are creating it.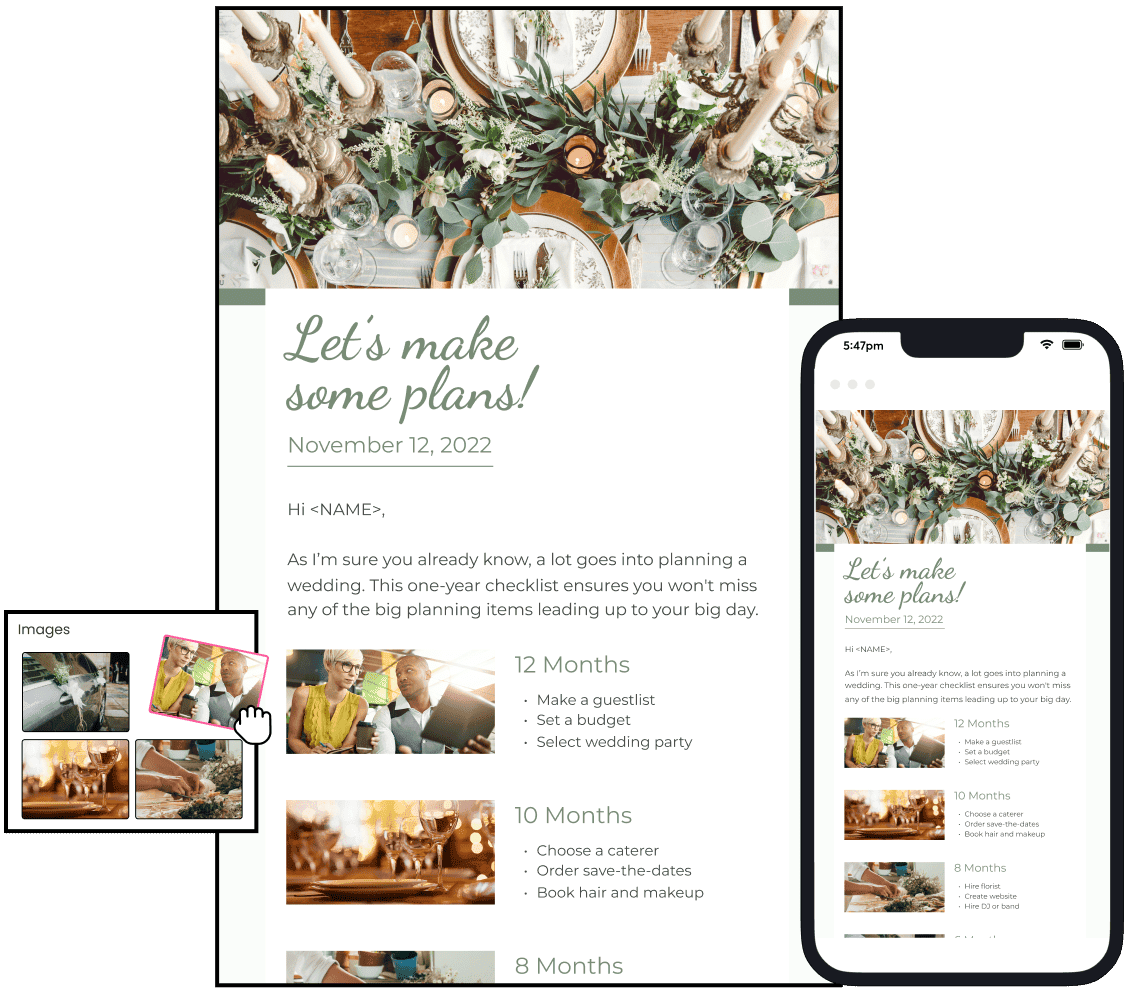 Contacts and List Management
Contacts and Contact Lists are a vital part of sending emails. Usually, it is contact lists that hold most of the strategy behind email marketing.
Constant Contact lets you create contacts, add them to lists, add tags to individual contacts, and assign notes to each contact. This basic functionality is present in every pricing plan.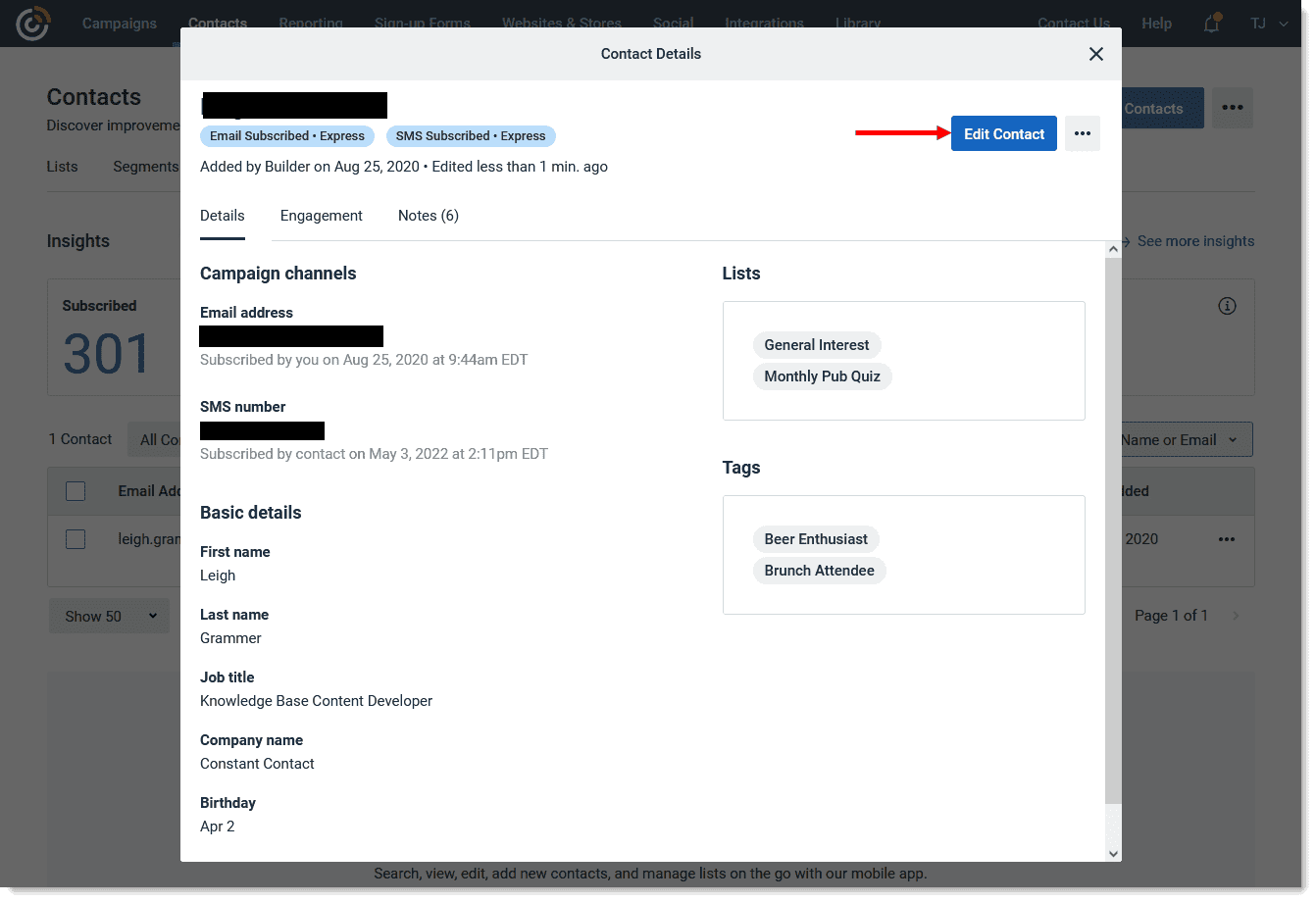 For the Plus plan, you can unlock more powerful email segmentation functionality. You can create segments using conditional for activity, engagement, dates, and tags. These segments may refresh with the latest data at any point.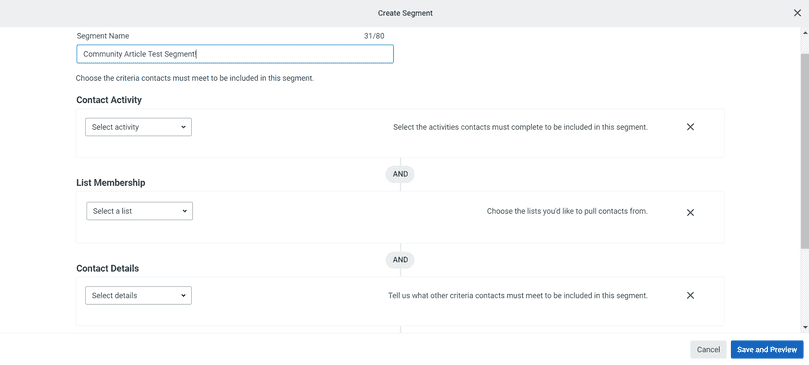 We won't cover segmentation for Marketing Automation+ since, as we mentioned above, that plan is actually with Constant Contact's acquired brand, SharpSpring.
Constant Contact Email Marketing Reports
Reporting is essential to any effective email strategy. Being able to see progress over time as your lists grow and mature is the only way to tell if you are doing everything correctly. Your contacts will be the first to tell you if your emails are off-base or uninteresting (unsubscribes).
Constant Contact gives detailed, real-time reporting on your sent email campaigns. Reported data includes:
Successful Sends
Bounces (Various Types)
Opens
Did Not Open
Clicks
Spam Reports
Unsubscribes
Comparisons of Vital Metrics to Industry Averages and List Averages
It also shows trends in audience responses to marketing emails by providing an overview of campaigns in certain timespans.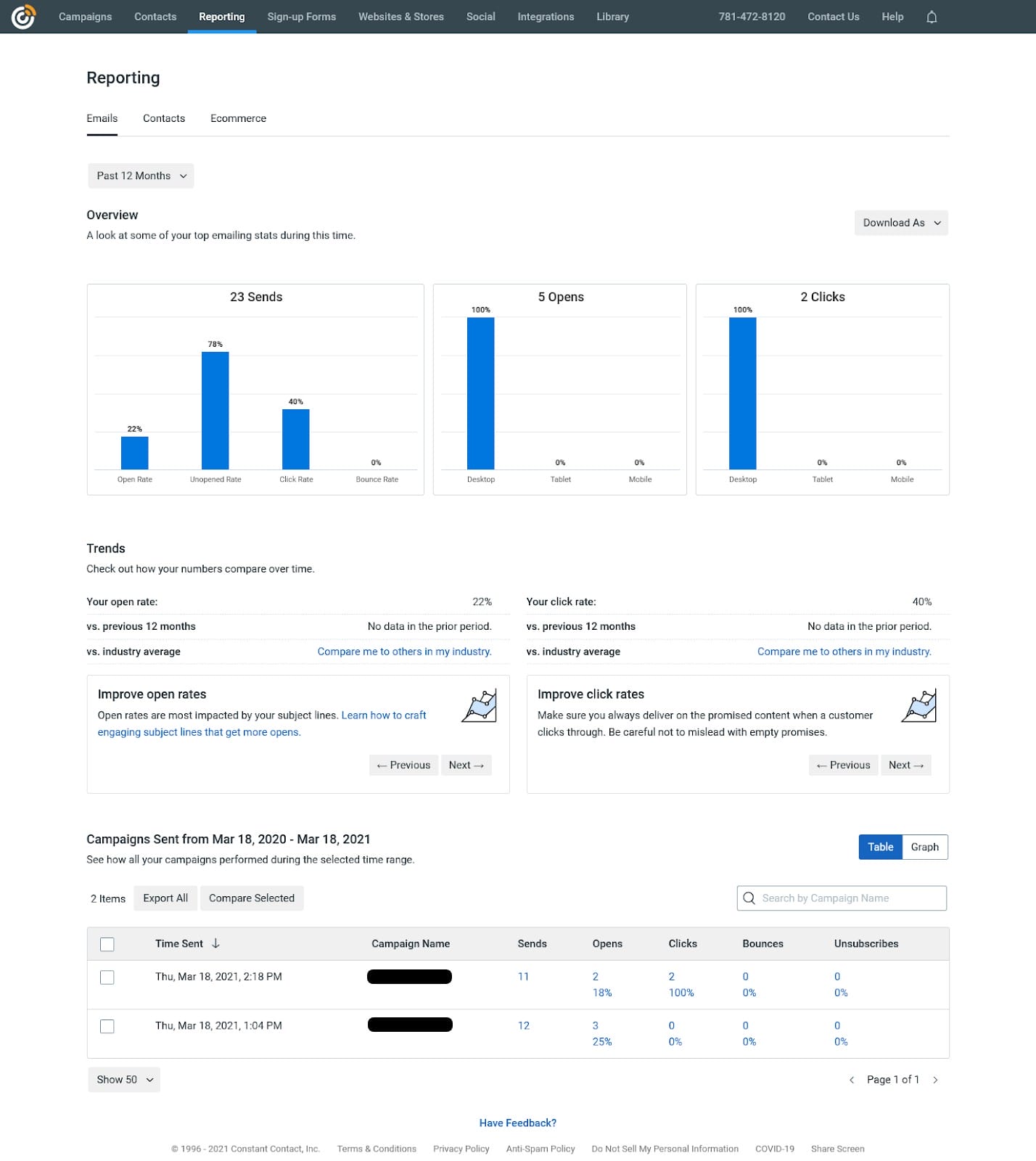 For eCommerce stores (such as WooCommerce or Shopify) Constant Contact's reporting can go a little further for you. Connecting the integration will pull eligible subscribers into your Constant Contact account and will do so automatically every day. One less list upload on your hands.
More than that, Constant Contact can automatically segment your customer data into powerful yet easy-to-use segments. Want to send an email to your best customers? What about people who haven't purchased in a while?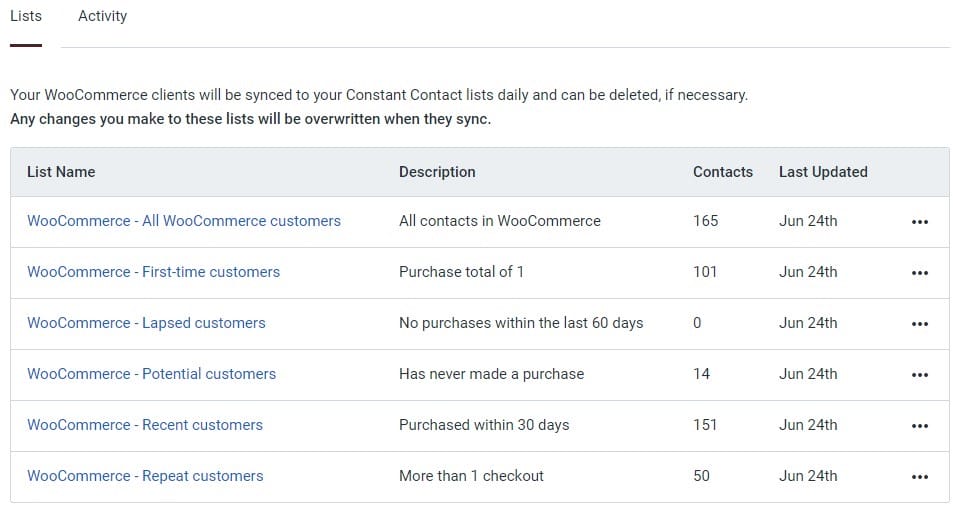 Constant Contact can analyze store sales data to determine if an email campaign had an impact. Email attribution reports give you a glimpse into what is working and where you can improve.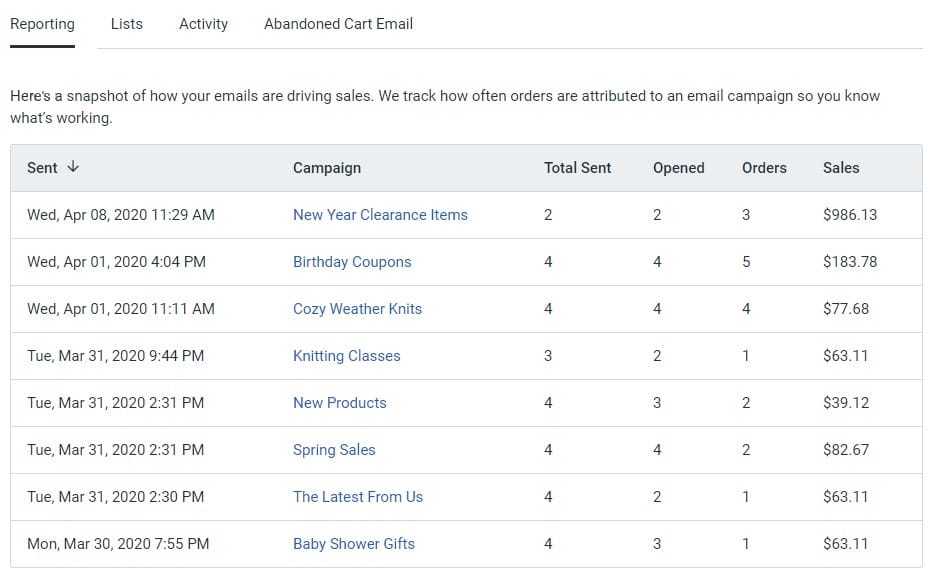 List Growth and Lead Generation Tools
Constant Contact's email marketing tools are more than sufficient, to be sure. Its lead generation tools, however, are a weakness for them but it does have some working tools to help out its customers.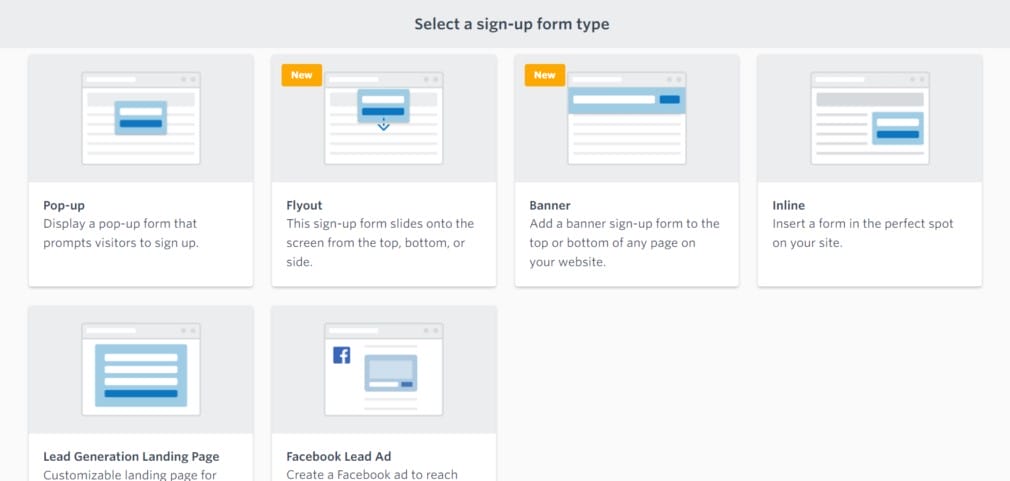 Signup Forms
Constant Contact signup forms are bare and offer very little nuance. For website owners who want the easiest possible solution and then never think about it again, Constant Contact forms are the right bet.
It offers these types of forms:
Pop-up
Flyout
Banner
Inline
Hosted Landing Pages
Constant Contact's forms offer very few styling options outside of background, font colors, and button colors. It does the minimum in that regard.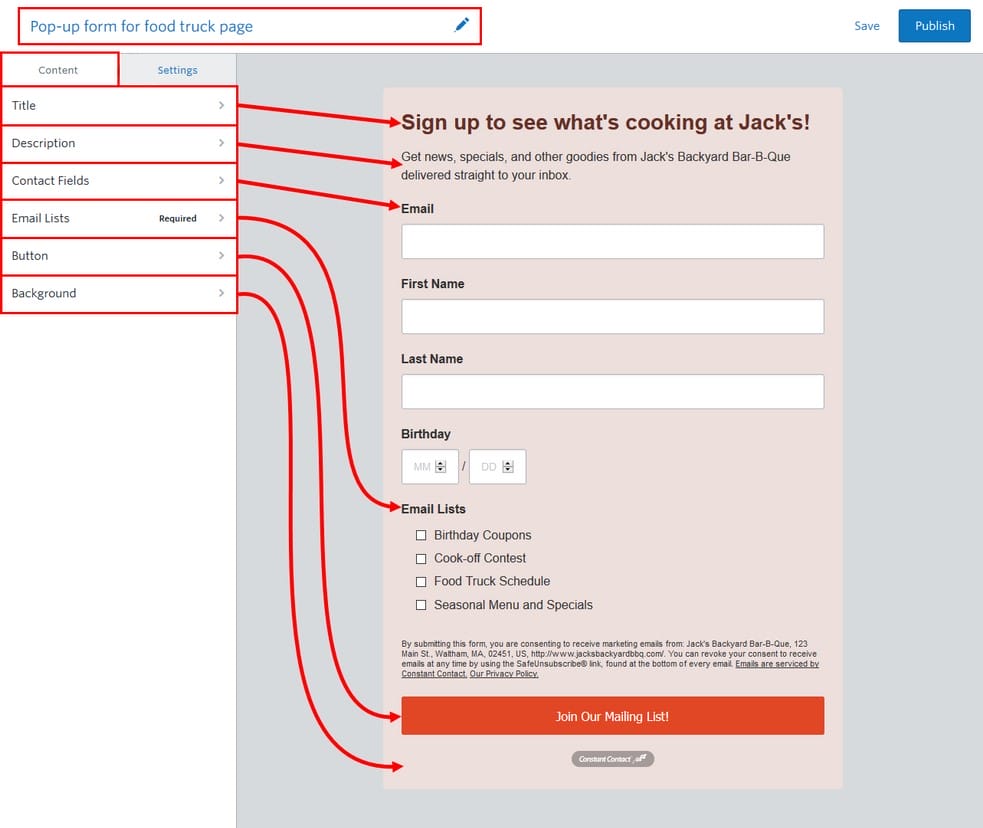 Their landing pages use the same editing interface as the form builders. Yet instead of outputting a Javascript embed code, it gives you a Constant Contact-hosted URL to link to. The URL can be partially branded but not as much as a self-hosted landing page URL.
If your website is on WordPress, using a dedicated WordPress contact form plugin or a WordPress newsletter plugin would be a huge asset. Those tools usually have all the missing features of Constant Contact native sign-up forms.
Facebook Lead Ads Integration
We know that email marketing has matured into a complex marketing strategy best used when intermixed with other marketing channels. Thus, an omnichannel marketing approach is a tide that elevates all singular marketing strategies with it.
As far as straight lead generation goes, Constant Contact has a Facebook Lead Ads integration that allows marketers to create Lead Ads on Facebook and Instagram. Those who signup on those lead ads are automatically added to Constant Contact in a dedicated list succinctly named "Facebook Lead Ads". This makes it a cinch to create an automated series that fires based on a newly added contact.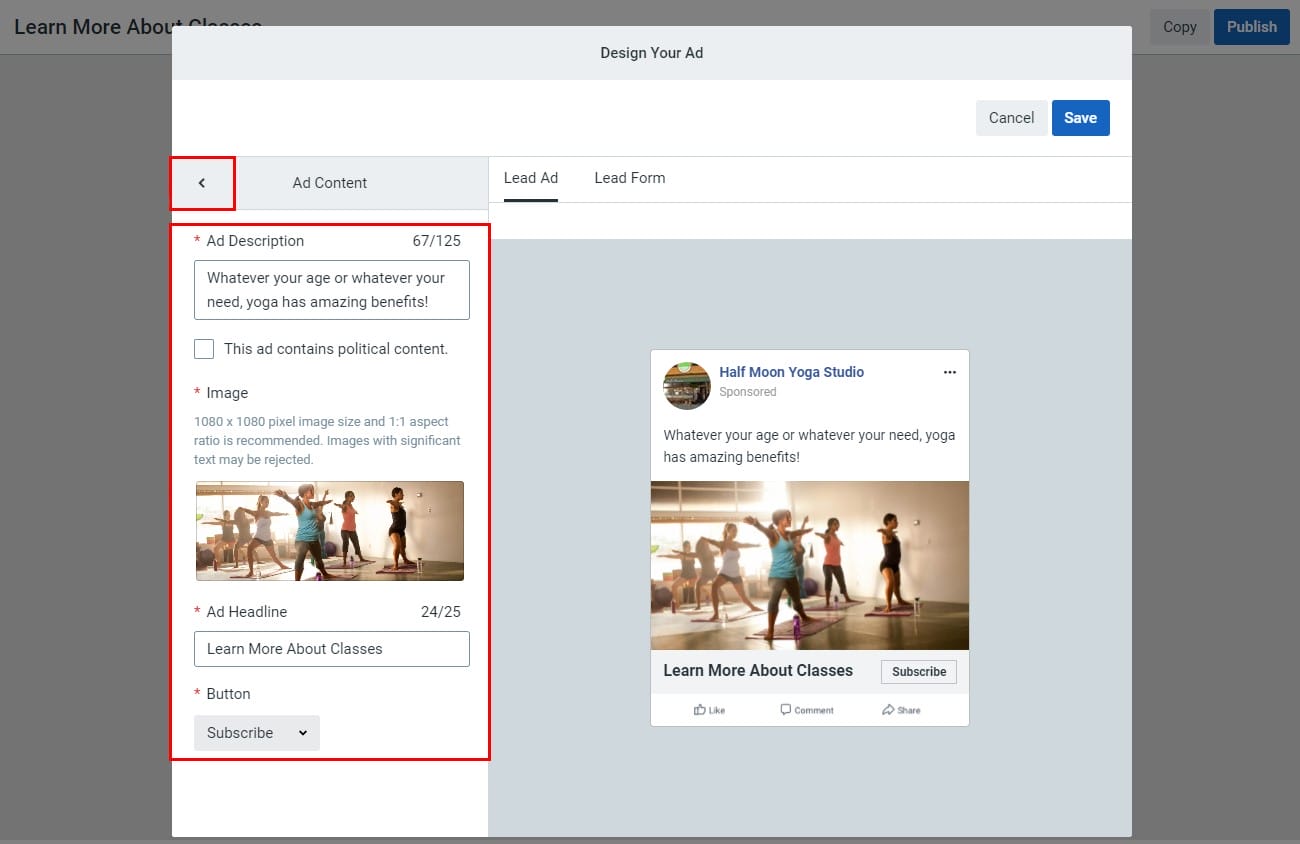 This feature is a very nice touch that makes the process much easier for first-time advertisers. And the integration means no manual list uploads or time spent with additional Zapier automation to port those contacts over in real-time.
Email Automation
Constant Contact makes it easy to automate your simple email marketing campaigns.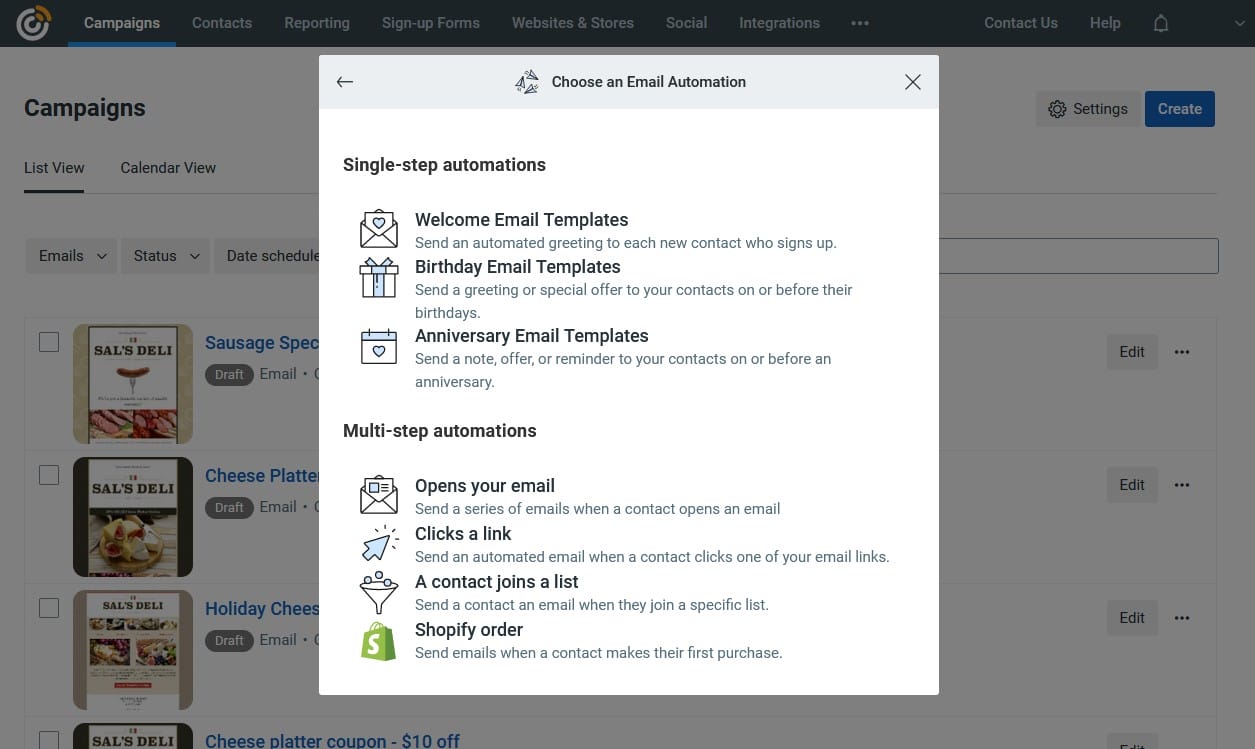 Though, for most of the automation features, you'll have to be in their Plus plan. The Core package enables sending "Welcome Emails" when a contact first subscribes to a list. This gets the job done for downloadable lead magnets.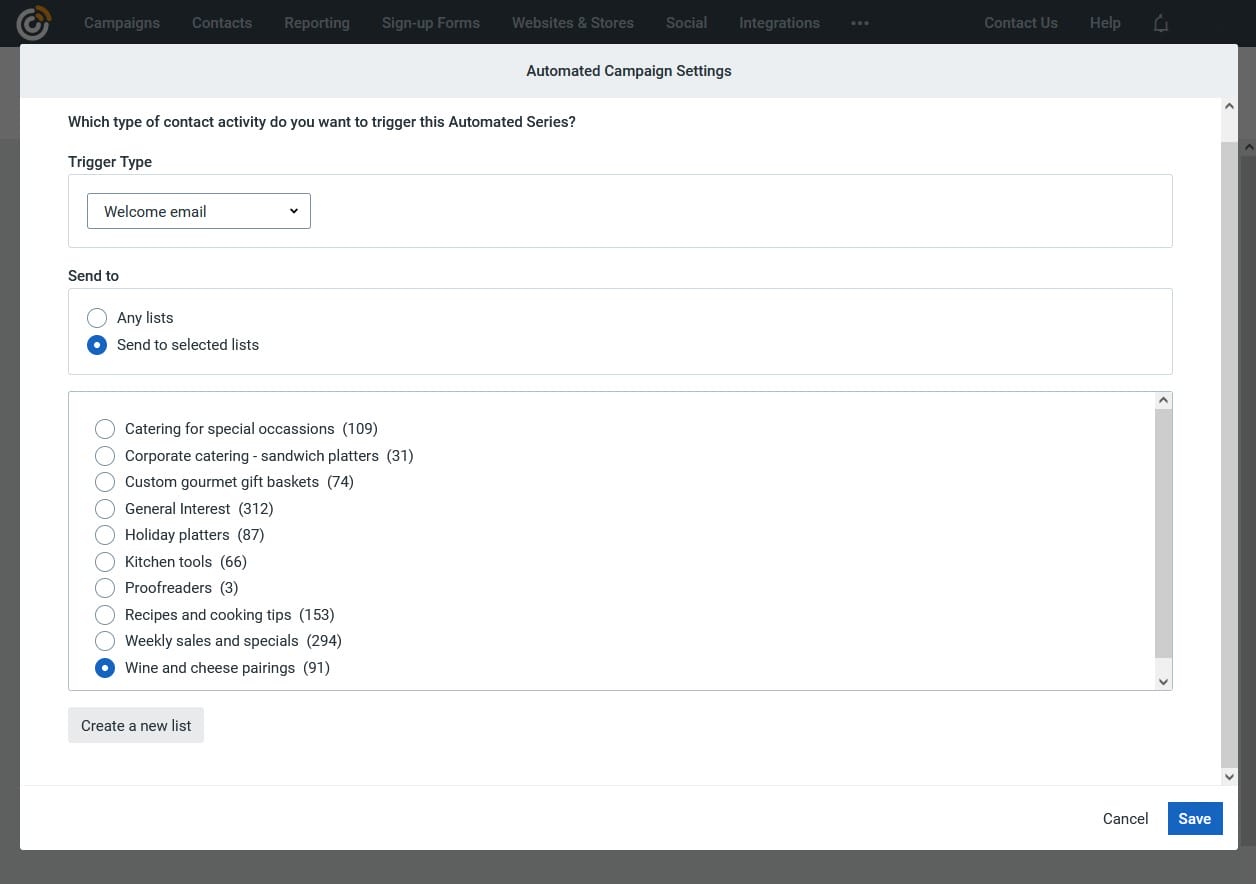 With the Plus plan, more automation features are at your fingertips. You can set up automatic email series (multiple emails strung together), birthday messages, yearly anniversary emails, and several eCommerce automation emails based on store interactions.
"Automated Customer Journeys" is the newest feature on the platform that allows marketers to create advanced automation based on visual decision trees. This is especially helpful for eCommerce stores since common store interactions are common conditional triggers.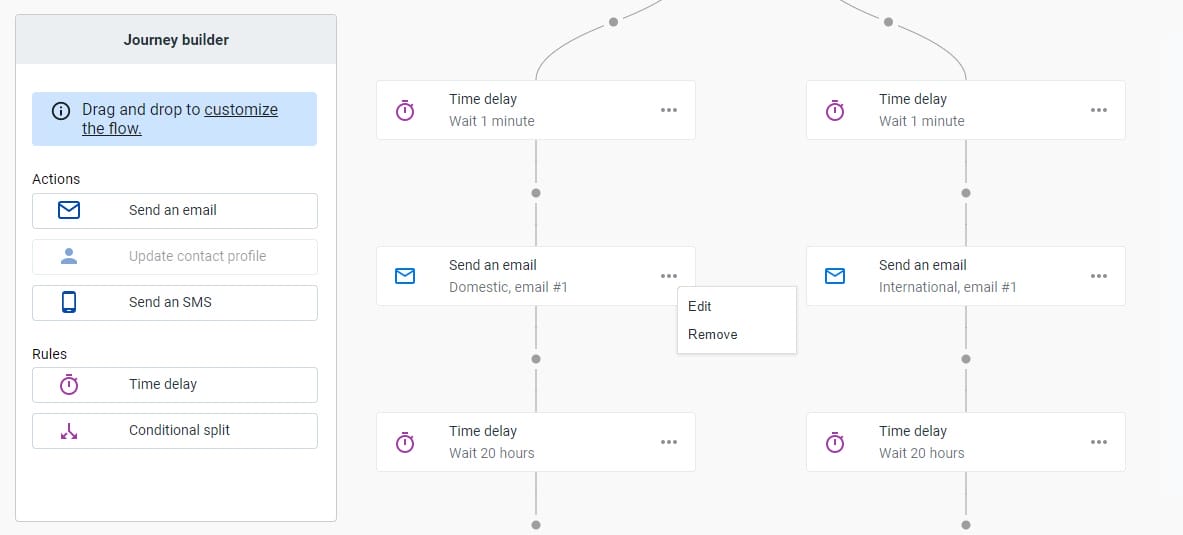 All these automated features can save you a lot of time and help ensure that your customers always receive timely and relevant information.
For more, check out our list of the best marketing automation platforms for your business.
SMS Marketing
In 2022, Constant Contact announced support for sending SMS messages as part of its marketing platform. This new feature allows businesses to send multi-channel campaigns and track results with detailed reporting.
With SMS, businesses can reach customers where they are—on their mobile devices. SMS messages are easy to see and are often read, making them a great way to send customers urgent information or deals.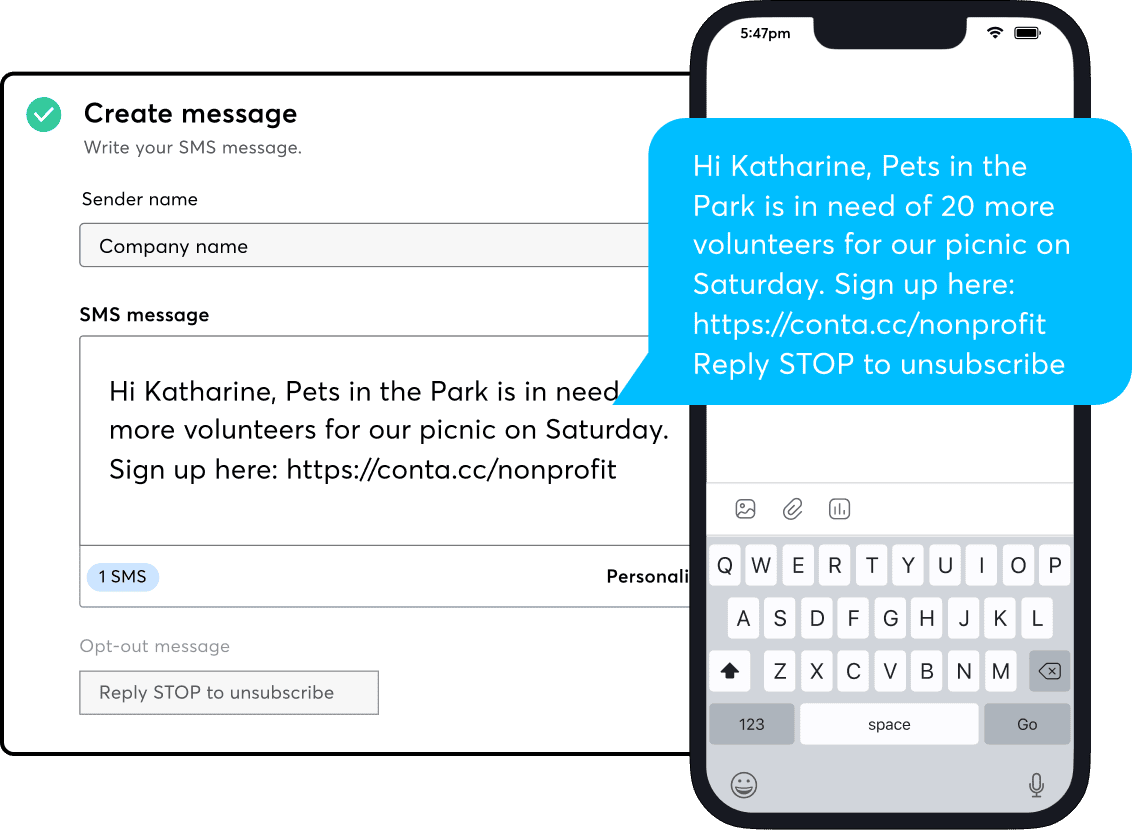 Constant Contact's easy-to-use platform makes it simple to create and send SMS campaigns. And with detailed reporting, businesses can track who opens and clicks on links in their messages, so they can adjust future campaigns accordingly.
Integrations
Connected systems are growing more and more important for digital marketers. This is especially so when using tailored technologies and platforms for specialized tasks.
For most website integrations, all you need is an email opt-in form that easily integrates with Constant Contact. With advanced email opt-in forms like Bloom, you can integrate Constant Contact to your site and start growing your audience with ease.
However, Constant Contact does offer more integrations with Zapier.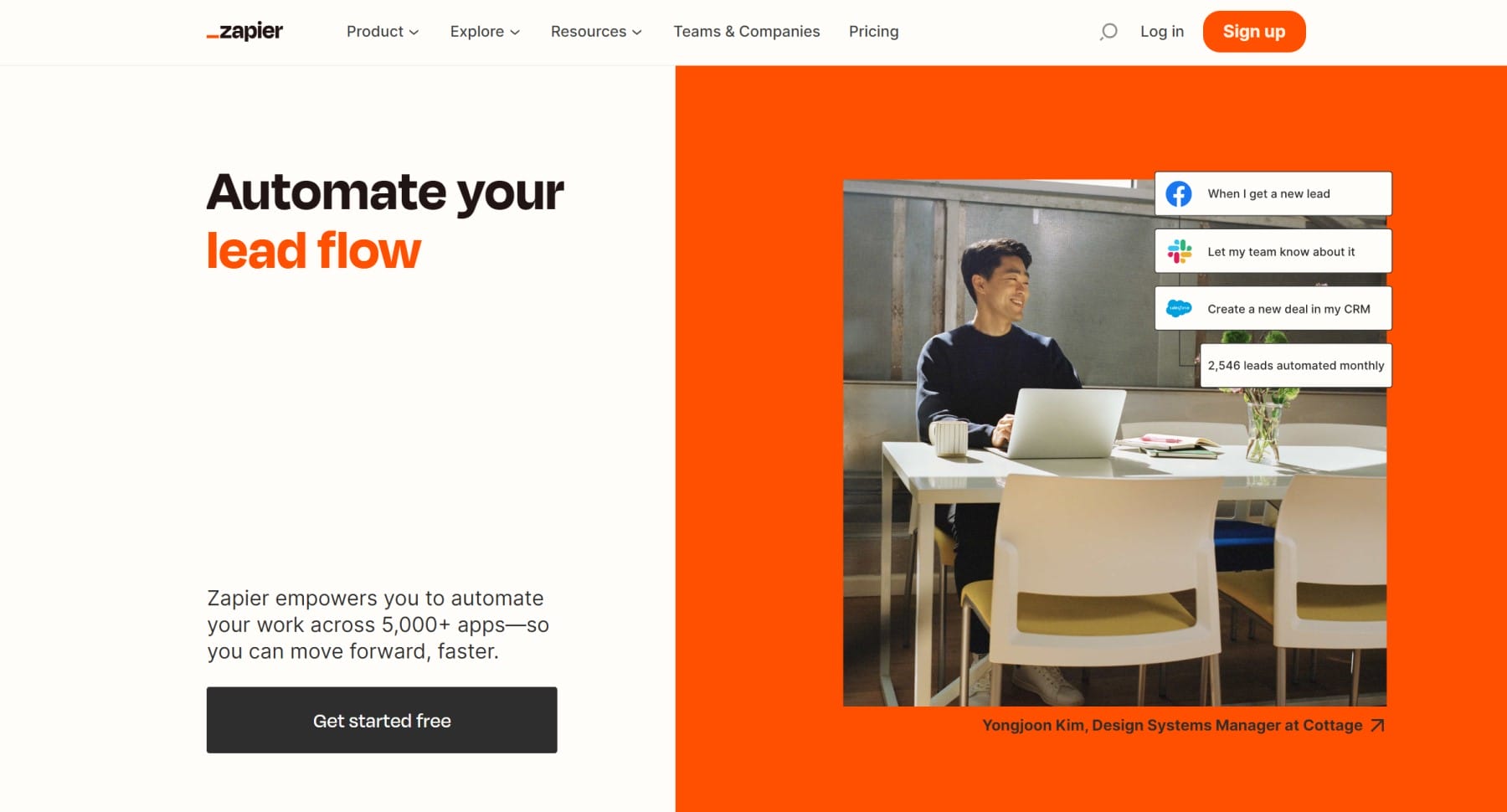 Zapier is a data-connecting platform that connects APIs from thousands of serves so that data doesn't remain siloed. More than that, Zapier can create highly customized automation using conditional logic from each connected platform.
This means that an end user can get data from one platform and (under certain conditions and rules) send that data to be used on another platform.
Constant Contact has a searchable list of integrations (3rd party and native) but the list is only found inside an active account.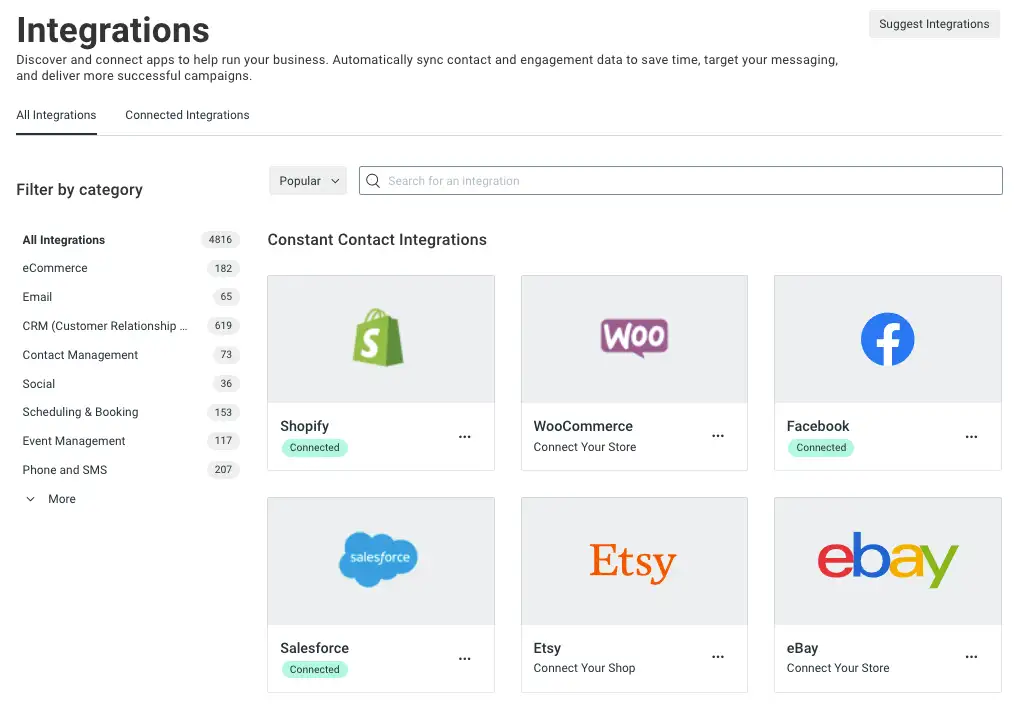 Other Third-Party Constant Contact Integrations
Of the listed integrations for Constant Contact, you can also see a healthy spread of other marketing and business essential services.
Canva – Imports Canva designs into the email creation flow
Vimeo – Imports Vimeo videos into the email creation flow
Shopify – Easily adds products into emails and collects customer interaction data for automations
WooCommerce – Easily adds products into emails and collects customer interaction data for automations
Stripe – Syncs Stripe contact data and pulls email data into Stripe's dashboard
Facebook & Instagram – Allows for posting to these platforms as well as creating Ads
Twitter – Schedule or immediately publish Tweets
WordPress – Brings over subscriber data into Constant Contact contact lists
Salesforce – Contacts from CRM are automatically brought over so you can have a single source of truth
Eventbrite – Easily promote your events by adding event details into the email creation flow
Gmail – Sync Gmail contacts with Constant Contact as you transition to professional email marketing
If you are concerned about particular services that you use, you can see if those individual services have created their own integrations using Constant Contact's API.
Constant Contact Ease of Use
Constant Contact has always been a favorite among small businesses because it is user-friendly. Most small businesses need the most streamlined experience possible. Balancing that with features is a tall order but Constant Contact has done that well.
For starters, the pricing plans by Constant Contact are strategically selective. The available features for each tier cater to particular use cases. This ensures that beginning email marketers are not getting lost in the Core Constant Contact email marketing plan with unneeded and overly complicated features.
Its Plus plan adds complicated features that dedicated marketers crave. The addition of Automated Customer Journeys brings a lot more power to the automation suite.
The email creation flow is also one of the best there is. It sports a nice integration with Canva so that you can bring in your designs without downloading them from Canva and reuploading them in Constant Contact. Your Downloads folder can be happy about that. Plus, AI can create and analyze email subject lines that will perform well, based on the content of the email and data from related campaigns.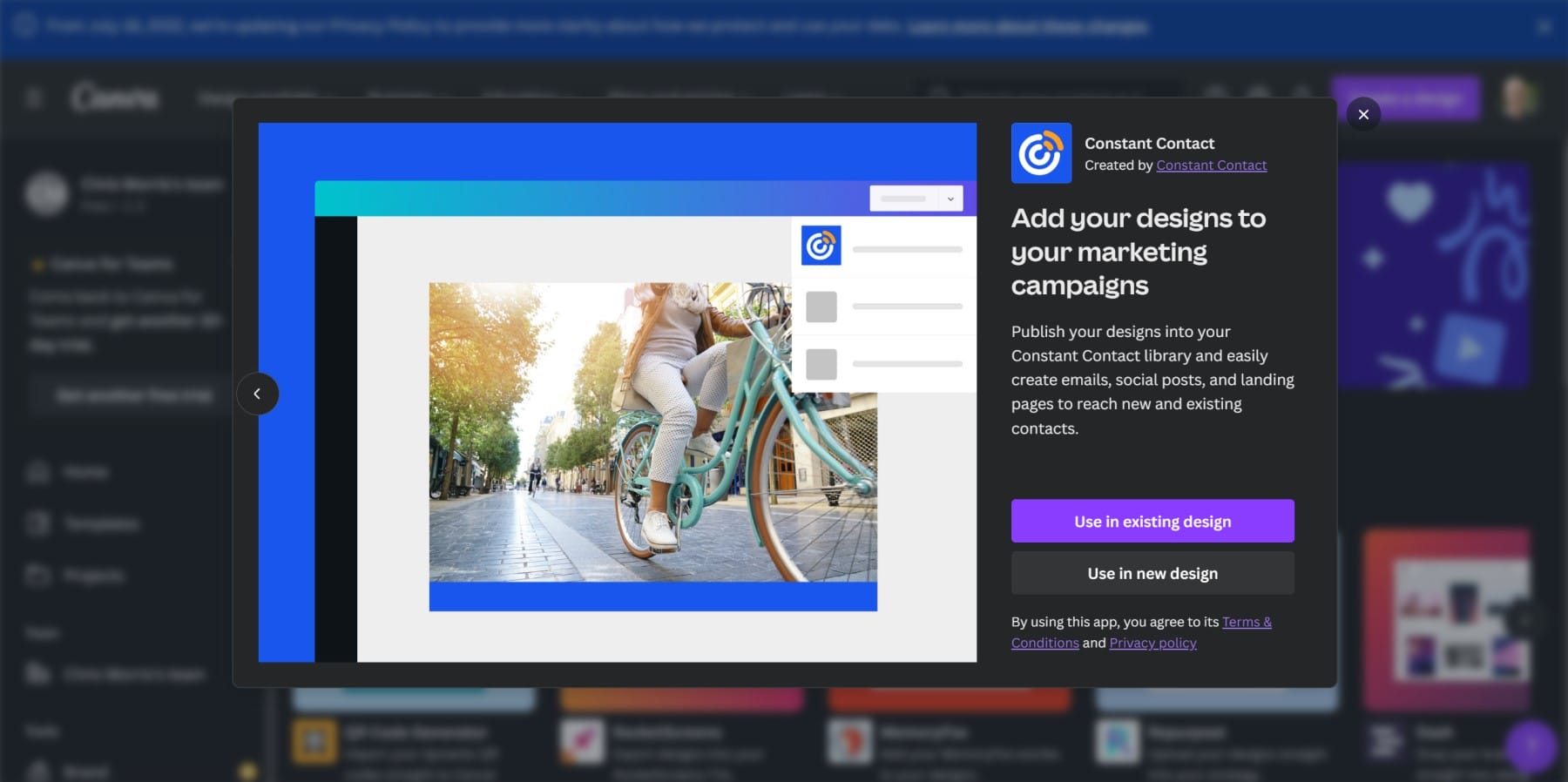 Its forms are easy-to-use, but that is particularly because the forms lack styling, A/B testing, and conditional logic. The social posting / social ads feature makes creating posts and ads easy. For advanced marketers, these tools may be limiting, but for the average small business owner, the ease of use is liberating.
Overall, Constant Contact is one of the easiest-to-use email marketing platforms.
Constant Contact vs Other Email Marketing Services
Let's dive into the key difference between Constant Contact and a few rival platforms to see how they stack up.
Mailchimp vs Constant Contact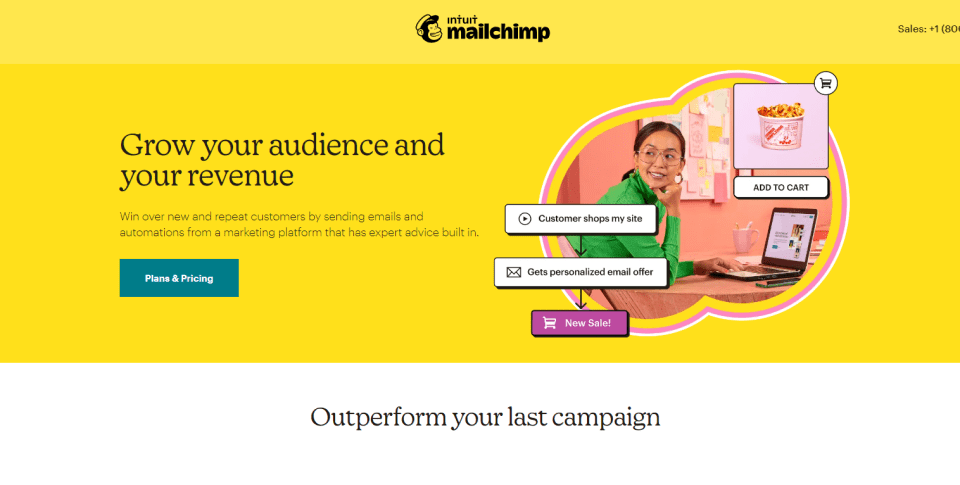 It's no secret that many use Mailchimp for email marketing. Constant Contact and Mailchimp are email marketing platforms that offer similar features. However, there are some key differences between the two.
Constant Contact offers less customizable signup forms and landing pages. Mailchimp's brand template creation tool is also more sophisticated. Mailchimp offers a free plan, which is why it has many more third-party integrations to its name.
Constant Contact, on the other hand, offers a simpler interface that helps new customers get started easier. Its verbiage describing "contact lists" and how they work are easier to grasp than Mailchimp's use of "audiences".
It is worth knowing that all Constant Contact plans (even the free trial) include unlimited access to customer support through phone, live chat, or email interactions. Mailchimp has no support for its free plan and limited support for most of its plans.
ActiveCampaign vs Constant Contact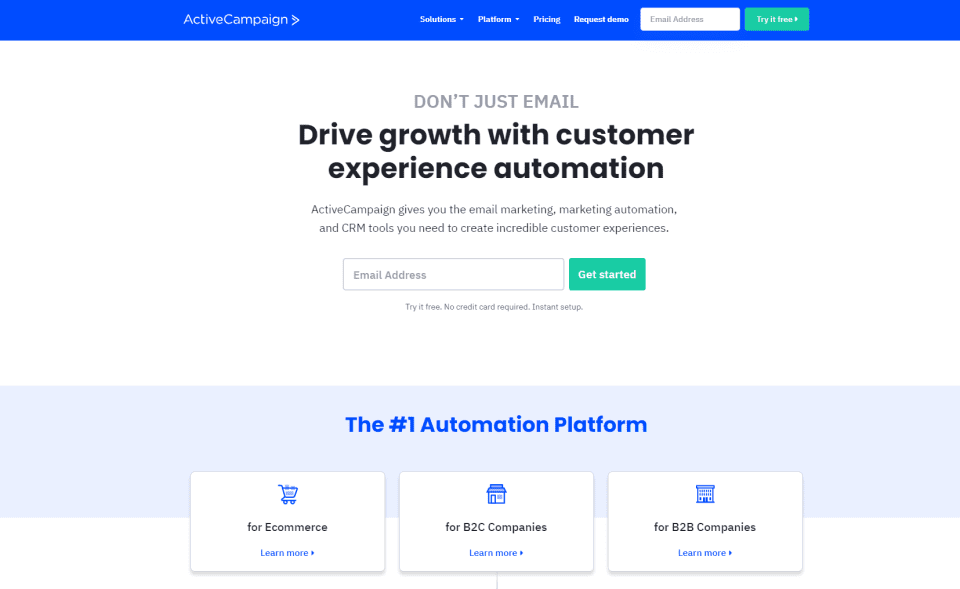 When looking at Constant Contact's Automation+ plan, both platforms offer lead scoring, website tracking, and a variety of other features to help businesses manage their customer relationships. However, there are some key differences between the two platforms.
Most people thinking about Constant Contact won't go for that suite of tools. They'll likely stay with Constant Contact's Core and Plus plans which don't compete with what ActiveCampaign brings to the table. ActiveCampaign offers a comprehensive CRM solution while Constant Contact mostly handles list management. It includes features such as deal management, website tracking, and pipeline processes that Constant Contact does not offer. ActiveCampaign also has a more robust lead-scoring system, which can be helpful for businesses that generate a lot of leads.
Constant Contact is less expensive than ActiveCampaign, making it a better option for small businesses or businesses on a tight budget. It focuses mostly on external email and digital marketing activities since it doesn't focus as much on CRM as ActiveCampaign.
ActiveCampaign is a more advanced tool than Constant Contact. A better comparison if you are looking for advanced features would be SharpSpring by Constant Contact and ActiveCampaign.
Conclusion
In conclusion, Constant Contact is a great platform for any small business or website owner needing email marketing. Its simple UI and reasonable price make it a great choice for anyone looking to get started in email marketing.
For you WordPress users, here are some of the best marketing plugins you may find helpful and some lead generation plugins you can use alongside Constant Contact.
Featured Image via Net Vector / shutterstock.com