Can you believe we're still getting calls from telemarketers? If I happen to accidentally answer, I hang up when they're mid-sentence and I say out loud, usually to nobody, "Has that ever worked?" It's hard enough to get business from cold emails. I'm baffled at how anyone has ever had success calling someone during dinner time or on a sunny Saturday and actually kept them on the phone long enough to make them pay for something.
These days it's all about inbound marketing, not telemarketing.
Inbound marketing focuses on lead generation. Your potential customers, clients, or brand ambassadors come to you. Yes, they're influenced, inspired and even nudged toward the decision you want them to make, but they make the moves.
An Overview of Leads and Lead Generation
A lead is someone who has shown interest in your company by providing you with their information, usually their email address, so you can get in touch with them again. Lead generation aims to catch more of this information – more leads – so you can eventually turn them into customers. Lead generation should be one of your business' top goals.
Inbound marketing factors into this because you're not going to the customer and saying, "Hey, pay attention to me, a business you've never heard of." Instead, content attracts people to your business, and from there you can point them in the direction of the lead, like signing up for a newsletter or unlocking a coupon code.
The Lead Generation Process
Here's how the lead generation process works step-by-step:
A person finds your business. They may see your Instagram Story, read a blog post or find your website in a Google search.
They follow your call-to-action (CTA), which is messaging that encourages them to take the next step. Your Instagram Story may direct them to swipe up, for example. The CTA has to have a compelling reason for taking the next step.
The CTA will bring the person to a landing page, which is where you'll offer something in exchange for their information. The offer has to be valuable enough so that the person will be willing to give up their email address.
You'll have to build the lead generation process backwards. Start by creating the landing page with the offer and collection form, then create a CTA that will get people to click over to it. Then, you'll add that CTA to your already-existing content or you'll develop new content that points to the landing page. You're going to use a number of channels and strategies to drive people to the landing page so you can begin collecting leads.
Lead Generation Strategies
There's not a one-size-fits-all strategy or channel for lead generation. Chances are that you'll use a combination of channels to drive leads and improve conversion rate.
We've already covered eight strategies for growing your WordPress business and several of these are applicable to non-WordPress businesses as well. In this section, we're going to talk about three lead generation strategies that tend to get overlooked.
Uncover the Pain Point
The one question that every single company has to ask themselves is, "What does my customer want?" Answering that question, as well as the super important follow-up question, "Why do they want it?" will help you create a landing page that converts.
This is an exercise I use when I have to separate what a business offers from what a customer needs:
You want to hire a dog trainer because your dog is biting people. You don't enjoy time with your dog, you're scared he's going to bite you or someone else, and it's pretty much keeping you up every night and ruining your life. Do you care about dog trainer jargon for all the behavior modification tactics they know? No, you don't. The only solution you want to here is, "I know what you're going through. I've fixed this exact problem before. You can have the calm, respectful dog you've dreamed of, and your life will improve."
At that point, you can name your price.
CapitalOne did this pretty well with their Spark Business Checking account. They addressed concerns that people have about business checking accounts. Big banks charge high fees for business accounts and the terms are usually difficult to understand and harder to keep track of. They mention everything I care about: zero fees, unlimited transactions, mobile deposits and no minimum balance. CapitalOne figured out where other banks get this wrong and they addressed those specific pain points right in the landing page.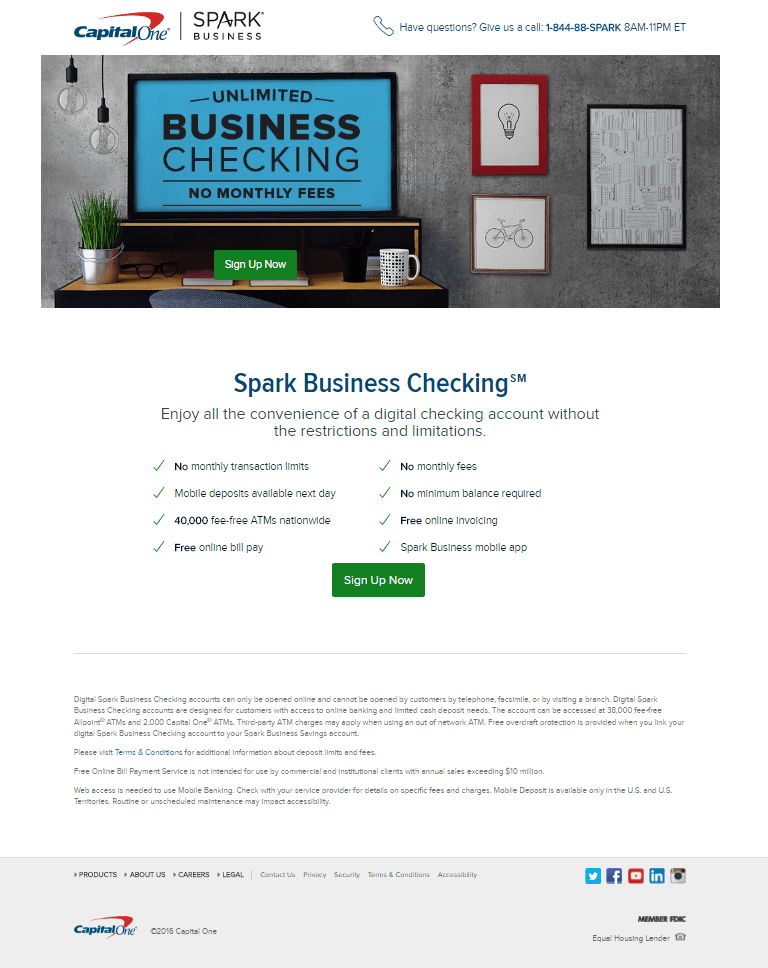 Update Your Homepage Message
While a lot of your content is going to direct people right to your landing page, your homepage is going to get a ton of views as you promote your business. Since your homepage is probably the most-visited page on your website, that makes it the perfect location for a CTA.
The messaging on your homepage can't be an afterthought. It's going to be what most of your would-be customers see and remember – it's possibly the most far-reaching content you'll create. And it's what will have the greatest impact on what your customer does next.
Airbnb does this simply and effectively. Above-the-fold is taken up mostly by an image of a unique, peaceful rental. The white box has four super simple fields to fill in. Even if you didn't come to Airbnb with any specific plans in mind, the "Where" makes you immediately wonder where you'd like to go.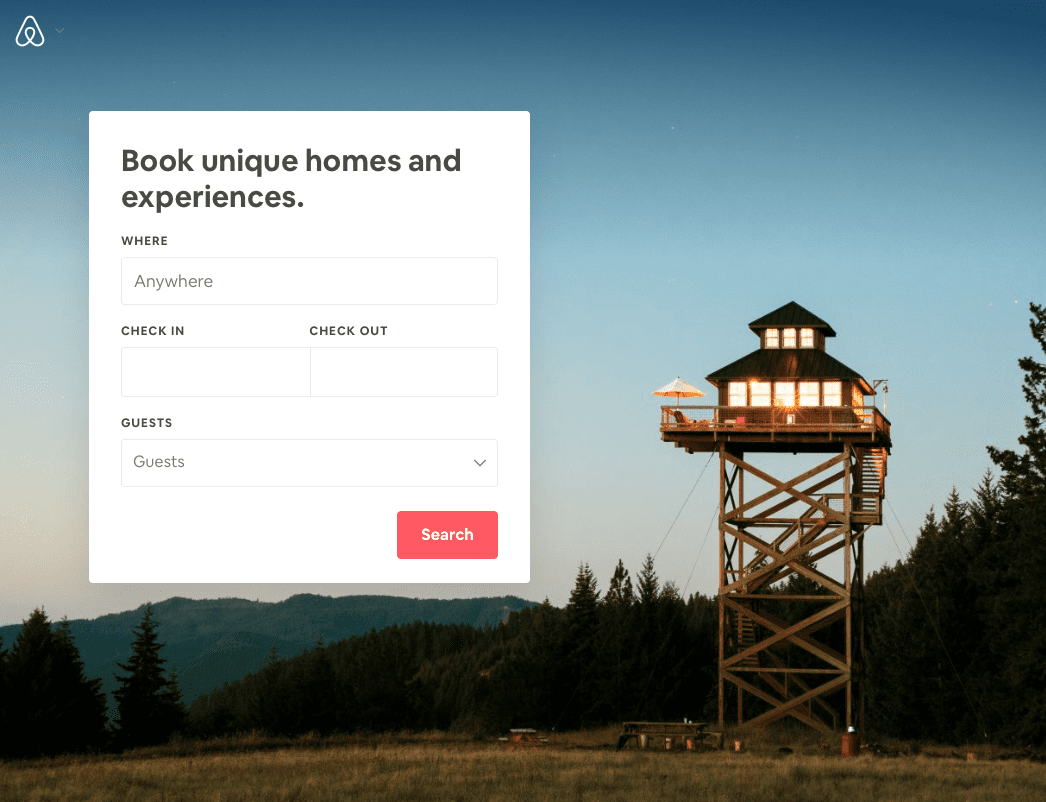 Then, if you scroll down, the rest of the homepage has different links to explore homes, restaurants and travel experiences. While the messaging here may be conveyed through images more than text, it's still incredibly strong: get away on your own terms; book that trip right this second. There are a number of avenues for the visitor to explore and they all have opportunities to save locations as favorites, which requires you to sign up – and voila, Airbnb has your email address and you have endless vacations at your fingertips.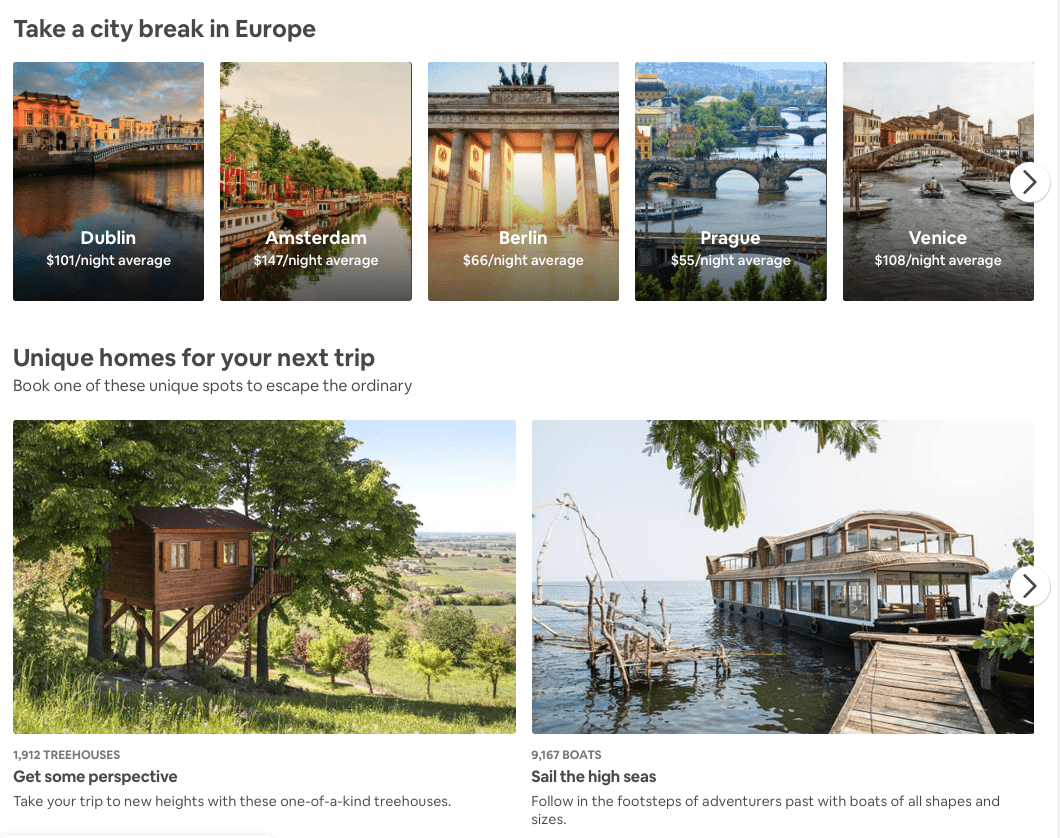 Create Offers for Different Stages of the Buying Cycle
Even though a person is new to your business, content or website, that doesn't mean each visitor is in the same buying cycle stage. Let's use the example of looking for a product management tool. A person who found your website by searching "best product management tools for freelancers" is in the research stage – they're going to be turned off if you aggressively try to set up a demo with your sales team. However, someone who is reading your blog post about advanced project management techniques for enterprises may very well want to talk with someone about their needs.
Your content, CTAs and landing pages have to cater to the different audiences you attract, which means you need separate offers for each one. The difficult thing about showing someone the right offer for where they are in the buying cycle is that since you haven't collected their email address yet, you don't know who they are or how they've interacted with your business. Social media has super smart ad targeting and they also come pretty close to nailing the right stage for the individual.
Last night, I was using Safari on my iPhone to search for clothing brands that sell high quality basics and American Giant was one of them. I didn't create an account or follow them on social media, but today this ad popped up on my Facebook: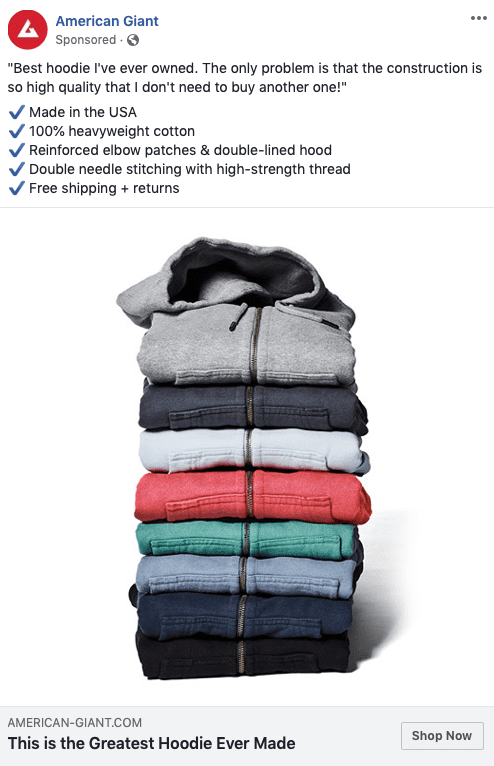 Pinterest isn't as good at this as Facebook and Instagram, but they do a decent job. I've never interacted with the Smirnoff brand online, but I do Pin a lot of Paleo recipes, which are gluten-free, so this Smirnoff ad with text about being gluten-free is on the mark – I would need something more than just an introduction to Smirnoff to be interested, so this definitely pushes me further along.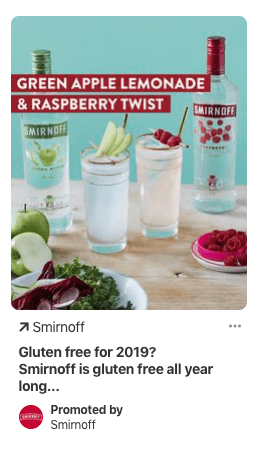 Final Thoughts
Lead generation is a nice reminder that there's a human being on the other end of your content, your landing page, your data. Creating valuable offers, successful landing pages and compelling CTAs forces you to think about what the customer, the one you haven't met yet, truly wants, and why you're the company to deliver exactly that. It requires brands to be just as creative as they are methodical. Without true insight into your audience's needs and your brand's unique ability to meet them, the nicest looking landing page in the world won't deliver results.
Ready to capture more leads? Check out this article we wrote about writing custom welcome messages and opt-ins for your visitors.