Just like any other business owner, a web designer must think about marketing. But what does that mean exactly in the current landscape? Sure, you can put out a press release but is that really relevant to your business and your potential client base? Not really. In fact, inbound marketing techniques for web designers tend to serve their efforts much more effectively.
So that's what we're going to spend time on today. We've put together a helpful list of the 9 best inbound marketing techniques for web designers so you can spend your marketing time more efficiently and see your efforts pay off faster.
What is Inbound Marketing?
According to HubSpot, inbound marketing is all about "creating and sharing content with the world." But more specifically than that, it's about creating content that's custom-made to "appeal to your dream customers." The idea here is to attract "qualified prospects" with your engaging and all-around awesome content and to keep them coming back for more so they'll eventually convert.
Very briefly, here is what HubSpot considers to be the four main elements of inbound:
Attract. By bringing in targeted traffic, you're more likely to see visitors move through the sales funnel. You can attract the right people in a number of ways, including through regular blogging, targeted SEO, and social media engagement.
Convert. Next, you want to collect contact information so you can keep people coming back to your site over and over again. You can do this through online forms, optimized landing pages, and calls to action.
Close. Next, you want to close the deal and get these leads to make a purchase—in this case, hire you for design services. This can be accomplished through focused emails, customer relationship management plugins, lead capture plugins, and autoresponders.
Delight. The last step relates to making your content the absolute best it can be. You don't just want to provide your visitors with info; you want to delight them, surprise them, and all-around engage them. You can do this through conducting surveys to find out what your audience wants,

 

customized CTAs that recognize where the visitor is in the conversion cycle, and social monitoring, which is essentially listening for and answering customer questions on social media.
Now that you have an understanding of what inbound marketing is, we can talk about how to apply these techniques to web designers' businesses.
1. Have a Content Plan in Place Before You Begin Designing
Before you build a website for your business (or create a redesign) it's important to consider content first. Too often content is the last thing that gets consideration and it shows in the end result. The content doesn't flow in the design. There's a lack of logic to how content is displayed in relation to the design. And while the site may ultimately still "work" it could work so much better if attention were paid to content first.
This can be accomplished by:
Knowing where you'll feature your site's features and services.

Knowing where you'll display offers, forms, and calls-to-action.

Writing all of your site's copy first, then figuring out how you can design to accommodate it.
2. Mobile Optimization is a Must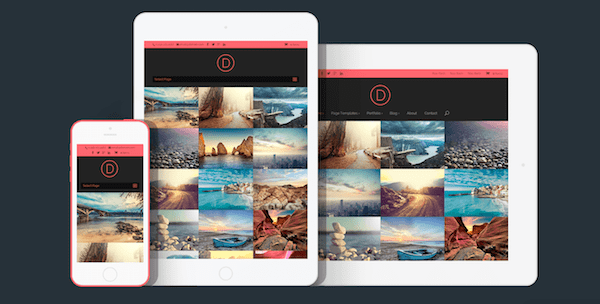 Another crucial aspect of optimizing for inbound is to ensure your site is mobile optimized. This means creating a mobile version of your website or using responsive design to ensure your site will automatically resize and look good on all devices.
Obviously, what path you'll take is an important decision you must make at the very start of the design process. Otherwise, you'll be stuck attempting to retrofit a solution and that never works as well as when responsiveness or mobile design is integrated into the process from the beginning.
Several WordPress themes are responsive and prioritize the mobile experience, including our very own Divi and Extra.
3. Incorporate Offers Into Your Design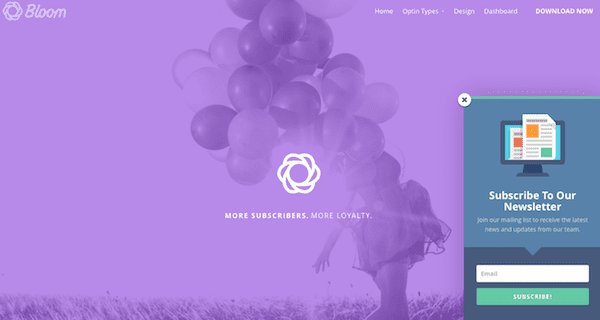 As we discussed earlier, including offers and calls-to-action are an essential component of using inbound marketing techniques for web designers. In fact, without some kind of offer, there's no way to ensure visitors will come back to your site—and eventually close.
A few ways you can do this is to:
Use a theme or build a layout that features a call-to-action. A good CTA will stand out from the rest of the page, preferably within a different colored box. It's often a part of a lead capture form (see below) but not always.
Use a CTA plugin or widget. Even if your base design doesn't provide for CTAs, you can use a plugin like our

Bloom Email Optin

to add this feature.
Provide a downloadable. Another way to encourage interest is to provide an offer to your visitors. The CTA may be to complete a signup form and an offer may be a downloadable guide, ebook, infographic, or other freebie that encourages visitors to act. Autoresponder series are also a good idea.
4. Include Lead Capture
I already mentioned above that lead capture is typically a component in adding offers to your website. But how you go about capturing leads is important and can have an effect on the quantity and quality of leads you obtain. For that reason, using the right tool is essential. You can place lead capture forms in different places on your website. The most common locations include in the sidebar, in a popup, in a bar that appears above the navigation, or in a scroll-triggered box. You have numerous plugin options to ensure your site is optimized for this. Bloom I already mentioned.
Other choices include:
5. Make Contact Information Easy To Find
Another important way to prioritize inbound marketing as a web designer is to include contact information wherever you can. That is, don't make your visitors work for it. This info should be absolutely easy to locate and use. Remember: inbound marketing is really all about making the user experience intuitive and useful. Making people have to spend their precious time to find out how to contact you definitely doesn't fall within that description, don't you think?
If your web design business deals with local clients, make sure contact info is in the header of your site and/or at the top of the sidebar. You should also place it in the footer. And you should add a contact form to your site so people don't even have to leave it to email you. The easier you make it for prospects to get in touch, the more likely it is they'll follow through.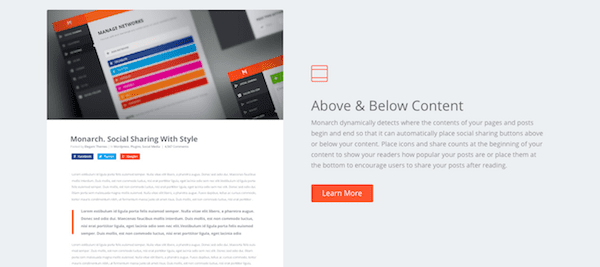 As I mentioned earlier, social media plays an integral role in any inbound marketing strategy you put together. So, if you want to attract the attention of prospects and encourage them to convert, you need to build a successful social media presence. This means interacting on social sites regularly, of course, but it also means leveraging social proof.
How do you accomplish this? For starters, you need to integrate social media onto your website. An example of doing this in a visual way is by using an Instagram plugin to showcase your IG posts on your website. You can put this grid in your footer or sidebar. This is one way that you can add the power of social media to your site.
You can also integrate social media with your website through social sharing buttons that feature share counters. This signals your visitors that your content is popular and other people have found it to be engaging, which helps to build interest. Many social media plugins exist that can add this feature to your site, including our very own Monarch. A few other plugins worth checking out include Social Warfare and Cresta Social Share Counter.
Another way to emphasize social proof is by featuring testimonials on your site. While some relegate their testimonials to a dedicated page where they're all listed out, you can make better use of your previous clients' praise by incorporating it directly into your site's regular content via widget. Inserting testimonials throughout your content helps to add authority to what you say and bolsters your reputation while people are actually browsing your site and what it is you offer.
Reading a testimonial while browsing your service offerings acts as a bit of encouragement to the prospect to go ahead and sign up, request a quote, etc.
7. Build a Blog (and Maintain It)
It's been said ad nauseum but it still applies: content is king. And keeping your content fresh is everything when it comes to inbound marketing. That's why it's so vital that you invest time in building a content strategy upfront. That's also why you need a blog and you need to maintain it.
Now, you don't have to make a new post every day, but posting something new, in-depth, well-researched, and interesting at least once a week can do wonders for your site's overall reputation. It helps to build search engine traffic, boost your PageRank, and gives your visitors increasing opportunities to see what you're about. Whatever type of content you decide to create, make certain it is informative and entertaining. People's attention spans are short these days so you need to capture attention through substance and excitement.
8. Personalize Your Content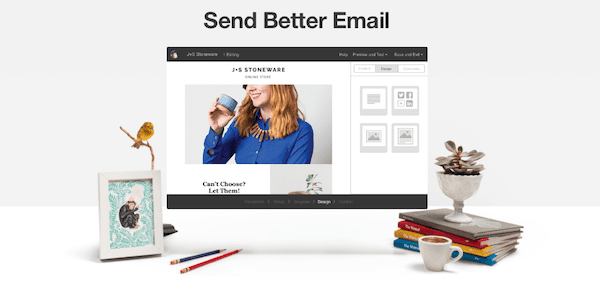 Personalization comes in many degrees for inbound marketing. As a web designer, you should make your site visitors feel welcomed and like their needs matter. If you're heading toward agency status, a tool like HubSpot can be extremely helpful in identifying how people landed on your site and their past user behavior so what they see is targeted specifically for where they're at in the sales cycle.
But not to worry if your budget or company size isn't "there" yet. You can still make efforts to personalize your content to expand appeal to your visitors. For instance, most email marketing tools like AWeber and MailChimp allow you to insert the recipient's name in the email's header and throughout the content to give the impression you're speaking directly to them. It's a small detail, but one that can matter in the long-run.
9. Don't Just Guess What Works

Whether you're using inbound marketing, traditional marketing, or even just tinkering with a new site without broader goals, it's imperative that you test. This is especially the case if you want to see how small design changes effect conversions. You can guess at it all day but without substantive data, you're really just ambling about in the dark.
Instead, you can set up A/B tests to see what design elements work. You can split-test two varieties of CTA, two pieces of copy, two navigation menu colors, etc to see what works best. Then, you can take the winner from the first test and pit it up against a new idea.
The goal is to always be evolving and always figuring out how to hone in on what works better, what looks better, and what best resonates with your site's visitors. A few tools definitely worth considering here include:
Final Thoughts
There's a lot that goes into launching a marketing strategy for any business, but I hope these inbound marketing techniques for web designers will help you get a handle on the basic concepts so you can begin to implement changes in how you promote yourself in this competitive market. Remember: even doing just a few of the things on this list can make a big difference in terms of site engagement and conversion.
For even more ways to optimize your marketing efforts and drive traffic to your website, be sure to check out our post on the best marketing plugins for WordPress. By leveraging the right tools along with these techniques, you can effectively reach your target audience and grow your online presence. Whether you're a seasoned marketer or just starting out, there's always more to learn and new tactics to try.
How do you utilize inbound marketing for your website(s)?
Article thumbnail image by Wision / shutterstock.com