Email is still one of the most effective marketing channels available, with a return on investment of $36 for every $1 spent. Using the right tools can greatly enhance the success of your email marketing campaigns. One such tool is SendinBlue, one of the most cost-effective email marketing platforms with powerful features. In this SendinBlue review, we'll dive into the features and pricing of SendinBlue to help you make the right decision.
What is Sendinblue?
Sendinblue is an all-in-one email marketing and marketing automation platform that helps businesses reach their customers through email, SMS, and chat. It is surprisingly easy to use and has a wide range of features like email templates, automation, list management, analytics, and more. It also offers a pricing model based on the number of emails sent each month, making it an affordable choice for businesses of all sizes.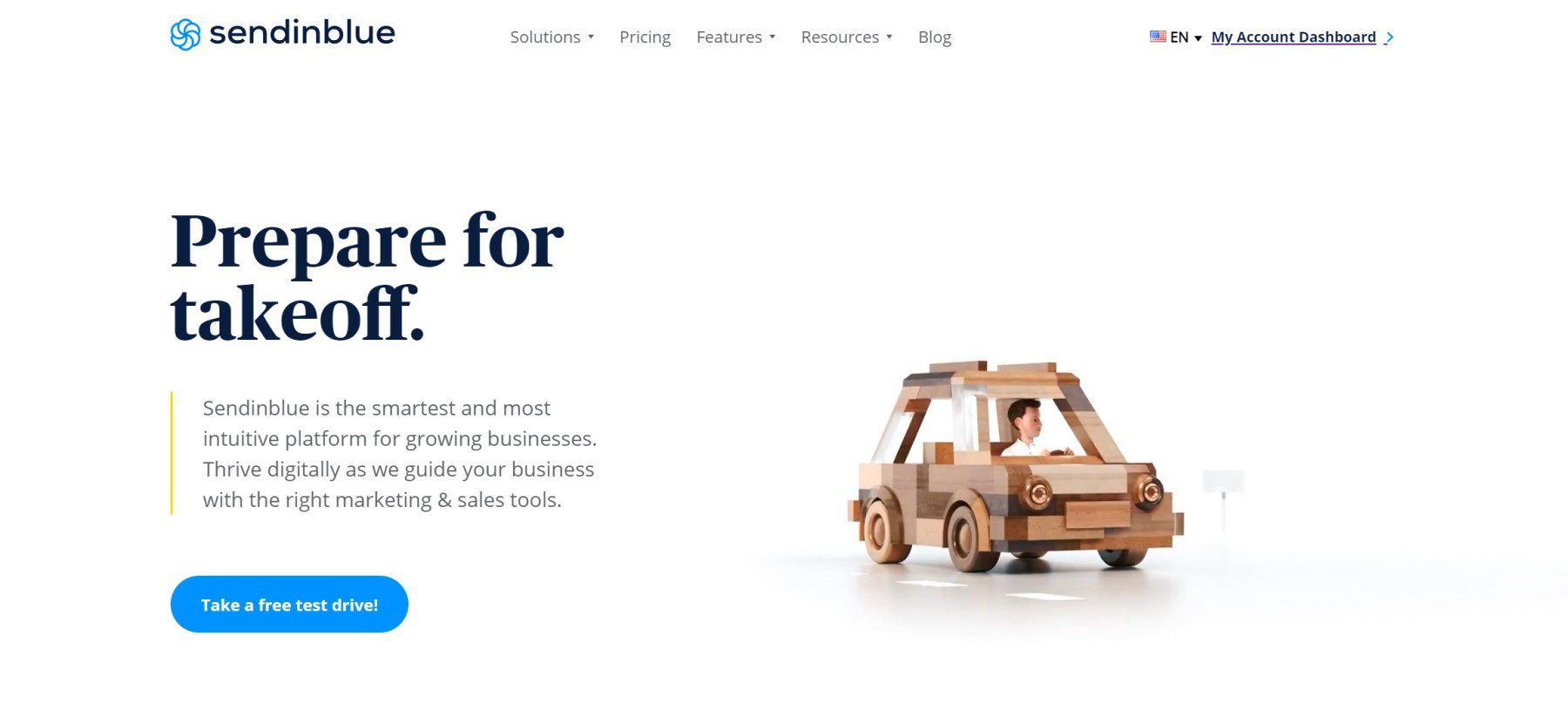 Review of Sendinblue Features
Sendinblue has a lot of features that help businesses and brands manage their email marketing. But sending emails is just the beginning. Additional features include:
Drag-and-drop visual email builder
SMS messaging
CRM
Forms and Landing pages
Automation
Web Chat
Transactional emails
While Sendinblue isn't the best email marketing provider in each of these individual categories, their feature mix and price point give them a right to be considered in many marketers' tech stack.
Sendinblue Email Marketing Campaigns
The Sendinblue visual email editor makes creating beautiful emails easy. With its drag-and-drop interface, you can add all the email elements you may need to create your email and use the inline text editor for an intuitive visual editing experience. This allows anyone to create stunning emails in minutes.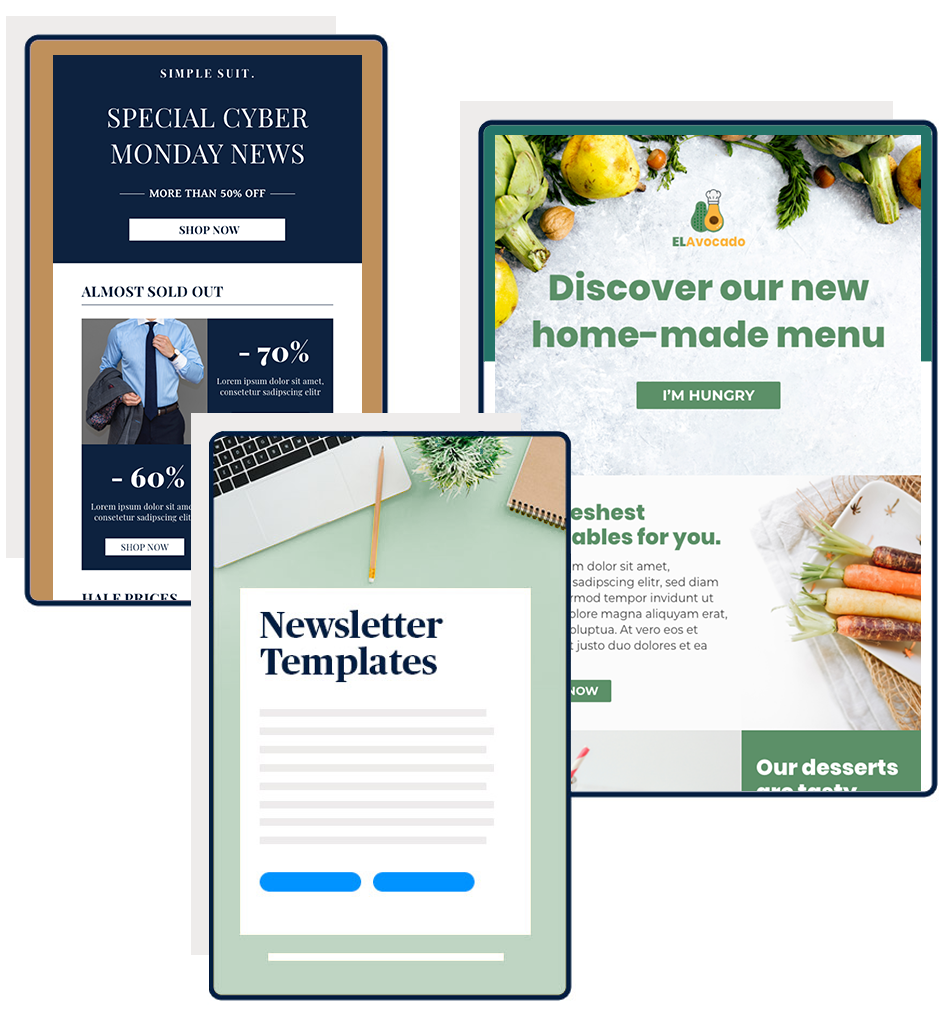 In addition to the drag-and-drop editor, you can use a rich text editor or create your campaign using custom HTML (if you need that sort of functionality).
Sendinblue CRM
If you're looking for a Customer CRM to manage contacts and notes, Sendinblue is definitely worth consideration. With Sendinblue, you can easily add and update contact information, as well as add notes, see email activity, and create reminders.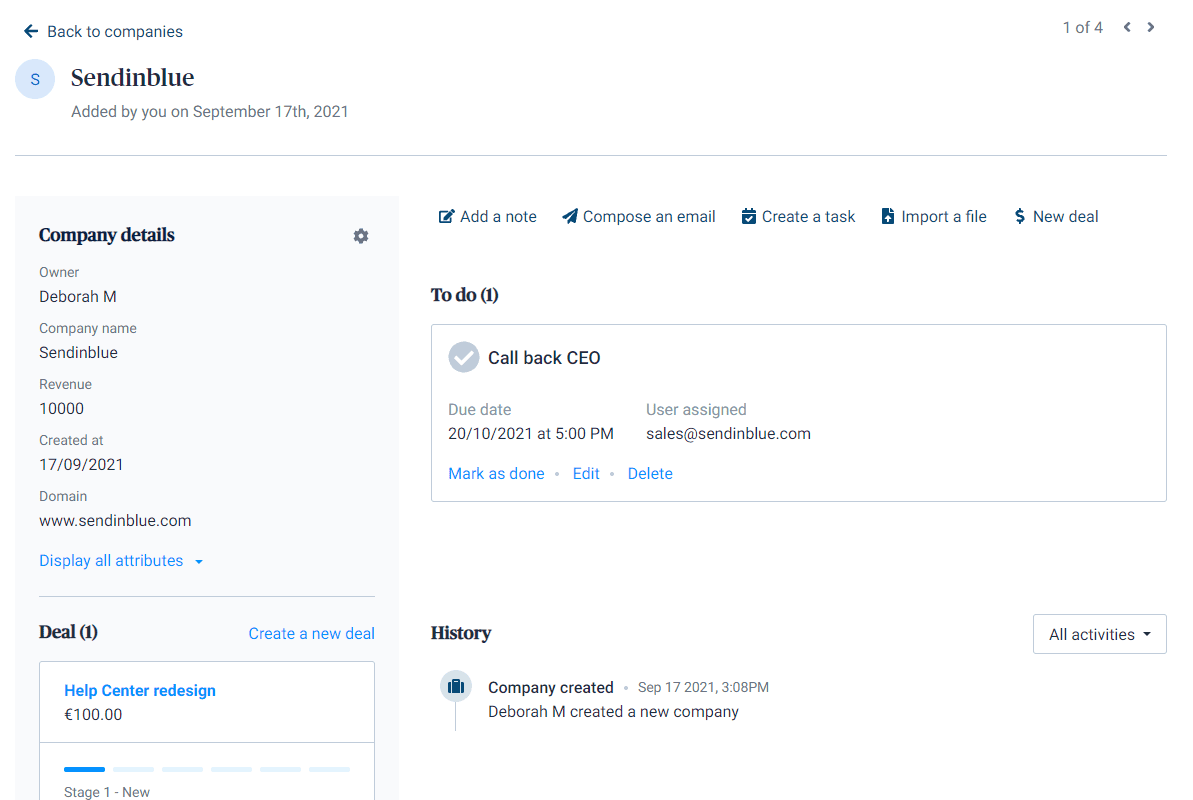 There is even a deal desk with a Kanban view of active deals and the stages that they are in.

Plus, the CRM fully integrates with your Sendinblue email marketing and automation to make marketing a breeze. This helps you create useful segments for your email marketing campaigns. Find out why email segments are very important.
Sendinblue Automation
Sendinblue provides a marketing automation creator that lets you build workflows based on your contacts' website behavior, purchase/store behaviors, and email opens/clicks. You can use these workflows to send automated emails and SMS messages that are tailored to your contacts' needs and interests.
Here are a few automation ideas to consider:
Send a welcome series of emails based on the list they sign up for
Set priority pages that when visited trigger a targeted email about the page's subject (since they are interested)
Send abandoned cart email or up-sell recommendations based on products they view in your eCommerce store or add to cart
Create lead scoring that gives and removes points from contacts based on actions they take within your web and marketing properties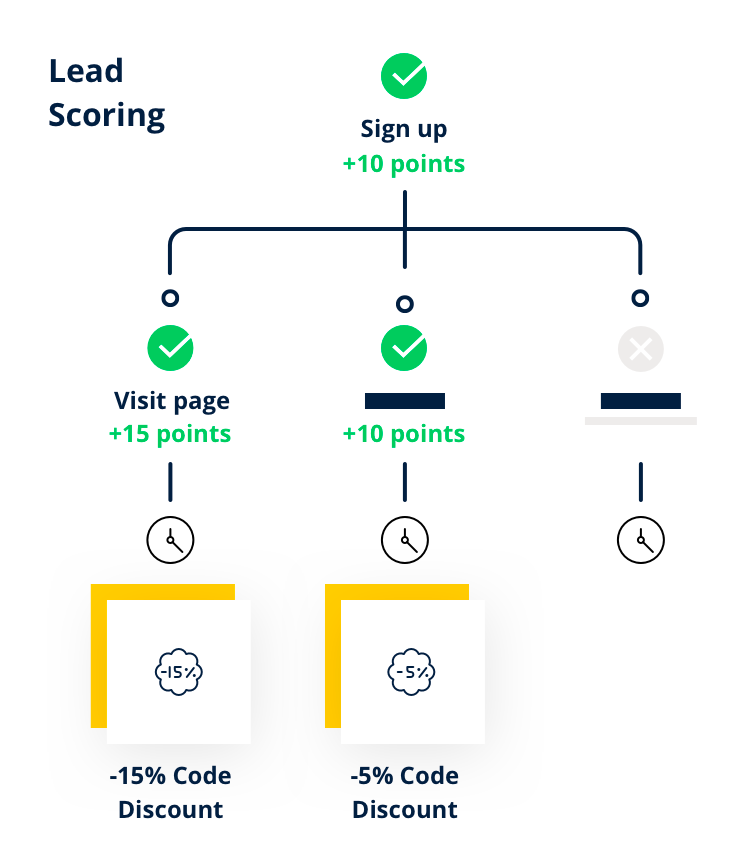 Sendinblue offers a high level of automation at an affordable price, making it a standout feature among other platforms. There are plenty of other more expensive automation platforms (ActiveCampaign) that have more automation capabilities.

The fact that Sendinblue includes automation in the free plan is astounding. This makes it a strong contender for businesses and websites that have some marketing chops that can fully utilize medium-tiered automation tools.
Sendinblue Transactional Email
Transactional emails are automated email messages that are sent to customers/visitors after they take a specific action. For example, a customer might receive a transactional email notification after they make a purchase, sign up with your appointment plugin, or change their password on your website. They deliver necessary information to customers based on particular actions taken with your business.
Creating a transaction email can be done using the drag-and-drop editor using a template or from scratch.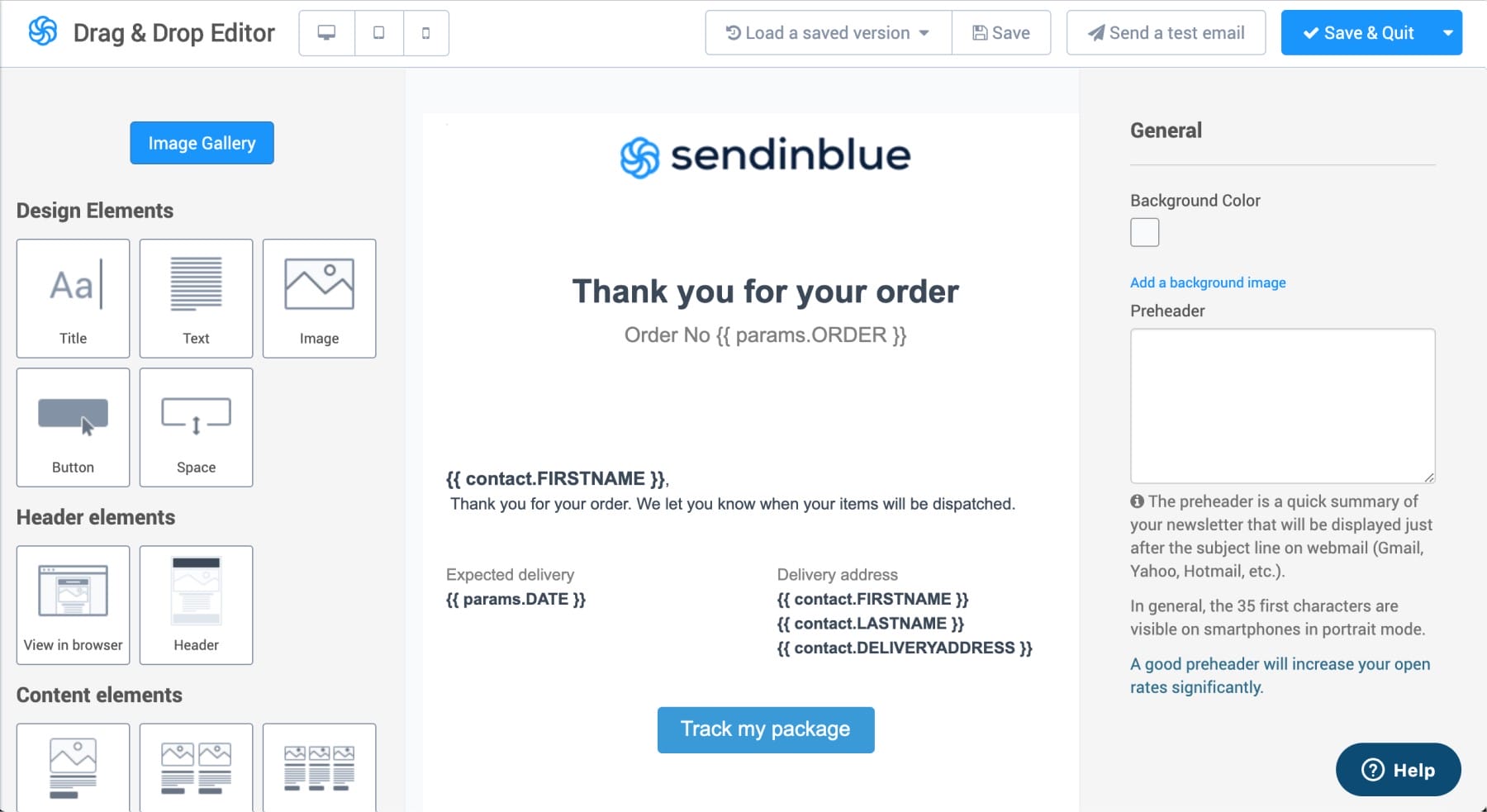 Sendinblue has a robust transactional email platform that is outfitted with webhooks and an API that lets you meld your website and operational systems with Sendinblue.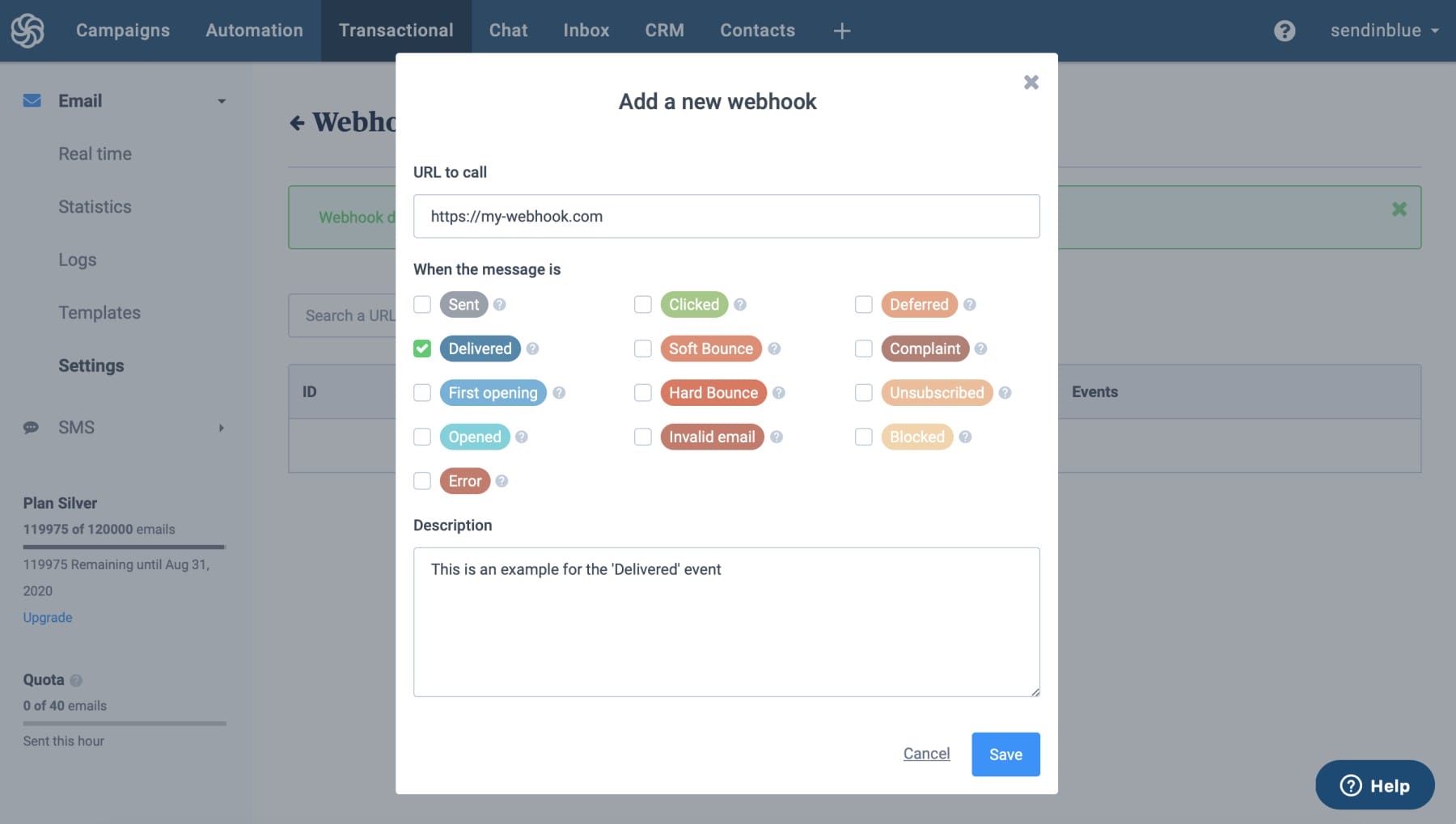 Sendinblue is particularly good with transactional emails because you can easily manage transactional and marketing emails all in one place. This could streamline a lot of the email functions for many businesses. Instead of learning two different platforms, site owners can focus on mastering one platform that can do almost it all.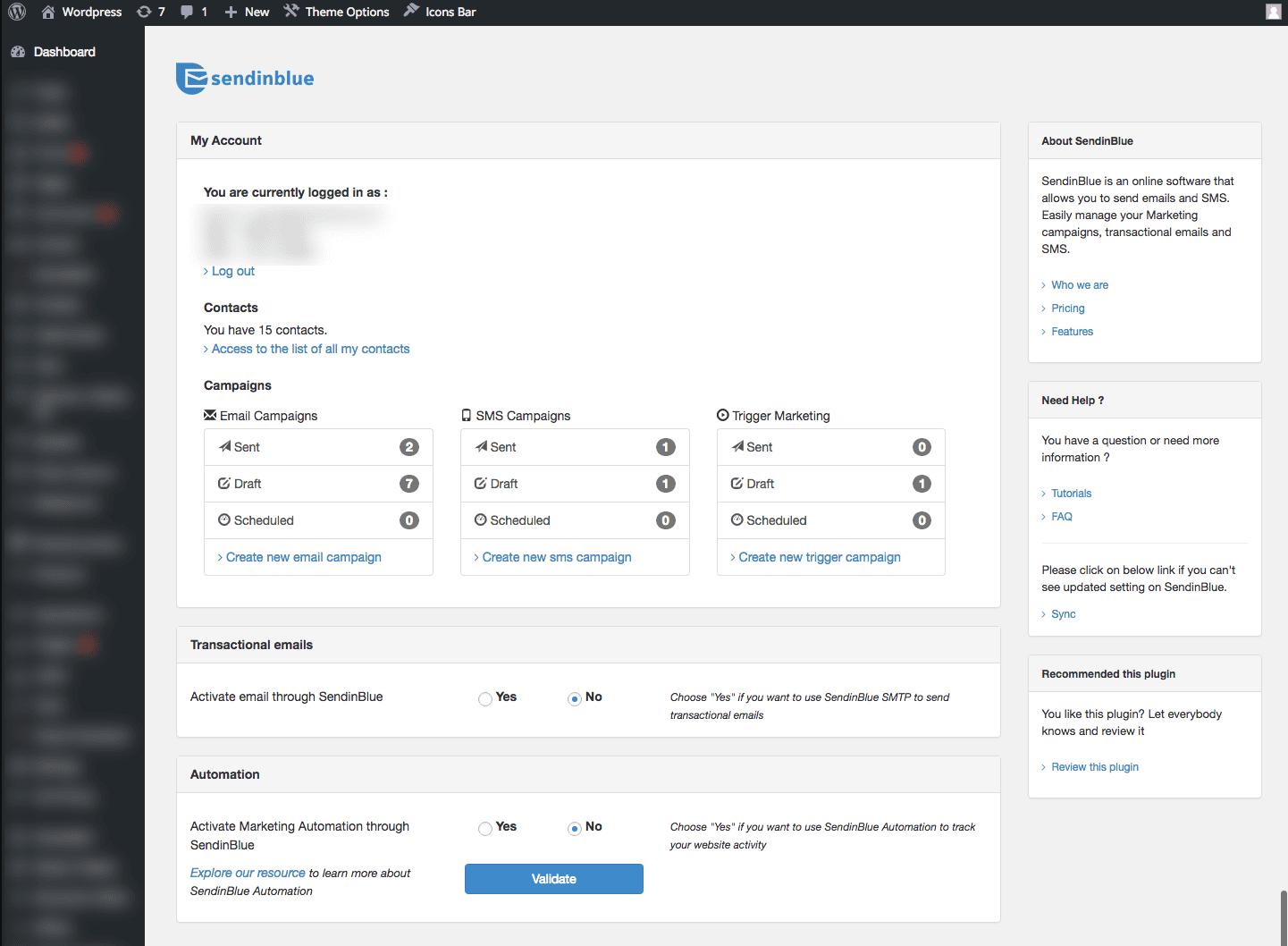 Sendinblue also works nicely with WordPress and other website platforms. Their SMPT WordPress plugin lets Sendinblue handle SMTP transactional emails and more for your WordPress websites. This makes your system-generated email deliverability more reliable. You are also able to use other SMTP plugins with Sendinblue as long as they support it.
Check out a step-by-step guide on how to use SMPT to send emails with WordPress and Sendinblue.
Next, we are taking a look at how Sendinblue handles social posting and advertising.
Social Media Sharing
Sendinblue lets you easily connect your social accounts so that you can easily share your email campaigns with your social audiences. It's a nice way to give audiences on other channels the ability to see what's going on in your email campaigns. Sendinblue lets you share your campaigns on your Facebook, Twitter, and LinkedIn accounts.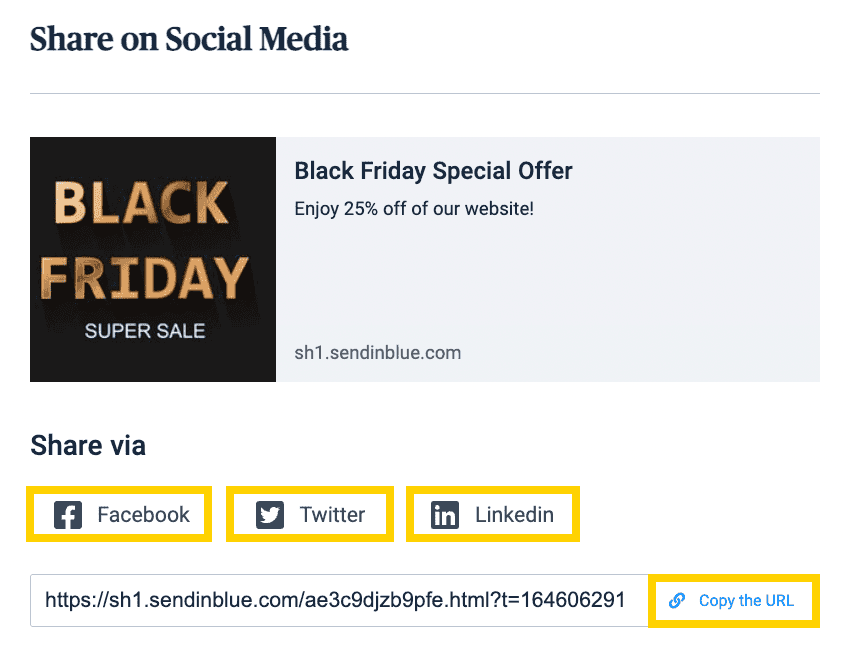 Social Chat Integrations
Sendinblue's chat features also integrate with a few compelling social channels. Sendinblue offers a standalone chat widget that you can deploy to your website (by adding the chat script or by connecting to Shopify, WooCommerce, and other integrations). The chat functionality can also integrate with your business page's Facebook Messenger or with your Instagram account's inbox.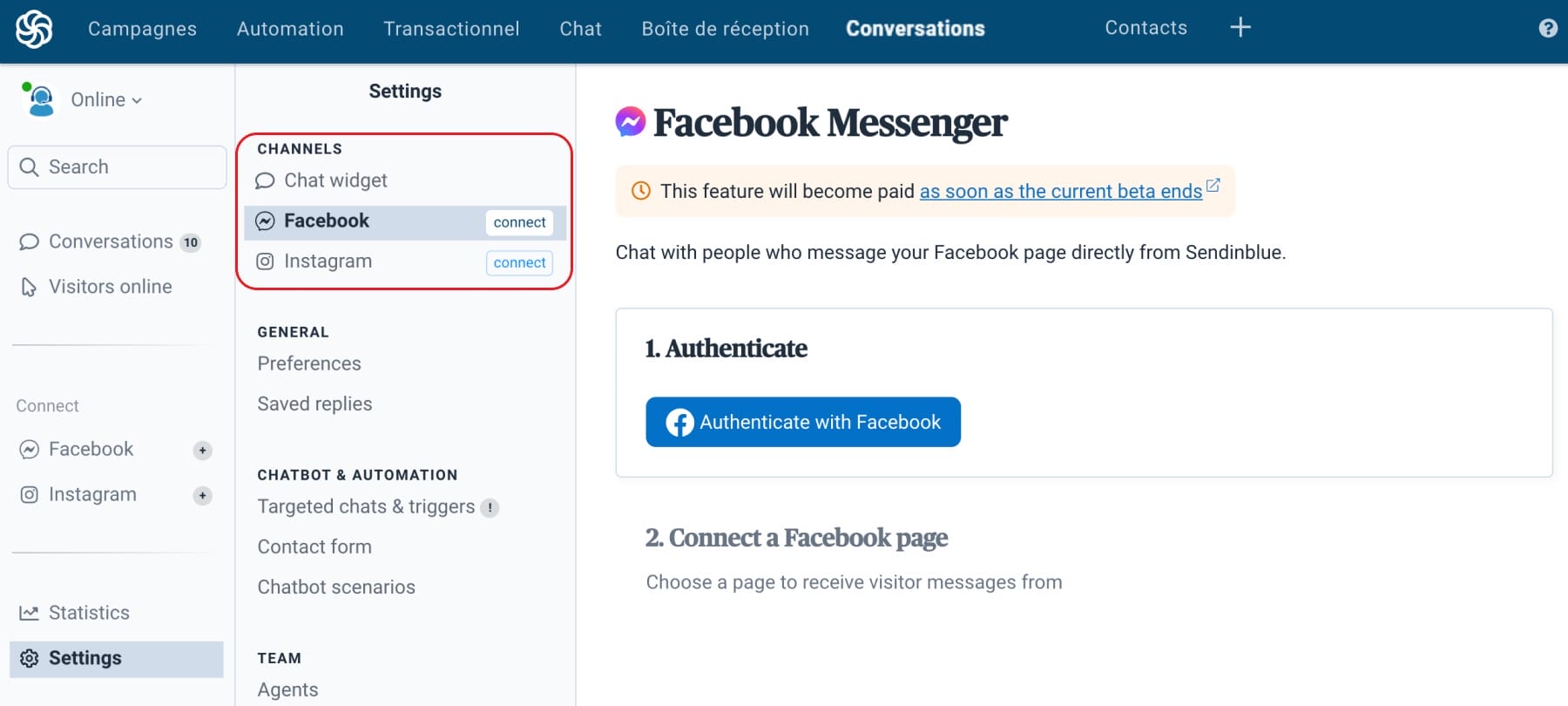 Social Advertising
Sendinblue allows customers to create advertising on Facebook. If you've ever delved into ads on Meta Ads Manager (formerly Facebook Ads Manager) you'll know how difficult this can be to do manually.
Sendinblue simplifies the process by creating an easier ad creation process and by connecting your CRM to your Ads Manager account. This creates undeniable efficiencies. It also limits the workload customers have to put in to be successful with both types of marketing. Lastly, with this all being on one platform, you can better use lead ads with CRM and Automation.
Social Ads are made easy by Sendinblue's audience creation.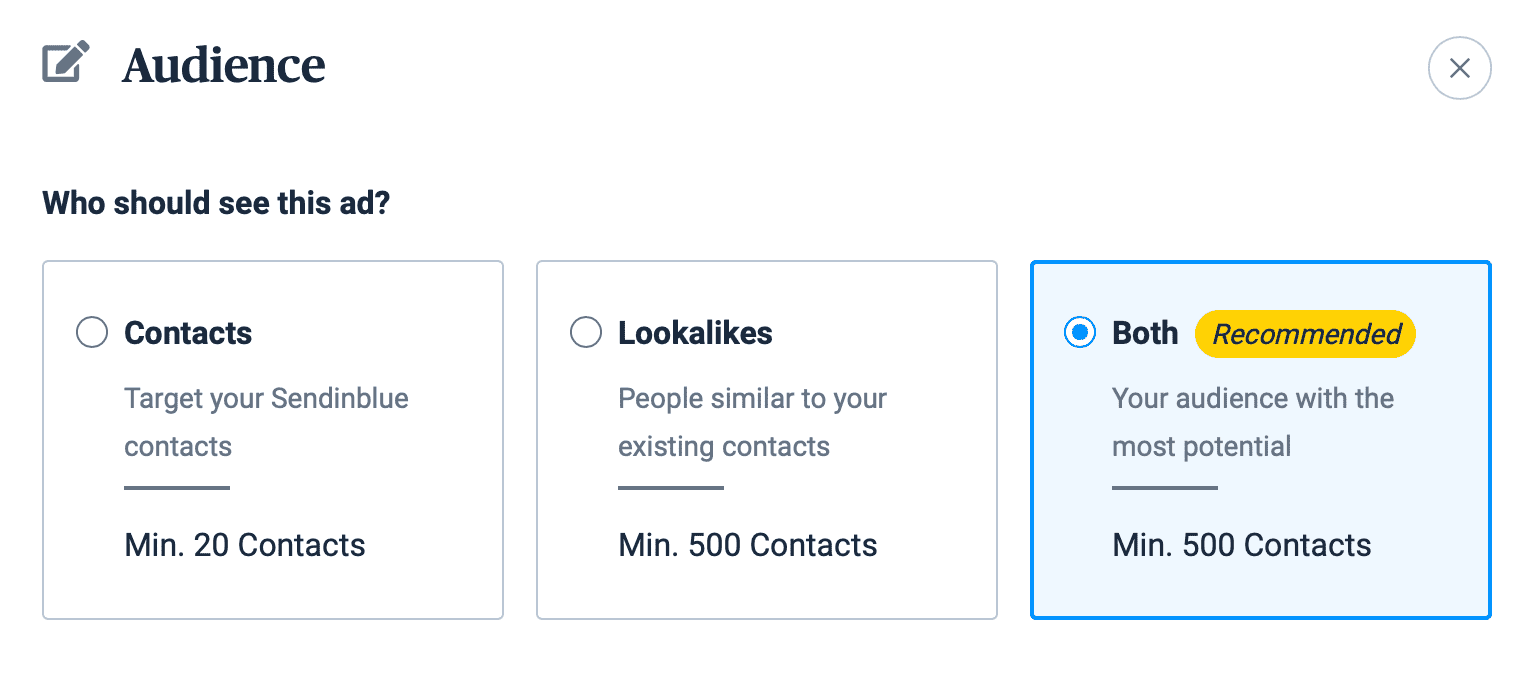 You can set the timing and budget of your ads easily in Sendinblue.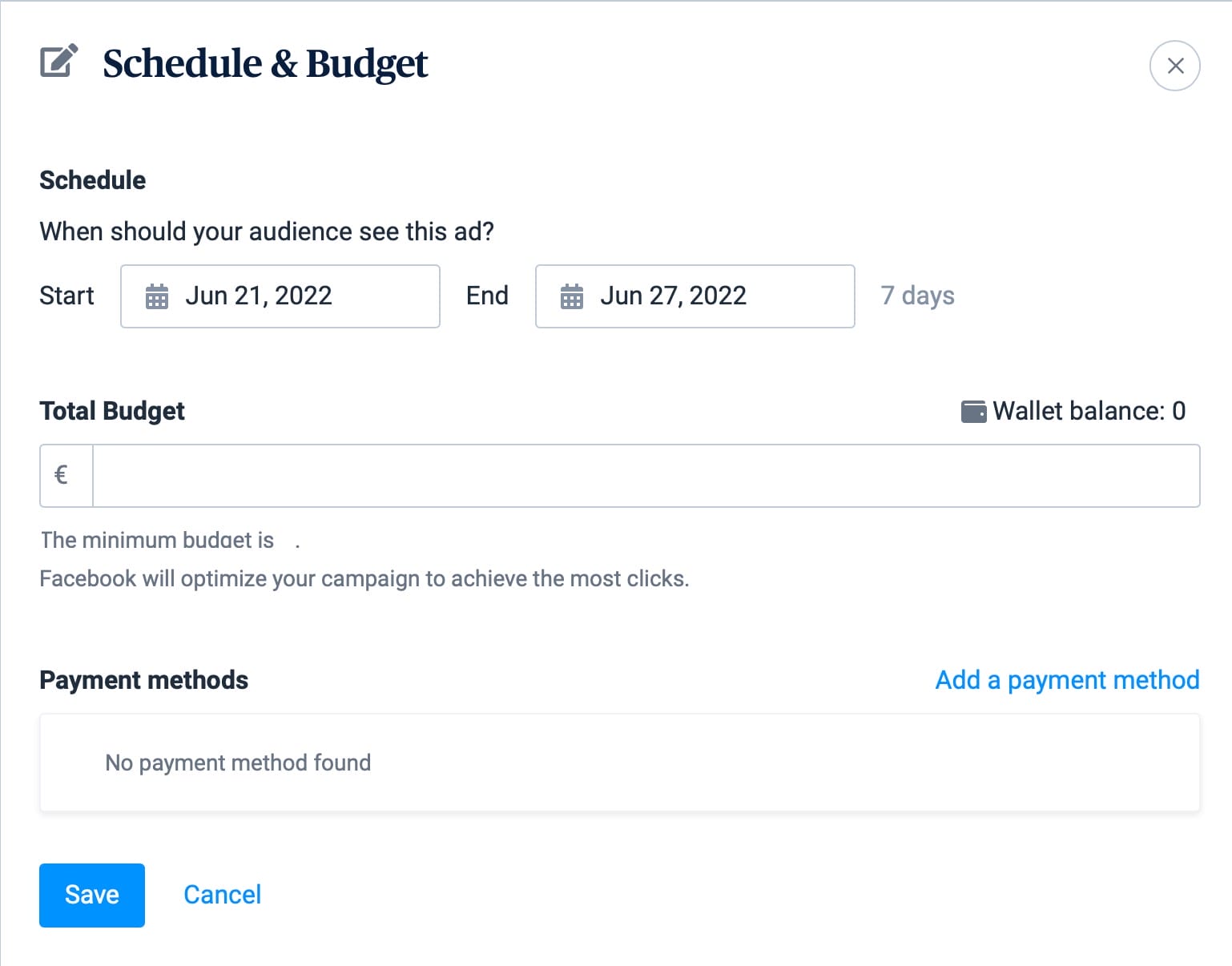 Designing an Ad on Facebook or Instagram is very easy and Sendinblue gives you a preview of your work. Certain ad types are not available in Sendinblue.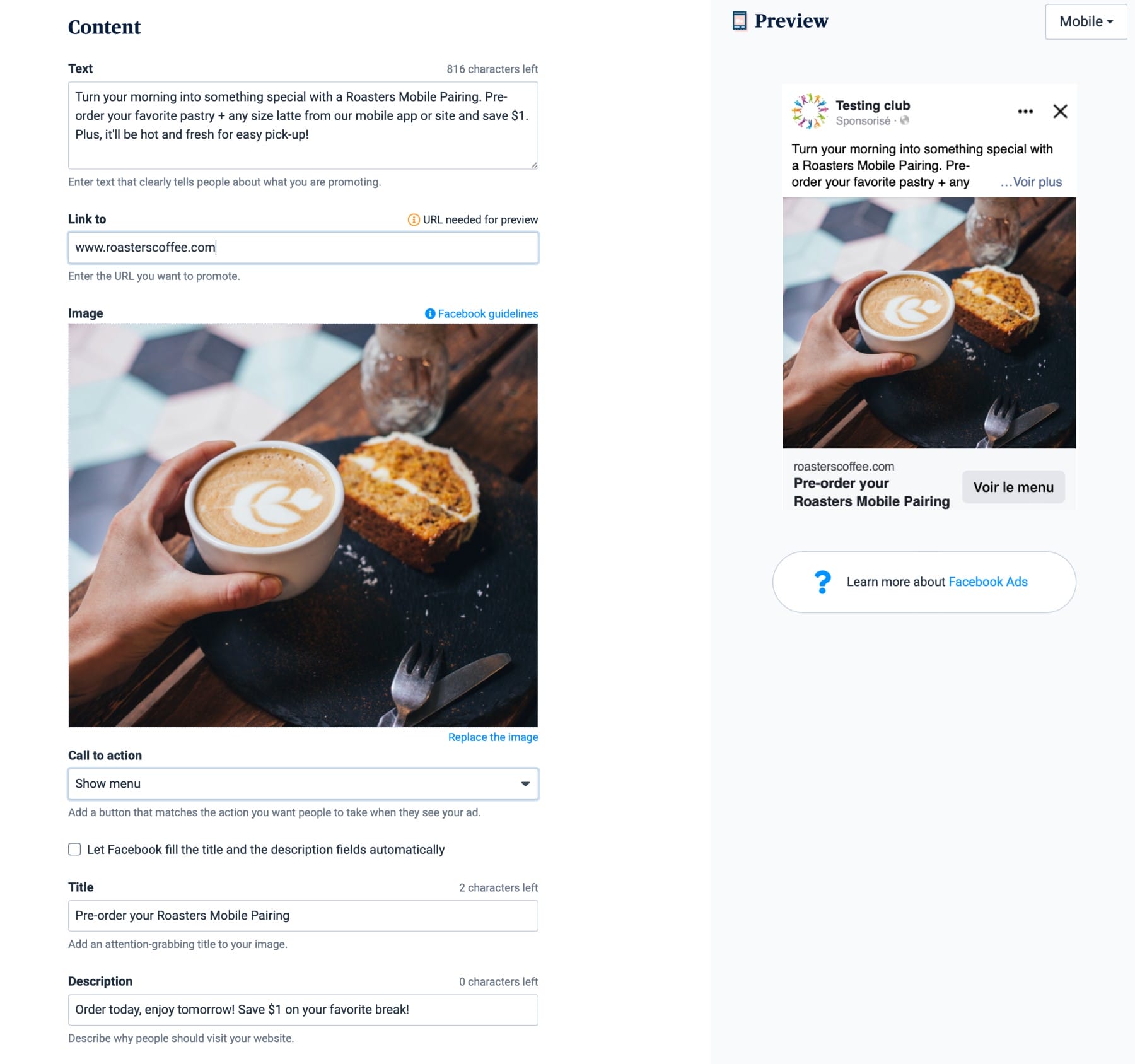 Sendinblue Ease of Use
One of the first things we noticed when we logged into our test account is how intuitive the dashboard is. There are a limited number of menu items in the top navigation which made it feel much less daunting. In the new account creation, we answered questions that created a custom onboarding experience tailored to our initial stated goals. This made it so that we only saw the features we said we wanted when we first logged in.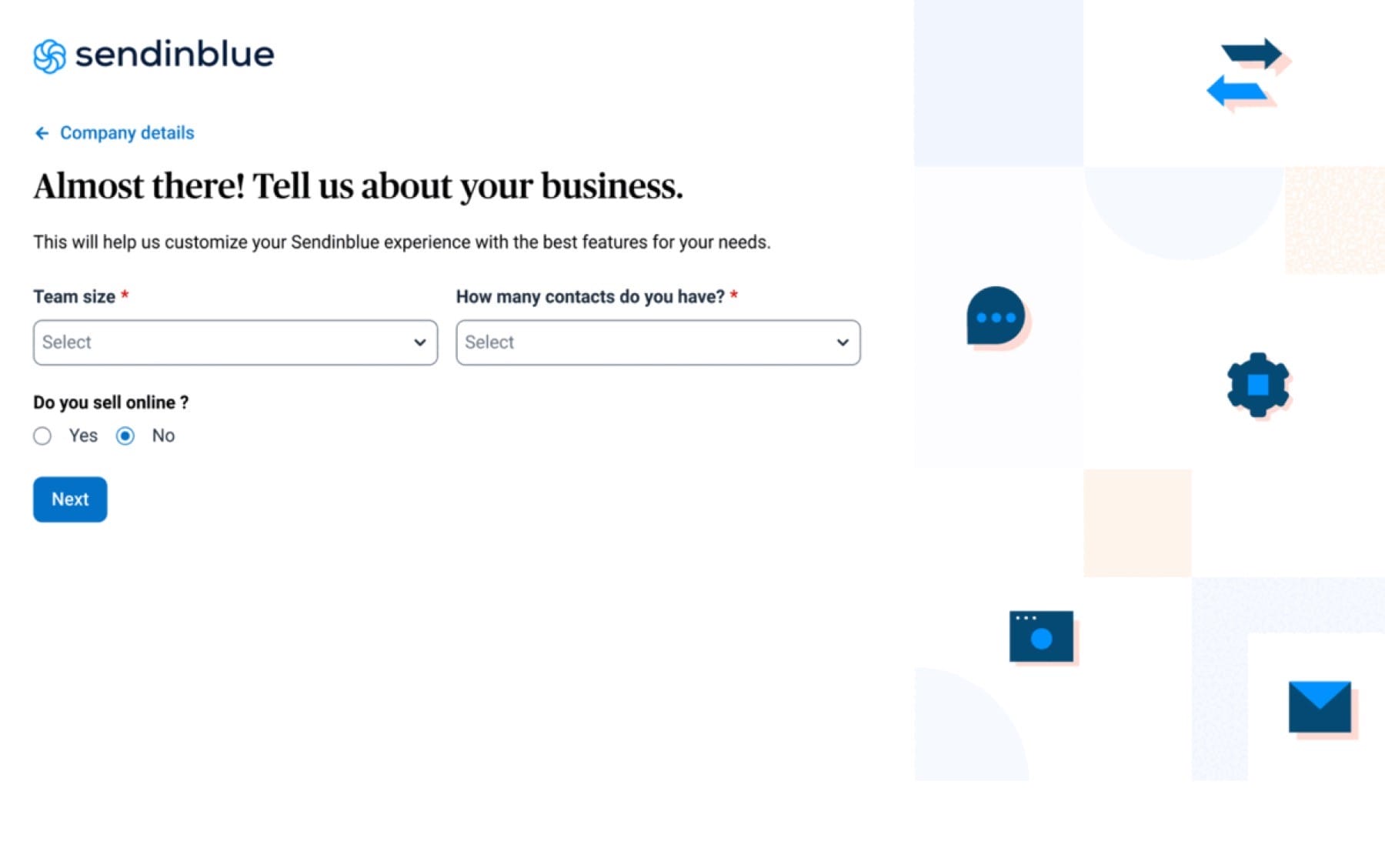 Jumping into the settings, you'll see more options under the hood. Each feature is well-organized in a grid format and each feature listed has an on-off toggle. This allows you to control what features are active and visible in the dashboard with a simple click.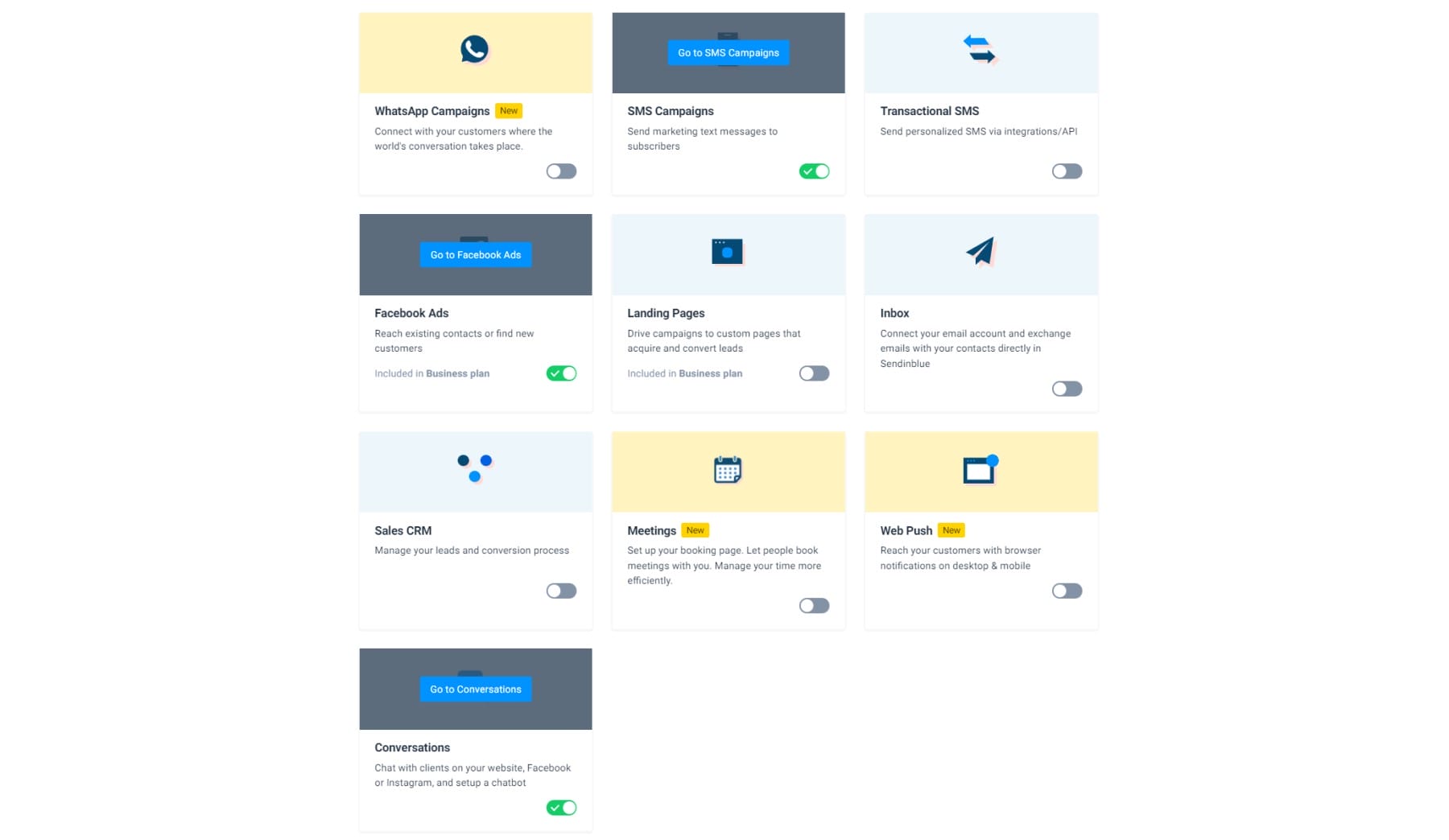 For example, if you are just doing marketing emails, you can turn off transactional emails and not see them in your dashboard. This is a brilliant way to improve user experience. Sendinblue gets an "A+" for modular feature toggles.
Powerful Automation
Sendinblue sports an attractive and easy-to-use automation workflow builder. The nice thing is that Sendinblue has pre-built recipes or workflow templates for you to choose from.
These pre-made workflows include:
Most Popular Workflows
Increase Engagement
Increase Traffic
Increase Revenue (eCommerce)
Build Relationships
Prebuilt workflows are a great time saver, especially for those new to marketing automation. They can choose a workflow that fits their business needs and create email/SMS campaigns based on where they land in the workflow.
This mid-level automation could not be easier and gives marketers enough power to push business forward.
Email Creation
As an email marketing campaign, how Sendinblue handles creating emails is very important. We'll start with Sendinblue's email templates. Their premade email starters are separated into layouts and templates.
Layouts – Paired down templates without images and design elements. Just the visual layout
Templates – Full-fledged starter emails. Pick a template based on the design elements
There are 41 templates available but the real value is the ability to create your own templates that you can reuse and stay on brand.
Sendinblue Email Visual Editor
Their visual editor is powerful, simple, and attractive.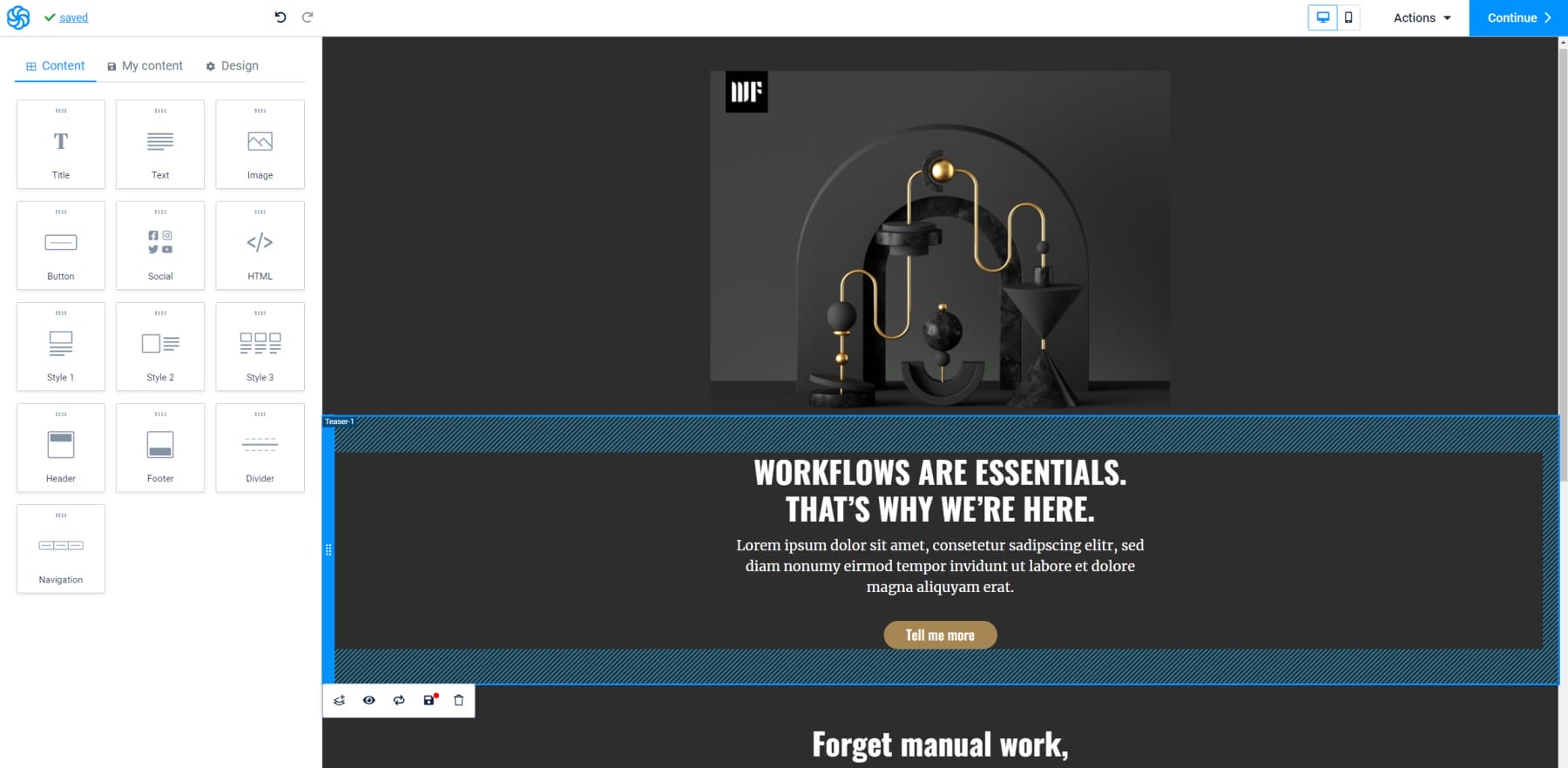 Standout visual editor features include:
Drag and drop blocks
Simple Block settings (colors, spacing, alignment
HTML block
Reusable content blocks
Block Visibility Toggle – to hide blocks but not delete
Duplicate Block
Repeat Block for Dynamic Content Varaitations
Sendinblue's email editor is, in some ways, more powerful than the likes of Constant Contact and Mailchimp. But, a lot of that comes down to familiarity. Power users will enjoy the HTML block that allows for a visual editor plus some additional HTML.
Sendinblue Pricing
Sendinblue's Pricing is where it really sets itself apart. Their pricing structure is proving to be a uniquely effective marketing strategy, attracting users that want more bang for their buck.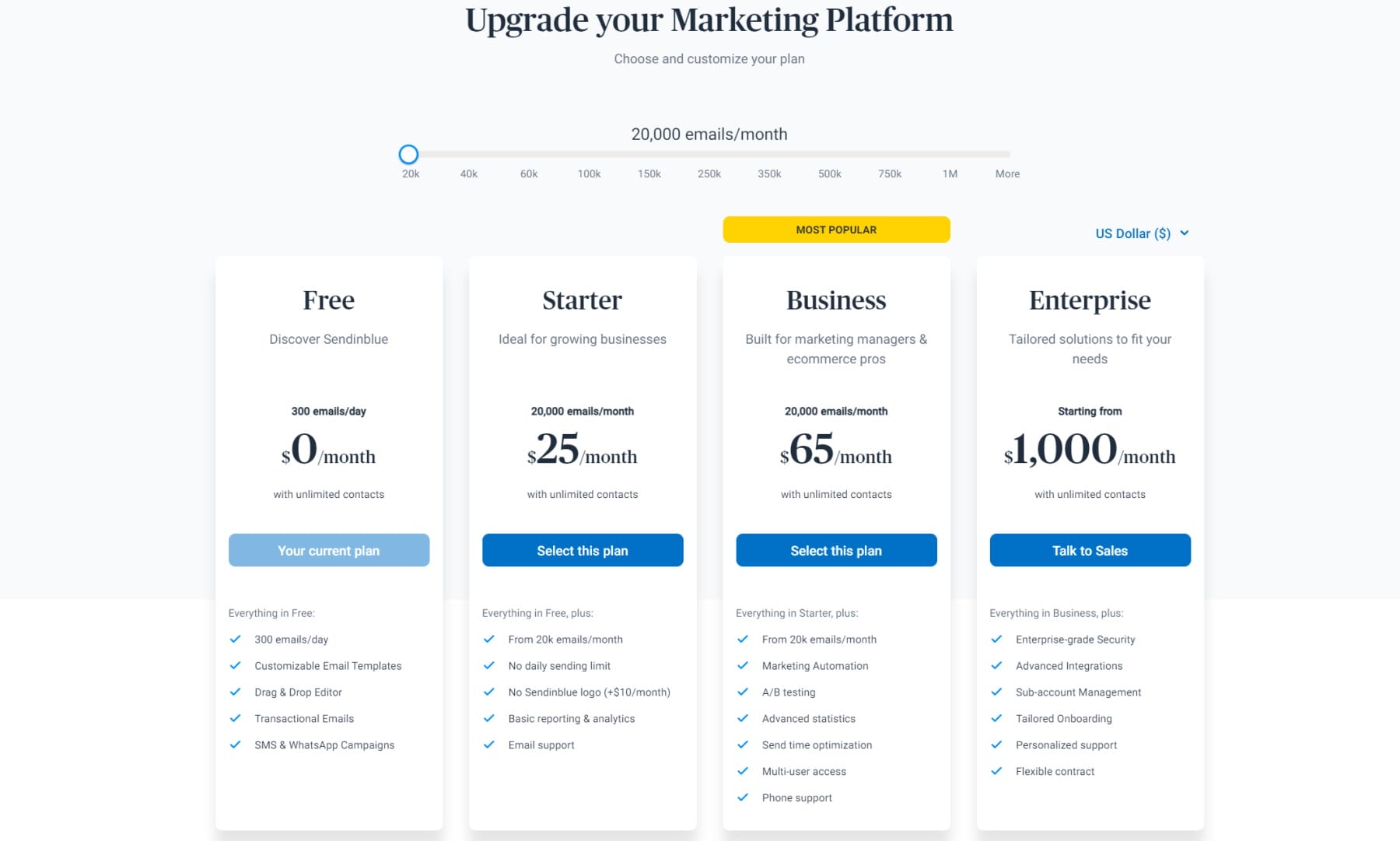 A Generous Free Plan
They have a generous free plan for email marketing with nearly all necessary features included. The free plan is limited to 300 emails per day ( 9,000 per month) with a cap of 2,000 contacts for email automation. That's a great deal for small businesses with less than 500 contacts and could reasonably be all they need.
Scalable Paid Plans
Sendinblue bases its prices on the number of emails sent instead of the number of contacts you have. That means you can have as many contacts as you want and Sendinblue won't charge extra. This is a huge value for companies that send fewer emails and have a large audience.
The Starter plan ($25/m) includes reporting, email support, and no daily email limit. The Business plan ($65/m) offers full automation, A/B testing, advanced reporting, and multiple user access. The Enterprise plan ($1000/m) provides white-glove onboarding, flexible pricing, advanced integrations, and top security.
SendinBlue vs Mailchimp
Sendinblue, as so with many other platforms, has made significant strides to compete with Mailchimp. They've changed their pricing structure and feature mix (especially in the free tier) to truly offer a better product for small businesses. The below figure shows what sending 1 email per contact would cost you as compared to Mailchimp.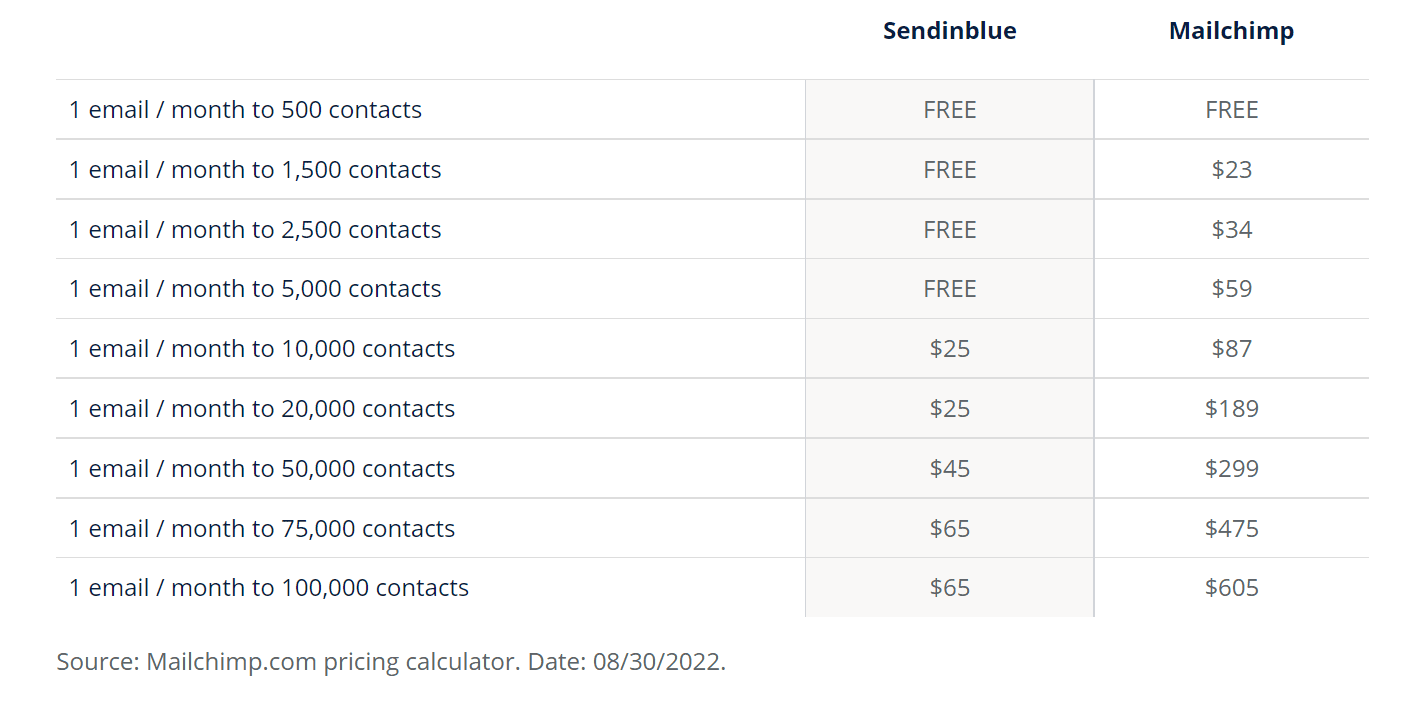 Mailchimp's free plan has some notable limitations compared to Sendinblue including limited number of monthly sends (9,000 vs 2,500) and no live chat, CRM, or transactional email options. Plus, Sendinblue allows unlimited contacts (excluding automation) while Mailchimp does not.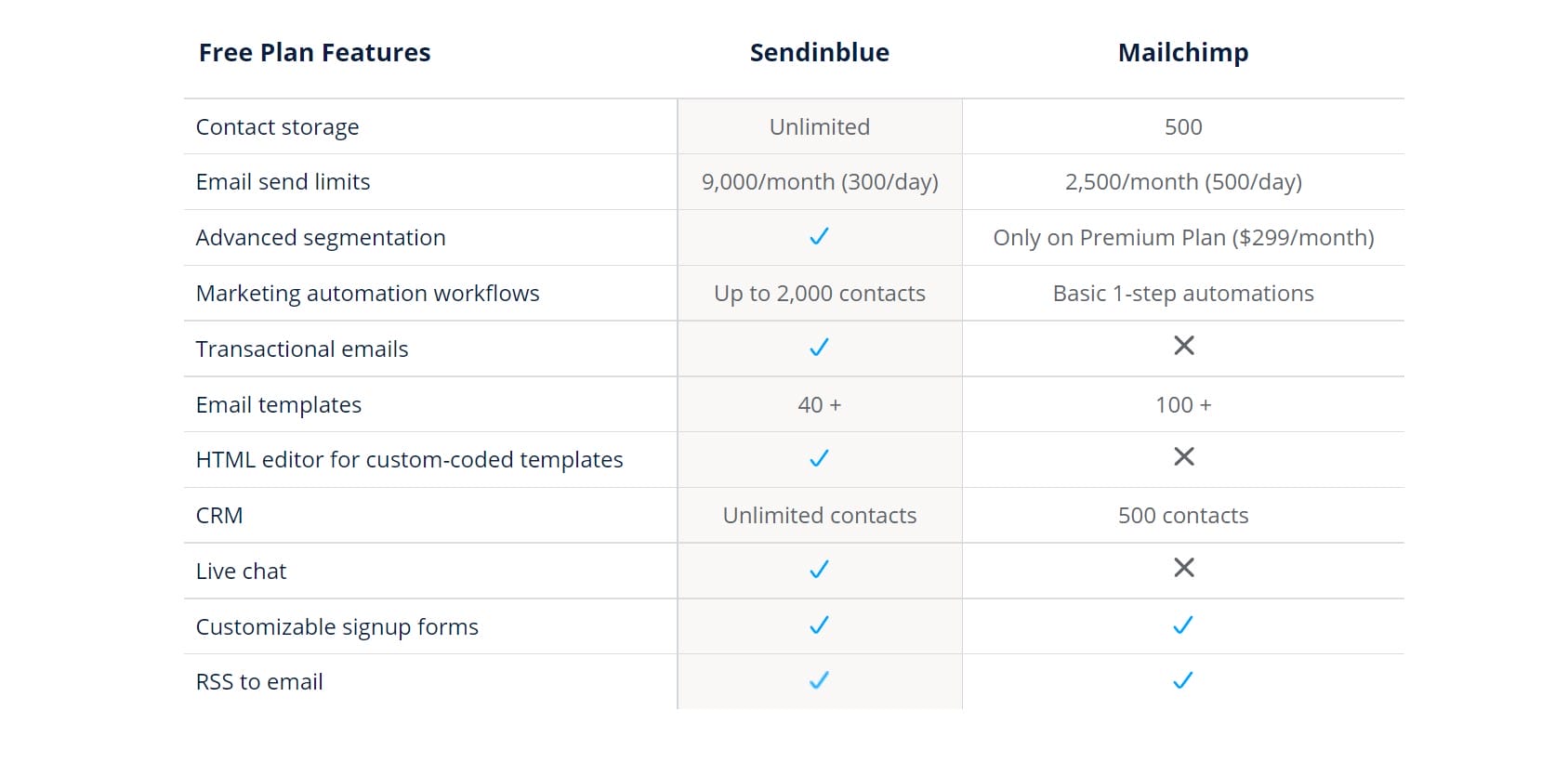 Digging deeper into Mailchimp vs. Sendinblue feature comparisons, Sendinblue offers a few features that would be add-ons with Mailchimp. The cost savings could be quite large if you need these features.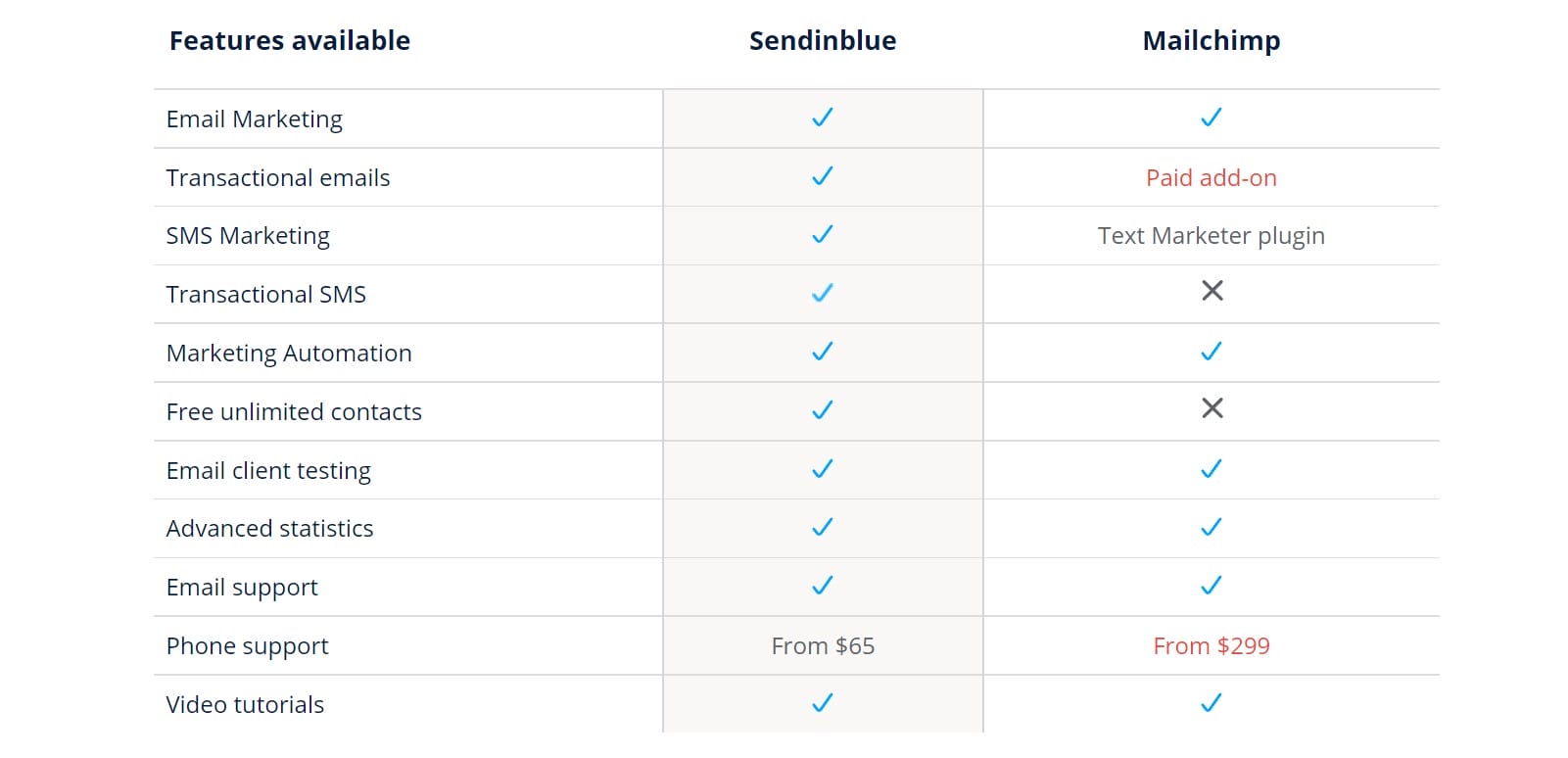 Notably, the Business Plan with Sendinblue (at $65 per month currently) comes with phone support but phone support is only available with Mailchimp with their $300 per month plan. Mailchimp also charges by the contact so Sendinblue's unlimited contacts (especially if you are using CRM and Automation) are quite appealing.
One of the Best Free Email Marketing Platforms with Affordable Upgrades
Sendinblue is proving to be one of the best affordable email marketing platforms. If you're looking for a powerful email marketing tool that won't break the bank, SendinBlue is the perfect solution.
With a free account, you can send up to 300 emails per day. And if you need more, you can upgrade anytime with scalable plans that charge by the number of emails rather than the number of contacts. Plus, their free plan includes most of the features of their paid plans, so you can give it a try and see how fits with your marketing strategy.
Have you tried Sendinblue within the last year? How was it? How did it help you with your marketing goals? What else would you add to this Sendinblue Review?
Featured Image via TMvectorart / shutterstock.com