As a business owner, it's important to leverage tools that help streamline key tasks. One way to do that is to eliminate the amount of time you have to spend manually scheduling appointments with your customers. Fortunately, WordPress booking plugins can make your job easier. Plus, they can improve the experience for your visitors.
WordPress provides you with a wide variety of WordPress plugins, and in this post, we'll introduce you to 15 of the best WordPress booking plugins, discussing their key features and pricing.
What is a WordPress Booking Plugin?
A WordPress booking plugin integrates with WordPress and enables users to create and manage bookings for services or products. It allows you to set up a booking system on your WordPress website, allowing visitors to select a date and time, input their information, and make a reservation directly from your site.
Some of the features that you'll typically find in a booking plugin are:
Customizable booking forms
Availability calendars
Payment integration
Automated confirmation and reminder emails
Customer management tools
Integration with Google Calendar, iCal, and other calendar systems
The Best Booking Plugins for WordPress

Subscribe To Our Youtube Channel
When we set out to create this group of best booking plugins for WordPress, we considered a few things. It should have a user-friendly interface, the ability to create customized booking forms, payment integration options, automated booking confirmations, and comprehensive documentation. Additionally, we evaluated our choices on the ability to integrate other functionalities such as email providers for businesses. Last but certainly not least, we chose plugins that work well with the latest version of WordPress, and were highly rated and reviewed by those who use them.
The Best WordPress Booking Plugins Listed In Order
Expand List
With that said, let's dive in!
1. Amelia

Amelia is an events and appointments booking calendar plugin geared towards enterprise-level businesses. The feature-rich booking system lets you automate the appointment scheduling process on your site's back and front ends: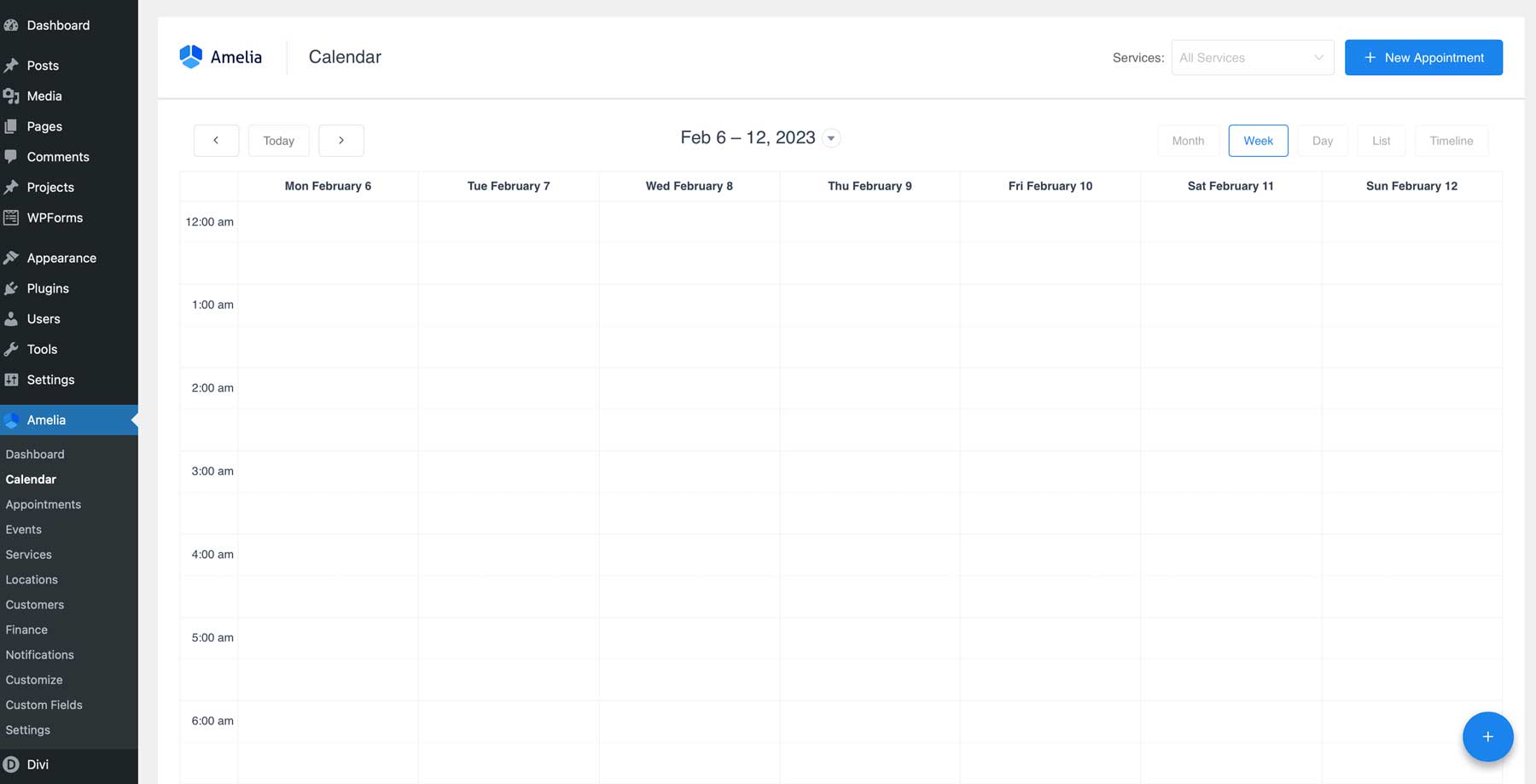 One of this tool's unique advantages is its performance optimization. For example, Amelia incorporates page preloading and other advanced technologies. This helps it deliver the best experience possible to both you and your customers.
Key Features for Amelia:
Seamless appointment scheduling
Front-end booking wizard
User-friendly UI
Intuitive calendar view in the admin area
Flexible appointment management
Email notifications
Booking for recurring appointments (premium only)
Group services and coupons (premium only)
WooCommerce, PayPal, and Stripe integration (premium only)
Amelia is for you if…
… you want a plugin with a quick installation and setup process. It's also a handy tool if you want to primarily book in-person appointments and meetings (gyms, salons, etc.). Your customers will be able to pay online (premium only) or offline.
Price: Free, with premium plans starting at $79 per year.
2. Simply Schedule Appointments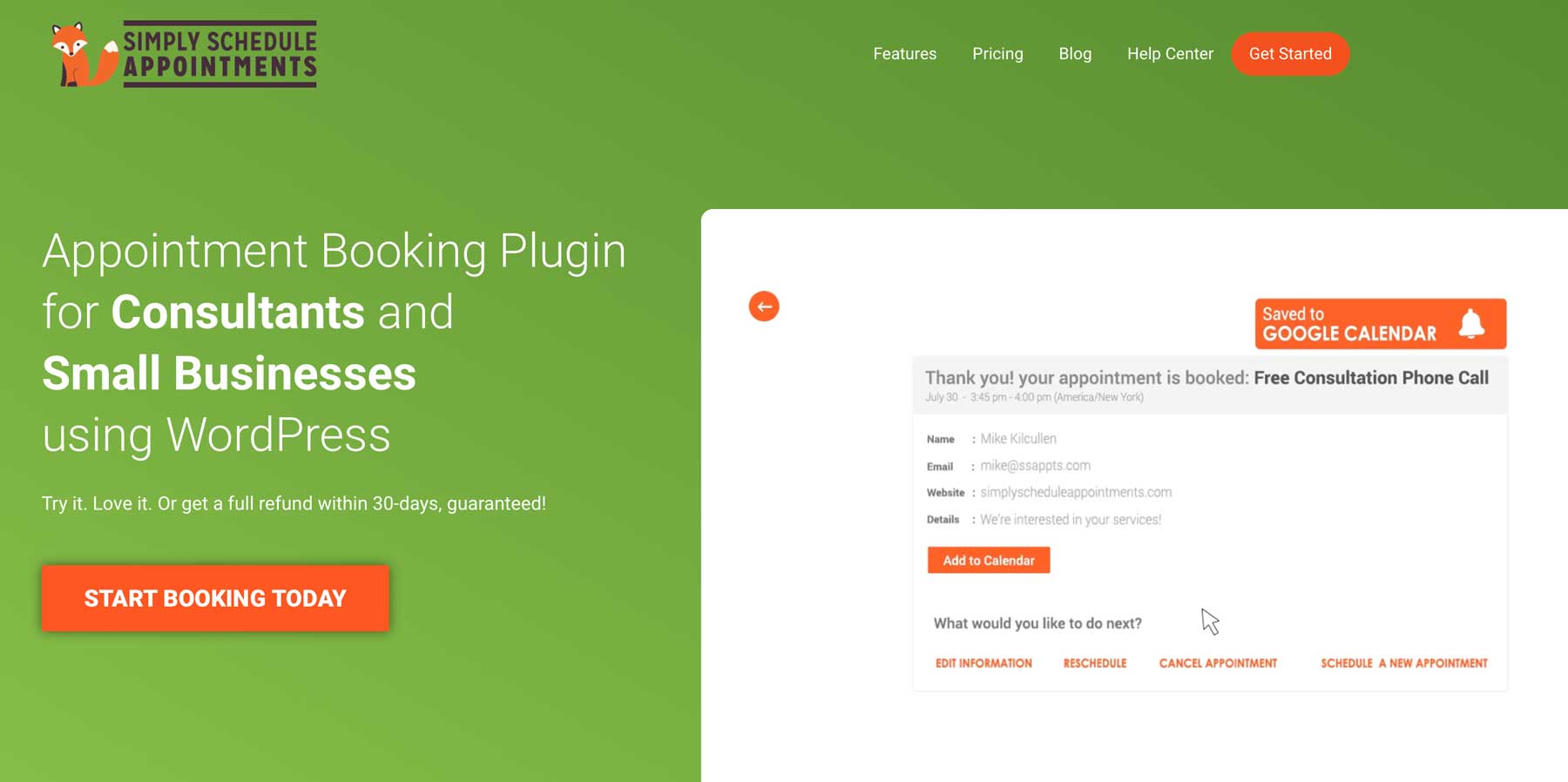 Another simple yet powerful WordPress booking plugin you might consider using is Simply Schedule Appointments. This freemium tool makes accepting appointments through your WordPress site seamless. It's quick and easy to set up and promises to have you ready to display your availability within minutes.
Simply Schedule Appointments comes in both free and premium versions. While the plugin is feature-rich, it doesn't come with any unnecessary bloat or confusing settings. The interface is one of the most modern and clean ones included on this list: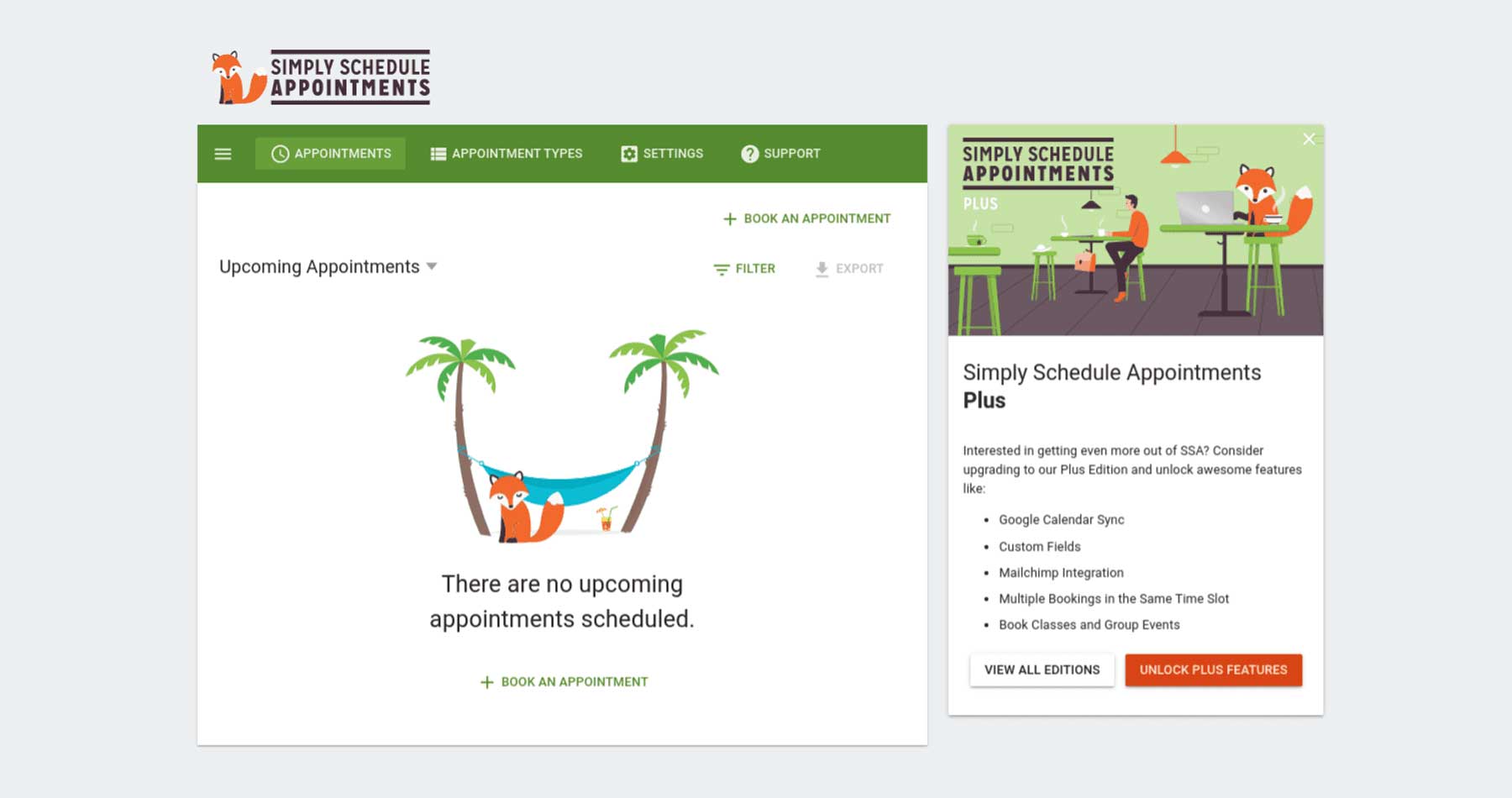 You can create appointment types and manage all of your bookings from the back end. This plugin is also ideal for arranging phone calls and meetings. For example, it's a solid option if you're a trainer, counselor, or consultant.
Thanks to the interactive setup wizard, you can create a booking form and add it to your site quickly. It also fully integrates with our own Divi Builder, making it all the easier to use.
Key Features:
Easy setup and installation
Intuitive and easy-to-use User Interface (UI)
Interactive setup wizard
Unlimited appointment types
Customizable notification emails and styles
Advanced scheduling options and blackout dates
One-click support
Gutenberg Blocks
Google Calendar and Mailchimp integration (premium only)
Integration with popular page builders, including Divi Builder
Simply Schedule Appointments is for you if…
… you want a plugin that lets your customers quickly and easily schedule phone calls, meetings, or sessions. It's perfect if you want a freemium tool that isn't overly simple or too complex.
Price: Free, with premium plans starting at $99 per year.
Get Simply Schedule Appointments
3. Appointment Hour Booking

Appointment Hour Booking is a freemium WordPress booking plugin that lets you build appointment forms and apply specific times for availability. On the front end of your site, your customers can select from the displayed start times for the chosen service. Then they can submit payments.
Also, the UI is more beginner-friendly when compared to many other WordPress booking plugins on this list:

The Appointment Hour Booking plugin's visual configuration makes building your calendar and forms straightforward. It also offers a wide range of customization and configuration options that make it flexible enough for small and large businesses alike.
Key Features for Appointment Hour Booking:
Appointments with start and end times
Multiple services with different prices and durations
Definable open hours
Double-booking prevention
Automatic price calculator
Customizable email notifications
Appointment Hour Booking is for you if…
… you're looking to create booking forms for appointments that have specified start and end times. Therefore, it's a useful plugin if you offer classes and workshops, events, or meetings.
Price: Free, with premium plans starting at $5.99 per month.
4. Hotel Booking Plugin by MotoPress
The Hotel Booking Plugin by MotoPress is a great choice for those wanting to build a hotel booking or rental property website. You can book, list, and manage properties or rooms with ease using any WordPress theme.
The plugin works with any WordPress theme and allows you to create a booking site with ease. Some key features include:
Key Features for WordPress Hotel Booking Plugin:
Accept reservations
Integrates with Divi and other page builders
Mobile-friendly custom forms
Custom search fields
Real-time availability calendars
Collect taxes, offer coupons, and the ability to make multiple reservations
Integration with multiple payment gateways
Divi users will be happy to know that Hotel Booking integrates with Divi by adding a booking module directly into the Visual Builder. With so many design options at your disposal, you're able to create beautiful booking pages for real estate, campsites, rentals, and more.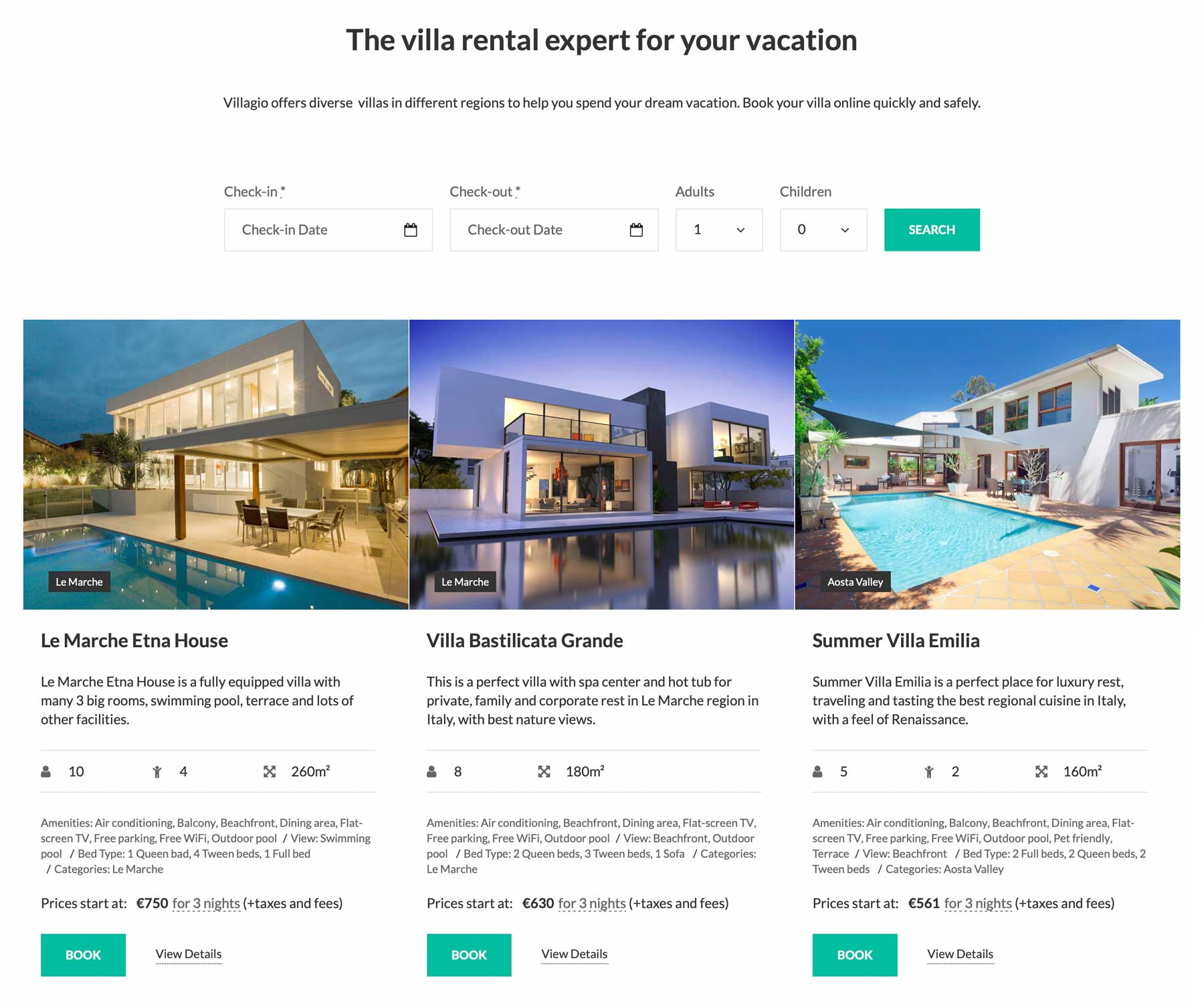 Hotel Booking Plugin is for you if…
…you want a full solution booking platform for real estate, camping, hotels, or any other type of reservation-based website. With Hotel Booking by MotoPress, you'll be able to create stunning booking pages that match the look and feel of the rest of your website.
Price: $99/yr.
Get Hotel Booking by MotoPress
5. WPForms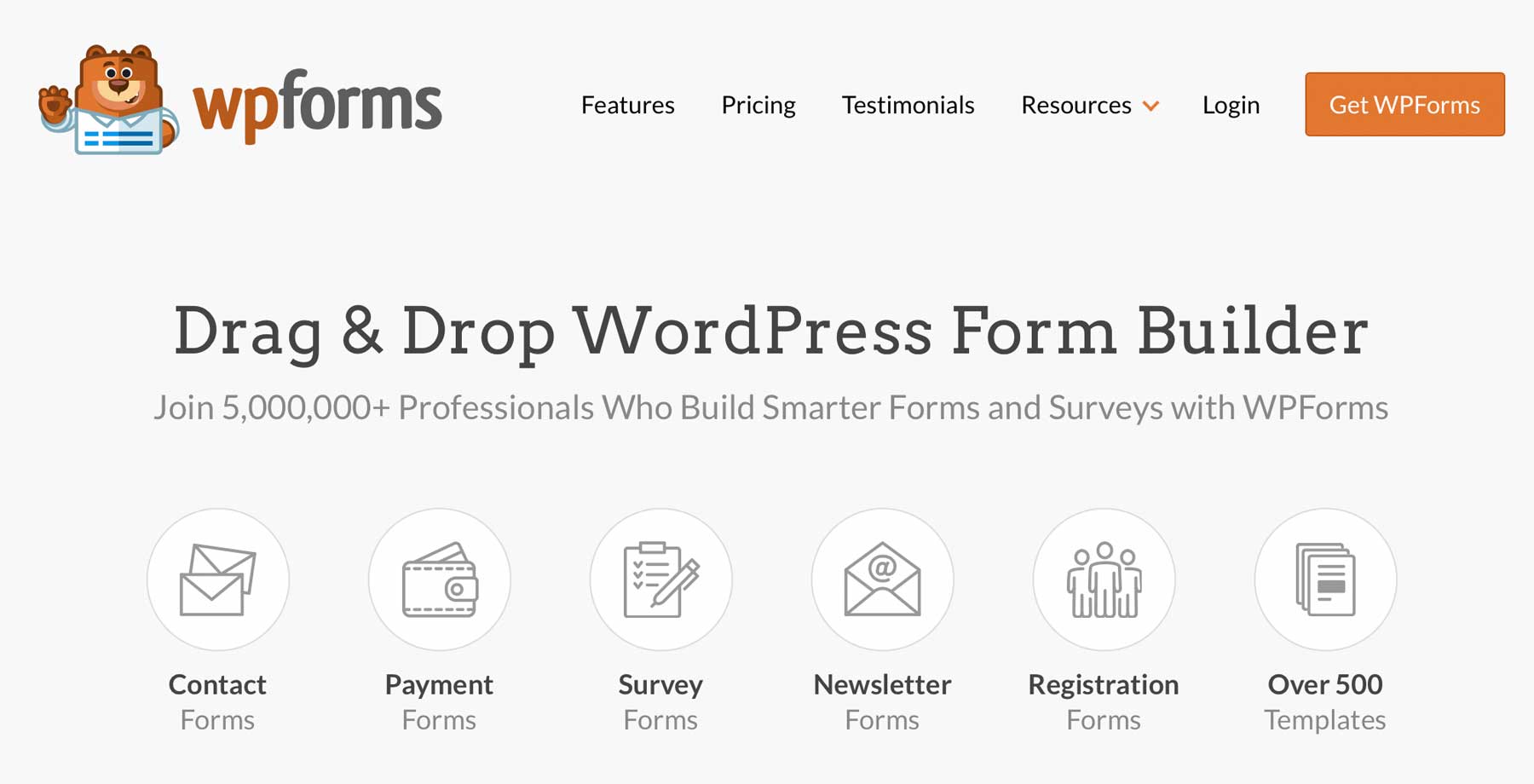 If you've been using WordPress for a while, you've probably heard of WPForms. Along with being a very popular form builder, this freemium plugin can help you schedule bookings through your website. This tutorial goes more in depth on how the plugin works.
It lets you quickly and easily create booking forms using a user-friendly drag-and-drop builder: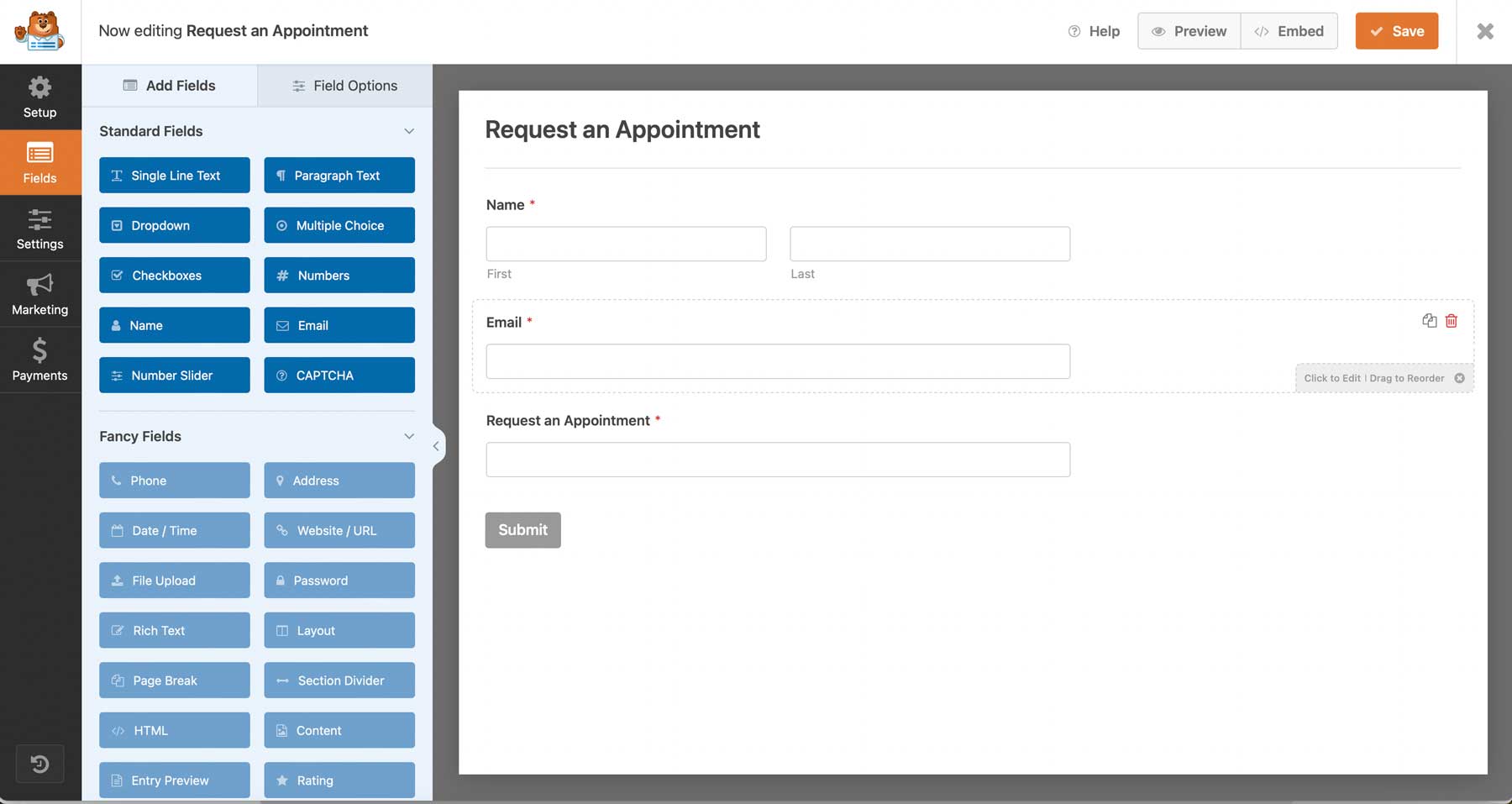 You can set certain fields to be "required", such as the day and time for the appointment. You can also add completed forms anywhere on your site. That includes pages, posts, sidebars, and widget areas.
WPForms Lite is a powerful free version of the plugin that you can use for various forms. However, you'll need to upgrade to a Pro plan if you want to use the date/time form field features.
Key Features for WPForms:
Pre-built form templates
Drag-and-drop form builder
Required fields
Spam protection
PayPal and Stripe integrations
Integration with Divi
Divi users benefit from seamless integration with WPForms by way of a custom module inside the Divi Builder. This makes it easy to add forms to your posts and pages, then customize them with tons of design settings.
WPForms is for you if…
… you're looking for a quick and easy way to build your forms. This plugin can help you create many different types, from signup and booking to survey and contact forms.
Price: Free, with premium plans starting at $39.60 per year.
6. Events Calendar
Events Calendar is one of the best WordPress events calendar plugins, and it can be an all-in-one solution for event ticketing. It lets you easily create and add an events calendar to your website. With the free Event Tickets add-on, you can allow users to book tickets for those events (whether online or in person). And, because it makes it easy to manage ticketing and RSVPs, you won't need a separate RSVP plugin for any type of event site.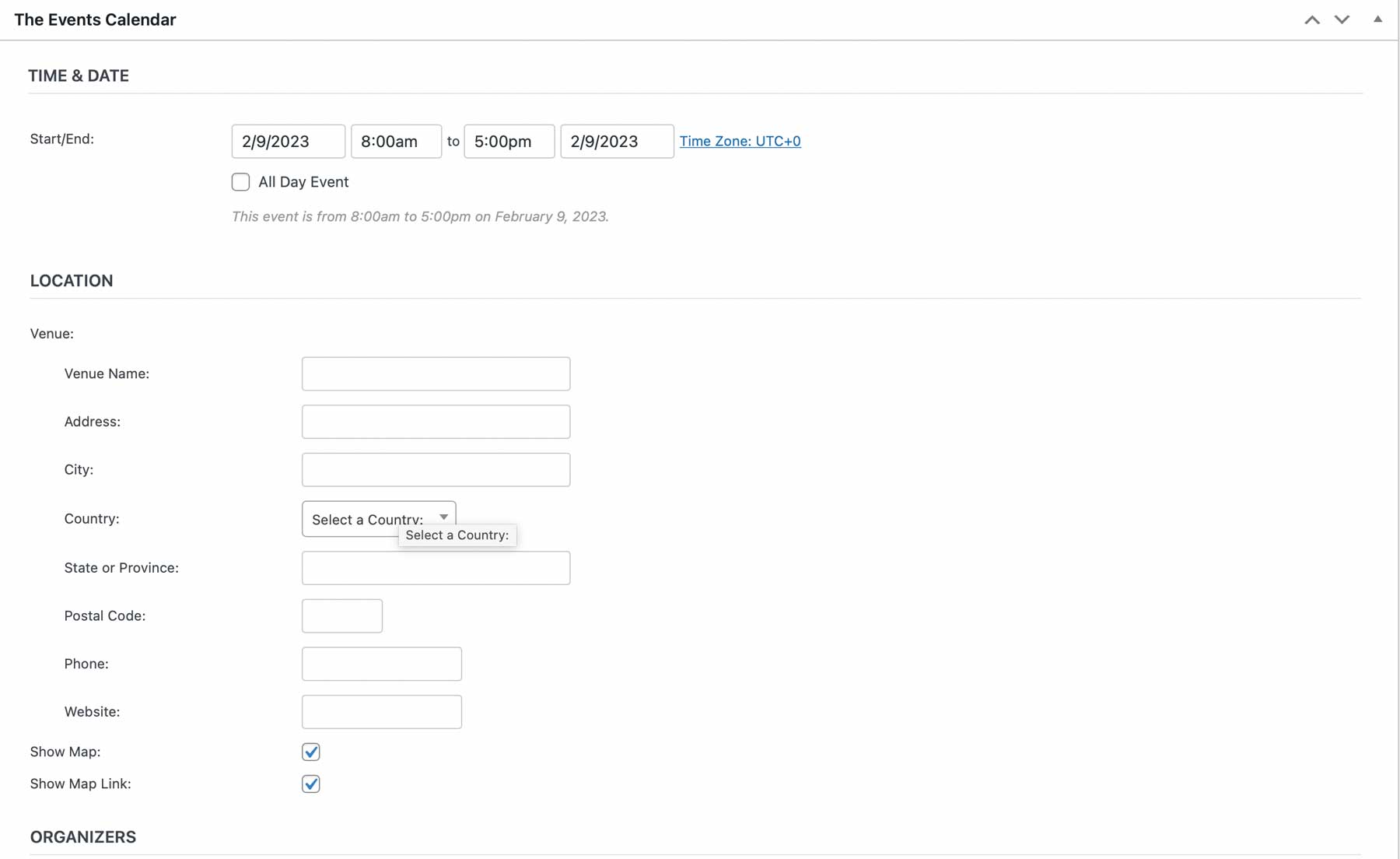 This feature-rich plugin is highly customizable and extensible. In addition, it is easy to use and comes with a lot of support. That's especially true if you upgrade to Events Calendar Pro. If you want a more powerful event booking combo, Events Calendar integrates with Simply Schedule Events for the best of both worlds.
Key Features for The Events Calendar:
Event ticketing and scheduling
RSVP management
Month/list/day views
Categories and tags
Google Calendar and Google Maps integration
The Events Calendar is for you if…
… you run an events website. This powerful tool is an excellent way to sell tickets and book guests.
Price: Free, with premium plans starting at $99.
7. WP Simple Booking Calendar

Next on our list, WP Simple Booking Calendar is a popular WordPress booking plugin that lets you streamline renting out your property to customers via your website. Visitors can check your home or room's availability, and then book it with ease.
You'll be able to manage calendars and appointments from the back end easily:

The free version comes with standard features for creating a booking calendar and displaying it on your site. However, premium plans are available that unlock more features, including advanced editing, customizing, and publishing options.
Key Features for WP Simple Booking Calendar:
Booking calendar and calendar legend
Holiday home bookings
Simple UI
Language translation
Calendar data backup and restoration
Gutenberg Block
Syncing with third-party sites such as Airbnb and Booking.com (premium only)
Unlimited booking calendars (premium only)
WP Simple Booking Calendar is for you if…
… you want a freemium WordPress booking plugin for a property rental website. Whether you're renting your vacation home, office space, or personal items and equipment, it's worth checking out. However, keep in mind that it doesn't let you accept online payments. For that, you would need to switch to WP Booking System.
Price: Free, with premium plans starting at $39.
Get WP Simple Booking Calendar
8. StartBooking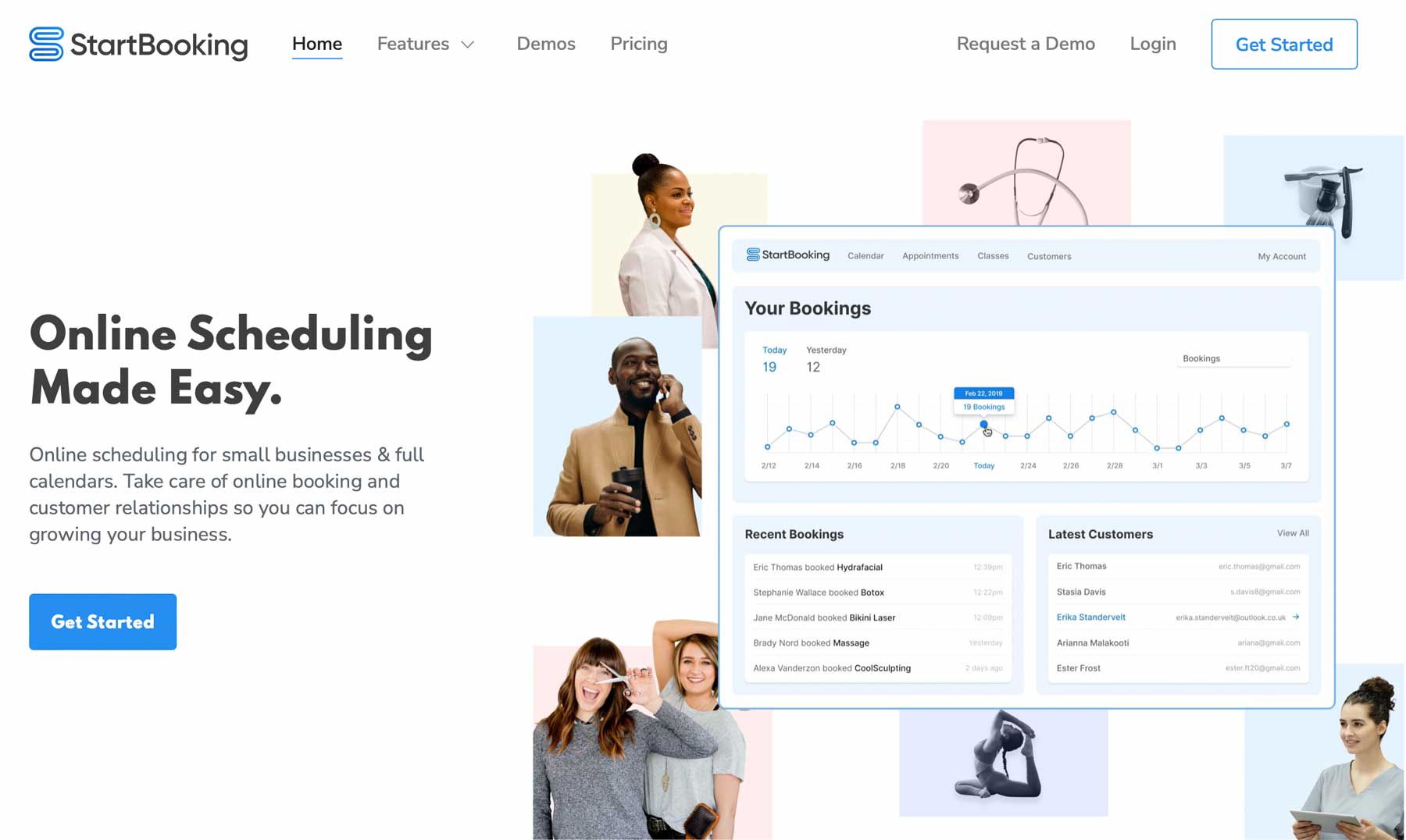 Next on our list of WordPress booking plugins is StartBooking. This plugin is a bit different than many of the other options we'll see. First, it's essentially an all-in-one solution. StartBooking is premium online scheduling software that lets you add a calendar to your WordPress site.
From your site's front end, your visitors can schedule appointments, view appointment details, and cancel appointments: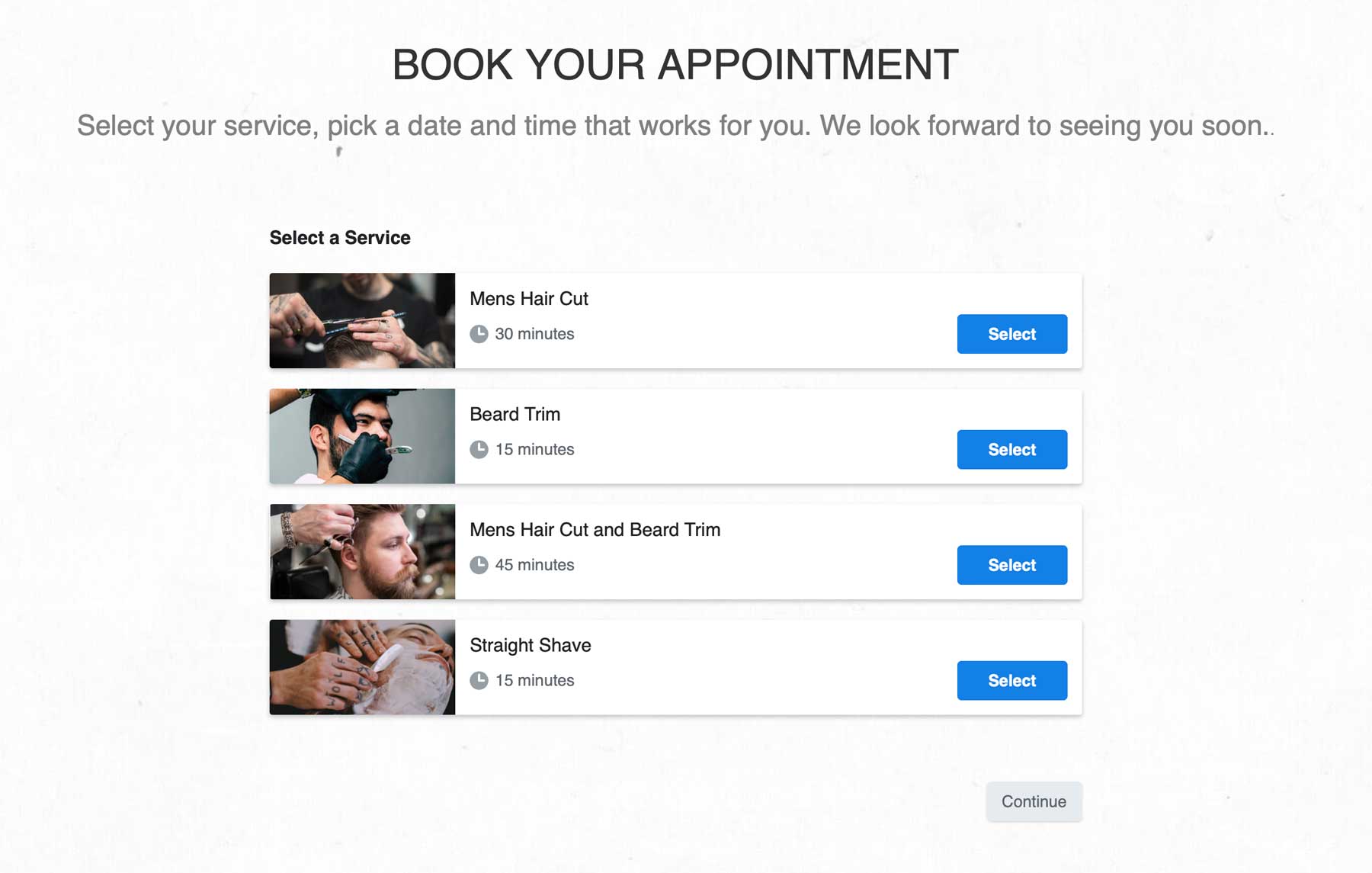 StartBooking uses innovative cloud technology to power its managed scheduling system. Plus, it provides you with a collection of handy features and functionality for streamlining your booking process. With this robust tool, you can schedule unlimited appointments and assign specific staff members to individual services.
Key Features for StartBooking:
Fully managed scheduling system software
Custom integrations
Classes and group bookings
Reminder notifications and customizable emails
Online payments
Google Calendar integration
Booking locations and analytics
Services and staff management
StartBooking is for you if…
… you're looking for a scalable scheduling solution for service appointments. Therefore, it's especially useful if your business offers classes or other services that require group booking.
Price: Plans start at $25 per month.
9. Bookly

Next, Bookly is a freemium scheduling plugin that automates the online booking process. You can use it to effortlessly accept reservations on your website and manage your services calendar.
The robust, feature-rich, and modern admin panel is easy to navigate. It also offers a plethora of settings and tools for viewing and managing your appointments. This includes a well-organized dashboard that gives you a snapshot of important appointment-related data: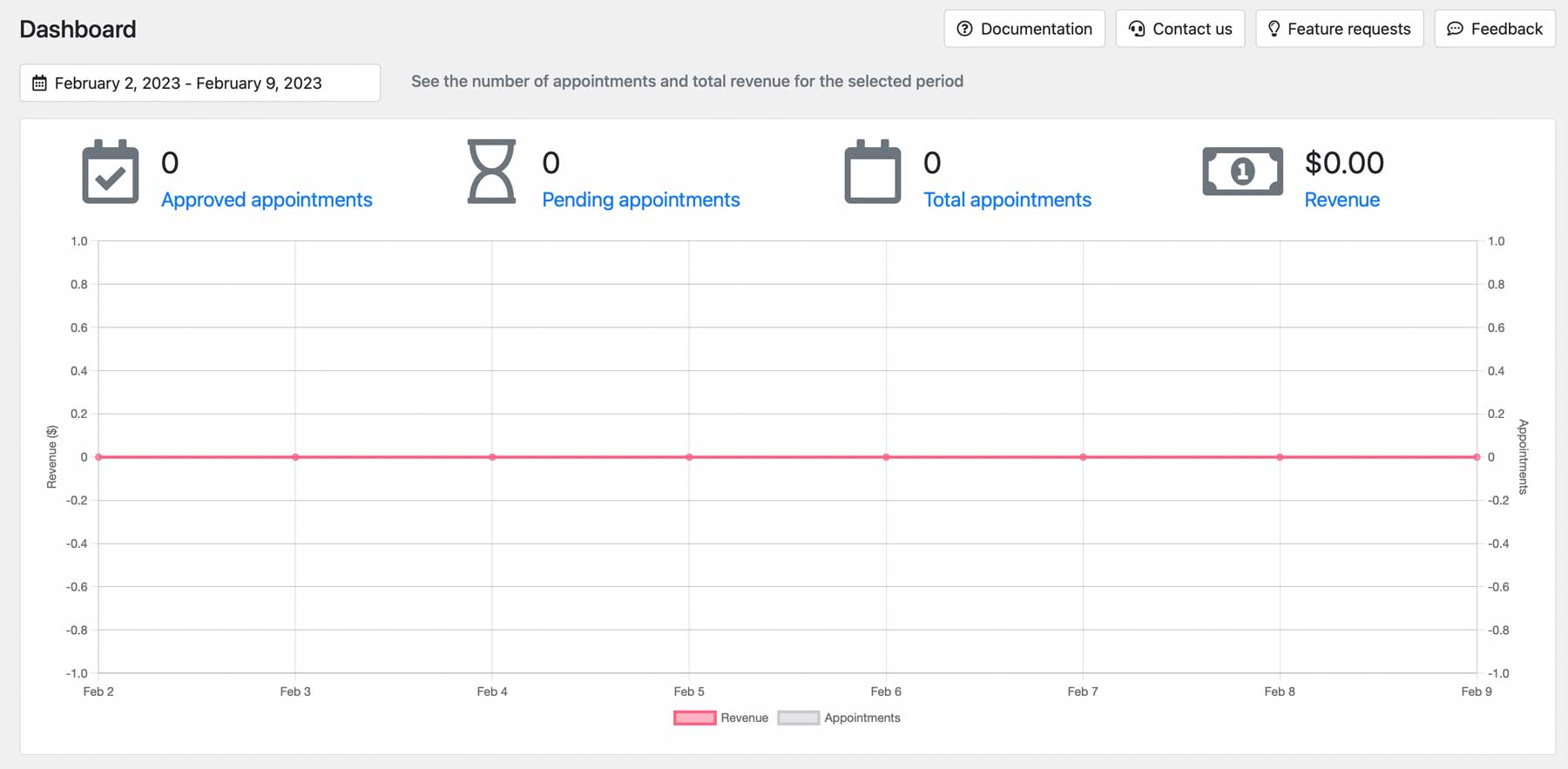 Bookly is a powerful option for many types of businesses, from salons to transportation companies. If you want advanced features such as online payments, you can upgrade to Bookly Pro. However, unlike other premium WordPress booking plugins, this is a one-time fee rather than a monthly or annual subscription.
Key Features for Bookly:
Intuitive booking management system
Filter, search, and sort options for the booking list
Fully customizable booking forms
Unlimited forms
Services grouped by category
Calendar viewable in daily/weekly/monthly formats
User-friendly interface
SMS and email notifications
Staff scheduling and task assignment
Payment gateway integrations with detailed reports (premium only)
Bookly is for you if…
… you want a reliable and flexible freemium WordPress booking plugin. It's an excellent choice for salons, health and wellness spas, gyms, and professional services with multiple staff members.
Price: Free, with a premium version available for $89.
10. BirchPress Scheduler

BirchPress Scheduler is another modern WordPress booking plugin that lets you create and embed a scheduling calendar just about anywhere on your site. It's aimed largely toward small businesses, making it a quality option for spas, salons, studios, etc.
This premium plugin doesn't offer a free version. However, the features you get make it a worthwhile investment. This is especially true if you're looking for a tool to help with staff assignments and accept online payments.
In addition, the interface is clean and easy to use:

You can make bookings for specific times and service durations, as well as assign pricing information. In addition, the plugin offers multiple pricing tiers for you to choose from.
Key Features for BirchPress Scheduler:
Booking management system
Built-in form editor
WooCommerce and PayPal integrations
Booking availability limitations and restrictions
Staff assignments
Google Calendar, iPhone, Android, and Outlook integrations
Automated email notifications
Group booking
Developer-friendly customization features (including thousands of functions and hooks)
BirchPress Scheduler is for you if…
… you run a service-based business, such as a salon or yoga studio, and want a powerful premium booking manager. It's also a smart choice if you have multiple staff members who handle your services. That's because this tool lets you leverage helpful staff appointment features. Plus, BirchPress is developer-friendly, coming with a wide range of customization features for advanced users.
Price: Plans start at $99.
11. Booking Calendar

Booking Calendar is one of the most popular WordPress booking plugins available. It has over 60,000 active installations, and a 4.5 out of 5-star rating. In addition, it's one of the oldest scheduling tools for the Content Management System (CMS).
This freemium plugin lets you customize calendars and use them to display booking availability for properties and services. It's also effortless to use, and comes with a clean, user-friendly admin panel:

Your users will be able to select specific days and time slots from the calendar view. Then, both they and you will receive email notifications about the bookings, which you can either approve or deny.
Key Features for Booking Calendar:
User-friendly interface
Customizable calendar designs
Calendars in daily/weekly/monthly formats
Time-slot bookings with time picker tool
Booking Calendar Blocks for Gutenberg
Prevention of double-booking
Email notifications
Option to import .ics feeds from third-party sites (Airbnb, Tripadvisor, etc.) via shortcodes
Booking Calendar is for you if…
… you're looking for a quick and easy way to manage multiple appointments per day. It's also an excellent option if you want to integrate data from other travel-and-stay websites. That includes Airbnb, TripAdvisor, and Booking.com.
Price: Free, with premium plans starting at $47.40.
12. WooCommerce Appointments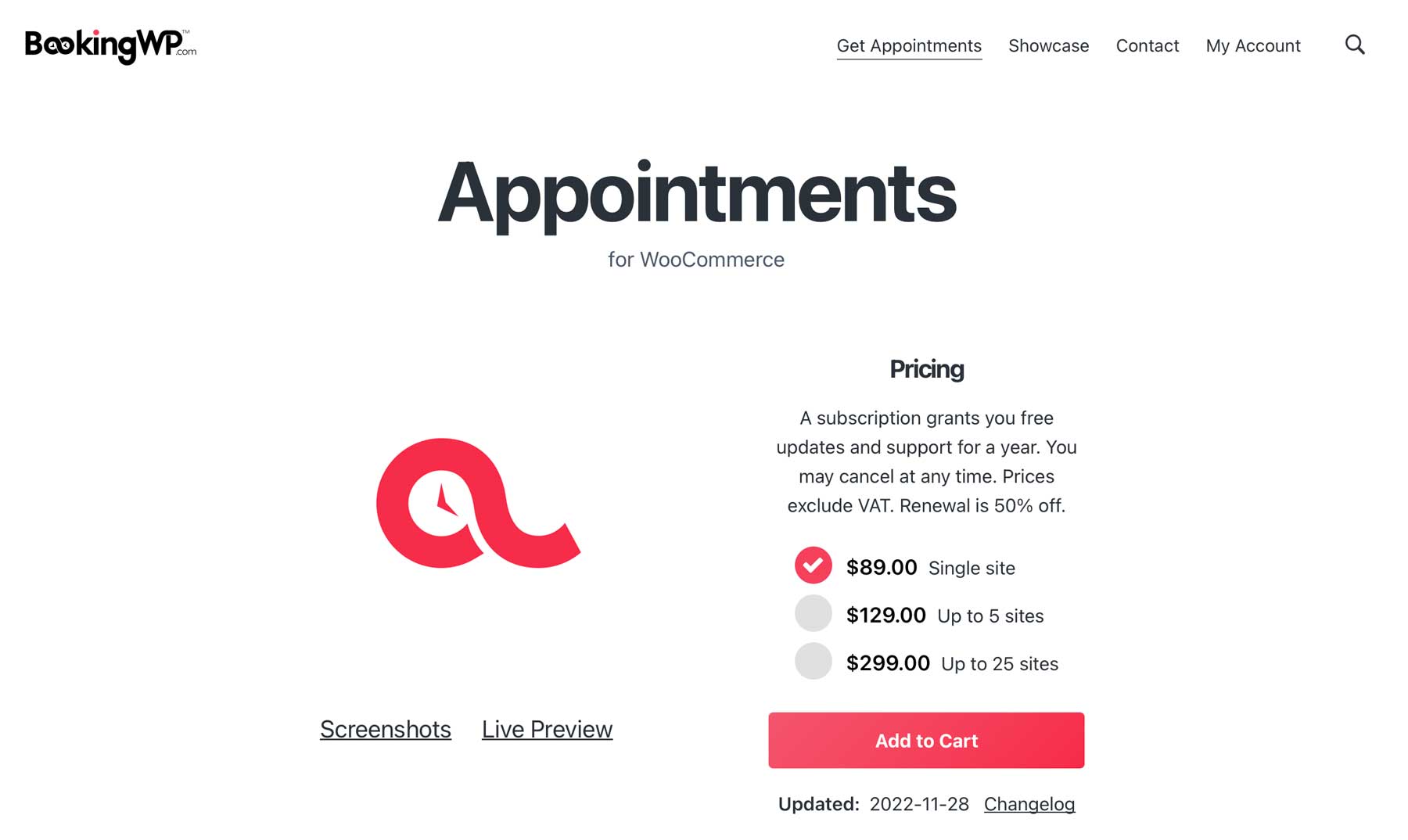 Most of the WordPress booking plugins we've discussed so far are for WordPress in general. However, WooCommerce Appointments by BookingWP is ideal if you're looking for a premium scheduling tool for your e-commerce store. It offers full integration with WooCommerce, as well as with Google Calendar.
From the front end of your shop, users will be able to view your services. They can also filter appointments by availability, and schedule their preferred times: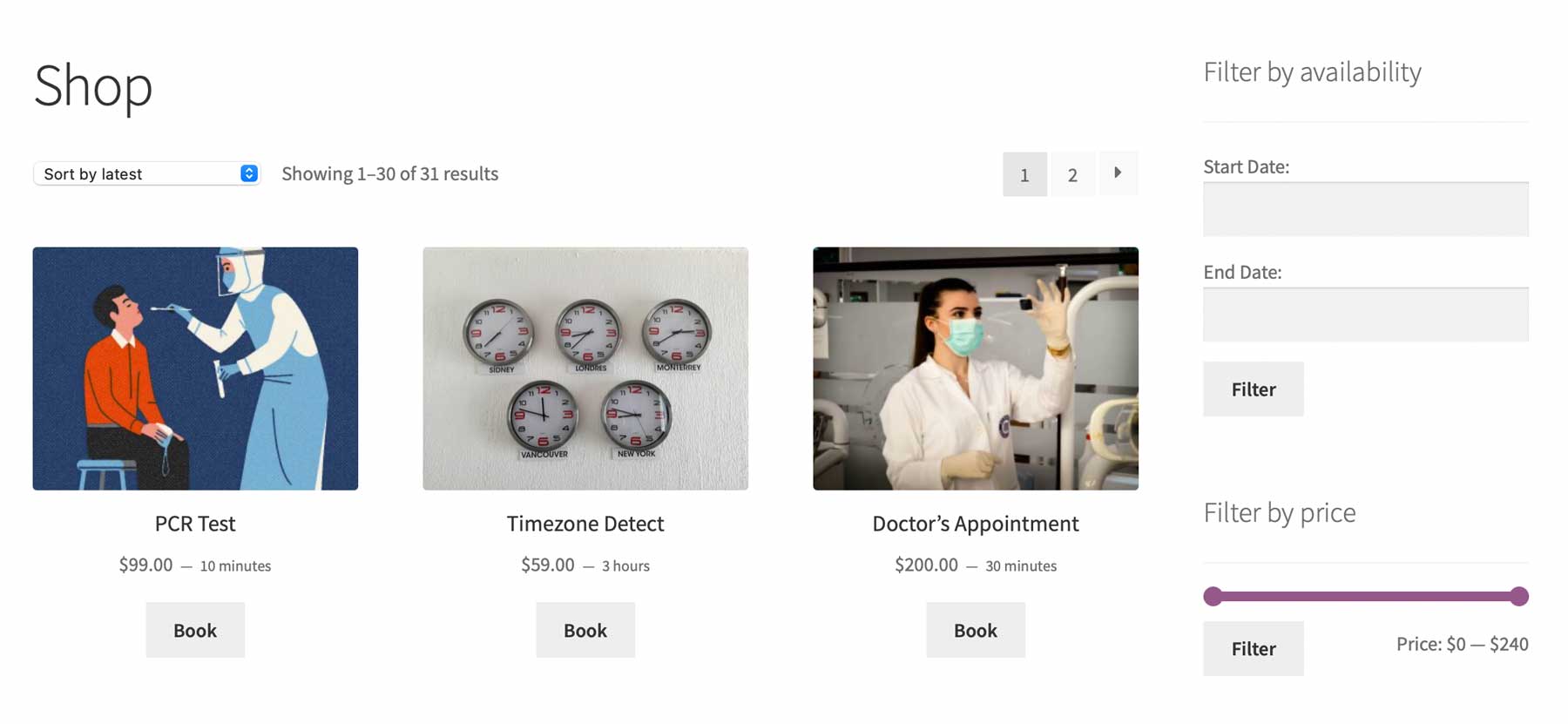 You can also let users filter by price or by category. In addition, WooCommerce Appointments enables you to add extra form fields. You can also apply flexible availability and pricing rules, and assign multiple staff members to appointments.
Key Features for WooCommerce Appointments:
Appointment scheduling software
WooCommerce and Google Calendar integration
Options to accept and request payments
Staff management/login
Notifications and reminders
Flexibility pricing and availability rules
Time zone conversion
WooCommerce Appointments is for you if…
… you're already a WooCommerce site owner and want a straightforward way of booking appointments. You'll also be able to request and accept payments. In addition, it's a more affordable alternative to the other WooCommerce-specific plugin on this list.
Price: Plans start at $89.
13. Easy Appointments

Easy Appointments is a widely-used and highly-rated WordPress booking plugin. It simplifies the process of scheduling and managing multiple appointments for different locations and services via your website. While the interface can be a little overwhelming, it is packed with helpful features:

All of the settings and configurations are neatly organized. This makes finding what you're looking for relatively easy.
The free version is sufficient for basic booking forms and calendars. However, there is also a paid extension available if you want access to features such as online payment gateway integrations.
Key Features for Easy Appointments:
Flexible time management
Multiple locations, services, and workers
Email notifications
Custom form fields
Date picker localization (77 languages available)
Google Calendar, PayPal, and WooCommerce integration (premium extension)
Easy Appointments is for you if…
… you have a business that offers multiple services requiring appointments. This includes law offices, cleaning companies, and doctors.
Price: Free
14. Booked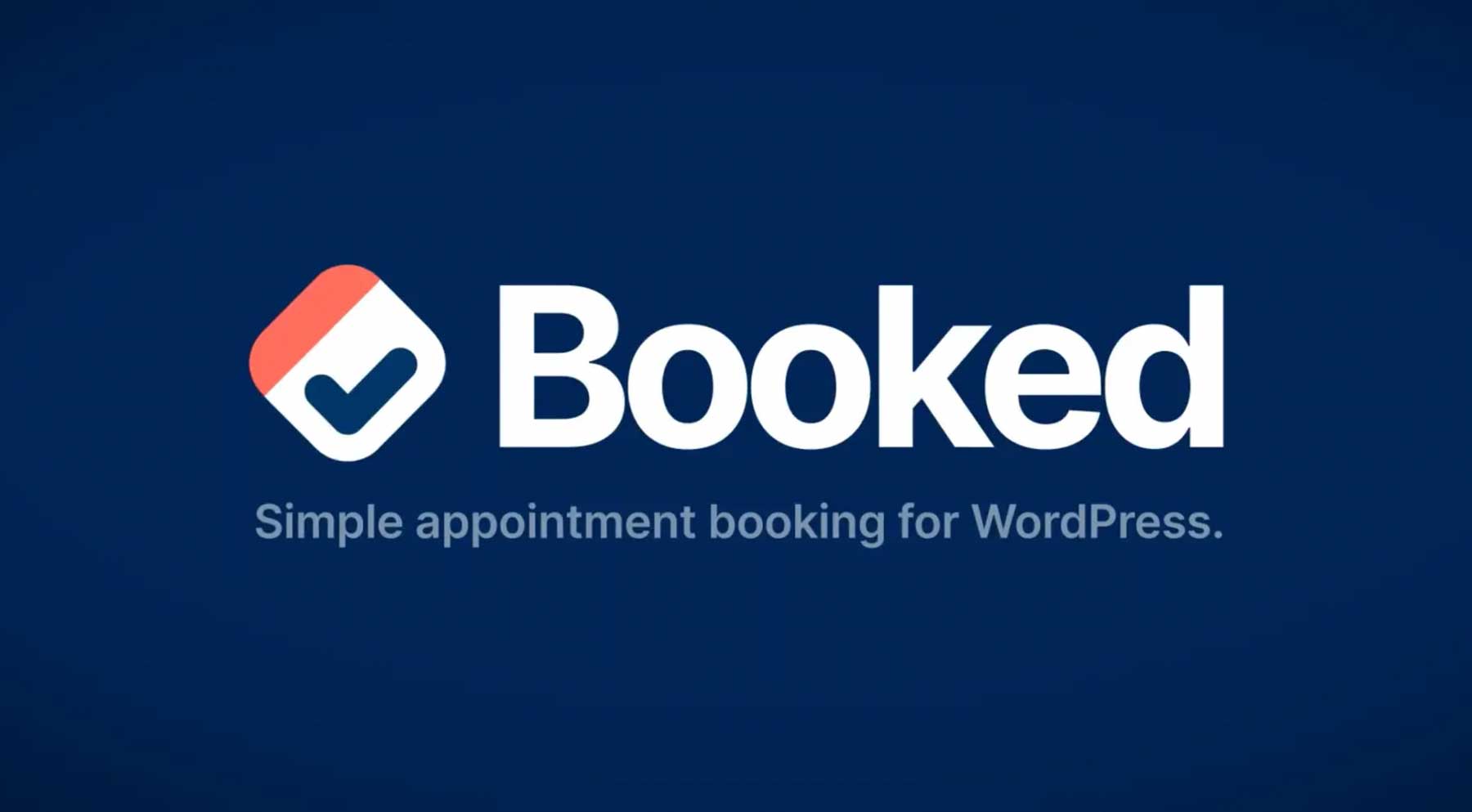 Booked is a premium appointment booking plugin for WordPress that is quick to set up and easy to use. Sold exclusively on CodeCanyon, this powerful tool is excellent for letting registered users and guests schedule appointments on your site.
You can use the plugin's front-end calendar shortcode and widgets to display multiple appointment times per date. In addition, it can be fully integrated with WooCommerce. This makes it easy for your visitors to check out online when booking.
Key Features:
Appointment management calendar
Unlimited calendars and booking agents
Registered and guest booking
Custom time slots and fields
Built-in calendar color pickers
Customer profiles
Custom login/registration form
WooCommerce payments
Booked is for you if…
…you use a membership plugin for your website. Booked also offers a guest booking feature. This means that users only have to provide their names and emails to book appointments.
Price: $49.
15. WooCommerce Bookings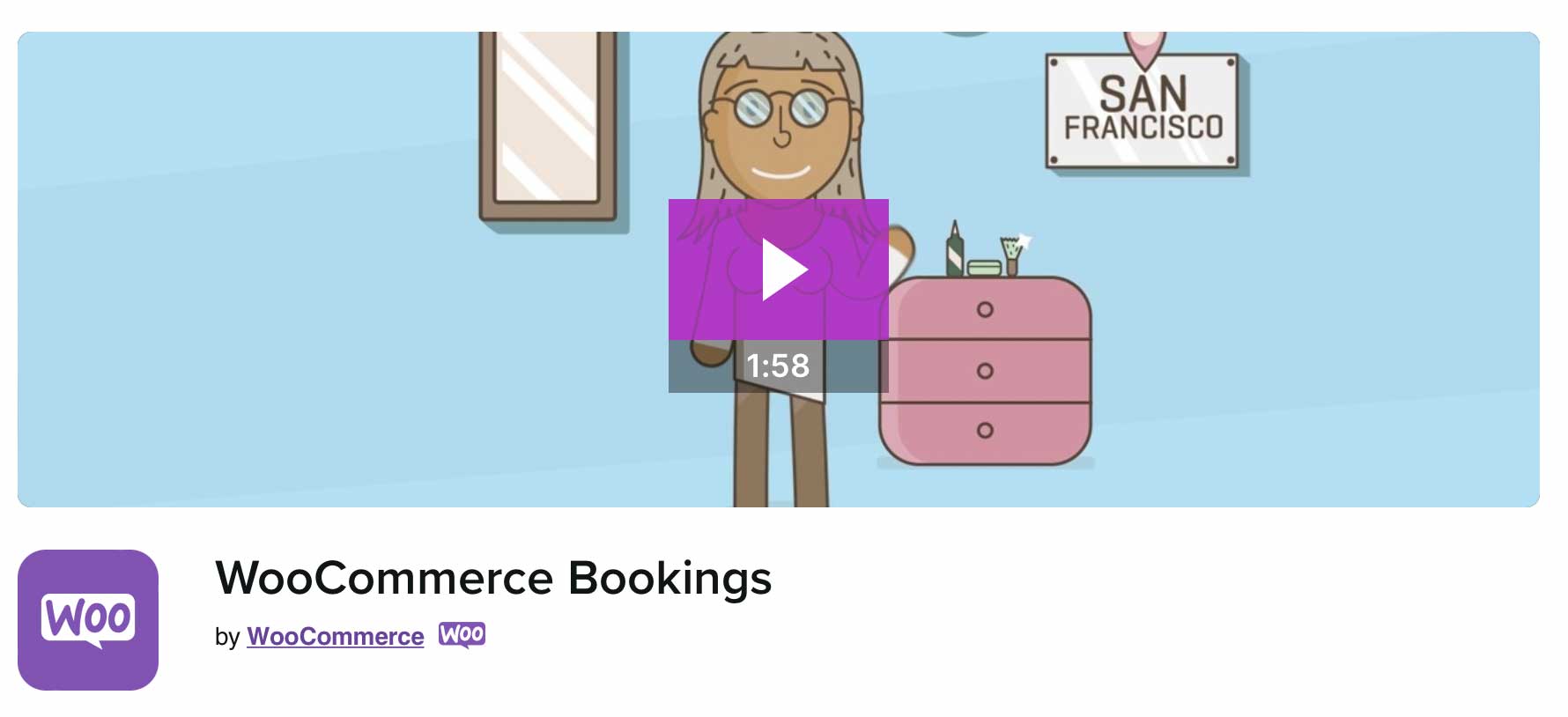 WooCommerce Bookings is an official WooCommerce extension that lets you add booking and scheduling functionality to your e-commerce shop. With this premium tool, you can easily integrate your booking system into your existing storefront: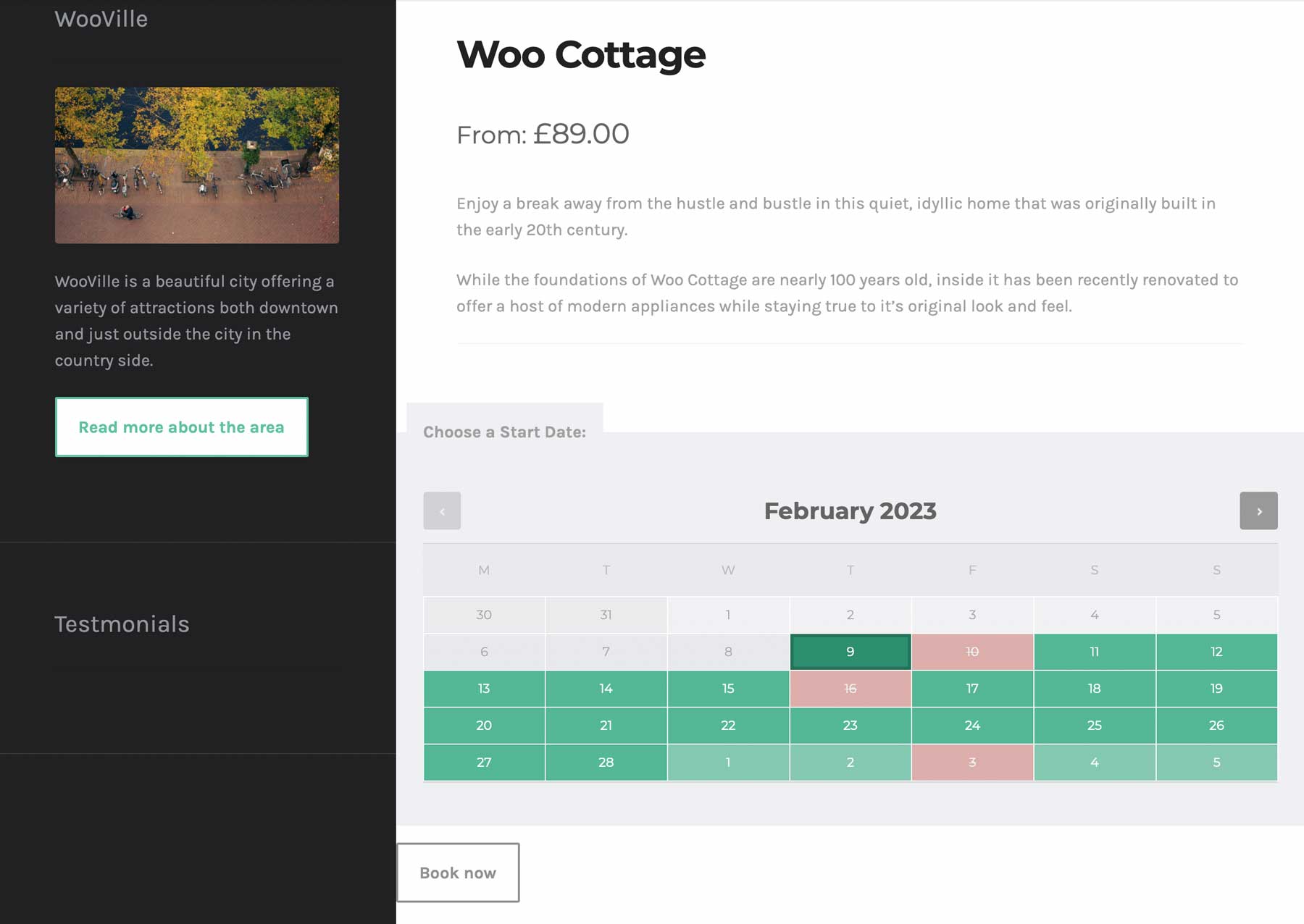 WooCommerce Bookings lets you create schedules the same way you would products. Also, you can integrate with various payment gateways for automatic invoicing.
Key Features for WooCommerce Bookings:
Fixed and "blockable" time slots
One-on-one appointments or multi-person events
Flexible and special pricing (groups, events, etc.)
Localization
Email notifications
List and calendar formats
WooCommerce Bookings is for you if…
… you're looking for a reliable, premium WooCommerce extension for booking appointments through your e-commerce site. It's especially valuable if your business model involves selling your time. For example, it's handy if you sell professional services, classes, training sessions, or property, such as a rental home.
Price: $249 per year.
16. Team Booking

Rounding off our list of the best WordPress booking plugins is Team Booking. This premium tool has thousands of sales on CodeCanyon and a nearly 5.0-star rating. In addition, the innovative booking system comes with an impressive range of features for creating appointment and booking calendars.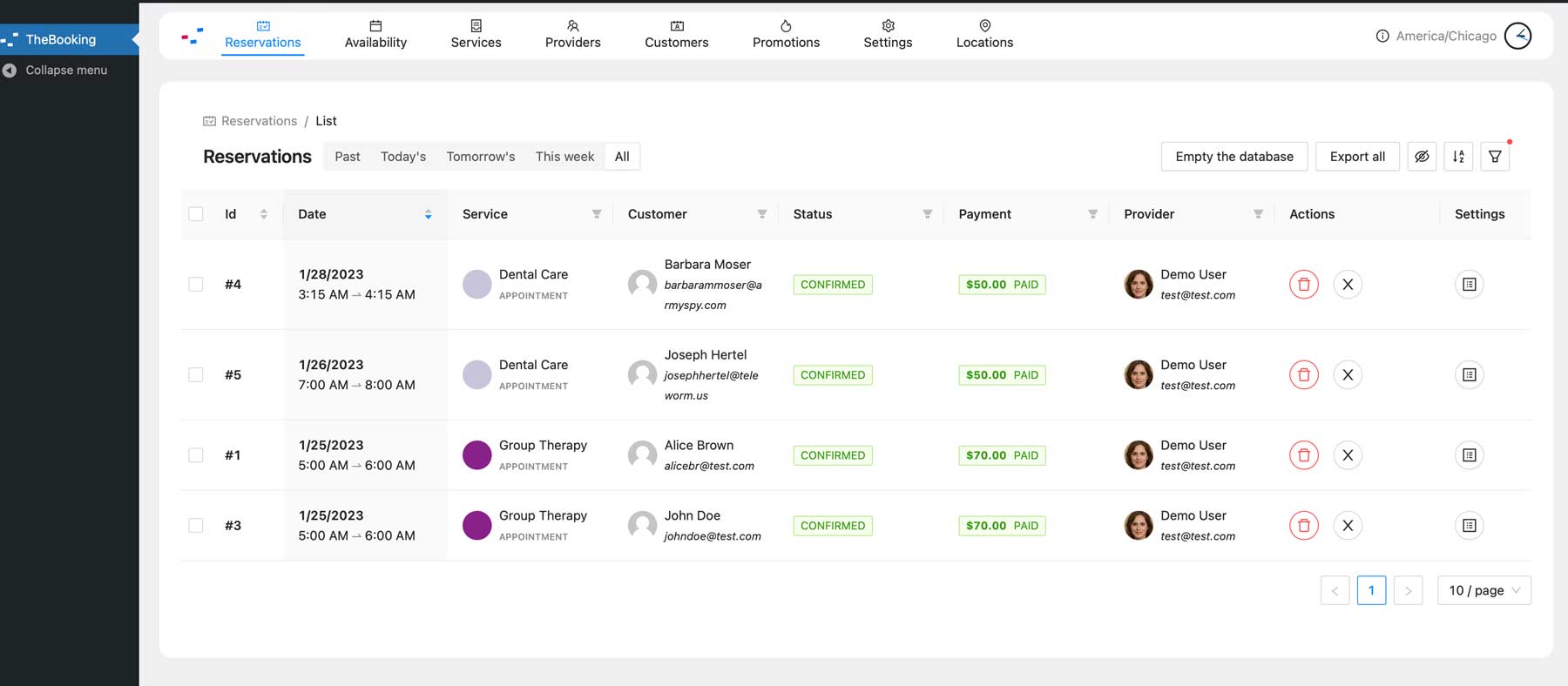 With Team Booking, all availability plans are made using Google Calendar. First, you can simply create events. Then, those availability slots become visible to your customers on the front end.
Key Features for Team Booking:
Flexible form builder
Google Calendar, PayPal, and Stripe integrations
Dynamic pricing with discounts and promotions
Customizable email notifications
Team Booking is for you if…
… you want an affordable yet premium booking plugin. In addition to regular appointments and events, you can also use Team Booking for unscheduled meetings. In other words, it's useful for bookings that don't require specific time slots (such as support tickets).
Price: $39.
Comparing the Best WordPress Booking Plugins
As a business owner, you're tasked with many responsibilities. Fortunately, tools such as WordPress booking plugins can help lighten your workload. By using appointment scheduling software, you can save time for you and your customers.
Booking Plugin Price Comparison
As we've seen, there are many quality WordPress booking plugins. Here is a list of every plugin we covered in this post and their prices for easy comparison.
Top Booking Plugin Feature Comparison
Each of these plugins comes with a wide range of different features. We compared the most notable features in our top three picks to help you hone in on which plugin will best serve your needs.
🥇 Amelia

🥈 Simply Schedule Appointments

🥉 Appointment Hour Booking

Starting Price
$79/yr
$99/yr
$99/yr
Free Version
✔️
✔️
✔️
Google Calendar Integration
✔️
✔️
✔️
Email Notifications
✔️
✔️
✔️
Recurring Appointments
✔️
✔️
❌
Appointment Deposits
✔️
❌
✔️
Custom Styling and Branding
✔️
✔️
❌
Stripe Integration
✔️
✔️
✔️
PayPal Integration
✔️
✔️
✔️
Multiple Vendors/Attendants
✔️
✔️
❌
Frontend Interface for Clients
✔️
❌
✔️
Active Installations
50,000+
20,000+
30,000+
Community Rating
4.5/5
⭐⭐⭐⭐⭐
Read Reviews
5/5
⭐⭐⭐⭐⭐
Read Reviews
4.9/5
⭐⭐⭐⭐⭐
Read Reviews
Get Amelia
Get Simply Schedule Appointments
Get Appointment Hour Booking
What is the Best WordPress Booking Plugin?
Therefore, the best option for you depends on your budget and needs. For an enterprise-level booking manager for your business, look no further than Amelia. If you're looking a freemium option that'll allow you to test out your booking software before introducing it to your clients, consider having Simply Schedule Appointments as your booking plugin. Luckily, both of these plugins have integrations with Divi. Lastly, if you need a booking plugin that requires appointments that have specified start and end times, Appointment Hour Booking is the best booking plugin that you can use for your WordPress website.
Do you think there were any booking plugins that we missed? Which one is your favorite from our list? Let us know in the comments section and let's get a conversation going!
Frequently Asked Questions (FAQs)
Before we wrap up, let's answer some of your most common questions about WordPress booking plugins. Did we miss one? Leave a question below and we will respond!
Featured Image Illustration via ivector/shutterstock