For years now WordPress has been perhaps the best platform in the world for creating affiliate blogs and websites. Affiliate marketing is one of the key ways many professional bloggers generate revenue. But there are two sides to the affiliate marketing coin–the side of the affiliates themselves who sell others' products to turn a profit and that of the product creators.
Since it is much easier to sell a product than create one worth selling, more time and resources are spent teaching people how best to become a successful affiliate of others as opposed to starting their own program. But in today's post I'd like to cover at least the basics of what it takes to create an affiliate program around your own product or service.
First Things First: What is an Affiliate Program?
Lest we get ahead of ourselves, I want to make sure that everyone reading this knows what an affiliate program is.
To understand what an affiliate program is you have to understand affiliate marketing. Affiliate marketing is when a product creator allows partners (i.e. affiliates) to sell their product or service in exchange for a commission–incentivizing them to promote the product and produce sales in addition to the efforts of the product creator.
An affiliate marketing program is how a product creator facilitates this process. The basics are always the same. An affiliate sells the creator's product and earns a commission. The details of that arrangement and how it is managed are what varies.
Why Start An Affiliate Program?
In some of my recent posts here on Elegant Themes I've talked about how starting your own affiliate program can be a great way to boost traffic to your website. But the benefits can go far beyond a mere traffic bump if the product(s) and program are done right.
A properly executed affiliate program will not only drive traffic but increase sales, improve yoru site's SEO, generate quality leads, broaden the influence and reach of your brand, and even help sell other products that are not part of your affiliate program at all.
Not to mention that if your program became popular enough with affiliates, your marketing costs basically become the cost of managing your affiliate program. After all, as long as that thing is running smoothly you'll have an army of marketers out there working on pure commission promoting your product and brand.
Why Not to Start an Affiliate Program?
With all of those benefits, it might seem like there is no good reason every WordPress user shouldn't rush out today and start their own affiliate program. And it may indeed be the right choice for many, but I'd be remiss if I didn't offer up at least a small word of caution.
The tools and process I will go over below remind me of blogging or creating a WordPress website in general. It's fairly easy to get up and running, but hard to be successful at. No matter how quick and painless the start, there is a long road of hard work ahead for anyone who wants to make a living or even a decent buck. Let alone the other benefits mentioned above.
So while I think affiliate programs are great and potentially offer up a lot of benefits, I'd also advise anyone thinking of starting one to consider the fact that as it grows so does your commitment to managing it. Resources will have to be diverted from your core business to support your network of affiliates as well as time spent preventing fraud or other problems that can arise.
So consider this a fair warning and encouragement to do more research before taking the plunge!
How to Create An Affiliate Program with WordPress
As you can probably see by skimming the headings below, my steps are rather general. That's because so much of how you specifically go about launching your affiliate program depends on both your product and the platform/plugin you choose. Nevertheless, there are things you will want to consider no matter what. Which is what we're going to get into below.
Step 1: Create a GREAT Product (or Several)
The first thing you need before even considering the rest of these steps is a great product. Something worth becoming an advocate for, which is what you will be asking of your affiliates.
This is not simply hyperbole either. A quality product is essential. Many affiliates have their own brands that they've built over time with a lot of hard work. They are not going to risk promoting an inferior product to their audiences if that may mean losing their trust and their repeat business.
Additionally, if your product is so poor that customers begin asking for refunds it can cause huge headaches when it comes to managing your affiliate payments for products that didn't stay sold. You'll either end up losing money or affiliates. Or both. Not to mention customers, too.
So first things first, develop your product until you have the utmost confidence in it.
Step 2: Choose the Right Affiliate Platform/Plugin for You
Once you know you have something that you believe in and can not only sell to others but sell the idea of selling your product to others–it's time to choose your affiliate platform or plugin.
If you choose a platform that means your affiliate program will be housed outside of your WordPress install, even though the products you're selling may be housed there. If you choose a plugin, then everything (both product and affiliate program) will be run from the WordPress admin.
There are pro's and con's to each approach. Whatever you do end up choosing though will define how you go about the rest of this process. Which is why I've listed and described the most popular affiliate platforms/plugins in the sections below.
Step 3: Recruit Affiliates to Represent Your Product(s) and Brand
The platforms featured below offer built-in networks of affiliate marketers that you can search and invite to promote your products. This is one of the huge advantages to working with a platform over a plugin. You can really hit the ground running!
But regardless of whether or not you go with a platform or a plugin you will most likely still want to find ways of promoting your program independently.
This process should probably look a lot like your content or product promotion. You can send out emails, do guest posts, blogger outreach, and much more. All of which should be pointing your prospective affiliates towards an effective landing page.
Here are three examples of such landing pages by some of the most successful affiliate programs in WordPress Themes.
The Elegant Themes Affiliate Program Landing Page
The Studiopress Affiliate Program Landing Page
The Themeforest Affiliate Program Landing Page
Step 4: Track, Manage, & Optimize
Additionally, each option below will have various tools for helping you track, manage, and optimize your affiliate program. The cost (including time spent) should include an accounting of how effective these various tools will be in helping you grow and maintain your budding affiliate program.
Affiliate Platforms
Affiliate platforms are a combination of network and technology working together. The network is full of potential affiliates for your products and the technology is there to help you start, manage, and grow your program.
Typically the platform approach is going to cost more but come with more benefits. You will have access to their network of affiliates and they will also manage (even automate) the process of maintaining your affiliate program for you.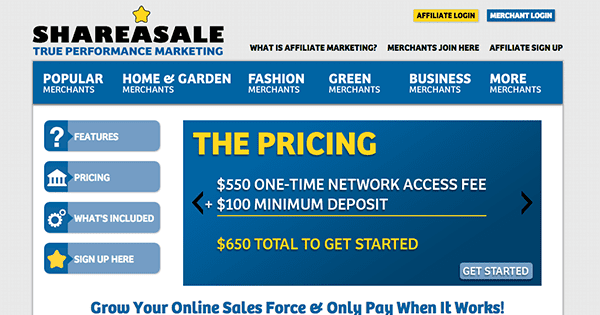 Shareasale is the bigger of the two platforms in this post, with the larger network of affiliates too. They've been around for over 13 years and have a good reputation in the affiliate marketing industry.
Key Features:
Welcome Kit–a four week training program for new affiliate managers
Continued training via webinars
Real-time tracking on clicks and commissions generated
Group sorting via segmentation tags (allows you to sort your affiliates into groups)
Click stream attribution (allows you to see which links a customer clicked before purchasing)
Merchant API for retrieving reporting data
And more
Price: $650 to get started and $25 monthly minimum| More Info
Impact Radius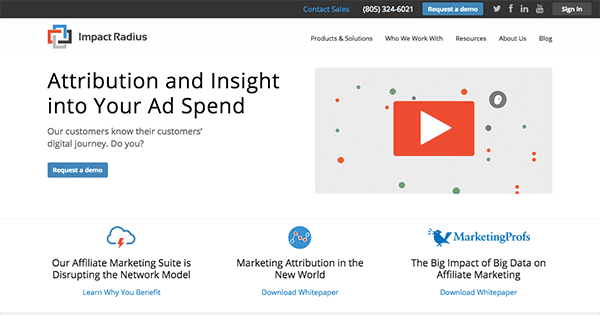 Impact Radius is a bit newer to the affiliate marketing space than Shareasale but making quite the name for itself. It's platform allows you to track all of your media channels, automate tag management, onboard and pay partners, and provide tools for viewing/optimizing all of you conversion paths.
Key Features:
The biggest thing Impact Radius brings to the table is its unique approach to partner (affiliate) management. Their model allows you to own your partnerships instead of "renting" them from a network. Check out their video explanation via the more info link.
Price: Flat Fee based on volume | More Info
Affiliate Plugins for WordPress
These affiliate plugins turn WordPress itself into your very own affiliate marketing platform. Bringing all the necessary tools for growth and management right into the WordPress backend.
The benefit of this is that you gain much more control (and outright ownership) over your network. The downside is that a bigger burden of management falls to you as well.
AffiliateWP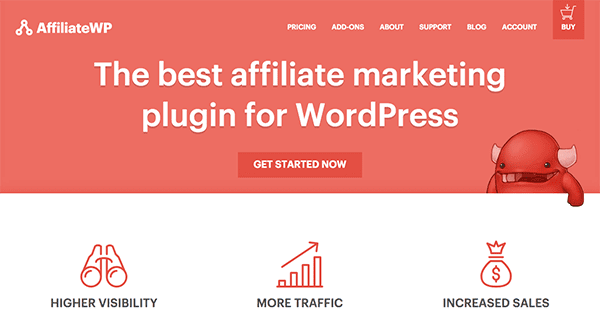 AffiliateWP is probably the best WordPress plugin option on the market right now. It is by Pippin's Plugins and comes with their reputation for high quality code and support. It also brings a fairly large suite of affiliate management tools into your WordPress backend.
Key Features:
Reliable affiliate tracking
Unlimited affiliates
An affiliates dashboard
Real time reporting
Individual affiliate reports
Easy affiliate registrations
Coupon codes
Custom referral rates; percentage or flat rate (across the board or affiliate by affiliate)
Compatible with popular payment gateways (PayPal, Stripe)
Integration with Easy Digital Downloads, WooCommerce, Gravity Forms, Paid Membership Pro, and other popular plugins.
Tons of add-ons and extensions
Price: $49 for one site | More Info
WordPress Affiliate Manager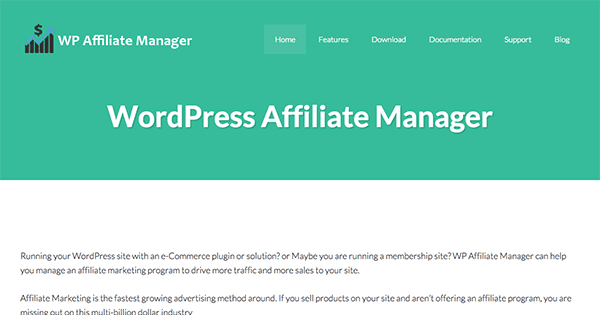 WordPress Affiliate Manager is a sort of stripped down version of what the other options above offer. It integrates with WooCommerce, WP eCommerce, and Simple Shopping Cart to allow almost any WordPress eCommerce store compatible with their affiliate program tools.
Key Features:
Simple installation
Real-time reporting
Unlimited affiliates
Flat rate or percentage based payouts
Manual adjustments and payouts
Pay all affiliates at once with PayPal's Mass Pay
Customizable affiliate registration
and more
Price: Freemium or $39 for one site | More Info
In Conclusion
A lot of consideration, time, and effort go into launching and maintaining a successful affiliate program. The various platforms and plugins out there are geared towards different types of people and business needs. If you've created and run your own affiliate program with WordPress (and/or on a platform like Sharasale or Impact Radius) we'd love to hear about your experience in the comments below.
Article Thumbnail via Vectomart // shutterstock.com