In the course of running a blog or owning a business, there is probably going to come a time when putting on a webinar is necessary. This could be for any number of reasons: teaching a course, training employees, running a workshop, conducting an online panel discussion, hosting distributed events, or any other reason you might be able to think of.
In today's post we're going to go over the best software currently available for making all of those things possible.
The 15 Best Webinar Software Available
To be clear, in case anyone is unfamiliar with the term webinar, they are nothing more than an online conference or meeting–in whatever flavor you may choose.
The list of software options below will all help you conduct meetings of various types. Some are better for certain use cases than others, but the list as a whole is not in any sort of ranking order; such as best to worst or anything like that.
Basically, if it made the list it is worth checking out. Only you will know if one solution suites your personal needs better than the others. That said, I have a brief note below that is also worth checking out in light of all the reviews I read while researching this post.
1. Google+ Hangouts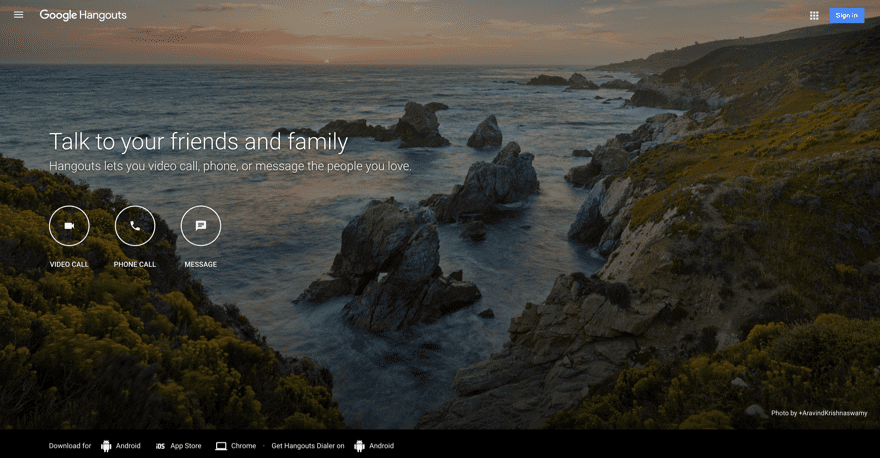 Google+ Hangout is the breakout video calling/chat feature of the Google+ social platform. It's been baked into Google Chat, Gmail, and the standard Google+ Profile. All you need to use it is have a free Google+ account.
While not your standard premium webinar platform, it comes with a remarkable number of features for collaborative meetings, presentations, workshops, etc. About the only thing it doesn't do (yet) is allow you to charge your audience to hangout or sell within a hangout.
Key Features:
Up to 10 people in a single video/audio call. Gsuite subscribers can have up to 25 people per call.
Ability to live stream straight to your attached YouTube Channel and/or a website. All while live at the hangout link too.
Can automatically record and publish hangouts to YouTube.
Works on all devices and platforms.
Send photos, emoji, and chat messages during hangout.
Screen share
Price: FREE
2. Skype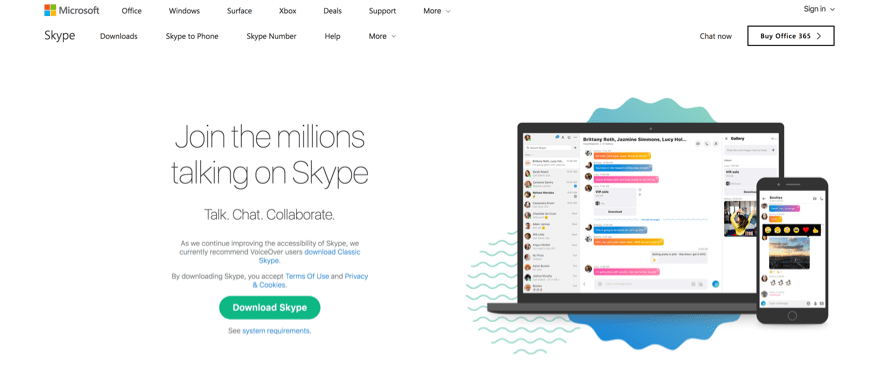 Skype is one of the world's most popular calling and video conferencing apps already. Which is why many choose to use it for group meetings, coaching, workshopping, etc.
Key Features:
Skype to Skype calls
Group Voice Calls (up to 25 people)
Group Video Calls
File Sharing
Screen Sharing
Group Screen Sharing
Contact Sending
Multiple Third-Party Apps to Extend Functionality
Price: FREE
3. GoToWebinar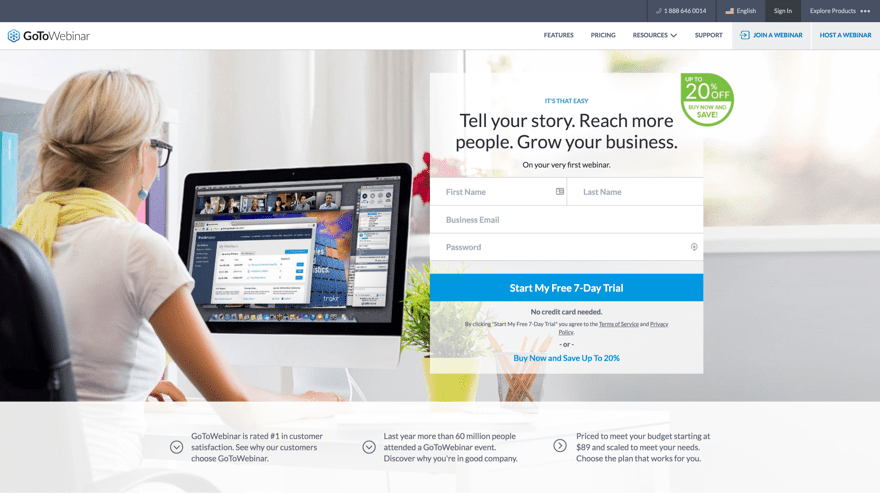 GoToWebinar is by the folks at GoToMeeting, the popular meeting and screen sharing application/service. The webinar version is, as you can probably guess, catered specifically to the needs of people putting webinars on as products/services in and of themselves.
Key Features:
Full Services Attendee Registration
HD Video Recording
Archived Recordings
Polls & Surveys
Price: Starts at $89/month per organizer with up to 100 attendees
4. Facebook or YouTube Live

Both Facebook and YouTube are two of the largest streaming platforms out there. They both also offer a number of ways for you to reach a broad swath of viewers, as well as having the built-in ability to interact directly with your audience.
Key Features:
Massive audience because everyone has accounts already
Platforms are set up automatically for audience interaction
Can schedule streams on both platforms
On Facebook, you can limit privacy of your streams by posting to groups only your registrants are members of
YouTube has a stable URL for live video where a dedicated audience can always find your streams
Massive support by third-party apps that extend functionality by API to make them competitive for even large-scale clients
Absolutely no viewer limit
In-depth analytics buried within the platform dashboards
Ability to stream natively from mobile devices
Price: Free. Third-party extensibility (such as Restream.io) varies by company
5. Cisco WebEx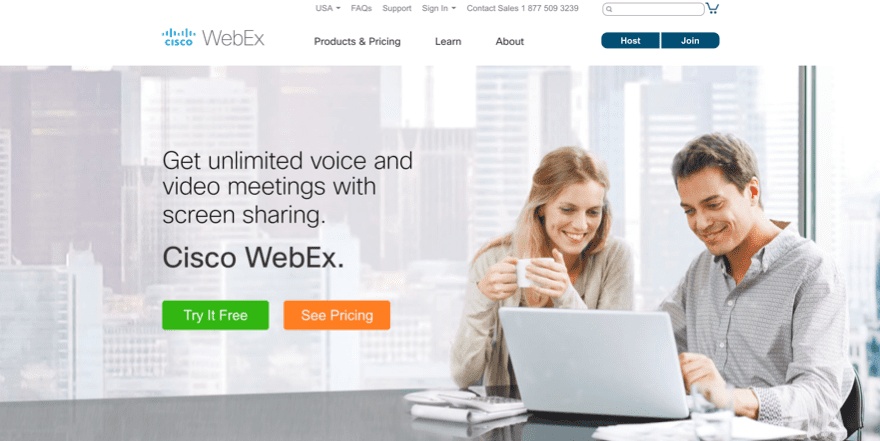 Cisco WebEx is part of a whole family of Cisco products for remote collaborative work. Specifically, their Event Center product is used for putting on events and webinars.
This is one of a handful of higher end options–including GoToWebinar above and a few more–that scale well but are not for those with a tight budget. That said, you get a lot of great features for what you pay for.
Key Features:
Branded Registration and Invites
Registration tracking
Lead generation tools
Display 5 panelists at a time plus slides/data
Polls
Chat
Hight Quality Video/Audio
Professional Webinar Planning & Production (add-ons)
Price: starts at $19 monthly for 8 people up to $39.99 per month for up to 200 people.
6. Adobe Connect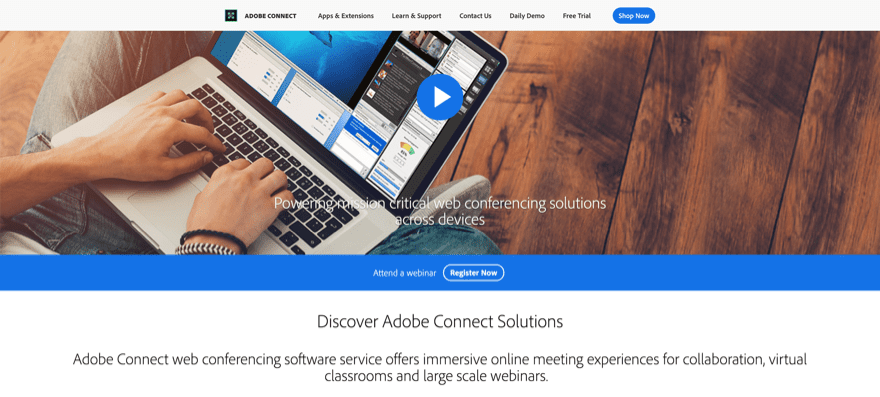 Most of you are familiar with Adobe's Creative Suite of products, but through their product Adobe Connect they also empower organizations to put on impressive webinars and events.
Key Features:
Complete mobile collaboration
Rich multimedia options
High-quality audio/video
Video conferencing integration
Real-time collaboration with presenters
Invitation and privilege management
Breakout rooms to focus discussion
Broad set of collaboration capabilities
Streaming video integration
Microsoft Outlook integration
Analytics and tracking
Recording
Archiving
And more
Price: starts at $50/month per host with up to 25 attendees
7. MegaMeeting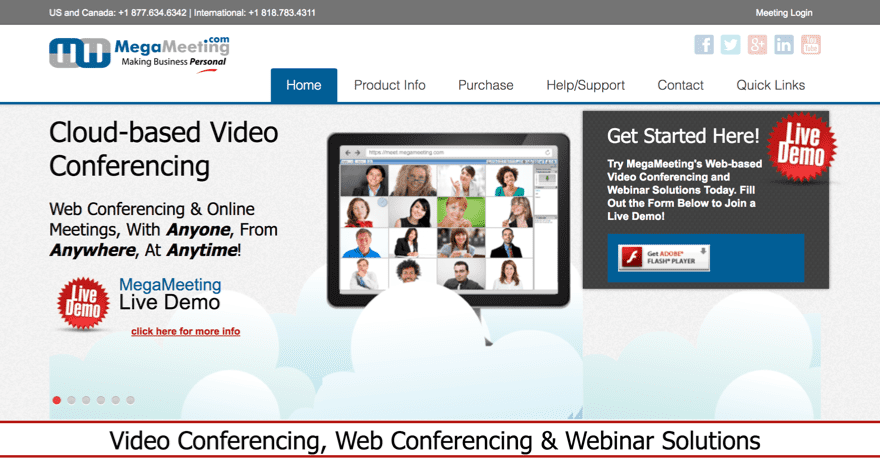 MegaMeeting is for online training, seminars, product demonstrations, and more. It's 100% browser based and mobile-ready to make collaboration easy.
Key Features:
Video streaming
Multiple ways to join a meeting
Secure conferencing
Text Chat
Works across multiple platforms (Mac/Pc)
Share powerpoints, docs & websites
Screen sharing
Polls & Surveys
PayPal integration
Multiple meeting rooms
Mobile apps for iOS and Android
Price: starting at $39/month (no stated attendee limit)
8. ReadyTalk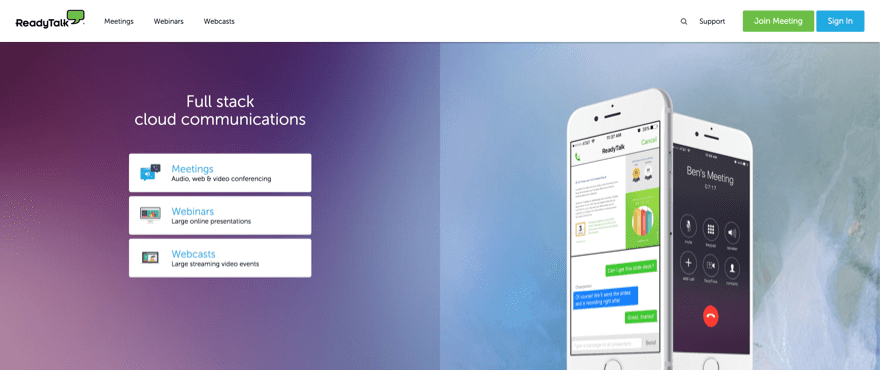 ReadyTalk has a suite of products for everything from web conferencing, to audio conferencing, video conferencing, mobile conferencing, webinars and events, recordings and archiving.
Key Features:
Customized branding
"Add to Calendar" invitation links for Outlook and Google
Customized registration forms
Flexible confirmation options
One-click recording
Chat/Q&A sessions
Sharing options
Social promotion tools
Polling
Follow-up emails
Archive hosting and distribution
And more
Price: starting at $24/month with up to 10 attendees
9. AnyMeeting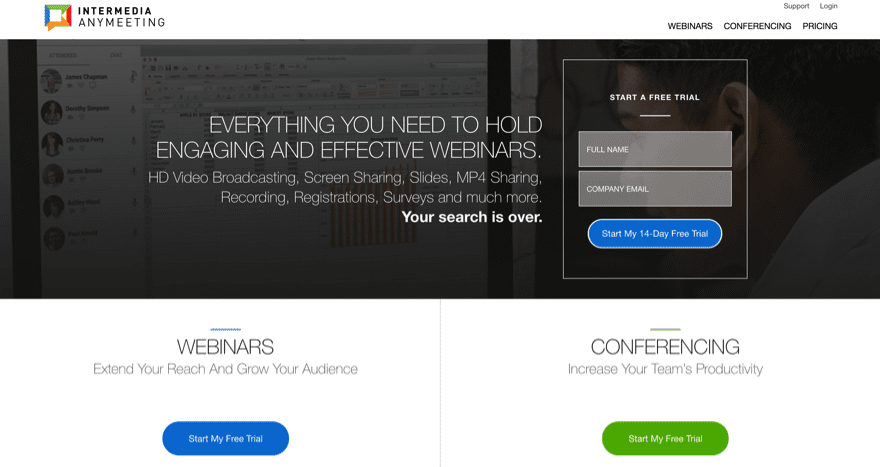 AnyMeeting is aimed at providing a solid web conferencing solution to small businesses.
Key Features:
Hold large or small meetings
Share your screen
6-way video conferencing (or 6 different presenters per webinar)
Custom meeting branding
Audience interaction and reactions
Recording
Phone support
Play YouTube videos
Built-in conference calling
Present powerpoint slides
Mobile friendly
Facebook and Twitter integration
Personalized meeting url
Price: FREE up to 4 attendees (ad supported). $18/month for 10 attendees.
10. OnStream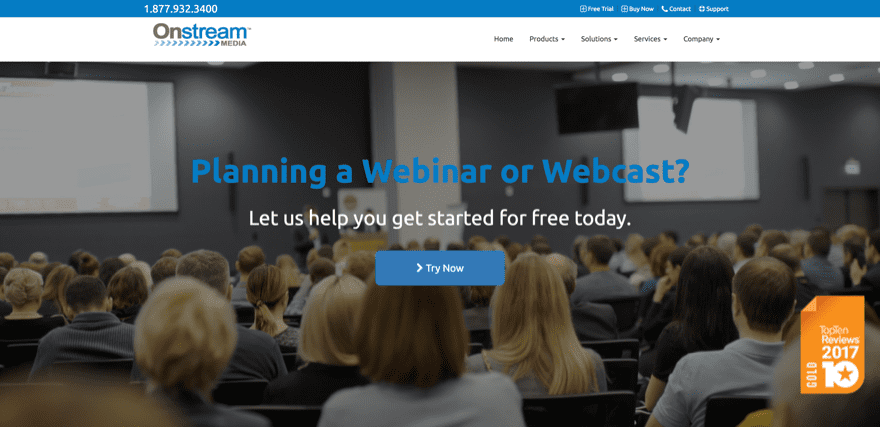 OnStream Media has a number of cloud-based solutions for media hosting, webcasting, and webinars. Their specific webinar product is enterprise-grade, meaning it's meant to scale dramatically.
Key Features:
Cloud-based platform
Event management
Messaging and chat
Live audio and video streaming
Live and on-demand webinars
Screen sharing
File sharing
Participant list and rights management
Recording and archiving
Real-time polling
128-bit end-to-end enncrypted streams
Price: $49 per 300 attendees with 10 webcams for the presenter. Or $0.04/minute for conference calling
11. ClickWebinar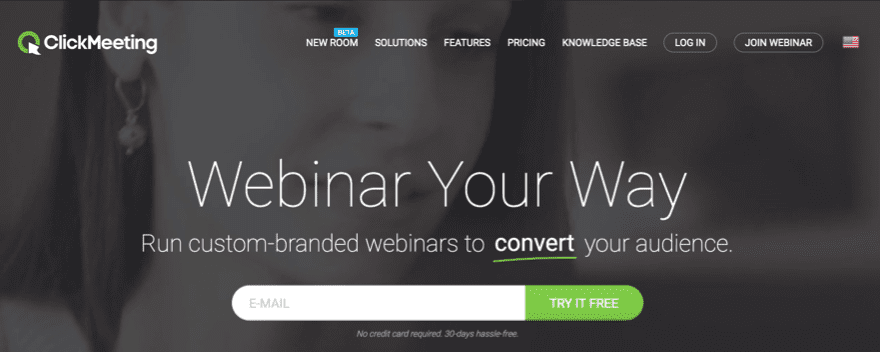 ClickWebinar is by the same folks who created ClickMeeting. ClickWebinar aims to be a high end (but at a low(er) price) solution for anyone needing to collaborate remotely for events and webinars.
Key Features:
Global web conferencing
Webinar rebranding
Full desktop and browser sharing
Moderation tools
Simultaneous chat translation
ClickMeeting API
Social Sharing
User ratings
Attendee analytics and statistics
Integration with the following tools/services:

Microsoft Office
Adobe
Google Calendar
YouTube
Facebook
Twitter
LinkedIn
Flickr
iCal
And more
Price: Free 30-day trial. Plans start at $25/month with up to 25 attendees
12. omNovia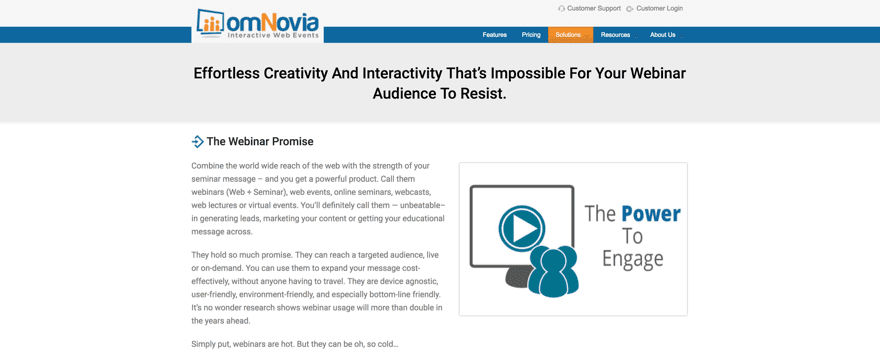 omNovia is a powerful presentation platform for creating high-quality online events. This includes webinars, webcasting, services (such as coaching or training), and more.
Key Features:
Co-browsing (take control of user screens with permission)
Slide show presentations
Instant polling
Event registration
Recording
Fully customizable interface
Credit card integration
Chat and Q&A
Twitter integration
Documents sharing
Price: Starting at $119 per month if billed annually, or $170 monthly, for 100 participants and 600 on-demand views).
13. Crowdcast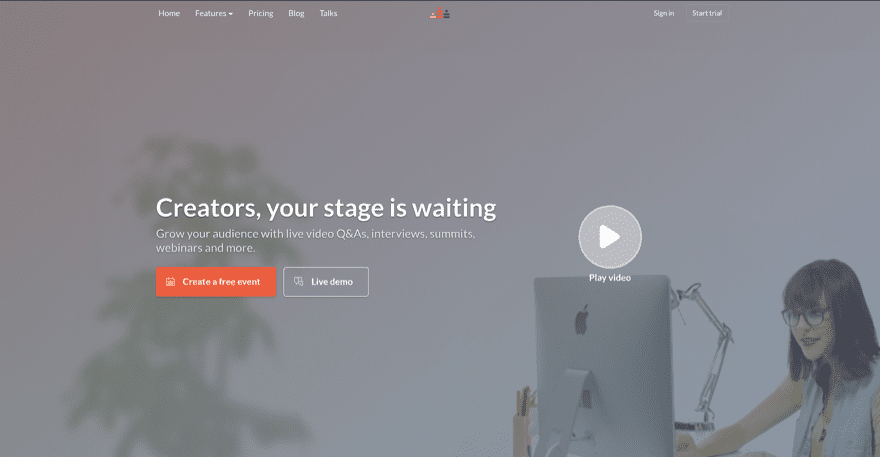 Crowdcast is a professional live streaming and webinar platform that is designed for the audience and the presenter to interact in real-time in order to promote conversion and relationship building through interaction.
Key features:
Incredibly in-depth analytics
Unlimited registrations, but you can limit seats, if you prefer
Accept Stripe payments
Events over multiple sessions for a single registration
Facebook Pixel
Stream to Facebook Live, YouTube Live, Periscope, and more
Obtain referral sources
Zapier integration, as well as 750+ other apps
And more
Price: Starting at $49 per month for 100 attendees, with additional available on a by-user fee.
14. Blackboard Collaborate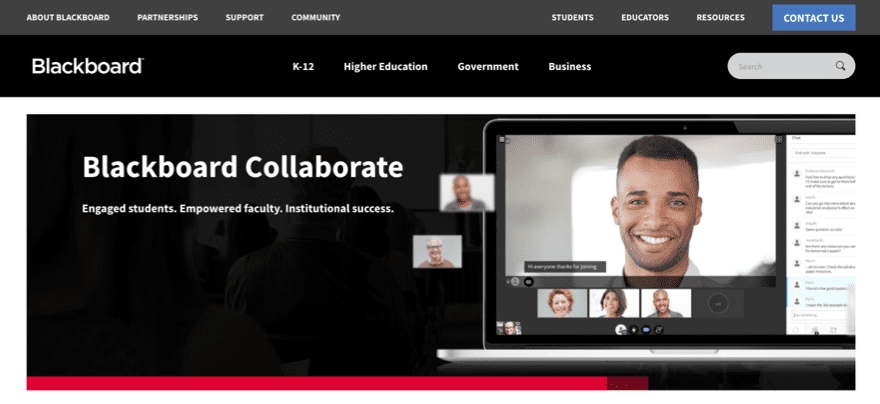 Blackboard Collaborate is a webinar software designed with a focus on education. They have specific services and resources for K-12, Higher Education, Government, and Business.
Key Features:
Web conferencing
Voice authoring
Mobile collaboration
LMS integration
Enterprise instant messaging
Licensing
Online Classrooms
HD broadcasts
Live whiteboard and screen-writing
Interaction with audience
Entirely browser-based
And more
Price: Free trial. Pricing plans upon request.
15. Zoom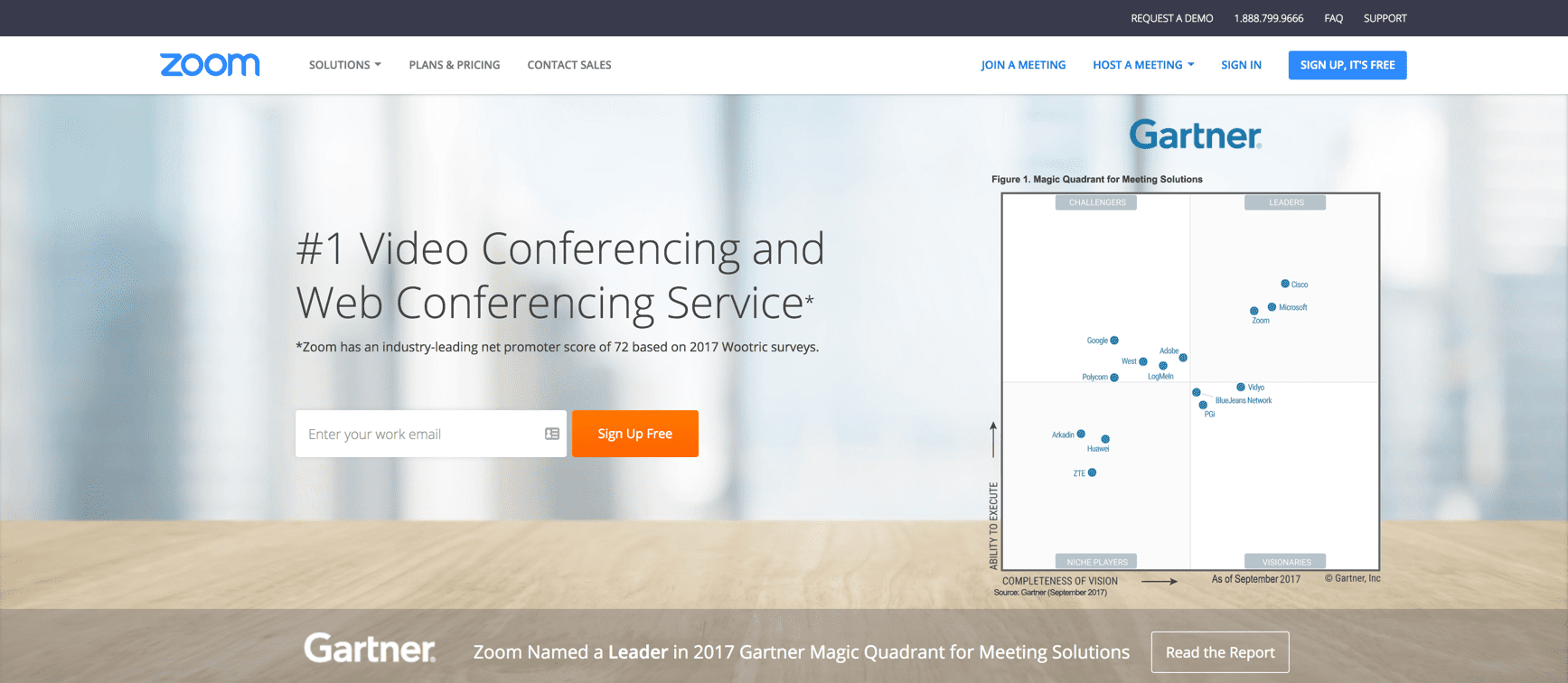 Zoom has made a name for itself with stable, high-quality conferencing and webinar software that can handle loads at scale for enterprise use, while also providing quick-and-easy service for personal and small-business use as well.
Key Features:
Browser-based or desktop app, depending on your needs
Mobile apps seamlessly integrate with calls
Screen sharing
Slack integration
Local and cloud recording
Vanity URL/custom meeting ID
Telephone integration with VOIP and video conferencing
Mobile app sharing for hosts on tablets or phones
AES 256-bit end-to-end encryption as well as SSL secured meetings
And more
Price: Free for up to 100 participants on unlimited calls, but limited to 40 minutes per call. Paid plans start at $14.99 per month to include reporting, recording, and other features.
A Note on Quality & Finding the Right Fit
I have a confession to make. When I made the title of this post "The Best Webinar Software Available" I may have misled some of you to believe that there is such a thing as really great, all-purpose webinar software to begin with.
According to my personal experience and the wider range of experiences I've read about via reviews and similar posts–that doesn't exist.
The general consensus of all the posts, comments, and reviews I read was that GoToWebinar is the most reliable choice–but it's also clunky, ugly, and not that fun to use.
Others hold lots of promise in terms of design, usability, etc. but fail to meet expectations in a few key places: reliability, scalability, cost, and flexibility. But of course not necessarily all at once or to the same degree across the board.
What I mean when I say "reliable" should be pretty straight forward. They simply don't work reliably. They might work great during a practice run, then bug out and wreck a live presentation.
Scalability and cost are often linked. Many of these services are capable of reaching large groups of people with all of the features a user may want–but they're too expensive at that level.
And finally, flexibility is an issue for many of these programs because of the nature of the problem they're trying to solve.
You may have noticed that at the top of this post I mentioned a handful of reasons someone might want to put on a webinar–which means many of these programs are designed for specific niches or are trying to be too many things at once.
It's a tough nut to crack, I'm sure. I'm not an enterprise software developer so I don't know all of the inherent problems they face when attempting to create this type of software, but it doesn't seem like anyone has created that breakthrough product in this field yet.
At least not that I could find.
So please, if you have, tell us about it in the comments section.
So What's My Conclusion?
For those of us who are actively doing webinars right now or have plans to do them in the future, some of us will have to choose a platform based solely on features. Whether or not we like the design, usability, or cost.
This is because when it comes right down to it, we have to make money via our efforts and whether that means charging for attendee spots, selling products during a webinar, or improving the sales of our business through effective training–we may not get the perfect package.
The Content Team here at ET uses Google Hangouts for our weekly meetings, while some other teams use Zoom for theirs. With our live streaming efforts, we make use of OBS combined with Restream.io to reach audiences on Facebook and YouTube both live and on-demand.
It is hard to recommend OBS as a single solution to anyone because it requires lots of set up, third-party integration, and has a steep learning curve; however, as part the suite we use, it has worked pretty well. I don't think an enterprise client would have the same results. Before that, we had used Wirecast, and we ran into those same reliability issues I mentioned earlier. Like I said, it's a hard nut to crack.
But that's just my personal situation. I know a lot of people who do something similar, and still more for whom this sort of solution just doesn't meet their needs.
What is your webinar solution? Do you have a software you'd recommend? Did seeing any in the list above make you want to try something new?
Please share your thoughts and experiences with the community in the comments below.
Article featured image by sliplee / shutterstock.com