Cornerstone content is a key part of your website. It can help you drive more traffic, increase user engagement, and improve your Search Engine Optimization (SEO). Fortunately, producing and optimizing this content can be easy when you follow the right steps.
In this post, we'll show you how to plan, create, and optimize your cornerstone articles. We'll also cover some cornerstone SEO strategies. Let's get started!
What Is Cornerstone Content?
Cornerstone content refers to the most important articles on your website. These are typically long, informative posts that show readers what you can offer and how you can help them. Ideally, this content should contain internal links to other relevant pages on your website.
For example, let's say you run a blog on digital marketing. Your cornerstone piece could be a comprehensive guide for beginners, covering areas such as SEO, email marketing, and social media advertising. This article would also include links to more specific pages and posts on those topics.
Cornerstone content is an opportunity to show off your expertise and build authority in your niche. Plus, it's a great way to get readers highly invested in your content and encourage them to stick around for longer.
Planning Cornerstone Articles
Before you can start planning your cornerstone articles, you might want to do some research about your audience. For instance, you could try to identify their pain points and interests. This can help you ensure that your cornerstone topics will be relevant and helpful to your readers.
Once you've decided what you're going to write about, you'll need to plan out how you're going to present it. Cornerstone pieces are normally in-depth articles that provide a wealth of information and direct readers to other helpful posts on your site. Therefore, you might consider writing a complete guide on a particular topic: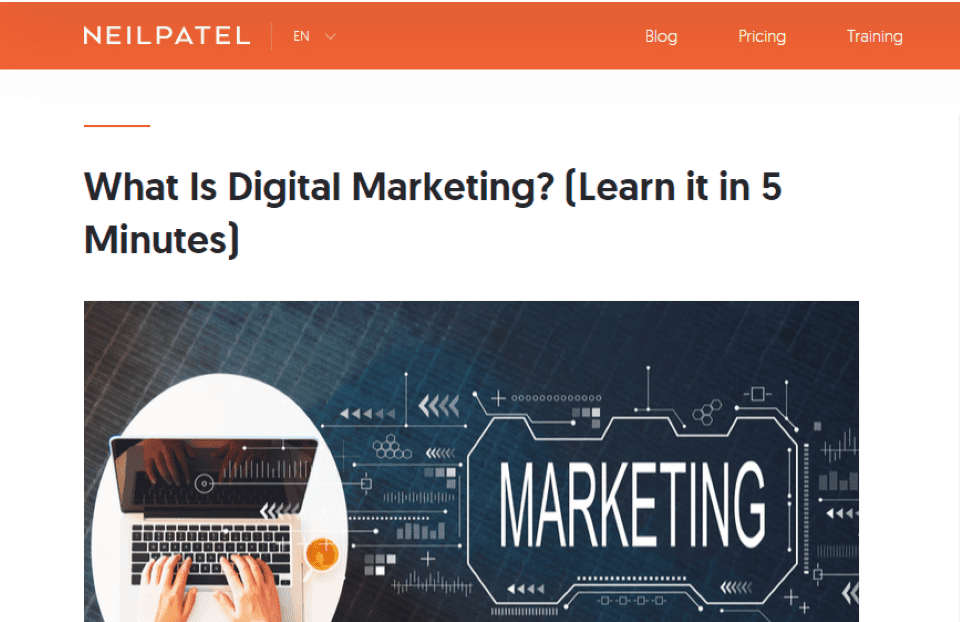 If you've already created an article on your chosen cornerstone topic, you could build on it and turn it into a more comprehensive piece. You might also consider outsourcing the work to a professional writer.
Another important step in the planning process is selecting the keywords for your piece. This is very important for your cornerstone SEO, as it will help ensure that your content ranks highly for relevant search queries.
You could use a tool like Google's Keyword Planner to choose the right keywords for your cornerstone articles: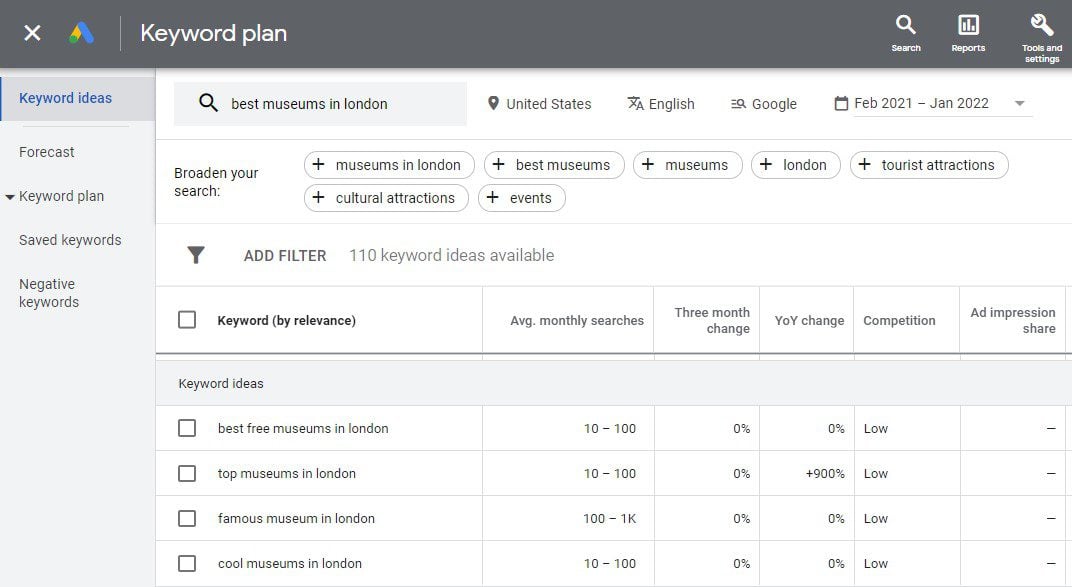 Then, you can formulate an eye-catching title for your piece, making sure to incorporate your target keyword (or a variation of it). You might also want to create an outline of your article. For instance, you'll want to think about the headings, topics, or steps that you wish to cover. Since cornerstone content is usually quite long, it's vital to structure it clearly and effectively.
You could even create a list of pages and posts that you want to link to from your cornerstone piece. Additionally, if you're planning to include photos or videos in your posts, now may be a good time to source that content.
Creating Cornerstone Articles
Now that you have a clear idea of what you're going to write, it's time to start working on your piece. While you may have written dozens of posts for your site already, you'll need to approach your cornerstone article a little differently.
For starters, your cornerstone article should highlight your area of expertise. Therefore, it should be authoritative and highly informative.
Moreover, your cornerstone piece should give readers a broad overview of the subject. Instead of narrowing down your focus, as you might do with regular posts, you'll want to cover any important issues and discussion points related to the topic, and save the finer details for the other content you'll use internal links to show off.
You'll also want to ensure that any information you provide is accurate. Remember that your cornerstone piece is a reflection of your brand, so it needs to be of the highest quality. For this reason, you might want to double-check facts and use reliable sources. In fact, triple-check them. It's that important to cornerstone content.
Additionally, you'll need to watch out for grammatical errors and typos. It's easy to overlook mistakes when you're writing long-form articles. Therefore, you might want to use a spelling and grammar checker such as Hemingway or Grammarly: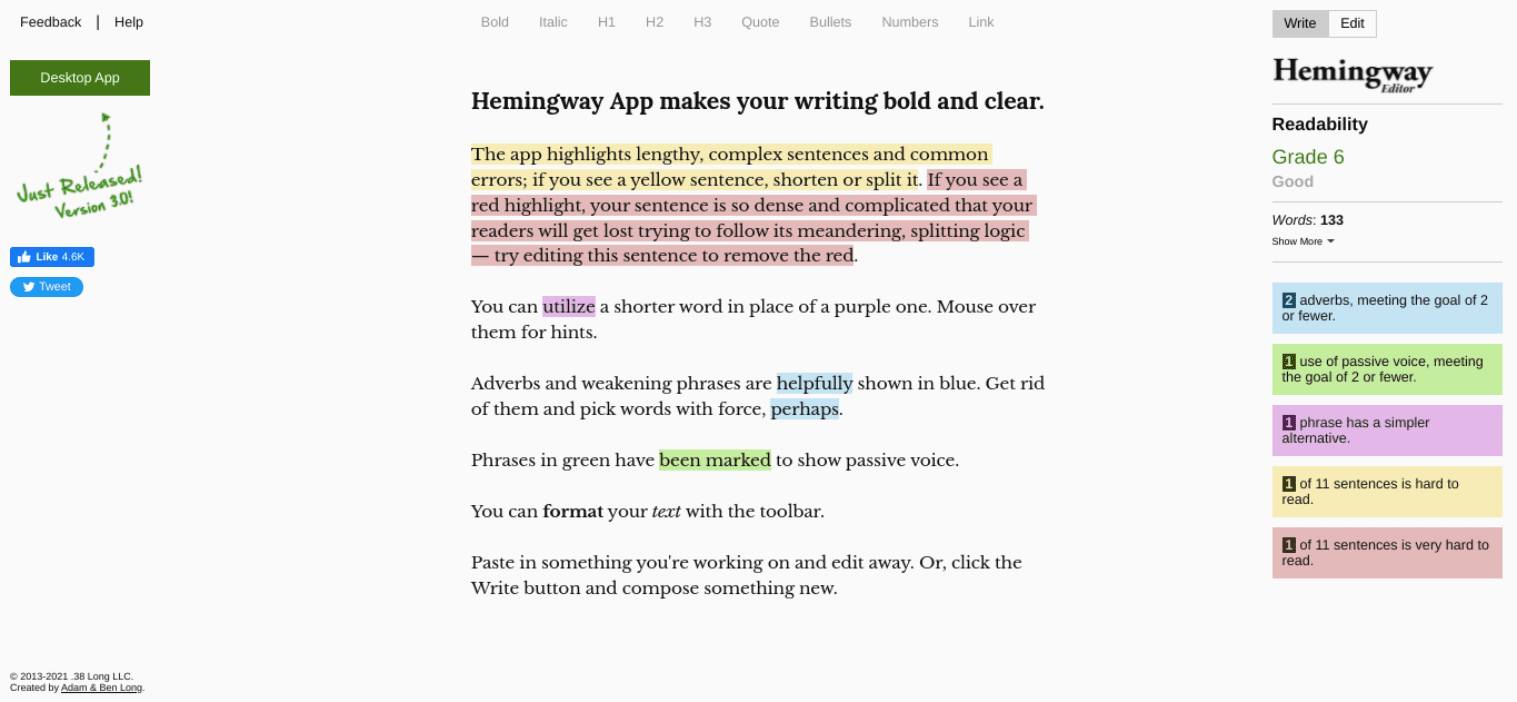 As you may have noticed, cornerstone articles can require a bit more work than regular posts. Let's look at a list of steps to help you simplify the process:
Write your article, making sure to incorporate your selected keywords.
Add in links to relevant posts and pages on your website.
Check your finished post for errors.
Make sure you've covered all relevant points and satisfied the user intent.
Once you've finished your post, you might want to put it aside for a few days and return to it with fresh eyes. This will help you spot any issues you may have missed the first time. It's also smart to have someone else read it over, or even hire a professional proofreader. Again, cornerstone content is a major part of building your site, so the extra care will pay off over time.
Optimizing Cornerstone Articles
Of course, you'll want to optimize your cornerstone article just as you would any other post. This means writing compelling title tags and meta descriptions and making sure all of your content is optimized with the right keywords. You can use an SEO plugin to make this process easier.
However, your cornerstone content may require additional optimization. For instance, you might want to consider adding a table of contents: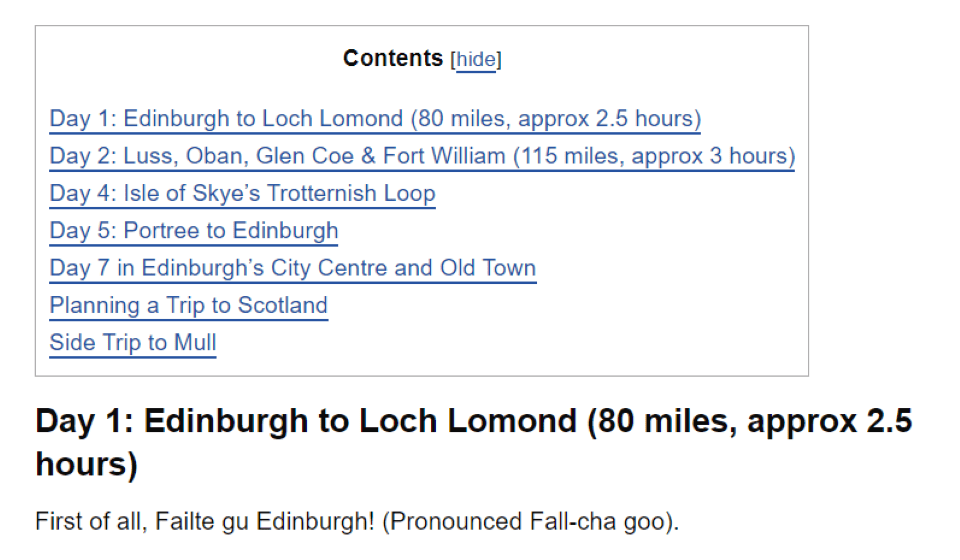 Since cornerstone articles tend to be long and contain multiple sections, adding a table of contents can make it easier for readers to navigate through your post. It also enables them to understand the contents at a glance. Here are some table of contents plugins that can add them for you automatically.
Additionally, having a ToC will help Google determine what is in the article and have more of a chance to get a featured snippet in SERPs.
Long articles typically contain more images than regular ones, to break up the text and provide visual interest. These media files can lead to slow loading times, which can turn visitors away. Therefore, it's important to compress all the photos you upload to your cornerstone articles. You'll also want to pay attention to image SEO to help boost your rankings.
Finally, it's important to make sure your cornerstone content is easily accessible. For instance, you might consider including it in your main navigation menu. With a menu plugin, you could make it stand out with icons or color, drawing more attention to this important piece of content. You could also highlight this important article on your home page or blog page.
If you run a magazine-style site, consider "pinning" it to the top of your home page. (Substack offers this functionality, for instance, and WordPress's block editor has a "stick to the top of the blog" option before publishing.)
SEO Strategies for Cornerstone Content
Since you've put so much effort into your cornerstone content, you'll want to make sure people can find it. If you're using a plugin like Yoast SEO, you can make use of its cornerstone features. First, you'll want to mark it as cornerstone content by enabling the toggle button: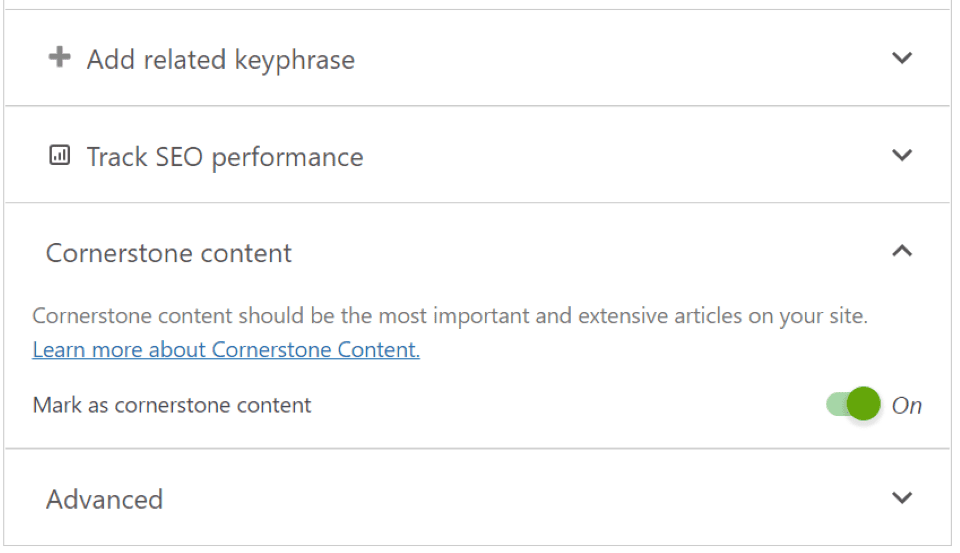 You'll then get a cornerstone SEO analysis, which will contain more requirements than the default Yoast analysis. For instance, the piece will need to be at least 900 words long and contain more internal links than regular posts.
If you upgrade to Yoast SEO premium, you'll get access to additional features. These include an internal linking suggestions tool and the stale cornerstone content filter, which helps you keep important pages and posts up to date. (These are incredibly useful tools, speaking from experience, and we think the upgrade is worth it for working on cornerstone articles.)
Moreover, you could optimize your cornerstone content with various social media plugins. For example, you could add social sharing buttons to your post. You might also include clickable Tweets, or create beautiful graphics for Pinterest: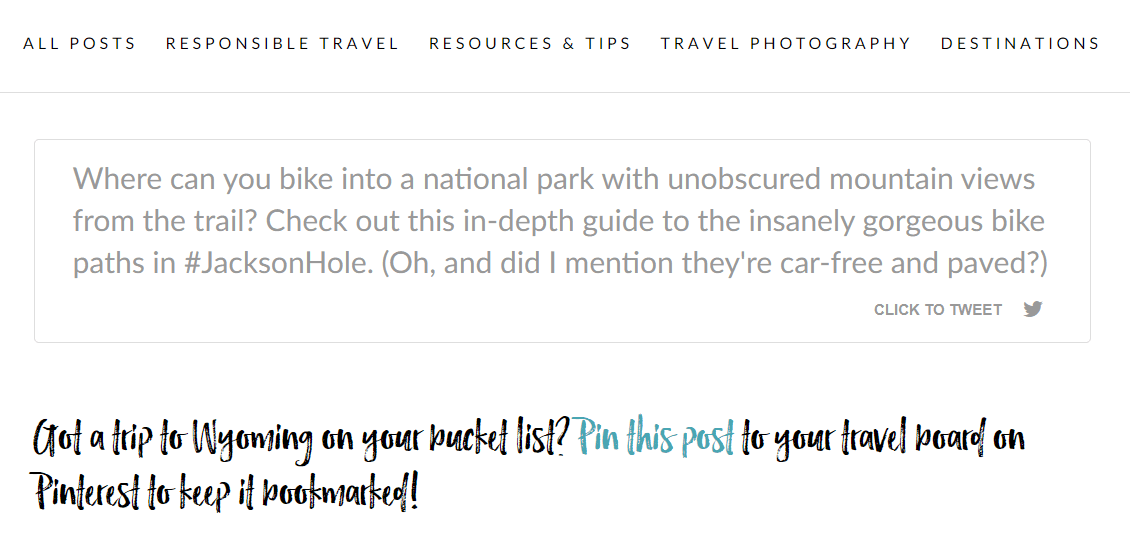 Finally, we recommend that you include a relevant Call To Action (CTA). For example, you might prompt users to sign up for your newsletter to receive updates. A newsletter plugin can make it easy to add an email opt-in form with an enticing CTA right at the end of your post. You don't want your best content to be void of having a CTA that can benefit your business/website.
If you've created a course or book on the same topic covered in your cornerstone piece, this is a great place to promote it. In this way, you can use your cornerstone article to drive conversions, whether you're trying to sell a product or grow your email list. And vice versa, too —
Conclusion
Cornerstone content can help you build authority in your niche and drive more traffic to your website. These long, in-depth articles are designed to help readers learn more about your brand and how you can help them.
Your cornerstone articles should be authoritative and accurate. You'll also want to target specific keywords and ensure that your content satisfies the user intent. For even better results, you can add a powerful CTA and social media sharing buttons to drive conversions.
Since all of your marketing efforts are tied to your cornerstone content, see if any of these WordPress marketing plugins can be used on your website to increase your conversions and effectiveness.
Do you have any questions about optimizing cornerstone content for SEO? Let us know in the comments section below!
Featured Image via VectorMine / shutterstock.com