The idea behind the "skyscraper" technique is pretty straightforward. When you're working on a new piece of content, your goal is to make it longer and more informative than anything else that's available online. If your competitors have amazing posts for the keywords you want to target, you'll need to make your articles even better.
In this article, we'll talk about the skyscraper technique and why it works. We'll discuss the difference between skyscraper and cornerstone content and how this technique helps link building. Let's get to it!
What Is the Skyscraper Technique?
The term "skyscraper technique" was initially coined by SEO expert Brian Dean when explaining a new way to look at link-building strategies.
The technique is named aptly, as skyscrapers stand out in the skyline no matter where you are. The taller that a building is, the more attention it will attract. In many cases, though, people will pay the most attention to only the tallest construction, even if the overall height difference is minimal. You want your content, then, to be that skyscraper.
If your competitors' articles are skyscrapers, you want to ensure that yours have a few extra feet over theirs. A longer post with better structure can make your content look more authoritative. Ultimately, users will go with the article they think offers the best information.
The idea behind the skyscraper technique is to look at competitor content for specific topics or keywords and ask yourself the following questions:
What can I do to improve the content structure?
What information is missing from competitor articles?
Are there any media resources I can add that competitors aren't using?
Ultimately, the goal of the skyscraper technique is to help you publish content that's more comprehensive than any other post on a specific subject. When someone is looking for resources, they'll notice that you have the most comprehensive content online.
Why Does the Skyscraper Technique Work?
When using a search engine, you won't go through each of the results one by one. Statistics say you're likely to stick to the first five results unless you're doing very intensive research: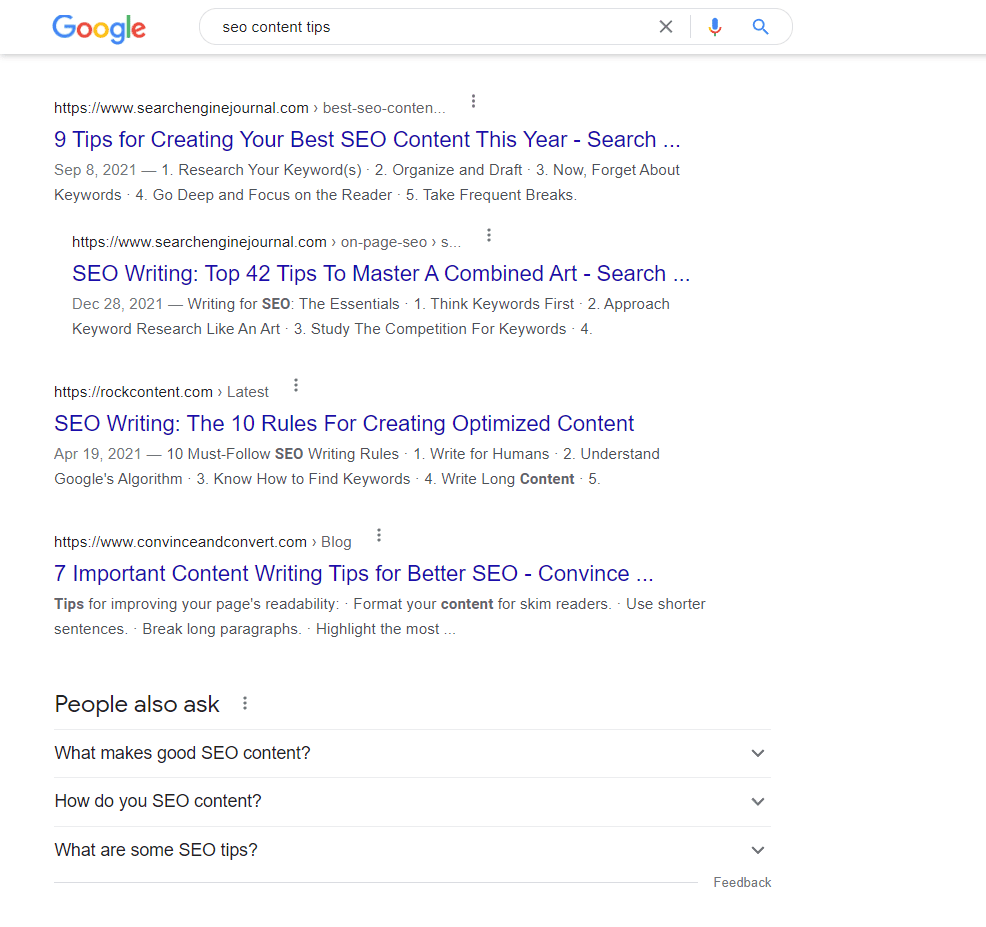 If you're not sure which result has the best information, you may open multiple pages and give each of them a quick look over. Most users stick with the page or post that looks the most comprehensive.
Writing the best content that you can is key. However, length and formatting also play significant roles in user perception of information. Studies show that most online visitors don't necessarily read through entire pages — they skim through content instead.
You can take advantage of that by using proper subheading distribution. When visitors skim through your posts, they'll have an easier time finding the content they want.
The more sections or subheadings your posts have, the more comprehensive they'll seem to visitors. In essence, you're building a skyscraper using subsections. If you combine that structure with informative and helpful content, you might have a winning piece.
Key Differences Between Skyscrapers and Other Types of Content
The skyscraper technique is one of the many types of long-form content you can create for a website. Other popular long-form content techniques include:
Cornerstone pages. The goal of cornerstone pages is to help visitors find related information to a single topic. For example, imagine you publish many hosting reviews. In that case, you can have a cornerstone page that provides a roundup of the best options and links to all related internal posts. Internal links are crucial to cornerstone pages.
Pillar content. A "pillar" page is a comprehensive article on a specific topic. When you plan this type of content, you'll also create "supplementary" pages. Those are less in-depth posts on related issues, all leading to a central pillar for a specific subject.
10X content. You can consider 10X content as skyscraper posts on steroids. This content marketing term gets thrown around for posts that are "ten times better" than anything else available. 10X pages should be leagues ahead in media content, user experience, and information.
A successful content marketing strategy shouldn't rely solely on skyscraper content or even just long-form posts. There's a time and a place for creating massive articles that dwarf everything else in the Search Engine Results Pages (SERPs). Usually, these posts are suitable when the subject calls for that length.
It's important to note that in 2022, the average length for first-position SERP results is 1,400-1,500 words. Usually, skyscraper content is over 2,000 words, depending on how competitive a search term is. The best word count for article SEO changes over time, and the current environment favors long-form content.
Those numbers tell us that not every topic or question needs a skyscraper page to tackle it. Sometimes, it's better to write and publish content that's concise and to the point.
How to Use Skyscraper Link Building (5 Steps)
If you want to build a proper skyscraper, you'll need to plan. Before you start writing, you'll want to check out content from other websites to see what they're doing. Let's start there.
Step 1: Look for the Best Content for a Specific Keyword/Search
Identifying the "best" content isn't just about looking at the SERP rankings. You also need to determine which pages have the most backlinks so that you can dethrone them.
First off, you'll need to narrow down which topic you want to build skyscraper content for. Run a Google search and check out the pages in the first five positions: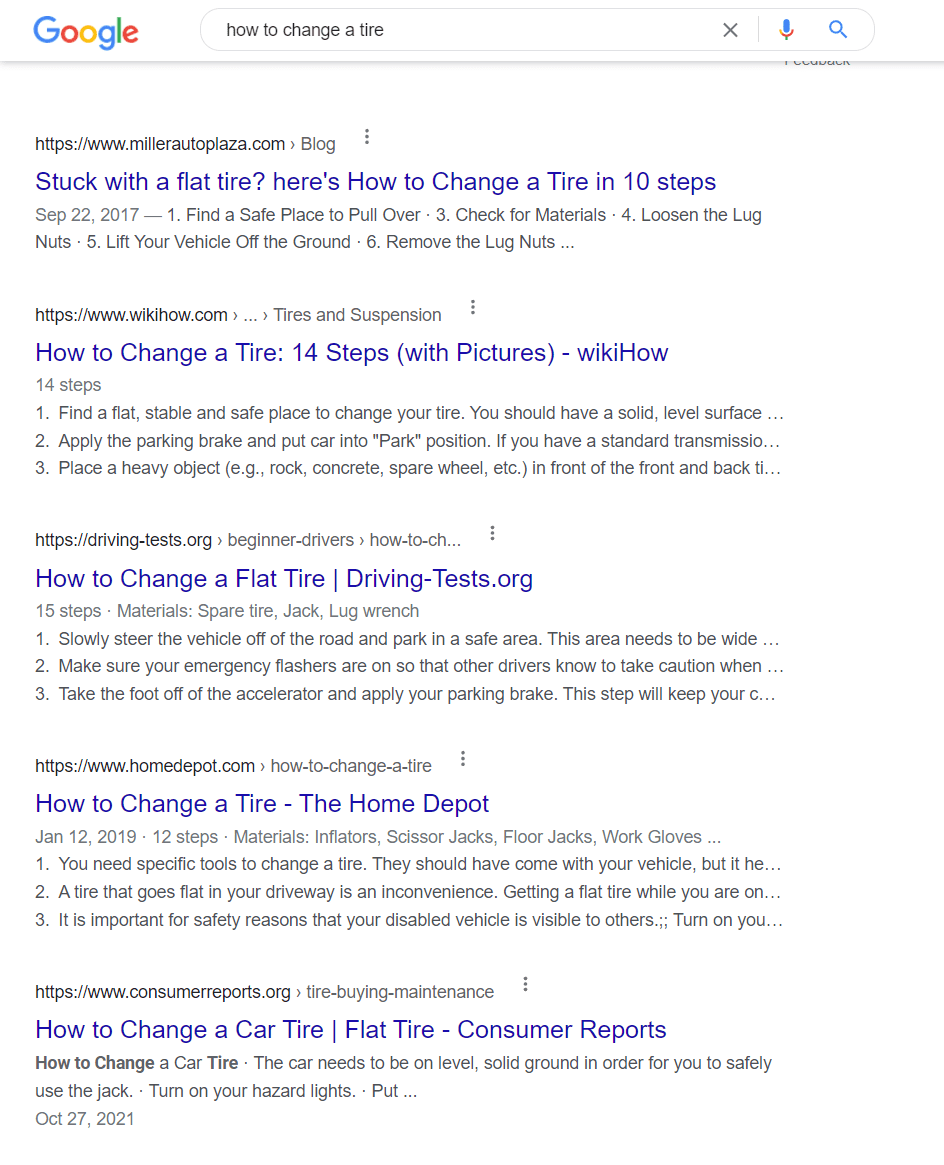 Those posts will be your main competitors. Go ahead and open each page in a separate tab and check out which ones offer the best content and page structures.
Keep in mind that many results might rise to the top of the SERPs due to high authority domains. The content itself might not be that good, but the domain gives it more weight.
Once you identify the best and most comprehensive results, you can check out their backlink profiles. Ahrefs' free Backlink Checker is perfect for the job (although there are other backlink checker tools you can use):

Using the Backlink Checker, you can find out how many websites link to a specific page in a matter of seconds:

Often, the top entry in the SERPs won't be the page with the most backlinks. Ideally, you want to use the page with the most links as a reference point for skyscraper content.
Note: We will be returning to the Backlink Checker later, so remember how to use it and which pages you analyzed!
Step 2: Analyze the Content of the Reference Pages
Once you narrow down which pages you want to reference, it's time to take a closer look at their content. That means reading through each article and seeing how comprehensive it is.
The easiest way to create skyscraper content is to find out what information your competitors are missing or where their pages are lacking in detail. Those will be the extra floors to make your skyscraper taller than theirs.
If you're not an expert in the subject, you might struggle to determine what information is missing. One great way to complete the picture is to compare some of the top posts against each other.
Often, some of the posts you use for reference will have information that the other pages are missing and vice-versa. You can use those comparisons to fill in the blanks and do research to cover the rest of the gaps.
Step 3: Create an Outline for Your Skyscraper Content
Skyscraper pages and posts are, by definition, long-form content. If you're experienced with writing this content, you'll know it can be hard to track every topic you want to cover.
In our experience, the best way to tackle skyscraper content is with a comprehensive outline. Make a list of every section and subheading that you want the final post to include. If you want to go the extra mile, consider including small blurbs to help you remember key points within each section: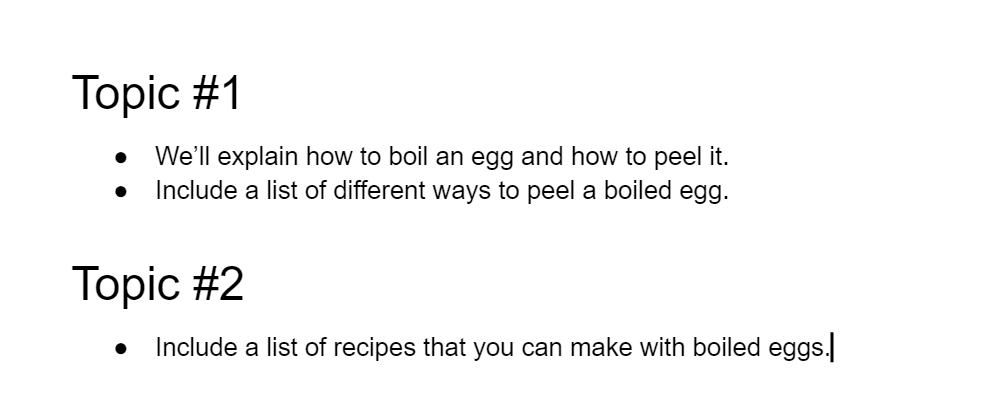 Your outline should include every subject your competitors cover in their articles, plus new information. Naturally, you'll be covering topics in your own words instead of rewriting content. However, breaking down the core components of other successful posts can help you craft a superior version.
Step 4: Get to Work on the Skyscraper Content
This step is where you finally start writing your content. There are three things to keep in mind when working on skyscraper content:
Try to add more visual elements than your competitors, such as lists, images, infographics, tables, etc.
Ensure that your writing is easier to understand than other articles on the same topic.
Use subheadings often and write titles that tell readers about each section.
Making a longer post or page isn't enough to dethrone top-ranking content. Your posts also need to be more user-friendly and understandable. If you can get that combination of factors right, your article will likely find the success you're aiming for.
Step 5: Reach Out for Linking Opportunities
This is where the link-building part of the skyscraper technique happens. If your content is better than what other websites currently link to, those sites might want to reference your article instead.
The question is: how do you find linking opportunities? The answer lies in step number one. Using Ahref's Backlink Checker not only shows you which competitors get the most links but which pages provide those links: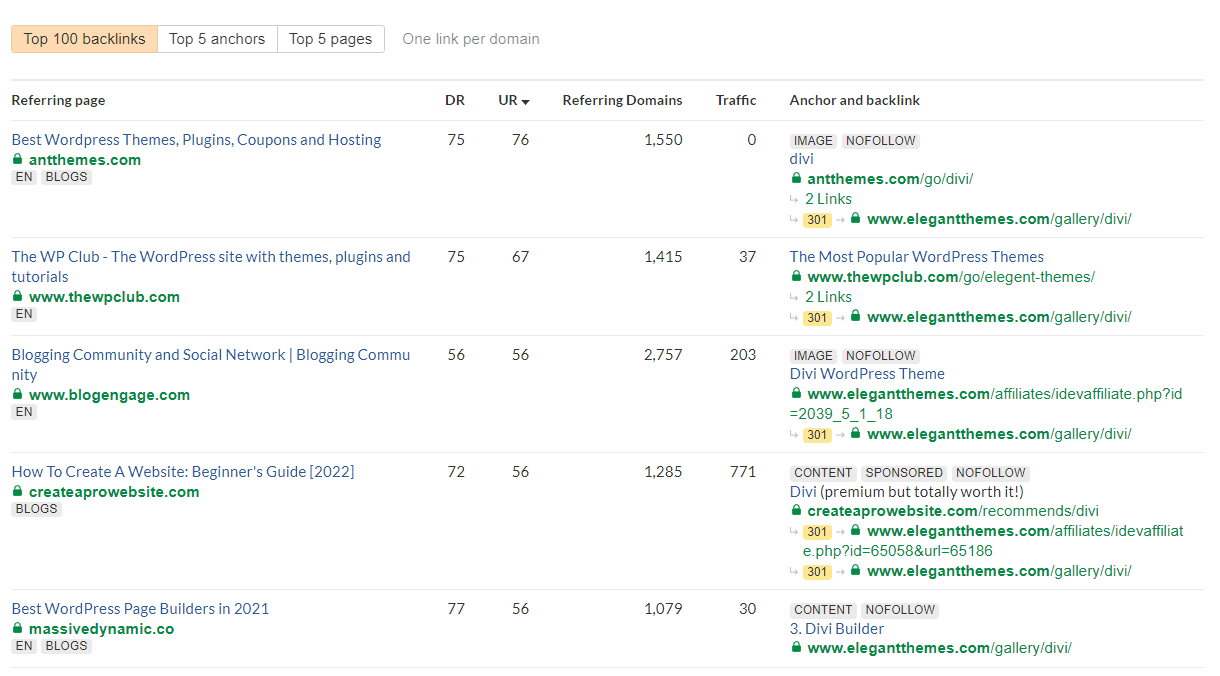 The free version of Backlink Checker only lets you look up the top 100 backlinks for a specific URL. However, that's more than enough for most purposes.
Determine which websites link to the top competitors for your new skyscraper post, write them down in a list, and reach out to them. That process can be very time-intensive, as you'll need to find contact information and email each page individually.
In our experience, you'll get the best results using a template when asking for links. You may need to send hundreds of emails, so writing a personalized message for each website is not logical. Simply tell the recipient that you're reaching out because they might want to link to your website as a resource, thank them for their time, and you're good to go.
Conclusion
The goal of the skyscraper technique is twofold: You can gain new backlinks by stealing them from the competition, and you increase your chances of ranking high in the SERPs. Since you're creating more in-depth content than your competitors, you should be able to rank higher.
Here's a quick recap of how to use the skyscraper technique for link building:
Look for the best content for a specific keyword/search term.
Analyze the content of the reference pages.
Create an outline for the skyscraper content.
Write the skyscraper content.
Reach out for linking opportunities.
In search of the best plugins for marketing your content and websites? See our recommended list of the best WordPress plugins for marketing.
Do you have any questions about how to use the skyscraper technique? Let's talk about them in the comments section below!
Featured image via rkkyall / shutterstock.com