Search Engine Optimization (SEO) is crucial to the success of your website from the very start. Website owners often make the mistake of ignoring SEO until long after their site is launched. This often leads to frustrating and costly problems down the road. That's why it is so important to start now! Despite the perceived difficulty of SEO, beginners can benefit from simple SEO tasks that, in time, could help their site rank #1. In this step-by-step guide to WordPress SEO, we will provide a step-by-step approach to equip your site to rank higher in search engines.
What is SEO?
Millions of people use Search engines like Google daily to view the top results for their searches. SEO is the ongoing process of improving your website ranking in search results pages (SERPs). How high search engines rank your content is determined by various factors, including quality of content, keyword optimization, links, page speed, and more. SEO involves using simple and advanced techniques to address these factors to produce high-quality content relevant to users and easy for search engines to index. Of course, the ultimate goal of SEO is to get more organic traffic to your site, which can lead to many benefits.
How Do Search Engines Work (in Simple Terms)?
It is the job of search engines to serve the best relevant results for users. To determine what content is the best match for what a user types in a search bar, search engines like Google use bots that "crawl" websites for content and links to store and index that data in their database. When a search query is made, the data is analyzed to serve the most relevant content.
What are the Benefits of WordPress SEO?
You wouldn't be reading this article if you weren't already aware of at least some of the benefits of SEO. Here are a few of the most potent benefits of optimizing your WordPress site for search engines.
Increase Organic Traffic
Save money with less PPC Advertising
Increase leads and sales with higher conversion rates
Increase Brand Awareness/Authority
Get Featured Listings in the SERPs
Provide a better overall website for users
Investing in SEO for WordPress now is one of the most influential and cost-effective marketing tools that can pay off handsomely in the long run.
Subscribe To Our Youtube Channel
A Beginner's Guide to WordPress SEO (Step by Step)
1. Get Reliable Hosting
Choosing the right hosting provider is a critical factor in WordPress SEO mainly because it can affect website speed and performance. So taking the time to understand WordPress Hosting and the solutions available will be worth it in the long run. The main types of WordPress Hosting include
Additional perks come with WordPress Managed Hosting providers that can help SEO. For example, with Siteground, you get a free SSL (more on this below), a Content Delivery Network (CDN), and other built-in site tools.
When looking for the right hosting platform, at minimum, you will want to ensure they support the current WordPress hosting requirements and the latest version of PHP. Ideally, using a free trial to test your site speed and performance metrics beforehand would be best. For best results, look for a fast host.
For more, check out our complete guide on how to choose your WordPress Hosting. Here are our top picks to help point you in the right direction.
2. Get an SSL & Use HTTPS
Modern browsers and Google no longer consider website URLs using HTTP or http:// (without the "S" at the end) to be secure. If you want your site URL to be protected, you need to use HTTPS (https://). This lets Google and your users know that your URL (or browser link) uses a secure (encrypted) server to share information. To use HTTPS in your URL, you'll need to use an SSL (Secure Sockets Layer) or its more secure version, TLS (Transport Layer Security).
An SSL certificate is often provided for free with your hosting provider, and you can also get a free SSL using a plugin or other third-party service like Cloudflare.
For more, check out our Ultimate Guide to HTTPS and SSL for WordPress.
3. Choose an SEO-Friendly WordPress Theme
When choosing a theme for your WordPress site, it is vital to choose one that is SEO-friendly. Ideally, you will want a WordPress theme that is fast and lightweight. But, with the rising popularity of page builders, you will likely need to find a balance between speed and design options. Even robust page builders, like Divi, have taken strides to maximize performance by eliminating unnecessary bloat.
In addition to speed, look for themes that use proper SEO headings, have clean code, are responsive, and are updated regularly.  Themes like GeneratePress will have these features built in. Also, make sure that your theme works seamlessly with popular SEO plugins that will take care of your technical SEO needs (including structured data and Schema markup).
To help you get started, here's our list of top SEO WordPress themes.
4. Allow Search Engines to Index Your Website
Don't make the mistake of skipping this small step before launching your WordPress Website. Simply navigate to Settings > Reading. Next to the option Search Engine Visibility, there is a check box that reads, "Discourage search engines from indexing this site." Make sure this box is unchecked. If not, you are asking Google to ignore you.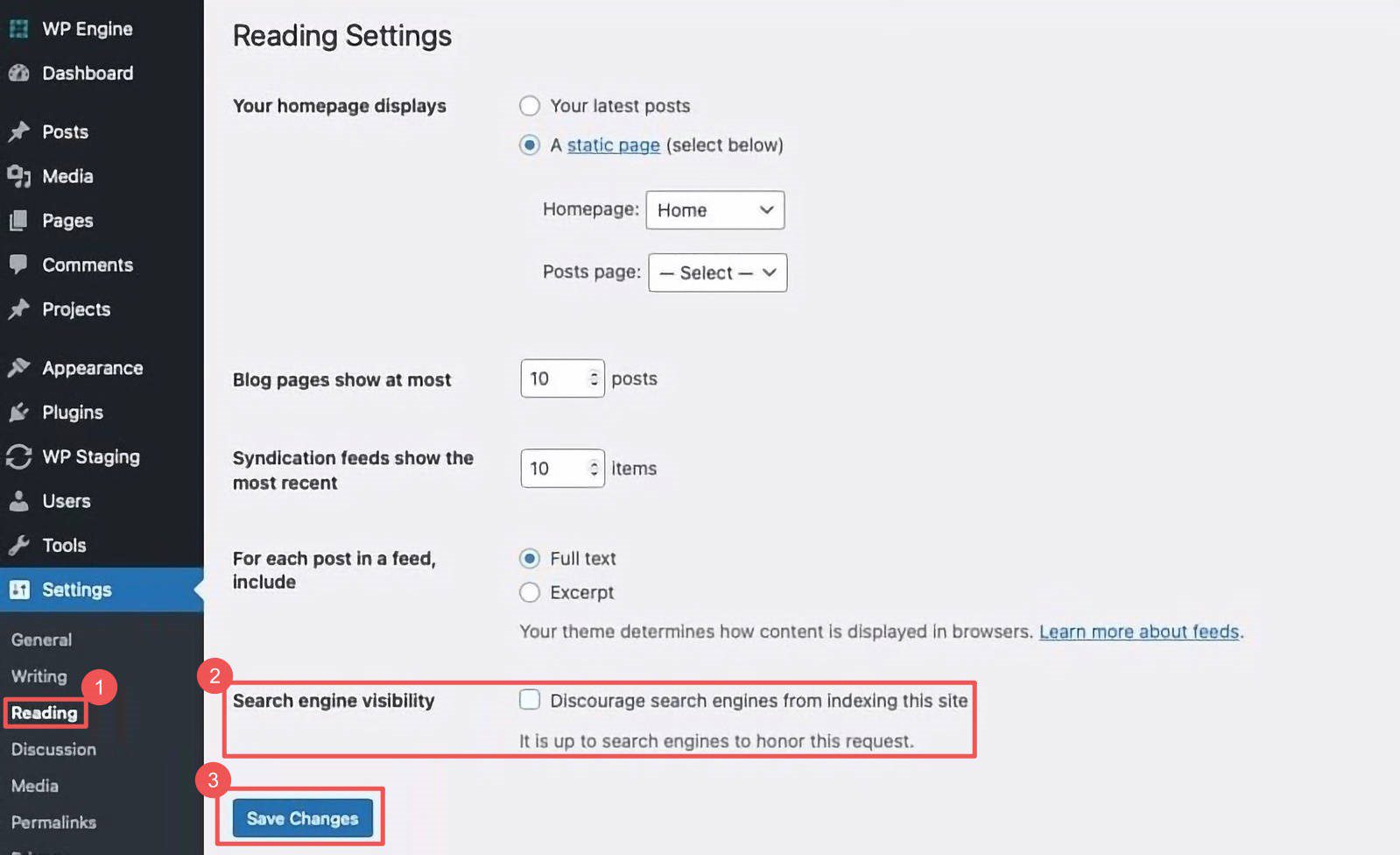 Note: It may be beneficial or recommended to keep the search engines from indexing the site during development so that Google doesn't start indexing poor or inconsistent content before it is ready.
5. Choose WWW or non-WWW
When you first install WordPress and go through the setup process, you can pick the preferred format of your website address or URL. In addition to "https://," you can choose whether or not to include "www" in the URL.
To see what format your site is using, you can find it in your WordPress dashboard under Settings > General.

Both WWW and non-WWW versions are acceptable. Although some argue that there may be a slight edge in favor of using www over non-www, most SEO experts agree that you can use either format as long as you keep it consistent throughout your site. Google will treat www.yoursite.com and yoursite.com as separate URLs, resulting in duplicate content that may negatively affect your SEO.
In short, pick one and stick with it. For more, check out our guide on WWW vs. non-WWW versions for SEO.
Note: Do not change this if you already have a live site. This applies only to brand-new sites in development. Changing the format on an existing site will hurt your SEO.
6. Set SEO-Friendly Permalinks & Slugs
In WordPress, permalinks refer to the URL structure of your site. Setting your permalinks to the "Post Name" format is common practice for WordPress SEO. This structure provides search engines and users with more text that describes the content of your page or post. For example, if you are writing a post on "WordPress SEO," it is better to have "wordpress-seo" in your URL instead of a number like "?p=123", especially if you are trying to rank for that keyword/phrase.
To change your permalink setting, go to your dashboard under Settings > Permalinks. Then select Post Name.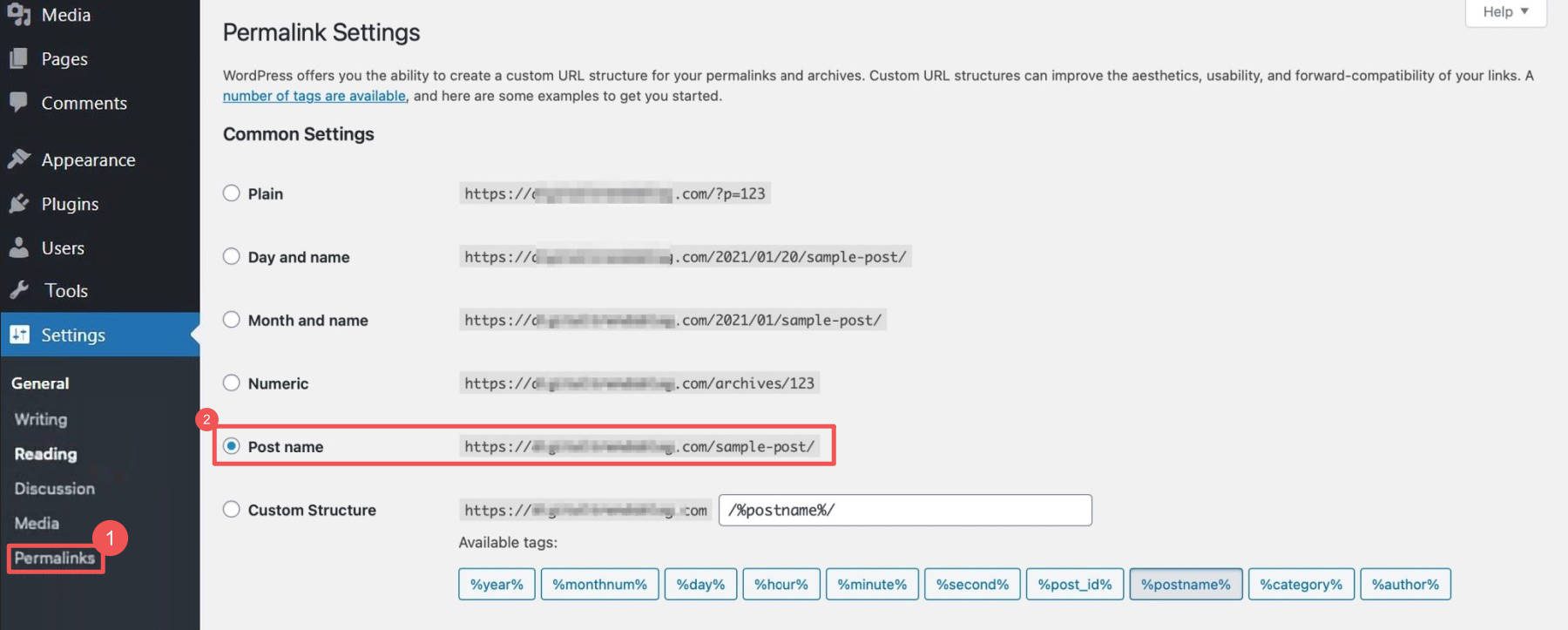 With this structure in place, you can change your permalink slug when editing your page or post in WordPress to include your keyword phrase for better on-page SEO.
Permalinks, as the name suggests, should be considered permanent. That means you should never change the permalink settings on your live site or the permalink of a page or post. This will result in broken links and hurt your SEO. If you must change a permalink, use a proper 301 redirect.
You can learn more in our posts on how permalinks affect SEO and how to configure WordPress permalink settings.
Categories and tags are the default taxonomies in WordPress that allow you to organize posts and pages. Using them properly can positively affect user experience, allowing users to sort and filter content to find what they need within a particular topic. In general, it is best to use categories for large groups of content under a broad topic (like "WordPress," "Business," "Design," etc.). Posts or pages should be kept to 1 category to avoid possible SEO drawbacks like duplicate content or unnecessary web crawling. Tags can be helpful for users to find more specific topics. You can add multiple tags to a post as long you use them purposefully and consistently.
The most significant impact that taxonomies can have on SEO is how search engines see them. Unless you have a good reason to do otherwise, we suggest you not include categories or tags in your permalinks. This makes it much easier to manage permalinks in the future and avoid possible cases of duplicate content or broken links when adding or changing categories.
You can change this setting easily using an SEO plugin like Yoast or Rank Math.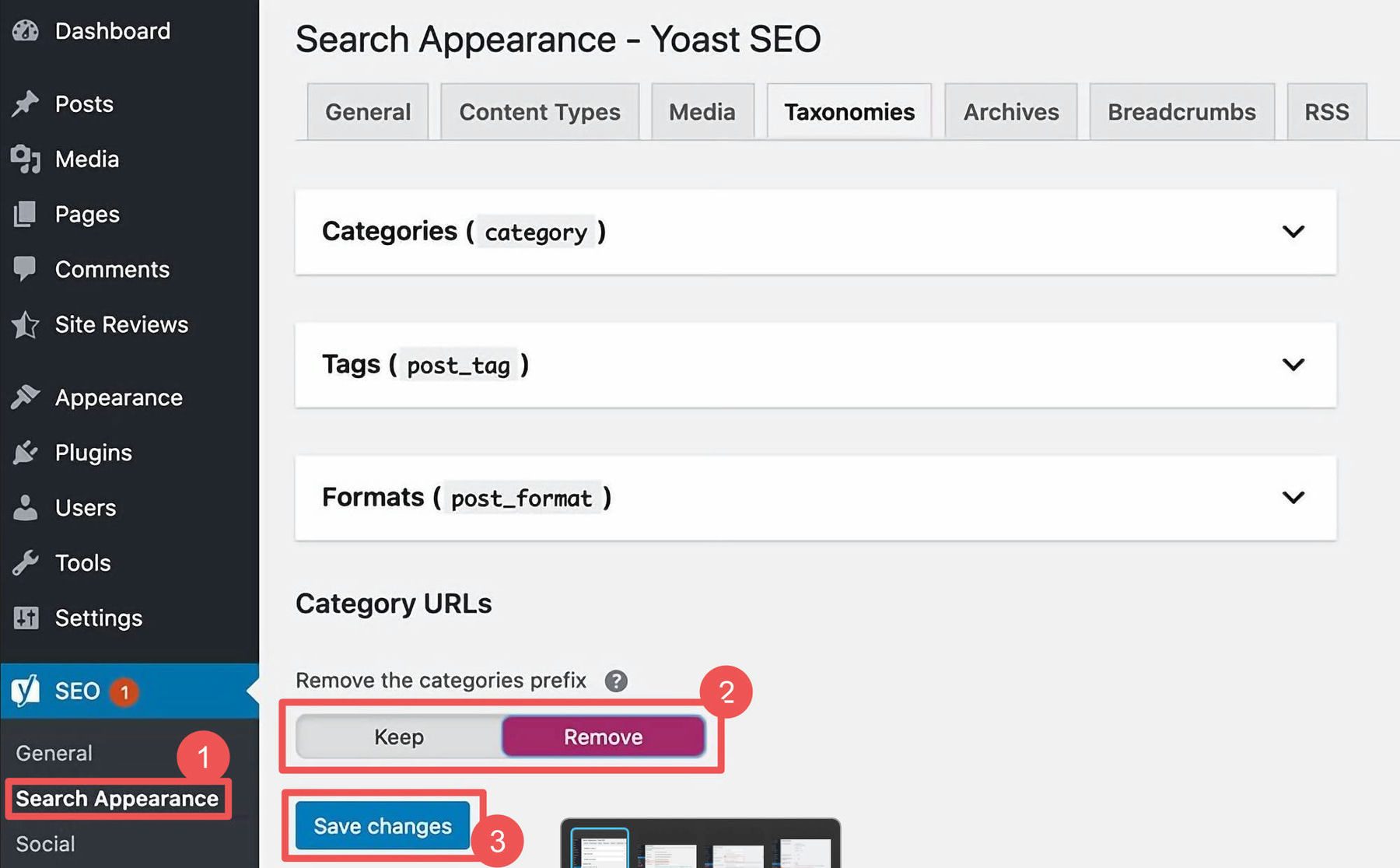 For more, check out our best practices for using categories and tags for SEO.
8. Choose Your WordPress SEO Plugin
Once you have the basic WordPress SEO structure in place, it's time to look into a quality SEO plugin. This is by far the easiest and most effective way to take your WordPress site's SEO to the next level. Popular SEO plugins (like Rank Math or Yoast SEO) will include most of the features, tools, and flexibility you need. These plugins can help optimize your entire website. We recommend RankMath because of its powerful SEO features, tremendous community support, and seamless integration with popular WordPress themes. With its easy-to-use interface, you can use Rank Math to optimize your on-page SEO on the front or back end.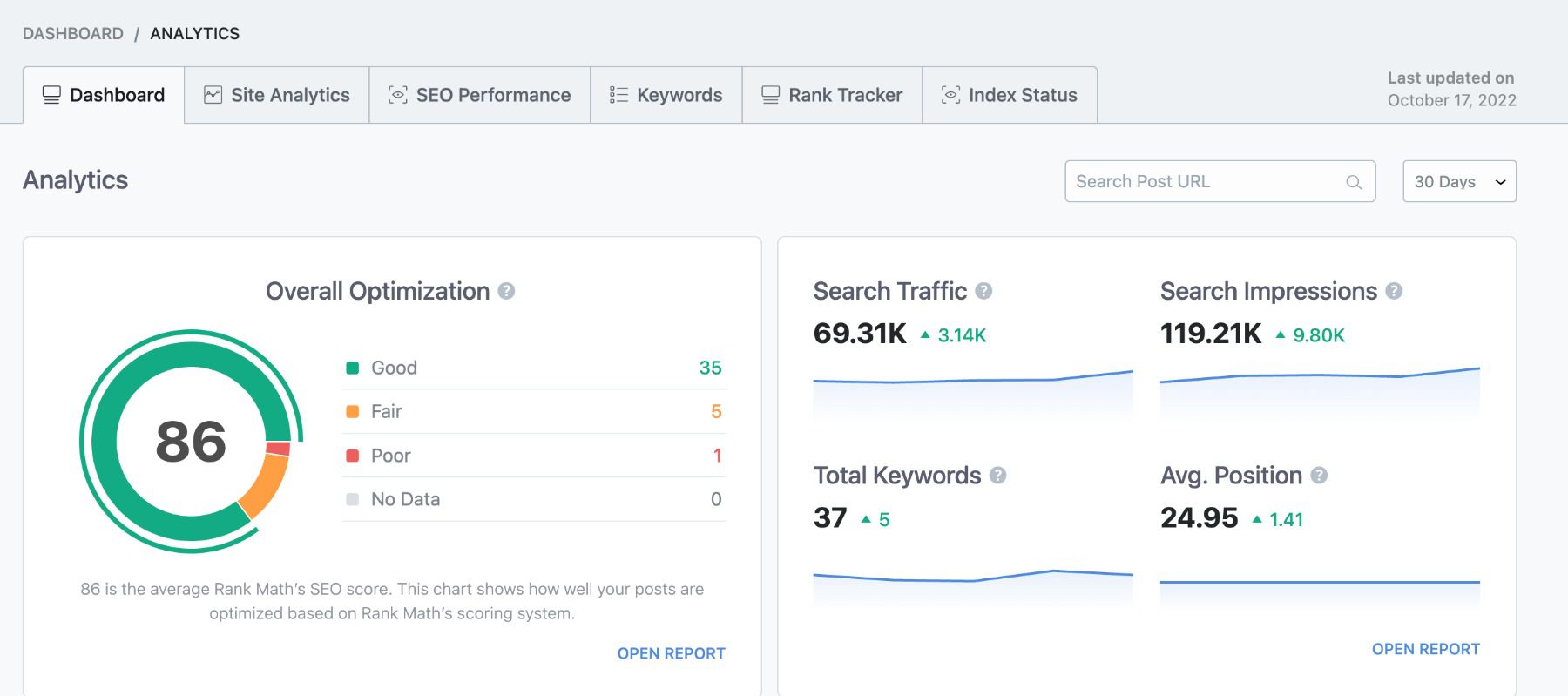 Here is a list of our best SEO plugins for WordPress, with all the features you need to boost your rankings.
9. Submit an XML Sitemap
An XML sitemap is an XML file on your website that provides a structured map of all of the pages and posts throughout your site. Unlike HTML sitemaps that may help with user experience and navigation, XML Sitemaps can be submitted directly to search engines. Once submitted, search engines will have an accurate map of your site so they can more effectively read and index your content. In WordPress, you can submit your sitemap to Google directly or use a sitemap plugin.
SEO plugins like Yoast and RankMath will have a built-in feature to generate your XML sitemap.
For more, check out our complete guide on XML sitemaps and SEO. And here is our list of the best sitemap plugins for WordPress.
10. Use Keyword Research to Plan Content
Keywords are the terms or phrases users enter to search for content within a browser or search engine. These keywords should be a driving force that determines what content you should create. Keyword research helps you determine what keywords people are currently searching so you can find the right ones to target when planning your content. To learn how to do it the right way, check out our complete guide on how to do keyword research.
SEO tools can be a lifesaver when it comes to keyword research. There are tools to help with keyword grouping, mapping, tracking, and more. Some SEO tools like Semrush provide an all-in-one SEO and keyword research solution to ensure you cover the right topics and adequately address user intent.
For more, check out our top SEO tools for Keyword Research.
11. Write High-Quality SEO Content
There really is no way around this one. High-quality content is still the most essential aspect of your SEO strategy. Whether you are writing blog posts or sales copywriting, your goal is to create content that outperforms your competition and meets the needs of your visitors. You can start by following these key steps to writing quality SEO content.
Use AI SEO Tools and Plugins for Better SEO Content
With the rise of artificial intelligence (AI), many AI SEO tools are becoming more mainstream. Some of the best AI SEO tools are now using AI to help with the entire SEO content creation process. AI writing software like Jasper AI can help you generate content in seconds using simple text prompts, and SurferSEO can optimize your content for search engines. Or you can use both with an integration.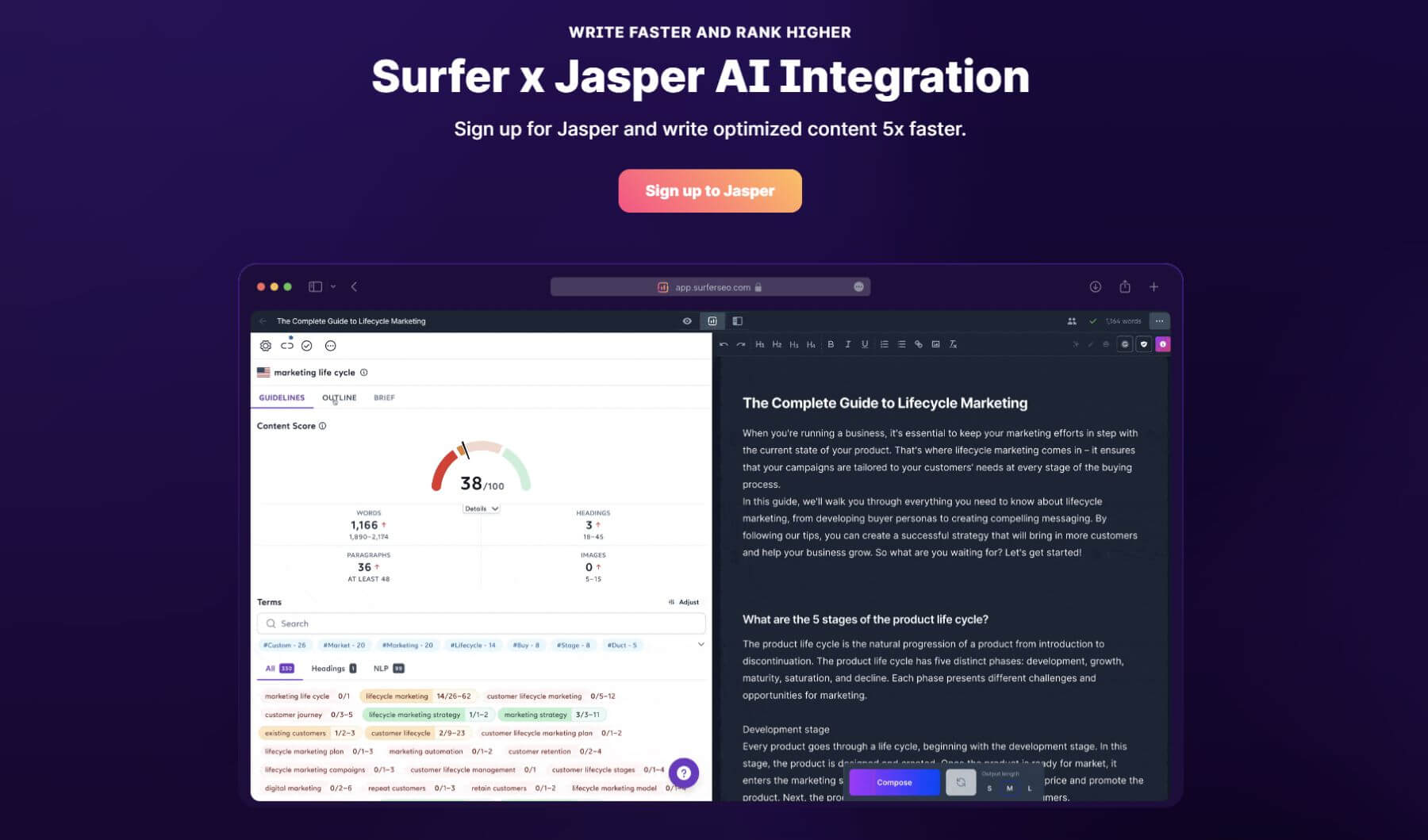 WordPress also has AI plugins that will help streamline the writing process and optimize your content for SEO.
Check out our list of the best AI writing tools to help you write high-quality with more speed and efficiency.
12. Optimize Your Post or Page Content for SEO
Writing high-quality content is only half the battle of WordPress SEO. You will also need to optimize your content for SEO. This involves several on-page SEO tasks, including optimizing HTML structure, keywords, syntax, readability, schema markup, internal/external links, images, etc. This may sound like a lot, but your SEO plugin can help streamline this process. RankMath will allow you to optimize these elements in real time while writing your post. And you can use its AI-generated suggestions based on your content to improve your SEO score for each page or post.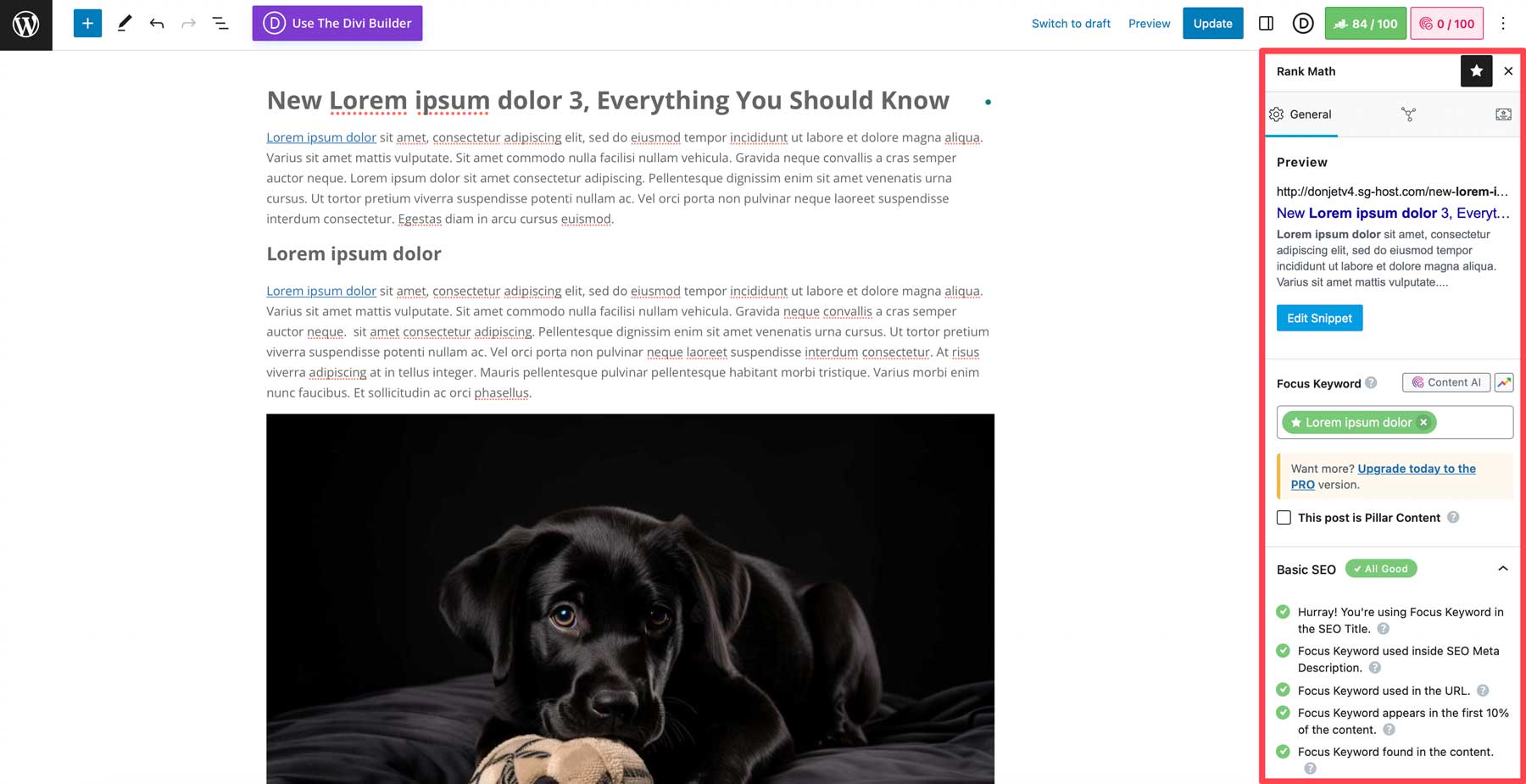 For example, you can start by entering your target keyword or keyphrase to let RankMath know what you are trying to rank for. (IMPORTANT: Don't use the same focus keyphrase on any other page or post. Only use it once because you don't want to compete against yourself for that key phrase.)
Here are a few more key suggestions to optimize our page or post:
Make sure your page title includes the keyphrase and the permalink slug includes your focus keyphrase.
Organize your heading tags properly and include your keyphrase in headings and subheadings when appropriate.
Add the focus keyphrase and other related or semantic keywords strategically throughout your page content.
Use the plugin's SEO widget to ensure your content gets a passing score for readability and SEO.
Consider your word count compared with other top-ranking articles for the same keyword.
Add a meta description for SERPs that is concise, enticing, and includes your focus keyword.
Add schema markup to get featured/rich snippets in the SERPs with a plugin like Schema Pro.
For more, here is a detailed checklist for on-page SEO.
13. Optimize Images for WordPress SEO
Images can have a big impact on your SEO. However, it probably has more potential to harm your ranking than it does to improve it. Here are a few tips to help optimize your images for SEO:
Compress and Resize – Large image files can drastically slow down your website. This will turn visitors away and hurt your SEO ranking. Try to keep all images below 100kb. You'll need to balance quality and size using lossless compression with free tools like tinypng.com or an image optimization plugin.
Use the correct file types – Webp is the best format for the web these days for the best performance. Some plugins like EWWW Image Optimizer can convert your images to Webp for you. But you can also use JPG and PNG for good results. Avoid large file types like GIFs.
Add Lazy Loading to Images for faster page loads.
Add Image Alt Text – The Alt text describes the image on your site in text form. Not only does it help with accessibility and screenreaders, but it can also allow you to add helpful keywords for better overall SEO.
For more, check out these best practices for optimizing images for SEO and the top plugins you can use.
14. Optimize Links for WordPress SEO
Links are essential for SEO in a lot of ways. The two types of links that you can include on your website are internal links (links to other pages on your site) and external links (links to pages on a different site). The other important link type is called backlinks (or inbound links) which are links to your site from other websites. Earning quality backlinks involves a link-building strategy that is more difficult to achieve because it involves convincing other websites to link to your content. All three are important for SEO. You can learn more from our SEO Links Beginner's Guide. But for this post, we will give you a few tips on using the two types you have more control over – internal and external links.
Use Internal Links
Understanding how internal links help SEO is important. Here are a few tips to get you started:
Ensure you add internal links to content that is relevant to the subject matter. Users and search engines will recognize when an internal link is forced or doesn't make sense in the context.
Use various (different) internal links. Don't keep sending the user to the same few pages.
Use proper HTML link structure.
Use keyword-rich anchor text. Avoid using less informative text like "click here" or "learn more" to make links more optimized for users and search engines.
Use "NoFollow" and "Follow" External Links
When adding external links to your post, you can choose to have that link "followed" or "not followed" by search engines. By default, all external links in WordPress will be followed. Search engines will crawl the link to help both parties rank higher. But sometimes, using "nofollow" links is beneficial to avoid negative SEO results. For example, WordPress may add the "nofollow" tag to comment links to prevent search engines from crawling spam links or other links that could harm your domain authority. They are useful for linking to sites you don't fully trust or want to endorse. You'll also want to use "nofollow" links when using affiliate links or if you're receiving payment from people clicking the link.
To create a "nofollow" link in WordPress, you can add the rel="nofollow" tag to the HTML as follows:
<a href="https://elegantthemes.com" rel="nofollow">anchor text</a>
For more, check out our guide on how to use nofollow and follow links.
Use a Plugin to Add Links for SEO (The Easy Way)
Managing your internal and external links can get overwhelming, especially for beginners or larger websites. Rank Math will give you some help options for how links operate on your site.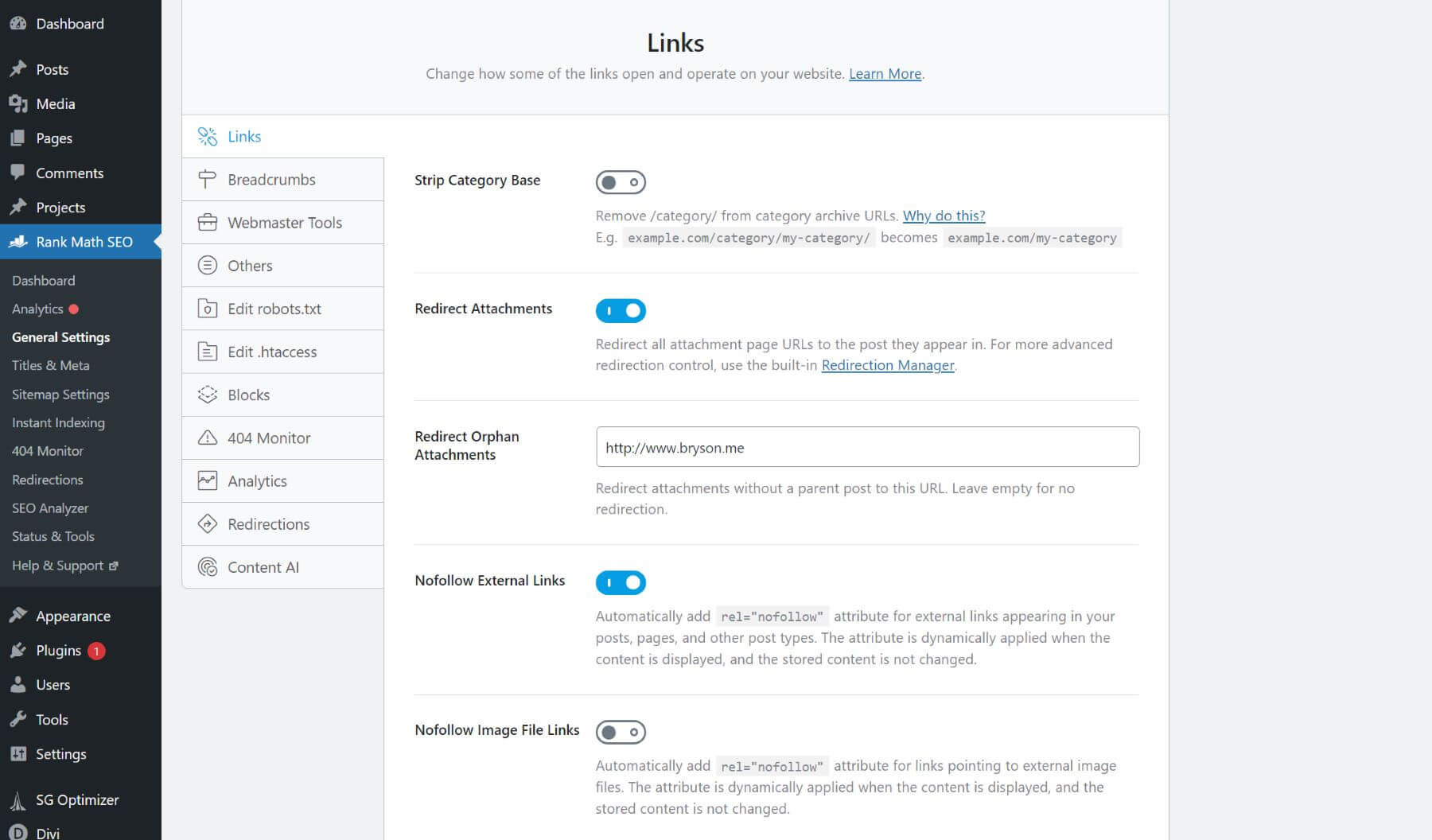 But if you need more help, using a plugin like LinkWhisper can automate the process of adding, removing, and optimizing links throughout your site. With LinkWhisper, you can add links in WordPress automatically based on your keywords and monitor them easily. This is the best way to ensure you get the most SEO link juice possible from your links sitewide.
15. Avoid Creating Duplicate Content
Duplicate content is the same (or very similar) content that can be found in multiple locations or URLs. This can often happen through the misuse of permalinks, using HTTP and HTTPS, pagination, or URL variations (like tracking code parameters). Having the same content on two different URLs can sometimes lead to Google crawling multiple versions of the same content. This can lead to each variation competing against each other in the ranks or the wrong version being indexed. Check out our guide to duplicate content and SEO for more details.
You can easily check your website for duplicate content by looking up your indexed pages in Google Console or by searching your site pages in Google (i.e., "site:elegantthemes.com").

The number of pages should match the number of pages you created in WordPress. If not, you may have duplicate content that needs to be fixed.
Use Canonical URLs and Redirects
One way to avoid duplicate content is to use canonical URLs on your website. A canonical URL is defined by a link tag in the HTML of your header with the rel="canonical" tag. It looks like something like this:
This suggests to search engines that this is the main URL for this content. That way, if the same content is found on a different URL, Google will know which one to index. You can add a canonical URL to any page in WordPress using an SEO plugin.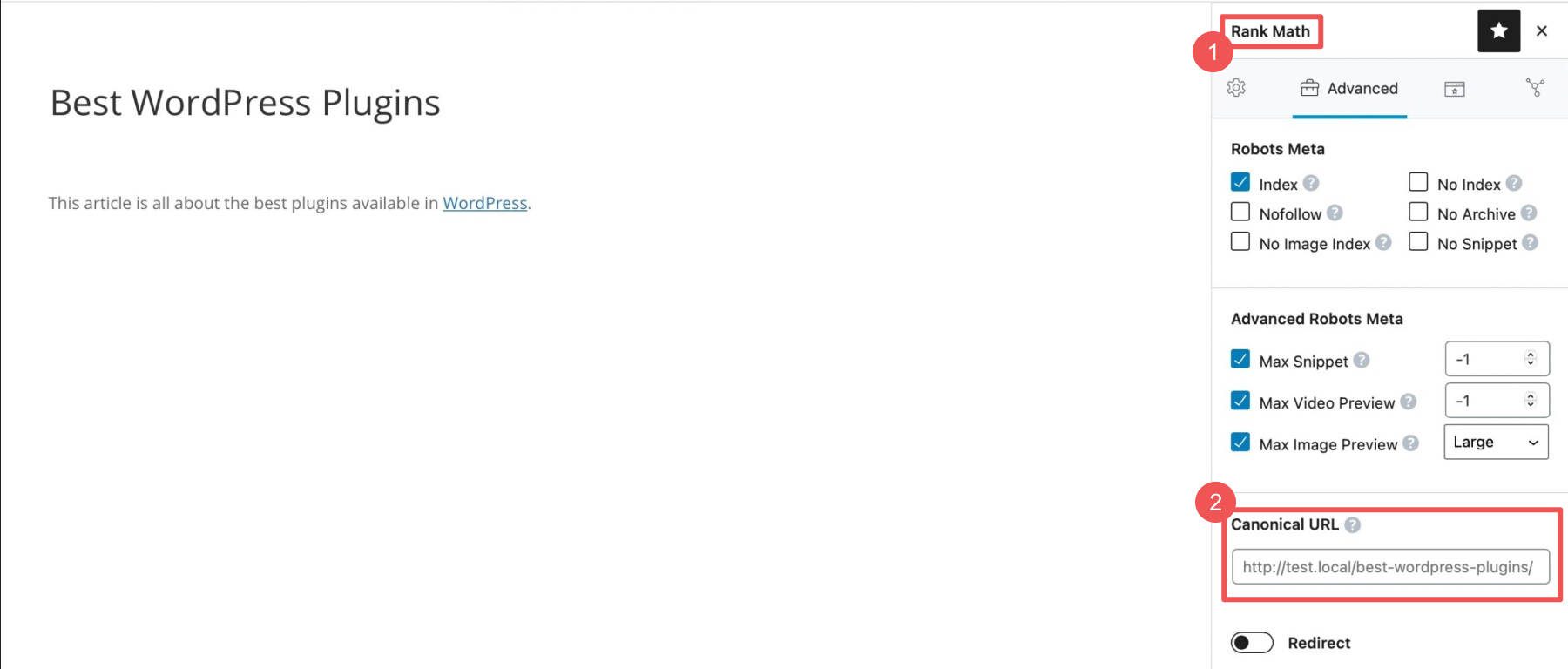 In addition to canonical URLs, you can 301 redirects to avoid duplicate content and keyword cannibalization. For example, if you change the permalink of a blog article, you will want to make sure and add a 301 permanent redirect to the new URL to avoid losing all of the organic traffic and ranking earned for that post.
For more, check out our list of the best Redirect Plugins for WordPress.
16. Optimize Speed and Performance for WordPress SEO
Optimizing your website for speed and performance is essential for SEO. So, understanding how page speed affects SEO is a must for beginners. Search engines like Google use several core web vitals and metrics to determine how well your site performs, which can significantly impact your rankings. The easiest way to check your website's speed and performance metrics is to use a free online tool like GTMetrics or Google's PageSpeed Insights. These tools will give you an overall score and a list of improvements that can be made to improve your score.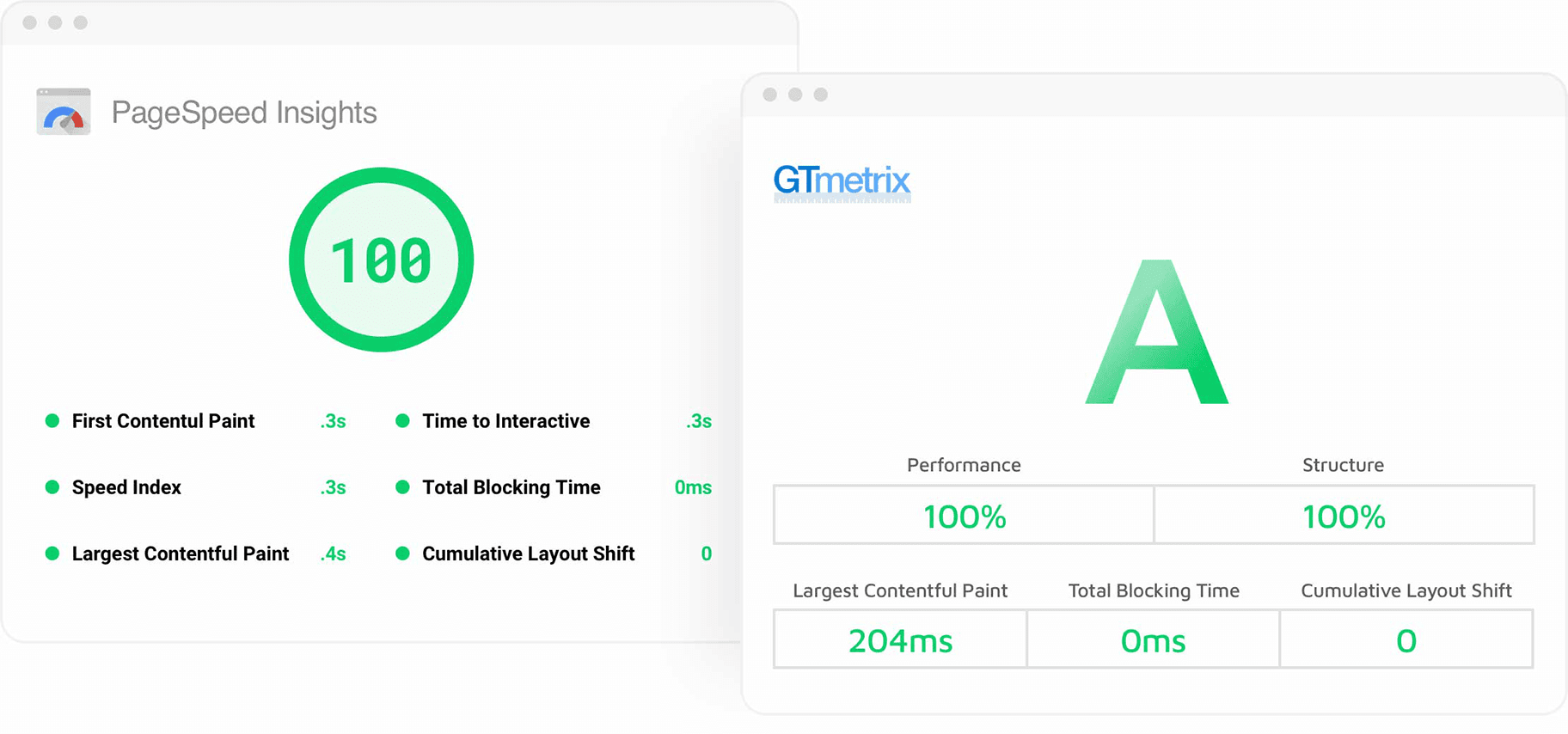 WordPress SEO Speed and Performance Tips
Here are some best practices to improve the speed and performance of your WordPress website:
Speed and Performance Plugins
This may seem a bit overwhelming. However, the right plugin can do a lot of this for you. If you are serious about performance, we recommend using a premium plugin like WP Rocket that provides an all-in-one solution for speed and performance. For more, check out our list of the best WordPress Speed and Performance Plugins.
Wrapping Up
You don't have to be an SEO expert to optimize your WordPress site for search engines. There are simple steps any beginner can follow to set their site up for success. It starts with choosing the right host, theme, and SEO plugin(s) that make the process much easier. With the right tools, you can spend more time less time on SEO and more time on your business. Hopefully, the steps in this post can help you climb in the rankings to get the traffic you have always dreamed of having.
If you have a physical business, you will definitely want to create a Google My Business profile and explore local SEO.
Frequently Asked Questions (FAQs)
Before we wrap up, let's answer some of your most common questions about WordPress SEO. Did we miss one? Leave a question below, and we will respond!
What is WordPress SEO?
WordPress SEO refers to optimizing a WordPress website to improve its visibility and ranking on search engines like Google. This involves keyword research, on-page optimization, content creation, link building, and improving website speed and user experience. WordPress SEO aims to increase organic traffic to the site and ultimately drive conversions.
How can I do SEO on my WordPress website?
To do SEO on your WordPress website, ensure your website is mobile-friendly, optimize your website's speed, use keyword-rich titles and descriptions, use header tags, add internal and external links, write quality content, and use social media to promote your website. Use a plugin like
Rank Math
to help you optimize your content and meta tags. Finally, regularly update your website with fresh, relevant content.
Can I do SEO on my WordPress website for free?
How can I improve my WordPress SEO?
To improve WordPress SEO, install an SEO plugin like
Rank Math
or
Yoast
. Optimize content with keywords, meta tags, and image optimization. Enhance performance with caching plugins and image optimization. Build backlinks through guest blogging, commenting, and social media. Regularly update and promote content to keep it fresh.
What are the most important SEO factors for WordPress?
WordPress's most important SEO factors are high-quality content, relevant keywords, optimal site speed, mobile responsiveness, user-friendly URLs, proper use of tags and categories, optimized images, and backlinks from reputable websites. Additionally, regularly updating your site and adding fresh content can improve your search engine rankings.
What is the best WordPress SEO plugin?
Rank Math
is the best WordPress SEO plugin because of its easy-to-use interface, powerful features like Schema markup, advanced SEO analysis, and keyword optimization tools. It also offers a comprehensive setup wizard, integration with Google Search Console and other popular tools, and regular updates to keep up with the latest SEO trends. Plus, it's free for most features and has very affordable premium pricing.
Why is SEO important?
SEO (Search Engine Optimization) is essential because it helps improve the visibility and ranking of a website in search engine results pages, leading to increased organic traffic, better user engagement, and higher chances of converting visitors into customers or clients. Hence, SEO is crucial for businesses and websites to establish a solid online presence and stay ahead of competitors.
What are some common SEO mistakes?
Common SEO mistakes include keyword stuffing, not optimizing for mobile devices, ignoring meta tags, neglecting internal linking, using duplicate content, and not focusing on local SEO. These mistakes can harm website rankings and lead to lower traffic and conversions. It's important to prioritize a comprehensive SEO strategy and avoid these errors.
What is the difference between on-page SEO and off-page SEO?
On-page SEO is about improving a website's content and structure for better search engine ranking. This includes title tags, meta descriptions, and keywords. Off-page SEO involves link-building and social media engagement to boost a website's authority and relevance. In short, on-page SEO optimizes the website, while off-page SEO builds external signals.
How long does it take to see results from SEO?
It can take several months to see noticeable results from SEO efforts. This is because search engines need time to crawl and index the website and for the changes made to the website to be reflected in the search rankings. The timeline for results can vary depending on factors such as the keywords' competitiveness, the content's quality, and the SEO strategy's effectiveness.
Featured image via Overearth / shutterstock.com