Creating content is a blogger's main job, and even if your site isn't blog-focused, it may still be heavy on content. Finding a keyword to start with is…well, just the start. There are a lot of other keywords that you could and should use. That is if you could only discover them and figure out how they relate. That's where keyword grouping tools come in. Clustering your most relevant keywords into smart groups will guide your content strategy.
What is Keyword Grouping?
With keyword grouping, you optimize your content for multiple search terms that all revolve around the same subject. This is an alternative strategy to focusing on just one keyword and trying to rank highly for it. Here's the process broken down to its basics:
Choose a focus topic or keyword.
Create groups of related keywords.
Use the related terms on your page and in your post content.
Several related search terms can have the same search intent, like "coffee shops near me" and "local coffee shops," for example. By optimizing for a cluster of keywords instead of a single one, you won't miss the audience that's searching for the alternative keyword and looking for the same exact thing. You'll also avoid keyword cannibalization issues because you'll be trying to rank your content for multiple search terms instead of one.
5 Best Keyword Grouping Tools
Keyword grouping as a strategy has been around for a long time, but you no longer have to go about the entire process manually. There are several automated tools (some are even free!) that you can use to create keyword clusters without taxing your brain…or creating numerous spreadsheets. (Check out other outdated SEO practices here.)
Here are the basics of using keyword grouping tools:
Select a single search term that you already rank for or want to rank for.
Generate a list of related keywords with either a separate keyword research tool or the keyword grouping tool.
Group the keywords into clusters using the keyword grouping tool.
Weed out irrelevant keywords from the clusters.
Your next natural step is to create content that uses some or all of the keywords in a cluster. But before you get to that point, let's go over our favorite keyword grouping tools.
1. Contadu

Contadu's keyword clustering and grouping tool is described as "a very basic method of text distance analysis," but it actually has a few clever features that other tools lack.
There are two options for keyword grouping. The first is Build Keyword Clusters Based on Common Subwords, where you paste up to 100K keywords, select how many clusters you want (from 1 to 1,000) and select your language from a long list of options. I added 2,080 keywords and had them divided into 50 clusters max, and the tool ended up giving me 14 clusters with no unassigned keywords left over: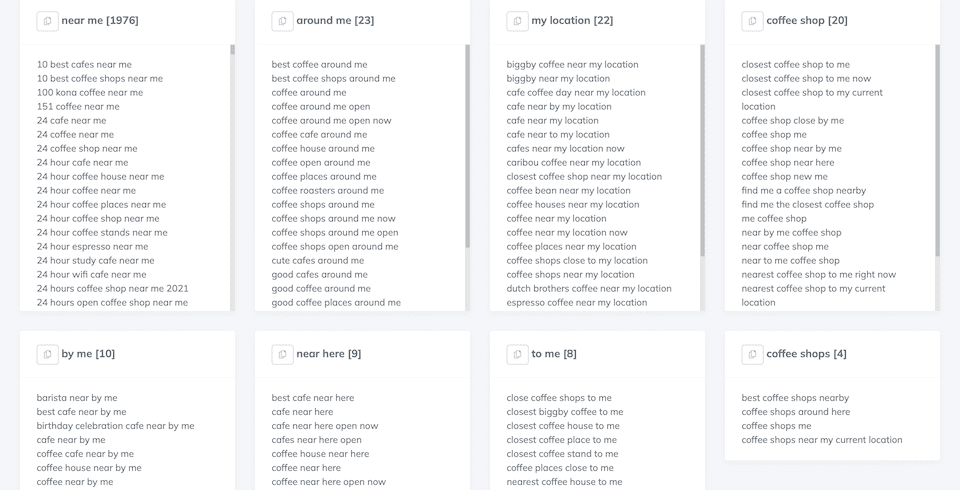 The second option is Assign Keywords to Predefined Groups. With this one, you set your own group names and then have the keywords auto-shuffled into those clusters. (You'll probably end up with more unassigned keywords than with the first option.) Adjust the matching accuracy, choosing from five options that range from Extra Strict to Extra Broad.
Whichever type of keyword grouping you choose, you can export the results as a simple spreadsheet with Group and Keyword columns.
Key Features of Contadu:
Very easy to use, with user-friendly results
Two options for keyword grouping (auto and pre-defined)
Matching accuracy setting for pre-defined grouping
Unassigned category for keywords that aren't grouped
Export as a spreadsheet
Contadu is for you if…
You have a list of keywords ready to upload and you want to set your own grouping categories before having the keywords sorted.
Contadu Pricing: Free | Learn More About Contadu
2. Keyword Insights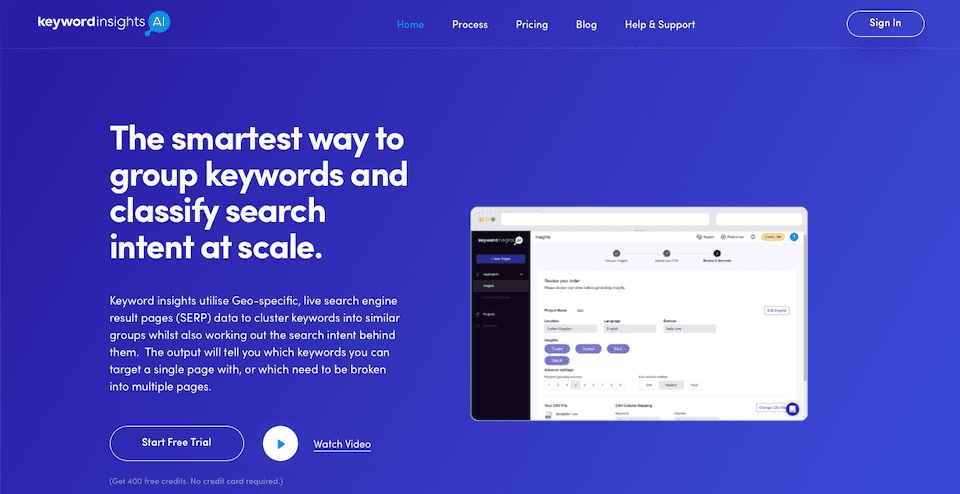 To generate keyword clusters with Keyword Insights, you'll start by setting your location and language. You can then choose which insights to populate: Cluster, Title AI, Context and/or Rank. You can select anywhere from one to all of these insights.
Cluster gives keyword clusters
Title AI gives you four title ideas for each cluster
Context detects search intent
Rank shows you the ranking URL for a keyword and where you currently rank.
Your results are sent as a spreadsheet that will look sort of like the screenshot below. If you were to scroll to the right, you'd see more columns for things like intent, ranking page, and title suggestions. And while the presentation is a bit cluttered (to put it mildly) there's a lot of information here to sort through and arrange for your content needs.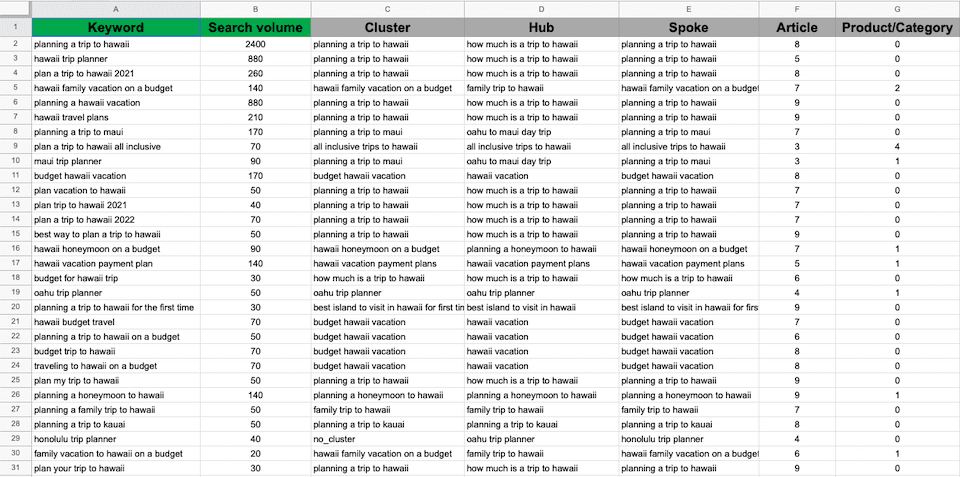 Key Features of Keyword Insights:
Save keyword clusters as projects
Choose up to four insights
Set keyword grouping accuracy and method
Results emailed as a spreadsheet
Keyword Insights is for you if…
You want to pick and choose which insights you get from each related keywords list, and you don't mind working with a packed spreadsheet.
Keyword Insights Pricing: Starts at $9.99 per Month | Learn More About Keyword Insights
3. SEO Scout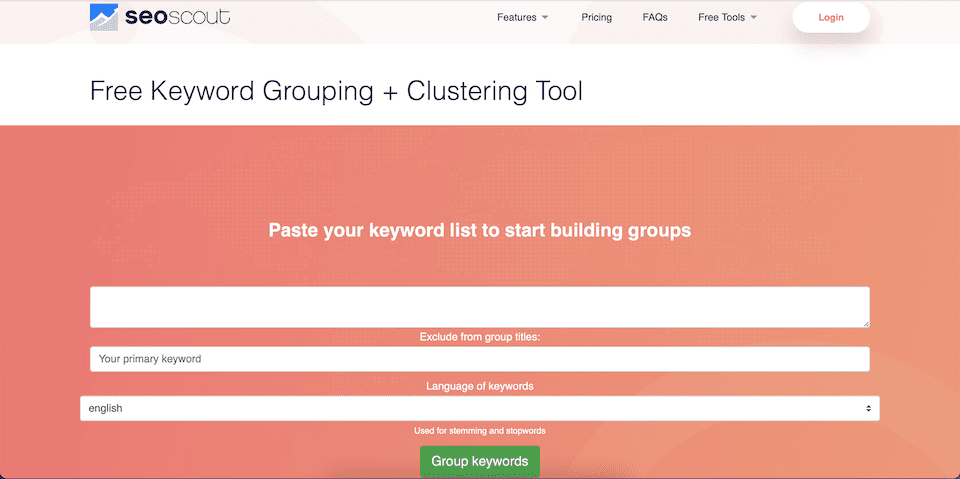 SEO Scout is a keyword grouping and clustering tool, and you'll need a keyword list to start. You can exclude your primary keyword from group titles, and you can choose your language from multiple options. Here's an example of the results I got after processing a list of 700+ keywords related to "coffee shops near me":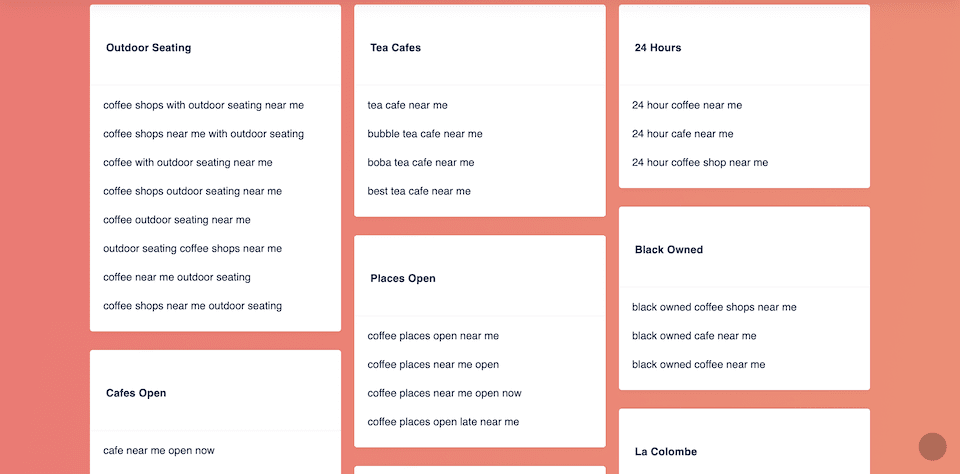 The keywords are grouped by topic, with a cluster of search terms underneath. This makes it easy to weed out topics and keywords that you don't care about – much easier than if you were to try to pare down the main list you start with. You can immediately get rid of clusters that don't pertain to you, like "Open Late" if you run a coffee shop that closes early, for example. The results are also downloadable as a simple CSV with only two columns: Group (the main topic) and Keyword (the keywords in the cluster).
Note: There's also an SEO Scout WordPress plugin that you can use. Since it doesn't have many reviews (though it has a lot of installations), and it wasn't compatible with our up-to-date version of WordPress, we suggest sticking with the browser-based tool.
Key Features of SEO Scout:
Extremely easy (and fast) to use
Excludes primary keyword from cluster titles
Several language options
Attractive, user-friendly results
Export a CSV with group titles and keyword clusters
SEO Scout is for you if…
You only need a basic keyword grouping tool, and you go elsewhere to generate related keyword ideas, optimize your content, etc. (SEO Scout also has paid plans with additional SEO tools.)
SEO Scout Pricing: Free | Learn More About SEO Scout
4. SE Ranking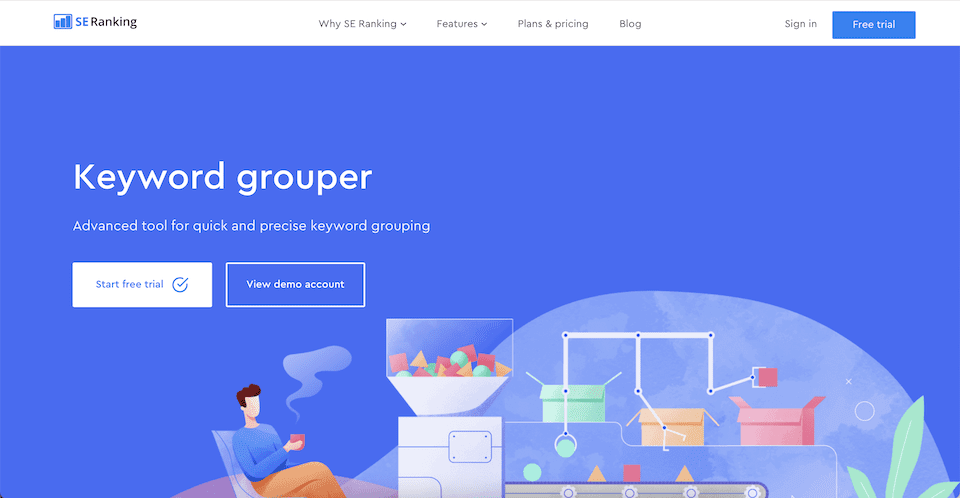 One of SE Ranking's features is keyword grouping, but even within that tool, you get a lot more out of it. In addition to showing you the group title and then letting you expand it to view the keyword cluster, you can see stats like search volume and ranking URLs for each keyword.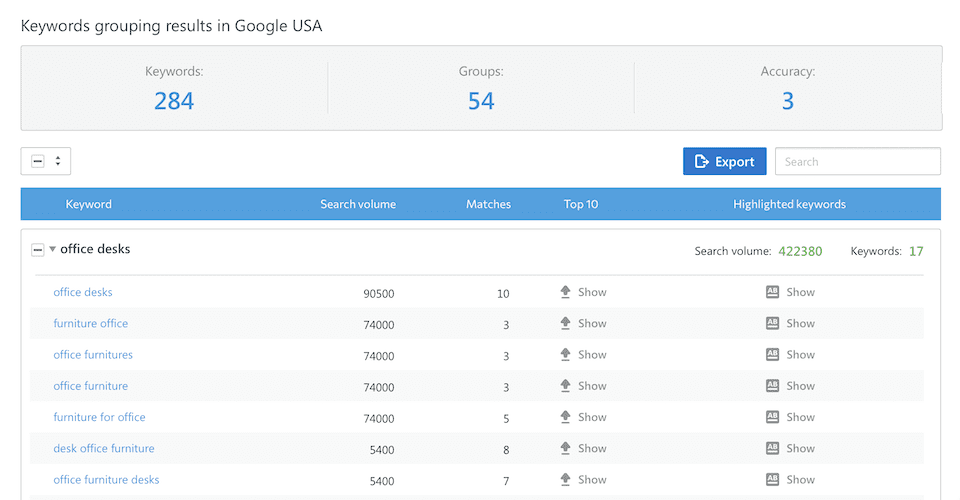 You can also quickly see how many keywords are included in a group before expanding the cluster, and that stat is next to the cluster's overall search volume metric. This lets you determine which clusters you may want to skip or focus on. For example, in the screenshot below, "standing up desk benefits" has a high search volume and a low number of keywords. Optimizing a blog post with just four keywords is pretty easy, and the cluster comes with good search volume potential.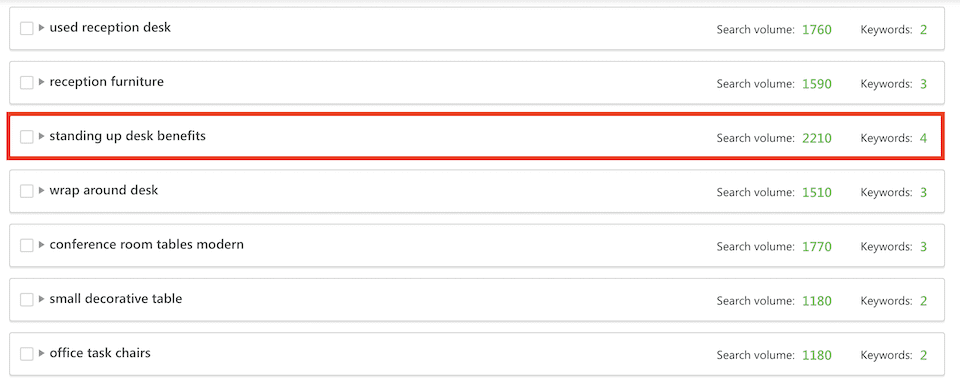 Key Features of SE Ranking:
Optional location-based settings
Keyword grouping accuracy setting
Soft vs. hard keyword grouping method options
Groups keywords based on Google's top 10 results
Expandable clusters for easier at-a-glance viewing
Helpful stats and competitor research
When it mentions "soft" or "hard" clusters, this is what it means: with a soft cluster, any two terms may share search results, but the terms don't all have to share results with each other. With a hard cluster, all of the search terms have to share common results.
SE Ranking is for you if…
You're ready to invest in your SEO and dive deep into keyword research and grouping.
SE Ranking Pricing: Starts at $39 per Month + $.004 per Keyword + $.005 per Keyword for Search Volume Checking | Learn More About SE Ranking
5. Surfer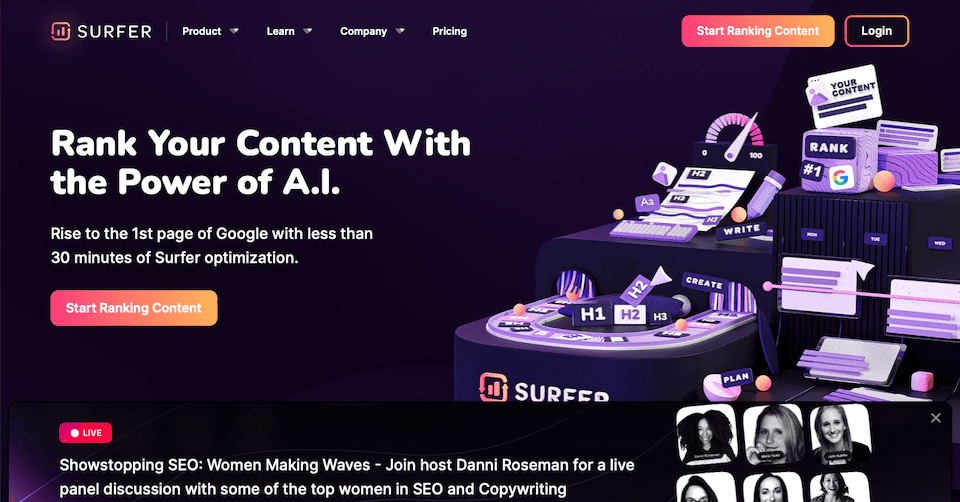 Surfer's Content Planner lets you skip a major step that you have to take with many other keyword grouping tools: generating a list of related keywords. Instead of coming to Surfer with a ready-to-go list, the Content Planner will do that for you while simultaneously grouping those keywords into clusters.
You'll add your focus keyword and choose your location, then let the Content Planner do its thing. Once the keyword is analyzed, you'll get keyword clusters that look something like this:
According to Surfer, "Every box contains a list of keywords to be targeted with one piece of content" and "each cluster has a search intent that it's related to." That cuts out a lot of work for you, and you can get started on creating content right away.
Key Features of Surfer:
Generate related keywords
Remove certain search intent types from results
See FAQ to answer in your content
Share the analysis link with your team
Surfer is for you if…
You want an all-in-one keyword planning tool so you can start creating relevant content ASAP.
Surfer Pricing: Starts at $49 per Month | Learn More About Surfer
Final Thoughts on Keyword Grouping Tools
Keyword grouping helps you to organize your content, make it feel more relevant to your audience and improve your search engine ranking. And while you could go through a list of hundreds or thousands of related keywords to organize them yourself, having a tool do it for you — and maybe even handle other SEO tasks — is a much savvier option. Keyword grouping is all a part of a site-wide SEO audit, and if you haven't done that in a while, we recommend it. You'll be grateful you did.
Do you have a keyword grouping tool you recommend? Let us know about it in the comments!
Article featured image by Sammby / shutterstock.com