Website hosting is one of the most important aspects of any online business. Making the wrong choice can result in a slow website with high bounce rates and lost revenue. In this post, we'll dig deep into the specifics of WordPress hosting, discuss the types of hosting available, and provide you with some things to look for when selecting the perfect host. But first, what is WordPress hosting? Let's dive in.
What is Web Hosting?
Web hosting involves storing your website's files and data on a server, making it accessible to users on the internet. A server is a large computer that stores and processes data for your website. When someone types your domain name into their browser, the server sends the requested files to their device, allowing them to view your site.
What is WordPress Hosting?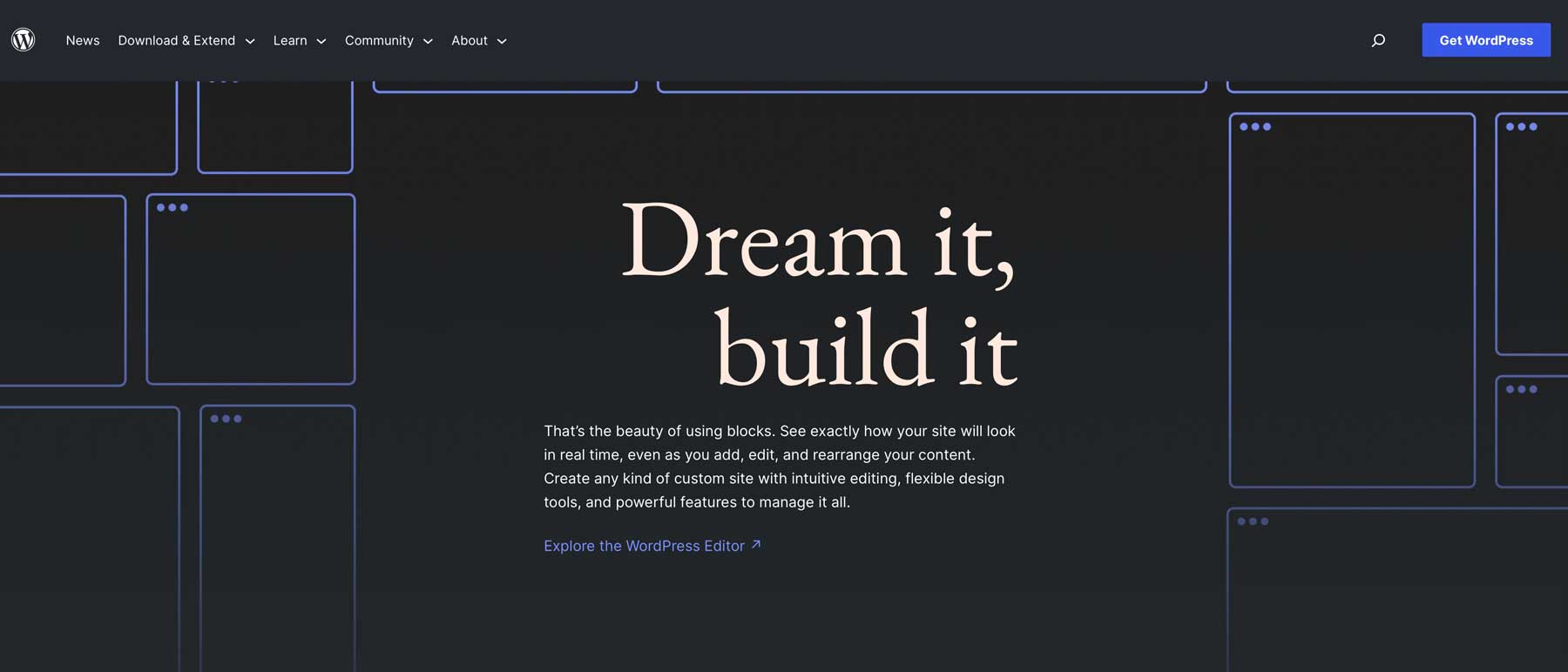 WordPress hosting is a type of web hosting specifically designed for hosting WordPress websites. A good WordPress hosting plan optimizes your WordPress site to meet all speed, security, and performance requirements, with features such as caching, backups, ample storage, and adequate bandwidth. Generally, WordPress hosting plans offer easy, one-click installation for WordPress, automatic updates, scalability, and good customer support.
Types of WordPress Hosting?
You have several options when choosing the best hosting type for your WordPress site. Each type has advantages and disadvantages, and the best choice for you will depend on your budget, technical expertise, and website requirements. Let's explore the different types of WordPress hosting available.
As the most popular and affordable solution, shared hosting is favored by new, growing, and budget-conscious businesses. However, the lower price often comes at a cost, as shared hosting involves resources (and customers) sharing the same server. The downside to shared hosting is its low performance. It can be unstable because you're sharing a portion of a server with other people. Sometimes, peak traffic will absorb the server's resources, causing downtime or, at the very least, reduced speeds.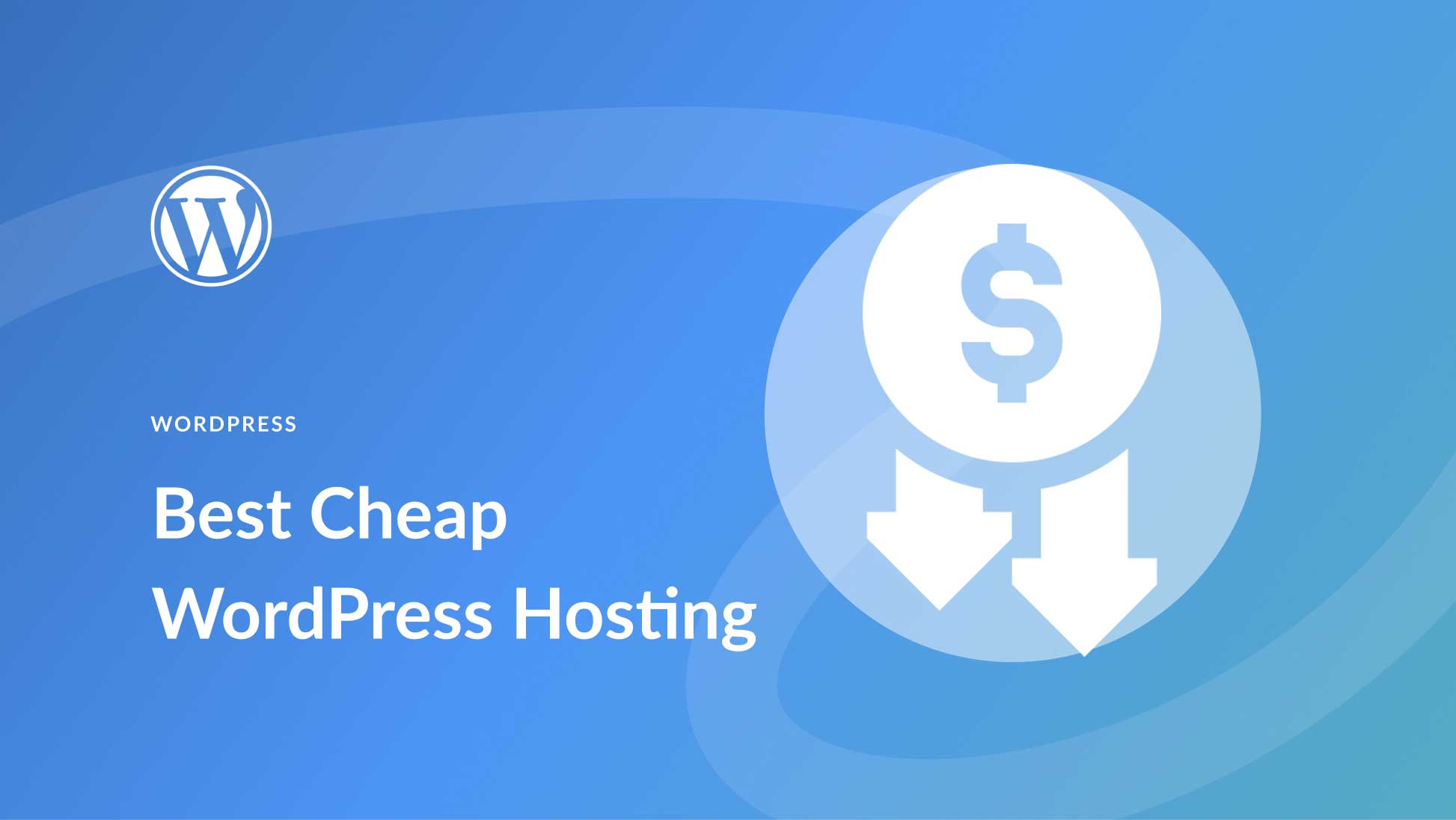 However, there are a few good, cheap WordPress hosts out there that utilize shared hosting. The important thing to consider here is that the size of your website matters. You'll likely be fine with shared hosting if you have a 3-5 page informational website with a few hits per month. On the other hand, if you have an ecommerce or high-traffic website, it might be smarter to go with a VPS host for better performance.
Dedicated WordPress Hosting
Dedicated hosting works very differently from shared hosting. Instead of dividing server resources amongst multiple customers, dedicated hosting provides a dedicated machine with its own resources for your website. It eliminates the shortcomings of shared hosting, gives you a solid performance boost, and offers a much more stable environment.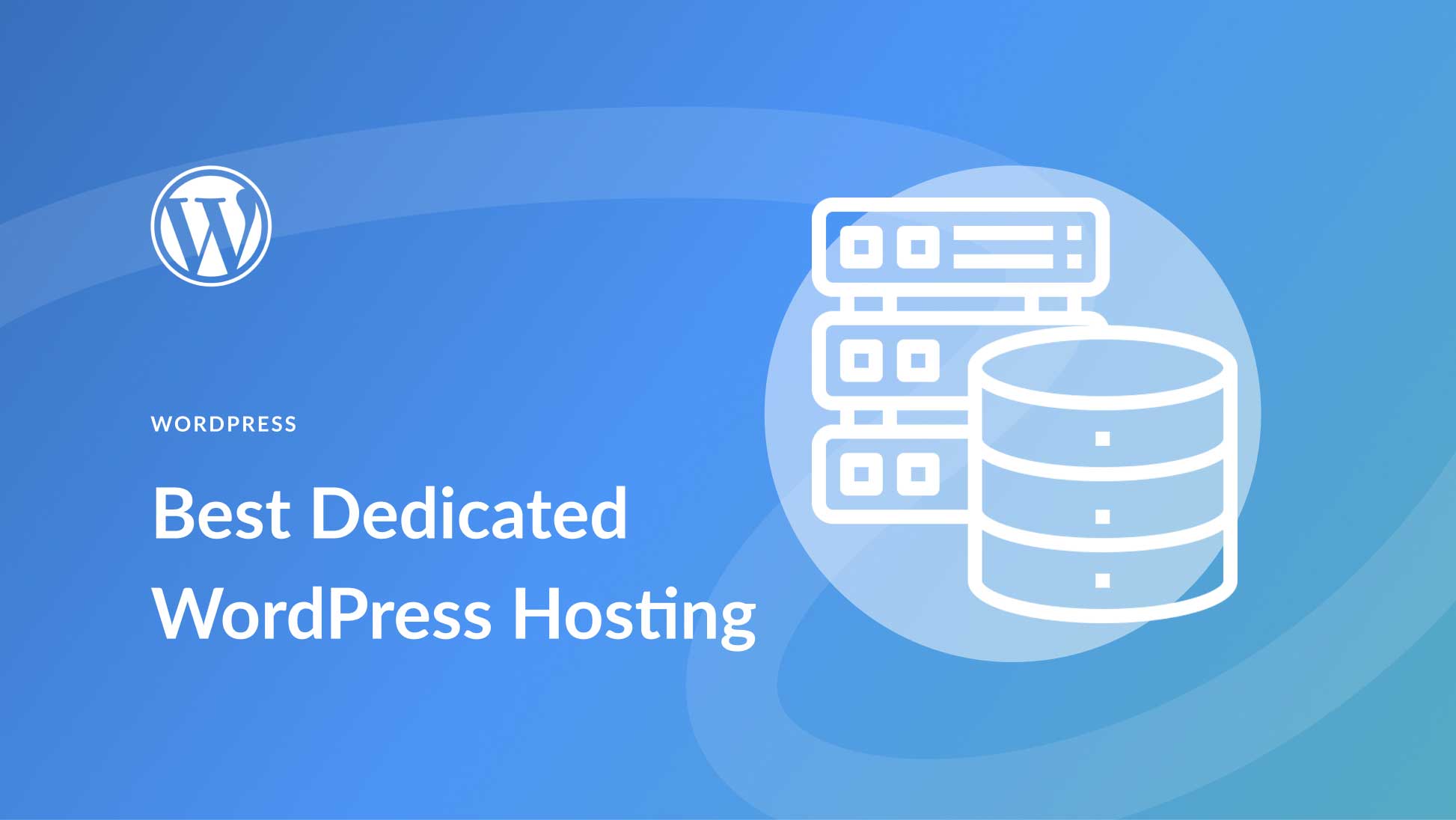 However, there are some cons to dedicated hosting. Maintenance can be quite challenging, as with most dedicated hosting providers, you are responsible for the upkeep of your server. You'll either need to manage things yourself or hire a professional to monitor resources, deploy updates, install security patches, protect against hackers, and more. Another con is the cost. As a general rule, dedicated hosting is much more expensive than any other type of hosting, so it's best suited for businesses with a healthy budget.
VPS WordPress Hosting
Virtual private server (VPS) hosting is a compelling option for users seeking a blend of shared and dedicated hosting. With VPS hosting, users can enjoy their virtual server with dedicated resources where only the hard drive is shared. This hosting option provides administration capabilities and flexibility that resembles owning a dedicated server or at least operates similarly.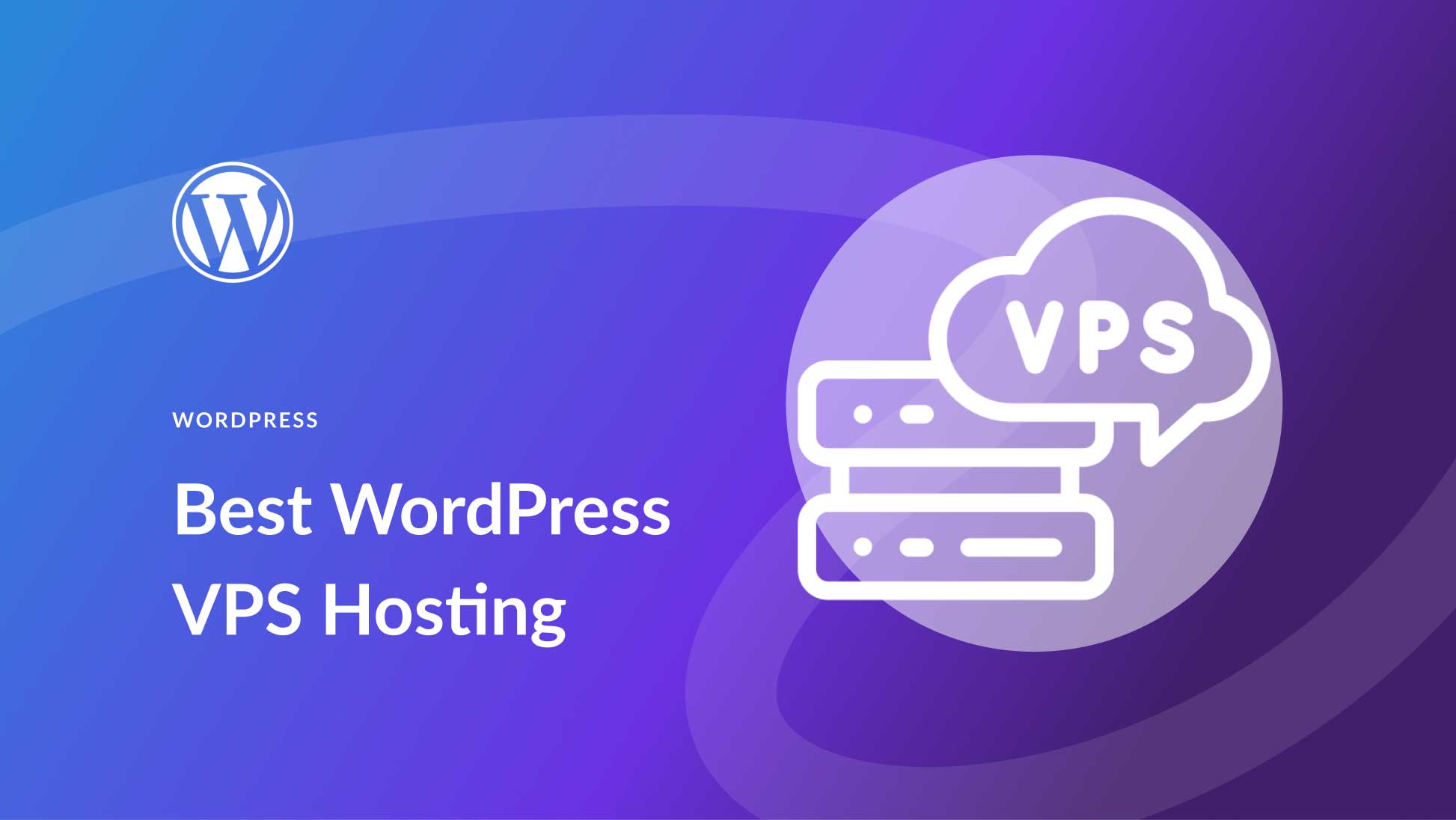 One notable advantage of VPS over a dedicated environment is the freedom from hardware maintenance concerns, as the hosting provider typically handles that for you. Additionally, the cost of VPS hosting providers is significantly lower than that of a dedicated plan, making it an ideal choice for businesses operating on a smaller budget, while still enjoying a superior hosting solution compared to shared hosting.
Cloud WordPress Hosting
WordPress Cloud hosting is a type of WordPress hosting similar to VPS hosting, except that it uses a series of virtual servers over a vast network hosted in the cloud. The main benefit of cloud hosting is that it usually allows the user to choose their ideal server location, allowing for faster delivery of your website to visitors.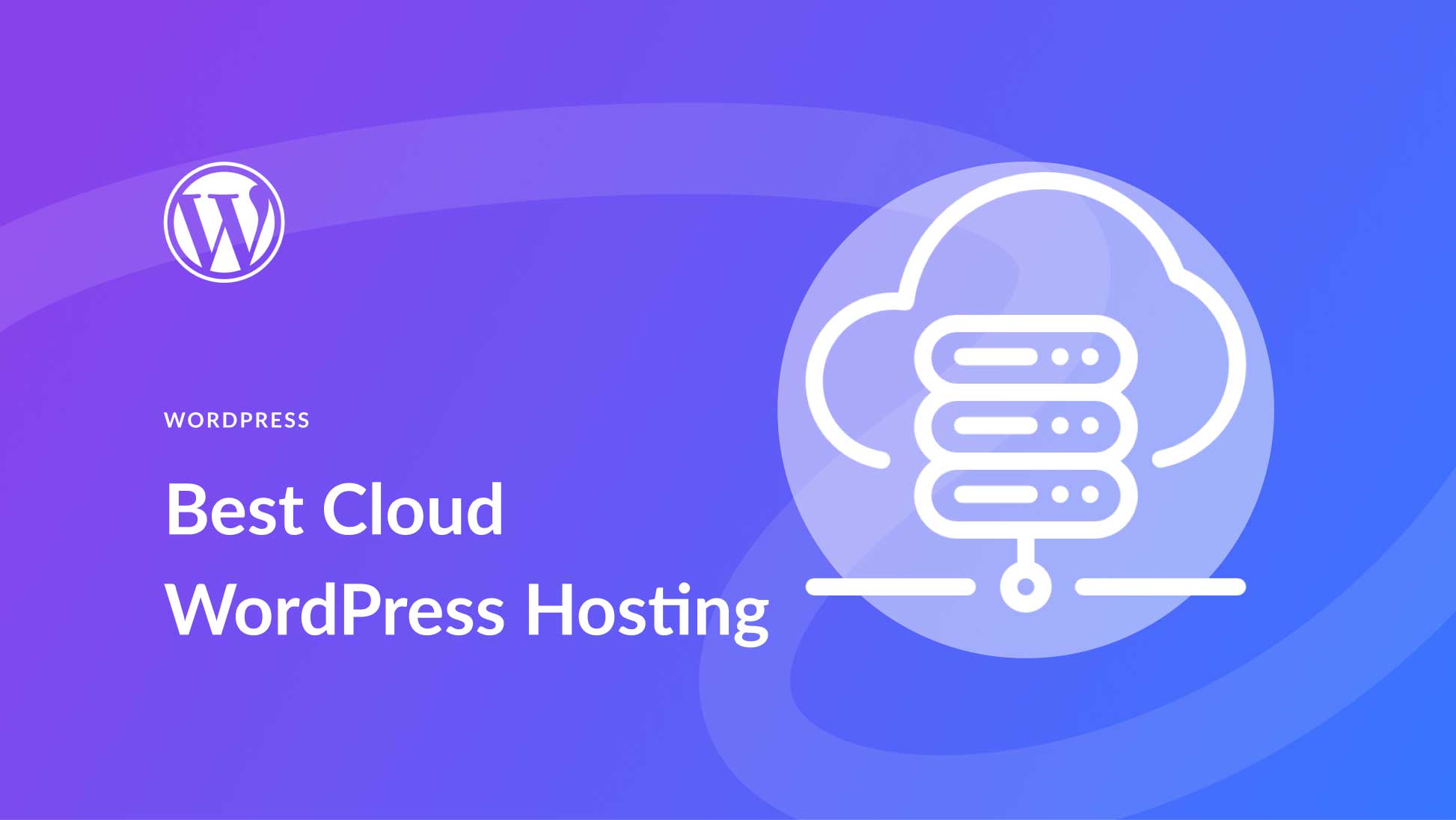 The best cloud hosting providers have considerable power. You can easily scale your plan to accommodate more bandwidth, storage, and RAM if needed. Providers such as Google and AWS offer their own cloud platforms, but they aren't as beginner-friendly as other providers like Cloudways.
Managed WordPress Hosting
If you want fast speeds and server-side caching, you should opt for managed hosting. It offers improved hardware specifications and excellent security features, freeing your site from bugs, malware, and maintenance. Managed WordPress hosting is the improved version of shared hosting, as it offers everything shared offers, then tops it with added benefits.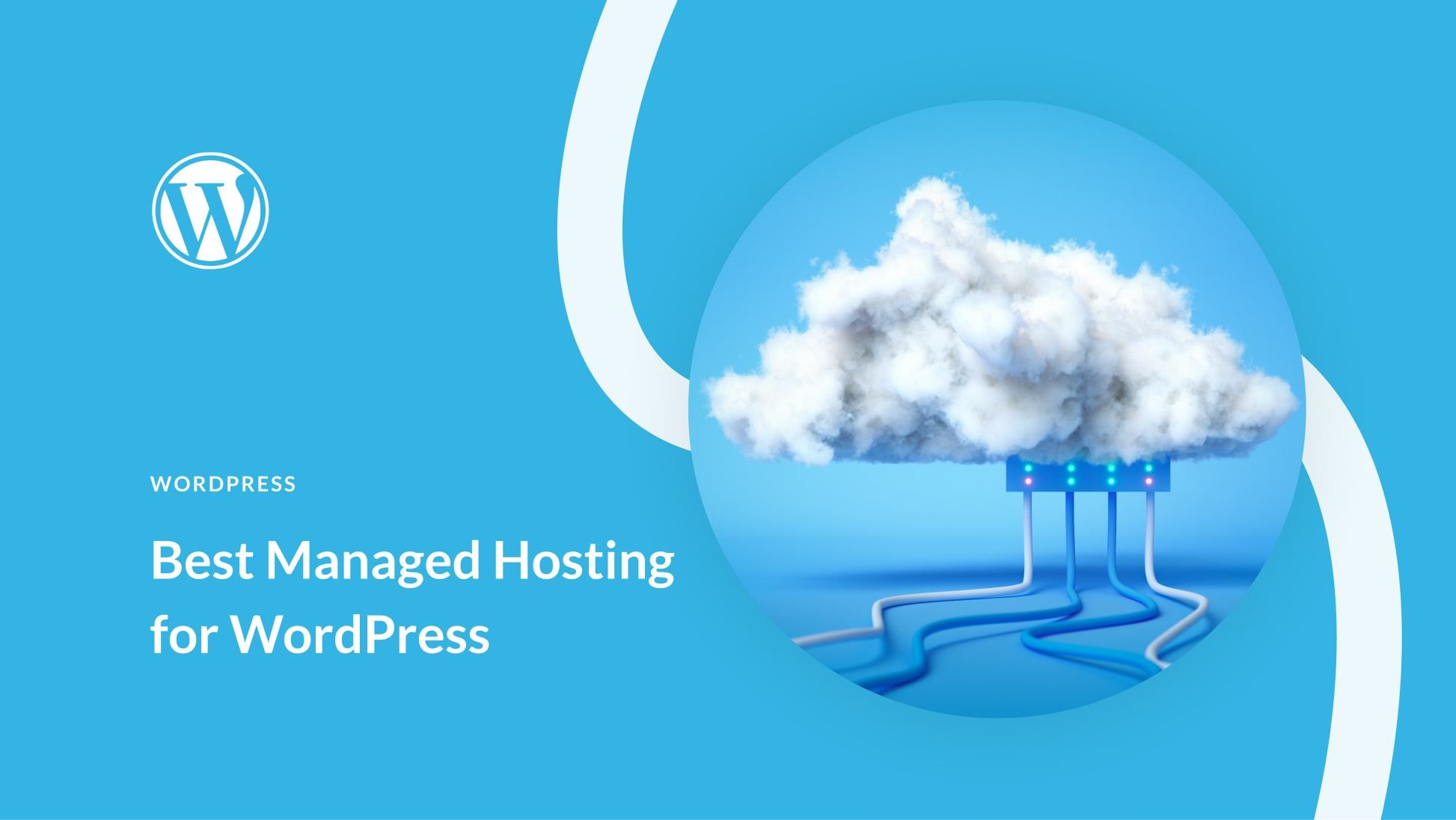 Going for a managed hosting provider can save time and effort on site and server maintenance issues and focus on other aspects of your business. It offers excellent performance and is optimized specifically for WordPress. It's designed for small to medium-sized businesses, high-traffic blogs, and companies that want top-tier support at shared hosting prices. That said, managed hosting can still be a bit on the pricier side, so you'll need to decide if the added cost is worth it. Plus, some managed hosting providers prohibit using some plugins, so you should research when choosing a provider to ensure it aligns with the plugins you are adamant about using.
Things to Look For in a Hosting Provider
When choosing a WordPress hosting plan, it's essential to consider the features that are most important to your website's needs. What's most important to one business owner may be less important to another, so researching different providers and what they offer is key. Let's look at some of the most important features you should consider when looking for a new home for your website.
Performance
One of the most important factors in WordPress hosting is performance. The fastest hosting providers offer to provide at least a 99.9% uptime guarantee, speed enhancements, and a content delivery network (CDN). Another factor to consider when speed is concerned is what type of server hardware is being used. For example, look for hosts that provide servers with a speed boost through LiteSpeed web server software or something similar.
Security
A secure hosting environment is the most important feature to consider. With hackers and other nefarious actors constantly looking for ways to infiltrate websites, scam customers, and cause problems, good security measures are essential. Look for features such as malware detection and removal, a web application firewall (WAF), bot protection, a free SSL certificate, and application isolation so you can have peace of mind knowing that your website is protected at all times.
Scalability
Server scalability is another factor that shouldn't be ignored. After all, everyone wants their website's content to go viral. Still, if you don't have a good hosting provider that can handle the traffic, then it doesn't matter. A solid hosting provider offers the ability to scale your server as your business grows. Providers such as Cloudways make it easy to scale your server as your business gets more popular, so you won't have to worry about missing out on new customers.
Uptime
There are multiple ways hosting uptime can affect your website. The last thing you want is for your site to go offline or slow down when your site is receiving a lot of visitors. It can impact sales, delegitimize your business, and send potential customers running for the hills. Thankfully, a reputable host will provide at least a 99.9% uptime guarantee to ensure you don't miss out on revenue.
Caching
When choosing a WordPress hosting provider, it is important to consider their caching infrastructure and capabilities. Look for hosting companies that offer excellent caching solutions, such as server-side caching, WordPress object caching, or WordPress-specific caching plugins, such as SiteGround's SG Optimizer plugin. These features can greatly enhance your WordPress website's speed, scalability, and overall performance.
Backups
If you are familiar with WordPress, you know the importance of having backup and restore points for your website. They protect against unforeseen circumstances like failed updates, hacks, and human error. A good WordPress hosting company provides this service to give you peace of mind. For example, if you decide to update WordPress, your theme, or plugins, errors during the update process can occur, causing site issues such as the white screen of death. When a host provides backups, you can easily restore your site from a previous version to avoid downtime.
Free Migrations
Site migration is the process of moving your site from one host to another. The process can be tricky if you try to tackle it alone, so it's best to choose a host that offers free migrations. By doing so, you can avoid the need for migration plugins, save yourself time and potential for errors, and it is a fast and simple way to move your site.
Staging
Staging sites allow you to make changes to your website in a testing environment rather than a live one. This is important because changes to a live website can cause issues like accidentally overwriting pages, plugin conflicts, and failed updates. Thankfully, a staging environment can eliminate these issues, allowing you to safely make changes to your site without affecting the live version. Reputable hosting companies usually offer this service, so you can avoid figuring out how to create a staging site or push your staging site live on your own.
Customer Support
One of the most important features of a hosting company is having good customer support. After all, any time you work with WordPress websites, there's a risk of problems arising. With good customer support, you can avoid many headaches and losing hours of your time by allowing a professional to diagnose your problem. Look for a company that offers several contact support methods, including live chat, phone, and email. Also, ensure you choose a company that provides support around the clock because you never know when disaster might strike.
Budget
Last but certainly not least, choosing a hosting company that aligns with your budget is important. Opt for a good shared hosting provider to host your site if you're trying to keep costs down. However, remember that there are better options than shared hosting out there. Consider a managed hosting provider if you are more concerned with features rather than price. As previously mentioned, managed hosting generally handles all maintenance, security, and server-side configurations, so you can worry more about running your business, not maintaining a website.
Recommended WordPress Hosting Providers
Now that you have learned about the types of hosting available, you might be wondering which companies have the most to offer at a reasonable price. Well, you're in luck. We've hand-picked three excellent choices for you.
1. SiteGround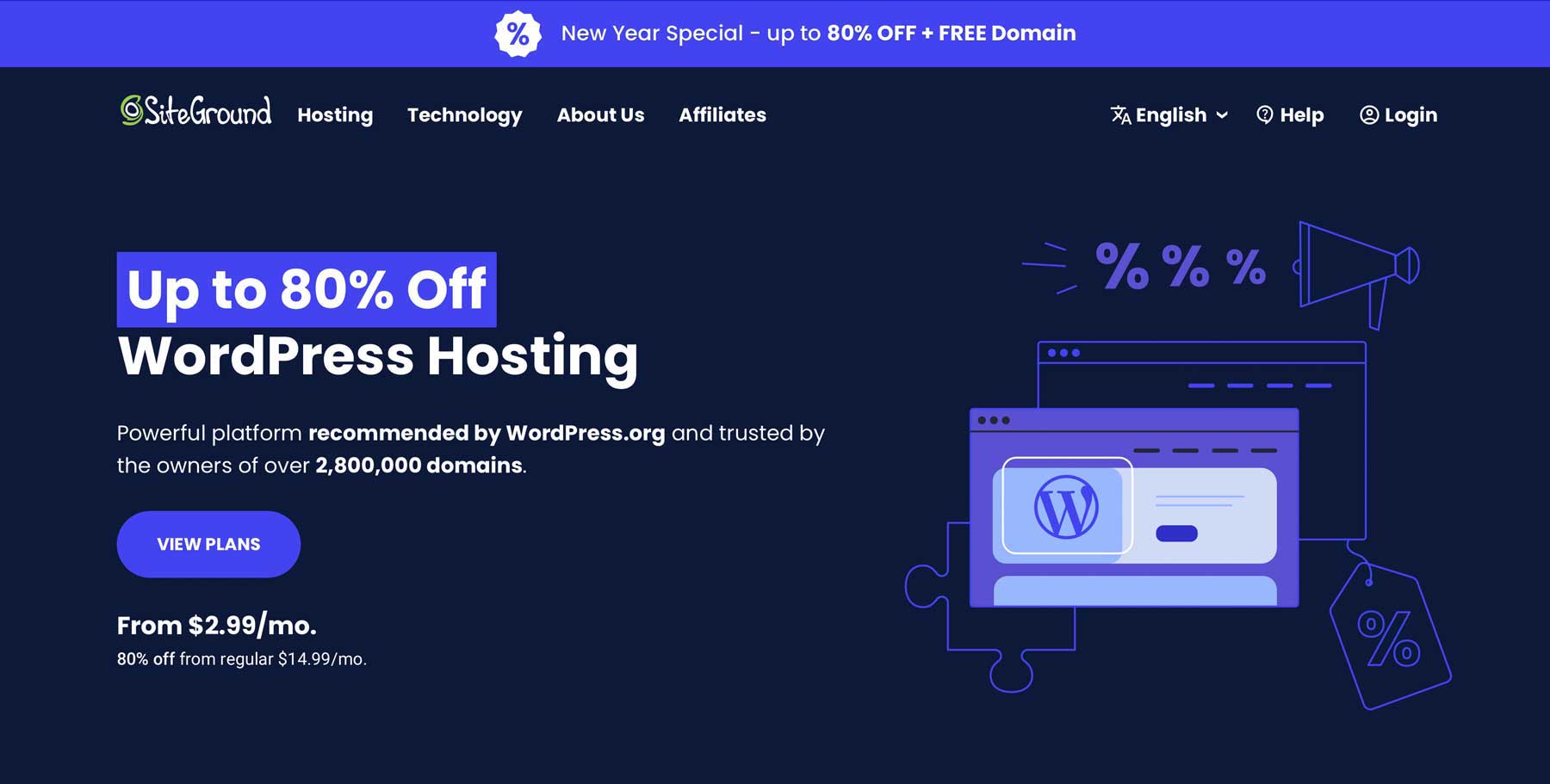 SiteGround is an excellent choice for WordPress hosting because of the immense amount of features you get for the price. With SiteGround, every plan comes with at least 10GB of storage, free migration, automatic updates for WordPress, a free SSL, daily backups, and a free CDN, to name a few. As one of three hosts recommended by WordPress itself, you can be sure that you're making a solid choice.
Key Features of SiteGround:
Free SSL, CDN, backups, and migration
Managed WordPress hosting
Excellent security features
WordPress pre-installed
Additionally, SiteGround offers some of the best security features of any WordPress host. You'll benefit from daily malware scans, a robust web application firewall, an AI-powered anti-bot that stops hackers in their tracks, and a proprietary security plugin.
Best For:
SiteGround offers three WordPress plans: StartUp, GrowBig, and GoGeek, that cater to freelancers, businesses, and everyone else. If you're looking for a host packed with features, excellent support, and an affordable price point, you can't do any better than SiteGround.
Pricing: Starting at $14.99 per month.
2. Cloudways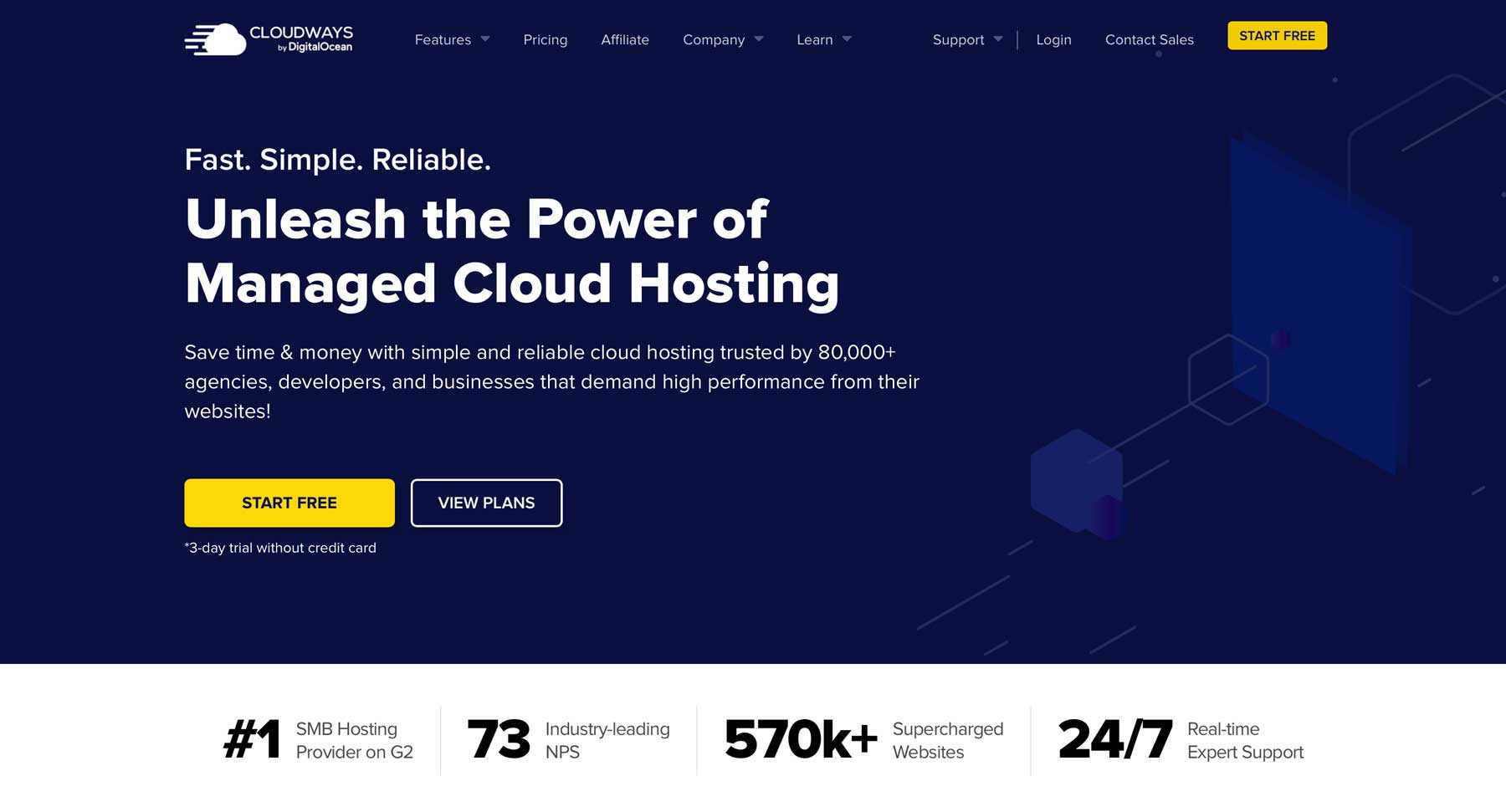 Cloudways is another excellent option for WordPress. Built on cloud infrastructure, Cloudways offers a more modular approach to hosting. Rather than choosing a traditional hosting plan, users build the plan that best suits their needs. There are three cloud hosting providers: DigitalOcean, AWS, and Google Cloud. You can choose the provider and location of your server and specify the amount of storage and bandwidth you need. Plus, as your business grows, you can easily change your plan, making Cloudways easily scalable.
Key Features of Cloudways:
Scalable hosting plans
Cloudflare CDN
Free SSL, migration, staging, and backups
24/7 security monitoring
What's most impressive about Cloudways is the abundance of features it offers. Even the cheapest plan (coming in at $11 per month) gives you a free SSL, free migration, team collaboration tools, amazing security features, automated backups, staging and cloning, and 24/7 real-time monitoring.
Best For:
Cloudways is a great option for those who prefer a more hands-on approach to hosting. Don't get us wrong, Cloudways hosting is managed, but it isn't your typical managed hosting provider. You see, it provides the best of both worlds. You can leave the maintenance and configuration settings to Cloudways or handle everything yourself.
Pricing: Starting at $11 per month.
3. Pressable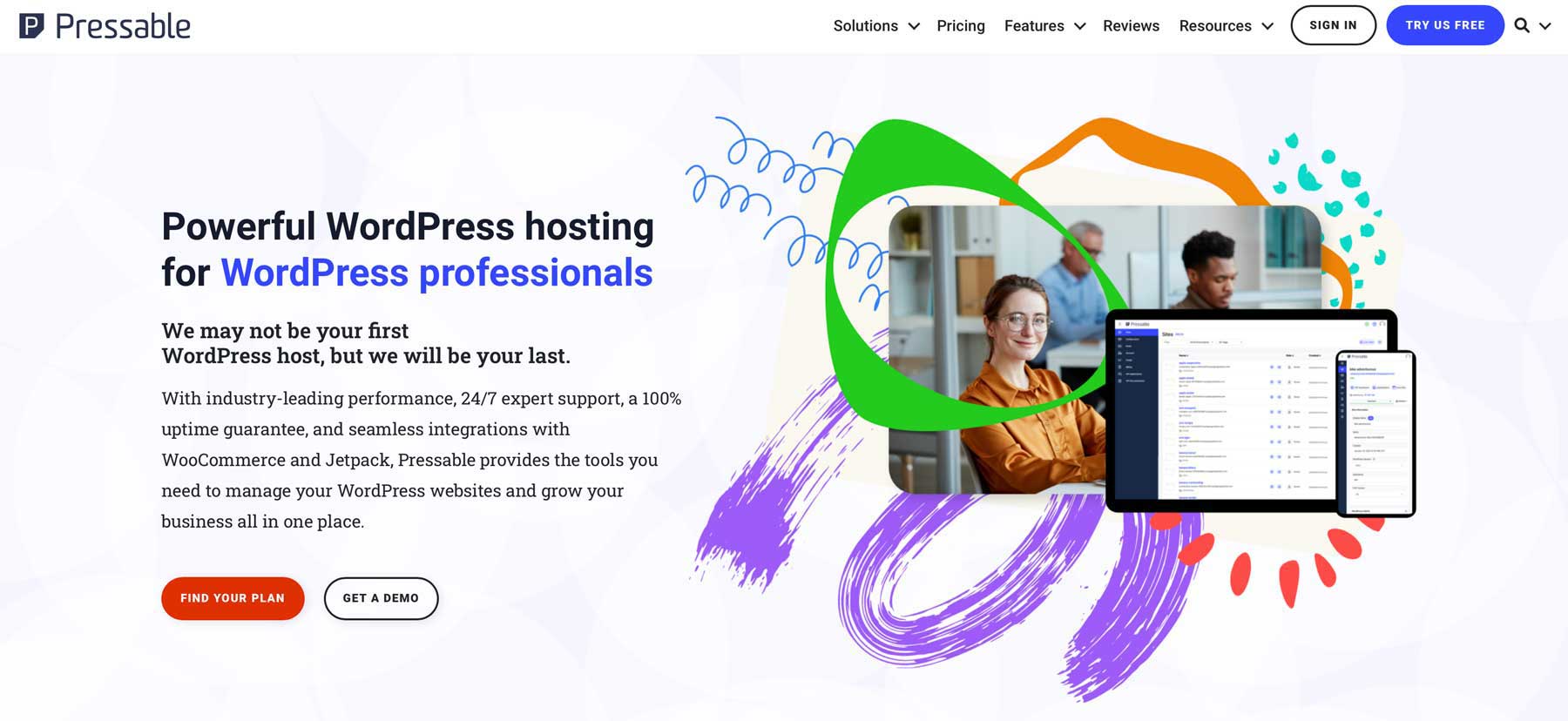 Our last recommended host is Pressable. Thanks to a robust cloud infrastructure, it's one of the few managed WordPress hosts that guarantee 100% uptime, so you never have to worry about your site going down. Plus, their customer support is stellar. With a two-minute average response time and 98% satisfaction rate, you can be sure your problem will be handled quickly and efficiently.
Key Features of Pressable:
100% uptime guarantee
Jetpack integration
Free migration, CDN, backups, and staging
Web application firewall, malware scanning, and threat monitoring
Pressable's hosting plans are optimized for WordPress, so site speed, uptime, and security are explicitly catered towards WordPress. Excellent features include one-click backups, Jetpack security suite integration, and a fully managed experience that takes care of updates, security, monitoring, and maintenance.
Best For:
Pressable is more expensive than our other two recommended hosts, so it's geared more toward professionals with multiple websites. That said, they offer a one-site personal plan that provides enough storage and bandwidth to create any site you'd like. Furthermore, Pressable is a great choice for those with ecommerce websites because of the lighting-fast speeds, impressive security, and ability to scale as your business grows.
Pricing: Starting at $25 per month.
What is WordPress Hosting: Final Thoughts
Understanding what WordPress hosting is and the different types is essential for anyone looking for a new hosting provider. As we've learned, there are five types: shared, VPS, dedicated, cloud, and managed. Depending on your needs and budget, one of these hosting types may be more suitable than the others. Take time to research different hosting providers, such as SiteGround, and the features they provide. After all, choosing the right WordPress hosting partner can significantly impact your website's performance and success.
Looking for reliable, objective reviews about hosting providers? Check out some of our WordPress hosting reviews for popular providers:
Featured Image via Shmai / Shutterstock.com