Wikis and knowledge bases are some of the most popular methods of providing information. They're especially popular for the first line of support. Knowledge bases and wikis are great for articles, documents, and FAQs. With the right tools, it's not difficult to integrate a wiki into your WordPress website. In this article, we'll look at 8 options to help you decide which is the best WordPress wiki plugin for your needs.
Why Do You Need a Wiki or Knowledge Base Plugin?
A knowledge base plugin for WordPress can help you organize information in one central location, provide self-help resources to customers, increase user engagement, improve SEO with quality content, and save costs. It offers an effective way to reduce the load on customer support teams and provides customers with easy-to-find answers to frequently asked questions, improving their overall experience. In short, a knowledge base plugin can improve your website's functionality and provide a better experience for both customers and businesses.
The Best Wiki and Knowledge Base Plugins

Subscribe To Our Youtube Channel
Overall, a good wiki and knowledge base plugin should be customizable, easy to navigate, mobile-friendly, and provide useful analytics and feedback to help you continuously improve your content. When building this list, we kept those key points in mind. So without further delay, here are our top picks.
The Best WordPress Wiki Plugins Listed In Order
Expand List
1. Echo Knowledge Base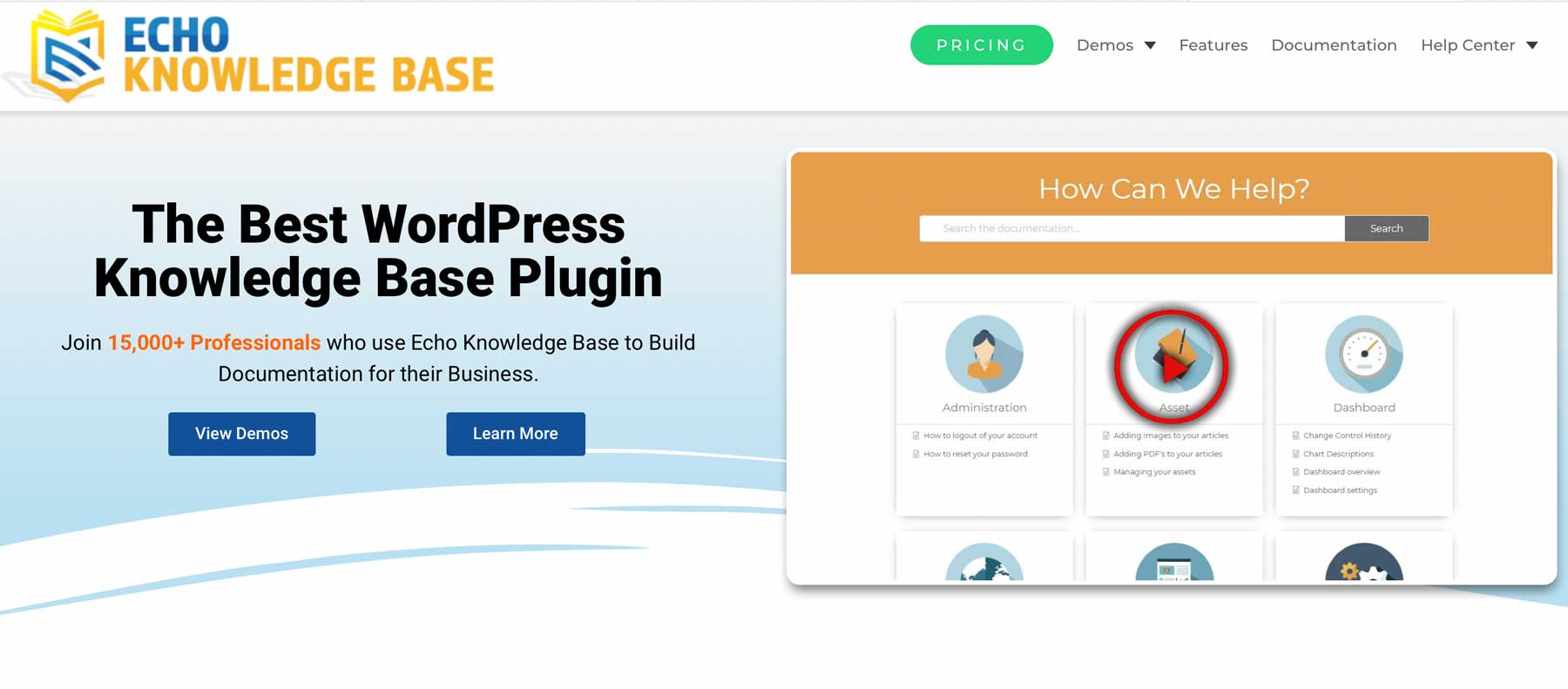 Echo Knowledge Base includes a frontend editor with 26 templates and 500 icons. It has multiple tabs, allowing you to organize the documents by team, product, and service. Create articles that include a table of contents. The search bar provides listed results. Order the articles alphabetically, by time, etc.
Setting up Echo is a breeze thanks to the easy configuration wizard.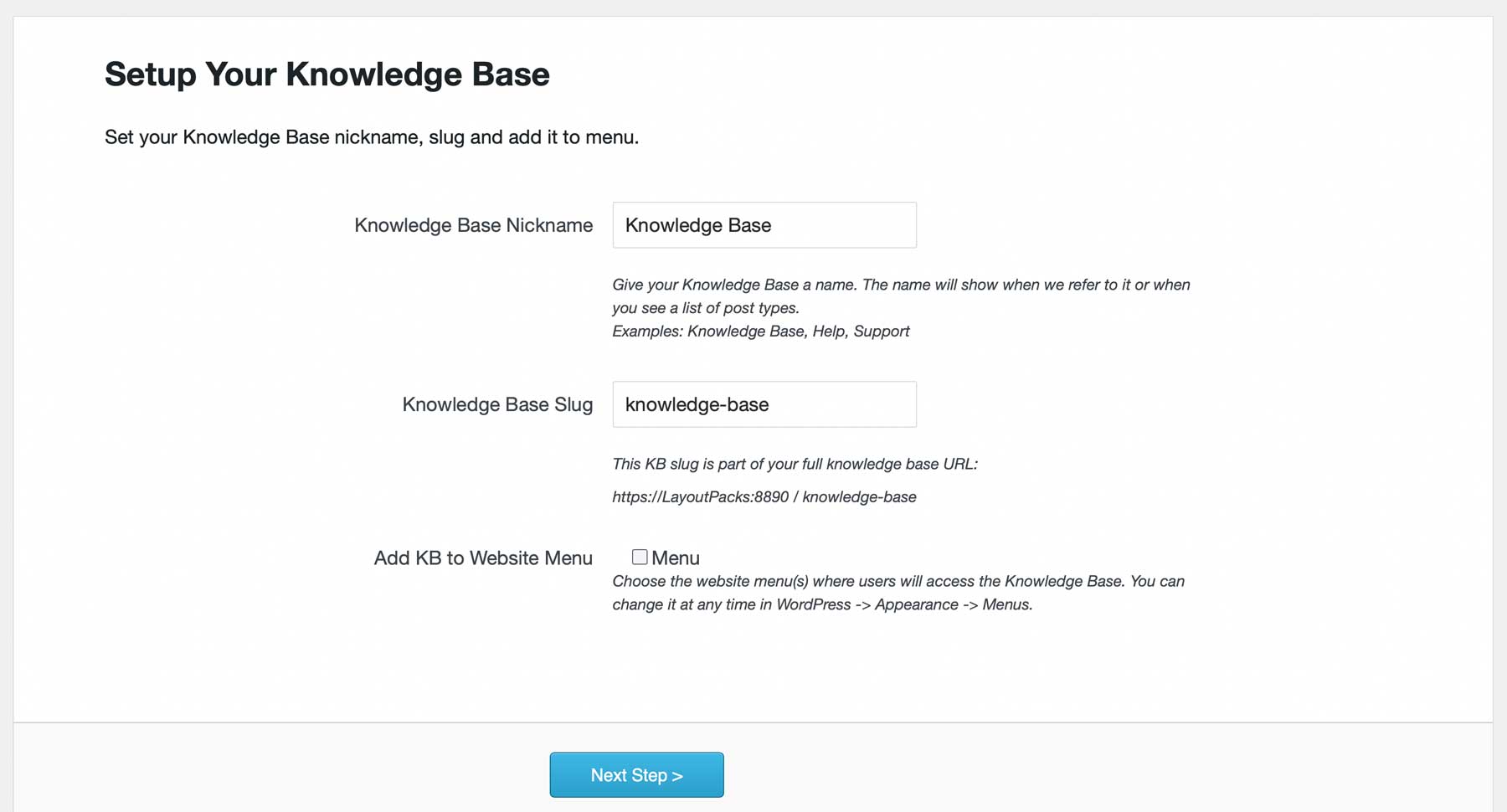 The plugins let you choose from several basic designs, tabs, or category layouts. The wizard changes the setup based on the type of layout you choose. For example, if you choose a category design, you'll be given the option of left, right, or top category navigation.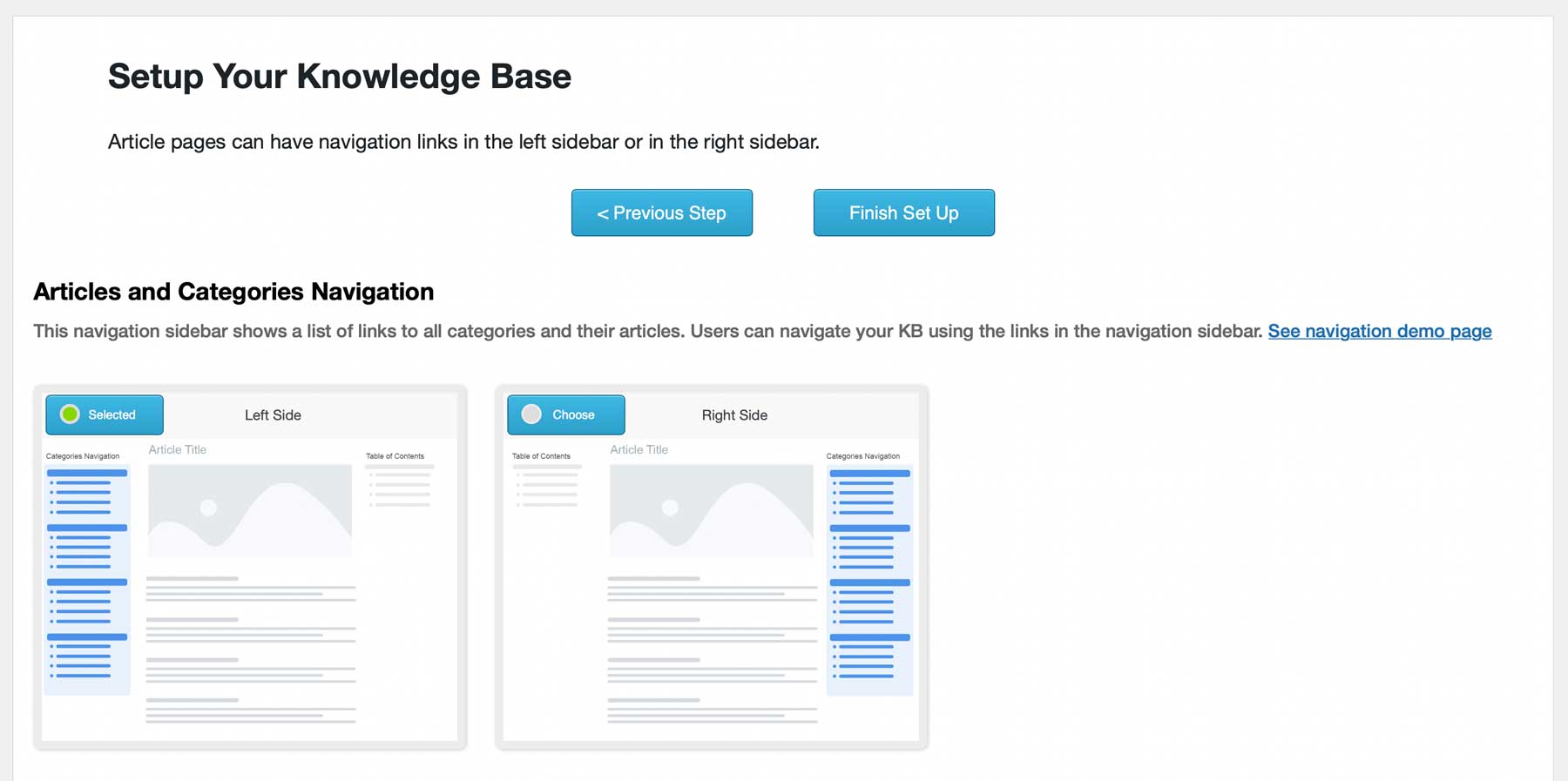 Once you complete the wizard, you'll have the option to add new articles to your knowledge base.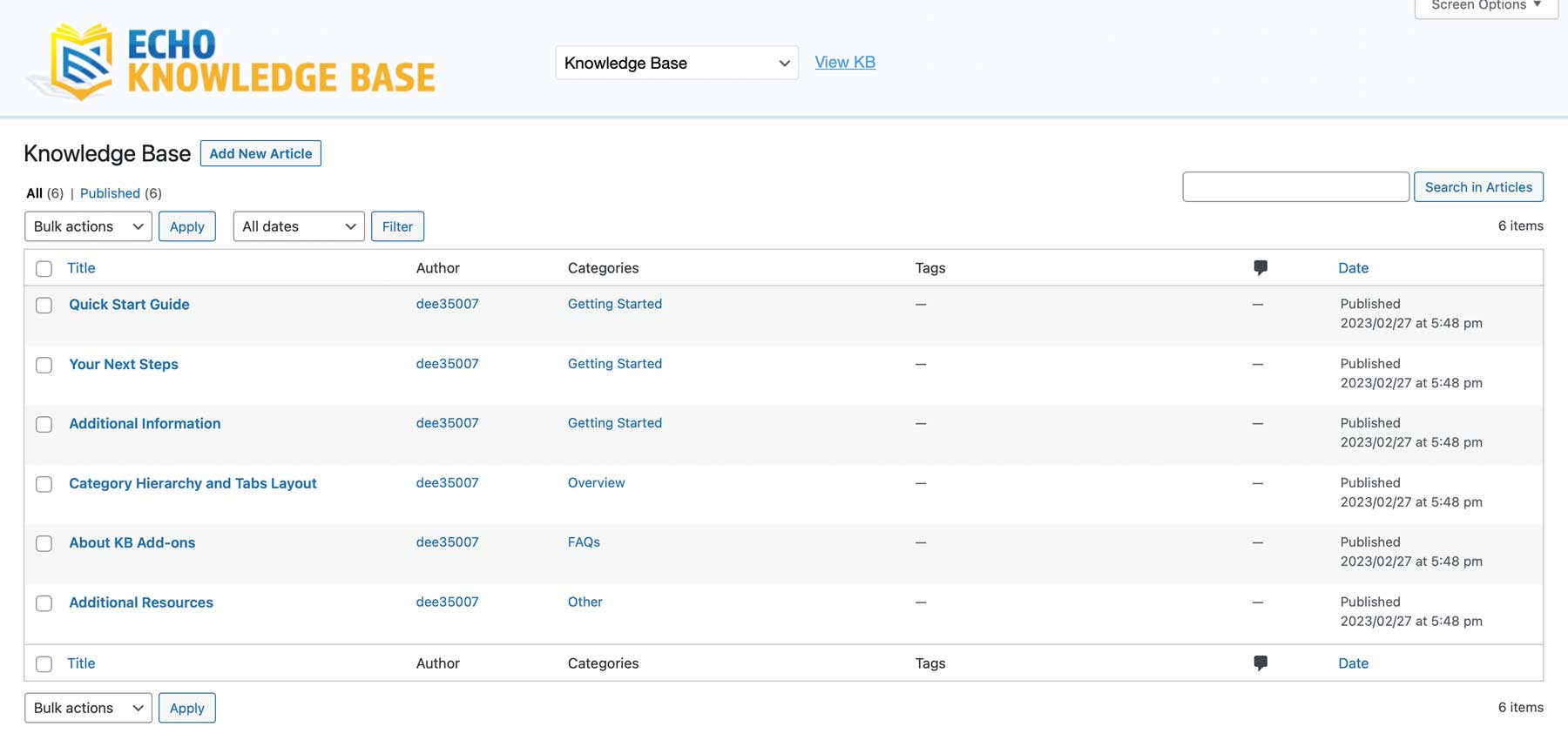 If you are a Divi user, Echo features Visual Builder integration so that you can make your knowledge base articles fully customized.

Key Features for Echo Knowledge Base:
Frontend editor
26 templates
Table of contents
Fast search with listed results
500 icons
Ordering options
5 levels of hierarchy
Pro version adds layouts, widgets, a link editor, ratings and feedback, advanced, search, groups, and more.
Divi Visual Builder integration
Price: Free, pro add-ons start at $46 per year.
2. Heroic Knowledge Base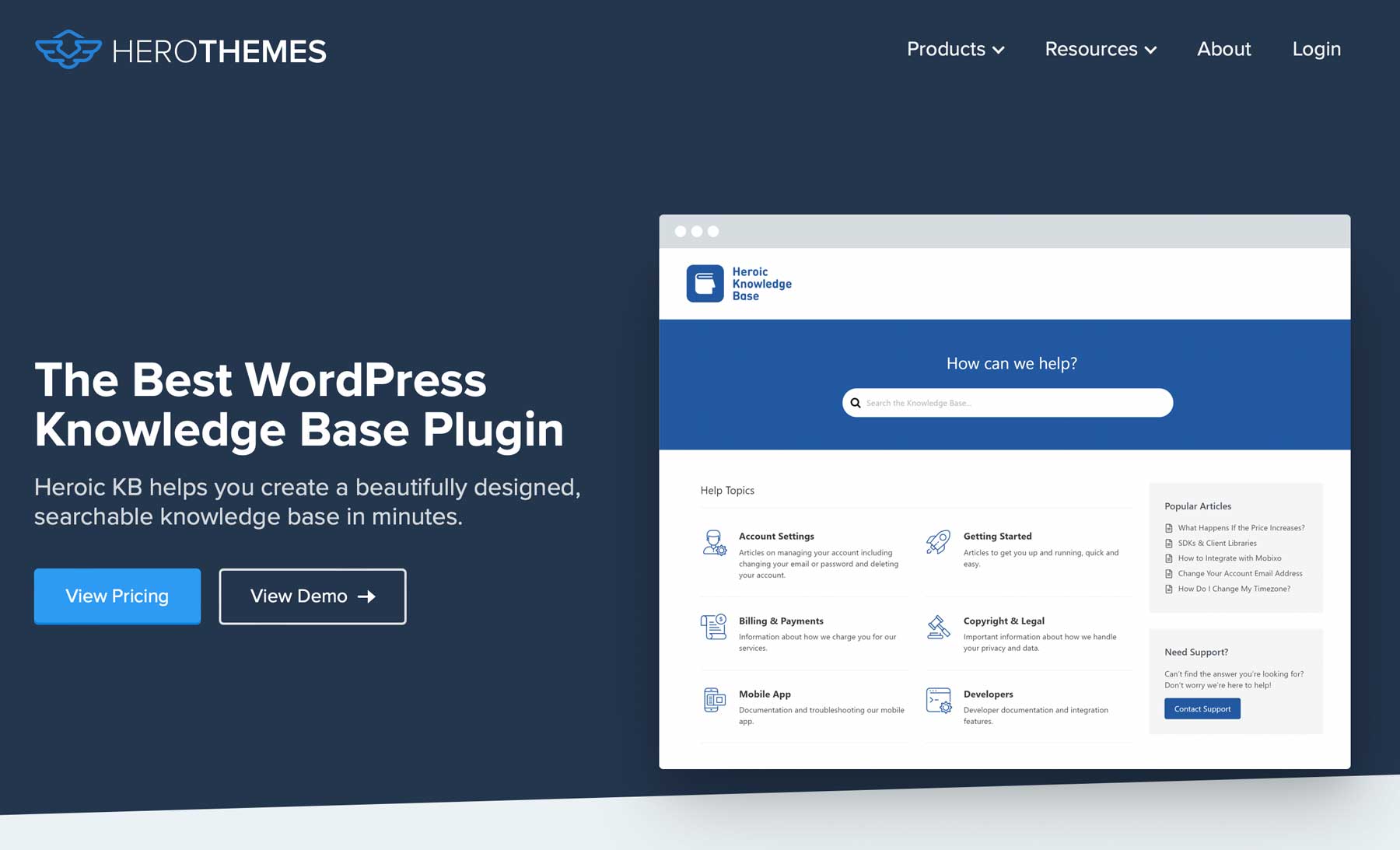 Heroic Knowledge Base is a powerful plugin that offers an Ajax search feature for answers on the fly. It offers all standard features you'd expect from a wiki plugin such as content categorization, article attachments, widgets for displaying your knowledge base in the sidebar, as well as drag & drop ordering to make building your knowledge base simple.
That being said, it offers something that others don't. With Heroic's KB offering, you can get critical insight into what your users think by making a user feedback section standard. This not only helps you improve your content but also aids in higher customer satisfaction.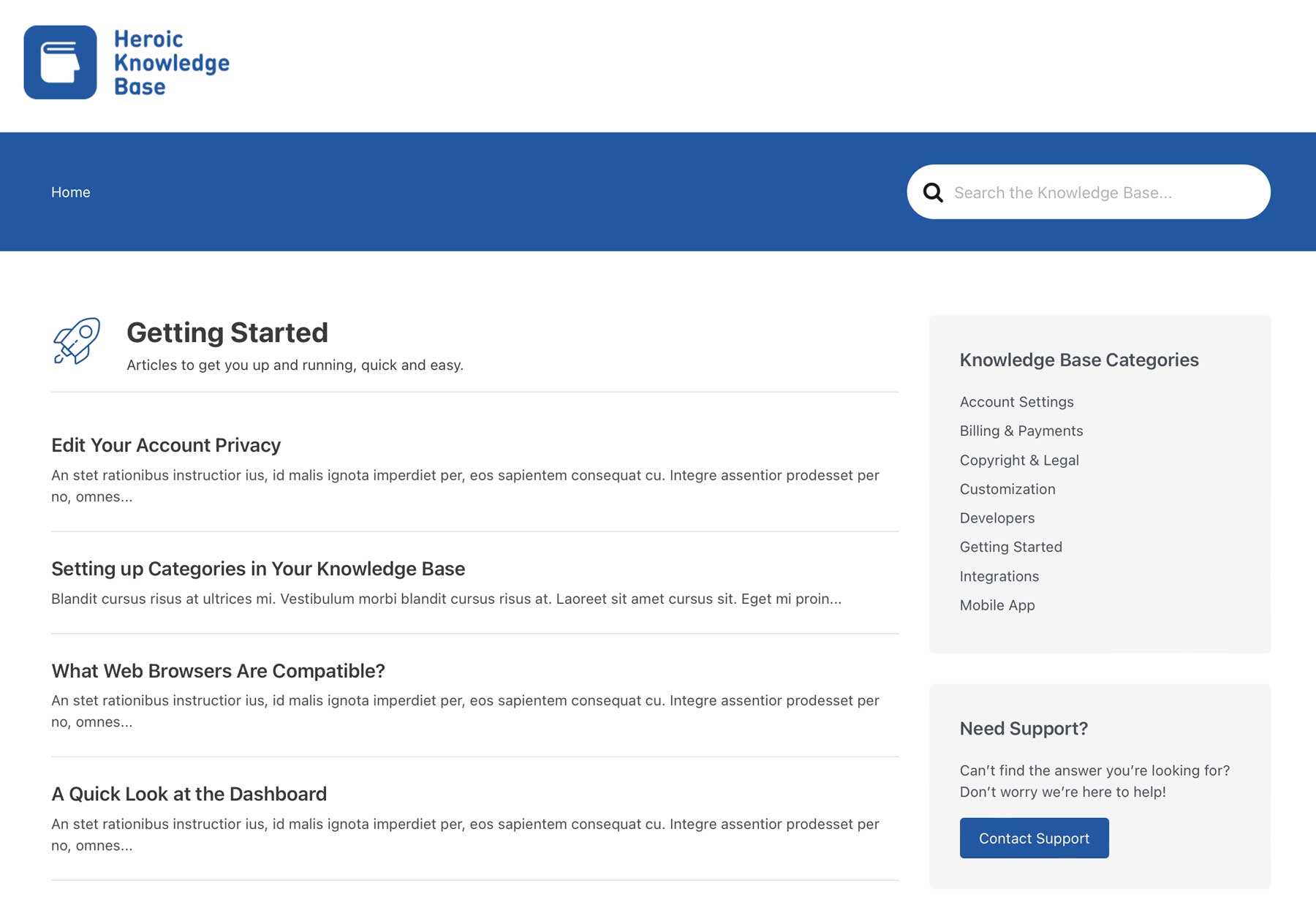 In addition to those features, Heroic Knowledge Base acts as a table of contents plugin, and gives you the ability to restrict access to your knowledge base to those who are logged in. This is especially useful if you're building a membership website, or creating online courses.
To make their product even more attractive, they offer a 30-day money-back guarantee, which is plenty of time to decide if Heroic KB is right for you.
Key Features for Heroic Knowledge Base:
Ajax real-time search
Drag & drop content ordering
User feedback feature
Ability to restrict content to logged-in users only
Price: Licenses starting at $149 per year.
3. BetterDocs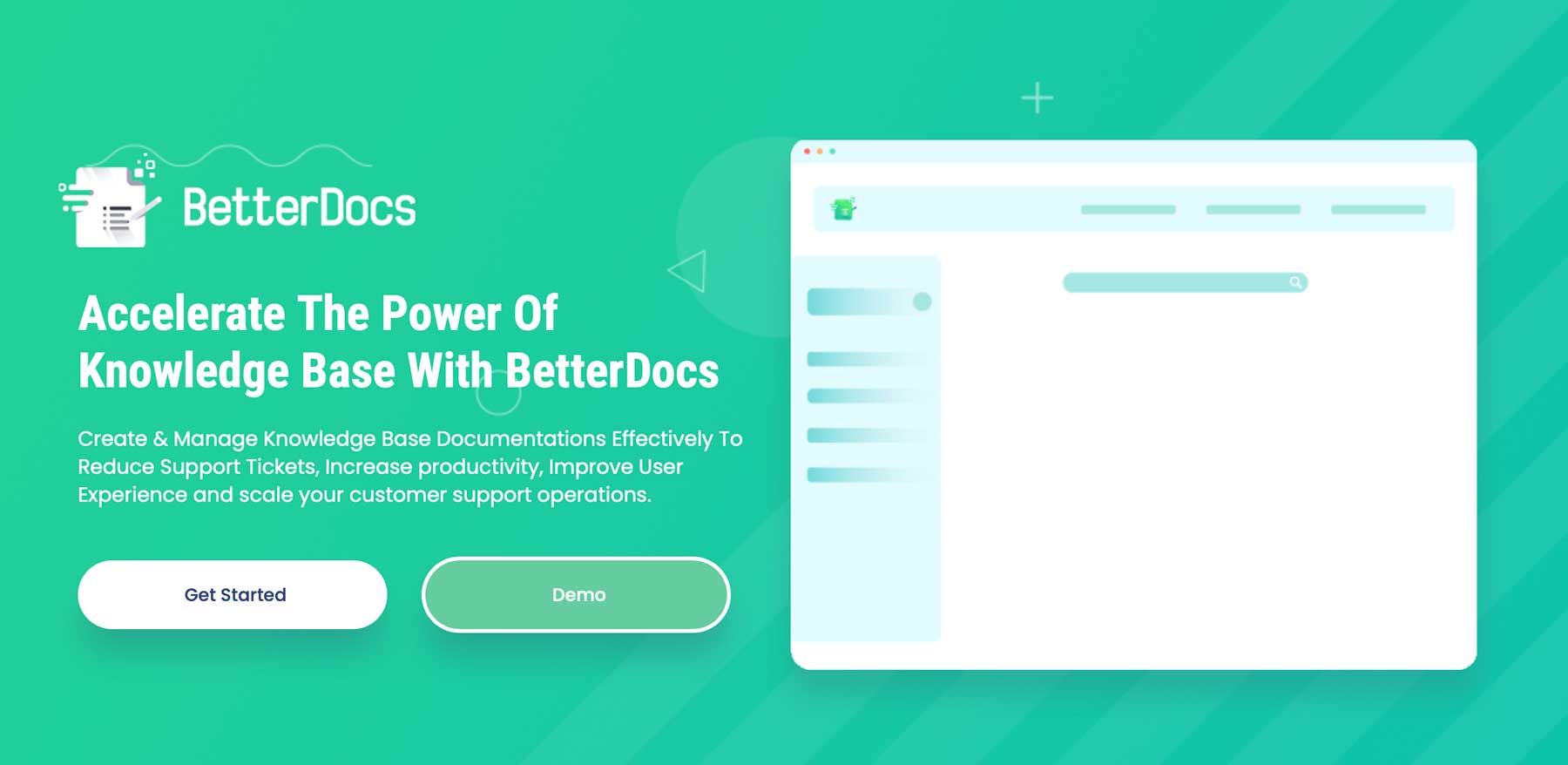 BetterDocs is a popular WordPress wiki plugin that makes it easy to create a knowledge base to expand your support. It comes with several templates to get you started. A table of contents is created automatically as you type. You can make the TOC sticky. The advanced live search makes it easier for visitors to find what they're looking for. A pro version is available that adds analytics, and an instant answer bot, and it allows you to create multiple knowledge bases for different products.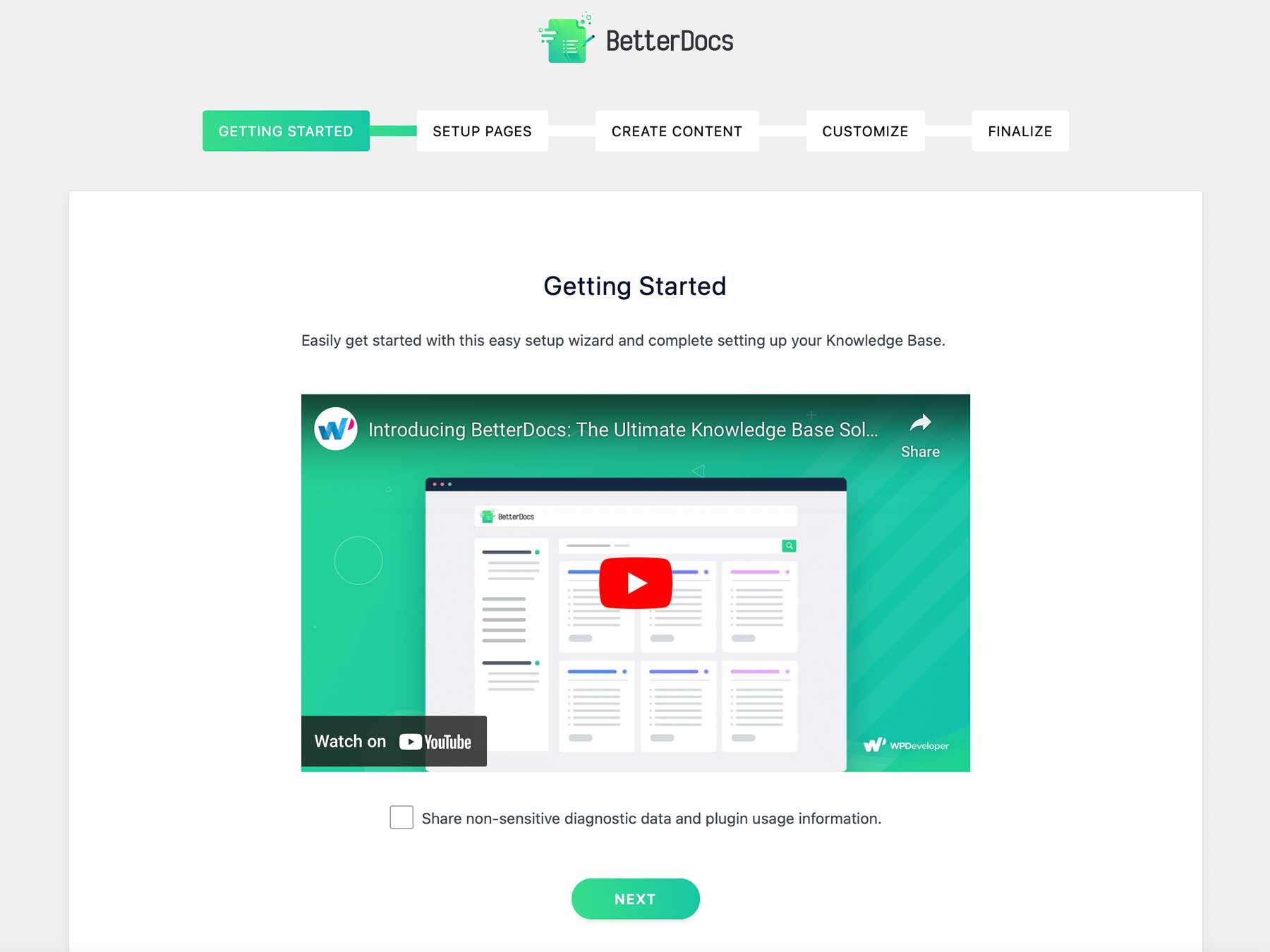 To help you get started, the quick setup option steps you through creating the pages, and content, and customizing it.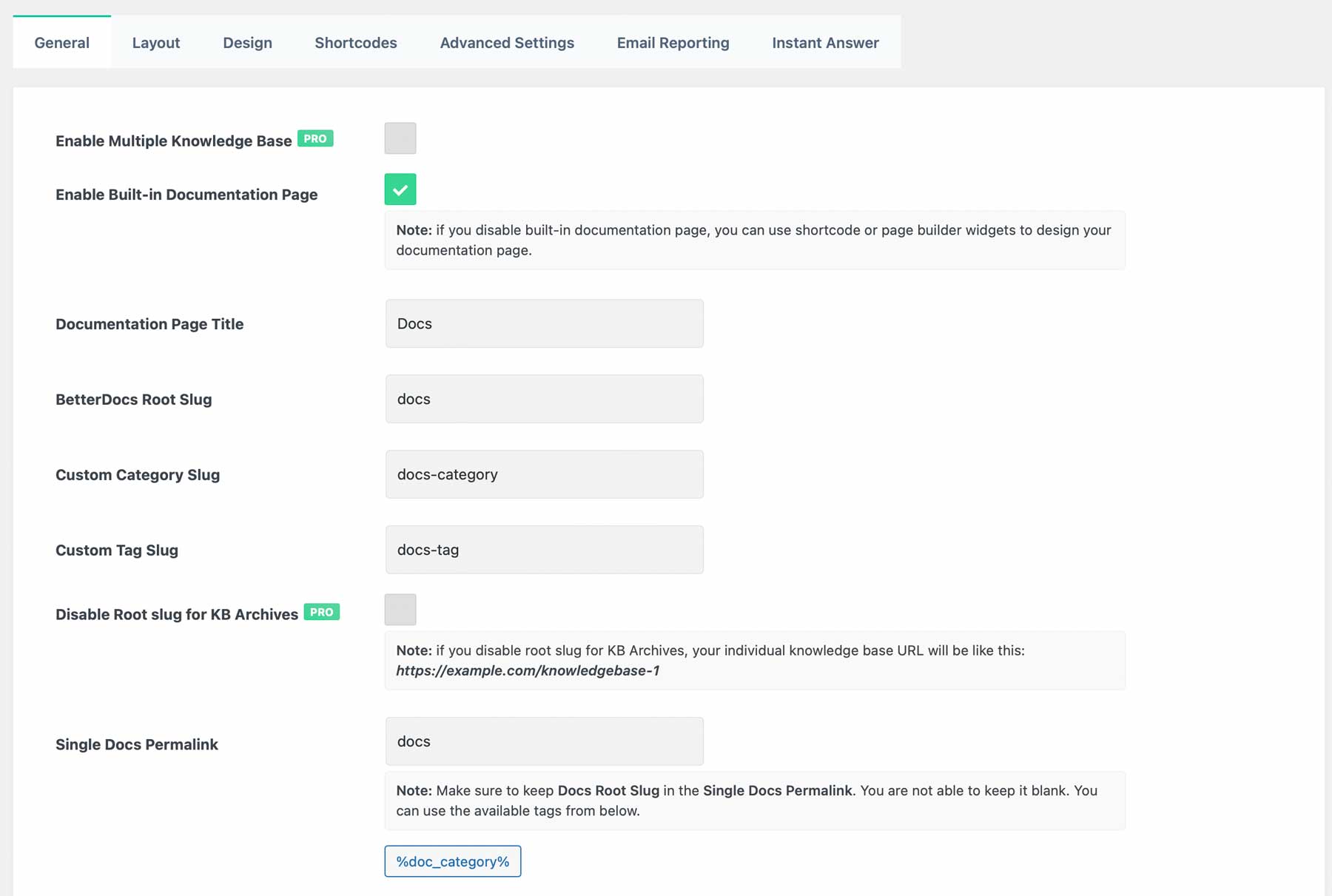 The settings screen gives you lots of control over the docs including the design, layout, and more. Settings are intuitive and simple.
Key Features for Better Docs:
Premade templates
Shortcodes
Auto table of contents
Sticky table of contents
Advanced live search
Pro version adds templates, advanced search, floating table of contents, instant answers, analytics, and more.
Price: Free, pro version starts at $69 per year.
4. BasePress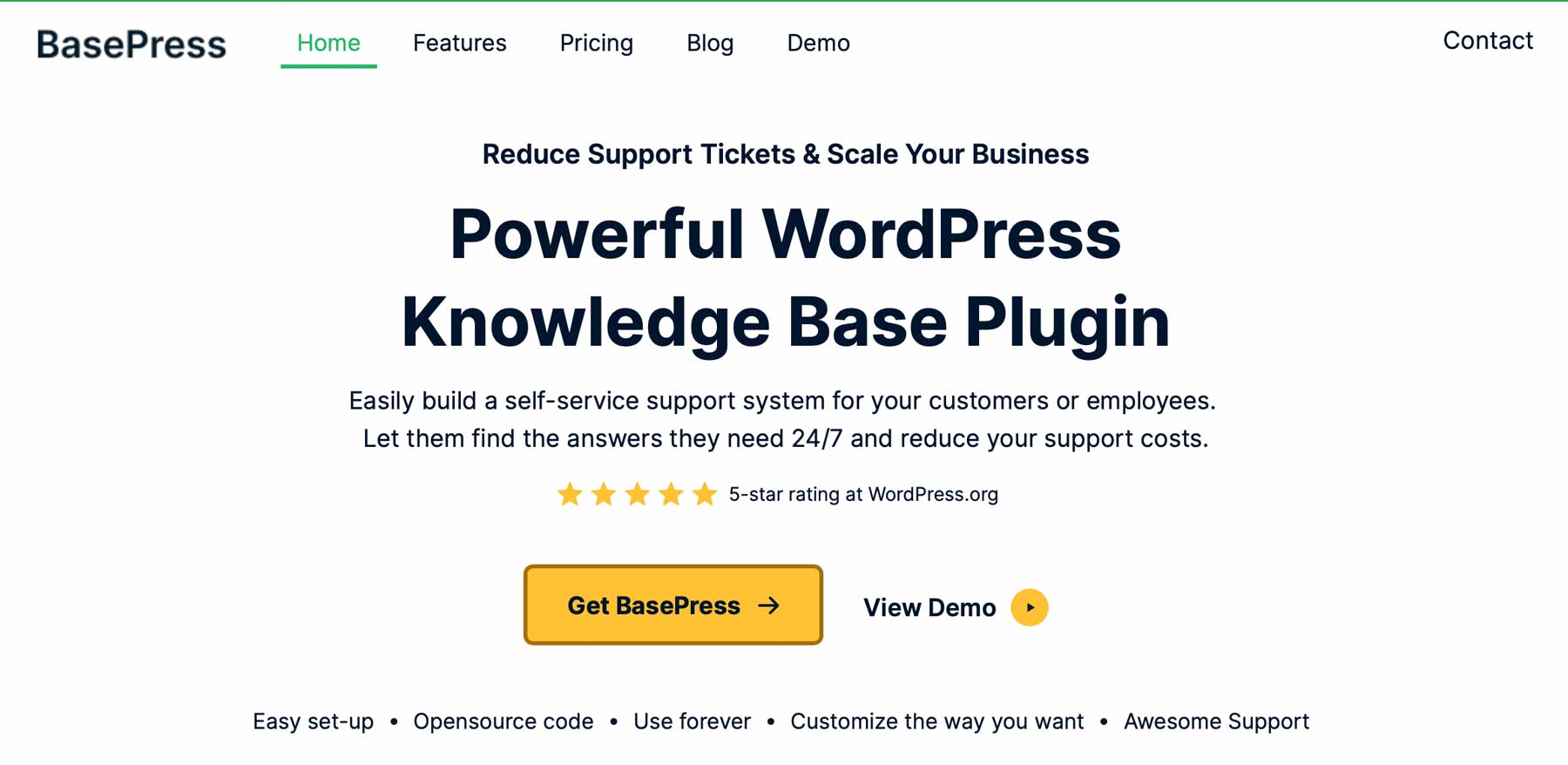 BasePress is a powerful WordPress wiki plugin that lets you build unlimited independent knowledge bases. It comes with three themes and you can customize them with simple adjustments and CSS. It builds an entry page where users can choose the knowledge base they need. The unlimited section hierarchy makes the knowledge bases easy to organize.
The setup wizard steps you through to get started quickly with easy-to-follow settings screens including general settings, appearance, breadcrumbs, search, comment, and import and export tools.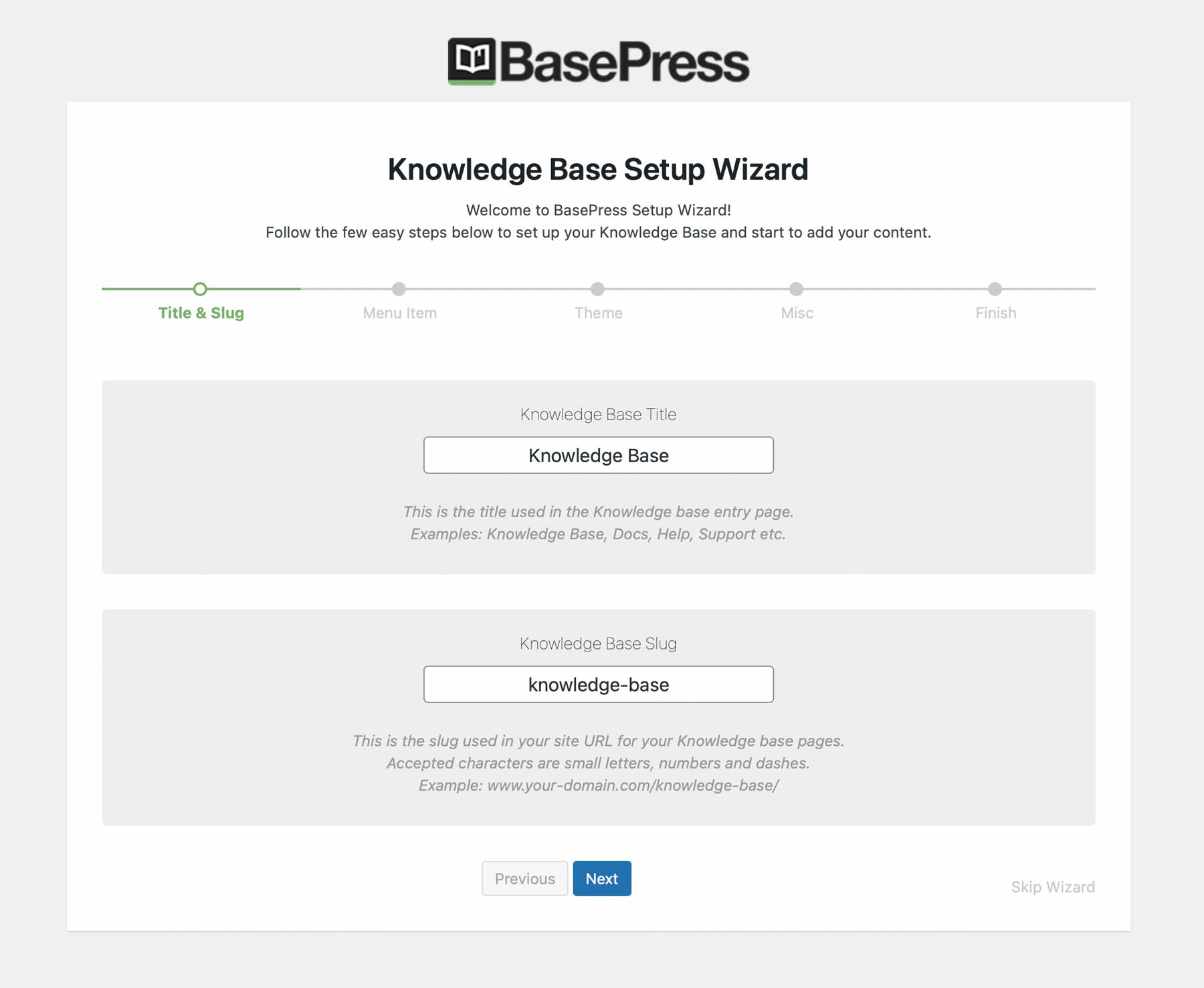 Once your custom post type for knowledge bases is created, you can customize your knowledge base with a title, slug, description, and image, as well as section and sub-section styles.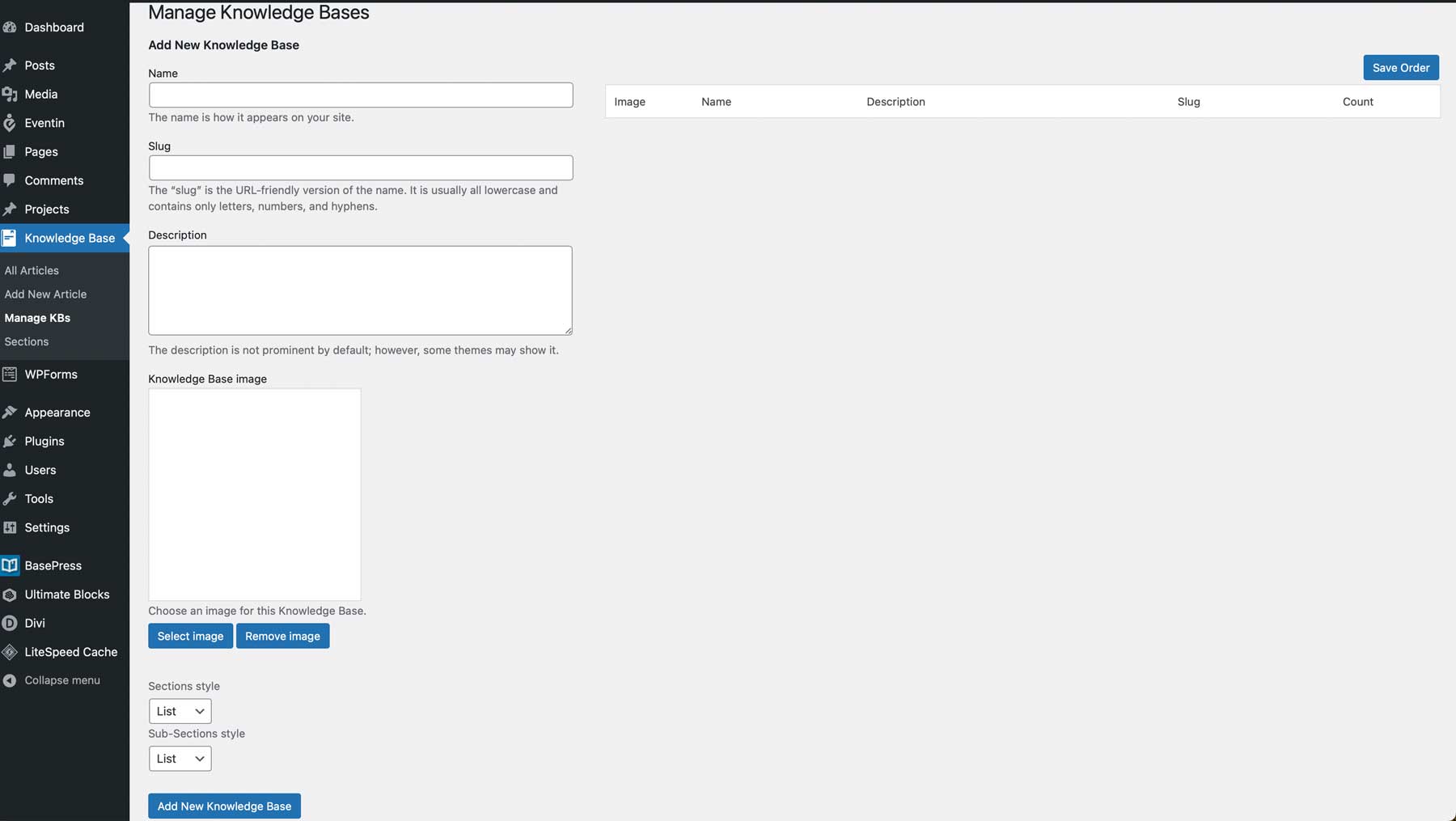 Key Features for BasePress:
Theme editor
Icon manager
Advanced search with live results
Breadcrumbs
Drag and drop reordering.
4 widgets
Pro version adds content restrictions, article voting and user feedback, automatic table of contents, statistics, and lots more.
Price: Free, the pro version starts at $59 per year.
5. weDocs

weDocs by weDevs is an excellent choice to create visually stunning documentation for your website. While they don't have any pre-made templates to choose from, you can use popular WordPress themes such as Divi to create your wikis and knowledge bases.
Like, other plugins on our list, the knowledge base is created using a shortcode, allowing integration anywhere on your website.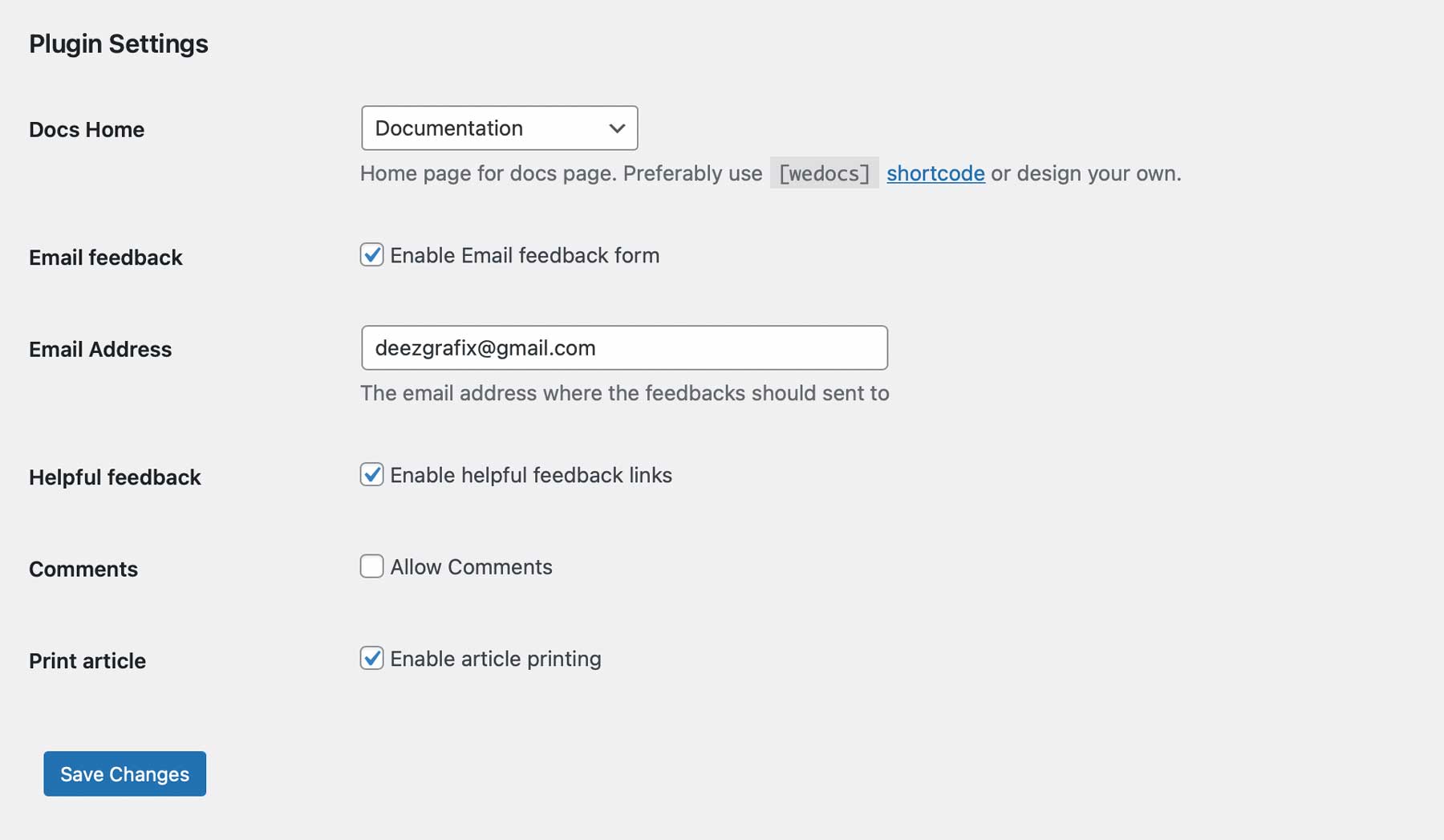 You can also add tags to your documentation pages, making it easy for users to search for specific information. Plus, it also provides a built-in search function to help users find what they need quickly.
weDocs comes with a simple and clean interface that is easy to use, even for non-technical users. It also includes several customizable options, such as drag-and-drop reordering, the ability to add sections, and breadcrumbs for easy navigation.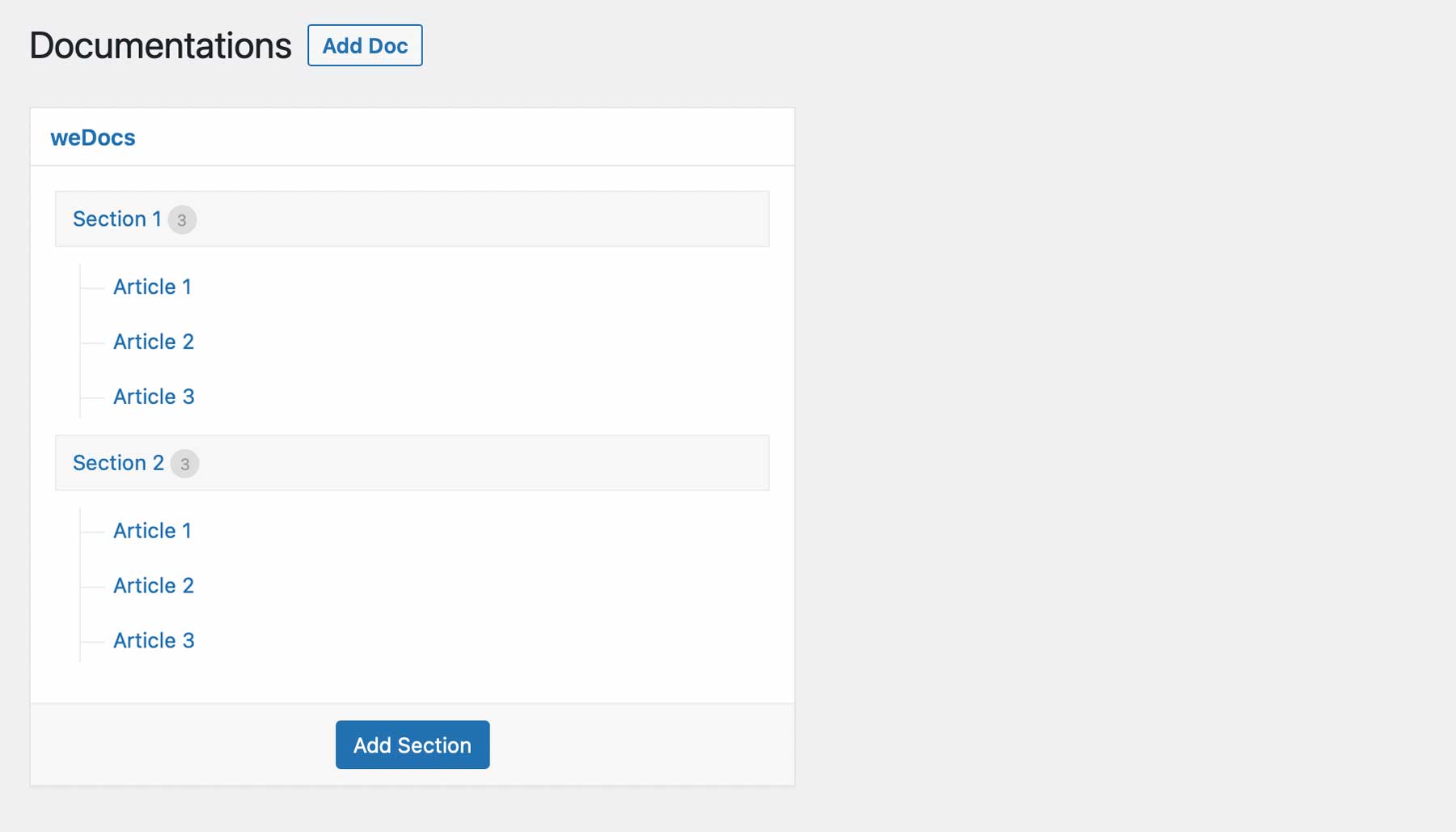 Key Features for weDocs:
Easy integration with page builders like Divi
Style interface with CSS
Shortcode to display knowledge base virtually anywhere on your website
Breadcrumbs
Ability to allow comments on docs
Drag and Drop reordering
Price: Free
6. Yada Wiki

The Yada Wiki WordPress wiki plugin creates a new post type and provides an index and table of contents, making it easier for users to navigate your content. With customizable shortcodes, you can display categories, indexes, and a table of contents anywhere on your site. Additionally, the plugin adds a convenient wiki listing button that enables users to quickly access this information.
Furthermore, Yada Wiki includes two sidebar widgets that display activity and the table of contents, providing a user-friendly experience. You can simply enable the features you wish by checking the boxes.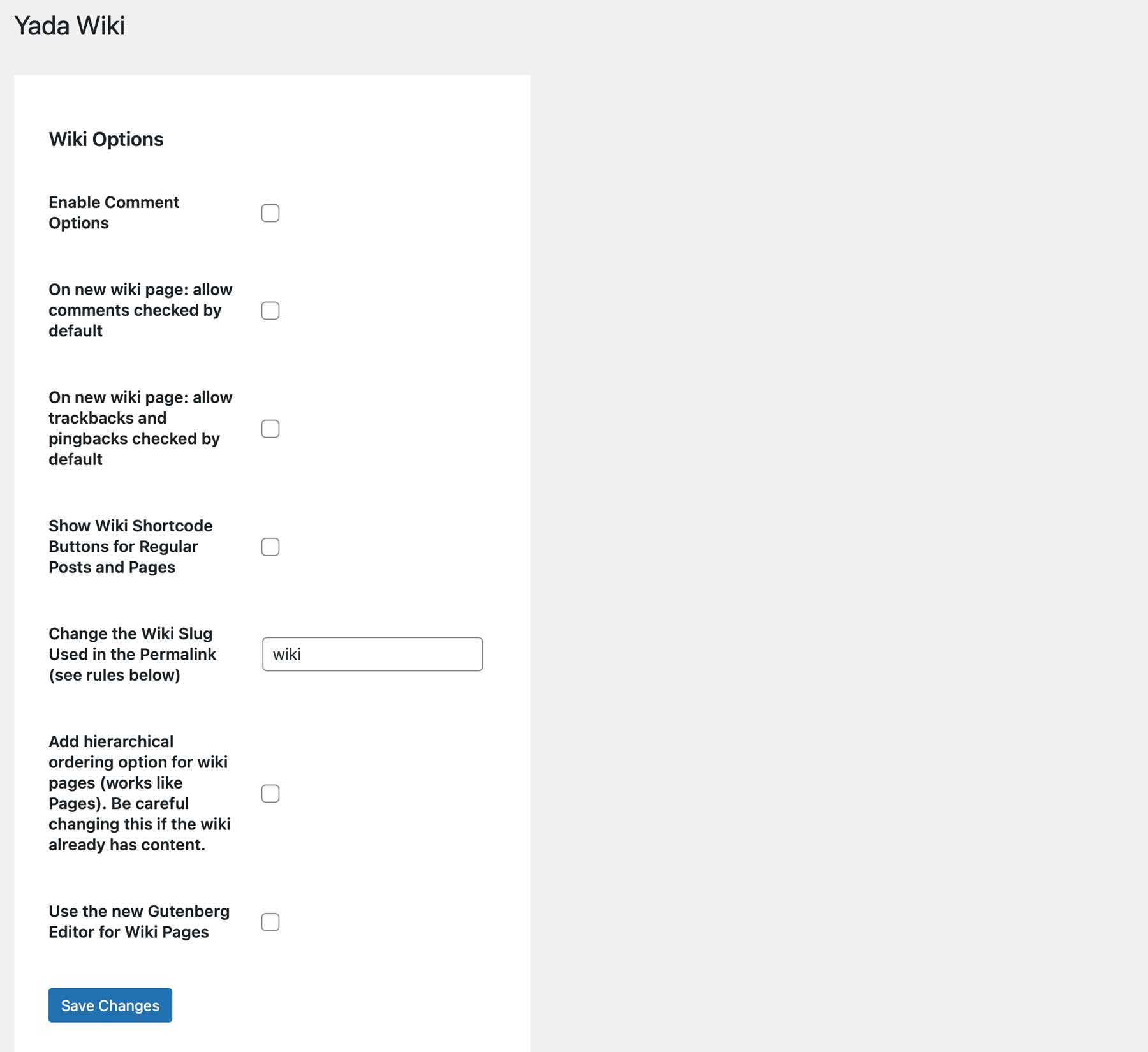 To display your wiki, Yada gives you two blocks, the Yada Wiki activity block, as well as the table of contents block. You can embed these in Appearance > Widgets, or by creating a template with the WordPress site editor in a full site editing theme.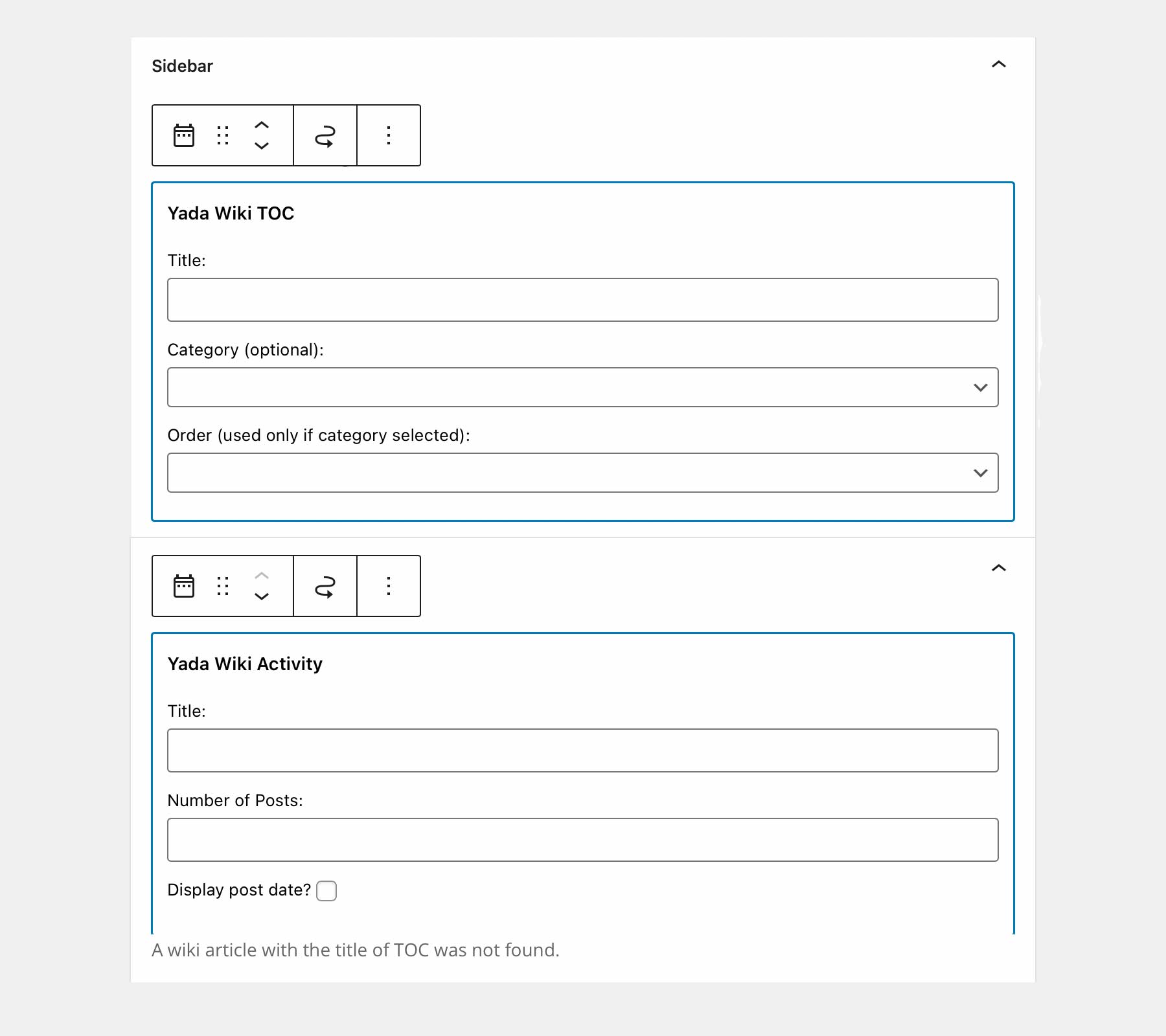 Key Features for Yada Wiki:
Custom post type
Index
Table of contents
Shortcodes
2 widgets
Price: Free
7. Encyclopedia / Glossary / Wiki

Encyclopedia / Glossary / Wiki adds a new post type that allows you to label it any way you want. Create an encyclopedia, lexicon, glossary, dictionary, knowledge base, wiki, directory, etc. It will automatically generate an index page with all your items. The index is sorted alphabetically and includes a prefix filter. Every item has its own page. It's limited to 13 items and many of the settings are locked, so the pro version is the better option.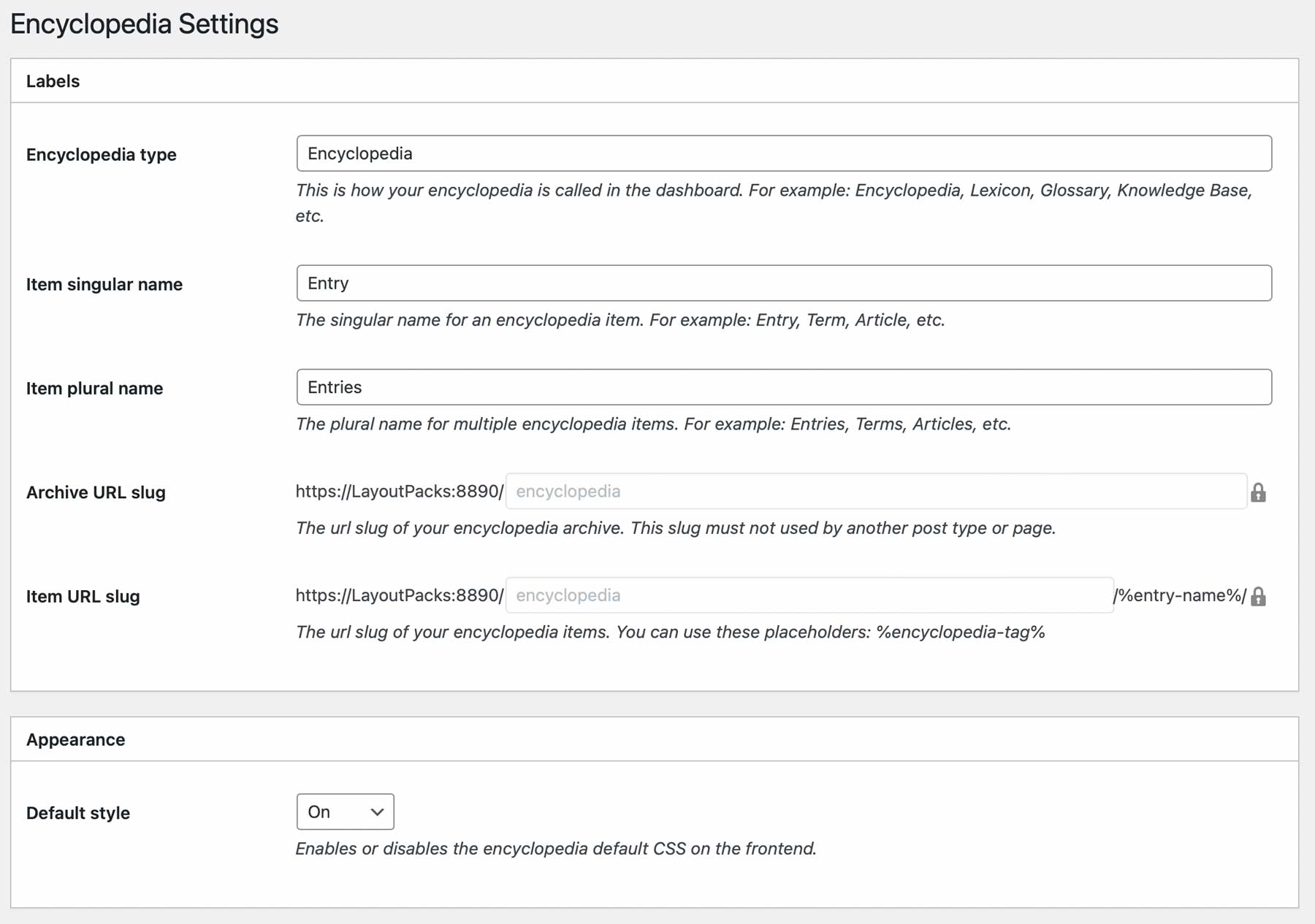 The settings screen lets you adjust the labels, appearance, and features such as text editor, block editor, excerpt, and custom fields. As previously mentioned, some features such as taxonomies, revisions, comments, and feature images require a premium license.
Adding entries works much like adding a post in the classic editor. You can add a title, content, excerpt, and tags.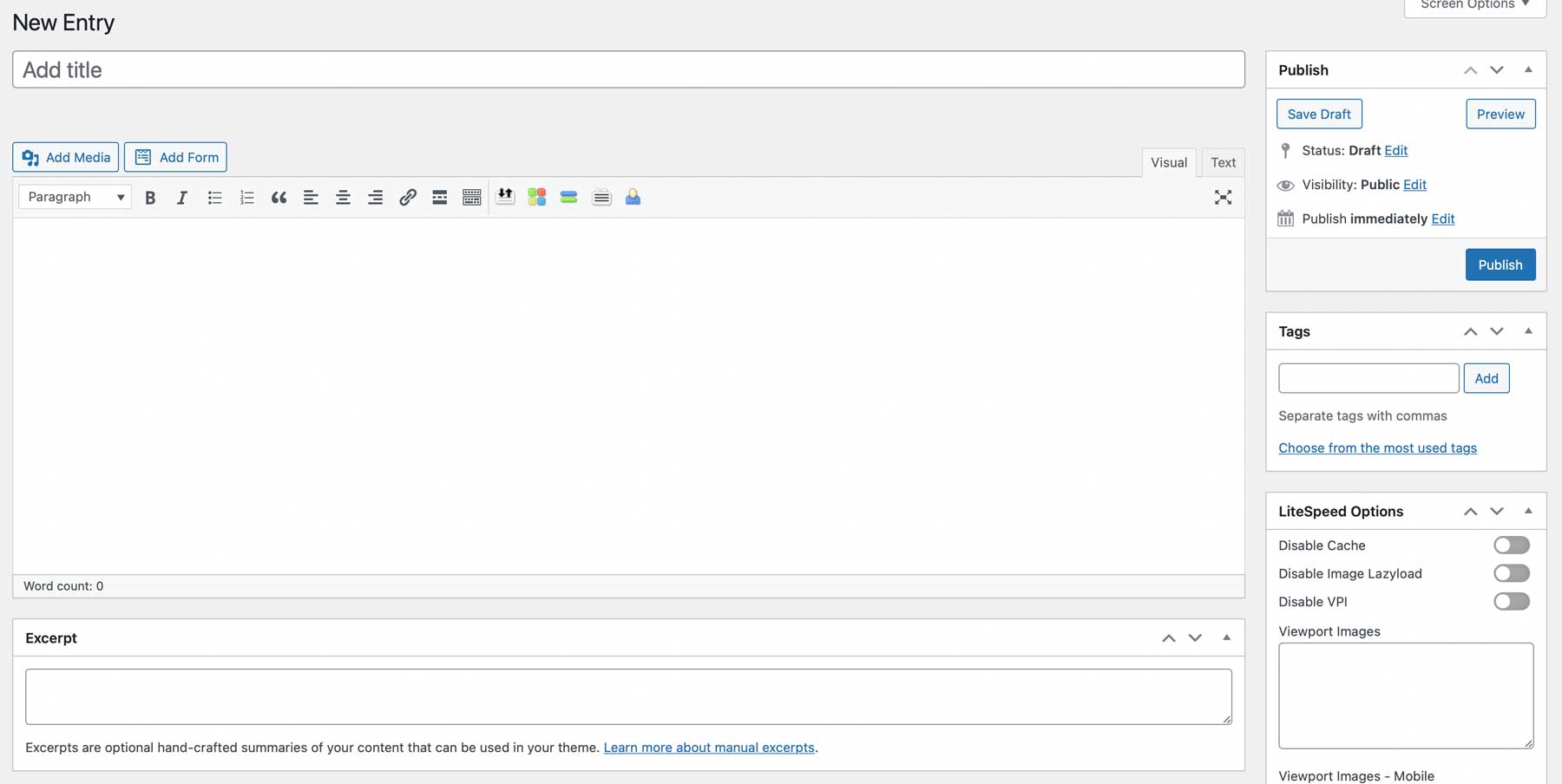 Key Features for Encyclopedia / Glossary / Wiki:
Highly customizable
Index pages are generated automatically.
Automatic cross-linking with selectable content types.
Prefix filter
5 widgets
Multilingual ready
Works with multisite
Limited to 12 items
Pro version unlocks settings and has unlimited items.
Price: Free, pro version starts at $55 per year.
Get Encyclopedia / Glossary / Wiki
8. Very Simple Knowledge Base

Very Simple Knowledge Base is the simplest WordPress wiki plugin. It displays your content using shortcodes. The shortcode can be placed within your content to create any type of design you want. You can refine the shortcode to include or exclude categories, post types, set the number of columns, sort order, labels, etc. You can also include custom CSS that the shortcode will link to.
Create a page and add the shortcode based on what you want it to display. Use shortcodes to specify which categories to include, and exclude, the number to display, the order to display them in, etc.

The page then displays articles automatically. The shortcode I've used shows all of my categories in a single column.
The widget lets you add the title, text to appear above the articles, the number of columns to display, and the attributes to display.
Key Features for VS Knowledge Base
Display with shortcodes within your content
Show categories.
Set the number of columns.
Determine the number and order of posts.
Change the labels.
Works with custom post types
Custom widget
Add custom CSS.
Price: Free
Comparing All the Best Wiki Plugins
That's our look at the 8 best WordPress wiki and knowledge base plugins. They include a range of features and most can be expanded with a premium edition.
Wiki Plugin Price Comparison
To wrap up our blog post, let's see how our selections compare on a price basis:
Wiki Plugin Feature Comparison
Now, let's see how the top contenders on our list compare head to head when it comes down to features:
🥇 Echo Knowledge Base

🥈 Heroic Knowledge Base

🥉 BetterDocs

Starting Price
$46/yr
$149/yr
$69/yr
Free Version
✔️
❌
✔️
Drag-and-Drop Builder
✔️
✔️
✔️
Template Library
✔️
❌
✔️
User Ratings and Feedback
✔️
✔️
✔️
Search Functionality
✔️
✔️
✔️
Content Restriction Capabilities
✔️
✔️
✔️
Table of Contents
✔️
✔️
✔️
Analytics and Reporting
✔️
✔️
✔️
Custom Branding
✔️
✔️
✔️
Import and Export Functionality
✔️
✔️
✔️
Active Installations
20,000+
26,000+
30,000+
Community Rating
5/5
⭐⭐⭐⭐⭐
Read Reviews
N/A
4.9/8
⭐⭐⭐⭐⭐
Read Reviews
Get UpDraftPlus
Get Heroic Knowledge Base
Get BetterDocs
What is the Best WordPress Wiki Plugin?
As for our top pick, we recommend Echo Knowledge Base. Whether you need a simple WordPress wiki plugin, an enterprise-level platform for a complete knowledge base, or integration with Divi, you're sure to find what you need with Echo. If you're looking for some more recommendations on WordPress plugins, make sure to check out our ultimate list!
Frequently Asked Questions (FAQs)
Before we wrap up, let's answer some of your most common questions regarding the best WordPress wiki plugins. Did we miss one? Leave a question below and we will respond!
What is the best WordPress wiki plugin?
Eco Knowledgebase
is one of the best WordPress wiki plugins available. It offers an intuitive interface, customizable templates, and efficient categorization. Its advanced search feature and the ability to generate automatic tables of contents further enhance user experience. The pro version provides additional functionalities.
What is the best free WordPress wiki plugin?
BetterDocs
is an excellent free WordPress wiki plugin. It provides a straightforward way to create a comprehensive knowledge base with premade templates and an auto-generated table of contents. The advanced live search makes navigation easy for users. For advanced features, a pro version is available.
What is the best knowledge base plugin for WordPress?
weDocs
is the best knowledge base plugin for WordPress. It enables users to create and organize documentation efficiently. It offers features like intuitive navigation, easy management of articles, and seamless integration with WordPress' default editor. Its user-friendly interface makes it a preferred choice for many.
How do I add a wiki or knowledge base to my WordPress site?
To add a wiki or knowledge base to your WordPress site, install the
weDocs
plugin. From your dashboard, go to "Plugins", click "Add New", search for "weDocs", then "Install Now" and "Activate". The "weDocs" option will appear in your dashboard menu for you to start creating your wiki or knowledge base.
What are the key benefits of using a WordPress wiki plugin?
WordPress wiki plugins offer key benefits like ease of content organization, efficient information retrieval, and user collaboration. They come in different types, such as knowledge base plugins for FAQs or technical documentation, glossary plugins for term definitions, and comprehensive wiki plugins for creating full-fledged wikis.
Which wiki plugin builds a table of content automatically?
The
BetterDocs
WordPress wiki plugin automatically builds a table of contents as you type. This feature makes organizing and navigating your content accessible, providing a better user experience for visitors seeking specific information in your knowledge base.
What is the difference between a wiki and a knowledge base in WordPress?
In WordPress, a wiki refers to a user-editable database of interlinked pages covering various topics, much like Wikipedia. On the other hand, a knowledge base is a collection of articles, FAQs, and guides usually created by website owners or admins to support users, typically not editable by users.
What features should I look for in a WordPress wiki plugin?
Key features in a WordPress wiki plugin include a user-friendly interface, search functionality, automatic table of contents creation, customizable templates, and intuitive categorization. User permissions, integration with other tools, responsive design, and analytics are essential features to consider.
How does a blog differ from a wiki?
Blogs and wikis differ mainly in authorship and structure. Blogs typically have a single author or a small team presenting personal insights or expert opinions in chronological posts. Wikis, however, are collaborative platforms where many users can contribute and edit content, focusing on interlinked pages rather than time-based posts.
What is the best WordPress wiki plugin to create an internal company knowledge base?
BetterDocs
would be a great choice to create an internal company knowledge base. It offers several templates and an automatically generated table of contents. Its advanced live search enhances user navigation, making information retrieval faster and more efficient. The pro version has analytics and can create multiple knowledge bases for different products or departments.
We want to hear from you. Have you tried any of these WordPress wiki plugins for your website? Let us know what you think about them in the comments.
Featured image illustration via artist / shutterstock.com