Countdown timers are a great way to inform your visitors of when an event will take place. They're great for showing when something will be available, go on sale, or when a website will be ready for all to see. They're also great for adding urgency to a deal, a popular marketing technique. Fortunately, there are several great choices for anyone looking for a WordPress countdown plugin. In this article, we'll look at WordPress's eight best countdown timer plugins.
Types of WordPress Countdown Plugins
There are multiple types of countdown timers. They have different purposes and work in different ways.
First, we have the standard countdown timer. This timer counts down to a specific date or time. It remains the same regardless of who or where the visitors are. The timer shows the same time for everyone.
Second, we have what is known as an evergreen timer. Evergreen countdown timers provide a specific countdown for each visitor. They're used for marketing and are great for creating scarcity and urgency to drive sales.
The WordPress countdown plugin you choose will depend on the features you need. I've included both types of countdown timers in this best WordPress countdown plugin post.
The Best WordPress Countdown Plugins
Let's review the list of best countdown timer plugins, so you can easily find the best product that matches your needs!

Subscribe To Our Youtube Channel
The Best WordPress Countdown Plugins Listed In Order
Expand List
1. OptinMonster

OptinMonster is a popular conversion optimization tool that offers a variety of features to help website owners increase their conversions. One of these features is the Countdown Timer tool, which allows users to create urgency and increase conversions by adding a customizable countdown timer to their website.
With OptinMonster, you can generate unlimited timers to put on various pages and posts of your WordPress website. The tool provides two types of countdown timers. The first is a static countdown timer that counts down to a particular end date, indicating when an offer expires for everyone. The second is a dynamic or evergreen countdown timer that tailors the countdown to each visitor by allowing you to specify the timer's length in days, hours, minutes, and seconds instead of an end date.

OptinMonster helps website owners increase conversions by creating a sense of urgency among their visitors. The customizable design and settings allow users to match the timer to their brand and website design.
As a top popup plugin for lead generation, OptinMonster has flexible display options that allow users to show the countdown timer in various ways (popup, slide-in, etc.) depending on their website's layout and user behavior.
Key Features for OptinMonster:
Customizable timer design and settings
Flexible display options, including popups, slide-ins, and floating bars
Advanced targeting rules to show the countdown timer to specific visitors
OptinMonster Pricing: $9/month
2. Countdown Timer Ultimate

Countdown Timer Ultimate makes it easy to create circle countdown timers and add them anywhere within your content using shortcodes. You have control over the design, the expiry date, and the animation.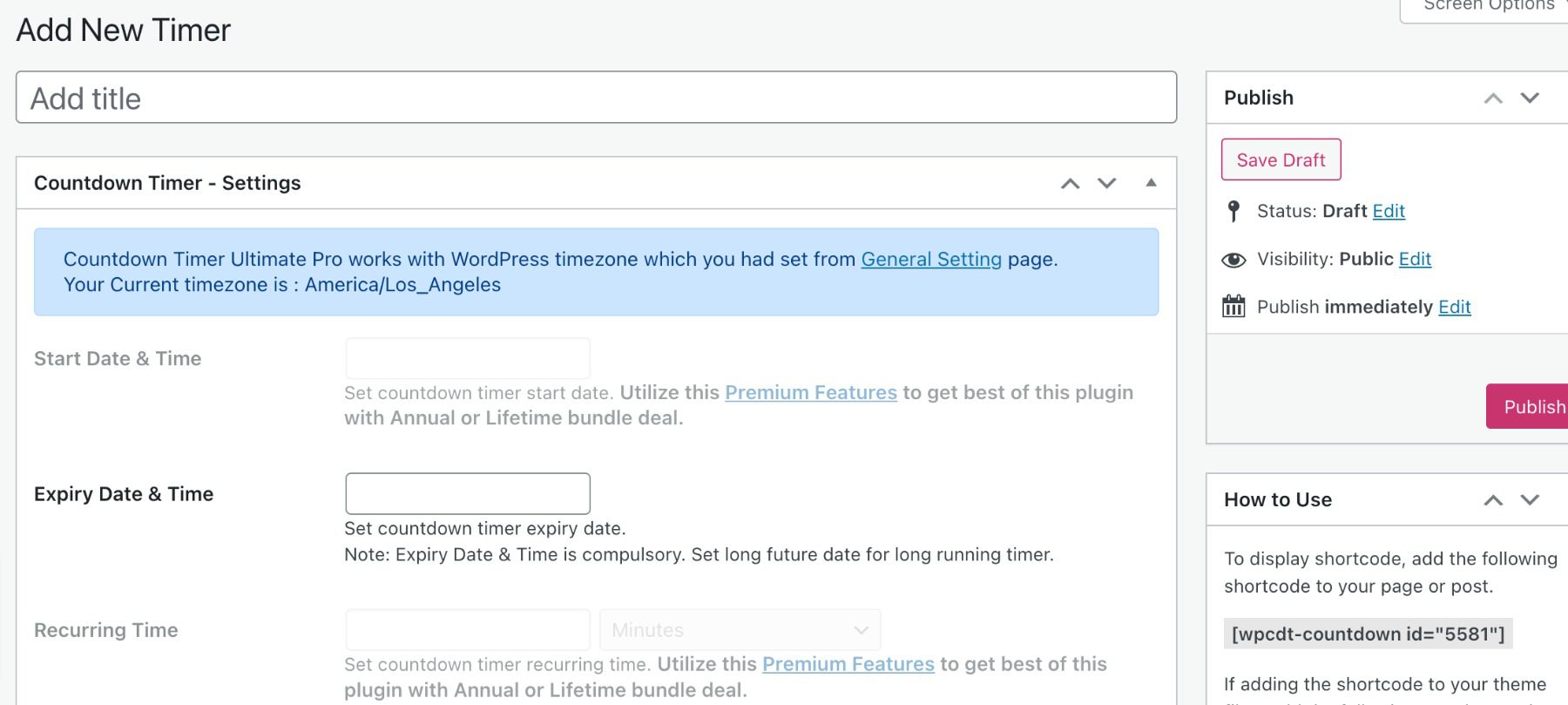 The timer is built with an editor that includes sliders and selectors. Change the size of the circle counter and backgrounds with sliders. Set the animation to Smooth or Tick.

Create multiple timers and get a shortcode for each one.
Features
1 clock design
Shortcodes
Clock expiry functionality
Pro version adds 12 clock styles, extended settings, clock options, template features, CSS, RTL, and more.
Price: Free, pro version starts at $169/yr
3. HurryTimer

HurryTimer provides several settings to create a schedulable countdown, a recurring countdown, or an evergreen countdown. It provides a cookie for your evergreen campaigns. A customizable CTA button provides a link to your sales pages. It integrates with WooCommerce.

The editor includes settings for the schedule, actions, and appearance. Some features, such as recurring countdowns and steps, require the pro version, but the others are available in the free version. For the schedule, choose between one-time, recurring, or evergreen.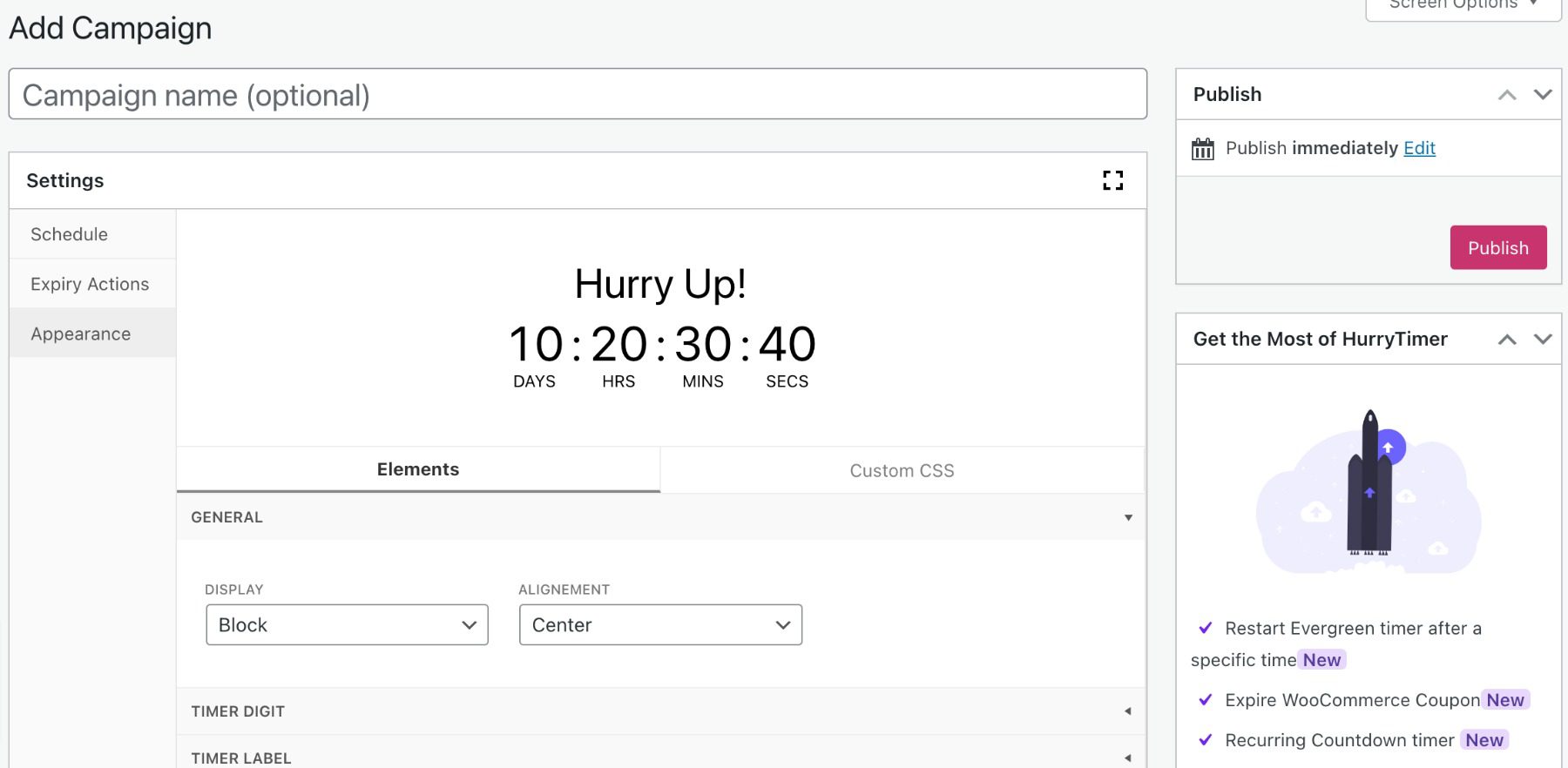 Appearance shows the timer in real-time and provides multiple settings, including general, digits, label, headline, CTA, and several pro features.
Features
Scheduled campaigns
Evergreen campaigns
Cookie
Expiry actions
Live design customizer
CTA button
Integrates with WooCommerce.
Pro version adds recurring countdowns, actions, timer block, sticky bar, and custom CSS.
Price: Free, pro version starts at $39/yr
4. Countdown Builder

Countdown Builder is a simple countdown timer with several premade timers to choose from. The countdown timers can be added to your content with shortcodes. The timers include several customization features; you can customize them further with CSS and JavaScript. It also consists of a Coming Soon feature. It can be expanded with add-ons.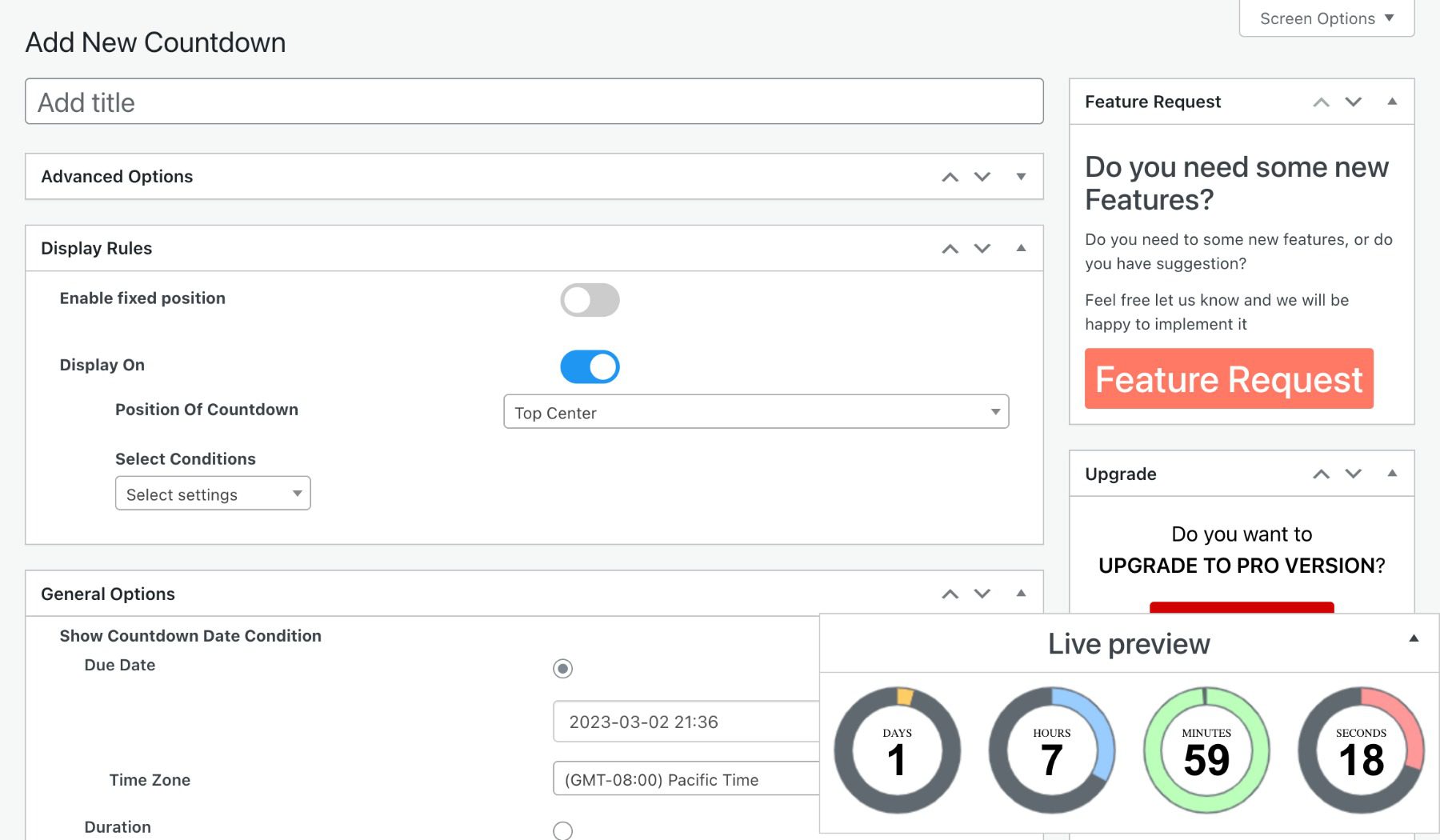 The countdown editor provides general and advanced options with a live timer preview. The advanced options require the pro version. Settings include fields for custom CSS and JS.

Once you create a countdown timer, you're provided with a shortcode that you can place anywhere within your content.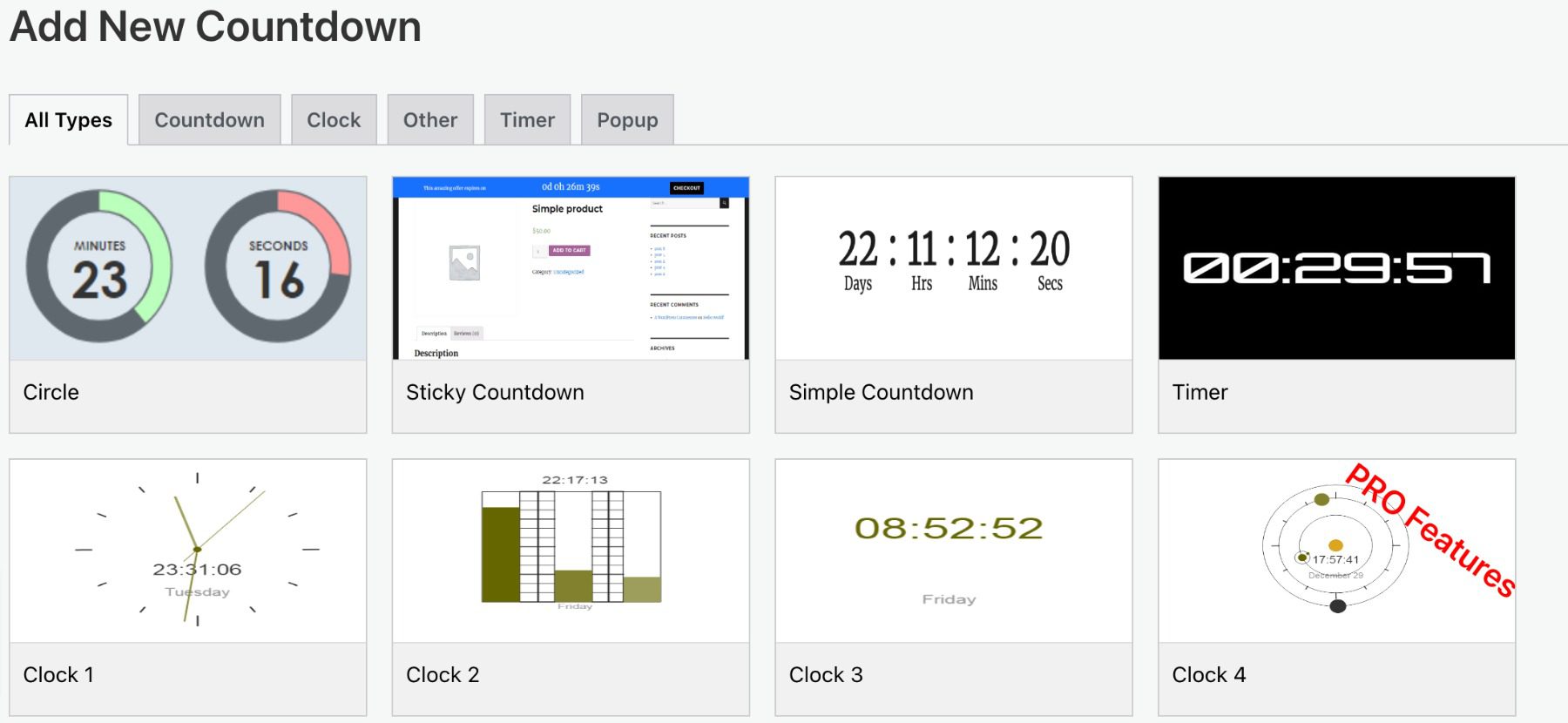 Choose between multiple countdown types, including a countdown, clock, timer, popup, and more. The free version includes seven kinds.
Features
Shortcodes
Multiple countdown types
Live preview
Coming soon feature
Pro version adds advanced options, multiple scheduling, a subscription form, a newsletter, a countdown button, a progress bar, styling features, and extensions.
Price: Free, pro version starts at $23.98/lifetime
5. Sales Countdown Timer

Sales Countdown Timer was designed specifically for sales countdowns. It's designed to build urgency for the sale. It also integrates with WooCommerce to create product countdowns, show upcoming sales, and more. Choose the types of product pages where it will display, make it sticky, and adjust the positioning.

The editor includes the general settings, design settings, and WooCommerce settings. The available settings have scheduling options. It consists of the shortcode.

The design settings are extensive and include live previews. Adjust the color, background, padding, radius, and more for the timer and the DateTime values.

It also includes settings specifically for WooCommerce products. Create a custom message, add the product photo, show an upcoming sale,e and lots more. Show the countdown on shop pages and category pages. Adjust the position, make it sticky, and more.
Features
Sales countdowns
Simple editor
Extensive design options
Live preview
Integrates with WooCommerce.
Make it sticky.
Pro version adds evergreen, restart after, and a checkout countdown.
Price: Free, pro version starts at $20/lifetime
6. Evergreen Countdown Timer

Evergreen Countdown Timer lets you create unlimited evergreen timers for your website. Create unlimited countdown timers and add them to your content with shortcodes. You can also disable the evergreen option and set a date for the countdown timer to count.
The editor is simple. It lets you choose the date, enable evergreen, choose the detection method, and set the redirect URL. You can also change the colors, labels, and sizes.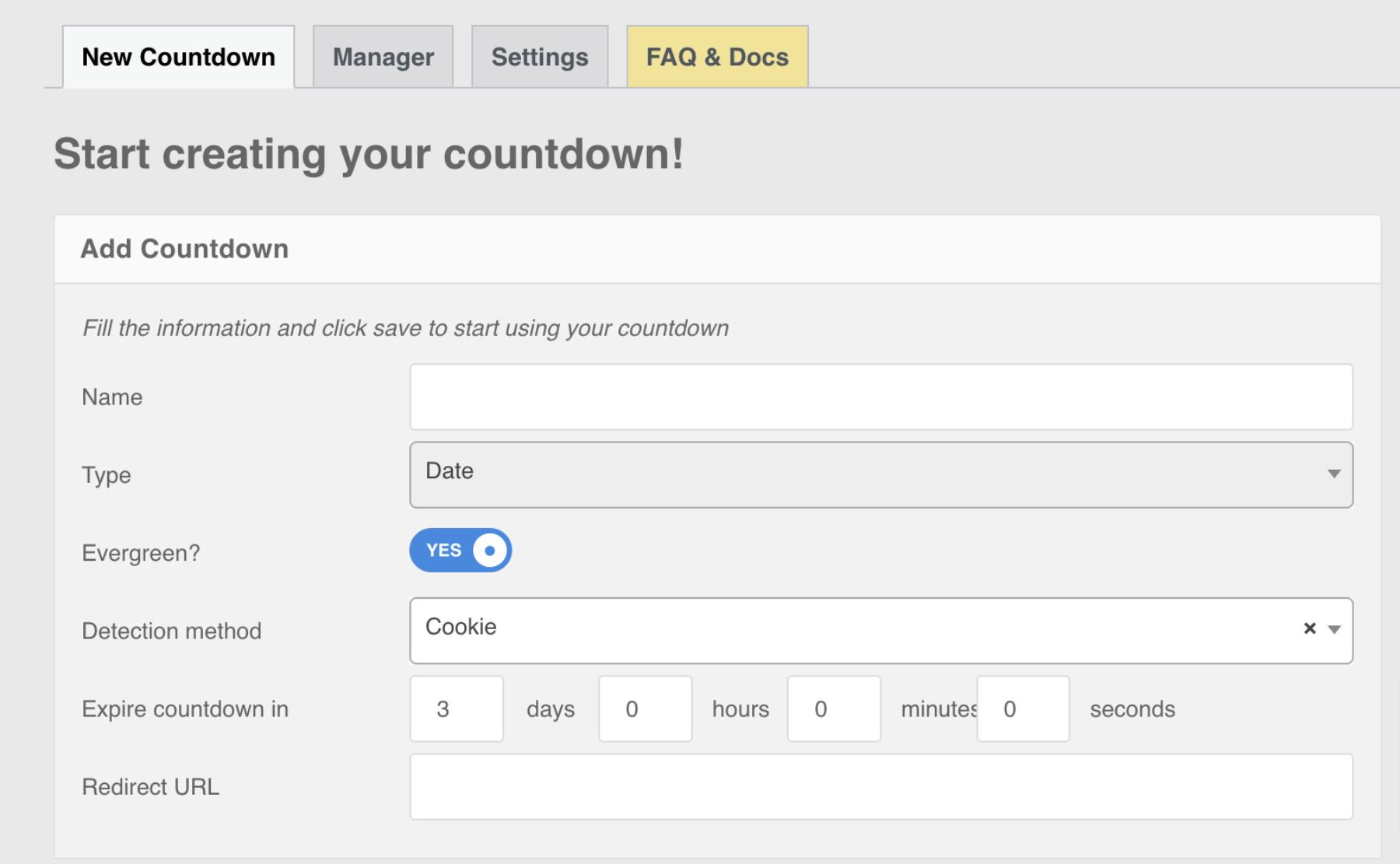 The manager provides the shortcode for each countdown timer. You can clone a timer from this screen.
Features
Shortcodes
Evergreen and standard countdown options
Cookie
Customizations
Pro version adds a spot countdown, unlimited colors, custom CSS, automatic time reset, and a better cookie.
Price: Free, pro version starts at $47/yr
7. Countdown Timer – Widget Countdown

Countdown Timer – Widget Countdown adds a countdown timer builder to the WordPress editor and provides the same tools in a widget. Set up a countdown timer and build it within the content in a few seconds. You have control over the placement, and you can choose which devices to show or hide. You can also choose what happens after the timer expires.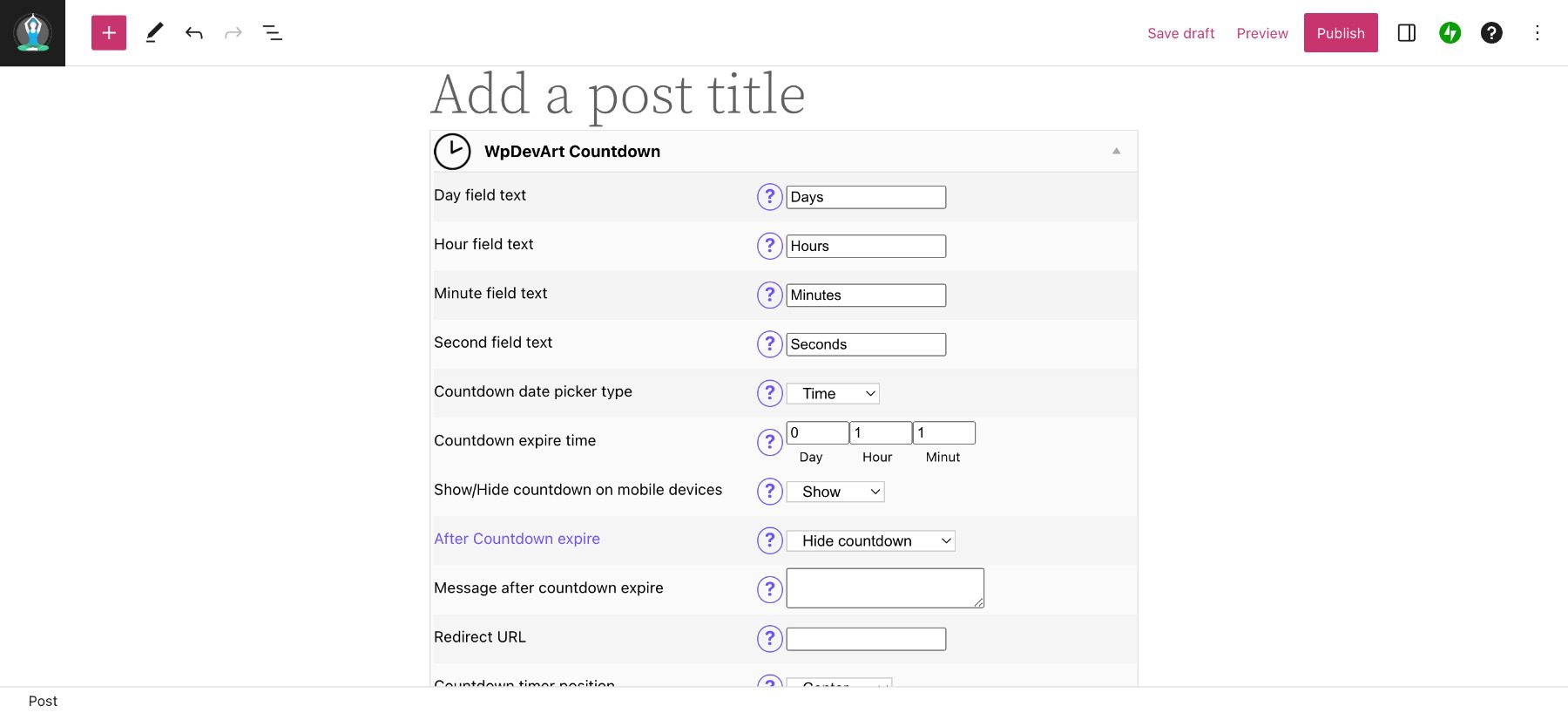 The Gutenberg block opens to show all the settings available. Set the date and time by entering the values into the fields. Choose what happens after the time expires from the dropdown box. Provide a message, redirect the URL, select the timer position, and adjust the size. It also includes lots of pro features.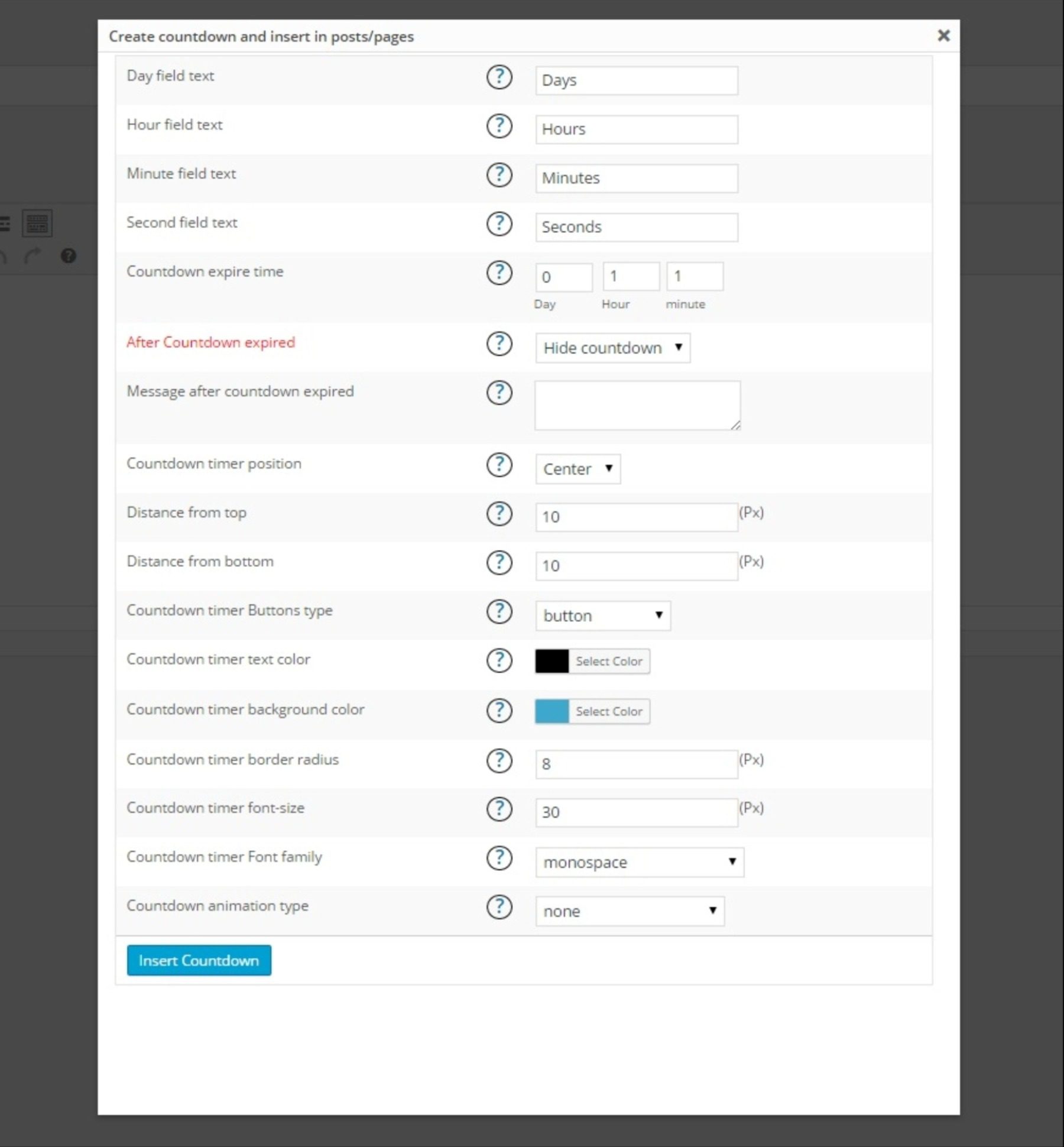 A button is added to the classic editor that opens the same settings.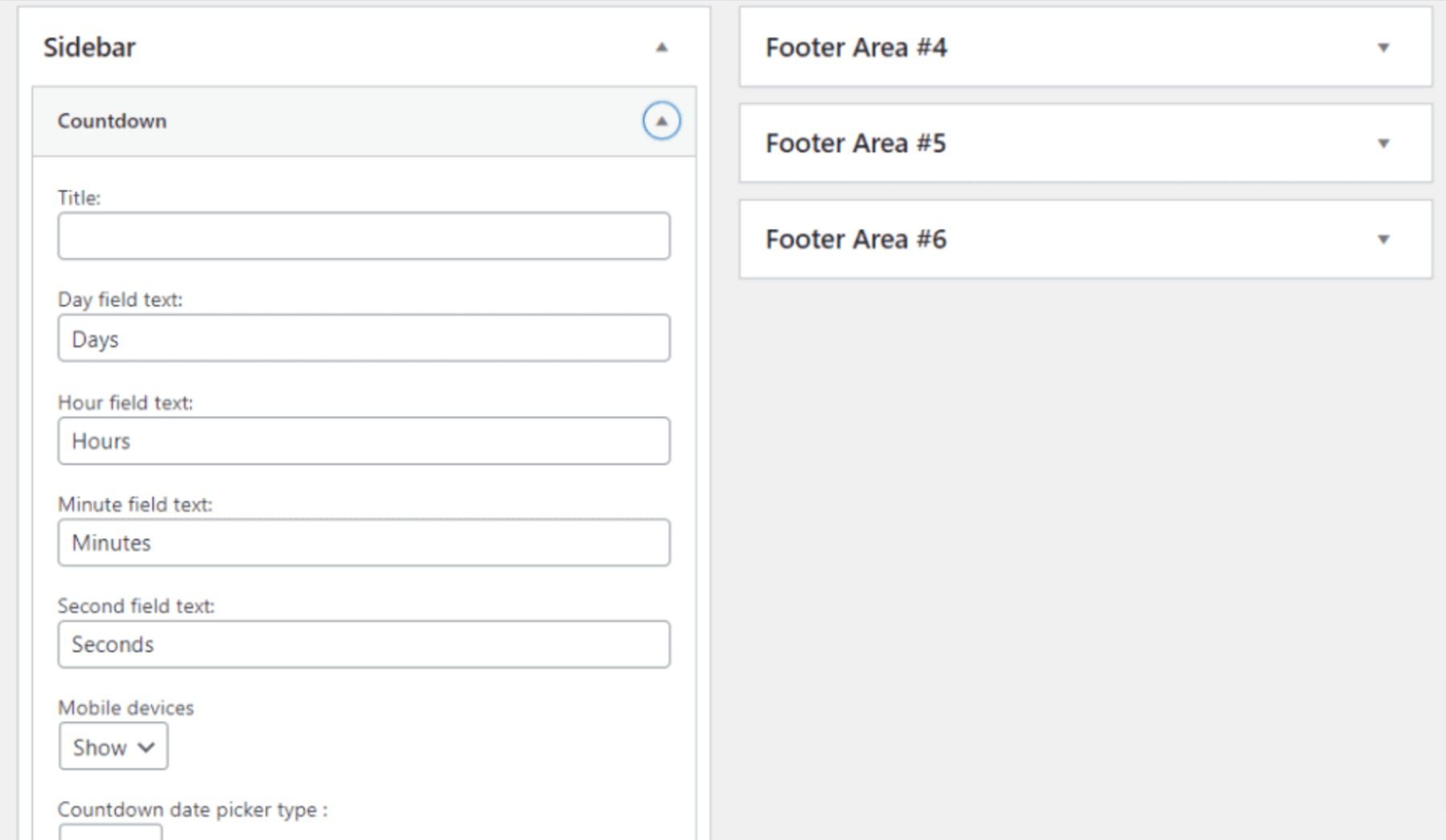 The widget includes all the same settings as the WordPress editor.
Features
Build the countdown timer on the page with a Gutenberg block or in the classic editor.
Build the countdown timer within a sidebar widget.
Set the after-expiration action.
Set the position.
Pro version adds circle and vertical sliders, 39 animations, buttons, and customizations.
Price: Free, pro version starts at $29/lifetime
Get Countdown Timer – Widget Countdown
8. Divi Countdown Timer Module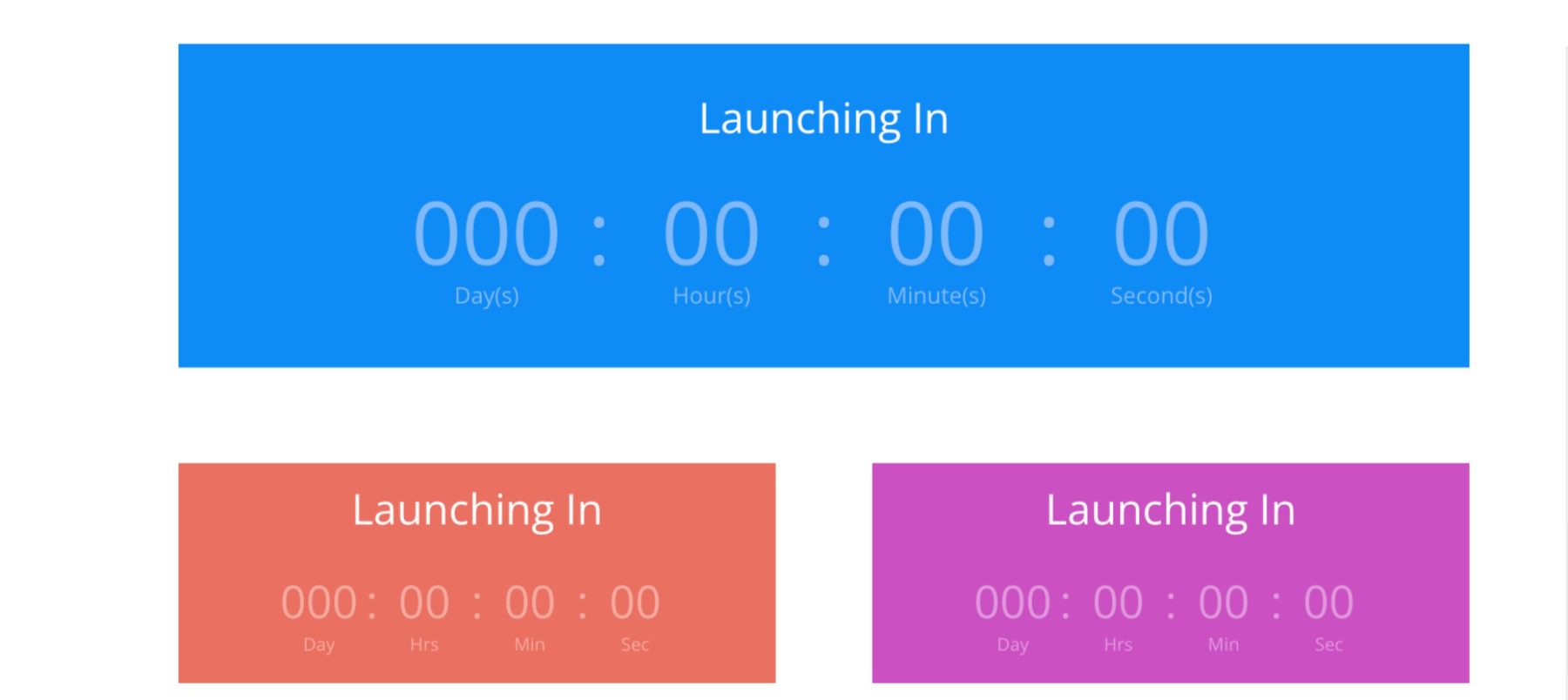 Divi Countdown Timer Module is available in both the Divi theme and the Divi plugin. The Divi theme has the Divi Builder with all the modules built in. The plugin adds the Divi Builder to any WordPress theme.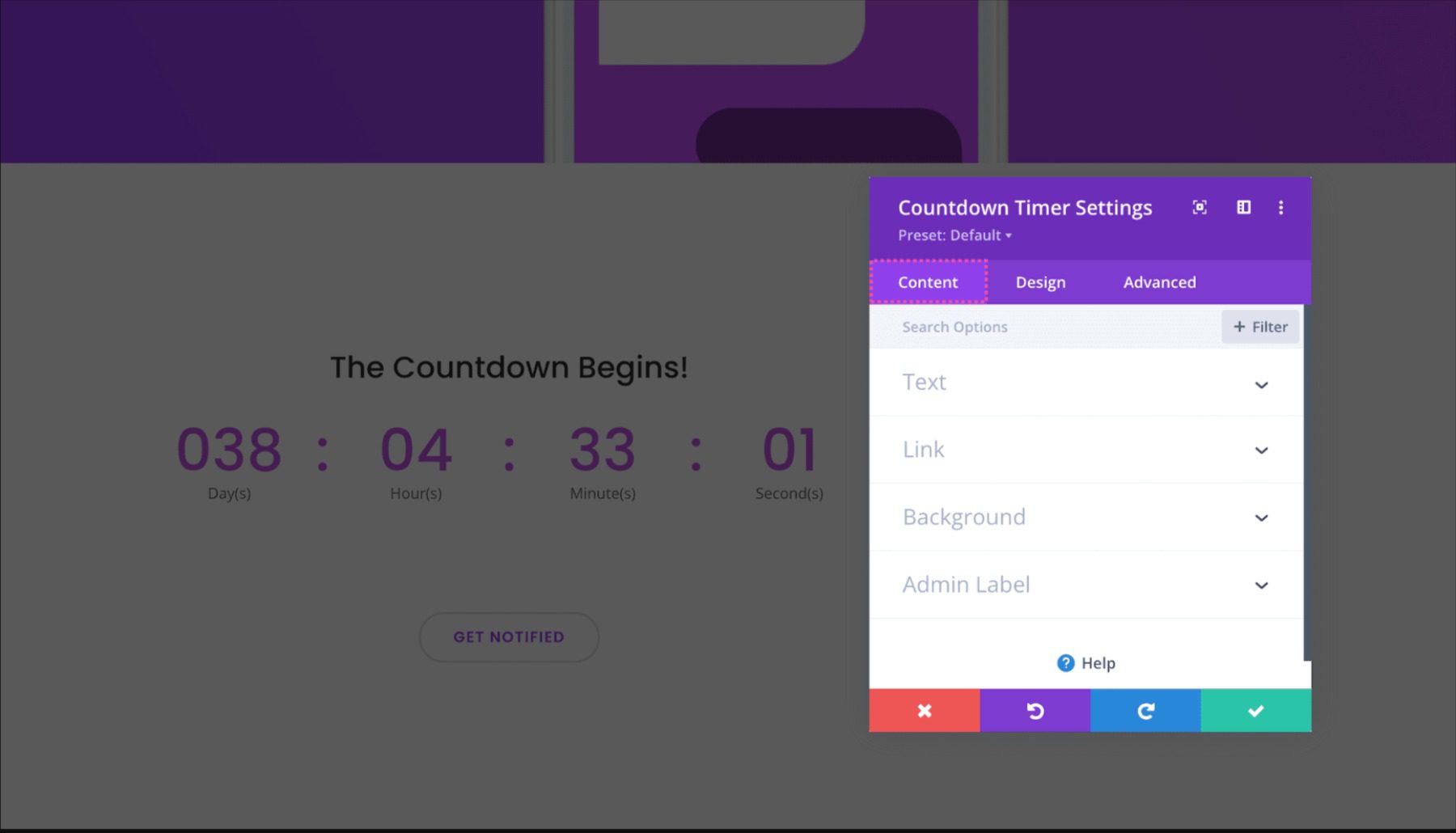 Adjust the counter visually with the calendar and slider controls. Click the date for the day the counter will end. Adjust the sliders for the hour and minute. You can also add a title, background, clickable URL, etc.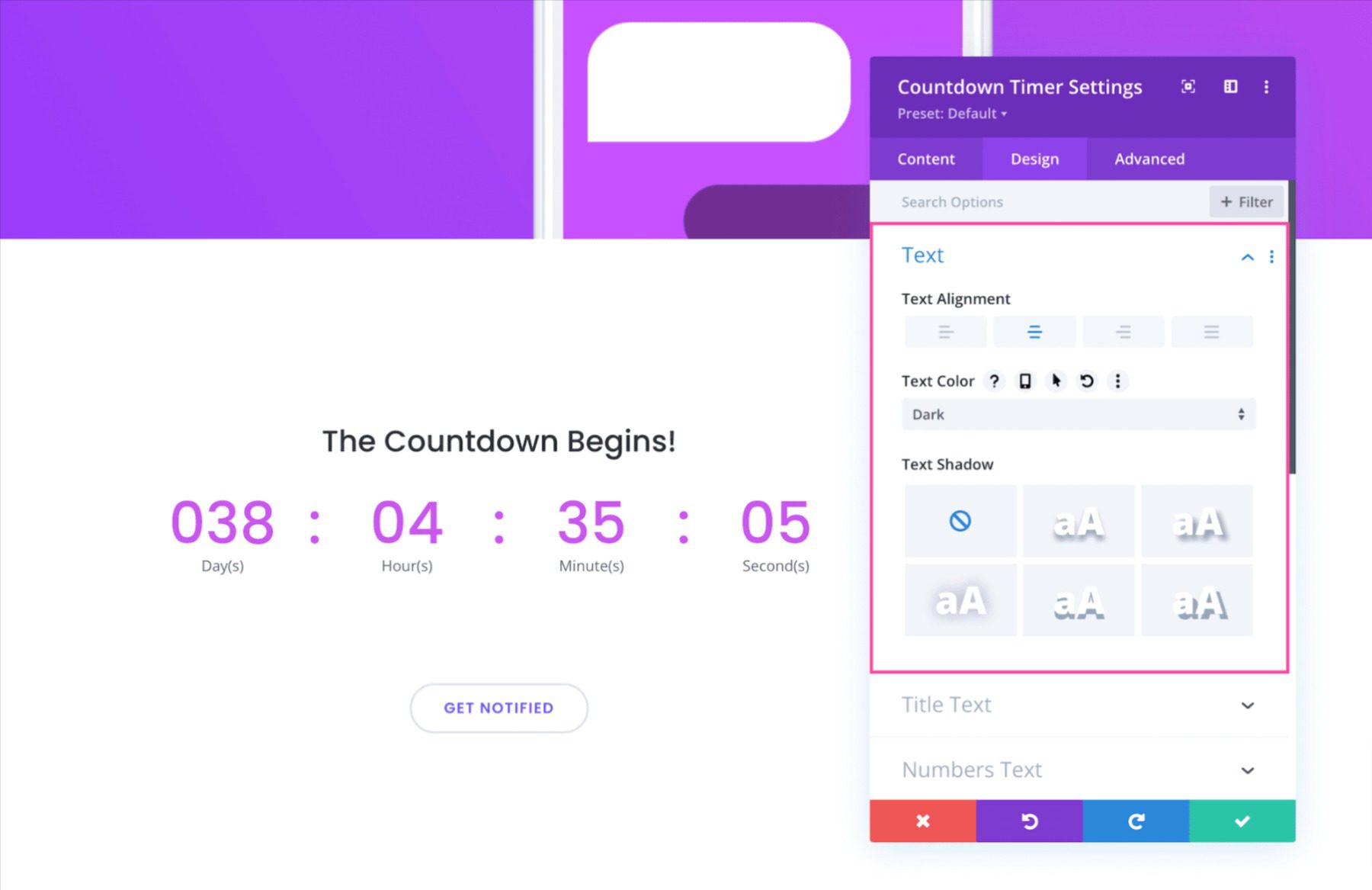 Adjust the text, numbers, separators, colors, borders, size, box shadow, and more. All the controls are intuitive. Make selections, use sliders, click elements, etc.

Adjust the timer even further with CSS. Each time element has a targeted field where you can enter the CSS. Also adjust visibility, transitions, position, and scroll effects.
Features
Available in the Divi theme and Divi plugin.
Works anywhere in a Divi layout.
Select the date and time with visual controls.
Style the module with visual controls.
Add CSS to style each element.
Price: $89/yr
Comparing the Best WordPress Countdown Plugins
That's our look at the eight best countdown timer plugins for WordPress. This list includes multiple types of countdown timers in various price ranges and feature sets. Before deciding on one, please take a look at our top three, as well as our overall best pick.
Countdown Plugin Pricing Comparison
No matter what type of WordPress countdown plugin you need, you will find something on this list to meet those needs. Using the table below, you can compare pricing and discover options that offer a free version so you can try it before you buy.
Countdown Plugin Feature Comparison
OptinMonster is a must for websites that want to take marketing to the next level, and their countdown timer is just one of many tools available. If you're looking for a great timer-centric plugin, it's hard to top Countdown Timer Ultimate. Alternatively, HurryTimer is a great option if you're looking for a free plugin to add a simple timer. That said, their premium version offers the ability to create recurring timers, fixed campaigns, and WooCommerce support, so it's worth looking at.
What is The Best WordPress Countdown Plugin?
If we must choose one plugin to create countdown timers, we emphatically recommend OptinMonster. Why? Because it gives you plenty of options to create timers and much more. With over 100 templates for popups, floating bars, scroll boxes, geolocation targeting, and countdown timers, you'll never run out of options to create engaging opt-ins and offers.
Exploring other options that keep your users up to date on your events? Check out our article on events calendar plugins.
Frequently Asked Questions (FAQs)
Before we wrap up, let's answer some of your most common questions regarding the best WordPress countdown plugins. Did we miss one? Leave a question below, and we will respond!
What is the best WordPress countdown plugin?
OptinMonster
is one of the best WordPress countdown plugins available. It offers a range of features to support its claims, such as customizable timer design and settings, flexible display options (popups, slide-ins, floating bars), and advanced targeting rules. These features allow users to create engaging countdown timers tailored to specific visitors, maximizing conversion rates and driving results.
What is the best free WordPress countdown plugin?
Countdown Timer Ultimate
is considered one of the best free WordPress countdown plugins. It offers various features to support this claim, including a clock design with customizable options, the ability to use shortcodes for easy implementation, and clock expiry functionality. With control over design, expiry date, and animation, Countdown Timer Ultimate provides users with flexibility and versatility for their countdown needs.
What are countdown plugins used for?
Countdown plugins are used to display countdown timers on WordPress websites. These timers count down to a specific time or date, helping marketers create a sense of urgency and build customer anticipation. By showcasing limited-time offers, upcoming events, or sales deadlines, countdown timers encourage immediate action, boosting conversions and engagement.
How do I add a countdown timer using Divi?
To add a countdown timer using
Divi
, start editing the page with the Divi Builder. Add a new module, search for the Countdown Timer module, and visually adjust the counter using the calendar and slider controls. Customize the appearance by modifying text, colors, borders, etc. Add a title, background, and URL, save the changes, and preview or publish the page.
How do I add a countdown timer using Elementor?
Open the page in the Elementor Editor where you want to add the timer. Drag and drop the Countdown Timer widget onto the page. Once you drop the widget, the settings for the countdown timer will be displayed, allowing you to customize the timer according to your preferences and specify the desired countdown duration.
How do I add a coming soon countdown while my website is under construction?
You can use a tool like
Countdown Builder
to add a coming soon countdown while your website is under construction. This plugin offers a Coming Soon feature and can be enhanced with add-ons. The countdown editor provides general and advanced options with a live timer preview. Advanced options are available in the pro version. You can customize the countdown timer further with custom CSS and JS fields. After creating the countdown timer, you will receive a shortcode to place it anywhere within your content.
How can I add a countdown timer to WordPress without a plugin?
One third-party service you can use to embed a countdown timer in WordPress without a plugin is timeanddate.com. They offer a free countdown generator tool where you can customize the timer and generate an embed code. Simply create your countdown timer on their website, copy the generated code, and paste it into your WordPress site's HTML or text widget.
How do I add a countdown timer to WordPress?
To add a countdown timer to your WordPress website, you can take the example of
OptinMonster
. In the campaign builder, simply drag and drop a Countdown block into your desired location. Then, in the sidebar panel, choose the Countdown Type from the dropdown menu, either Static or Dynamic. Configure the timer settings according to your preference. Finally, click Save to apply the changes.
If you're looking for more WordPress plugins, make sure to check out our ultimate list of recommendations for each plugin type!
Featured image illustration via garagestock / Shutterstock.com