The scope of the modern marketer's responsibilities is broad. Creating content, optimizing SEO, building email lists, growing social media channels, and doing anything else that moves the traffic generation needle. It's enough to make your head spin! Which is why it's important to stay organized and work smart. To take advantage of the tools that are available for automation and augmentation of what would normally be your manual effort. That's where today's list of the best WordPress marketing plugins comes into play.
These plugins will benefit all aspects of your digital marketing strategy:
I've included only regularly updated plugins which fill a specific gap in WordPress' marketing capabilities.
When used properly, the features found in the plugins I've compiled can help you achieve incredible feats of marketing like increasing your email subscriber list by 1,375% and boosting your organic search clicks by 30%.
Got your attention? Keep reading!
Plugins to Boost Your SEO
These five plugins help you manage all aspects of your SEO strategy:
1. Yoast SEO

The grandaddy of WordPress SEO plugins. Yoast SEO isn't exactly a secret. But it is an essential tool in every marketer's belt. Yoast SEO helps you nail your on-page SEO, which every website owner needs to focus on.
Key Features:
Technical SEO checklist: Ensure your permalinks, meta tags, and other technical aspects are good-to-go
Meta details: Write custom meta titles and descriptions for every page or post. These are good for improving SEO as well as optimizing the number of clicks your site receives in the organic search listings.
XML sitemaps: No need for a separate sitemap plugin. Yoast automatically creates a sitemap and tells Google and Bing about it
Breadcrumbs: Yoast helps you add breadcrumbs to your site. Breadcrumbs are great for indexing and user experience
Page analysis: Reminds you to add images, alt tags, and other on-page SEO elements to your posts
Price: Free | More Information
2. All in One Schema.org Rich Snippets

Have you ever seen those Google search listings that have pictures and ratings? They're pretty eye-catching, right? It's not just my opinion – the data shows that they get more clicks on the search results page.

If you want your search engine listings to look like that, you can implement something called structured data markup (also known as schema markup or rich snippets). All in One Schema.org Rich Snippets helps you do that in WordPress.
Key Features:
Adds relevant structured data markup
Doesn't affect what human visitors see
Improves CTR in organic search results
Adds Facebook Open Graph information for better social sharing
Price: Free | More Information
3. SEOPressor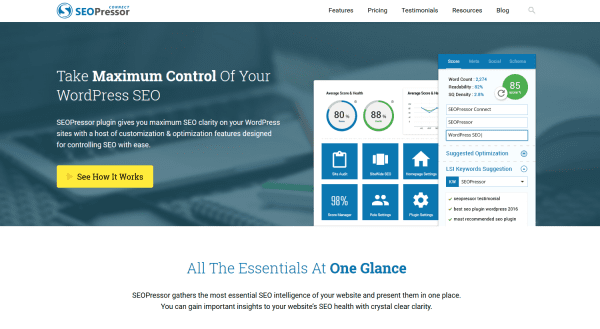 Don't want to trust something as important as on-site SEO to a free plugin? I hear you, friend. If you're looking for a premium SEO plugin, few can compete with SEOPressor for features.
For a start, SEOPressor lets you optimize your content for up to three keywords – compare that to Yoast's one. It also searches your website tirelessly for potential SEO improvements, which are flagged in the WordPress dashboard.
Keyword research is a vital part of attracting traffic, and SEOPressor identifies long-tail keywords as you write. Throw in Schema markup for powering rich snippets – a proven CTR booster – and SEOPressor could be the most invaluable plugin you ever purchase.
Key Features:
On-page optimization: View stats for readability, keyword density, and semanticIQ
Sitewide SEO insights: See reports for your entire site's SEO success
Structured Data Markup: SEOPressor helps you generate rich data snippets – no need for an extra plugin
Smart Link Manager: Lets you quickly manage your internal link structure and find broken URLs
Price: $9/month | More Information
4. Broken Link Checker

Sure, WordPress implemented a live broken link checker in version 4.6, but that won't help you if a link goes down after you publish your post. Broken links are a waste of space and lead to a poor user experience for your readers. If you install Broken Link Checker, it will constantly be on the lookout for broken links.
Key Features:
Marks broken outbound links
Marks broken image links
Easily edit broken links from the plugin dashboard
Get broken link notifications via email or your WordPress dashboard
BONUS –  You'll reduce emails from SEOs trying to implement the broken link building strategy!
Price: Free | More Information
5. Redirection

Broken links are bad news for your rankings – Google dislikes websites that offer a poor visitor experience.
Enter Redirection. The plugin puts an end to nuisance 404 errors by building 301 redirects. It also has an error monitoring system for flagging 404 errors as soon as they are generated.
Key Features:
Automatically 301 redirect a post when its URL changes
Manually add 301 redirects for whatever you want
404 monitoring
Full logs for all URL redirects
Price: Free | More Information
Email Marketing Enhancements
These five plugins will help you grow an email list and send beautifully designed emails:
6. Bloom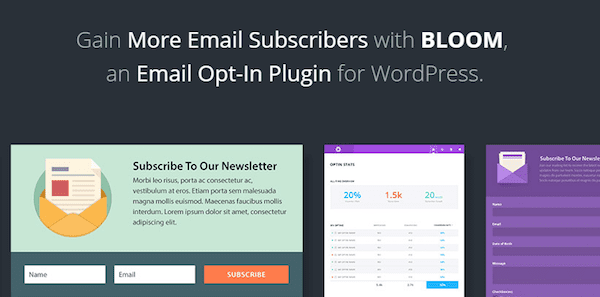 Email lists are an essential part of any marketing strategy. Bloom helps you build them by making it easy to add high-converting opt-in forms to your website.
Key Features:
6 different types of opt-in forms
Beautiful form designs
100+ form templates
Trigger forms by time delay or user interaction (e.g. when they scroll past a certain point on the page
Target specific post types or categories
Integrate with major email marketing services like MailChimp, AWeber, SendinBlue, and more
Price: Included with Elegant Themes | More Information
7. SendinBlue Subscribe Form And WP SMTP

Ok, this one might not work if you're already invested in another email marketing service. But if you can swing it, SendinBlue is one of the quickest and easiest ways to implement something called marketing automation for a WordPress site. You just have to click a few buttons to set up automation tracking. Then, you can easily create triggered emails using SendinBlue's setup guide. For example, you could send an email to any user who visits a certain page or clicks a button.
Key Features:
Subscribe form creator
Manage subscriber lists from inside WordPress
Create email campaigns from inside WordPress
Send emails via SMTP
Easy marketing automation
Send transactional emails
Can be integrated with Bloom
Price: Free for sending up to 9,000 emails per month. After that, plans start at $7.37 per month | More Information
8. OptinMonster
OptinMonster is, alongside Bloom, the other big player in the email marketing world.
The plugin was a pioneer for exit intent technology – to avoid disruption, exit intent only displays a pop-up when a visitor moves to leave the site.
It offers six opt-in form types which you can tweak to your heart's content using OptinMonster's powerful drag-and-drop builder.
Key Features:
Build forms with a drag and drop interface
Page-level targeting
Timed and exit-intent popups
Easy A/B testing
Non-popup options like welcome gates and notification bars
Price: from $9/month | More Information
9. MyMail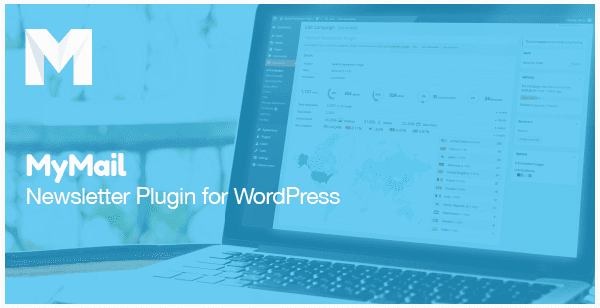 With recurring monthly fees, email marketing autoresponder services can feel expensive for fledgling businesses. If you'd rather pay a one off fee, I recommend the MyMail Email Newsletter plugin – just pay $40 upfront and be done with monthly bills.
Besides reducing recurring costs, MyMail is an awesome all-in-one email marketing plugin in its own right. You can build opt-in forms, track clicks, drag-and-drop email newsletters, message schedules – all without leaving your WordPress dashboard! Pretty cool, huh?
Key Features:
Drag and drop email builder
Analytics for opens, clicks, bounces, etc.
Autoresponder campaigns
No recurring fees
Price: $40 | More Information
10. Leadin

Leadin comes from the folks at HubSpot, who know a thing or two about generating leads. It helps you identify individual readers and track their activity. You can also build your lists with intelligent opt-in forms and analyze how well different traffic sources convert.
Key Features:
Track visitors' activity
Build a full contact profile as soon as any visitor fills out a form
Display intelligent opt-in forms
Discover which traffic sources convert best
Price: Free | More Information
Social Media Strategy
These three plugins will help you grow your social followers and get more shares of your content. In addition to these plugins, another great way to get your content shared more is to integrate Facebook instant articles.
11. Monarch

Monarch is a no-brainer if you're looking to maximize your social presence. In our opinion, it's the ultimate social media plugin – though we're admittedly biased.
For a start, Monarch creates some of the most beautiful social media buttons you'll find in a WordPress plugin. Powerful and insanely usable, it supports over 30 social networks, offers five locations to display your buttons, and, best of all, it's super-fast (see above!).
You can also track how often your content is doing the rounds on social media using a built-in analytics tool.
Key Features:
Over 20 social networks
5 different button locations
6 automatic triggers for when to display buttons
Show follower counts
Detailed analytics
Price: Free with $69 Annual Membership | More Information
12. SumoMe

SumoMe is just a single plugin, but it contains a whole suite of traffic generating apps. 13 of them to be exact! Here are some of the most relevant apps for marketers:
Social Sharing Apps
These three apps can boost your traffic by making it crazy simple for readers to share your content on social networks:
Share: Add beautiful social sharing buttons to your site. Readers can click on any button to share your content to that network. Share also includes counters to add social proof to your content.
Image Sharer: Image Sharer displays share buttons when users hover over images. Readers can then click a single button to share the image on Pinterest, Facebook, or other social networks that you choose.
Highlighter: Similar to how Medium functions, Highlighter allows readers to highlight any portion of the text in your post and automatically share it to Facebook or Twitter.
Analytics Apps
These two apps can help you fine-tune your marketing strategies by providing helpful analytics:
Content Analytics: Tells you how much of your content visitors actually read. It does this by measuring how far down the page users scroll. It's not a perfect measure of engagement because users could be scrolling but not reading. But it does give a general idea of how engaging your content is.
Heat Maps: Tells you where readers click on your site so you can optimize where you place your marketing content.
SumoMe also contains eight other apps, including a variety of list building tools.
Price: Free with a premium option | More Information
13. Revive Old Post

Sharing posts on social media when you publish them is a great way to gain some initial traffic. But you shouldn't just stop there. Social media is such a transient medium that it's easy for most of your followers to miss a single tweet or Facebook share. That's why it pays to also share older content.
Revive Old Post (formerly Tweet Old Post) helps you do just that.
Key Features:
Share new and old posts
Set a minimum interval between shares
Exclude specific posts or whole categories
Add hashtags
If you upgrade to the pro version, you'll also get the ability to share on LinkedIn and Tumblr, as well as other helpful features.
Price: Free with a pro upgrade | More Information
Content Marketing Strategy
These five plugins will help you plan, write, and maximize engagement for your content:
14. Kanban for WordPress

If you've ever used Trello, you're probably familiar with Kanban boards, even if you might not know them by that name. Kanban boards help you organize projects in a super intuitive way. You set up columns which contain different cards; Each card represents a task that needs to be accomplished and each card can be dragged between columns as needed.
Key Features:
Add a Kanban board inside your WordPress dashboard
Organize any type of project
Assign tasks to different WordPress users
Add estimates for how long tasks will take
Create custom views
Price: Free with premium upgrades | More Information
15. Title Experiments

If you're a marketer, you're probably familiar with A/B tests. A/B tests let you pit two variations of a page or element against each other to see which option performs better. It's a vital strategy for optimizing your site. To easily bring this testing to WordPress, you can install Title Experiments and A/B test different variations of post and page titles.
Key Features:
A/B test titles for posts and pages
Automatically show the winning variation more often after achieving statistical significance
View stats on impressions and clicks
If you upgrade to the Pro version for $29.99 per year, you'll also get access to:
Featured image A/B tests
Automatic experiment freezing
Detailed statistics
Price: Free with a pro upgrade | More Information
16. Inline Related Posts

When a visitor lands on your post, you don't just want them to read that one post – you also want them to dig into your content and keep reading. Inline Related Posts pushes readers to do just that by adding related post boxes inside your existing content. Right where readers are guaranteed to see them.
Key Features:
Add single or multiple in-content related post boxes
20+ design combinations
Price: | More Information
17. Postmatic

After you get readers to engage more through related posts, you'll also want to push them to engage in the comments. Postmatic boosts your comments section engagement by allowing readers to subscribe via email and reply to comments directly from their inbox. By making conversation easy, you'll generate a lot more of it!
Key Features:
Uses native WordPress comments
Subscribe to comments via email
Reply to comments directly from email inbox
Notify users about new posts
Price: Free for basic version | More Information
18. Just Writing

If you write your posts directly in the WordPress editor, Just Writing is built for you. Just Writing lets you utilize distraction free writing without hamstringing yourself by removing access to spellcheck and formatting options.
Key Features:
Improves the WordPress editor
Access all standard editing tools in distraction free writing mode
Remove any editing options you don't want
Price: Free | More Information
BONUS – Postable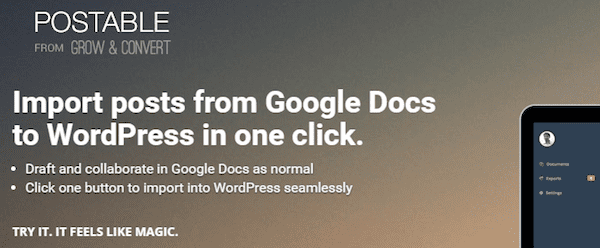 Postable is a bonus because it's not technically a plugin. But it is a time-saving tool for any WordPress marketer who writes posts in Google Docs.
Key Features:
One-click import from Google Docs to WordPress
Automatically uploads and formats images
Removes unnecessary HTML
Price: $19 per month for unlimited exports | More Information
Wrapping Up
I tried to avoid overlap and pick only the best plugins for each specific marketing task. If you install the plugins I listed above, you'll nail these aspects of your marketing strategy:
Search engine optimization. Your on-page SEO will be stellar and you'll maximize your organic CTR with rich snippets.
Email marketing, including automation. You'll have efficient opt-in forms and detailed marketing automation.
Social media marketing. You'll be sharing posts yourself and generating a ton of bonus shares from readers.
Content marketing. You'll be writing efficiently with an organized content strategy.
Do you use these plugins? If so I'd love to hear about your favorites in the comments below.
Article thumbnail image by Cienpies Design / Shutterstock.com