Managed WordPress hosting with Convesio is for sites that need to scale flawlessly. Companies like Flywheel, Pressable, and WP Engine offer optimized server environments for WordPress, too. Those include user-friendly dashboards and full-featured security suites. Convesio is also WordPress-specific and runs with auto-scaling technology for websites with large influxes of traffic. A lot of our readers will have use for managed WordPress hosting. Let's get into this detailed review so you can determine if Convesio is the right option.
What is Managed WordPress Hosting With Convesio?
With managed hosting, you can take advantage of WordPress and all its features. You won't have the trouble of configuring, managing, or troubleshooting on your own. If you're launching a personal website or blog, you may not need managed hosting. For enterprise and large-scale operations, managed hosting is invaluable. For example, maybe you're launching a shop and need an SSL certificate set up. Or you could be putting a multisite network together. According to Convesio's homepage:
Convesio is not just another hosting provider. Our infrastructure was designed from the ground up for hosting high performance, scalable WordPress sites.

Simple, affordable, and powerful, Convesio makes complex server setups a breeze. You can deploy a WordPress site with load balancers, a database cluster, and redundant file system in under a minute!

Stop dealing with the burden of server administration, security, performance, and uptime monitoring.
Note that Convesio offers managed hosting for WordPress installations only. They're true experts in their field. A company like Cloudways offers managed WordPress hosting, too. However, customers can also use other CMS frameworks, like Drupal or Joomla. For Convesio, WordPress is its one and only focus.
What Makes Managed WordPress Hosting With Convesio Different?
Convesio's Docker Containers set it apart from the competition. According to Convesio's FAQ:
Unlike traditional WordPress hosting solutions, Convesio addresses limitations in shared and VPS hosting by providing a multi-tenant, redundant environment powered by Docker Containers. Each site running on the platform is backed by a redundant file system, database cluster, scalable PHP Runtime, and self healing architecture.
Not quite sure what that means? You can dive into the tech behind Docker here, but here's the TL;DR breakdown:
Docker technology is software for storing and running other applications or software.
A container is a unit of software that includes code and its dependencies. It excludes unnecessary files and resources.
When a physical server is full, containers deploy to a different one. This is horizontal scaling.
Applications are fast and reliable, no matter where they're run.
Docker technology works because containers run on the operating system level, not hardware. That makes them less bloated and more portable. And when it comes to WordPress, Convesio using Docker containers means that resources are no longer shared. Each WordPress site has its own container instead of having to compete for resources. Plus, should traffic increase, Convesio add more containers to handle it.
More Benefits of Docker Technology
Docker technology helps Convesio get an edge on many of its competitors in a number of ways:
Setup is super-fast — you can deploy a WordPress website in a couple of minutes.
You get similar characteristics, performance, and speed to a VPS without having to pay as much.
Automatically scale up or down based on need.
Should your website go offline, a new container deploys. That brings the site back online right away.
There is a big drawback to Docker technology, however: deploying a container can be complex. That's why having Convesio handle all that for you thanks to managed hosting is such a help.
Convesio Features
Before we walk you through the Convesio dashboard, we wanted to cover Convesio's features.
Auto-Scaling
Convesio will scale up if you need more resources, then down when you no longer need them. You'll also pay for what you use instead of having to purchase the most expensive plan.
When there's an increase in traffic, Convesio deploys extra containers. These share the load and keep your site running fast. The service also uses horizontal scaling. That means that containers for one website can deploy across multiple servers. That way, when you need to scale up, you won't have to deal with hardware limits.
With managed auto-scaling (which you can turn off), you can set limits for the number of containers used. You're also able to define resource thresholds that trigger scaling. Logs detail all scaling events, so you can view what's been happening with your site whenever you want.
Caching and Speed
This chart shows how Convesio's hosting services have improved load times:
Convesio's custom-built caching is specifically designed for WordPress. Since it's built-in to the platform, there's no need for a dedicated plugin. For example, if you have a favorite image optimization plugin or service that you use, you can still use it alongside Conversio's caching system.
Availability
Convesio hosts different website components in different containers. If one fails, it's instantly redeployed. This load-balancing means that websites experience less downtime. As a result, visitors have higher customer satisfaction. Each website is also backed by several MySQL servers, improving availability and uptime.
Security
Convesio's hosting packages include security monitoring, scanning, and protection. The provider monitors websites every minute. The Convesio team says they'll handle problems immediately. You can also monitor your sites at the application level. You can then approve changes before they're implemented. Also, each domain gets a free LetsEncrypt SSL certificate that auto-renews.
You can also create a schedule that auto-creates backups every 24 hours to every 180 days. Choose backup retention time, too, ranging from 24 hours to indefinitely. Additionally, you can create a staging site from a backup.
Customer Support
Convesio's team works around the clock every day of the week. The company boasts that if something goes wrong with your site, they'll know about it and get to working on it ASAP. You can contact Convesio in-app or through Slack. They claim to have response times of under five minutes.
The Convesio Dashboard
Convesio designed the dashboard with non-experts in mind. However, while creating a WordPress installation is a cinch, the rest of the dashboard isn't as easy to make sense of as you may think (if you're not tech-savvy when it comes to this topic). But since Convesio manages your hosting for you, there probably isn't a major need to do much work in the portal anyway. The WordPress admin dashboard is, as always, unchanged.
Getting Started
From the Convesio homepage, click Get Started in the upper-right corner.

You'll fill in the information to create an account. When you're finished, click Sign Up.
The next screen will tell you to check your inbox for a registration verification email. (There's a link to click to verify your account. It's possible you'll get a "pending approval" message, though.) You'll also share more information about your website. Click Submit when you're done.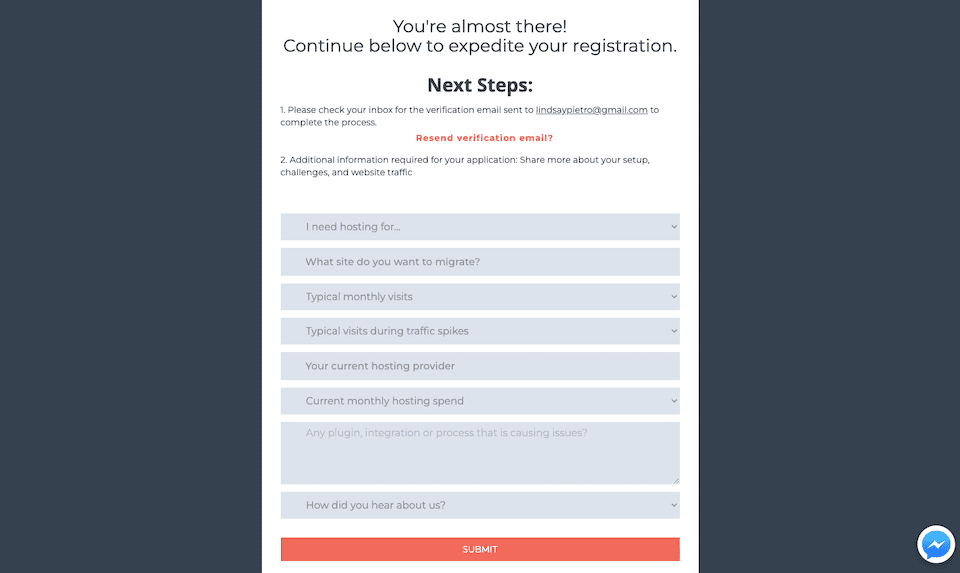 The next page asks you to book either a 15-minute introduction or a 30-minute demo with an engineer. You can skip this step, however, and simply wait until your account was approved. For this review, that took until the following morning.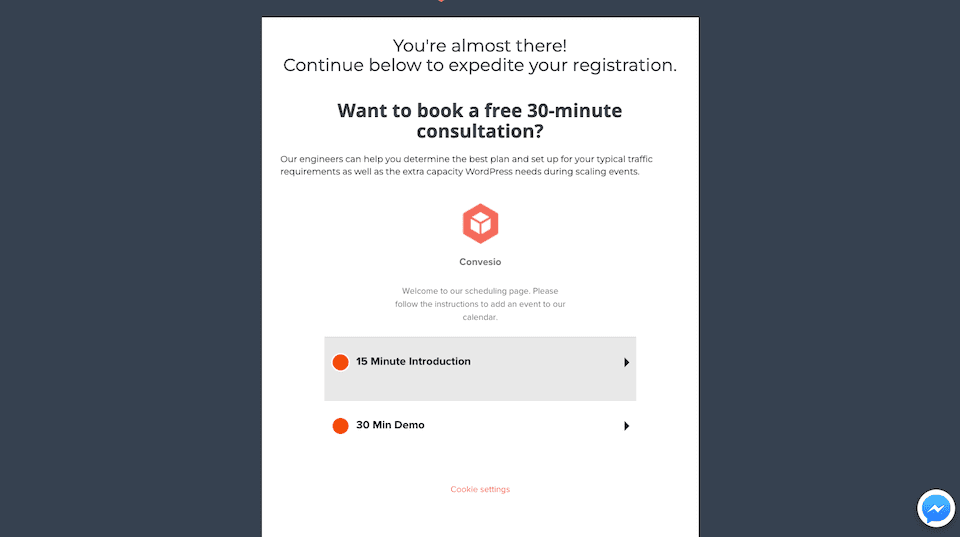 When logging in for the first time, you'll have to accept the Terms of Service. Then you'll see your dashboard, which will look like this: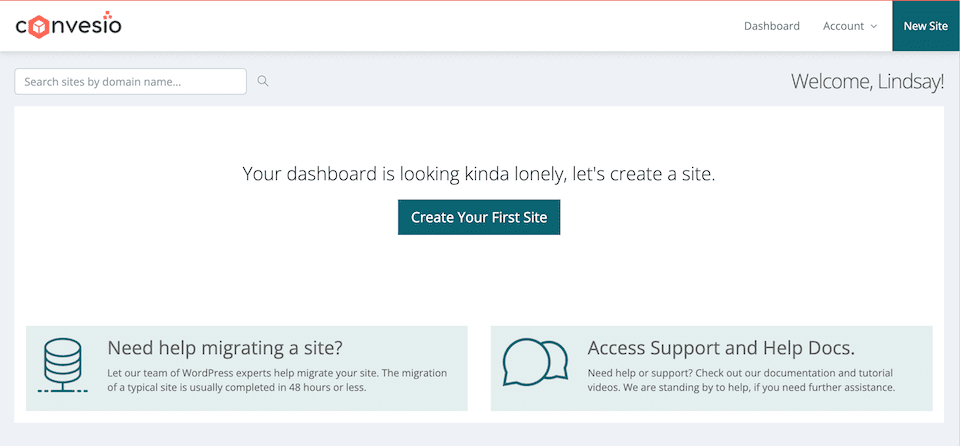 Creating a New Site
Click the Create Your First Site button.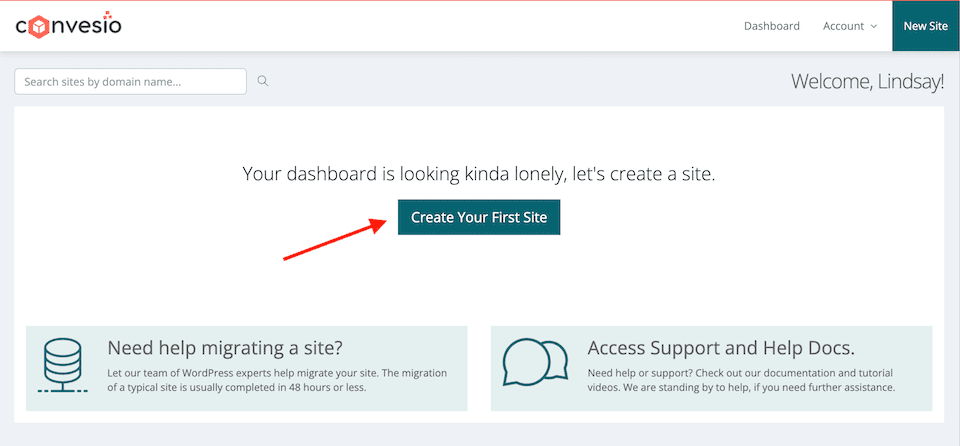 A Create New WordPress Instance box comes up, asking you to select a plan. You can choose the Starter Plan or the Level 2 Business Plan. Clicking Set Advanced Options expands the menu. Click Deploy when you're done.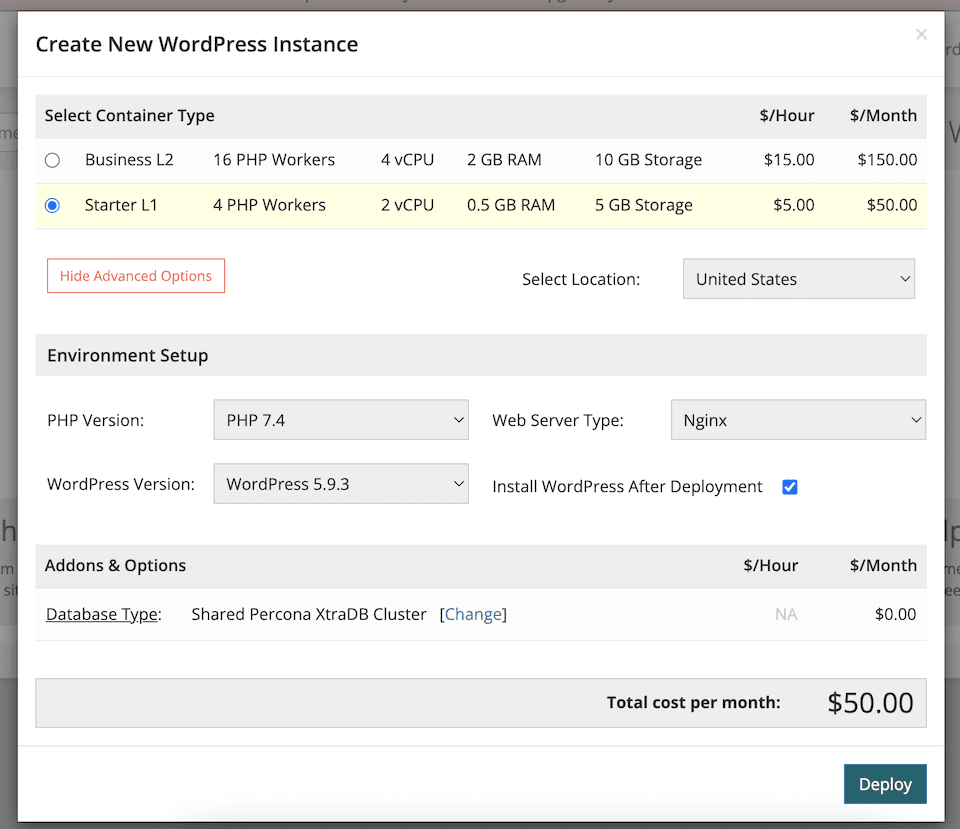 You'll see something like this as Convesio creates a new WordPress instance. Click Close Job Console when it's done.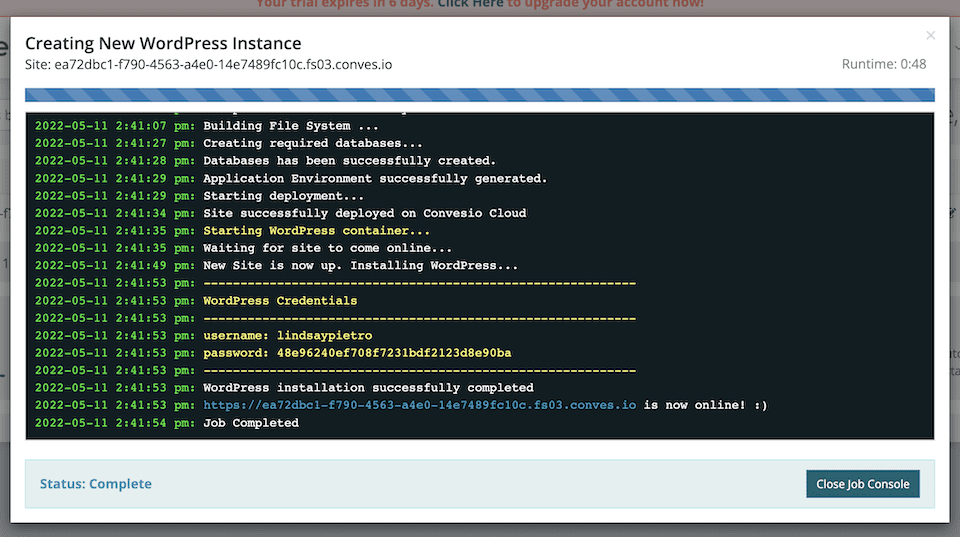 The WordPress instance will now be on your dashboard:

Clicking the link under Name will bring you to a sample page on your new WordPress site: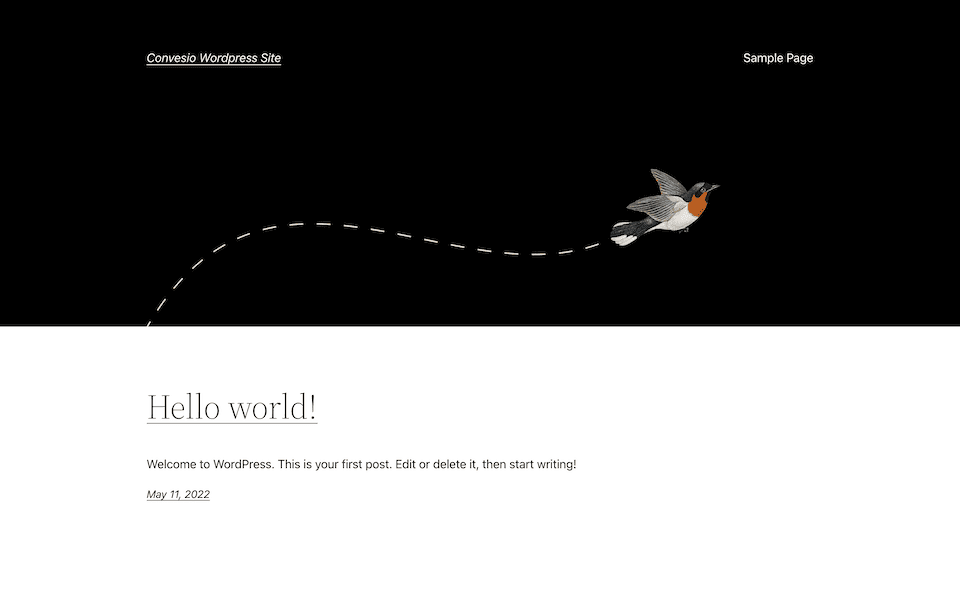 Selecting Manage to the far-right brings up a menu with a few options. Access the site dashboard, log in to WordPress, visit the site, set the site name, or delete the site.

The Site Dashboard
Clicking Site Dashboard brings you to a page that looks like this: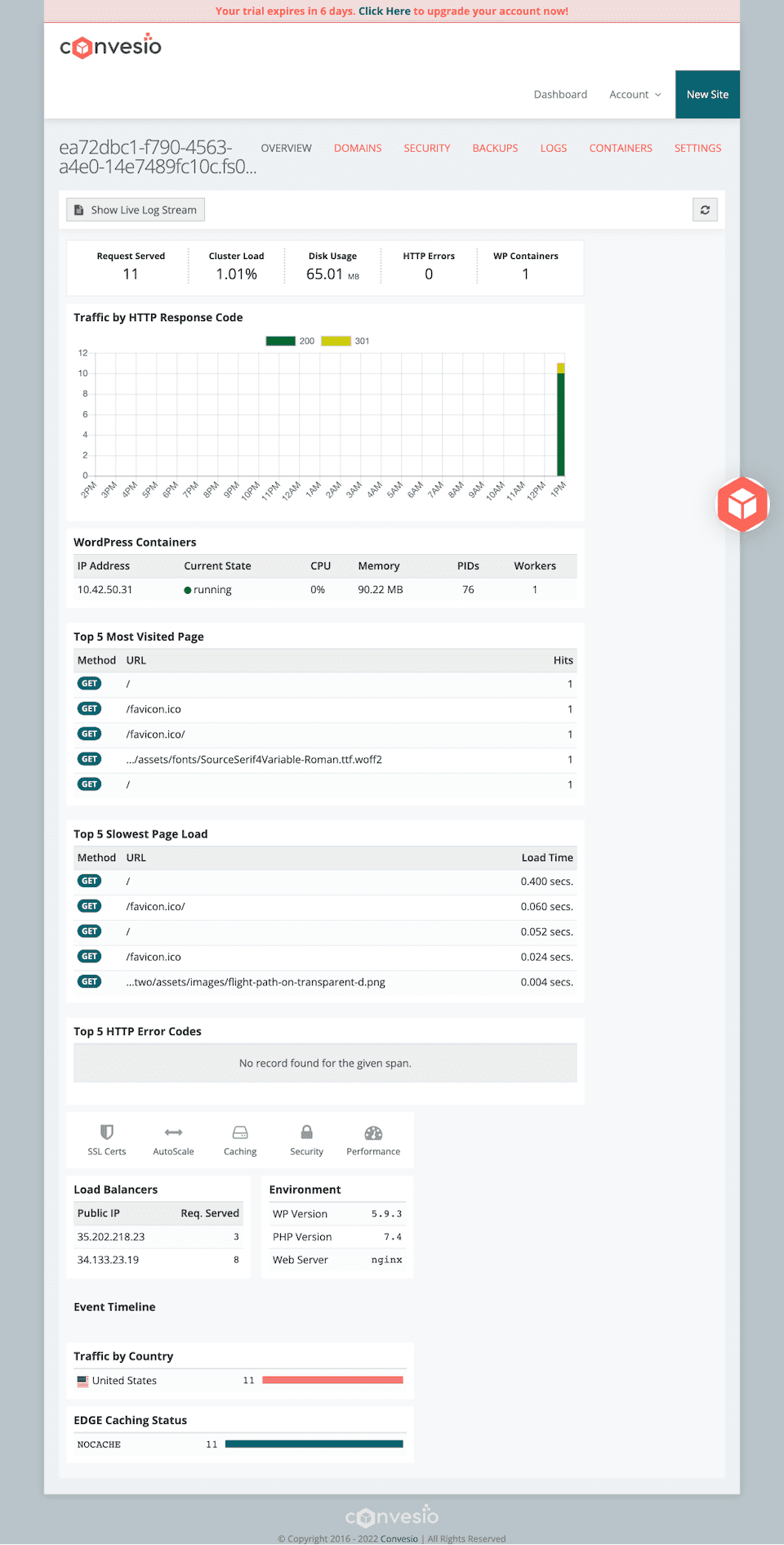 In addition to the Overview section of the dashboard, there are six more links that you can choose. Here are screenshots of each section. (We didn't include Logs since there was nothing to show yet.)
Domains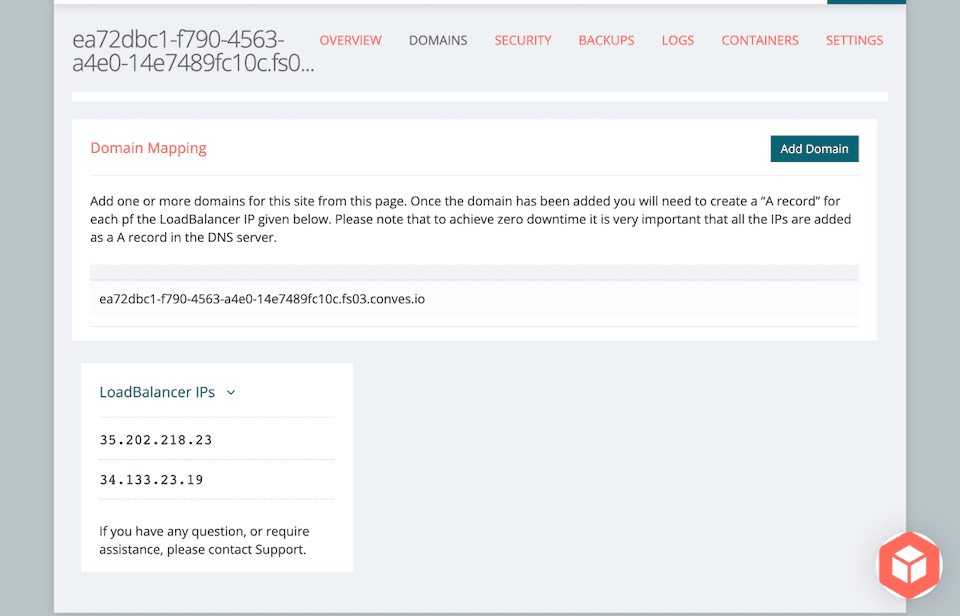 Security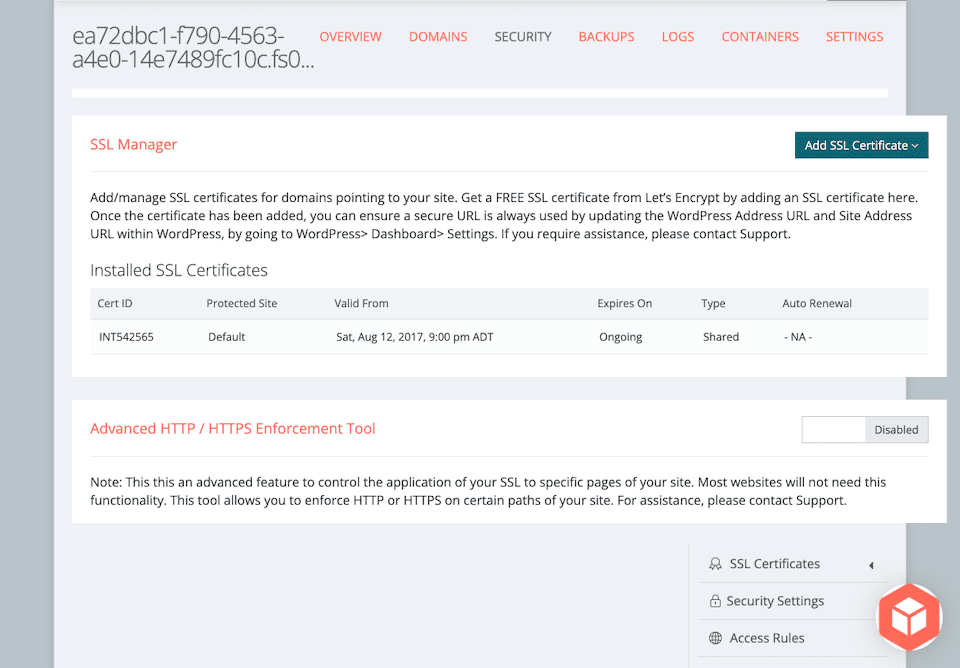 Backups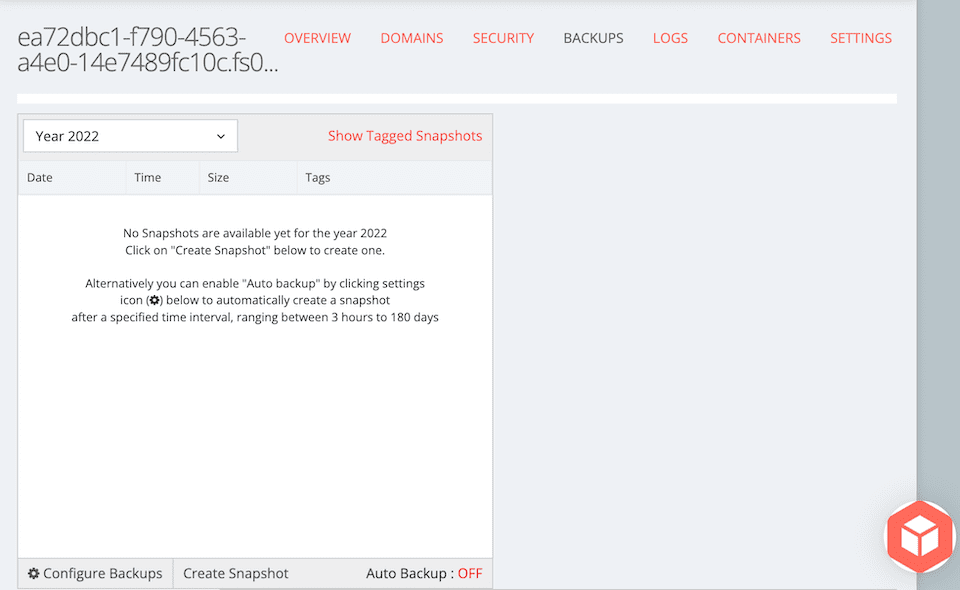 Containers
This tab lets you control and manage the containers that Convesio is running for your site. With a click of Scale Service, you can begin to adjust the specifics of how your site is contained and controlled.

Settings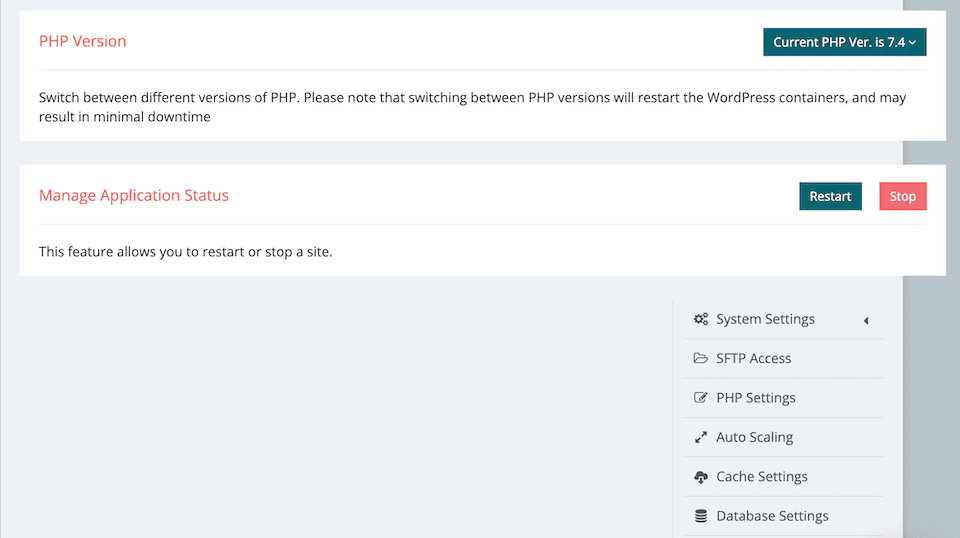 Convesio Hosting Pricing
Convesio has plans to choose from across three levels: Starter, Business, and Enterprise. Pricing is Convesio's weak point, though. It can get pretty costly pretty fast, especially if you need more than what the Starter Plan offers.
Starter Plan
There's only one Starter Plan, which costs $50 per month. This plan includes:
1 install
5GB of disk space
512MB of memory
50GB of bandwidth
Manual scaling
Auto-scaling charges are per additional container and per hour. They cost 10% of the monthly price. Learn more here.
We should also note this is significantly more for a starter tier than most other managed WordPress hosts. Hosts such as Flywheel and Pressable also limit the number of installations, but begin at much lower prices. That said, their tiers are also limited by "visits" and not bandwidth, so you might find Convesio's base tier more affordable if you get large amounts of traffic — which is Convesio's whole thing.
Business Plans
There are three Business Plans to choose from:
$150 per month for Level 2
$300 per month for Level 3
$600 per month for Level 4
The main differences have to do with vCPUs, memory, workers, and bandwidth. Compare the Business Plans here.
Enterprise Plans
There are three Enterprise Plans to choose from:
$1,000 per month for Level 5
$1,600 per month for Level 6
$2,400 per month for Level 7
The main differences have to do with disk space, vCPUs, memory and bandwidth. Compare the Enterprise Plans here.
Who is Convesio Best For?
Auto-scaling is what makes Convesio a great fit for certain industries and situations. According to Convesio's website, their hosting plans have a few specific use cases in mind:
Distance learning / e-learning
Live events
Membership sites
Publishing
WooCommerce (online shops)
Both individuals and brands that may need to scale a website fast can benefit from Convesio. That could mean your organization is holding a virtual conference. Or maybe you're sending out an email blast to your mailing list. Or, you could be in a prominent media outlet. Whatever the reason, you expect an influx of traffic, and your site has to keep up.
In these instances, you won't need more than a single instance of WordPress, but you will need more than most managed hosts grant in terms of visitors and bandwidth. Convesio is a niche host in comparison to some, but they know their target market incredibly well.
Final Thoughts about Managed WordPress Hosting with Convesio
The biggest perk of Convesio is that your website will experience near-perfect uptime. And should your website experience a spike in traffic, Convesio can handle it. It'll then readjust when traffic dies down again. Unfortunately, pricing will be a deterrent for some. Other than the Starter Plan, options are pricy. Also, if you prefer to work with cPanel, you won't be able to, as Convesio has its own control panel. However, thanks to the free trial, you can see how you like Convesio before you commit.
If it turns out that you don't need the containerized scaling for your host, check out Pressable, Cloudways, SiteGround, and Flywheel.
Have you used Convesio managed hosting before? Thinking about it? Let us know in the comments!