Choosing the right web host is one of the most important decisions to make, and also one of the most difficult. Good hosting is critical for truly optimizing the end user's experience; however, it's easy to feel confused when trying to choose the perfect host for your website – online recommendations may not be the impartial, unbiased opinions we need. It all stands to make us throw up our hands, and plump for the cheapest option available.
Specialized WordPress hosts are often at a higher cost than your basic shared hosts – however, they provide premium features, and are optimized specifically for WordPress. We recommend using a managed host for your business, and there are several good managed hosts out there to choose from.
In this article, we'll review and compare the top managed WordPress hosts (including their features and pricing) to help you make an informed decision.
What Is Managed WordPress Hosting?
Managed hosting is a service where the hosting company not only provides you with hosting space for your website, but also takes over management of the technical aspects – so you can focus on running your website. This typically includes tasks like backups, updates, security checks, and site protection.
In the case of managed WordPress hosting, the web host also provides finely-tuned, WordPress-optimized servers which improve the speed, scalability, and security of your website. Finally, premium support from experts in WordPress hosting is another benefit of a managed service.
Standard shared hosting is the cheapest means of hosting a website – with this method, hundreds or thousands of hosting accounts are placed on the same server. This limits the speed, scalability, and security of your website because server resources are shared between all of the accounts.
With shared hosting, servers are optimized to provide the most common needs of websites, regardless of which Content Management System (CMS) powers them. Support provided is very generalized, with CMS-specific issues often being referred out to the respective support forums.
Managed WordPress hosting is a completely different world to standard shared hosting, so let's dive a little deeper into the benefits.
Why Use Managed WordPress Hosting?
In explaining what managed WordPress hosting is, we touched on what the benefits are. Hosting your website on servers tuned and optimized for WordPress means you'll benefit from speed improvements, but this may not be sufficient to justify the increased cost.
Managed hosting does cost more than shared hosting, but that cost is for the time you save. Managed WordPress hosts carry out backups and WordPress updates for you, saving lots of time and creating peace of mind. Additionally, the security checks and protection they provide go a long way to keeping your website safely up and running.
We've taken a look before at whether managed hosting is worth the cost, and concluded it depends on how you prioritize speed, security, and support, as well as how much time you are prepared to put into managing your website yourself.
Now that you better understand managed WordPress hosting, let's look at the top managed WordPress hosts, and how they compare.
The Top Managed WordPress Hosts Compared
Managed hosting – especially managed WordPress hosting – is a growing market. Each year we see new hosts joining the market, which does make your decision process harder. We've had to keep our list manageable, so couldn't compare all managed WordPress hosts out there – it means your favorite may not have made the list.
We created our list of the top managed WordPress hosts based on a number of factors, taking into account their industry reputation, presence, and their rating by industry insiders. Here's our top ten – not listed in any particular order.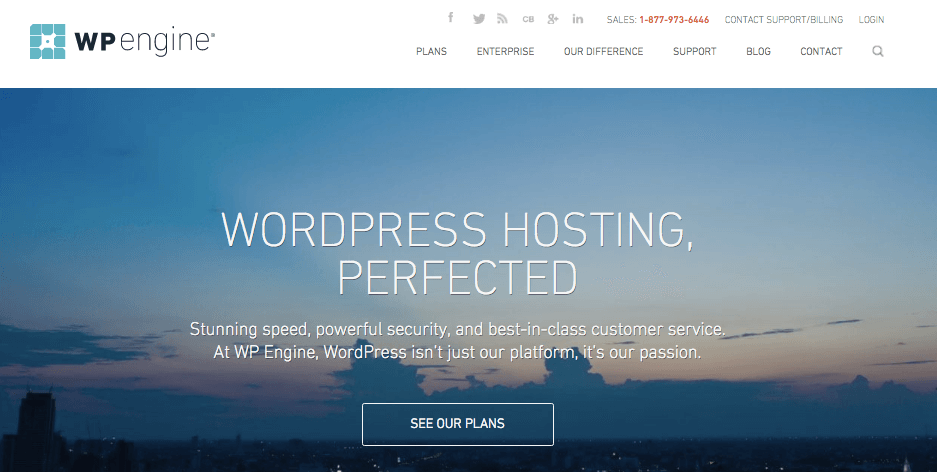 WP Engine is one of the best known and highest rated managed WordPress hosts around. Current figures have them serving over 30,000 customers all around the world. They are definitely one of the pricier managed WordPress hosting options, with their lowest plan starting at $29 per month, but they focus on fast loading times, secure servers, and great support.
Key Features:
One-click backup and restore, as well as automated daily backups.
24/7 technical support from on-site WordPress experts.
Malware scans and firewalls to protect your data.
Proprietary caching technology for scalability and speed.
Easy-to-use staging area for testing.
WP Engine is a great host for enterprise sites given the attention paid to scalability and security. The caching technology and Content Delivery Network (CDN) functionalities make it a suitable choice for sites with a large, global audience. If you are just starting out, you may find the pricing expensive – but it's well worth the money if you anticipate your site growing and don't want the hassle of managing it.
Price: From $29 per month | More Information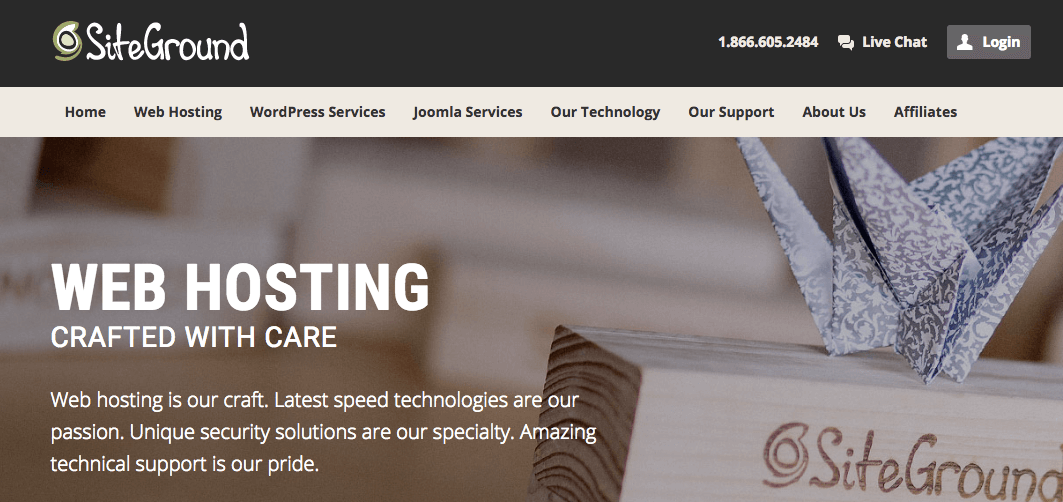 SiteGround stands out in the hosting world by offering premium WordPress hosting features at shared hosting pricing. With their lowest plan starting at $3.95 per month, they are among the cheapest managed options. The full range of managed features requires a higher priced plan, but you can access WordPress automatic updates, daily backups, isolated accounts, and anti-hack systems on even their cheapest plans.
Key Features:
Built-in WordPress auto-installer for easy setup.
Automatic updates to WordPress core files and plugins.
SuperCacher to improve site performance.
Staging sites for testing (on their GoGeek plan).
24/7 WordPress expert support.
SiteGround is a great way to go if you are on a budget and looking for managed WordPress hosting features – even the GoGeek plan is affordable. If you want control over your site but like the availability of support to help you out, SiteGround will work well for you. The geek in you could use the command line interface if desired, but SiteGround utilizes the cPanel interface primarily.
Price: From $3.95 per month | More Information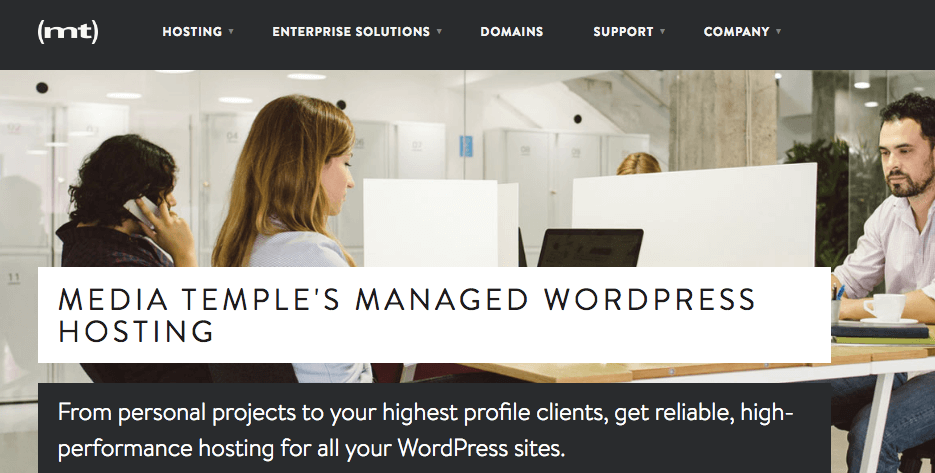 Known more for their shared and cloud hosting, Media Temple jumped onto the managed WordPress hosting bandwagon with a bang. With their lowest plan starting at $20 per month, Media Temple is not a budget provider. However, they provide a solid set of managed hosting features including WordPress core updates, automatic daily backups, and 24/7 uptime monitoring.
Key Features:
Automatic WordPress core updates.
Automated daily backups.
One-click site staging and site cloning.
Load-balanced, SSD servers with multiple caching layers.
Certified WordPress support technicians providing round-the-clock support.
Exclusive Media Temple-designed themes.
MediaTemple could work well if you're familiar with their custom control panels. Agencies might also like having access to custom-designed themes optimized for MediaTemple's hosting. Finally, the security and scalability features will also appeal to more technical WordPress admins and enterprise customers.
Price: From $20 per month | More Information


Pagely sets itself apart by focusing on offering managed WordPress hosting built on Amazon Web Services (AWS). Developed for Amazon's sprawling online empire, AWS is nothing if not scalable. Pagely's fully managed services offer performance at scale, with plans starting at $99 per month. For that, you get automated updates and backups, built-in caching, and top-notch site security.
Key Features:
Automatic WordPress core and plugin updates.
Automated daily backups.
PressARMOR custom WordPress security configuration.
Global CDN for faster loading.
Included cache and DNS services.
Pagely is for enterprises, with the focus on world-class scalability and security. The price is definitely not for the faint of heart, but if you want to swim in the same waters as Fortune 500 companies and fast-growing tech startups, you can't go wrong with trusting your websites to the hardware infrastructure of Pagely.
Price: From $99 per month | More Information


Liquid Web had already established itself in the cloud and dedicated server hosting world, before joining the managed WordPress hosting market. As owners of their own data centers, Liquid Web promises both performance and superior support for your WordPress websites on their fully managed Virtual Private Servers (VPS). With plans starting at $89 per month, you get access to the standard managed WordPress hosting features.
Key Features:
Automatic core and plugin updates.
Automated snapshot backups.
Built-in custom CDN for faster load times.
Optimized SSD storage.
Where performance is a major consideration, Liquid Web is a good option to consider. This is especially true for those of you who don't want to hand any more power over to the Amazon overlords. The pricing, however, may put this hosting out of reach for smaller or newly started businesses.
Price: From $89 per month | More Information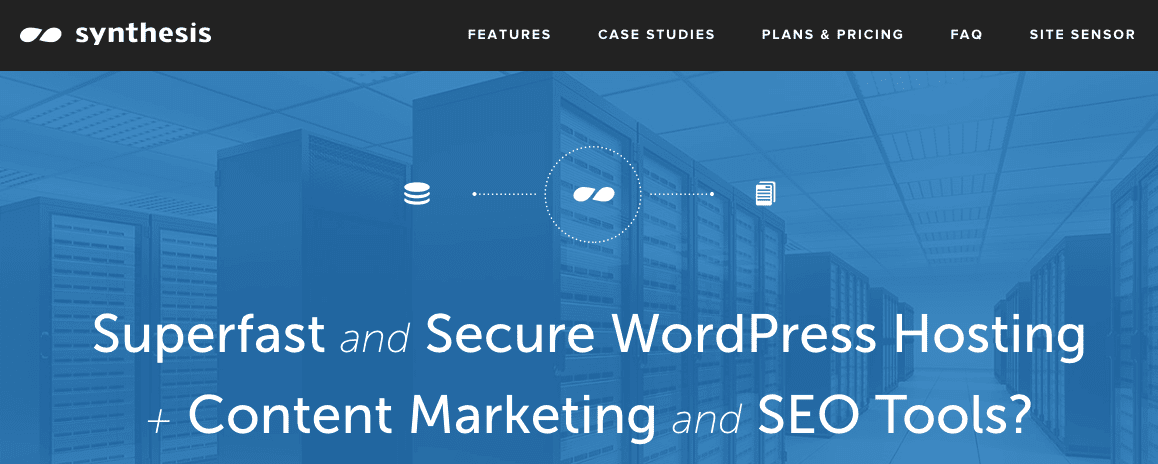 Synthesis is the product of some of the most successful WordPress minds around. The folks over at StudioPress, creators of the Genesis framework, saw room in the world for a managed WordPress host that also provides SEO, marketing, and copywriting tools to help you grow your website. Starting at $47 per month, the Synthesis plans provide not only the standard managed WordPress hosting features, but performance optimized hardware, the Genesis framework, and tools for content marketing like keyword research.
Key Features:
Managed performance VPS hosting.
Included marketing and SEO tools.
Genesis framework provided.
Automated updates and backups.
24/7 expert support.
Synthesis will work well if content marketing forms a big part of your website's growth strategy. If you are also interested in the performance of your website, Synthesis might be a good fit as it is somewhat more cost-effective at the lower levels than other hosts such as Pagely. If you want to run a WordPress multisite, however, you will need to look elsewhere.
Price: From $47 per month | More Information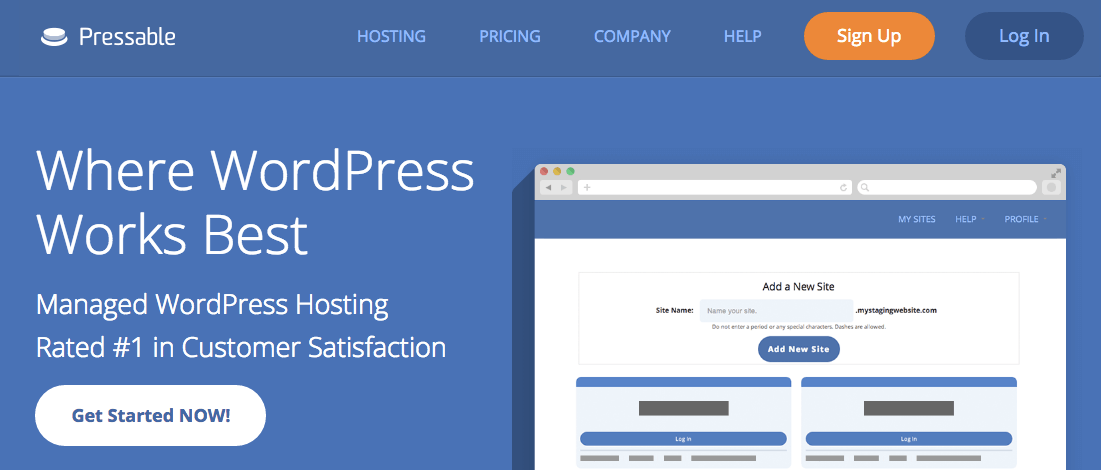 Built on the infrastructure of cloud hosting giant Rackspace, Pressable is a managed WordPress host that aims to provide top notch customer satisfaction. With plans starting at $25 per month, Pressable is affordable for smaller businesses and offers optimized servers, one-click staging, and intrusion detection systems.
Key Features:
Dedicated WordPress expert support.
Managed upgrades and daily backups.
Malware scanning and intrusion detection.
Premium CDN for faster content delivery.
Pressable offers fast, scalable, and secure hosting that works well for e-commerce and enterprise sites. It is also a good option for developers and agencies wanting a robust platform for hosting their clients' websites.
Price: From $25 per month | More Information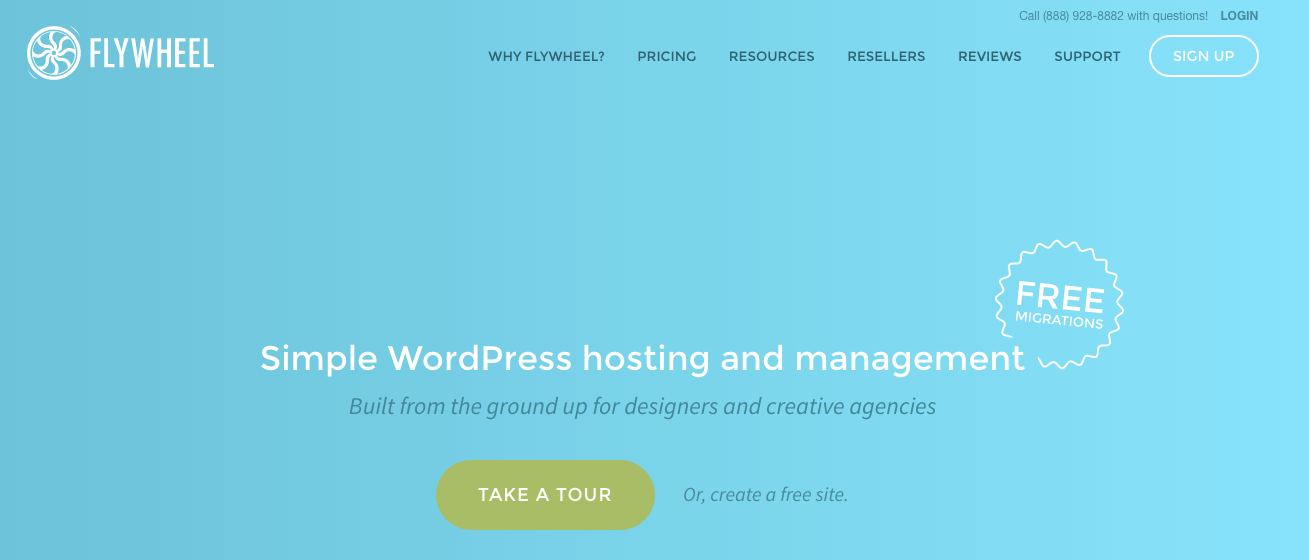 Flywheel is a relatively new addition to the managed WordPress hosting marketplace. Designed primarily for designers and creative agencies, Flywheel has rethought the concept of a web hosting control panel to create a beautiful interface. Plans start at $15 per month and include managed updates and backups, as well as project collaboration tools and expert support.
Key Features:
Managed updates and automated backups.
Malware monitoring.
Unlimited project collaborators.
Free demo sites.
Flywheel will be a godsend to the creative minds of designers and agencies, with its unique and clearly thought out interface and project collaboration tools. While the plans are affordable, the cost can quickly add up if you have multiple sites. Consider a bulk or reseller account if you plan to host multiple sites.
Price: From $15 per month | More Information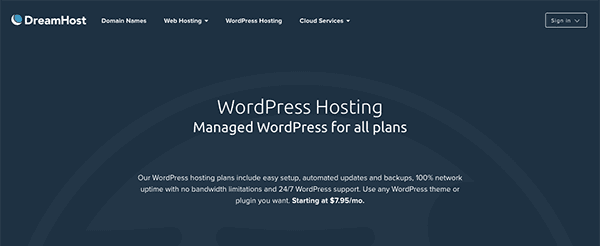 From the folks at DreamHost comes DreamPress – a managed WordPress hosting solution focused on security, speed, and quality support. It's positioned as a fully managed upgrade from DreamPress' basic shared hosting plan. With managed plans starting at $16.95 per month, it's certainly not a budget provider, though it could be ideal for individual site owners and small companies. You get a lot of functionality for the price, although DreamPress does lack support for multiple sites and automatic backups.
Key Features:
No bandwidth or visitor limits.
Automatic WordPress core updates.
24/7 expert support.
Multiple layers of caching to ensure site speed.
Pre-installed Secure Sockets Layer (SSL) certificate.
For someone who already uses DreamHost's shared plan, upgrading to DreamPress' managed hosting package is logical and easy. The pre-installed SSL certificate will also appeal to current or would-be e-commerce site owners, as it provides a hassle-free solution to implementing a crucial customer security step. However, anyone seeking an easy solution for managing multiple sites may want to look elsewhere.
Price: $16.95 per month | More Information


Bluehost is another very well known name in the shared hosting world, not least because of their relationship with and support for WordPress. Like GoDaddy and other hosts on our list, they created a managed WordPress hosting offering to complement their existing services. Starting at $12.49 per month, Bluehost's plans are far more affordable than most other managed WordPress hosts.
Key Features:
Bluehost may be a good start for smaller businesses dipping their toe into the managed hosting waters. If you are already a Bluehost customer, this offering could be an easy sideways step to managed hosting. However, there are other comparable hosts for the price that might make more sense.
Price: From $12.49 per month | More Information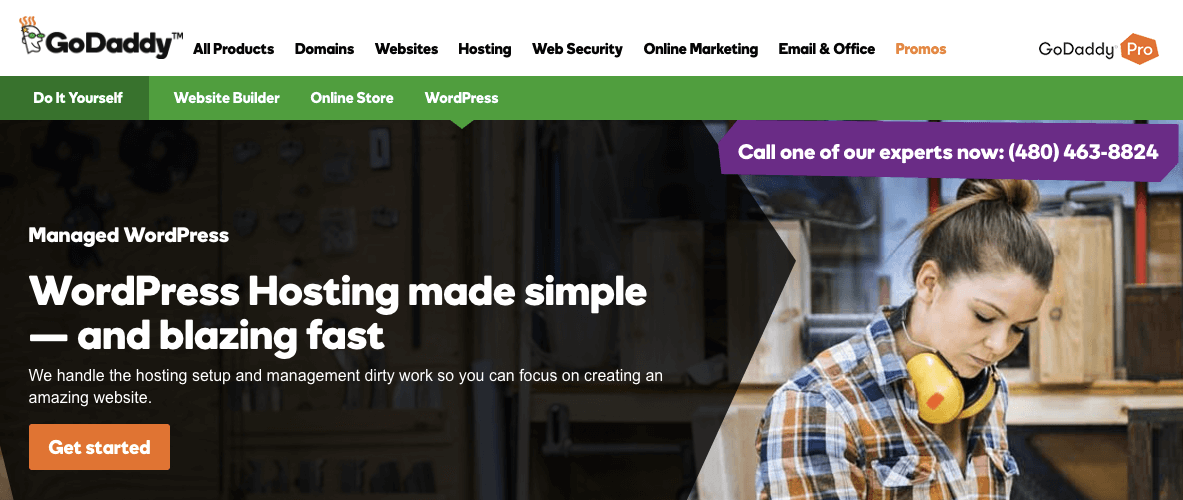 GoDaddy is probably the best known web hosting brand in the world, and their shared hosting is the first stop for thousands of small businesses. Admittedly, their past relationship with the WordPress community is rocky, with a history of poor customer service and support (as discussed in the comments section below). However, recently GoDaddy have begun to focus more seriously on the WordPress market, acquiring WordPress site management tool ManageWP, and offering a managed WordPress hosting package of their own. Hosted on premium WordPress optimized hardware, plans start as low as $7.99 per month.
Key Features:
Automated WordPress core and plugin updates.
Automated daily backups and one-click restore.
Access to thousands of free themes and plugins.
Free Microsoft Office 365 email.
This solution could be a suitable first step for small businesses already comfortable with the GoDaddy brand. However, it doesn't provide the focus on performance and scalability offered by some of the other hosts covered – so you may want to check out the other solutions available if that's your primary concern.
Price: From $7.99 per month | More Information
How to Choose the Right Managed WordPress Host for You
Now that we've taken a look at some of the top managed WordPress hosts, you should have an idea of the functionality to look for. The most important thing when searching for a web host for your website is ensuring that it matches your needs.
Major considerations will include your budget, which may play a critical role in the host you choose. You should also be aware of your workflow when developing WordPress websites. Some hosts include Git and WP-CLI intergration, and many offer simple staging sites to be used for testing. If you don't use this functionality, you may be able to save money with a less feature-heavy web host.
Your project requirements will also play a key part in how you choose your managed WordPress host. You should make sure that your selected host can accommodate the necessary attributes of your project, such as the need to use WordPress multisite.
Conclusion
Choosing the right web host can be difficult, especially when you are looking at higher priced managed hosting – all in all, you want the best bang for your buck. Every host claims to be the best, and the recommendations you find may not always be helpful.
We've done the work for you, and reviewed the top ten managed WordPress hosts for you. Let's recap the hosts:
WP Engine
SiteGround
Media Temple
Pagely
Liquid Web
Synthesis
Pressable
Flywheel
GoDaddy
Bluehost
We've looked at the features they provide, as well as given you some tips on how to choose the best host for your needs – so you should now have all of the information you need to choose the right host for you!
What do you look for when considering a WordPress host? Comment and share your insights, then subscribe to the comments below!
Article thumbnail image by Macrovector / Shutterstock.com.
Disclosure: This post contains affiliate links that support our team and keep the free blog content flowing. When you purchase something after clicking an affiliate link, we may receive a commission.