There have been platforms for building websites, landing pages, and sales funnels for quite some time now. For many, the choices come down to WordPress vs ClickFunnels, two powerful platforms that help people build websites that get more conversions on their digital properties.
WordPress is the most flexible CMS on the market and can be adapted (with themes and plugins) to create sales funnels and landing pages optimized for lead generation. ClickFunnels (and its major update ClickFunnels 2.0) is a popular sales funnel builder that has grown to become an all-in-one platform for building a website. It has built-in tools for funnel marketing that include a funnel builder, LMS (for online courses), eCommerce, affiliate site builder, email marketing, and CRM. This makes it hard to compare with something so modular as WordPress.
In this post, we'll review how ClickFunnels and WordPress compare in price, usability, customization, eCommerce, and more, so you can find the right marketing funnel platform for your website.
WordPress vs ClickFunnels: Pricing
Pricing is a big deal for websites. WebFX has calculated the average cost for a professionally built small-business website at $2,000 to $9,000 with annual costs of between $400 and $1,200. And it's easy to justify those figures when you recognize all the mission-critical features baked into a modern website. Ideally, you'd want to minimize the costs associated with a website or funnel builder while retaining the features and general capability. How do these two web platforms stack up on price?
How Much Does WordPress Cost?
WordPress is open-sourced software, meaning the core technology is free to use. However, there are costs associated with using it. At a minimum, you'll spend around $20/yr on a domain (Namecheap) and from $5/mo to $75/mo on web hosting (you can get both of these with a trusted provider such as Siteground). Web hosting prices vary depending on the provider and the hosting you choose, such as shared hosting vs VPS hosting or dedicated hosting. These are the ante for working with WordPress (and any website platform, SaaS or self-hosted).
Aside from the costs associated with hosting and domain registration, you can also purchase premium themes and plugins. This is where you can transform a powerful blogging CMS into a full-fledged funnel builder.
With options like WooCommerce + WPFunnels, FunnelKit, or CartFlows, website owners can bring sales funnels, in all their glory, to WordPress. Some even have free options for those just starting in this world. CartFlows, at the time of this writing, cost only $79 per year for their starter plan. Compare that with ClickFunnel's $147 per month price tag.
Maybe add a premium WordPress theme (Divi has a one-time cost under $300), a contact form plugin like Gravity Forms (for $59 per year, a caching plugin like WPRocket (for $59 per year), and a mix of other free or low-cost plugins. With the domain, hosting, and these example plugins, powering a WordPress sales funnel would cost less than $250 per year with an additional one-time payment of less than $300. All that is the cost of only four months on ClickFunnels' Basic plan.
ClickFunnels also allows the creation of membership sites, courses, and CRM/Email marketing campaigns. WordPress, of course, can also do those things with the right free/premium tools. See our top recommendations for membership plugins, CRM plugins, and LMS plugins for WordPress sites.
How Much Does ClickFunnels Cost?
ClickFunnels is a platform that offers three plans for businesses to choose from based on scaling needs.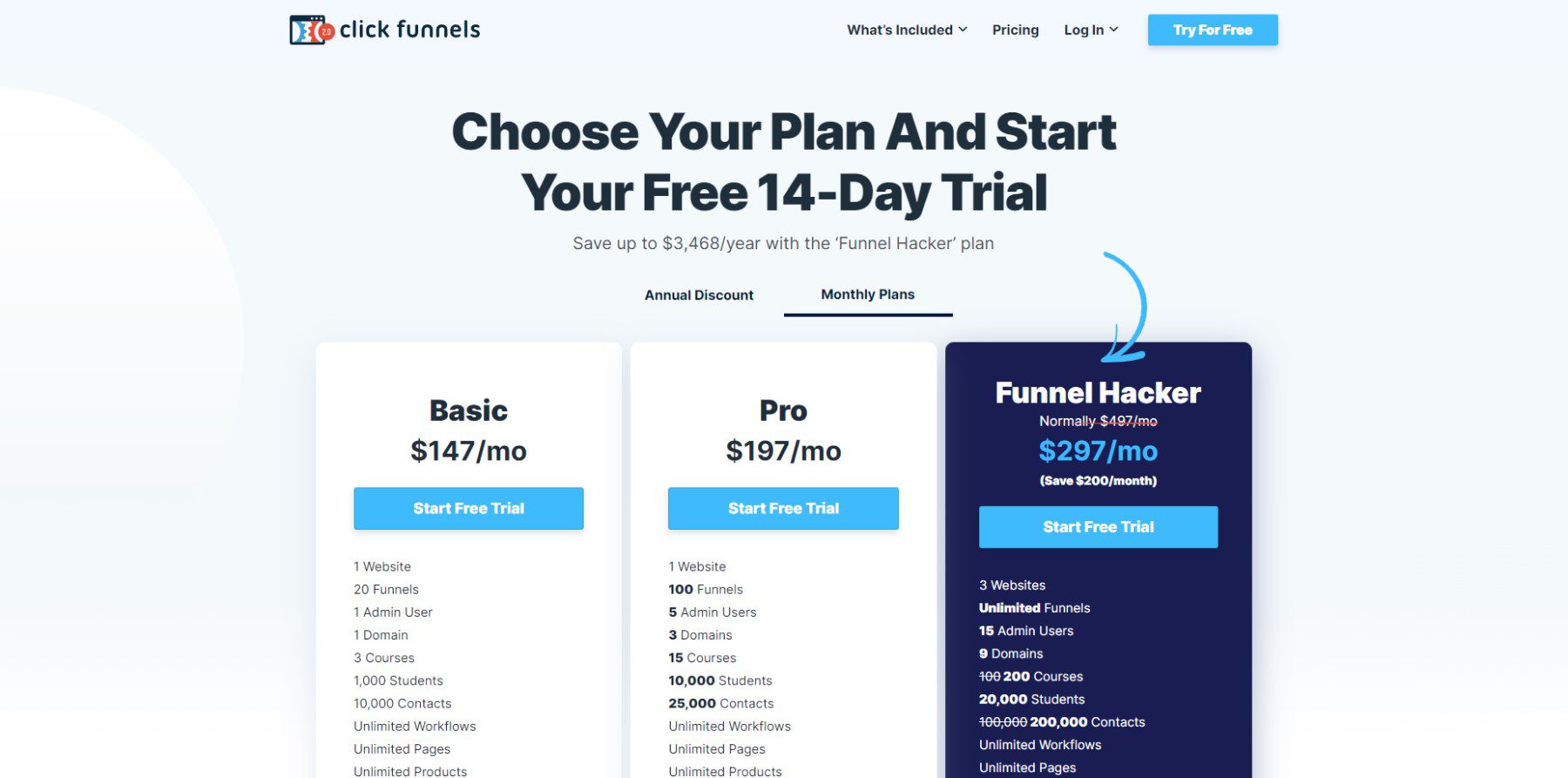 The Basic plan includes the foundational features of ClickFunnels at $147 per month. It provides one website, 20 funnels, one admin user, one domain, three courses, 1,000 students, and 10,000 contacts. Users get unlimited workflows, pages, products, email sequences, and basic analytics.
The Pro plan includes everything in the Basic plan but with higher usage limits and additional features. For $197 per month, users get one website, 100 funnels, five admin users, and usage on three domains. The plan also includes 15 courses, 10,000 students, and 25,000 contacts. Additional features in the Pro plan are the ability to create an affiliate program, API access, ShareFunnels, Liquid Theme Editor, and CF1 Maintenance Mode Plan.
Lastly, the Funnel Hacker plan includes everything in the Pro plan but with even higher limits and advanced features. For $297 per month, users get three websites, unlimited funnels, 15 admin users, usage across nine domains, and advanced analytics. The plan also includes 200 courses, 20,000 students, and 200,000 contacts.
It's important to note that while ClickFunnels does have a monthly cost, it is an all-in-one solution for creating sales funnels, which can save you money and time compared to creating funnels with multiple tools and platforms. It offers this simplicity and packaging for a higher cost. The Basic plan would cost about $1,524 per year with the annual payment option.
Thankfully, ClickFunnels does offer a free 14-day trial, so you can try it out beforehand.
WordPress vs ClickFunnels: Ease of Use
Ease of use is where things can get interesting. It all depends on your experience with funnel building which is pretty different from creating a typical website. If you're new to this concept, then it may be difficult either way you go. We'll explore this in a little more detail below.
WordPress Ease of Use
WordPress offers excellent ease of use when creating a basic website or blog. The platform's simple interface allows users to easily create and edit pages, posts, and media without much technical knowledge. However, setting up WordPress is more involved than many beginners expect. Finding the right hosting and domain registrar and installing WordPress, a theme, and plugins require some experience (at least good guidance). But it isn't that hard.
WordPress' block editor and core settings are very easy to use, and there are plenty of resources online to get you up to speed. Although building marketing funnels in WordPress involves more integrated tools, you still have more flexibility to build funnels using your favorite drag-and-drop editor or visual page builder.  For instance, with Cartflows, you can select a page builder like Divi to use for your funnel-building process.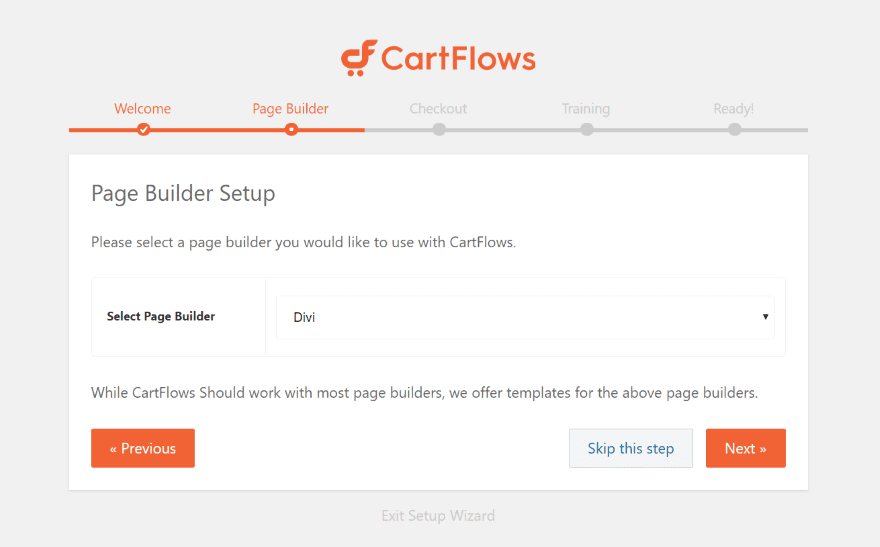 Funnel Builders on WordPress do present more of a learning curve (especially for those that aren't tech-savvy). This is the same as if you started with ClickFunnels. You'd have to learn how the program works—and for WordPress, we recommend trying either WPFunnels, FunnelKit, or CartFlows. Building eCommerce-powered sales funnels for products or courses is more challenging than creating a business website. You should expect that building a funnel will be a little more complicated (in WordPress or a dedicated sales funnel builder).
ClickFunnels Ease of Use
ClickFunnels has an intuitive drag-and-drop interface, making it easy to use for beginners. The platform offers a range of templates and prebuilt funnels, which can be customized to fit your specific needs. ClickFunnels also provides a visual editor that allows you to design and edit your funnels in real-time without any coding required.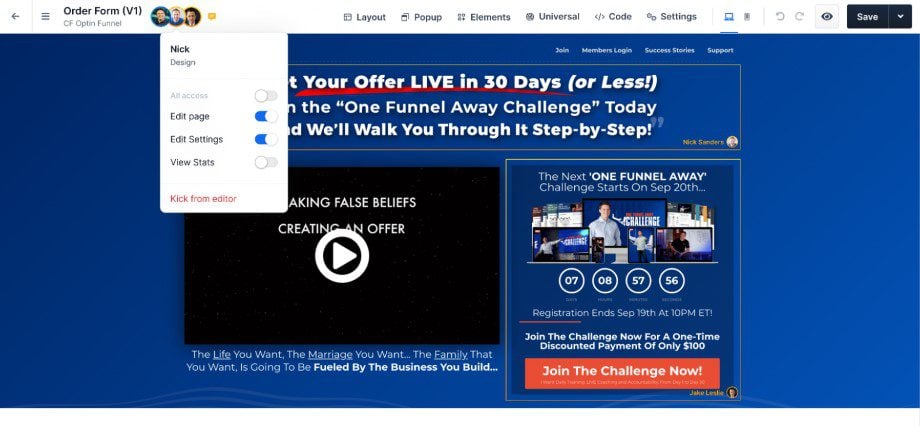 ClickFunnels also has all the tools you'll likely need built-in. This includes eCommerce capability, funnel builders, and email marketing. This is nice compared to WordPress since you don't have to figure out individual plugins that can do these tasks and then double-check that they all work seamlessly together. On the other hand, this also means that you are 100% bought into the ClickFunnel ecosystem—if they miss one or two features, you're stuck with that.
WordPress vs ClickFunnels: Customization
Customization is a big part of many website-building platforms. It's hard to know what your website will need in a couple of years, but you need to trust that your website technology will grow with you. Both WordPress and ClickFunnels offer a range of customization options, but as we'll see, they look very different.
Customization in WordPress
WordPress is a highly customizable platform with endless possibilities for design and functionality. Unlike website builder platforms like ClickFunnels, WordPress offers a vast array of tools, resources, and people to help you create the website you want. With its theme repository containing thousands of free themes, as well as premium themes and page builders (including Divi), you have almost limitless options for design customization and extendibility.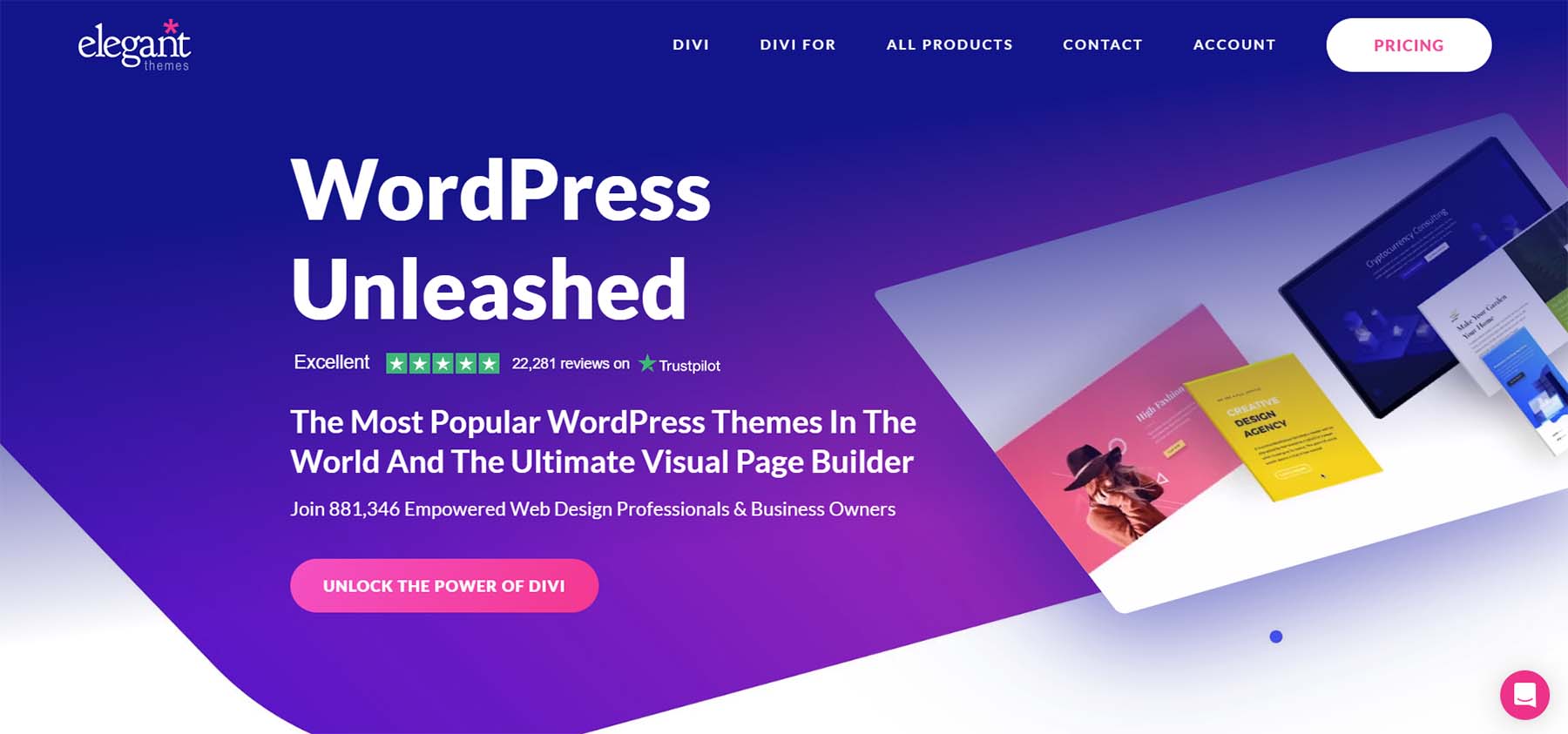 In addition to themes, WordPress has over 50,000 free plugins available for use. These plugins can add a wide range of functionality to your site, including forms, social media integration, eCommerce features, email marketing, and much more. You can also use free and premium plugins to create custom functionality unique to your site.

Moreover, those with coding skills can take customization to the next level by extending and modifying existing themes with simple CSS tweaks or more advanced PHP coding. With WordPress, you can make your website your own and stand out from the crowd.
Customization in ClickFunnels
ClickFunnels has limited customization options. It does come with prebuilt funnels and templates for creating things easily, but you are limited to what the Clickfunnels team has developed themselves. Impressively, the tools it has built span funnel building, CRM, and eCommerce. So, it isn't like they don't have any tools—you are just restricted to what they've built.
ClickFunnel's integrations allow for greater customization and flexibility with frequently used tools. For instance, it has integrations with popular SMS and email marketing services and a few payment processors. But since it is a closed ecosystem, integrations are sparse. When comparing the 3rd party integration potential of ClickFunnels vs WordPress, you quickly notice that there are far fewer options with ClickFunnels.
WordPress vs ClickFunnels: Publishing Tools
When it comes to publishing tools, WordPress is the de facto platform for publishing and blogging. It offers a wide range of features and customization options that cater to bloggers and content creators.
WordPress CMS
The WordPress CMS features an editor that you can use for creating and publishing content. The editor is intuitive and user-friendly, with various formatting options and the ability to add images, videos, and other media. Additionally, WordPress allows you to schedule posts in advance, which is helpful for bloggers and businesses that want to maintain a regular publishing schedule.
WordPress also integrates with third-party tools, such as Google Analytics, SEO plugins, and social media sharing plugins. These tools allow you to analyze your website's performance, improve your search engine optimization, and increase your social media presence.
WordPress's Block Editor is an advanced system for creating and displaying content. It goes well beyond a typical WYSIWYG editing environment. Blocks of all sorts can be used to create rich content that thrills visitors.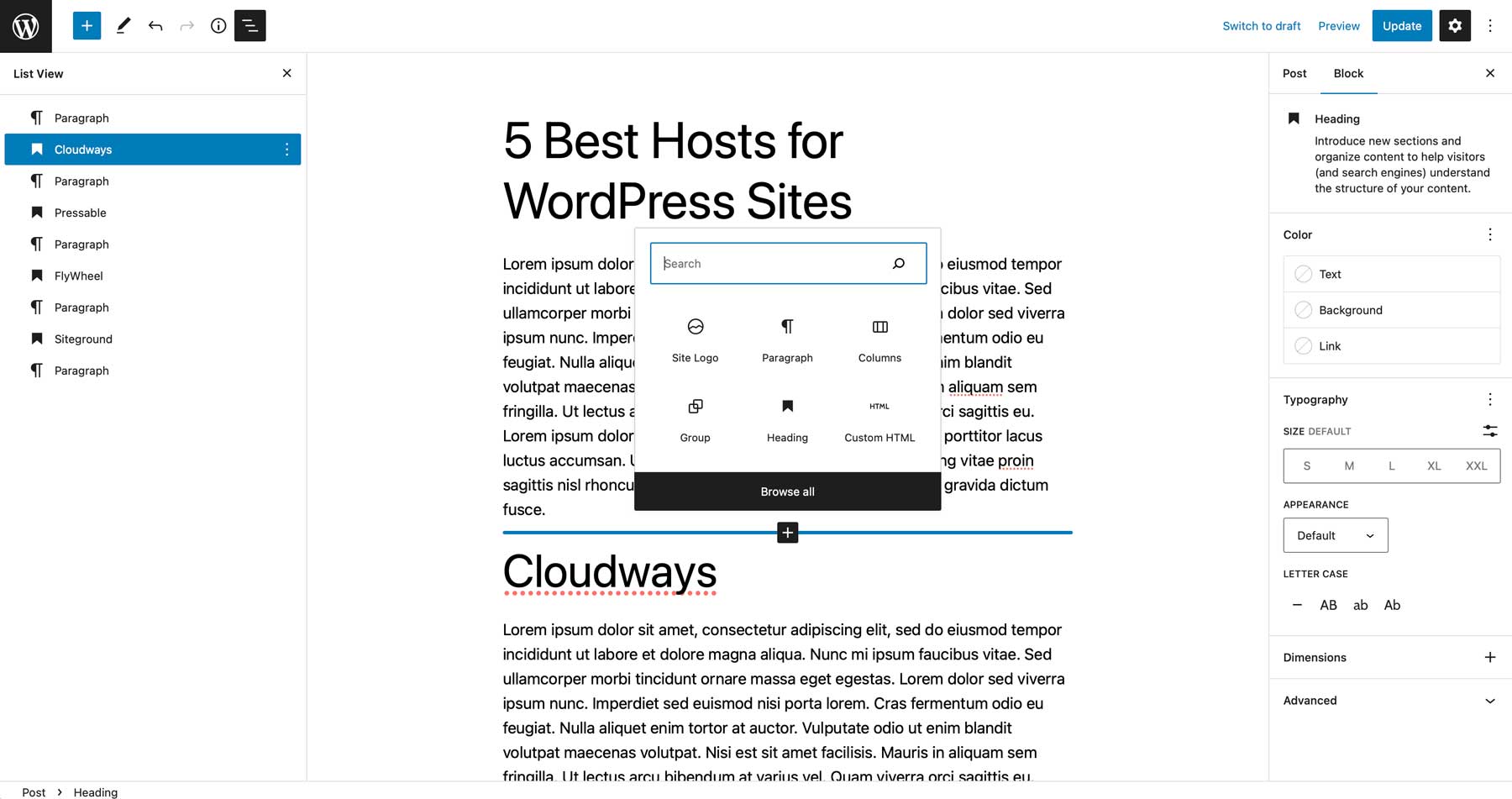 ClickFunnels Publishing
ClickFunnels primarily focuses on building sales funnels, offering limited publishing tools compared to WordPress. In ClickFunnels 2.0, a new Blog feature lets users create and publish blogs. It provides a simple editing interface that looks like a modern-looking 2015 WordPress editing interface with limited WYSIWYG editing.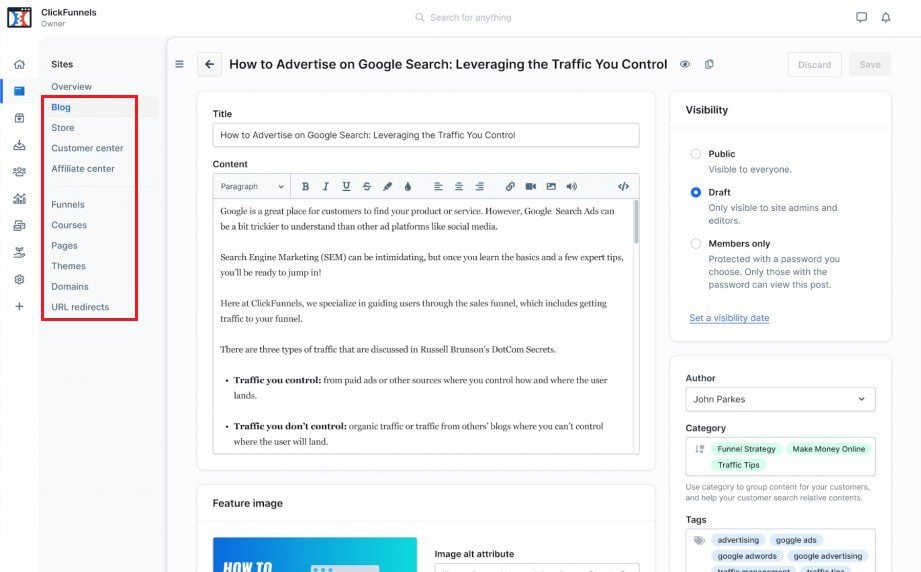 WordPress vs ClickFunnels: Security
WordPress and ClickFunnels both provide features and tools for website security. However, they do differ in how they approach security and how much control you have over these features.
WordPress Security
WordPress is a self-hosted platform, meaning you are responsible for ensuring the security of your website. While WordPress is a secure platform, its customizable nature makes it vulnerable to attacks. If one plugin or theme is vulnerable, it can open up your whole site to nefarious actors.
However, numerous security plugins available for WordPress can enhance its security. These plugins offer features such as malware scanning, firewalls, and login protection. WordPress regularly updates and patches to address known vulnerabilities and secure the platform. And the best plugins are routinely updated to ensure patches come out quickly before being exploited.
However, it's important to note that ensuring the security of a self-hosted WordPress website requires more work and attention compared to using a SaaS platform like ClickFunnels. You are responsible for setting up and maintaining security measures, such as SSL certificates and backup plugins.
ClickFunnels Security
ClickFunnels is a SaaS platform, which means that the platform's team handles the security of your website. It offers a range of security features, including SSL encryption and two-factor authentication. These features help to ensure that your website and data are secure.
A SaaS platform like ClickFunnels can offer peace of mind regarding website security, as you don't have to worry about setting up and maintaining security measures. However, it's important to note that SaaS platforms can still be vulnerable to attacks, and choosing a reputable and reliable platform that prioritizes security is essential.
WordPress vs ClickFunnels: eCommerce
Regarding eCommerce, both WordPress and ClickFunnels offer their features and considerations.
WordPress eCommerce
With its integration with various eCommerce plugins like WooCommerce and Easy Digital Downloads, WordPress has become a robust platform for creating online stores. Building an online store and adding products to it using WooCommerce is hassle-free. Once you install the plugin, new menu items are added to your WP admin dashboard. You can create and categorize products, just like you would create a new Post or Page. WooCommerce supports multiple payment gateways by default, including EFT, PayPal, and Stripe.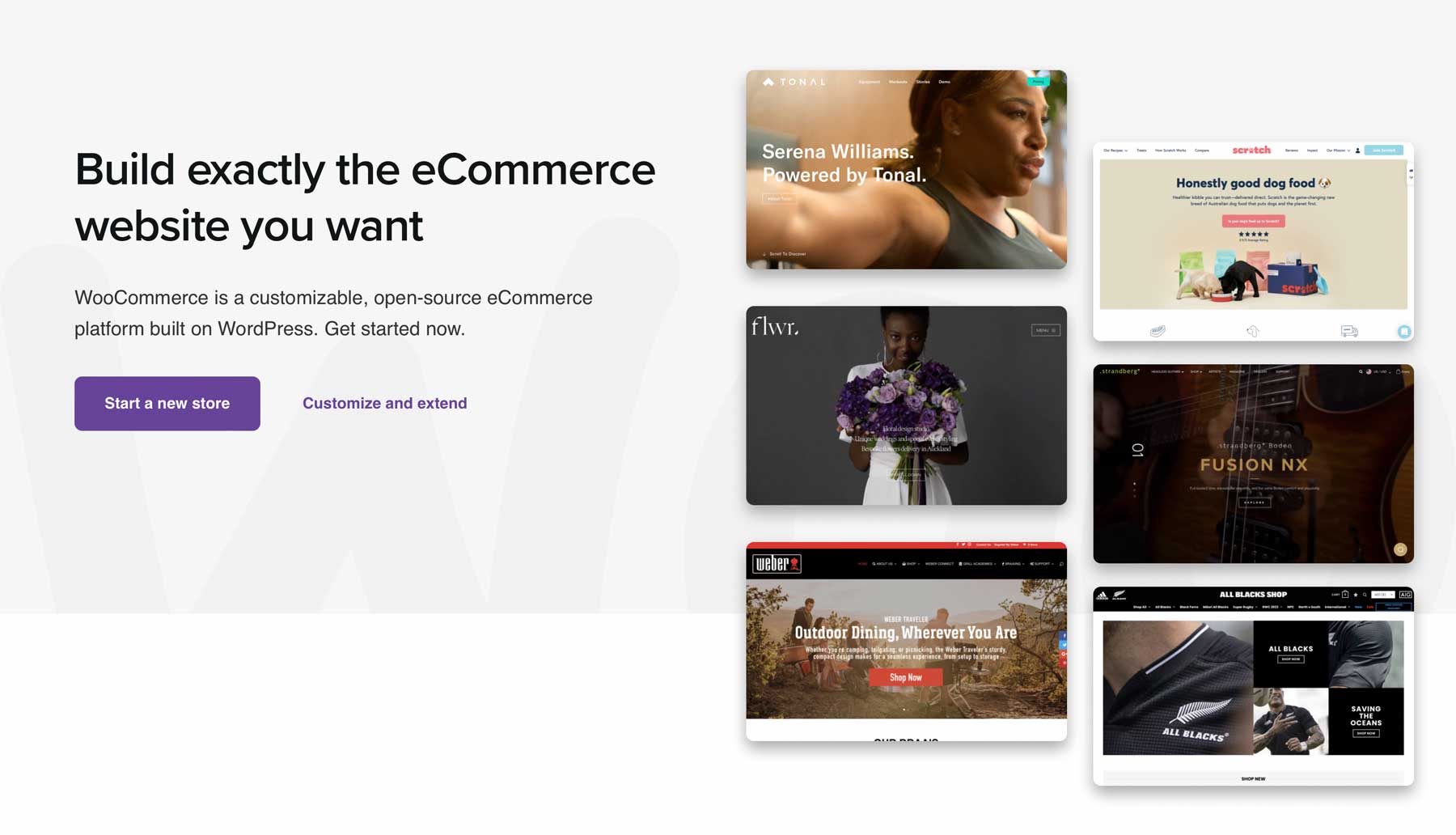 One of the benefits of using WordPress and WooCommerce is the flexibility it offers. You have full control over the design and functionality of pages used in the buying process (shopping cart, checkout, etc.).You can customize your online store with thousands of plugins and themes to meet your specific needs and preferences.  For example, Divi has powerful eCommerce Modules that make building a custom online store possible.
ClickFunnels eCommerce
ClickFunnels comes with eCommerce functionality, making it possible for you to set up and manage an online store without leaving the platform. However, customization options are limited compared to WordPress. While you can add products and collect orders, you can't create a completely customized eCommerce experience.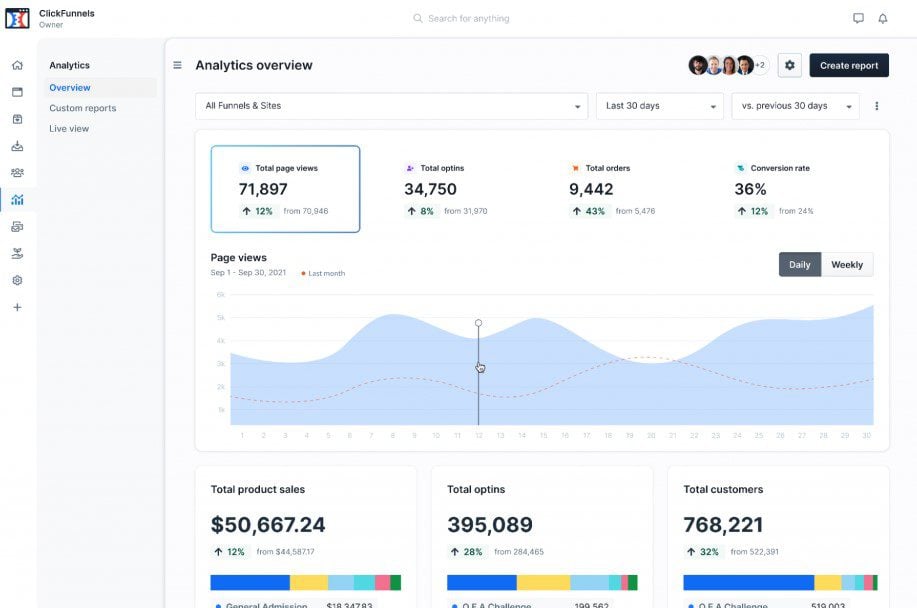 One of the benefits of using ClickFunnels for eCommerce is the convenience it offers. The platform is designed to optimize your online store for conversions. ClickFunnels takes care of eCommerce setup and maintenance, allowing you to focus on managing your online store within the platform.
Conclusion: Is ClickFunnels Better than WordPress?
We recommend that you try WordPress if you need extreme customization or want better pricing than using ClickFunnels. Setting up WordPress for building sales funnels might be more work than with ClickFunnels, but that work can be considered true sweat equity that saves you from ClickFunnels' high price tag. This is especially ideal for those starting who probably aren't fully monetized. Why pay extra when you are still building your business? That said, it wouldn't hurt to take advantage of ClickFunnel's free trial to see if it is a better fit.

Let's look at a quick comparison of the platforms and where each excels.
Feature
WordPress
Clickfunnels
Ease of Use
Relatively easy to use, but has a steep learning curve, especially with all the customization options
🥇Winner
Intuitive drag-and-drop interface, easy to use connect tools
Customizability
🥇Winner
Highly customizable, with thousands of plugins and themes for just about any need
Less customizable, with limited design options
eCommerce Support
🥇Winner
Fully integrates with WooCommerce, and other eCommerce tools
Built-in eCommerce functionality that's limited to what ClickFunnels provides
SEO Friendliness
🥇Winner
Extremely SEO-friendly, with numerous plugins available for optimization (many are free)
Offers basic SEO tools, but not as comprehensive as WordPress
Pricing
🥇Winner
Open-source and free to use, but requires hosting, domain, and sometimes premium solutions
Subscription-based with various pricing tiers and features, but overall priced high since you are paying for multiple tools
Integration
🥇Winner
Most 3rd party tools that you'd want to use have a WP plugin or connect with hundreds of other plugins with integrations
Offers integrations with some tools, but not as extensive as WordPress
Get Started with WordPress
Choose ClickFunnels
The Best Way to Get Started with WordPress
Are you thinking about using WordPress? If so, we know it can be challenging to know where to start. Here is a quick guide to help you create the ultimate WordPress toolkit:
Frequently Asked Questions (FAQs)
Before we wrap up, let's answer some of your most common questions regarding WordPress and Clickfunnels. Did we miss one? Leave a question below, and we will respond!
Is WordPress better than Clickfunnels?
Both WordPress and Clickfunnels have their strengths and weaknesses, and the choice between them depends on your needs and preferences. WordPress offers a high degree of customization and flexibility, while Clickfunnels is specifically designed for creating sales funnels and optimizing your website for conversions.
Can you use Clickfunnels with WordPress?
Yes, it is possible to use Clickfunnels with WordPress. You can use Clickfunnels to create and integrate sales funnels into your WordPress website. To do this, you can use Clickfunnels' WordPress plugin or embed the Clickfunnels funnel directly into your WordPress website using an embed code. This integration allows you to take advantage of Clickfunnels' powerful funnel-building capabilities while still using WordPress for your website's design and functionality.
Can Clickfunnels replace your website?
While Clickfunnels is a powerful platform for building sales funnels, it is not designed to replace your entire website. Clickfunnels primarily focuses on creating sales pages and funnels optimized for converting leads into customers. While you can use Clickfunnels to create a website, it may not be as comprehensive as a website built with a content management system like WordPress. Therefore, if you need a website with a wide range of functionalities beyond just sales funnels, it's better to use a content management system like WordPress, which offers more flexibility and control over your website's design and functionality.
Does WordPress have a funnel builder?
WordPress does not have a built-in funnel builder, but there are various WordPress plugins that can be used to create sales funnels. Two popular options are WPFunnels and FunnelKit. These plugins provide users with comprehensive funnel-building capabilities that are specifically designed for WordPress websites. If you already use WordPress for your website and want to keep everything within the platform, WPFunnels and FunnelKit are good options for your funnel-building needs.
Which is easier to use, WordPress or ClickFunnels?
WordPress and ClickFunnels serve different purposes. WordPress is a versatile platform for creating any website, while ClickFunnels is a specialized platform for building sales funnels and landing pages. If you are looking for a simpler and more intuitive platform for creating sales funnels, ClickFunnels can be easier to use. However, WordPress may be the better choice if you need more flexibility and customization options.
Is WordPress more customizable than ClickFunnels?
Yes, WordPress is more customizable than ClickFunnels. WordPress offers a wide range of themes, plugins, and customization options that allow users to create unique and personalized websites. ClickFunnels, on the other hand, is primarily designed for building sales funnels and has limited customization options. While ClickFunnels may be easier for beginners, WordPress offers greater flexibility and control for users at all levels.
Which is more affordable, WordPress or ClickFunnels?
WordPress is more affordable than ClickFunnels. WordPress is a free, open-source platform, and users can choose from various free and paid plugins and themes. ClickFunnels, on the other hand, requires users to pay a monthly subscription fee that starts at $147. While ClickFunnels offers some unique features, WordPress provides more flexibility and customization options at a lower cost.
Can ClickFunnels replace a website?
ClickFunnels is a powerful tool for creating sales funnels and landing pages that can be used to generate leads and sales. While it can replace some aspects of a traditional website, it is not a complete replacement as it lacks features such as a blog, custom pages, and search engine optimization. However, you can use ClickFunnels with a website to optimize the sales funnel experience.
What is a sales funnel?
A sales funnel is a process that guides a potential customer through a series of steps to convert them into a paying customer. The funnel typically includes a landing page, a call-to-action, and a series of follow-up emails or messages designed to nurture the customer and encourage them to purchase. The goal is to create a seamless and easy journey for the customer while maximizing sales for the business.
What are the advantages of a sales funnel?
A sales funnel helps businesses to generate leads and convert them into customers by guiding them through the buying process. The advantages of a sales funnel include increased revenue, higher conversion rates, better customer targeting, improved customer engagement, and more efficient use of resources and time. Additionally, it allows businesses to track their customer's behavior and optimize their marketing strategies accordingly.
What is the difference between a landing page and a sales funnel?
A landing page is a standalone page designed to capture leads or direct visitors toward a specific action. A sales funnel, on the other hand, is a series of pages and steps designed to guide potential customers toward a purchase, with each step providing more information and building trust in the product or service being offered. While a landing page is a single page, a sales funnel involves multiple pages and touchpoints.
Can you use Clickfunnels with WordPress?
Yes, you can use Clickfunnels with WordPress by embedding Clickfunnels opt-in forms, buttons, and pop-ups on your WordPress website. You can also use a plugin like Clickfunnels WordPress Integration to streamline the integration process and ensure a seamless user experience. This lets you use Clickfunnels' funnel-building capabilities while using WordPress as your website platform.
What's your experience with WordPress or ClickFunnels been like? Obviously, both are great platforms, but how have they worked for you?
Featured image from WordPress.org and ClickFunnels