If you're not using AI with your WordPress site, you're missing out on many new opportunities. From improving SEO to enhancing user experience, AI can transform your WordPress website into an even better version of what it is now. There are many promising AI plugins for WordPress coming on the scene to help you do just that. But how do you get started? In this post, we'll cover some of the best ways you can use AI with WordPress and how to do it.
How to Use AI in WordPress (10 Ways)

Subscribe To Our Youtube Channel
With the enormous popularity of AI tools, it is not surprising that there are some specifically targeted to building websites. AI can be a helpful web design assistant. It can create written content, generate art and images, enhance existing content, and more, for you website. However, for those building a site on WordPress, it is important to know what AI tools are available for WordPress and how to use them.
With that in mind, here are ten of the most effective ways to combine the power of AI with your WordPress sites:
1. Generate Text Content with AI in WordPress
One of the best contextual AI tools for web design is Divi AI. Unlike other AI writers like Jasper and ChatGPT, Divi AI brings the power of AI text generation inside your WordPress website.
Divi AI has unique insight into each Divi module and page element, which helps it generate contextually-relevant content.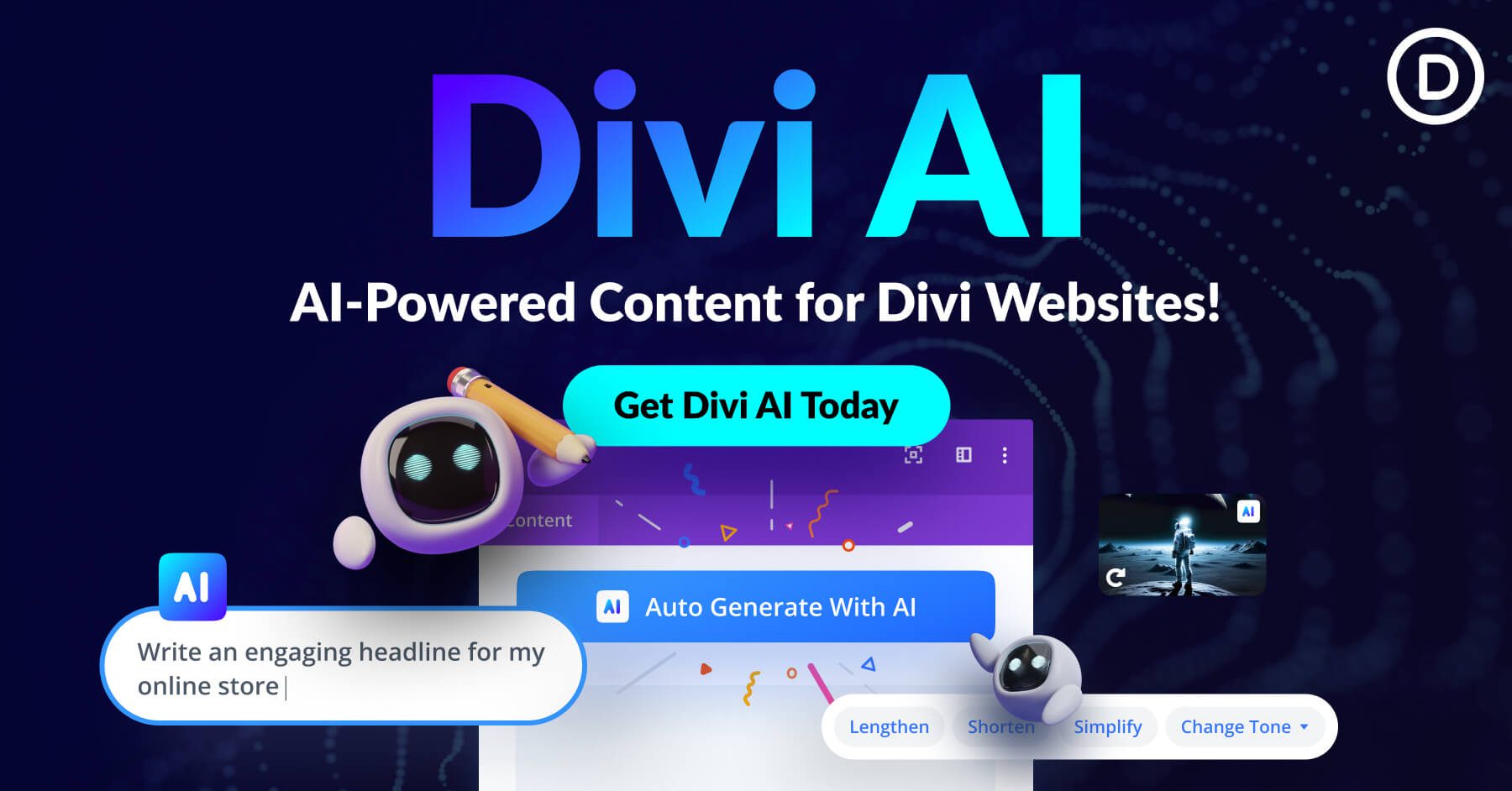 Imagine the possibilities: auto-generating content with one click, receiving highly relevant and on-brand results that match your page perfectly.
Divi AI is designed to learn from your site, analyzing existing page content and high-level website details to create consistent, relevant, and contextual content.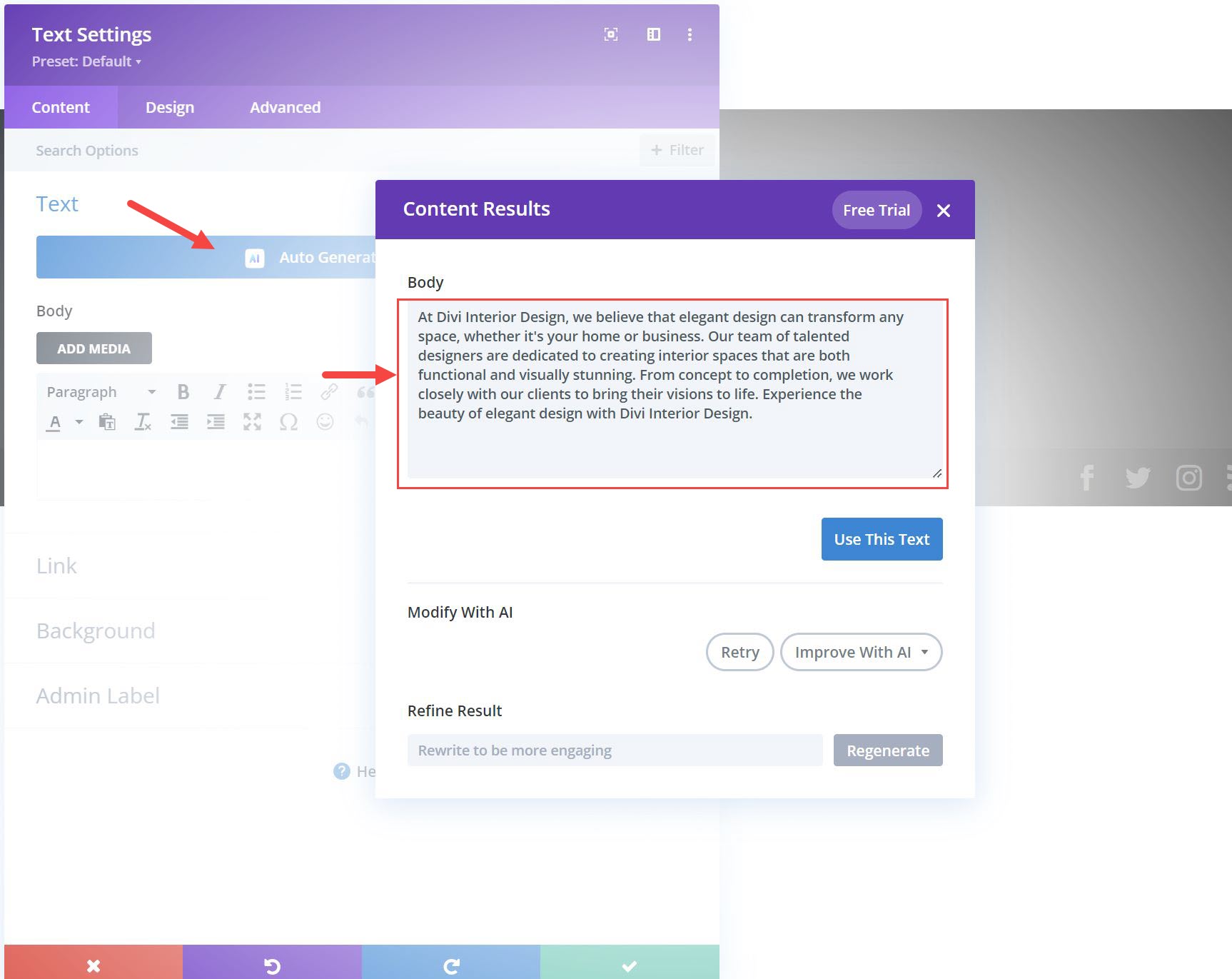 With it, you can maintain your unique brand voice and writing style. It's like having a professional copy editor at your side, ready to assist you in creating on-brand written content and stunning visuals.
But how can it do this? Well, as we briefly mentioned above, it does this by understanding existing content on your site. Here's the preloaded data that is tokenized for each AI request:
Website Title
Website Tagline
Current Page Title
All Page Modules and Content on the Current Page
Current Divi Module You're Working With
Between these pieces of context, Divi AI knows what you are trying to do at the moment. Instead of loading Jasper up with desperate "Knowledge Assets" or ChatGPT with "Custom Instructions," Divi is malleable and always looking at your current page.
Because of that, you can have confidence that Divi AI is up to your content generation tasks. Divi AI is now your most valuable assistant, no matter what page, website, or client project you are working on.
2. Generate Incredible Images with AI in WordPress
Divi AI is more than just a text content producer. It can also handle images in both obvious and unexpected ways.
Divi AI is the easiest way to create images that work with your pre-existing page designs. Either create an image from scratch or iterate from a reference image that gives you more control over the final output.
Editing images can also be as simple as changing the style of your original image.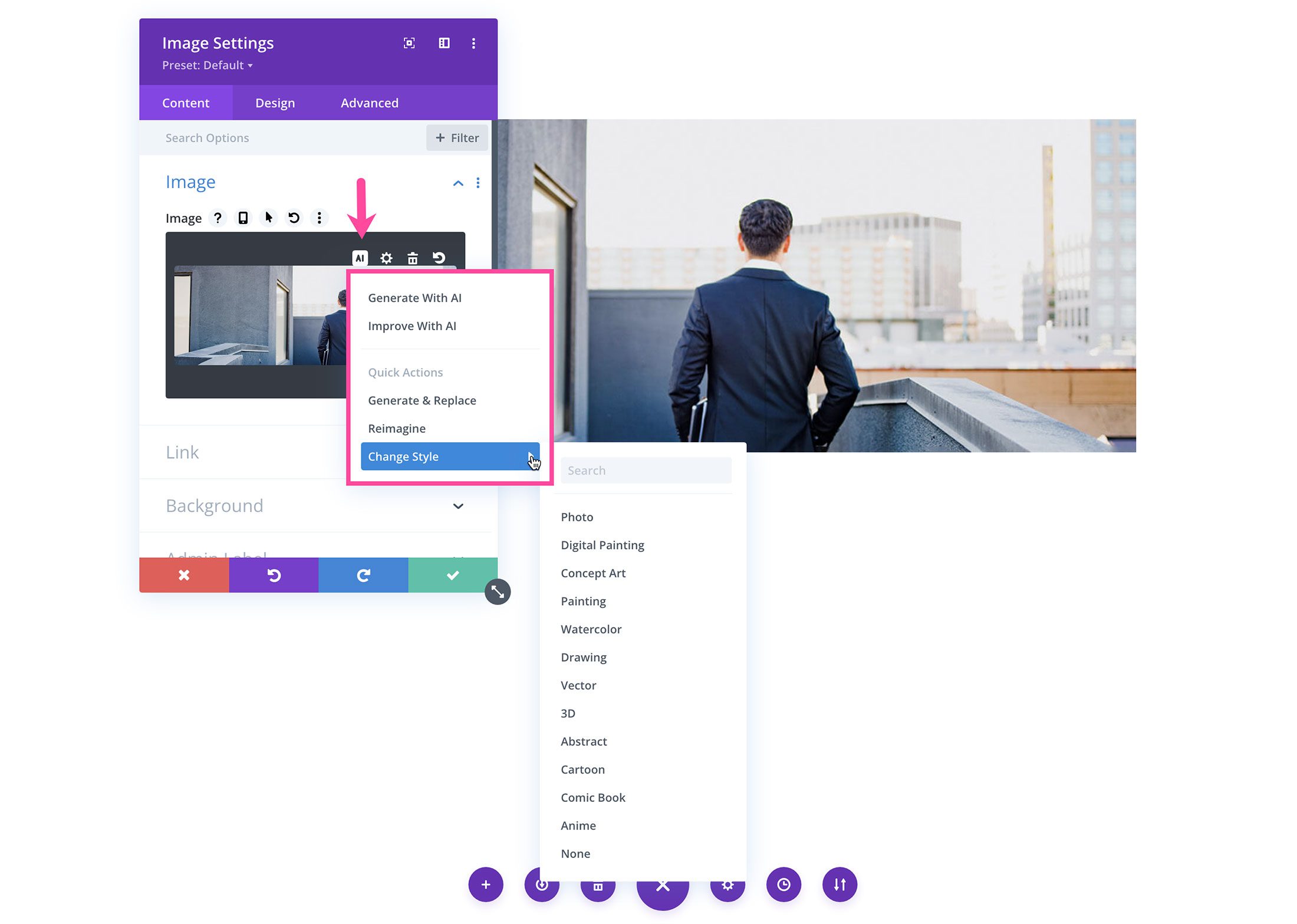 With Divi AI, you can free up valuable time while still creating exceptional results. You can start by purchasing a Divi membership + the Divi AI service.
3. Drastically Improve WordPress SEO
Artificial intelligence can potentially change how you approach your SEO strategy entirely. It analyzes your content, suggests improvements, and even predicts how well it will perform in search engine rankings. This is not about keyword stuffing or meta tags; it's about creating content that is genuinely valuable to your audience and optimized for search engines.
One tool that stands out in this regard is Rank Math's Content AI. It's a WordPress plugin that uses AI to help you optimize your content for SEO. It's always had an SEO Score based on important yet generic SEO metrics. But it also now has Content AI, which uses AI to analyze a keyword and SERP and compare your content with it.

It provides dynamic suggestions based on your focus keyword's language and target country. Rank Math's Content AI tells you exactly how many words to write, what headings to use, how many links to insert, and how much media to embed. It even suggests related keywords (semantic keywords) and which questions to answer for your content.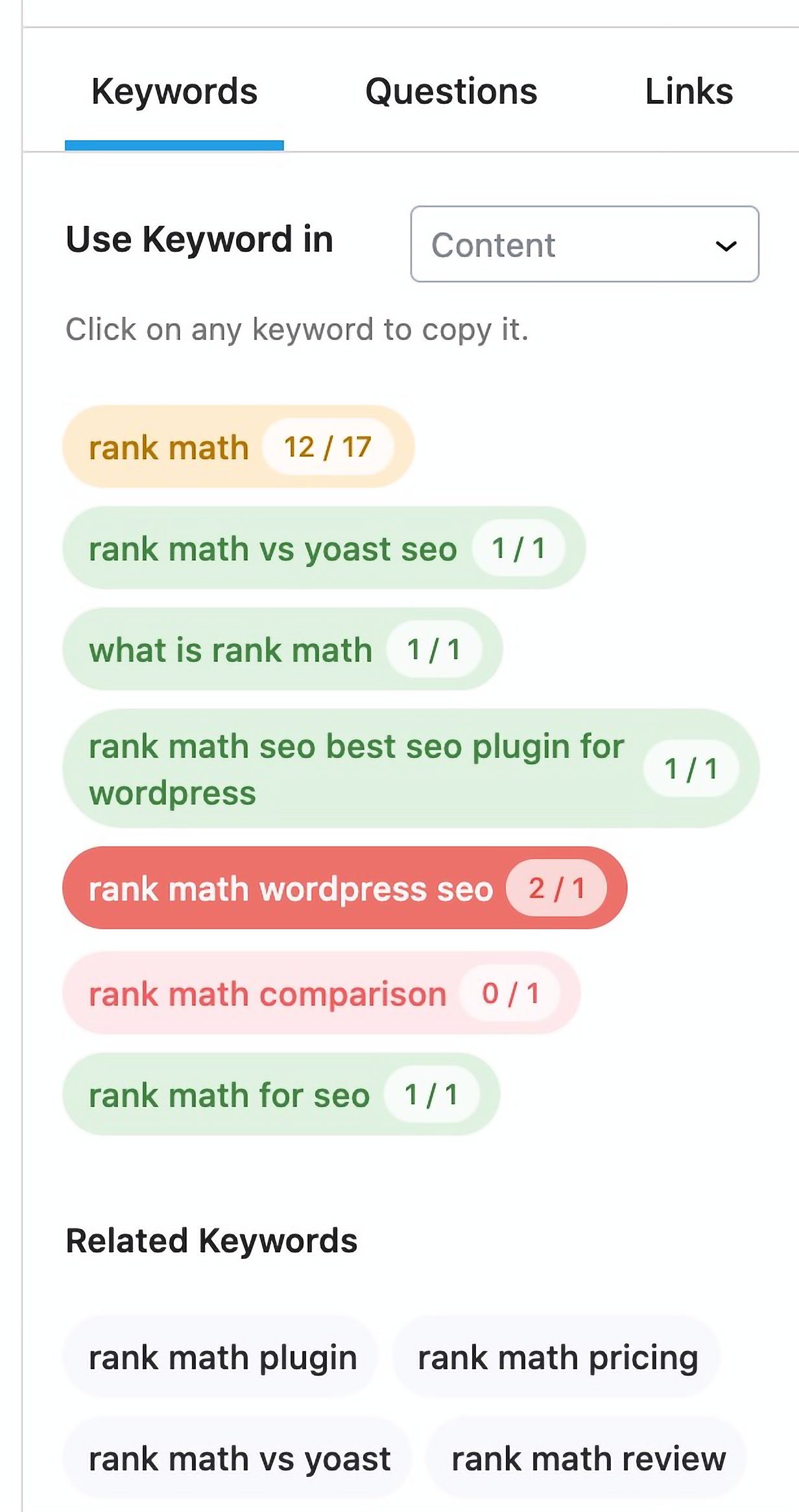 With Rank Math's Content AI, you can take the guesswork out of SEO and create content that ranks. You can install the Rank Math SEO plugin and purchase the Content AI credits separately. Rank Math is a premier WordPress SEO plugin that we can't stop recommending. Its AI capabilities make it all the more worthwhile to use.
4. Add Custom Chatbots to WordPress
The beauty of AI is its ability to interact with your website visitors in real-time, providing them with immediate, personalized responses. Custom chatbots powered by AI can significantly enhance the user experience on your WordPress site, making it more interactive and engaging. They can answer questions, guide users to possible next steps, and even help with sales and support while learning from each interaction to improve future responses.
One of the most user-friendly and efficient chatbot plugins for WordPress is Chatbase. It also works with other CMSs, but the Chatbase plugin for WordPress makes it even easier to use.
This tool allows you to build chatbots that can interact with visitors, answer their questions, and guide them to the right resources. It's like having a virtual assistant that works 24/7, without any breaks. It does this by storing whatever content you want to master and using it as a source of truth for all conversations. Chatbase handles multiple file types, plain text, and content from specific URLs and includes a way to pre-train answers to certain questions.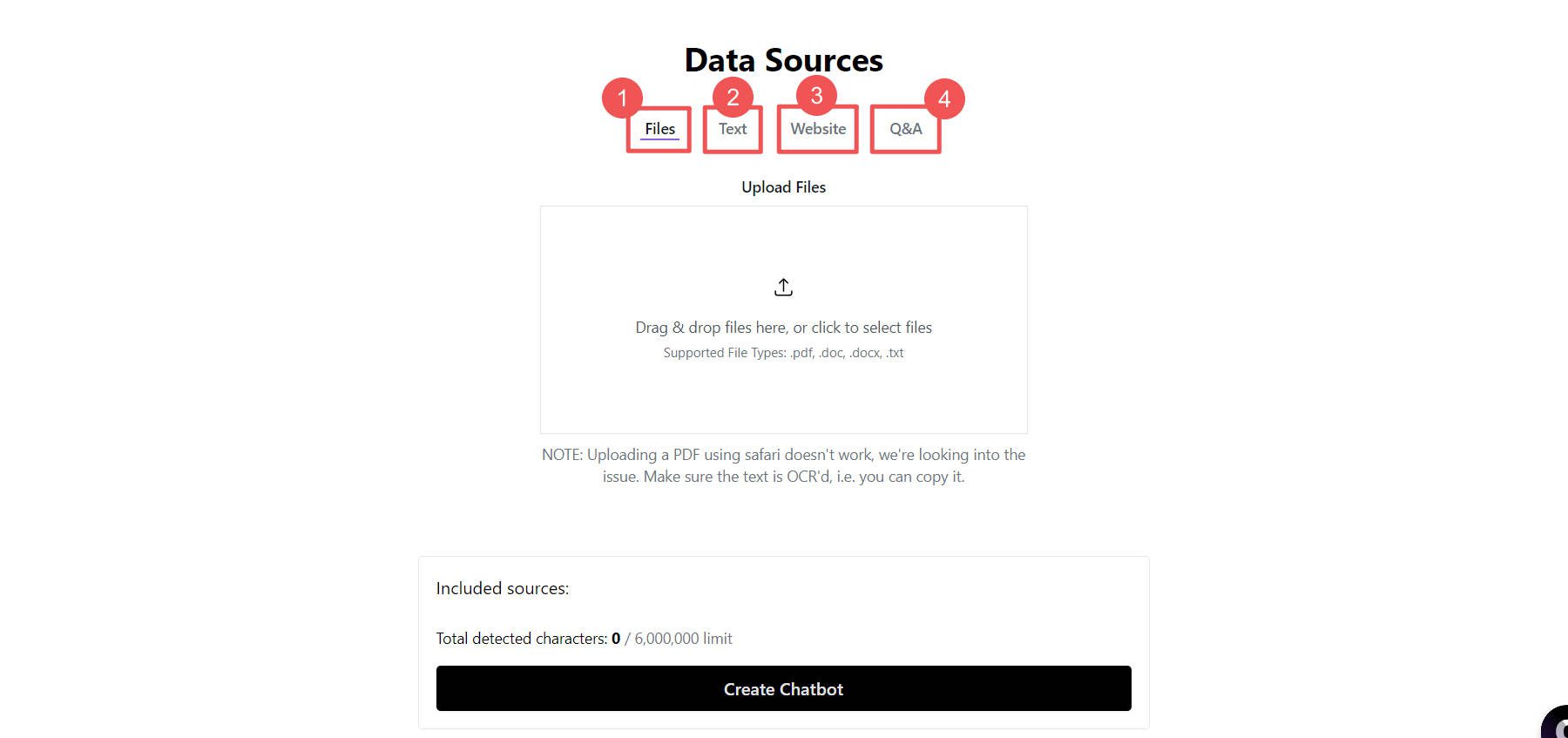 Chatbase bot training is very easy to use—especially if you already have the content you want to train it with. It almost effortlessly creates an interactive and engaging user experience on your WordPress site. Even getting it trained on live customer conversations is easy. You can look up any conversation and tell Chatbase how it should have responded.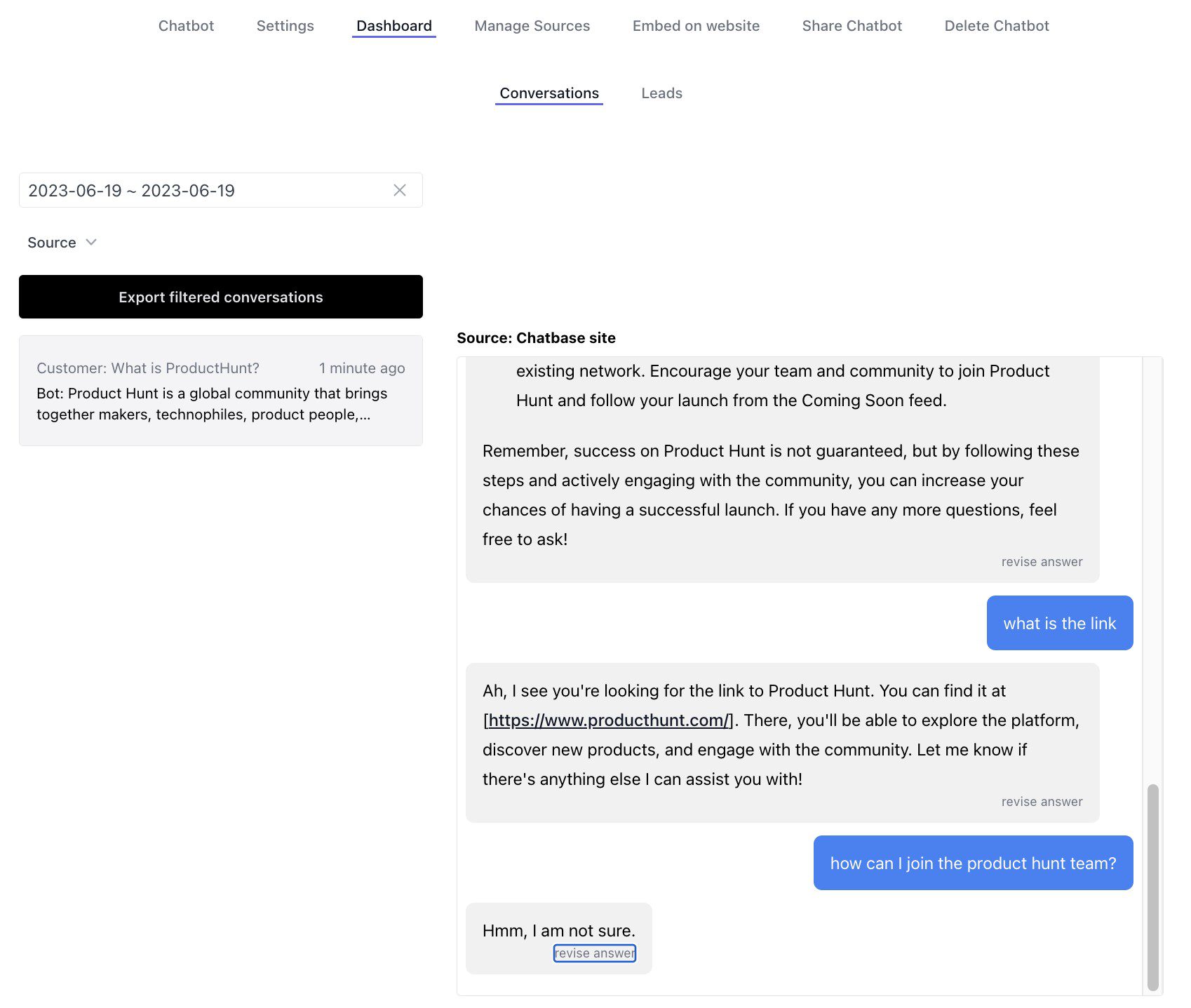 If you want to mix AI chat support and human support better, you could look at a different tool like ChatBot by ChatBot.com, which also has a WordPress plugin. Chatbase is best for autonomous AI chatbots, whereas ChatBot.com is excellent for mixing humans with AI.
5. Enrich Web Forms with AI
Forms are the backbone of any website, collecting information, generating leads, and facilitating user interactions. But managing and optimizing forms can be a tedious task. Enter AI – your new form management partner. AI can streamline form-related tasks, predict user input, and dynamically adjust form fields based on individual preferences, making form interactions more personalized and efficient.
One such tool that brings the power of AI to your WordPress forms is Formidable Forms.

It integrates with OpenAI to show generative AI responses to users based on form field inputs. If you have an idea about getting AI to output some content when a user uses a form, this is an excellent feature with Formidable Forms to try.
Gravity Forms via the OpenAI Addon by Gravity Wiz has the same functionality but for those who use and love Gravity Forms. But it can also use AI to populate hidden fields for internal use. See how Gravity Wiz uses AI to analyze the sentiment of form entries in a feedback form.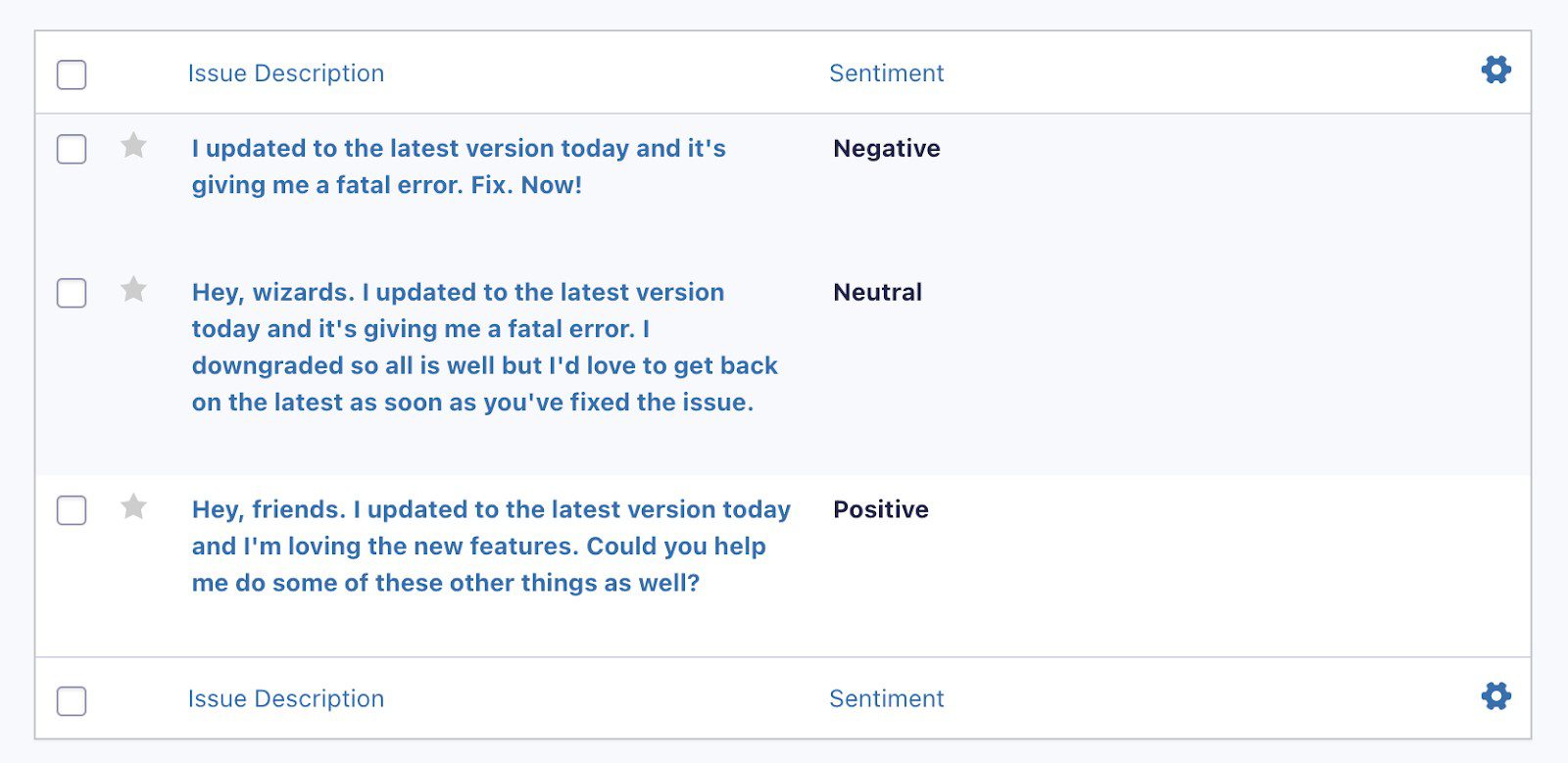 6. Translation for Multilingual WordPress Sites
Today, language should never be a hurdle for websites. Your site should be a global village, accessible to users from every nook and cranny, regardless of their language or location. If you want to interact with more people, you should.
But let's face it, managing translations for a multilingual site can be a tall order. What if there was a way to simplify it and make your site global without the hassle of manual translations?
Weglot is an AI-powered translation plugin that makes your WordPress site multilingual.

But Weglot doesn't just translate your content; it ensures that Google indexes each translated post/page easily. Given that higher-priced tiers give you more AI-generated translations, pairing Weglot with the translation capabilities of Divi AI could help you pay less. Use Weglot to handle your site structure for different language pages, and you can supplement Divi AI translations since it has unlimited AI generation.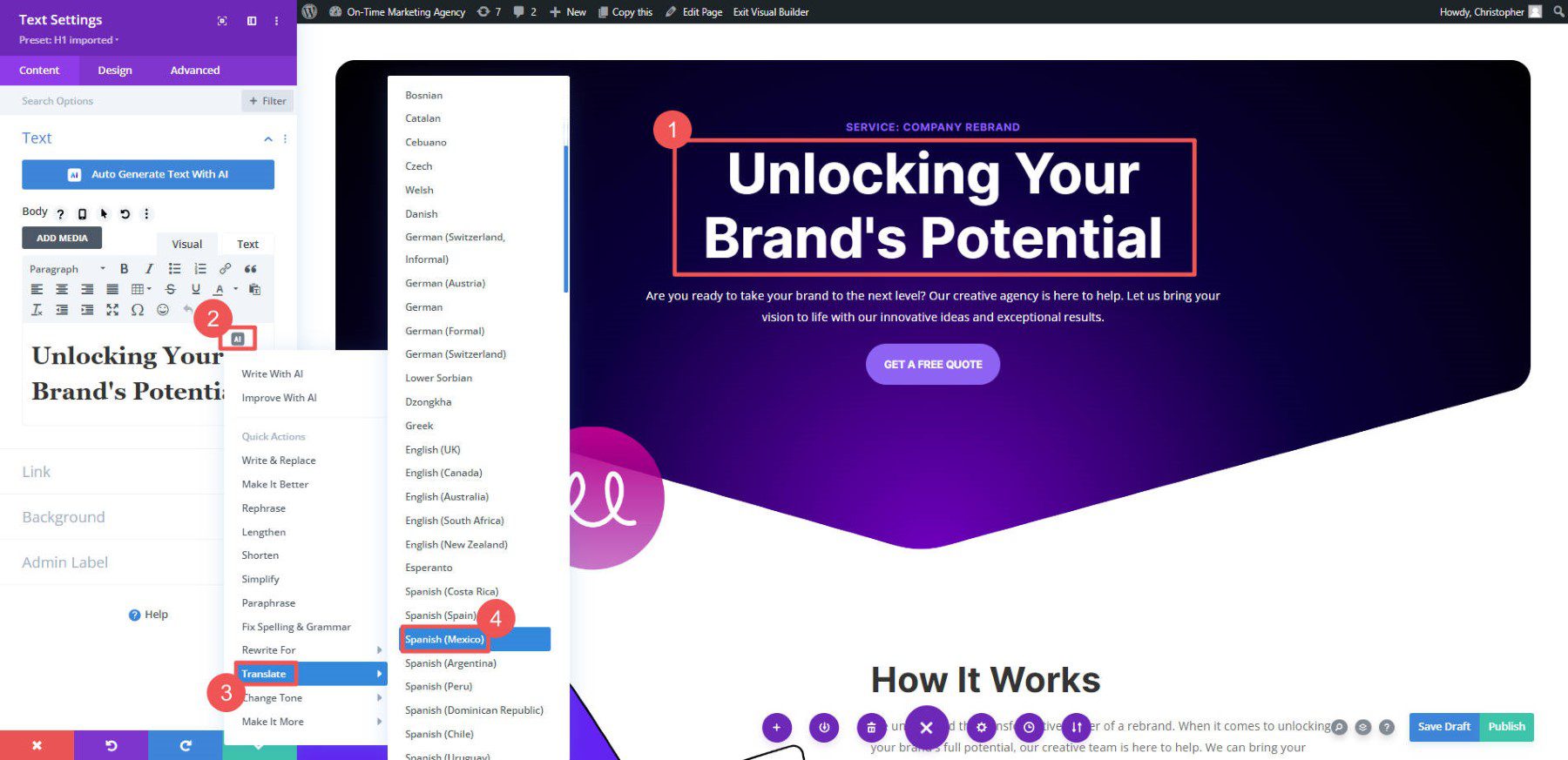 However you go about it, AI + WordPress ensures that language is no longer a barrier but a bridge connecting your site to the world.
7. Optimize Images
Visual content is the lifeblood of any website. It captures attention, conveys emotions, and enhances the overall aesthetic appeal. But managing and optimizing images can be a complex task. What if there was a way to simplify it to ensure your photos are visually stunning and optimized for performance?
For AI Image Compression, you're welcome to give ShortPixel a try. ShortPixel is an AI-powered plugin that optimizes your images without compromising their quality.

It uses advanced compression algorithms to reduce file sizes while maintaining the visual quality of your images. ShortPixel AI also automatically resizes and scales images for end users' device resolutions via its image CDN. That means images are loaded only as big as they need to be, drastically speeding up WordPress sites with the power of AI!
But that's not all. ShortPixel goes beyond just compression. It offers features like lazy loading, which defers offscreen images until needed, and incorrect image size detection, which helps you quickly locate images slowing down your site. Plus, it works in the background, optimizing your photos even when you've closed the plugin.
8. Write Custom Coded Solutions for WordPress
Customization is the key to standing out in the digital landscape. Your WordPress site should be unique, reflecting your brand's identity and meeting your needs. But writing custom code can be a bit time-consuming. What if there was a way to simplify it, to create custom solutions without getting lost in lines of code?
Meet CodeWP, a service that uses AI to write custom code snippets for your WordPress site.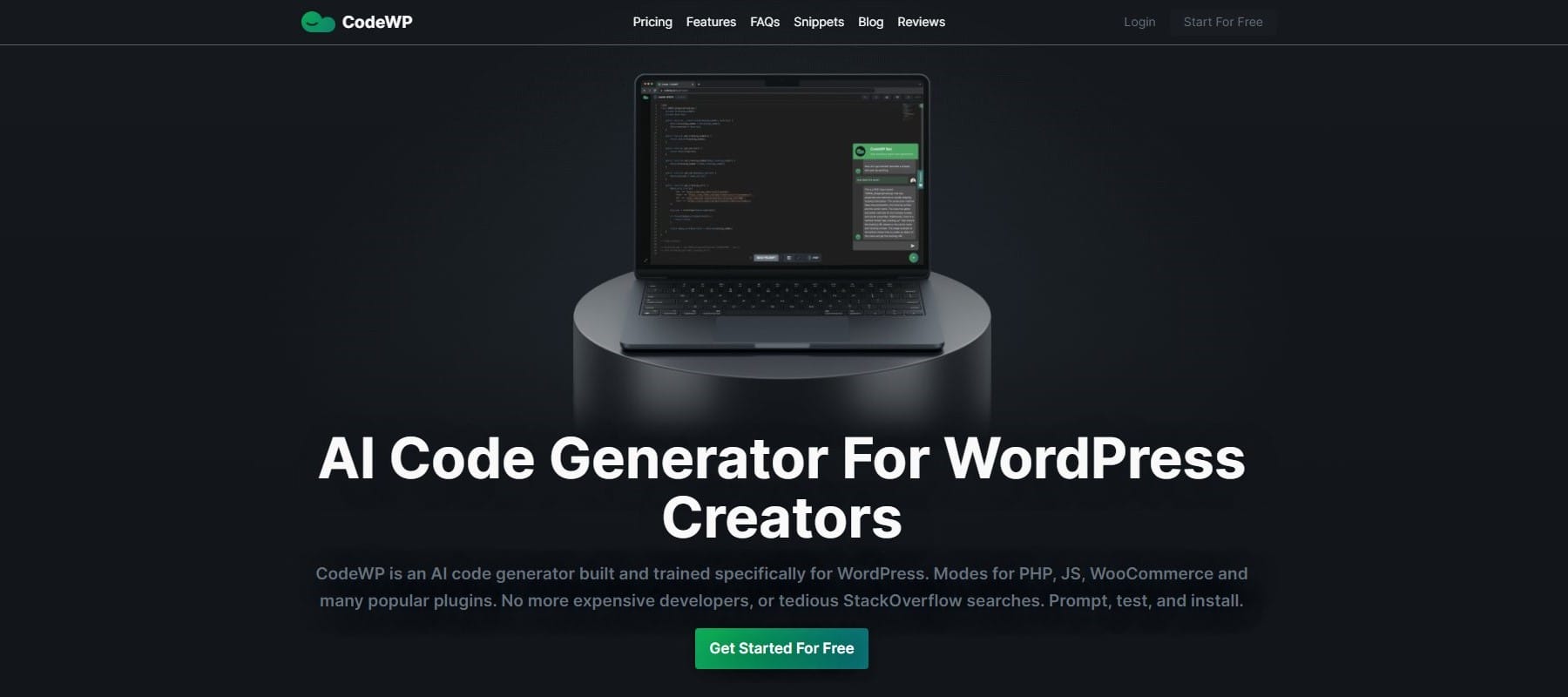 CodeWP doesn't just generate code—it creates solutions tailored to your needs. Whether you want to add a new feature or enhance an existing one, CodeWP has got you covered.
To harness the power of CodeWP, prompt it in plain English with what kind of WordPress code the AI should create. It'll create code snippets that you can add to your website. With CodeWP, custom coding is more obtainable and quicker to get. That should bring your vision to life faster than you knew it was possible.
Images are more than just visual elements on your website; they're integral to your site's SEO. Alt tags help search engines understand the content of your images. But manually writing alt tags can be a tedious task. What if there was a way to automate it, ensuring every image on your site has an accurate and SEO-friendly alt tag?
Enter AltText.ai, an AI-powered plugin that automates generating alt tags.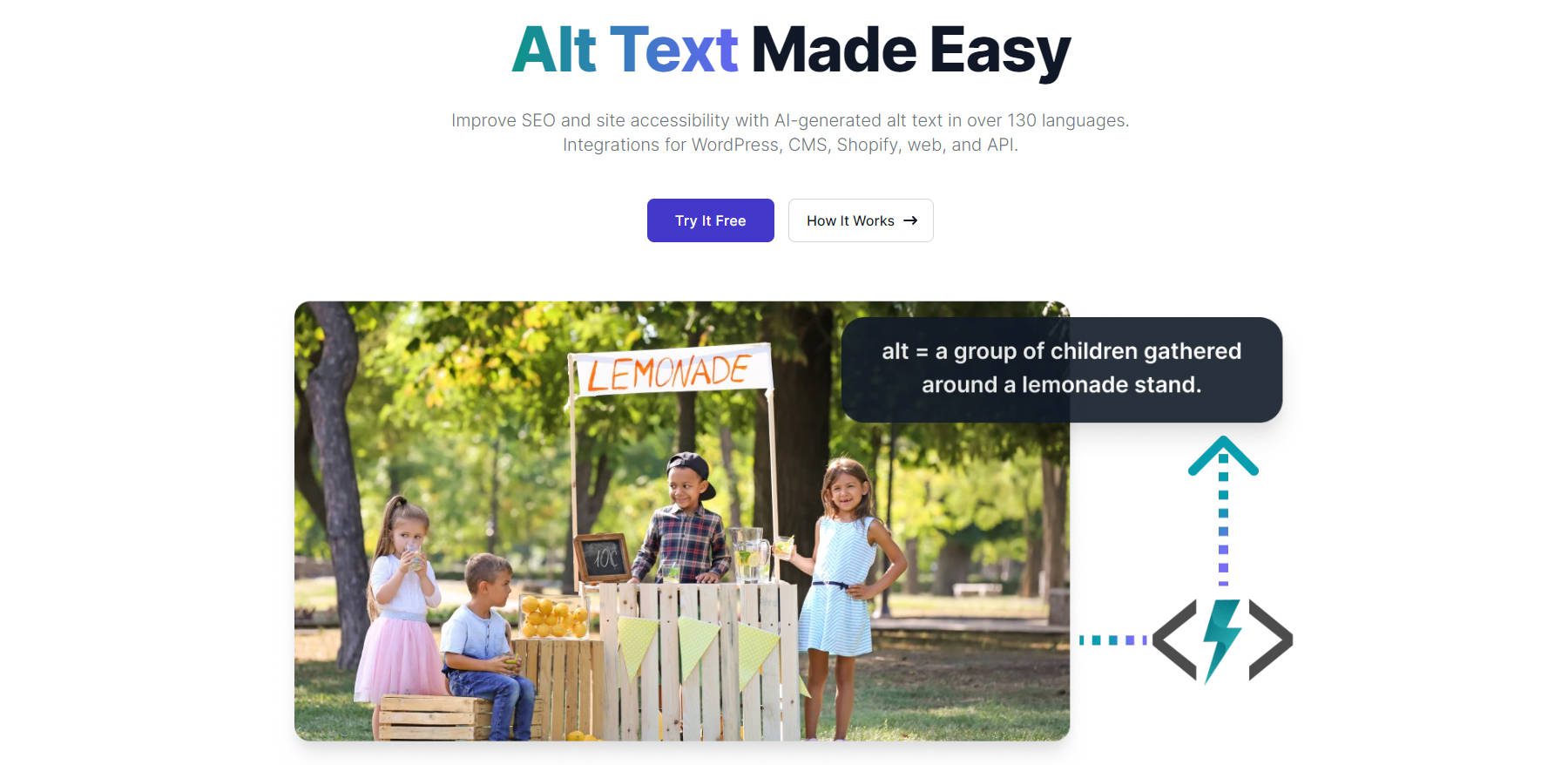 It doesn't just generate alt tags—it creates accurate descriptions based on an AI-driven analysis of your images. This ensures your alt tags are not only SEO-friendly but also contextually accurate. AltText.ai supports over 130 languages and integrates seamlessly with WordPress, CMS, Shopify, and more. With a simple click of a button in the media library, AltText.ai will generate your images' alt text. Even better, it can be set to do the same thing on file upload, saving a tremendous amount of time throughout running your website.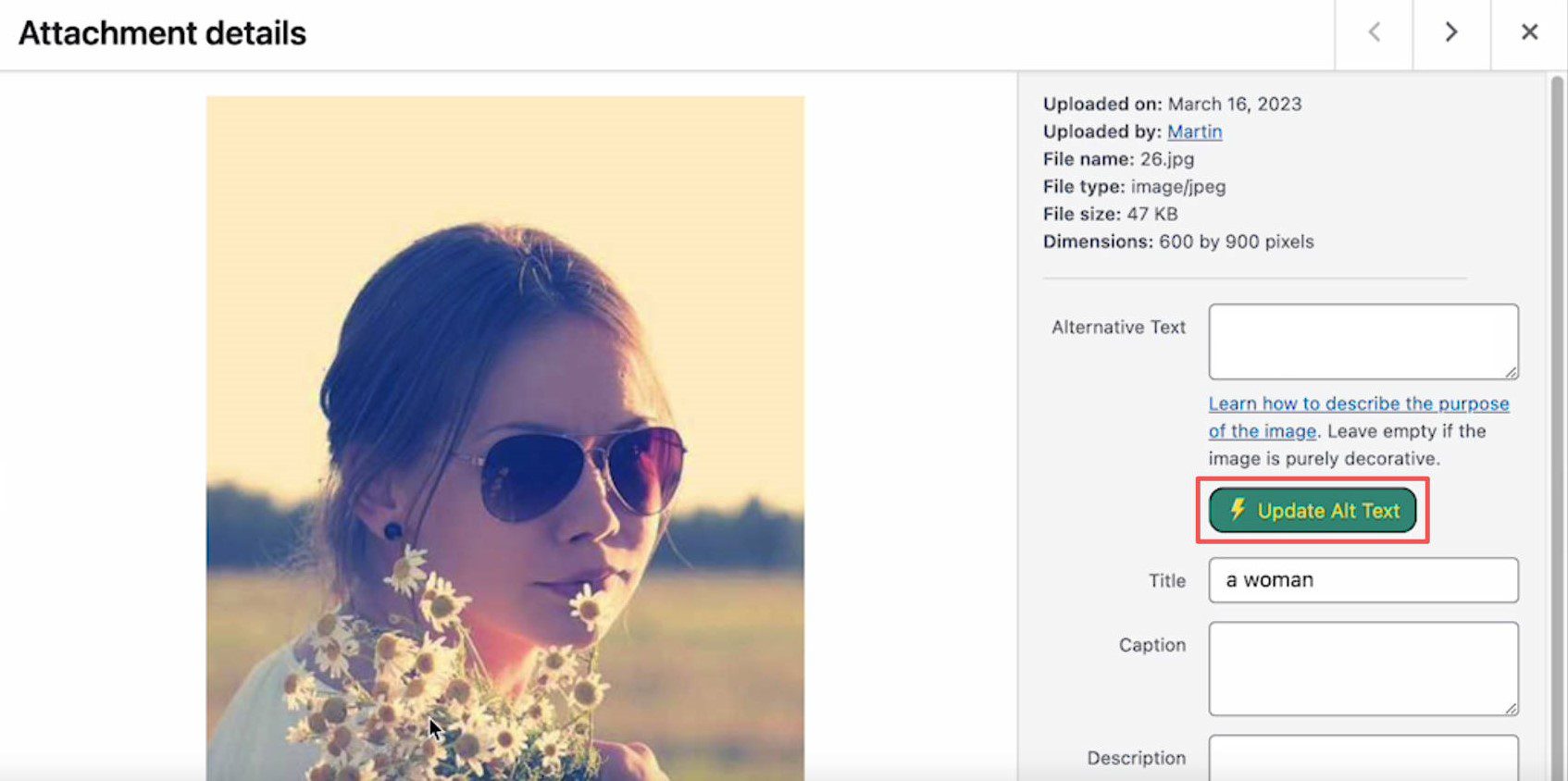 To leverage the power of AltText.ai, integrate it into your WordPress site. Let it analyze your images, generate accurate alt tags, and enhance your site's SEO. With AltText.ai, alt tag generation is no longer a chore but a seamless process that improves your site's SEO and accessibility.
10. Block WordPress Comment Spam
Engaging with your audience through comments is a great way to build a community around your WordPress site. But managing spam comments can be a tedious task. What if there was a way to block spam comments, ensuring your comment section is a space for genuine engagement and discussion?
Say hello to Akismet, an AI-powered plugin that weeds out spam comments. With a simple setup process, the Akismet API will scour every comment posted to your site.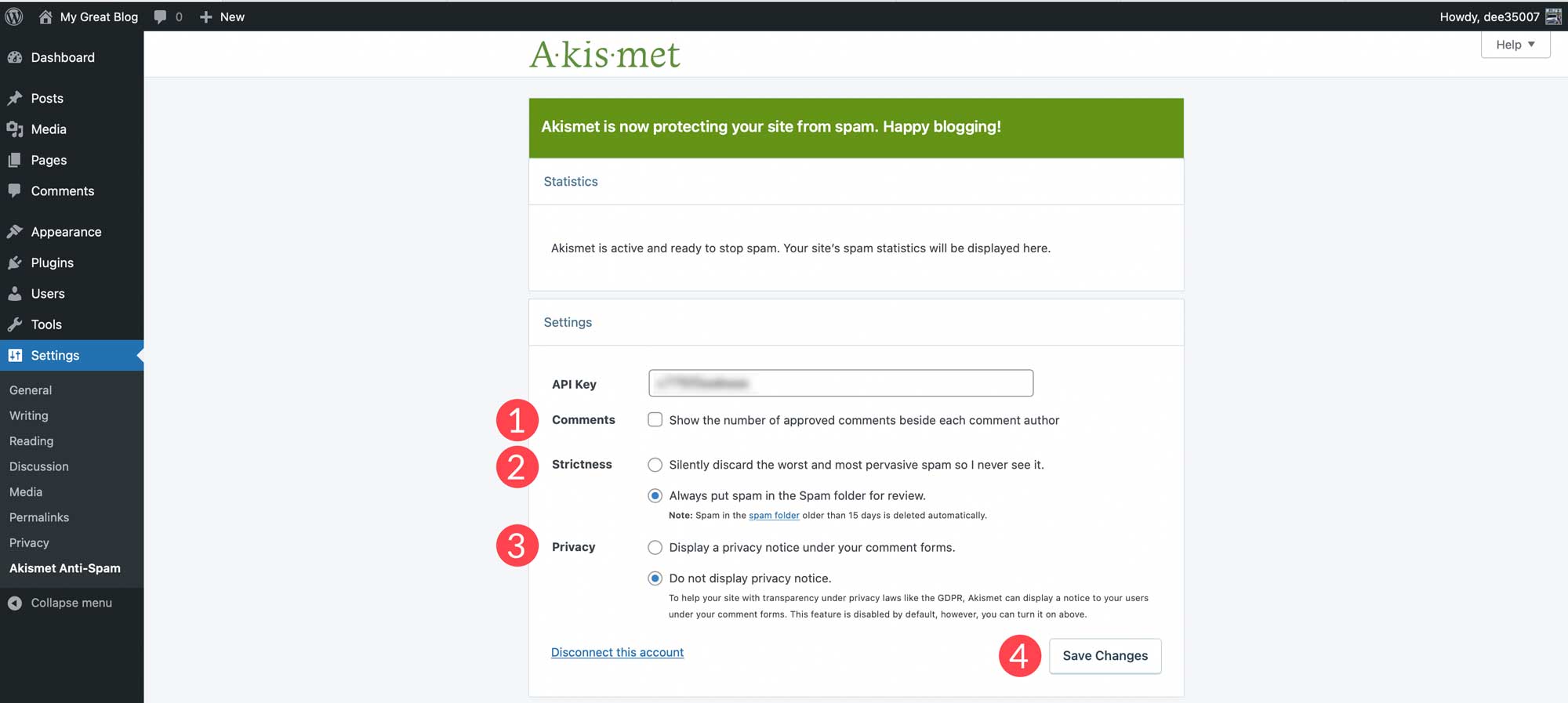 Akismet doesn't just block spam—it uses advanced AI algorithms to analyze comment patterns and identify real spam. This ensures your comment section is junk-free, allowing you to engage with your actual visitors.
To experience the power of Akismet, integrate it into your WordPress site. Let it weed out spam comments, ensuring your comment section is a space for genuine conversation. With Akismet, managing comments is no longer a dreaded task but an enjoyable process that builds your site's community and engagement.
AI + WordPress = Endless Productivity
Several of these ways to use AI with WordPress are very easy to implement. They all afford you either time savings or advanced features that are untenable without AI. Once you add a few of these to your site, you'll be trying to find new ways of incorporating AI into your tech stacks.
Divi AI is the perfect website assistant and stands to only get better with time and deeper integration into Divi's visual builder. Invest in yourself and your team by picking it. Divi AI is sharable across all team members in your Divi Teams account. And all of this comes at one low monthly (or an even lower yearly) rate.
However you choose to implement WordPress AI, you will enjoy its new possibilities.
WordPress AI FAQ
What AI tools can be integrated with WordPress for enhanced functionality?
There are numerous AI tools that can be integrated with WordPress to enhance its functionality. Some popular ones include Divi AI for content creation, Rank Math for SEO optimization, and Akismet for spam comment management.
How does AI help in optimizing SEO for WordPress?
AI helps in optimizing SEO for WordPress by analyzing your content and providing real-time suggestions for optimization. Tools like Rank Math use AI algorithms to ensure your content is search engine friendly and ranks higher in search results.
How can AI improve the user experience on a WordPress site?
AI can significantly improve the user experience on a WordPress site by providing personalized content, facilitating real-time interactions through chatbots, and ensuring the site is optimized for performance and accessibility.
What are some scalable growth strategies using AI on WordPress?
Some scalable growth strategies using AI on WordPress include optimizing SEO to attract more organic traffic, using chatbots to improve customer service and engagement, and leveraging AI-powered plugins to streamline content creation and website management.
How can AI streamline content creation on WordPress?
AI can streamline content creation on WordPress by generating relevant and engaging copy for your pages. Divi AI, for example, can analyze your content and automatically generate text and images that match your page perfectly.
What are the benefits of using AI with WordPress?
The benefits of using AI with WordPress are numerous. It can enhance the functionality of your site, improve the user experience, optimize SEO, streamline content creation, automate website management, facilitate personalized user interactions, assist in data-driven decision-making, and contribute to sustainable digital transformation.
Featured Image by FGC / shutterstock.com