Driving engagement is key to keeping users on your site and encouraging conversions. Interactive elements can capture your audience's attention and increase their interest in your brand. Fortunately, there are many WordPress quiz plugins out there that make it easy to add intriguing personality tests or even surveys and polls to your site.
WordPress provides you with a variety of WordPress plugins, but in this post specifically, we'll share some of the benefits and use cases of quizzes for your WordPress site. Then we'll round up the best WordPress quiz plugins that you can use to start building quizzes today.
Let's dive in!
Why Use a WordPress Quiz Plugin?
The main goal of adding quizzes to your WordPress website is to boost user growth through engagement. Online personality tests and trivia games are proven to be addictive in nature; in fact, entire industries have been predicated on these quizzes. Websites like Buzzfeed made their mark on the internet with relatable quizzes that sucked their users in and kept them coming back. It can also increase social sharing activity as your users want to share the results of quizzes with their friends.
But that's not all; you can also use online quizzes to learn more about what your clientele wants more rapidly. Consider websites like Stitch Fix, which offer quizzes to personalize what products are displayed to their users.

After the user takes the quiz, the website will generate more specific suggestions for items to purchase that are more likely to appeal to that customer.
Quizzes can also give you insightful data that you can use to improve your services and marketing approach. For example, you can add a quiz to see what aspects of the customer experience your users enjoyed or need improvement and adjust accordingly. You can even gate-keep quizzes to expand your customer email list by having users input their contact information. This can give you opportunities to engage with customers in future marketing efforts and potentially generate sales.
The Best WordPress Quiz Plugins

Subscribe To Our Youtube Channel
The Best WordPress Quiz Plugins Listed In Order
Expand List
Quizzes are built with a very particular set of features that not all form plugins afford. Many of the best form plugins can create all types of forms, including tests and quizzes. Below, we've rounded up ten of the top contenders that will help you build quizzes with no problems. All of them have received regular updates and high user ratings.
1. Quiz And Survey Master

Quiz And Survey Master is the most popular free solution dedicated entirely to helping you create engaging quizzes for your WordPress site. It's earned this status by providing a wide range of customization options, so you can create the ideal test for your users.
Speaking of quiz creation, this plugin's editing interface is fairly easy to pick up. First, you can select from one of its pre-built templates, or choose to build your test from scratch: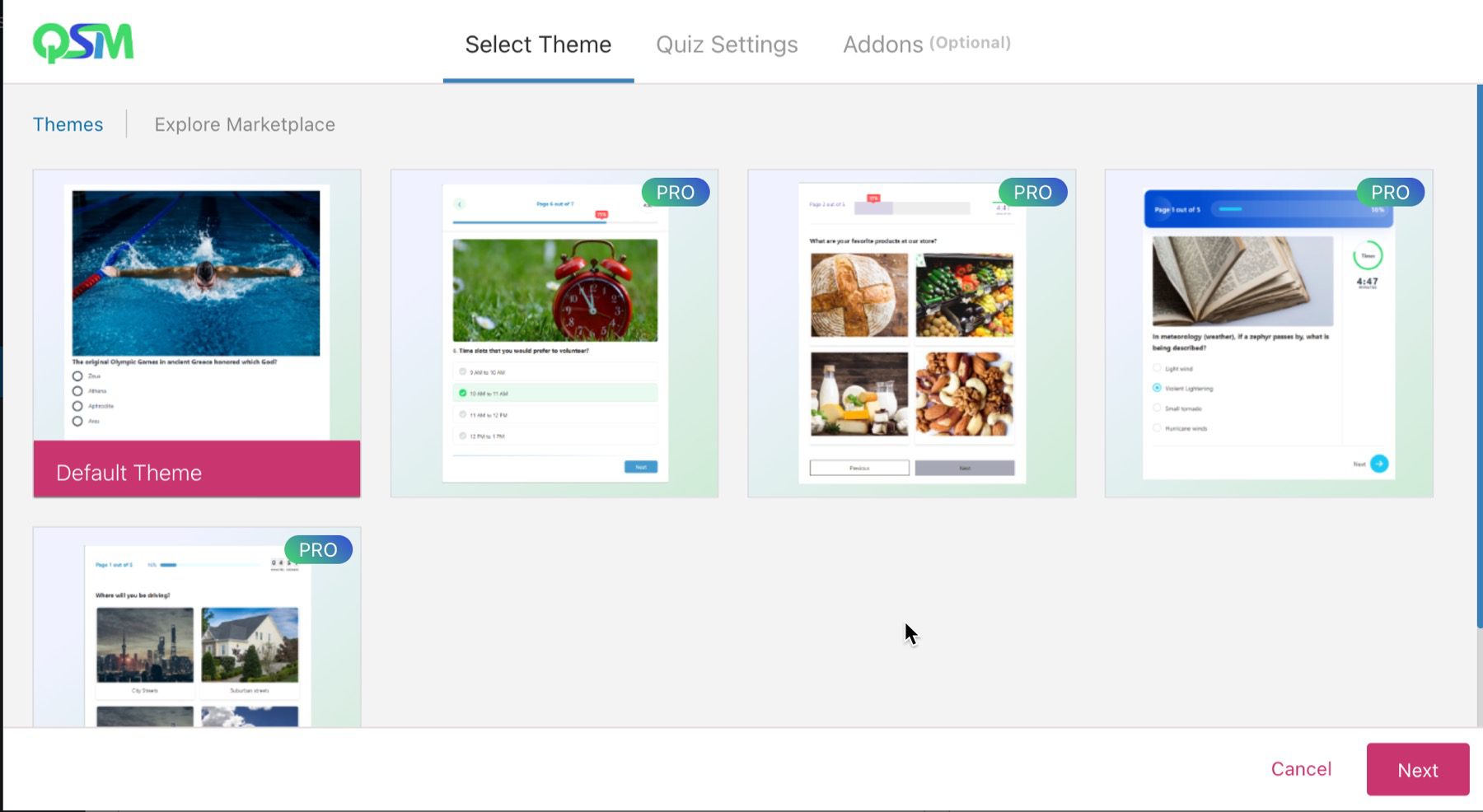 Then you'll be taken to a screen where you can simply type in your questions and answers: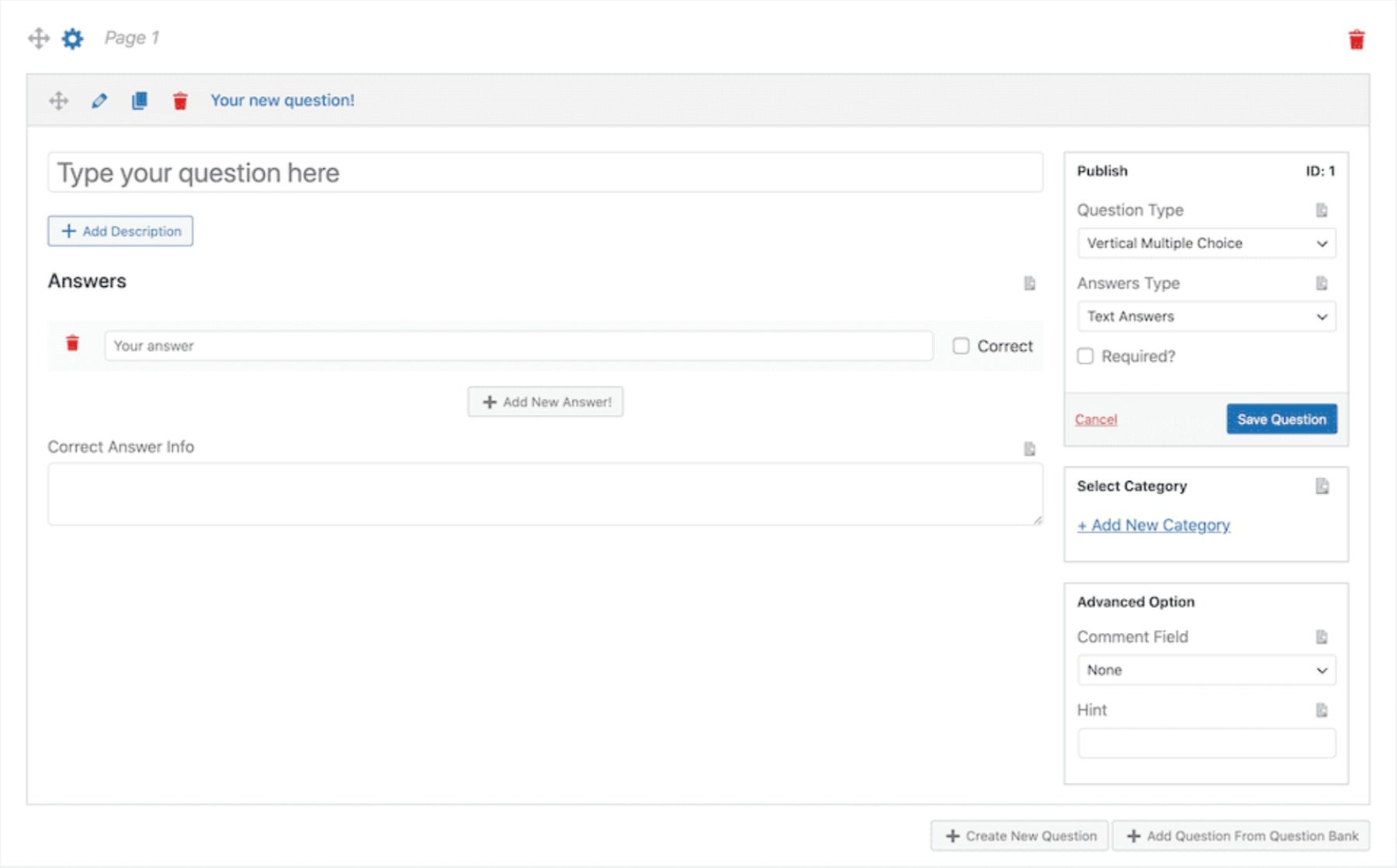 You can choose from many different question types, including multiple-choice, short-answer, fill-in-the-blank, or even file uploads. Quiz And Survey Master also supports quiz categories, so you can easily organize your content for users to find. Furthermore, all the text provided by the plugin is customizable, so you can add personalized messages, labels, and more to make your quiz match your branding.
On top of all of that, Quiz and Survey Master provides advanced functionality such as:
Remarkably, all of these features are free. You can also install the free Leaderboard add-on to incorporate an element of friendly competition between your users. In addition, there are a handful of paid add-ons that can grant you access to more detailed analytics, integrate your quizzes with Google Analytics, and more.
Price: Free with premium add-ons
2. Formidable Forms

Another premium form builder you can use to create quizzes is Formidable Forms. Like Forminator, it features a visual drag-and-drop builder that enables you to combine pre-built elements to put together custom forms (including quizzes):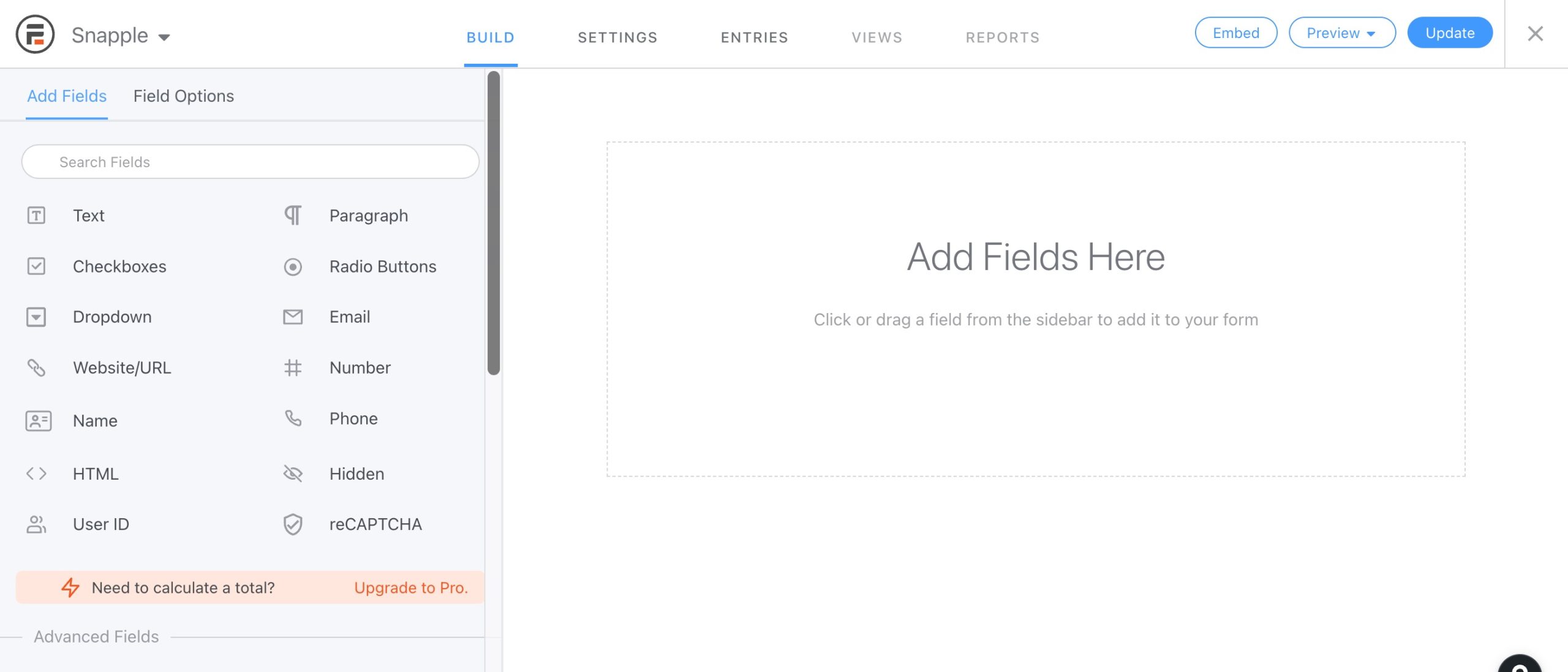 Unfortunately, the free version is relatively limited. Although you could still use the blank form to create multiple-choice or short-answer questions, you can't access the full power of this WordPress quiz plugin without an expensive add-on.
The Quiz Maker extension includes:
Scoring and custom grading scales
Email integration
Analytics and Reporting
PayPal integration
Advanced styling options
If you're hoping for high-quality quiz templates to work from, this plugin probably isn't your best choice. The primary reason to choose Formidable Forms over other solutions on this list is if you're already using it to create contact forms or other content.
Price: Free with a premium upgrade. The Business Plan, which includes the Quiz Maker, is $199.50 per year.
3. Thrive Quiz Builder

If gathering user data is a strong motivation behind your WordPress quiz plugin search, Thrive Quiz Builder might be the solution for you. It provides an advanced visual editor with branching conditional logic, so you can set up complex quizzes with ease. The built-in troubleshooter will catch errors and notify you of them so you can fix them before making your test live.
In addition to boosting engagement and lowering your bounce rate, Thrive Quiz Builder can help you increase traffic with social media sharing. This is also the best WordPress quiz plugin for data collection. All results are compiled into detailed reports so you can see how many people submitted each answer.
Key features include:
Custom content suggestions based on users' results
Email list segmentation
Four quiz-type templates
Social sharing badges
A quiz dashboard to track your analytics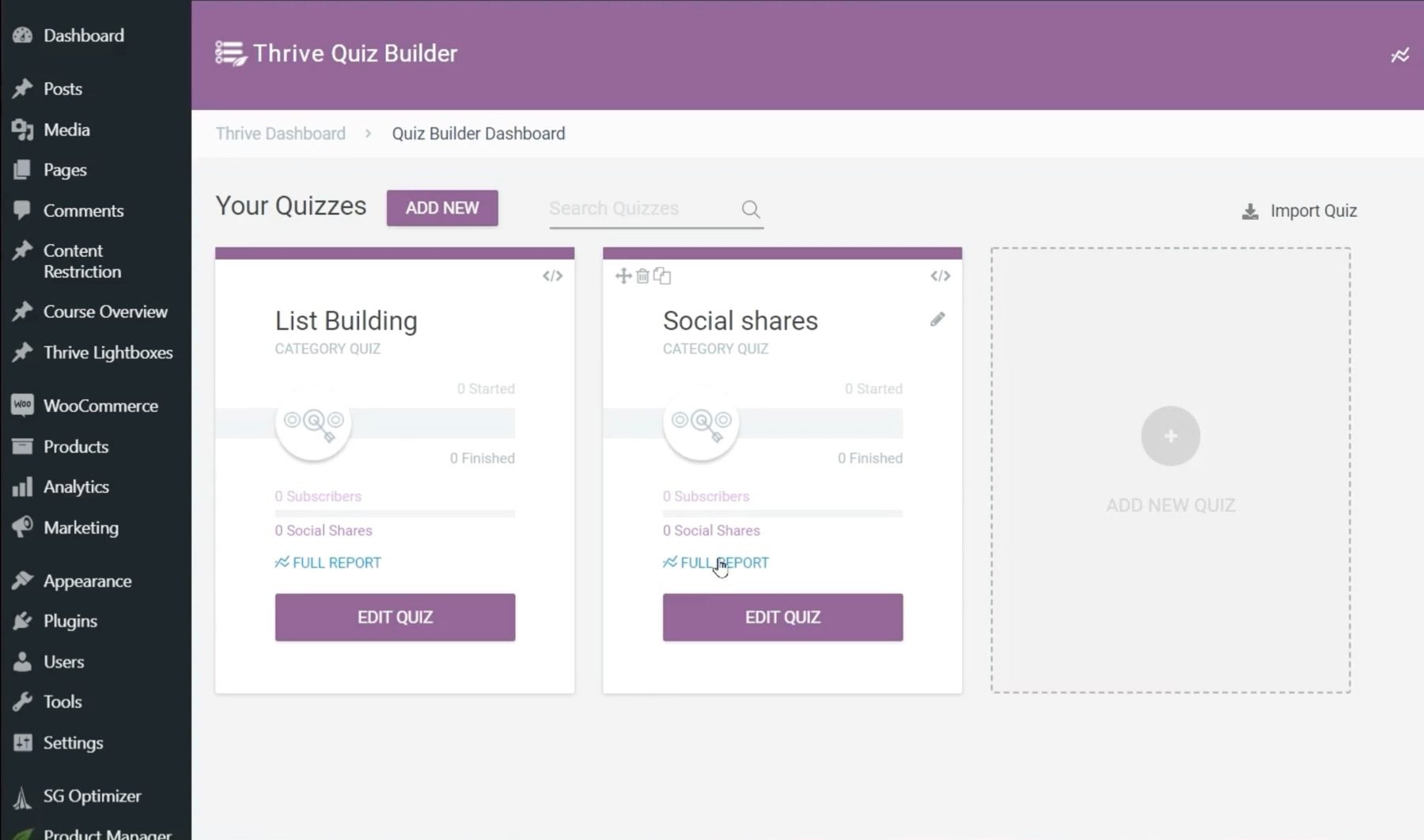 Additionally, this is the top WordPress quiz plugin for data gathering. You can check how many people submitted each response by looking at the comprehensive reports that contain all the insights conveniently from your dashboard.
Note that you'll need an active Thrive Suite license to install the Quiz Builder.
Price: Thrive Suite starts at $19 per month
4. Quiz Maker

Next up we have Quiz Maker, another budget-friendly WordPress quiz plugin. The free version is perfect for those who want to make simple quizzes fast.
To build your quiz, you first have to add each question to your site separately. This makes it possible to efficiently reuse them between quizzes: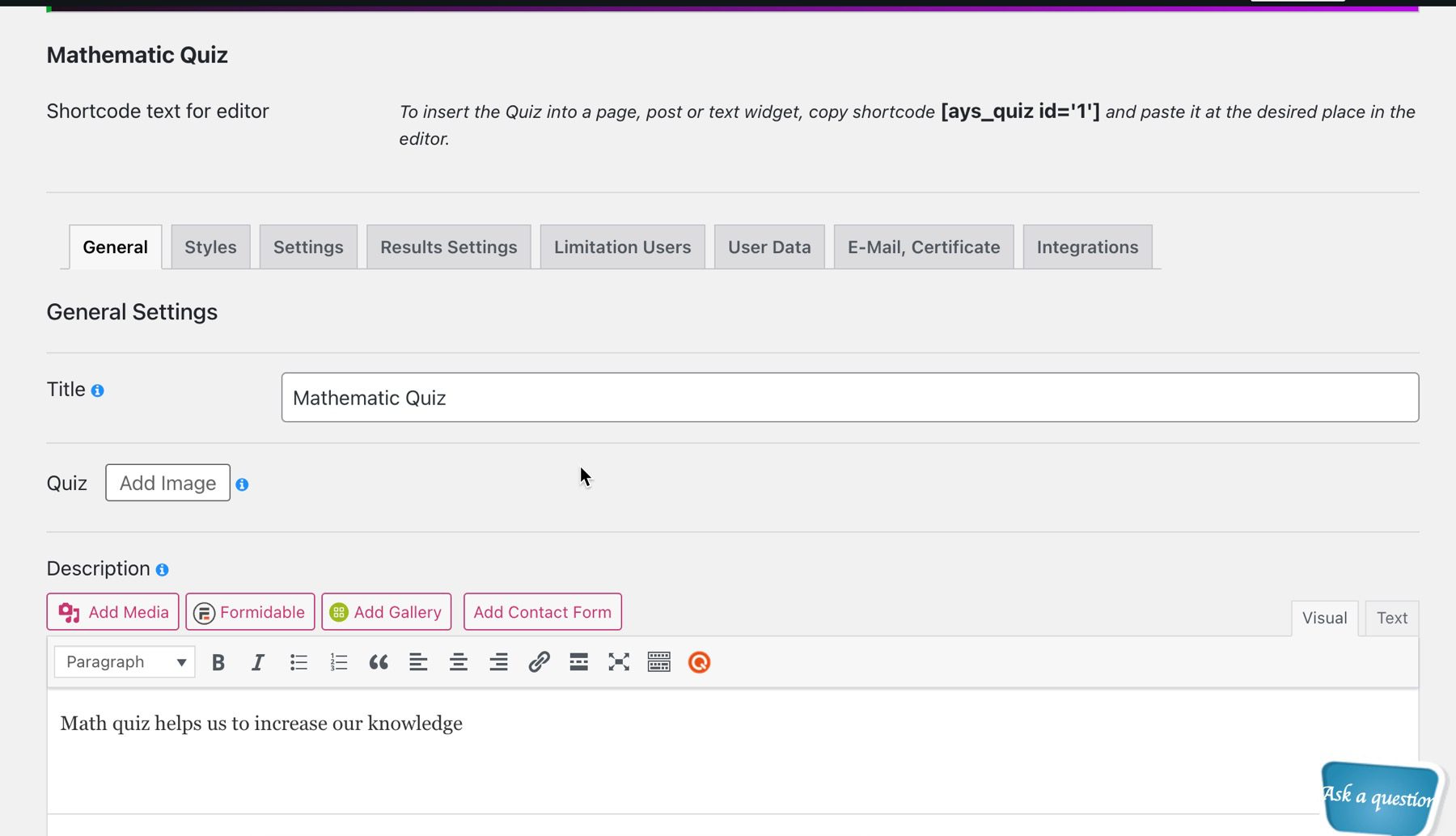 Quizzes can be made in a variety of formats. You can select from fields with radio buttons, checkboxes, dropdown menus, numbers, or plain text. Plus, you can add contact forms or other media with the pro version.
Additionally, Quiz Maker provides several quiz themes for you to choose between, as well as color customization and other styling options. Other settings enable you to randomize the order of the questions, score answers by correctness or points, write your own results messages, and more.
Beyond that, this plugin's features include:
Question images
Timed quizzes
User login status restrictions
A quick quiz generator
Results and data tracking
These options are all available for free. The premium version includes email integration, leaderboard functionality, password-protected quizzes, and more.
Price: Free with premium upgrade starting at $29
5. Poll, Survey & Quiz by OpinionStage
By now, you probably know what to expect from a quality WordPress quiz plugin. Poll, Survey & Quiz by OpinionStage provides all of these standard features, plus a few hidden gems.
You'll need an OpinionStage account to get started. You can then connect it to your website via the plugin, and start building quizzes and other interactive content from your OpinionStage dashboard: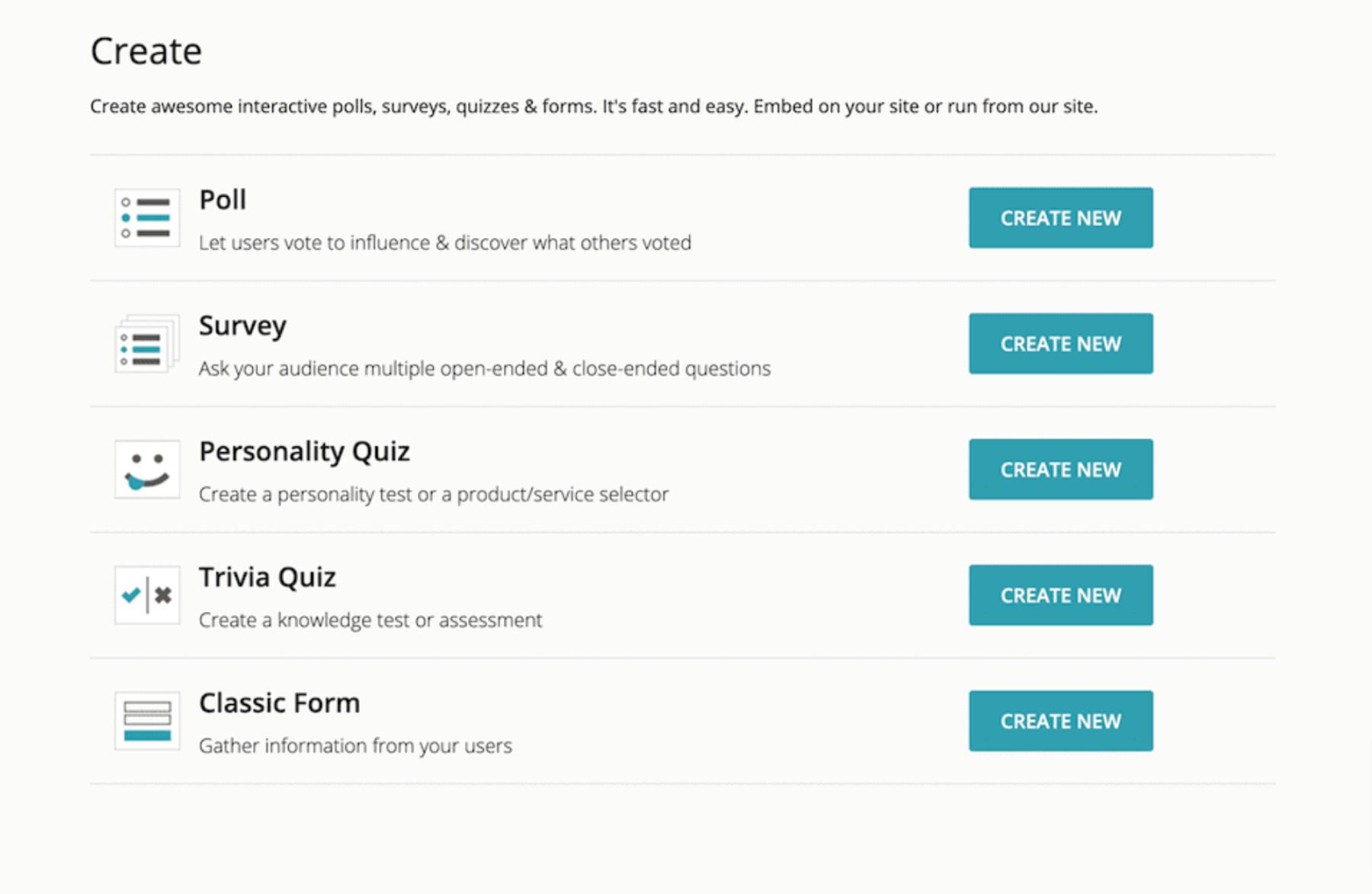 You have the choice of several quiz templates to help get you started. Once you're done building, you can add your quiz as a popup in your site's sidebar or at the end of all your blog posts. Statistics on your quiz's views, responses, and lead generation activity are all visible in your OpinionStage account.
This plugin is best for those who want to include the same quizzes across multiple sites. You can simply build your test once in OpinionStage, and then add it to all your WordPress installations via the plugin. It's also suitable for professionals, as it includes white-label widgets for the back end.
Other features include:
CSV results exporting
Social sharing
Quiz submission email notifications
Branching logic
Integration with marketing platforms such as Mailchimp
Lead generation forms
Styling customizations
It is possible to use OpinionStage completely free, but only for up to 250 views per month. You'll then need to upgrade to a paid account.
Price: The Poll, Survey & Quiz plugin is free. OpinionStage pricing starts at $19 per month for 10,000 views
6. Quiz Cat

Quiz Cat claims to offer a lightweight alternative to other WordPress quiz plugins. Its stripped-down editor is certainly less flashy than some of the other options we've looked at in this post, but that helps it minimize its impact on your site's speed: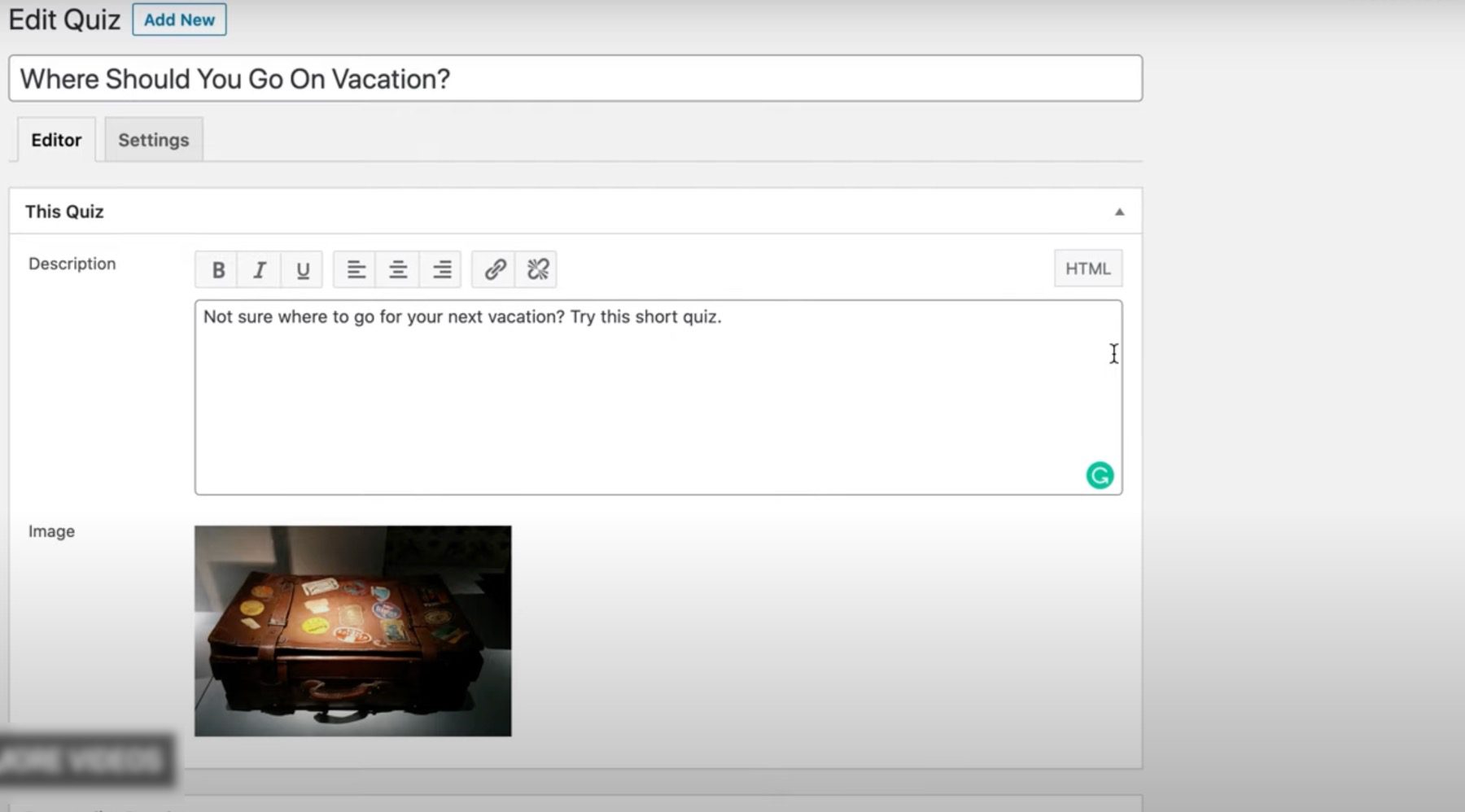 If you just want to generate simple multiple-choice quizzes quickly, then Quiz Cat can get the job done. However, you won't see any of the more intriguing functionality or integrations offered by other solutions – at least, not in the free version.
Upgrading to Quiz Cat premium will get you social sharing buttons and Facebook Pixel integration for data tracking. It also enables you to build personality quizzes and weighted quizzes in addition to the default multiple-choice format.
Other premium features include:
Email marketing integration
Lead generation and segmentation
The ability to redirect users to new page after they finish the quiz
Question order shuffling
Analytics reporting and CSV exporting
Price: Free, with premium upgrades starting at $49 per year
7. Forminator

Many form builder plugins, including Forminator, also offer quiz creation features. These tools can help you cut down on the number of plugins your site is running by doing double duty.
Although it might seem like a dedicated plugin would provide better and more advanced options than a multi-purpose solution, that's not necessarily true in the case of a WordPress quiz plugin. Most of the best WordPress contact form plugins already provide deep integration with email platforms, which can be beneficial if you want to use quizzes to grow your subscriber list.
This is especially true in the case of Forminator. When creating a new quiz, you'll first be asked to choose if you want it to be personality or knowledge-based: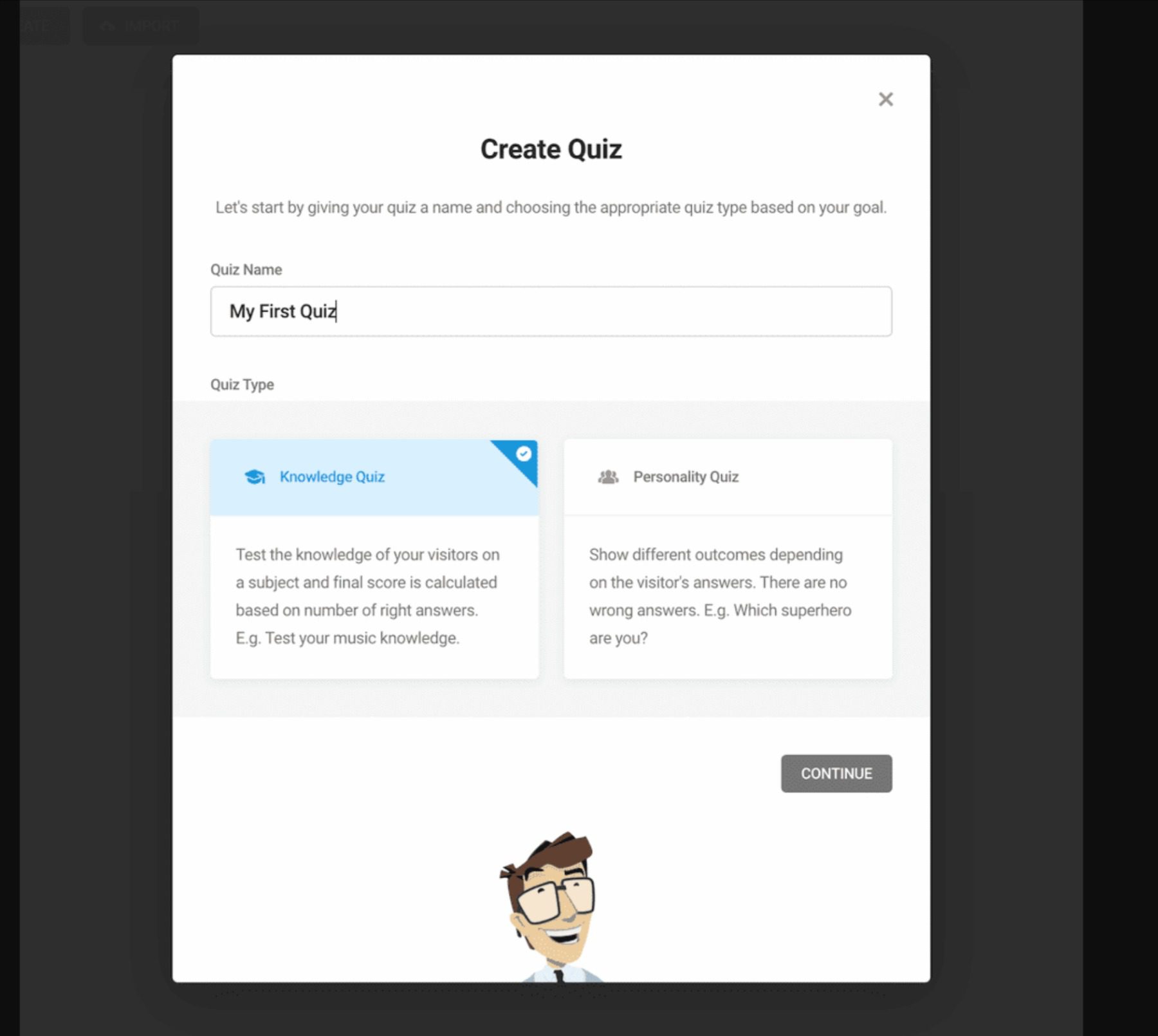 Then Forminator will ask you want to use your quiz for lead generation. If so, it will automatically set up a corresponding form for you. After that, you'll gain access to the plugin's sleek drag-and-drop quiz builder: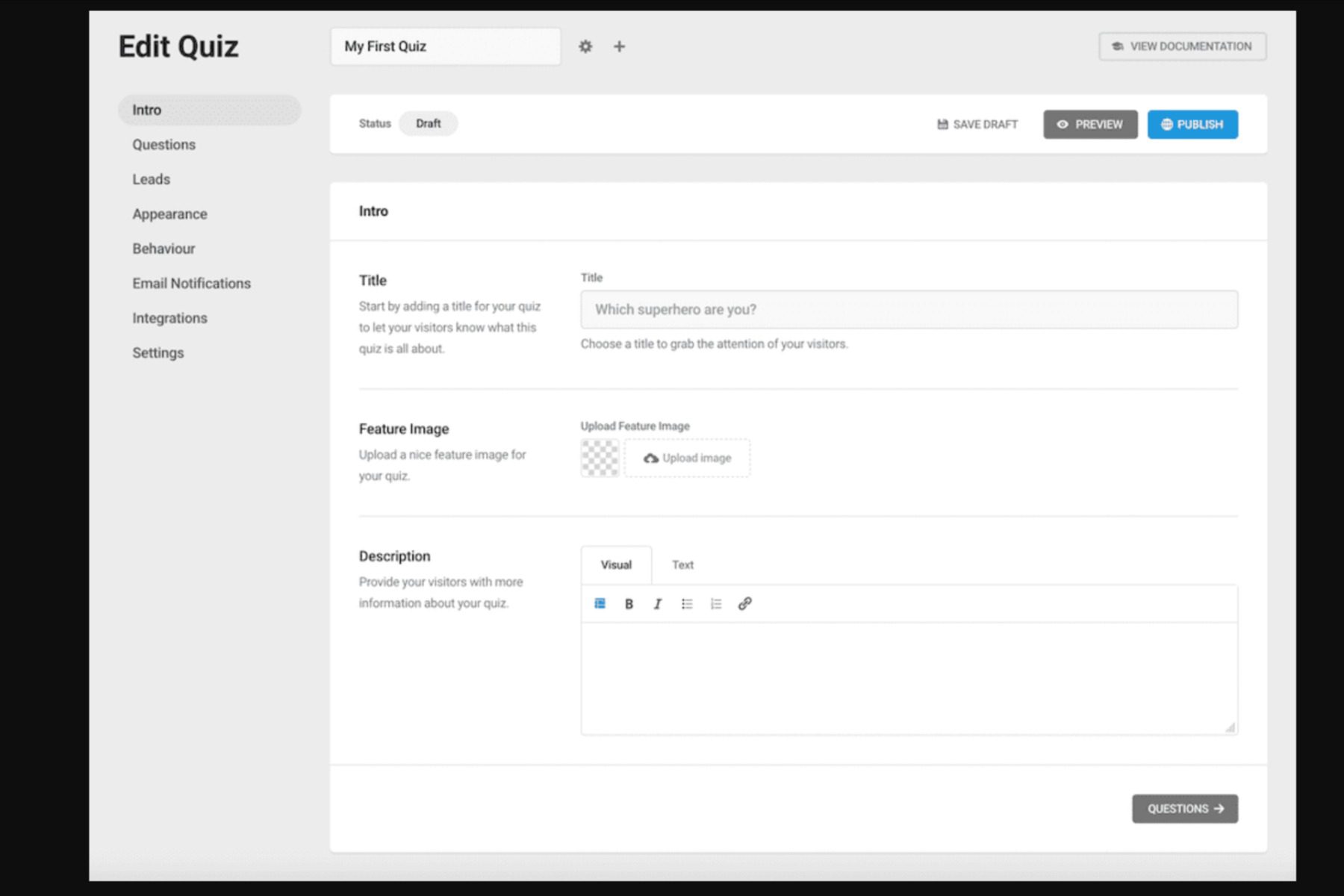 Here you can add questions, customize your lead generation form, tweak design elements such as color scheme and font choice, and configure email reports.
Additionally, Forminator includes:
Integration with top CRM platforms
A custom WordPress block for adding forms and quizzes to your pages
Stripe and PayPal integration
Developer API
General Data Protection Regulation (GDPR) compliance
What's more, Forminator is surprisingly affordable. All of the features above come free. In fact, the only premium feature is an e-signature field (which you likely won't need if you're primarily using it for quizzes).
Price: Free with a premium version available starting at $5 per month
8. HD Quiz

HD Quiz is a free, user-friendly WordPress quiz plugin that will get you off to a running start. Its simple, straightforward interface makes it clear how to add new quizzes and questions. In the question editor, you can easily choose the type and add up to ten answer choices: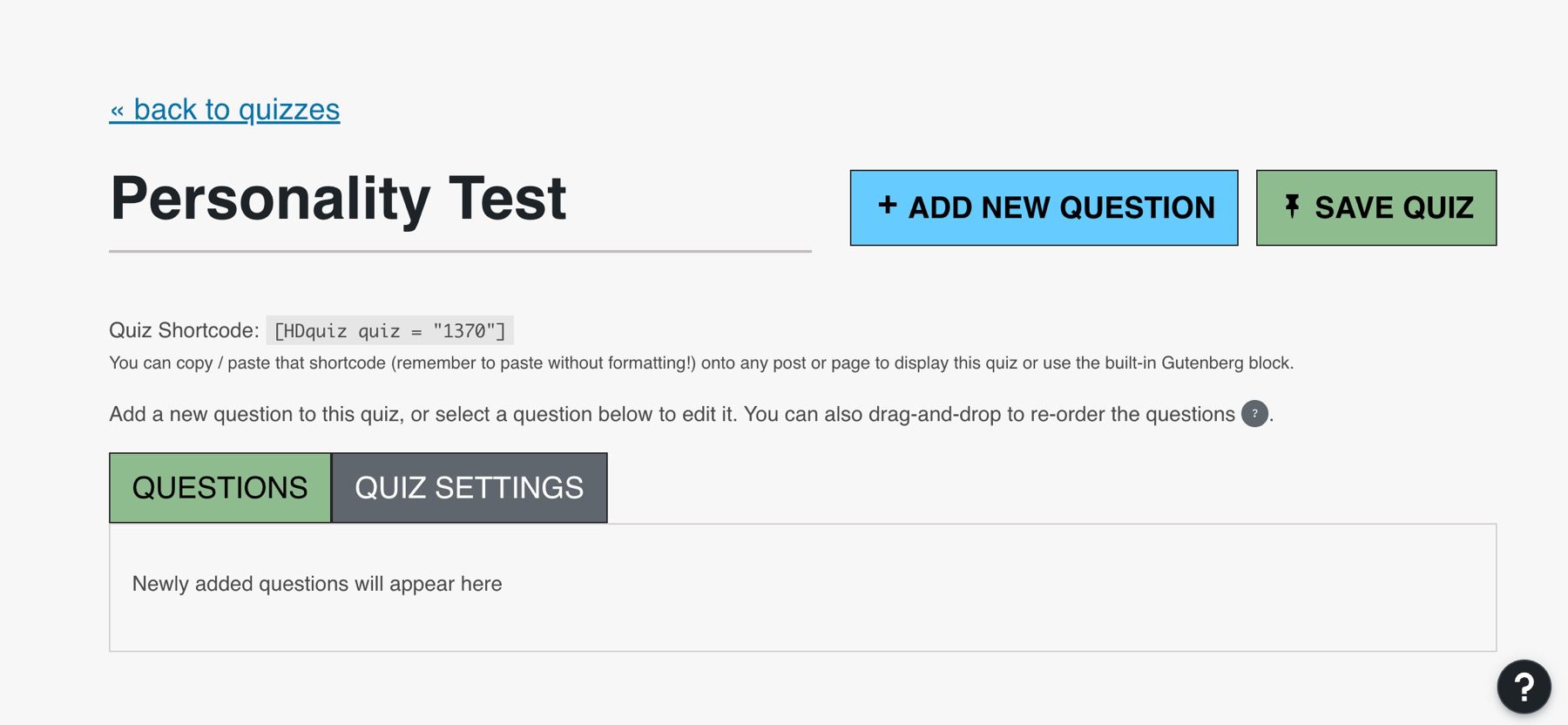 You can also add featured images for each question and customize the tooltip that will appear when users hover over it.
Besides that, HD Quiz packs a lot of punch for a free plugin, with features including:
The ability to reuse questions across multiple forms
Social sharing
Timed quizzes
Image-based multiple-choice answers
CSV question importer
Quiz translator built right into the plugin settings
Randomized question order
Mobile optimization, including touch-friendly answer choices
With that being said, you might have a little more trouble with this solution if you want to use your quizzes for lead generation or to collect user data. However, it's perfect for driving engagement and spreading brand awareness on social media. Add-ons for advanced styling and saving participant results are available.
Price: Free with premium add-ons available. Patreon members receive add-ons for free.
9. eForm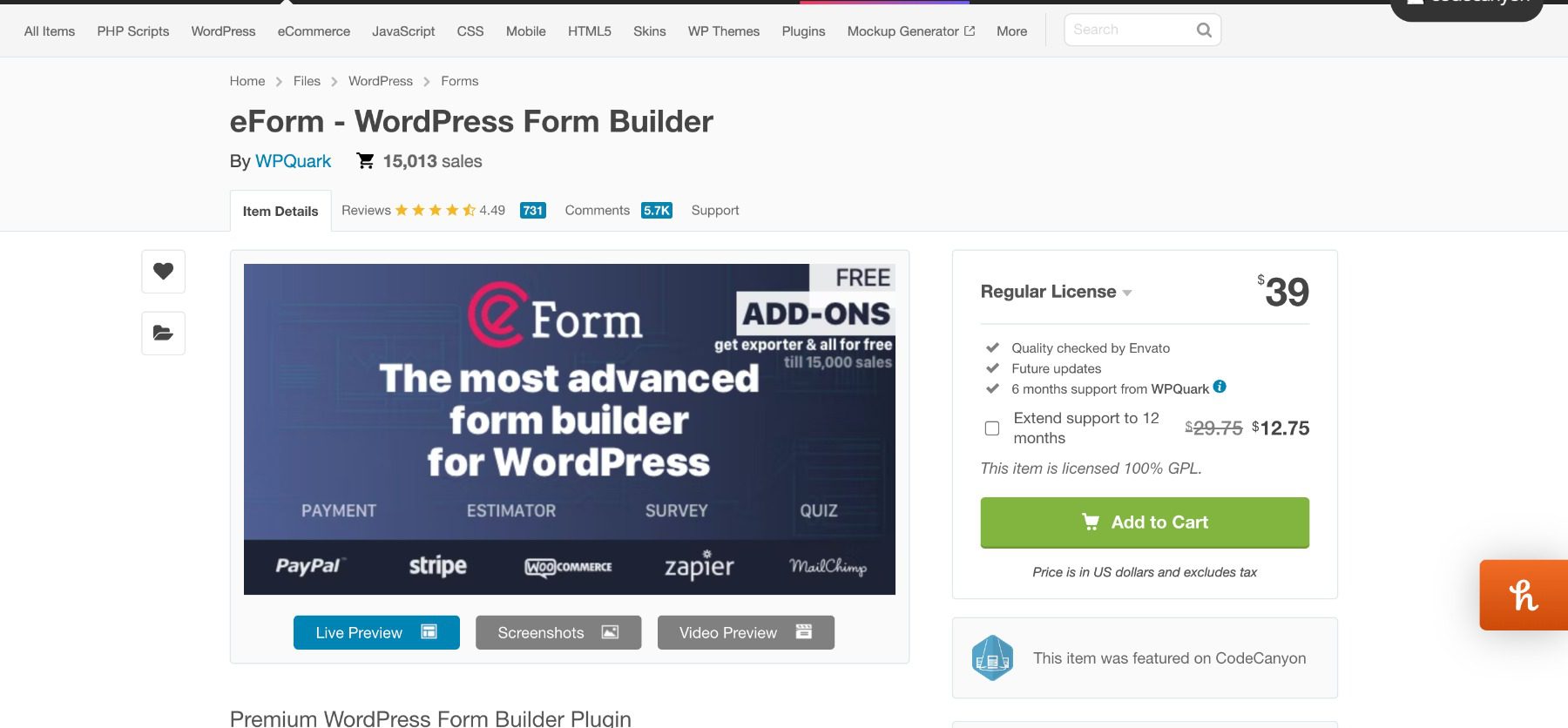 The eForm plugin is another multipurpose solution you can use to create quizzes for your WordPress site. It comes with several templates and a drag-and-drop editor that enables you to customize your test's layout.
In addition to quizzes, you can use eForm to make price calculators, login and registration forms, a guest post submission page, and more. It even includes an e-signature feature if you want to build digital contracts.
Some top features of this plugin include:
Conditional logic
Social sharing
Integration with Google Analytics
Scoring and ranking system
Secure file uploader
Data reports in your WordPress dashboard
WooCommerce integration
Payment processing via Stripe and PayPal
Compatibility with third-party platforms such as Mailchimp and AWeber
All in all, this plugin is a decent alternative to more popular form builders like Forminator or Formidable Forms. However, its quiz functionality doesn't exceed that of some of the free solutions on this list.
Price: $39 for lifetime support and updates
10. Watu Quiz

Finally, we have Watu Quiz. This WordPress quiz plugin is also more basic in design, as you can see by looking at the editor: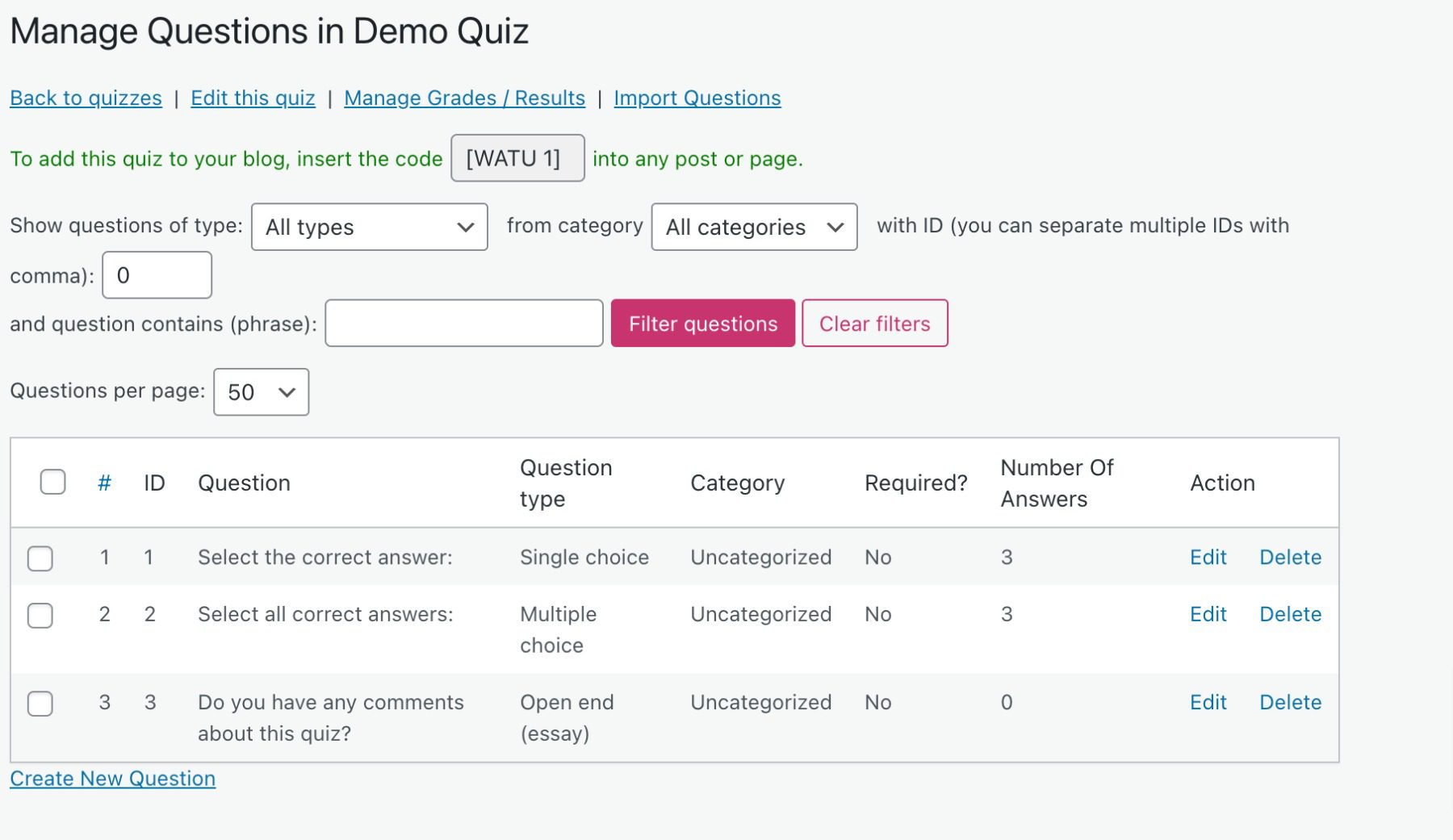 There's no fancy visual drag-and-drop interface here. However, the results look nice enough on the front end, especially if you prefer a more understated aesthetic: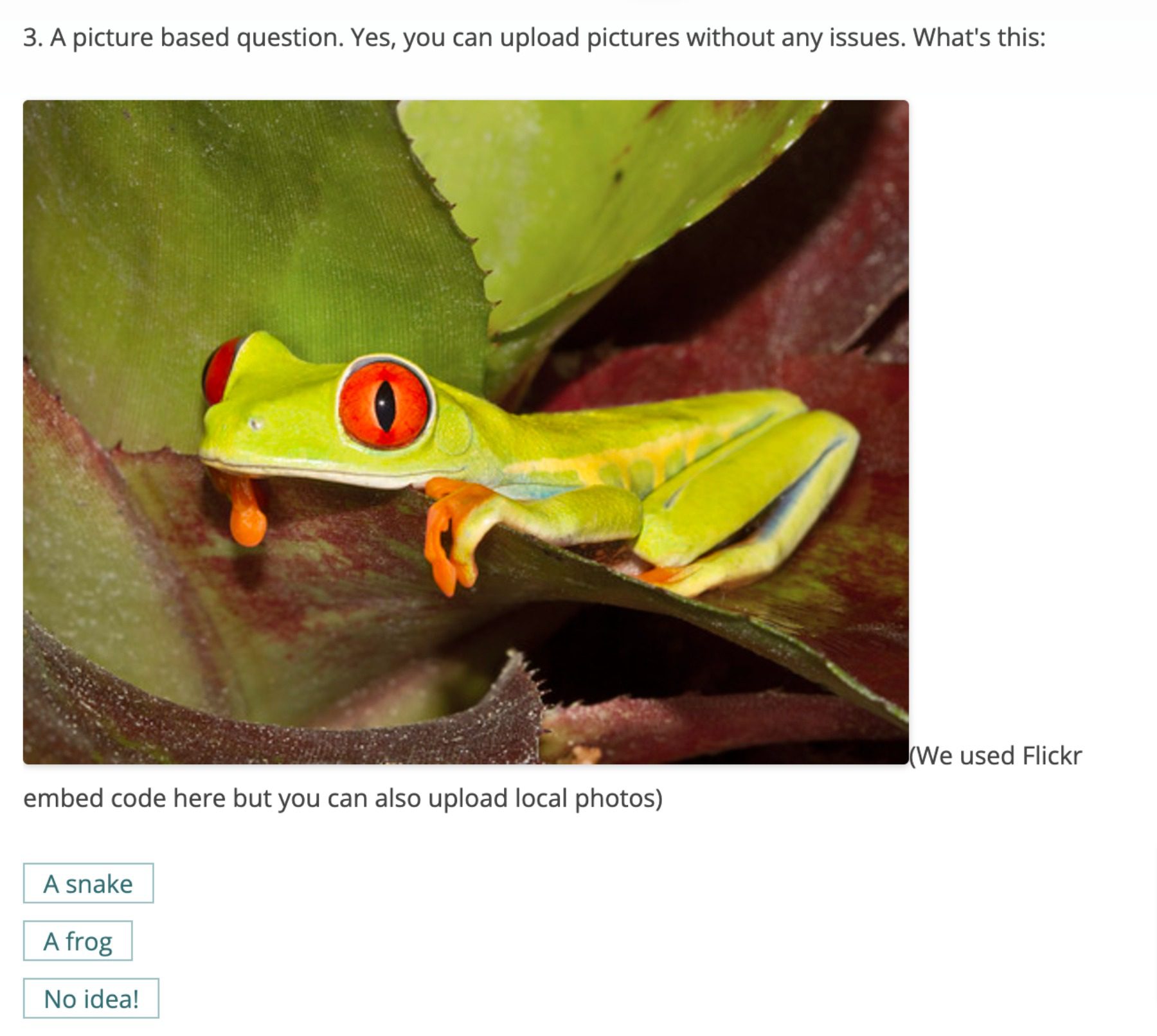 You can score quizzes by grade or personality type, randomize questions, and enable social sharing on Facebook and Twitter. This plugin also enables you to view a list of all the users who have taken your quiz, along with their results.
Note that connecting this plugin to your email marketing platform may prove tricky. There is a Watu Mailchimp integration plugin, but it has not been updated recently, so we don't recommend using it.
Price: Free, with premium upgrades starting at $47
Comparing The Best WordPress Quiz Plugins
Considering how inundated internet users are with ads and other branded content, it can be easy for your site to get lost in the shuffle. Driving engagement through the use of quizzes can help make your business more memorable to potential customers. Regardless of how you want to incorporate quizzes into your website, our list provides a number of excellent choices to solicit customer feedback, create courses on your site, or enhance blog posts with topic-related quizzes.
Quiz Plugin Price Comparison
Our list contains free and premium options. Depending on your needs, you may find that a free plugin will suit your just fine. On the other hand, if you find yourself in need of a more robust premium solution, there are options for that as well. Take a look at our comparison chart containing pricing for your convenience.
Top Quiz Plugin Feature Comparison
In this post, we covered several top WordPress quiz plugins. Quiz And Survey Master is a highly rated free option that should give most users the biggest bang for their buck. For those already using a form builder such as Formidable Forms, there's no need to go looking for an additional solution. Finally, it's worth checking out Thrive Quiz Builder for a user- (and budget-) friendly option.
🥇 Quiz And Survey Master

🥈 Formidable Forms

🥉 Thrive Quiz Builder

Starting Price
Free
$199.50/year
$19/month
Drag and Drop Builder
✔️
✔️
✔️
Timed Quizzes
✔️
❌
✔️
Social Sharing
✔️
❌
✔️
Email Integration
✔️(pro)
✔️
✔️
Plugin Integration
✔️(pro)
✔️
✔️
Styling Options
✔️
✔️
✔️
Reporting Tools
✔️(pro)
✔️
✔️
Payment Integration
✔️(pro)
✔️
❌
Scoring
✔️
✔️
✔️
Templates
✔️
✔️
✔️
A/B Testing
❌
✔️
✔️
Active Installations
40K+
300K+
N/A
Community Rating
5/5
⭐⭐⭐⭐⭐
Read Reviews
4.5/5
⭐⭐⭐⭐⭐
Read Reviews
N/A
Get Quiz and Survey Master
Get Formidable Forms
Get Thrive Quiz Builder
What is the Best WordPress Quiz Plugin?
If you're looking for a free, feature-packed quiz plugin that's easy to use, look no further than Quiz And Survey Master. You can easily pick a template or use the simple interface to create your own. With Quiz and Survey Master, you can create timed quizzes, provide users with their overall score, and even encourage them to share your quiz on social media.
Frequently Asked Questions (FAQs)
Before we wrap up, let's answer some of your most common questions regarding WordPress quiz plugins. Did we miss one? Leave a question below, and we will respond!
Do you have any questions about using quizzes on your WordPress site? Leave them for us in the comments section below!
Featured Image via Name / Shutterstock.com