You wouldn't start working for a company in the offline world without signing a contract of employment, right? Both parties know the score, and it's standard practice to have a contract signed before any work commences.
In the online world, however, it's a different story.
Most freelancers are happy to undertake jobs of any magnitude without ever putting pen to paper. This is common practice in all fields – whether you're a freelance designer, developer, or writer, we all seem happy to avoid the hassle of contracts.
This is a bad idea.
In today's post, we're going to take a look at why contracts are so important. I'm also going to eliminate one of the biggest pain points associated with contracts – the time and effort involved.
These days, signing a contract isn't a long and drawn out process. You won't have to jump through lots of hoops either – receiving the contract, printing it out, signing it, scanning it, re-uploading it, and then returning it.
That's because there are a number of services that let you sign documents electronically – no printing or scanning involved. In accordance with the Electronic Signatures in Global and National Commerce Act (ESIGN ACT), 2000, electronically signed documents are legally binding, too.
Today, we're going to introduce 11 services that allow you to sign documents online.
Why Are Contracts Important?
First, let's take a brief look at why this problem arises.
In the online world, most jobs are smaller and temporary by nature. As such, many online workers wonder if a contract is worth the hassle. After all, the industry is far less regulated.
Let's also remember that many freelancers need the work. The easiest option is to just accept the job and the pay check without asking clients to go out of their way to draft or sign a contract.
All it takes is two indifferent parties or a client who's unwilling to play ball and work will likely commence without a legal contract in place.
However, most of us are still aware that working contract free is fraught with danger. If a dispute arises, you don't have a legal document on your side. The other party could make unfair demands, and, legally speaking, there's not much you can do about it.
Take scope creep, for example. Without a contract, where does a job end? A client can potentially hold you to ransom, asking for more and more work, further revisions, and possibly even a complete do-over.
With no contract in place, who's to say they ever have to pay you? Well, nobody. And therein lies the problem.
The Benefits of Freelancing Contracts
A legally binding contract protects you against these scenarios. A good contract should clearly define the scope of the project, the payment terms, the deadlines, and any other details that you consider important. With the details in black and white, it's much more difficult for one party to argue against the terms of a contract, and, if they do, you at least have the law on your side.
In other words, contracts keep risk to a minimum. They also create a more harmonious working relationship – it's more difficult for disputes to arise when contractual resolutions are plainly there for both parties to see.
Of course, this works both ways – clients benefit from contracts, too.
Hopefully, you're now sold on the benefits of contracts and will never again start a freelancing job without one. Now, though, let's move onto the meat of today's post – the 11 eSignature services you can use to sign documents online. There are a few dedicated WordPress plugins in there, too.
11 Best eSignature Solutions for Signing Documents Online in 2016
The 11 eSignature services are presented in no particular order, but represent the best solutions on offer. Every item boasts a solid reputation, loads of useful features, and also bulletproof security. They all conform with the ESIGN Act, 2000, too, so you can rest assured that the signatures are legally binding.
The list places an emphasis on services geared towards smaller businesses – particularly freelancers – as well as integrations with tools we all use on a daily basis.
Here we go then!
1. RightSignature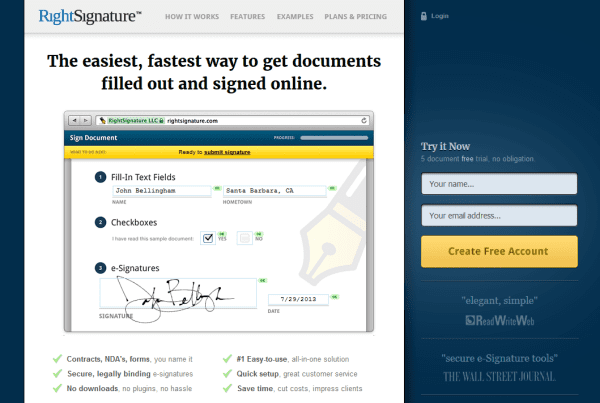 Acquired by Citrix in 2014, RightSignature is one of the best established electronic signature solutions on the market. It's also one of the most user-friendly – upload a document, customize the fields, then send to your recipients. The recipients can then return the contract after adding their mouse-drawn signature. Or, if the recipient prefers, they can use a handwriting-style font to create an authentic-looking signature.
Key Features:
Compatible with lots of file formats – Word, PDF, Text
Integrates with Google Docs and FreshBooks
Supports handwritten signature, type-to-sign, touchscreen signatures (mobile devices), and fax-back
Initials boxes
Webcam photo authentication
DigiCert encryption
Comprehensive audit log
Templates and custom branding
Multi-party signing and expiration dates
Multiple field types
Legally binding signatures
Price: from $12/month | More Information
2. eSignLive by Vasco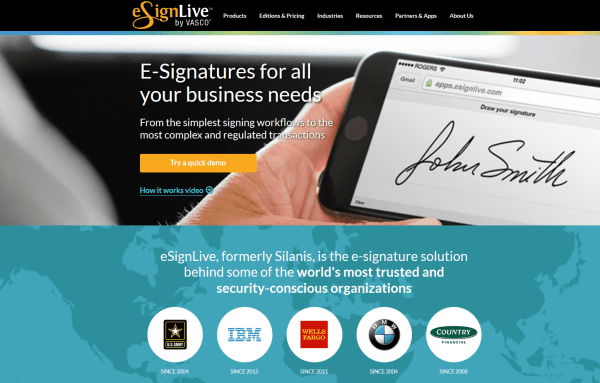 eSignLive has been a major player in the industry since 1992. During that time it has built a solid reputation for itself, acquiring the business of many household names – including IBM, BMW, and even the US Army.
Key Features:
Compatible with all browsers and devices
Suitable for B2C, B2B, and internal functions
Advanced digital signature technology for encryption
Comprehensive audit log
White label branding
Multi-party signing
Supports handwritten signature, click-to-sign, and fax-back
Legally binding signatures
Price: $20/user/month | More Information
3. WP ESign by ApproveMe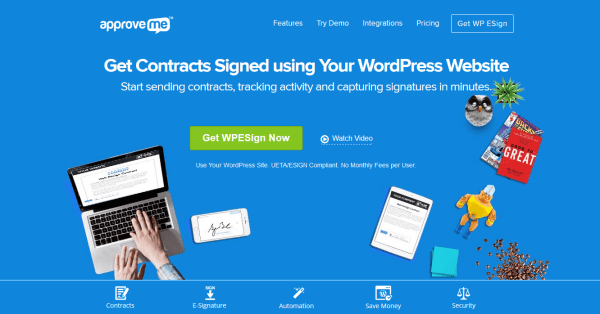 WP ESign is today's first dedicated WordPress electronic signature solution. This makes it super-convenient for WordPress-based freelancers – the plugin handles all of your contract- and document-signing needs right from the WordPress dashboard.
Key Features:
Integrates with WordPress
Compatible with popular WordPress plugins including WooCommerce, Gravity Forms, and EDD
Supports handwritten signatures and click-to-sign
Download signed contracts as PDF
Sign contracts on your website
Know when contract is viewed and send reminders
Templates and custom branding
Intuitive contract builder with plenty of custom fields
No monthly fee per user
Legally binding signatures
Price: from $149/year | More Information
4. DocuSign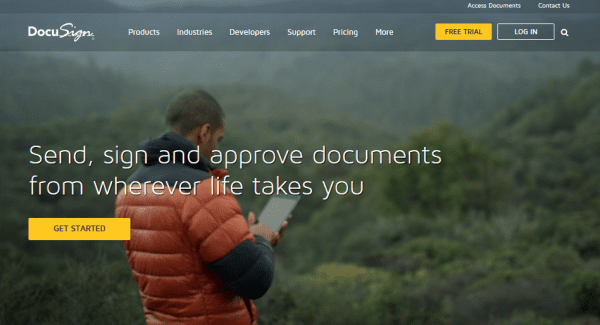 DocuSign is a powerful electronic signature solution with a staggering 85 million users. It works with businesses of all sizes, from one-man operations right the way through to enterprises. The DocuSign API lets you add eSignatures to your WordPress website or even mobile apps.
Key Features:
Integrates with Google, Apple, and Microsoft services
Compatible with desktops, tablets, and mobiles
Import PDFs, Word docs, and just about any other file formats
Build your forms using drag-and-drop, including the eSignature field
Signed documents returned by email, Evernote, Google Drive, Dropbox, or OneDrive
Uses the strongest available commercial data encryption
Documents stored securely
Real-time audit trail
Custom templates and branding
Handwritten signatures
Legally binding signatures
Price: Freemium | More Information
5. WP Online Contract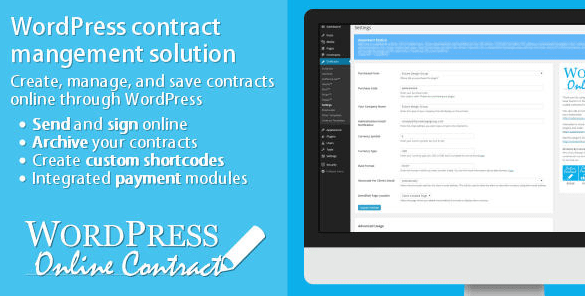 The WP Online Contract plugin bills itself as a "WordPress contract management solution." If you're a WordPress freelancer looking for the quickest way to handle all of your contract-related needs, you'd be hard pushed to find a more convenient option than this one.
Key Features:
Integrates with WordPress
Contract statuses are visible from the WordPress dashboard
Integrates with many popular payment gateways – PayPal included free, others available as extensions
Password protect contracts
Clients can initiate contracts
Users can save PDF version of contracts and create printable offline version
IP address and client timestamp are saved for tracking and security
Redirect clients to a specific URL after signature
Legally binding signatures
Price: $21 | More Information
6. HelloSign
HelloSign is an eSignature software specifically targeted at smaller businesses. For maximum convenience, it integrates seamlessly with the Google apps your clients are already using.
Key Features:
Integrates with Gmail, Google Drive, and Google Docs
Also integrates with Evernote, Dropbox, and One Drive
Comprehensive SSL encryption and powerful server infrastructure
Automatic audit trail
Compatible with 17 file formats including PDF, Word, Excel, and PowerPoint
Two-factor authentication and in-person signing
Up to 20 people can simultaneously sign
Custom templates and branding
Cost effective
Legally binding signatures
Price: Freemium | More Information
7. eSign Genie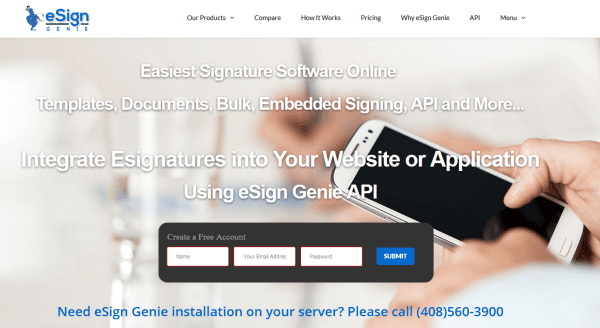 eSign Genie is serious about convenience. Not only is it super-easy to integrate, but it also reduces the number of clicks required by the signer by up to 50%. It's one of the most secure eSignature solutions around, too.
Key Features:
Integrates with Dropbox and Google Drive
User-friendly interface
256-bit encryption
Comprehensive audit trail and certificate of completion
Extensive template library
30-50% fewer clicks required than competitors
Document signature tracking from central hub
Bulk recipients
Tracks changes to any documents
Integrate into websites and apps using eSign Genie API
Legally binding signatures
Price: Pay-As-You-Go from $2/doc or from $8/month | More Information
8. Swift Signature Digital Electronic Signatures

With very few downloads to date, I can see why people might overlook this little gem. However, the plugin is part of the SwiftCloud family – a well-established business social network and productivity hub. This gives it enough credibility to overlook the small download numbers – and every plugin has to start somewhere, right? All you need to use this plugin is a free SwiftCloud account.
Key Features:
Integrates with WordPress
Compatible with desktop, tablets, and mobile devices
Multi-party signatures
Use "envelopes" to package multiple documents as one
Reusable templates
Bank-grade security and audit trail fingerprinting
Request signatures via email or SMS, or embed using iFrames
Integrates with the other SwiftCloud plugins
Sign Word docs, PDFs, or HTML web pages
Cost effective
Legally binding signatures
Price: Freemium | More Information
9. DocHub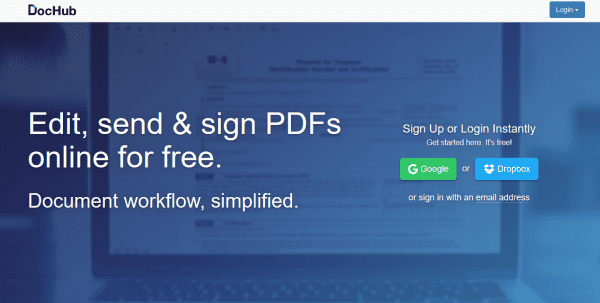 DocHub is arguably the most streamlined way to sign documents online. It uses simple drag-and-drop to add fields to PDF documents with the minimal amount of fuss. Freelancers looking to sign up to five documents per month can enjoy this one for free, too.
Key Features:
Simplified document preparation
Drag-and-drop fields onto documents
Annotate documents with lossless editing
Built for PDFs but compatible with most file formats, including Word, Excel, and PowerPoint
Merge PDFs
Integrates with Gmail, Google Drive, and Dropbox
Handwritten signatures, imported signatures, or type-to-sign
Multi-party signatures
256-bit SSL encryption
Comprehensive audit trail
Legally binding signatures
Price: Freemium | More Information
10. Adobe Sign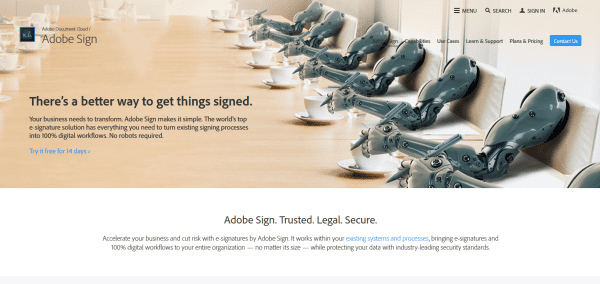 Previously operating as EchoSign, this e-signature solution now operates under the highly respected Adobe brand name. And, as you'd expect from such a well-trusted company, security and legality are the primary focus. Adobe Sign goes to great lengths to ensure absolute compliance with a huge range of legal requirements from countries all around the world. Adobe Sign is probably overkill for one-man freelancing operations, but it's a market leader at enterprise level.
Key Features:
Compliant with country- and industry-specific e-signature laws
Compatible with all browsers
Supports electronic and digital signatures
Flexible workflow customization with pre-defined next steps
Generate dynamic documents with pre-designed templates
Available as Android or iPhone app
Dedicated dashboard, reports, and notification system
Comprehensive audit trail stored
Legally binding signatures
Price: from $9.99/month | More Information
11. Contact Form 7 Signature Add-on

This plugin isn't best-suited to contract signing; however, it does let visitors leave their signature on your website. This plugin extends the popular Contact Form 7 plugin, adding a new field type: signatures. This streamlined plugin lets visitors leave a simple hand-drawn signature in the space provided.
Key Features:
Intuitive to use
WordPress integration
Works with Contact Form 7
Handwritten signatures
Works on the front-end of your website
Cost effective
Price: FREE | More Information
Final Thoughts
And that concludes our rundown of the 11 best eSignature solutions for signing documents online. These services make sending and signing legally binding contracts as easy as a few clicks and a mouse-drawn signature. Whether you're a freelancer or a client, they offer you the protection you need for a harmonious working relationship.
Which one should you choose? Well, that depends on your needs! However, if you're a freelancer, you probably won't need to send more than a few contracts per month. In that case, I recommend DocHub. If you're sending under five contracts per month you can use DocHub for free, plus it's as user-friendly as you could hope. It isn't the most powerful option, but it's certainly the most cost effective and usable!
Which of these eSignature solutions are you using? Are we missing any good ones? Let us know in the comments space below!
Article Thumbnail via Sentavio // shutterstock.com