Search Engine Optimization (SEO) techniques can help your website climb the rankings and display higher in the Search Engine Results Pages (SERPs). However, optimization can be really expensive. Premium SEO tools carry premium price tags. Fortunately, there are plenty of free SEO tools that can take your site to the next level without spending a cent.
In this guide, we'll explore 13 of the best free SEO tools. We'll examine each tool's features, pros, and cons to help you decide which is right for you. Let's get started!
What Are Free SEO Tools?
SEO is a multi-faceted approach that includes the following strategies, among others:
SEO is essential to helping your site climb higher in SERP placement and attract more organic traffic. Since there are many SEO-related tasks, you might consider outsourcing the work to an agency or premium tool. This approach can save you time and effort, but can cost a lot of money.
Alternatively, free SEO tools can help you hone your strategy without straining your wallet. You'll need to put more effort into using these tools and optimizing your site. However, if you're on a budget and have the time to spare, these platforms' SEO insights can be invaluable.
13 Best Truly Free SEO Tools
Let's now look at 13 of the best absolutely free SEO tools available. We've picked these options based on their ease of use, valuable insights, and totally free features!
1. SEO Analysis & Website Review by WooRank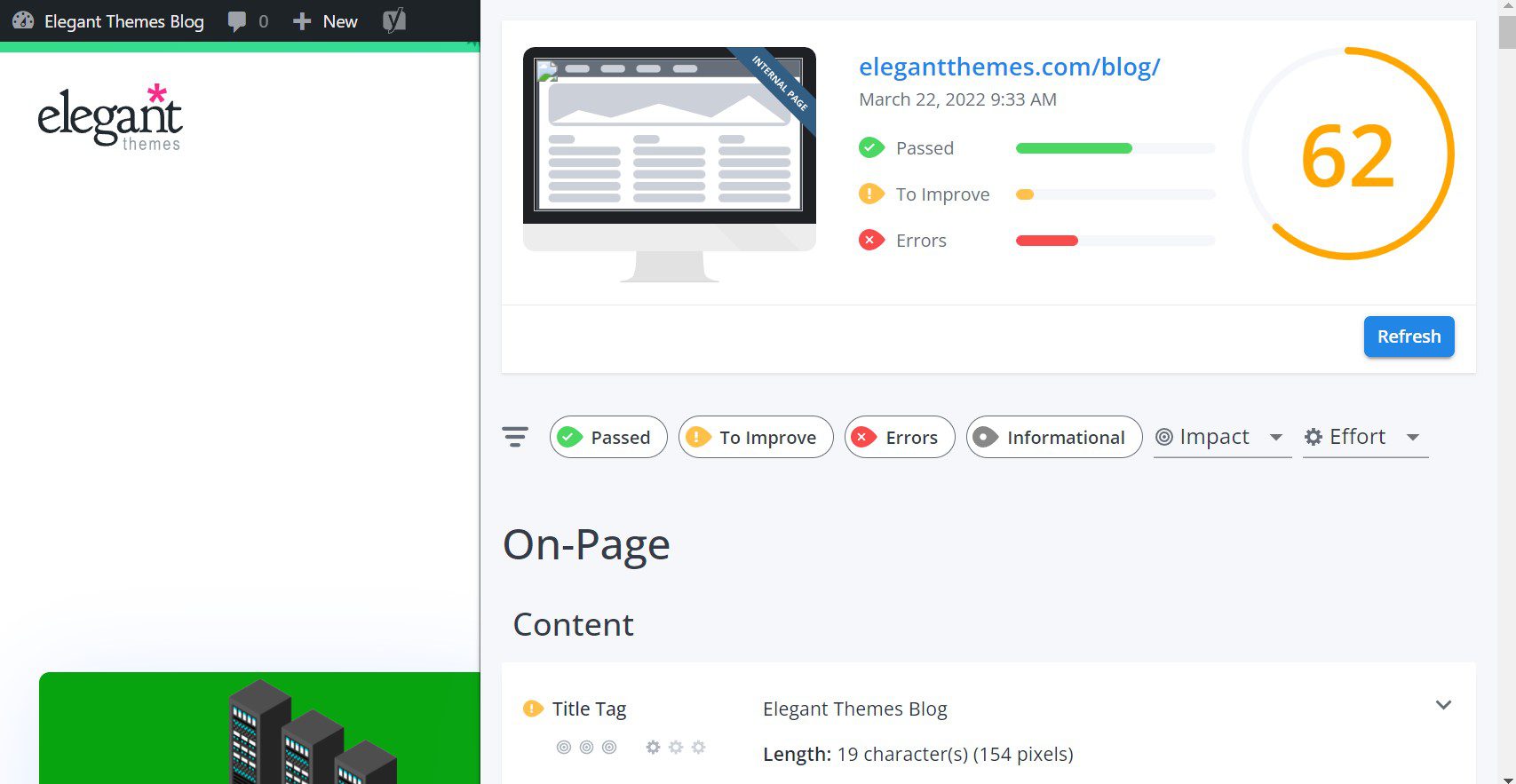 SEO Analysis & Website Review by WooRank is a Google Chrome extension that can evaluate a website directly from your browser. It assesses various factors, including keyword optimization, traffic, backlinks, and more.
Once you open the extension, it will show you a report with the website's strengths, weaknesses, and errors. The plugin also breaks down your issues into specific categories, and identifies how you can solve SEO problems.
Key Features for WooRank:
Evaluate a website in real-time.
View a detailed SEO report with a breakdown of errors and potential improvements.
Evaluate both on- and off-page SEO data.
WooRank is for you if…
You use Google Chrome.
You'd like a quick overview of your SEO strengths and weaknesses.
WooRank Pricing: The Chrome extension is free. | Learn More About WooRank
2. Ubersuggest

If you've ever looked for digital marketing or SEO advice, you've likely come across Neil Patel's website. This marketing expert provides helpful freemium tools to optimize your website, including Ubersuggest.
Ubersuggest enables you to type a keyword or domain into its search engine. If you choose the former option, you'll see your chosen phrase's search volume, difficulty to rank, keyword variations, and content ideas. Alternatively, entering a domain can show a website's backlink profile, domain authority, traffic, and best-performing content.
Key Features for Ubersuggest:
Domain overviews
Top SEO pages
Keyword suggestions
Content ideas
Backlink information
Ubersuggest is for you if…
You're looking for new keyword and content ideas.
You'd like to assess your domain or your competitors' domains.
You want to expand your backlinking strategy.
Ubersuggest Pricing: Free for keyword and content ideas. If you want access to search volume and demographic data, you can upgrade starting at $29 per month. | Learn More About Ubersuggest
3. AnswerThePublic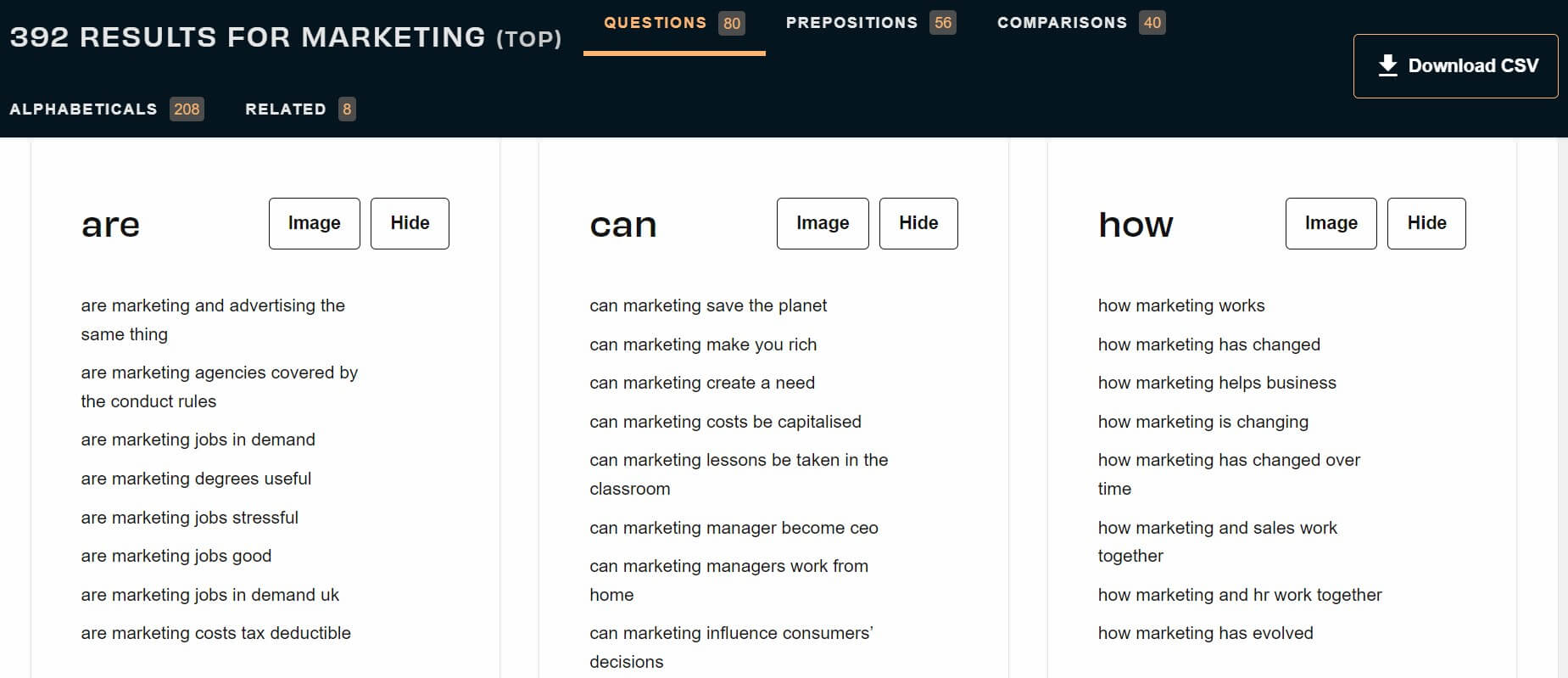 AnswerThePublic is one of the best free SEO tools for finding content ideas. You can type a keyword into the platform, and it will return a detailed list of the most popular related search terms.
This SEO tool focuses on three categories: questions, prepositions, and comparisons. AnswerThePublic even breaks down its data into visual mapping and lists. You can also download the information in CSV format to review it further.
Key Features for AnswerThePublic:
Access data visualization tools.
See keyword questions, prepositions, and comparisons.
Export data into CSV format or download keyword mapping images.
AnswerThePublic is for you if…
Content production is your primary focus.
You'd like to focus on long-tail keywords.
You prefer visual data.
Answer the Public Pricing: Most of the features are free to use and provide immense amounts of data. Upgrading to a Pro plan, starting at $99 per month, gives you access to more search data and content strategy tools. | Learn More About AnswerThePublic
4. MozCast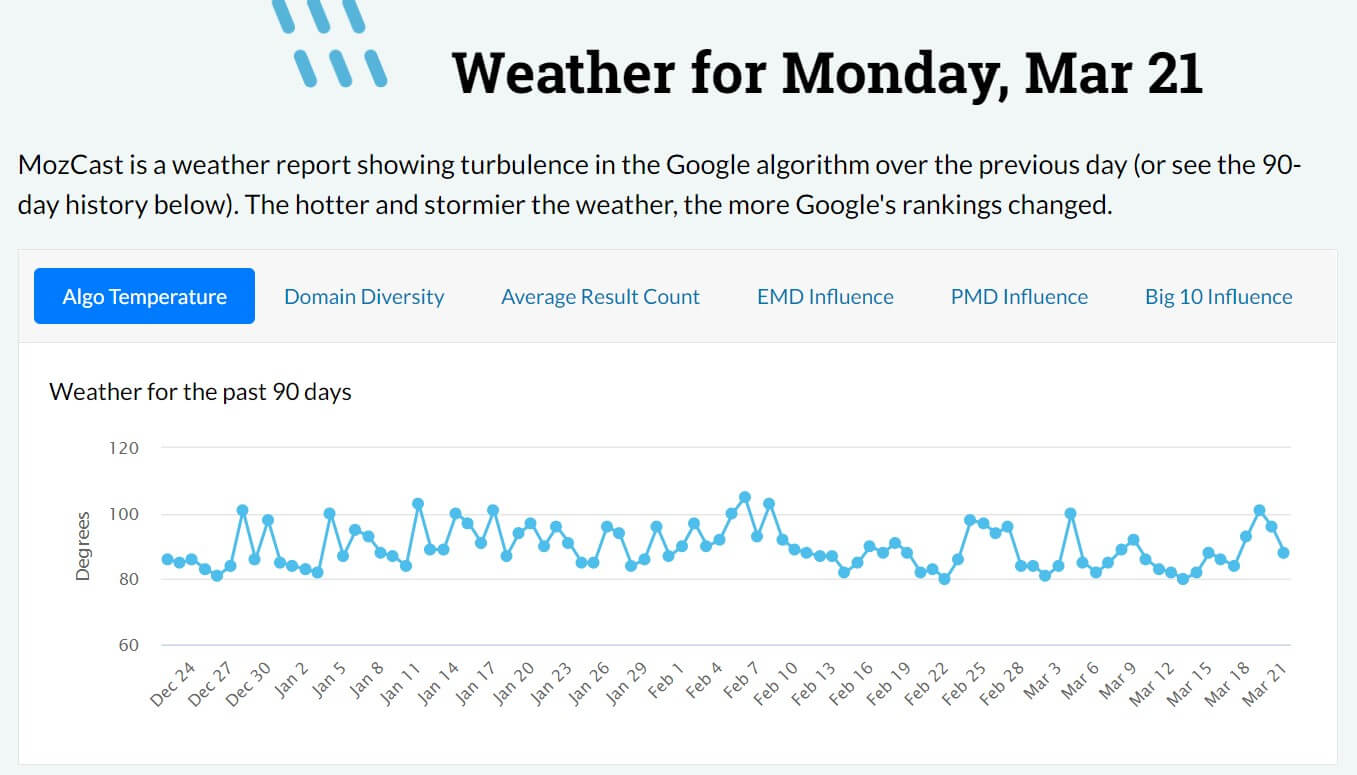 Search engine algorithm changes can significantly impact your rankings and change your SEO strategy focus. MozCast can help you stay on top of any Google algorithm updates by viewing their progression over 90 days.
MozCast operates like a weather forecast, with higher and stormier "weather" indicating significant changes in algorithms. The platform collects this data by tracking a collection of keywords and seeing how content rankings change. Furthermore, MozCast divides its data into different SEO categories, including HTTPS results, reviews, and knowledge panels.
Key Features for MozCast:
View daily and 90-day "weather" histories for Google algorithm changes.
Differentiate between changes in Google SERP features.
Quickly explore graphical data.
MozCast is for you if…
You'd like to track the Google algorithm over time.
You prefer visual data over number crunching.
MozCast Pricing: Free | Learn More About MozCast
5. Animalz Revive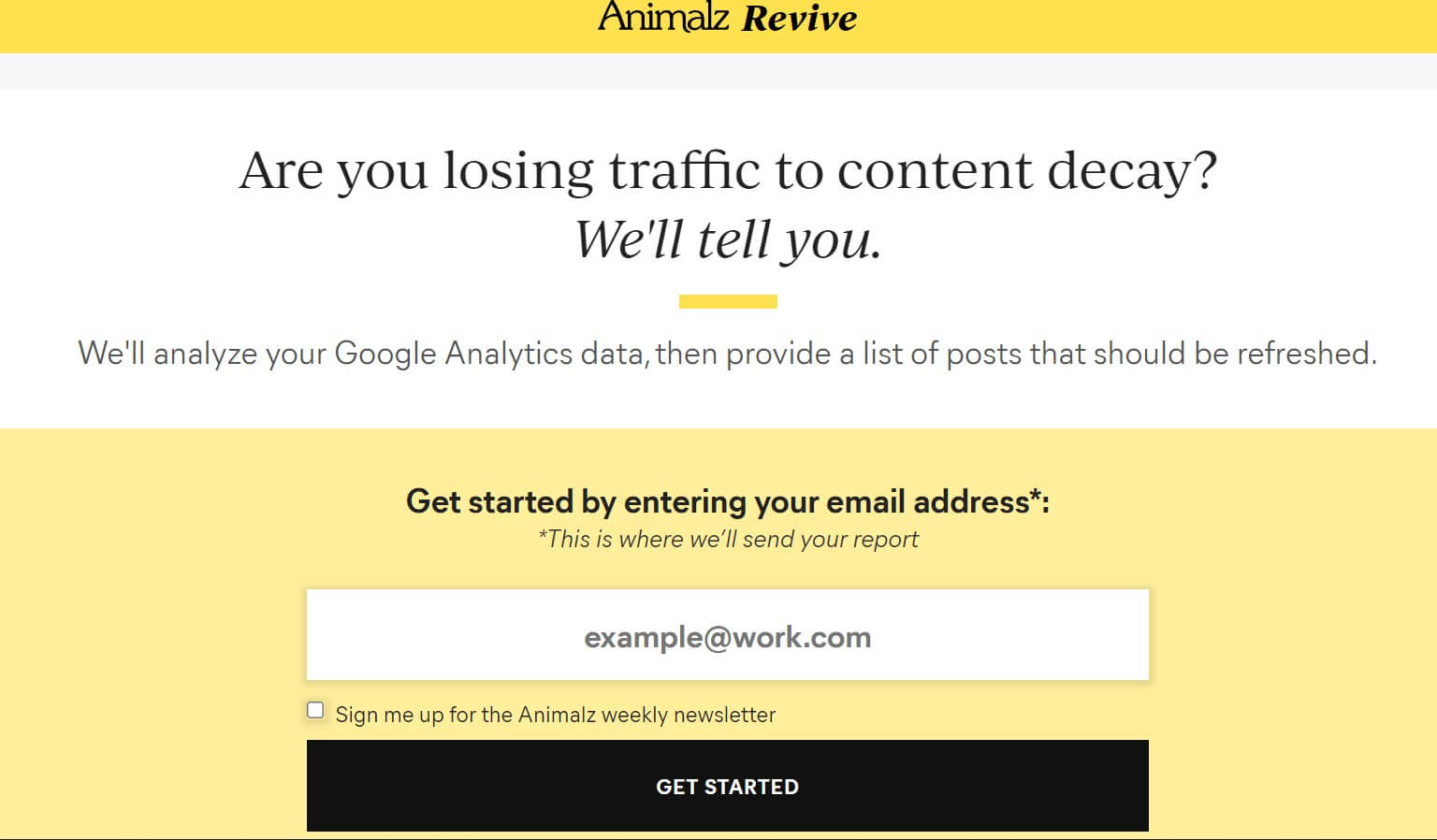 Updating old content is essential to SEO. However, this process can be time-consuming if you have an extensive catalog. Animalz Revive simplifies content updates by emailing you a list of posts that you should consider refreshing.
You'll need to share your Google Analytics authentication information with Animalz Revive. Then, its marketing team will evaluate your entire website and look for weak content areas. Finally, you'll receive a straightforward list of old content that needs updating.
Key Features for Animalz Revive:
Receive a customized list of posts that should be refreshed.
Get a link to share the report with other team members.
Access a brief overview of content refreshing best practices.
Animalz Revive is for you if…
You have a vast catalog of content.
You'd like to focus on refreshing older posts instead of writing new ones.
Animalz Revive Pricing: Free | Learn More About Animalz Revive
6. Seed Keywords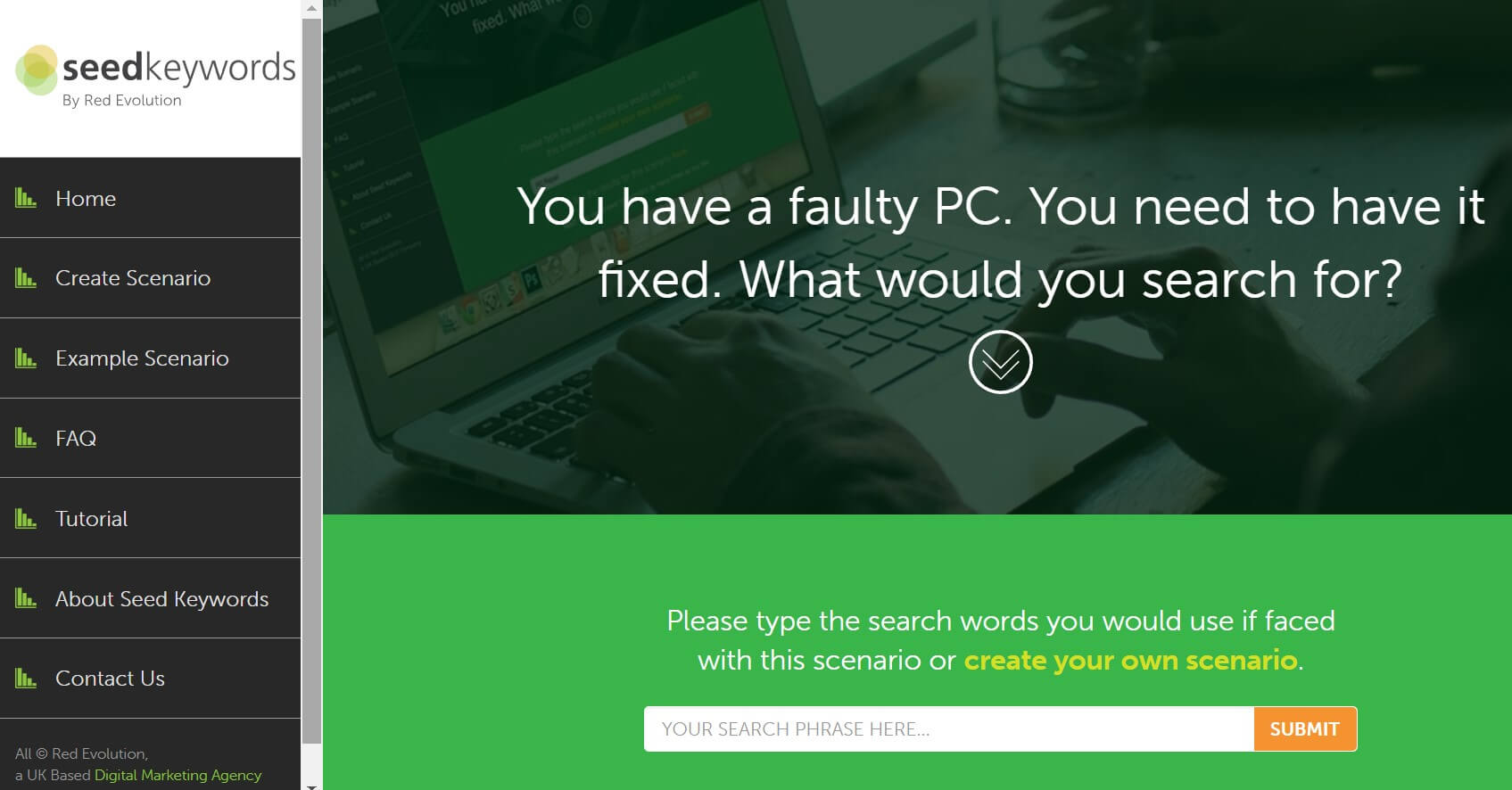 Seed Keywords works a little differently from other free SEO tools on this list. It helps you create a "scenario" that you can share with people in your network. Users can then reply with search terms to help you identify keywords and search intent.
Once users have replied to your question, Seed Keywords will collate the replies into a simple list. You can then access it via a bookmarked URL. Keep in mind that you will need a responsive audience to get meaningful data from this SEO tool. If you have that, however, Seed Keywords can be incredibly valuable.
Key Features for Seed Keywords:
Make a shareable link to your "scenario."
Collect user responses and view them on a single page.
Seed Keywords is for you if…
You want a simple but elegant way to find out about search intent and long-tail keywords.
You have a sizable and responsive audience.
Seed Keywords Pricing: Free | Learn More About Seed Keywords
7. Screaming Frog SEO Spider

Search engines such as Google use bots called "crawlers" to navigate your website, find issues, and rank it in the SERPs. By using the Screaming Frog SEO Spider Tool, you can emulate that experience for free.
Screaming Frog can identify several issues, including broken links, blocked URLs, and errors. It can also analyze different types of SEO data, such as page titles and redirects, and create a personalized report for your site. Overall, it's an excellent free SEO auditing tool that gives you a little insight into how the search engines really see your site.
Key Features for Screaming Frog:
Screaming Frog is for you if…
You want an in-depth look at your website's internal structure.
You want to run regular SEO audits.
Getting ahead of the search engine crawlers is a part of your strategy.
Screaming Frog Pricing: The tool can crawl up to 500 pages for free. If you pay £149 per year (about $196.50), you can crawl unlimited websites, schedule crawls, and identify additional data. | Learn More About Screaming Frog
8. Seobility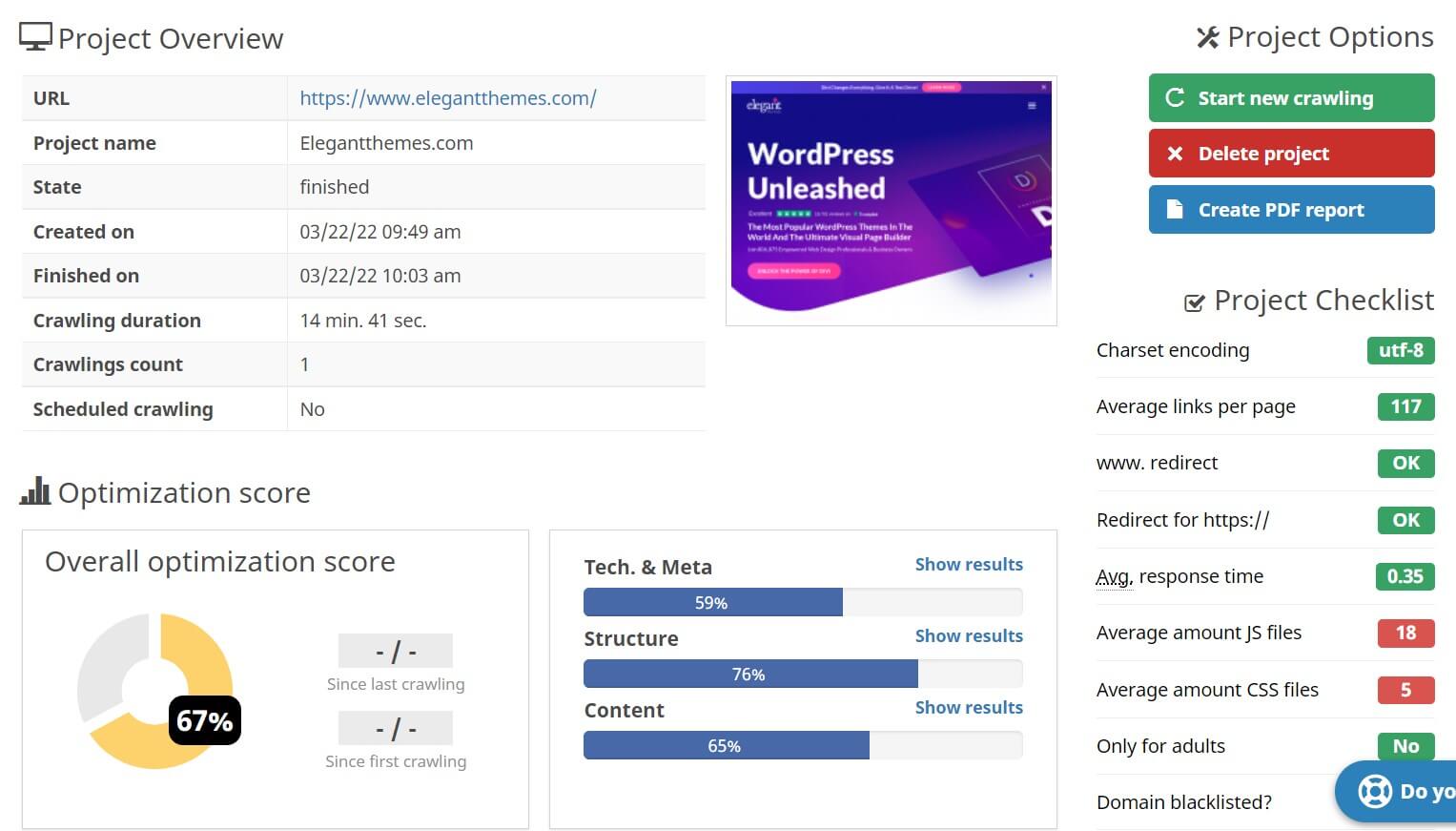 If you're looking for an all-in-one SEO auditing program, consider using Seobility. This free SEO tool can crawl your site for SEO issues and provide you with tips for optimizing your content. It also identifies your top-ranking keywords across different locations and devices.
Seobility is also an excellent tool for analyzing your competition. You can see how similar websites rank for competing keywords, and the specific optimization techniques they use to get ahead. Moreover, Seobility provides all this detailed data in a color-coded report that you can download as a PDF file, even as a free user.
Key Features for Seobility:
Complete site audit
Keyword and SERP rankings
Backlink analysis
Competition analysis
Keyword research tools
Seobility is for you if…
You want an in-depth report about your website's SEO.
You'd like to compare your site to your direct competition.
You want to track your SEO strategies over time.
Seobility Pricing: Free for one domain, up to 1,000 pages, and 100 external links. Paid plans start at $50 per month. | Learn More About Seobility
9. Exploding Topics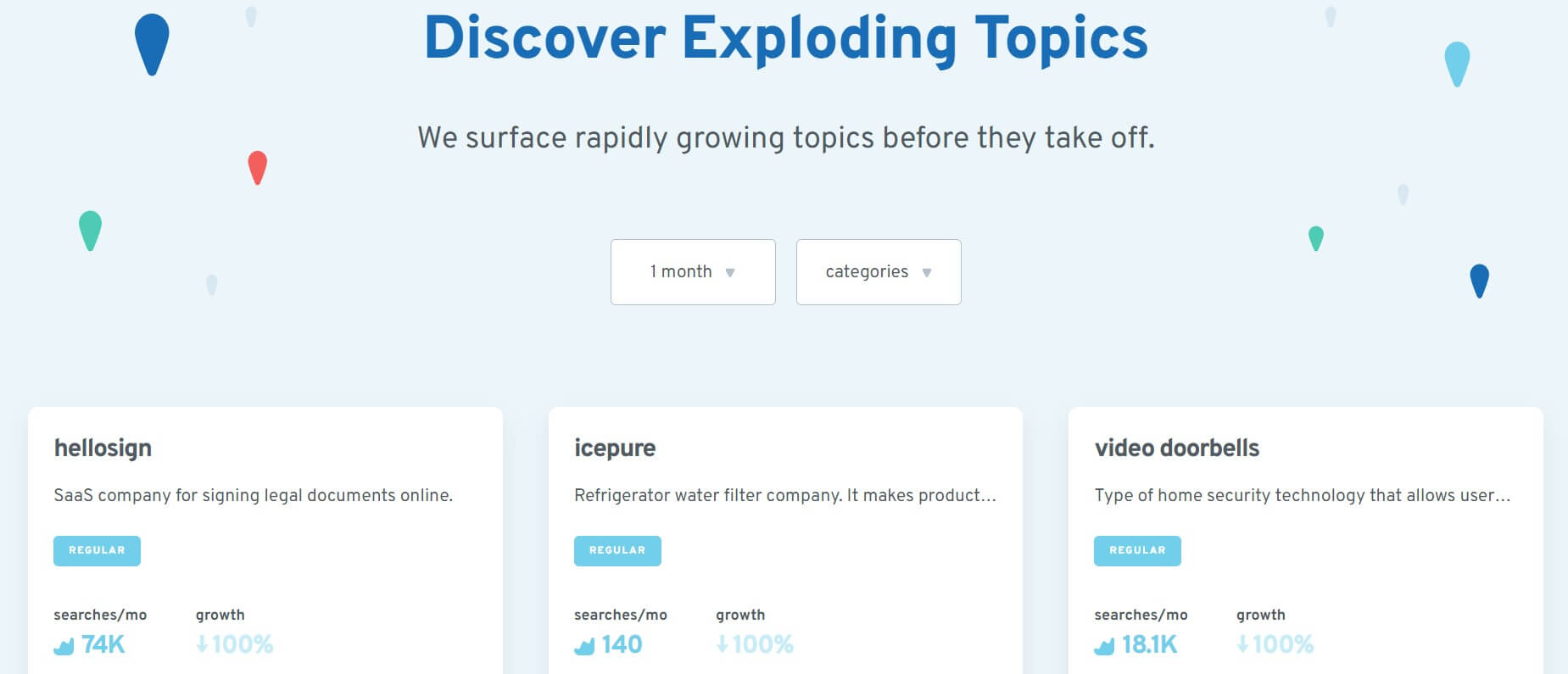 If you'd like to stay ahead of content trends, you might want to use Exploding Topics. This platform analyzes social media platforms, search histories, and websites across the internet to identify topics that are gaining in popularity.
Exploding Topics is very easy to use. You choose a time interval from one month to five years. You can also select from different categories, including technology, travel, education, and e-commerce (or search for various categories and keywords of your own). Exploding Topics will then show a selection of trending keywords with graphs, monthly searches, and growth.
Key Features for Exploding Topics:
Identify popular topics before they become very competitive.
Receive topics emailed directly to your inbox.
Choose from different topic categories and intervals.
Exploding Topics is for you if…
You're looking for new content ideas.
You'd like to write trendy (and trending) posts.
Exploding Topics Pricing: Free for the basic tool. Upgrading to Pro, starting at $97 per month, enables you to identify topics six months in advance. | Learn More About Exploding Topics
10. Ahrefs Backlink Checker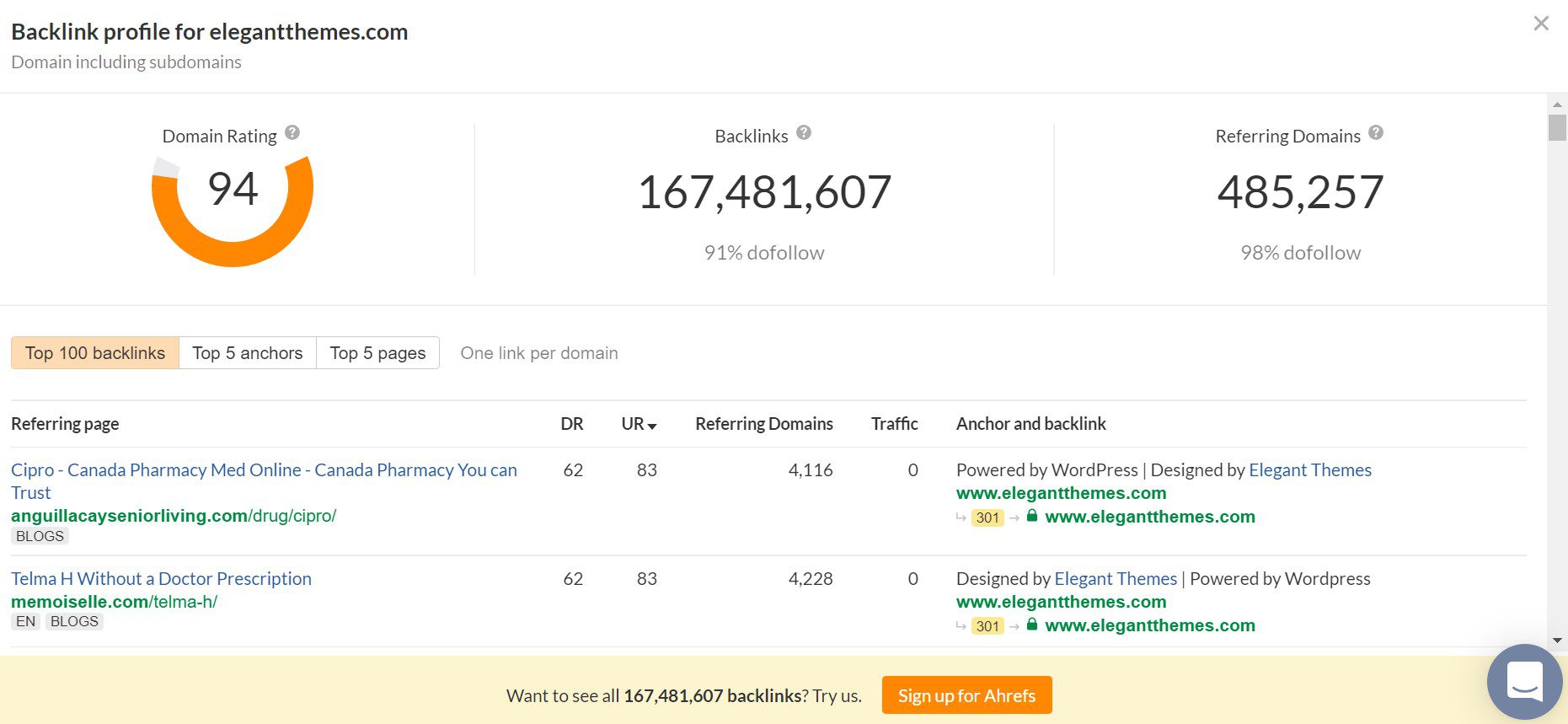 Building backlinks is essential to ranking higher in the SERPs. With the Ahrefs Backlink Checker, you can quickly identify which websites link to yours. Moreover, you can see which percentage of URLs are dofollow, and discover your highest-performing posts and pages.
The Ahrefs Backlink Checker has the second highest-performing website crawler, just behind Google. As such, it has an immense database of URLs to draw data from. You can also track your backlink profile over time to see changes.
Key Features for Ahrefs:
View a complete backlinks profile for your site.
Analyze backlink anchor text.
Export your data into a PDF or CSV file.
Ahrefs is for you if…
You'd like to focus on off-site SEO.
You're looking for in-depth information with data filters.
You'd like to create a long-term link-building strategy.
Ahrefs Pricing: Free. Upgrading to a paid Ahrefs plan, starting at $99 per month, gives access to additional SEO tools. | Learn More About Ahrefs
11. The Reddit Keyword Research Tool

Reddit is a highly popular social media platform, with 1.7 billion visits per month. If you'd like to target users on this site, consider using The Reddit Keyword Research Tool. Simply select a subreddit, hit Get Keywords, and you'll see a list of the most popular phrases.
The Reddit Keyword Research Tool ranks the most popular terms and includes their monthly search volumes in the US. You can also view their context to understand the results better. Furthermore, this tool enables you to export the data for further analysis.
Key Features for The Reddit Keyword Research Tool:
See the most popular keywords in different subreddits.
View contextual information to understand user intent.
See monthly search volumes.
Export keyword data.
The Reddit Keyword Research Tool is for you if…
Your target audience uses Reddit.
You'd like a unique way to find new keywords.
The Reddit Keyword Research Tool Pricing: Free. | Learn More About The Reddit Keyword Research Tool
12. Yoast SEO

Yoast SEO is one of the most popular and best free WordPress SEO plugins available. It automatically scans your posts and pages for readability and SEO issues. Yoast then displays "good results," problems, and potential improvements at the bottom of the page.
You might consider using Yoast SEO for its user-friendly interface. It can also save time on optimization techniques since you won't need to use an external platform. Instead, you can optimize content as you write it. Yoast also works well as a WooCommerce SEO plugin, so if you have an online store, you can optimize it deeply with even the free version of the plugin.
Yoast's free version is powerful enough that many users never upgrade to premium, though the extra features it provides are very nice.
Key Features for Yoast SEO:
Evaluate the readability and SEO optimization of your text.
Optimize your content and meta text in different languages.
Create structured data for rich snippets in the SERPs.
Access SEO training resources.
Yoast SEO is for you if…
You're looking for a user-friendly solution.
Content optimization is your focus.
You have a multilingual website.
Yoast SEO Pricing: There is a totally free version available. Yoast SEO premium costs $99 per year and includes extra SEO features. | Learn More About Yoast SEO
13. Rank Math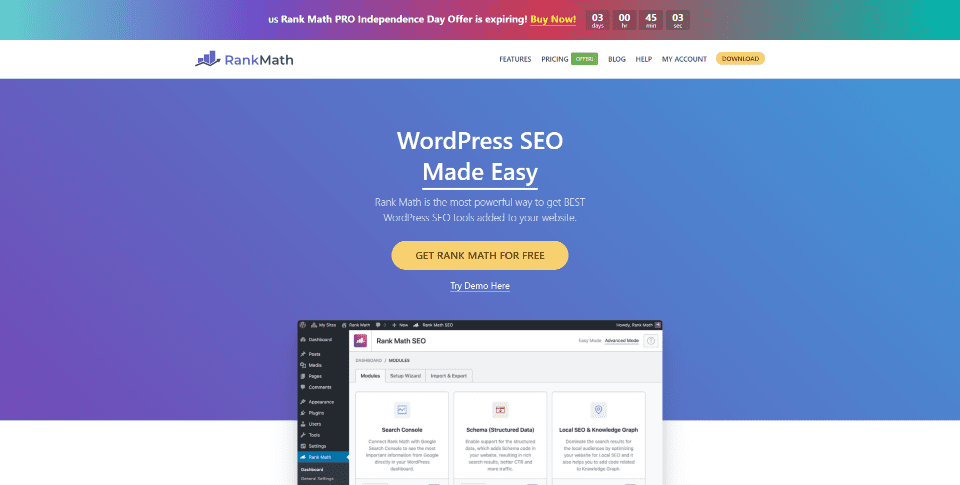 Last but not least, Rank Math is an excellent WordPress plugin that can help you improve your SEO while writing posts and pages. It sits alongside the WordPress editor, enabling you to instantly view suggested improvements and make changes. Furthermore, you can use an AI assistant that suggests content improvements as you write.
Rank Math also offers advanced snippet previews. You can see how your content will look in the SERPs and on social media platforms. You can also track your SEO progress over time and compare it to your competition. This will give you an advantage in grabbing that much-desired position directly under or beside the search bar, before even ads get shown.
Key Features for Rank Math
Access an AI content writing assistant.
View rich snippet previews directly from WordPress.
See advanced SEO analytics.
Track your rankings.
Rank Math is for you if…
You'd like to manage multiple SEO tasks with one tool.
Rich snippets are focal points in your SEO strategy.
Rank Math Pricing: There is a free version of the plugin. Premium plans, starting at $59 per year, support more websites, keywords, and a schema generator. | Learn More About Rank Math
Final Thoughts on Free SEO Tools
Free SEO tools can improve your website's rankings quickly and easily. Even better, you won't have to invest in expensive software if your website is still growing.
Overall, Screaming Frog is one of the best free SEO tools if you'd like to run a full site audit. Alternatively, AnswerThePublic is an excellent option for generating content ideas and long-tail keywords. We also highly recommend Yoast SEO if you're looking for a free WordPress SEO plugin.
Do you have any questions about using free SEO tools? Let us know in the comments section below!
Featured image via Sammby / shutterstock.com