If you're like most bloggers, blogging to you is a full speed ahead activity. You don't look back and tinker with old posts, you just soldier on, trying to recreate past success with each new blog post.
But what if there was a better way?
No, there's no replacement for continuously creating new content for your blog. This is a very important part of having a successful blog, and not something you can overlook. However, maintaining and updating old content, especially your most successful content, is hugely important.
Keep reading to learn why you should update old posts, how to choose which posts to update, and what to update when you decide to take the plunge.
Even if you're not a blogger but are using content marketing to land more web design clients, this article is well worth a read.
Why Should You Update Old Posts?
If you've never touched a post after hitting the Publish button, the idea of updating old posts probably seems very strange to you. Will anyone see it? How will anyone know you updated the post? What's the point?
It's the idea of working smarter rather than harder. Using less energy than it would take to produce a completely new blog post, you can update your old posts and help them earn even more traffic, social media shares, and maybe even more money.
This works, first and foremost, because Google values freshness. The search engine knows that for some queries, searchers really need the newest information available.
Just think about it. If you're searching to see who won the Superbowl, you don't want to know who won in 2012. If you are researching to buy a new digital camera, you don't want to know what cameras were the best in 2008. You want to know what cameras are the best now. You as a searcher are more likely to click on results that feel "recent" – maybe the current year is a part of the headline, or the result shows a date within the last few months. Because you value that freshness, so does Google; over time, fresher results are more likely to sit higher in the results.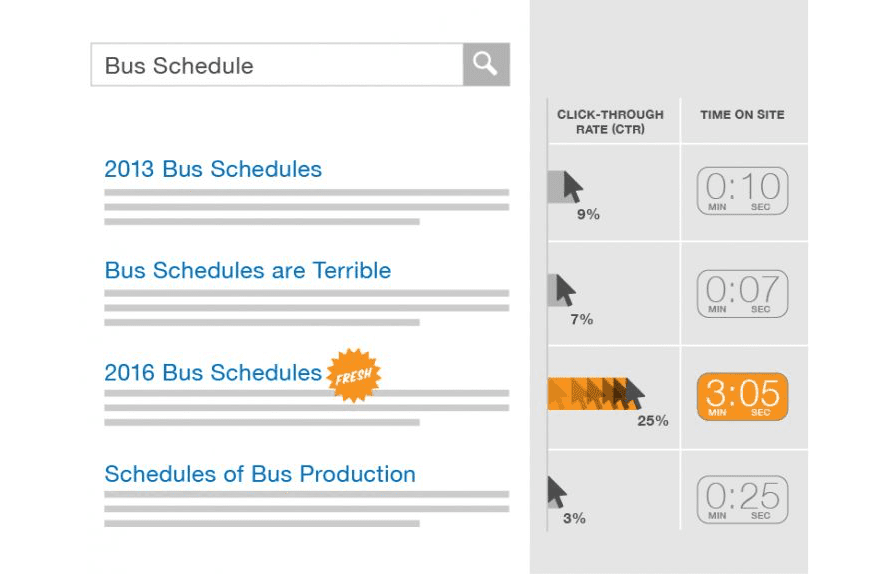 Frequent, or even occasional, updates signal to Google that you are paying attention to this content by adding new information. For this reason, it is important to keep older posts up to date, especially those that are important to you.
Which Posts Should You Update?
Okay, so you've accepted that you should update some of your old posts. So which ones should you update?
The most obvious content to update is your highest traffic posts. These posts are the most likely ones your competitors will seek to imitate; the more great content you can add to them and the more up to date you can keep them, the further you will be ahead of the game.
After your highest-trafficked posts, seasonal posts can be a big win. A month or two ahead of time, update the post with new information and optimize it for the current year. It should then appear in the search results as recently updated.
Highly shared posts are good targets to update. These posts obviously performed well in the past; a little tweaking and updating may be all it takes to launch the next wave of social shares (and traffic!). You can use a tool like Buzzsumo to discover your most shared content from the past year.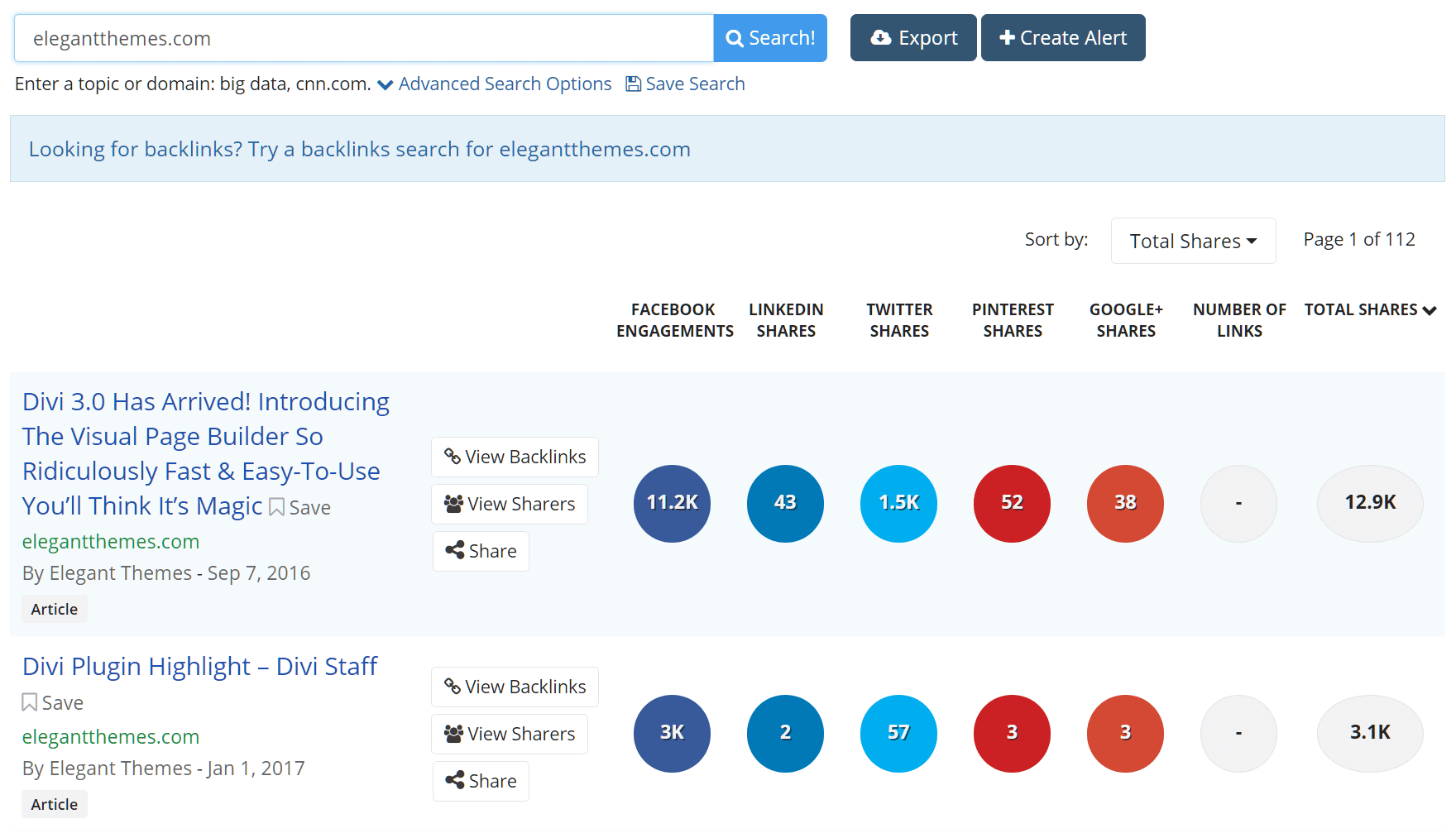 Finally, updating your "quick wins" can reap huge rewards. This means focusing on posts that are ranking on the second page, or in the second half of the first page, for high volume search terms. SEMRush is a good tool for this. Enter your homepage URL and visit the full report for Top Organic Keywords. Sort by volume and look for any keywords ranking in position 4-12. These are pages where, if you focused on optimization for that term, have the potential to jump several places for that keyword. For Elegant Themes, two quick wins are this post for the term "WordPress redirect," ranking fifth, and this post for the term "best serif fonts," ranking eighth.

With these four types of opportunities in mind, you should already have a handful of blog posts that make sense to update. Here's how to update them.
How to Update Old Blog Posts
Sometimes, it is simple to update a post because you can just bring slightly out of date information up to date. Other times, the path to "freshness" isn't so clear. Here are several ways to update your old blog posts to make them fresh again.
Keep Your Posts Up to Date
The most obvious way to update an old post is, well, to update it. As much as we strive for evergreen content, that is, content that stays relevant over time, there are bound to be a few things that have gone stale.
Data, statistics, and studies are a good example. Sure, that 2012 study was perfectly fine to use when you wrote this post in 2013, but surely in 2017, there is something more up to date? Perhaps a newer study has even reached a different conclusion, making for an interesting twist to add to your blog post.
Screenshots are another thing that can go stale quickly. If your post is a tutorial or some kind of how to, chances are you've included a few screenshots. Has the subject of the tutorial been updated with a new interface? Consider replacing the screenshots with newer ones, especially if this is a highly trafficked post, or it is vulnerable to someone coming along and simply making a more up to date tutorial.
Finally, it can be enough just to tack on a few extra paragraphs tackling recent developments on a topic. As long as the changes to the post are substantial, it should be indication enough to Google that there is fresh information here to crawl.
Add More Information
Sometimes the only update a post needs is more. This is especially true of list posts. Maybe your list of 30 was the biggest, best list around three years ago when you wrote it. But if the search results are littered with list posts with 50, 75, or even 100 items, it might be time to bring out the big guns and write a major update. After all, faced with two list posts on the same topic, would you click the one with 30 items, or 100?
Add Better Imagery
Do your older posts get a lot of their traffic from Pinterest or Facebook? If they do, updating the images to something even more appealing – or adding imagery if there is none at all – can be a huge win.
To give your post a boost on Pinterest, the easiest thing to do is add a portrait shape image with an appealing photo and the name of the post overlaid. This type of imagery does very well on Pinterest. And there's no need to buy stock photos; if you don't have your own photography for the post, there are plenty of free, high-quality photos available online. You can use a tool like Canva to overlay the text. Don't forget to use Pinterest group boards to grow your blog's audience.
To make your post more appealing on Facebook, you can add open graph meta tags to your post that automatically pull in an image for sharing on the social platform. You need not do any coding. One of the easiest ways to attach a Facebook image is using the Yoast SEO plugin, which you might already have installed.
Improve Your SEO
While simple SEO tweaks on their own may not be enough to trigger a "freshness" boost from Google, if you are updating the post anyway you should definitely give your SEO a little TLC.
First stop: your primary keyword. This is the keyword you have plugged into your SEO plugin (such as the Yoast SEO plugin just mentioned). Do you have one? Does the keyword make sense? Have you used it in your title, meta description, a header tag, and a few places throughout your content? (Don't keyword stuff – you just want to use it a few times, naturally.)
Next, check your images. Do they have an alt tag set? Pinterest uses your alt tag as a description for your pin by default, so you definitely want some meaningful text there!
Follow the other recommendations provided by your SEO plugin for personalized guidance on what other tweaks you could make to your post's search engine optimization.
Include Internal Links to Newer Content
This is another small but mighty tweak. Adding relevant internal links to your older content can keep your visitors moving around your site. Most of your site's internal links probably point back in time rather than forward, so this is a really important step and one that you should take every time you update old posts.
Final Thoughts
Hopefully, now that you've read this post, you have a few blog posts of your own in mind to update. Updating old blog posts is a great opportunity to work smarter rather than harder, so be sure to take action.
Here are the tips from this post, summarized:
Why should you update old posts? Because freshness is a valuable attribute, one that Google will prioritize in search results.
How do you pick which posts to update first? Prioritize posts that receive a lot of traffic, are seasonally-relevant, or that have received a lot of shares in the past. Next, focus on your "quick wins," those pages that are ranking lower than the top few search results for competitive terms.
How should you update your posts? Bring the information up to date, add more content, add nicer images, improve your SEO, and include internal links to newer content.
If you've given updating old posts a try, what kinds of results did you see? Share your experiences in the comments below.
Article thumbnail image by Visual Generation / shutterstock.com