Making the choice between WordPress and Wix is not easy. Both have their advantages and disadvantages. Both have their purpose. Both can build an elegant website.
When you're building your website you want to be certain that you've chosen the right platform to build with. The last thing you want to do is be surprised that the platform you chose won't do what you need it to. You have enough to worry about than to waste any effort in rebuilding your site because you chose the wrong platform.
In this article, we will do a side by side, unbiased comparison of WordPress and Wix and give you the information you need to decide which is right for you.
What Are They?
At their core, both are website builders. You can create and run nice websites that live up to today's design standards in many topics and industries. Both have excellent abilities for SEO and security. Both are great for building pages and blog posts. But let's take a moment to look at each in more detail.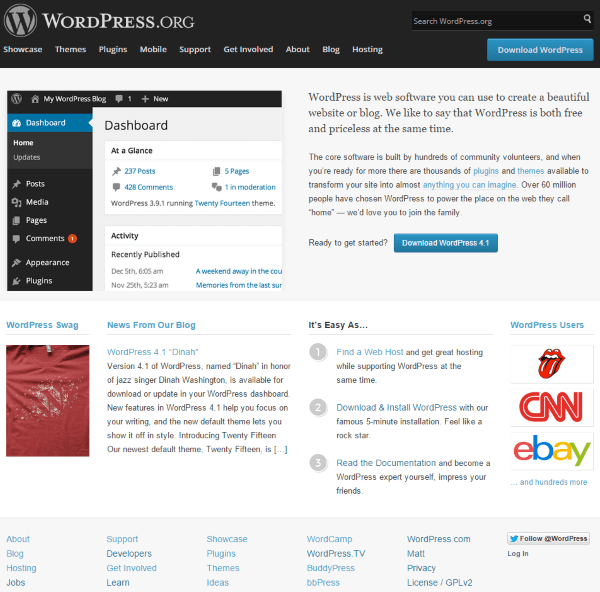 WordPress is the most popular content management system (CMS) on the planet. It is built with PHP and uses MySQL for its databases. It can use HTML and CSS. This gives it a lot of advantages.
Here's the rundown of what it has going for it:
35,900 plugins in the directory (includes SEO, Security, eCommerce)
3000 themes in the directory
Tutorials
Support supplied by community and providers
Multiple hosts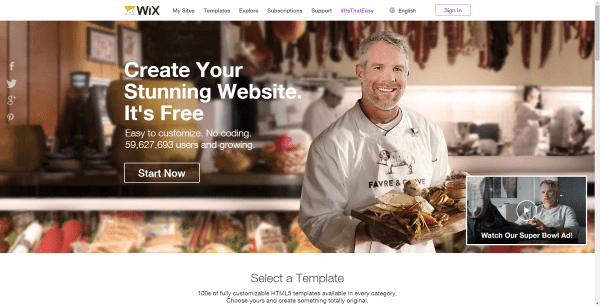 Wix is a free online website builder that lets you build HTML5 sites by drag and drop tools.
Here's the rundown of what it has going for it:
529 HTML5 templates
Drag and drop builder
223 apps
Responsive
eCommerce
SEO
Secure
24/7 support
Themes and Templates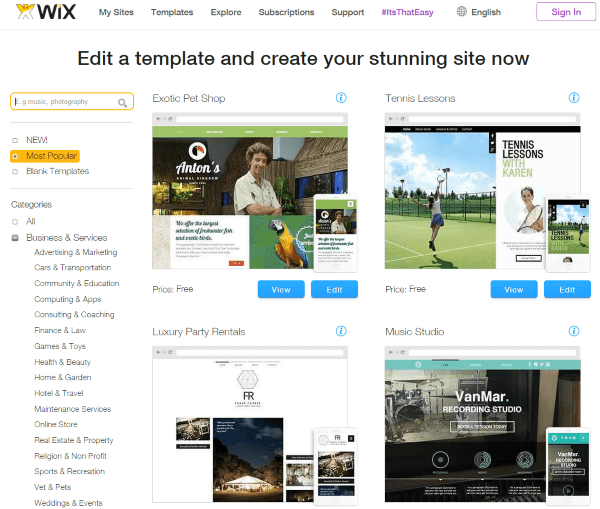 WordPress
There are over 3000 themes in the WordPress themes directory. Many of these are free. There are also many premium themes available that range from $20 to $200. Most cost around $100. Styles include various column layouts, magazine layouts, etc. and topics cover personal sites to professional services, education, art, and so forth.
Quality ranges from low to high. Some are older, but many use the latest design trends. You can modify them through the use of plugins and CSS, or you can recode them using the code editor. It's wide open. Make any changes you want. You can change to a new theme with a few button clicks. There are no limits to how many themes you can use or how many times you change it.
Wix
There are 529 HTML5 templates to choose from. They include multiple columns and many topics from personal sites to business consulting, art, education, online retail stores, and much more. All templates are free. Some templates require the eCommerce plan. You can edit them using the drag and drop editor. You can even start with a blank theme if you want.
You cannot access the HTML or CSS, so you can't make any real under the hood modifications. The worst thing, and in my opinion this one is major, once you've selected your template you can't change to a different template.
The Verdict on Themes and Templates
WordPress has more themes available, including many older themes, and you can make any changes you want because you have access to the code. Prices range from free to several hundred dollars. You can get a theme to do virtually anything you want. Not all themes are created equal and some are not as SEO optimized as others.
Wix has lots of great looking templates. You can edit them, but you don't have access to the HTML or CSS, so your edits are limited. Some templates require the eCommerce plan. They're SEO optimized.
Plugins and Apps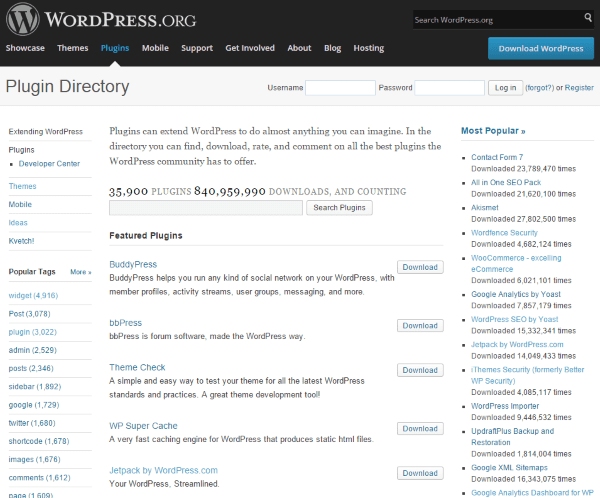 WordPress
There are currently 35,900 plugins in the WordPress plugin directory. Some of these are out of date and haven't been updated to work with the latest version of WordPress. There are many plugins that are not in the directory as well. Many plugins add some serious features to WordPress for free. You can add almost anything to your WordPress site by using a plugin.
Premium plugins add even more features and range in price anywhere from a few dollars to a few hundred dollars. Some require yearly subscriptions that range from $20 to $200 per year depending on the version you want. Developer subscriptions can be used on multiple sites.
Wix
There are currently 223 aps in the app market. There are plenty of free and premium apps. Most premium apps have a free version. Prices range from $3-50 per month, although most were less than $10 per month.
There are several that are the same sort of thing: galleries, social media icons, etc. Also, there are several that you probably don't want or need (clocks, weather apps, etc). Yet there are a lot you will want and most of them add some good quality functionality to your site.
The Verdict on Plugins and Apps
WordPress can be expanded much further than Wix. There are more plugins available for free that can provide more, and better quality, features than what Wix's apps can do. Wix does have a lot of good quality apps which can provide most of what you would want for your site, but it's not as flexible. Wix can do most of what you need, but the apps might cost you more than plugins would.
Tech Support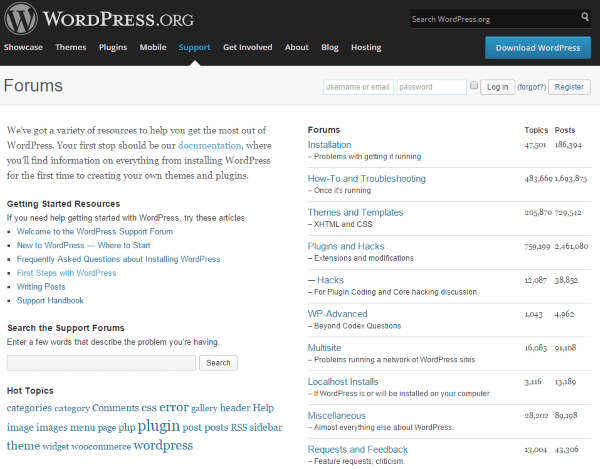 WordPress
Since your WordPress website is made of individual elements such as the core program, themes, plugins, hosting, etc., support for each of these will be handled by different companies.
If you have problems with WordPress – the WordPress core program, not the themes, plugins, or your hosting – you can get support through WordPress forums or documentation. The forums are rich with questions and answers. The documentation covers everything from what you need to know to use WordPress, to developing your own plugins, to volunteering to provide support in the forums. There is so much information in the forums and documentation that it can be difficult to find what you're looking for.
If you have any problems with themes or plugins you will have to get support from the makers of those tools. This might be good and it might not.
Issues with your website's hosting will have to be handled separately with your web host. If you've gone with a reputable host you shouldn't have any trouble with support for these types of issues.
There is tons of help online, but since WordPress has been around for a long time some of the help might be out of date. It's important to do your due diligence when picking the resources you rely on.
Wix
Getting support can be easier because you go to the same company for everything. You don't have to deal with third party developers or separate hosting companies. Wix also has articles, forums, and videos to help with support issues. Support is available 24/7.
Since Wix personnel are familiar with everything to do with Wix, their help should be more useful. They won't run into apps and templates that they've never seen before. You can contact them via phone, email, and their website.
The Verdict on Tech Support
With WordPress, there is a lot of help out there, but since you have to deal with so many elements and companies finding the right help might take some time. With Wix you only have one company to deal with, and there are several ways you can get help. Their support staff should be very informed about any problems you might run into.
Maintenance

WordPress
WordPress updates the core program a few times per year. Also, plugins and themes are updated often. WordPress alerts you when an update is available. When you see these alerts you will have to perform the updates manually – meaning you have to perform any backups that you want to perform before hitting the update button, then select all of the files you want to update, (you can do thus in bulk – plugins together, themes together, WordPress core separate), and then you have to perform any and all tests that need to be done to ensure your site is working properly.
If you just have a blog this might not be much of an issue, but if you have a large store, education site, or some such, this can take a substantial amount of time. This can be an even bigger challenge if you have a custom theme. You might have to make updates to the code itself.
An alternative is to subscribe to a service that will perform your updates for you. This can get expensive over time, but it can also save you a lot, making the ROI worth the cost.
Wix
Wix automatically performs updates. You are not involved with any of the updating process and you won't even need to be aware of it.
The Verdict on Maintenance
You are responsible for updating your own WordPress site. With all the various themes and plugins available this might take some time to do every time there is an update available. Wix does this for you. You don't have to worry about site maintenance with Wix.
Price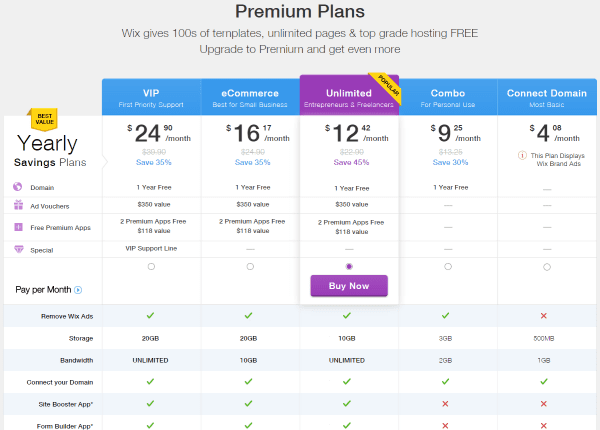 WordPress
The WordPress core app is free. You are responsible for your own hosting, domain name, themes, plugins, security, maintenance, development, etc. You can get many themes and plugins for free, and you can do all of the work yourself which will keep costs down. Your URL and hosting can range from inexpensive to premium depending on what you want and what your needs are. A package that would be the equivalent to the most popular Wix package might look something like this:
Domain $15 per year
Hosting $7 per month (100GB storage, unlimited bandwidth)
eCommerce – free (shopping cart usually requires percentage of sale)
Theme – from free to $69 per year
Plugins – from free to $50 each (maybe $200 average total)
Maintenance – from free to $1500 per year
Development – from free to $15,000 per year
These numbers are generalized, but running a WordPress site can cost from $72.99 without a developer to $18,162.18 per year with a developer.
Wix
With Wix, there are several different plans that range from around $4 per month to $25 per month. Their most basic plan includes ads. The next plan is considered for personal use. The most popular plan is for entrepreneurs and freelancers. Let's look at this one.
The Unlimited plan is $12.42 per month and includes a domain, 2 premium apps, 10 GB of storage, unlimited bandwidth, hosting, premium support, and more. What is does not include is a shopping cart. For that you will need the next plan, eCommerce, which is $16.17 per month and includes 20GB of storage and limits your bandwidth from unlimited to 10GB.
So prices range from:
$149.04 per year without eCommerce to $194.04 with eCommerce. Apps might add an average of $50 per month, adding $600 per year. The VIP edition is $298.80 per year.
These numbers are generalized, but running a Wix site can cost from $149.04 to $898.80 per year.
The Verdict on Price
WordPress can be cheaper or more expensive, depending on the choices you make. You can do everything yourself, which takes more of your time, but can cost less than Wix. Prices for Wix are really good, especially for a business site that includes domain, hosting, and maintenance.
Creating Content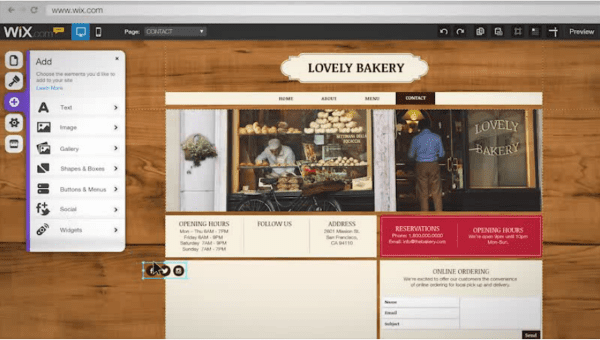 WordPress
Content for posts and pages are created with the visual editor. You can add media such as images, video, audio, and other files such as PDFs, and so forth. You can also use the text editor to include your own HTML to add columns or modify the content. There are a lot of plugins to modify your visual editor. There is also a distraction-free mode and an upcoming front-end editor.
WordPress has support for multiple users and you can assign their level of access to the backend. If you want a full team of contributors and a couple of administrators to run your online magazine, you simply assign their roles. Done.
Wix
Wix is pure WYSIWYG. There is no backend where you're creating your pages and posts. You drag and drop your content onto the location on the frontend. For writing your content there is a similar interface as the visual editor in WordPress. You drag and drop a text box and start writing. If you want a slideshow, images, or anything else, you drag it and drop it where you want it.
Wix is working on a way to add a different author's name to a post, but it's primarily a one man show. It does take a few minutes to work through it to get the hang of creating pages and posts, but once you do it's intuitive. There are enough help buttons everywhere to help you through every step. You can embed your own HTML into your content.
The Verdict on Creating Content
Both provide a nice intuitive interface. WordPress gives you access to CSS, so you can make more modifications than with Wix. WordPress has several writing modes and you can use plugins to modify the editor even further. Wix is simple and intuitive, but you can't make any modifications to the writing areas.
Flexibility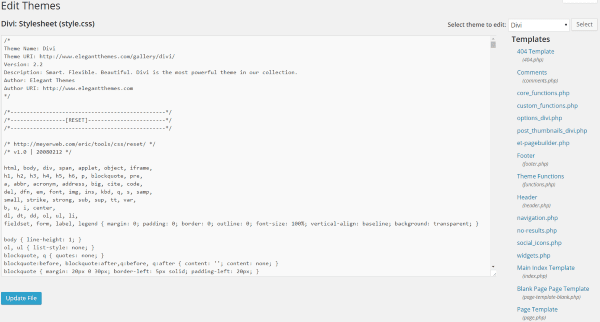 WordPress
WordPress is open source. This means that anyone can access the code and make any changes and modifications they want. They can create their own themes and plugins that they can give away or sell. This has launched many companies and pushed many innovative developments in the WordPress realm. This is one of the reasons that WordPress is so popular.
One down side to anyone being able to make their own themes and plugins is the potential for low quality and potentially dangerous code (many have learned this the hard way). Even if the code is safe, the features can sometimes be lacking, so it might take some trial and error to find the right fit for your needs.
With so many themes and plugins available, the sky's the limit. You can make your WordPress site into anything you want it to be. Whatever you want, there's a way to do it with WordPress. If it doesn't exist it can be developed.
Wix
Wix is not open source. This means that not just anyone can modify it. All website building tools are built by the Wix development team. This means that the tools for Wix will have fewer functions but overall the percentage of quality will be higher.
The Verdict on Flexibility
The quality of the tools, such as themes, plugins, apps, etc., will have a major impact on the quality of your site and your visitors' UX. Poorly programed tools can slow your site down or even crash it. The major concern here is quality of tools over quantity. As long as you can find the tools you need, more doesn't mean better.
With WordPress, you will have to worry about the quality of themes and plugins. Not all developers hold themselves to higher standards. There are some developers that create a plugin or theme and leave it; without ever providing support or updates. There are also a lot of developers that have made it their business and career to create high quality tools for WordPress. If you need it, there is most likely a high quality theme or plugin available – you just have to do your research and be careful before using just any theme or plugin.
With Wix everything is created and tested by their development team. This helps ensure that higher quality standards are met and maintained. You won't be able to do everything you can think of with Wix like you can with WordPress, but you won't have to worry about the quality of the coding of your templates and apps either.
WordPress is more flexible than Wix, but this flexibility can have just as much potential for loss as it does for gain.
Wrapping Up
Both platforms let you get started quickly or let you take your time and build something outstanding. Both have a wide range of prices, and both have enough features to build a lot of sites.
Which is Best?
Of course this is something you have to decide for yourself, or something your clients will have to decide. What's best for you might not be what's best for me.
WordPress: It's open source and filled with choices. Everything is owned by you (unless you choose a hosting plan that gives you a free domain). You are responsible for all themes, plugins, updates, security, and SEO. You can make your site anything you want it to be. Plugins and themes might cost you some good money, but it's more flexible. You choose who to host through.
If you decide to host through someone else you can move your site to another host. Going through the tutorials and choosing your plugins and themes, and then getting everything set up properly can take some time. It is also possible to just get started quickly and cheaply and add on as you go. It's more customizable, but this can make updates more difficult and expensive. Overall, this one is the most flexible, but that flexibility can also become more complicated.
Wix: You don't own the site. The URL and hosting are not yours and you can't modify it any way you wish. You don't have a choice of hosting companies. You can only have apps and themes that are allowed from Wix. What it does it does well, but if you want something it doesn't provide, you can't have it. But you can run a business from it. You can even develop sites for your clients with it. Still, you are limited.
WordPress is better for flexibility and expandability. Wix is better for simplicity.
Now it's your turn. Have you used both platforms? Which works best for you or your clients? Do you have something to add? I'd like to hear about it in the comments below!
Article thumbnail image by denk creative / shutterstock.com