When creating a blog on WordPress, it's important to ensure you have a theme with the right features, design, support, and functionality to achieve your vision. The best WordPress themes for bloggers ideally would not require you to hire much, if any, outside help. You want a theme that doesn't get in the way of your ability to create and publish content easily but also something powerful enough that you're able to create unique content experiences for your readers.
In the deep and vast ocean of WordPress Themes, finding the perfect theme for your blog can feel like being adrift in foggy weather, especially for beginners. That's why, in this article, we'll shine a light on the themes you need to check out for your blog. Firstly, we'll start by explaining what makes a good WordPress theme. Then, we'll cover what makes a good WordPress theme for bloggers and which WordPress themes we recommend based on our experience.
Let's get to it!
What Makes a Theme the Best WordPress Theme for Bloggers?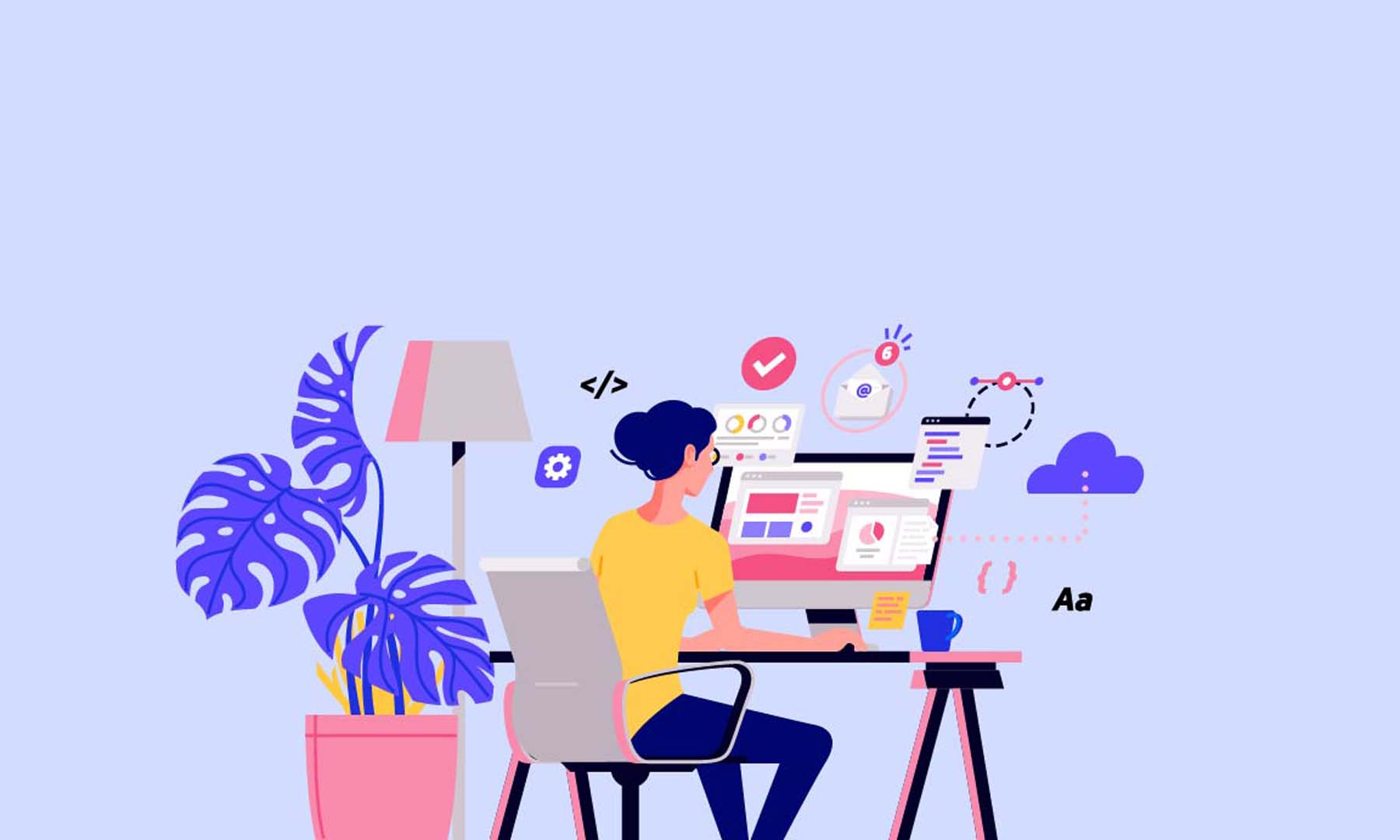 You're not here to find a WordPress theme. You want one that will be ideal for blogging. However, it is worth mentioning that there is a baseline of quality that all WordPress Themes (at least the ones we feel are worth recommending) should meet. We've covered that baseline criteria in detail in our list of the best free WordPress themes. But for your convenience, here's a quick summary.
Attributes of the best WordPress Themes for Bloggers:
Serious ongoing development.
Good reviews and other positive social proof.
Tight security.
Broad browser compatibility.
Essential WordPress plugin compatibility.
Compatibility with major page builders.
Translation and multilingual ready.
Good user-experience design.
Meaningful support options.
High-quality responsive and mobile design options.
Pre-made design resources and design features that allow you to meet your specific needs.
Every theme featured in our list below fits this criterion. But what got them on this specific list is how they meet this criterion or even build upon it to benefit bloggers. Here's a quick list of examples to demonstrate what that means.
Additional attributes for the best WordPress Theme for bloggers:
Multiple blog post templates
Breadcrumb navigation through content
Right-to-Left language support
Built-in support for various page-builders and the Block Editor
Typography chosen for readability
Page-speed optimizations, including AMP, render-blockers, and lightweight features
A good WordPress theme for bloggers means that the content is placed at the forefront, and the reader has no barriers to consuming it. That means it has to be easy to read, fast to load, and simple to navigate. Each theme we list below prioritizes these concerns over everything else.
10 of the Best WordPress Themes for Bloggers
Here is our list of the best WordPress themes for bloggers. From customizations to kits, we know that you'll be able to find your next blog theme right here!
1. Divi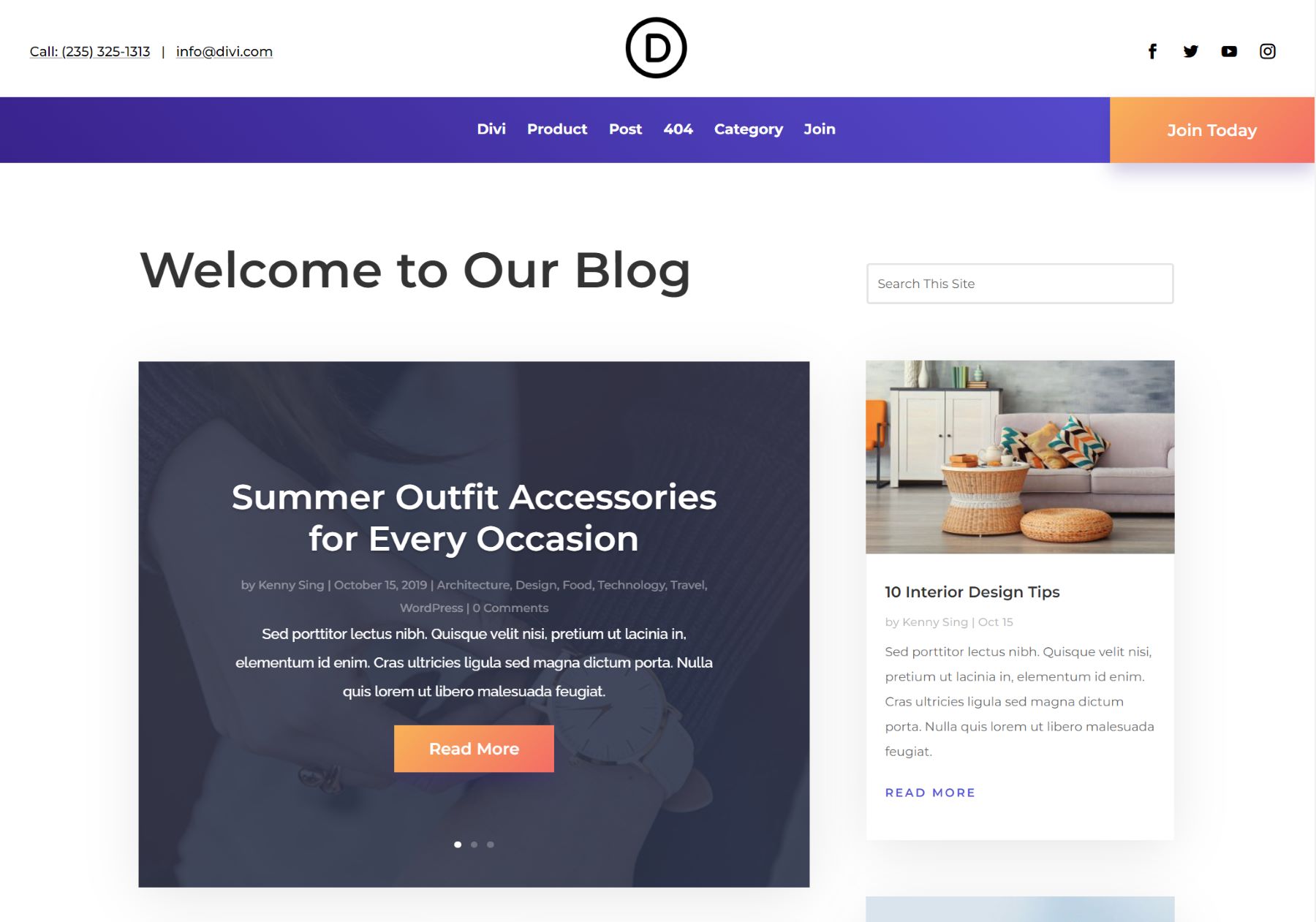 For good reason, Divi is our flagship product–and the world's most popular premium WordPress theme. Divi is a whole website-building suite of tools in WordPress theme form. Users get complete design control (without coding), deep WooCommerce integration, lead generation features, split testing features, design efficiency features, massive extendibility, and tons of free design resources. Among these free resources are Divi layout packs (released weekly and added to the Divi Library).
Key Divi Features for Bloggers
Divi has native modules that bloggers can use to add dynamic blog content throughout their sites and style them with ease. The Blog module is powerful and versatile, allowing users to create blog pages in seconds. You can even choose different custom post types and categories when displaying posts throughout your site.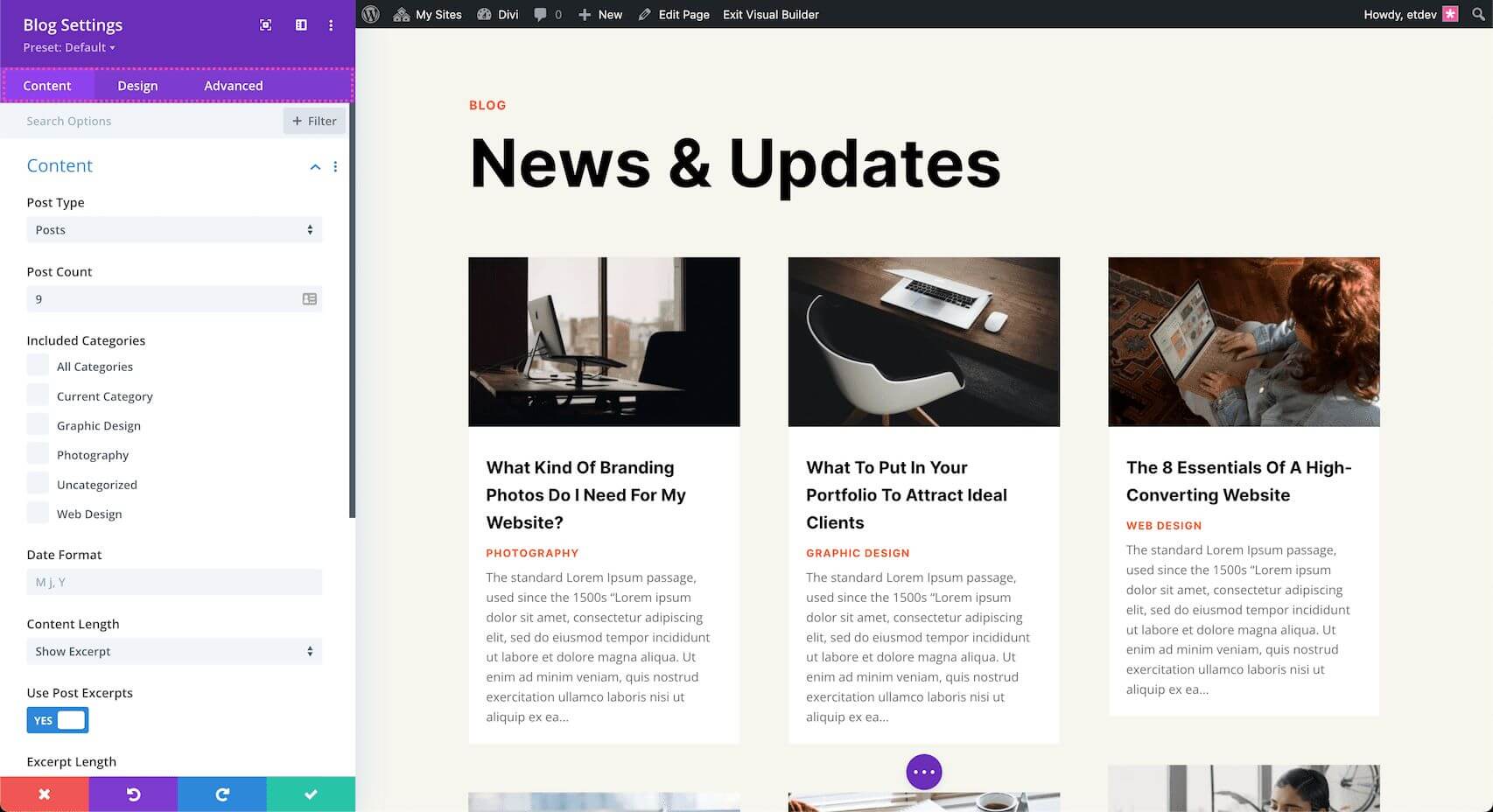 Some of our free layout packs (like Blogger, and Technology News) are perfect for bloggers who want to get a complete blog site design up and running in no time. Plus, there are plenty of free blog post templates available for download on our blog that you can use for site-wide blog post design. These blog templates can be used to design blog posts that use the Gutenberg block editor for the best of both worlds. You can easily create your own blog post template from scratch. Also, you can use dynamic content to display post content using Divi modules!
One of Divi's best features for bloggers is the Theme Builder. It lets you use Divi's visual editor to design header, footer, post, page, product, and archive templates. Once created, you can assign a template to any page, post, post category, author page, post archive, and more throughout your WordPress website. Bloggers can easily create category page templates from scratch or download free category page templates from the blog.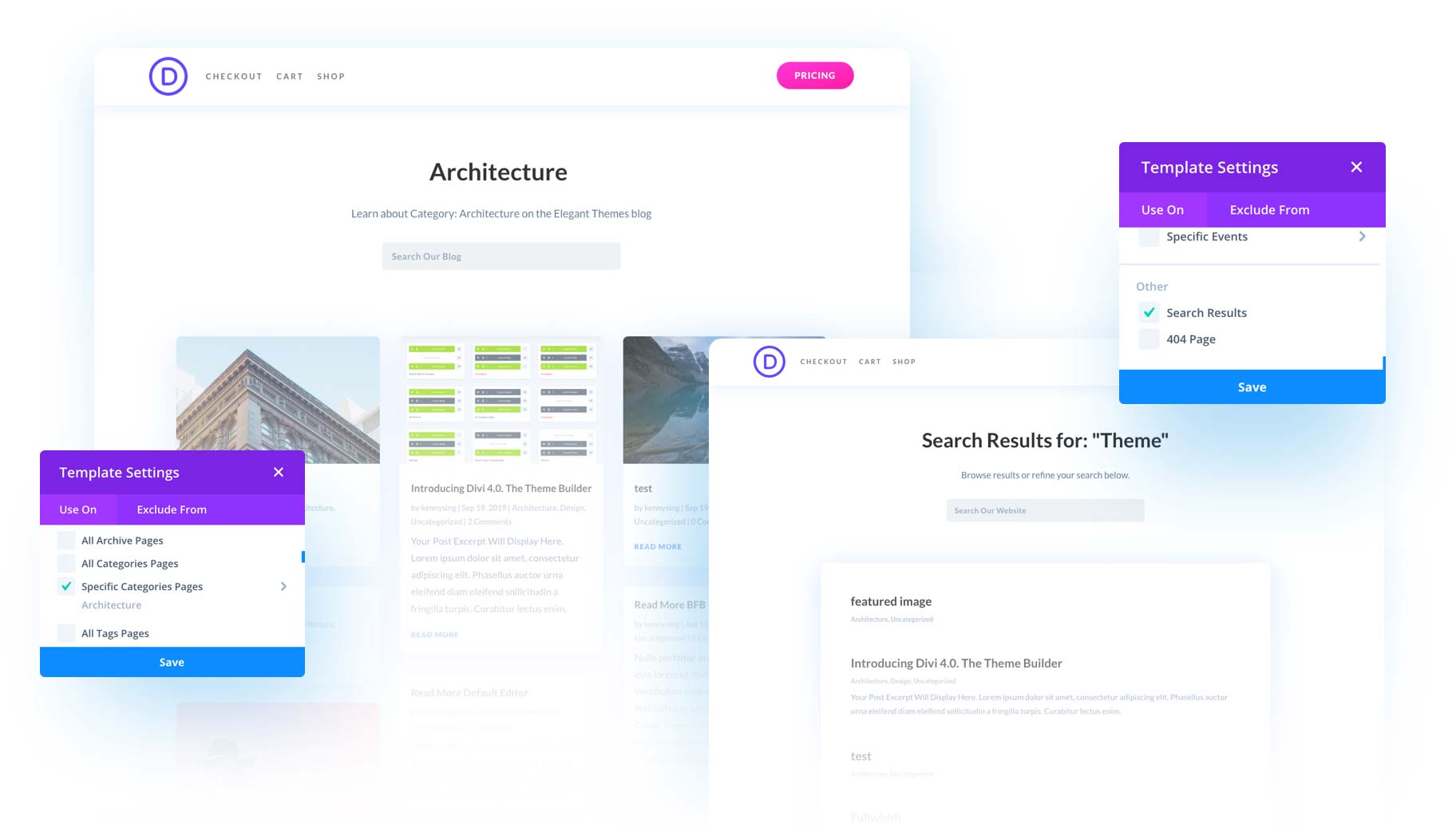 Other blogger-friendly Divi features:
Deep Yoast SEO and Rank Math Integration for SEO
Advanced email opt-in form module with support for all of the major email providers
Advanced forms building module to capture information
Advanced split testing functionality–called Divi Leads–to help you perfect your content marketing funnels
Enhanced Gutenberg Block Editor integration. You can include Divi modules and layouts inside Gutenberg blocks.
In-editor, drag-and-drop media uploads
Pricing: Paid plans start at $89 per year
2. Astra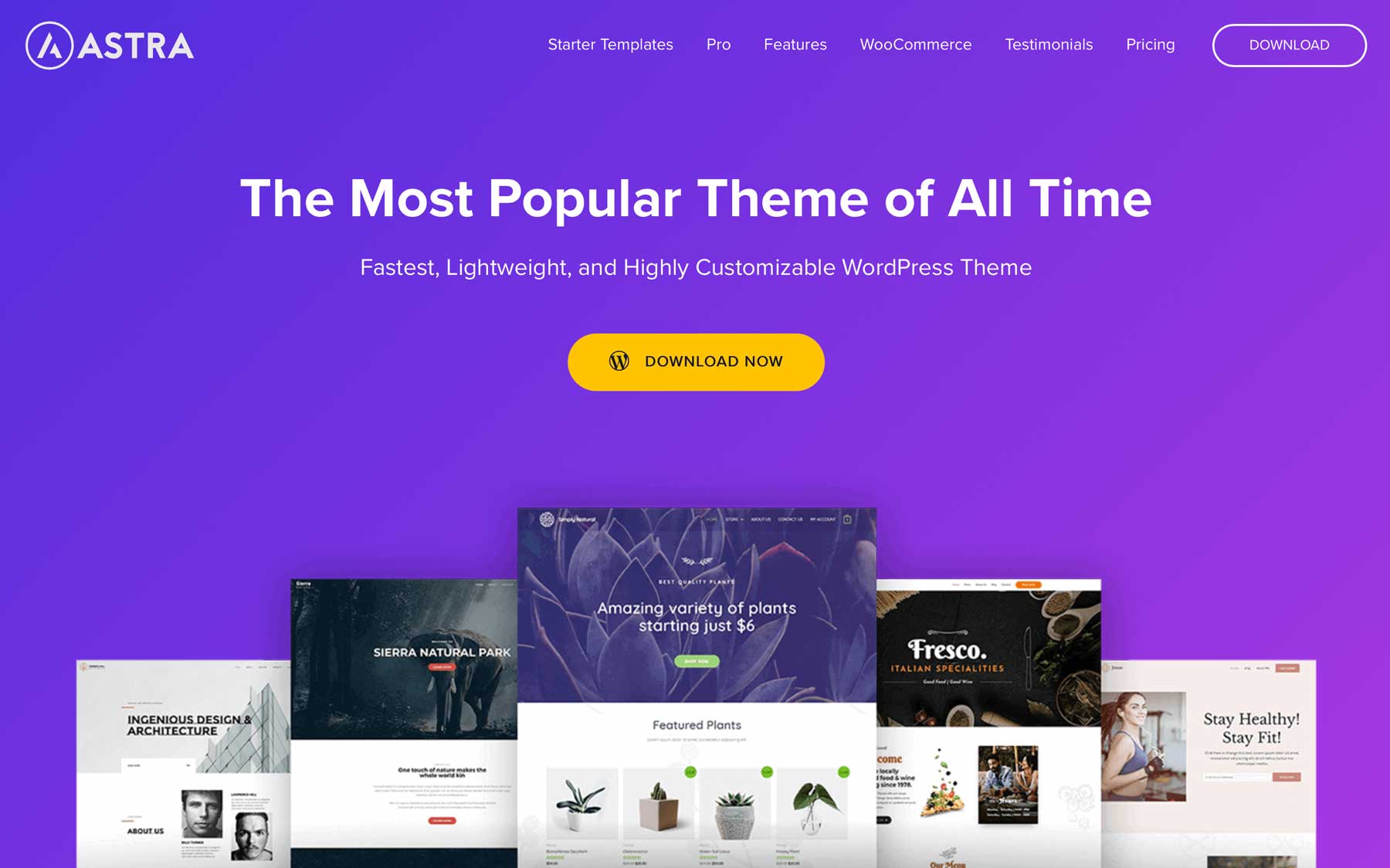 Astra has taken a much-deserved spot near the top of the WordPress theme repository. It is one of the best WordPress themes for bloggers because it's a blank slate for bloggers to take and shape into precisely the kind of theme they want. With a robust free version and a powerful Pro upgrade, Astra gives users control over the headers, layouts, colors, typography, and blog/blog archive pages. Add in support for all the major page builder plugins, and Astra becomes one of the best WordPress themes for bloggers.
You can use the standalone Divi Builder plugin with the theme and get access to all our layouts, too! Many people use page-builder plugins like Elementor or Beaver Builder with Astra because every aspect is modular and customizable.
Key Astra Features for Bloggers:
The Astra theme's website database contains different pages and templates you can use for your blog. Because of the ubiquity of page builders, you can search for the perfect look by the software you prefer.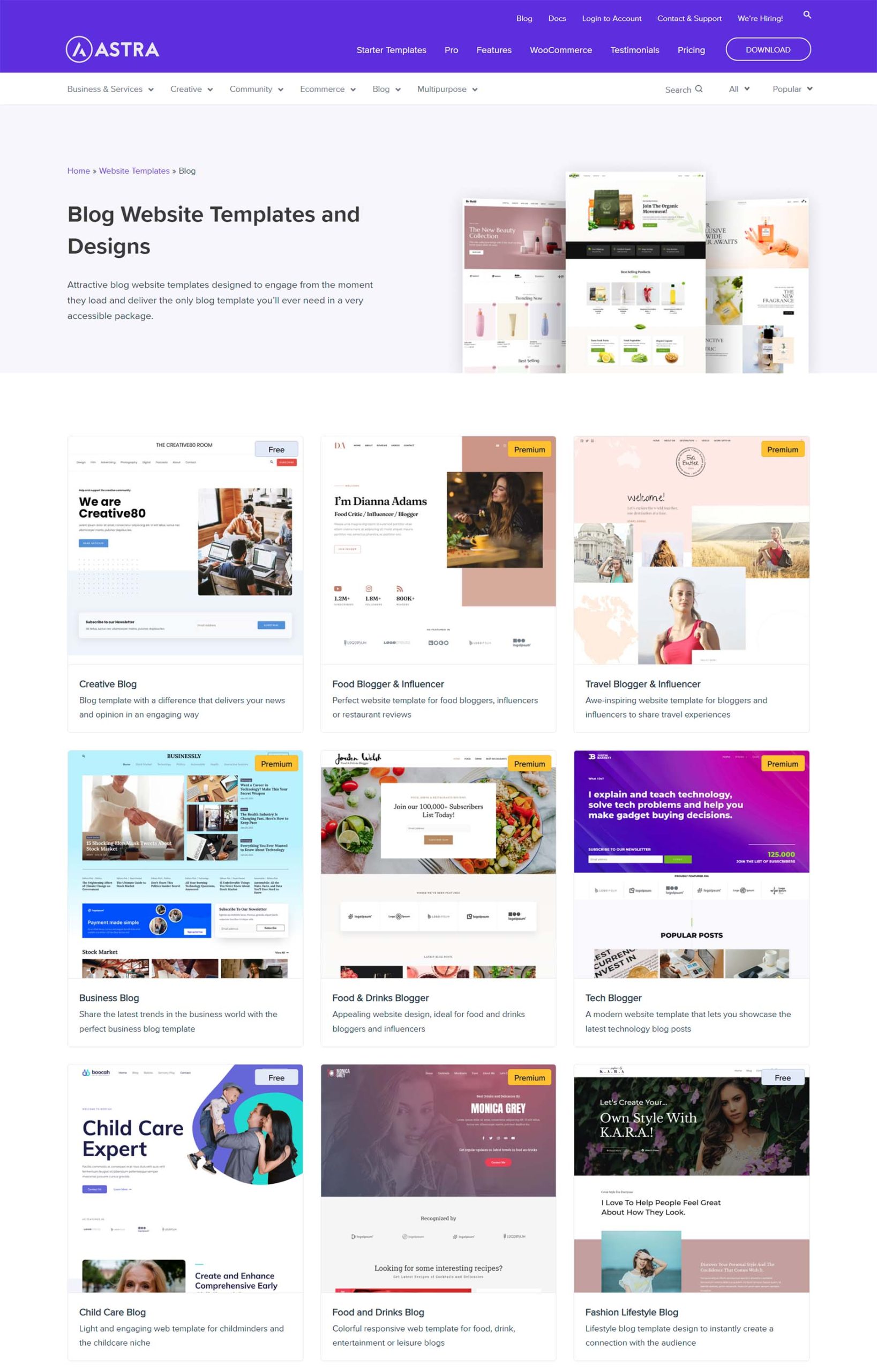 Other blogger-friendly Astra features:
Incredibly lightweight and performance-optimized
Full customization from the ground up
An incredible library of pre-built websites, sorted by page-builder compatibility, for free and Pro users
Pricing: Free, Paid plans start at $49 per year
3. OceanWP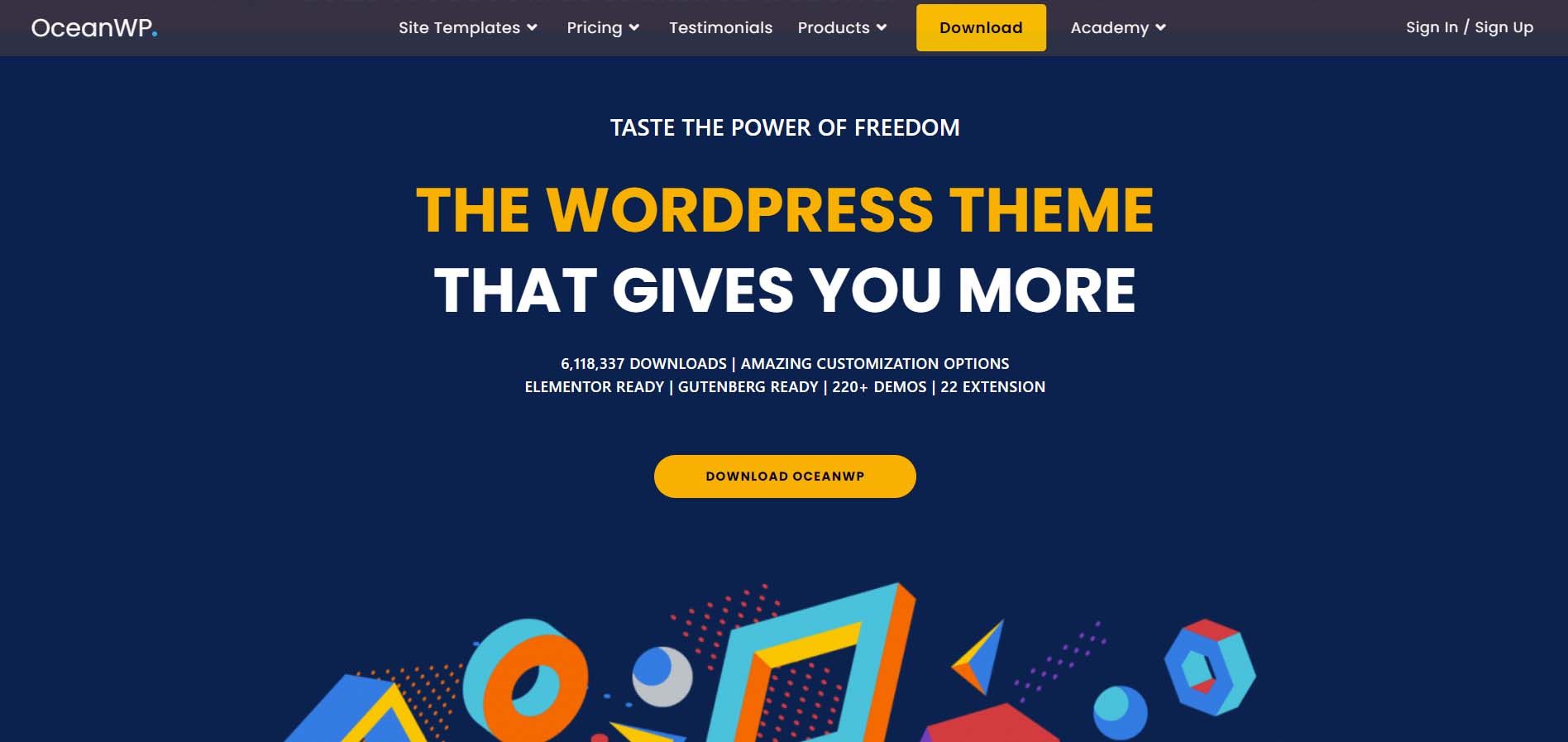 OceanWP is one of the most downloaded themes on the WordPress.org theme repository for a reason. It is fast and flexible in its free version and pro upgrade. Built-in support for every major page builder means you shouldn't be hit with problems no matter which plugin you use. The code for OceanWP is clean and easily added to, and the developers have 100+ demo theme templates that you can import and edit with your favorite builder plugin. With RTL support and being ready-made for translation and customization, OceanWP deserves a look.
Key OceanWP Features for Bloggers:
The OceanWP demo themes can be quickly sorted and imported into your site. Once there, you can mix and match elements from any you like to create the blog your readers clamor for. The number of demo sites and templates you can access with OceanWP is staggering.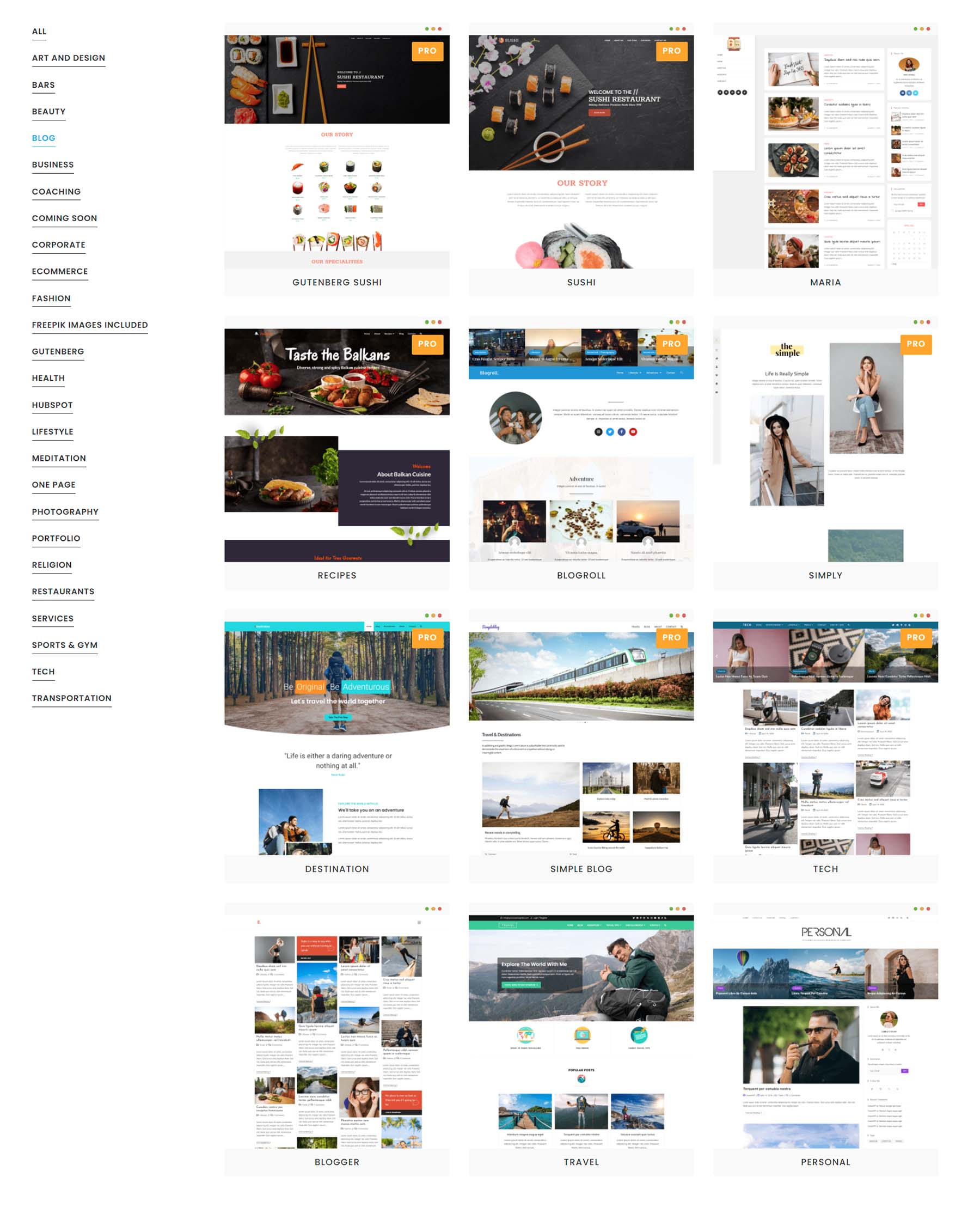 Other blogger-friendly OceanWP features:
RTL language and translation support
Demo theme gallery made for page builders
Pro upgrade includes extensions, demos, and widgets
Pricing: Free, Paid plans start at $54 per year
4. Hello Elementor

Hello Elementor is the perfect canvas for a custom-built blog. Powered by Elementor, a popular WordPress theme and page builder, Hello Elementor is the best WordPress theme for bloggers comfortable using this builder.
Key Hello Elementor Features for Bloggers:
You can take complete control of your blog page and templates with the Elementor plugin's power and the Hello Elementor theme. Create templates for individual blog categories. Make custom headers and footers for your blog. Alternatively, you can create global site parts for your blog, giving you full control and flexibility across every aspect of your blog.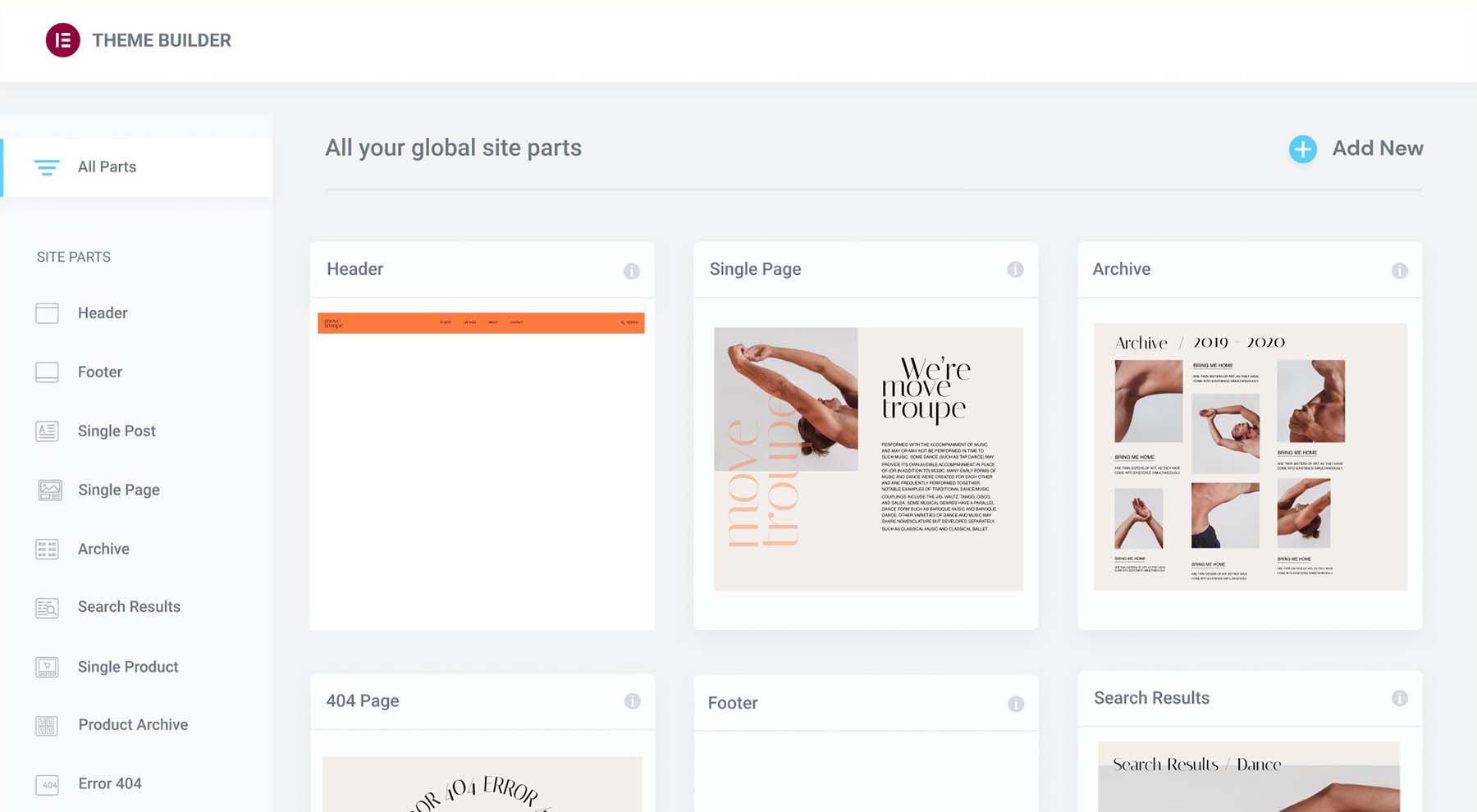 Other blogger-friendly Hello Elementor features:
Built for speed, have your blog posts and pages load quickly
100+ ready-to-use website kits to pull inspiration from for blog posts and blog page design
100+ modules packed into a visual builder, making building your blog easy
Pricing: Free, Paid plans start at $59 per year
5. Neve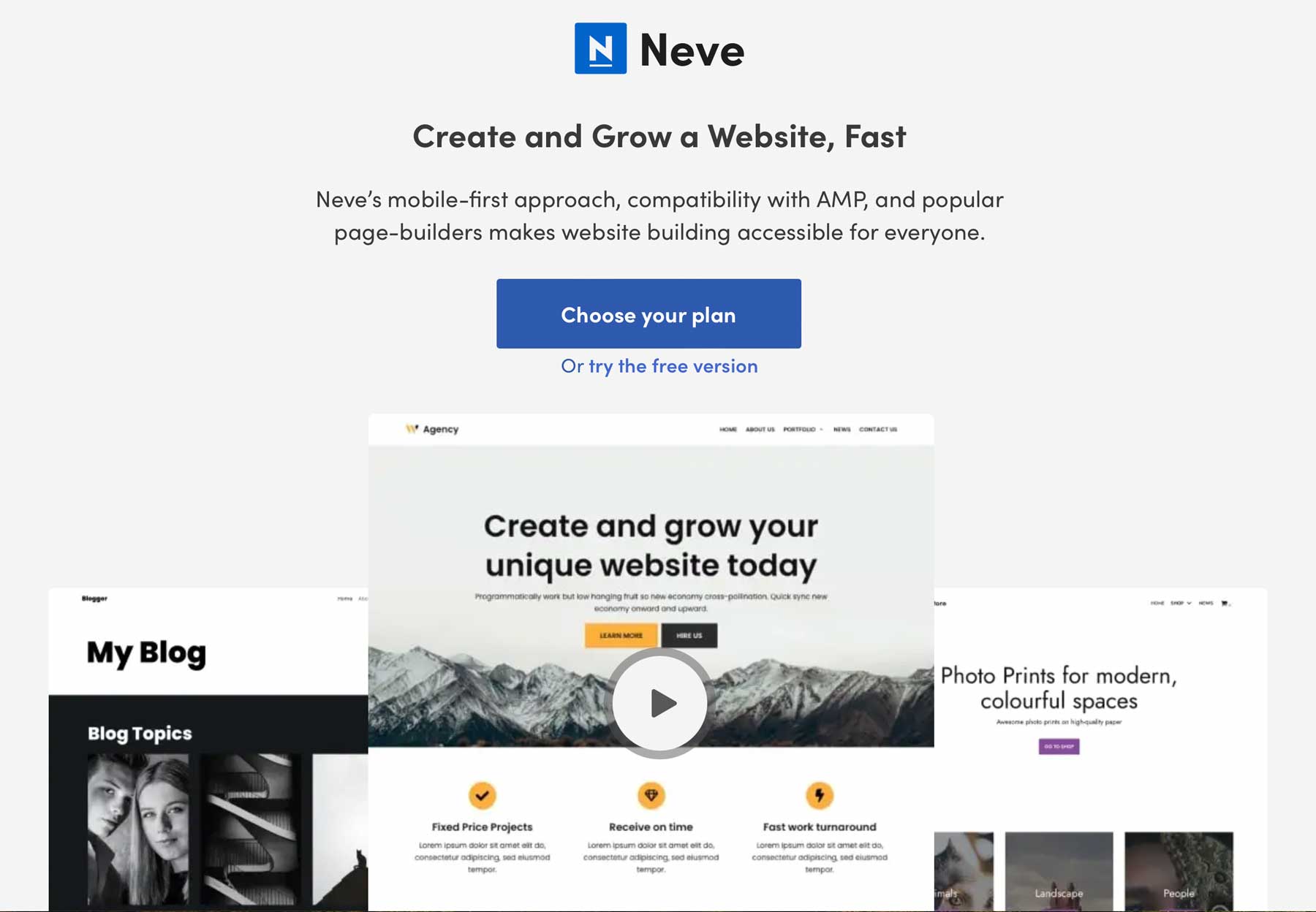 Neve rounds out our list with another fully customizable theme for bloggers right within the theme customizer. More than that, Neve is built for speed. Where some themes say they prioritize speed, Neve takes it to the next level with AMP compatibility that doesn't come native in WordPress. With access to 80+ starter sites, custom layouts for different pages, and a white-label option, Neve is a complete blogging platform. And when you load your favorite page builder plugin like the Divi Builder, your readers won't have anything but good things to say about you.
Key Neve Features for Bloggers:
Neve has an entirely separate options menu from the theme customizer, letting you access colors, logos, layouts, and your content from within a single page in your dashboard instead of having it spread out. You can install starter site layouts from here, find premium plugins that may help, and more.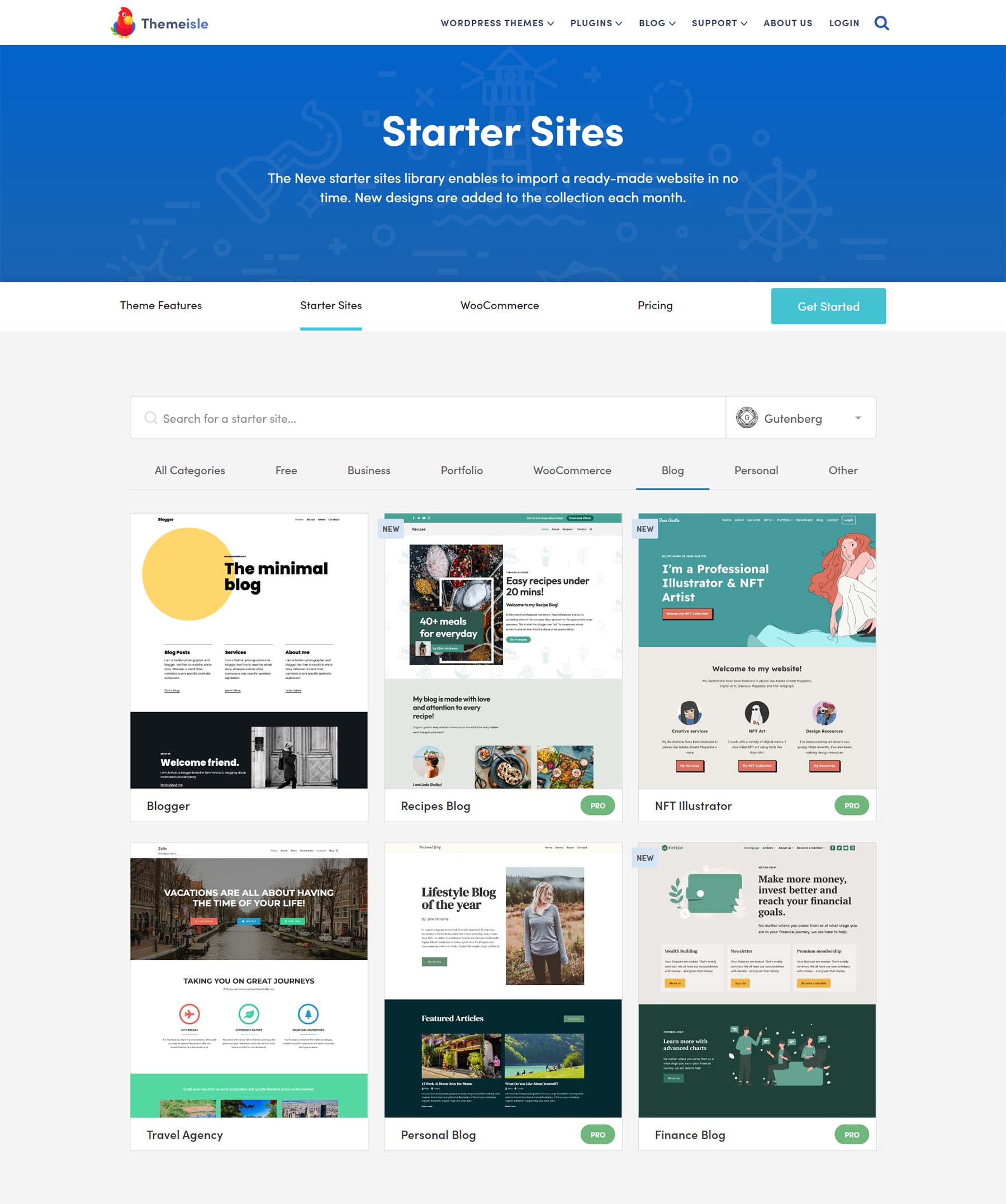 Other blogger-friendly Neve features:
No jQuery to block site rendering
1-click rollbacks if something goes wrong
Support for RTL and translation
Pricing: Free, Paid plans start at $99 per year
6. GeneratePress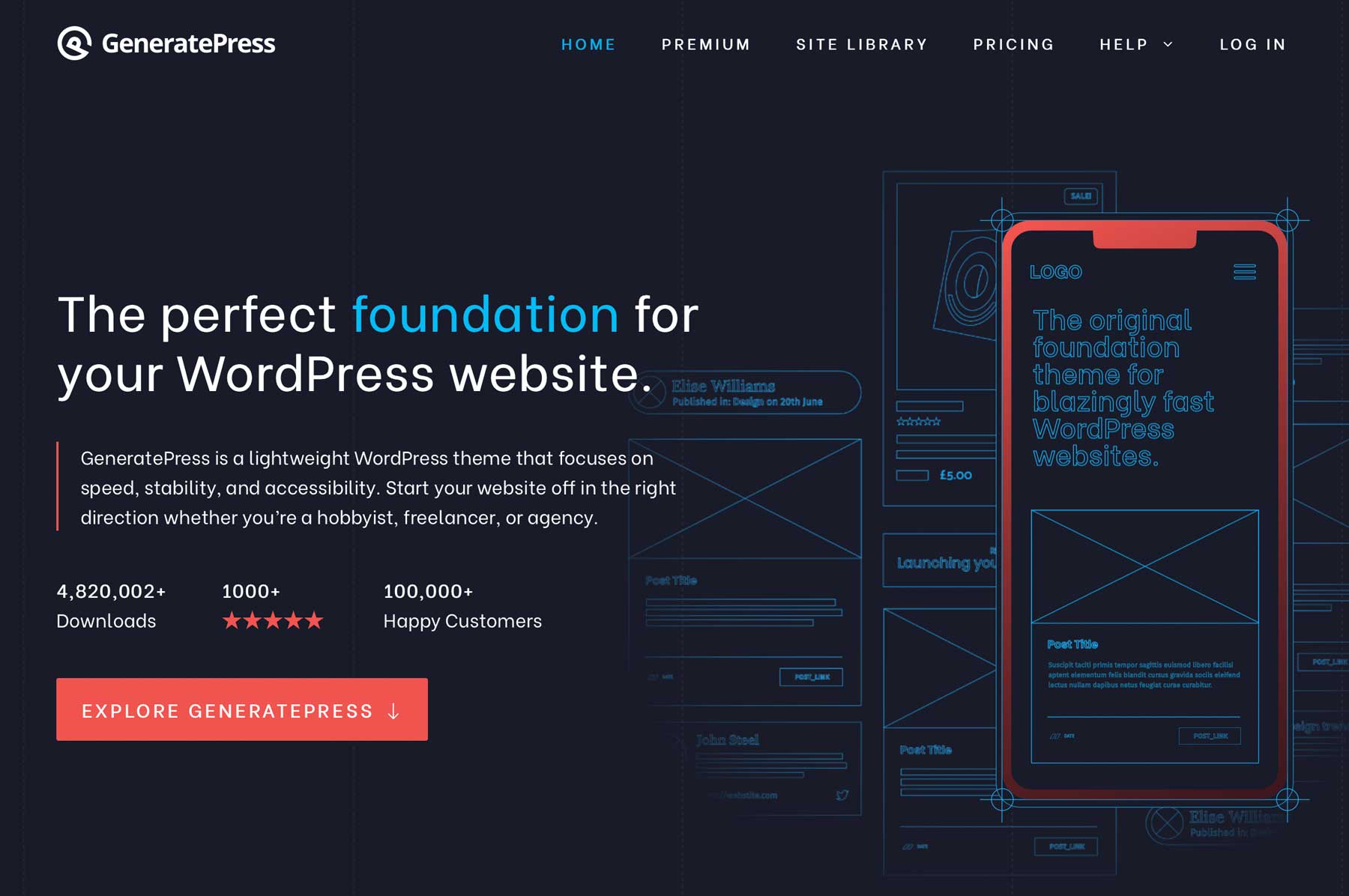 No matter what kind of WordPress web you're building, GeneratePress is an excellent starting spot. With a focus on speed and performance, you can create a lightning-fast blog website with GeneratePress. As a theme, GeneratePress provides a clean, minimal design that is modern and compliant with WCAG 2.0 standards. It is also a theme that is flexible enough to work with many of the popular page builders available for WordPress, including Gutenberg, Elementor, Beaver Builder, Divi, and more.
Key GeneratePress Features for Bloggers:
Touted as the premiere block-based theme builder, bloggers can rejoice at the level of customization that they can have with their blog page and blog post templates. GeneratePress and its GenerateBlocks plugin visually build every aspect of your blog quickly, without having to learn a single coding language.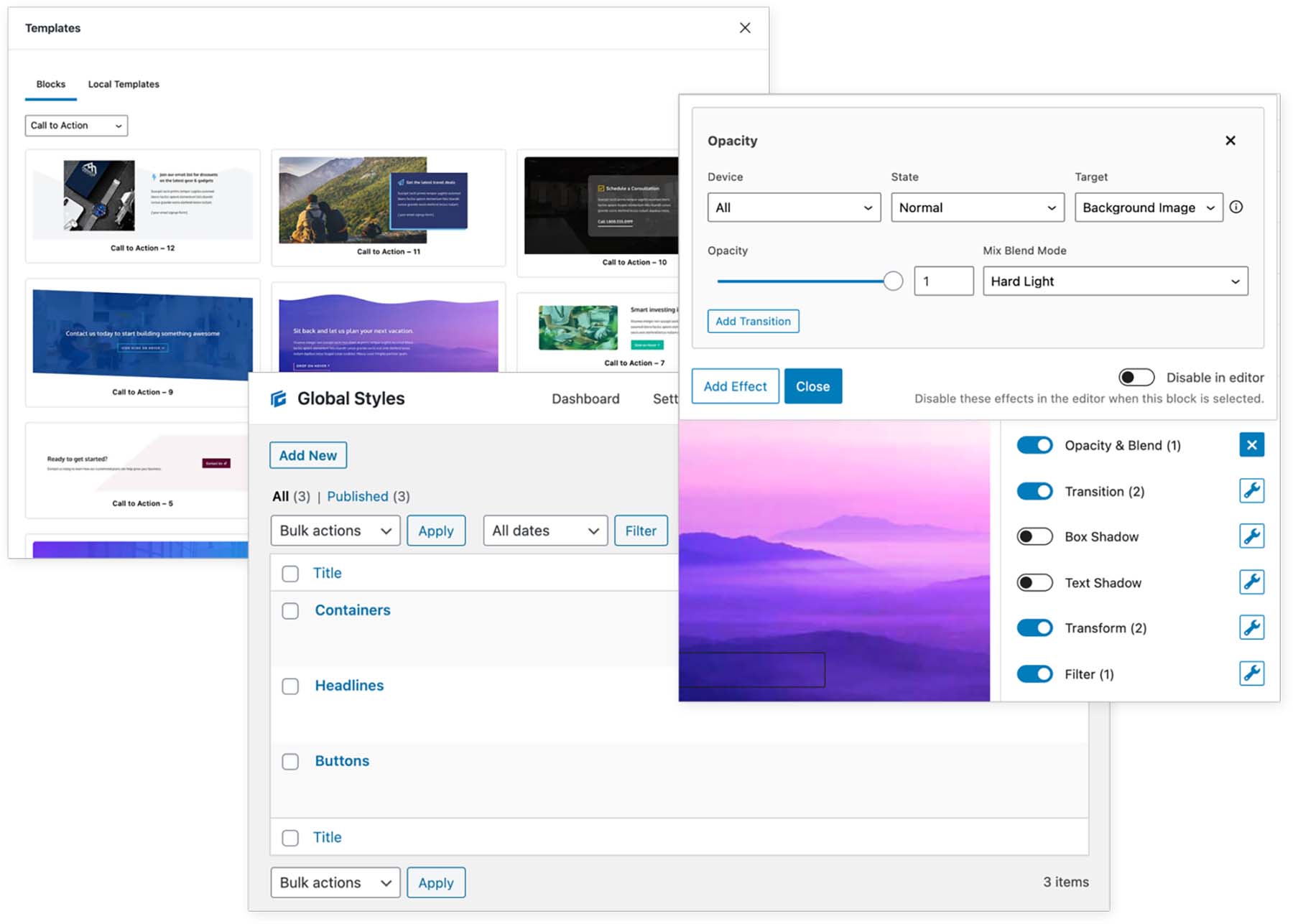 Other blogger-friendly GeneratePress features:
Fully responsive, with valid HTML and CSS
Translated in 25+ languages and has RTL support
60+ color controls, five navigation locations, five sidebar layouts, and more
Pricing: Free, Paid plans start at $59 per year
7. StudioPress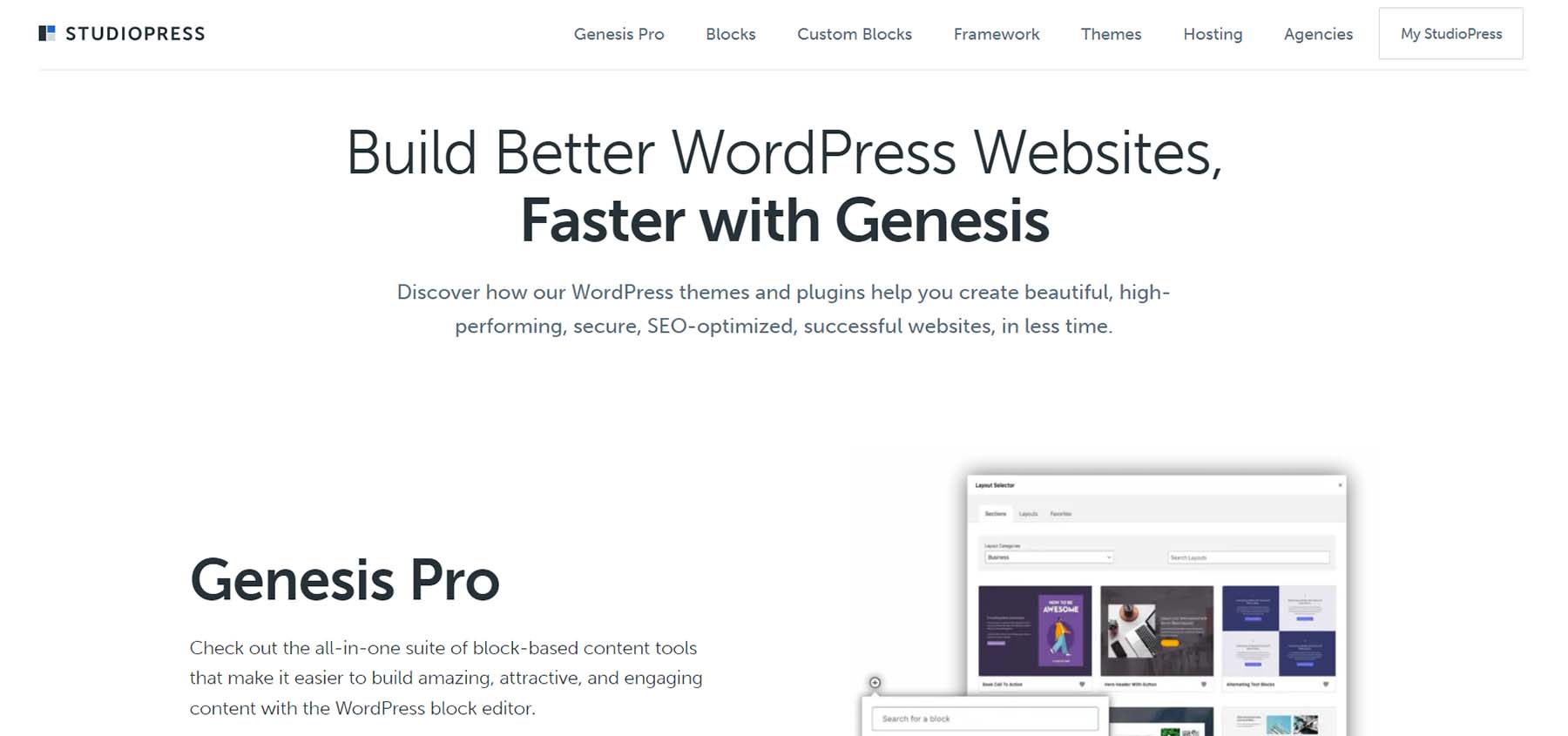 With powerful site-building tools and support for WordPress' Gutenberg, StudioPress' Genesis Pro is a WordPress theme made with the blogger in mind. Genesis Pro is packaged with a full suite of pre-built custom sections that you can use to build your WordPress blog quickly. Take complete control of the Gutenberg editor with Genesis-specific content blocks that make using the block editor a breeze. When building your blog, Genesis Pro takes customization to the next level. You can even create, save, and reuse content blocks to keep a consistent theme as you build your new blogging website.
Key StudioPress Features for Bloggers:
Genesis Blocks is a fast way to build your blog, pages, and site with Genesis Pro. The premium block library boasts an ever-growing selection of sections, layouts, and blocks that you can chop and change as you see fit for your blog. Powered by the block editor, customization is quick and easy for you. This enhances your workflow as a blogger, allowing you to create your content faster and on brand.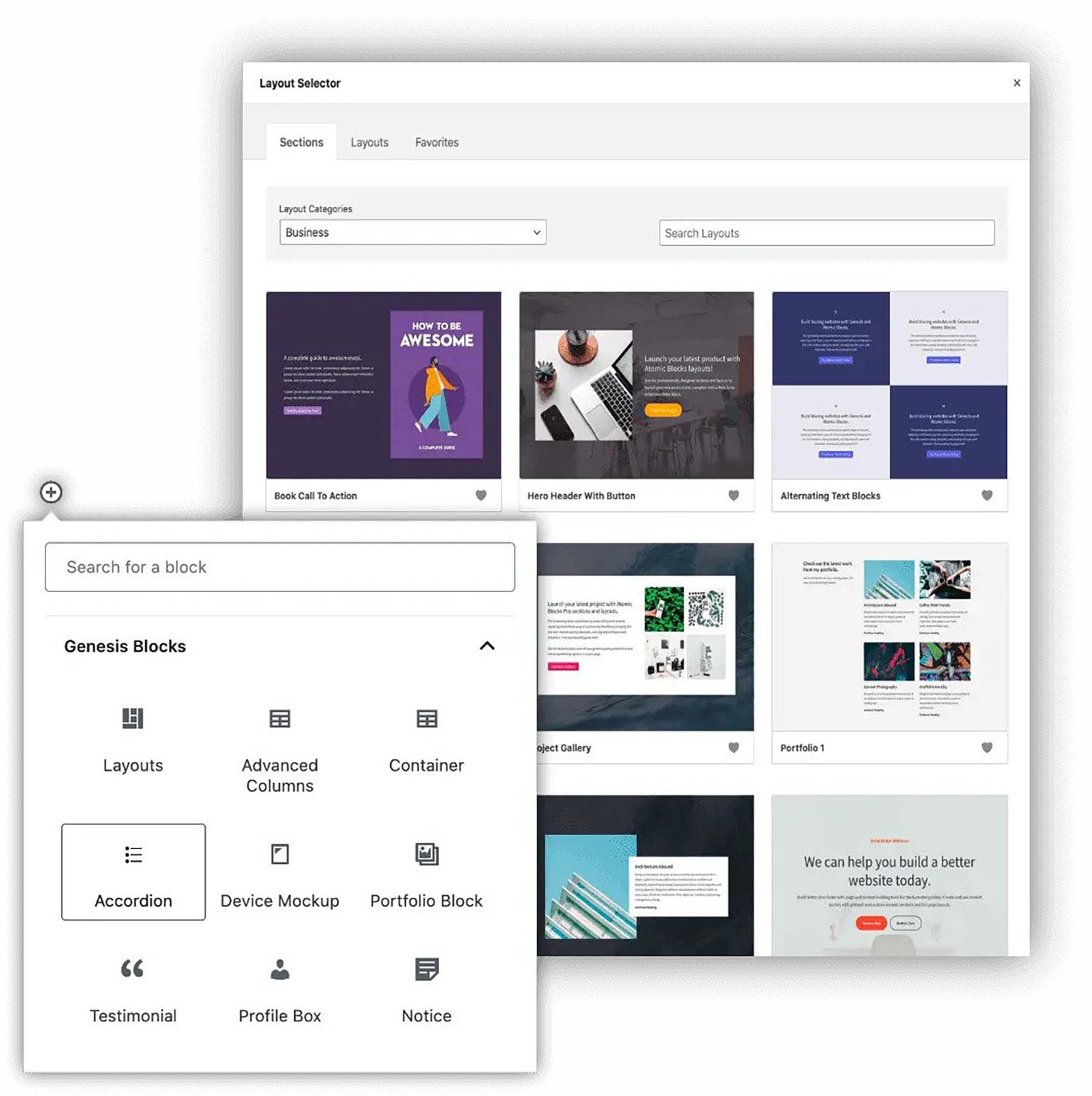 Other blogger-friendly StudioPress features:
One-click theme setup with theme customizer
Gutenberg block editor compatible
Unique theme templates, including Instagram page, service page, and landing page templates
Pricing: $360 per year
8. Lovecraft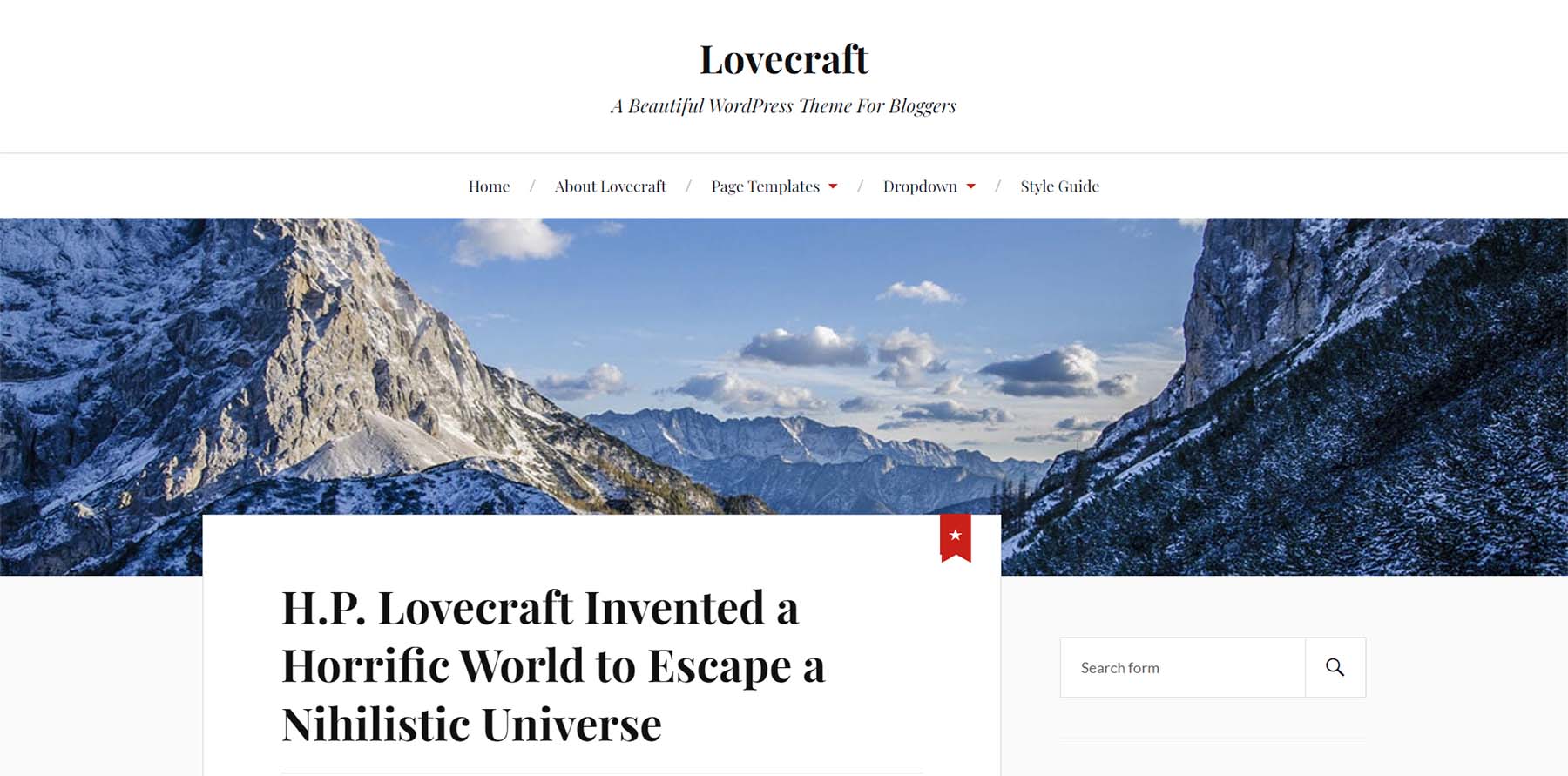 Who would have thought a theme named after such a prolific writer would be so good for blogging? Well, we would, which is why it's here on this list. Lovecraft is designed, first and foremost, to be elegant and beautiful. While you won't get the full customization with Lovecraft, page-builder plugins can always enhance whatever you need. Varied post types, including asides that will show up in your feed alongside full posts, make Lovecraft one of the best WordPress themes for bloggers, especially when you consider that it's free and the developer has kept it updated for the past six years.
Key Lovecraft Features for Bloggers:
Lovecraft is a minimal theme built to be readable and easy to navigate. The typography and available widgets and options make this a great theme for anyone wanting to jump in and start writing. And with the totally free price tag, there's very little reason not to give it a shot.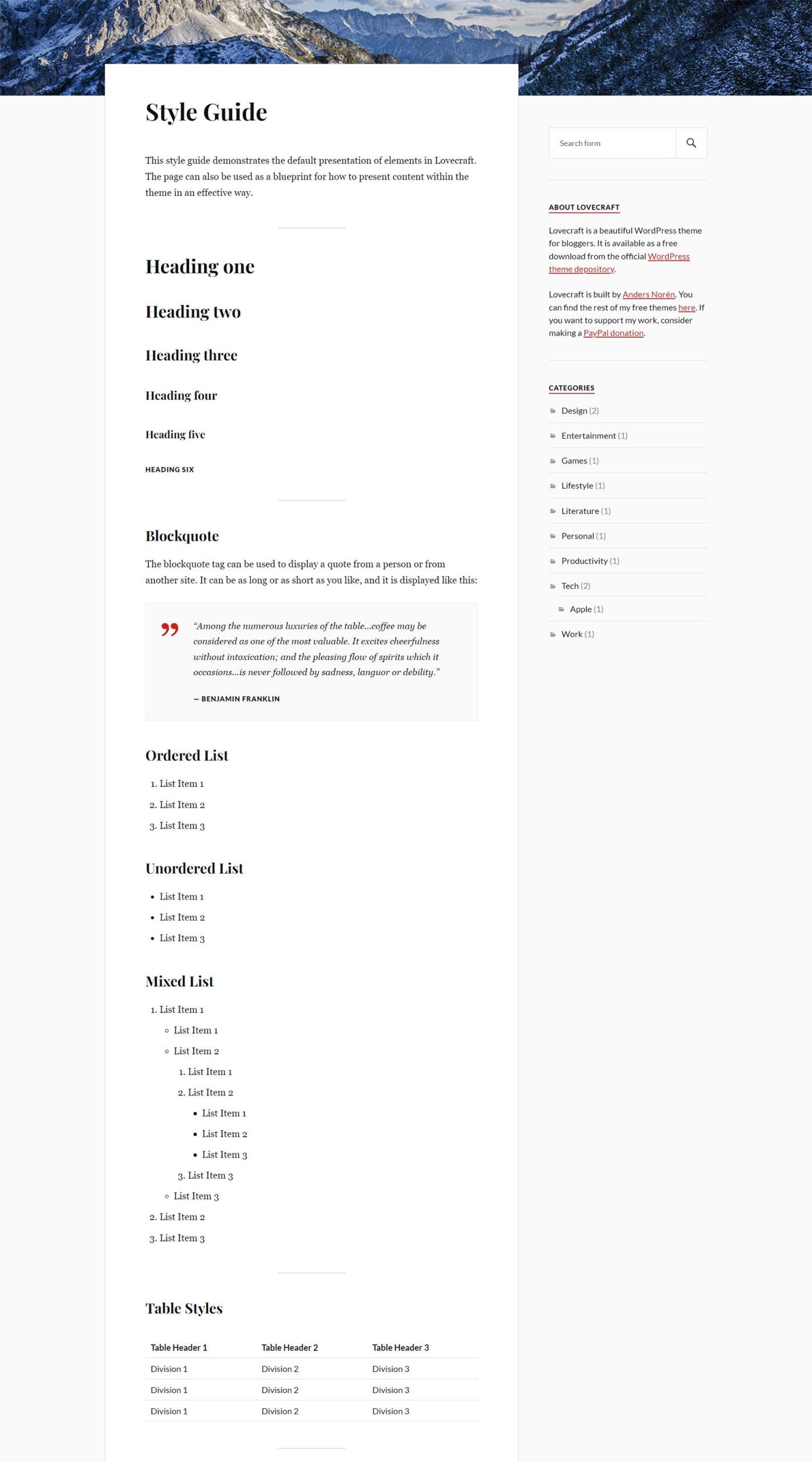 Other blogger-friendly Lovecraft features:
Free and continuously updated
Default fonts were explicitly chosen for readability and beauty
Integration with Jetpack to add even more display options, editor styles, and translations
Pricing: Free
9. Hemingway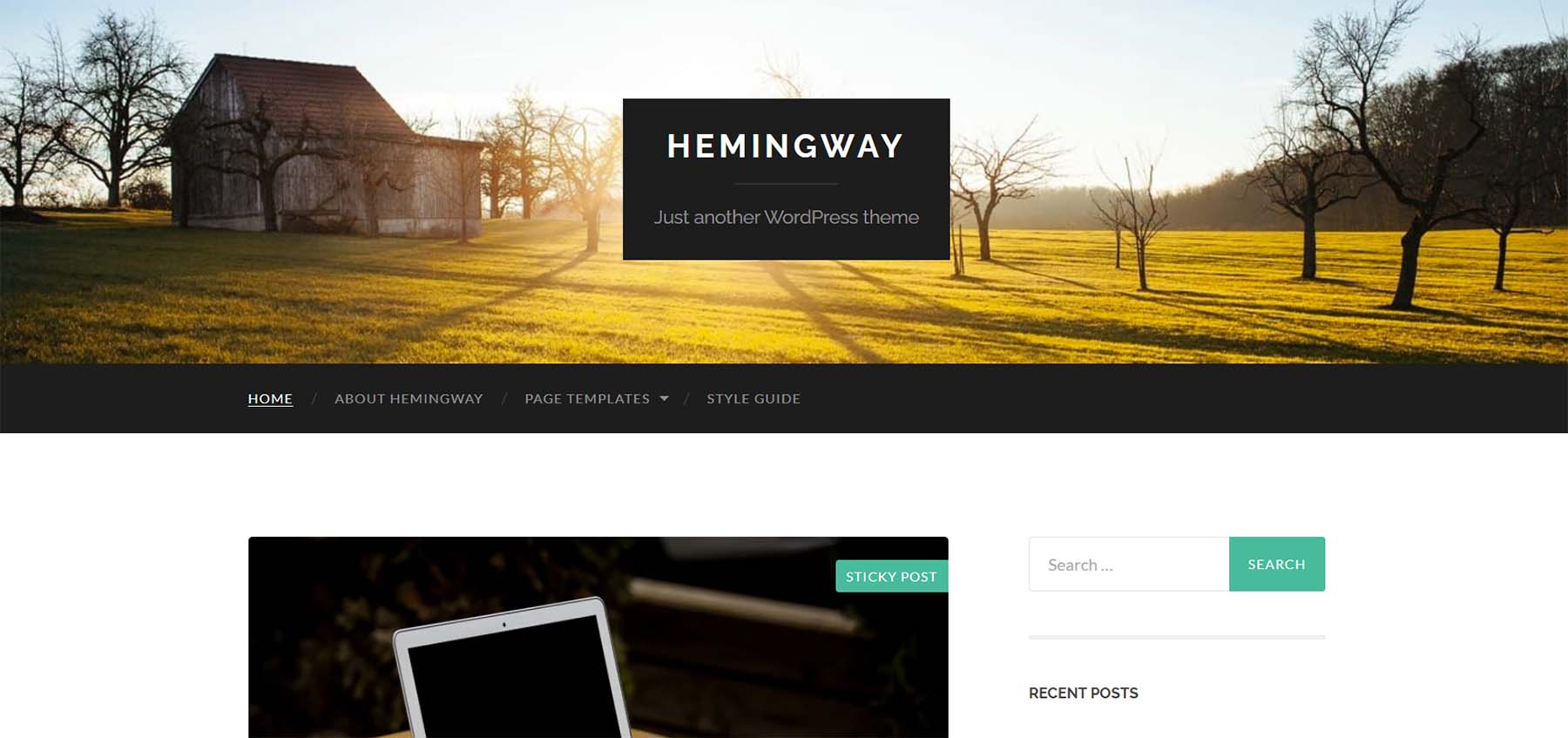 While discussing blogging themes named after writers, let's discuss Hemingway. Known for his straightforward, nothing-extra writing style, Hemingway's namesake theme follows that same path. Block Editor and page builder support means you can cut the extra and get down to content creation.
Key Hemingway Features for Bloggers:
Hemingway's speed is one of its top features. The two-column theme for bloggers takes after the writer from whom it takes a name and creates a simple space where you can read and write without distraction.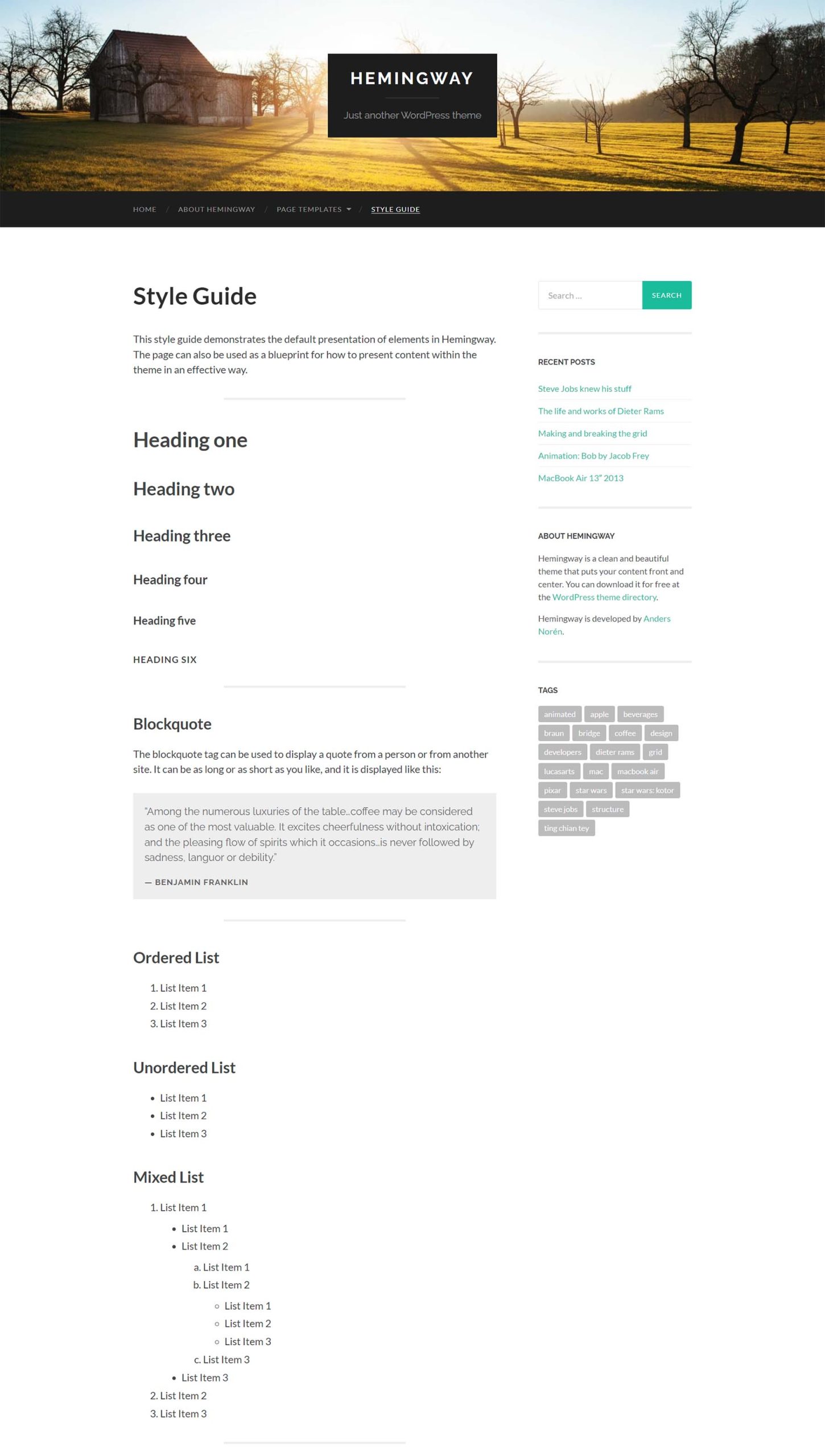 Other blogger-friendly Hemingway features:
Block Editor and page builder support
Lightweight and fast
Simple, minimal effects on elements
Pricing: Free
10. Writee Pro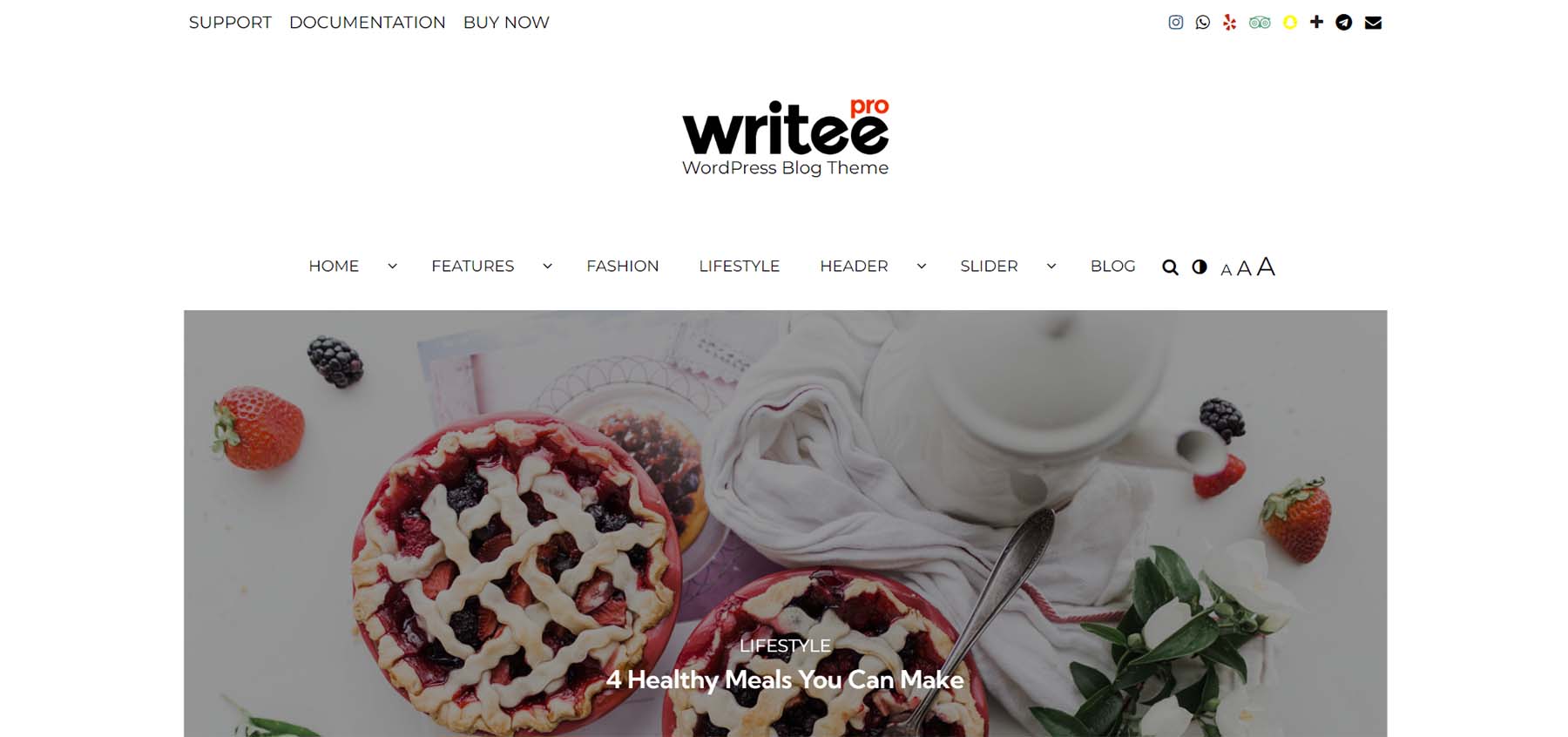 Writee is not only fun to say but fun to use as well. The Pro version is where the power of this theme lies. With it, you get an integrated post slider, multiple headers, animations on menu hover, and nearly a decade of support and upgrades.
Key Writee Pro Features for Bloggers:
The ease with which you can swap between elements and layouts in Writee Pro is incredible. Additionally, your options for those swaps give you many potential sites. The developer website has many demos, and any page builder layouts you import will also work.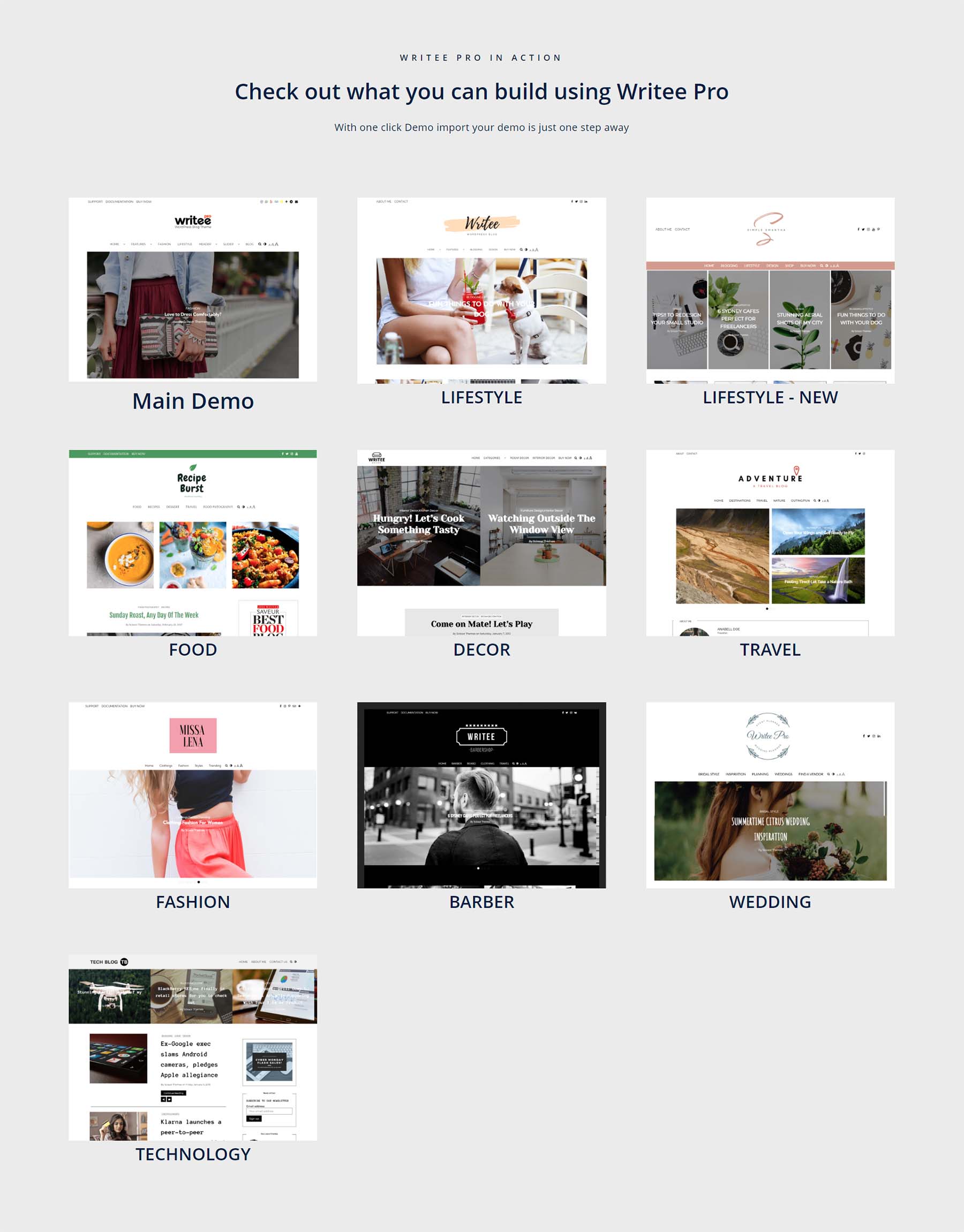 Other blogger-friendly Writee Pro features:
Importable demo site templates
Incredibly language and translation support
Dozens of pre-built layouts for elements you can change with a click
Pricing: Free, Paid plans start at $49.99 per year
What are the Best WordPress Themes for Bloggers?
The WordPress ecosystem has no shortage of themes. Therefore, you have so many to choose from that it can be overwhelming to start looking. But if you grab and install any of the themes on this list, you will be happy with your site's looks, feels, and treats your visitors. Divi gives you the most power for your blog. Its Theme Builder puts customization directly into your kind, enabling you to build the blog website of your dreams. For a free alternative, Astra can provide you with a stable set of tools and site options to create a powerful yet beautiful blog on WordPress. Lastly, consider OceanWP for your blog if scalability and aspects you'd like to make are front and center of your blog development journey.
When your focus is blogging, and you want the best of the best to represent the best of your best, these are the best WordPress themes for bloggers. And for people wanting to build websites that convert visitors to subscribers or customers, check out some of these lead generation plugins that work with any theme.
Frequently Asked Questions (FAQs)
Before we wrap up, let's answer some of your most common questions regarding the best WordPress blog themes. Did we miss one? Leave a question below and we will respond!
What is the best WordPress theme for bloggers?
Divi
offers a multitude of features that make it the best theme for a blog. Divi's drag-and-drop builder and impressive Theme Builder allow you to tailor your blog to match your unique vision and style. Additionally, Divi has a vast selection of prebuilt templates and tools like
Bloom
, making email collection a breeze.
Which is the best free WordPress theme for bloggers?
Astra
is the best choice for a free WordPress blogging theme. It boasts a remarkable array of free features, including pre-built templates that are streamlined and user-friendly. Furthermore, it has page builder compatibilities allowing seamless customization and unlimited possibilities making Astra the blogging theme for budget-conscious bloggers.
Can WordPress be used for blogging?
WordPress is a popular and widely-used content management system that provides a user-friendly platform for creating and managing blogs. It was primarily built to blog. It also provides a built-in commenting system, making it easier to interact with your readers. WordPress is an excellent choice for bloggers due to its ease of use, flexibility, and robust features.
How do I choose a WordPress theme for my blog?
When choosing a WordPress theme for your blog, consider the layout, design, and features that align with your brand and goals. Look for a responsive design, good user reviews, sophisticated code, and updates by the developer. Choosing a theme compatible with your selected plugins and having good customer support is also essential.
Does creating a WordPress blog require coding?
No, creating a WordPress blog does not necessarily require coding skills. WordPress offers a user-friendly interface and a variety of pre-designed themes that you can easily customize through its visual editor, also known as Gutenberg. However, some customization or advanced functionality may require knowledge of coding or the use of plugins.
Do professionals use WordPress for blogging?
Yes, many professionals use WordPress for blogging. It is a popular platform for bloggers of all levels, from beginners to experienced professionals. One of the great things about WordPress is that it puts you in control. You own your website, it's content, and have the freedom to tailor your website to suite your needs. This makes it a top choice for serious bloggers.
Why should I use WordPress to blog?
WordPress is the most popular and user-friendly platform for blogging that offers a wide range of customizable themes, plugins, and tools. It can be optimized for search engines, mobile devices, and social media integration, making it easy to reach a wider audience. Additionally, it is free to use and has a large online community for support and guidance.
Which is better for blogging, WordPress or Blogger?
WordPress is better than Blogger due to its flexibility, customization options, and user-friendly interface. It offers a broader range of plugins and themes to help create a professional-looking website. Additionally, WordPress has a larger community of users and developers, providing more support and resources for users.
How can I monetize my WordPress blog?
There are multiple ways to monetize a WordPress blog, such as displaying ads, promoting affiliate products, selling sponsored posts, offering paid memberships or subscriptions, and creating and selling digital products such as ebooks or courses. It's important to choose methods that align with your blog's niche and audience and to prioritize providing valuable content to your readers.
How can I promote my WordPress blog?
To promote your WordPress blog, you can share your posts on social media, participate in online communities, collaborate with other bloggers, optimize your content for SEO, and engage with your audience through comments and email newsletters. Utilize keywords and hashtags to increase visibility and consider paid advertising options for an even wider reach.
Are you looking for more theme reviews? Check out our top choices of best WordPress themes.
Article thumbnail illustration by Antlii / shutterstock.com