General-purpose web hosting depends on a stable infrastructure that delivers content fast. However, online store owners need to consider server performance on a number of fronts. As a result, dedicated WooCommerce hosting has become a top option for those who need to think about customer retention and search rankings.
In this post, we'll round up some of the best options for WooCommerce hosting. However, before that, let's discuss the concept of WooCommerce hosting, why you'd need it, and how to assess it!
What Is WooCommerce Hosting (And Why Might You Need It)?
For the uninitiated, WooCommerce is arguably the top solution for hosting an e-commerce store using WordPress. Around 12 percent of WordPress sites – and 8 percent of all sites – run on this platform. To better serve these users, plenty of web hosts have begun to offer dedicated hosting for WooCommerce stores.
Since all web hosting plans compete to offer more power, better stability, and greater features, the lines between regular and WooCommerce hosting can be somewhat blurred. However, there are distinctions between more generic and specialized hosting. Dedicated e-commerce hosting has to help your store achieve:
Superb uptime, to maximize sales windows
Fast loading times, to retain as many customers as possible
Prominent rankings in search engines and other directories
WooCommerce-powered sites need to focus on optimizing customer-facing features and User Experience (UX), since these elements directly impact sales. The right hosting plan should make those tasks easier.
How Should You Assess a WooCommerce Host?
When you're looking at WooCommerce hosting, it's important to think about what the customer needs in order to make a purchase. The customer's needs must also be balanced with your own requirements for easy and cost-effective maintenance. For these reasons, the following considerations are paramount when reviewing any potential WooCommerce host:
If the host manages site maintenance for you, this often translates into better uptimes and greater stability.
While higher-tier plans may be outside your budget right now, assessing your options for scalability means you'll be prepared when your store starts to grow.
It's important to determine whether there are features you can use from the get-go to ensure that customers are able to make their purchases quickly and easily.
Customers want to feel that they can trust you with their personal data and cash. Given this, you'll want to assess how each potential host handles front- and back-end security.
Of course, your own goals will come into play here as well. In other words, this isn't an exhaustive list of criteria for assessment. However, it's a useful starting point, and ticking these boxes will ensure that you have a set of dependable WooCommerce hosts to choose from.
What Are the Best Options for WooCommerce Hosting? (5 Providers)
At this point, it's time to look at some specific options. The five providers below all offer WooCommerce hosting at a range of prices. We'd suggest taking a look at all of them with the above criteria and your unique needs in mind, before settling on the option that's right for you.
1. SiteGround

First on our list is SiteGround. We've taken a deeper dive into this popular web host's offerings previously on the blog. What's more, we've been impressed enough to wholeheartedly recommend them as a suitable host for a Divi-powered site.
SiteGround is an outlier when it comes to web hosting providers, because it's essentially a managed provider regardless of the package you purchase. This means that its WooCommerce hosting is a top-tier performer. Home-run stores and small businesses will likely appreciate SiteGround, as the provider does a lot of the heavy lifting when it comes to server maintenance. So you can focus your energy on sales and marketing, without breaking out a virtual screwdriver.
Key Features:
Provides a well-designed set of tiers, meaning there will be a package to suit practically all WooCommerce stores
Offers developer-friendly features such as WP-CLI as standard, with staging and Git integration on higher plans
Delivers top-notch support and managed hosting at unmanaged prices, making it an excellent budget-friendly hosting provider
Who Is SiteGround Best Suited For?
SiteGround is best for those desiring rock-solid performance for a small to medium store, at a reasonable price. Divi and WooCommerce users should also enjoy the benefits of SiteGround's dedication to both plugins.
Price: Packages start at $6.99 for one site, and the price increases depending on the features you require.
2. Liquid Web

Liquid Web eschews shared and other 'mass hosting' options, to instead provide solid managed servers for medium and large enterprises. If your business falls into one of those categories, Nexcess brand's cloud-based infrastructure for WooCommerce hosting may be a smart pick.
Keep in mind that this option is best for stores handling around 500–1,000 orders per hour. It offers plenty of features to help you manage high traffic levels, such as auto-scaling and advanced security features. For example, iThemes Security Pro – which also has a top-rated security plugin for WordPress – comes bundled with all packages, and PCI compliance is standard.
Key Features:
Includes premium security features tailored to stores with high levels of traffic
Offers dependable and managed cloud-based WooCommerce hosting
Provides strong scalability through its various tiers
Who Is Liquid Web Best Suited For?
If you're running a mid- or large-sized online store with aspirations for further growth, Liquid Web is likely to fit the bill thanks to their scalability up to enterprise-level hosting solutions.
Price: Plans begin at $19 per month, and scale upwards from there.
3. Bluehost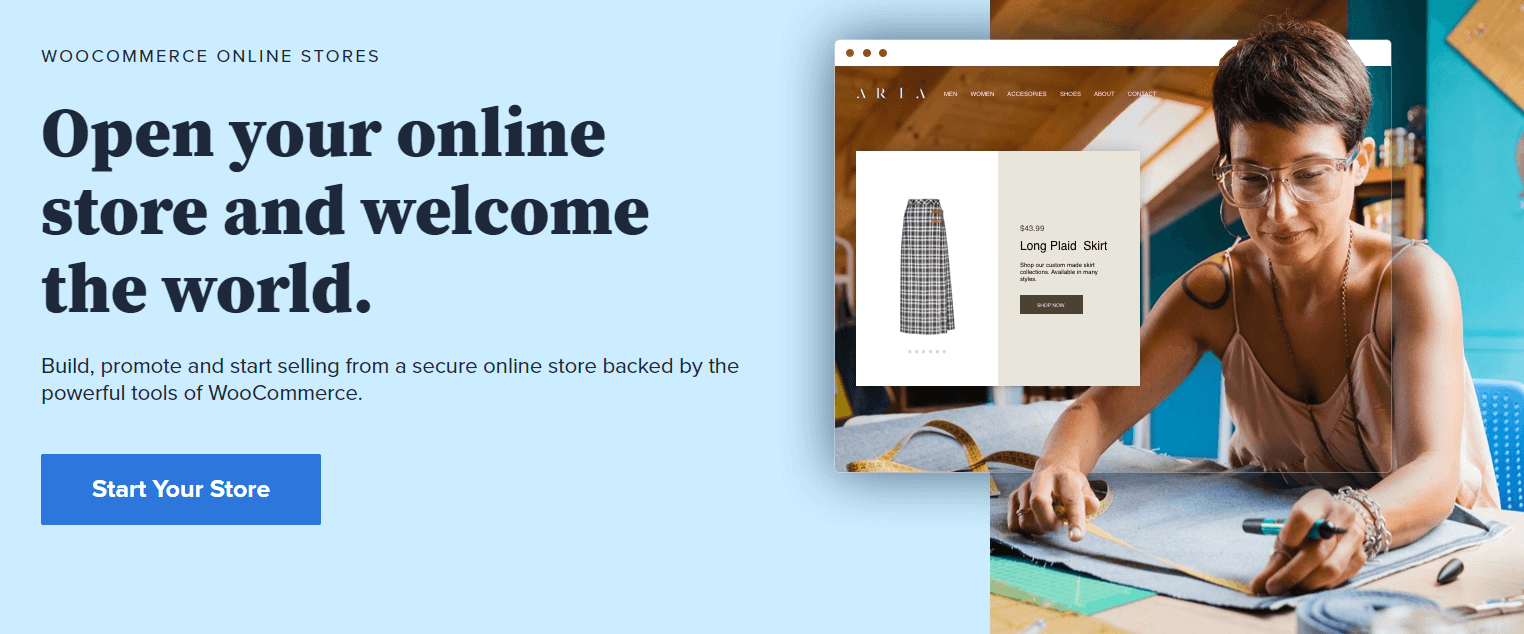 Bluehost is well known within web hosting circles, although not always for the right reasons. While it's one of the most commonly-used providers, especially among new website owners, service has been historically a mixed bag. However, Bluehost's WooCommerce hosting is a recommended option for brand new stores testing the waters online.
Unlike some other hosts, Bluehost's WooCommerce-specific plans are simple to understand. There are lots of extra features available in the Premium tier, including a version of Jetpack. What's more, Bluehost offers custom two-hour setup calls with a dedicated team member, which is a useful option for first-time store owners.
Key Features:
Provides clear plans, with most of the functionality you'll need to get started
Offers dedicated support, including a one-on-one setup call
Includes a free domain, Secure Sockets Layer (SSL) certificate, and privacy tools
Who Is Bluehost Best Suited For?
If you're looking for WooCommerce hosting that's suitable for your first store, Bluehost is a contender worth considering.
Price: Unlike the traditional Bluehost plans, WooCommerce hosting begins at $15.95 – although to get this price, you'll need to sign up for a three-year term.
4. Pressable

There's something harmonious about using Automattic products to run your WordPress website. This practically guarantees that everything will work together and integrate perfectly. Pressable is a top-rated managed WordPress host brought to you by Automattic, and hosts WooCommerce sites on WordPress.com servers. If you're not familiar with WordPress.com, it's essentially the 'plug-and-play' version of WordPress.
Although you get a little less flexibility, you do receive a number of benefits in return, along with the guarantee that you're being looked after by the creators of WordPress. For peace of mind and site stability, this is potentially the ultimate WooCommerce hosting solution. However, Pressable is relatively expensive. As such, it's only going to be an option for businesses that like to be hands-off with regard to site maintenance, but have generous budgets in place.
Key Features:
Delivers performance that only Automattic can provide
Offers a fully managed service hosted on WordPress.com servers
Provides an almost self-hosted level of control over your site
Comes with a Jetpack Premium account for each installation
Who Is Pressable Best Suited For?
Stores with high numbers of orders and the budget to match may benefit from using Pressable. This is especially true if you don't want to deal with server maintenance.
Price: Pressable plans start at $37.50 per month, and can rise to three-figure sums depending on your needs.
5. GoDaddy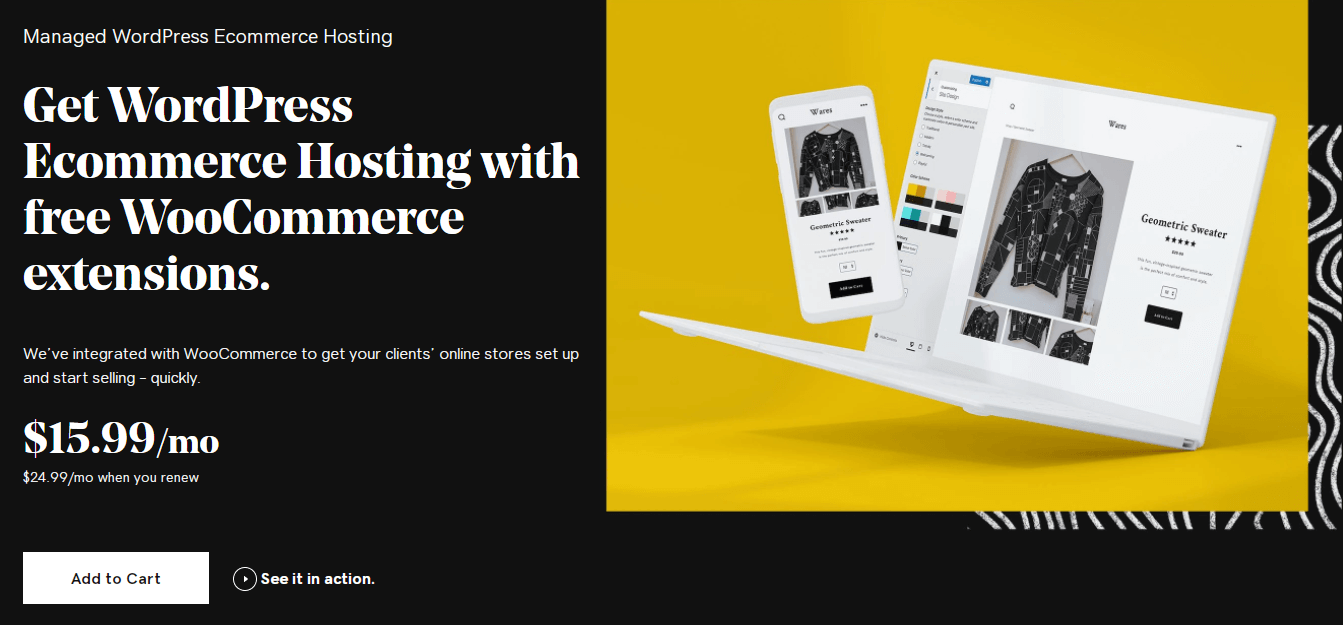 GoDaddy has become a monolith when it comes to web hosting, especially for WordPress users. As you might expect, GoDaddy's WooCommerce hosting is nothing short of comprehensive. You'll get practically everything you need to set up a safe and secure site. That includes Sucuri Security checks, access to an uptime monitor, a free SSL certificate, daily backups, and much more, all bundled into one package.
There are also a number of premium WooCommerce extensions included, along with a selection of themes. GoDaddy is a trusted web hosting company with a solid track record in WordPress hosting. For small to medium established stores, this WooCommerce hosting package could be ideal.
Key Features:
Includes a GoDaddy Pro account, to help you manage your site(s)
Offers a wealth of premium WooCommerce extensions and themes
Provides peace of mind to those looking for an established host to partner up with
Who Is GoDaddy Best Suited For?
New stores with smaller budgets that still want a good level of performance will be drawn to GoDaddy's WooCommerce hosting. If you're looking to run multiple stores, this would also be a good option.
Price: Plans start at $15.99 per month.
Conclusion
As the owner of an e-commerce store, you'll need to ensure high uptimes and rock-solid performance. What's more, your Search Engine Optimization (SEO) needs and customer retention goals will also factor into which web host you choose.
In this post, we've looked at five of the best examples of WooCommerce hosting. Let's recap them quickly:
SiteGround: A high-performing contender for your Divi and WooCommerce store.
Liquid Web: Great for stores looking to scale quickly, with the budget in place to do so.
Bluehost: A solid starting package for your store, although you may outgrow it in time.
Pressable: Offers WordPress.com's infrastructure coupled with dedicated WooCommerce features, for those with room in their budgets.
GoDaddy: A well-balanced solution for low-budget yet performance-conscious store owners.
What is the most important consideration for you when choosing a WooCommerce host? Let us know in the comments section below!
Featured image credit: Graphic Farm / shutterstock.com