Starting a WordPress blog is super-easy; anyone can do it. However, managing said blog, building an audience, and growing it to a point where you can make a living from it? Now, that's a different story altogether.
Fortunately, there are plenty of great WordPress plugins out there that make life as a blogger easier. In today's post, I'm going to introduce you to over 25 of the most essential WordPress plugins for bloggers.
Free Essential WordPress Plugins for Bloggers
The free plugins below are all available via the Official WordPress Plugin Repository where you will find installation instructions, detailed feature overviews, ratings, reviews, support, and more.
1. Fancier Author Box

So you want to be a blogger, huh? First and foremost then, you need to get your name out there.
Crafting compelling content is the most difficult part, of course, but your audience needs to know who you are. Fortunately, the solution is simple: placing an author box at the bottom of the page.
Fancier Author Box is probably the best free plugin for the job. It lets you add your name, image, and bio in great-looking author boxes, complete with links to all of your social profiles.
Price: FREE | More Information
2. Postmatic Comments

If you're a newbie blogger, nothing beats the excitement of receiving that first blog comment. And, if you want to encourage readers to leave comments, it's well worth upgrading the native WordPress commenting system.
I recommend Postmatic Comments. Why Postmatic? Because it lets your audience read and comment on your content in the most convenient way possible – directly from their inbox. Visitors can simply respond to a standard email and their message is posted as a blog comment – neat, huh?
Price: FREE | More Information
3. Disable Comments

Or perhaps you want to take the opposite stance when it comes to comments and shut down your comments section for good.
The Disable Comments plugin does exactly what it says – it disables comments site-wide, putting an end to nuisance spam comments.
Price: FREE | More Information
4. Akismet

Want comments but had enough of the spam? Then look no further than Akismet, the top anti-spam plugin on the market.
Developed by Matt Mullenweg and Automattic (the people behind WordPress.com), Akismet analyses your comments, then blocks the spam. It's free for non-commercial sites.
Price: FREE | More Information
5. Editorial Calendar

As a blogger, it's your job to publish consistently so that your audience knows what to expect. And when it comes to creating a publishing schedule, few plugins can compete with Editorial Calendar.
Simply drag-and-drop your posts into the calendar to schedule them. This also helps you to spot gaps in your content schedule.
Price: FREE | More Information
6. Yoast SEO

If you want people to read your blog posts, you'd better become acquainted with the world of SEO – an abbreviation for Search Engine Optimization. After all, the search engines are the primary source of traffic for most bloggers.
Yoast SEO is the most user-friendly SEO plugin around, with its handy traffic light system for creating content that the search engines will love. Important functionalities include focus keywords, XML sitemaps, and meta descriptions.
Price: FREE | More Information
7. Google Analytics Dashboard for WP

Now that your website is properly optimized, traffic from the search engines is probably flooding in. This raises an important question: how best to track it?
Google Analytics is hands down the best website analysis tool – it tells you everything you need to know about your visitors and then some. And, thanks to the Google Analytics Dashboard for WP plugin, you won't even need to leave your WordPress website to view your Analytics reports – super-convenient, right?
Price: FREE | More Information
8. WP Optimize by xTraffic

By adding lots of internal links, you help visitors move around your website and take in more of your content. However, as your content back catalog grows, it's easy to forget useful posts you could link to.
This is where WP Optimize by xTraffic can help. Essentially, the plugin lets you associate certain keywords with specific blog posts. Every time you use one of these keywords in your content, the plugin automatically builds an internal link to the relevant URL. This makes it one of the best ways to improve internal navigation, and you won't even have to think about it consciously.
Price: FREE | More Information
9. Aesop Story Engine

Poorly formatted content turns visitors off – no matter how good your words are, your audience will only tolerate a visual headache for so long before navigating away.
If you want to beautify your content with page-builder like modules Aesop Story Engine is a great option. Targeted at creators of long-form content, Aesop turns your words into an interactive experience. Functionalities include timelines, chapter, parallax effects, maps, and audio, plus you can compile individual posts into collections.
Price: FREE | More Information
10. ImageInject

Following on from Aesop Story Engine, images are a fundamental part of great looking content. However, finding copyright-free images and giving them the right attribution is a major source of headaches for bloggers.
If you want to simplify this process, check out ImageInject. The plugin lets you add creative commons images from Flickr to blog posts, while also automatically handling the attribution side of things.
Price: FREE | More Information
11. Distraction Free Writing Mode Themes

For serious content producers, WordPress's Distraction Free Writing Mode is a great way to stay on task. However, staring at a completely blank screen is hardly fun, is it?
The Distraction Free Writing Mode Themes plugin lets you customize the blank screen, letting you work while looking at something more inspiring – for example, the night sky. I'll be the first to admit that this is a bit of a "niche" one but, hey, it might work for you.
Price: FREE | More Information
12. Frontier Post
Noticed a small typo in one of your blog posts? Frontier Post lets you fix it quickly and painlessly from the front-end of your website.
Frontier Post brings a slimmed down version of the visual editor to the front-end. You can use this to edit text, add media, and even change categories and tags.
Price: FREE | More Information
13. WP-Optimize

As a blogger, you'll probably save a post many times before hitting publish, right? I typically save my posts around nine or ten times, so I know how these things go.
But, did you know that all of these post revisions are stashed away in the WordPress database? These are revisions you are never, ever going to need again, so why keep them? Answer: don't!
WP-Optimize is one of the essential plugins for bloggers. It completely declutters your WordPress database of draft post revisions, as well as the thousands of spam comments that accumulate. Why is this important? Because it can make your website load faster.
Price: FREE | More Information
14. Title Experiments

How do you know which title you should choose for your blog posts? Most bloggers don't give this much thought – they come up with a few, opt for their favorite, and then leave it at that. But your titles can have a big impact on the CTR of your posts.
With Title Experiments working for you, you can take the guesswork out of naming your posts. The plugin lets you run A/B tests on your titles to help you identify the one that generates the most clicks.
Price: FREE | More Information
15. WP Dashboard Notes

In my opinion, the hardest part of blogging is not creating compelling content. I think it's more difficult to come up with a constant stream of quality post ideas to keep your blog fresh and ahead of the competition.
When inspiration strikes, you don't want to let a pearl of an idea slip through your fingers. WP Dashboard Notes is a Post-it-style plugin that lets you pin post ideas to the WordPress dashboard. Never lose a golden idea again.
Price: FREE | More Information
16. Simple Share Buttons Adder

If you can't generate a comment, a social share is often the next best thing – it's a great way to increase traffic to your blog, too.
Simple Share Buttons Adder is one of the best free social media plugins for WordPress. You can configure your buttons using drag-and-drop, with over 15 networks supported. The buttons look beautiful, with a number of icon sets and counter styles available.
Price: FREE | More Information
17. Footnotes

Want to add footnotes to add extra sources and references (and credibility!) to your blog posts? Then look no further than the Footnotes plugin.
To add a footnote, simply put some text inside a custom shortcode. The footnotes then cross-link back to the original text.
Price: FREE | More Information
18. All-in-One Schema.org Rich Snippets

Ever seen those extra "snippets" of information in Google, like star ratings? They're called rich snippets, and they increase the likelihood of a link getting clicked.
All-in-One Schema.org Rich Snippets adds the markup that populates these rich snippets to your blog content. Rumor has it that rich snippets can also help your content to rank higher…
Price: FREE | More Information
19. Contact Form 7

Every blog needs a contact form, right? How else can visitors get in touch?
Contact Form 7 is by far the most popular contact form plugin for a reason – it's the best.
Price: FREE | More Information
20. Good Writer Checkify

What makes content great? Unfortunately, that's a subjective question, and what works for me might not work for you. However, if you've got your content writing down to a tee, you probably shouldn't deviate too far from your winning formula.
This brings us to today's final plugin: Good Writer Checkify. The plugin lets you create a personal checklist of content-writing best practices. This checklist sits below the text editor, meaning you can easily refer to it to ensure your content is on point at all times.
Price: FREE | More Information
Premium Essential WordPress Plugins for Bloggers
Although WordPress is free and many quality plugins are also free, often times the best plugins for certain tasks are premium plugins. In this case we have premium plugins for long-form content creation, email list building, social sharing, and content marketing.
21. The Divi Builder Plugin

If you're interested in creating content experiences then the best plugin for both page and post building is Elegant Themes' own Divi Builder plugin. Soon to be released with the new font-end visual builder mode.
The Divi Builder Plugin comes with 46 different content modules with advanced design settings creating endless layout possibilities. You're also able to save individual modules, rows, sections, and full layouts to the Divi library for easy re-use–saving you tons of design and development time. You can check out a number of stunning post and page demos via the link below.
Price: Included in the Elegant Themes Membership | More Information
22. Bloom

When the time comes to monetize your blog, no other resource is more valuable than an email list.
I recommend building an email list from day one. And, not to toot our own horn too much, but Elegant Themes' Bloom is probably the best list building plugin on the market. It lets you build stylish opt-in forms that are guaranteed to grab visitors' attentions and maximize subscribers.
Price: Included in the Elegant Themes Membership | More Information
23. Monarch

Monarch is another one of Elegant Themes' core products. It brings a higher level of design, user experience, and robust functionality to the typical social media follow/share plugin. Monarch comes with social follow widgets and several social sharing options. You can display social sharing icons as a floating sidebar, above or below content, on images or video, in pop-ups, and in fly-ins. It also comes with a large number of customization options, a stats dashboard, and more.
Price: Included in the Elegant Themes Membership | More Information
24. CoSchedule

CoSchedule is a blogger's best friend – I'd even go as far as calling it the ultimate plugin for content marketers!
It's the perfect tool for collaborating with team members and scheduling your entire blog – including your social presence. Simply sync all of your social accounts with CoSchedule, then, using the drag-and-drop calendar, decide what you want to publish and when. Want to re-Tweet your content a week on Wednesday? No problem!
Price: from $15/month | More Information
Bonus Plugins for WordPress Bloggers
These plugins are not essential to the act of blogging itself but they are important in a more general sense. It would be wise for any WordPress blogger to take site speed, site security, and site backups seriously. These plugins will help.
25. WP Rocket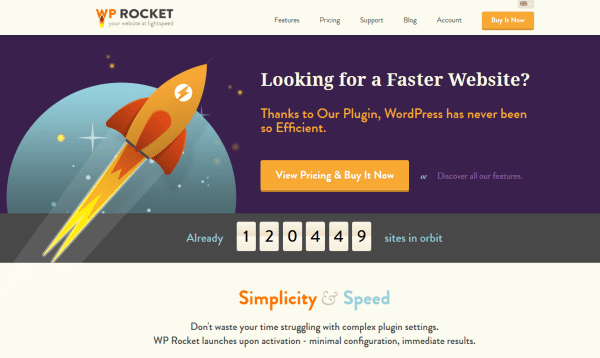 Your website's speed will make or break your SEO efforts and have a significant impact on conversion rates, too. As a result, speeding up WordPress is something you must take seriously.
When it comes to WordPress speed, few plugins can compete with WP Rocket. Sure, the $39 price tag might put off hobbyists, but this all-in-one plugin is guaranteed to knock seconds off your load time.
It ships with all the speed-enhancing functionality you could possibly wish for, including page and browser caching, GZIP compression, minification, lazy loading, and CDN.
One of the most important plugins for bloggers and any other WordPress users!
Price: from $39 | More Information
26. VaultPress

Here's one mistake you're almost certain to make as a newbie blogger: you won't take website security seriously enough.
This is a huge risk. Plenty of bloggers have lost websites they've plowed time, effort, and money into, just because they weren't careful enough. Don't let this happen to you: backup your website.
I recommend Automattic's VaultPress service for creating daily backups of your websites. Should something on your site crash, you won't lose everything – you can simply log into VaultPress, find your most recent backup, then, using the one-click recovery feature, restore it to working condition.
Price: from $9/month | More Information
27. iThemes Security

Even if you're backing up your website, wouldn't you want to prevent problems occurring in the first place? Then you need iThemes Security – it's one of the best free, all-in-one WordPress security plugins.
iThemes Security bolsters your site's defenses with over 30 website-protecting functionalities. Most importantly, the plugin ships with protection against brute force attacks – the most common security breach.
Price: FREE (with Pro option) | More Information
Final Thoughts
And that concludes our rundown of essential WordPress plugins for bloggers. If you found this list useful, you may also want to check out these other posts on our blog:
Have you used the plugins on our list? If so, tell us about your favorites in the comments below!
Article thumbnail image by Aniwhite / shutterstock.com