If you're not up-to-date with the latest advancements in artificial intelligence (AI) tools, you might have been living under a rock. AI has taken the world by storm. With countless tools available, it can assist you in various tasks, from content writing and mathematics to code generation and image creation. With AI technology constantly improving, it's hard to imagine where it will take us next. Nonetheless, we're all in, and in this post, we'll focus on the best AI design tools. Whether you're a designer, developer, or just looking to streamline your workload, we've got you covered. So, let's dive in and explore the possibilities with valuable tools to get those creative juices flowing.
What is an AI Design Tool and Why Do You Need One?
As a creative professional, you've likely experienced those moments when you feel like you're in a design rut. Thankfully, AI is revolutionizing the way designers find inspiration. Using a good AI design tool can ignite a new wave of creativity and explore new ways to approach your designs. These tools provide fresh ideas and allow designers of all skill levels to generate custom color palettes, build web pages, enhance photos, and develop creative assets. They can even provide insight into your existing designs. With AI, the possibilities are endless.
9 Best AI Design Tools in 2023

Subscribe To Our Youtube Channel
We considered a few things when we set out to find the best AI design tools for this post. First, the tools chosen need to be easy to use. After all, AI tools are supposed to make your life easier, not harder. Secondly, we looked for variety. We wanted to find text-to-image generators and tools for the entire creative process. That's whether you need a logo, want to design a web page, or build a custom color palette.
The Best AI Design Tools Listed In Order
Expand List
1. Adobe Firefly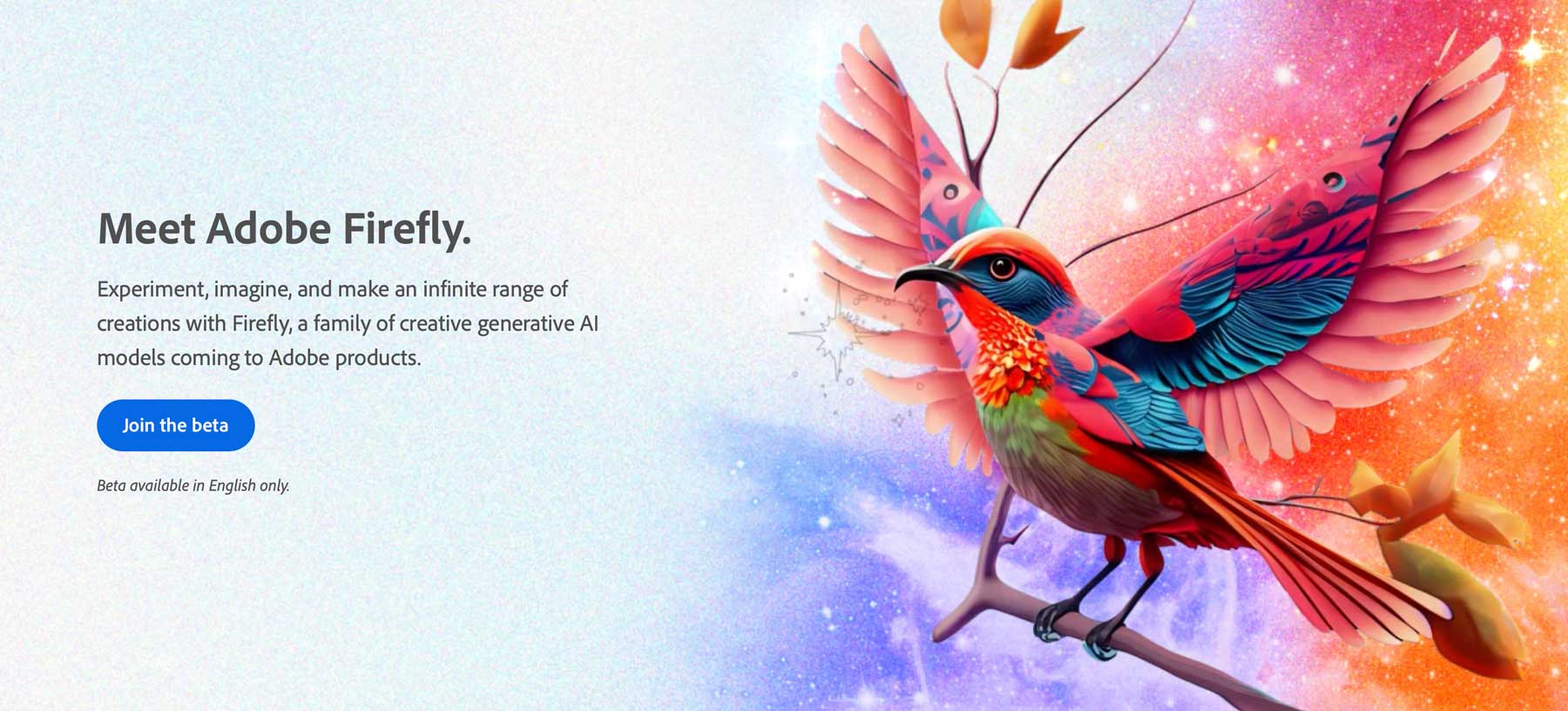 Creative professionals are undoubtedly familiar with Adobe and its suite of innovative products. However, you may not have heard about their latest, Adobe Firefly. This cutting-edge software comprises a collection of AI design tools capable of generating stunning text effects, transforming text into images, and recoloring vectors to create a wide range of color variations. Although Firefly is still in beta, it's already available to subscribers of Adobe's cloud programs like Illustrator or Photoshop. Being accepted into the beta generally takes a few days, which is okay, considering its current popularity.
Key Features of Adobe Firefly:
Works with Illustrator and Photoshop
Generative AI to create unique image designs and enhancements
Use text prompts to generate designs
Creative stunning text designs and effects
Recolor SVGs with ease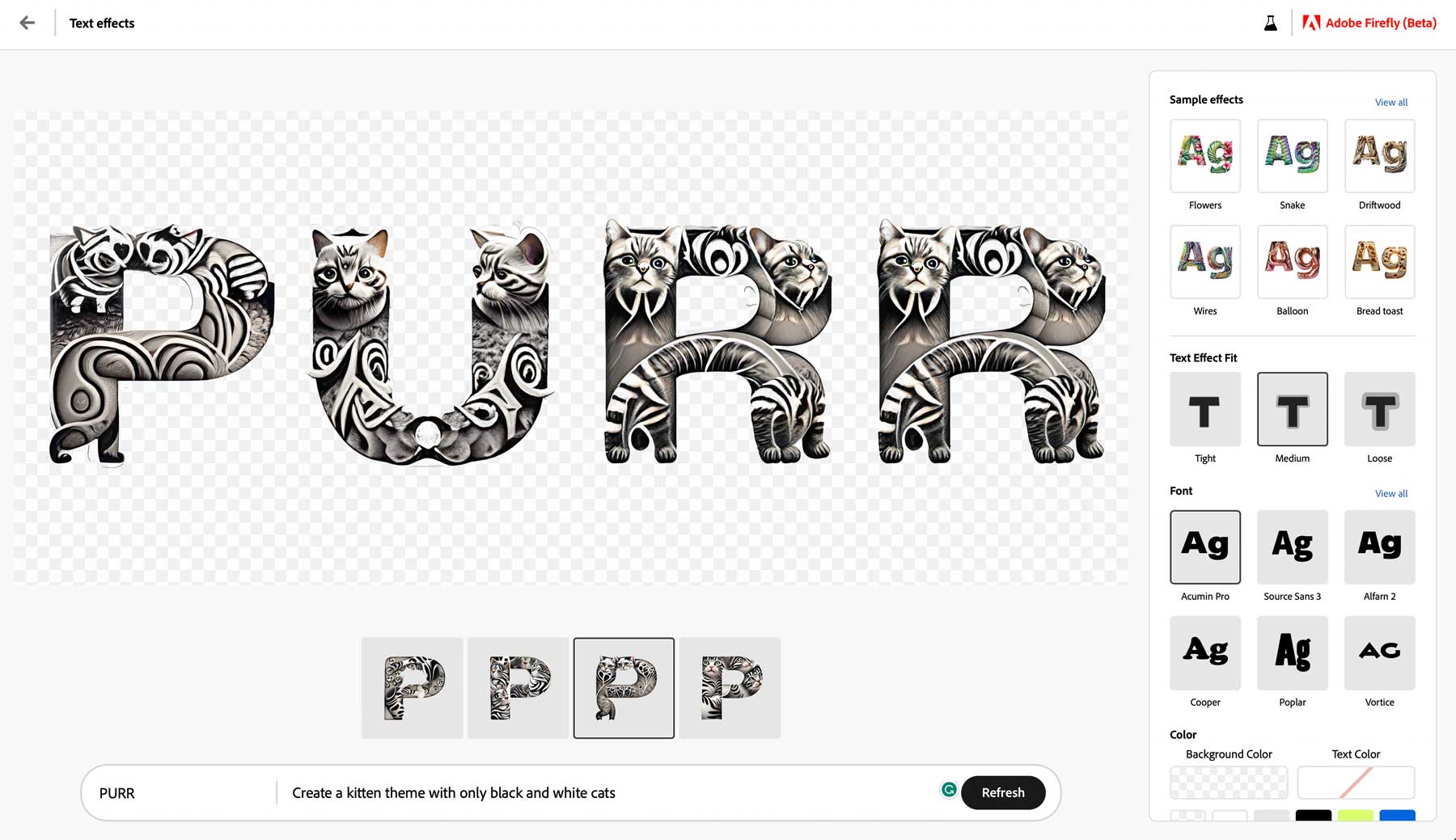 The text effect generator offered by Adobe Firefly is undoubtedly one of the most remarkable features. With this tool, you can create a broad range of text effects by simply entering a text prompt into the generator. However, to achieve the best results, it's essential to consider your prompt carefully before inputting it. For instance, the generator produced a multi-colored, cartoonish effect when we tried to create a text effect with cats. However, it did a much better job when we provided a more specific prompt. Similarly, the text-to-image feature operates under the same principles, where the output quality largely depends on the input prompt.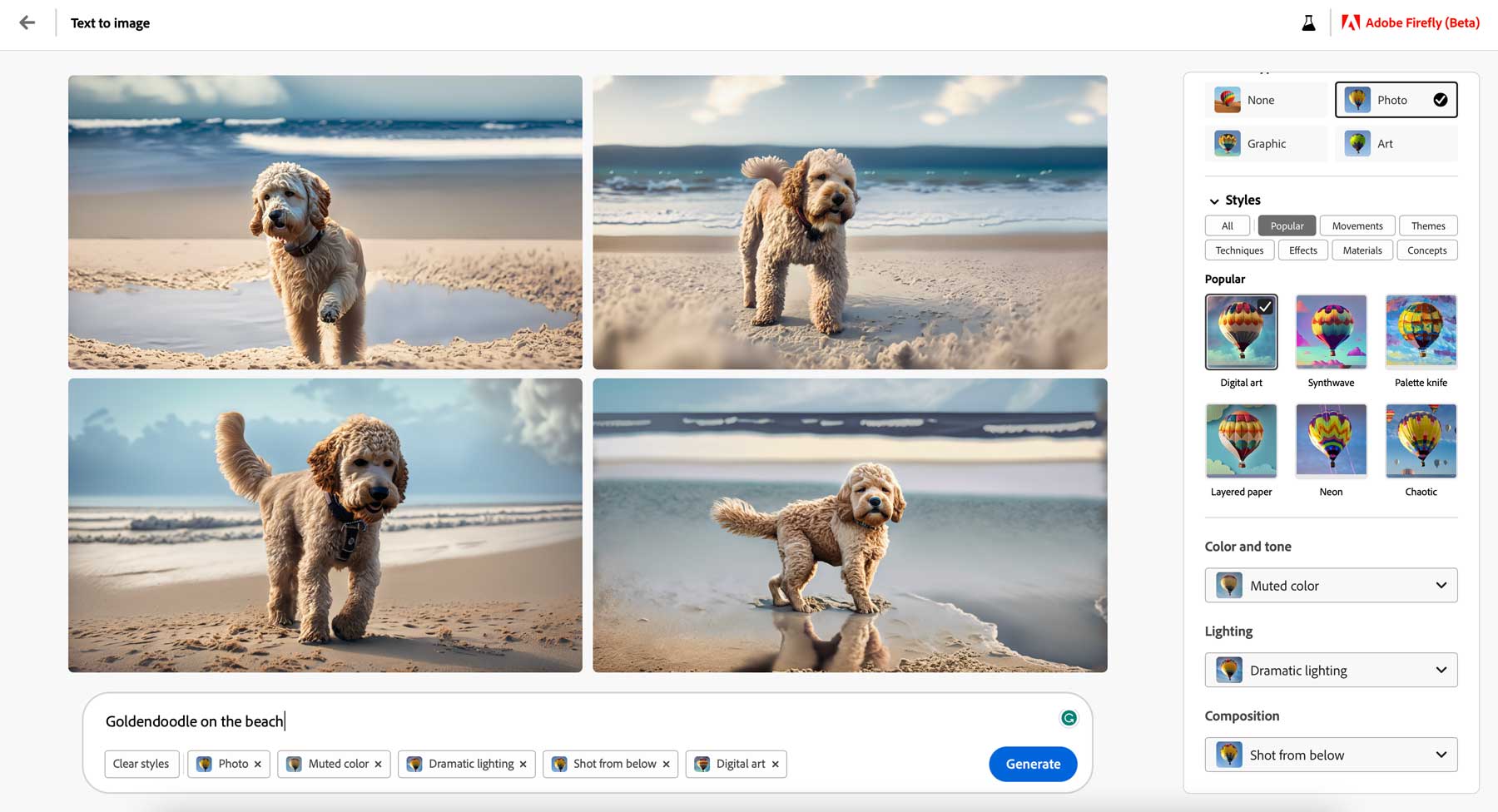 Adobe's text-to-speech generator offers users a variety of options to customize their output. You can tweak every aspect of your generated output to meet your creative vision, from content type to style, color, tone, lighting, and composition. With the right input prompt, Firefly can be a fantastic addition to your creative project. Furthermore, the generated images can be easily downloaded and used in your design projects. However, it's essential to note that Adobe sternly reminds users not to use these images for commercial purposes and watermarks them accordingly.
Adobe Firefly is Best For:
For avid Adobe users, keeping an eye on Firefly would be a good choice. Despite being in beta, Adobe is making daily improvements to the software before releasing it to the masses. Although you can't currently use output images in commercial projects, we anticipate this will change once it's officially released.
Pricing: Starting at $20.99 per month
2. MidJourney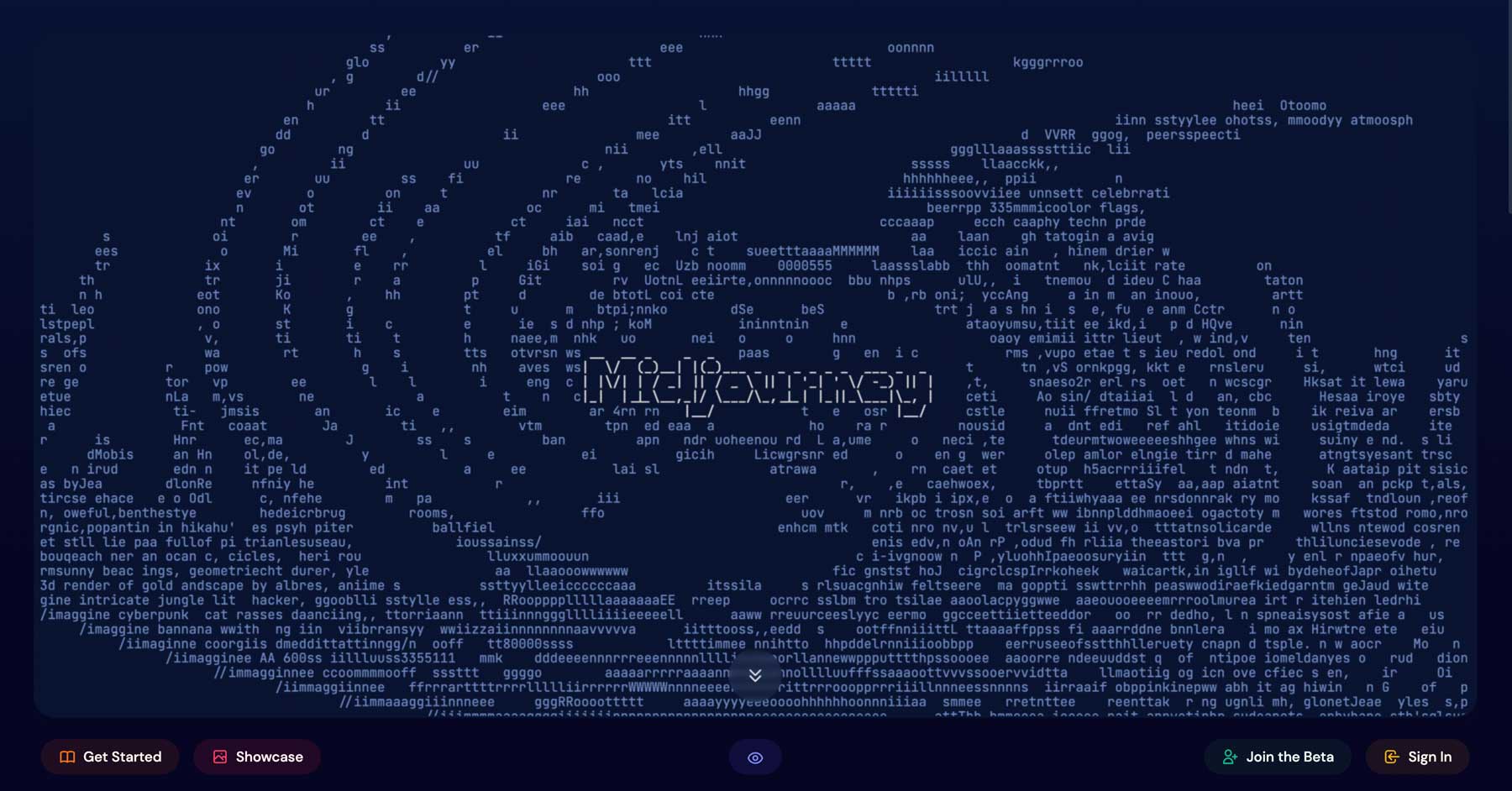 Our next AI design tool, MidJourney, utilizes a somewhat frenzied approach to produce AI-generated images. Developed via Discord, MidJourney has gained a reputation for being the premier AI image generator. Nonetheless, the tool can be messy, somewhat frustrating, and flooded with countless other users generating images simultaneously. Despite this, MidJourney deserves a place on our list because of the realism it produces in its images.
Key Features of MidJourney:
Runs on the Discord server
Requires subscription for best results
Creates all types of images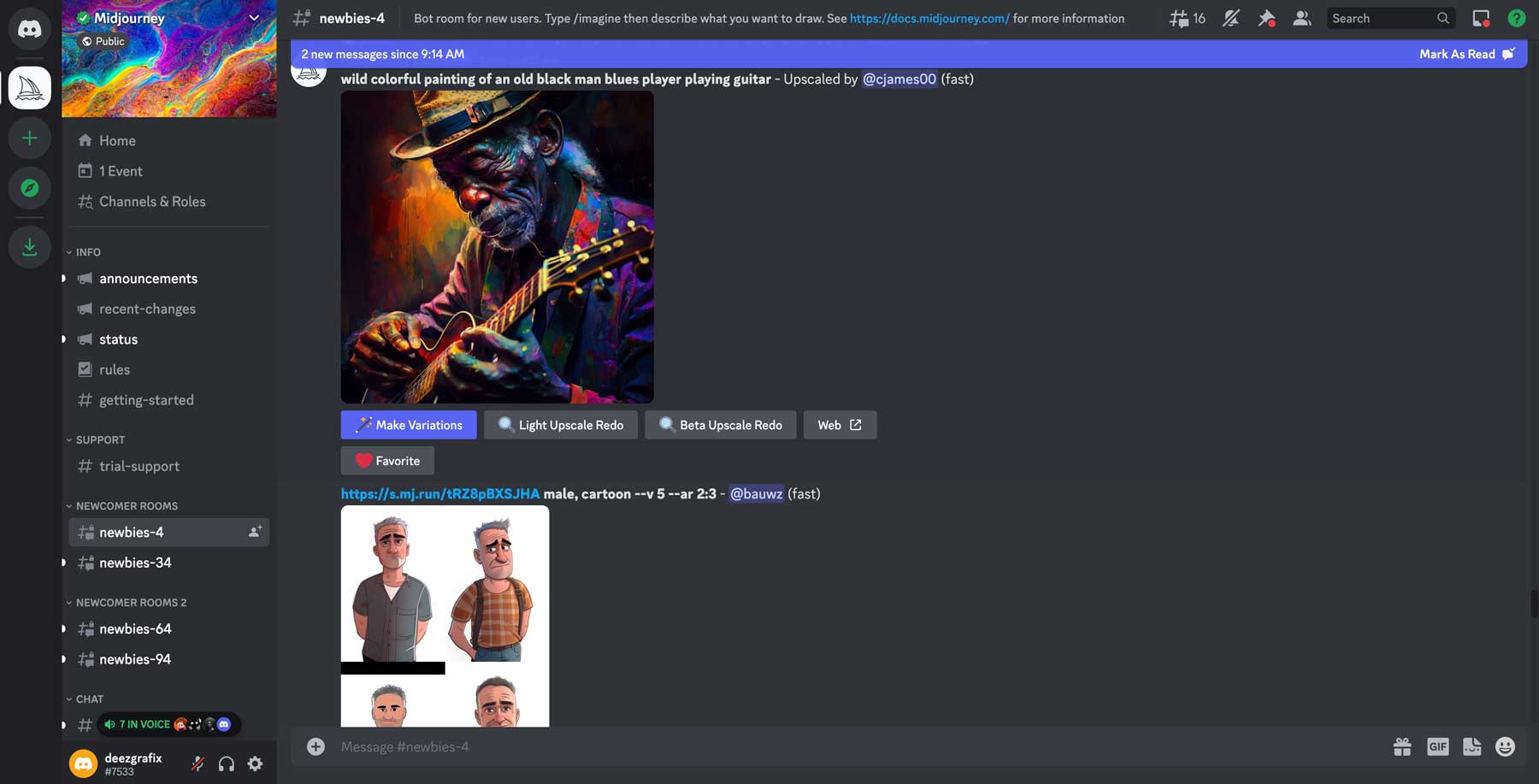 MidJourney has the AI chops to create almost any image you can think of – in a stunning way. That said, working with it does require a bit of patience. In our experience, MidJourney was so busy that they would only allow us to create images with a subscription. That makes perfect sense, considering how many people use it. However, once you get over the panic of being a newbie, MidJourney is quite simple to use. Simply type in /imagine to access the prompt, where you can provide as much detail as you desire to generate your image. The end results are often so realistic that it's difficult to distinguish them from images created by humans. The best part? You can use the photos for commercial purposes only if you're a subscriber.
MidJourney is Best For:
If you need assets for creative projects that require a lot of flair, MidJourney is an excellent option. All you need is patience and a vivid imagination to be blown away by what it can do.
Pricing: Free, with plans starting at $8 per month (billed annually).
3. Topaz Labs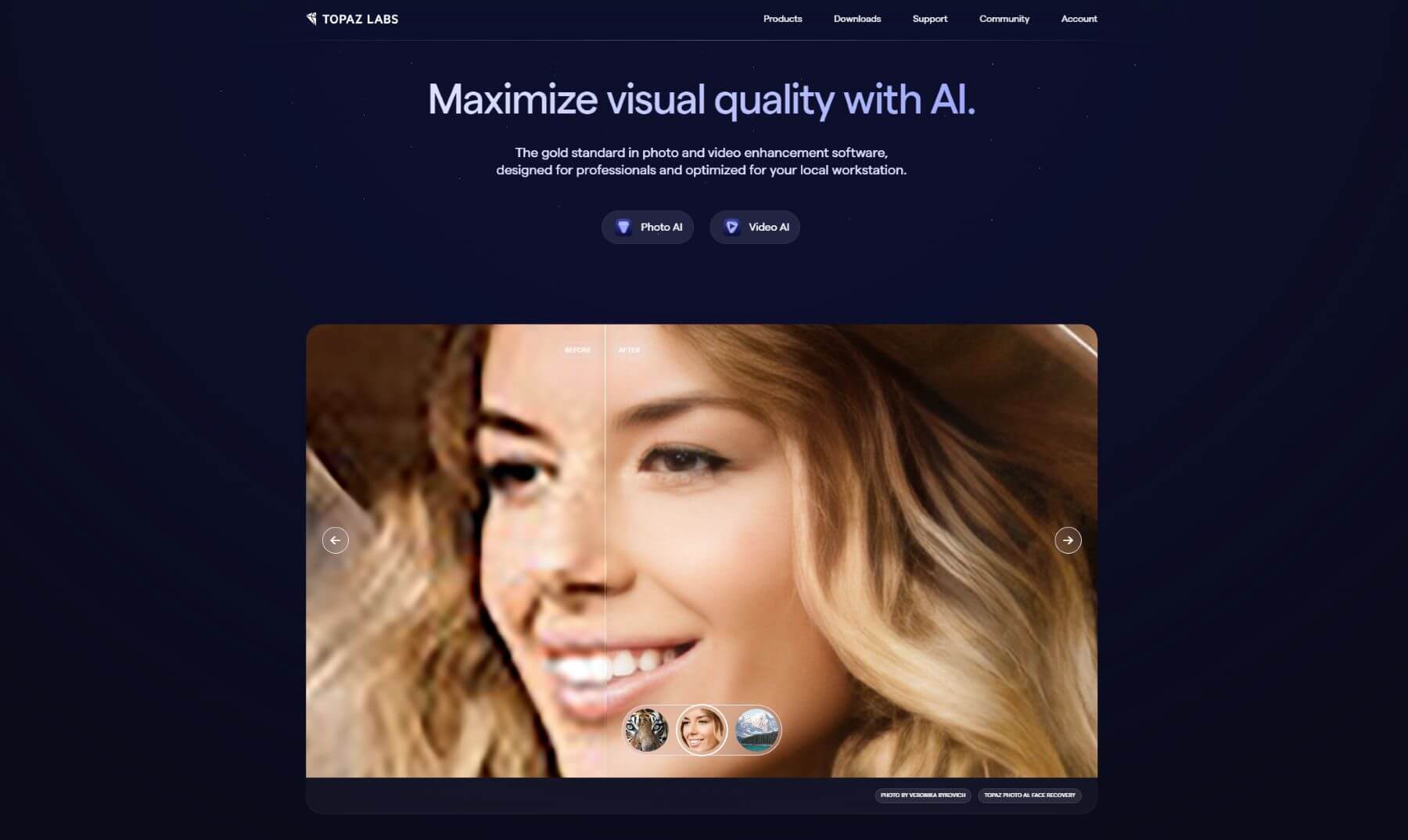 Topaz Labs is a software company with a suite of AI-powered tools for editing images and videos. Their products use machine learning to enhance the quality of any image or video with jaw-dropping results at the click of a button. Topaz Photo AI is their all-in-one solution for image enhancement. You can use it to add high resolution and sharpness, decrease noise and blur, and more, without the need for complex manual editing. When using the tool, the AI automatically detects the best solution for you and updates the settings accordingly. And you can use the intuitive UI to make additional tweaks as needed. If you are a video editor, Topaz Video AI offers some easy-use-use tools for improving the quality of your videos as well.
Key Features of Topaz Labs AI:
Easy-to-use AI-powered tools for enhancing images and video.
Increase image resolution up to 600%
All-in-one tool for upscaling, fixing noise and blur, sharpening, and enhancing color.
Automatically detects and generates optimal image/video quality solutions.
Intuitive UI to adjust settings with a few clicks.
Their revolutionary image upscaler, Gigapixel AI, can create real high-resolution by generating missing pixels that reveal hidden details in images like magic. It also includes a Face Recovery AI feature to enhance the detail of faces on any image. If you ever took a photo and wished you had used a better camera (or hired a professional), this tool can be a lifesaver.
Topaz Labs is Best For
Topaz Labs' suite of AI design tools is ideal for photographers, creatives, and hobbyists looking for a quick and easy way to enhance their photos and videos. If you want powerful results without having to use a complicated photo editing platform, this AI software might be the perfect fit for you.
Pricing: Limited free trials; Photo AI bundle is $119 (lifetime); Video AI is $299 (lifetime). All products include one year of updates.
4. Khroma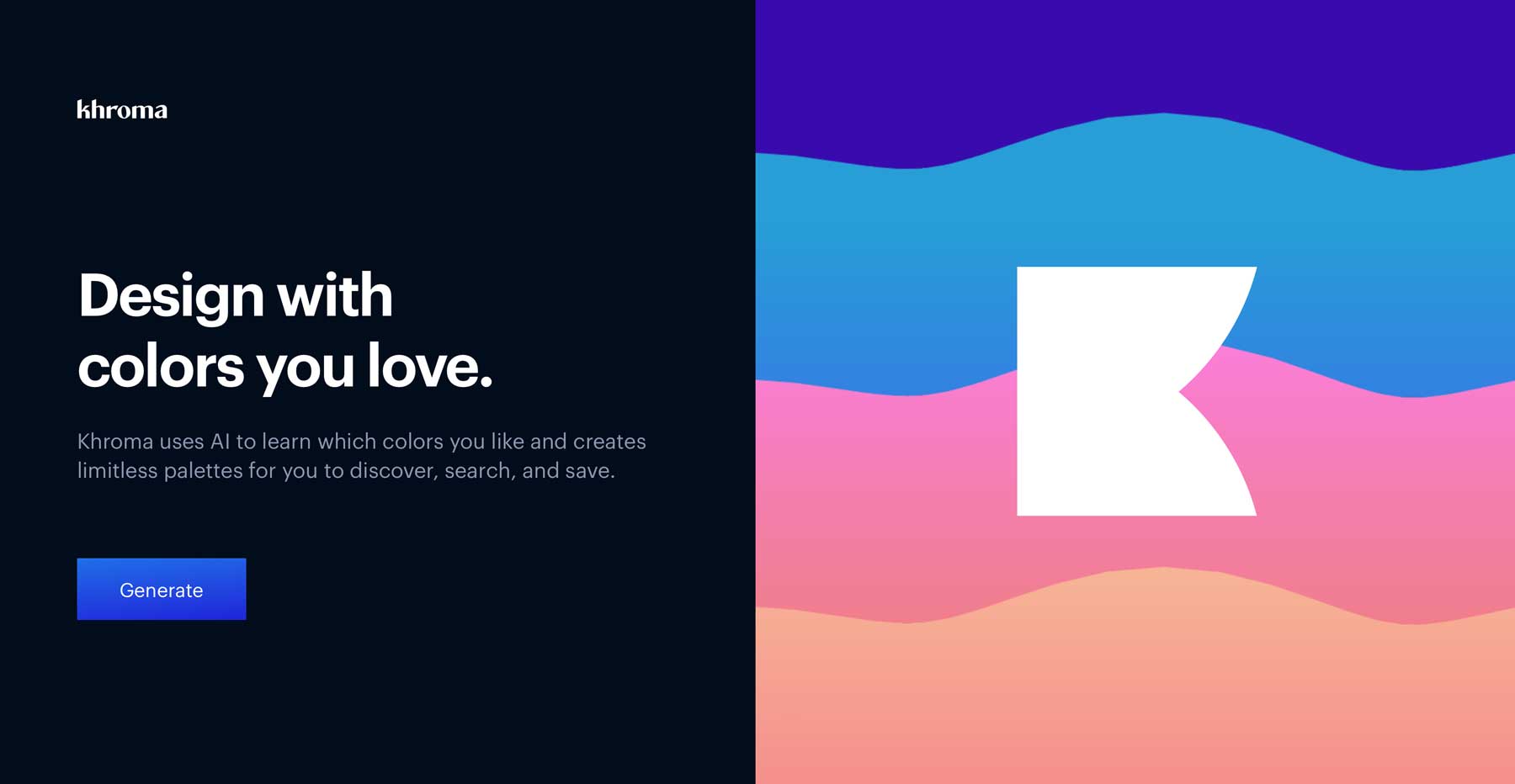 Our next best AI design tool is Khroma, a good solution for designers who often struggle to find the perfect color scheme for their projects. With Khroma, the guesswork of color theory is taken off your plate. The process begins by asking you to select fifty colors you're attracted to, which Khroma uses to generate color combinations, complete color palettes, and even images containing those colors. By marking your favorites, Khroma gains further insights into your preferences and offers more options. The more you favorite, the more options you'll have.
Key Features of Khroma:
Generate endless color palettes
Copy hex codes for easy color implementation
AI-generated images with your colors
Upload your own images and apply colors to them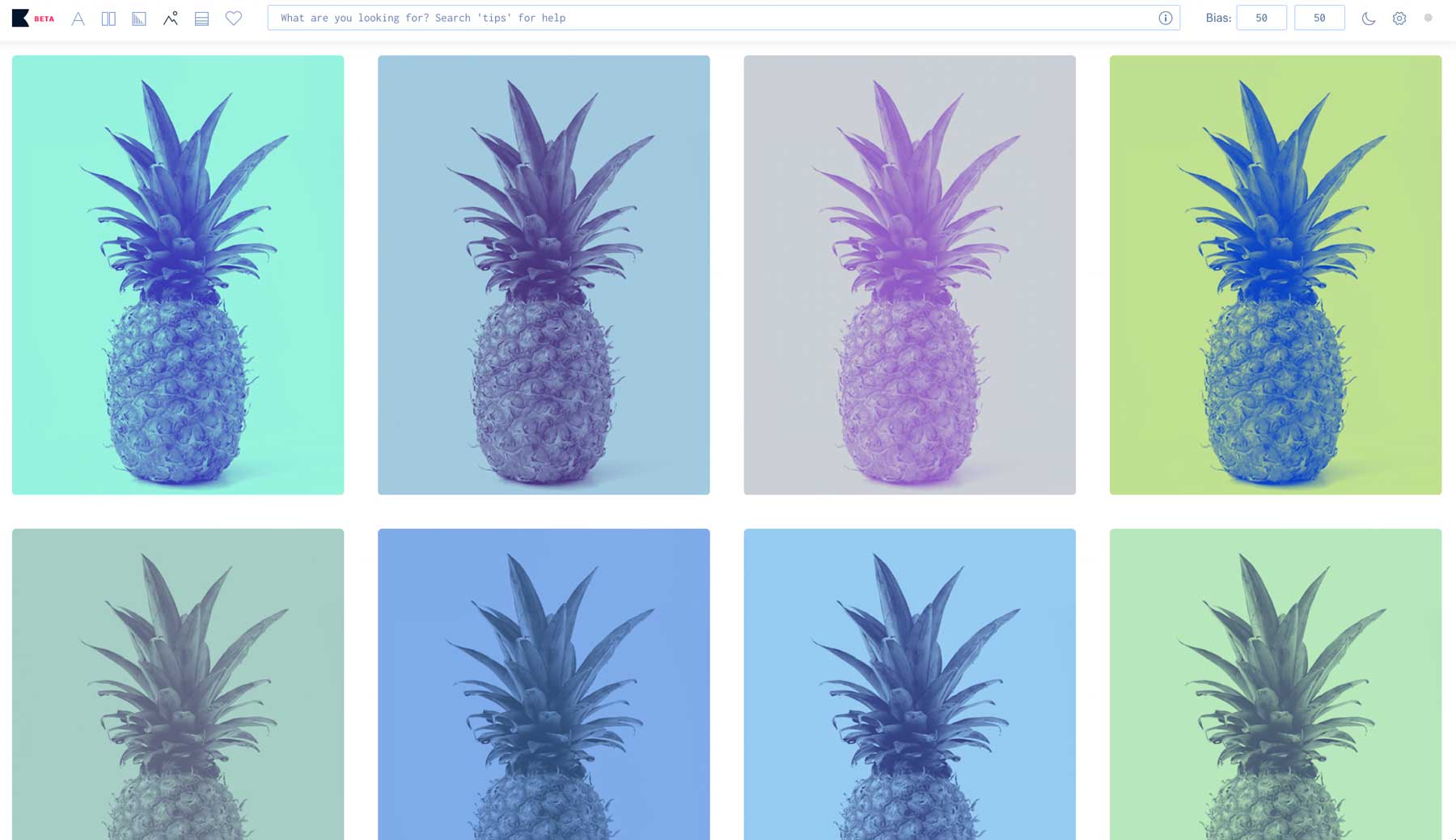 Khroma has several noteworthy features that make it an excellent AI design tool for designers looking to streamline their color selection process. One of the standout features is the SVG generator, which allows you to see how your selected colors can enhance images. You can copy the SVG code to implement in your web projects when you find one you like. Additionally, by clicking on the i icon in the top-right corner of a color palette, you're provided with the hex codes for each color, which can be copied and used in your designs. This feature lets you quickly implement your chosen color scheme in your projects.
Khroma is Best For:
People needing little assistance picking colors for their next design project will love Khroma. The AI tool generates color combinations and palettes based on your preference, making it simple for even the most color-challenged people to create beautiful designs.
Pricing: Free
5. DreamStudio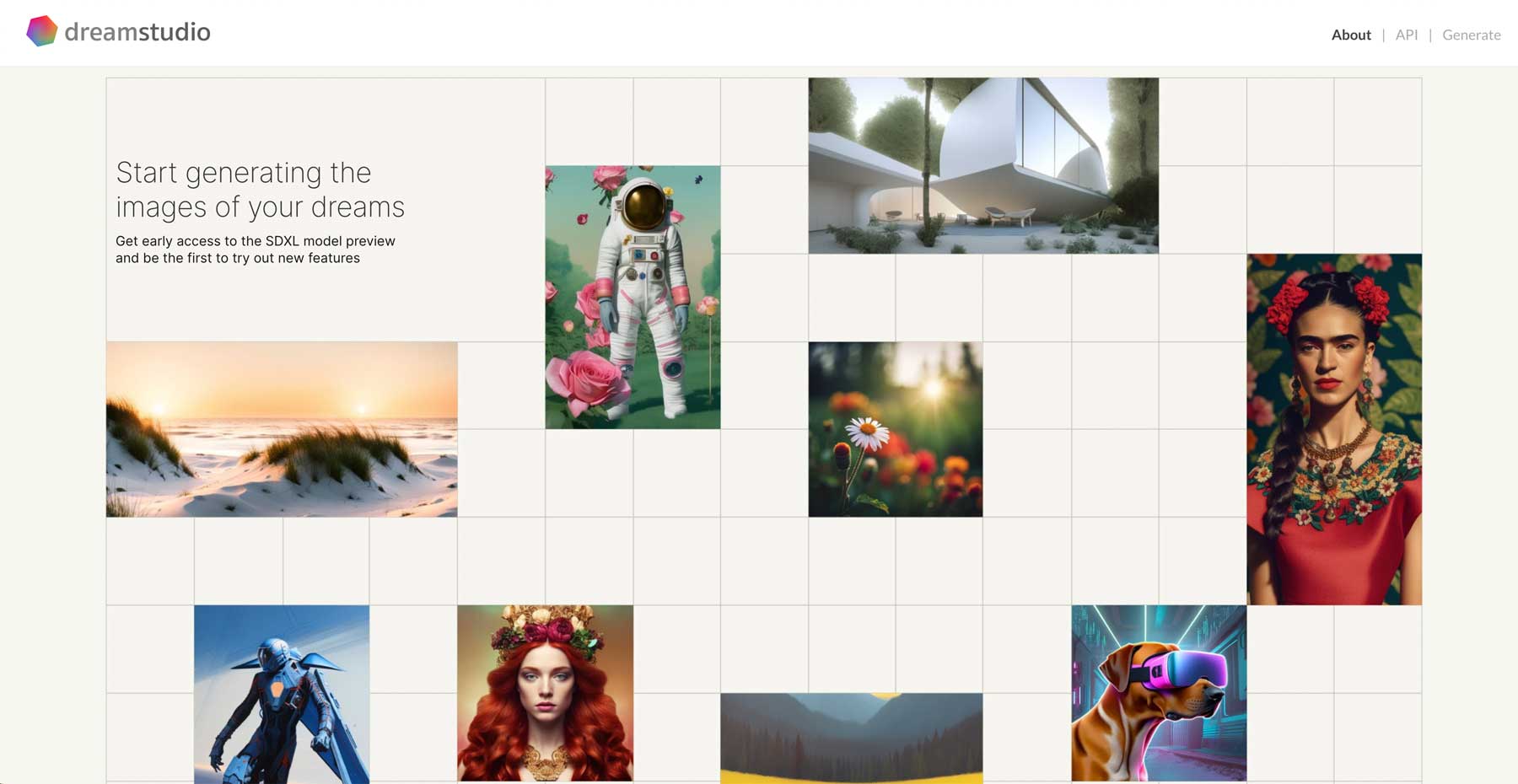 Our next AI design tool, DreamStudio, is built upon Stable Diffusion, which is an energy-based text-to-image model that learns how to create images while minimizing the amount of energy required. The result is AI-generated images that range from photo-realism to art deco to anything in between. What sets DreamStudio apart from other text-to-image generators is the ability to edit pictures and upscale them using various photo-enhancing methods, including preserving fine details and sharpness and minimizing visual artifacts and distortion.
Key Features of DreamStudio:
Utilizes stable diffusion
Generate, edit, and download photos
Generates high-quality images in less than 2 seconds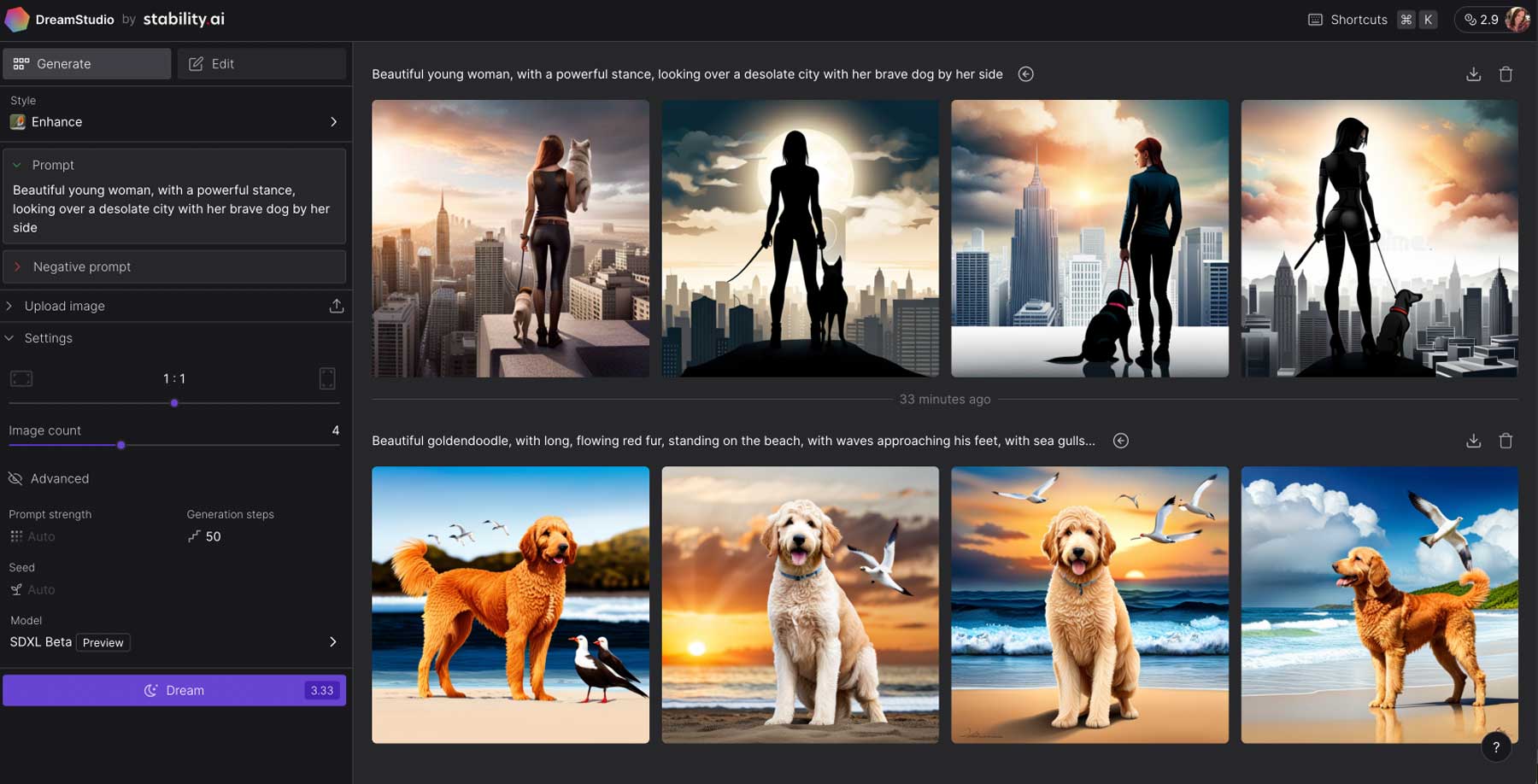 DreamStudio has several style presets that allow you to generate different images, such as enhanced, photographic, comic book, etc. Like other text-to-image models, you start with a good prompt. You can add a negative prompt, which lets DreamStudio know what to avoid. You can also upload your own images and then enhance them with your prompts, which is a great feature. There are various image size formats, and you can choose how many versions to generate. For more detailed photos, you can adjust the generation steps required and choose from three different models, each with varying levels of realism.
DreamStudio is Best For:
DreamStudio is a great tool for artistic inspiration. While most images are relatively outlandish, you can achieve some incredible results that can inspire you beyond what your imagination can provide.
Pricing: Free, with 1000 credits for $10.
6. AutoDraw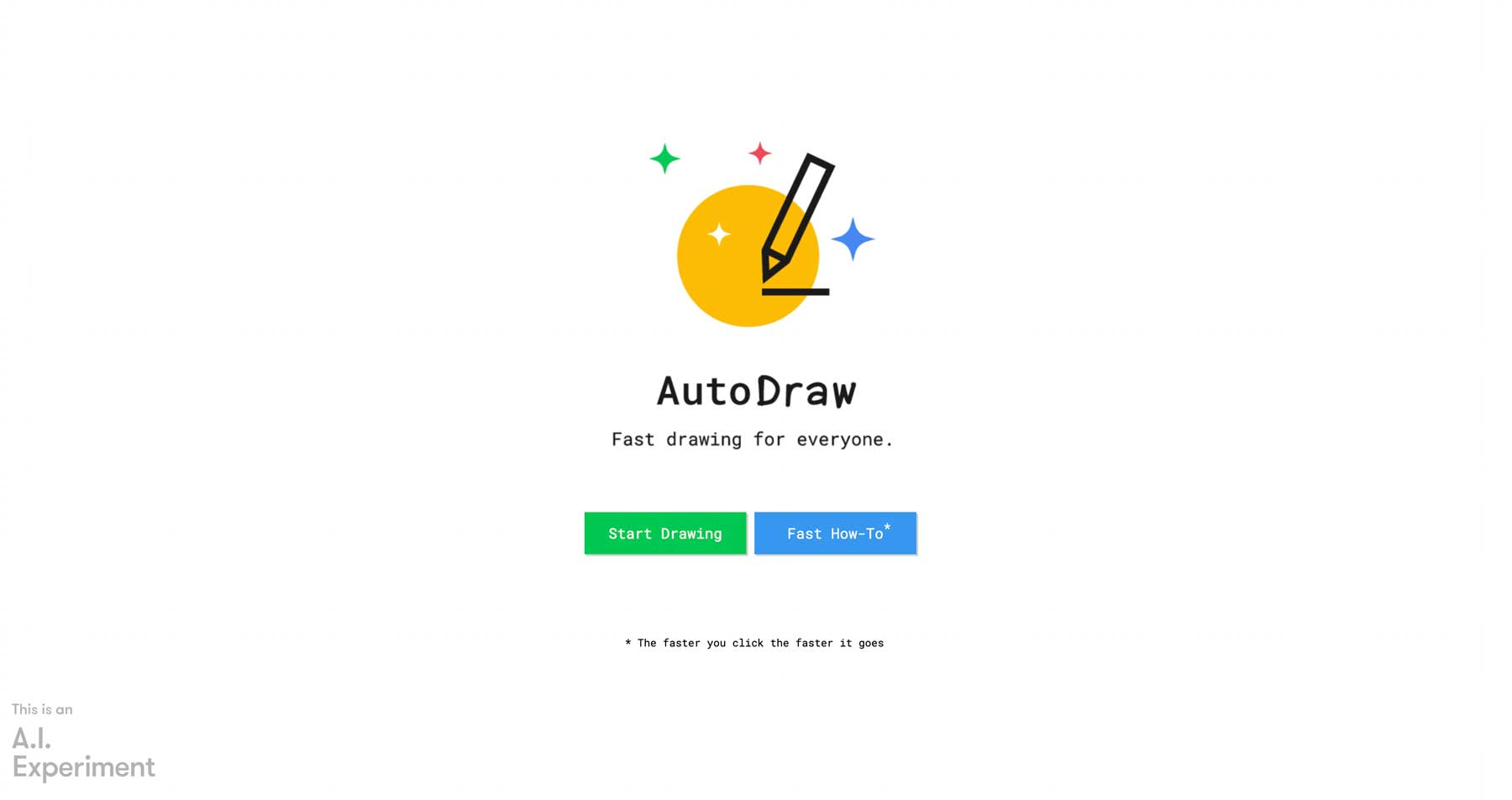 Google's AutoDraw has been around since 2017. Still, it is getting more attention now that AI design tools are literally…everywhere. AutoDraw enables anyone to be an illustrator thanks to machine learning and the generous artists that provide their artwork free of charge. It works by users doing their best to draw anything, from a cat to a house to whatever, then does its best to guess what you are trying to draw. It then matches your doodle to a series of closely related drawings you can choose from. AutoDraw works on any platform and will even let you download your creations as PNGs for your creative projects.
Key Features of AutoDraw:
Extensive drawing tools
Turns your doodle into a work of art
Download art as a png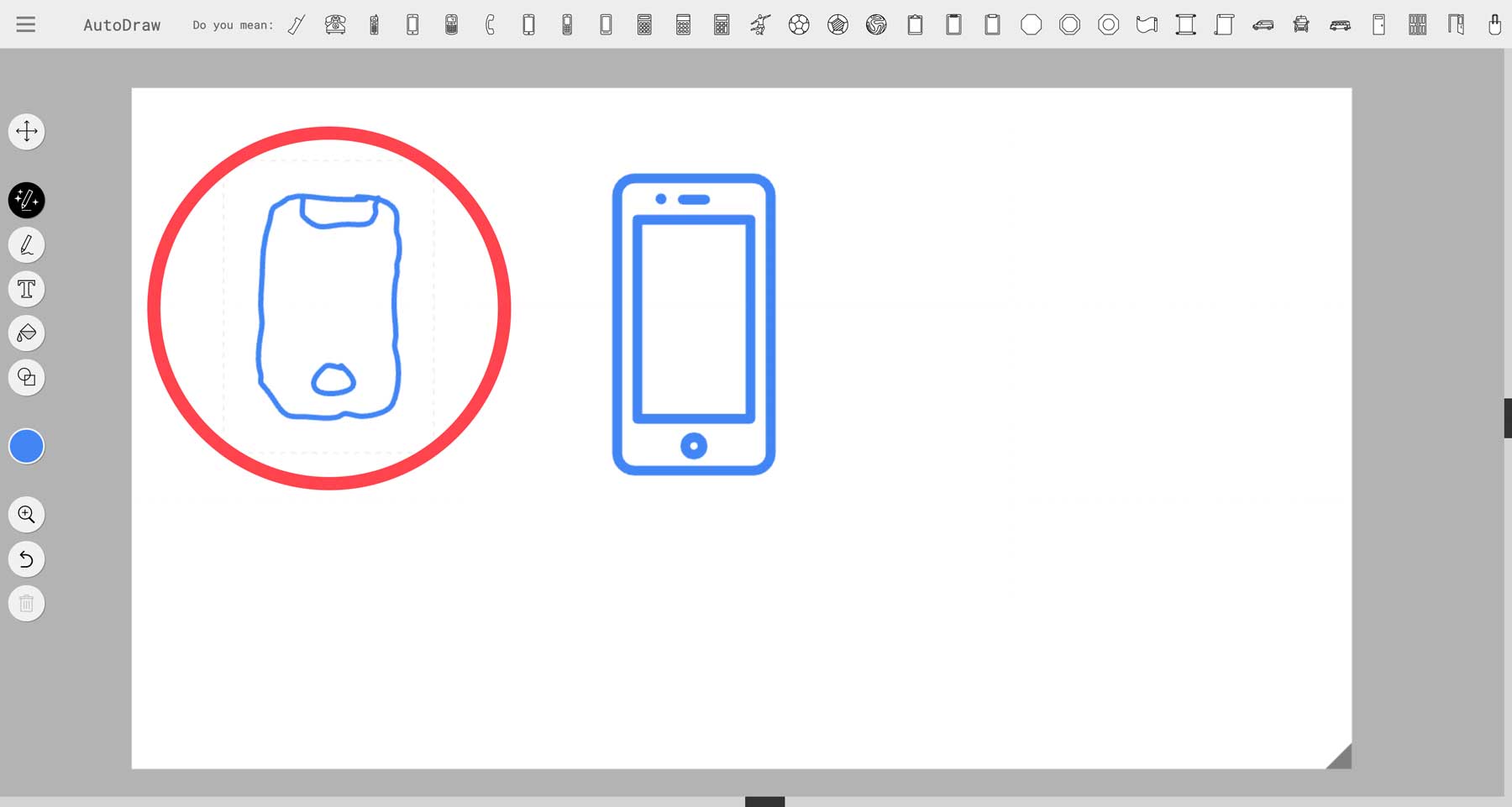 Even if your drawing abilities are limited (like ours, yikes), you can start with a basic design and let the AI design tool do the rest. For instance, when we attempted to draw a mobile phone, AutoDraw could easily decipher our intent, despite our amateurish attempt. AutoDraw is versatile and can be used for various purposes. Still, it really shines as an AI design tool for web projects. AutoDraw's output can be used to create icons, which easily add visual appeal to otherwise unremarkable content, saving you time and effort.
AutoDraw is Best For:
Web developers and designers who aren't the best with illustrations can get a lot of use out of AutoDraw. It's an excellent AI design tool to create icons and other image assets to use as accents in your web design projects. However, there is a downside. Output is limited to a png file, and there are some questions on whether you can use them in commercial projects. In this case, it's best to air on the side of caution and only use generated files on informational websites or personal blogs.
Pricing: Free
7. Looka Logo Maker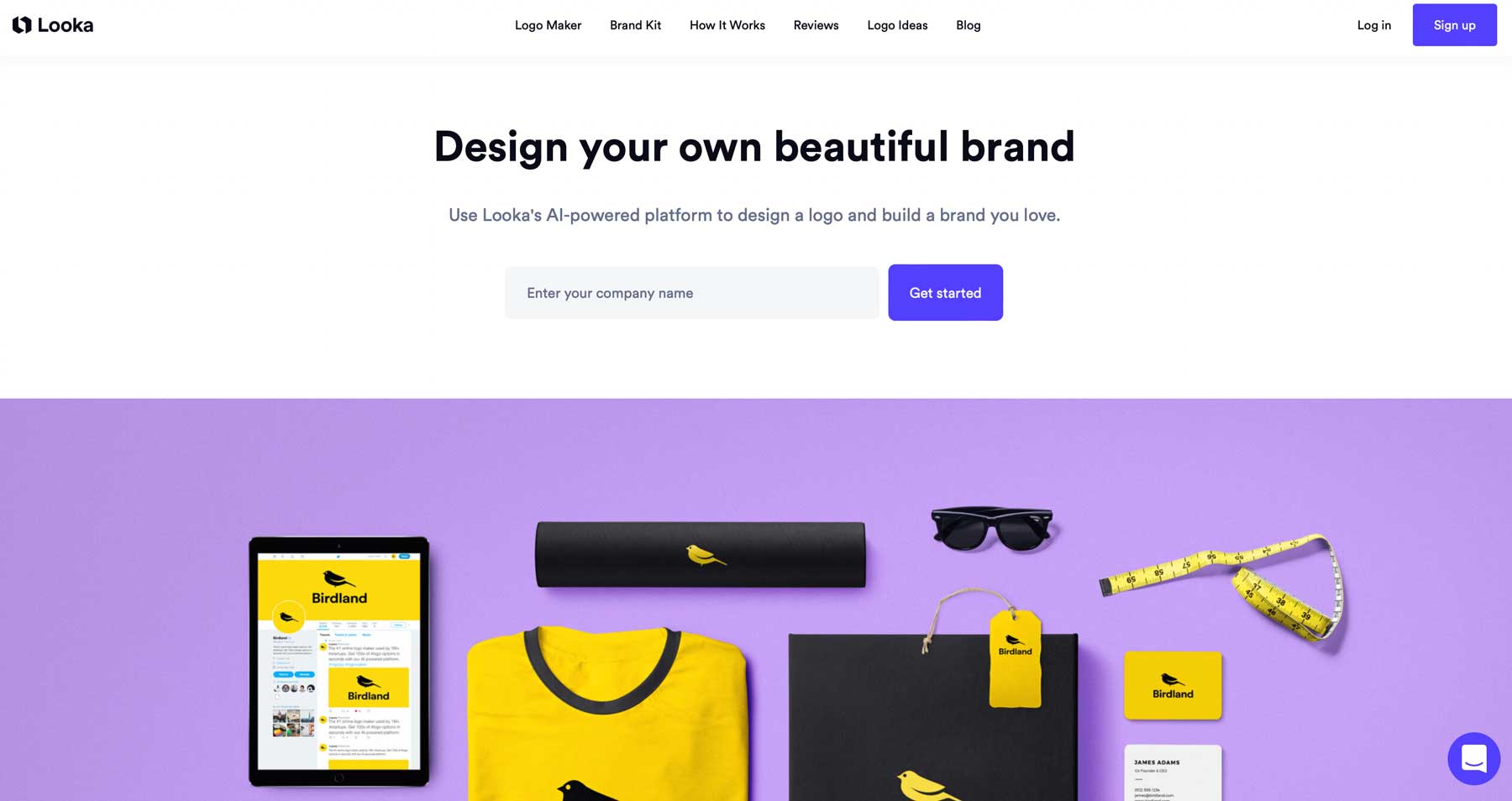 Looka Logo Maker is an innovative tool that utilizes the power of artificial intelligence to help you easily create a logo for your brand. The software provides a user-friendly configuration wizard, which presents you with a selection of pre-made logos, giving the software a better understanding of your design preferences. Afterward, the wizard prompts you to select your preferred colors, add a catchy slogan, and pick from various symbol types that best represent your business. Once you complete the wizard, Looka Logo Maker generates multiple logo options based on your prompts, enabling you to choose one that resonates with you and make edits to suit your taste.
Key Features of Looka Logo Maker:
Choose from dozens of logo concepts
Specify custom colors and fonts
Pick from hundreds of icons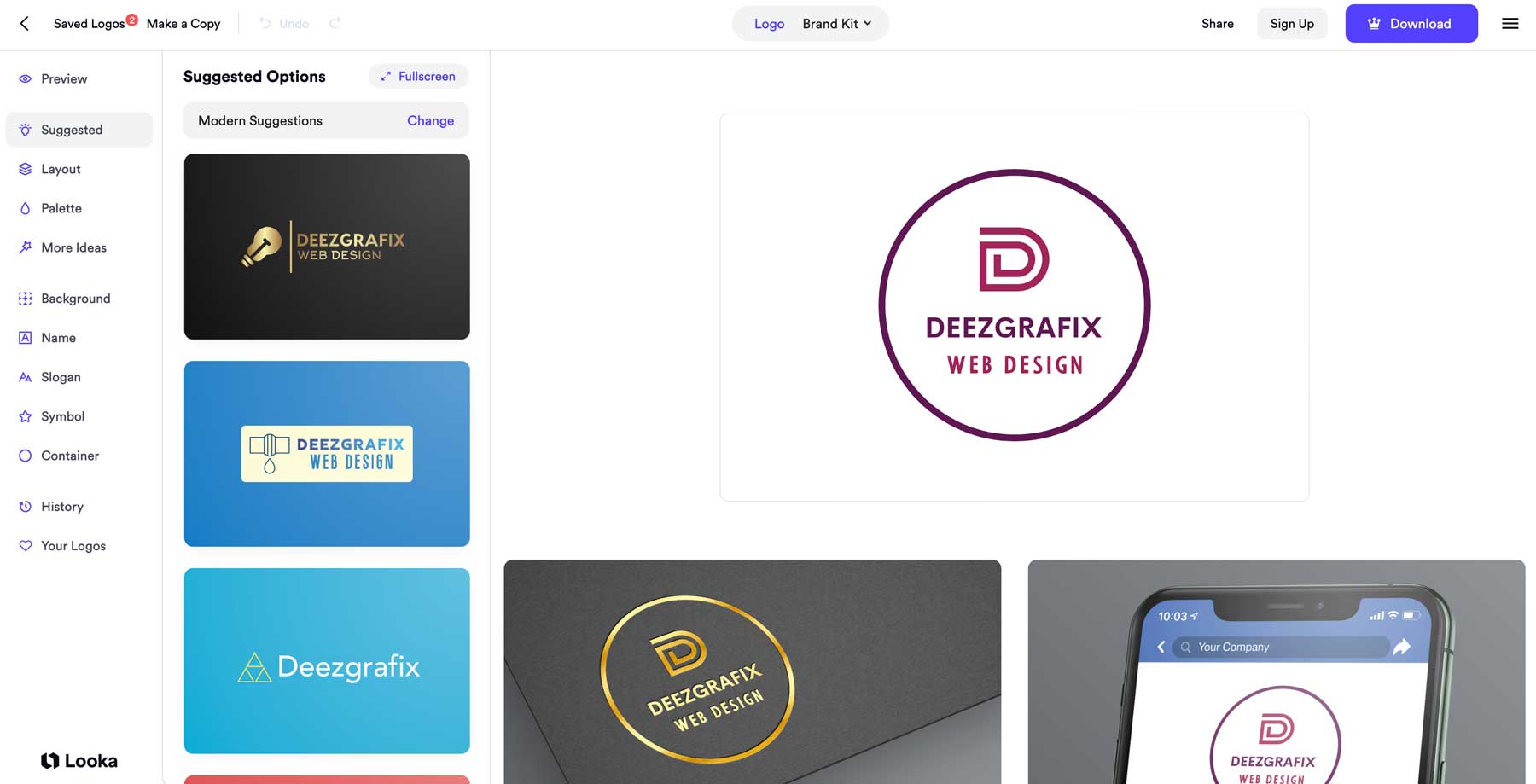 Once you have selected the logo concept that resonates with you the most, Looka Logo Maker takes you to a user-friendly logo editor where you can unleash your creativity by tweaking the layout, color palette, fonts, symbol, and other aspects to fine-tune the final design. If you prefer, you can also rearrange all the elements, add a background, or include a container to give your logo a more polished look. One of the best things about Looka Logo Maker is its affordability, as you only pay $20 for a high-resolution JPG of your logo. However, if you want complete control over your logo, you can upgrade to the premium logo package for $65, which provides multiple high-resolution file types, such as EPS and PDF.
Looka Logo Maker is Best For:
If you love being creative or running a small business but find it challenging to create a logo on your own, then Looka is definitely worth checking out. With Looka, you'll get access to dozens of logos generated on the fly, making it highly likely that you'll find a logo you absolutely love.
Pricing: starting at $20 (one-time fee).
8. Uizard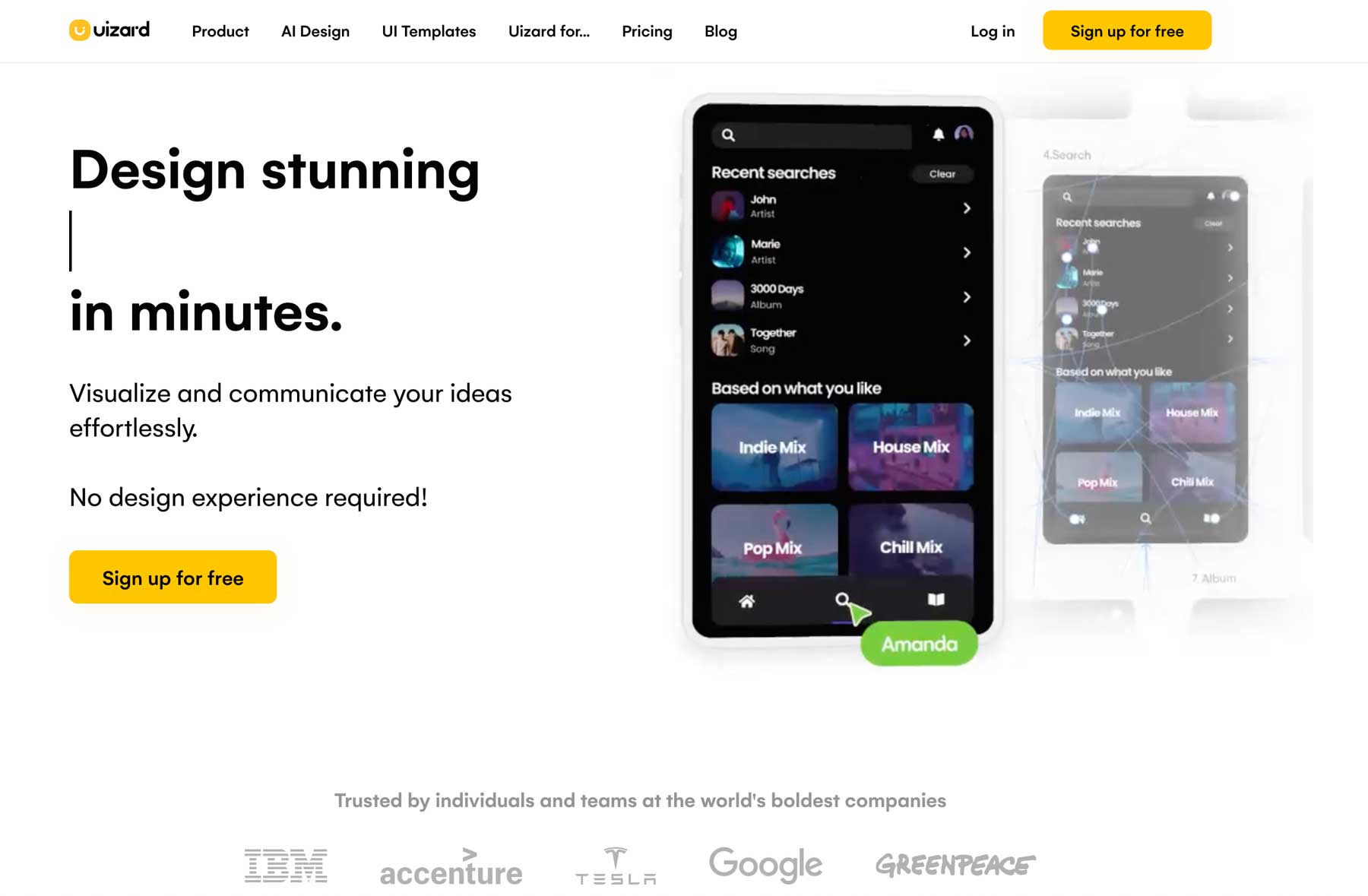 Last but not least, we have Uizard, an AI design tool you can use to create web apps, mobile apps, websites, and desktop software with a simple drag-and-drop editor. Uizard has hundreds of templates to choose from. It will even let you upload a hand-drawn sketch, then convert it to a functional wireframe (insert mind-blown emoji).
Key Features of Uizard:
Hundreds of templates to choose from
Create webpages, web apps, and more
Create a functional wireframe from a sketch or screenshot
Countless design elements
Easy drag-and-drop interface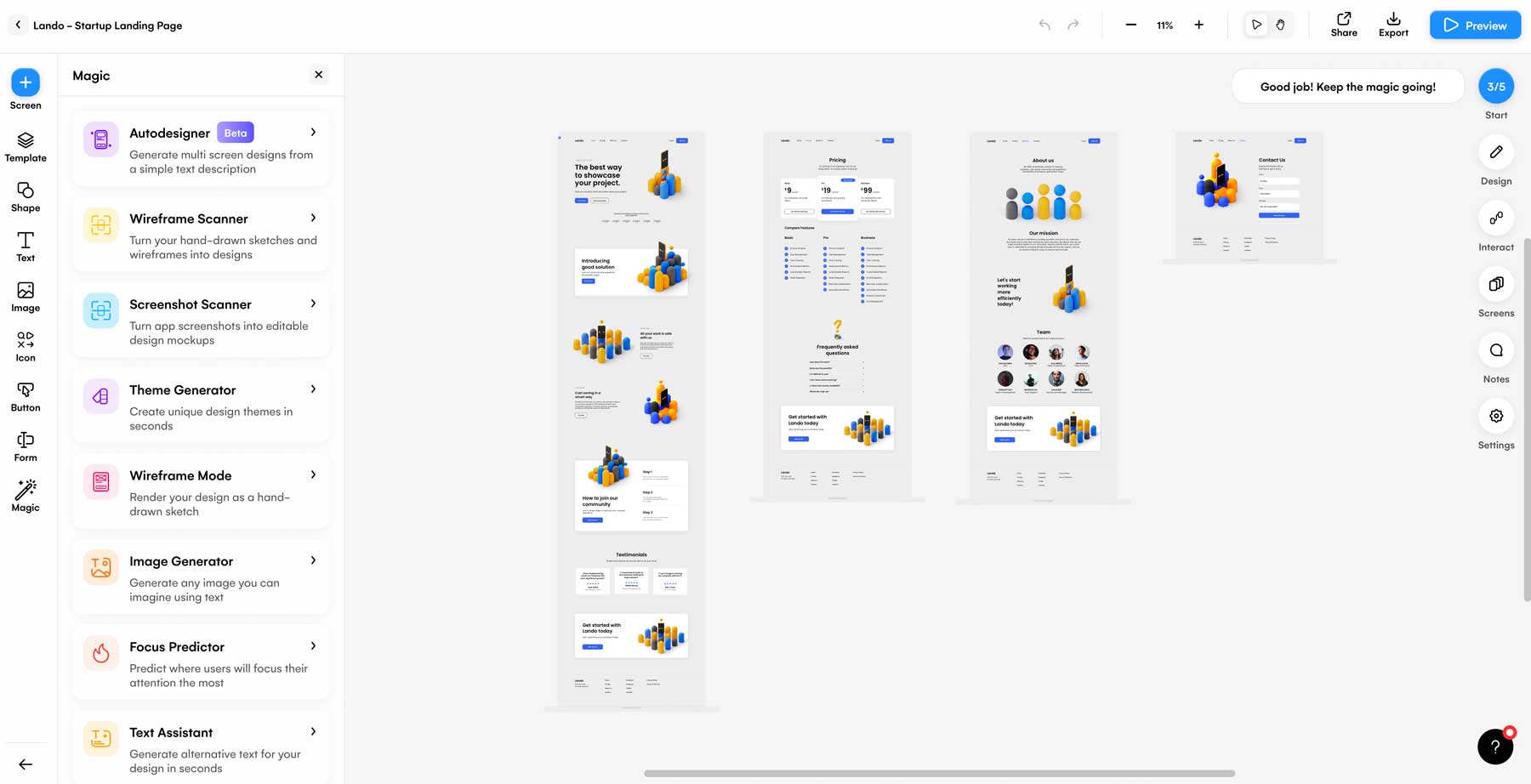 Uizard's intuitive interface is one of its standout features, making it a breeze to navigate. Figma or Adobe XD users will find it laid out similarly, yet easier to use. You can choose from hundreds of design elements or create your designs from scratch. Either way, Uizard has you covered.
But the most impressive feature is its UI design tools, which include a wireframe and screenshot scanner that can quickly turn your sketches or screenshots into editable mockups. With the theme generator tool, you can create design themes, complete with colors and fonts, based on an uploaded image or URL. There's also a text-to-image generator, text assistant, and focus predictor, which provides insight into where you should focus the most attention on your design.
Uizard is Best For:
With Uizard, you can create a stunning website or application, even with little to no design skills. There are many templates, useful AI design tools, and a reasonable price point that rivals other popular design software.
Pricing: Free, with plans starting at $19 per month.
9. Canva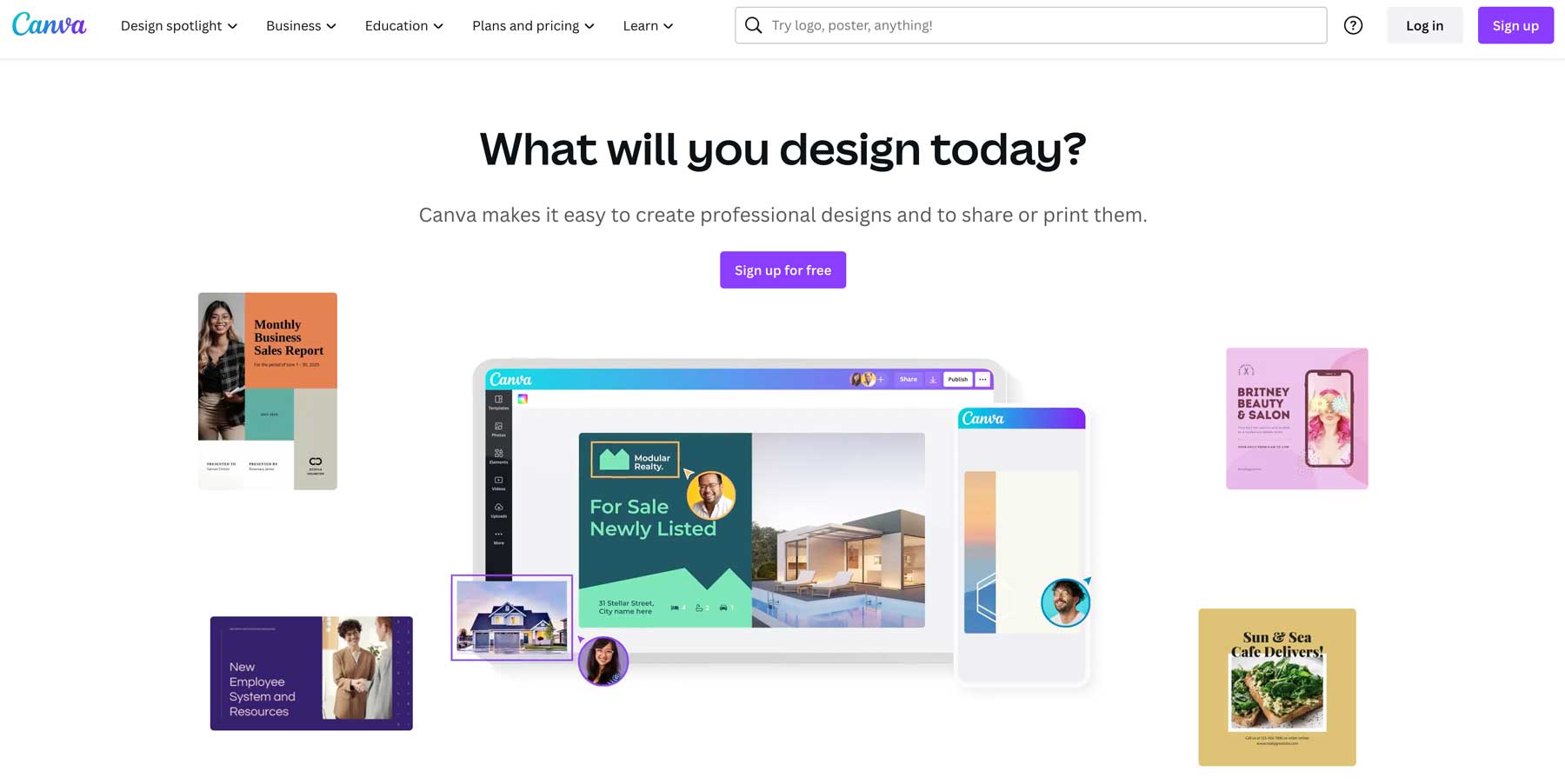 Canva is one of the most popular design tools available. It is a good alternative to Adobe Creative Cloud, appealing to designers of any skill level. You can create social media posts, videos, presentations, brochures, drawings, and more, thanks to a wide range of pre-designed templates, an intuitive drag-and-drop editor, and royalty-free images. What you might not know about Canva is how many AI design tools they include with their product.
Key Features of Canva:
Create graphics for multiple platforms
Tons of pre-made templates
Several AI design tools onboard
Drag-and-drop visual editor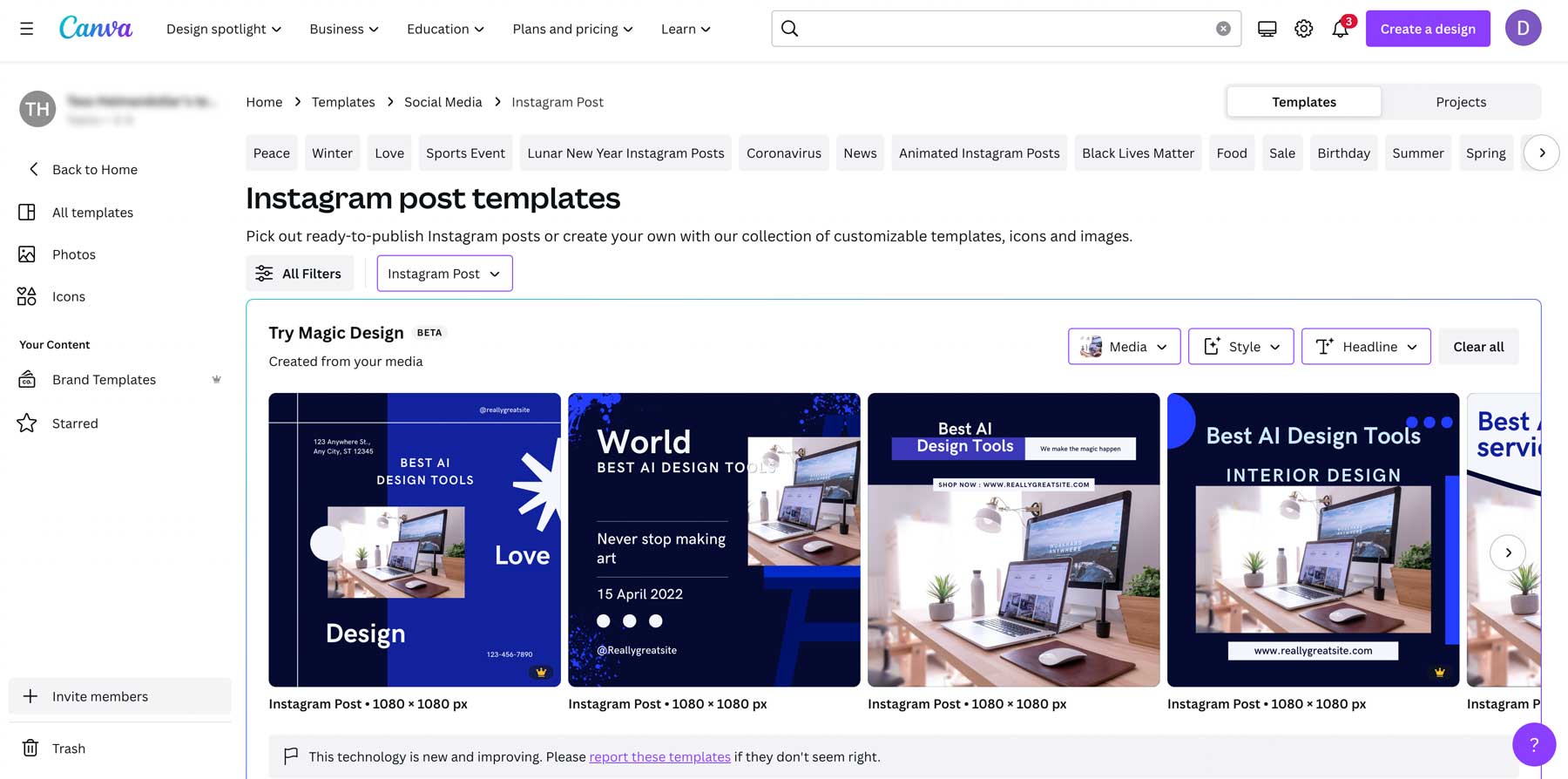 One of Canva's new AI design tools is the Magic Design feature, which enables you to use a text prompt to create templates for your design based on the images and text you add. Like all other AI models, what you get depends on what you put into it. What's great about the Magic Design tool is that it gives you design inspiration faster than sifting through thousands of pre-made templates. While most results need tweaking, it's a good way to get those creative juices flowing.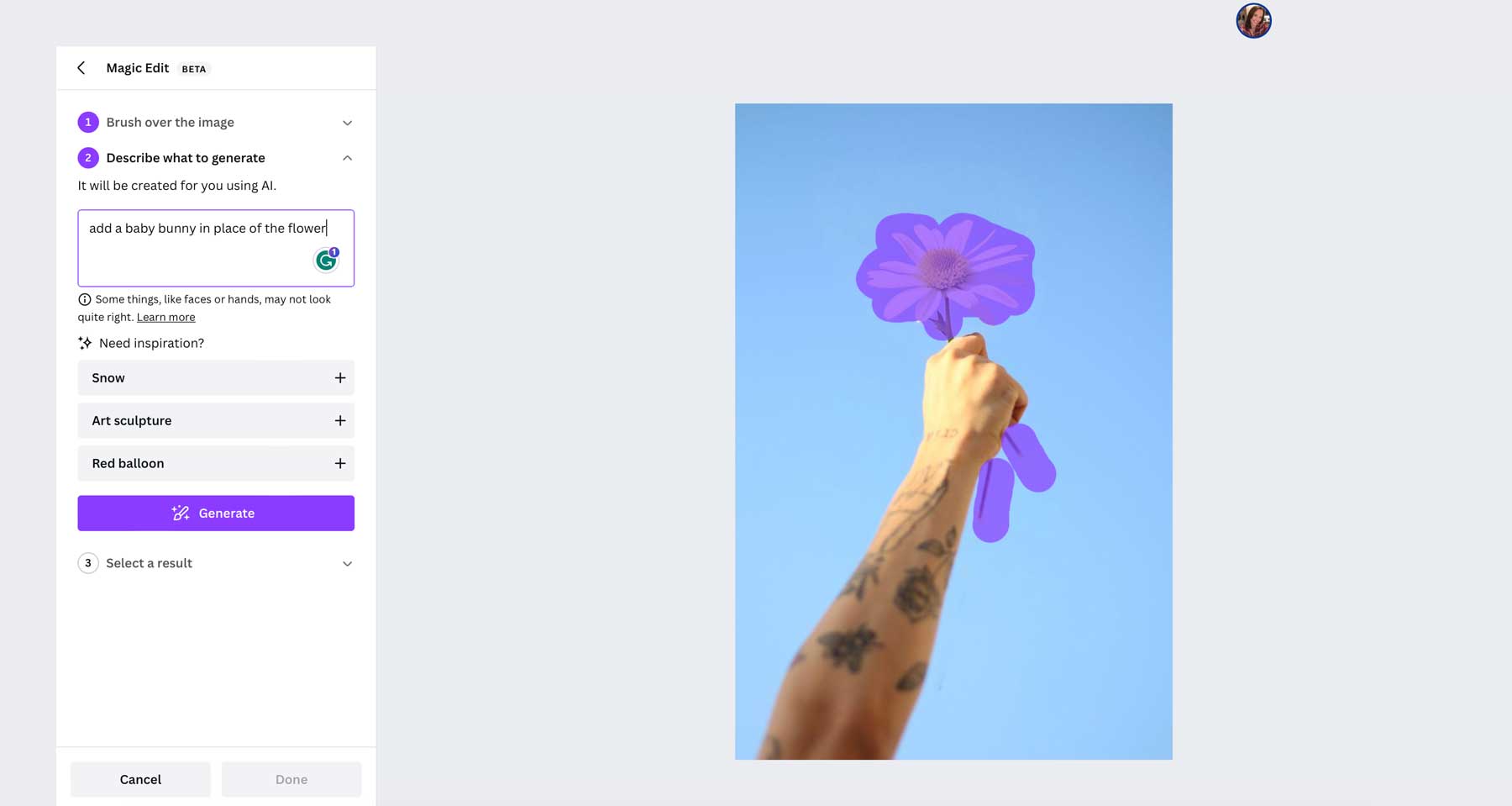 Another cool feature of Canva is the Magic Edit tool, which lets you erase a part of an image, then replace it with a different one based on a text prompt. In our example, we used the Magic Edit brush to remove a flower and replace it with a bouquet of roses. It did a decent job of swapping out the flowers and completed the requested task in only a few seconds.
There are other AI design tools, too. For instance, there's Magic Erase, which functions much like the Magic Edit tool, except you can remove an item in a photo rather than replace it. There's even an AI-powered copywriting assistant that aids in generating written content from a text prompt. Finally, there's Translate, which enables you to swap the text in your designs with more than 100 other languages on the fly.
Canva is Best For:
For people with limited design skills, Canva is a great option. You can create, edit, download, and publish your designs on social media and other platforms. Combined with the new AI design tools in its arsenal, that makes Canva worth a look.
Pricing: Free, with pro plans starting at $119.99 per year, per person.
What is the Best AI Design Tool?
Out of all of the AI design tools we've discussed in this post, we feel that Adobe Firefly, MidJourney, and Topaz Labs have the most to offer.
Let's give credit where credit is due, folks. If we have to pick one winner, Adobe Firefly deserves the top spot. It's integrated with Adobe's suite of editors like Illustrator and Photoshop. And it has serious design chops to help you whip up some seriously cool graphics and presentations, all with a little boost from their friendly neighborhood AI. With features like the Generative Fill and text-to-image generator, you'll have all the help you need to create awesome projects, even if you struggle in the design department.
Need more AI tools? Check out our list of top AI tools for productivity. And, if you want more photo editing tools, check out these AI photo enhancers and image upscalers.
Frequently Asked Questions (FAQs)
Before we wrap up, let's answer some of your most common questions regarding AI design tools. Did we miss one? Leave a question below and we will respond!
What is the best AI design tool?
Adobe Firefly
is considered the best AI design tool due to its robust AI features and integration with powerful design editors like Illustrator and Photoshop. Its standout features include Generative Fill for enhancing images with stunning results, AI tools for unique text designs, and AI text-to-image functionality using natural language prompts.
What is the best free AI design tool?
Canva
stands out as the best free AI design tool due to its extensive features, including the ability to create graphics for various platforms, a wide range of pre-made templates, and several AI design tools. Its user-friendly interface and AI-powered features make it a valuable tool for design projects at no cost.
What is the most popular AI tool for digital art?
DreamStudio
has become a popular AI tool for digital art due to its advanced features and capabilities. It utilizes stable diffusion technology to quickly generate, edit, and download photos, delivering high-quality images in less than 2 seconds. With its style presets, users can generate various image styles, and the ability to provide prompts and upload images for enhancement adds versatility. Customization options for image size generation steps further enhance the creative process in DreamStudio.
How much do AI design tools cost?
The cost of AI design tools varies depending on the specific tool and subscription plan. For example,
Adobe Firefly
starts at $20.99/month, offering advanced AI-powered design capabilities. On the other hand,
Topaz Labs
charges a one-time fee for products and bundles that range from $79 - $299 for lifetime access. Prices may vary based on features, usage, and additional subscription options.
Can AI tools be used for graphic design?
AI tools can indeed be used for graphic design, and
Adobe Firefly
is a prime example. With Firefly, users can tap into powerful AI tools using Illustrator, Photoshop, and other Adobe tools. You can use AI tools like Firefly to enhance SVGs, photos, and more using generative AI technology and text-to-speech prompts.
What are the best AI tools for beginners?
Canva
and
DreamStudio
are great AI tools for beginners. Canva's drag-and-drop visual editor and pre-made templates make creating graphics for various platforms easy. DreamStudio's user-friendly interface allows for easy photo generation, editing, and downloading. Both tools are easy to navigate and have helpful features for beginners.
Will AI replace designers?
While AI can automate specific design tasks, it will likely partially replace designers. Designers bring creativity, critical thinking, and human touch that AI cannot replicate. AI is more likely to augment and assist designers in their work, improving efficiency and expanding creative possibilities.
What is the best AI tool for logo design?
Looka Logo Maker
is the best AI tool for logo design. Users can choose from a wide range of logo concepts and customize them by specifying custom colors and fonts and selecting from a vast library of icons. The user-friendly logo editor allows further adjustments, including layout, symbol, and background. With its affordable pricing, Looka Logo Maker offers a high-resolution JPG of the final logo design for only $20, making it an attractive choice for logo creation.
How can AI tools be used in web design?
AI tools like
Adobe Firefly
can be used to speed up the design phase of any website using popular graphic and photo editors like Illustrator and Photoshop. Other AI tools like
AutoDraw
can be used in web design to help non-designers create icons and other graphics for their websites. AutoDraw utilizes comprehensive drawing tools and can quickly turn basic designs into professional-looking graphics. Its output can be downloaded as a PNG file, making it easy to incorporate into any website. A tool like
Midjourney
can be prompted to generate entire website designs, which can be turned into a functioning website by a web developer.
What is the best AI tool for UX design?
Canva
is considered the best AI tool for UX design due to its intuitive interface, extensive library of templates, and user-friendly features. It allows designers to quickly create visually appealing and user-centered designs, making it a valuable tool for creating engaging and effective user experiences.