In the digital age, the demand for high-quality images is ever-increasing. Whether it's for professional photography, graphic design, or simply enhancing personal photos for social media, the need for tools that can improve image quality is undeniable.
While many new AI art generators are on the market, there are also AI tools for enhancing or editing images you already have. AI image enhancers can effortlessly remove blemishes, add vibrant colors, and even change the background of an image, all while preserving the original quality. They are capable of transforming ordinary images into extraordinary works of art. But with many options available, choosing the right AI photo enhancer can be daunting.
In this article, we've curated a list of the best AI photo enhancers that will help you elevate your images to the next level.
The Best AI Photo Enhancers

Subscribe To Our Youtube Channel
We've looked around and found some of the best photo enhancers on the market. We have big names and new players on this list. You will also notice a fair mix between SaaS AI enhancers and desktop options. Starting with Adobe Photoshop, here are the top picks:
The Best AI Photo Enhancers Listed In Order
Expand List
1. Topaz Photo AI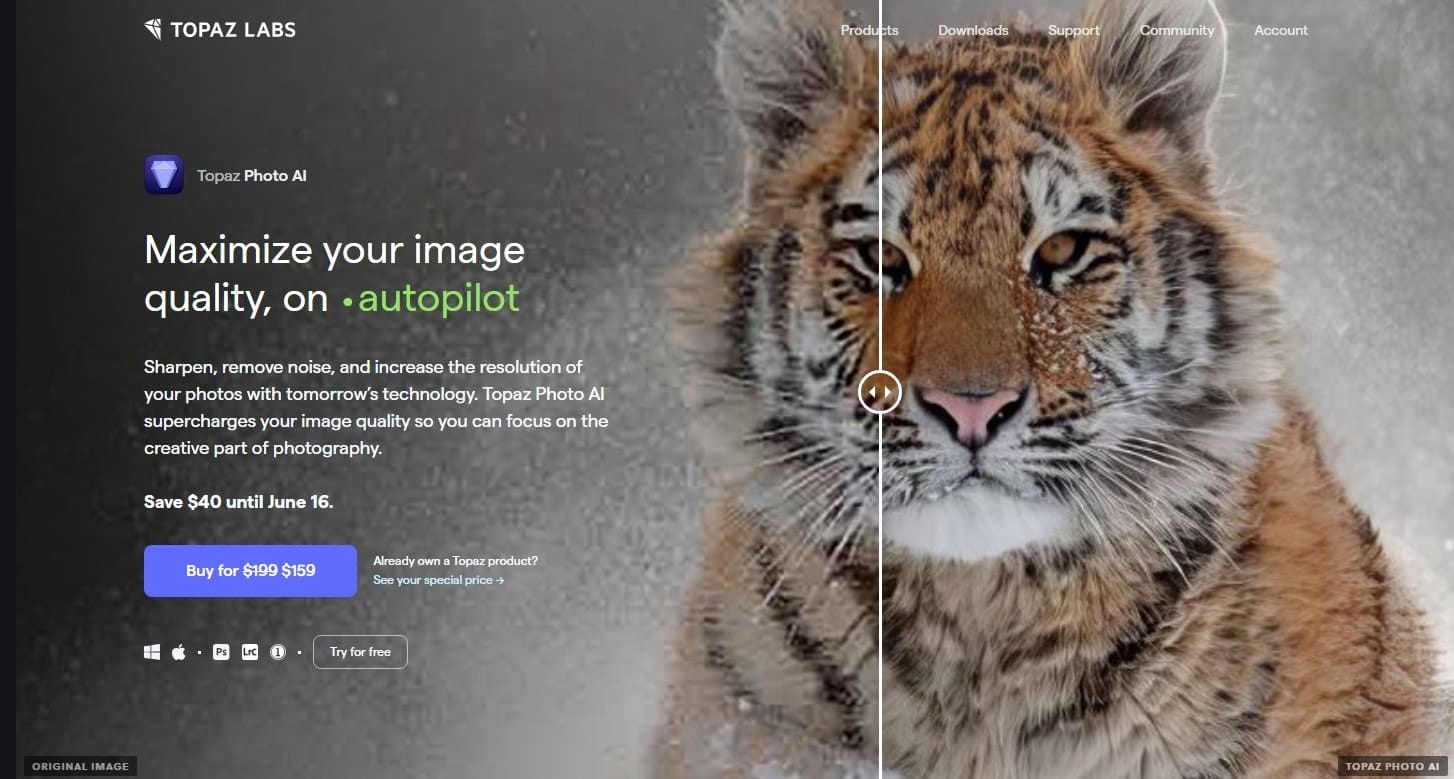 Topaz Photo AI is a tool that maximizes your image quality on autopilot. It uses deep learning to sharpen, remove noise, and increase the resolution of your photos. This tool is designed to supercharge your image quality, allowing you to focus on the creative part of photography. It's certainly a contender for the best AI photo enhancer and deserves your attention.
Key Features:
AI-powered noise reduction and sharpening
Upscaling of images for increased resolution
Face recovery feature for enhancing image resolution with authentic detail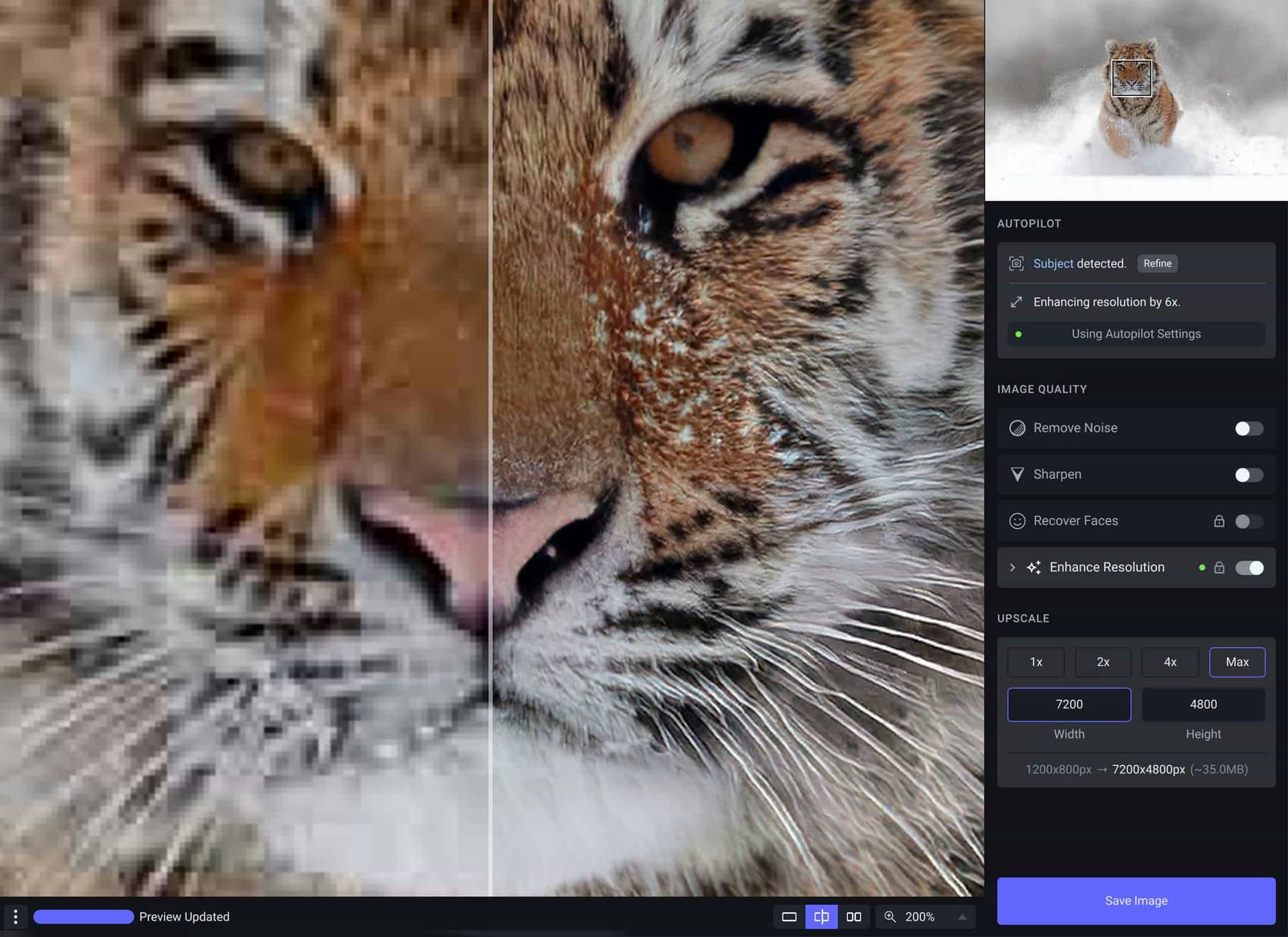 Best For:
Topaz Photo AI is best for photographers who want to focus on their creativity and leave the technical aspects to AI. It's perfect for sharpening images, removing noise, and upscale photos for better resolution.
Pricing: An LTD of $199 (lifetime deal) with one year of product updates
2. Adobe Photoshop (Firefly)

Adobe Photoshop is a renowned name in the world of digitally created art.  Recently, Adobe released a powerful generative AI engine called Adobe Firefly that is now integrated into Photoshop. With the power of AI, Photoshop's capabilities extend to features like automatic subject selection, generative fill, and neural filters, which can drastically change the style and mood of any image. This exciting AI integration will undoubtedly enhance all the Photoshop tools designers and photographers have used for years, like blending modes, image scaling, and making GIFs.
Neural Filters and Generative Fill
Photoshop has had Neural Filters for a while now. They can be used to create contextual but new elements in an image. Instead of relying on the original pixels of an image, Photoshop can use a neural network to generate new material/pixels that are contextually relevant to the original image. This takes photo editing to a whole different place. Here's an example from Adobe where a Neural Filter was used to reduce JPG artifacts in an image (before is on the left and after on the right).
Abobe brings numerous types of Neural Filters to its user base. Some of them can recognize human faces and transform critical features. The below image showcases a user changing the position of a person's eyes and lips to be arranged in a very different pose.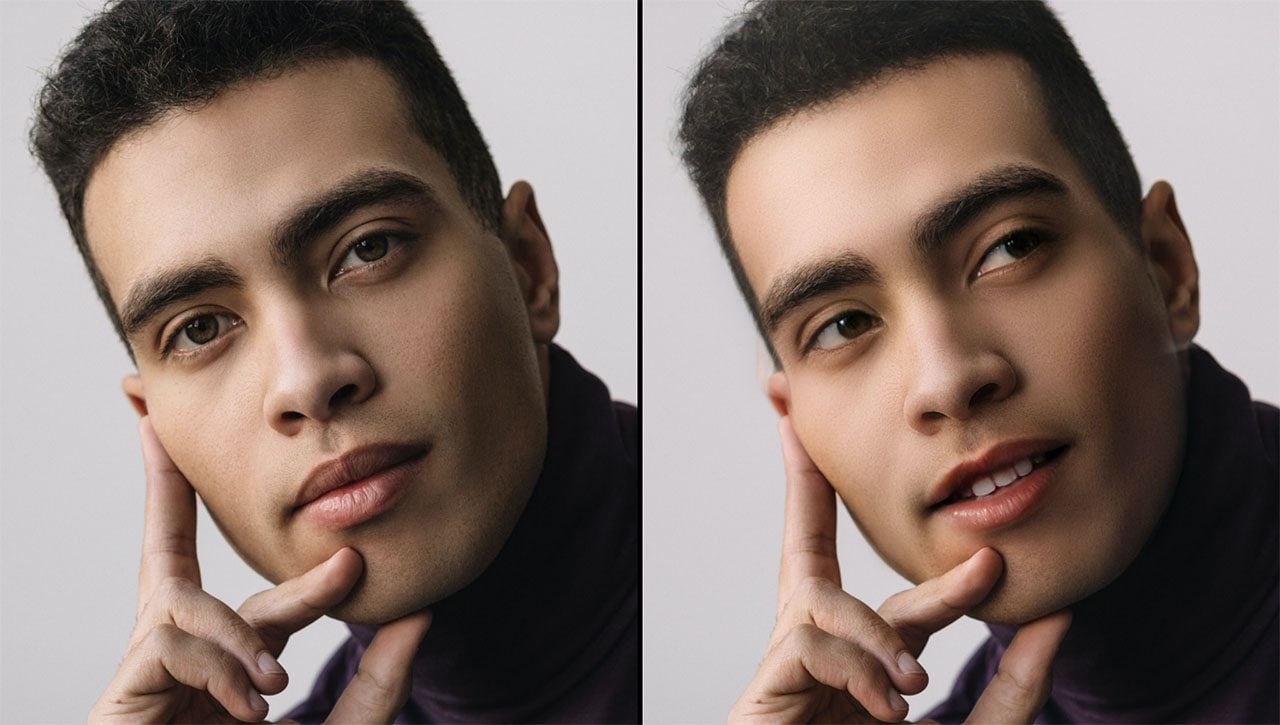 Adobe's AI Generative Fill takes all of this to new heights. Generative fill lets users select a portion of an image and type in a text-based prompt that transforms that aspect of the image. Below is a side-by-side comparison of a 1920s cartoon (original on the left) with the same cartoon edited with generative fill. The chair was replaced with a stylistically similar lamp, and the rug was replaced entirely. These changes were all based on two prompts (less than six words)!
Key Features:
Integrated generative AI with Adobe Firefly
AI-powered subject selection
Generative Fill for editing images with AI using prompts
AI neural filters for making stylistic transformations to images
Best For:
Adobe Photoshop is best for professionals and enthusiasts who want to take photo editing to the next level. It's ideal for photographers, graphic designers, and digital artists who need advanced editing tools and AI-powered features to enhance their work. Photoshop is a mainstay in digital creative work and should be a tool that is well-utilized among most professionals.
Pricing: An Adobe subscription is $20.99/mo
3. Luminar Neo

Luminar Neo is a photo editing software that leverages AI to help users enhance their photos. It offers a range of features, including Portrait Bokeh AI, Relight AI, Sunrays AI, Sky AI, and Enhance AI. These features allow users to create out-of-focus background effects, light up dark photos, add rays of sunshine, replace dull skies, and control shadows, highlights, contrast, and tone.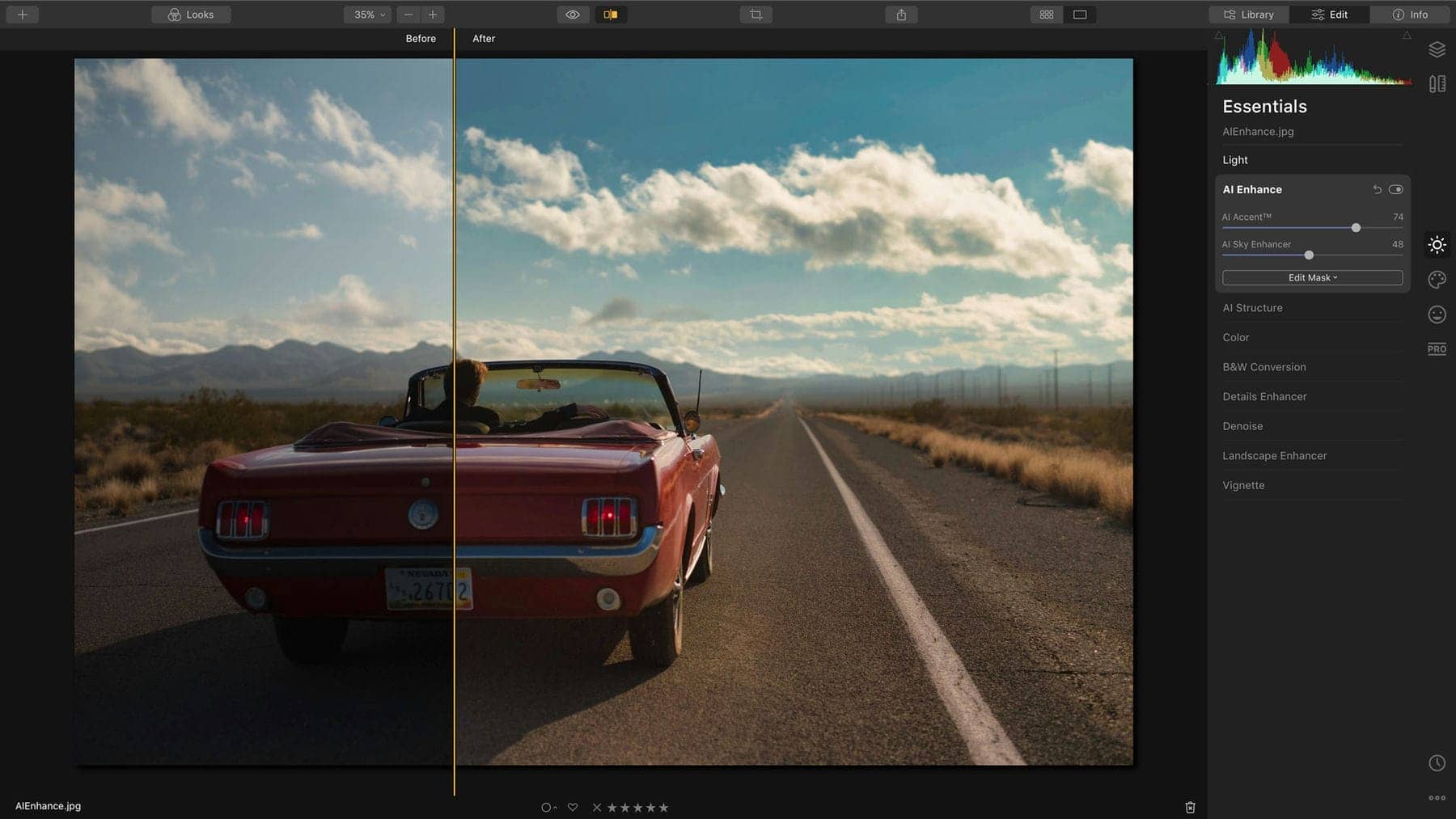 Key Features:
AI-powered features for comprehensive photo enhancement
Ability to create out-of-focus background effects with Portrait Bokeh AI
Recognize and replace skys to better match the image subject
Relight AI for lighting up dark photos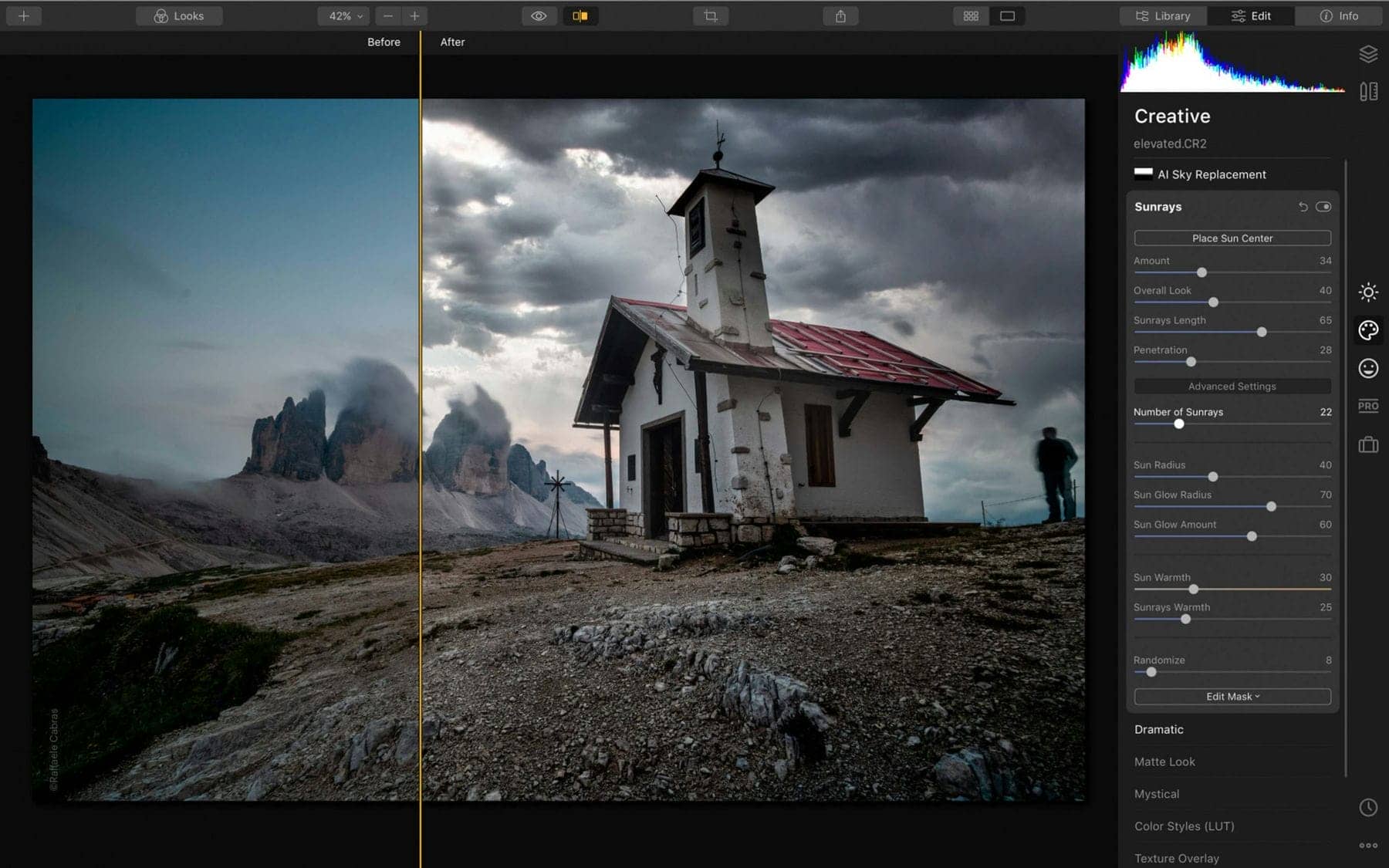 Best For:
Luminar Neo is best for photographers and digital artists who want to leverage AI for creative photo enhancement. It's ideal for individuals who wish to add unique effects to their photos and control various aspects of their images. Each enhancement can be controlled individually, so the creator retains the ability to see their vision come to life. This makes it a valuable tool for novice photographers and professionals alike.
Pricing: Available for $9.95/mo or as an LTD at $199 (lifetime deal)
4. HitPaw Photo Enhancer

HitPaw Photo Enhancer is an AI-powered desktop app that enhances the quality and boosts image resolution. It offers five AI models, including the General, Denoise, Face, Color Calibration, and Colorize models, each designed to cater to different enhancement needs. It's a versatile tool that can make pictures less blurry, remove noise, and upscale images without losing quality.
Key Features:
Five unique AI models for different image optimization
Ability to make pictures less blurry and remove noise
Upscale images without quality loss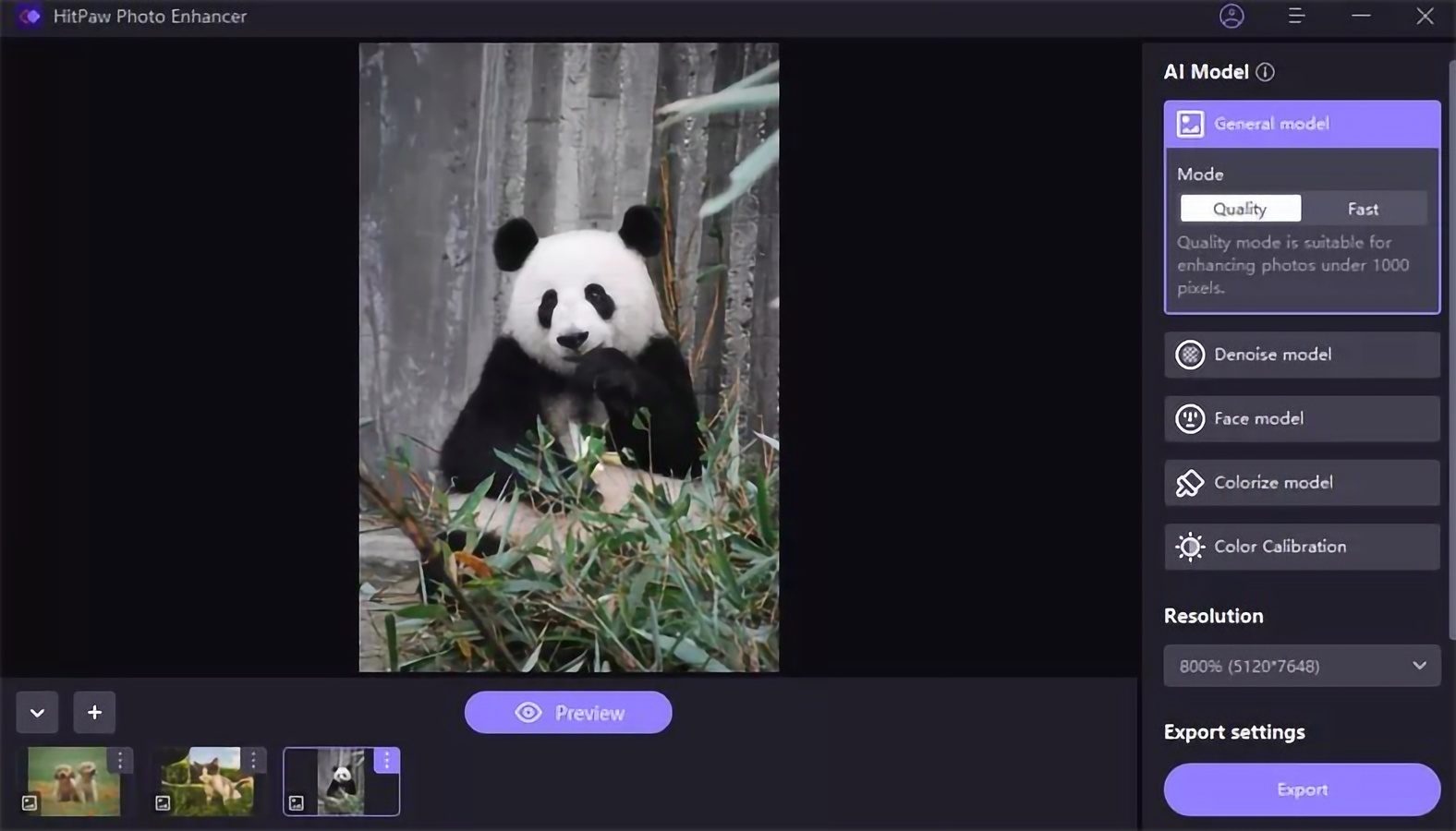 Best For:
HitPaw Photo Enhancer is best for individuals needing a versatile photo quality enhancement tool. It's perfect for photographers who need to upscale images, remove noise, and improve the overall quality of their photos.
Pricing: macOS or Windows app for $39.99 and $35.99, respectively
5. Remove.bg

Remove.bg is a specialized AI tool that removes backgrounds from images and does it about as well as any service out there. Sometimes a photo doesn't need to be touched up as much as it needs to be repurposed. That's the case for eCommerce shops, car dealerships, and various marketing functions. Remove.bg is a time-saving solution for all who frequently need to isolate objects in their photos. With just one image upload, you can get a transparent background for any image, making it a perfect tool for many types of photographers.
Key Features:
AI-powered automatic background removal
High-quality image output
API and Integrations to edit images at scale
Uploading an image automatically starts the AI background removal. Remove.bg allows users to blur the background or replace it with another photo or color. If portions of the photo need to be still removed (or added back), the "Erase / Restore" option lets users select areas of the image to retouch.
Best For:
Remove.bg is best for photographers who frequently remove backgrounds from images. It's ideal for eCommerce businesses, designers, and social media marketers who want to streamline their workflow.
Pricing: Can be used for free, but higher-resolution images have usage-based pricing starting at $0.90 per image (and lower if purchasing a subscription)
6. Fotor

Fotor is an online photo editing tool that offers a wide range of features, including an AI image upscaler (making images bigger while retaining image clarity). It's designed to be user-friendly, making it easy for anyone to enhance their images. Fotor provides other tools to perfect photos, such as enhancing photos, retouching portraits, removing backgrounds, and applying styling effects.
Key Features:
AI-powered photo enhancement (unblurs photos with AI)
Intelligent background removal and replacement
Batch edit photos and apply one change to assets in bulk
Online editor with more image editing options than Canva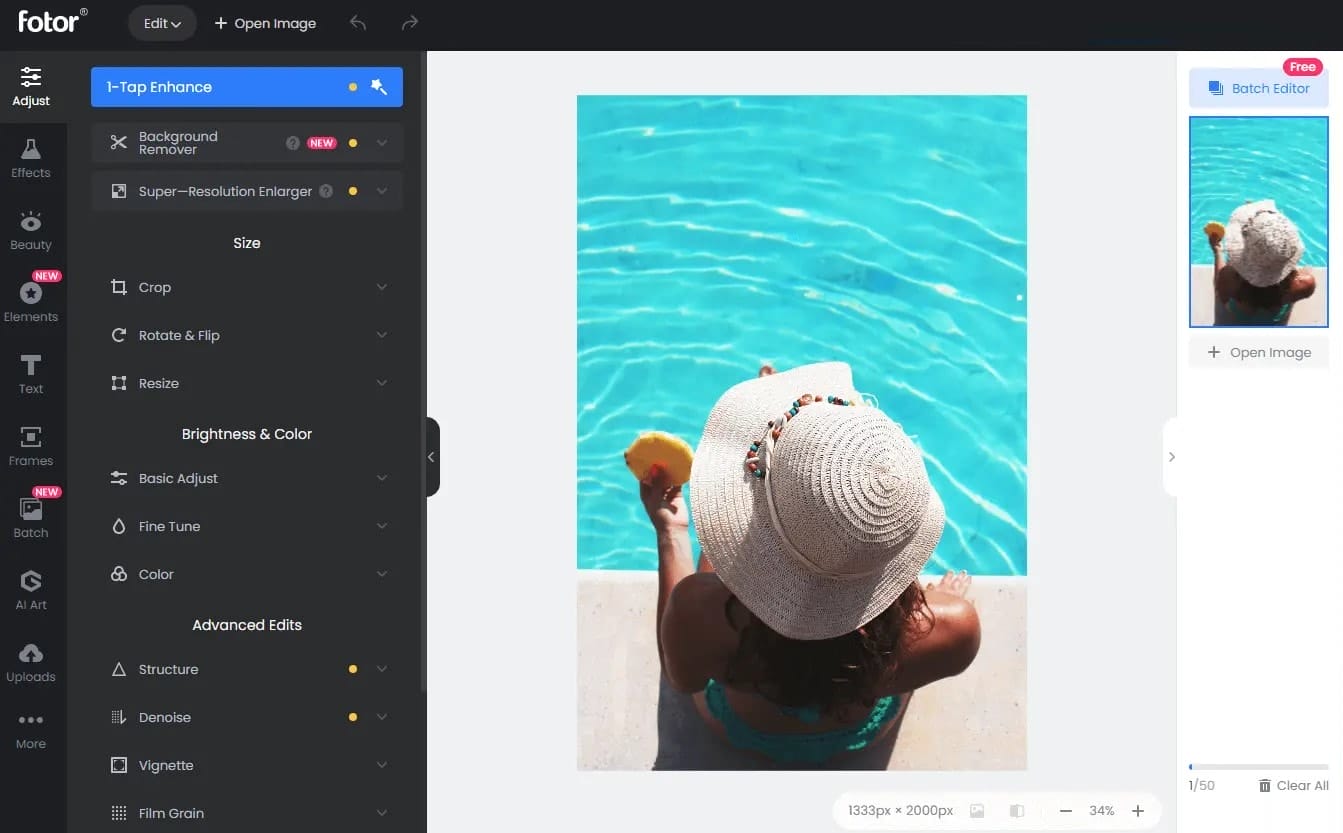 Best For:
Fotor is best for individuals who want a simple tool for photo editing. It's perfect for social media enthusiasts, bloggers, and anyone who needs to edit photos and create eye-catching designs regularly. Especially when an image needs a single change, Fotor is a sinch for applying that change with little effort.
Pricing: Free plan with paid plans starting at $8.99/mo
7. VanceAI

VanceAI, an AI-powered image editor, packs in a multitude of handy tools. Its standout feature, an upscaler, enlarges images up to 800% without sacrificing quality. Other useful tools include AI image compression, photo restoration, and image enhancement. You can access many of these tools for free on their website or use the complete suite of tools through their desktop app.
Key Features:
AI-powered upscaling of up to 800%
Data safety guarantee with processed images deleted in 24 hours
AI background remover
Online or desktop application for convenient workflows
API for image touchups
The image below shows VanceAI decreasing image noise, increasing image size, and improving the overall quality of the image simultaneously.
Best For:
VanceAI is best for individuals who need to improve images with various tools. It's ideal for photographers, digital artists, and anyone who needs to upscale images for prints, eCommerce, presentations, and more. People looking to restore old photos or who need help making their photos look more professional for passports or resumes also flock to Vance.
Pricing: Usage-based pricing starting at $0.049/credit (1 credit = 1 image), or $39.90 per month for their desktop app (with lifetime pricing available)
Best AI Image Enhancers: Price Comparison
AI photo enhancers come in many different packages. Some of them are freemium SaaS, while others are premium applications. Here's a comparison of our best AI image touch-up tools based on their price and pricing model.
What is the Best AI Image Enhancer?
Topaz Photo AI is our top choice for the best AI image enhancer. It is easy to use, and it has a suite of powerful tools that use deep learning to sharpen, remove noise, and increase resolution in a natural way. If you are a photographer or designer looking to enhance images like a pro, Adobe Firefly is a powerful tool that works seamlessly in Photoshop. If you want a photo editor that is easy for beginners, Luminar Neo can generate advanced photo enhancements that are unique. HitPaw, a downloadable AI tool with a wide range of user-friendly features, is another top contender, providing an excellent solution for photo enhancement. It has an attractive monthly price point and solid features.
Want more AI tools? You should be able to find everything you may need in our list of best AI tools.
Frequently Asked Questions (FAQs)
Before we wrap up, let's answer some of your most common questions regarding the best AI photo enhancers. Did we miss one? Leave a question below and we will respond!
What is the best photo enhancer AI?
The best photo enhancer AI is
Topaz Photo AI
, an easy-to-use tool for upscaling, decreasing noise, and sharpening images. 
Adobe Photoshop
(now with Firefly) is a more comprehensive AI photo editor that offers advanced AI-powered features, making it a top choice for professionals and enthusiasts alike.
Luminar NEO
, a Photoshop alternative, offers a robust set of AI enhancement tools that can significantly improve the quality of your images.
Do AI photo enhancers work?
Absolutely, AI photo enhancers have proven to be highly effective. The field of AI image editing has made significant strides in recent years, leading to the development of tools that can save time, improve image quality, and offer a host of other benefits. These tools use advanced algorithms to perform tasks such as removing blemishes, enhancing colors, and changing image backgrounds, all while maintaining the image's original quality. Whether you're a professional photographer or a casual user, AI photo enhancers can greatly simplify and improve your photo editing process.
Is there a free AI to enhance picture quality?
Yes, there are several AI tools that offer free options for enhancing picture quality.
Fotor
, for instance, provides a variety of free features, including an AI image upscaler.
Remove.bg
offers a free option for its AI-powered background removal tool.
Vance AI
also provides free access to many of its tools on its website. While these free options may have some limitations, they can still be a great way to try AI photo enhancement and see the benefits yourself.
What is a photo enhancer?
A photo enhancer is a software or tool that utilizes advanced algorithms and artificial intelligence to improve digital image quality and visual appeal. By simply uploading an image, these tools can enhance it by utilizing advanced techniques that preserve information and enhance the overall visual quality without losing data.
How can I enhance a photo with AI?
Luminar Neo
is a powerful photo editing software that enhances your images using AI technology. You can open one or multiple images in a session and make basic or creative edits, automatically stored in your Luminar Neo Catalog. The software offers features like Portrait Bokeh AI, Relight AI, Sunrays AI, Sky AI, and Enhance AI. These features enable you to achieve effects such as background blurring, lighting adjustments, sun rays, sky replacement, and control over shadows, highlights, contrast, and tone.
Is there an AI that can edit my photos?
Yes,
Adobe Photoshop
, specifically with the addition of Neural Filters, is an AI-powered tool that can edit photos. Neural Filters utilize neural networks to generate new elements in an image that are contextually relevant. Instead of relying solely on the original pixels, Photoshop can create new material that enhances the photo. This advanced capability takes photo editing to a new level, allowing for creative and contextual transformations.
How do AI photo enhancers work?
AI photo enhancers utilize machine learning and AI to improve image quality without information loss. They can transform blurry photos into professional-looking images, which is particularly beneficial for marketers who require high-quality visuals. These tools not only enhance your images but also improve the appearance of stock photos. With features like AI upscale, smart enhancement, color and tone adjustments, and compression removal, AI photo enhancers allow users to touch up various aspects of their images effortlessly. By producing high-quality visuals, these tools help marketers boost engagement and conversion rates, significantly impacting marketing efforts.
Is HitPaw Photo Enhancer worth it?
HitPaw Photo Enhancer
is worth considering. With a focus on creativity and inspiration, HitPaw software provides a user-friendly interface that allows users to unleash their creativity. It is one of the top video enhancer tools available online, enabling users to create, share, and enjoy remarkable videos, photos, and music on any device. Its comprehensive multimedia capabilities make it a valuable choice for enhancing and enjoying multimedia content.
How do I enhance photos with Photoshop?
To enhance photos with
Photoshop
, you can use tools like Super Resolution, supported by the Adobe Sensei AI platform. Open the desired photo and right-click on it, then select "Enhance." Super Resolution can double the resolution horizontally and vertically with just a few clicks. Additionally, you can improve color balance and clarity by adjusting brightness, contrast, hue, saturation, shadows, and highlights. You can also apply filters for sharpening and reducing noise. Perfect the details using the crop, Red Eye, Spot Healing Brush, and patch tools.
How do I enhance the resolution of a photo?
To enhance the resolution of a photo, you can use tools like
Topaz Photo AI
. Topaz Photo AI utilizes deep learning to sharpen and upscale images for increased resolution. It also includes a Face Recovery feature for enhancing image resolution with authentic detail. In Photoshop, you can adjust the image resolution by selecting Image Size, unchecking the Resample Image box, entering the desired resolution values, and clicking OK.
How do I enhance a blurry photo?
Fotor's AI Enlarger
feature is ideal for enhancing blurry photos. It utilizes AI technology to upscale and improve image quality. By using Fotor, you can easily unblur an image on your iPhone and enhance photo details. This tool is versatile and works well with various types of photos, including portraits, landscapes, and anime pictures.
Featured Image by Favebrush / shutterstock.com