If you're looking to build a website or thinking about moving your current site to a new platform, deciding which platform should host it is one of the most important decisions you can make. One of the big matchups these days is WordPress vs Webnode. We have created a guide comparing the two platforms to see how they stack up to one another. Let's take a look!
WordPress vs Webnode: Who are They For?
WordPress and Webnode are both website-building platforms that help users quickly and easily get a website up and running. Depending on how tech-savvy you are and your skill level, each site platform serves a different purpose. Each option works better for some users than for others. Webnode caters more toward people wanting e-commerce sites with static pages. Whereas WordPress works best for those who want to regularly publish content.
WordPress
WordPress is an open-source, customizable website building tool and content management system (CMS). It offers website owners a broad range of possibilities when it comes to design, plugins, and app integrations. Any user from beginner level to advanced can use WordPress to build a robust and functional website.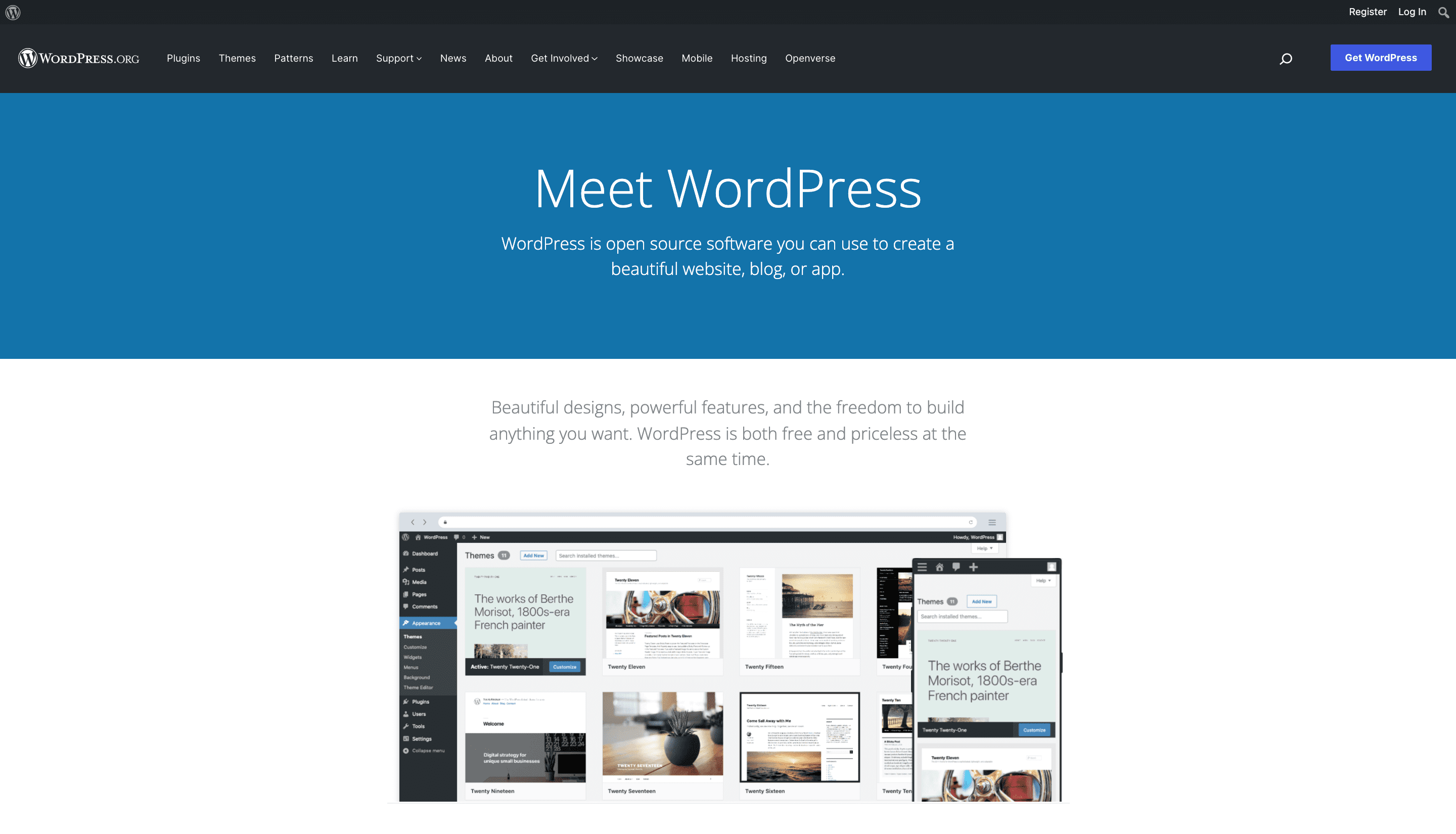 Webnode
Webnode is a cloud-based website builder that works well for small businesses, personal websites, and e-commerce stores. It's free to get started and easy to learn if you don't have much experience building or managing a website. The platform is available in more than 40 languages for ease of access for international users.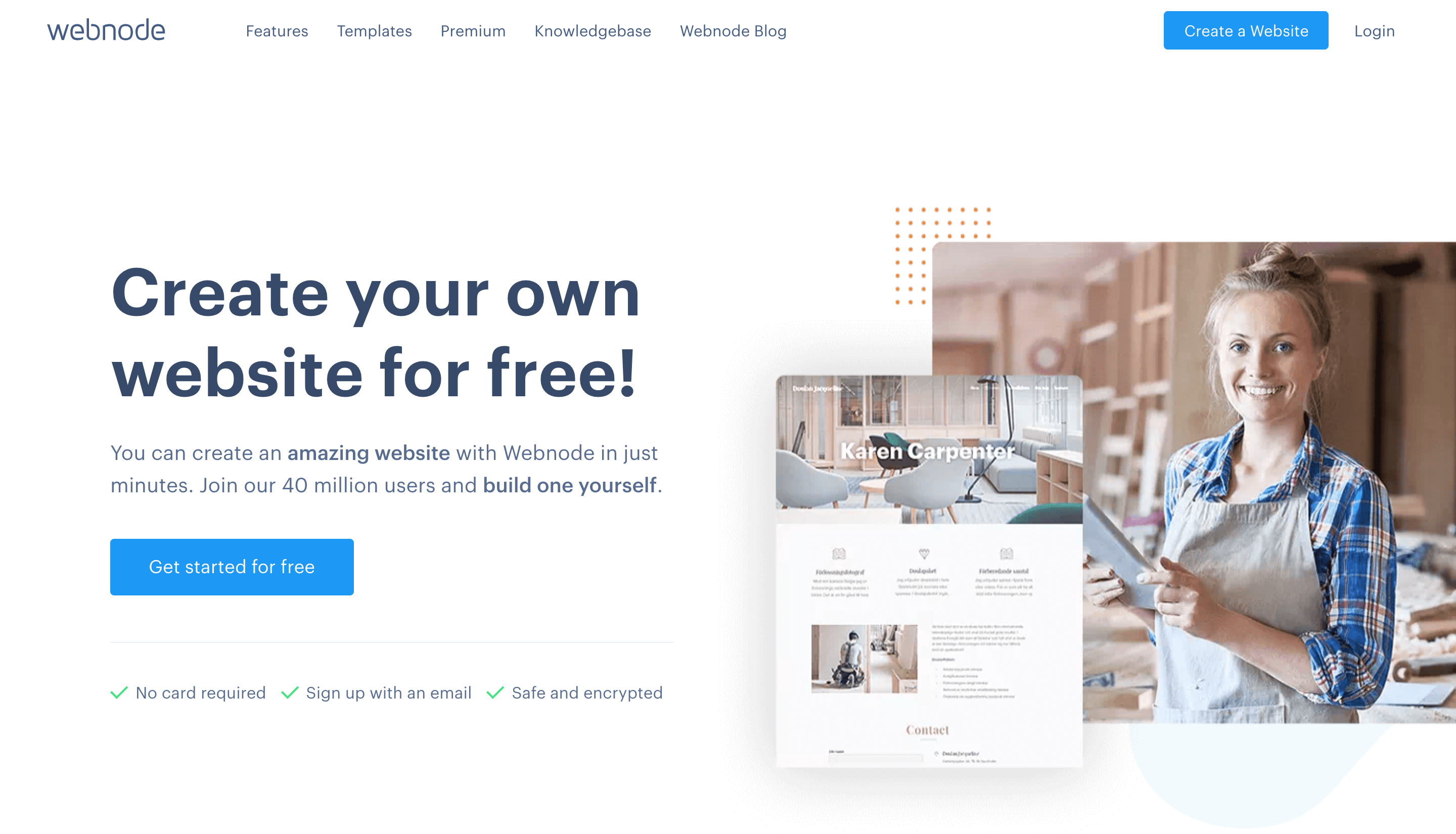 WordPress vs Webnode: Ease of Use
Ease of use varies on website building platforms, whether you're building and publishing in WordPress, Webnode, Joomla, Drupal, Wix, or another tool. Newcomers to website building, in general, might be overwhelmed by the do-it-yourself nature that comes with WordPress.org installations, but fall into a groove when they begin using the Gutenberg editor to create content. Webnode users will very likely be at home from the beginning with its drag-and-drop interface, but find it limiting as they move forward into publishing.
WordPress
WordPress' ease of use varies widely, depending on which version of the platform you use and how many customizations you want. If you begin with a basic WordPress.com blog, for instance, you'll likely have a smaller learning curve and a more straightforward setup. The choices of themes are limited on purpose, and the plugins that may be used are curated (or held behind a paywall).
On the other hand, building a fully customized website will be easier if you're a web developer, especially if you choose the self-hosted WordPress installation in which you have complete control.
Because WordPress is open-source, it can sometimes be a bit complicated to wrangle when you do run into problems. There's also no centralized customer support presence. Luckily, there are plenty of developers, in addition to helpful information, available in the forums and across the broader online community.
With that said, the WordPress ecosystem has evolved over the years to be much more welcoming to newcomers, but the initial disorientation that might come with a fresh installation still requires a bit of research on how to move forward. In the end, though, WordPress has become far more intuitive and user-friendly than it ever has been.
Webnode
Webnode is a strong possible choice for beginners who have never navigated a website builder. That's because setting up a site on the platform is a matter of dragging-and-dropping elements in a prepared template. While WordPress has the capability of drag-and-drop design, most of that is done through plugins that aren't part of the core package.
From the moment you start with Webnode, you will see a number of useful and intuitive tools built right into the platform. The initial shock of starting a website is dulled a bit with the platform because you can jump right in and feel comfortable. It's simple, but it is powerful.
While you work, Webnode's interface will offer you helpful tips and tricks to prompt you along. If you need help, there's a detailed Knowledgebase with FAQs and tutorials you can work through.
WordPress vs Webnode: Customization
You will always want your site to stand out from the competition. Being able to set yourself apart from cookie-cutter sites should be a top priority. So let's take a look at customization options for WordPress vs Webnode and see which is better for that.
WordPress
Customizing a basic, free WordPress theme is fairly limited, in terms of aesthetics and features. Users who would like to get started for free can join WordPress.com. There are a number of free themes to choose from, and it's pretty straightforward to get a site up and running.
However, WordPress becomes more complicated as websites get more involved. If you want a self-hosted WordPress site with more functionality, you'll need to be tech-savvy. To get a self-hosted site, you will either need to download and install the software to a hosting plan you have already set up (with Cloudways, SiteGround, Pressable, or Flywheel for example). Even easier, most hosts provide access to a quick-install app that handles the whole process within a few clicks.
Owning a self-hosted WordPress site will give you a high level of control over what your site can become. You'll have more theme options and the ability to add free and paid plugin integrations (there are over 50,000 plugins available to date). To code a custom site, you'll need to know your way around HTML, PHP, and the back end of your site (including your directories, which you can access via FTP).
Because of WordPress's versatility, virtually any kind of content creator or business owner can set up a site on its framework. Whether you're a beginning blogger or you run a multimillion-dollar e-commerce business, WordPress is scalable to fit just about any scenario. The platform's integration possibilities are as broad or as narrow as you need them to be for your particular website.
Webnode
Webnode offers basic websites and affordable e-commerce storefronts for small businesses. That's really their target audience as opposed to WordPress's "everyone." The layouts can be customized to a certain degree within the platform itself. But they are nowhere near as customizable as WordPress themes. Though very few platforms offer that much flexibility.
When you set up your first Webnode site, you'll be prompted to choose between a site or a store. Setting up a basic Webnode website or blog is a straightforward process. There are a number of pre-made templates set up to choose from.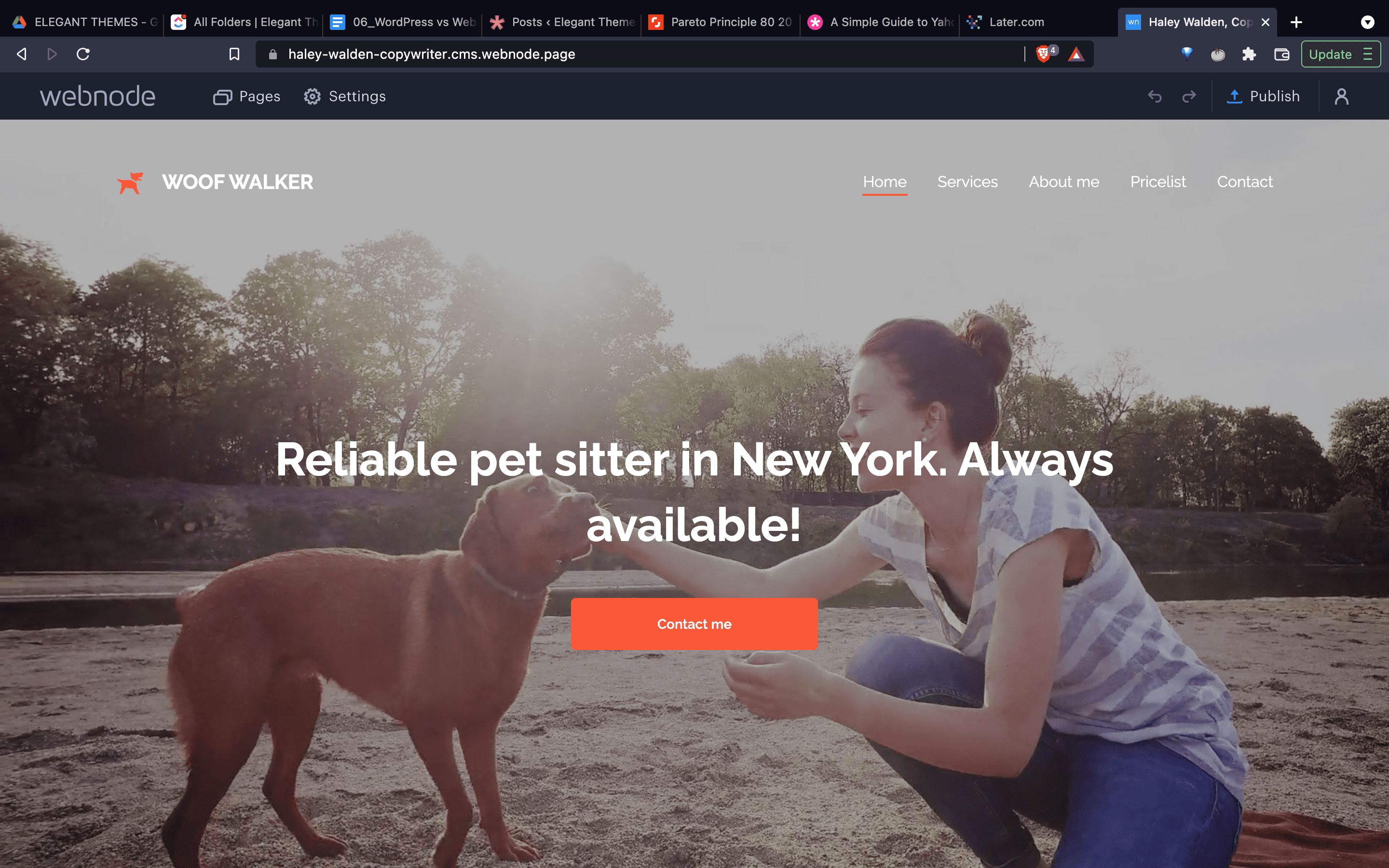 From there, it only takes simple tweaks to personalize your site. And again, it's a drag-and-drop editor, so those customizations are easy to make.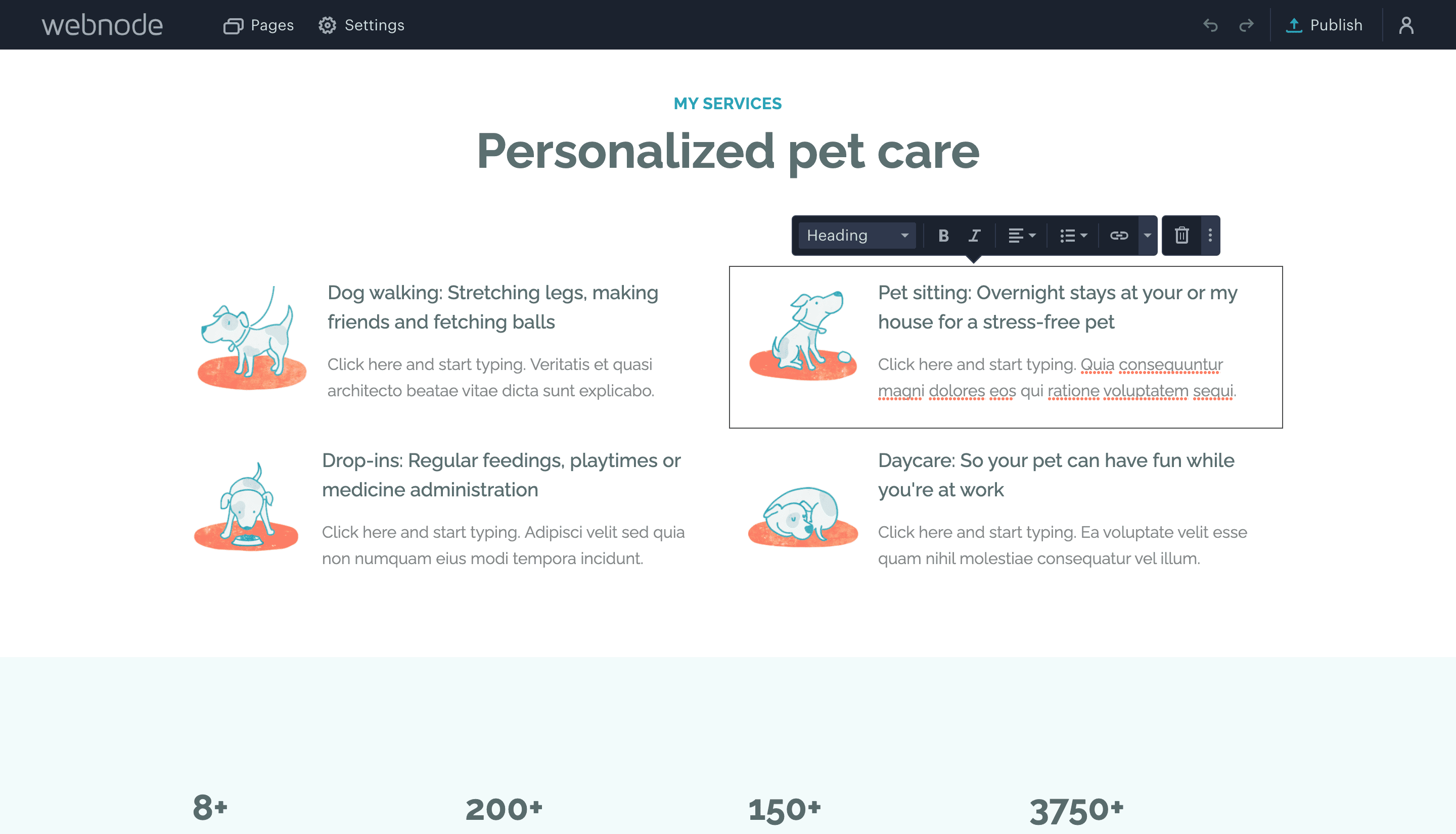 Free e-commerce stores on Webnode are an ideal starting point for small businesses that need a basic store with a few items. Users can add and manage products, take payments, and coordinate shipping. However, if you want to use your own domain name or add extra features for a larger store, you'll need to opt into one of Webnode's premium e-commerce plans. Each tier is priced based on the number of features it offers. That way users can select what works for them at that moment.
Third-party widget integrations are also available for Webnode. The range of options for free sites isn't exhaustive, but it does include a range of functions that basic business websites need. These include appointment booking, surveys, live chat, share buttons, signup forms, comments, the ability to take payments, and more.
WordPress vs Webnode: Themes and Templates
We've mentioned that Webnode has a selection of drag-and-drop themes and that WordPress's ecosystem is build around customization of the platform's themes. Let's dig in a little deeper to see how these two compare.
WordPress
There are more than 9,000 free themes available for WordPress. Premium themes (like our own Divi) are an option if you have development capabilities and a budget to purchase and customize them. Users can tweak their theme's CSS file for further personalization, regardless of other customization options. In addition, the WordPress core software has a Theme Customizer where you can adjust global features such as layout, font, colors, site title, and more.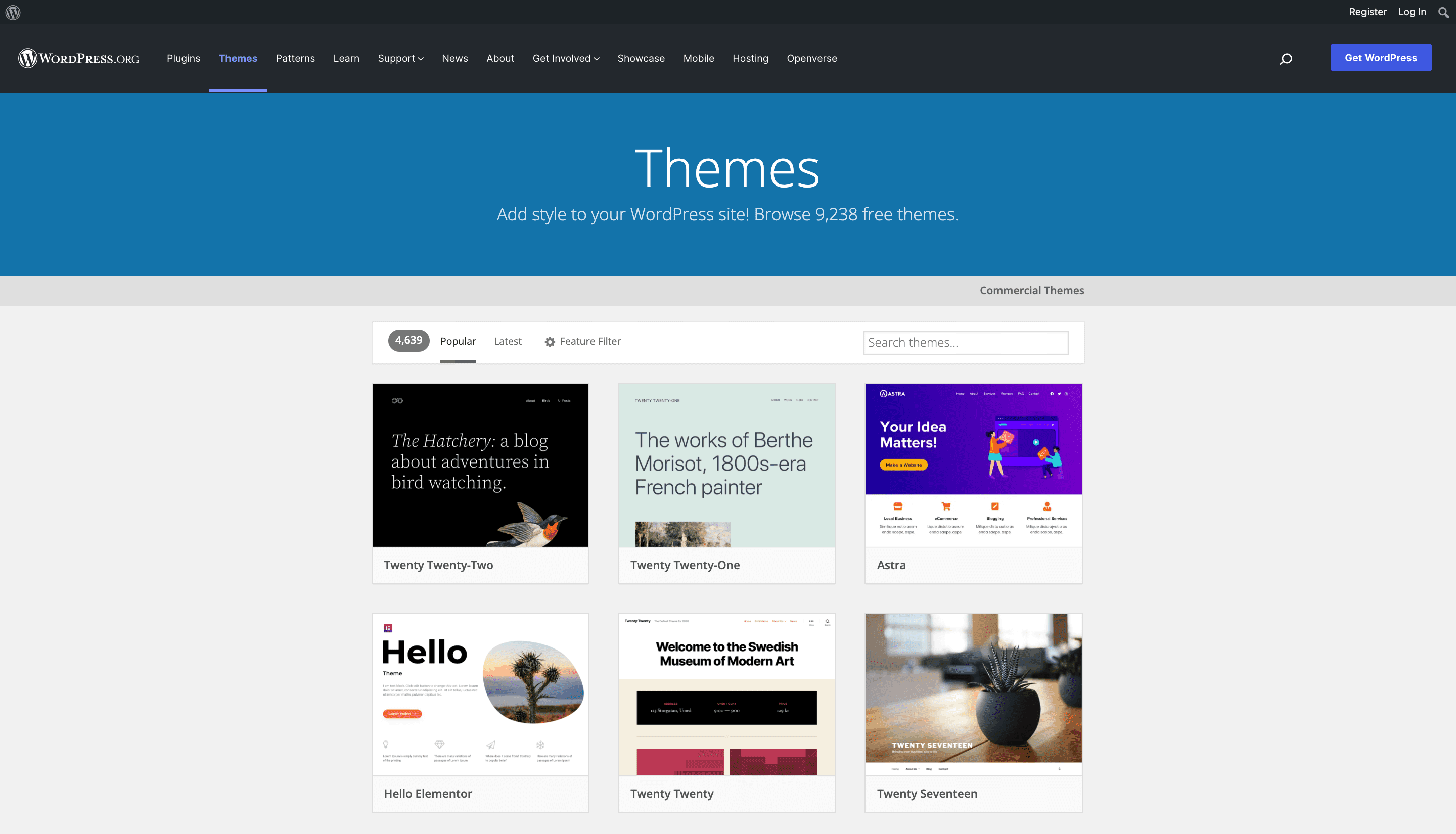 Within WordPress, you will find a number of themes that are designed for any number of specific purposes. Multipuprose themes and frameworks are becoming popular as people learn how to envision and create just the site they want, but you can also find specialized themes for industries and niches such as museums, news magazines, pre-k education, and just about anything else you can imagine.
Webnode
Webnode offers over 100 pre-built templates for dozens of website styles. Setting up a basic Webnode website doesn't require any coding. All you need to do is select the template you want to use, then tweak it to personalize it to your liking. Users can customize Webnode templates to a certain degree by adding their own graphics and moving certain site elements. You'll make all the changes to your site right in the dashboard. It takes WordPress custom themes and plugins to do this. At least without the Gutenberg editor.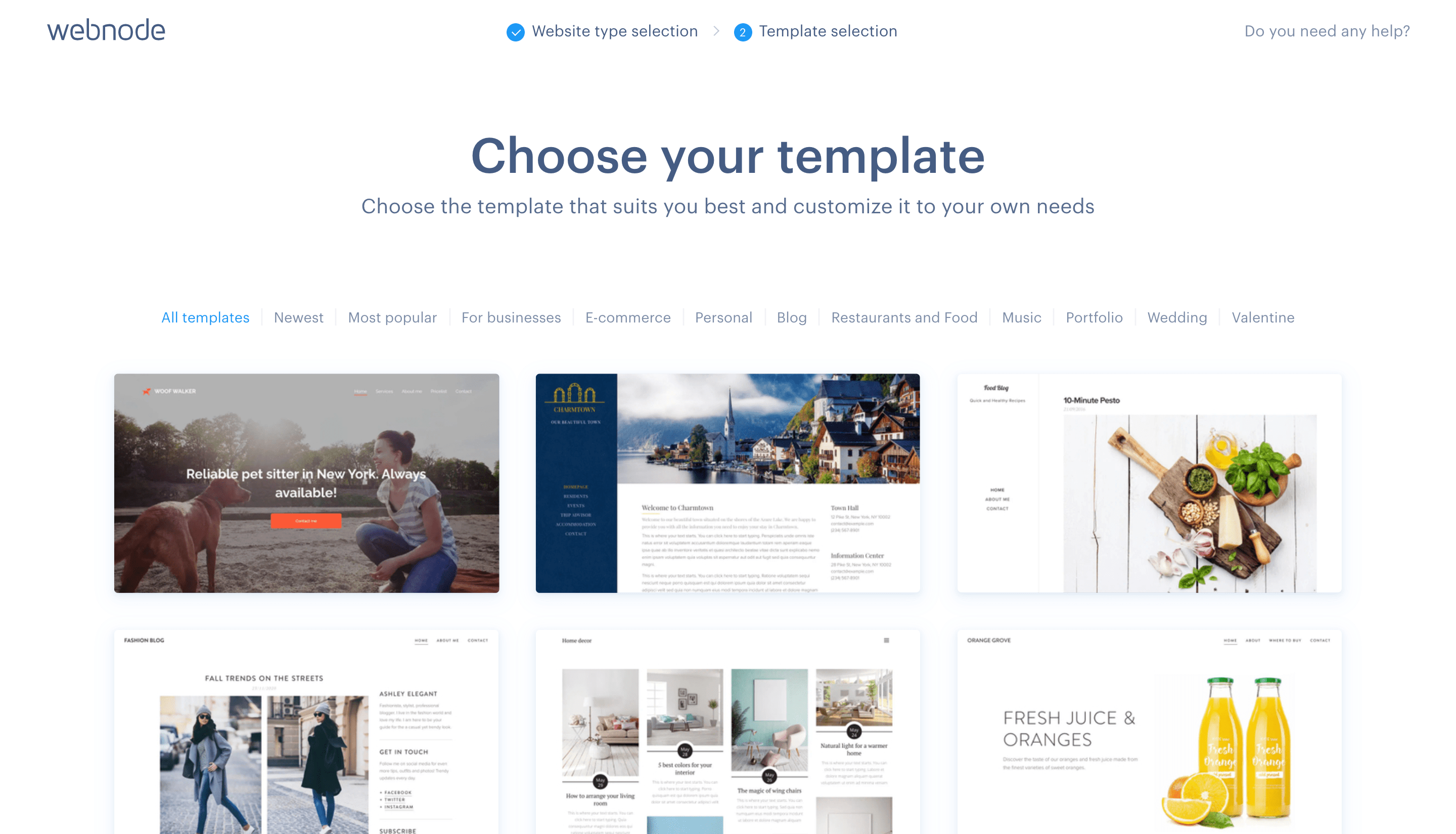 The templates are sleek and clean, and they will make any website look professionally designed. Because they have been. You have control over your customizations, but not to the point where you can truly break a site's design. The interface for selecting and using templates is easy to use and understand, and while it's nowhere near as robust as the WordPress ecosystem, having such a curated selection of themes and designs can honestly make site management much more enjoyable for a lot of people.
WordPress vs Webnode: Publishing Tools
Finally, let's go over the publishing tools available in WordPress vs Webnode. Websites have to include content of some kind to succeed, and the publishing tools within a platform can make or break that depending on what kind of site you're running.
WordPress
WordPress was created as a publishing platform first, and it later became a powerful CMS. So the publishing tools here are as robust as you can ask for in any platform. You can find them near the top of the dashboard. The Editor serves a dual purpose: you can build a Page or a Post using the same tools. Users have a choice between the Classic Editor and Block Editor, both of which feature basic word processing tools to customize your layout.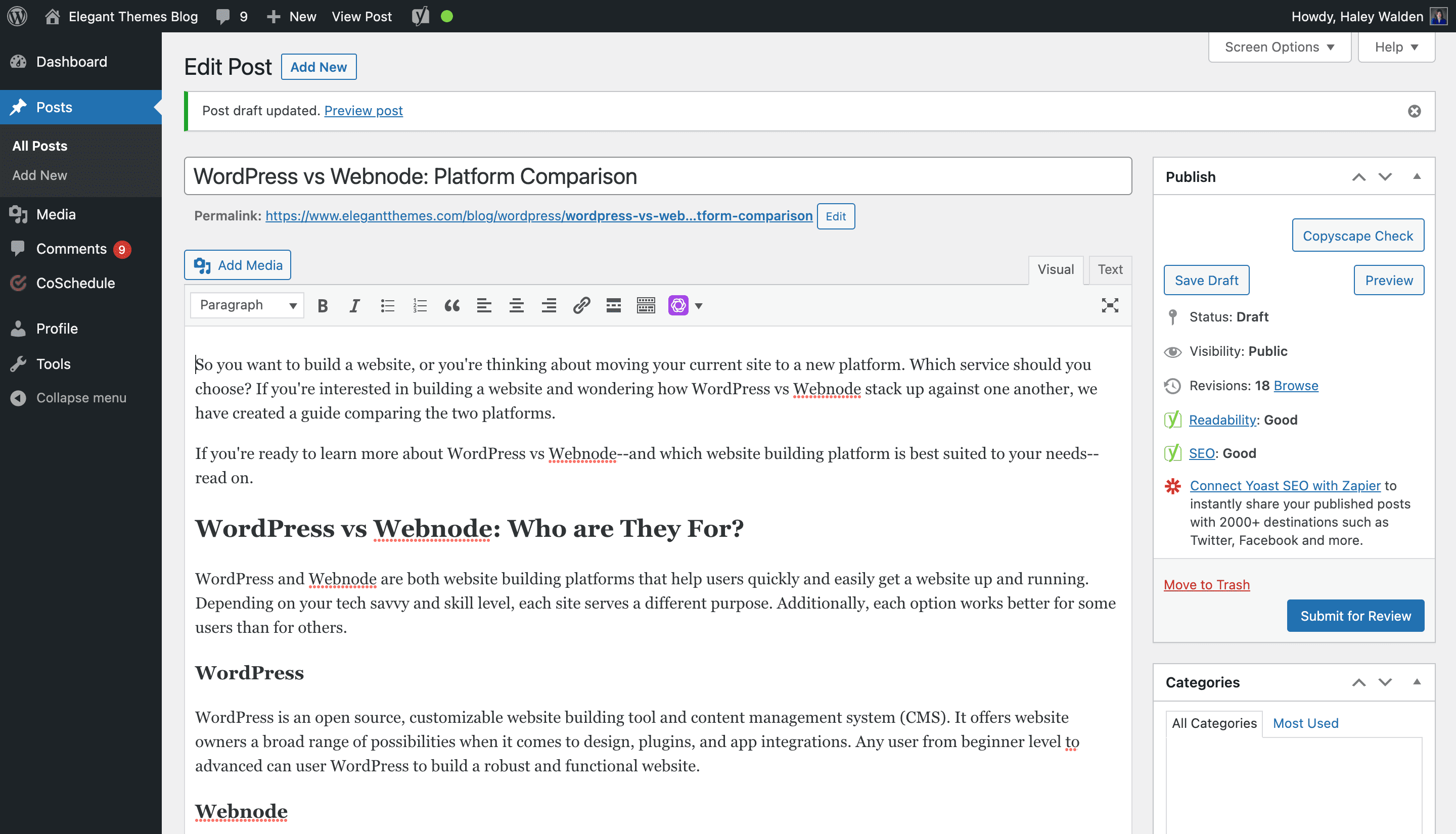 The block editor may also be referred to as Gutenberg. And it has evolved into a pretty feature-filled page editor. While it's not as powerful (and never will be) as third-party options made for designers, you can publish great content using nothing but it.
When you publish on WordPress, you have the ability to schedule a post ahead of time, assign categories and tags, set a featured image, and optimize for SEO. Plugins such as Yoast help users fine-tune SEO and readability. Features can be toggled on and off within the editor itself.
Additionally, advanced users can set up features like custom fields and custom post types to further expand the publishing taxonomies and options. Plugins can handle these sorts of things for non-devs, too. That way, you're not locked out if you don't code. You will still have to research and learn the advanced functionality, though.
Webnode
Webnode pages and blog posts can be published from within the dashboard. If you want to add a blog post, Webnode allows you to edit it right on-page. Type directly into the template to add your copy. Then you can schedule and publish simple blog posts. This is different from the Gutenberg block editor in that you don't see the changes in real-time. In WordPress, you have to adjust the pages and posts through previews and tweaks, but in Webnode, what you see is what you get (even though it's not a WYSIWYG editor like the WP classic editor).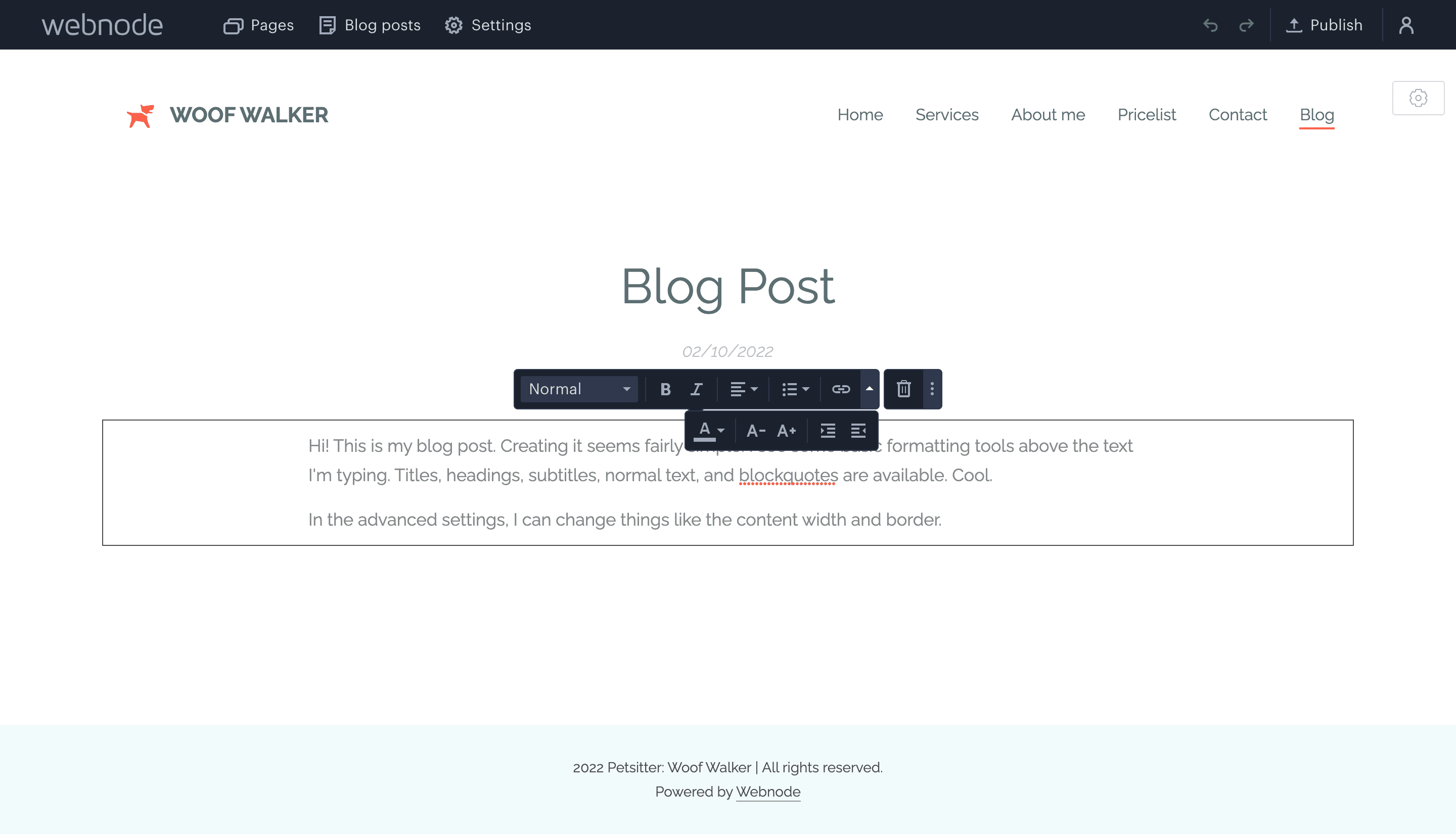 However, when it comes to WordPress vs Webnode publishing, Webnode doesn't offer RSS feed capabilities or categories for posts. Adding further customization will likely require help from a developer who can work with your code.
With that in mind, Webnode is amazing for making pages that will work as static content and for product pages for your ecommerce site. But if you're looking to create regular content such as blogs or feature stories, you might not find what you're looking for here.
Conclusion
Webnode and WordPress are two of the many tools available for building and publishing a website. Depending on your skill level and website needs, each platform offers a variety of tools to meet your needs.
As a quick recap:
WordPress is a powerful and versatile platform that's customizable and scalable for almost any type of website, large or small. It's open-source and has the ability to integrate with thousands of third-party plugins. Free, limited options are available, while a fully-customized site can be costly. A custom site might require help from a web developer, and that raises the price ceiling, too.
Webnode allows users to build an attractive, template-based website with basic functionality. There are free, limited plans for websites and e-commerce stores hosted on the Webnode server. Alternatively, users can set up custom sites with their own domain name. For a fee. Customizations and integrations are limited, which might be considered a trade-off for the platform's ease of use.
WordPress tends to be more for site owners who have a very specific vision of their site and might want to publish regular content. Webnode is for ecommerce sites that won't need to change much outside of products and provides a very slick customer experience that feels professional the whole way through.
One more thing. Before you make your final decision on your website platform…are you curious to see how WordPress stacks up against its other biggest competitors? We did the hard work and compared WordPress vs everything else so that you don't have to! Most recently, we reviewed WordPress vs Tumblr, and I think you will be interested to see the results.
What have your experiences been with WordPress vs Webnode? Let us know in the comments so