Even though WordPress is one of the top Content Management Systems (CMS) in the world, with well over 1/3 of the internet using it, it started as a simple blogging platform. Since then, it has grown to power some of the most visited and complex sites out there. It still remains, however, a blogging powerhouse. Ghost is a publishing platform that is focused on being the publishing platform that WordPress could have been if development had gone in a different direction. We are going to take a look at WordPress vs Ghost features head-to-head so you can see which platform will handle your content in the way you need.
WordPress vs Ghost: Who Are They For?
When looking at these two platforms head-to-head, your audience should be in the forefront of your mind. Who you're creating content for very much changes which platform is right for you.

WordPress is for people who want to create content, have a near-endless options and features available to them, and customize every aspect of their site to suit the exact needs of their userbase. We should note, too, that WordPress Posts and Pages are at the heart of most features that are added to the platform, indicating the focus of the platform is still content creation and publishing despite its development into a CMS platform. Additionally, WordPress does have both hosted and self-hosted versions.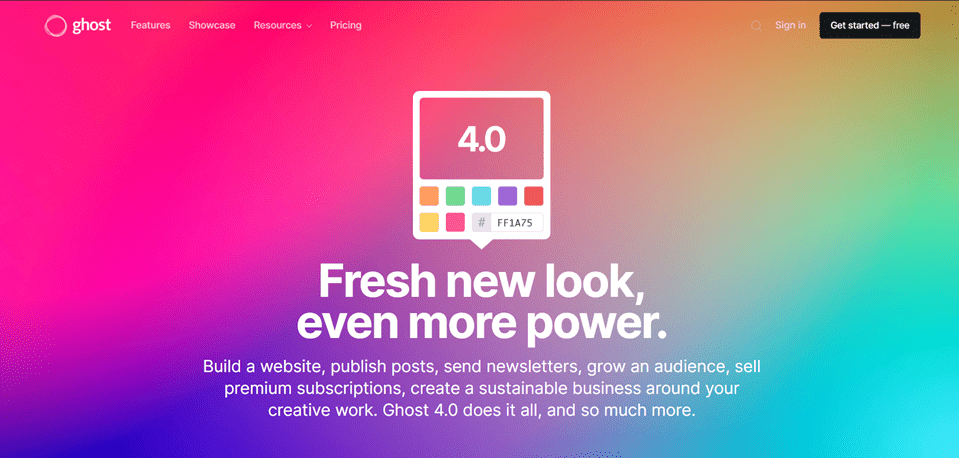 Ghost is for people who want to create content. Stop. Initially developed as a publishing platform, Ghost has evolved into a…publishing platform. Ghost's dedicates its entire structure and feature set to getting your content in front of readers, whether that is public written content, paywalled membership stuff, or email marketing that combines them both. Over time, what was a simple blogging software has turned into a full-fledged publishing platform, with metrics, email service, and integrations for referral program creation and more.
Given that Ghost is a primarily publishing-focused platform, we are going to look at WordPress vs Ghost from that perspective primarily.
1. Learning Curve/Ease-of-Use
With any publishing software, you want as little friction between your words and your readers as possible. Creating and editing posts, adding images and media, as well as adjusting site styles and navigating the backend are all a primary focus for publishers and writers as well.
WordPress's Learning Curve
If you're unfamiliar with WordPress and open the admin dashboard for the first time, it can be a shock. The interface hasn't changed much over the years, though it has been refined. Most of the menu items are straightforward and functional—Posts, Pages, plugins, themes, and so on.
You will have some quirky features to learn, such as widgets and menus being under Appearance, while Plugins get their own main dashboard space. Primary WordPress settings are broken into separate pages instead of tabs and other idiosyncratic leftovers from the decades-long development cycle.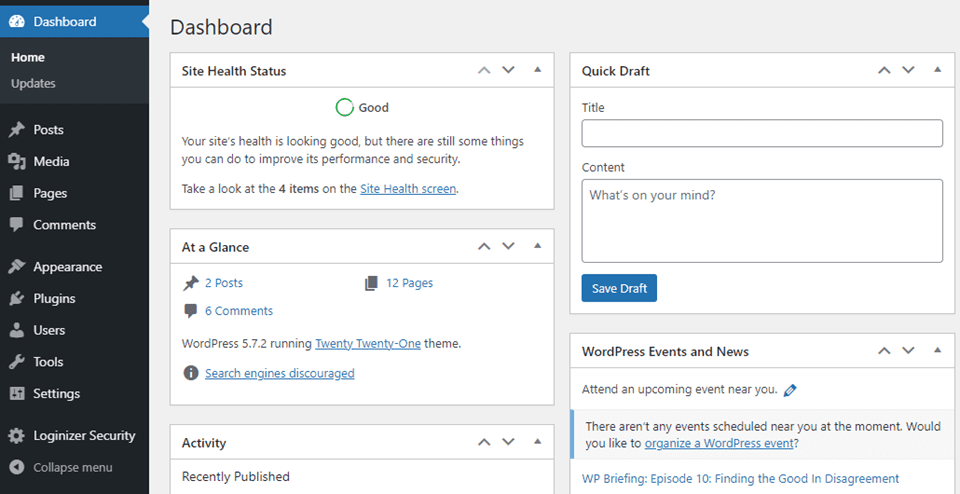 Creating a Post is straightforward, however. Posts – Add New – Publish. The Block Editor is smooth, though occasionally cumbersome. And you will find that some elements of Posts and Pages (such as featured images and post snippets/excerpts) will be used differently depending on what theme or plugins you use.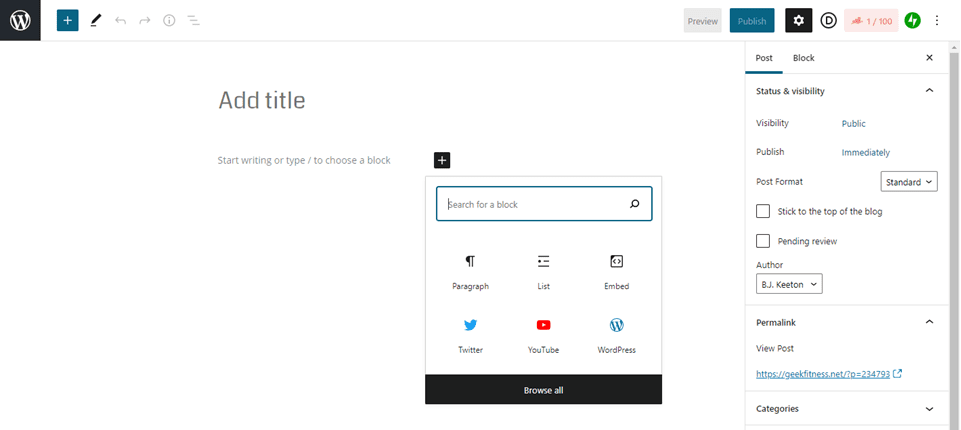 However, once you're used to the WordPress way of doing things, it is second nature, and you will absolutely understand why things are located where they are and how your particular theme/plugin setup uses each element of the Post/Page.
Ghost's Learning Curve
From the moment you log into Ghost's dashboard, it shows you that it is centered on writing and publishing content. The Posts section of the menu is expanded and prominent from the beginning. You have access to your whole archive without an extra click.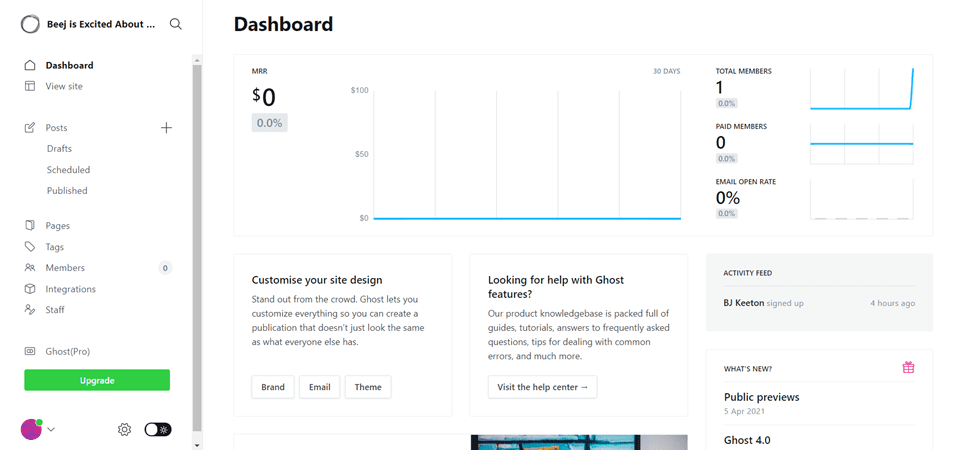 You can click the + button to add a new post, and the screen is very similar to the WordPress Block Editor. In most ways, the two are functionally identical in use. However, Ghost's editor isn't nearly as extensible as WordPress's, meaning if you find a feature lacking that you need, adding it won't be easy (or perhaps even possible).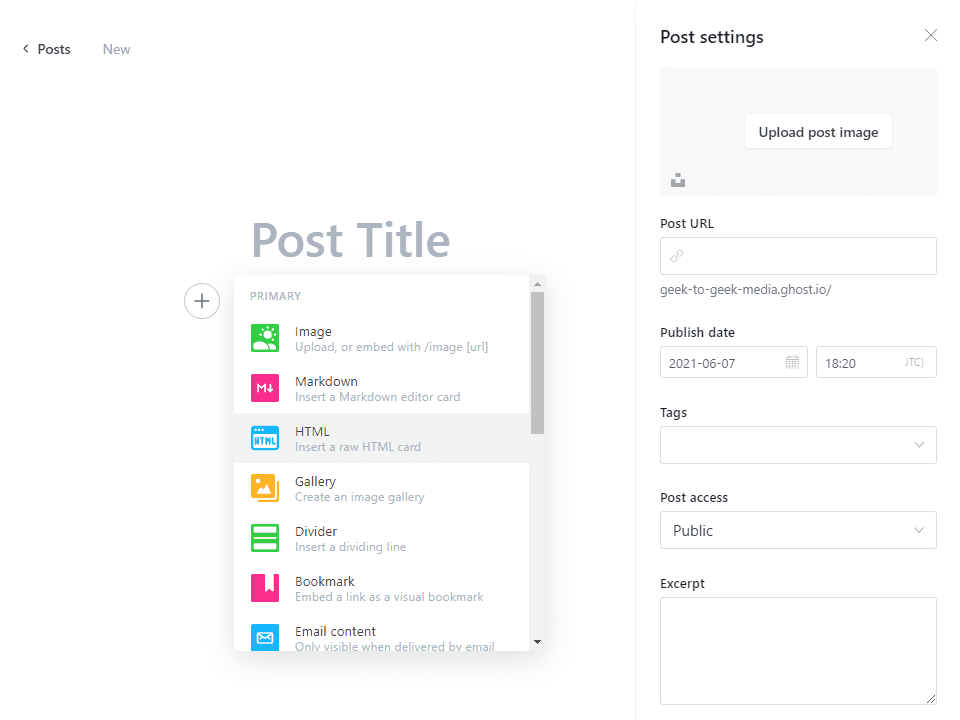 In terms of learning curve for actually publishing a post, the two workflows are nearly identical. One isn't steeper to learn than the other for publishing. It is, essentially, a personal preference on which particular environment you prefer to write in.
However, for the dashboard itself, you may find yourself having an easier time navigating Ghost (at least initially). Part of that comes in the user-friendly color coding and icons—something WordPress's more utilitarian design could learn from.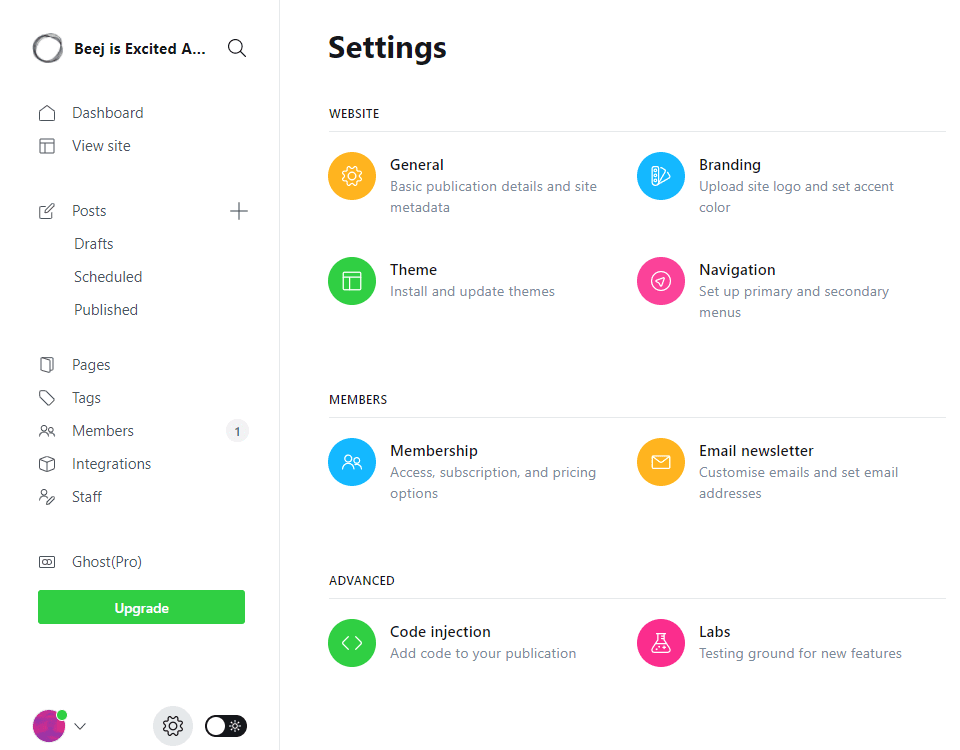 All the site settings and customizations are located under the Settings gear, while all the publishing and user management is in the main menu. The learning curve for Ghost is considerably lower than WordPress, but the trade-off is that your customization and site features are more limited, too.
2. Customization Options (Themes, Plugins, Integrations)
While most of publishing success comes from the content that you create, a portion of success is due to the appearance of professionalism. Meaning that if your site doesn't appear credible, users are less likely to return (or even stay). Even if you're creating top-notch content, if your site doesn't look just as top-notch, users may not even consider your content. That said, when considering WordPress vs Ghost, both platforms give you the ability to project the professional image you need.
WordPress Customization
If there is one place that WordPress soars above and beyond almost all competitors, it is for customization. The WordPress ecosystem is full of themes, plugins, widgets, code snippets, and developers that can make the platform do anything and look like anything. In terms of design and integrations, WordPress beats Ghost hands down. (And most other platforms, too.)
The WordPress.org theme repository has thousands of free themes for your website. 3,989 free themes are available at the time of this writing, so the chances of your finding a theme that looks close to what you envision out of the box is pretty likely. It may not have all the features you want, however.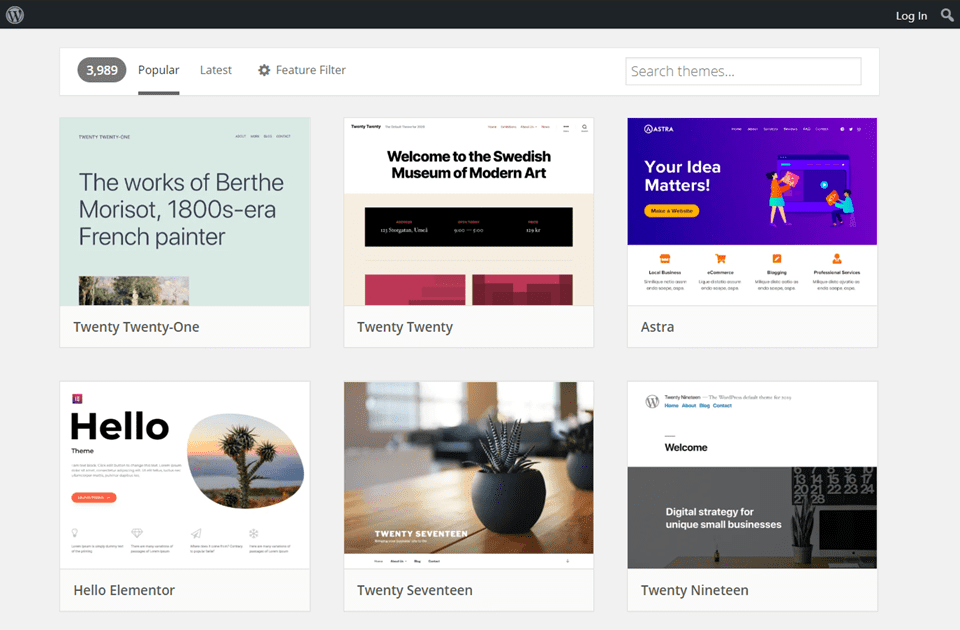 Which is where the WordPress.org plugin repository comes in. Like themes, this repository has thousands of plugins available to add utility features and design elements to your site with a couple of clicks. If
WordPress is open-source software. It uses PHP and React.js with the intent of being extensible. If you have the coding knowledge and experience, you can make WordPress do anything you could imagine it doing. If you don't have the coding knowledge to get in the editors, that's okay, too. The plugin and theme repositories are there for you to piece together the website of your dreams.
You can additionally adjust the CSS and HTML for your themes and various pages directly inside the backend, giving you full access to every little detail of your website.
Ghost Customization Options
Ghost, on the other hand, is limited in the amount of customization you get for your site. Like WordPress, Ghost also has a theme repository, but it is significantly limited. At the time of this writing, there are 92 total themes available, only 15 of which are free. The others range from $29 to $159. Keep in mind, however, that premium WordPress themes are similarly priced.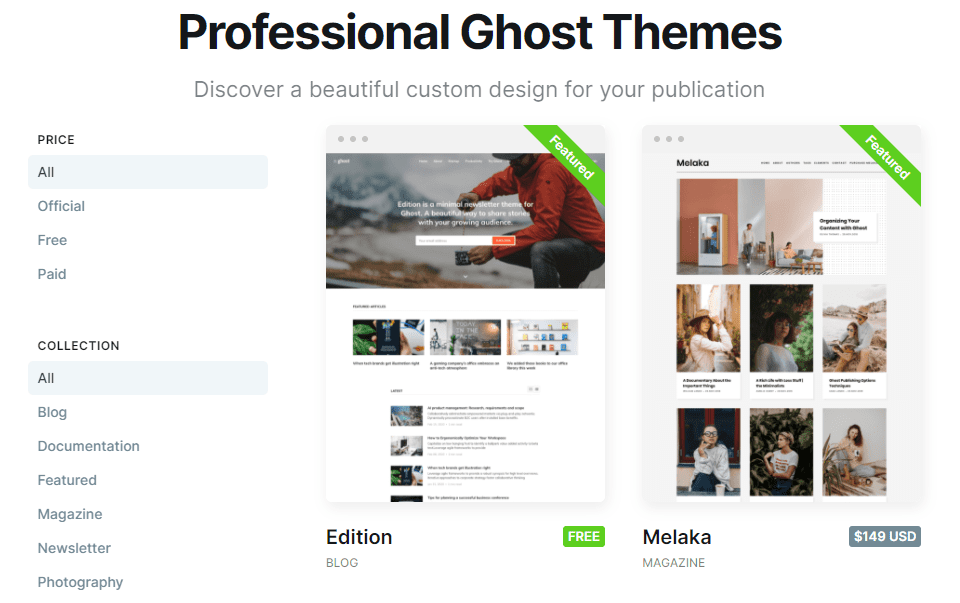 You can also develop your own Ghost theme and use it, too, using the Handlebars templating language. Admittedly, that's a little out of many people's wheelhouses. (The documentation does link to some excellent Handlebars tutorials, though.)
Outside of the themes, all of your customization options are available in the Settings area of your Ghost dashboard. You can alter accent colors, logos, fonts, icons, and so on in terms of design. You can also set up navigation menus, newsletter templates and opt-ins, and experiment with new test features.
Additionally, you can customize code for your Ghost website in the Code Injection area of the settings, but it is limited to Header and Footer areas. To alter site-wide CSS, you won't use a custom.css file, you will add style tags to the Header of the website. This is hardly the most elegant solution, but works.
However, if your entire goal is publishing as simply as possible and looking professional and having a fantastic experience doing it, you may be able to overlook the lack of customization available in Ghost.
Self Hosting WordPress vs Ghost
Very briefly, we want to touch on the aspects of self-hosting WordPress vs Ghost. Both platforms are open-source. And you can run from your own web servers or local development environment.
WordPress is definitely the winner in this match, like Customization. Because of its ubiquity, every web host out there has quick installers for WordPress and the Famous 5 Minute Install is even easier with their help. You have the choice of hosting anywhere and finding support pretty much anywhere, too.
With Ghost, self-hosting is kind of an ordeal. You will need to install it by the command line using Node.js and NodeSource, both a root and non-root user within your server, and a VPS. Ghost is a partner with Digital Ocean who has an Ghost image that you can use much like the WP quick installers, but that's an exception, not the rule.
In the end, Ghost Pro is a fantastic platform and comparable to both WordPress.com and .org, but Ghost as a self-hosted app can be really troublesome for everyone but the technically skilled. And since it's a publishing platform first, you may not be a command line wizard if you're looking at Ghost.
Ecommerce
Almost every website out there sells digital (or physical) goods and services in some way. Ecommerce is a sustainable and viable option to monetize many websites. We definitely want to take a look at the options available for you with WordPress vs Ghost because of that.
WordPress Ecommerce Options
WordPress comes out of the gate running in this head-t0-head because of WooCommerce. A free plugin that is supported by a huge array of free and premium extensions, WooCommerce dominates the WP ecommerce industry. For a reason. It's very good.
You can sell physical goods pretty quickly after setting up the plugin. And digital goods are just an upload away. However, to reach full power with WooCommerce, you will need to use those add-ons and extensions. To really get the most out of WooCommerce to sell digital goods, you may need an extension to limit purchases to members of your site.
Or maybe you want to use WooCommerce to set up a course to teach your users. You can definitely do this. But it will require an extension that ties into a learning management system platform. Plus, you can tie WooCommerce into whatever email system you use, whether that's MailChimp, Constant Contact, Emma, or something else. Again, mostly with an extension.
You can do literally any kind of ecommerce with WooCommerce. It's fantastic. But like WordPress and themes/plugins, you need to piece together your dream store on your own.
On top of all this, you can use plugins such as MemberPress to create membership sites that directly rival the membership and revenue-generating options in Ghost.
Ghost Ecommerce
Ghost ecommerce, on the other hand, is a little different. With Ghost, you're not setting up a shop or storefront. You're selling memberships to your site and access to your content. From the moment that you open the dashboard, monetization is literally at the top of the list. You can see your membership revenue over the past 30 days first thing.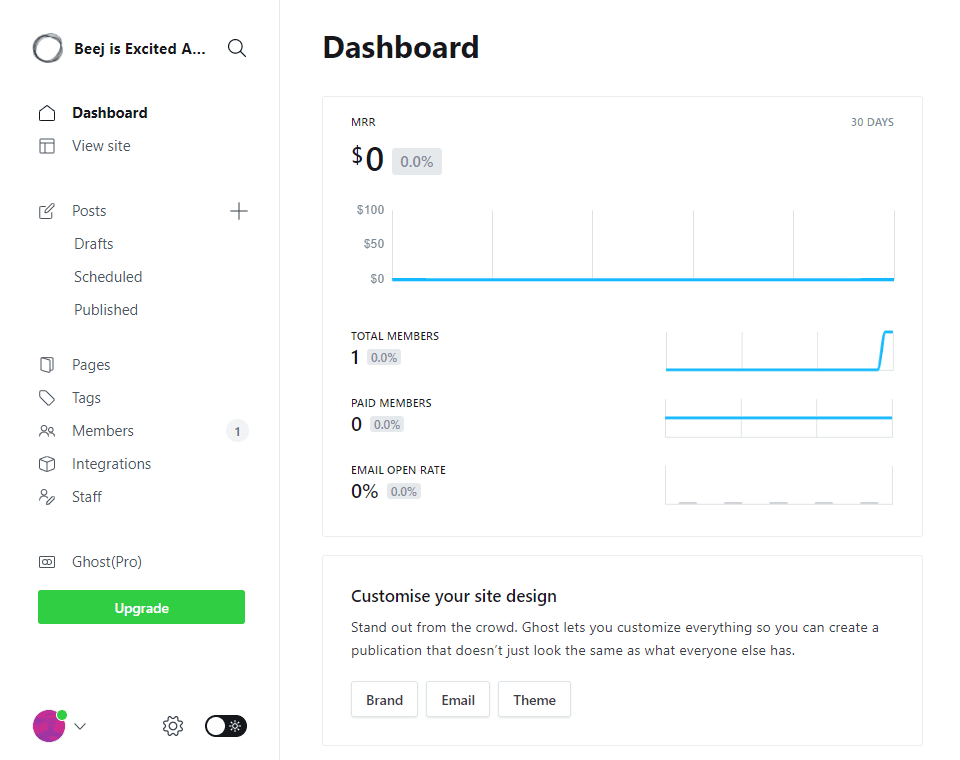 When you're publishing a post, you set who has access to the content from there. It's easy and built into the Ghost platform itself. One of their sample posts is about the details of this feature. Which we will also use to show you how it looks to make a post available to only paid members.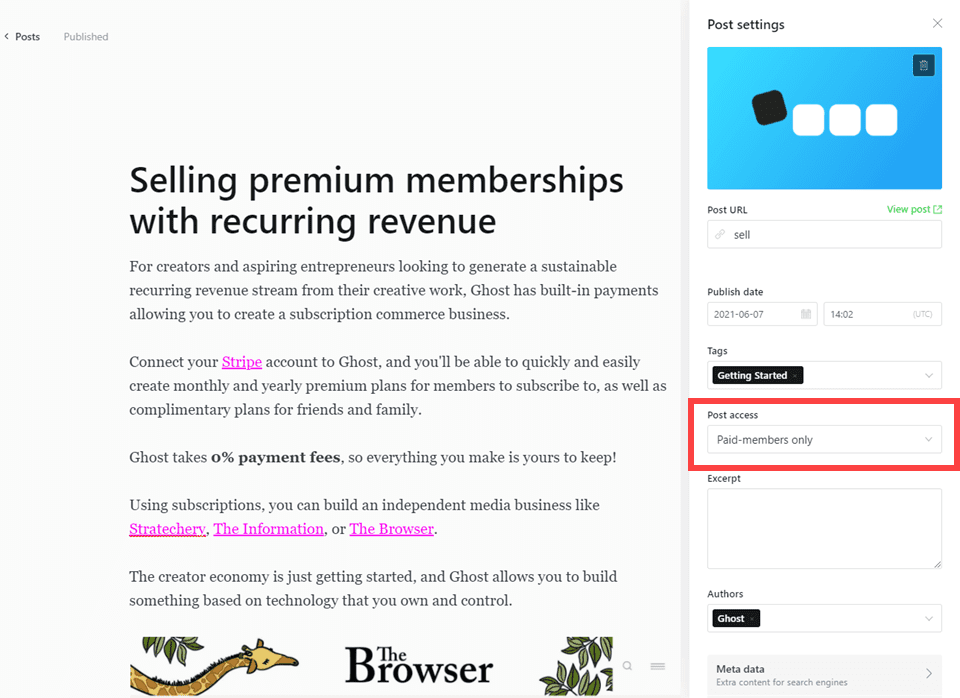 That's the catch with Ghost. You're selling memberships. Not goods or services. You can somewhat treat these memberships in the same way that you would a WooCommerce digital storefront, but in general, Ghost is set up for you to hone a community more than one-off sales. (If you want a platform like Ghost that rivals WooCommerce for ecommerce, check out our WP vs Squarespace post to see the breakdown.)
None of this is a negative. It's just the difference in audience for WordPress vs Ghost. In terms of pure publication ecommerce, Ghost has the membership posting and newsletter features integrated amazingly. It's an amazing platform. You just can't sell individual items.
Wrapping Up
Head to head, WordPress and Ghost are incredibly similar except for just a few details. But it's those details that really make or break the platform for some users. WordPress is a highly customizable platform that started out with publishing at the forefront. It has moved to being more of a one-size-fits-all CMS. Ghost began as a publishing-first platform that has stayed a publishing-first platform. Every detail of the software is geared toward getting your content in front of users' eyes. So you can make money off of it.
If you are in it for publishing content and making money off that content directly without having to deal with typical website issues, Ghost is for you. If you want full control over being able to tweak your website's design and features, a similarly smooth writing experience, and want to self-host the software, WordPress is definitely the way to go.
What have been your experiences with WordPress vs Ghost? Why do you prefer one platform over another?