The best eCommerce platforms give you the power to sell your products and services online easily. If you're selling services, physical products, or exclusive access to your content, there is an eCommerce platform that will meet your criteria. However, not every platform is built the same. The right platform for your business will depend on your industry and the products or services you offer. In this post, we've provided a list of the best eCommerce platforms you should consider before you start showcasing your talent and expertise in the digital marketplace.
What are Ecommerce platforms?
An eCommerce platform is software that allows you to sell physical or digital products online. They can come in the form of a website builder, a content management system (CMS), or a WordPress plugin specifically designed with tools to support online sales. They can help you build your storefront, manage your products, collect payments, and integrate with shipping providers.
Depending on the eCommerce platform that you choose, they may have third-party integrations that connect to POS systems, mobile devices, or apps, bringing your online store offline into the real world. No matter what you want to sell, there is an eCommerce platform that can handle the job.
The 10 Best eCommerce Platforms
The best eCommerce platform for you depends on important factors that you need to consider, including ease of use, features, and, of course, price. Most importantly, you will want a platform that can scale your business. Thankfully, we've done the research for you. Check out our list below to find the right platform for you and start building your online store today.
The Best Ecommerce Platforms Listed In Order
Expand List
1. WooCommerce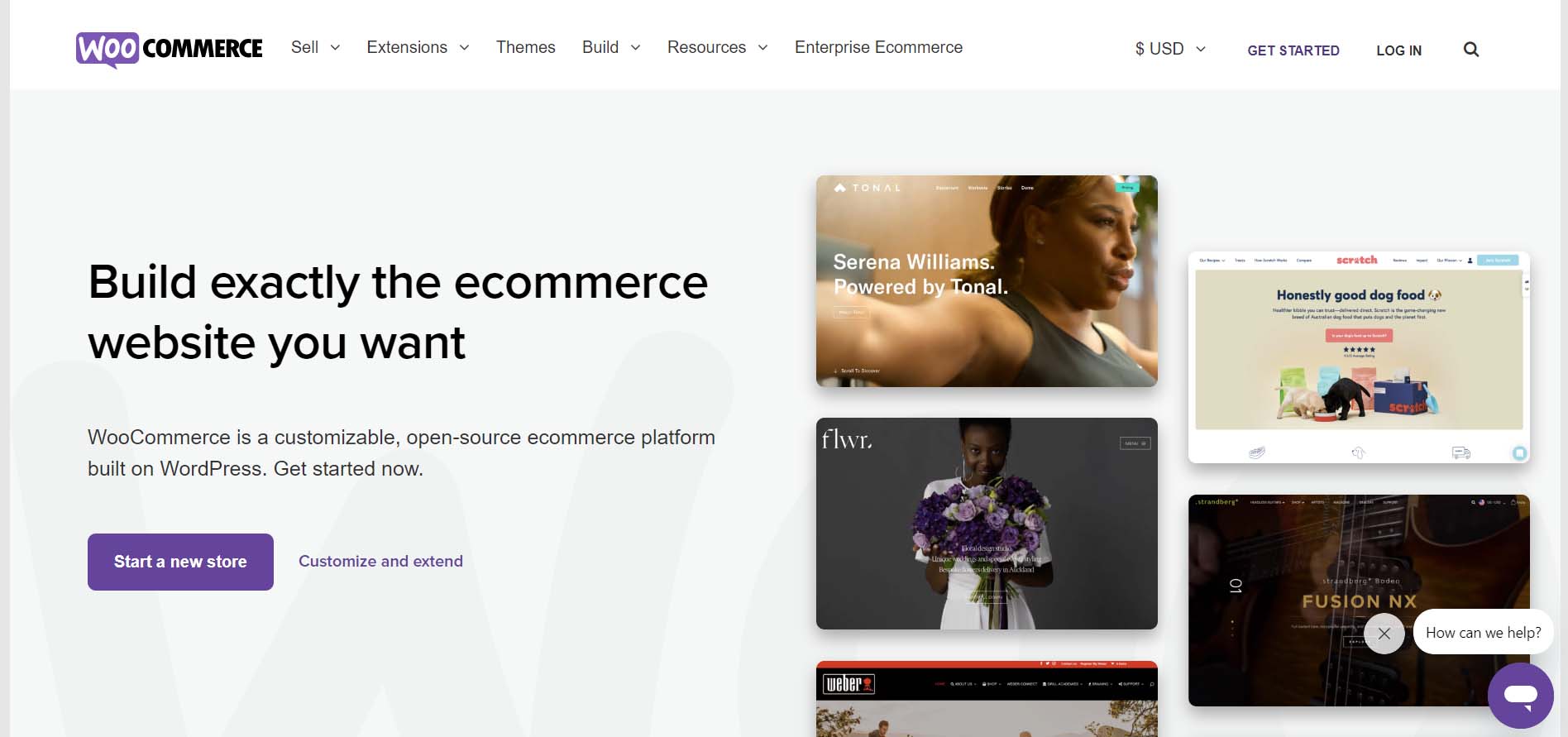 WooCommerce is touted as being the top eCommerce plugin for WordPress. This mighty eCommerce platform works on any WordPress website and puts customization directly into the hands of the shop owner.
There are thousands of paid and free themes that you can use to use your online store. Scrolling through Creative Market alone will show you WooCommerce themes to match any brand, store, or style you could imagine. Using a powerful website builder like Divi also takes your store customization to a whole new level.
WoCommerce allows you to create digital and physical products right out of the box. Products can have galleries, descriptions, attributes, reviews, and categories. And its powerful CMS makes product management simple and efficient. To collect payments, WooCommerce integrates with PayPal, Stripe, and WooCommerce Payments. Or, you can find a payment plugin that can hook up with your chosen payment processor. WooCommerce also supports a variety of add-ons and other plugins to extend functionality beyond what is native to the platform.
WooCommerce connects with many third-party platforms for shipping, payment marketing, and more. As the platform is based on WordPress, you can trust that WooCommerce plays nicely with popular SEO plugins like Yoast and Rank Math to help boost your ranking in the SERPs.
Key Features of WooCommerce:
1000s of free and paid themes
1000s of plugins and integrations
130+ region-specific payment gateways
Strong focus on SEO-optimized product pages
Automated tax and shipping calculators
Sell in multiple currencies and languages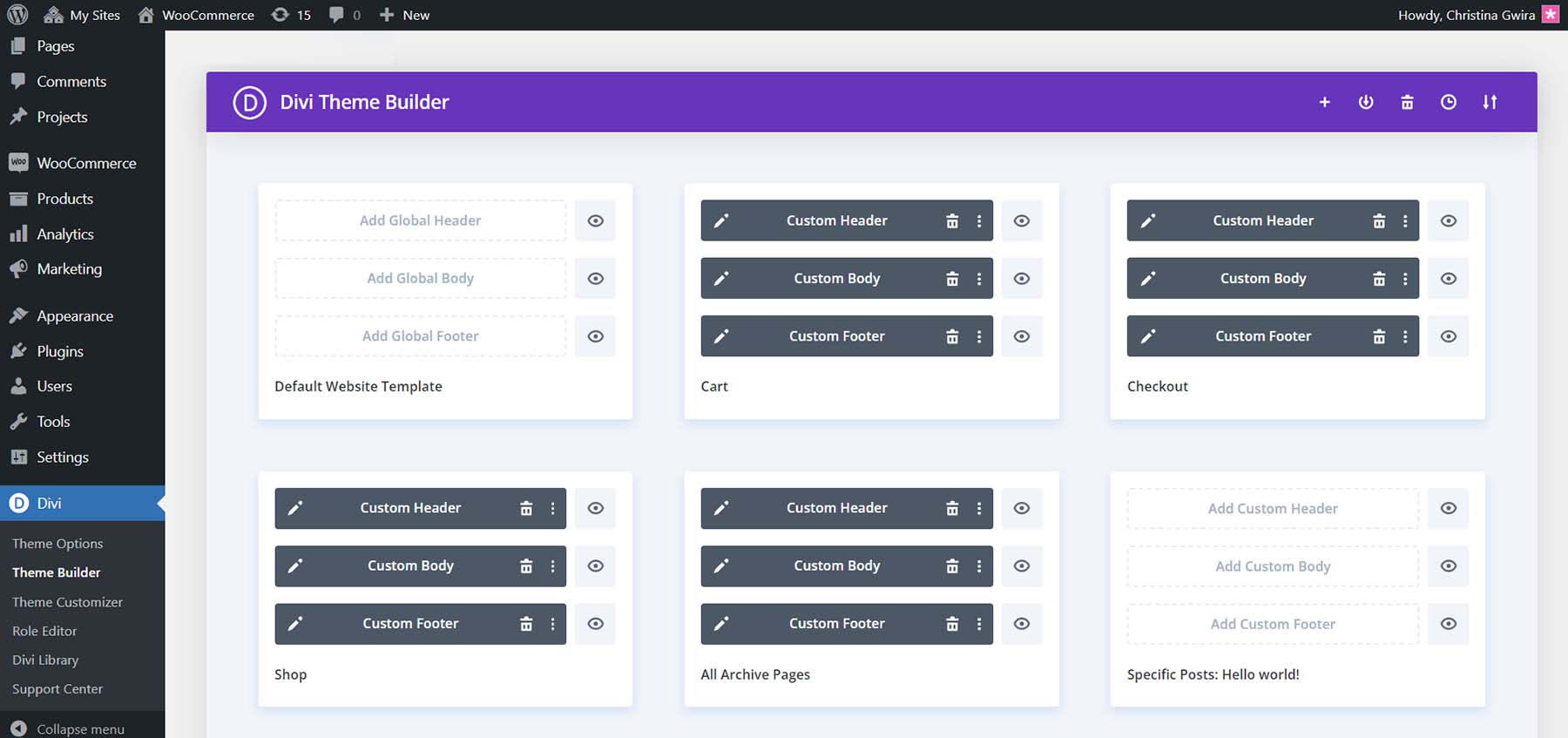 With page builders like Divi, it's possible to build custom checkout, cart, and other eCommerce-related pages on WooCommerce. Divi comes with over 30 native modules that can be customized and placed into any design template that you think to create in its powerful Theme Builder. This functionality isn't just limited to Divi; many other page builder plugins can style WooCommerce to a high degree.
Best For:
If you want complete end-to-end control of your eCommerce platform, WooCommerce is your tool. Whether it's design or integrations, with full access to its code, WooCommerce is an excellent choice for the store owner who values and welcomes customization over all else.
Pricing: Free, Paid add-ons are available
2. Shopify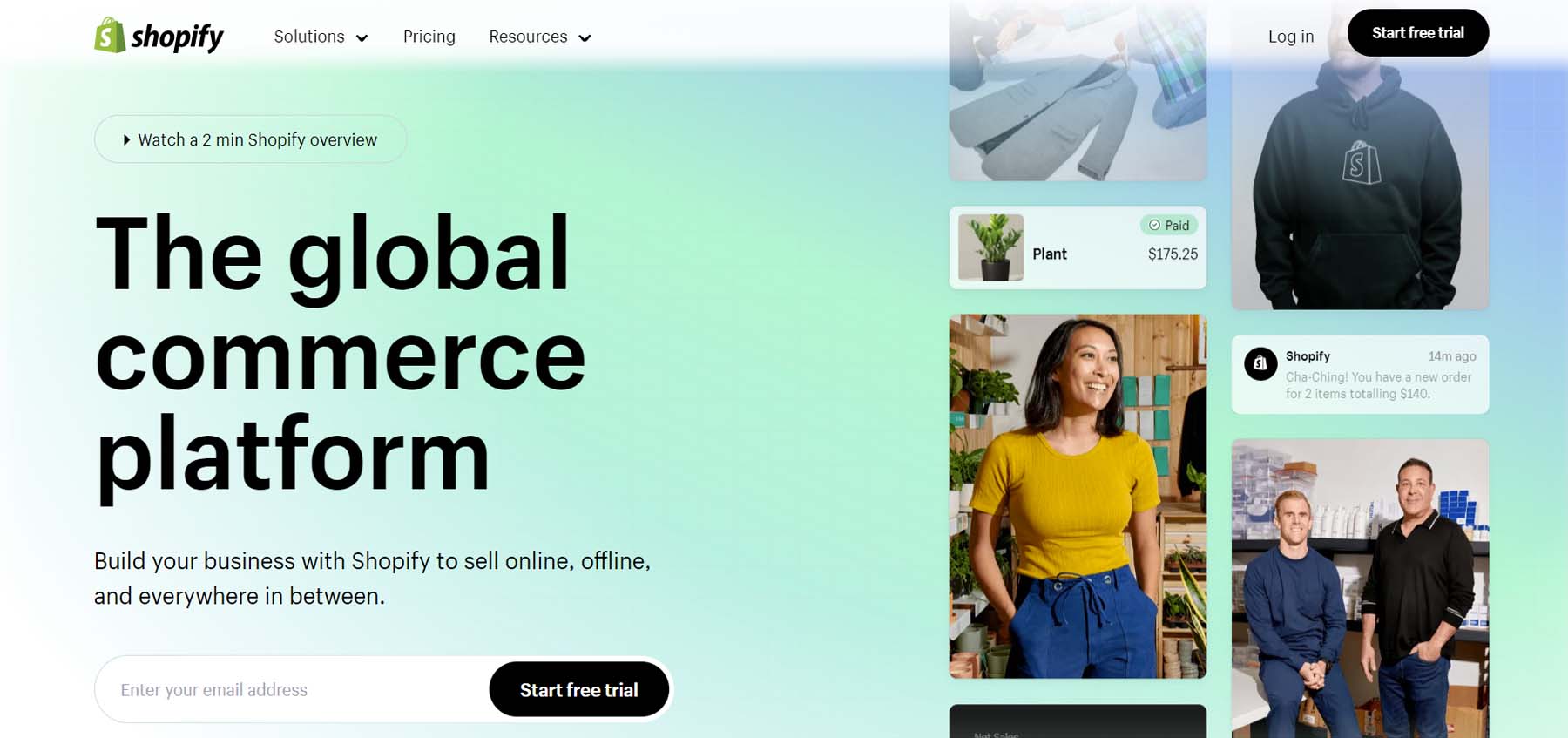 Shopify is a global leader in the eCommerce space. With more than 2 million stores built, it is considered one of the best all-in-one eCommerce solutions for many store owners. With Shopify, you can create an online store quickly with their simple and easy-to-use website builder. There are an array of paid themes for Shopify both on their platform, as well as on third-party marketplaces. Additionally, the Shopify app store allows you to integrate with apps for everything from shipping to order management and marketing to design tools.
Shopify is the best eCommerce platform for shop owners planning to scale their stores. Compared to WooCommerce, you won't have the same degree of autonomy over your website. Nevertheless, you gain a level of peace knowing that all the technical heavy lifting is done for you. You will not need to worry about security, hosting, domains, etc. Plus, you'll enjoy built-in tools for things like email marketing and SEO. The platform has built-in SEO fields for products and pages, but you may need to rely on an app for deeper insights and control.
Key Features of Shopify:
Clean and simple website builder
100s of mobile-responsive, editable themes
Integrates with a large number of shipping, marketing, and order management platforms
Extensive management for B2B and B2C customers
Native email marketing and payment processing (Shopify Payments)
Comprehensive analytics and reporting dashboard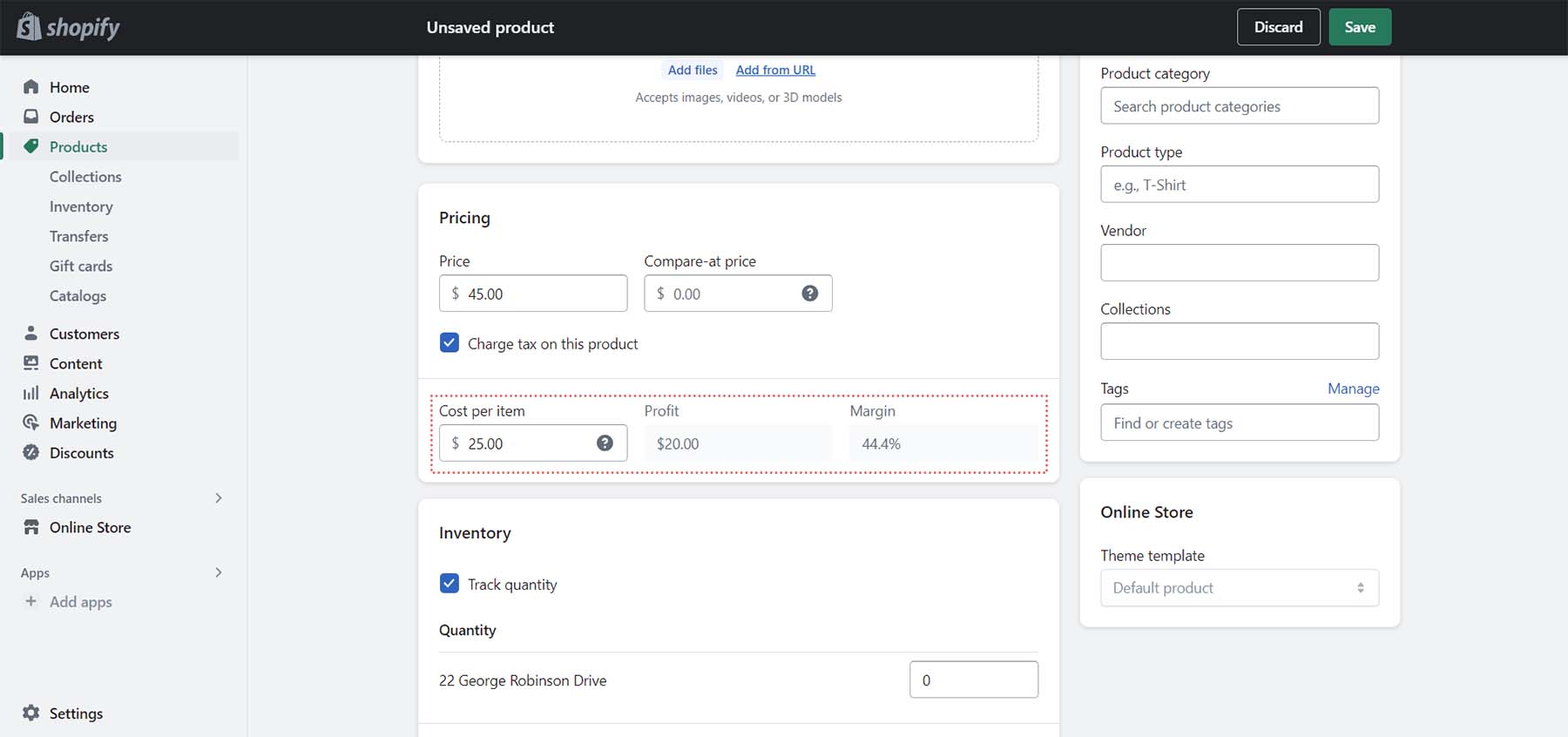 Ensure your store is profitable by seeing your profit and profit margin by entering your cost per item in Shopify. Tracking this information ensures you are seeing a return on your investment. Furthermore, tracking this type of information will grant you powerful business insights through Shopify's analytics and reporting tools.
All in all, if you want to build a store that quickly grows with your business, consider choosing Shopify as your eCommerce platform.
Best For:
If you are a store owner with big dreams, Shopify is for you. With this platform, you don't have to think about security, hacking, or hosting, as they take care of everything for you. Build big, scaleable eCommerce websites with Shopify.
Pricing: Paid plans start at $37 per month
3. Squarespace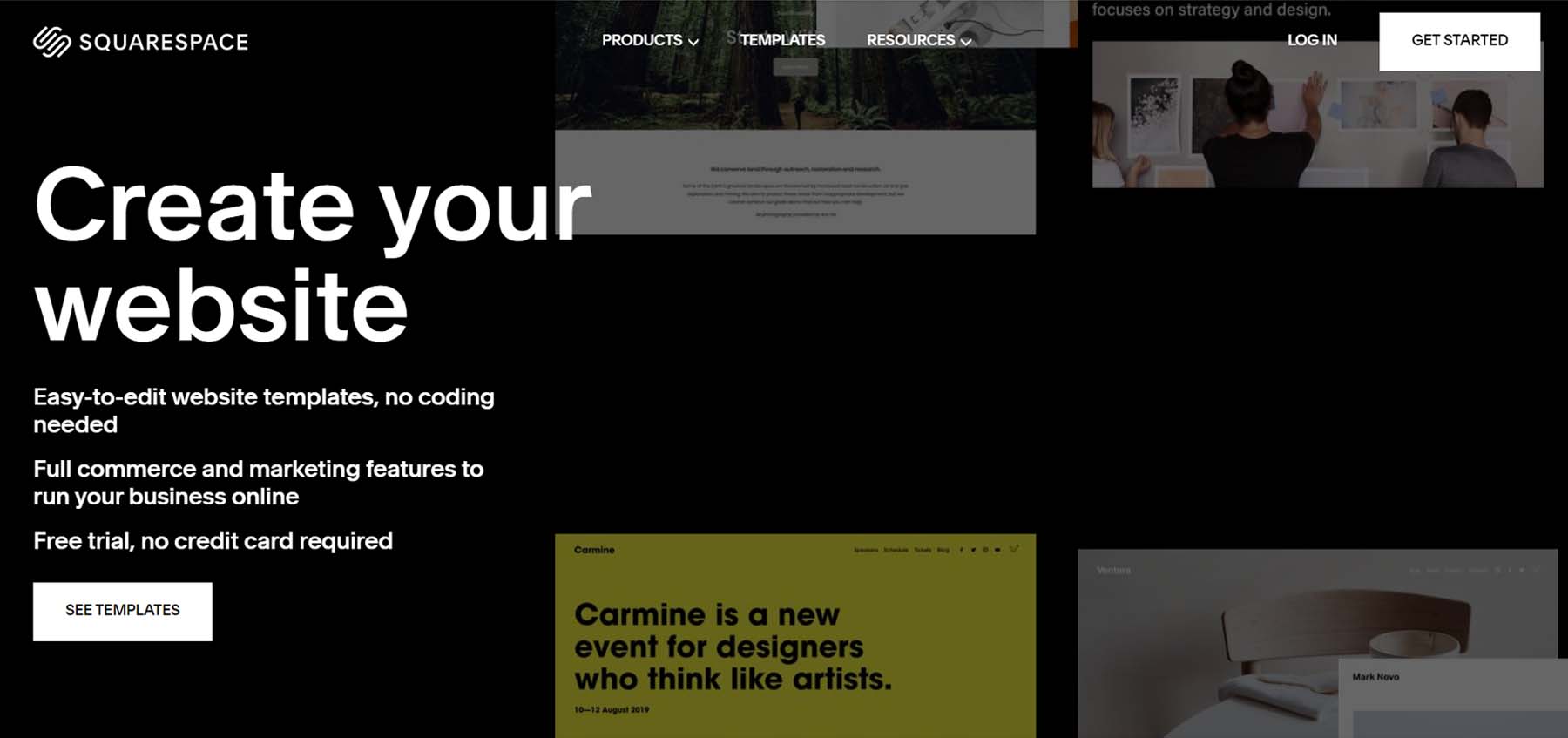 Squarespace is an eCommerce platform with a deep focus on aesthetics, making it a popular solution for artisans and creatives. It has a library of trendy and modern templates to make your store look amazing. While it does not have the most extensive integration library, Squarespace has apps available to extend functionality. Your Squarespace website can connect to third-party platforms like Printful, Aftership, and FreshBooks, to name a few.
The platform allows you to sell a wide variety of products. Memberships, video on demand, physical products, and more can all be sold easily with Squarespace. Regarding SEO, Squarespace allows you to customize page URLs and meta descriptions and connect to Google Analytics, but not much else. However, Squarespace has a directory of experts who can help you optimize your site for SEO and branding, paid ads, and more, should you need further assistance.
Key Features of Squarespace:
Feature-rich page and website builder
Flexible product types
Custom checkout forms
Sell products on Facebook, Google, and Instagram
Buy and print USPS shipping labels via the web or app
Native email marketing software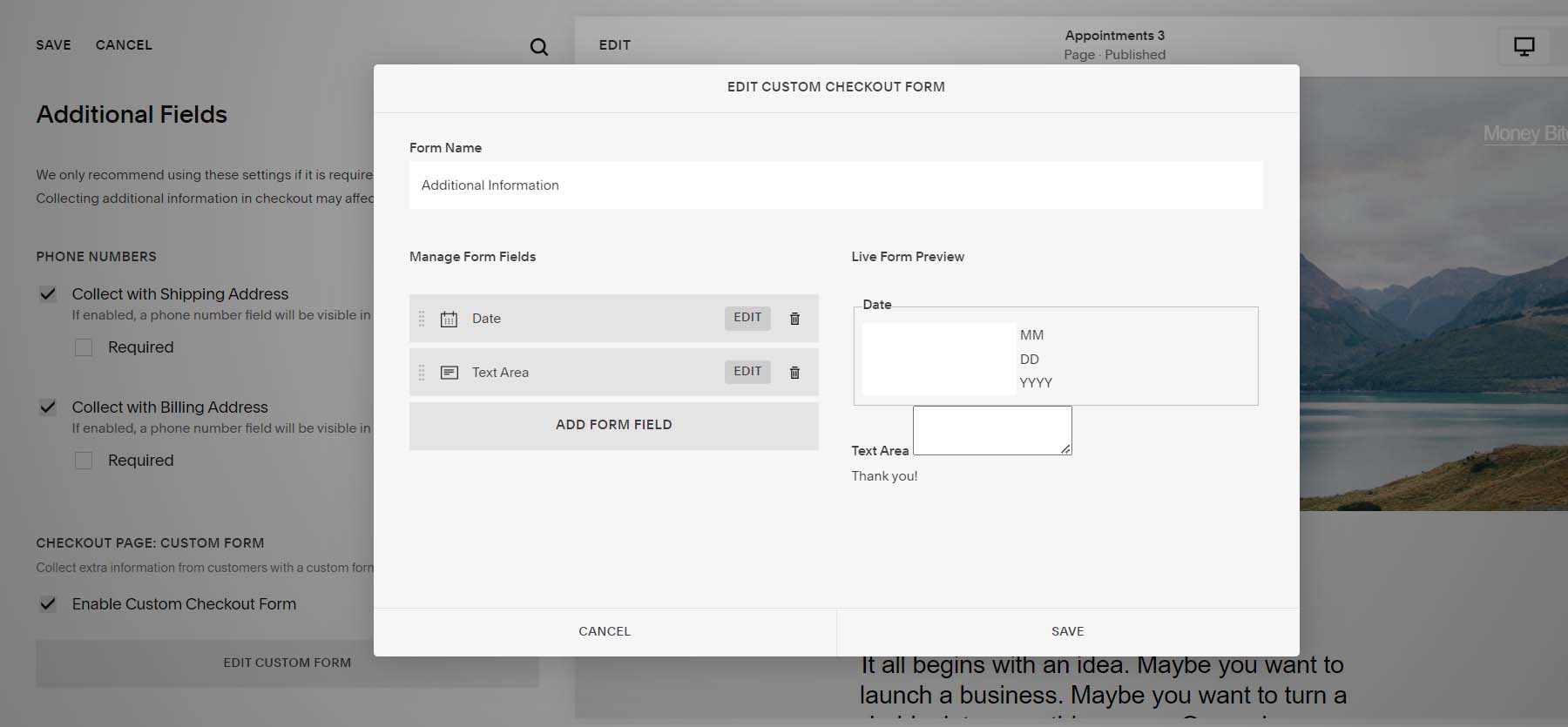 Squarespace gives you the power to add custom fields to your checkout form. Additionally, the form field comes with various fields such as time and date, radio buttons, dropdowns, and much more.
Best For:
For the creative, Squarespace's eCommerce platform will help you easily create a beautiful store. Also, if you are a service provider who relies on paid bookings (think consultants, stylists, technicians, etc.) Squarespace's Acuity Scheduling is the perfect fit for your business.
Pricing: Paid plans start at$36 per month
4. Ecwid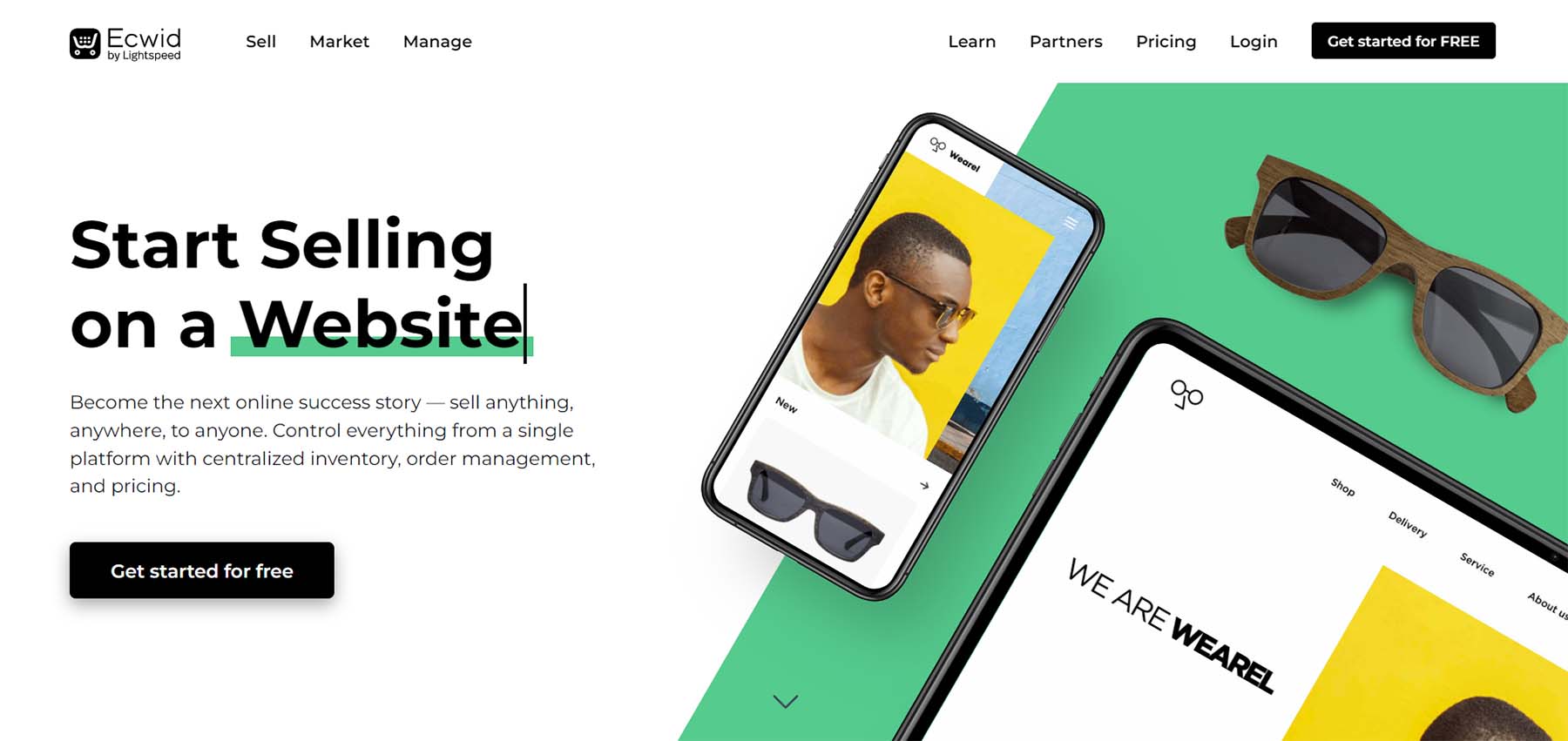 With Ecwid, you can sell your products and services anywhere using a flexible eCommerce platform. If you want to have a multi-channel store, Ecwid will be a welcome solution for your business. Whether you want to sell on marketplaces like eBay or want to sell on your own website, Ecwid helps you manage all your sales channels from one powerful platform.
If you choose to build your website with Ecwid, you can use their themes to help design your online store. Their website builder isn't as robust as others, but you can quickly build your site without code.
On Ecwid's platform, you are equipped with a variety of marketing tools. You can offer promotional pricing, discount coupons, and volume discounts without additional plugins or apps. You can also send out email newsletters or generate ads for Google and Facebook. Taxes are automated with Ecwid, and you can show live shipping rates to your customers.
Key Features of Ecwid:
Build your website in minutes with no code
Sell products on multiple sales channels like eBay, Amazon, Google, and Facebook
Point-of-sale (POS) tools to sell offline
50+ payment options, including native payment process Lightspeed Payments
Offer and manage shipping, delivery, and pickup
Multilingual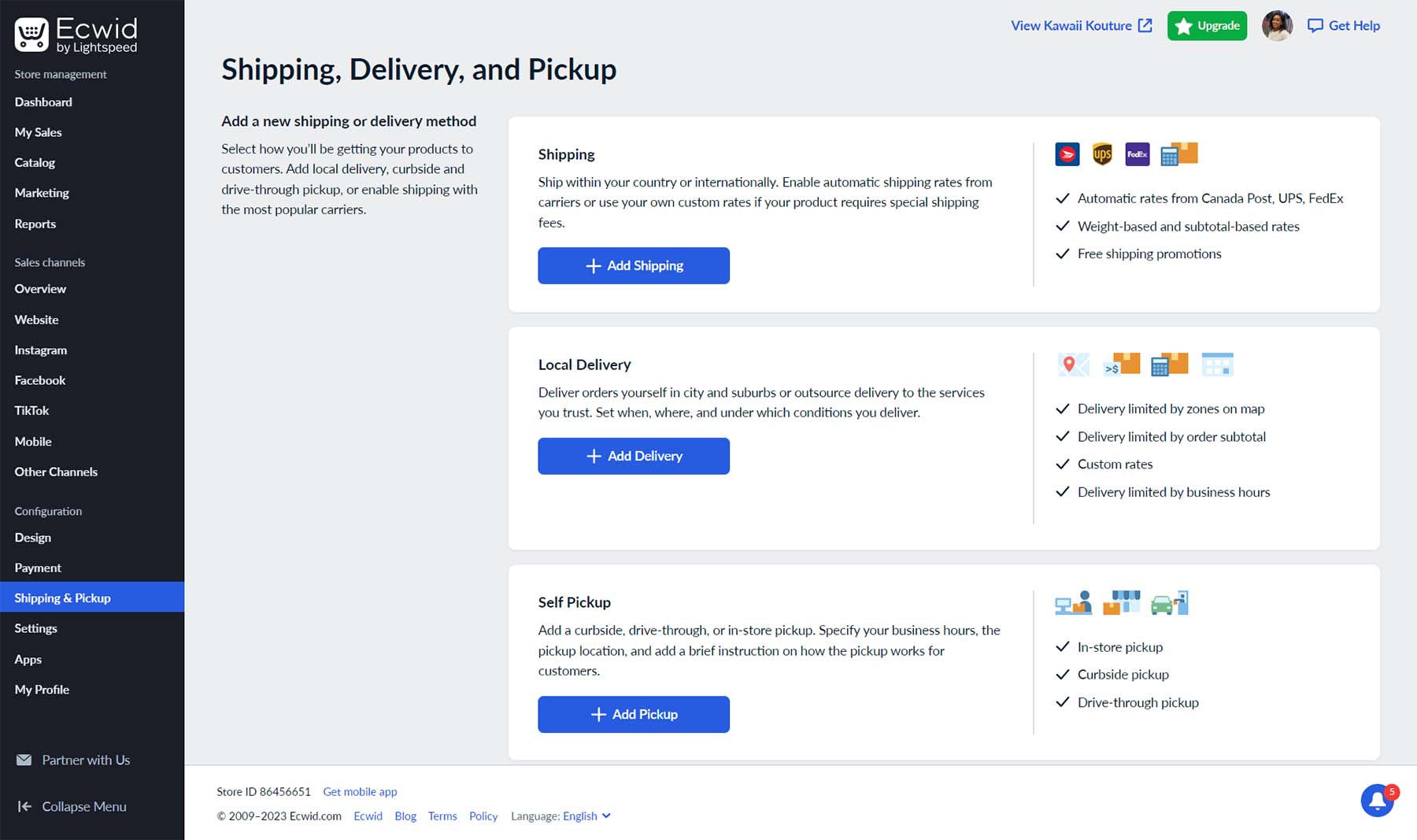 Ecwid provides you with many options when it comes to shipping, delivery, and pickup of your products. Like other platforms, it connects to shipping providers for live shipping rates. But it also has deeply customizable options for pickups and local delivery. You can set zones where local delivery is possible. You can set schedules for self-pickup. Additionally, you can add a calendar to your checkout page to request pick up dates and times from customers.
Best For:
If you manage multiple sales channels across social media and marketplaces, consider building your online store on Ecwid. You will enjoy organizing, managing, and tracking your sales, products, and customers from one platform.
Pricing: Free, Paid plans start at $19 per month
5. BigCommerce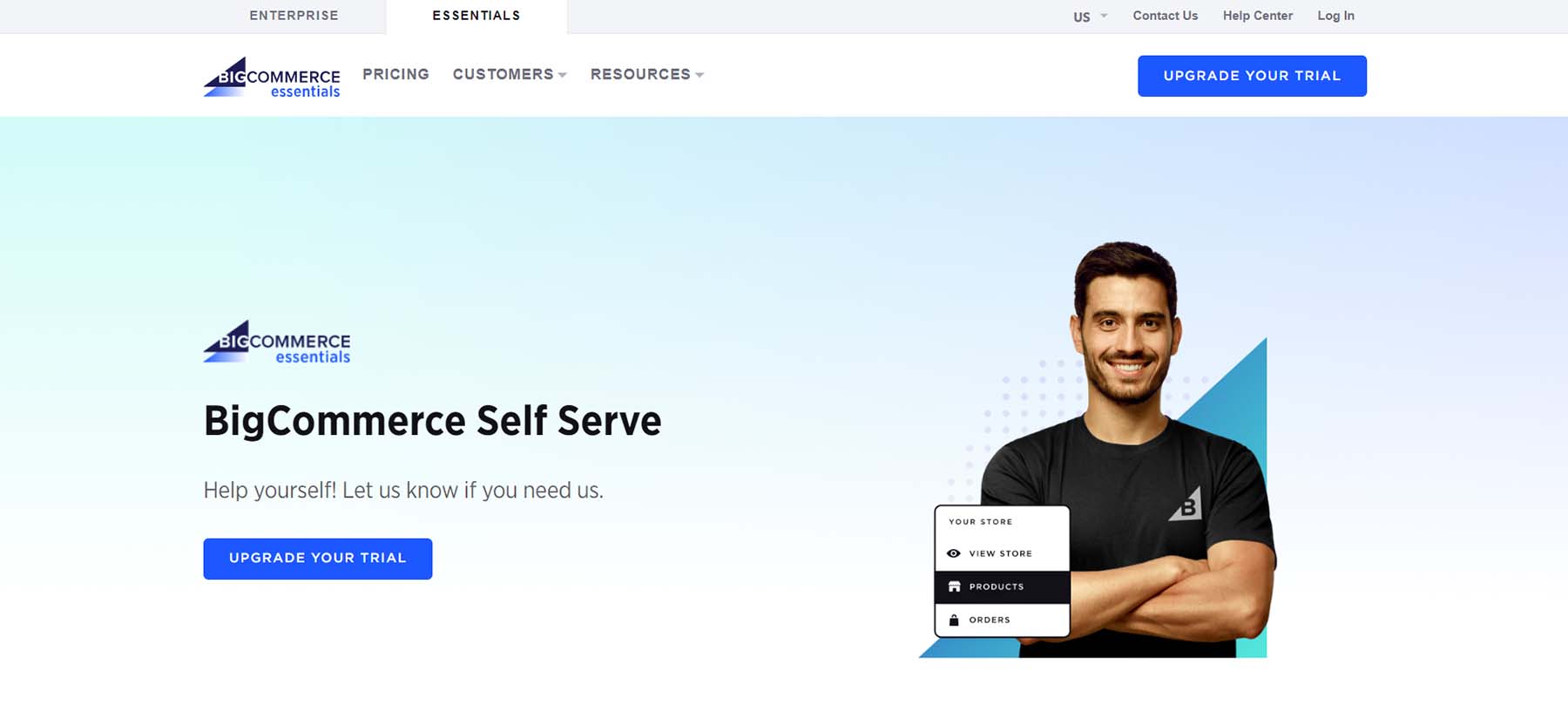 BigCommerce is an eCommerce platform that has a comprehensive suite of tools for businesses of any size. It can be used as flexible open source software or as an all-in-one SaaS platform for building your online store.
With BigCommerce Essentials, their hosted eCommerce platform, you can have full control over your building your online store. Firstly, their page builder comes with many widgets that you can use to create unique pages. Secondly, you can edit the code of the free and paid themes within their library or create and use your own theme if you know how to code.
BigCommerce's collection of apps covers everything from design to shipping management, order fulfillment, and more. For SEO, BigCommerce allows you to set your page title, meta description, URL, and Open Graph sharing settings. You can create and manage promotional banners on BigCommerce that show at certain times and locations on your site. Additionally, it is easy to customize your transactional and abandoned cart emails for your customers to increase your average order value.
Key Features of BigCommerce:
Drag-and-drop page builder
Upload and use custom page templates and themes
Script manager for custom code snippets
Personalize B2B and B2C sales with price lists
Import customers, orders, products, and tracking numbers
Custom gift certificate templates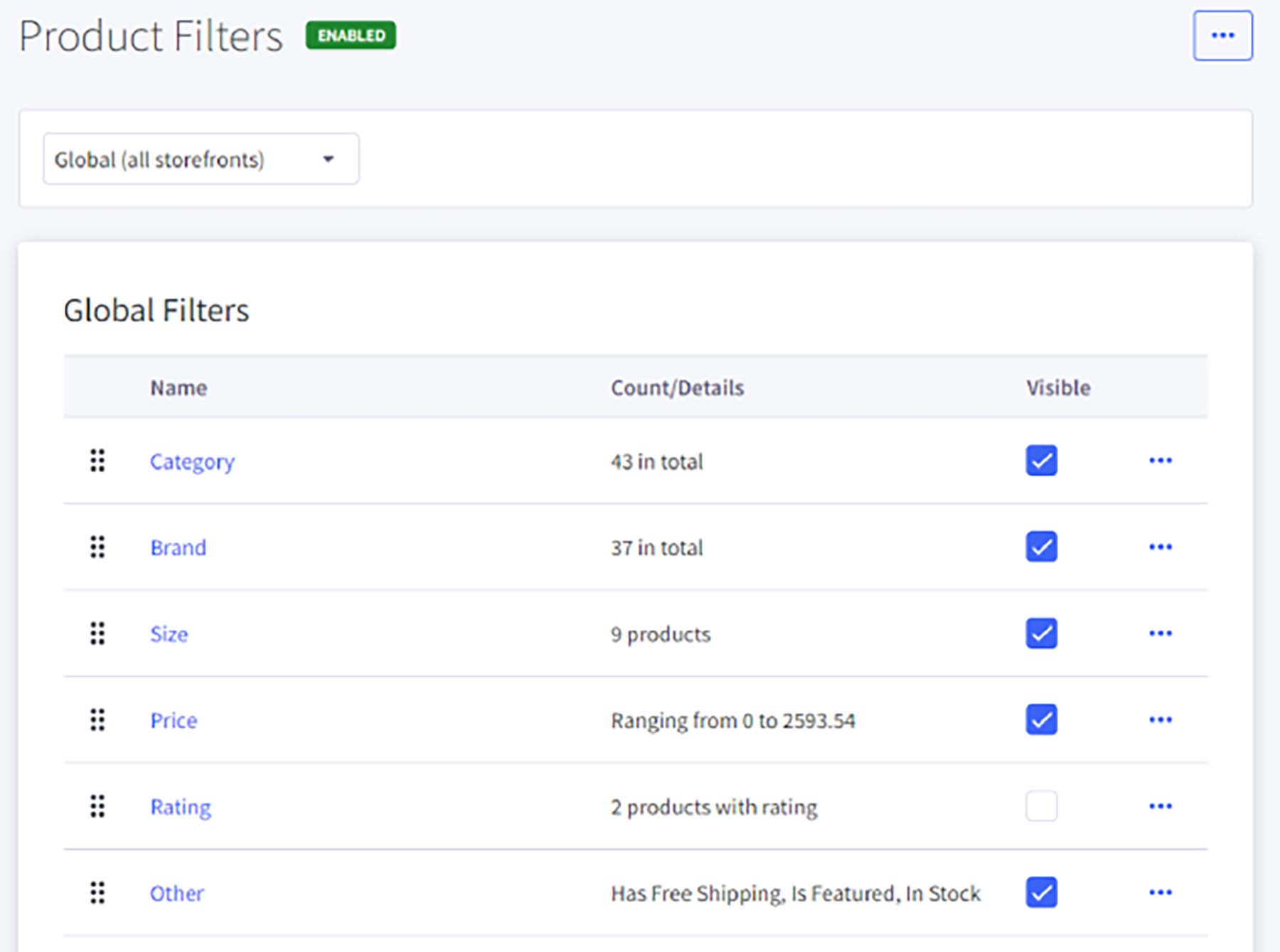 BigCommerce's Faceted Search improves your site's search speed and accuracy (Something not native to other platforms like WooCommerce). Product filtering is available in all BigCommerce paid plans and is automatically generated from your product categories and custom product fields. You can add new categories and bring additional products to the forefront, all through drag-and-drop.
Best For:
If you don't want the complete freedom that WooCommerce provides its users, BigCommerce is a good option. Having the opportunity to customize page templates as well as theme code is made easy with this platform.
Pricing: Paid plans start at $29 per month
6. Square Online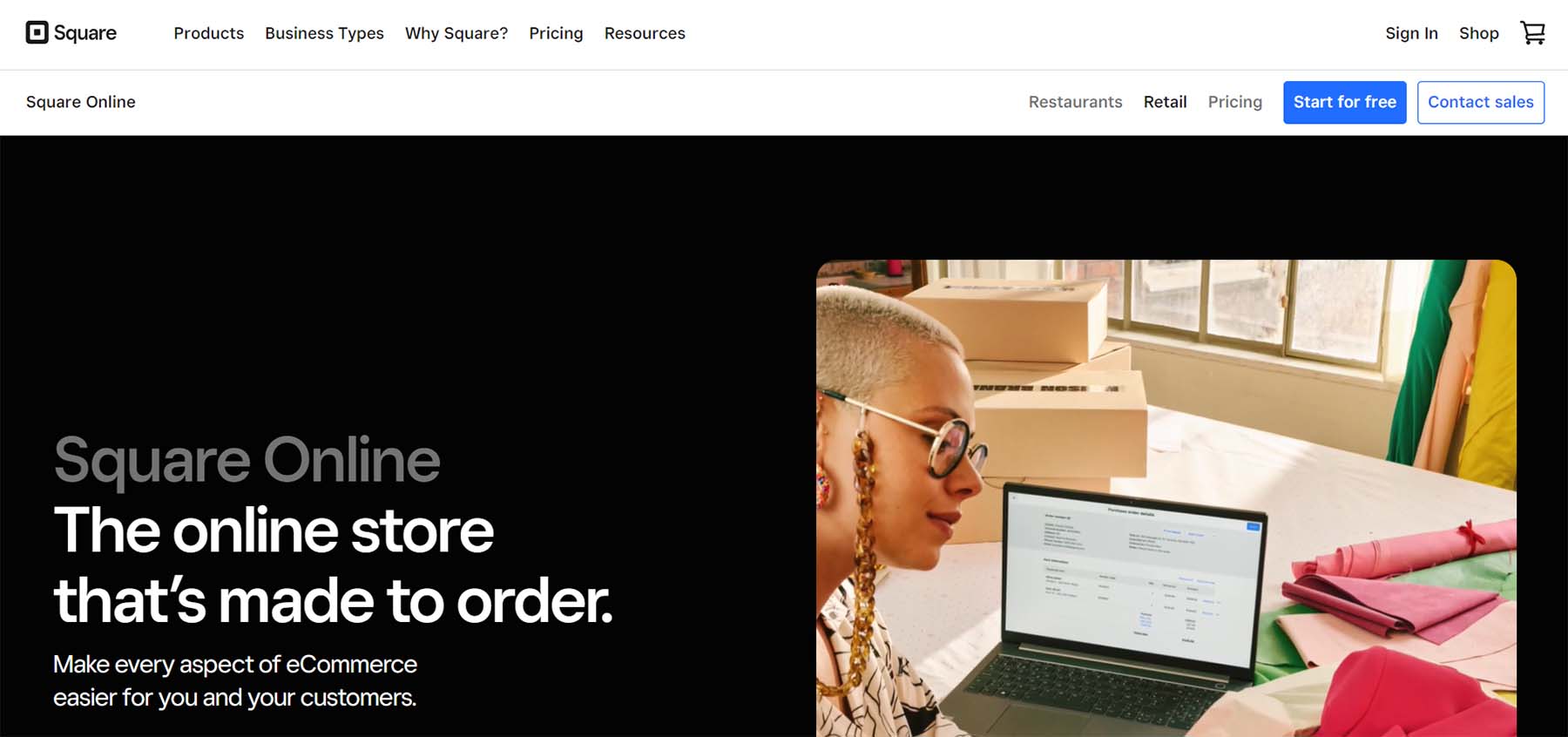 Square Online is an online eCommerce platform by the payment processor Square. It is important to note that Square recently acquired Weebly to merge its platform with the powerful website builder. So, an account on Weebly or Square would lead you to the same interface, with different access rights, depending on the plan you decided to purchase from either Square or Weebly.
Square Online's builder is simple to use but has fewer features, widgets, and customization options than the other eCommerce platforms in our list. While it does have an app marketplace, it is not as large as WooCommerce or Shopify. Nevertheless, you can connect with platforms like OpenTable, LinkTree, and GoDaddy.
With Square being a payment processor, it is at the forefront of equipping its customers with various ways to get paid. Vendors who want to give their customers options like buy now, pay later, Apple Pay, Google Pay, or Cash App Pay will love Square Online's flexibility in collecting payments.
Square Online provides you with the basics for SEO, like 301 redirects, search engine visibility, and the customary meta title and description for products and pages.
Key Features of Square Online:
Clean and minimalistic store builder
Sophisticated machine learning to spot and block payment fraud
Sell in-person with cutting-edge POS hardware and software
Email and text alerts
Quickly make a link, buy button, or QR code to take online payment
It can be integrated with other eCommerce platforms like WooCommerce, Ecwid, Wix, and more
Square Online allows you to create and manage a variety of popups easily and quickly from its interface. Whether you want to offer a coupon code to clients or prevent minors from accessing your site, you can do all this without using additional plugins or code snippets on the Square Online platform.
Best For:
Brick-and-mortar stores looking to consolidate their online and offline presence will benefit from Square Online's tools. With its simple setup and varied ways to capture payment, it is easy to integrate or replace outdated offline payment systems with Square Online's platform.
Pricing: Paid plans start at $35 per month
7. Wix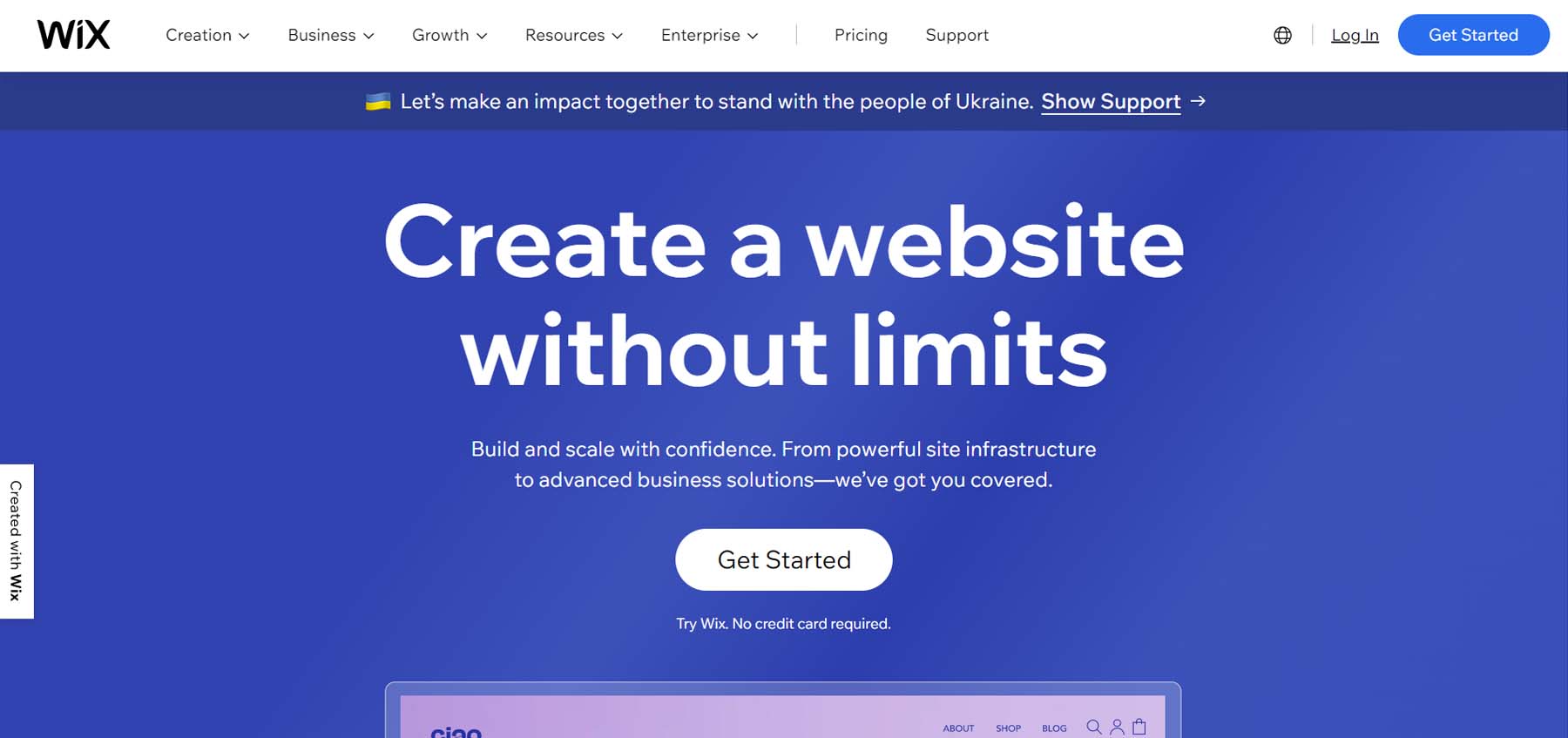 Wix is an all-encompassing eCommerce platform that covers many bases. For starters, it has a great visual website builder that allows you to design your online shop as you see fit. It has a theme library boasting over 500 designer-created themes that come with a set of pre-designed and editable sections and widgets.
Regarding external integrations, Wix's app marketplace makes interconnecting with various platforms around the web simple. There are apps for design, marketing, and much more that can be added to your site with a click.
Wix takes SEO very seriously. You can edit and set custom URLs, meta titles, and descriptions, and you can add and set values for other meta tags of your choosing. You can add values to your robot.txt files with a click. Creating structured data markup is also supported.
Key Features of Wix:
Sell both physical and digital products
Powerful drag-and-drop builder for pages and products
Advanced SEO tools and features
Built-in loyalty program
Native tools for email marketing, Google & Facebook ads, Google Shopping, and more
Multi-channel management and selling through eBay, Facebook, Instagram, and more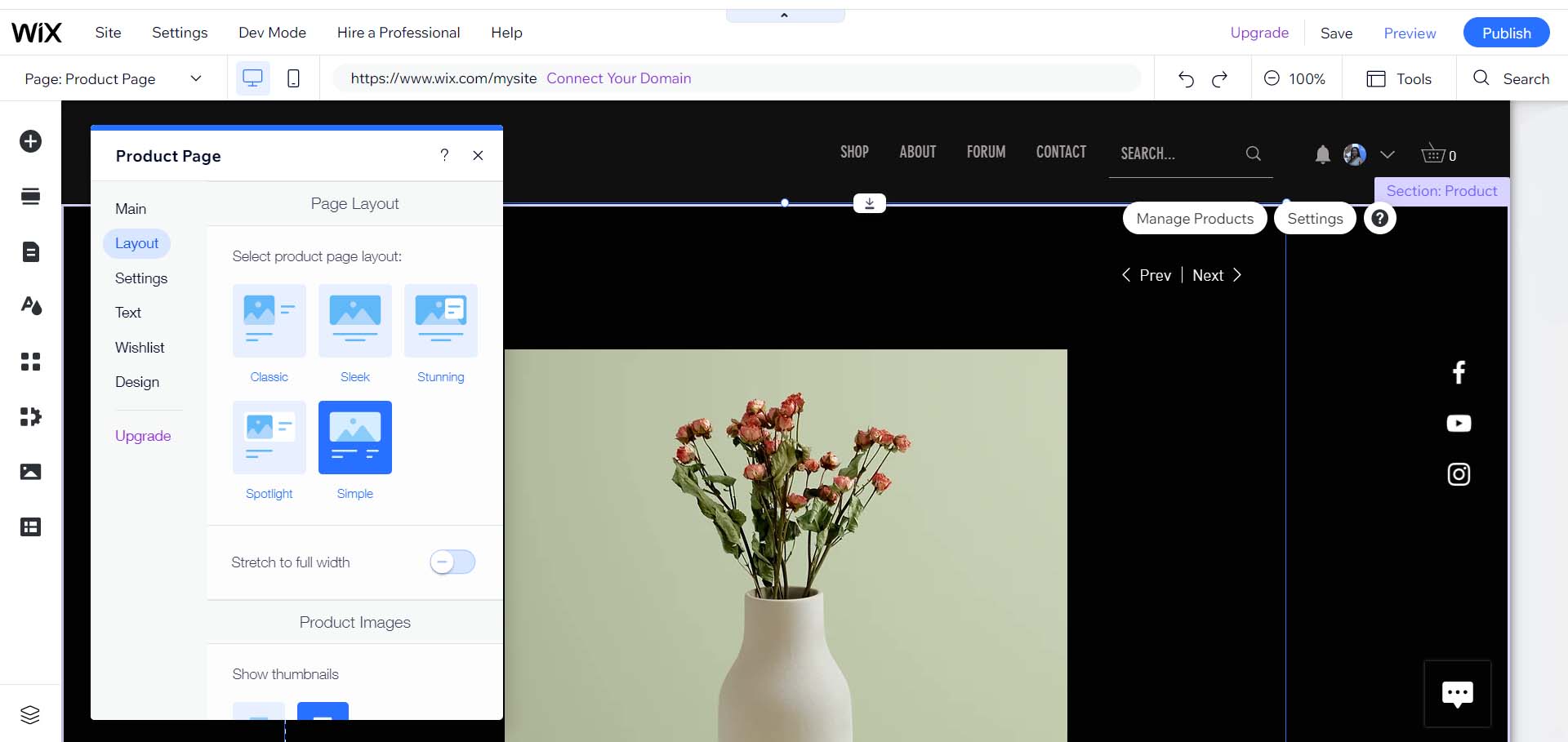 Wix's page builder is a standout point of the platform. It is powerful enough to allow you to customize not only standalone pages but product pages as well. You can determine where thumbnails show, what attributes are shown (think price, SKU, quantity, etc.), the text on buttons, and much more.
Best For:
Small business owners and users who want various advanced features while balancing the perks of having a hosted eCommerce platform can benefit from using Wix.
Pricing: Paid plans start at $21 per month
8. PrestaShop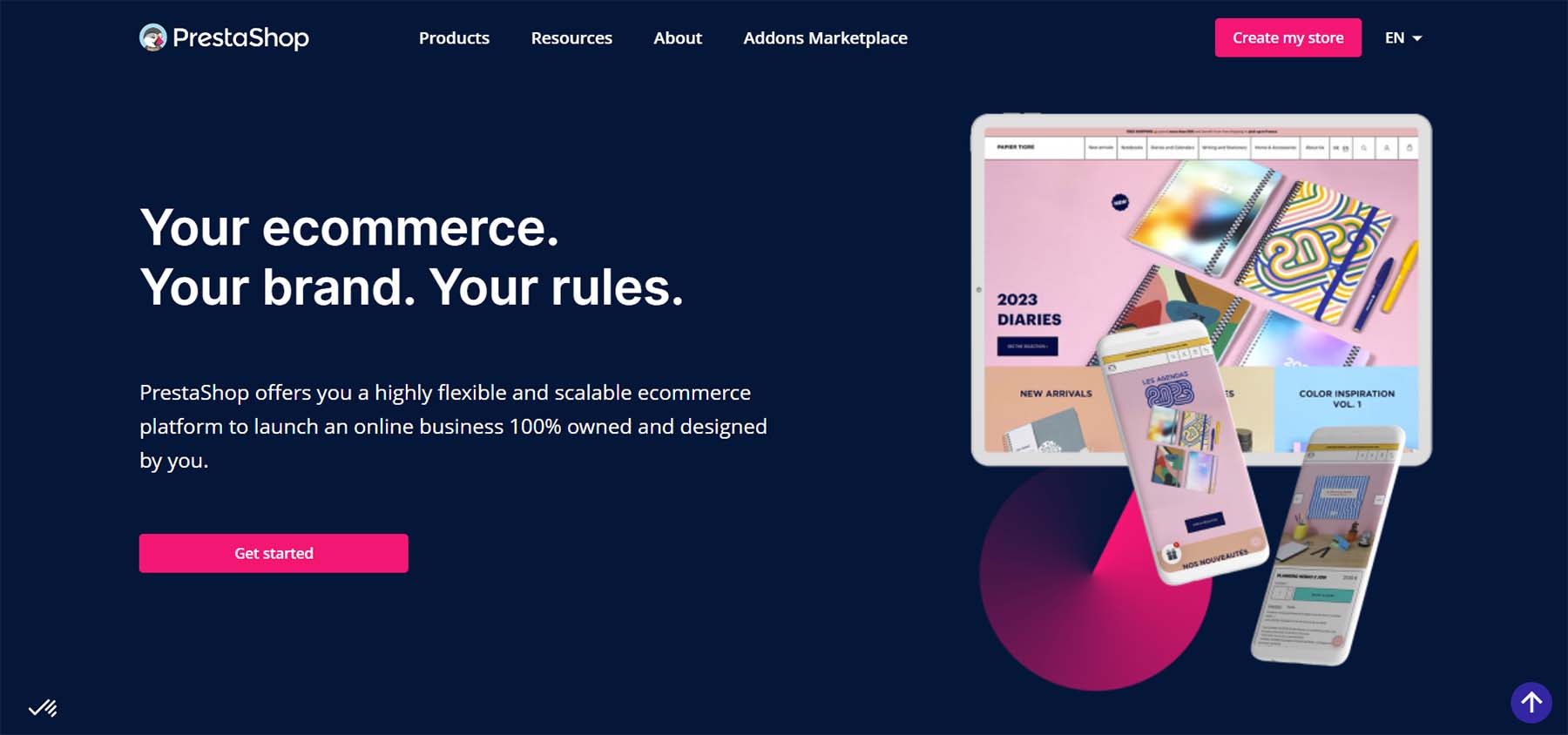 Prestashop is an open-source eCommerce platform similar to both WordPress and WooCommerce. It comes packed with tools, modules, and features that many of its competitors provide as paid add-ons. Since Prestashop is open-source, you can edit its code, build your modules and design your templates. Apart from WooCommerce, this level of customization and flexibility is unseen among others on our list.
Prestashop's page builder allows you to customize most of your site's pages and hooks. However, it is not a visual builder. Therefore you will not get real-time feedback on the changes that you make to your site. You can install a page builder addon to the platform to add this functionality.
For SEO, Prestashop emphasizes helping your store get discovered in search. Robots.txt files, schema, and more can be configured and optimized easily.
Because Prestashop is open-source, you will be responsible for handling your store's hosting, security, backups, and general maintenance. However, Prestashop does have a hosted option that you could consider if you would rather not deal with these things. It also has a directory of Prestashop Experts that you could reach out to if you would prefer to pay a professional to assist you with your shop.
Key Features of Prestashop:
Open source
Deep customization with code and templates
Import geolocation packs with regions, taxes, current, language, and units
Hande customer support requests and queries within the platform
Built-in cache addon
One-page checkout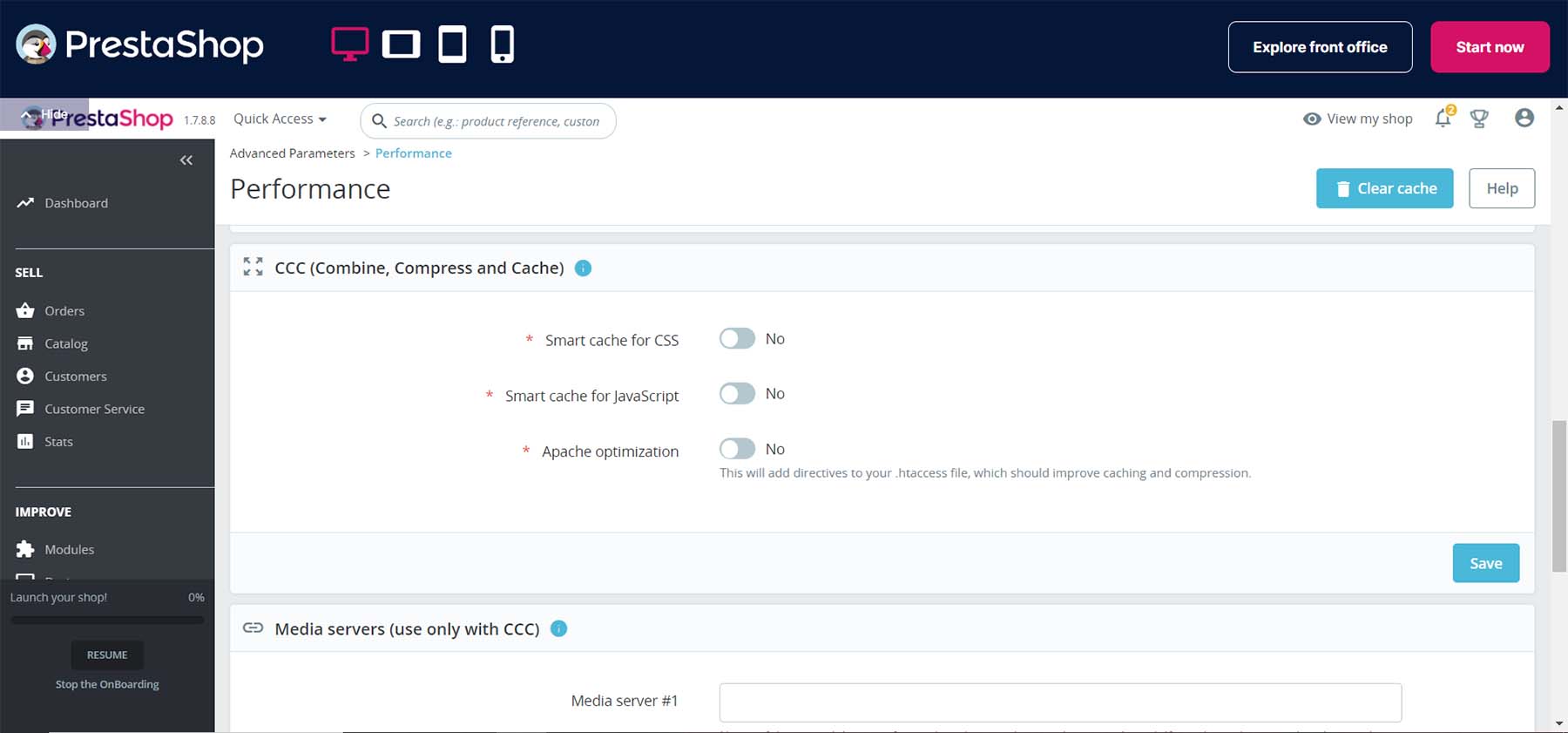 Prestashop's built-in performance system gives you the same features as some of the well-known optimization and caching plugins of WordPress. You can minify your code or connect to external media services. There's the option to choose your caching type or disable the use of cache altogether. As with other open-source projects, the choice is yours.
Best For:
For shop owners who want an alternative to WooCommerce, consider Prestashop. The same code and platform freedom levels that WooCommerce provides can be found with Prestashop.
Pricing: Free, Paid addons are available
9. Big Cartel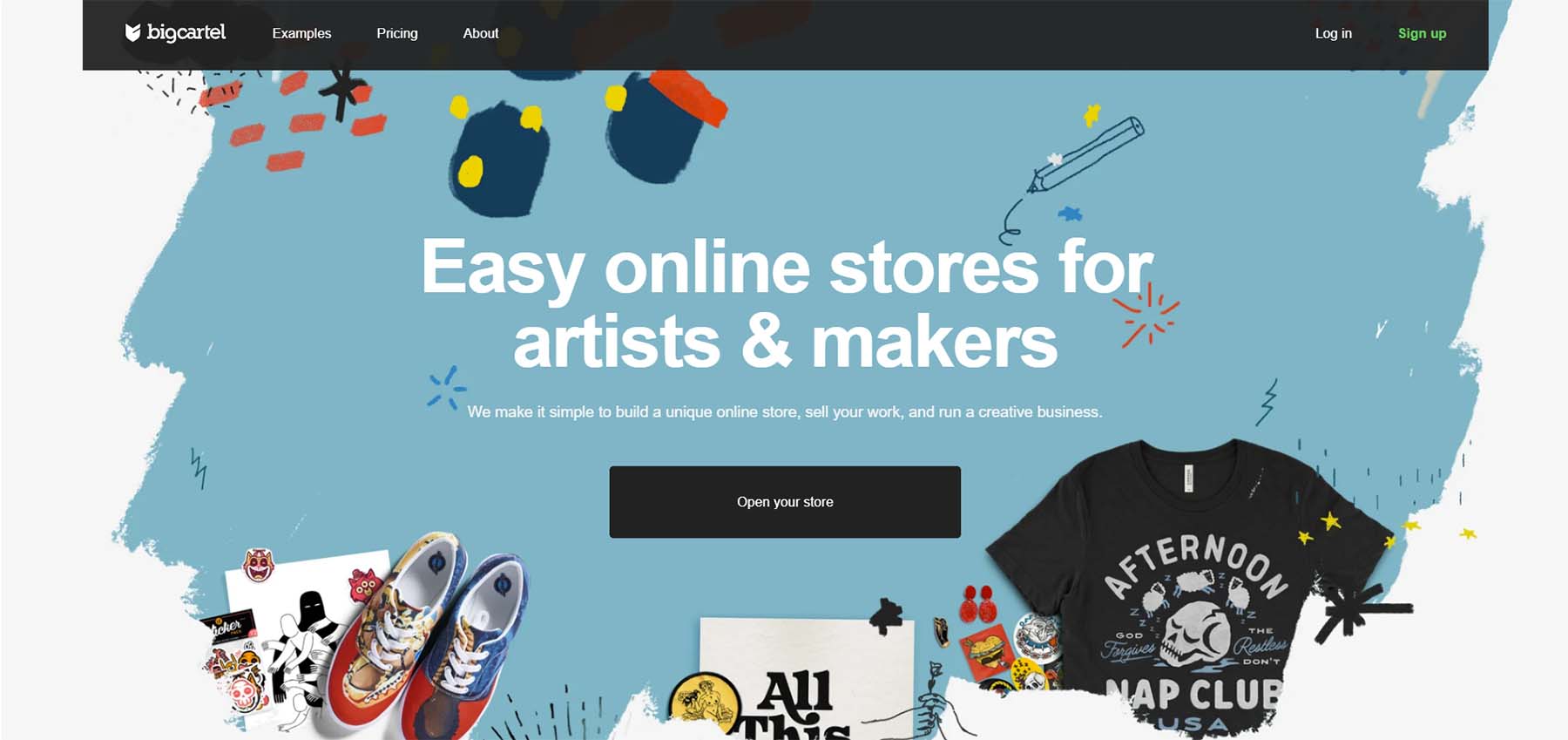 Big Cartel is an eCommerce platform that (like Squarespace) is geared toward the needs of makers, artists, and creatives. Although Big Cartel's theme library is the smallest on our list, all their themes are free. And you can make their themes your own with a little bit of CSS. Big Cartel natively supports payment processing by PayPal and Stripe. However, these are the only payment processors that they are connected with. Additionally, Big Cartel does not have an app store, so third-party integrations require more effort than other platforms.
Unfortunately, Big Cartel does not have many robust SEO features outside of allowing you to customize the slug for your products and pages. Despite being relatively lean compared to other eCommerce platforms, Big Cartel has a place on our list. You can still manage orders, view store insights, create discount codes, and more for your online shop. If you want to start selling quickly and don't need too many features, Big Cartel makes setting up a functional online store easy.
Key Features of Big Cartel:
Clean and uncomplicated dashboard
Easy order, product, and back office management
Add custom code to header for Google Analytics, Facebook Ads, etc.
Add and edit theme CSS
Create flexible, zone-based shipping rates
Add individual and group product attributes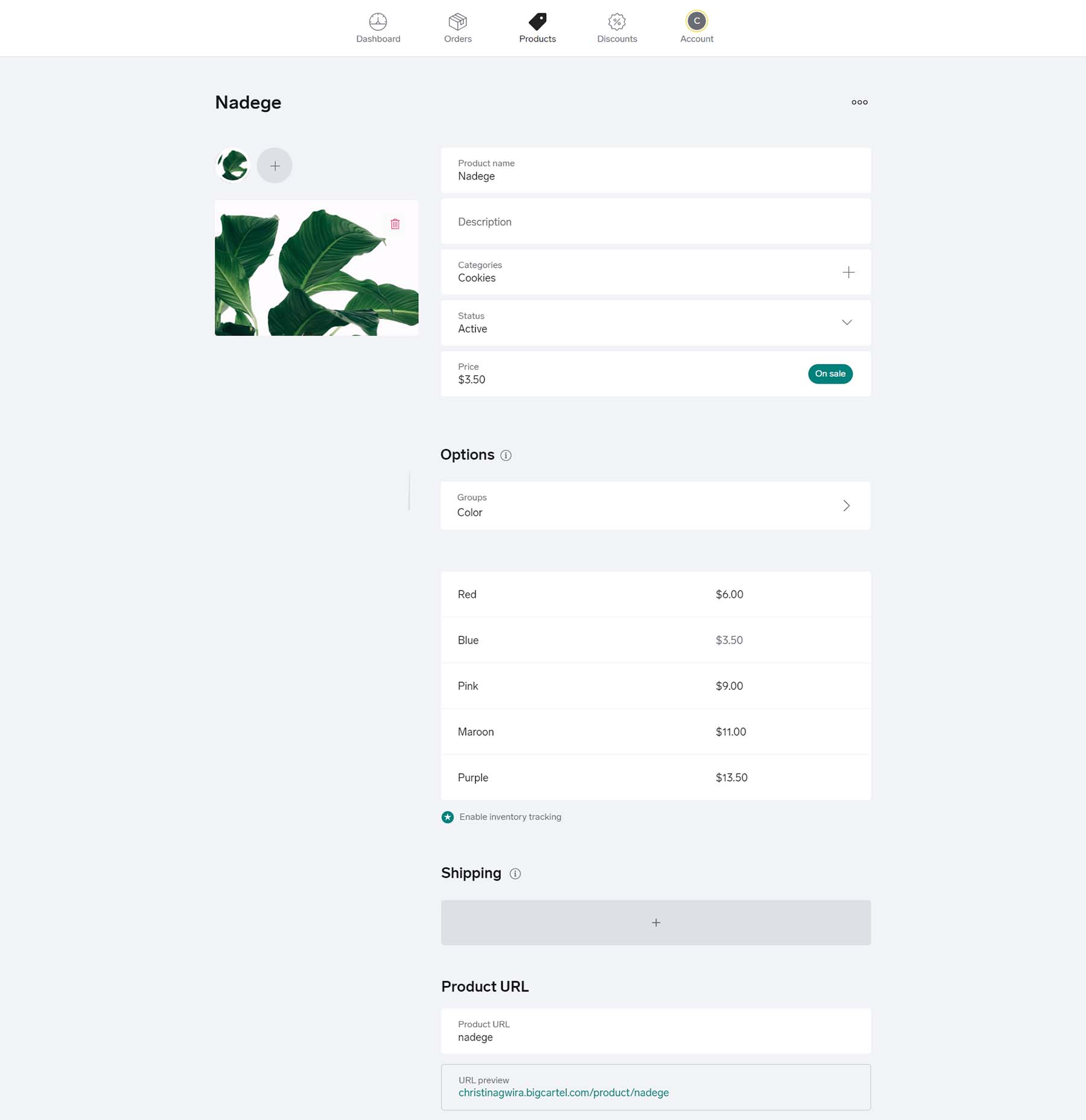 The product screen of Big Cartel is clean and easy to understand. You can add your product descriptions, photos, pricing, and more from it. You can even set and create product attributes and groups from this screen.
Best For:
Artists and makers who want a simple online store and who want to support a smaller, niche eCommerce platform provider.
Pricing: Free, Paid plans start at $9.99 per month
10. Patreon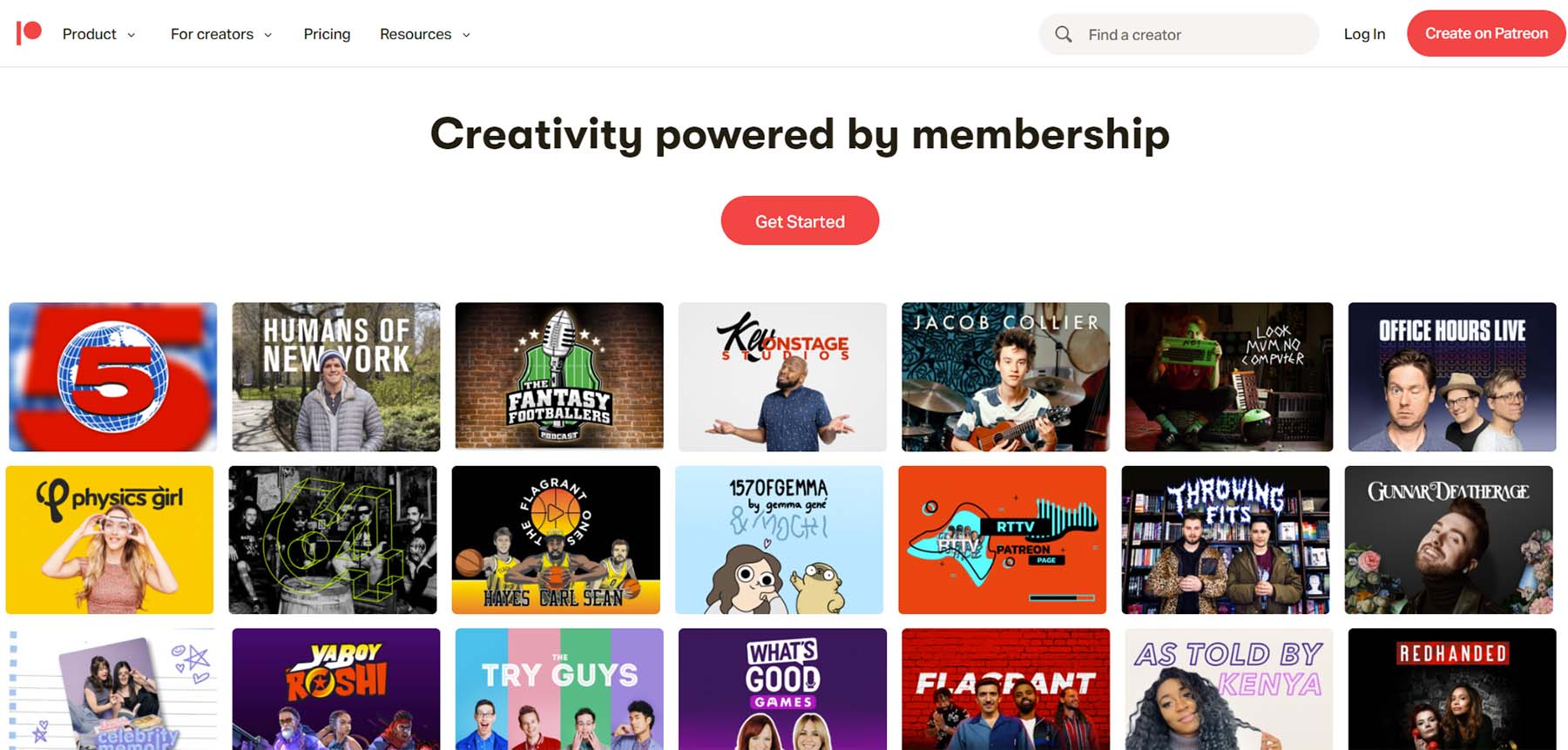 Patreon is an online platform that allows creators sell access to exclusive content. This is perfect for those wanting to create a membership-based business. For example, if you have a podcast, but want to share special episodes or content for a fee, you can use Patreon to do this.  The platform provides your own hosted creator page where patrons can see your plans, subscribe and get access to your content. The Patreon dashboard is simple, making it very easy to create your content and build your community. You can create and upload content like posts, videos, audio, images, livestreams, etc.
Unlike the other platforms on our list, Patreon doesn't charge a monthly fee but takes a percentage of your sales instead. Surprisingly, Patreon has a nimble app library that connects you to services like Converkit, Zapier, and even WordPress. Because Patreon allows you to only show your content to paying subscribers, SEO is not a highlighted feature. However, you can assign tags to your content to make it searchable for your patrons. All in all, to quickly create a membership site with no headache, use Patreon.
Key Features of Patreon:
Easy to setup unlimited recurring membership levels
Create or upload your content with ease
Create and manage promotions and limited-time offers
Communicate directly with subscribers via email, posts, or direct message
Track payments and analytics from the web or mobile app
Fraud protection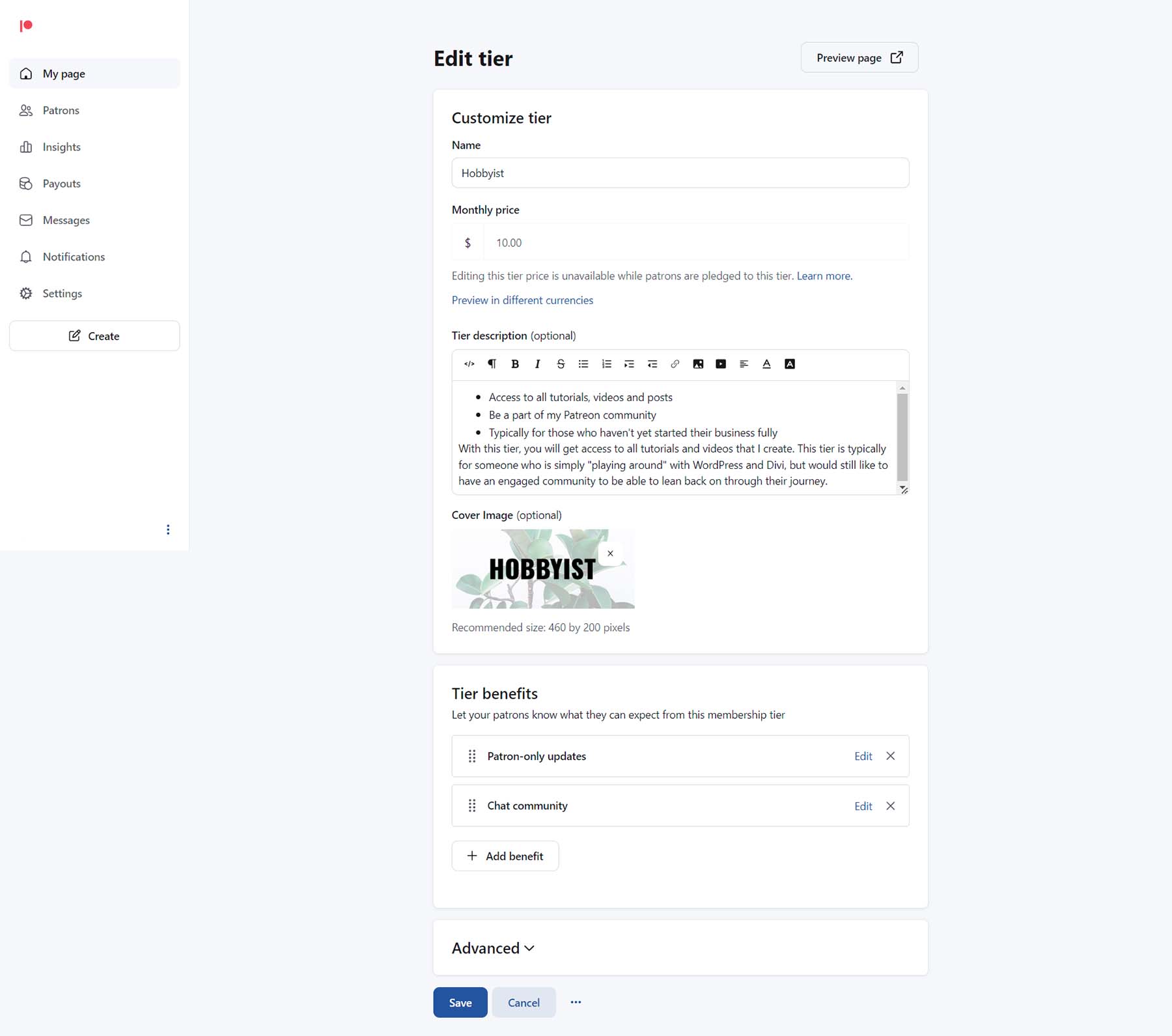 Patreon's interface for creating a membership program is simple and causes you to build your site quickly. You set your monthly price, add your content, and determine what benefits users will receive. No need for any additional plugins; the platform does all the heavy lifting for you, making it painless to monetize access to your content.
Best For:
Content creators who want to sell subscriptions and exclusive access to their video, text, or audio work would benefit most from Patreon. With strong brand recognition and a simple setup and implementation process, if you want to monetize your content as a creator quickly, consider adding Patreon to your arsenal of tools.
Pricing: 5% of the monthly income you earn on Patreon
Who are the Best eCommerce Platforms?
| Features | WooCommerce | Shopify | Squarespace | Ecwid |
| --- | --- | --- | --- | --- |
| Pricing | Free | $37/month | $39/month | $19/month |
| Free Version Available | ✔️ | ❌ (Trial) | ❌ (Trial) | ✔️ |
| Free Themes and Templates | ✔️ | ✔️ | ✔️ | ✔️ |
| Number of Paid Themes | 2000+ | 2000+ | 200+ | ❌ |
| Third Party Integration Library | ✔️ | ✔️ | ✔️(Limited) | ✔️ |
| Drag-and-Drop Visual Builder | ✔️ | ✔️ | ✔️ | ❌ |
| Custom Coding | ✔️ | ✔️ (Limited) | ✔️ (Limited) | ✔️ (Limited) |
| Shipping Calculator | ✔️ | ✔️ | ✔️ | ✔️ |
| Automatic Tax Calculation | ✔️ | ✔️ | ✔️ | ✔️ |
| Additional Sales Channels | ✔️ | ✔️ | ✔️ | ✔️ |
| Native Payment Processor | ✔️ | ✔️ | ❌ | ✔️ |
| Native Email Marketing | ❌ | ✔️ | ✔️ | ✔️ |
| Custom & Admin Customer Emails | ✔️ | ✔️ | ✔️ | ✔️ |
| Order Management | ✔️ | ✔️ | ✔️ | ✔️ |
| Custom Product Page Templates | ✔️ | ✔️ | ❌ | ❌ |
| Sell on Social Media | ✔️ (Addon) | ✔️ | ✔️ | ✔️ |
| Sell on Online Marketplaces (eBay, Amazon, etc.) | ✔️ (Addon) | ✔️ | ✔️ | ✔️ |
| | Get WooCommerce | Get Shopify | Get Squarespace | Get Ecwid |
At a basic level, the best eCommerce platforms allow you to manage your products, beautify your store, track your hard work, and ultimately run a successful shop online. The degree to which your platform of choice does these things leaves the answer to the question, "Who are the best eCommerce platforms?" squarely in your hands.
Our Top 3 eCommerce Platforms
To begin, we'd be remiss if we didn't start our list by talking about WooCommece. For shop owners who want to take charge of every aspect of their store, WooCommerce is for you. With a foundation laid on WordPress, the flexibility and freedom you experience building your shop are unmatched.
If you have big dreams for your online store, Shopify is for you. Consequently, you may need to give up some control in certain departments, like customization and data ownership, but it can be worth it. Shopify powers some of the largest and most popular online brands and stores, and you could join their ranks.
Lastly, for creatives and service providers who rely on appointment scheduling and bookings, Squarespace may be one of the best eCommerce platforms for you to use. With modern templates and a robust native booking calendar, Squarespace makes selling your time online easy, beautiful, and profitable.
What are your thoughts on the best eCommerce platforms?
In conclusion, the best eCommerce platforms are the ones that meet the needs of their user. Do you own an online store? If show, which eCommerce platform did you choose to use? Please share your thoughts in the comments, and let's discuss!
Frequently Asked Questions (FAQs)
Before we wrap up, let's answer some of your most common questions regarding eCommerce platforms. Did we miss one? Leave a question below and we will respond!
What is the best eCommerce platform?
WooCommerce is a popular eCommerce platform due to its flexibility, customization options, and ease of use. It's built on WordPress, making it easy for businesses to set up an online store quickly. With numerous free and paid plugins available, WooCommerce offers a scalable solution for online stores of all sizes.
What is the best free eCommerce platform?
WooCommerce is a popular free eCommerce platform built as a plugin for WordPress, the most widely used website platform. It's highly customizable, with many design and functionality options available through extensions and integrations. WooCommerce also provides powerful inventory management, payment processing, and shipping features, making it an excellent choice for small businesses with limited budgets.
How much does it cost to build an eCommerce website?
The cost of building an eCommerce website varies depending on factors like website complexity, design, development, and features. A simple website with basic features can cost around $500 to $5,000, while a more complex website with advanced features and integrations can cost upwards of $20,000 or more. For example, the paid plans of Shopify start at $37 per month. 
What factors should I consider when choosing an eCommerce platform?
When choosing an eCommerce platform, consider factors like ease of use, design customization, available features and extensions, payment and shipping options, security, customer support, and pricing plans. It's also important to consider the platform's scalability and whether it can accommodate your business needs as it grows.
Can I sell digital products on an eCommerce platform?
Many eCommerce platforms support selling digital products like music, ebooks, software, and courses. These platforms provide secure file hosting and delivery options, often allowing for automated digital product fulfilment. It's essential to choose a platform with the necessary features to support the sale of digital products.
What are the pros and cons of using eCommerce?
Pros of using eCommerce include increased reach, 24/7 accessibility, lower overhead costs, and the ability to personalize and target marketing efforts. Cons include needing a robust digital presence and potential technical issues. eCommerce may also limit the ability to offer a tactile shopping experience.
Which eCommerce platform is best for small businesses?
WooCommerce is an ideal eCommerce platform for small businesses because it's free to use, easy to set up, and customizable to meet their specific needs. With a variety of free and paid extensions, small businesses can add features like payment gateways, shipping options, and inventory management. WooCommerce also integrates with WordPress, making it easy to manage content and SEO. 
Which eCommerce platform is best for SEO?
Wix is a good eCommerce platform for SEO because of its built-in SEO tools, including meta tags, structured data, and sitemaps. It also offers a range of customizable design templates optimized for search engines. Furthermore, Wix provides excellent site speed and security, which are essential for SEO success.
What are the best eCommerce platforms for startups?
Shopify is a good eCommerce platform for startups because of its user-friendly interface, customizable design templates, and extensive app store. It offers a range of features, including payment and shipping options, inventory management, and sales tracking. Additionally, Shopify provides excellent customer support and marketing tools to help startups grow.
What are the best eCommerce platforms for dropshipping?
Shopify is a popular eCommerce platform for dropshipping because of its built-in functionality and integrations with popular dropshipping apps. It also offers a range of features, including payment and shipping options, inventory management, and sales tracking. Furthermore, Shopify provides excellent customer support and marketing tools to help dropshippers grow.