Choosing a Content Management System (CMS) for a content operation is a "make or break" decision. It's not easy to commit to one and then switch to another. The best content management systems will give you room to scale your operation and be simple enough for your writers to utilize it fully.
CMS solutions go beyond static website builders—they are adaptable enough to manage all the complexities of pushing content at scale. This article explores the best CMS platforms that small and large businesses use to see digital success.
The Best Content Management Systems and Software

Subscribe To Our Youtube Channel
A CMS ought to perform all the expected content and media management tasks. Still, it should also have extendibility, give complete control over SEO, and provide incredible site speed— all at reasonable costs.
We've gone through all the top picks and have come up with this list of CMS software you can use to create your next content website. We haven't listed every possible option out there. Instead, we have selected a few leading CMSs that fit specific use cases to help you make an informed decision. This way, you can better understand how to choose a CMS yourself.
The Best Content Management Systems Listed In Order
Expand List
We'll start with the all-time leader of CMSs — WordPress.
1. WordPress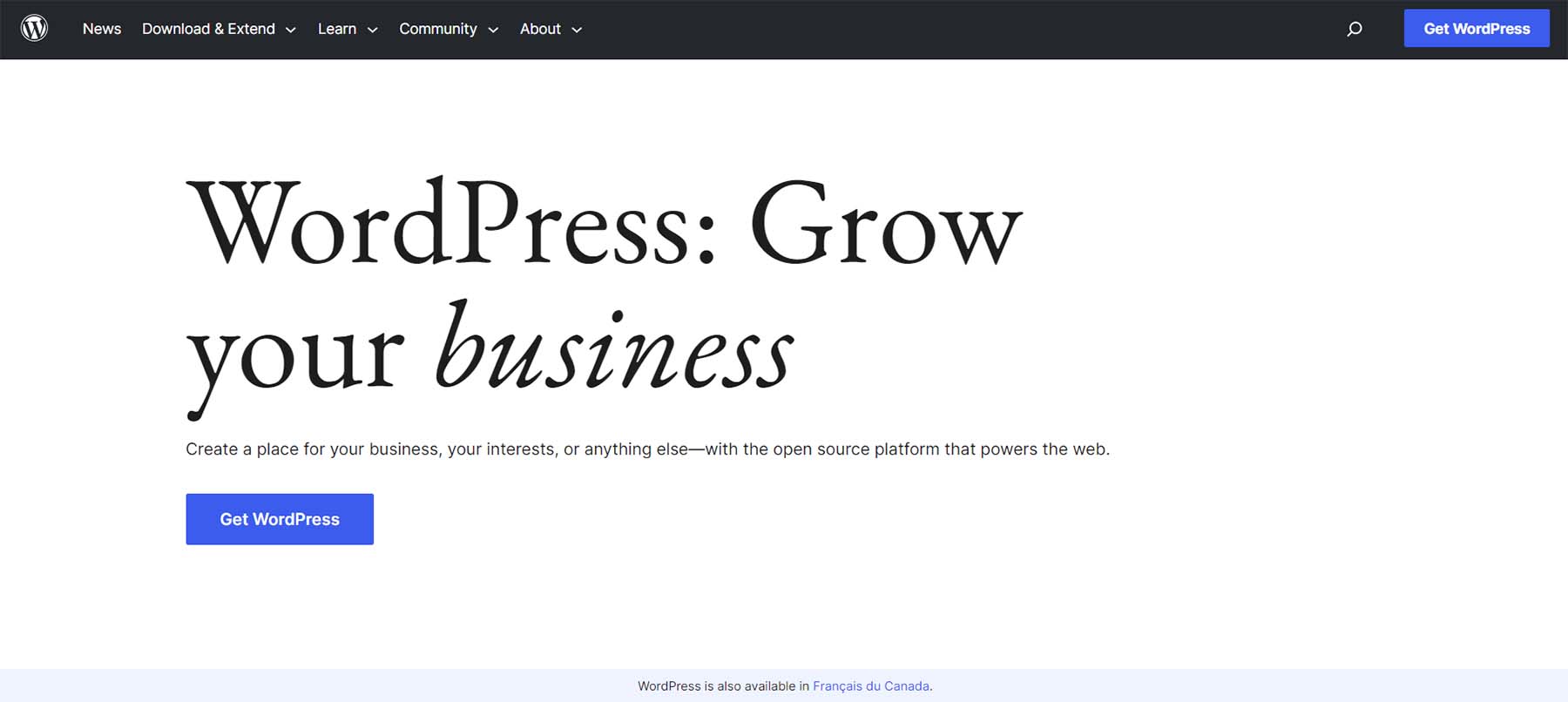 WordPress is by far the most popular Content Management System (CMS) for building websites of all types, used by over 43% of all websites. The core technology (WordPress.org) is free and open source which has helped it grow rapidly over the last twenty or so years. It also has a huge following and support from users, developers, and companies that build WordPress products to fit every need imaginable.
Although WordPress core is free, it does require other things to make it competitive. For example, you'll need at least a good free hosting provider, speed and security plugins, and a flexible theme (more details at the end of this post on how to get started with WordPress). The customization capabilities in WordPress go far beyond just the visual design of the website. Users can add functionality to their site with plugins for tasks like contact forms, social media sharing, eCommerce, and integrations with thousands of SaaS, marketing, and productivity platforms. The flexibility of WordPress allows users to build precisely the websites they have in mind and not be held back by a set-in-stone CMS.
Key Features of WordPress:
Vast customization capabilities with thousands of themes and tens of thousands of plugins to do just about any task (many are free)
Easy to manage content for any website you want to build, including online stores, blogs, and membership sites
SEO-friendly CMS that gives you more options for complex SEO tasks and technical setups
Massive, supportive community with plenty of groups to join and get help from (like our Divi Users group)
Content portability that can easily be transferred to a different WordPress site or as data files to take elsewhere—control over your data is in your hands

Best For:
WordPress is a great CMS for businesses with unique website needs because it allows complete freedom to build any website with thousands of themes and plugins for added features. Additionally, it is designed for SEO and has a supportive community. However, it does require web hosting, and users are responsible for managing security and backups. With the proper plugins, those are all manageable items to get done.
WordPress is also a great option for first-time website creators since it is built to make website building easy.
Pricing: WordPress is free to use, but users will need to pay for hosting and any premium themes or plugins they choose to use.
2. Hubspot

HubSpot CMS is geared toward marketers and sales organizations who use paid or organic content as a significant inbound channel. It allows businesses to integrate marketing and CRM infrastructure inside a CMS fully. It helps you get customer information with inbuilt reporting, set up marketing automation, and tap right into HubSpot CRM without having to set up any 3rd party integrations.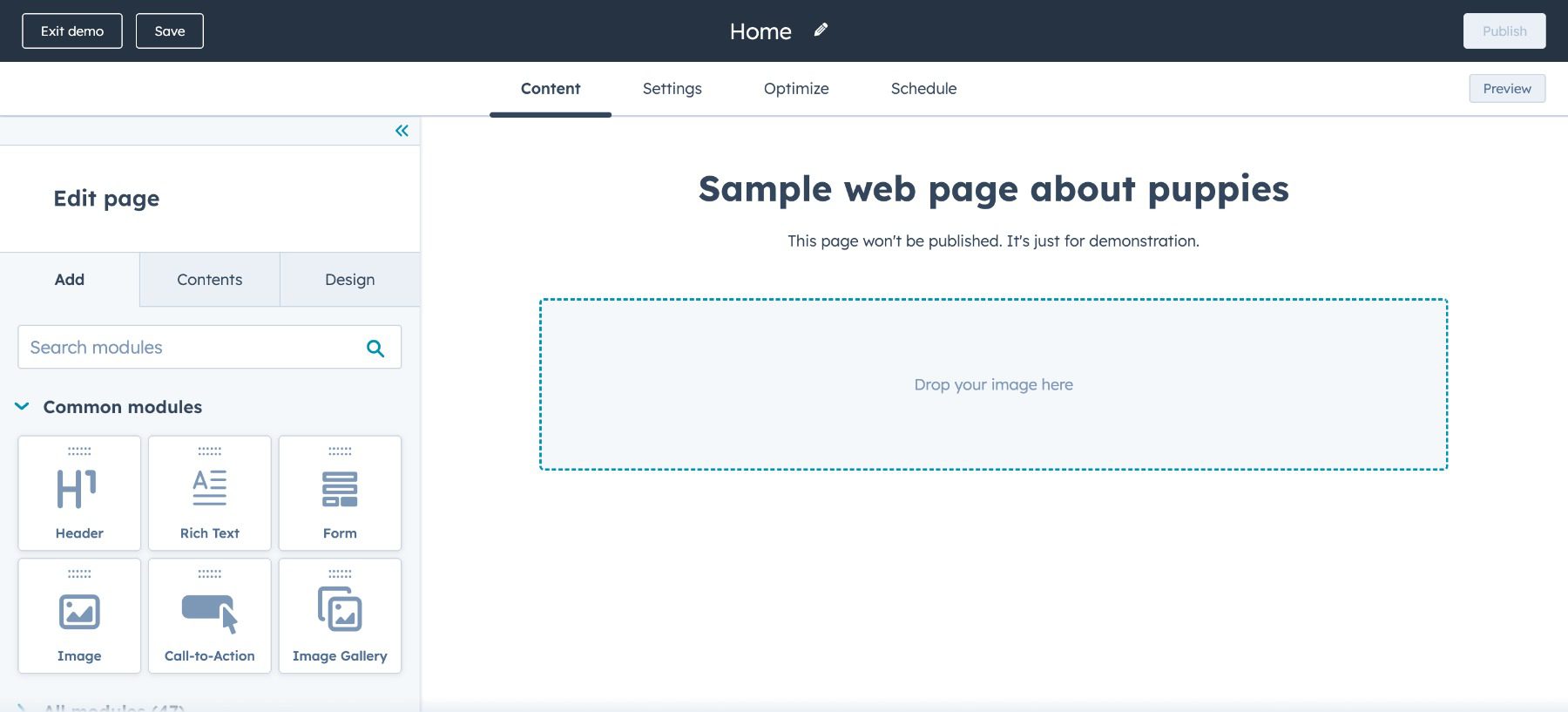 HubSpot has built-in SEO tools and marketing attribution, which help businesses optimize their web content and properly collect customer data for later marketing. HubSpot empowers businesses to make data-driven decisions and improve their online presence, ultimately converting more customers. Check out our detailed HubSpot overview for more.
Key Features of Hubspot:
HubSpot CMS Hub offers built-in SEO and marketing attribution tools to optimize web content easily
CMS Hub has built-in security features, including a global CDN and Web Application Firewall, to protect your site from attacks
The platform seamlessly integrates with HubSpot's marketing, sales, service, and CRM tools to streamline workflows
HubSpot Asset Marketplace offers over 3,500 free and paid templates to change the appearance of your site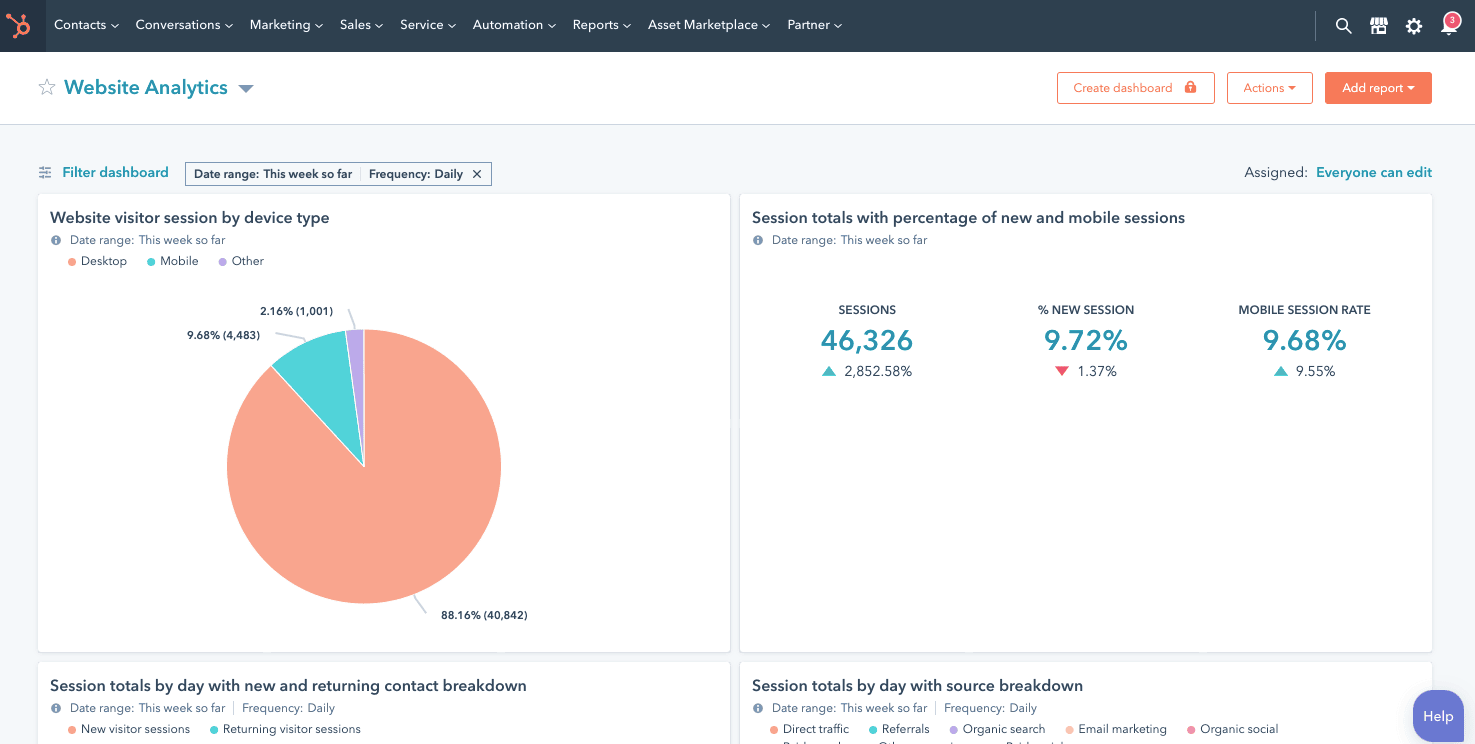 Best For:
HubSpot CMS is a comprehensive content management system that allows marketers and business owners to link their marketing and sales activities easily. It is recommended for businesses of all sizes who may be seeking a unified CMS and CRM solution. Small companies, as well as larger ones, rely on Hubspot. They have excellent help resources and videos to get you on your way.
To see how Hubspot compares to WordPress, see our breakdown of WordPress vs. Hubspot.
Pricing: Hubspot's CMS starts Free and paid plans for as little as $25/mo with scaling prices well over $300/mo
3. Shopify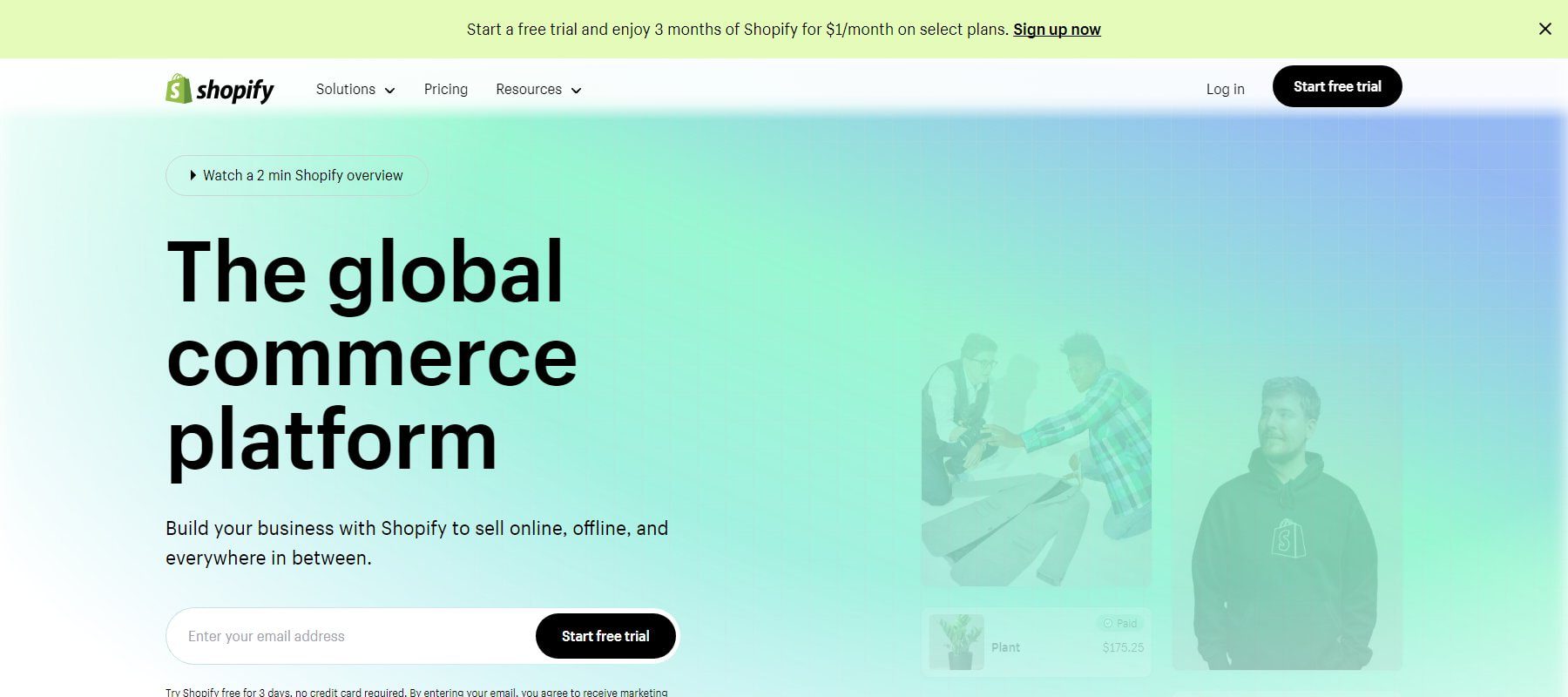 Shopify is a popular eCommerce CMS that includes basic content management for posts. It is one of the go-to eCommerce website platforms along with WooCommerce. Its sole purpose is to make selling online easy.
Shopify is powerful as an eCommerce CMS but relatively weak regarding pages and blog posts. Most people starting with the platform are delighted with the selling features but are left wanting better CMS features for traditional content (outside of product information).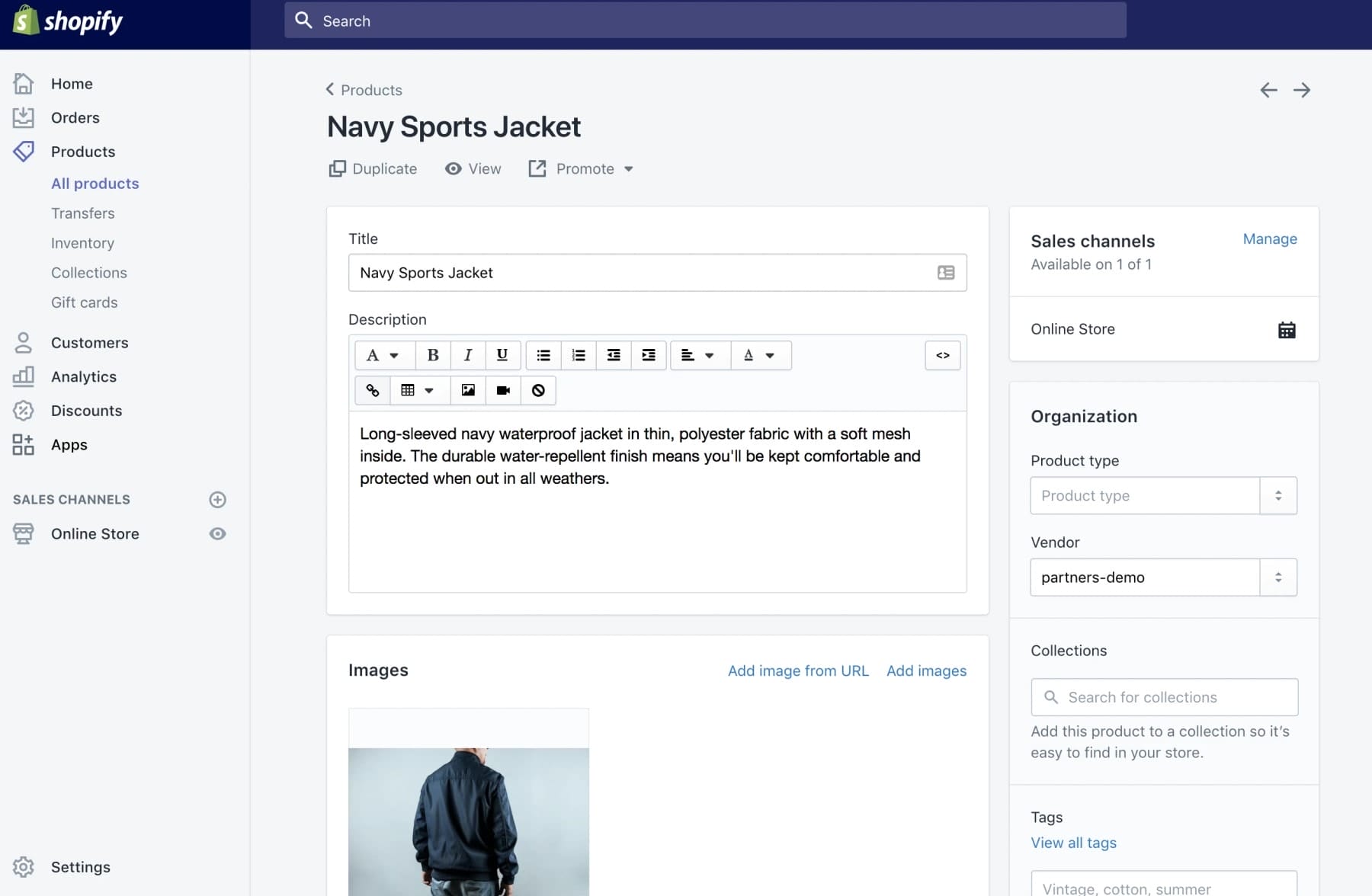 Key Features of Shopify:
Built-in payment processing and shopping cart system
Easy-to-use interface with 24/7 support
Ability to manage product display, stock, coupons, and orders
App marketplace with over 5,700 free and paid apps to extend the functionality
Ideal for first-time shop owners and small businesses looking to sell online
Shopify's built-in payment processing and shopping cart system makes it incredibly easy for businesses to set up an online store and accept payments quickly. This, combined with its user-friendly interface and tech support, makes it an excellent option for first-time shop owners and small businesses looking to start selling online without the technical know-how or resources required to build a custom e-commerce solution from scratch.
Shopify's themes are made using their programming language, Liquid, similar to PHP. This can be a drawback because custom coding requires learning Liquid and limits the number of web developers who can work on your theme changes. However, Liquid is widely used and adopted.
Best For:
Shopify is an ideal CMS for e-commerce sites, especially for first-time shop owners or small businesses looking to sell online. It offers a user-friendly interface with payment processing, apps with more features, and customer support. However, customization options are limited, and bigger plans can be expensive.
To see how Shopify compares to WooCommerce, see our breakdown of WordPress vs. Shopify.
Pricing: Shopify's pricing ranges from $39/month with transaction fees per eCommerce transaction
4. Webflow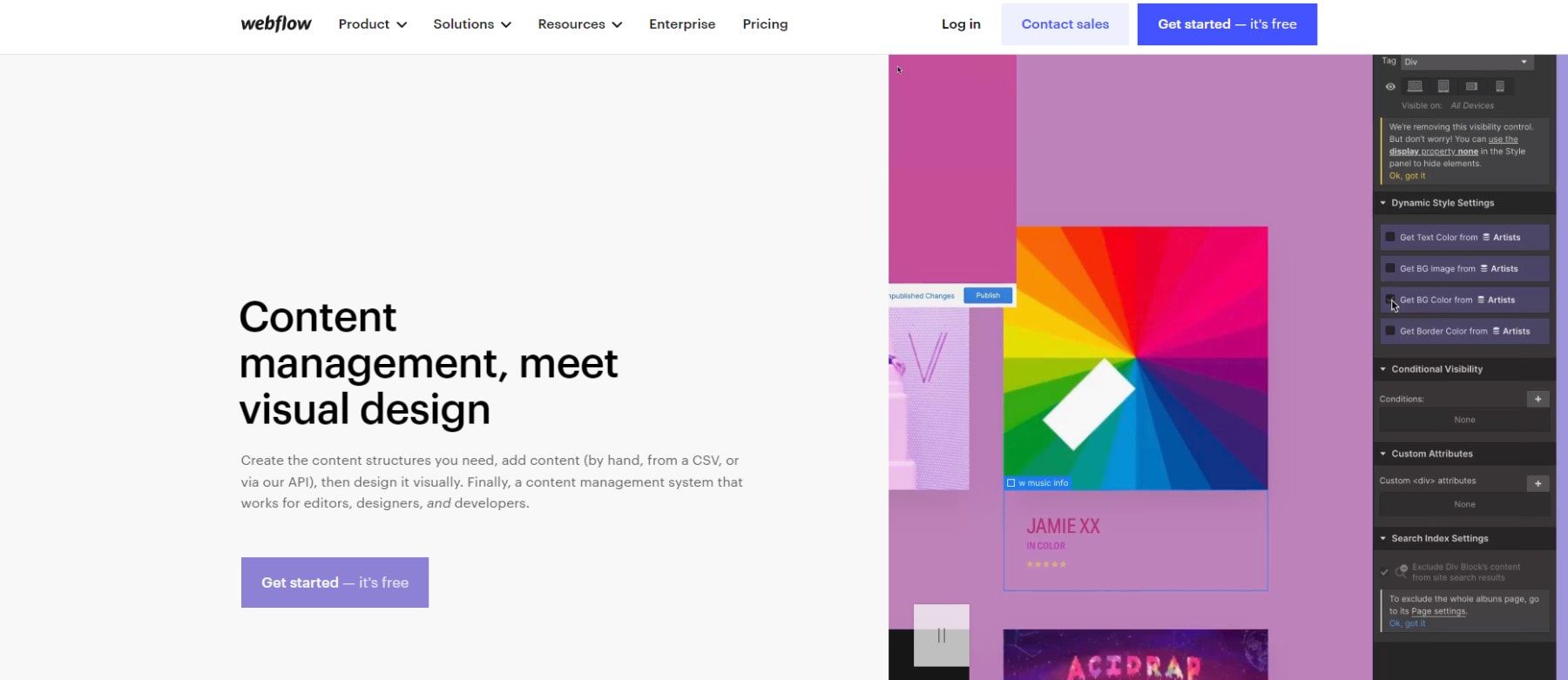 Webflow is an all-in-one software-as-a-service (SaaS) platform for building and hosting your website. All of the features are built-in, so you don't have to worry about finding a host or installing extra plugins for things like SEO, security, eCommerce, etc.
The best feature of Webflow CMS is its visual editor. This editor allows you to create and edit content without any coding knowledge. You can drag and drop elements to make your pages and use the built-in tools to style your content. The visual editor is intuitive and easy to use though a design background is helpful.

Key Features of Webflow:
Complete control over site design
Offers built-in security features like SSL certification and 2FA
Hosting comes with the platform (just like Wix or Squarespace)
Ideal for experienced designers who want to create custom sites rapidly
Best For:
Webflow is an ideal content management system for experienced designers as the whole design system is built to bring CSS to a no-code environment. It has well over a hundred starting templates for agencies designing quickly for customer sites and has all the web design features to iterate new concepts quickly. It reminds us a bit of Divi for WordPress.
To see how Webflow compares to WordPress, see our breakdown of WordPress vs. Webflow.
Pricing: Webflow's pricing ranges from $12/mo but starts at $29/mo for CMS features
5. Contentful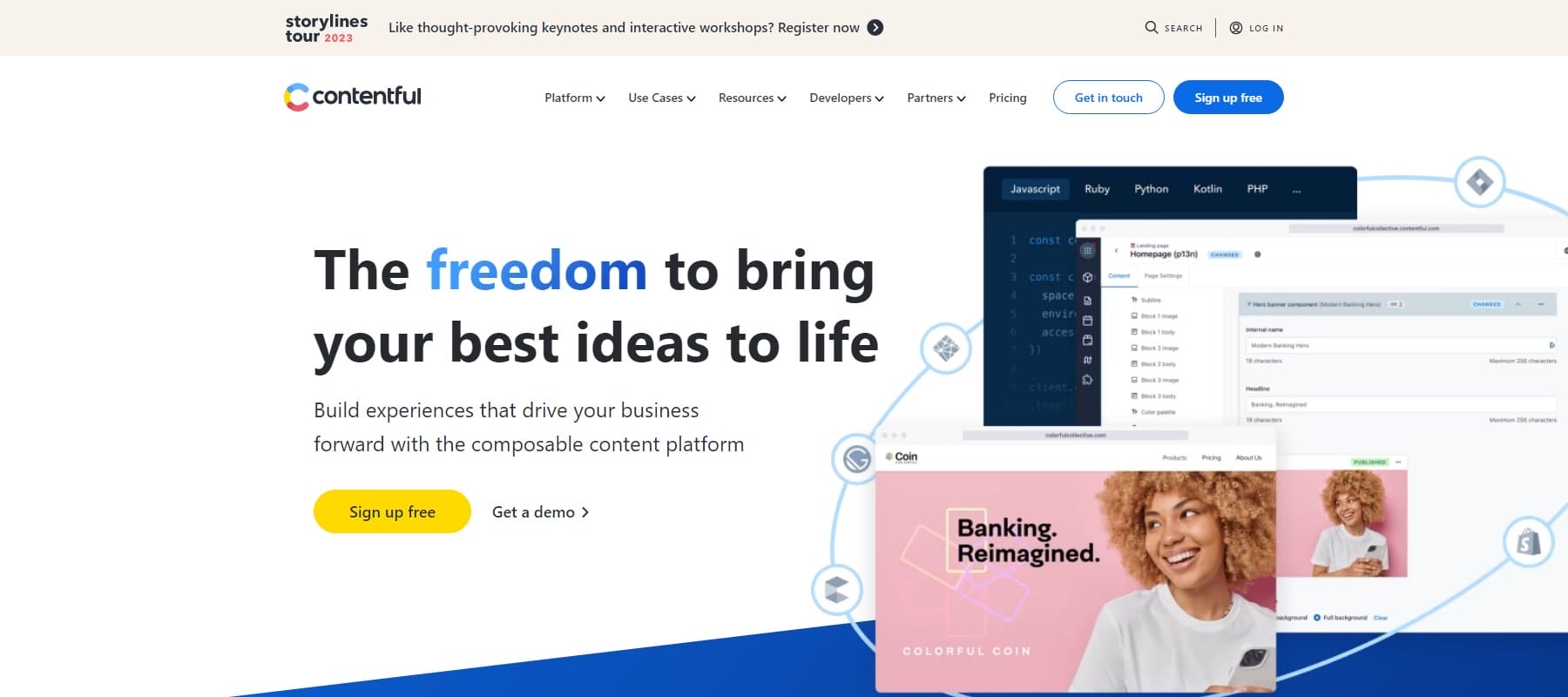 Contentful is a headless CMS that allows you to manage your content in a central location and deliver it to any device or channel. It offers a range of features and integrations to help developers create and manage their digital content strategy.
Contentful's "content model editor" works like custom post types in WordPress, where you can create content types and fields. For example, you could create content models for an editorial story-telling or for product reviews based on the type of content and structure you want to have for either.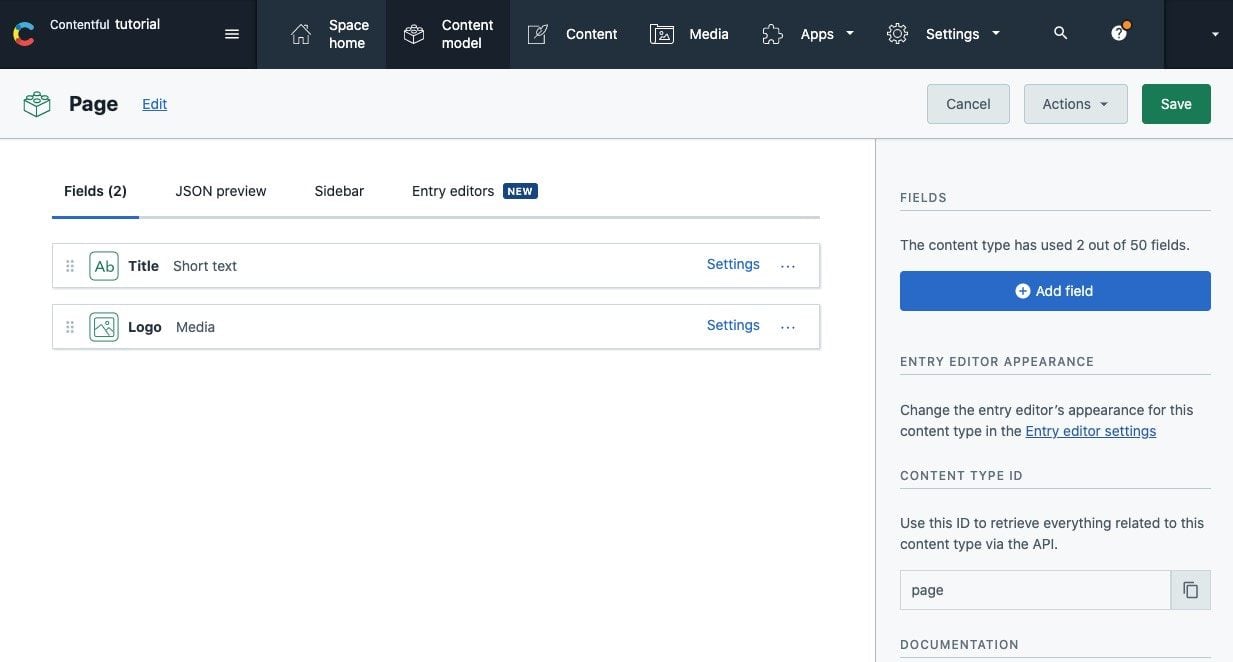 Key Features of Contentful:
Enterprise-level headless CMS with tools to create, edit, and manage content
Allows for the creation of a unique content model tailored to the specific project's design and function needs
API-first platform that enables integration with any tech stack and can deliver content to any digital channel
Security features provided by Amazon Web Services and built into Contentful
Adaptable to all digital platforms, from web browsers to mobile apps
Best For:
Contentful is a cloud-based CMS for bigger businesses with technical resources. It's perfect for developers who want to use an API-first CMS to push content to different channels, but it may not be easy for most businesses.
Pricing: Contentful's pricing ranges from $300/mo for its basic CMS plan
6. Adobe Experience Manager Sites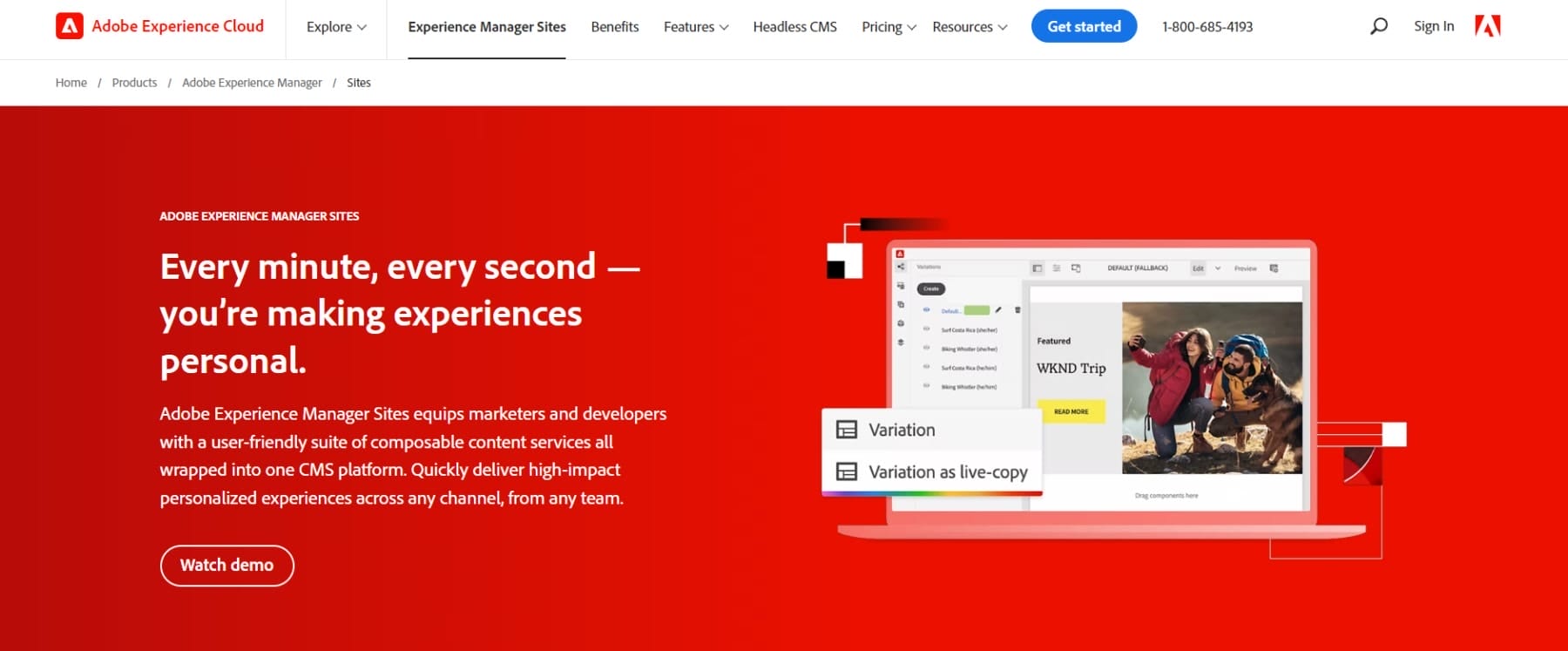 Adobe Experience Manager Sites is a cloud-based CMS that offers a wide range of features, including content management, collaboration, and analytics. It is a good choice for businesses that need a feature-rich CMS to power digital content on apps and websites. It integrates seamlessly with the rest of the Adobe Experience Cloud ecosystem.
The best feature of AEM Sites is its ability to create personalized user experiences. AEM Sites use various technologies, including artificial intelligence, to understand user behavior and preferences. This information is then used to deliver more relevant content to each user.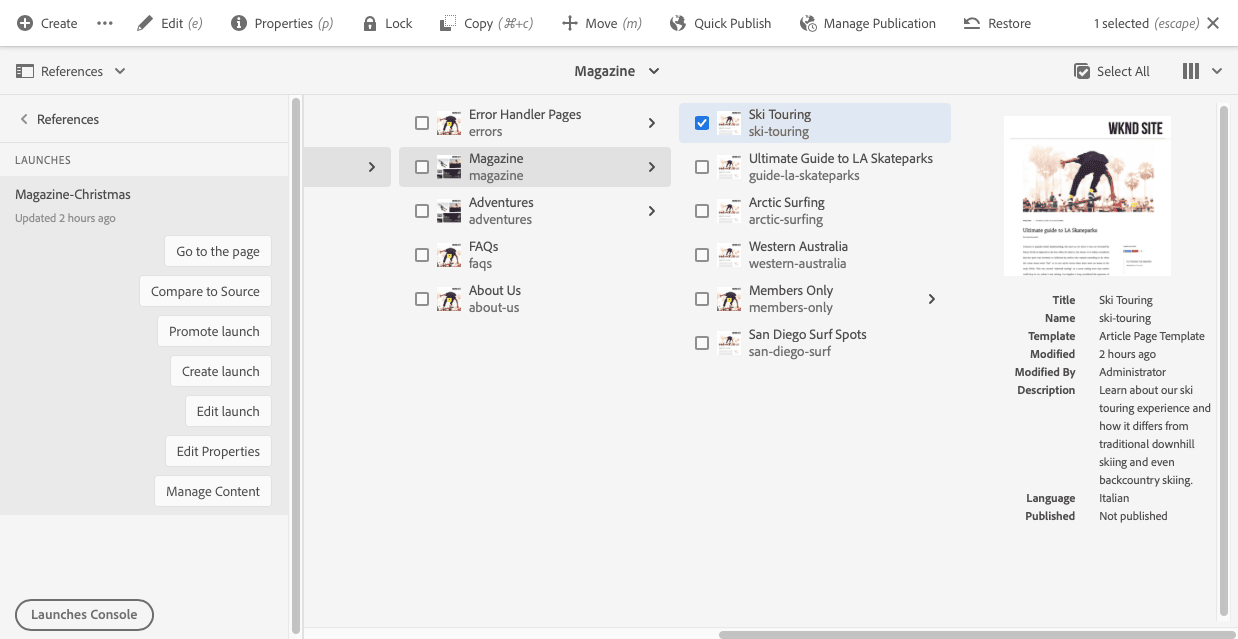 Key Features of Adobe Experience Manager Sites:
Flexible CMS that adapts to different channels like mobile Apps (Apple, Android, etc.) and websites
Scalability with machine learning and AI-powered Digital Asset Management (DAM) tool
Advanced user access controls, helpful video analytics, and intelligent searching
Best For:
AEM Sites is a great CMS for big organizations that want to deliver personalized content experiences across multiple channels. AI powers it and has an efficient data collection system, but licensing and setting up are expensive.
WordPress tools like AppPresser can help you turn your website into an App for multi-channel content distribution.
Pricing: Adobe Experience Manager Sites' pricing is not public, and you will need a quote from Adobe
Get Adobe Experience Manager Sites
7. Magnolia CMS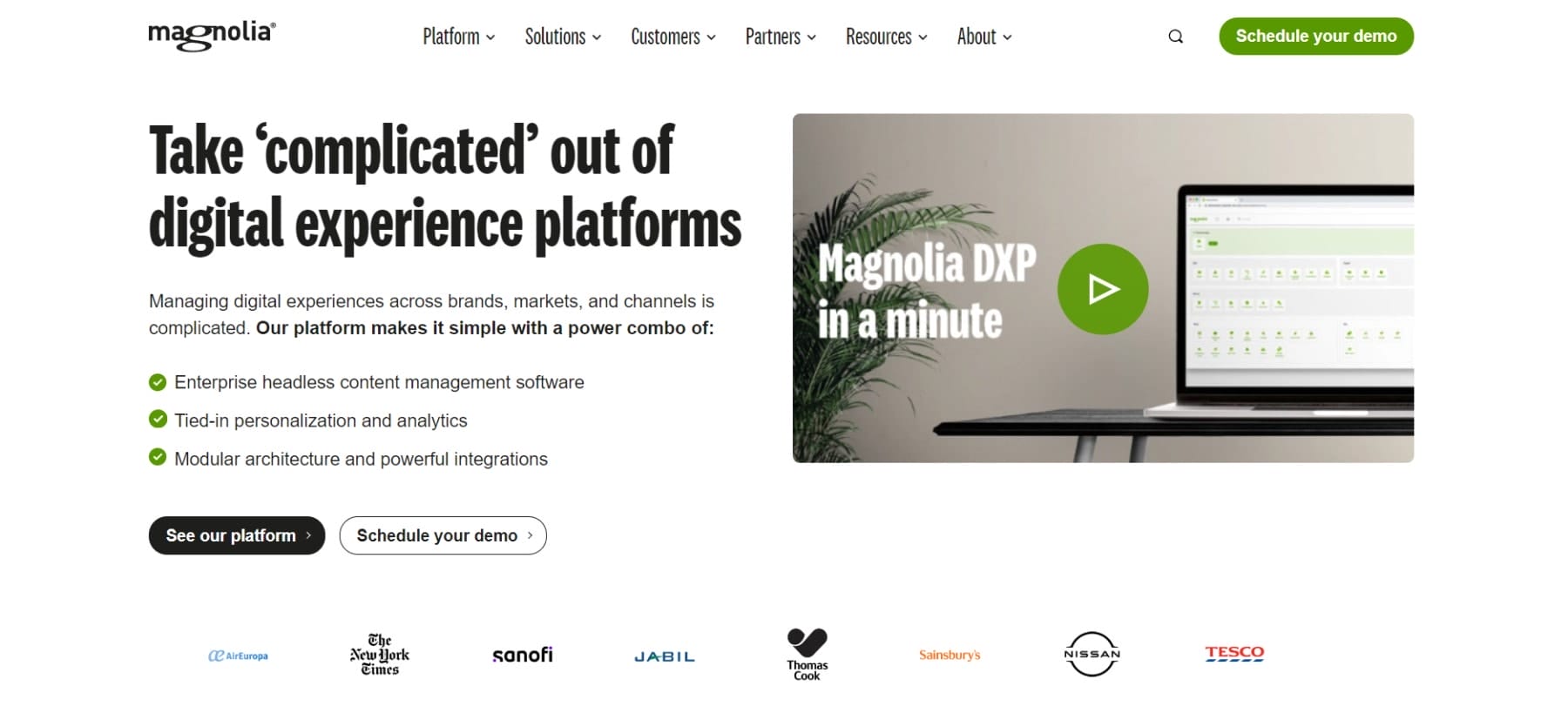 Magnolia is a headless CMS that offers a wide range of features, including content management, collaboration, and analytics. It is a good choice for businesses that need a powerful and feature-rich CMS.
Magnolia's modular architecture and open APIs make adding new features and functionality easy. Its flexible content model allows you to create and manage content in a way that makes sense for your business.
Key Features of Magnolia:
Flexible and customizable with modular architecture and Java customization options
Built for managing multi-site, multi-language, and multi-channel digital experiences
Includes AI-powered content search and smart tagging for centralized taxonomy
Offers out-of-the-box functionality with options to customize and tailor workflows, create server filters, and more
Supports traditional web pages, interactive apps, digital signage, and any digital channel for content management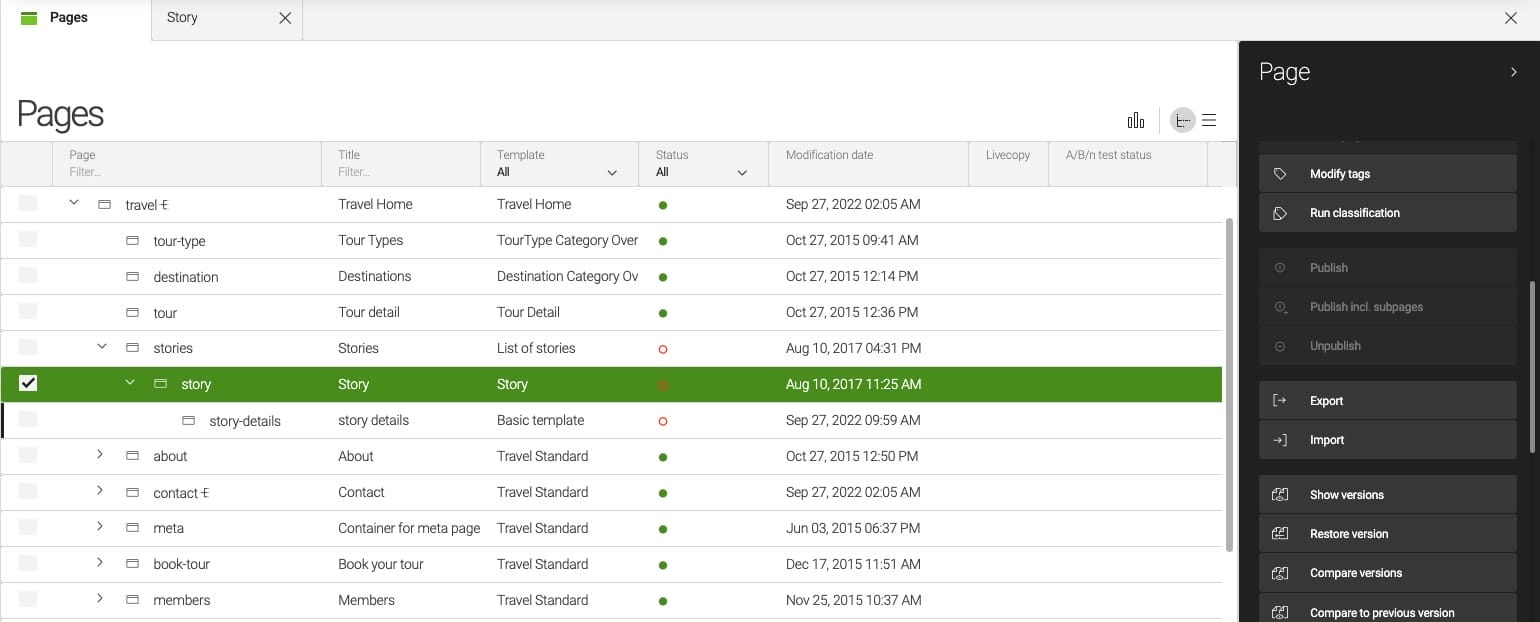 Best For:
Magnolia is a great CMS for businesses that manage multiple sites, channels, and endpoints. It offers good default features, but you can customize it as you need. Magnolia's modules can be interchanged, and you can customize Java for workflows, server filters, and the interface. It's ideal for omnichannel experiences and is favored by many marketers. It also uses AI features to help create content, making it easier for users to find (and add personalization).
Pricing: Magnolia's pricing is not public, and you will need a quote from Magnolia
8. Joomla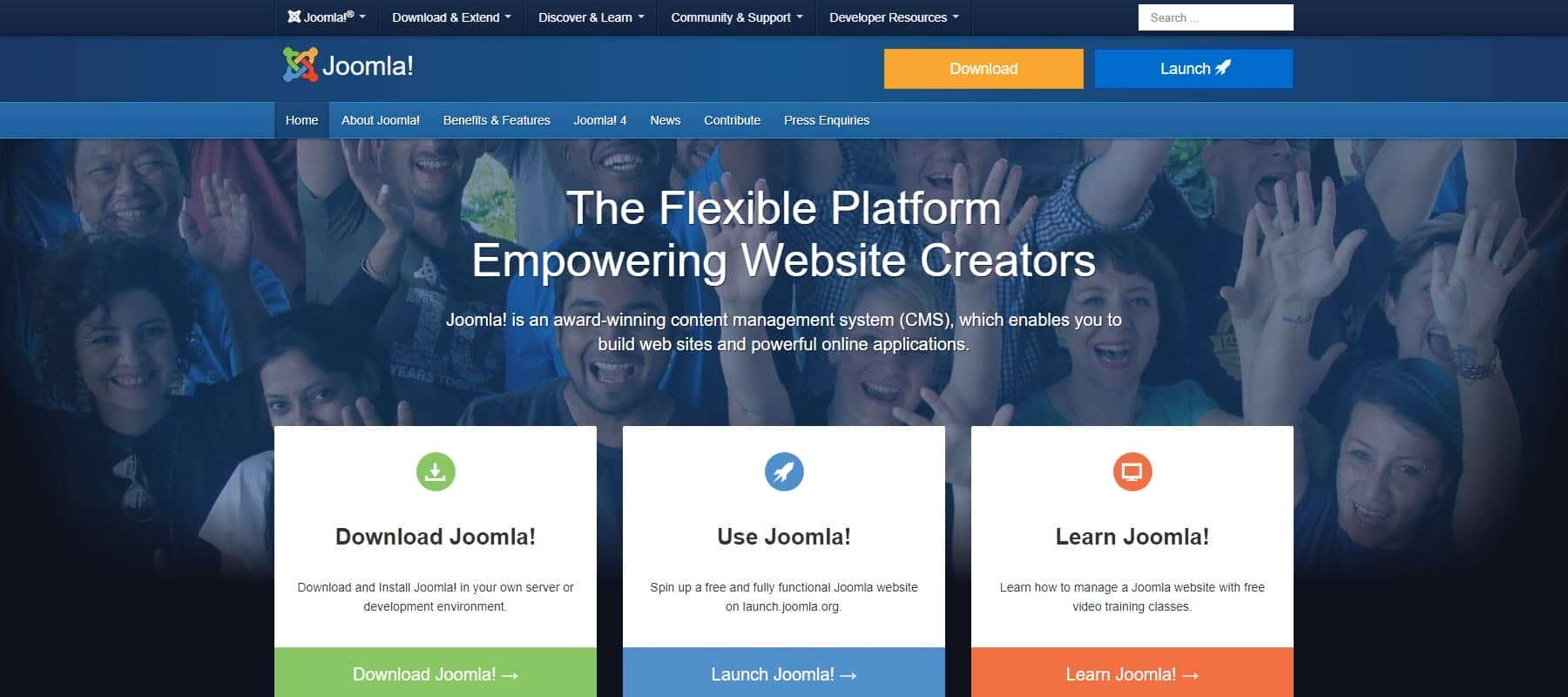 Joomla is a free-to-install, open-source CMS that's similar to WordPress. Many would consider it behind WordPress's usability, but many people love it. Joomla is tailored more toward developers rather than the average user. It can be challenging to use, and it isn't easy to learn the UI and settings.
Post and page editing uses a standard WYSIWYG editor that virtually all CMS platforms are getting away from. Upgradable Joomla page editors can be added for a more modern editing experience.
Key Features of Joomla:
Offers a middle ground between the ease of use and price of WordPress and the versatility of Drupal
It has more out-of-the-box features than most open-source CMS systems, allowing users to build complex sites
It provides excellent tools for managing users, making it a popular choice for membership-type sites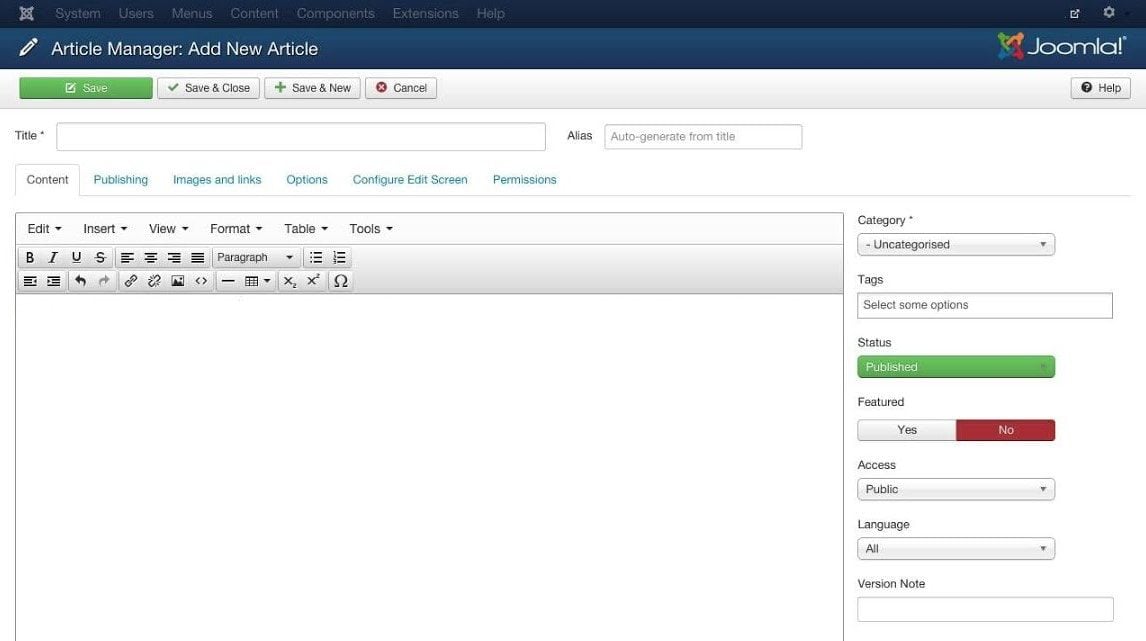 Best For:
Joomla is suitable for larger companies and technical individuals who need a more advanced CMS with features and flexibility for building complex sites, like eCommerce stores or membership-type sites. Still, it requires a steeper learning curve than WordPress and provides user management tools.
To see how Joomla compares to WordPress, see our breakdown of WordPress vs. Joomla.
Price: Free CMS platform that requires hosting
9. Ghost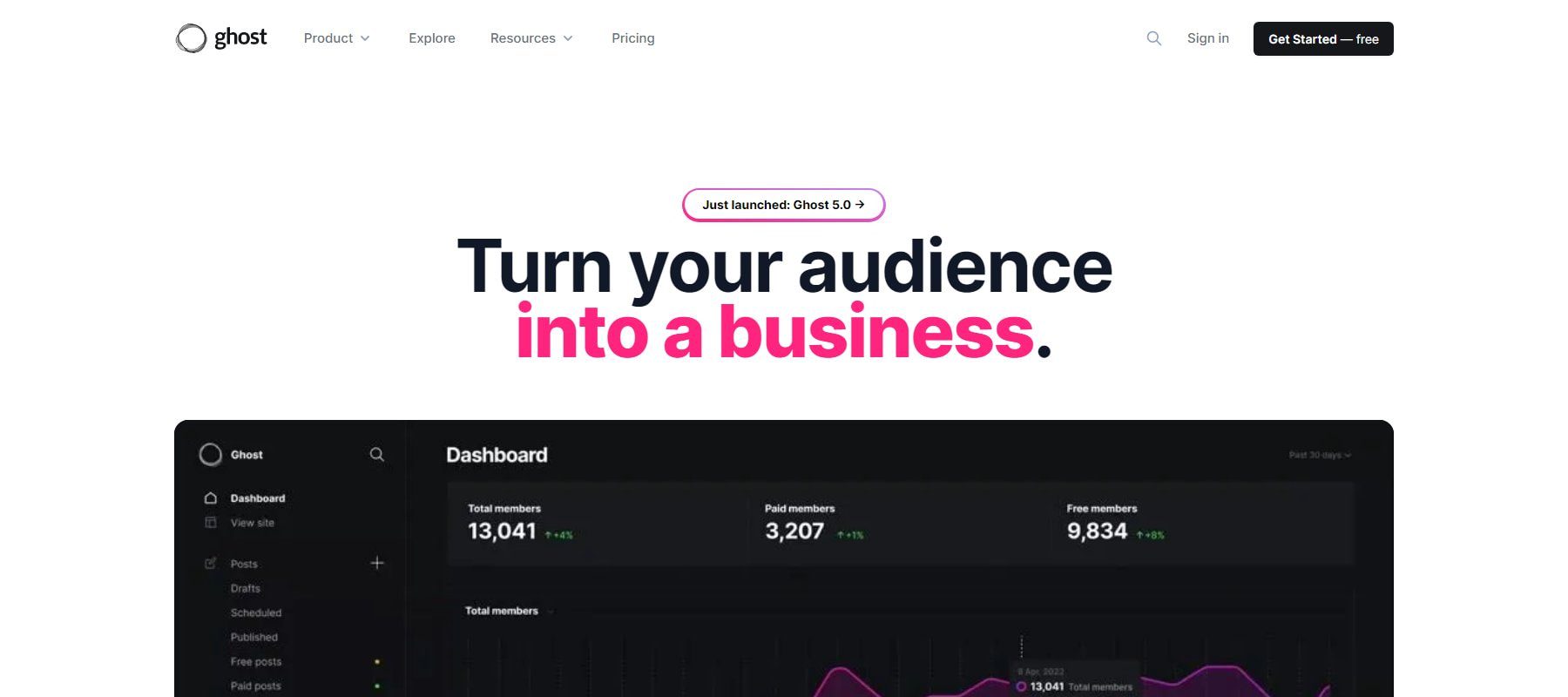 Ghost is a publishing platform focused mainly on publishing, specifically for digital content creators who'd tend to otherwise monetize their content through Medium, Substack, or Patreon. Instead of taking the approaches of any of those platforms, Ghost is a CMS that lets you control every aspect of your business website with the added benefit of great monetization tools that come standard.
Creators can charge for their content through a customizable membership or offer it free. The CMS distributes content via web and email using the inbuilt newsletter feature. Ghost is a CMS with a single purpose, so learning tends to be easier. All the tools are there to help you post and make money.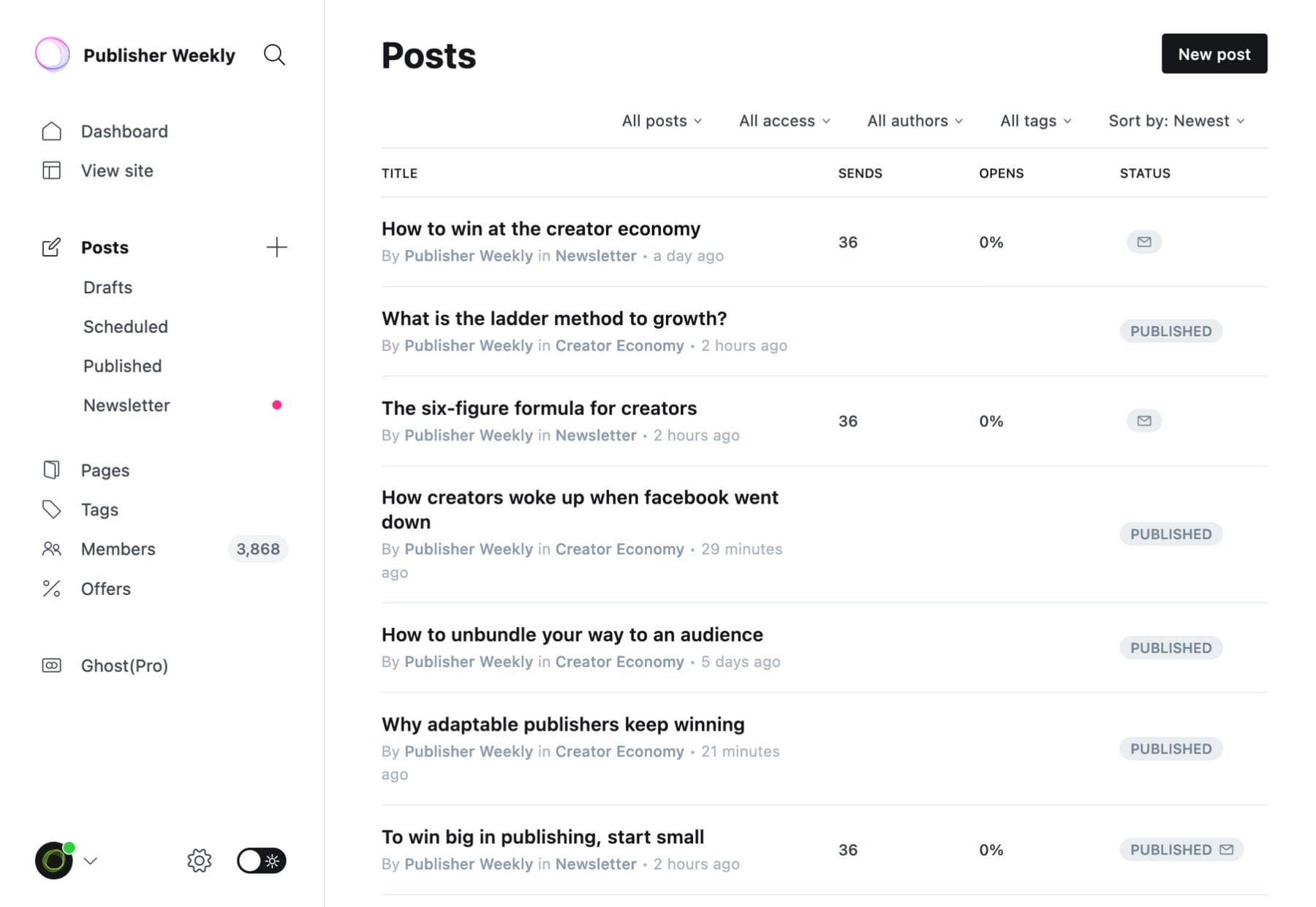 Key Features of Ghost:
Ghost is designed for creators and offers a content editor using cards (like WordPress blocks)
The CMS platform has excellent support for SEO
Ghost is an excellent choice for running a paid online journal or content hub, as it allows creators to charge for their content
Easily share content through a variety of channels, including your website and email newsletters
Best For:
Ghost is an ideal CMS platform for bloggers, podcasters, and journalists, focusing on easily managing members and content. Users who need more customization may find it lacking compared to CMS platforms like WordPress though many will find the simplicity freeing. It's also not easy to self-host (at least not now), so site owners would use their optional hosting.
To see how Ghost compares to WordPress, see our breakdown of WordPress vs. Ghost.
Price: Starting at $11/mo (based on audience size)
10. TYPO3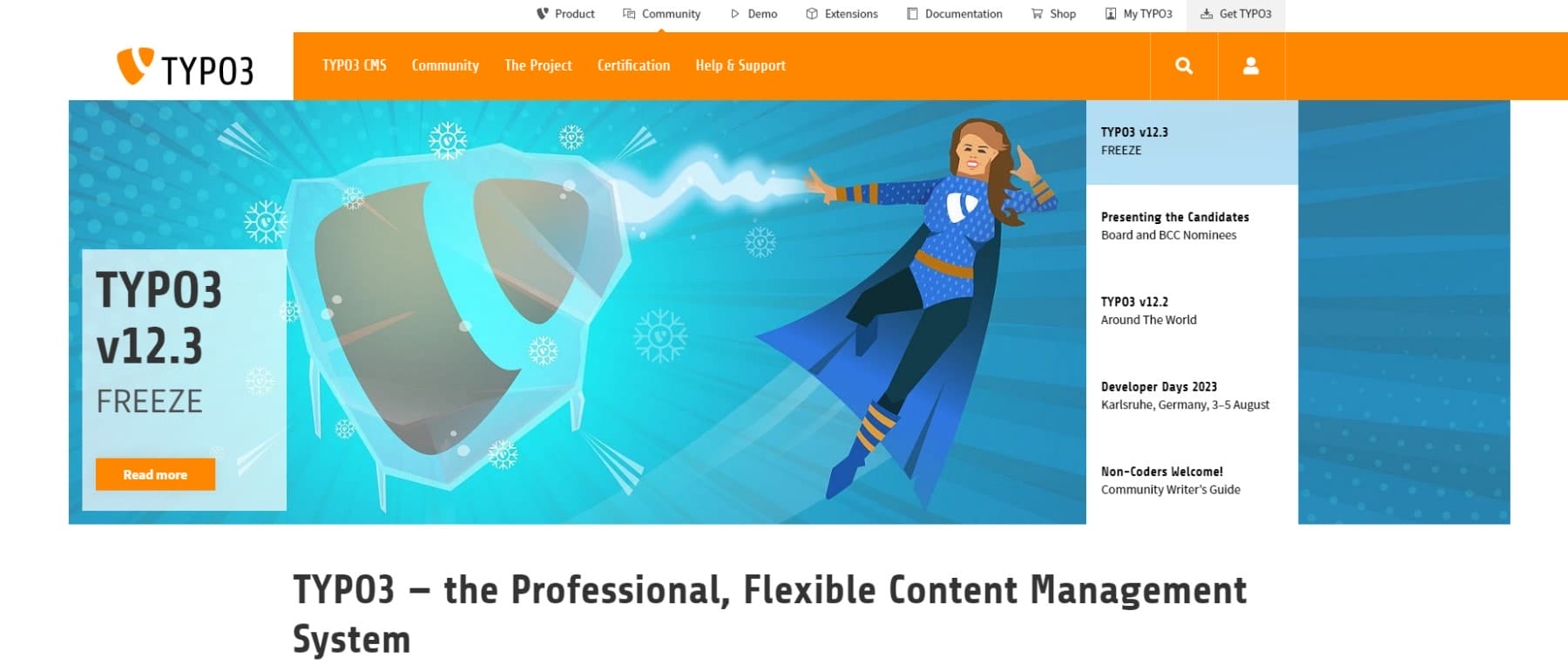 TYPO3 is a free and open-source CMS known for its flexibility and scalability. It is a good choice for businesses seeking a customizable and open-source CMS platform. It's more of a developer-focused platform with steep entry points. It boasts a relatively extensive extension library, with many extensions costing extra. Unfortunately, that pales in comparison to WordPress' plugin selection.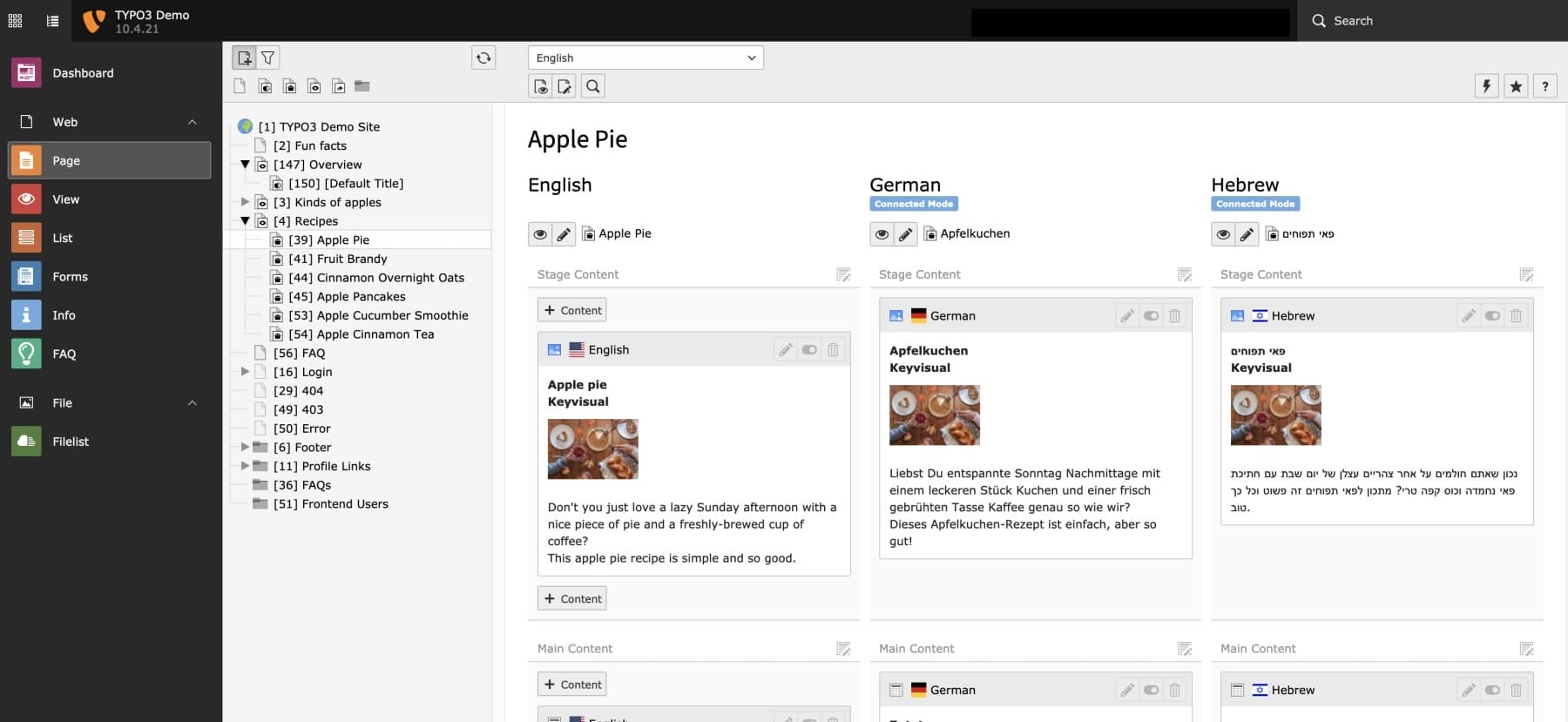 Key Features of TYPO3:
The CMS is highly customizable, with over 6,000 extensions and the ability to hire developers to extend it further
It is easy to modify user permissions and customize security features, which provides greater control and tighter security
TYPO3 is best suited for enterprise-level websites but requires advanced technical skills to set up and maintain
Best For:
TYPO3 is an open-source CMS designed to build enterprise-level sites and is best suited for enterprises that want a fully customizable site. It's also useful for intranet sites (internal company sites) and websites.
Pricing: TYPO3 is free to use, but users will need to pay for hosting and any premium templates or plugins they choose to use.
11. Drupal


Drupal is a complete CMS that targets the same demographic as WordPress does. Like WordPress, it is free, open-source, and easily installed through most web hosting providers. It tends to be more technical than WordPress but easier than Joomla (two of the most prominent open-course CMSs).
It is highly configurable and can create many websites, from simple blogs to complex eCommerce stores. It's often touted as one of the safer security choices among open-source CMSs.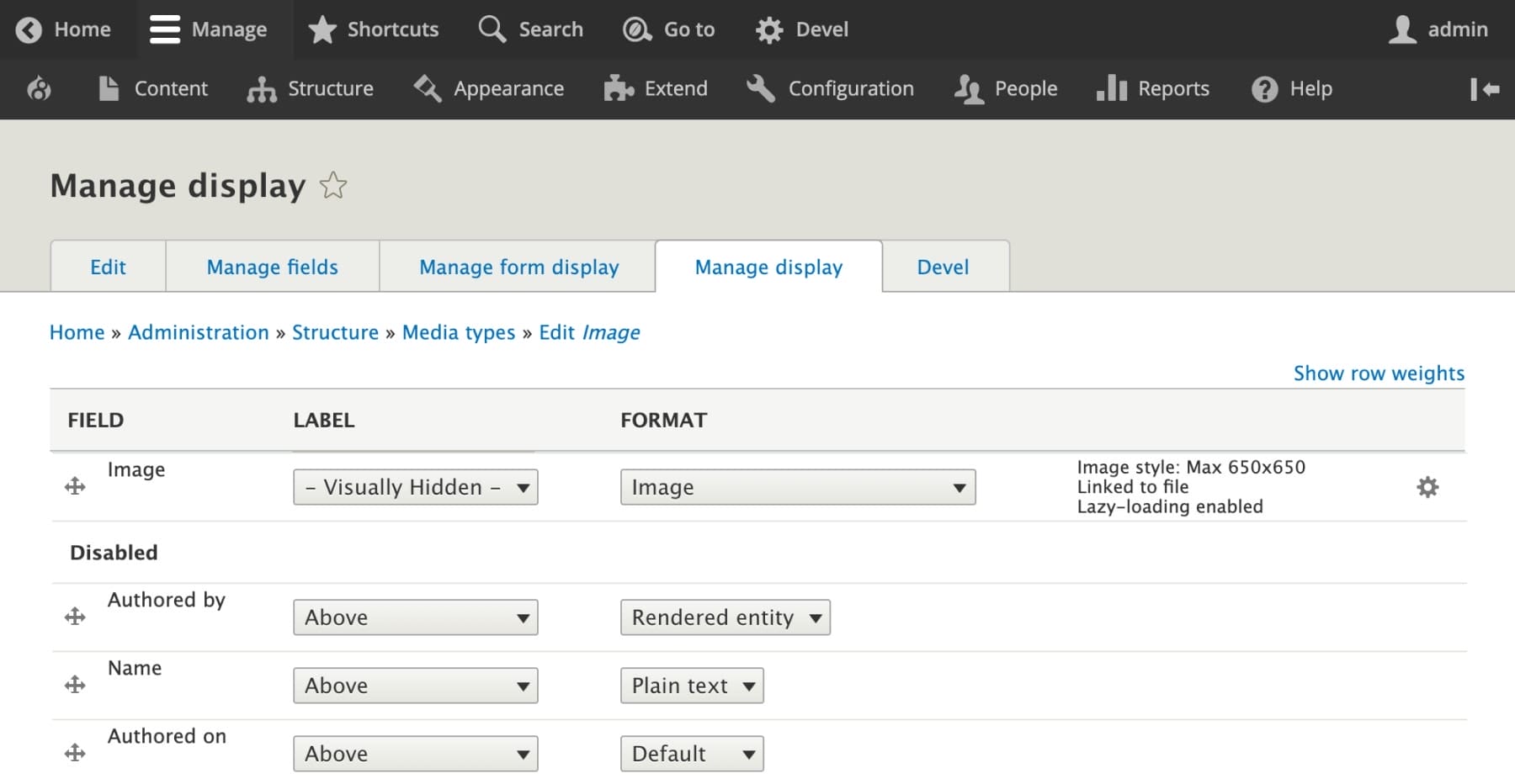 Key Features of Drupal:
Configurable using modules (45,000+) and thousands of themes
Considered one of the most secure open-source CMS software
This platform is an excellent choice for developing intricate websites with personalized features, particularly if you have a technical background
Best For:
Drupal is ideal for developers and businesses with significant technical resources to build a highly customized site that can handle large volumes of data and heavy traffic. It offers a wide range of highly configurable modules and themes, with the highest reputation for security among open-source platforms. However, its steep learning curve and high cost of building and customizing sites make it less user-friendly for beginners than other CMS platforms.
To see how Drupal compares to WordPress, see our breakdown of WordPress vs. Drupal.
Price: Free CMS that many hosting companies provide an easy install option for
What is the Best Content Management System?
The three best CMS platforms are WordPress, HubSpot, and Shopify.
WordPress and its vast customization abilities and massive community (and market share) make it an excellent choice for almost any website and business.
With its connected marketing and sales platforms, HubSpot creates a compelling case if you are okay with opting for a closed system with limited outside customization.
Finally, Shopify is ideal for first-time shop owners and small businesses looking to sell online. The platform makes it easy to set up a shop and connect all the relevant marketing tools using simple wizards. However, we prefer WordPress + WooCommerce.
But are there other choices to consider? When building a website, there are tons of options. You might not need an entire CMS, either. We've compared WordPress with other top website-building platforms to help you choose between them.
How to Get Started With WordPress
Are you thinking about using WordPress? We believe that's a great choice! WordPress gives you the freedom to create just about anything. But where do you even start? Here's a quick guide:
Frequently Asked Questions (FAQs)
Before we wrap up, let's answer some of your most common questions regard content management systems. Did we miss one? Leave a comment and we will reply!
What is the best content management system?
WordPress is the best content management system because of its user-friendly interface, customizable design options, and extensive plugin library. It offers powerful blogging and content creation tools and SEO optimization features. Additionally, WordPress provides excellent scalability, making it a good choice for businesses of all sizes.
What is the best free content management system?
WordPress is the best free content management system because it offers a range of customization options and powerful features at no cost. It has a large and active developer community, providing access to a vast library of free plugins and themes. WordPress is also open-source software that can be freely modified and customized to suit the needs of your business.
What is the most widely used content management system?
WordPress
is the most popular Content Management System (CMS) that is used by an astonishing 40% of the websites on the internet today. It's a highly versatile platform that provides users with an easy-to-use interface and a great range of features and customization options, making it the go-to choice for many website developers.
What are the different types of CMS?
Some content management systems are open-source (which you self-host) and others are cloud-based (hosted by another company). CMSs may also have different specialties for different types of content or different types of technology that they connect with.
What do you use a content management system for?
A content management system (CMS) is a software application that helps you create, manage, and publish content on a website or app. CMSs are designed to make it easy for people with little or no technical experience to create and update content without relying on a web developer. Though developers often help set up the whole system.
How do I choose the best content management system for me?
To choose the best content management system, consider your website's purpose, budget, and feature requirements. Take into account your needs when it comes to scalability, ease of use, security, and support. Research and compare different CMS options to determine which best suits your business needs and goals. Choosing a CMS compatible with your existing website technology and development stack is also essential.
What are the limitations of using a free content management system?
The limitations of free content management systems include limited customization options, a smaller selection of features and plugins, and limited customer support. A free CMS may also restrict data storage and bandwidth usage, impacting website performance. 
What are the benefits of using a content management system?
The benefits of using a free content management system include ease of content creation and modification, a user-friendly interface, reduced development costs and time, improved site security, and scalability. Free CMS may also be easier to use and maintain, making it a good choice for small businesses or individuals with limited technical knowledge.
What makes WordPress the best content management system?
WordPress is a popular content management system because of its user-friendly interface, extensive customization options, and large developer community. It offers various plugins, themes, and features to enhance website functionality, including powerful blogging and SEO optimization tools. 
What is the best content management system for SEO?
WordPress is a popular content management system for SEO because it provides a range of SEO-friendly features, including customizable permalinks, meta tags, and image optimization. It also offers a range of plugins that can enhance website SEO, including Yoast SEO and All-in-One SEO Pack. Additionally, WordPress is fast, mobile-responsive, and has a clean codebase, which is essential for good SEO performance.
What is the best content management system for eCommerce?
Shopify is often considered the best content management system for eCommerce because it provides an all-in-one platform for creating and managing an online store. It offers a range of features, including payment and shipping options, inventory management, and sales tracking. Additionally, Shopify offers a customizable design and extensive app store, making it easy to create a professional-looking eCommerce website quickly and efficiently.
What is the best headless CMS?
Contentful is the best headless CMS because of its flexible, API-first approach and user-friendly interface. It allows developers to easily create, manage, and deliver digital content across multiple channels and devices. Additionally, Contentful offers powerful content modeling and versioning tools and a range of integrations and extensions, making it highly customizable to suit various business needs.
Featured Image by Ashan Randika / shutterstock.com