DuckDuckGo stands out from its competitors for many other reasons than its fun name and branding. While they do have fantastic marketing, DuckDuckGo affords you a level of privacy that most other search engines don't, can't, or are unwilling to match. Furthermore, understanding DuckDuckGo Search Engine Optimization (SEO) will enable you to tap into a larger audience. If that sounds like something you'd be interested in, let's talk about what makes DuckDuckGo unique and how you can optimize your website to appear in its search results!
What Is DuckDuckGo?
DuckDuckGo is a privacy-first search engine, meaning that the service doesn't collect any personal information while you use it. Since DuckDuckGo doesn't get access to private data, it can't share it with third parties.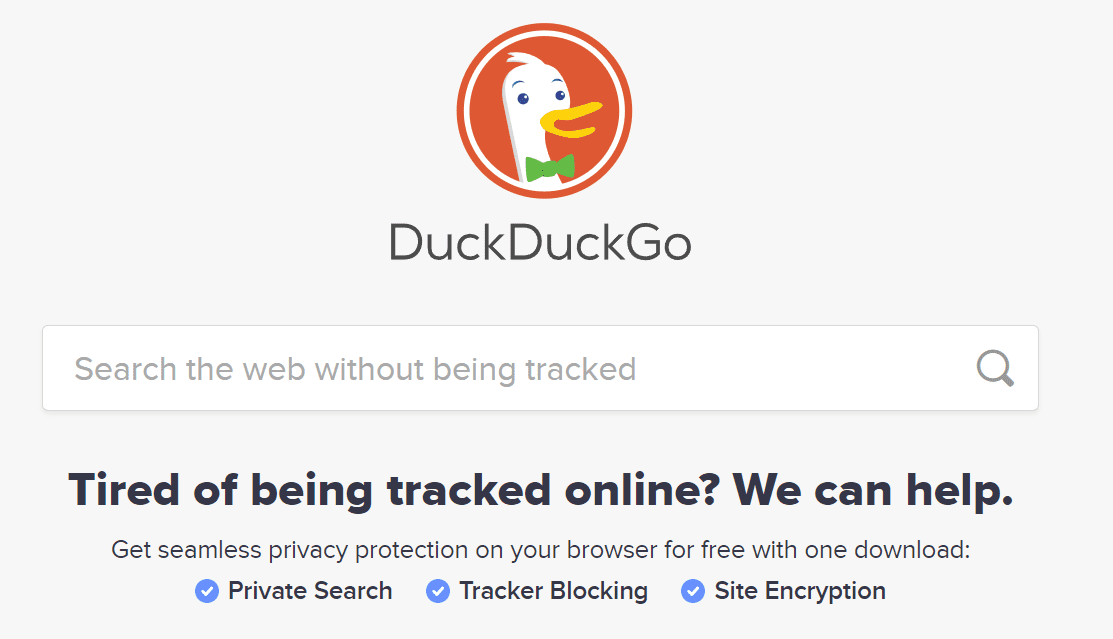 DuckDuckGo has been around since 2008, so it has well over a decade to work on filling its promises to users. It has grown to amass a global market share of 0.66 percent during that period. That might not sound like a lot, but DuckDuckGo is particularly popular in the US, where it's the second most-used search engine (with a 2.45 percent market share).
Considering how important internet privacy has become, it probably won't come as a surprise that DuckDuckGo's market share has grown rapidly during the past couple of years. On top of the search engine, DuckDuckGo also offers mobile apps and a Chrome extension. Those apps can help you navigate the web and use search engines while keeping your data private.
How is DuckDuckGo SEO Different?
Most users choose DuckDuckGo because of privacy concerns. It's no secret that most search engines collect user data, and then use it to entice businesses to buy ads on their platforms. However, not every user is on-board with this policy.
DuckDuckGo does monetize its platform by selling ads. However, its ad platform is wholly based on keywords and not on personal data collected from users. Most DuckDuckGo searches will return one or two advertisements depending on which keywords you use.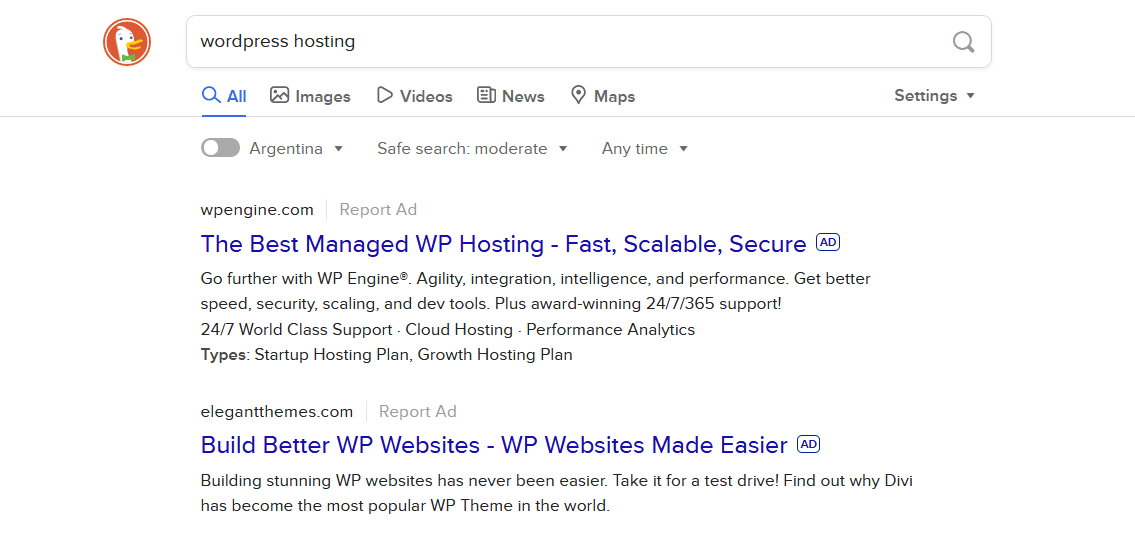 As a user, the case for DuckDuckGo is simple — you get more control over your online data. The search engine doesn't store search history, either. If you use its apps or browser extension, DuckDuckGo can also help you block advertising trackers across the web. That means you get increased privacy while running searches and while browsing the web in general.
The search experience itself is in line with what other engines offer. DuckDuckGo Search Engine Results Pages (SERPs) include all the elements you're used to, such as images, videos, news, and even maps: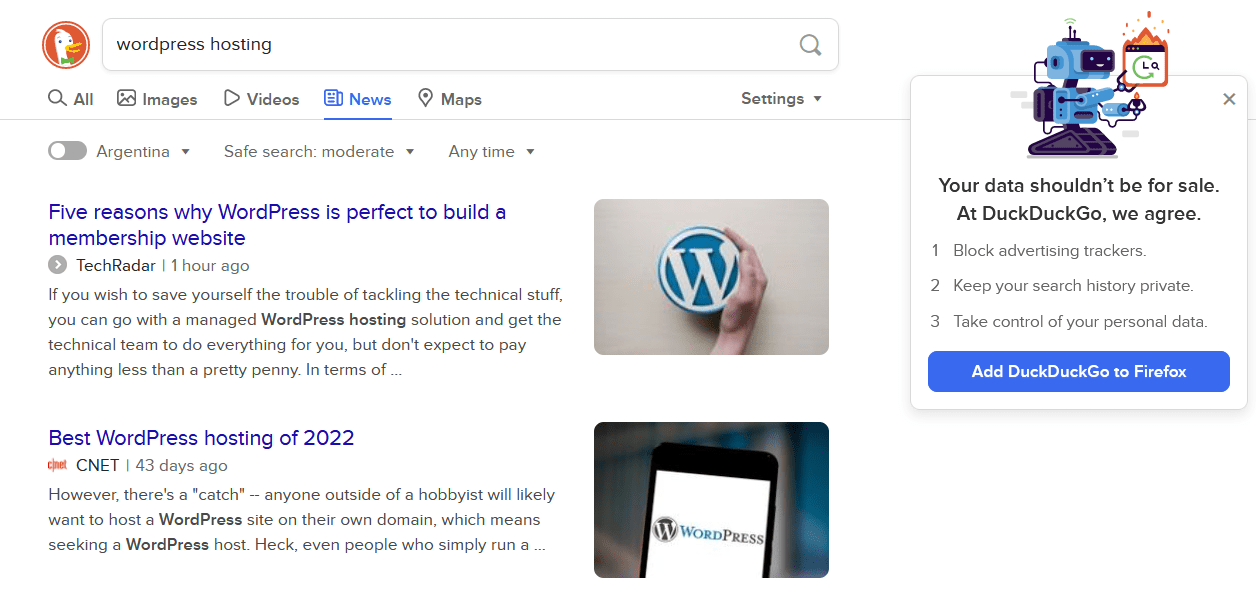 DuckDuckGo uses a custom algorithm for search results. It also compiles information from third-party sources, including Bing (check out our guide to Bing SEO), Yahoo! (and our primer on Yahoo! SEO while you're at it), and Yandex.
Run a DuckDuckGo search and compare it with the same query in Google. You'll get similar but not identical results. Unlike Google, DuckDuckGo doesn't display rich results such as "People also ask" sections or direct answers to quesries in its SERPs. It's a more "old-school" search engine, but the quality of its results can be just as good as others.
Ultimately, DuckDuckGo's main selling point is that it takes privacy more seriously than any other search engine. If you're concerned about your internet privacy and not opposed to leaving Google, DuckDuckGo could be the logical choice.
3 Best Practices to Optimize Your Content for DuckDuckGo SEO
Most search engines use similar signals to rank websites. Search algorithms tend to be proprietary, so we usually don't know how each factor is weighted. However, we know some of the most important ranking factors, such as good keyword usage, backlinks, proper use of metadata, and more.
You should get decent rankings across most search engines following SEO fundamentals. However, there are some specific SEO practices to get more love from DuckDuckGo. Let's talk about what those are!
1. Add Location Data to Your Website
Search engines such as Google can tell where users are searching from. That means if you're looking for local results, Google can deliver suggestions with much more accuracy.
Since DuckDuckGo doesn't collect location data, local SEO can get tricky. The search engine asks if you want to share your location and pull results from Apple Maps. If you don't consent, searches such as "restaurants near me" won't return accurate results: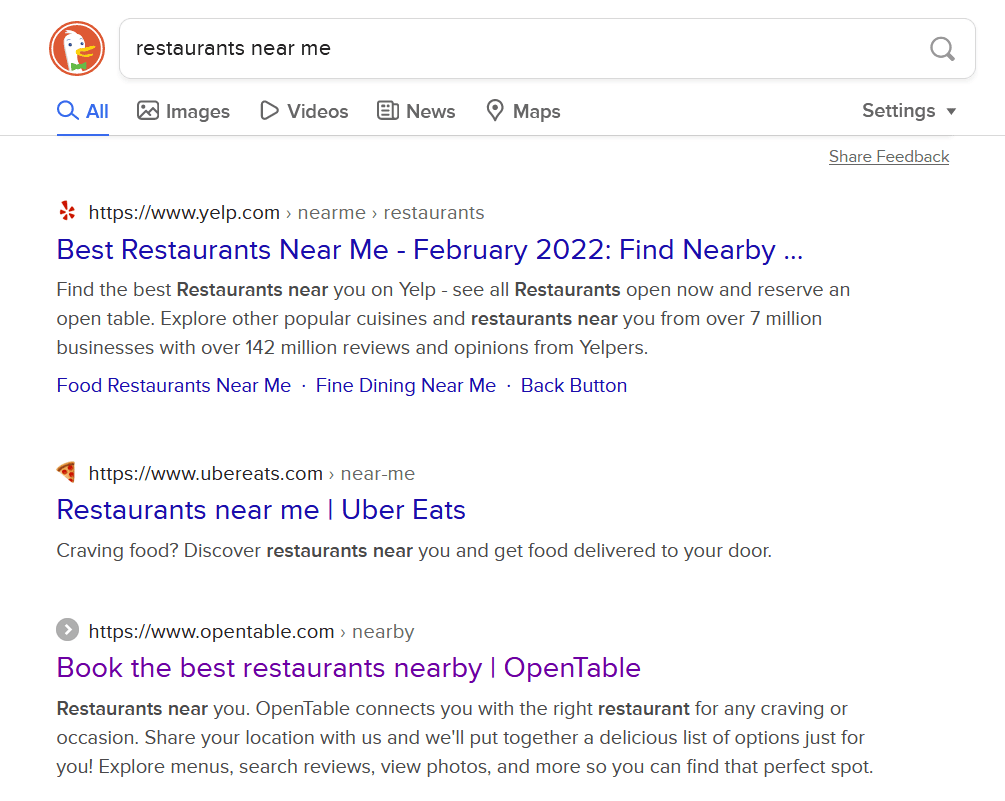 When running a website, you should assume that DuckDuckGo users might not want to share location data. After all, if you're using this as your regular search engine, you're probably very privacy-conscious.
The best way to sidestep that problem is to use local keywords within your website (which you should already be doing). Local SEO optimization will enable DuckDuckGo users to find your business if they look for the right keywords. WordPress SEO plugins such as Yoast and Rank Math can also help with local SEO options within your WordPress articles, too.
2. Submit Your Sitemap to Multiple Search Engines
Unlike other search engines, DuckDuckGo doesn't enable you to submit your sitemap directly to the platform. Google and Bing support this feature through Search Console and Bing Webmaster Tools.
DuckDuckGo uses its own crawler (called DuckDuckBot) to index websites throughout the web. However, it also compiles data from other search engines, including Bing and Yahoo. Submitting your sitemap to those search engines can help DuckDuckGo index your website correctly. This process is even more straightforward with WordPress sitemap plugins.
As a rule of thumb, you don't want to depend on a single search engine for all your traffic. Submitting a sitemap to multiple services will ensure that your website appears in the SERPs. That way, you're not wholly dependent on Google, and you won't be at its mercy when game-changing search algorithm updates happen.
3. Claim Apple Maps Listings
If you run a business with a physical location, you'll want to ensure it appears in the DuckDuckGo search results. These results show up for users who enable location-based searches and those who look up your business directly.
DuckDuckGo pulls business information and maps from Apple Maps. For your business to appear among those results, you need to "claim" it via Apple Maps: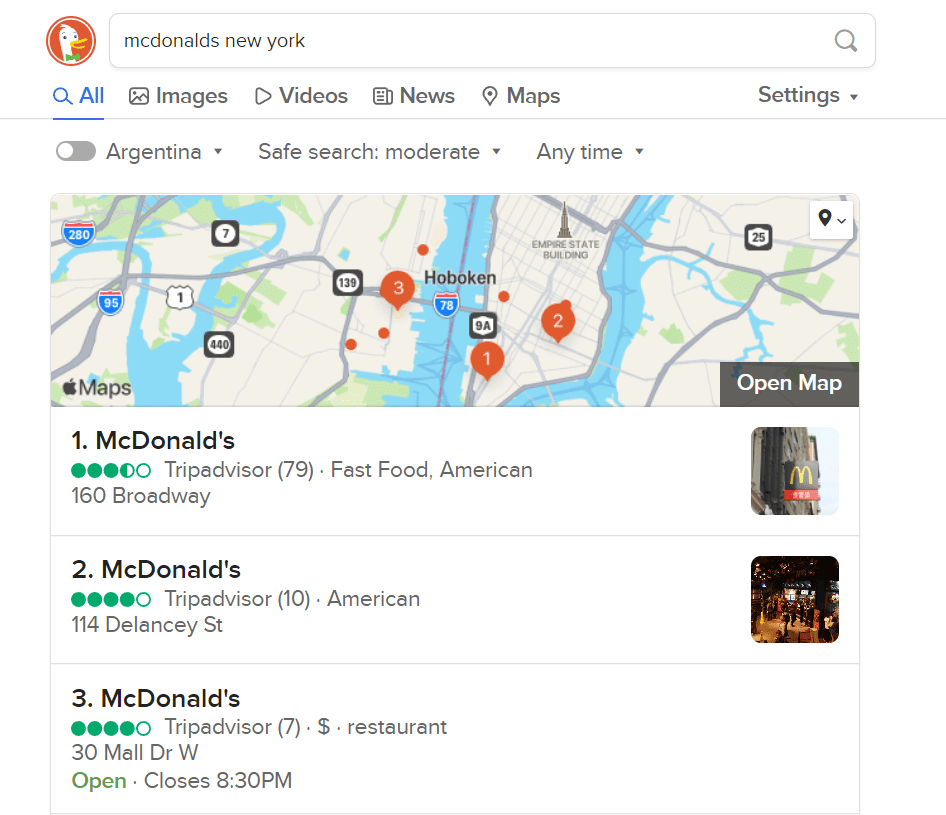 While you're at it, we also recommend claiming your business using Bing Places for Business and Google My Business. That way, users can find information about you and your services regardless of which search engine they use.
Conclusion
Traditional SEO advice will tell you to focus all your efforts on Google. That approach can yield great rewards as Google dominates search across much of the globe. However, optimizing your content for "smaller" search engines like DuckDuckGo can pay off in spades. You might not get as much traffic as with Google, but this way, you won't be reliant on a single search engine.
If you want to work on your website's DuckDuckGo SEO, we recommend focusing on fundamentals. Here are some additional tips that will help you get more traffic from DuckDuckGo:
Add location data to your website.
Submit your sitemap to multiple search engines.
Claim your business's Apple Maps listing.
Do you have any questions about DuckDuckGo SEO? Let's talk about them in the comments section below!
Featured image via KanKhem / shutterstock.com