When people talk about Search Engine Optimization (SEO), they typically focus on Google. However, pouring all of your energy into that one search engine could result in missing out on other key traffic sources. Although Yahoo! has fewer users, it's still worth optimizing your content for this platform as well. Let's take a look at Yahoo and what makes it different from other search engines. We'll then explore six tips for effective Yahoo SEO. Let's get started!
What Is Yahoo Search?
Yahoo (often stylized as Yahoo!) is a multi-faceted platform that includes email, a news hub, and search engine capabilities. The homepage appears pretty busy, but you can use Yahoo search by typing your query into the top bar, and then hitting Enter or clicking on the magnifying glass icon: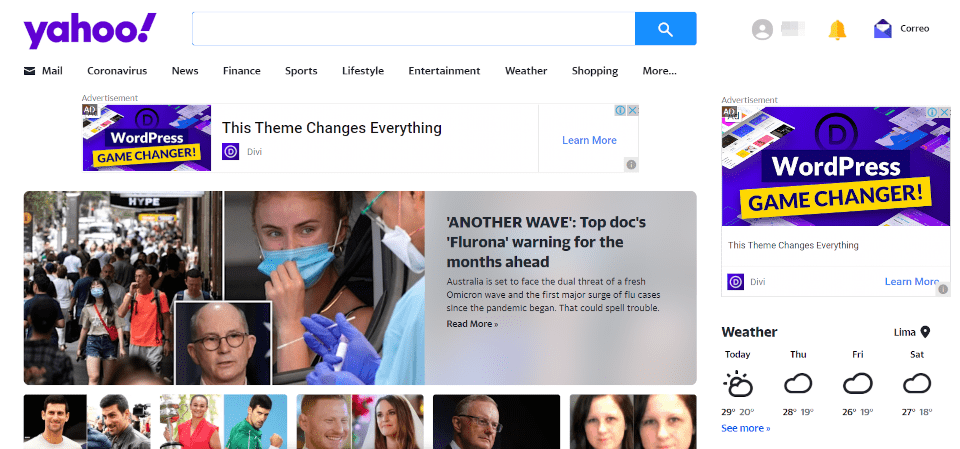 Yahoo first launched in 1995, and initially used its own web crawling and data housing services to power its results. However, since 2009, its results have been powered by Bing. Although this search engine isn't as popular as Google, it has a worldwide market share of approximately 2.7 percent. Yahoo is also significantly more popular in Japan and Mexico than elsewhere, with 55 percent and 30 percent of users respectively accessing the platform regularly.
Therefore, Yahoo SEO may be essential if you plan to target audiences in those countries. Optimizing for this search engine could also be worthwhile if you want to draw web traffic from as many sources as possible.
How Is Yahoo SEO Different?
Yahoo faces stiff global competition from other search engines, including Google, Bing, DuckDuckGo, and Yandex. However, Yahoo has an advantage with one demographic in particular: Mozilla Firefox users.

Firefox set Yahoo as its default search engine in the United States from 2014 to 2017. Although the browser has since switched back to Google, many of its users are now accustomed to using Yahoo. Considering that approximately 6.7 percent of Americans use Firefox, this market isn't insignificant.
In addition, optimizing your content for Yahoo SEO is arguably easier than with other popular search engines. This platform doesn't use frequently-updated algorithms as Google does. In fact, it has very simple guidelines for sites that want to rank highly.
It's also important to reiterate that Yahoo is powered by Bing: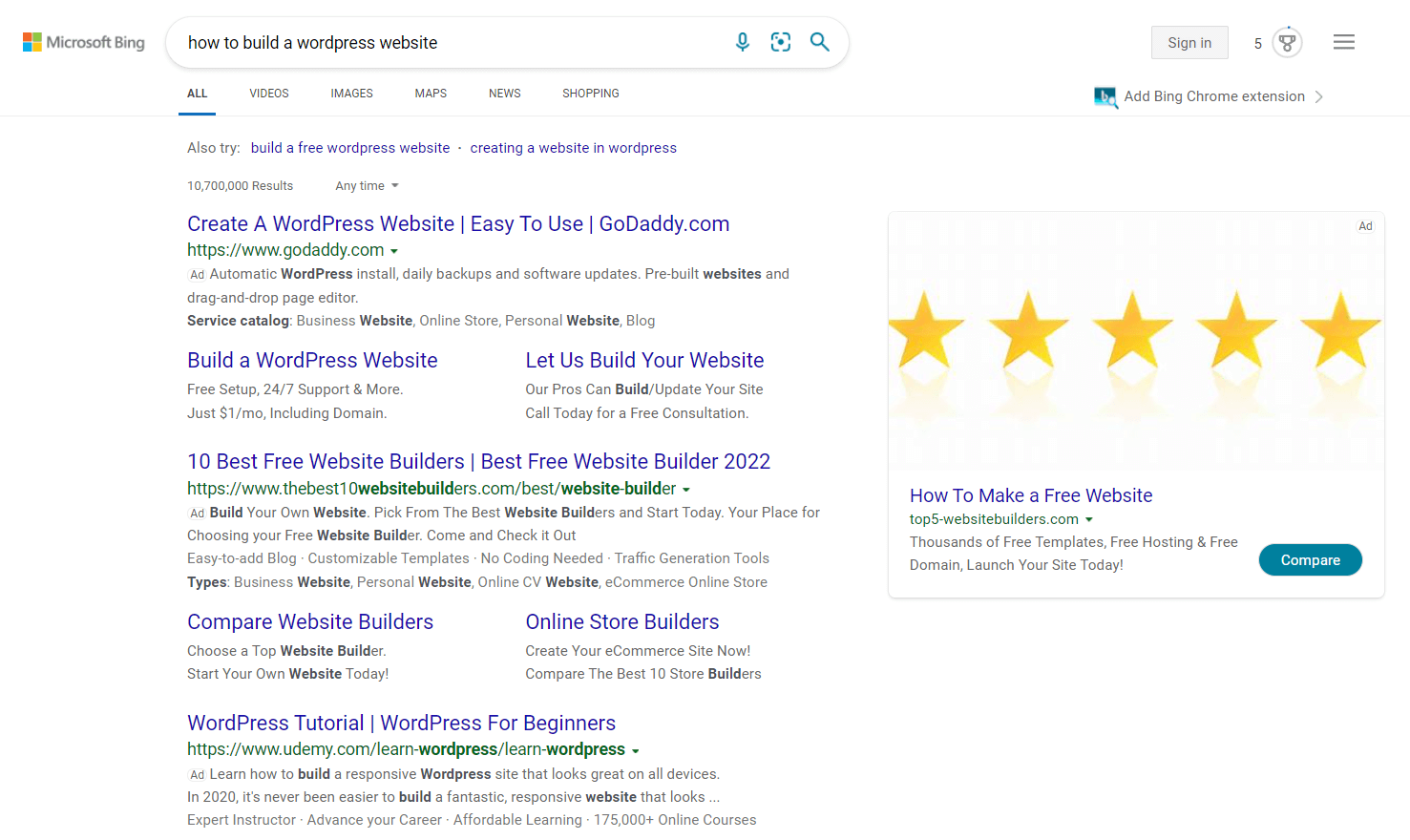 Therefore, if you plan to focus on Yahoo SEO, you'll want to also optimize your content for Bing and pay attention to its ranking algorithm.
Finally, Yahoo has less competition for SERPs than more popular search engines and places greater value on domain authority. If you have a well-established site and put some effort into optimizing your content carefully, you could rank more quickly in Yahoo's results.
6 Best Practices to Optimize Your Content for Yahoo
Regardless of which search engine you want to rank for, we recommend following some basic SEO best practices. These techniques can help your content rank better and stand out from the competition. However, if you're interested in Yahoo SEO specifically, here are the six most important steps you can take.
1. Use Keywords Skillfully
Keywords are essential to your Yahoo SEO strategy. These phrases enable interested users to find your content in the SERPs. You'll want to use keywords frequently, in order to rank well for them on relevant Yahoo results pages. In particular, we recommend adding these phrases to your meta descriptions, page titles, and alt text throughout your posts.
However, be careful not to "keyword stuff," as most search engines and human readers look down on this practice. Instead, try to write your content for readers first and search engines second.
You can find relevant keywords for Yahoo SEO by using the search engine's Search Assist tool. When you start typing a phrase into the search box, you'll see recommended terms that other users are looking for: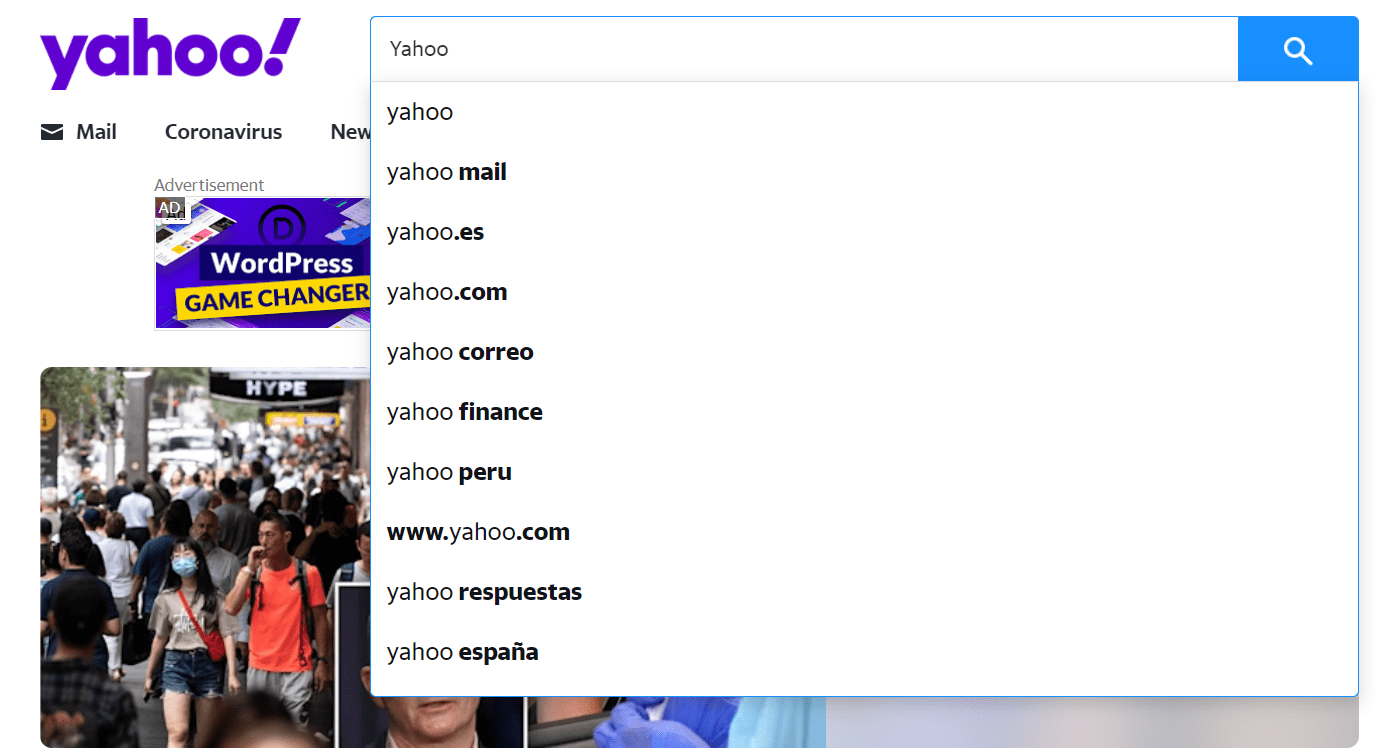 You can also take advantage of Yahoo! Native. This paid advertising platform enables you to market your content on the search engine and access keyword analytics tools.
2. Format Your Images Correctly
The Yahoo guidelines discuss a few different best practices for image SEO. For example, you'll want to avoid including text in your images. Embedded text can prevent the search engine from correctly indexing your content. Instead, you should consider keeping your text and URLs in HTML format, so Yahoo can view them correctly.
As with other search engines, it's also essential to include alt text for your images: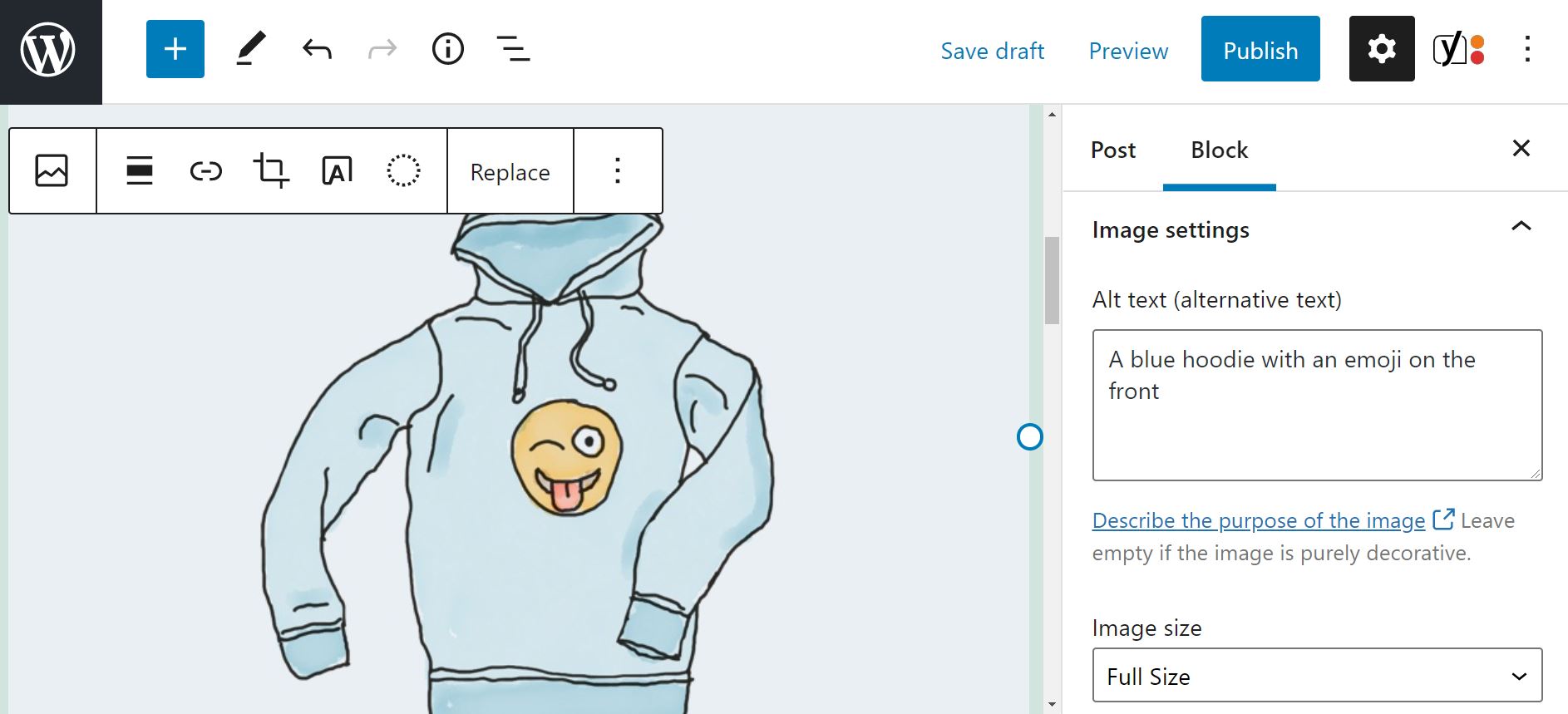 This is another excellent opportunity to include your keywords. Alt text is also essential for making your content accessible to more users.
3. Focus on Links
Yahoo places higher importance on backlinks than Google does. These are the URLs from external websites that point towards your content. Having backlinks from authority websites and leaders in your industry can boost your content's rankings. Furthermore, these URLs can attract more traffic to your site.
Therefore, we recommend adopting an active approach to asking for backlinks. You can start by using a tool such as Moz's Link Explorer to find out what sites are linking to the most popular articles for specific keywords: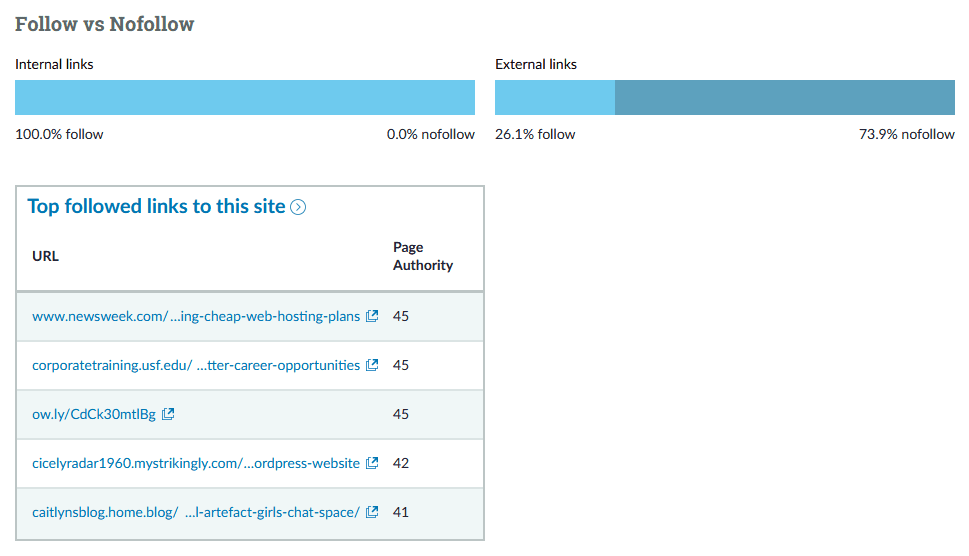 Then, you can reach out to those sites and request that they link back to your content instead. Alternatively, you can use guest posting to generate more backlinks.
4. Submit Your Sitemap to Bing
A sitemap lists all the URLs on your website that you want search engines to crawl and index. It also provides information about how the pages on your site are related, as well as additional details for each page (such as how often it changes and when it was last updated). If you are using WordPress, you can find a sitemap plugin to help you generate one. However, if you're using an SEO plugin, it will likely generate a sitemap for you.
For the purposes of Yahoo SEO, we recommend that you submit your sitemap to Bing. Since Bing powers Yahoo's results, this step can improve your Bing and Yahoo rankings simultaneously, by making sure both platforms have all the information they need. Fortunately, the process of submitting your sitemap to Bing is relatively simple. (If you're already using Google Search Console, Bing even has a process of importing the base data for your site, so there's no reason not to do this.)
5. Make Your JavaScript Accessible
JavaScript is a handy scripting language for WordPress websites. It's used to power many types of dynamic processes on your site, such as displaying animations, updating your content in real-time, and other interactive functions.
However, Yahoo specifically recommends against providing certain elements only through JavaScript. Some of the search engine's crawlers (or bots) may not be able to understand and correctly index the content in this scripting language. Instead, you should also use "noscript" HTML elements to make your content accessible to all users and search engines.
Finally, as with Bing, social media can significantly impact your Yahoo SEO. Unlike Google, both of these search engines consider your presence on online networks. For example, if you have a large follower count, your content is more likely to be ranked higher. The same principle applies if people frequently share your posts online.
As such, we recommend investing time in your social media strategy. You'll likely want to focus your efforts on the leading platforms, such as Facebook, Twitter, and Instagram.
With that said, we recommend using the platforms that are best suited to your audience's unique interests and demographics. For example, Instagram can be more effective if your readers are aged 18-34. It may make sense for you to connect an Instagram plugin to your site so that you can have a tighter integration between your site and the social network. You can also easily find this data by examining your demographic metrics in Google Analytics: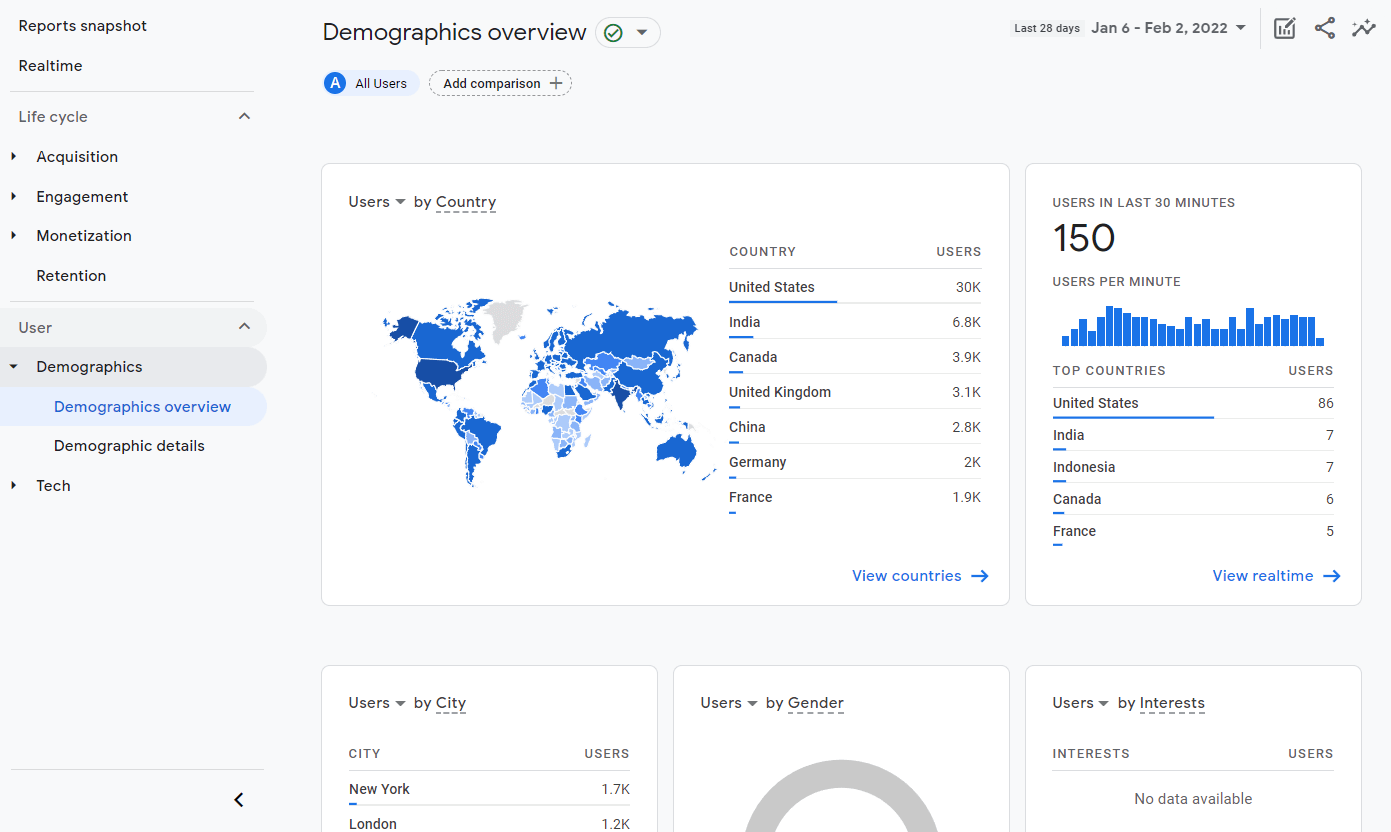 You'll also want to develop a consistent approach to your social media marketing, so you can maintain your strategy over time. To do that, consider creating a content calendar and automating key tasks with WordPress social media plugins.
Conclusion
Using proven SEO techniques is essential if you want to draw organic traffic to your site. However, focusing solely on Google could mean losing out on a significant number of potential visitors. Smaller sources such as Yahoo are still well worth considering, especially if you're looking at international traffic (from Mexico and Japan most of all).
To recap, you can optimize your content for Yahoo SEO by following these tips:
Do you have any questions about optimizing your content for Yahoo SEO? Let us know in the comments section below!
Featured image via Nicetoseeya / shutterstock.com