Webmaster tools offer various ways to boost your Search Engine Optimization (SEO). They're available through platforms such as Google Search Console, Bing, and Yandex. We recommend submitting your sitemap to Yandex Webmaster tools if you haven't already. Doing so can help you optimize your website and gain worldwide visibility you may not get otherwise.
The whole process can be done in 5 steps, and we'll walk you through the process. Let's get started!
Why Submit Your XML Sitemap to Yandex Webmaster Tools
If you're unfamiliar, Yandex is a popular search engine and web portal based in Russia. The Yandex Webmaster tools offers various tools that can help optimize your website and gain new visitors. These include solutions for monitoring your traffic statistics, improving your ranking positions, conducting search queries, and more.
Your XML sitemap is a file with all your website's important pages and files. This essential document informs search engines about all of your content. In turn, these search engines "crawl" your different URLs using the sitemap as a guide, and then indexes them in their results pages.
Submitting your XML sitemap and connecting your site to Yandex Webmaster tools can improve your search engine visibility in areas you may not currently target. In addition, you can learn how the search engine is crawling your website. Then, you can make valuable improvements to help further optimize your website for SEO purposes.
Overall, optimizing your website for SEO is essential to attract new readers. More than 50 percent of users find sites through organic search. Therefore, increasing your website's visibility is crucial to its sustainability and growth. And while Google may be the default engine for many people, it's not the only search engine that sees major use. That's why we want to help you get your site integrated more fully with Yandex.
How to Submit Your XML Sitemap to Yandex Webmaster Tools (5 Steps)
Now you're a bit more familiar with what Yandex is and how its webmaster tools can help you, it's time to dig in and submit your sitemap to Yandex Webmaster tools. As we said, it's easy and can be done in just five steps.
Step 1: Install An SEO Plugin to Generate Your Sitemap
The first step is to generate your XML sitemap. You can do this with almost any WordPress SEO plugin or sitemap plugin. Two of the more popular are Yoast SEO and Rank Math SEO. For this tutorial, we'll use Rank Math. However, the process will be essentially the same regardless of which tool you're using.
If you haven't done so already, install and activate the plugin on your WordPress site. Next, navigate to Rank Math > Sitemap Settings.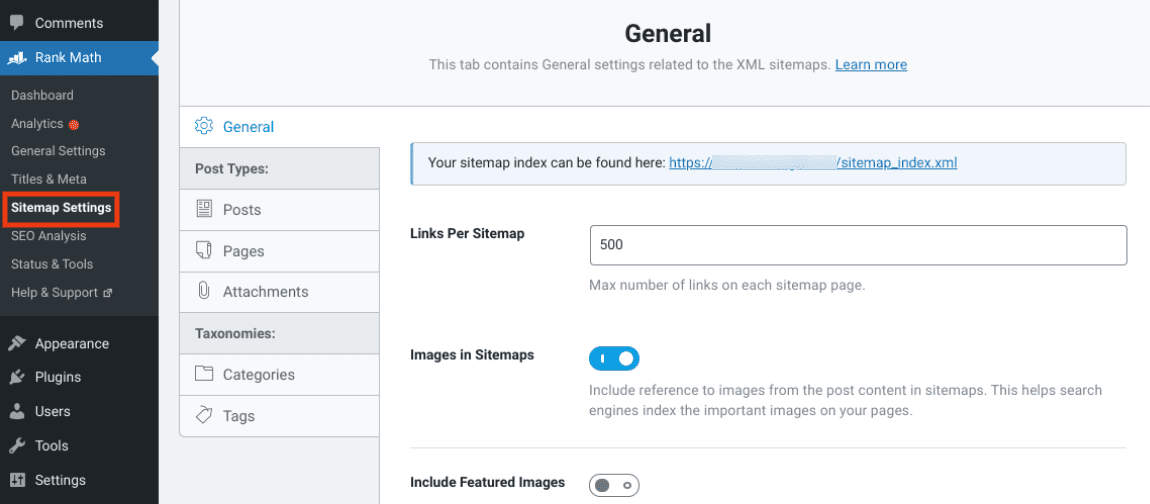 You can find the link to your XML sitemap at the top of the page. You can also modify its settings to display a certain amount of links and images. When you're done, click on the Save Changes button at the bottom of the screen.
Step 2: Create a Yandex Account
The next step is to create and register an account with Yandex. To get started, head to the Yandex account registration form and fill out the necessary details.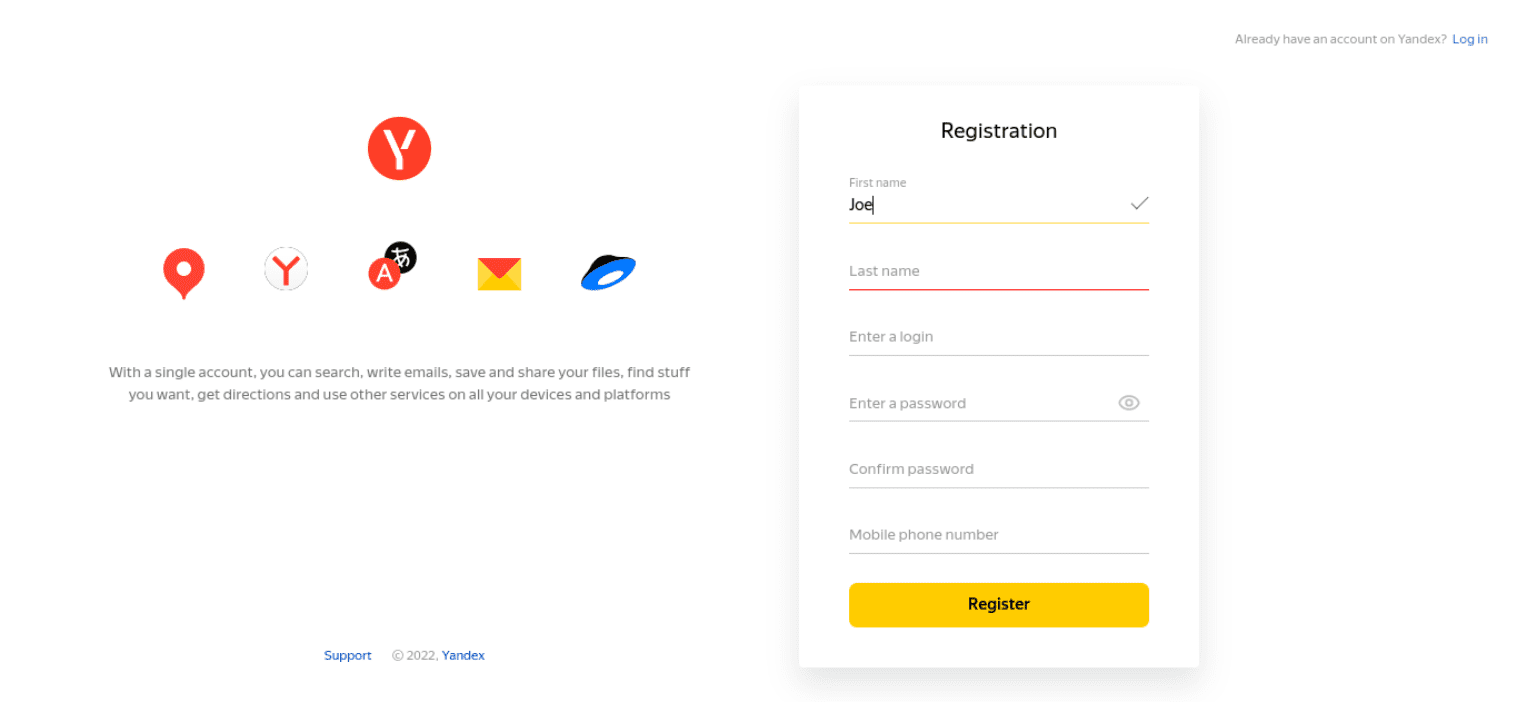 When you're done, select Register. Note that you'll be asked to provide a mobile number to verify your identity and receive a text message code. Once you enter your confirmation code, you can accept the terms of the agreement and finish the registration process.
Step 3: Add Your Website to Your Yandex Account
Once you complete your account registration, you'll be automatically redirected to the Yandex Webmaster landing page. Click on the yellow button that says Go.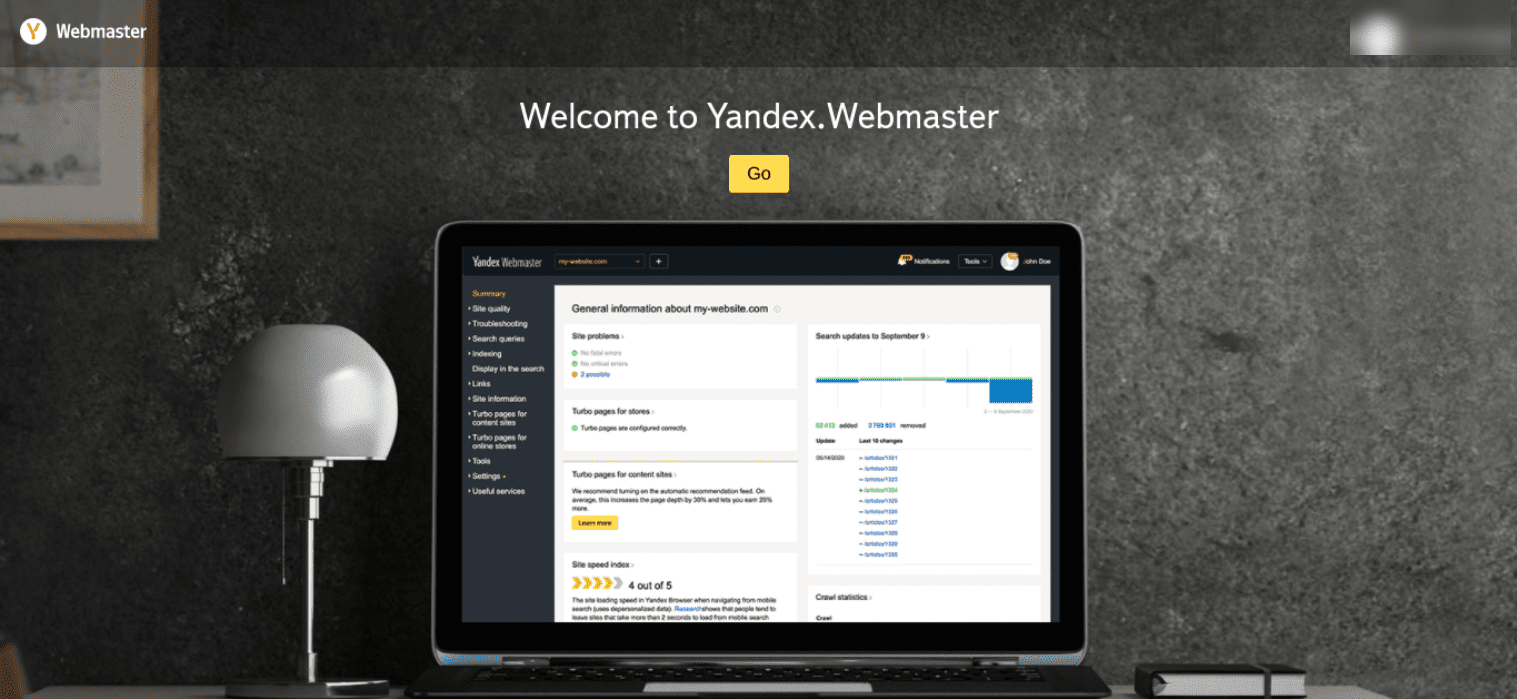 The next step is to add the website you made the sitemap for to your Yandex account. You can do this by clicking on Add site.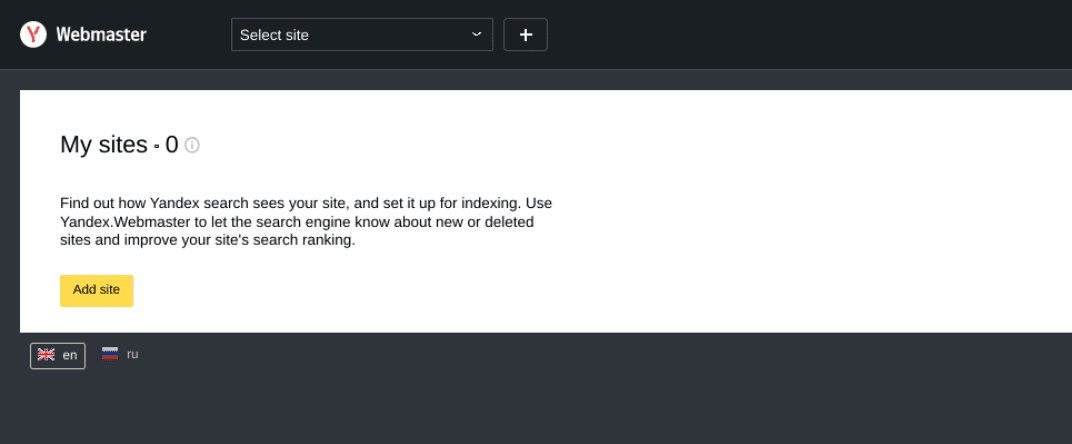 Alternatively, you can also click on the + icon at the top of the screen. In the Site address field, enter your website's full domain name, then select Add.

You'll then be asked to verify your website ownership. We'll explain this process in the next step.
Step 4: Insert Your Verification Code into Your WordPress SEO Plugin
After adding your site URL, you should see the website verification screen.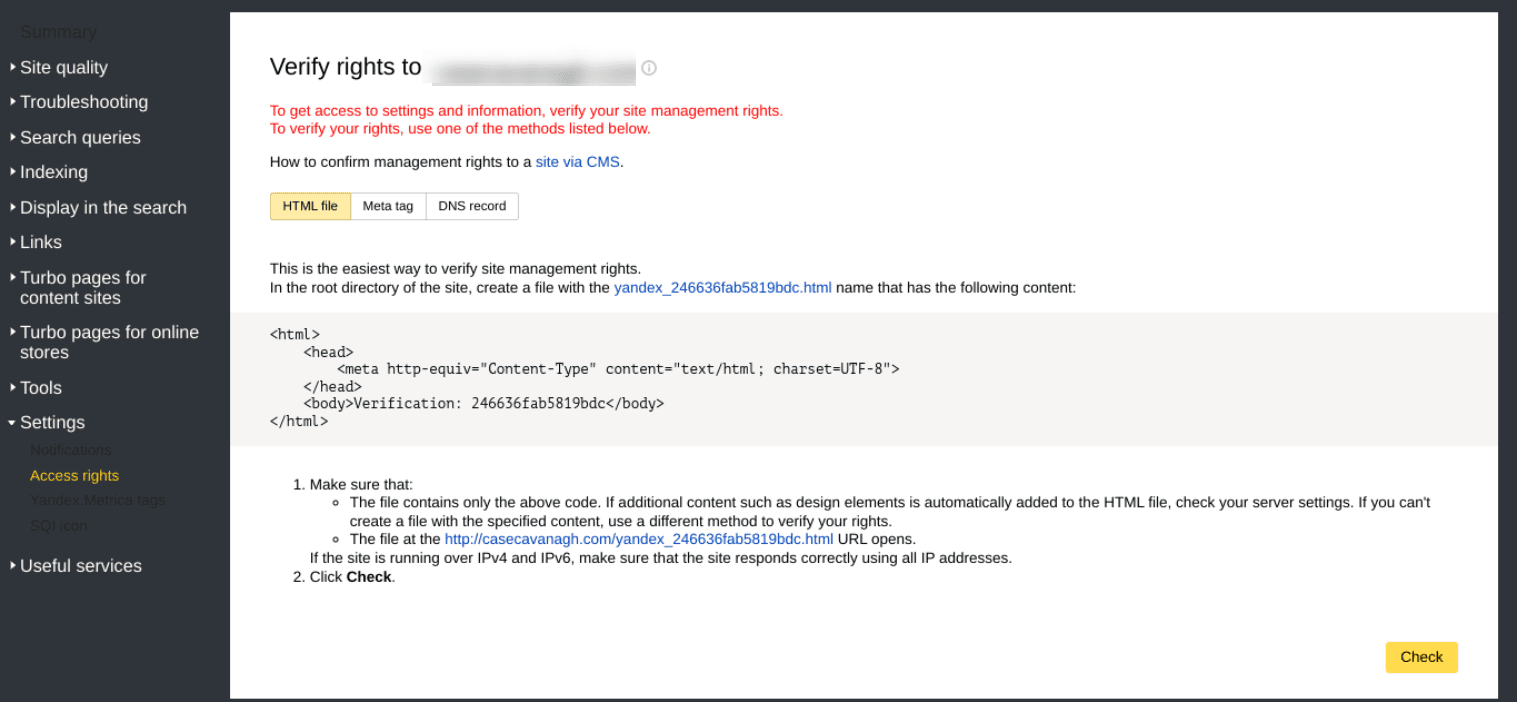 There are three options for this verification: HTML file, Meta tag, or DNS Record. The simplest method is Meta tag. (1) Click on the Meta tag tab, then (2) copy the code within the content quotation marks.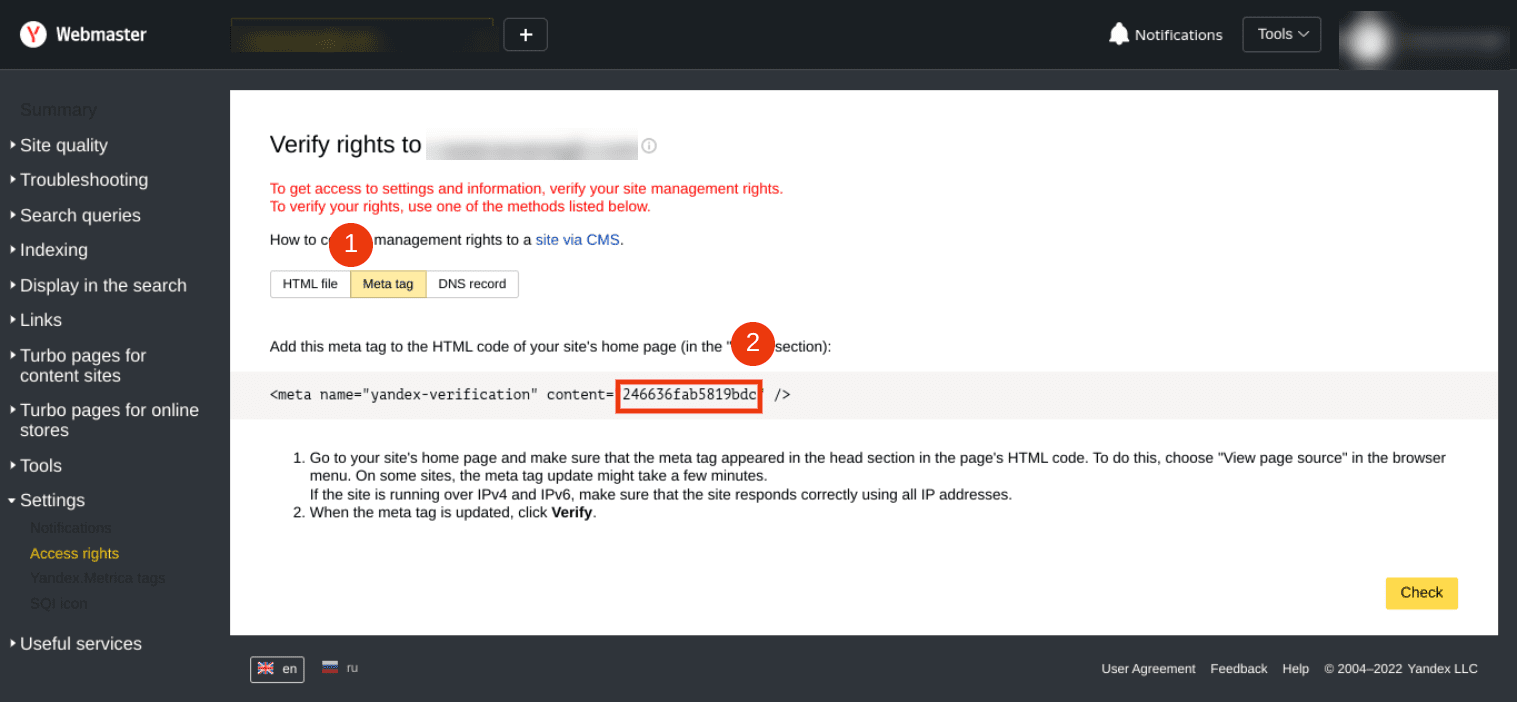 Next, navigate back to your WordPress admin area. Browse to Rank Math > General Settings > Webmaster Tools.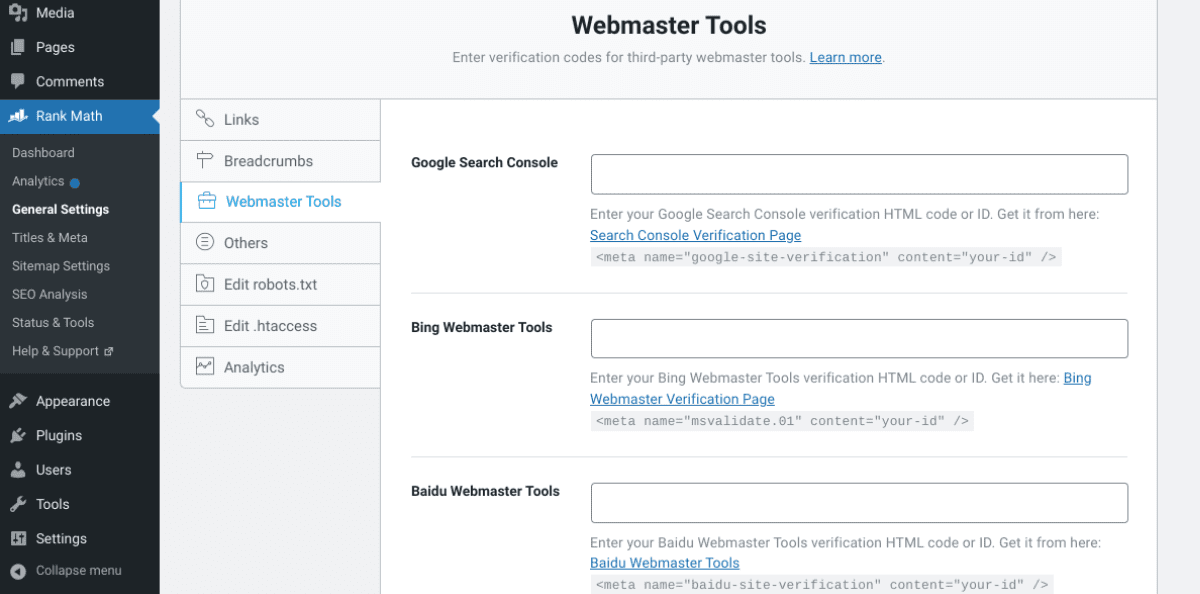 Scroll down until you locate the Yandex Verification ID field.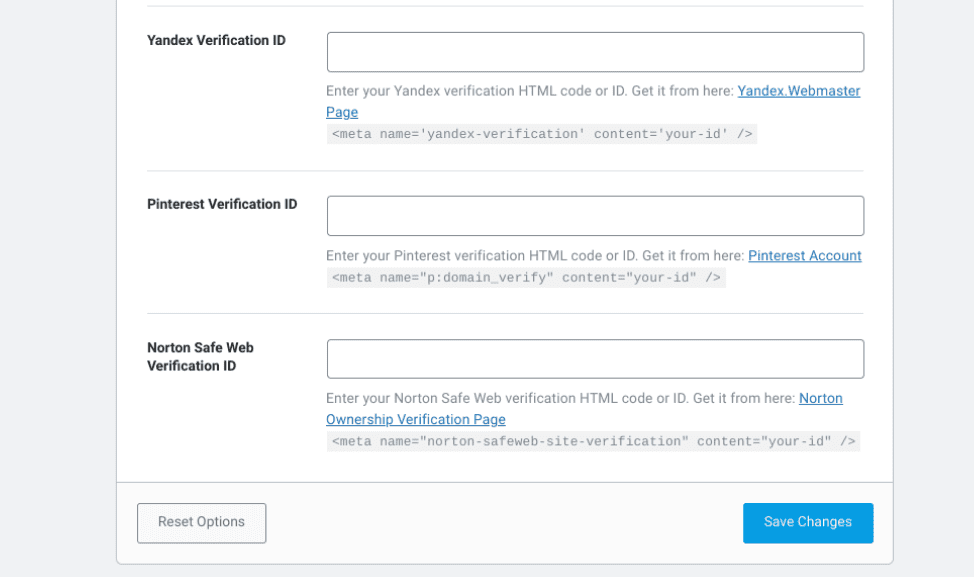 Paste the Meta tag code in this field, and then click on the Save Changes button. You can now navigate back to the Yandex Webmaster tools dashboard and select the Check button in the bottom right-hand corner.
If everything is successful, you should see a screen with your username. You're now ready to submit your sitemap.
Step 5: Submit Your XML Sitemap
The last step is to submit your XML sitemap to Yandex Webmaster tools so that the search engine can begin crawling (and ranking) your website. It can take a few days for your Yandex dashboard to start generating and displaying useful data. But once there is enough to aggregate, you can gain some meaningful insights from these analytics.
But before that can happen, you have to add your sitemap so Yandex can find your pages. From the left-hand menu of your Yandex dashboard, navigate to (1) Indexing, (2) then Sitemap files. (3) Then Enter your sitemap URL and (4) click on the Add button.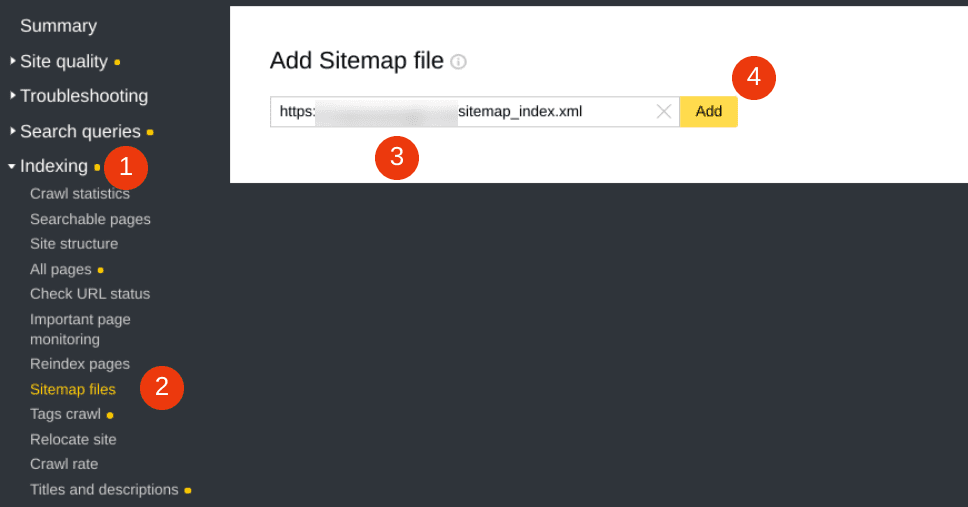 Remember that you can find the link to your sitemap from your SEO plugin. At this point, your sitemap will be entered into a processing queue. It can take a few days to complete, so make a note to check back later to check on it.
And that's it! In the meantime, you can explore some of the other Yandex Webmaster tools, which are pretty handy, especially if you've never given them a test drive before.
Conclusion
Submitting your sitemap to popular search engines that aren't Google can make it easier for users to find your site. This process is something you will likely want to do (or have done) with Google. Having your site and its contents processed by as many search engines as possible, such as Yandex, only helps you grow.
As we discussed in this post, you can submit your XML sitemap to Yandex Webmaster tools in five easy steps:
Use an SEO plugin such as Yoast SEO or Rank Math SEO to generate your XML sitemap in WordPress.
Create a Yandex Webmaster tools account.
Add your website URK to your Yandex account.
Verify that you are the owner of the WordPress website.
Submit your XML sitemap URL to Yandex Webmaster tools.
Do you have any questions about submitting your XML sitemap to Yandex Webmaster tools? Let us know in the comments section below!
Featured Image via Sammby / shutterstock.com