If you're a photographer, a writer, or a creative of any kind, then you need a portfolio. Moreover, that collection of work must reflect that you're a professional who can do the job. Finding work that befits your talents can be difficult without an up-to-date portfolio.
The right WordPress portfolio plugin can help you showcase your work in all its glory. The following six tools go above and beyond to offer you key functionality and boast strong ratings and regular updates.
What is a Portfolio Plugin For WordPress
A portfolio plugin for WordPress is a tool that enables you to create and display your portfolio on your WordPress website. These plugins provide various options to show your work, such as custom layouts, filters, and categories. Ideally, they will help you add and manage your portfolio items, including images, videos, and other media files, through an intuitive interface.
With a portfolio plugin, you can customize the design and functionality of your portfolio to match your branding and style. You can also add interactive features to make your portfolio more engaging for your visitors, such as animations, hover effects, and social media integration.
The Best Portfolio Plugins for WordPress
Having a good portfolio plugin can help you save a lot of time while building your portfolio website. Let's compare the best options, so you can easily decide!
The Best WordPress Portfolio Plugins Listed In Order
Expand List
1. Divi Builder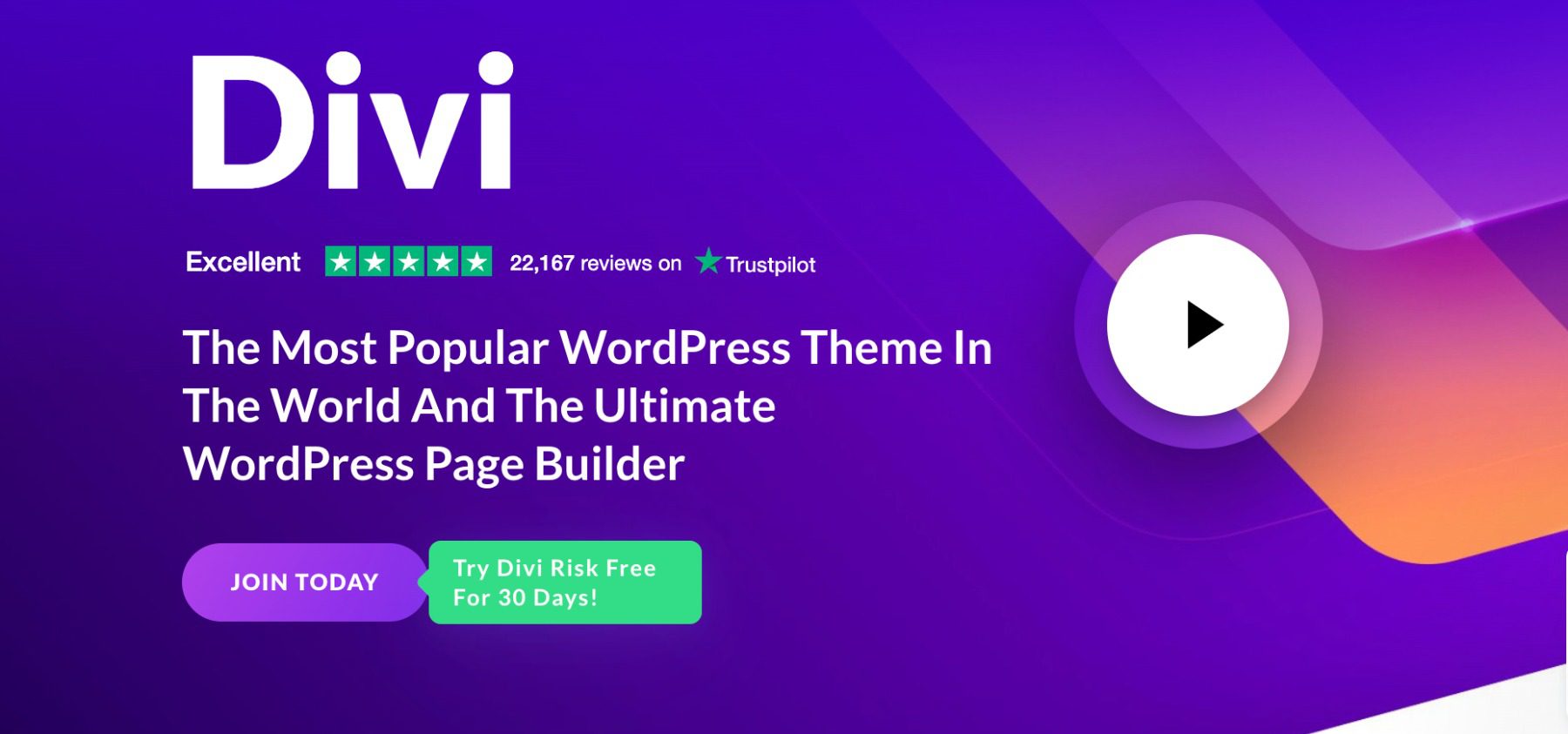 The Divi Builder is our very own page builder plugin that you can use alongside most modern themes, including our own Divi Theme. Using the plugin and theme together gives you access to many features that can help you build the perfect WordPress portfolio site.
Using the Divi Builder, you can add a Portfolio or a Filterable Portfolio module to any of your pages. Those modules work with the custom Project post type, which the Divi Builder sets up for you. You can add project pages and divide them into categories using Divi: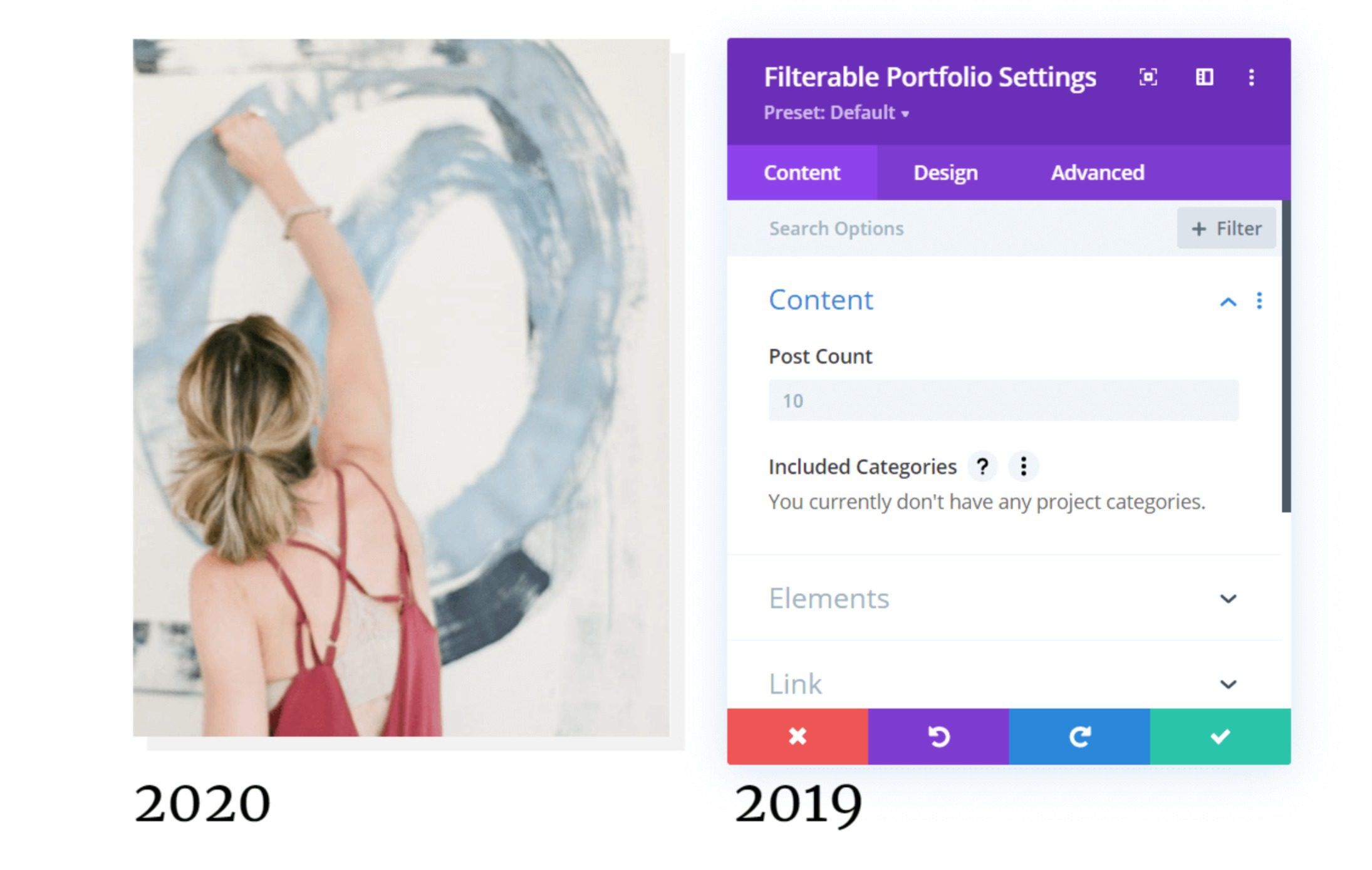 You'll also get a broad range of customization options for every module. You can modify each element's design, layout, effects, and custom CSS.
Moreover, the Divi Builder gives you access to an extensive library of pre-built page templates. Among those, you have several options for complete portfolio websites focusing on different types of creative work: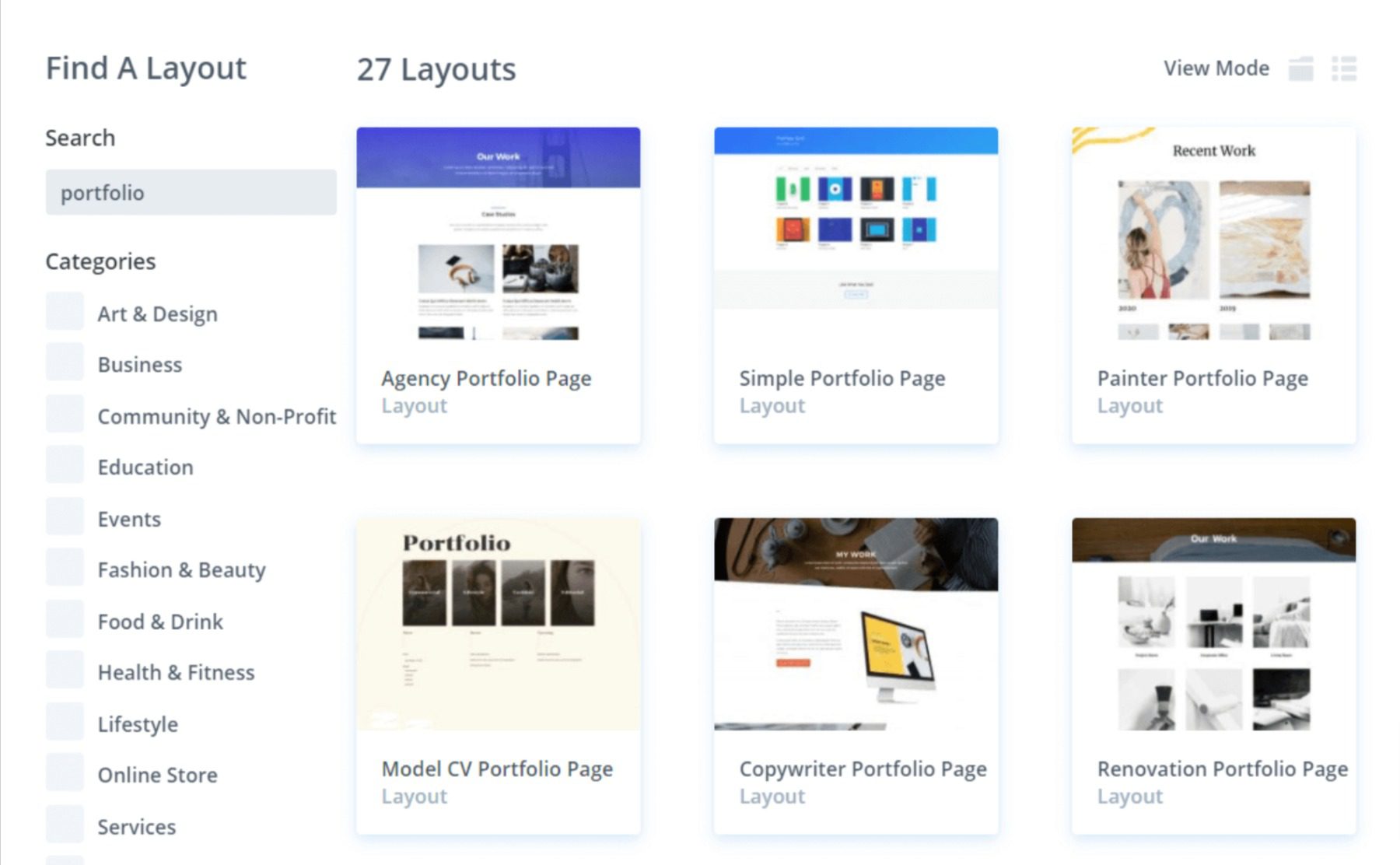 The Divi Builder also includes a powerful Theme Builder tool. You can use this to create theme templates that you can assign to the custom page and post types. This is great for creating multiple portfolio template designs for particular categories.
Key Features:
Use Divi's portfolio modules to build project galleries
Get access to a new custom post type for portfolio projects
Use pre-built templates to set up portfolio pages
Customize portfolio modules
Use Divi's Theme Builder to create templates for custom posts and page types
Best for:
Divi is best for those looking to build an entire portfolio site using a page builder. It has all the modules, premade layouts, hover effects, and design options to showcase beautiful portfolios.
Price: Licenses start at $89
2. WP Portfolio

WP Portfolio is one of the most advanced portfolio plugins that allows you to showcase beautiful websites, images, and videos to help you get more clients. You can create a filterable gallery of website demos to showcase complete websites with dummy content. Videographers and photographers can display videos and photos in unique grid layouts and a lightbox display. The plugin works seamlessly with their flagship theme, Astra, and is compatible with some of the best page builders for WordPress and pretty much any theme using shortcodes.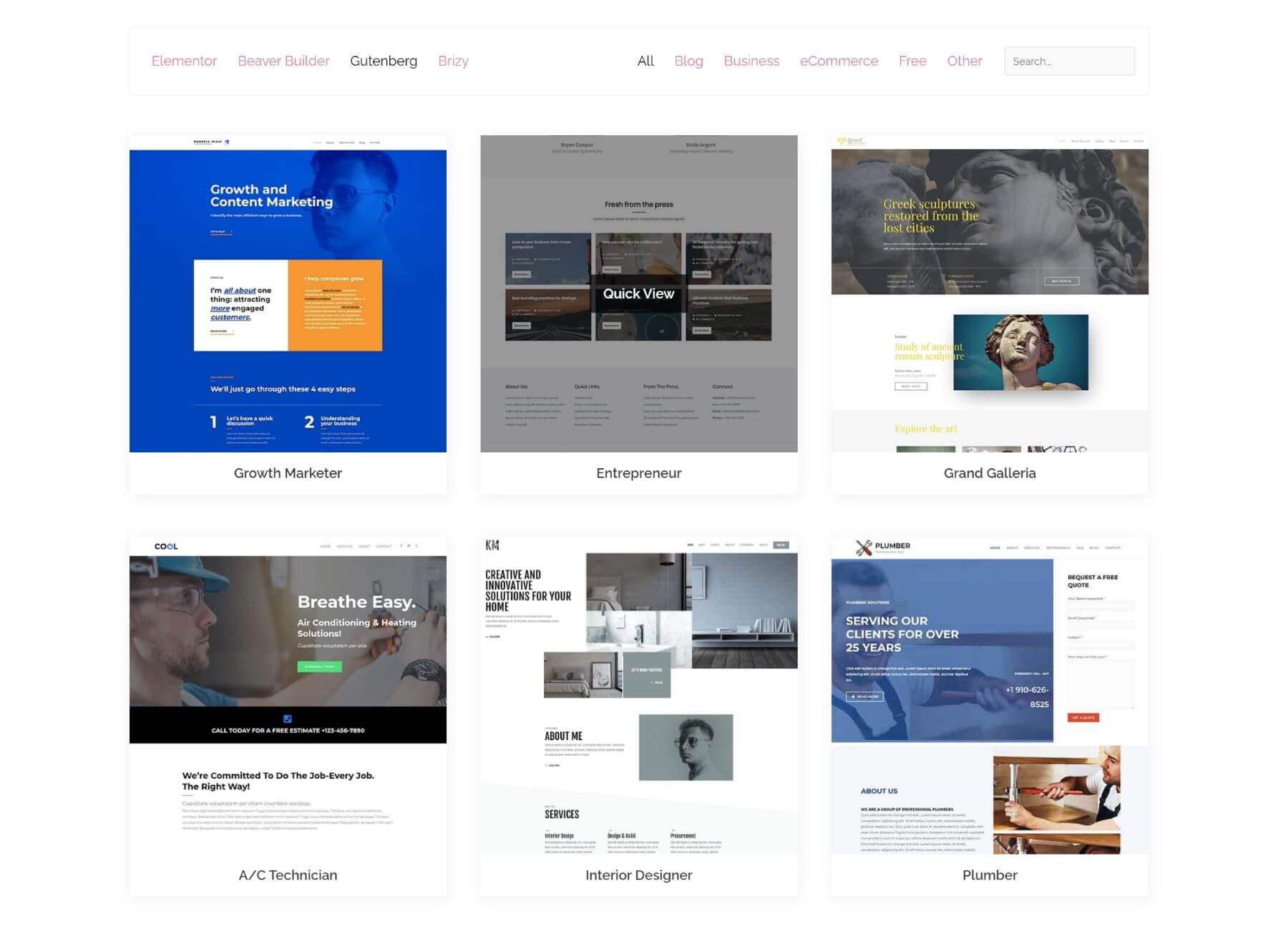 Key Features:
Showcase website demos with dummy content
Compatible with Astra theme with custom addons available for Elementor and Beaver Builder
Filterable grid layouts for websites, videos, and images
48+ built-in dummy portfolio site layouts
Advanced design options
Supports custom post types, including WooCommerce products
Best For:
WP Portfolio is best for freelancers or agencies looking for a professional portfolio solution for showcasing their work (even website demos) for potential clients. But the plugin will work for anyone looking to create any type of portfolio on their website.
Pricing: $49 per year
3. Portfolio (by RadiusTheme)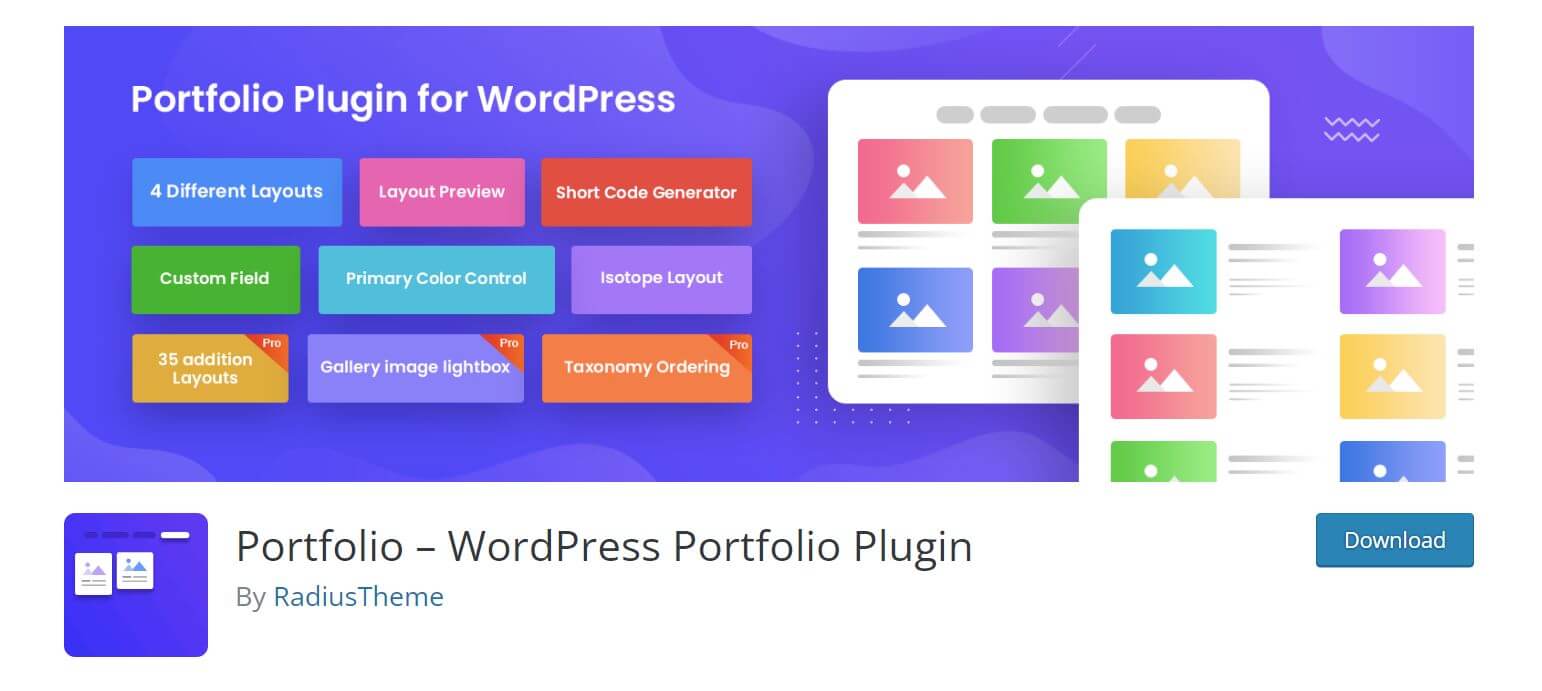 Portfolio is a freemium portfolio plugin by RadiusTheme that makes it easy for beginners to add portfolios to their WordPress site. The plugin includes an easy-to-use shortcode generator for creating different layouts, filters, field displays, and more. It also provides styling options for matching your brand. Upgrading to the premium version gives you access to 30+ filterable grid layouts and sliders. And you can even create multiple popups for items that will display detailed information or pages without redirecting to another page.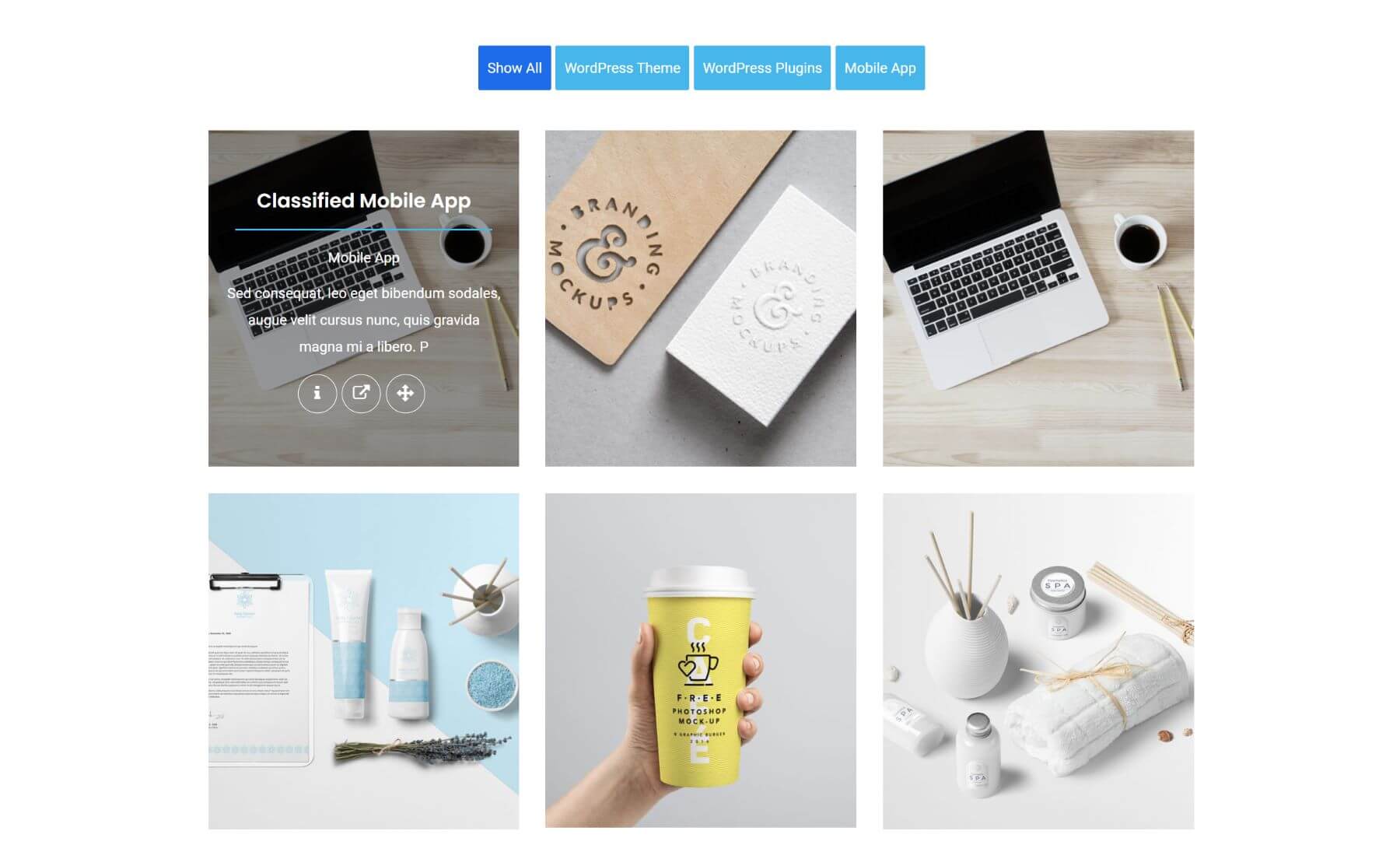 Key Features:
Multiple Portfolio layouts and sliders for displaying filterable portfolios
Advanced shortcode generator and style options
Works with Block editor using a designated portfolio block.
Social sharing support for portfolio items
Ajax pagination for better UX (Pro)
Masonry Grid layouts (Pro)
Drag and drop ordering (Pro)
Best For:
Those who want a free Portfolio plugin that can create advanced portfolios using a native Gutenberg block and shortcodes. The pro version is affordable and includes 50+ layouts with the drag-and-drop ordering of portfolio items in case you want to upgrade.
Pricing: Free, Pro version starts at $24 per year
4. Portfolio Filter Gallery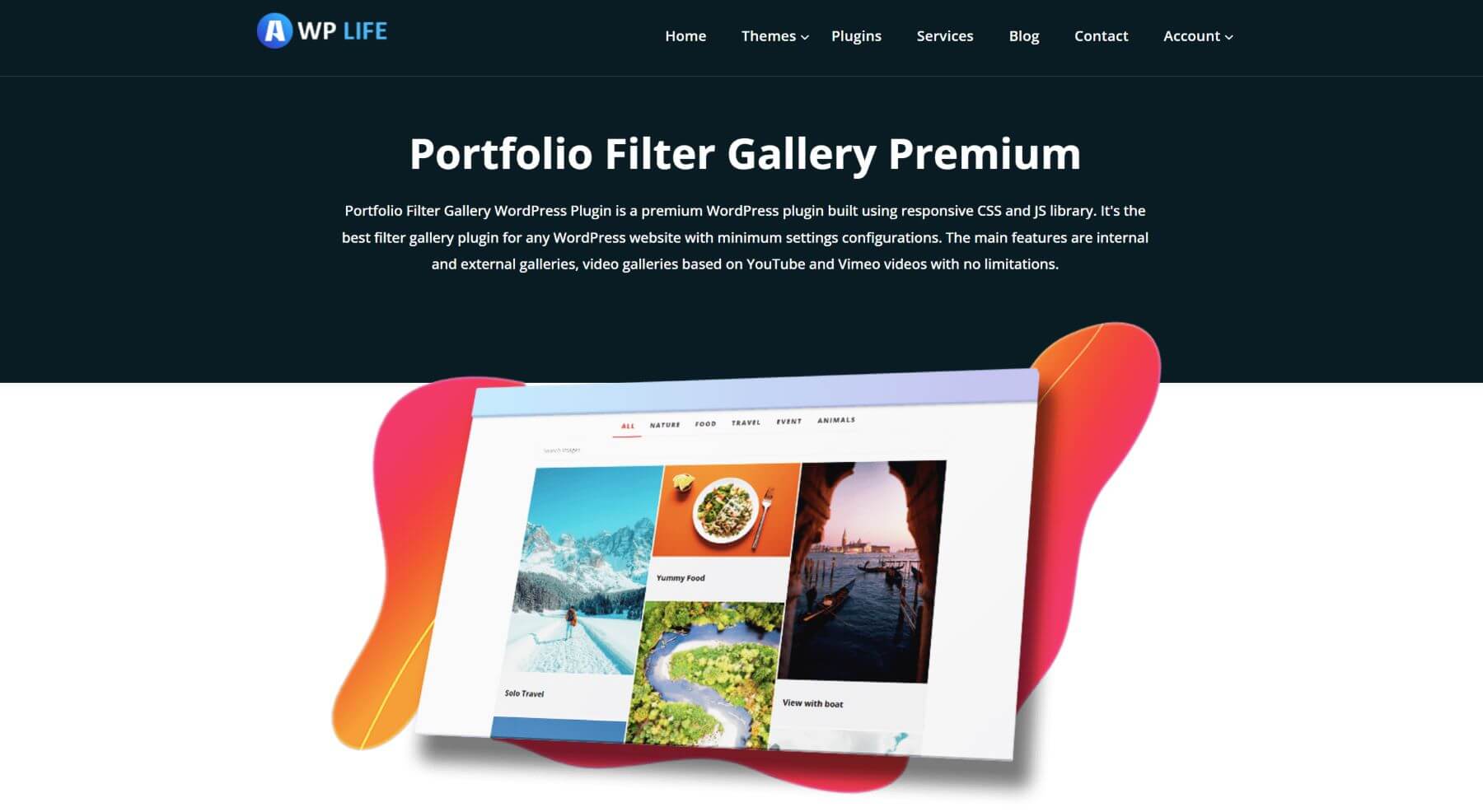 Portfolio Filter Gallery is a freemium image and video gallery plugin for WordPress with built-in category filtering. It includes an intuitive drag-and-drop interface for building custom galleries. You can display photos or videos in masonry-style grids, change the column structure, and reorder the gallery items using drag and drop. You can include custom link URLs for each gallery item that redirect to any post or page. The free version supports up to 4 category filters. But to unlock the true power of the plugin, you'll want to upgrade to the pro version, which includes unlimited filters, 30 hover effects, and more.
Key Features:
Easy to use drag and drop portfolio gallery builder
Beautiful masonry gallery layouts for portfolio items, images, and videos
Bootstrap lightbox functionality
Advanced filtering for gallery items
Best For:
Portfolio Filter Gallery is best for those wanting a powerful, affordable, easy-to-use plugin for creating filterable image and video galleries. However, if you are looking for a plugin that supports custom post types, you should look at other options on our list.
Pricing: Free, Premium version starts at $39 lifetime
5. Envira Gallery

Envira Gallery, one of the best WordPress gallery plugins, can also be used as a great portfolio plugin to showcase your work or projects. With its customizable features, templates, and user-friendly interface, Envira Gallery is an ideal solution for creating a stunning portfolio that represents your brand or style.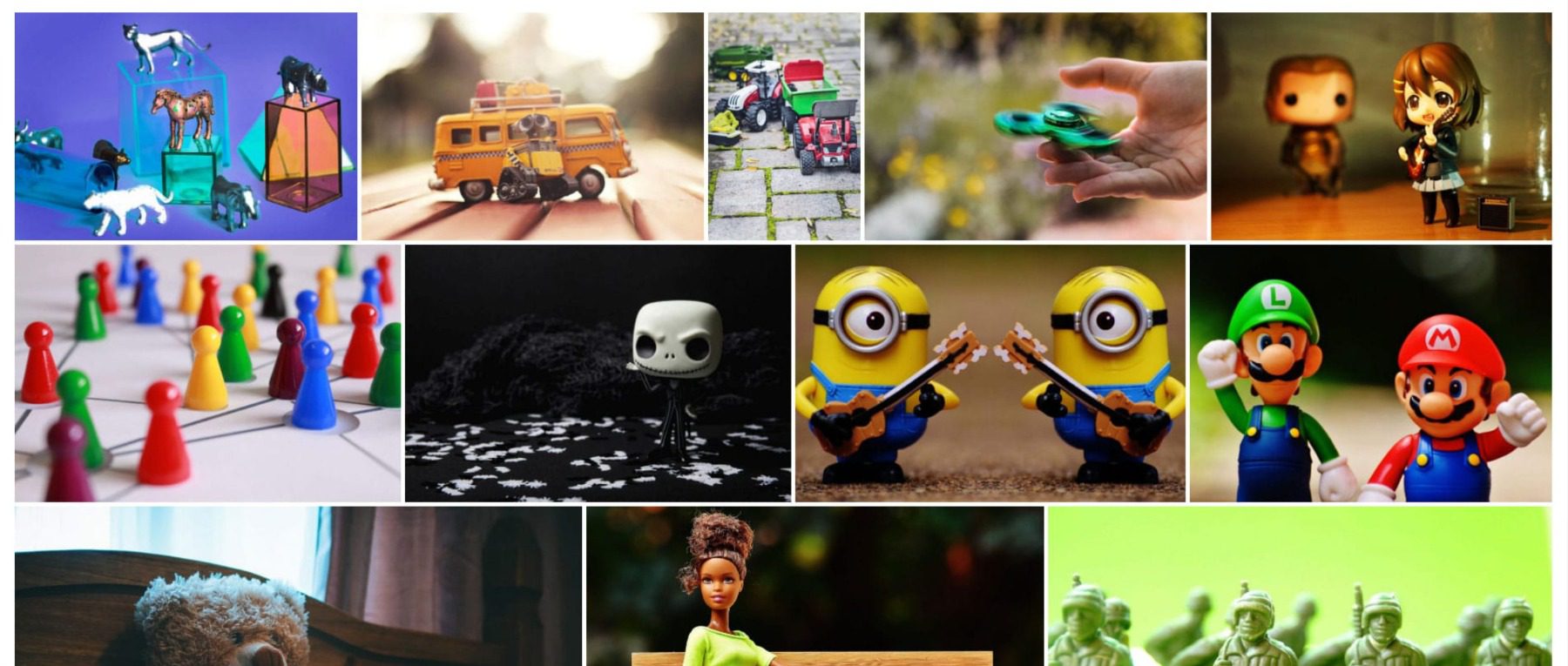 You can use Envira Gallery's drag-and-drop builder to create a portfolio that looks great on all devices, including desktops, laptops, tablets, and smartphones. The mobile-friendly design ensures that your portfolio is easily accessible to your visitors, regardless of their device.
The eCommerce integration feature enables you to sell your work or services directly from your portfolio. You can add custom CSS or JavaScript to further customize your portfolio and make it stand out from the rest. Additionally, social media sharing options enable you to share your portfolio with your social media followers and increase your reach.
Key Features of Envira Gallery:
Drag & Drop Builder.
Mobile Friendly.
Social Media Sharing.
Ecommerce integration.
Add custom CSS or JavaScript
Uploading images via the dashboard is incredibly simple; creating a new gallery takes just a few clicks.

The adaptive drag-and-drop gallery builder is simple to use and will make your grid or masonry galleries look great on all devices.
However, the free version only offers a handful of features, so you'll have to go premium to get the most out of the product's features.
Envira Gallery is for you if…
…if you're looking for a powerful and user-friendly portfolio plugin for your WordPress website. With its drag-and-drop builder and customizable templates, Envira Gallery makes it easy to create a stunning portfolio that showcases your work in the best possible light.
Envira Pricing: Free, with plans starting at $26 per year
6. Grid Kit Portfolio Gallery

Next up, Grid Kit Portfolio Gallery is what we'd call an all-in-one WordPress portfolio plugin. This tool enables you to set up portfolio galleries, normal photo albums, client logos, and team showcases. When you combine all of those features, you get a solution that's perfect for large agencies: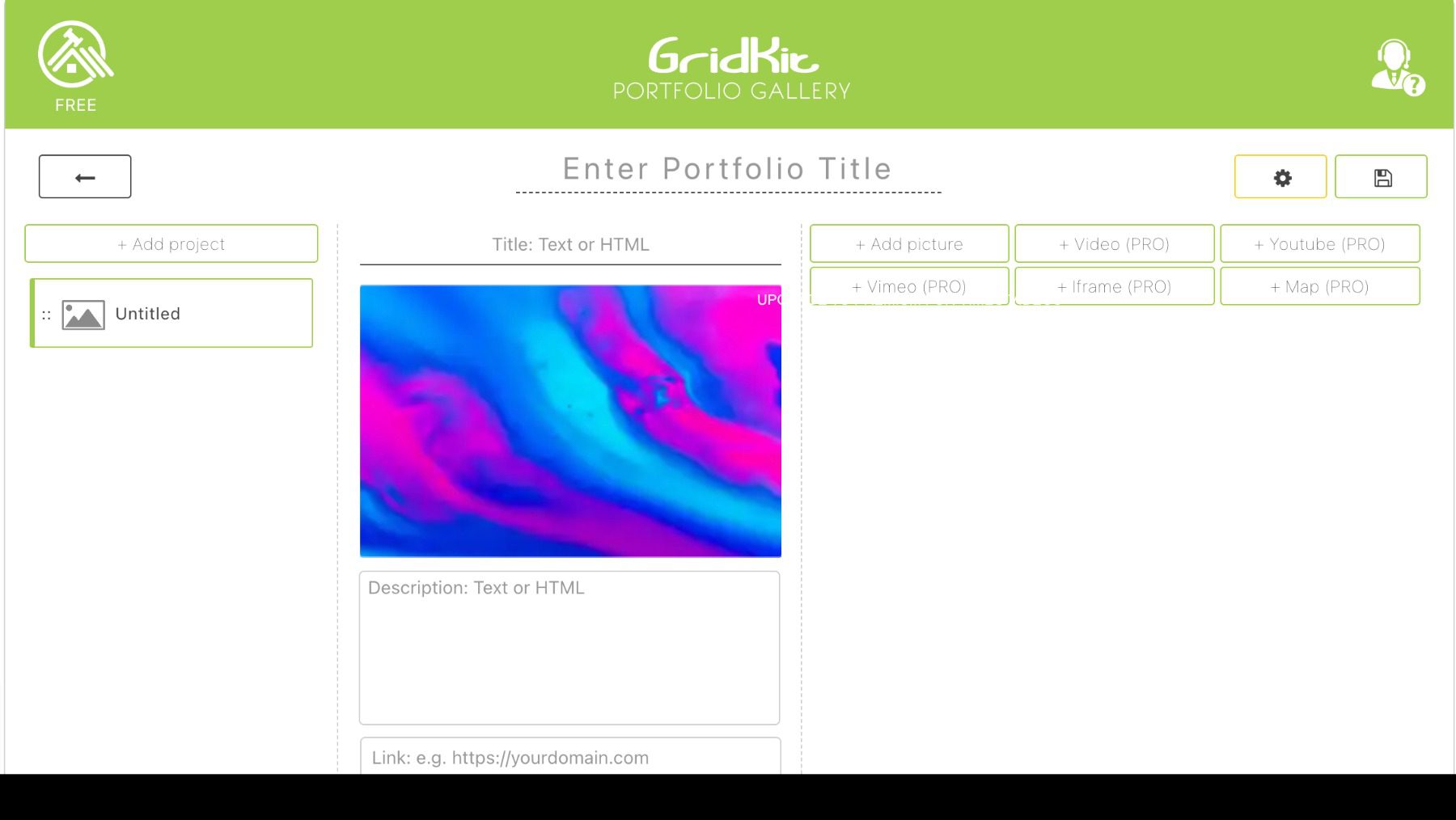 You can add titles, descriptions, and URLs for each project in your portfolio galleries. If you set up client-based galleries, you'll be able to add multiple projects to each of them. Each gallery that you create gets its own shortcode, which you can place anywhere you want on your website.
Although Grid Kit Portfolio is a fantastic option for agencies, the free version is missing gallery customization functionality. You don't get to choose specific layouts or customize the style of your galleries.
Key Features:
Create portfolio galleries
Add regular galleries and photo albums to your site
Create client logo galleries
Set up galleries to introduce team members
Grid Kit Portfolio Gallery is for you if…
…you're happy using basic grid galleries for your portfolio. Alternatively, the premium plugin offers a broad range of portfolio gallery types that you can use, and it's perfect for agencies.
Price: Free, with premium licenses starting at $49.99
Get Grid Kit Portfolio Gallery
7. Spotlight

A lot of artists choose to use their social media profiles as a kind of portfolio. If you use Instagram to show off your best work, you can find a way to integrate your feed into WordPress. That way, you won't need to create a new gallery to display your work on your website. Plus, you'll be able to direct visitors to your social media profiles.
Spotlight is a simple plugin that enables you to embed your Instagram feed anywhere on your website. You can display your Instagram posts as a grid, and choose how many images to showcase on your site: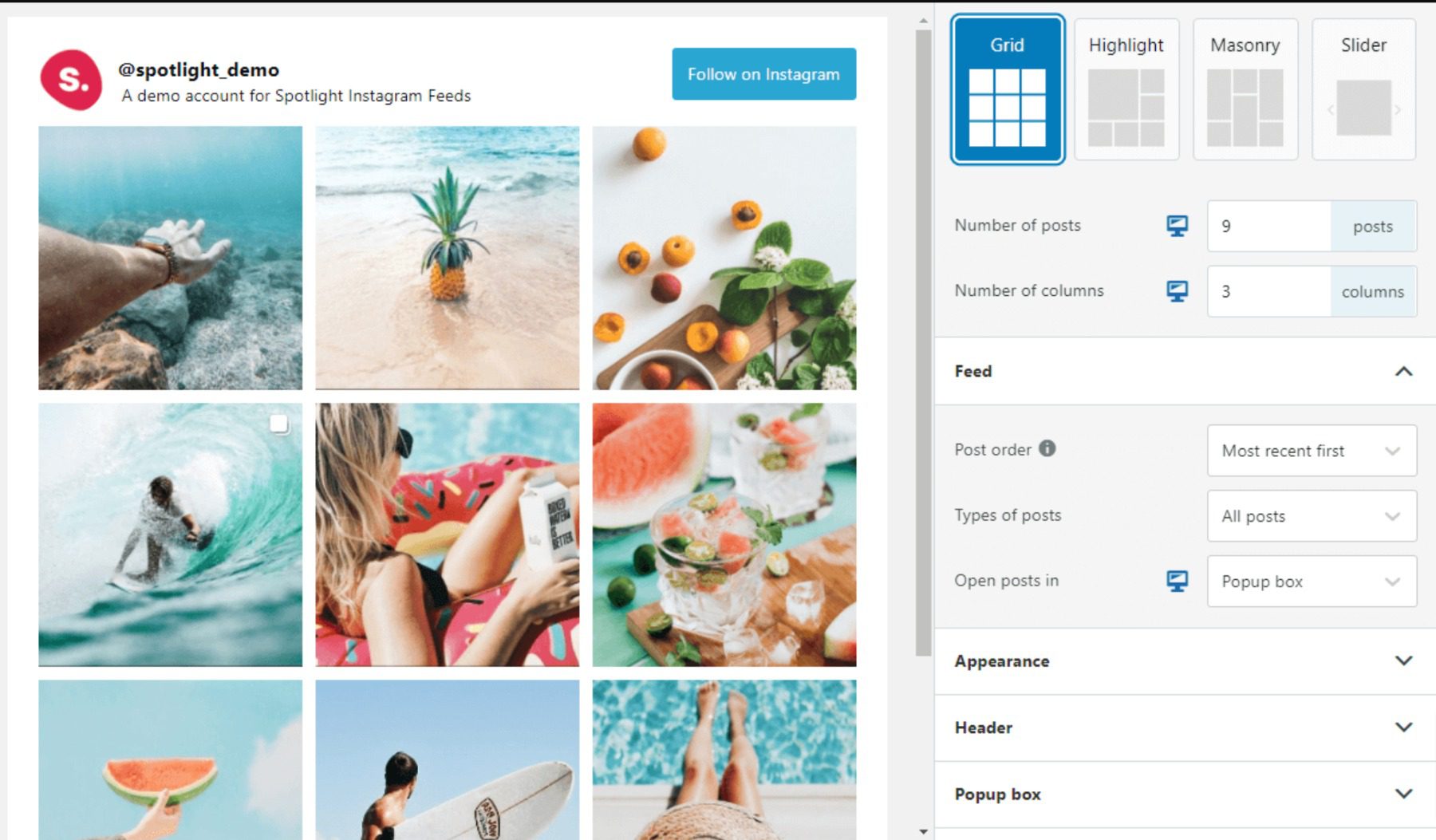 This plugin lets you set a custom bio description and change your account's logo. Plus, you can include a Follow button so visitors can follow your account without leaving your website.
Using Spotlight, you can embed personal or business Instagram accounts. Moreover, the plugin lets you embed feeds from multiple accounts on the same page or on different pages.
Key Features:
Embed Instagram feeds in WordPress
Customize your feeds' styles
Add a follow button to your embedded feeds
Spotlight is for you if…
…you use your Instagram profile as a portfolio. With this plugin, you can display that portfolio on your WordPress site and gain more followers for your social media account.
Price: Free, with premium licenses starting at $39/yr
8. Visual Portfolio

Next on our list, Visual Portfolio is a gallery plugin that enables you to use multiple types of portfolio layouts within the Block Editor. With this plugin, you can add masonry, grid, tile, justified, and carousel galleries to any of your pages: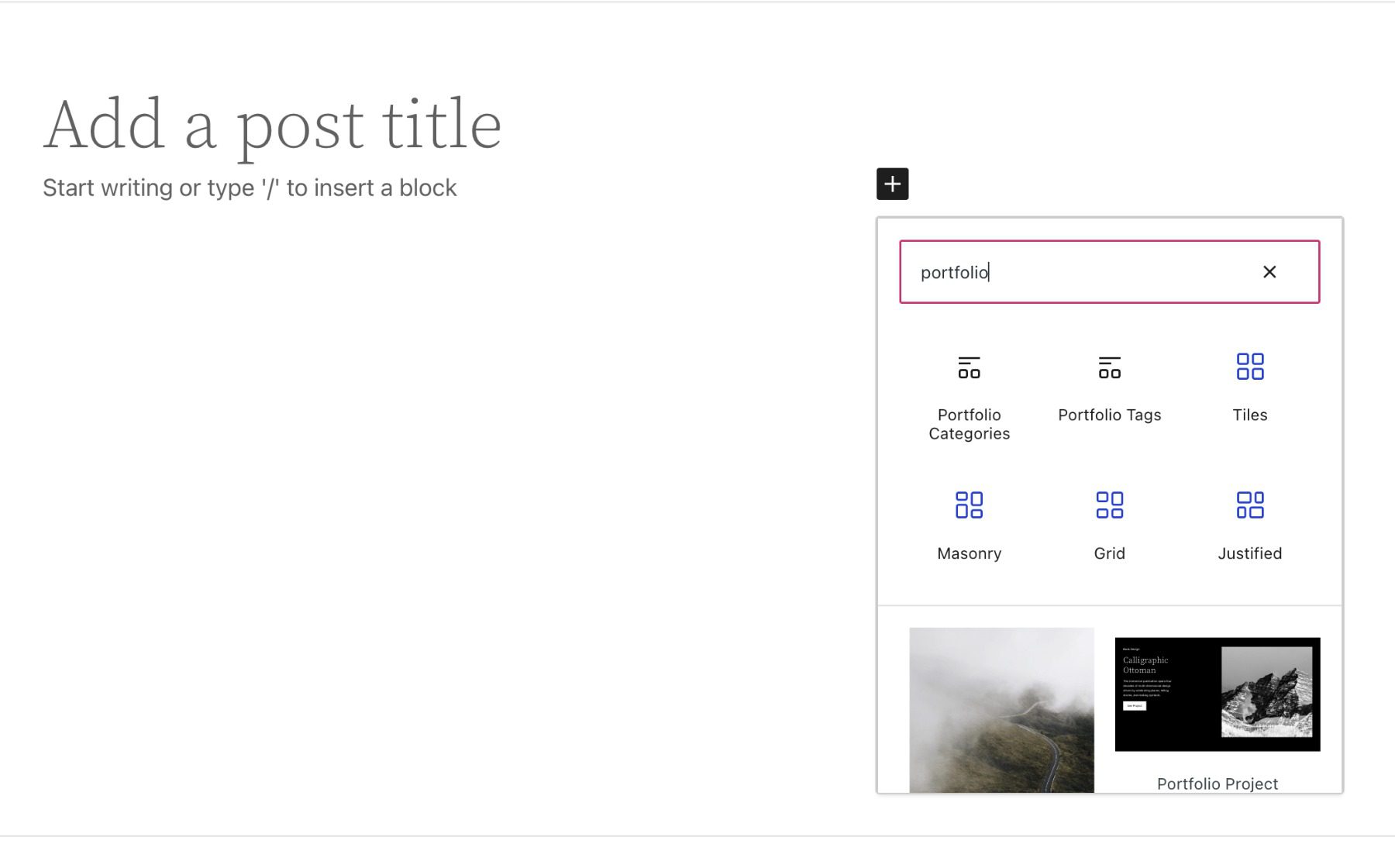 It also enables you to set up new categories for your work and build a library of portfolio items. You get access to a custom post type for portfolio pages, and each module supports multiple types of files, including images as well as hosted video and audio.
Visual Portfolio offers plenty of customization settings for each of its portfolio blocks. You can modify layouts, add visual effects to individual galleries, and choose what information to display at a glance: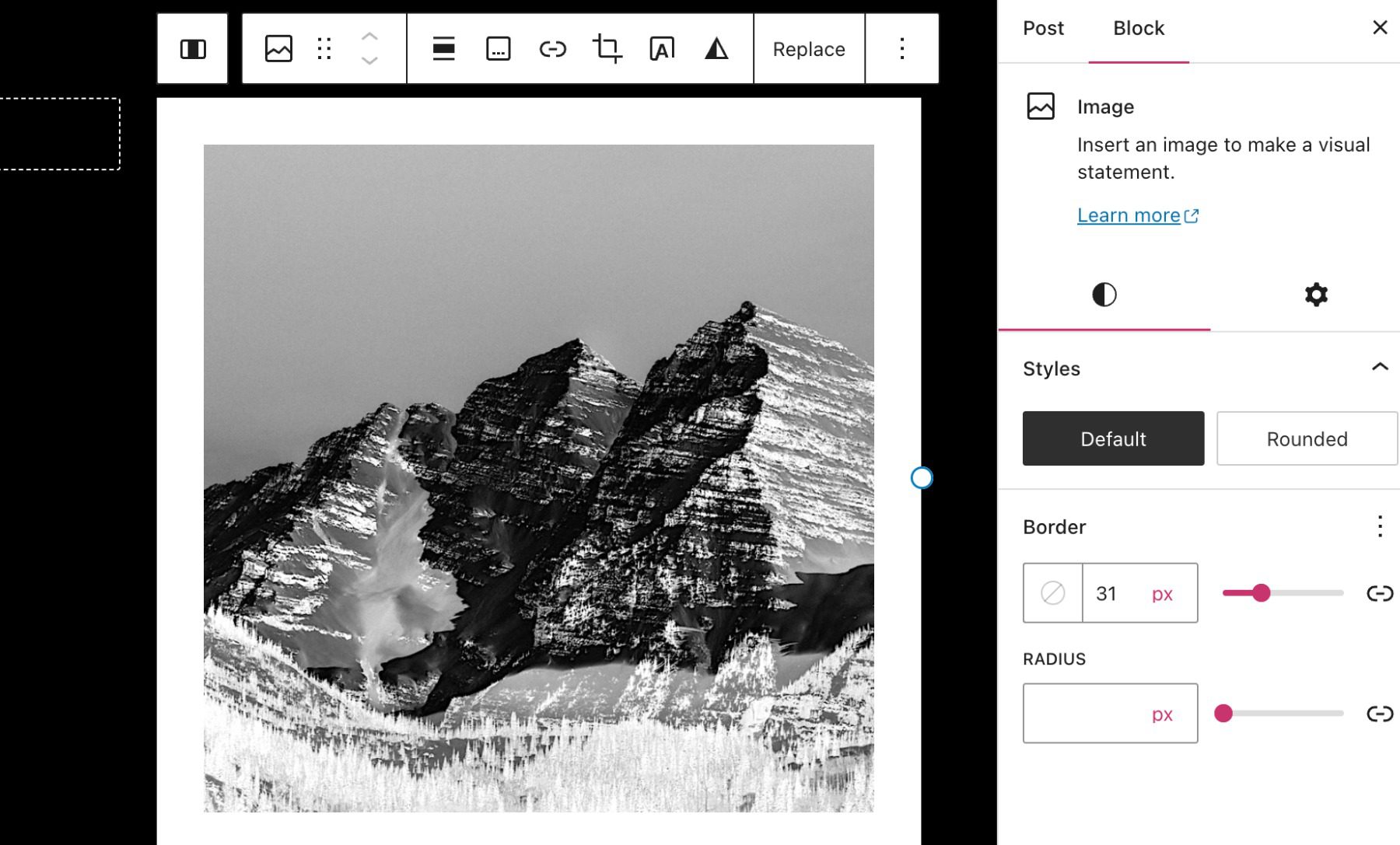 If you're not using the Block Editor, Visual Portfolio also integrates with Elementor and WPBakery. In those cases, the plugin lets you create reusable portfolio layouts that you can add to any page using shortcodes.
Key Features:
Get access to multiple types of gallery blocks
Add images and posts to your portfolio galleries
Embed-hosted video and audio files within your galleries
Customize each gallery block
Integrate your portfolio layouts with Elementor and WPBakery
Visual Portfolio is for you if…
…you want to access easily-customizable portfolio blocks. This plugin lets you set up as many custom portfolio galleries as you need. Plus, you can divide your portfolio into categories, which is perfect if you want to showcase a large library of work.
Price: Free, with premium licenses starting at $39/yr
9. Portfolio Gallery

Portfolio Gallery enables you to set up as many individual galleries as you need to showcase portfolio items. It also lets you choose between multiple styles.
Moreover, you can create sub-galleries for each entry in your portfolio. Here's how that looks when using the Portfolio Gallery builder: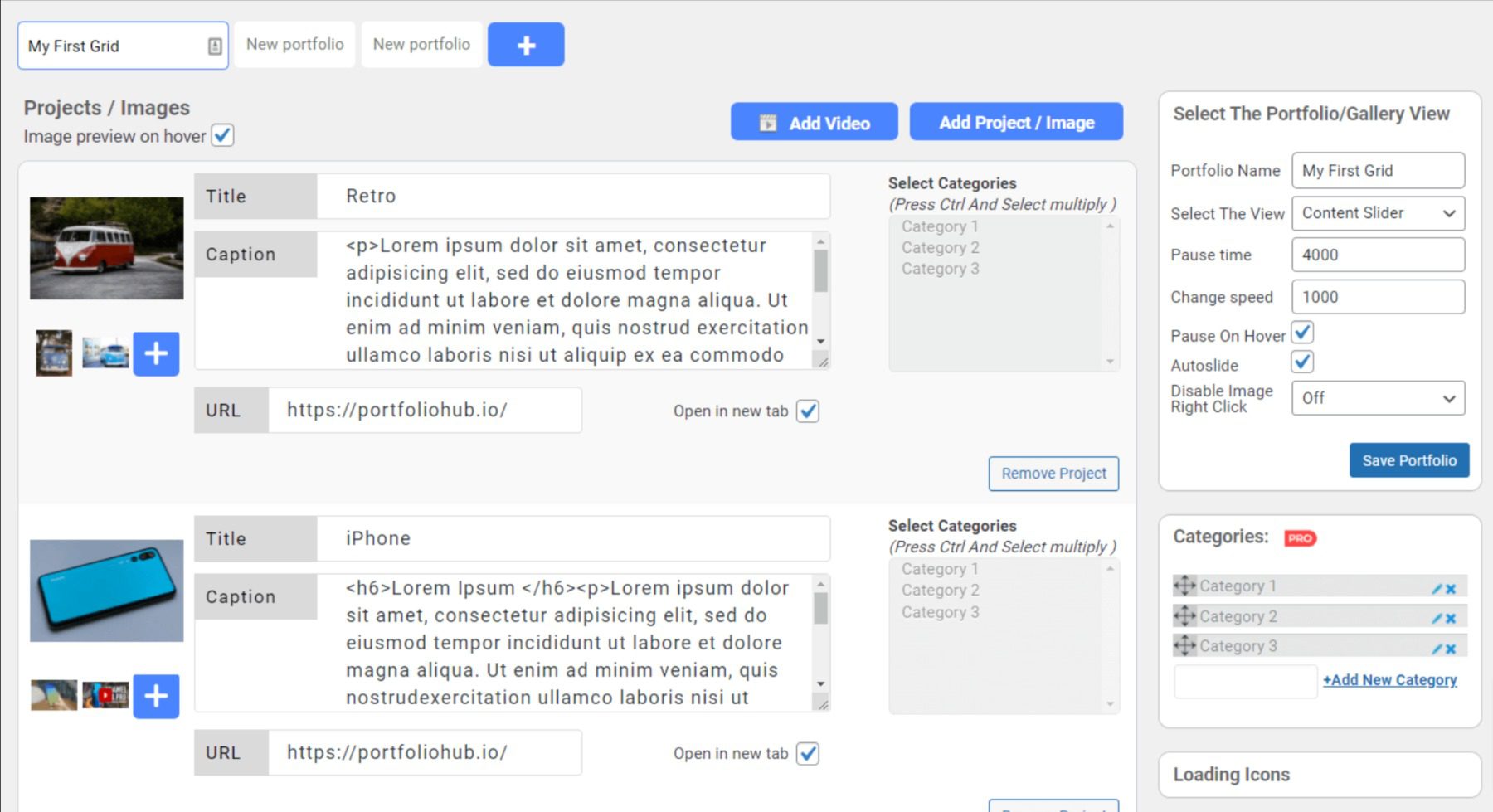 On top of adding sub-galleries for each entry, you can also include titles and descriptions, and set images to lead to external URLs. This plugin also lets you add each portfolio item under multiple categories for easier sorting. Here's what that looks like from the front end using the Content Popup style: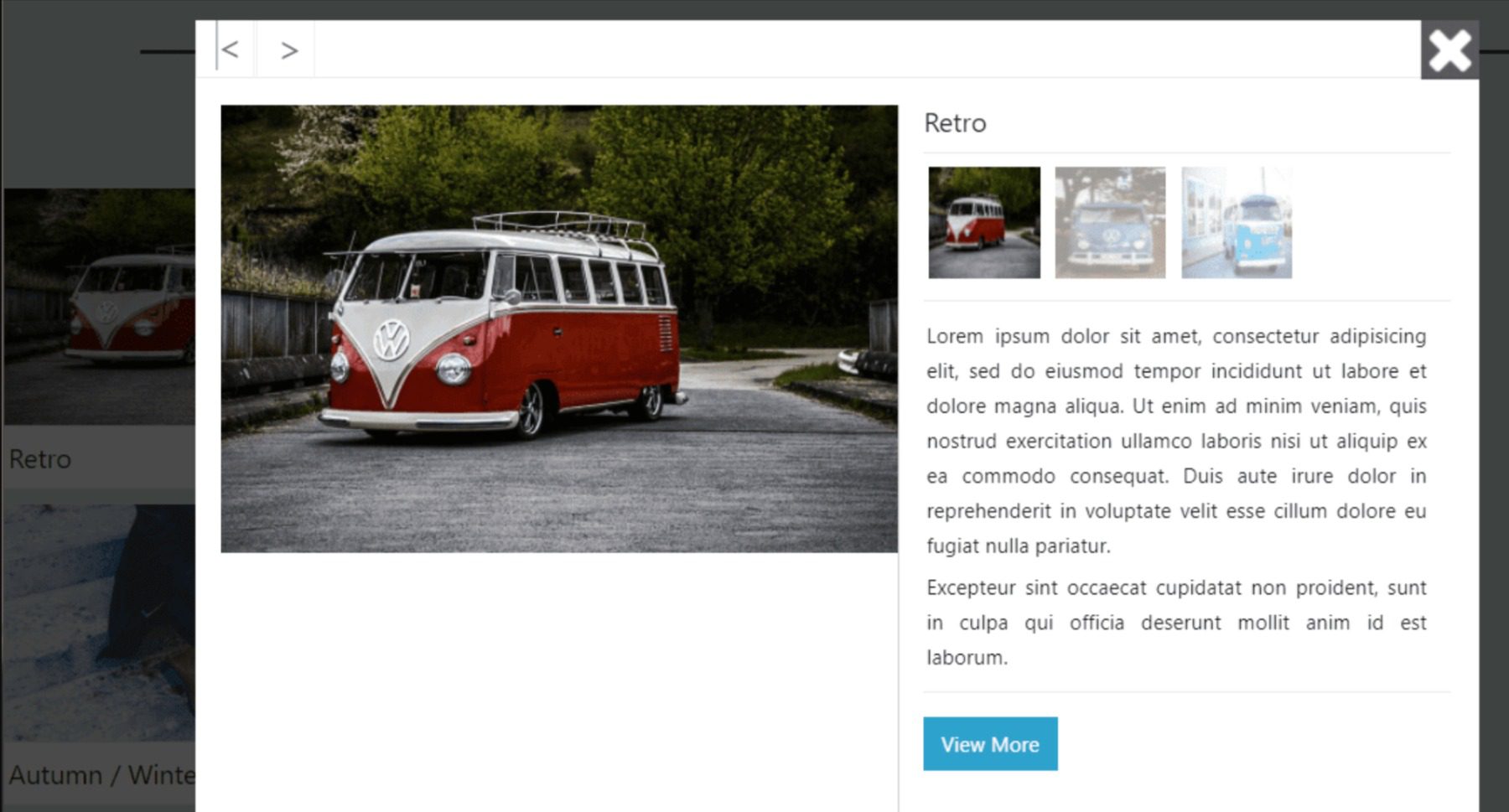 Portfolio Gallery's styles are perfect if you want to include multiple pictures for each entry in your portfolio. You can also take advantage of descriptions to talk about each project and how you approached it.
One downside of using this plugin is that it doesn't offer many options when it comes to visual customization. Although you can choose from multiple gallery styles, you can't modify colors, add effects to galleries, or even use custom CSS without some tinkering (at least, not without the premium version).
Key Features:
Create as many portfolio galleries as you need using multiple styles
Add sub-galleries to individual portfolio items
Add images and/or videos to your galleries
Embed galleries anywhere on your site using shortcodes
Disable right-clicking on galleries
Portfolio Gallery is for you if…
…you want a WordPress portfolio plugin that doesn't require much customization. The plugin's default style works well for minimalist portfolio websites. Moreover, you can include a lot of information and display additional images for each project.
Price: Free, with premium licenses starting at $19/yr
10. GS Logo Slider

A lot of portfolios include logos for the clients that professionals work with. Displaying logos for past and current clients is a simple way to showcase that you're in demand and you've worked with companies visitors might know.
With that in mind, GS Logo Slider enables you to add each of your client's logos to your site and display them using sliding galleries:

This plugin offers a broad range of gallery styles, and you can configure each logo to lead users to another page or website. For example, you can add URLs to project pages for each specific client, talking about the work you've done together.
Using GS Logo Slider, you can add sliding logo galleries to your pages using shortcodes or blocks. Moreover, the plugin lets you create categories and tags for your clients' logos.
Key Features:
Create sliding logo galleries
Add your client's logos to a library and categorize them
Create categories and tags for client logos
Place logo sliders on your pages using shortcodes or blocks
GS Logo Slider is for you if…
…you want a quick way to show off what clients you've worked with. You can also include that information within specific entries in your portfolio gallery. However, a logo slider offers a much easier (and more visually appealing) way to impress visitors when they visit your home page.
Price: Free, with premium licenses starting at $30
Comparing the Best WordPress Portfolio Plugins
Here we comprehensively compare the top portfolio plugins available for WordPress. We'll look at their pricing and features to help you make an informed decision.
Portfolio Plugin Price Comparison
The table below provides a detailed comparison of the pricing structures for each portfolio plugin. This will help you understand the cost implications and choose a plugin that fits within your budget.
Portfolio Plugin Feature Comparison
The following table compares the distinct features of our top 3 portfolio plugins and options. This will give you a clear picture of what each plugin offers and help you select the one that best meets your specific needs.
🥇

Divi

🥈

WP Portfolio

🥉

Portfolio Pro
Starting Price
$89/yr
$49/yr
$24/yr
Grid Layouts
✔️
✔️
✔️
Slider Layouts
✔️
✔️
✔️
Isotope Filter
✔️
❌
✔️
Ordering Option
✔️
✔️
✔️
Image Size Control
✔️
✔️
✔️
Drag & Drop Ordering
✔️
❌
✔️
Device Display Controls
✔️
❌
✔️
Templates
✔️
✔️
❌
Gutter/ Padding Control
✔️
❌
✔️
Pagination
✔️
❌
✔️
Active Installations
900,000+
Unknown
8,000+
Community Rating
4.9/5
⭐⭐⭐⭐⭐
Read Reviews
Unknown
4.5/5
⭐⭐⭐⭐⭐
Read Reviews
Get Divi
Get WP Portfolio
Get Portfolio Pro
What is the Best Portfolio Plugin?
Using WordPress to create a portfolio is relatively simple. With the right WordPress portfolio plugins, you'll be able to display your work, show who you've worked with, and even share client testimonials. All of these elements are key components of a strong portfolio, whether you're a graphic designer, a developer, or anything in between.
If you're still not sure which WordPress portfolio plugin to use, you might want to give our page builder, Divi, a try. It has everything you would need to build an entire portfolio site from top to bottom, including dedicated modules for filterable portfolio grids, carousels, and thousands of premade layouts.
If you're looking for the best standalone portfolio plugin, we like WP Portfolio because of its advanced features and ease of use. We especially like how you can display website demos and that it works with other popular page builders. Make sure to check out our post on the best WordPress plugins as well, we provide a top recommendation for each type!
Frequently Asked Questions (FAQs)
Before we wrap up, let's answer some of your most common questions regarding the best WordPress portfolio plugins. Did we miss one? Leave a question below, and we will respond!
What is the best WordPress portfolio plugin?
Divi
has extensive features for portfolio websites, including customizable, filterable portfolio grids, carousels, and an impressive collection of pre-built portfolio layouts. But if you're after a standalone portfolio plugin that offers advanced functionality and intuitive navigation, our top pick is
WP Portfolio
.
What is the best free WordPress portfolio plugin?
Portfolio by RadiusTheme
is the best free plugin for showcasing your work online. This plugin offers many features, including portfolio layouts, customizable filters, social media sharing options, Gutenberg support, and shortcodes.
What is a WordPress portfolio plugin?
A portfolio plugin can be beneficial if you want to showcase professional work on your WordPress website. These plugins allow you to create an impressive portfolio display with various options like custom layouts, filters, and categories.
Is WordPress good for making a portfolio?
Absolutely! WordPress offers many features, making it an ideal choice for creating a portfolio. Its adaptability and cost-effectiveness are among its most notable features. With WordPress, you can easily create attractive portfolios.
Is Wix or WordPress better for portfolio websites?
Although Wix boasts some appealing features, such as an excellent user interface and a drag-and-drop editor, WordPress presents a more flexible and dependable experience than Wix making it an ideal option for building your portfolio. WordPress's biggest advantage is its vast repository of open-source portfolio themes and plugins and the freedom it provides you to customize your website in every way.
Which WordPress portfolio plugin is the easiest to use?
Portfolio by Radius Theme
is the easiest plugin for creating portfolios. The plugin's easy shortcode generator makes it a perfect fit for beginners to add their portfolios anywhere on the website. It offers a range of layout options, filter customization, field displays, and more. Plus, users can ensure their portfolio reflects their unique brand with the plugin's built-in styling options.
Do I need coding experience to add a portfolio to my WordPress website?
No, you do not necessarily need coding experience to add a portfolio to your WordPress website. There are many portfolio plugins available that can help you create a portfolio without any coding knowledge. Every plugin on our list will enable you to create a portfolio without code.
What are the key features of a WordPress portfolio plugin?
The key features of a WordPress portfolio plugin include customizable portfolio displays, multiple portfolio types, filtering and sorting options, integration with other plugins and themes, and mobile responsiveness, among others.
What are the advantages of having a single-page portfolio?
A single-page portfolio features all the necessary information on a single page, including an about section and descriptions of the services provided. It benefits potential clients as they can easily access all vital information in one place. Additionally, it leads to faster load times.
What is the difference between a portfolio and a gallery?
Any collection of images can be categorized as a gallery. On the other hand, the term  "portfolio" is typically reserved for galleries that showcase a person's work, such as art and design. A description of the project generally accompanies each image in the gallery.
Do you have any questions about how to create an effective WordPress portfolio? Let's talk about them in the comments section below!
Featured image illustration via klyaksun / shutterstock.com