There's no shortage of WordPress hosting companies on the market. However, features and prices vary significantly from one web host to another. If you haven't used managed WordPress hosting before, it can be hard to determine which companies offer the best services for your money.
This post will introduce you to some of the best managed WordPress hosting companies. We'll discuss the features they offer, their prices, and why you should consider using each host. Let's get to it!
What is Managed WordPress Hosting?
Before we get to business, let's briefly recap what managed WordPress hosting is. Managed hosting plans offer in-house services to maintain, optimize, and secure your website for better performance.
With most managed hosting plans, you get access to features such as:
These are just some of the features most managed WordPress web hosts offer. Some companies might offer more advanced functionality and performance, usually at higher prices.
Overall, managed WordPress hosting focuses on giving you the best possible performance for the CMS (content management system). If you're a WordPress enthusiast, you can optimize and maintain your websites on any host. However, managed plans take care of most maintenance and security tasks and let you focus on growing your site.
The Best Managed WordPress Hosting Companies
This section will introduce you to the best managed WordPress hosting companies on the market. We'll evaluate each company according to its performance, features, and price. We'll break down what makes each web host unique and who should consider using it!
The Best Managed WordPress Hosts Listed In Order
Expand List
1. SiteGround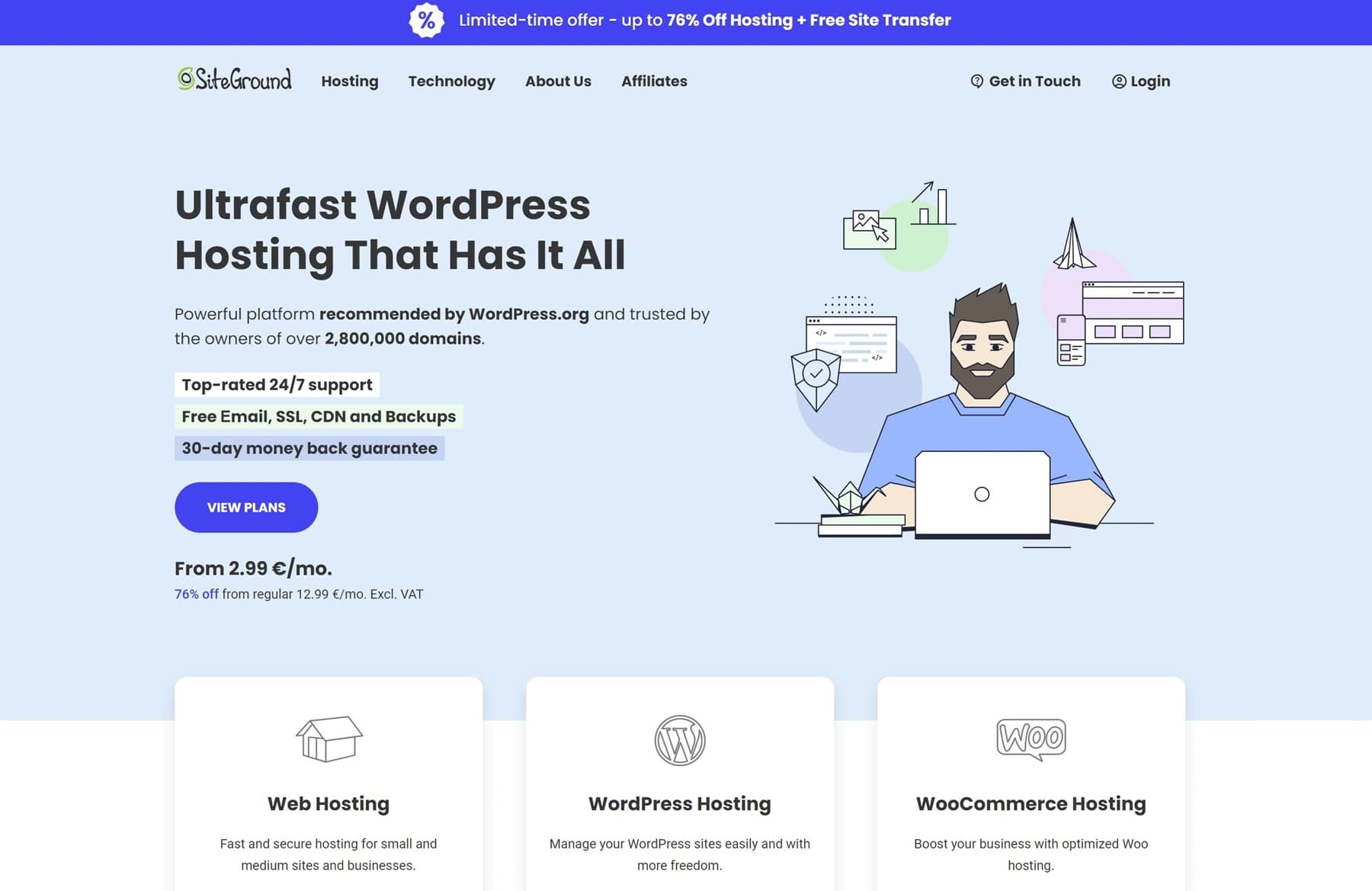 SiteGround is well-known for offering some of the cheapest managed WordPress hosting plans. It has packages starting at $2.99 per month, drastically lower than most competitors offer.
Although SiteGround tends to score well in performance, it has mixed reviews for WordPress support. If you can look past that or have experience fixing issues with WordPress, SiteGround offers an impressive list of features for its price point.
SiteGround is another one of the web hosts that we recommend for Divi users. You can sign up for a plan and launch WordPress websites with Divi pre-installed.
Key Features for SiteGround:
Base plans start with 10 GB of storage space and unmetered* traffic
Daily backups
Free CDN integration
Free SSL certificates
Custom caching configuration
Automatic WordPress updates
*We do want to note that there's usually no such thing as unmetered traffic. There are always bandwidth restrictions (even if they're not explicitly laid out).
SiteGround is for you if…
You want to test what a managed WordPress hosting service can offer before committing to a lengthy contract.
You're on a budget.
You're comfortable troubleshooting WordPress issues on your own.
➡️ Read Our Complete SiteGround Hosting Review.
SiteGround
Starting Price
$12.99/mo
Storage
10 GB
Bandwidth
10 GB
Monthly Visitors
10,000
Free Domain
✔️
24/7 Support
✔️
Trustpilot Rating
⭐⭐⭐⭐⭐
Read the reviews
Visit Siteground
2. Flywheel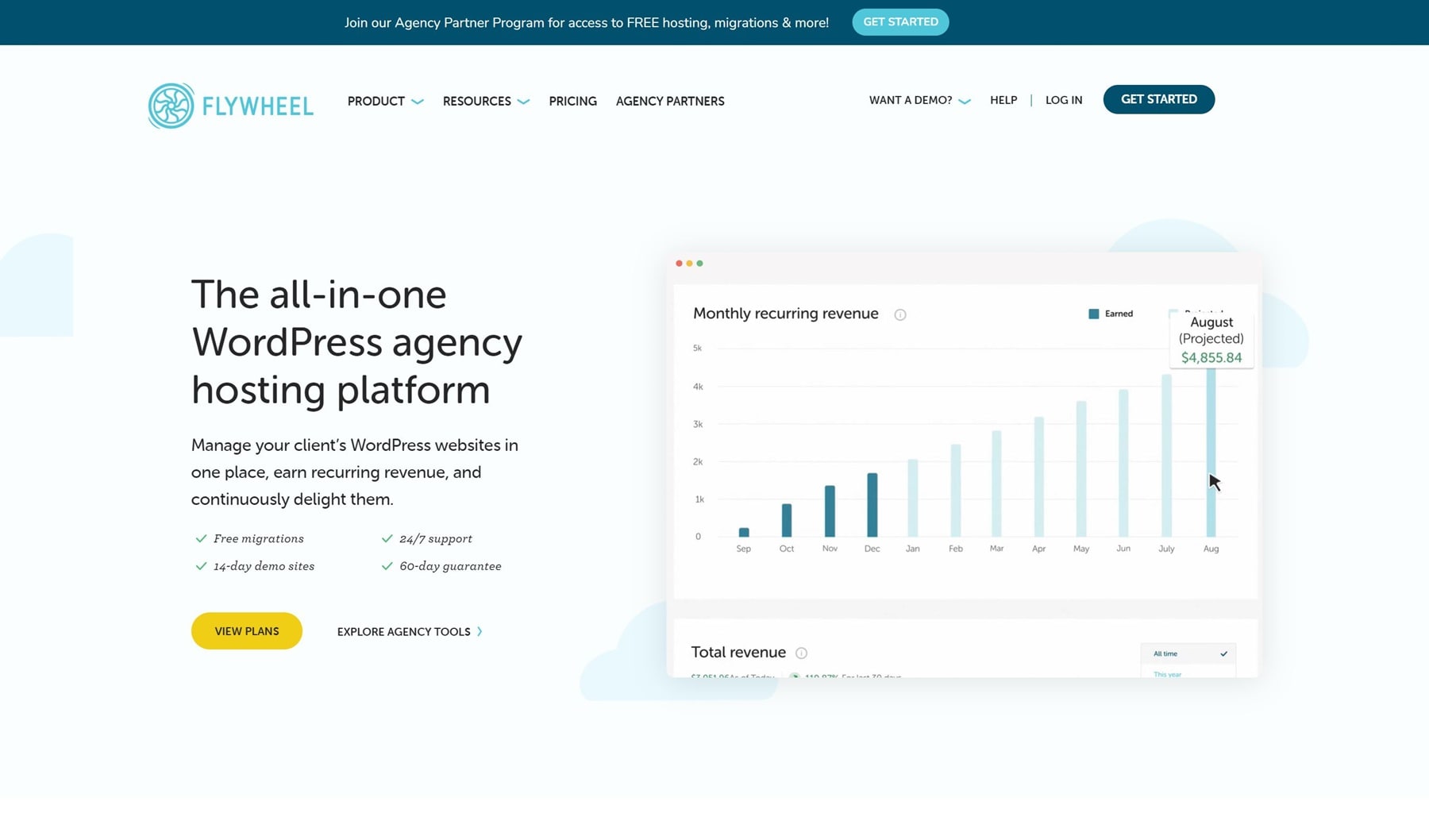 Flywheel offers several types of WordPress plans, including managed options, with the most affordable option starting at $13 per month. With Flywheel, you can choose from packages geared toward personal projects, business websites, and web development/design agencies.
One of Flywheel's key selling points is its fantastic hosting control panel. In our experience, the Flywheel admin dashboard is one of the most user-friendly options. That feature can be handy if you manage a large number of sites.
Regarding agencies, Flywheel offers intuitive tools for handing off websites and billing clients directly for hosting. You can even create WordPress "blueprints," which are backups for spinning up new websites.
Flywheel is one of the web hosts we recommend for Divi users. With Flywheel, you can launch new WordPress sites with Divi pre-installed and connected to your Elegant Themes account. That way, you can get right to work on building your next website.
Flywheel also offers one of the best local WordPress development tools. Local by Flywheel is free to use and can connect with your Flywheel account (if you have one).
Key Features for Flywheel:
Base plans start with 5 GB of storage and 20 GB of bandwidth
Custom caching configurations
Integrated Content Delivery Network (CDN)
Free access to a collection of StudioPress themes
Free SSL certificates
Staging functionality
Daily backups
Free website migrations
Automatic plugin updates
Flywheel is for you if…
You prioritize features, ease of use, and an intuitive hosting control panel.
You're hosting a single site or have a generous budget for multiple websites.
You work as a developer or in an agency.
➡️ Read Our Complete Flywheel Hosting Review.
Flywheel
Starting Price
$13.00/mo
Storage
5 GB
Bandwidth
20 GB
Monthly Visitors
5,000
Free Domain
❌
24/7 Support
✔️
Trustpilot Rating
⭐⭐⭐
Read the reviews
Visit Flywheel
3. Cloudways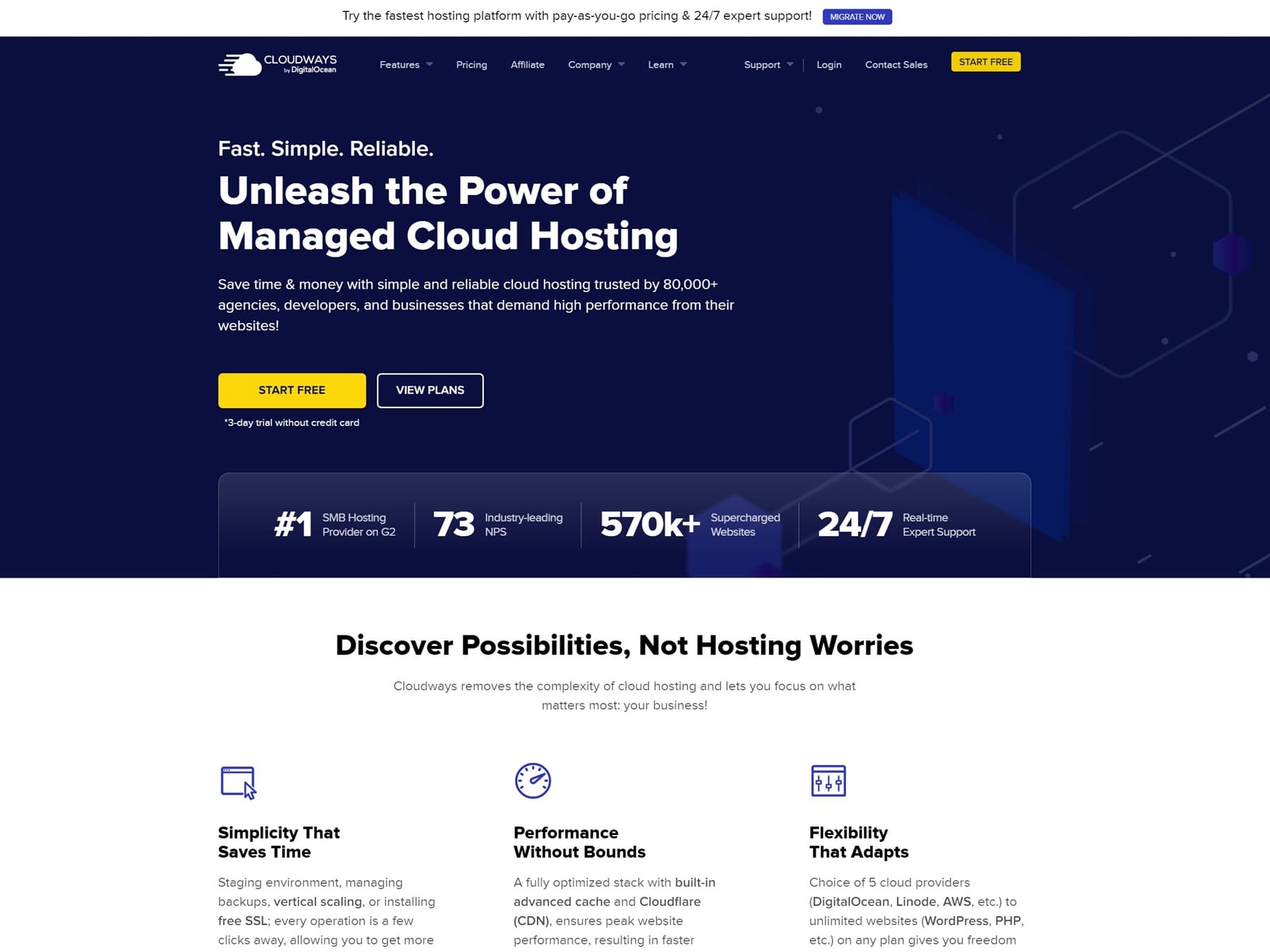 One of the biggest challenges of using Virtual Private Servers (VPSs) is that, usually, they're not very user-friendly. Configuring a VPS can be challenging if you don't have server management experience. That applies even to providers that offer one-click setup options for WordPress and other software.
Cloudways bypasses that problem by offering a managed WordPress hosting layer on top of the most popular VPS providers. With Cloudways, you can spin up servers on Digital Ocean, Amazon Web Services, Vultr, Google Cloud, and Linode.
With a Cloudways plan, you get expert WordPress support, automatic backups, easy scaling options, and server optimization. You won't have to interact with VPSs using the command line since Cloudways offers a user-friendly hosting control panel.
If you want to use Divi with Cloudways hosting, you can easily. Our partnership with Cloudways means you can create WordPress websites with Divi in minutes.
Key Features for Cloudways:
Base specifications vary depending on which cloud provider you use
Automated backups
Custom caching configuration
Staging functionality
Team management tools
Application monitoring
CDN add-on available
Free migrations
Cloudways is for you if…
You like the fantastic performance that VPSs offer but are uncomfortable with server management.
You're on a budget.
You value high performance.
Pricing: Cloudway prices vary depending on which VPS provider you use alongside the platform. For Digital Ocean, Linode, and Vultr, you have plans starting at $14 per month that offer 1 GB of RAM, 1 core CPU, 32 GB of storage, and 1 TB of bandwidth.
If you want an AWS or Google Cloud server, base prices rise to around $38 per month for roughly double the resources (2 GB of RAM, 1 core CPU, 20 GB of storage, and 2 GB of bandwidth).
➡️ Read Our Complete Cloudways Hosting Review.
Cloudways
Starting Price
$12.00/mo
Storage
25 GB
Bandwidth
1 TB
Monthly Visitors
N/A
Free Domain
❌
24/7 Support
✔️
Trustpilot Rating
⭐⭐⭐⭐⭐
Read the reviews
Visit Cloudways
4. Pressable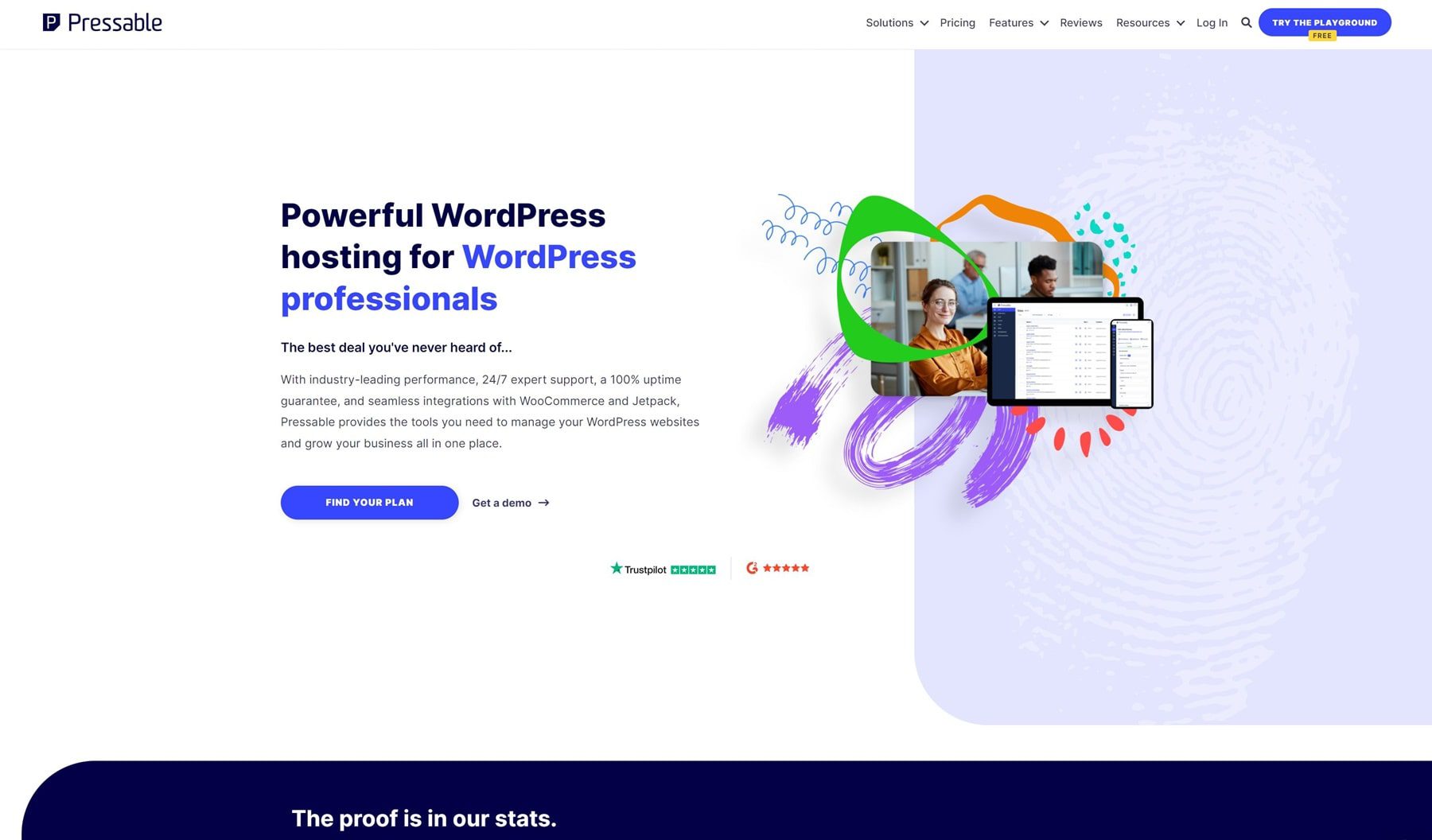 Pressable is run by Automattic, the same company behind WordPress. It's worth noting Pressable isn't the only WordPress hosting venture by Automattic, as the company also created WordPress VIP.
With Pressable, you can host your WordPress website on the same servers that support WordPress.com. That means you get access to top-of-the-line performance without the limitations of using self-hosted WordPress.
On top of all the perks managed web hosts usually offer, most Pressable plans come with a premium Jetpack license. That means you'll get automated plugin updates, malware scans, backups powered by VaultPress, and more.
Pressable is a Divi partner. That means you can launch WordPress websites with Divi pre-installed and get discounts if you sign up through our Pressable partner page.
Key Features for Pressable: 
Base plans start with 5 GB of storage and support for 5,000 visitors
Free Jetpack premium license (starting with the Personal plan)
Daily backups
Integrated CDN
Free WordPress migrations
Free access to the WP101 library
Automatic WordPress updates
Hack recovery assistance
Free SSL certificates
Pressable is for you if…
You want an all-around solid managed WordPress hosting option.
You're a fan of Jetpack or want access to WP101.
You want a hands-off approach to running your site.
➡️ Read Our Complete Pressable Hosting Review.
Pressable
Starting Price
$19.00/mo
Storage
10 GB
Bandwidth
N/A
Monthly Visitors
5,000
Free Domain
❌
24/7 Support
✔️
Trustpilot Rating
⭐⭐⭐⭐⭐
Read the reviews
Visit Pressable
5. Hostinger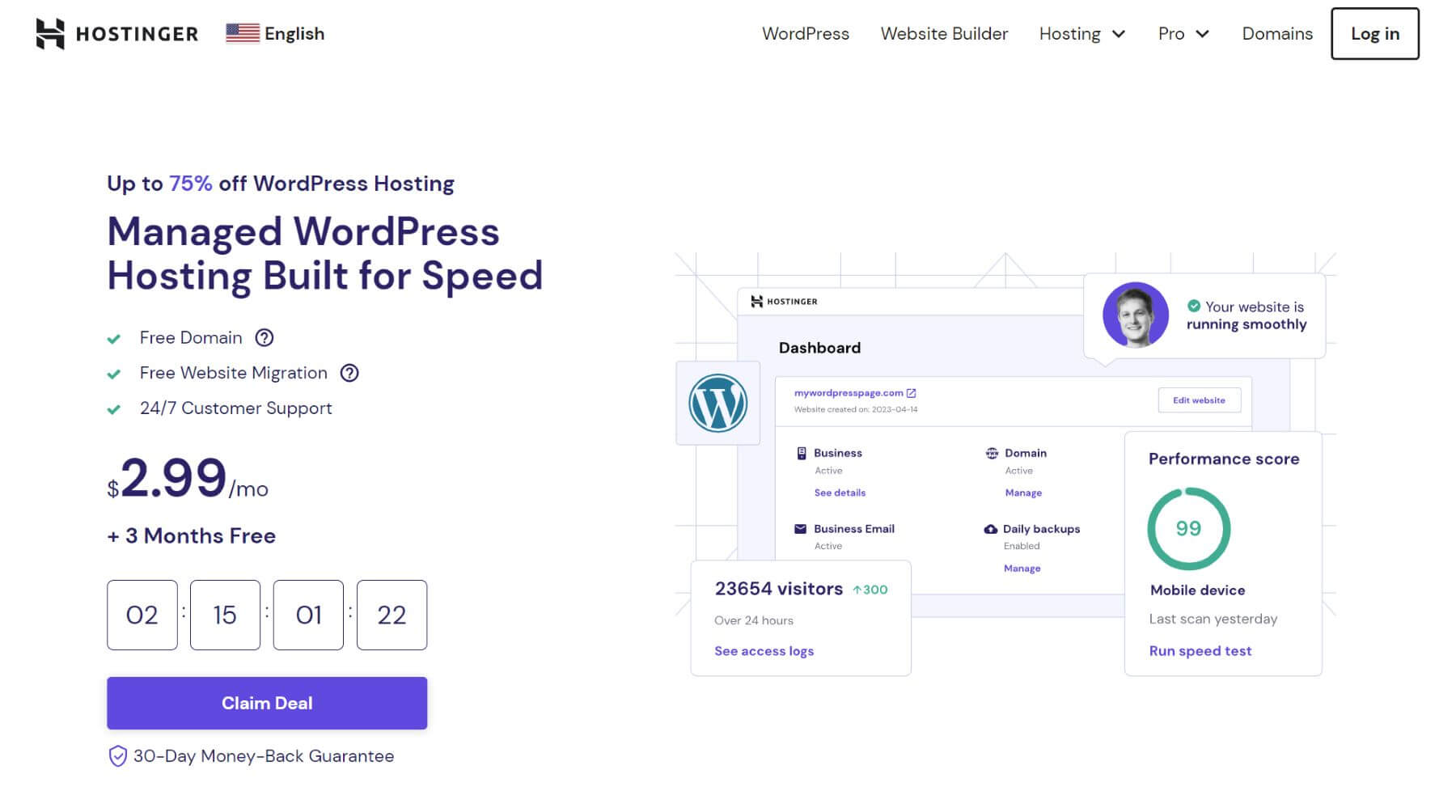 Hostinger is a long-standing top hosting solution that continues to provide top-notch features for its clients and push the limits of innovation — being one of the first to offer an AI website builder.
For WordPress users, their managed hosting solution offers impressive features that streamline the speed, performance, and management of your WordPress website. It is built on LightSpeed web servers, has built-in WordPress speed optimization and security features, and additional tools and plugins to enhance your WordPress site. Some plans give you access to an AI Assistant that you can use inside WordPress to generate and optimize your site content in minutes.
Hostinger's dashboard makes site management a breeze, allowing you full access to site settings, including DNS, backups, performance insights, and more.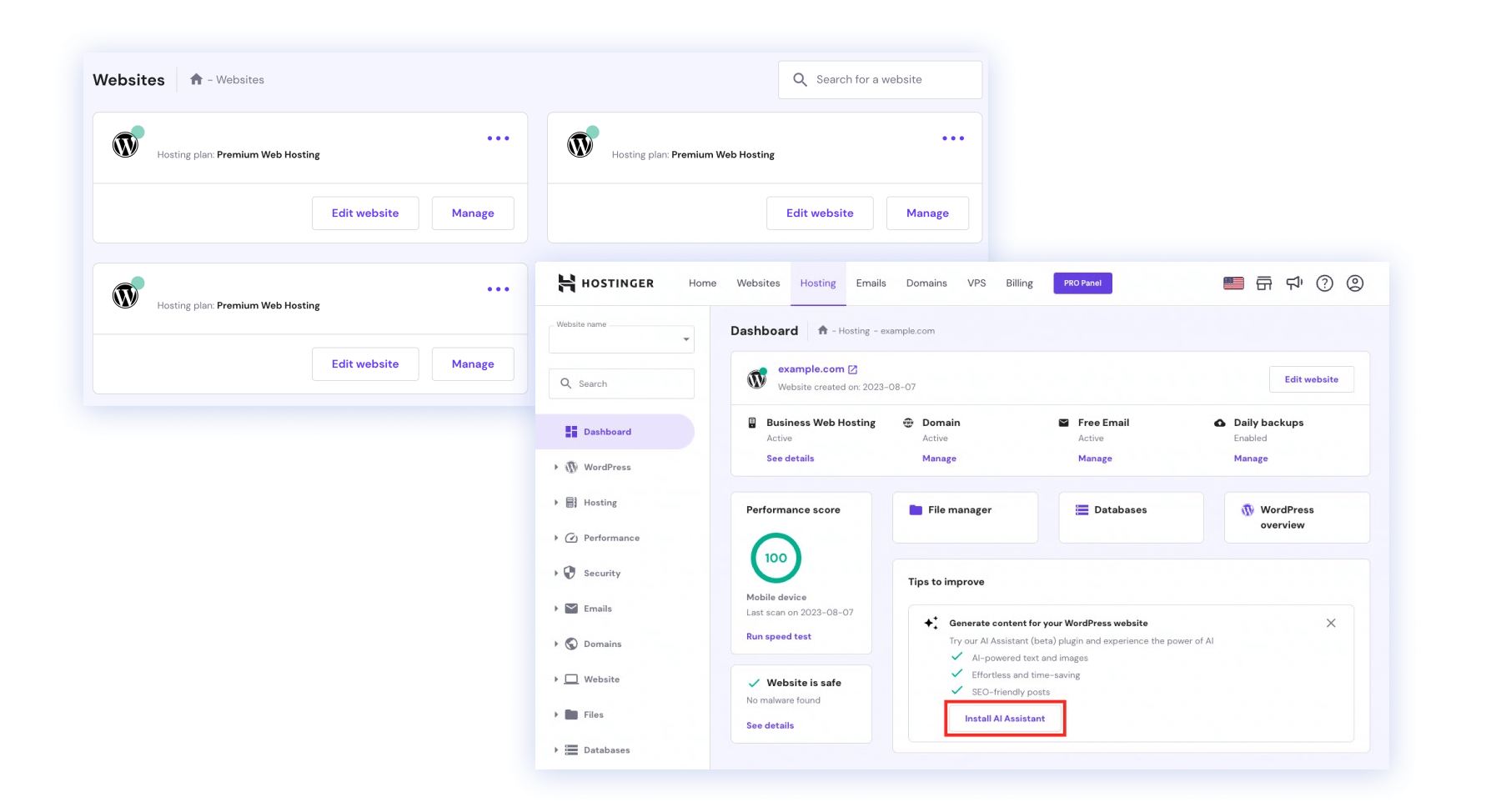 Key Features:
User-friendly dashboard to manage your website and hosting settings.
LiteSpeed web servers for fast page load times
Speed optimization tools, including cache plugin, object-caching, and a CDN
Automation features for WordPress updates and website backups
Vulnerability/Malware scanner and other built-in security features
WordPress AI Assistant plugin to help build your website (for Business and Cloud plans)
1-click WordPress Install
Easy Migrations
Site staging
Best For:
Hostinger's WordPress Managed Hosting is ideal for individuals and businesses looking for high-performance, security, site management tools, and innovative features (like their AI Assistant) at an affordable price.
Pricing: Plans range from $11.99 to $24.99 per month.
Premium Plan ($11.99/m): Ideal for up to 100 sites, 100GB SSD storage, weekly backups, free email, free SSL, and managed WordPress features.
Business Plan ($15.99/m): Boosts performance with 200GB NVMe storage, a free CDN, WordPress staging, object caching, manual backups, and a WordPress AI Assistant.
Cloud Startup Plan ($24.99/m): Unleashes peak performance, supporting up to 300 sites, dedicated IP, priority support, and dedicated resources.
Hostinger
Starting Price
$11.99/month
Storage
50GB
Bandwidth
100GB
Monthly Visitors
Unmetered
Free Domain
❌
24/7 Support
✔️
Trustpilot Rating
⭐⭐⭐⭐⭐
Read the reviews
Visit Hostinger
6. WP Engine
WP Engine isn't only the most popular managed WordPress hosting platform globally. It also owns Flywheel. Whereas Flywheel is geared toward agencies and personal projects, WP Engine focuses on medium and large business solutions.
With WP Engine, you'll get some of the best WordPress performance that you can find. The platform offers many plans, with regular and "plus" managed hosting categories. WP Engine also provides "security-enhanced" and e-commerce-managed plans.
One downside to WP Engine is that its plan selection can be confusing. However, picking the right WP Engine subscription shouldn't be a problem with the proper guidance.
Key Features of WP Engine:
Base plans offer 10 GB of storage and 50 GB of bandwidth
Custom caching configuration
Free CDN integration
Free migrations
Daily backups
Free SSL certificates
Staging functionality
Automated plugin updates*
Automatic roll-backs if the platform detects security issues*
*These features are only available with the Managed Hosting Plus and Secure Hosting tiers.
WP Engine is for you if…
You plan to host multiple WordPress websites.
You have a larger budget.
Your business is medium to large.
Price: If you look at WP Engine's plans, you'll notice they're divided into four categories. Starting at $20 per month, the base managed hosting plans don't offer the functionality we want in a provider at this price point.
➡️ Read Our Full WP Engine Hosting Review.
WP Engine
Starting Price
$20.00/mo
Storage
10 GB
Bandwidth
50 GB
Monthly Visitors
25,000
Free Domain
❌
24/7 Support
Chat Only
Trustpilot Rating
⭐⭐⭐⭐⭐
Read the reviews
Visit WP Engine
7. Kinsta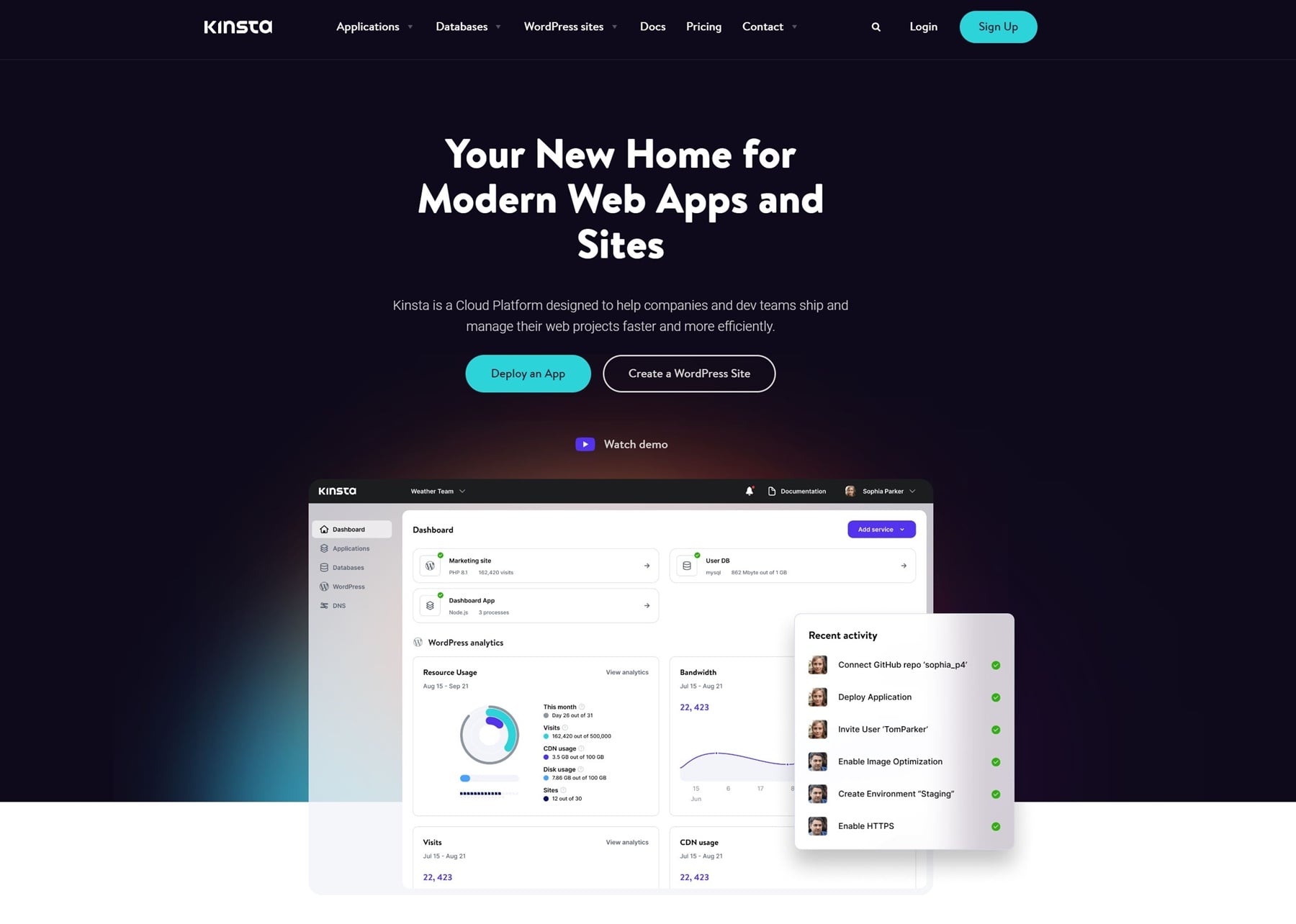 Kinsta is a managed WordPress web host that uses the Google Cloud infrastructure for client websites. Kinsta gives you access to some of the best-managed hosting performance on the market.
One of the most significant selling points of using Kinsta is that every plan can access the same features. You get all the perks of managed WordPress hosting and integration with Cloudflare Enterprise. Kinsta also offers its own local WordPress development tool called DevKinsta.
Kinsta's prices are on the expensive end. The web host offers a "budget" option for personal and small business sites. However, most of Kinsta's plans are geared toward enterprises, offering ten different tiers and custom options.
Key Features of Kinsta:
The base plan offers 10 GB of storage and support for 25,000 visits
Free integration with Cloudflare Enterprise CDN
SSL setup
Staging functionality
Free migrations
Automatic daily backups
Malware removal
White-labeled caching plugin
Kinsta is for you if…
You plan to host multiple WordPress websites.
Your budget is more significant.
You run a large business or enterprise.
Price: Kinsta's Starter plan costs $30 per month. If you plan on hosting a single website, far cheaper options offer similar features and performance.
➡️ Read Our Complete Kinsta Hosting Review.
Kinsta
Starting Price
$35.00/mo
Storage
10 GB
Bandwidth
100 GB
Monthly Visitors
25,000
Free Domain
❌
24/7 Support
Chat Only
Trustpilot Rating
⭐⭐⭐⭐
Read the reviews
Visit Kinsta
8. WPX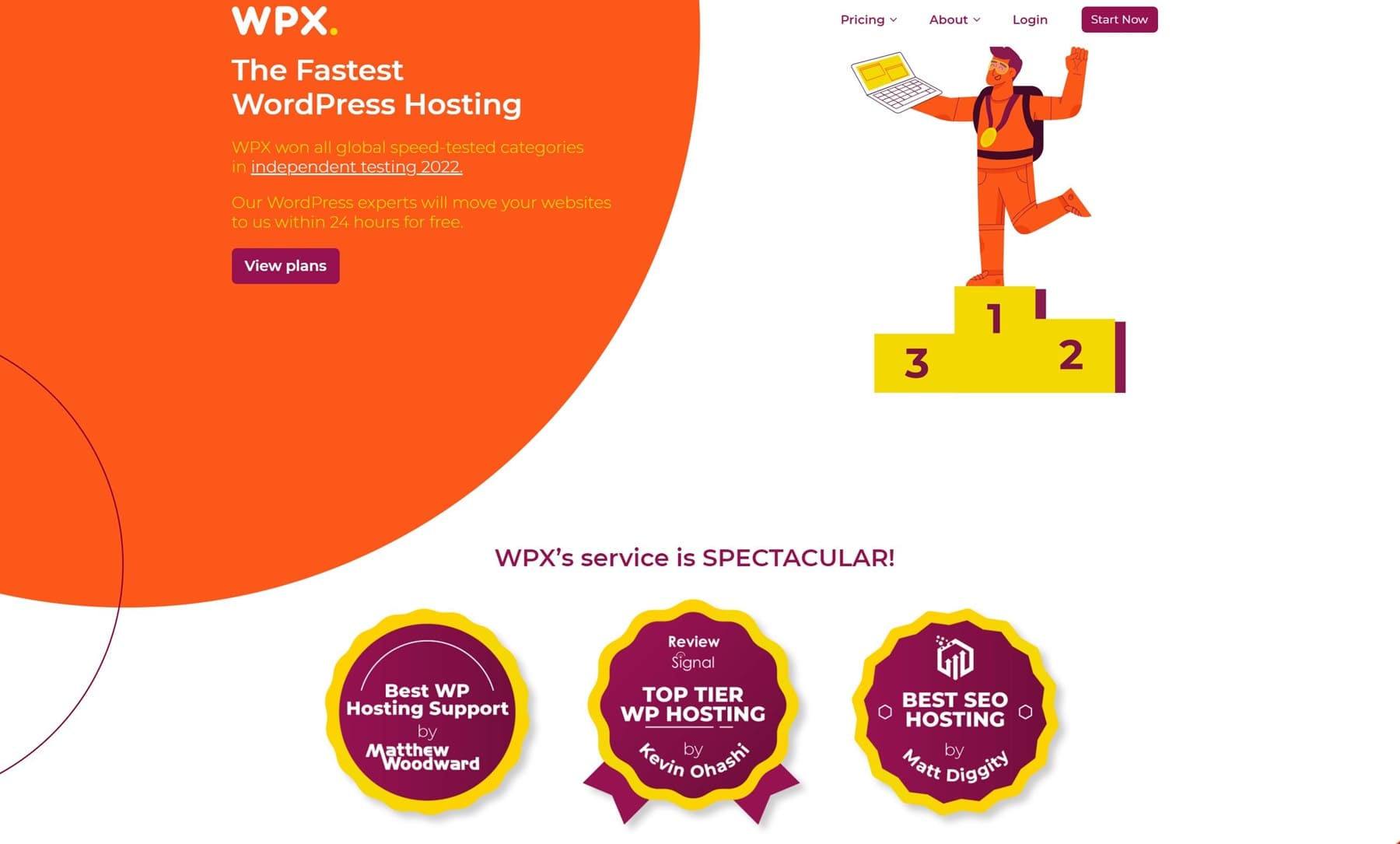 WPX is a managed WordPress hosting provider known for its exceptional speed and reliability. The company offers a range of plans tailored to different needs, including shared and dedicated hosting options.
One of the standout features of WPX is its lightning-fast load times, thanks in part to its use of the latest hardware and software technologies. The platform also includes free CDN integration and custom caching configuration, further boosting website speed and performance.
WPX offers several hosting plans, with the most affordable starting at $20.83 per month. Despite its low cost, this plan includes unlimited storage and bandwidth, making it an excellent option for small to medium-sized websites.
One potential downside of WPX is that it does not offer a separate e-commerce hosting plan, so businesses with online stores may need to look elsewhere.
Key Features for WPX:
Fast and reliable WordPress hosting
Great support: 99% of chat requests are answered within one minute
Free website migration
Lightning-fast CDN
WPX is for you if…
You need a fast and reliable WordPress hosting provider for your website.
You want a provider that offers easy website migrations and backups.
You have a budget that can accommodate a slightly higher price point for premium features and excellent customer support.
WPX
Starting Price
$20.83/mo
Storage
15 GB
Bandwidth
200 GB
Monthly Visitors
N/A
Free Domain
❌
24/7 Support
✔️
Trustpilot Rating
⭐⭐⭐⭐⭐
Read the reviews
Visit WPX
Comparing Our Top 3 Picks for Managed WordPress Hosting
Picking a web host isn't easy. Hosting providers constantly try to outdo each other with prices and promises. With managed WordPress hosting, you have many options, all claiming to offer the best performance on the market. Let's compare our 3 top picks below.
Whether you choose SiteGround, Flywheel, or Cloudways, chances are high that you'll enjoy their hosting environment. Ultimately, it comes down to your specific criteria and how your budget aligns with them.
Final Thoughts on the Best Managed WordPress Hosting
If you're having a hard time choosing between the best managed WordPress hosting options, here are our thoughts on the top six providers:
More Hosting Reviews
While those are our top picks, we have reviewed several other managed WordPress hosting companies. If you would like to learn more about different hosting companies, look at the following reviews.
Looking for more posts about the best hosting options? Then be sure to check out our best overall hosting options. It offers a comprehensive guide for various types of hosting that may also be suitable for your needs.
Frequently Asked Questions (FAQs)
Before we wrap up, let's answer some of your most common questions about managed WordPress hosting. Do you have a question that we missed? Leave a comment below, and we will respond!
What is managed WordPress hosting?
Managed WordPress hosting is a web hosting solution specifically designed for WordPress websites. It offers an optimized environment, easy WordPress installation, and built-in services like security, caching, updates, and backups for a seamless management experience.
What are the benefits of managed WordPress hosting?
Managed WordPress hosting offers faster website performance, fewer issues, and better support for WordPress-specific problems. Key services like backups, updates, caching, and security are integrated, ensuring a smooth, hassle-free experience.
Do I really need managed WordPress hosting?
Not necessarily. If you're unsure about needing it or seek an optimized, trouble-free experience, choosing a managed WordPress host is recommended. Otherwise, standard hosting options may suffice for your needs.
What is the best managed WordPress hosting company?
We recommend
SiteGround
as the best managed WordPress hosting company. They're industry leaders, offering fast hosting and an easy-to-use interface, making them an excellent choice for WordPress users.
Is managed WordPress hosting worth the extra money?
For those who prioritize their website (especially for businesses), investing in better hosting is beneficial in the long run. Managed WordPress hosting ensures better performance, security, and support.
How much does managed WordPress hosting cost?
Managed WordPress hosting prices vary from $10-$20 per month. SiteGround's most affordable plan is $14.99 per month, with an 86% discount on the first year of hosting, making it a cost-effective choice.
What is the fastest managed WordPress host?
Kinsta
is a great host for those looking for speed. They utilize Google Cloud's premium tier network to deliver fast and reliable performance. They also use the latest technology, such as PHP 8 and the latest versions of Redis object caching and Elasticsearch, to ensure that your website runs quickly and efficiently.
Which managed WordPress host is the cheapest?
Cloudways
is the cheapest managed WordPress host on our list, starting at $12/month. Cloudways offers automated backups, custom caching configuration, staging functionality, team management tools, application monitoring, CDN add-on available, and free migrations. The base specifications vary depending on which cloud provider you use.
Does using managed WordPress hosting affect SEO?
Using managed WordPress hosting does not directly affect SEO, but it can indirectly impact website speed and uptime, which are essential factors in SEO. Managed hosting services often provide features that can help improve website performance, such as CDN, caching, and optimized server configurations.
Is GoDaddy managed WordPress hosting good?
GoDaddy offers managed WordPress hosting plans suitable for small to medium-sized businesses. However, there may be better options for larger enterprises or those with high-traffic websites. GoDaddy didn't make our list because it has mixed reviews from the community, and our personal experience has also been mixed.
What is the difference between shared and managed WordPress hosting?
Shared WordPress hosting is when multiple websites are hosted on a single server and share resources like disk space, CPU, and RAM. Managed WordPress hosting, on the other hand, offers more specialized services like automatic updates, site backups, security monitoring, and better performance optimization tailored explicitly for WordPress sites.
Featured image via ZinetroN / Shutterstock.com