If you are just starting your business or want to give your existing business a boost, you might consider email marketing. Even though everybody seems to be talking about social media these days, email is still one of the most effective ways for communicating with customers, driving them to your website, and increasing conversions.
Both those new to email marketing and the veterans all benefit from assistance and support in the form of email marketing software. It makes your life so much easier – and as a marketer, I know your time is precious!
Here I have provided a full review of what one email marketing tool, Constant Contact, can do for your business. It's one of the longest established email marketing software tools on the web, so it's a great option for anyone wanting to benefit.
About Constant Contact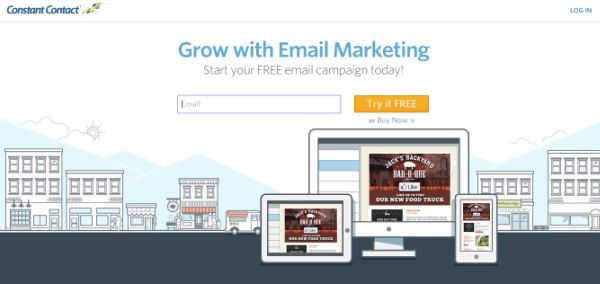 Constant Contact is an email marketing software provider that aims to help small businesses and non-profit organizations succeed. They understand that unlike many large businesses, smaller companies do not tend to have marketing or IT departments and therefore need a little extra help.
The aim of Constant Contact is to help reduce the number of small businesses failing by providing a formula for keeping their most valuable asset i.e. their customers. This formula comes in the form of an easy, effective, and affordable email marketing solution that allows businesses to go beyond simply advertising to their customers by creating exciting, interesting, and well-presented content.
History

Constant Contact was born back in 1995 out of a house in Brookline, Massachusetts (well just the attic of the house, initially!) At that time, email was simply used as a method for a group of friends to contact each other.
The founders of Constant Contact saw its potential as a marketing tool for small businesses and a way for them to help SME businesses to compete on a much more even footing with larger competitors. The name Constant Contact was used for the first time in 1998.
By 2005, the company had fifty thousand customers, which had doubled by 2007 when the company went public trading on NASDAQ. Since then they have been acquiring offices all over the US and have expanded to the UK. They also ramped up their support operations with online chat, email, and even local classes so people can participate in face-to-face learning. Constant Contact has always set out to help people to get the most out of their email marketing campaigns.
Their history highlights the phenomenal growth and success rate of email marketing – without their customers, they wouldn't have expanded so much themselves. This has all cumulated in the tool that's available to you today. In 2014, the company launched its biggest innovation to date – a powerful toolkit designed to be an all-in-one marketing solution to empower small businesses and help them grow their customer relationships.
Below, I have outlined some of the key features and benefits of the new email marketing toolkit.
Constant Contact Features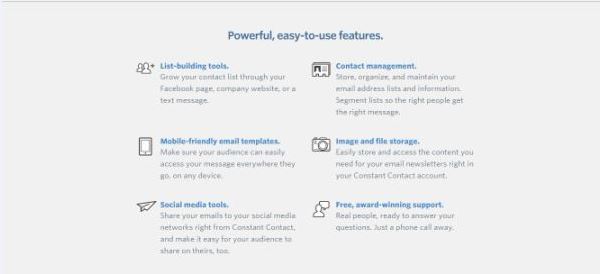 Drag And Drop Design
Beginners don't want to have to create and code their own email templates in order to make something professional looking. They want it to be as simple as possible to use. The good news is that Constant Contact makes email design relatively easy, using drag and drop WYSIWYG (What you see is what you get) editing functionality.
Users can simply select a design from a library of hundreds of templates and can then customize it with their own corporate colors and branding. Adding images and content is simple with Constant Contact's drag-and-drop feature. Once everything's in place, the email is ready to send!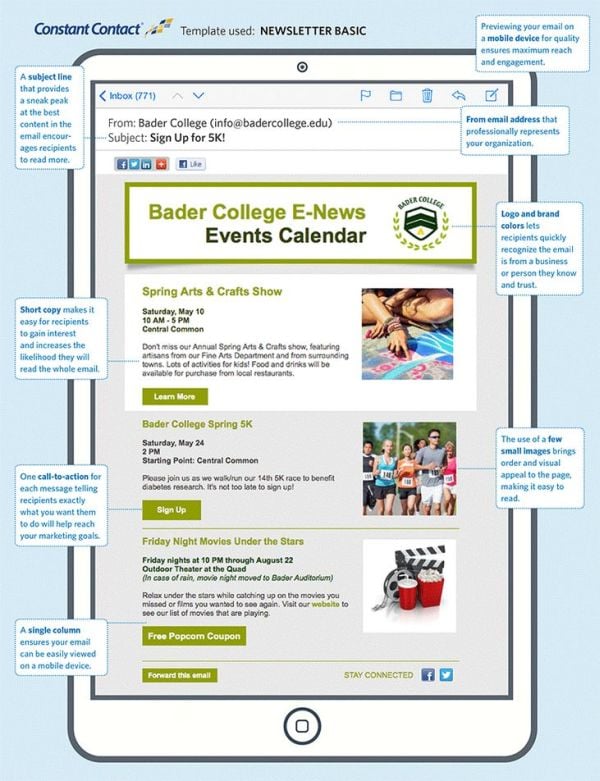 What's even better is that Constant Contact has a number of mobile friendly email templates for businesses to use. This means that they can deliver well-optimized emails to all devices including smartphones and tablets. Many people access their emails from these devices on a daily basis, so this is a key feature that the majority of businesses will want to make use of.
Powerful List Building Tools
Constant Contact makes it easy to grow your email list with its powerful list building tools. Companies can add forms to their websites and Facebook pages, as well as create custom texts and QR codes to encourage sign ups. They can also sync their Constant Contact with other apps they use in order to reach a wider audience and persuade them to sign up for their marketing emails.
Contact Management Tools
With Constant Contact, it's easy to upload your current list of contacts from your system. It doesn't matter whether you're currently using Microsoft Excel, Outlook, or a CRM like Salesforce to store your contacts; the software will allow you to transfer your contacts with just a few clicks of the mouse.
Constant Contact also makes it easy for you to organize and group your contacts using categories and tags. This means you can segment your email marketing campaigns to achieve even more targeted results.
Duplicate contact information can be a real pain but with Constant Contact there's no need to worry! The toolkit will automatically update and remove duplicate and unsubscribed contacts so you don't have to worry about wasting your time or bothering customers with unwanted emails.
Social Media Integration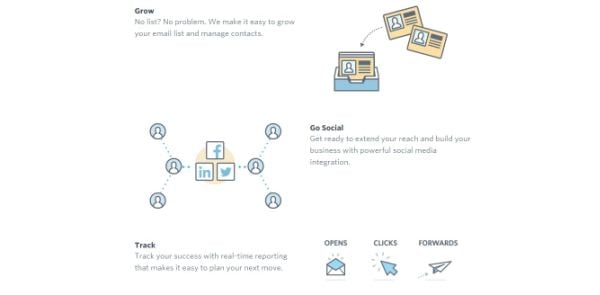 Today social media is a powerful marketing tool and Constant Contact can help you to capitalize on it. The toolkit makes it easy for you to extend your reach and get your message out there with simple email marketing and social media integration.
From letting you post your emails to your social networks (e.g. Twitter, Facebook, and Google+) with a click of the mouse to adding social sharing buttons to your emails, Constant Contact makes sharing and distributing your email marketing content easy. There's no complicated designing or coding necessary; the toolkit does all the hard work for you! Don't forget to add social sharing buttons to your WordPress website as well.
Image And File Storage
Visual elements like images play an important role in engaging users and encouraging them to take action. The good news is that when you sign up to Constant Contact, you get access to their image library containing stock photos. You can also easily purchase other photographs through Bigstock or upload them from your mobile device using the free MyLibrary app.
Constant Contact gives you plenty of room to store and host both your images and documents for future use. You can also integrate the software with your Facebook and Instagram pages so you can make use of photographs you've posted on these social media platforms.
Tracking And Analytics
Constant Contact allows users to track the success of their email marketing campaigns using real-time reporting. By supplying you with easy-to-understand reports, Constant Contact gives you the opportunity to monitor everything from your opening and bounce rates to how many click-throughs you get.
Another useful method to track responses from your email marketing campaign is through the creation of unique coupons. Constant Contract allows you to create deals and coupons and include them in your email marketing emails. That way you'll know that when a coupon is used, the purchase has been made as a result of your email marketing campaign.
A further way of measuring success is through the creation of surveys. Constant Contact allows users to create online surveys and polls through a range of pre-written questions and templates, which are very easy for users to create. Links to promote the survey and tracking mechanisms are also included.
Round The Clock Support

It's not very often you come across a company that has real people on-hand to provide support and guidance but that's exactly what Constant Contact offers. If you have any questions about the software, a real person is just a phone call, email, or instant message away.
As well as providing around the clock support, Constant Contact also regularly hosts events like seminars and training sessions. While some events take place online in the form of webinars, others take place in local neighbourhoods, allowing Constant Contact users to benefit from face-to-face learning. Topics covered include everything from general marketing best practices to specific tips on how to achieve the best results using Constant Contact.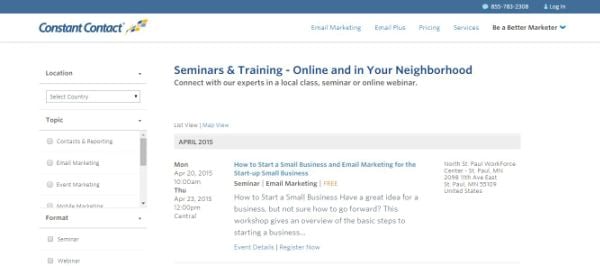 Finally, Constant Contact also has a regularly updated blog, which provides a wide range of marketing resources. Everything you need to know about Constant Contact and email marketing is covered on their blog.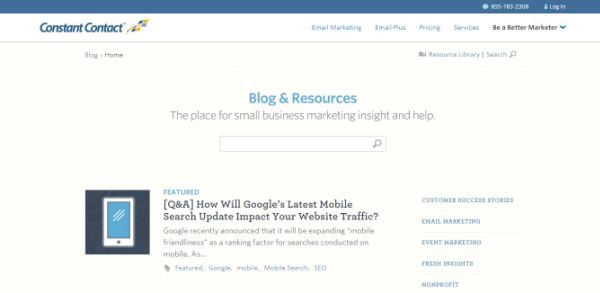 Benefits
Just reading through the features, we're sure you've already listed many of the benefits of using Constant Contact for yourself but just as a little refresher, I've provided a list of them below.
Easy, Effective And Affordable Email Marketing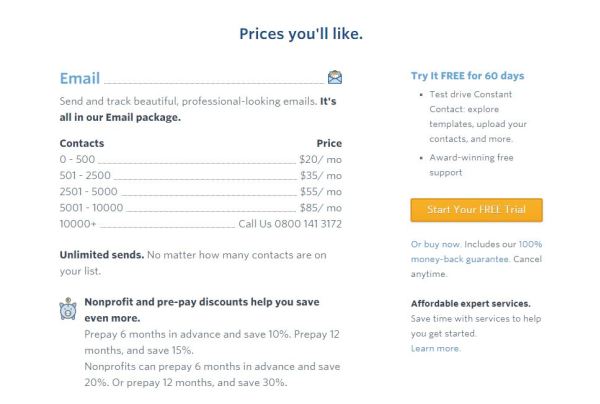 Small businesses and non-profit organizations don't have a lot of money to spend on email marketing. The good news is that with Constant Contact, building effective email marketing campaigns is easy and affordable. The company currently offers new users a free sixty day trial to see if they like the software. After that they will either pay £15 or £30 a month, depending on the plan they choose. Constant Contact also gives companies the opportunity to pay in advance to save money and offers a discount to non-profit organizations.
Constant Contact really understands that beginners don't want to use a complicated piece of software, which is why they have created their email marketing toolkit to be simpler, intuitive, and easy to use. Many people note that Constant Contact is much more straightforward to use than other email marketing software like InfusionSoft.
Best Email Marketing Toolkit
Constant Contact provides small businesses with an email marketing toolkit, which makes it possible for users to create effective email marketing campaigns on a small budget. With features such as drag-and-drop design and social media integration, small businesses have everything they need to create a professional campaign that rivals those of their larger competitors.
Not only that but Constant Contact is dedicated to keeping up to date with the latest tools and technology, allowing its users to gain a competitive edge.
Save Time And Resources
Small businesses don't tend to have a lot of staff, which means that there are fewer resources to use for things like creating an email marketing campaign. A major benefit of Constant Contact is that it makes designing, sending, and tracking marketing emails quick and easy. With features such as Autoresponder (a feature that MailChimp users have to pay extra for), users can easily schedule and automatically send well-targeted emails to their customers, saving them time and effort.
Easy To Access Account
Constant Contact has built a free Toolkit mobile app that allows its users to access their accounts from anywhere in the world. You will also have the opportunity to create multiple logins, so that you can get other staff to contribute to your marketing emails too. Access can all be managed through the administration section.
Real People Support
Unlike MailChimp, which only offers self-help guides and email support, Constant Contact provides support to real people, from real people. Whether you prefer speaking on the phone, live chat, email, or Twitter, you can have the peace of mind that you will always be able to get the support you need from Constant Contact's dedicated support staff.
Wrapping Up
If you're new to email marketing or simply looking for a piece of software that will provide you with all the tools you need, then Constant Contact is an excellent choice. Not only is it a comprehensive solution but also an intuitive one. You don't need to be a computer whiz to get the most out of this software!
With excellent features, a whole host of benefits, and a proven delivery rate of 98%, you can be certain that Constant Contact is an excellent piece of software to help you achieve your email marketing goals.
Article thumbnail image by 0beron / shutterstock.com