If you've ever found yourself wanting more control over the design of your website, you may want to consider using a theme builder. WordPress theme builders allow you to build every aspect of your website, from headers to footers and everything in between—no need to add complex PHP to your template files. You can easily design and manage all your templates with the right theme builder. In this post, we'll lay out some of the best WordPress theme builders available for you to use in your next project.
What is a WordPress Theme Builder?
A WordPress theme builder is a tool that gives you complete control over the design of every aspect of your website or theme on the front end. With a theme builder, you can use modules (or blocks) to custom-build your header, footer, and templates without adding custom code to your theme's PHP files. For example, with our Divi theme builder, you can visually design your entire site from top to bottom on the front end. And you can build new templates and assign them to any part of your site using a drag-and-drop interface.
Theme builders typically allow you to change the look and feel of:
Post templates
Page templates
Archive templates (category, tags, etc.)
Search Result Page templates
404 Pages
Headers and Footers
Custom Post Types
and more…
Without a theme builder, you are forced to edit templates and other global elements on the backend using custom code which will require creating a child theme.
WordPress Theme Builders vs. Page Builders
In many cases, the most popular WordPress page builders are also theme builders. But this isn't always the case. Some page builders may only work within a page or post and don't allow access to the templates created by the theme. This is why choosing a theme builder to build your website is imperative to have maximum control over your website.
WordPress Theme Builders vs. Website Builders
In general, website builders are all-in-one platforms (like Wix, Weebly, or Shopify) that provide everything you need to build your website online from the ground up. They are often offered by hosting companies (like Hostinger) or other hosted platforms that may or may not use WordPress. You can get your domain, hosting, website builder, and other tools for eCommerce, marketing, SEO, and more all under one platform. AI website builders can use artificial intelligence to design a website for you.
The main difference (or drawback) of using website builders over WordPress Theme Builders is flexibility. Website builders tend to be much more limited when it comes to customization than using a theme builder on WordPress.
WordPress Full Site Editing vs. Theme Builders
Older classic WordPress themes typically lack support for full site editing and limit your control over certain aspects of your website. But this is not the case anymore. WordPress block themes now support full site editing, allowing users to customize templates in the Site Editor using dynamic theme blocks. For example, the default Twenty Twenty-Three Theme is a block theme with full site editing features, allowing you to build headers, footers, templates, and more.
WordPress Theme Builders take full site editing in WordPress to a new level. The default WordPress block editor may give you control over the design of your entire site, but the options for design and functionality pale in comparison to those of top theme builders. Many theme builders have hundreds of no-code design options for each module and allow you to build pop-ups, mega menus, scroll animations, and more. All without having to use additional plugins or code. Overall, a theme builder makes building your own unique and one-of-a-kind WordPress website an easy task that requires no coding experience.
10 Best WordPress Theme Builders
Our list of the best WordPress theme builders has a theme builder for every niche — blogs, small businesses, eCommerce stores, and more. Even if you are a beginner building a website for the first time, these theme builders can help you create the perfect website from top to bottom.
The Best WordPress Theme Builders Listed In Order
Expand List
1. Divi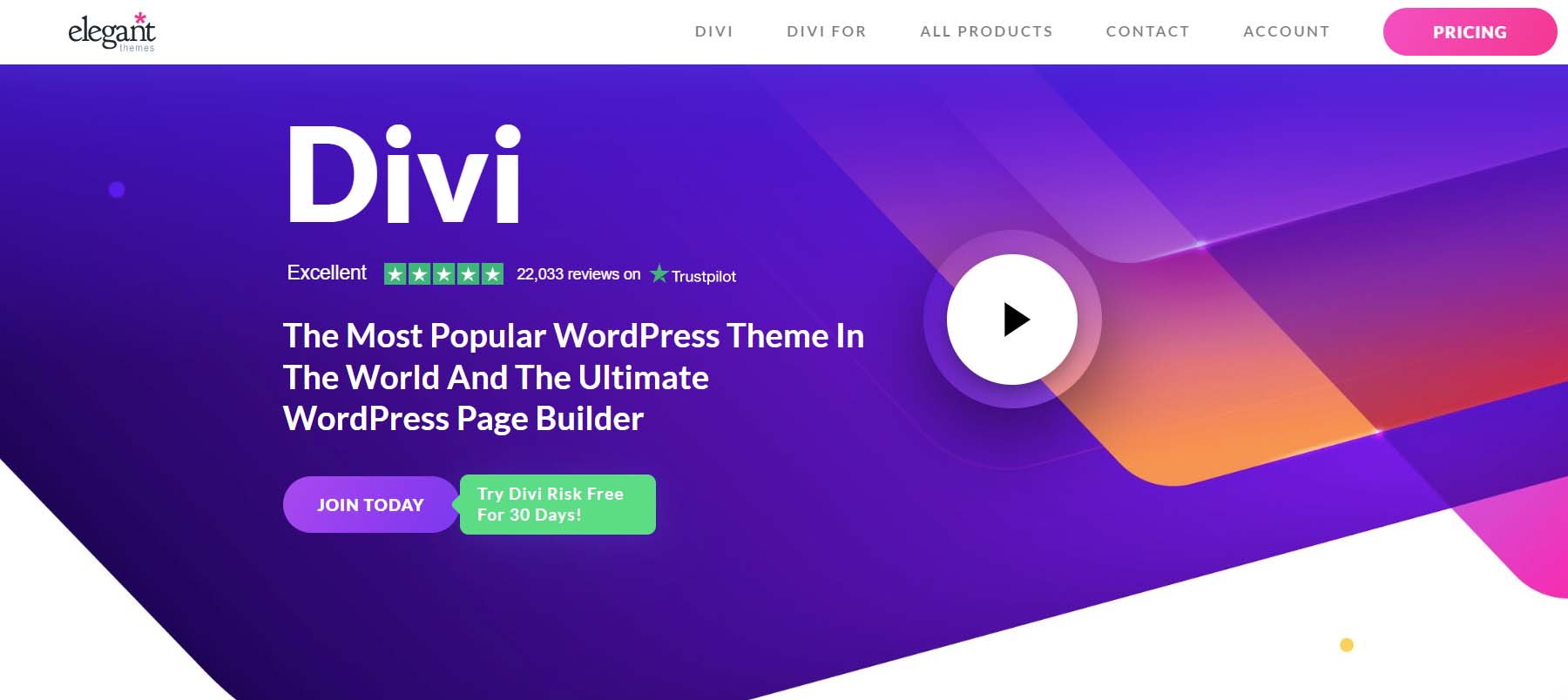 Divi is our premier WordPress theme builder crafted for those who want maximum control over the design of their entire website. With over 800,000 users, Divi is one of the most popular themes in the World. Out of the box, Divi's Theme Builder lets you build templates for pages, blog posts, archive pages (including date, category, tag, and author pages), search results, and the 404 page.
Divi has over 40 native modules to add everything you need to your templates. You can also use Divi's 20+ WooCommerce modules to build unique pages and templates for your online store, including shop, cart, checkout, and my account pages.
Template assignments in Divi's Theme Builder allow you to get granular with your designs. You can build different headers and footers for different templates. And you can assign or exclude pages you want to inherit your custom template designs. With Divi, the sky is the limit when building a custom WordPress website.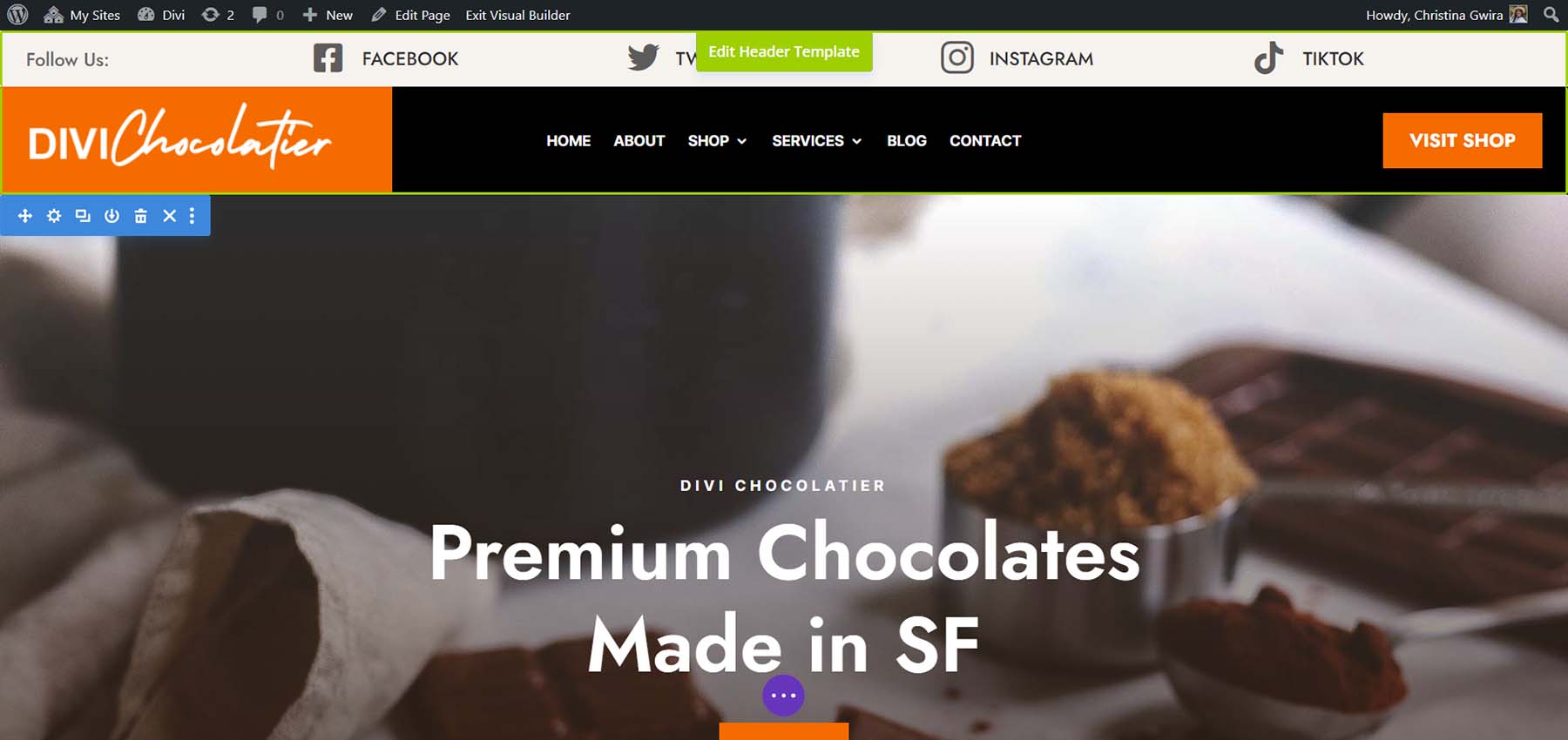 The Divi Theme Builder supports full-site front-end editing. That means your template design elements (Sidebars, headers, menus, footers, etc.) are accessible when using the visual builder on any page or post. You don't have to jump back and forth to make changes to your header or footer while editing a post.
Divi has 2,000+ free page layouts to jumpstart your designs, as well as premade headers and footers, and other downloadable templates from our blog. You can also find more theme builder products from our marketplace, including the Divi Headers Pack and the Divi Footers Pack.
Key Features of Divi:
Visually build headers, footers, 404 pages, archives, blog pages, and more
Create an unlimited number of templates for pages, posts, and custom post types
Easy template management with options to edit, duplicate, copy, page, and hide
2,000+ layouts are available in the Divi Layout Library. Easily import these layouts to pages and templates.
Save Theme Builder templates to the cloud with Divi Cloud
Assign templates to anything: pages, posts, categories, custom post types, and much more
Use Divi's Dynamic Content features to pull data from custom fields to add dynamic content to your templates.
Conditional logic options can show elements based on a set of criteria that you determine, which is great adding member-exclusive content or triggering popups based on page visits.
Theme Builder Sets are a key feature of Divi's Theme Builder. These allow you to compile your favorite Theme Builder templates and instantly download them onto any Divi website or your Divi Cloud account. Efficiently build websites with complete website templates stored in Divi's Theme Builder Sets.
Best For:
Divi is one of the best WordPress theme builders that anyone can use, with no coding necessary. Divi melds the flexibility of no-code building with the power of WordPress, giving you the ultimate website-building tool for anyone who wants to build their perfect website on WordPress.
Pricing: $89 per year
2. Astra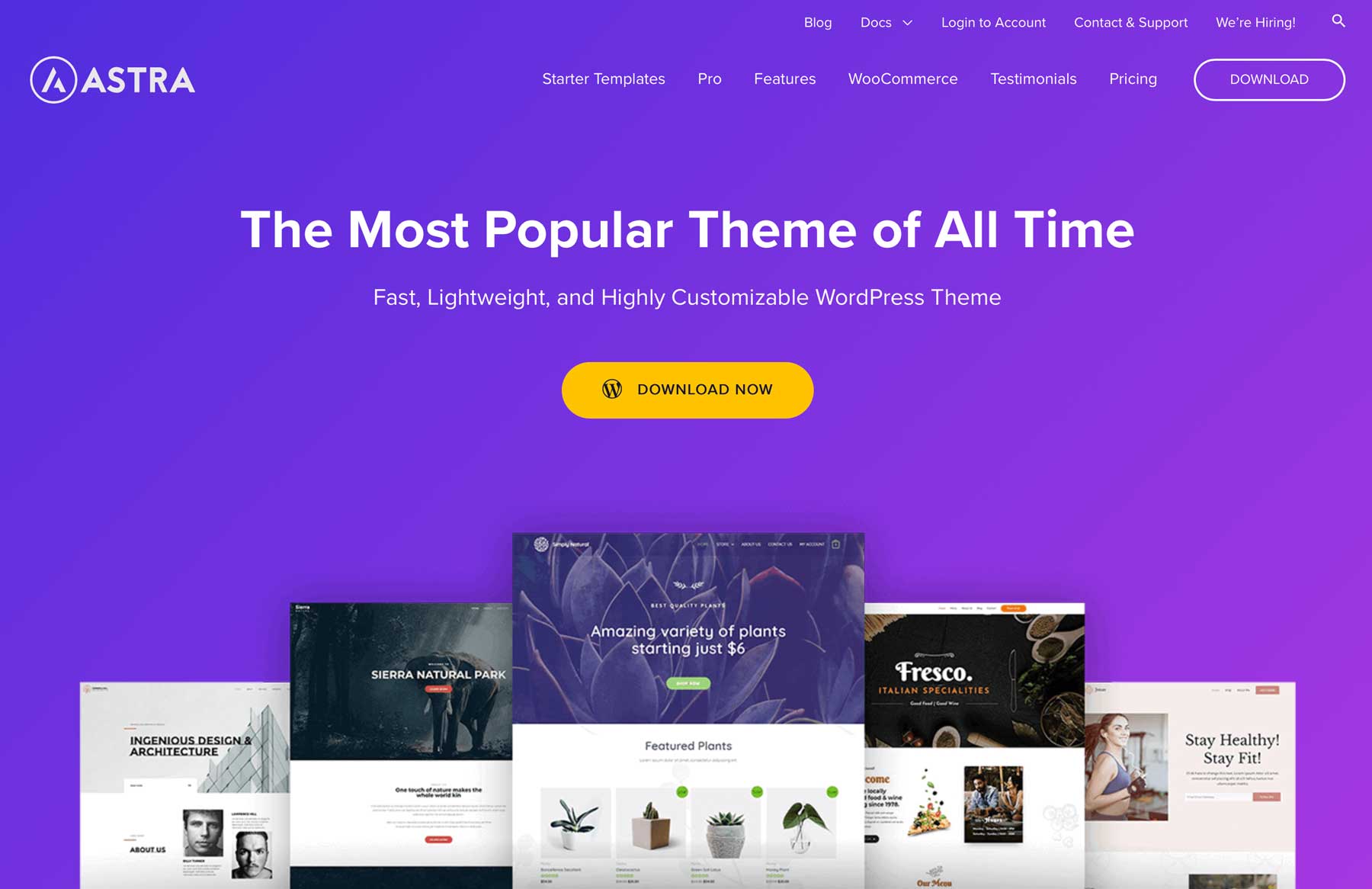 Astra is rated one of the most popular WordPress theme builders available. It's fast, highly customizable, and has a free version available from the WordPress Theme Repository. As a theme builder, Astra has a dedicated header and footer builder. Easily drag-and-drop various elements to craft your perfect header and footer. Astra's theme builder has live editing, so you can immediately see what you're building as you build it. WooCommerce pages can also be customized with Astra. There are hundreds of options available for you to edit things like your cart icon, the layout of your product variations (colors, sizes, etc.), and so much more. For WooCommerce, Astra focuses on being mobile responsive from the very beginning, so you can give your customers a beautiful mobile experience as they shop your site. All in all, Astra is one of the fastest and best WordPress theme builders available.
Key Features of Astra:
240+ importable templates for theme building
Clone, delete, edit, and set global presets for elements,
Accessible, SEO friendly, and Schema.org ready
3-layered header and footer structure to build above and beneath the header and footer
Build separate headers and footers for mobile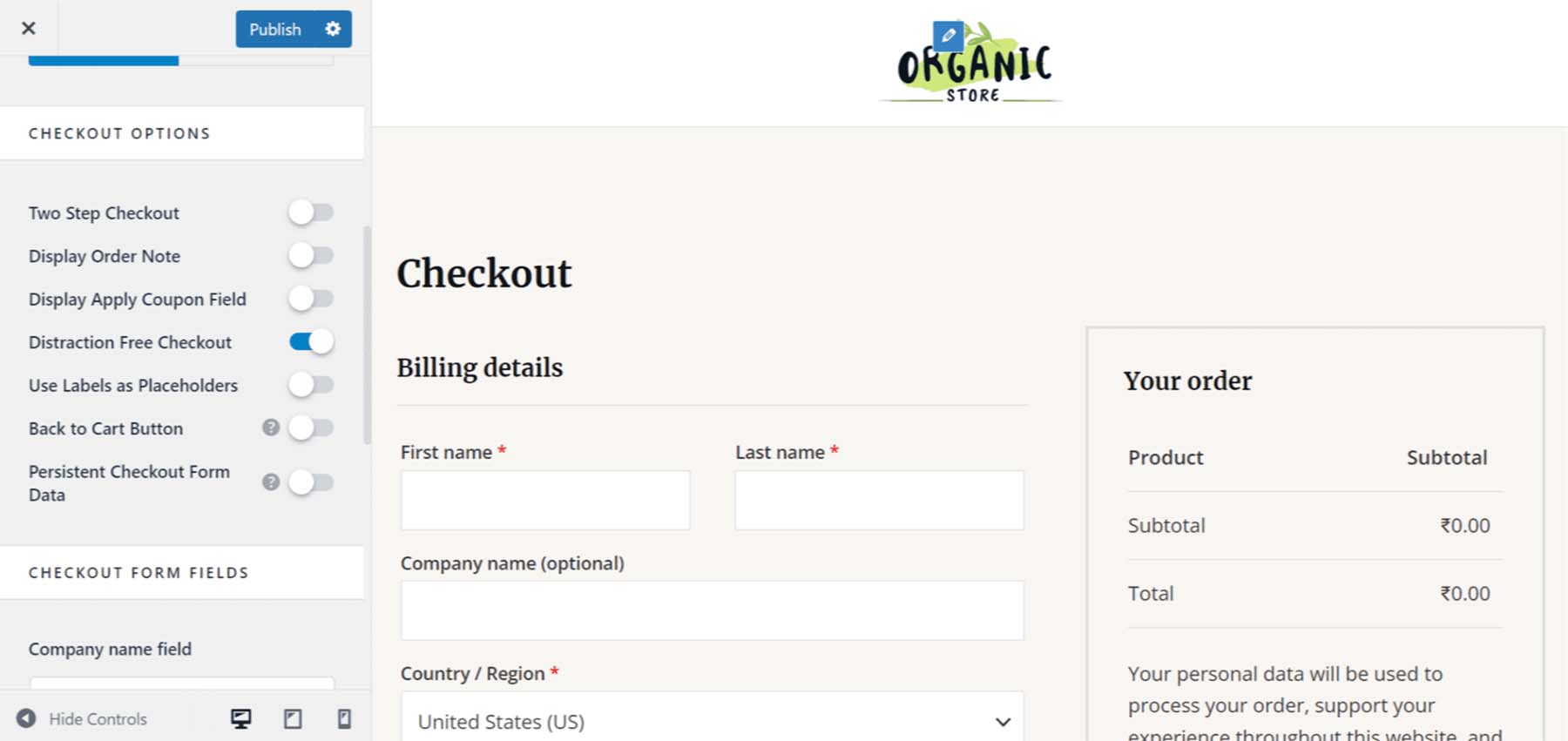 Astra's checkout page options are a vital feature that should be noted by those looking to build online stores with WooCommerce. In addition to the default WooCommerce checkout process, with Astra, you can have a distraction-free checkout process, a two-step checkout process, and much more. A conversion-ready checkout process can be easily created using Astra as your WordPress theme builder.
Best For:
If you're looking for a free theme builder that has a premium feel, use Astra. Even at its free version, you can still build custom headers and footers, and if you need more functionality, that is also an option when you upgrade to a paid plan.
Pricing: Free, Paid plans start at $59 per year
3. OceanWP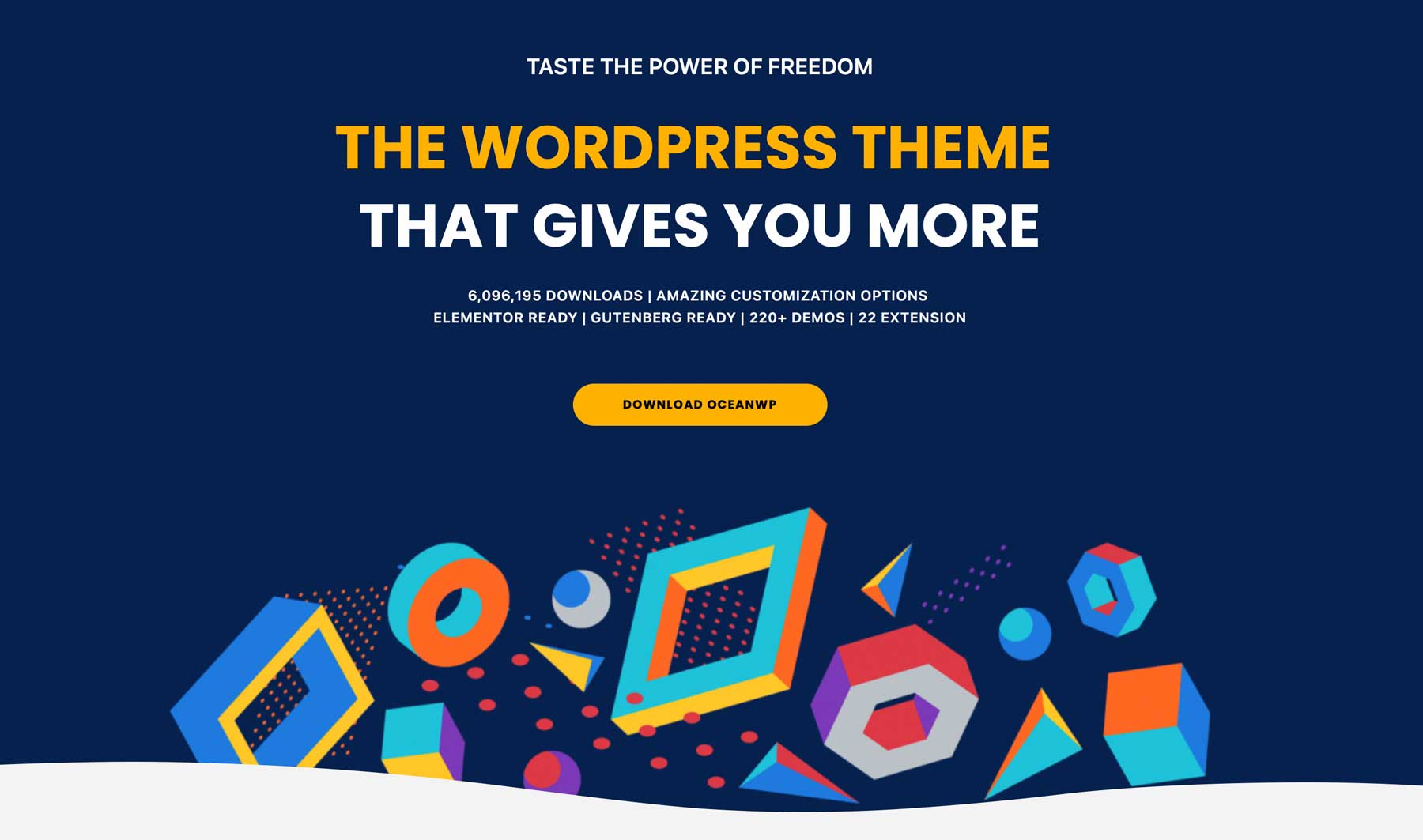 OceanWP is a theme builder that is the most generous of the theme builders on our list. It provides a wide array of options you can work with when using the free version of the builder. Quickly turn on or off features for your product pages. Choose from a wide selection of blog post templates you can assign to all your blog posts or a select few. There are multiple pagination styles, editable metadata elements, and more. OceanWP has created a set of bundles that can be used to extend the already feature-rich theme builder further. The Ocean eComm Treasure Box is a premium addon for OceanWP geared toward taking your online store to higher heights. Whether you're building a blog, an online store, or a simple informational website, get the control needed to make a standout website customized to your specifications with OceanWP.
Key Features of OceanWP:
7 header styles, 4 page title styles, 3 archive page layouts, 3 mobile menu styles, and more
Set global page layouts, typography, and branding
Regular or distraction-free checkout for WooCommerce
Assign default styles to all forms on your website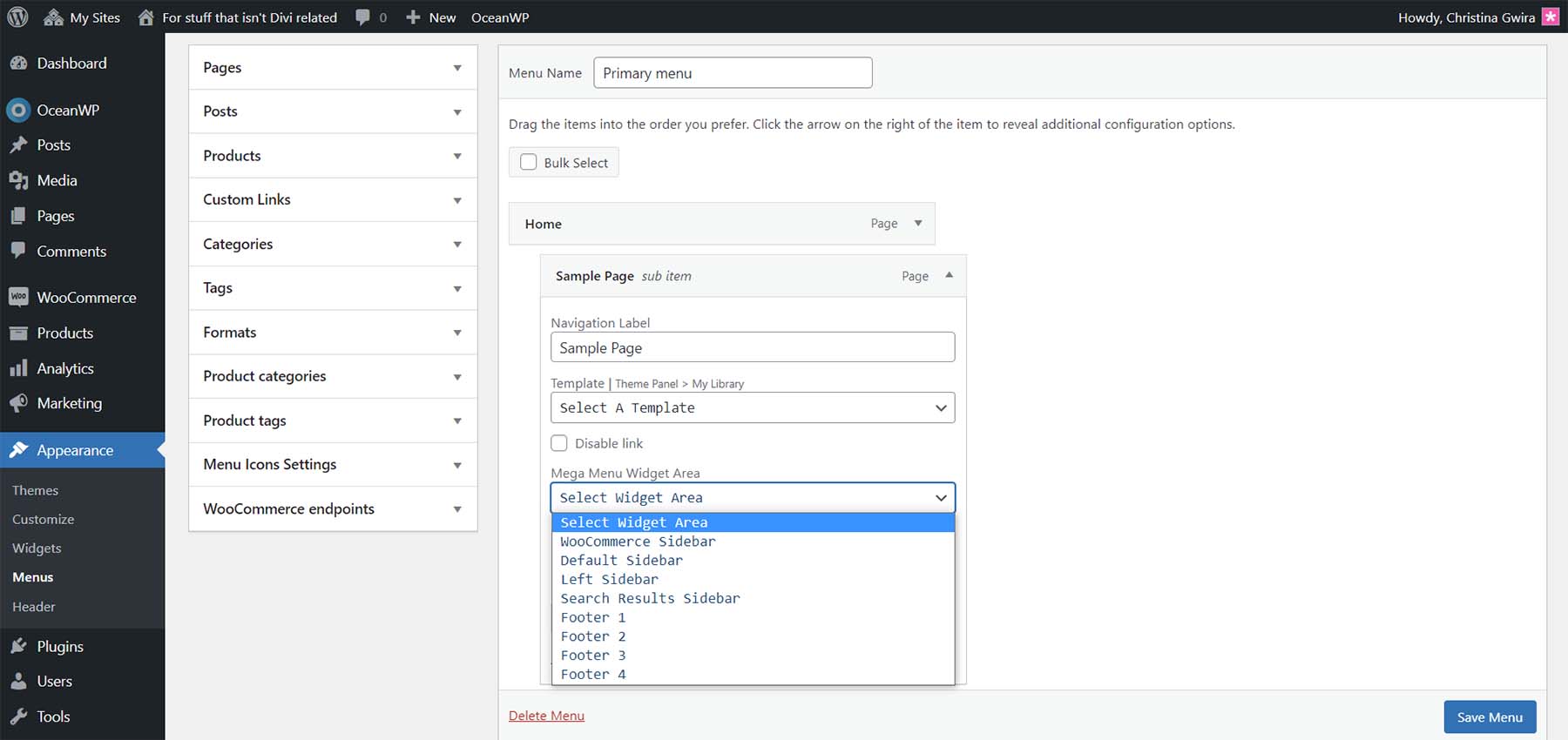 Building a mega menu for your website is accessible with OceanWP. Use widgets or create templates in the OceanWP library and easily assign them to your menu to create mega menus without the need for programming or shortcodes.
Best For:
OceanWP is the best WordPress theme builder for designers on a budget. Many of OceanWP's free version features are considered premium options throughout some of the contenders from our list. So if you're looking to save money as you build your next website, choose to use OceanWP to build your website.
Pricing: Free, Paid plans start at $43 per year
4. GeneratePress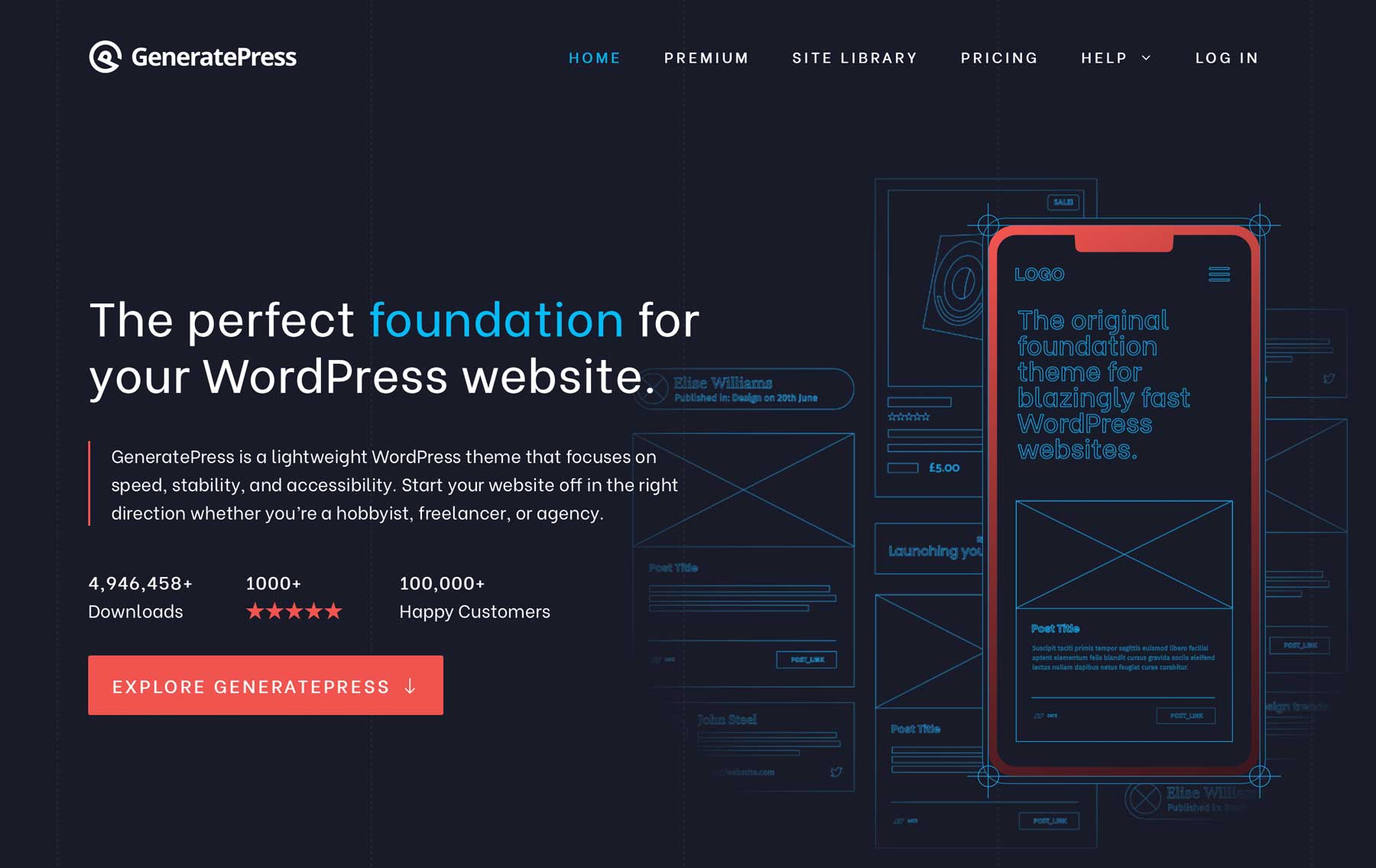 GeneratePress is one of the first block-based theme builders for WordPress. It allows you to build anything your website needs using blocks. From posts to metadata, footers to custom post types, GeneratePress uses blocks to make building your website easy. In addition to a strong focus on block-based building, GeneratePress is a fast, secure, and accessible theme builder. If you want to build a site that looks good and performs well, especially for those who use the internet differently, you should consider building your website with GeneratePress. While you can use code with GeneratePress via their Dynamic Block Elements, you don't have to if you decide to use one of their stater templates. With over 75 starter sites and the GenerateBlocks plugin, you don't have to build your website entirely from scratch. For building a solid website that works perfectly with Gutenberg, trust GeneratePress as your theme builder.
Key Features of GeneratePress:
Block-based theme building and full-site editing
Advanced layout system with custom display rules
Expert-level and well-documented hooks system
Multiple navigation customization like mobile headers, secondary navigation, off-canvas panels, and more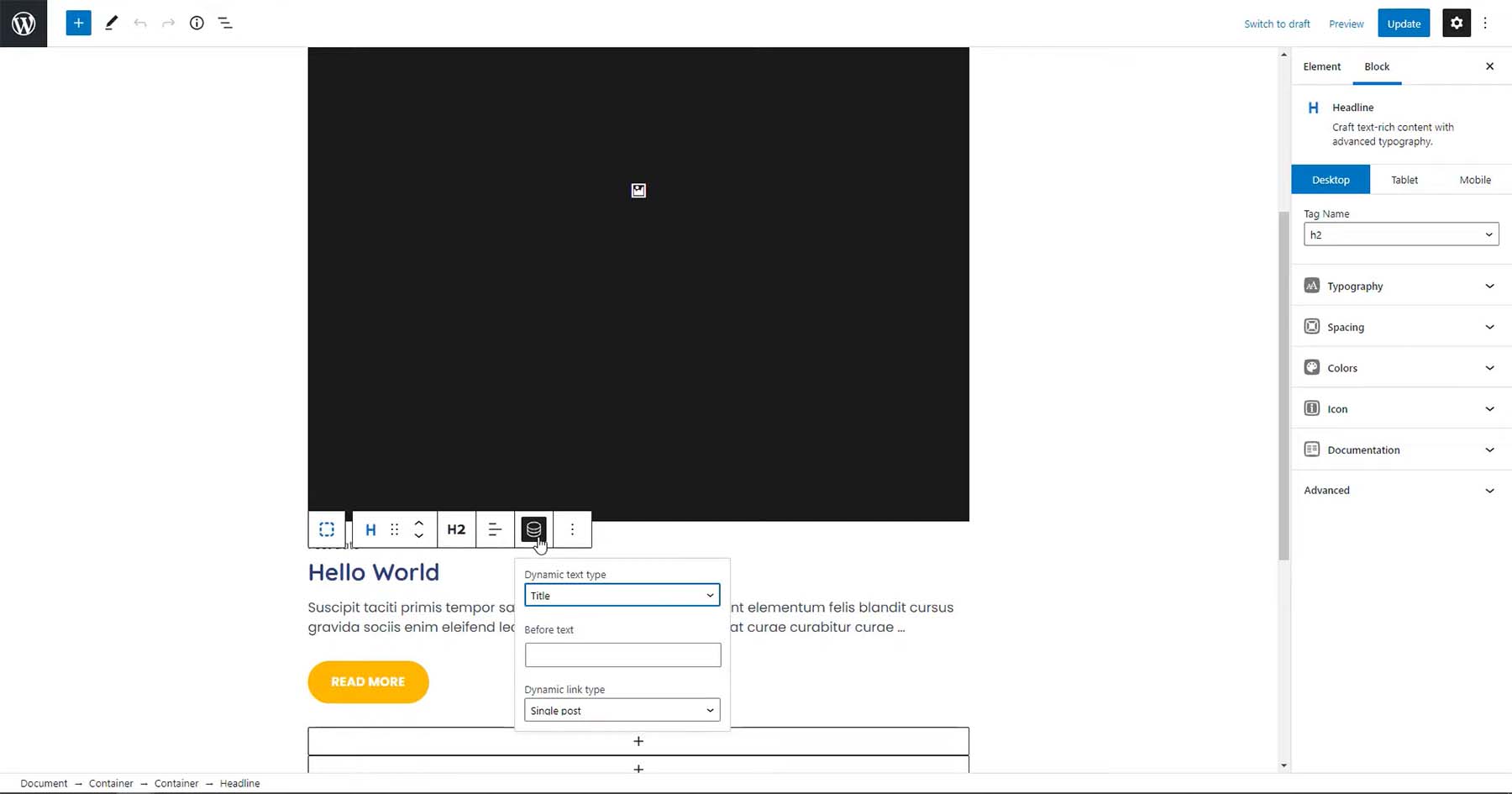 Pictured above, you'll see how GeneartePress uses every aspect of Gutenberg within its theme-building processes. With GeneratePress, you can select dynamic text (like the page title) and insert dynamic images (like a featured image) to create repeatable content elements that you can use throughout your site. This example will use this content block as the template for all blog posts in a particular category.
Best For:
As one of the first block-based theme builders, GeneratePress is on the cutting edge of theme building in the WordPress ecosystem. If you love building with Gutenberg, GeneratePress is one of the best WordPress theme builders for you to use.
Pricing: Free, Paid plans start at $59 per year
5. Elementor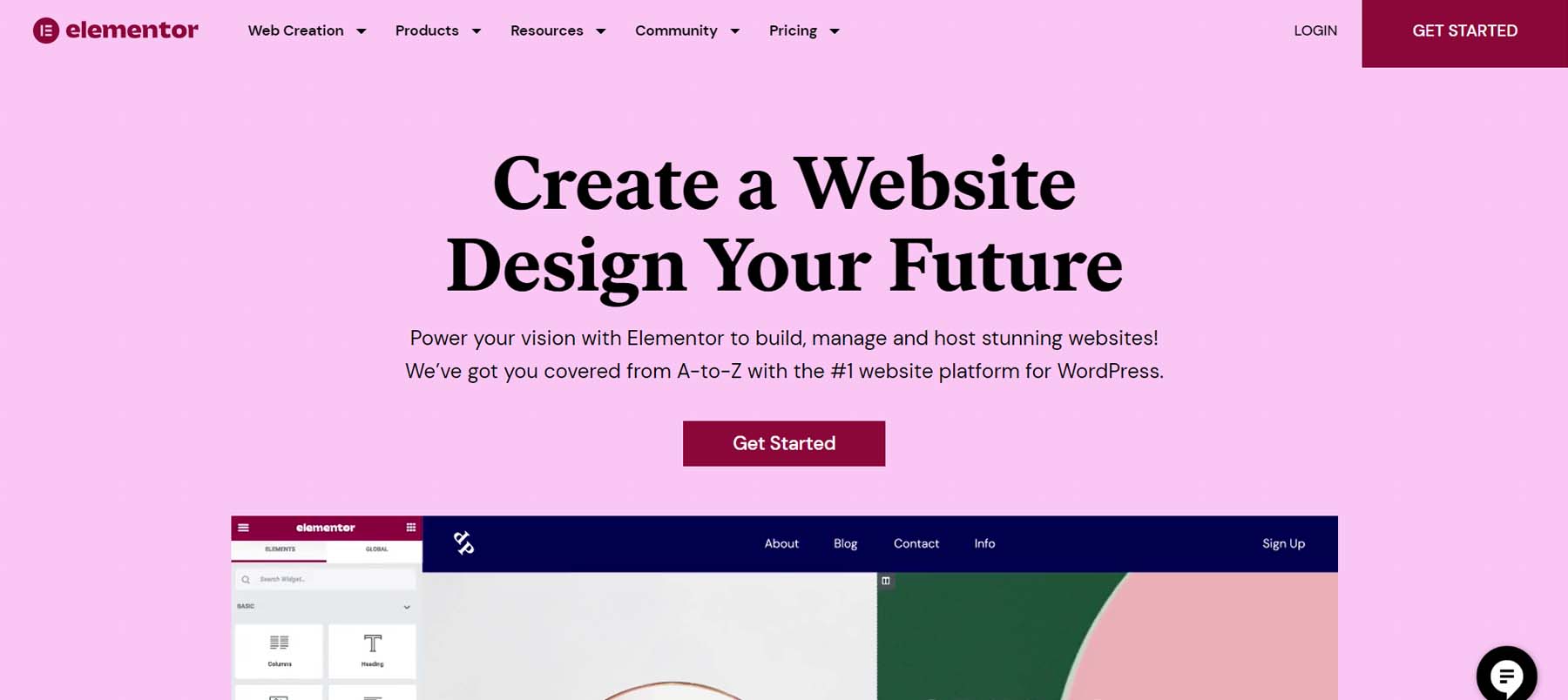 Elementor is a theme builder that does it all. Headers, footers, blog posts, product pages, pop-ups, and more can all be created with this theme builder. It has over 100 elements, from basic widgets like counters and tabs to more complex elements like price lists and animated headings. These can be used together to create incredible templates for all aspects of your website. Elementor works well in building custom product pages for your WooCommerce websites. Create a custom cart page, add additional content to your purchase summary pages, or even build an off-canvas menu cart without writing a single line of code. If you don't want to start from scratch, Elementor has an extensive library of pre-built website kits that you can tap into. All this and more can be done without programming and using Elementors simple visual builder.
Key Features of Elementor:
100+ elements and website kits for theme building
Visually build templates for 404 pages, headers, footers, posts, products, and more
Custom field integration with Toolset, Advanced Custom Fields, and Pods
Loop builder for creating archive, product, and category pages
Easily manage all aspects of your website within the Elementor All Parts library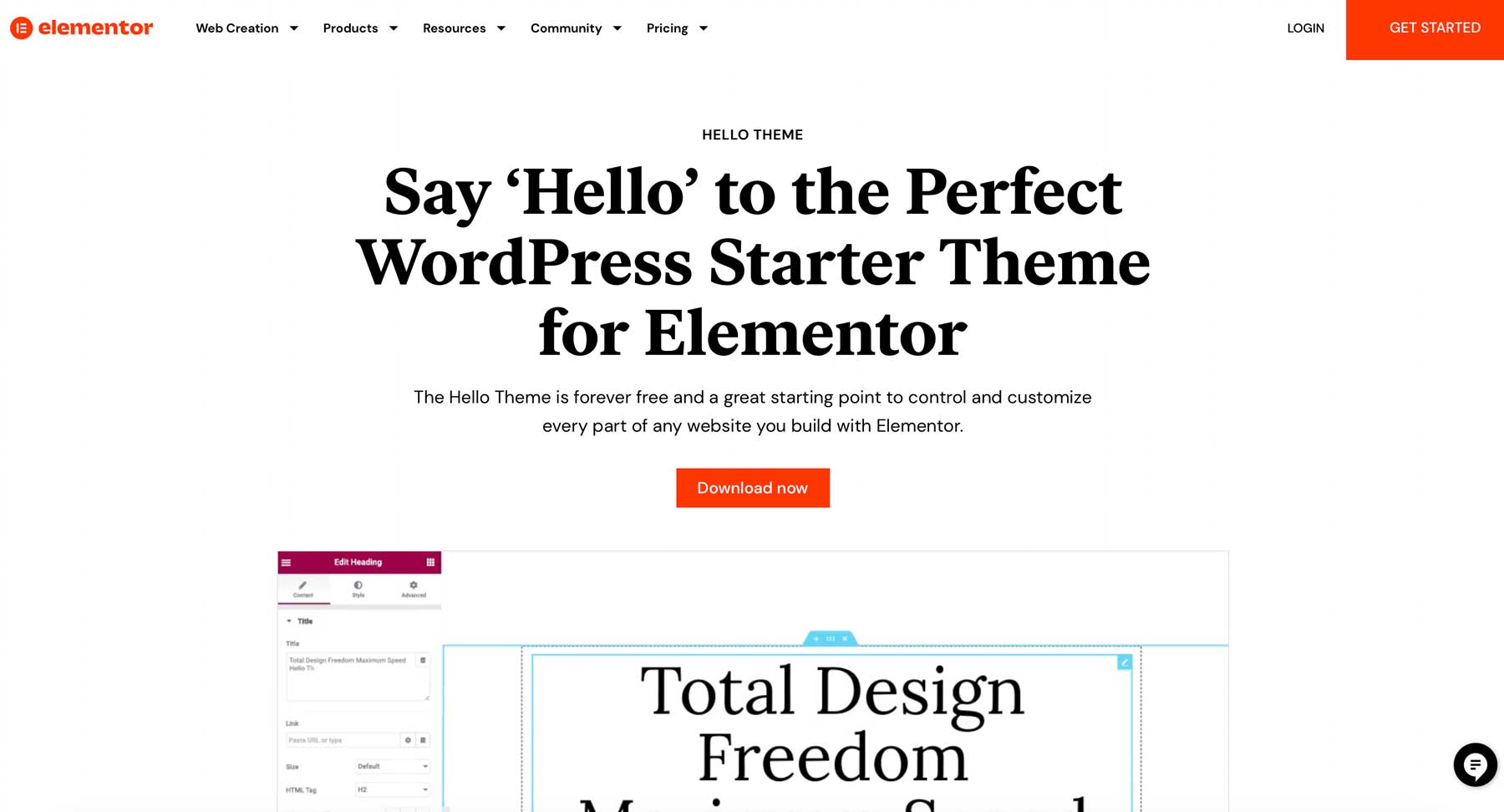 Elementor is unique among our list because it can function as a separate theme builder. This means it does not depend on a specific theme to function and can work on many available themes. As such, Elementor suggests using their Hello Theme, a bare-bones framework from which you can add everything you need to the theme through Elementor. Hello Elementor is a perfect canvas for you to start building your WordPress website because the theme-building power of Elementor shines through beautifully in this fantastic pairing.
Best For:
Widely compatible with many themes, Elementor is a theme builder that you can use with almost any theme. Many themes available are compatible with Elementor, so if you haven't decided on your theme yet, choose Elementor to help you build your perfect website.
Pricing: Free, Paid plans start at $59 per year
6. Beaver Themer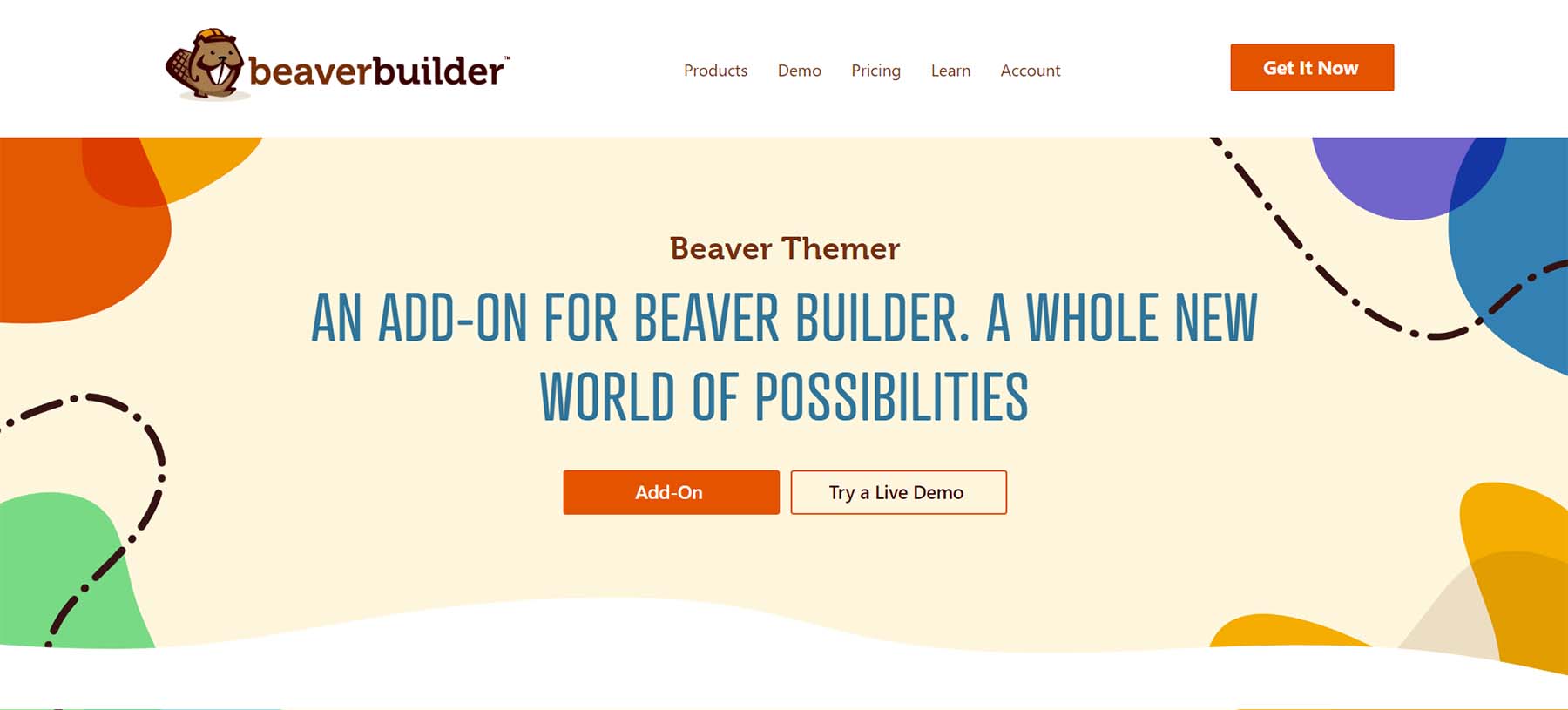 Beaver Themer is an addon of the popular page builder Beaver Builder. It allows you to extend the Beaver Builder plugin by adding theme-building capabilities to this beloved plugin. With Beaver Themer, creating headers, footers, 404 pages, and more is simple. Its easy-to-use interface makes it quick and easy for anyone to build the perfect website for their business or project.  It should be noted that while Beaver Builder can work with almost any WordPress theme, Beaver Themer works best with the Beaver Theme and a small number of popular themes. There are some instances where you may need to use code with Beaver Themer to get the layout you want. However, for most use cases, you can use its drag-and-drop functionality to create beautiful websites.
Key Features:
Create layouts for custom post types, blog archives, products, 404 pages, search pages, and more
Integrates with BigCommerce and WooCommerce for eCommerce customization
Works with Podcs and custom fields for deeper theme customization through dynamic content
Build partial layouts (called Theme Parts) like headers, footers, announcement bars, etc., and control with display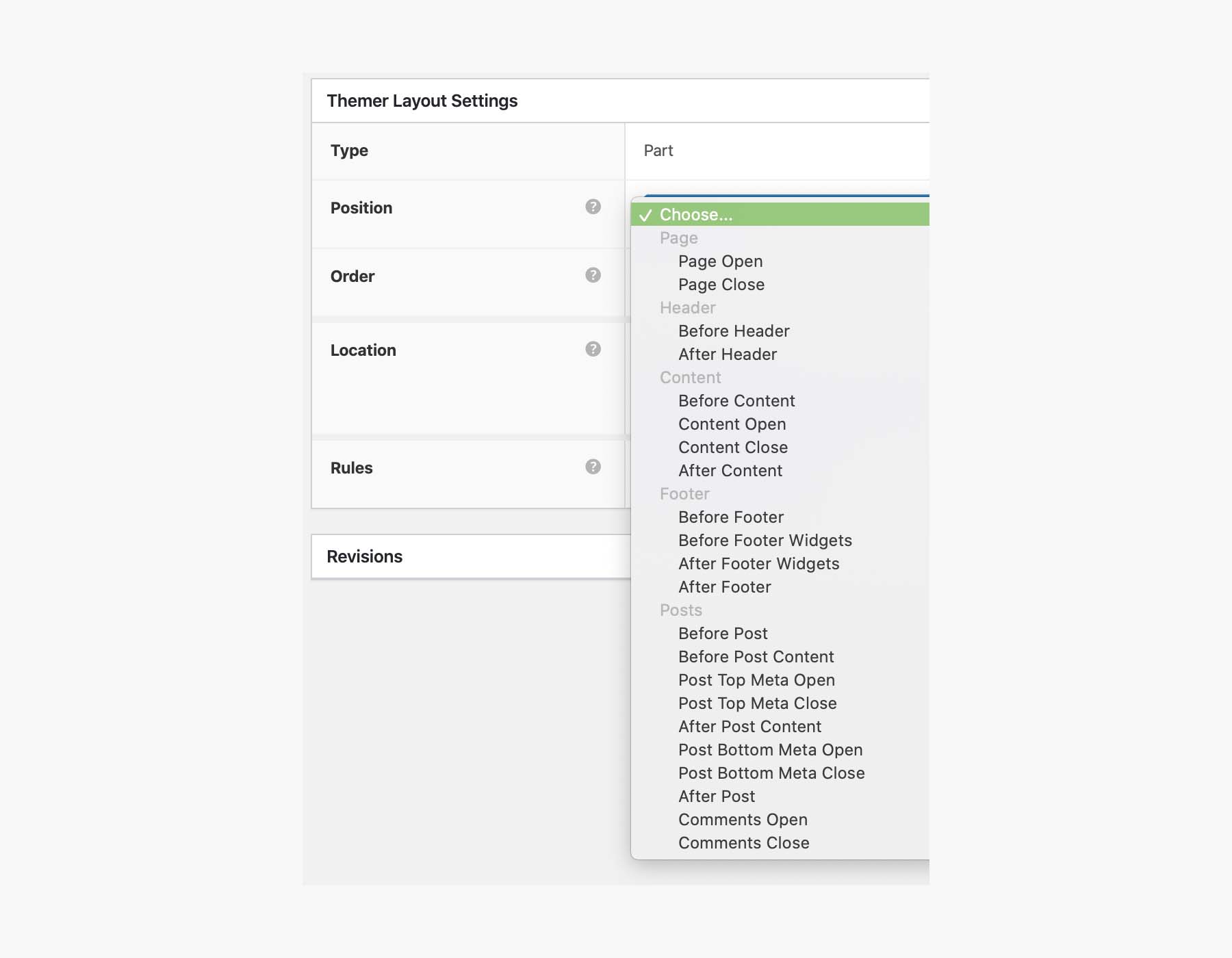 Beaver Builder's Themer Parts is a unique feature that differentiates it from other builders on our list. Themer Parts allow you to place elements and pieces of content in various areas of the page outside the content area. Whereas the page builder focuses on the content area, and most theme builders focus on areas outside of the content area, Themer Parts fill in the gaps of both of these locations regarding site-building. There is a long list of parts that Beaver Themer provides for you to add your content and designs, making it easier to ensure that you are building the perfect website for your needs.
Best For:
If you're already a fan of Beaver Builder, then you'll also be pleased to have the Beaver Themer in your back pocket to help you fully customize your websites. Consider adding the Beaver Themer product to your web design process and bring full site editing to your next Beaver Builder-led project.
Pricing: $147 per year, in addition to a paid plan for Beaver Builder, which starts at $99 per year
7. SeedProd
SeedProd is a theme builder that is geared toward those who are working in digital marketing. If you need to build a landing page, create a sales funnel or get a squeeze page off the ground, SeedProd is the theme builder that should be in your toolkit. Each template that SeedProd provides is designed with conversions in mind. Knowing that each template you choose covers some ground regarding sales optimization is helpful for marketers who need to build a slew of landing pages repeatedly. Like other builders on our list, you can create templates for pages and posts with SeedProd. Additionally, you can customize login screens, create 404 pages and use domain mapping to point your landing pages to specific domains without additional WordPress installs. As a marketer, SeedProd is one of the best theme builders you can use when building your online business with WordPress.
Key Features of SeedProd:
150+ landing page templates, 90+ pro blocks for drag-and-drop building
Deep version control through revision history, undo, redo, and draft mode features
Saved page templates, sections, and blocks, plus favorited templates and sections
Built-in coming soon, maintenance mode functionality with access controls
WooCommerce integration, subscriber management, and premium integrations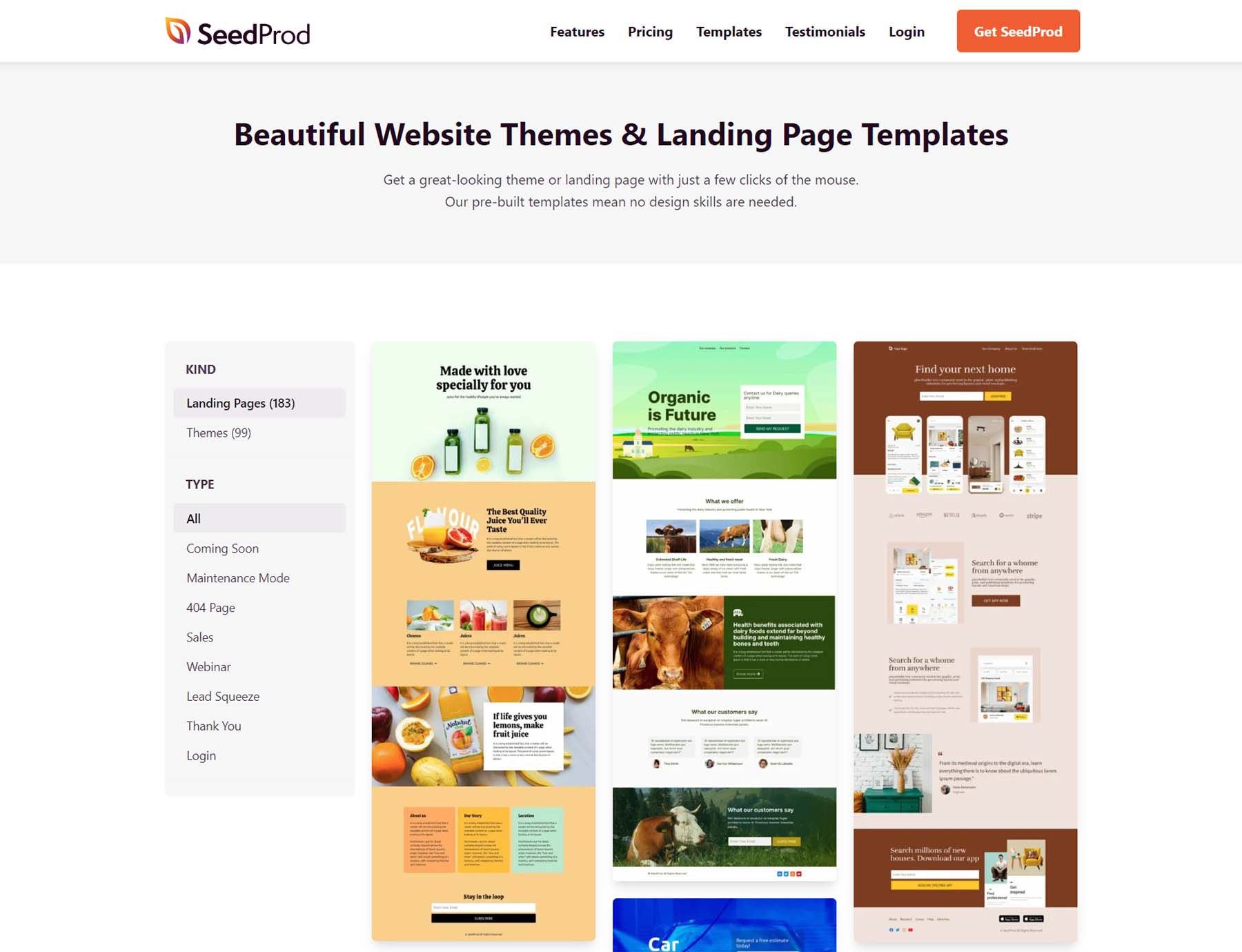 As a theme builder geared towards online marketers, SeedProd's library of templates is outstanding. They have a library of over 150 landing page templates and starter themes, and you can find templates for webinars, thank you pages, login screens, and more. Each template can be customized and assigned to pages, posts, or other custom post types you'll need as you build your WordPress website.
Best For:
Marketers, entrepreneurs, and those who make money online will love working with SeedProd. As one of the best WordPress theme builders for digital business owners, SeedProd makes building high-converting websites accessible with its powerful theme builder.
Pricing: Paid plans start at $79 per year
8. Genesis Pro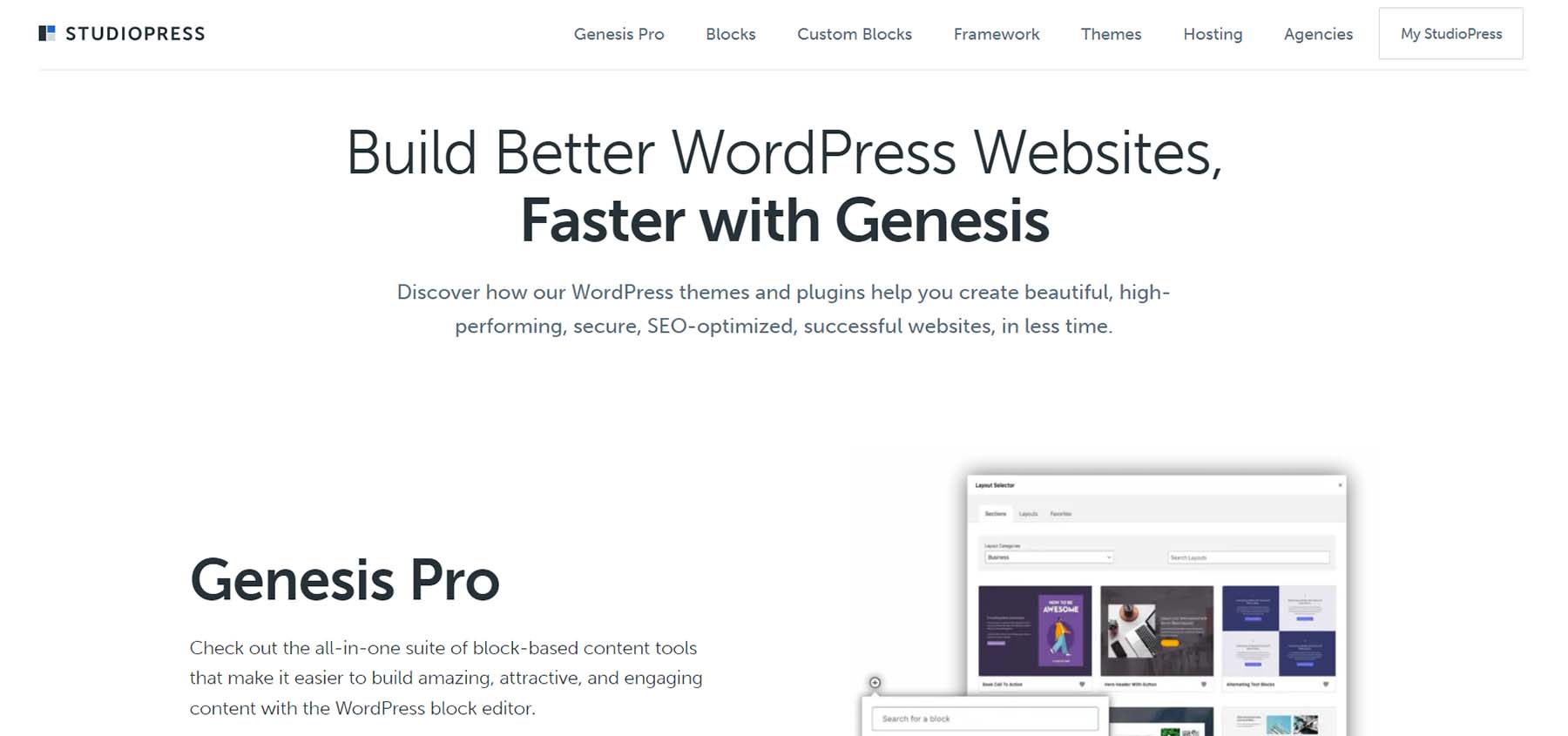 Genesis Pro is another blocks-based theme builder. It comes with a library of pre-built sections and custom content blocks that you can add to your theme templates to save you from building your website entirely from scratch. You also can create your blocks and content and build your library of reusable elements. Genesis Pro enhances the WordPress editor through its free additional plugins, Genesis Blocks, and Genesis Custom Blocks. As a theme builder, Genesis Pro differs from many other builders in our list as it requires quite a bit of custom coding to move around features like headers, footers, and sidebars. Coding will be needed when using Genesis Pro. Because of this, Genesis Pro does move faster, is more accessible, and ultimately be as customizable as possible if you are familiar with coding.
Key Features of Genesis Pro:
Comes equipped with Genesis Blocks and Genesis Custom Blocks for easy theme building
Visually build custom blocks for use throughout your website
Library of code snippets within its Documentation to help with custom coding
Role-based editing permissions to ensure layouts stay on-brand
Pre-built sections and layouts to help the theme-building process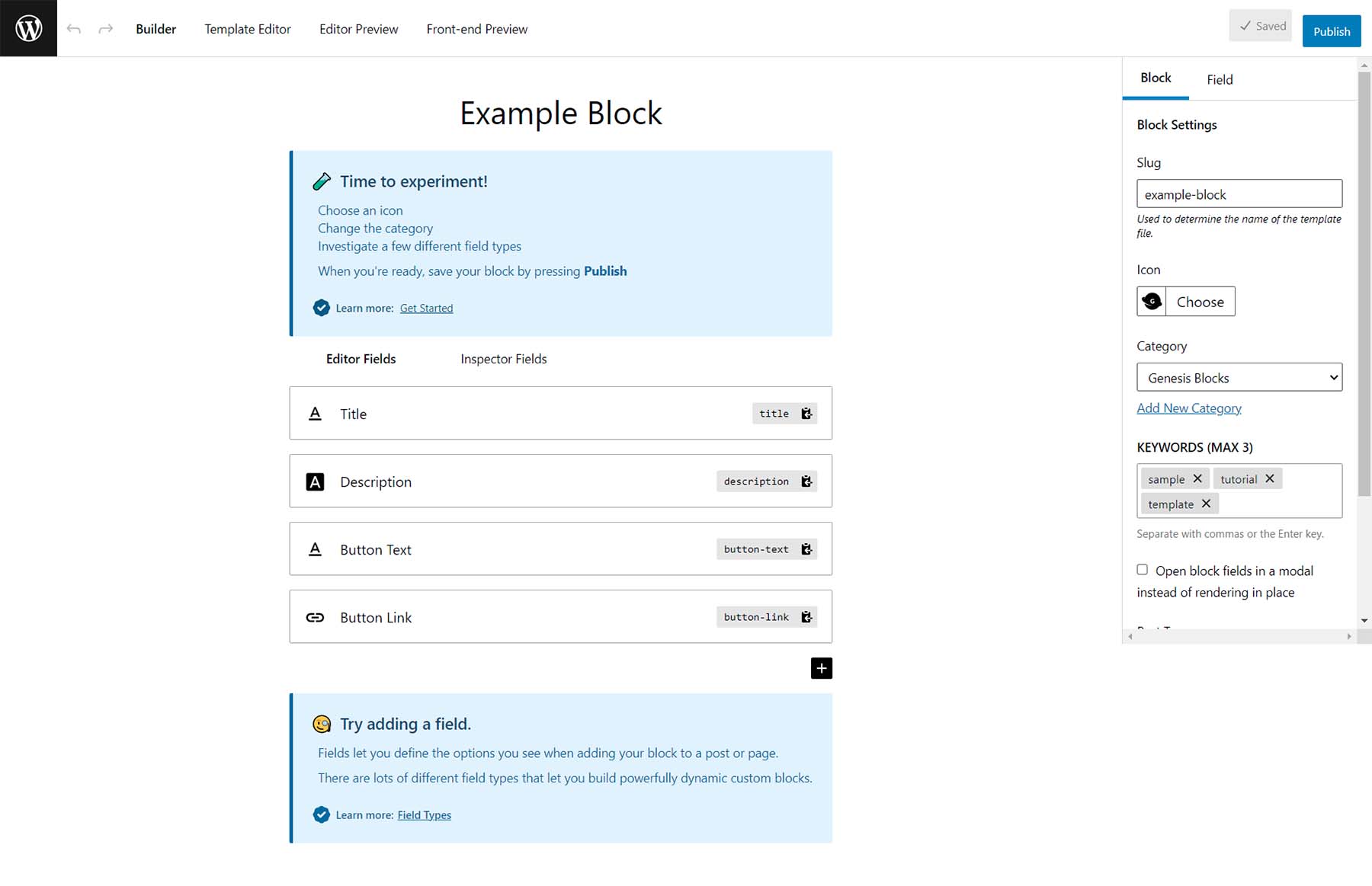 Custom Blocks is a powerful feature of Genesis Pro. With this, the ball is in your court to use your imagination to code and design the perfect block for your WordPress website. Mixing visual design and programming, Genesis Pro adequately bridges the gap for those who want the highest level of customization through custom code but also want the support that is working with a visual builder like Gutenberg brings.
Best For:
If you like building with blocks and are comfortable coding, build your entire website with Genesis Pro. For true flexibility, Genesis Pro allows you to custom code blocks and reuse them quickly. It makes building a custom, lightweight WordPress website simple, melding coding and block-building together.
Pricing: Free, $360 per year
9. Thrive Theme Builder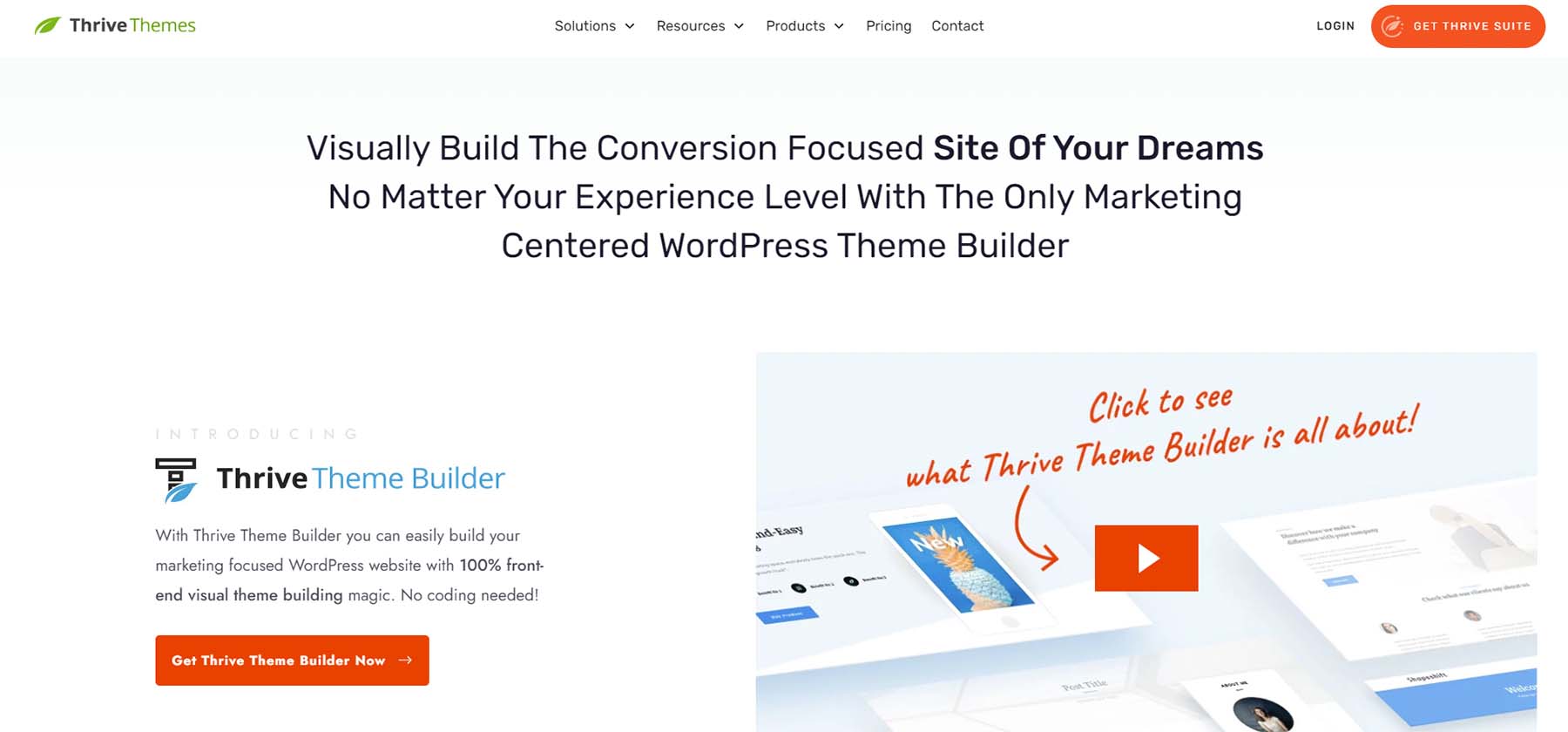 Thrive Theme Builder is a theme builder geared toward those in the online marketing space. The theme builder focuses on giving you the tools that you need to build conversion-focused websites. As such, Thrive Theme Builder's modules for building your website make it easy to craft landing pages, sales funnels, and more. Testimonials, countdown timers, and lead generation forms that integrate with popular marketing tools are all part and parcel of building a website with Thrive Architect. The theme builder is packed with various landing page templates and pre-built sections called Page Blocks and is optimized for getting you leads and closing sales online.
Key Features of Thrive Theme Builder:
Instant drag-and-drop editing with 1-click global color customization
Six marketing-focused Companion Themes for easy site setup
40+ integrations with popular online marketing, email, and CRM solutions
100+ design, conversion tools, and site-building elements included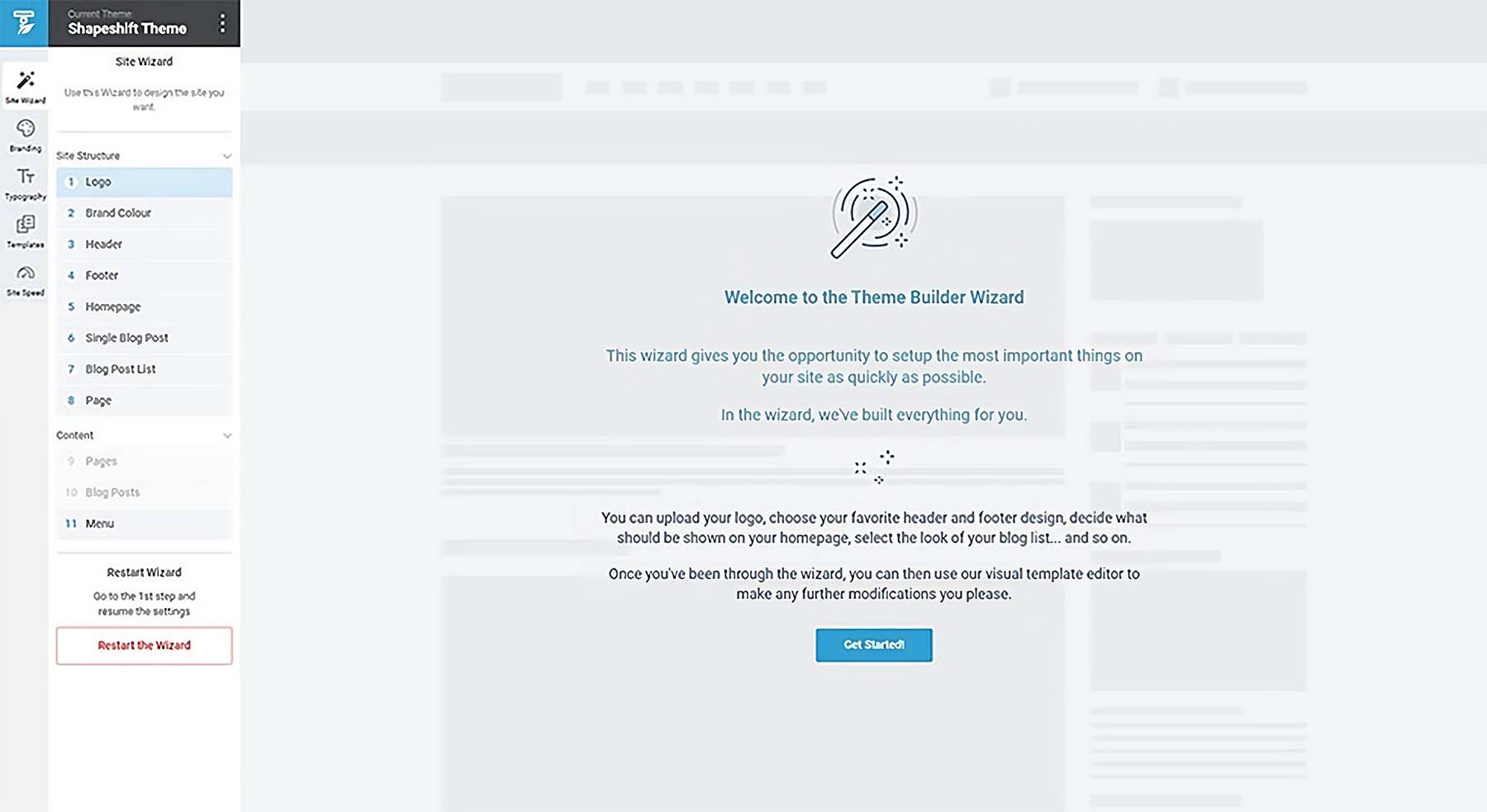 The Thrive Theme Builder Wizard takes the guesswork out of setting up the necessary templates for the various pages, posts, custom post types, and more you'll use to build your site. Set up your brand colors, choose your typography, create your menu, and much more with only a few clicks. No more is there a need to struggle with building each template for each page or post type on your website. The Thrive Theme Builder Wizard will help you do all this while ensuring your site is up to the best online marketing practices and standards.
Best For:
Digital marketers, agency owners, content creators, and online entrepreneurs will enjoy using Thrive Theme Builder as their theme builder. With an extensive library of templates, a thriving ecosystem of products, and design elements crafted with conversions in mind, using one of the best WordPress theme builders available for digital business owners is the right choice for your next launch.
Pricing: Paid plans start at $599 per year
10. Brizy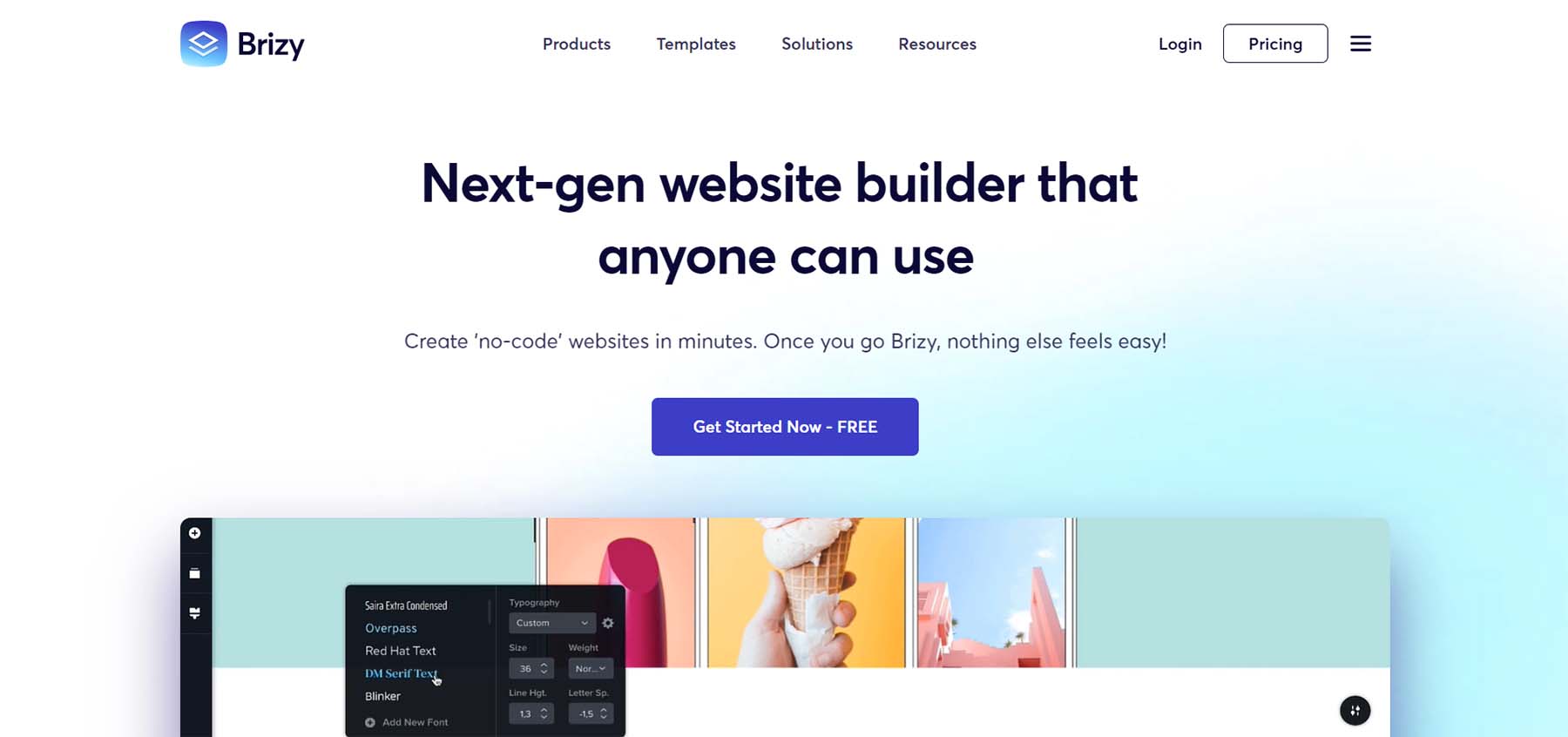 Brizy is a relatively new theme builder in the WordPress market. It's different from most theme builders on our list as it comes in a cloud platform and a WordPress plugin. If you'd rather have a managed platform for your theme builder, Brizy can assist you in this department. Like many theme builders, Brizy is a visual, no-code builder. It is powered by a library of elements that you can click and drag to build templates for almost any aspect of your website.
Furthermore, Brizy connects with various marketing tools and email platforms like ActiveCampaign, Drip, and Calendly, to name a few. Brizy also supports the use of custom fields within its content. So pulling dynamic information from tools like ACF, Pods, and Meta Box is welcomed. If you're looking for a new way to build in WordPress, consider testing Brizy today.
Key Features of Brizy:
36+ powerful drag-and-drop design elements
500+ beautiful design templates for pages, blocks, pop-ups, or stories
Customize blog posts, archives, headers, footers, 404 pages, and more visually
Define global branding and typography
Customizable animation options, including Lottie animations, hovers, entrance animations, scroll reveals, and more
As an agency owner, Brizy has impressive white-label capabilities. Invite unlimited team members and assign roles to staff for easy collaboration between your team and your clients. You can sync content between websites and still have access to the powerful theme builder that makes it easy to build with Brizy. Furthermore, your platform comes packed with SEO tools ensuring you can provide your clients with a unique white glove service.
Best For:
Brizy is a theme builder that is best for those who want to have a hosted and managed WordPress experience. No longer will you need to worry about updates or patches. Brizy allows you to build with WordPress while having the comfort and security of a managed platform.
Pricing: Free, Paid plans start at $60 per year
11. Oxygen Builder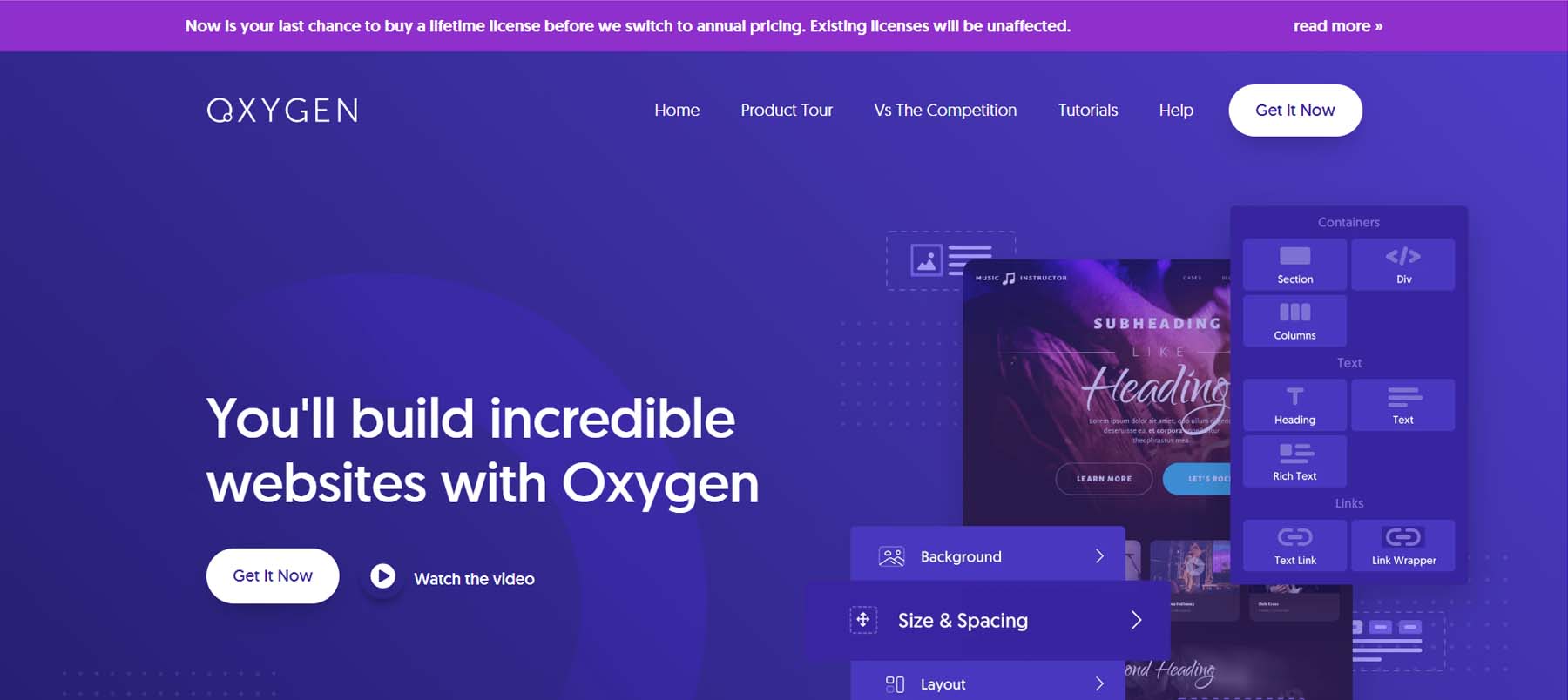 Oxygen Builder is one of the few theme builders on the market that is genuinely theme agnostic. It does not require a theme at all to work beautifully. It has a library of design assets and elements to build your templates visually. You can use code to get a pixel-perfect design for your website. Write custom CSS, PHP, and Javascript directly in the builder, and see a live result of your code. Oxygen has more breakpoints than any theme builder on our list, so responsive design is a breeze for this builder. Of course, you can set global colors throughout your site and use dynamic data within your templates. Oxygen Builder has a steeper learning curve than other builders on our list. However, if you are unafraid of using code to build your website, consider using Oxygen as your theme builder today.
Key Features of Oxygen Builder:
Dedicated header builder element
Build layouts with both Flexbox and CSS grid
Global WooCommerce styles and styling controls for WooCommerce elements
Fully granular client access control with edit-only builder mode
Visually build editable Gutenberg Blocks

Composite elements within Oxygen take your visual building to the next level. They allow you to have multiple native Oxygen elements combined to create beautifully feature-rich ways of displaying your content. Additionally, the code for these elements is light and clean, meaning you don't have to sacrifice beauty for function. Mega menus, section indicators, icon buttons, and more are all composite elements you can find when you use Oxygen as your theme builder.
Best For:
Oxygen Builder is your theme builder if you want complete flexibility over your WordPress website and are familiar and comfortable with coding. Oxygen beautifully meshes coding and visual building as a theme builder, making it one of the best WordPress theme builders for those unafraid to program.
Pricing: Paid plans start at $129
Top WordPress Theme Builders: Price Comparison
Now that we have our list of the best WordPress theme builders, let's see how they stack up on price. We'll also see which ones have a free version you can use today to test their capabilities and see if it's the right theme builder for your project.
What are the Best WordPress Theme Builders?
For those who want to build their following website without writing a line of code, Divi is the best choice. As our top selected theme builder, you never have to use code to build a beautiful website wholly customized to your specifications. Astra is a great freemium theme builder that allows you to build beautiful websites while still giving you the option to upgrade to unlock deeper functionality. It's also one of the most downloaded theme builders from the WordPress repository. Lastly, if you're on a tight budget but still want the freedom of visual theme building, start your website with OceanWP.
If you feel a theme builder is too much responsibility, consider using a page builder with your favorite WordPress theme. Check out this article on the best page builders for WordPress and see if a page builder may be a better approach for your next project. Make sure to check out our main post on the best WordPress themes if you're looking for more WordPress theme recommendations!
Featured Image via Katy Flaty / shutterstock.com