WordPress is undoubtedly impressive, but where it shines is as a content management system. For websites that have to go beyond being blog-centric, you may find that out-of-the-box WordPress is lacking. But, there's no need to switch site builders. With the best free WordPress plugins for business websites, you can create a full-blown business website that caters to your customers exactly the way you need it to.
What Are Free WordPress Plugins for Business Websites?
Free WordPress plugins for business websites help you grow your website without spending more money than necessary. They cover various branches of business, from creating editorial calendars and talking in real-time with customers to making sure your website runs fast and is SEO-optimized. The purpose of business plugins is twofold. First, they automate some of your workload so you barely have to think about it. Second, they make it easier to carry out the work that still needs your focused attention.
15+ Best Free WordPress Plugins for Business Websites
There's an almost endless amount of plugins for business websites, many free, some paid, and plenty with free versions that you can give a try before you upgrade for more features. In this article, we've rounded up the top free WordPress plugins for business websites so that you can upgrade your site without having to budget for it.
1. Easy Appointments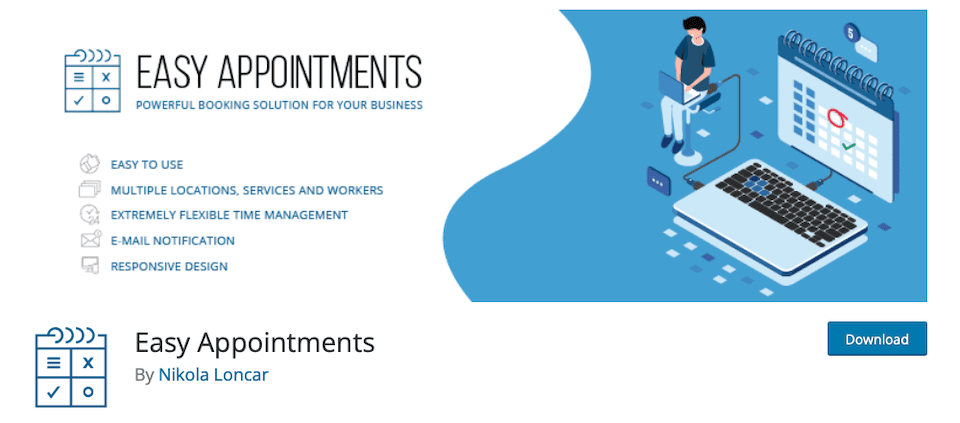 If booking and managing appointments are integral to your business, there's no reason to rely on someone who has to answer the phone all day long. Instead, use a plugin so that visitors can book their appointments themselves at any time, even if your business is closed for the night.
Key Features of Easy Appointments
Show your available time slots.
Send automated email confirmations and appointment reminders.
Set up booking for multiple locations, services and workers.
Easy Appointments is for you if…
Your business relies on scheduled appointments.
You want to offer customers self-service for booking appointments.
Easy Appointments Pricing: Free | Learn More About Easy Appointments
Check out our list of the best WordPress booking plugins for more free (and premium) options.
2. Easy Digital Downloads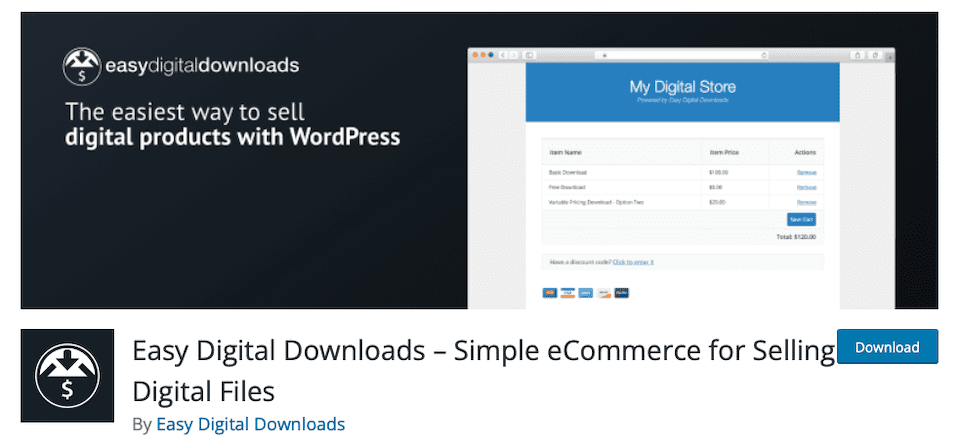 If you're only selling digital products, not physical ones, consider using Easy Digital Downloads (as opposed to WooCommerce, which we'll talk about in a bit). This shopping cart plugin offers different options for customers to download files they've purchased. You can also create discount codes for products you're trying to push.
Key Features of Easy Digital Downloads
Create "Add To Cart" or "Buy Now" buttons.
Protect files so they can't be shared after being purchased.
Process one-off payments or set up subscriptions.
Easy Digital Downloads is for you if…
You're only selling digital products, not physical ones.
You want to let customers sign up for a subscription.
Easy Digital Downloads Pricing: Free with paid add-ons | Learn More About Easy Digital Downloads
We also have more shopping cart plugins to check out.
3. Editorial Calendar
If your business website has a lot of content going up all the time, you need an editorial calendar to keep track of it all. This plugin lets you customize an overview of your publishing calendar, and it integrates with your WordPress dashboard so you can see it right when you log in.
Key Features of Editorial Calendar
Reorganize posts with drag-and-drop functionality.
Quick edit to update content and scheduling details.
Create multiple calendars to keep post types or topics separate.
Editorial Calendar is for you if…
You have a lot of content across segmented topics to schedule.
You'll benefit from quick access to the blog post tools you use a lot.
Editorial Calendar Pricing: Free | Learn More About Editorial Calendar
For more, check out these best editorial calendar plugins.
4. Envira Gallery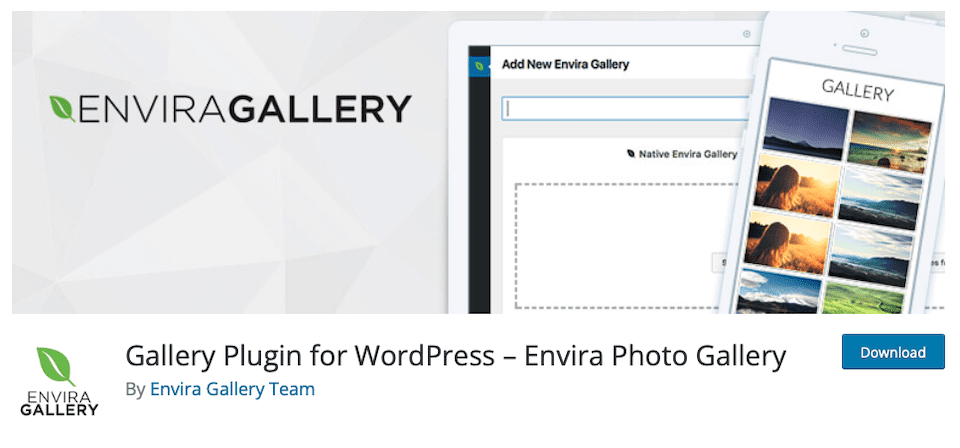 If your business website relies on a lot of images – maybe you run a photography studio or a retail shop – you'll need a way to juggle all that media without sacrificing website performance. Envira Gallery is one of the best gallery plugins for WordPress and lets you create galleries that are optimized for speed.
Key Features of Envira Gallery
Responsive photo and video galleries.
Drag-and-drop photo gallery builder.
Add deep links, metadata, and pagination to your galleries.
Envira Gallery is for you if…
You have a media-forward business and need to showcase that on your site.
You want to share your media on social platforms.
Envira Gallery Pricing: Free or Pro starting at $26 per year | Learn More About Envira Gallery
We also suggest Soliloquy if you need to create image and video sliders. This plugin has pre-designed themes and templates, too.
5. HubSpot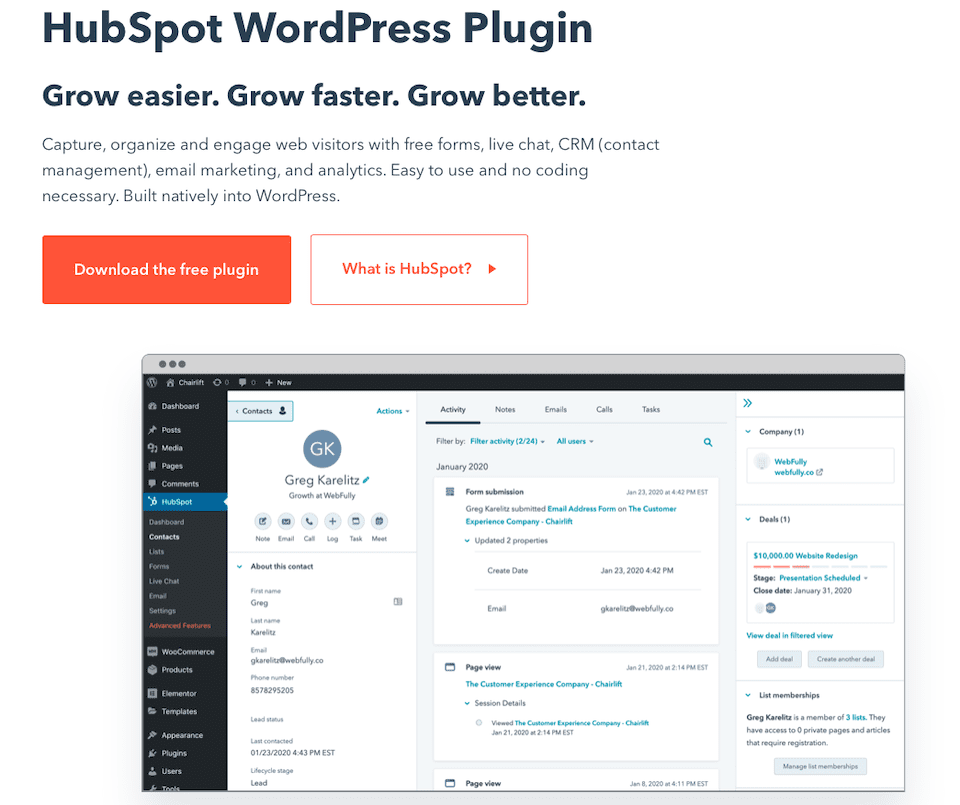 HubSpot is a one-stop shop for a lot of the tools you need to run a business (and a business-oriented website) including a CMS like WordPress. Though a good project management plugin can give you CRM-like features on WordPress, it's best to leave certain things to the professionals. You can manage your contacts, see how they've engaged with your company, connect via forms and live chat, and monitor marketing performance. Hubspot even made our best live chat solutions for WordPress. With Hubspot, you can accomplish everything you need to stay in total sync with your audience.
Key Features of HubSpot
Must-have marketing tools, including email marketing, forms, and live chat.
Forms and chat submissions auto-sync with the CRM so you can see details on the contact's page.
Dashboards showcase marketing performance analytics.
HubSpot is for you if…
You have a small business that you're scaling.
You need a way to monitor traffic for your whole site or page by page.
We've written an article on how to integrate HubSpot with WordPress.
HubSpot Pricing: Free | Learn More About HubSpot
6. myCred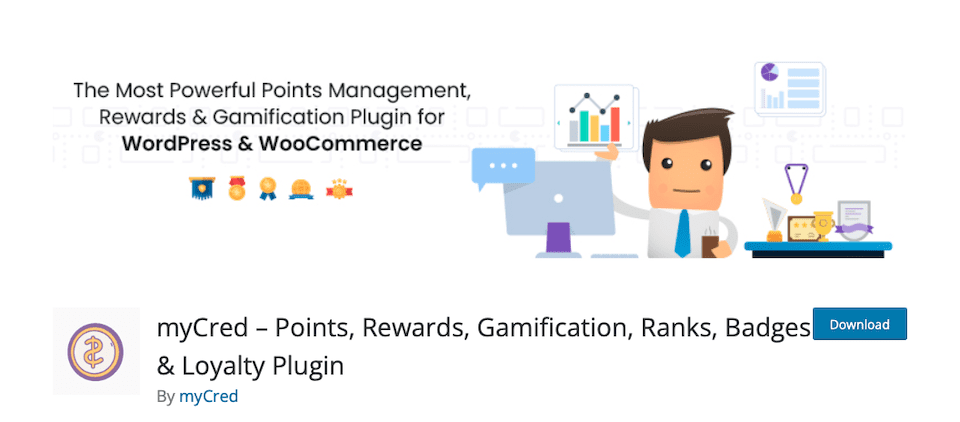 The myCred plugin is a points management system that lets you gamify your website. Gamification keeps visitor attention for longer and incentivizes certain actions. You create a points and rewards system for visitors, doling out digital prizes like badges and ranks – and also letting people use what they've earned toward real purchases.
Key Features of myCred
Auto-deposit points on a preset schedule.
Points can be exchanged between members, which encourages engagement.
Website owners can add or deduct points from users.
myCred is for you if…
You're looking to increase the amount of time visitors spend on your site.
You want to encourage visitors to go to different pages or take specific actions.
myCred Pricing: Free; membership starts at $149 per year | Learn More About myCred
The myCred plugin is also listed as one of the best gamification plugins for WordPress.
7. Print-O-Matic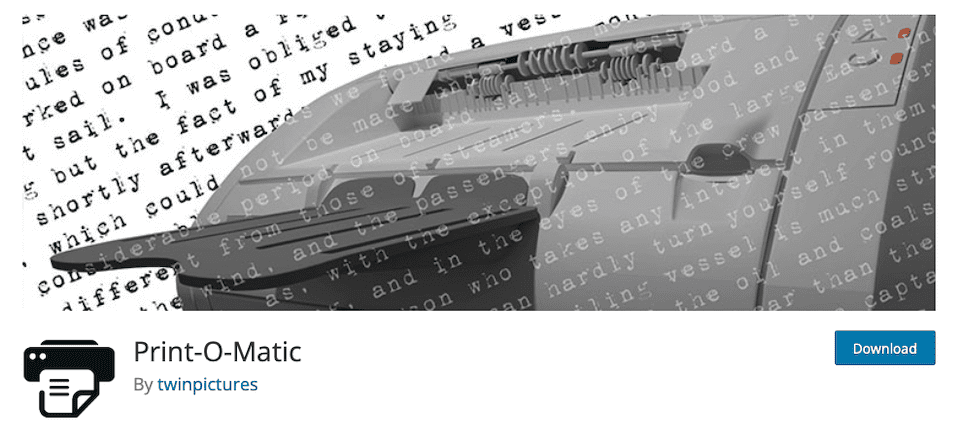 Some business websites need print-friendly pages. For example, if you want customers to be able to print out directions for using your products or services, having a print-ready page is a must.
Key Features of Print-O-Matic
Choose from five print icons.
Add custom text to printable pages.
Let users print an entire page or one HTML element.
Print-O-Matic is for you if…
You want to offer visitors an easy way to print a page.
You have content that will be useful offline.
Print-O-Matic Pricing: Free | Learn More About Print-O-Matic
If Print-O-Matic doesn't have the features you're after, we have a few more options in this article.
8. Quick and Easy FAQs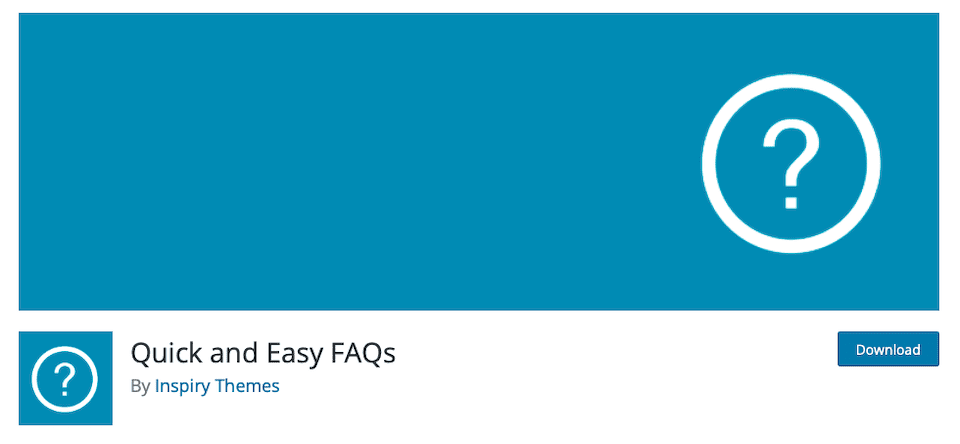 Answering the same questions about your business over and over can eat up a lot of time. Creating a frequently-asked-questions page means that visitors can find answers to pressing questions themselves, leaving you free to handle more intensive troubleshooting. You can look at even more FAQ plugins for WordPress on our always up-to-date recommendations list.
Key Features of Quick and Easy FAQs
Group FAQs by topic for better organization.
Edit backgrounds, border, and text to create a customized FAQ page.
Choose from various styles to display the questions and answers.
Quick and Easy FAQs is for you if…
You get a lot of the same questions over and over.
You have complex goods or services that require explainers.
Quick and Easy FAQs Pricing: Free | Learn More About Quick and Easy FAQs
9. Really Simple SSL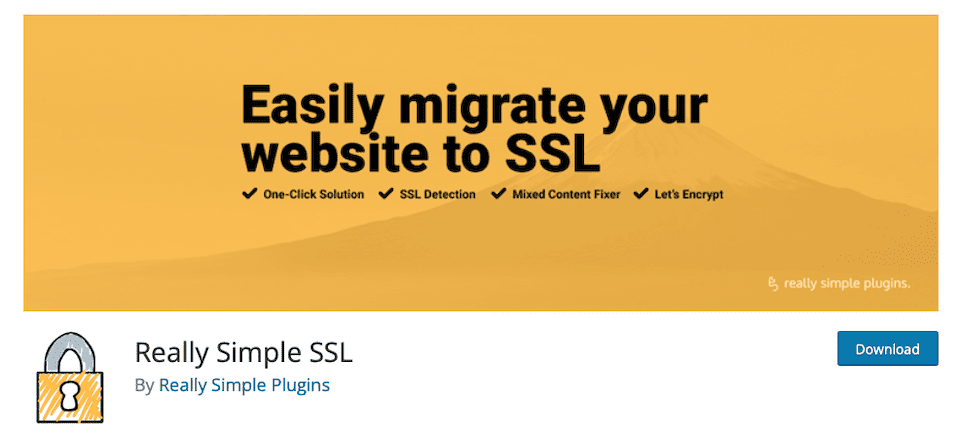 Really Simple SSL is a super lightweight plugin that detects your website's settings and configures it to be safer. (Learn more about HTTPS and SSL) Business websites that don't have the basics of security covered won't be trusted by visitors, and that can have a major impact on traffic and conversions.
Key Features of Really Simple SSL
One-click solution.
Migrates your website to HTTPS.
Immediately redirects and updates all URLs to show that your site is secure.
Really Simple SSL is for you if…
Have a website – all sites should have this basic protection.
You're doing everything and anything to boost SEO.
Really Simple SSL Pricing: Free or Pro starting at $29 | Learn More About Really Simple SSL
These days you may not need a plugin at all. Learn more about how to get a free SSL certificate.
10. RegistrationMagic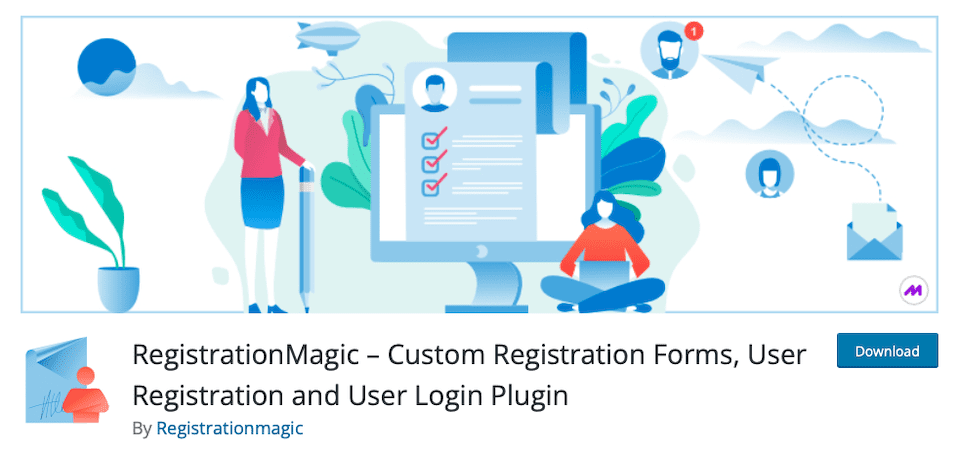 Some business websites function as a business in themselves, allowing users to pay for VIP access to upgraded content and access. RegistrationMagic lets you onboard new members and decide which content they can see versus what non-members can see.
Key Features of RegistrationMagic
Customize signup and registration forms.
Choose the payment methods you want to accept.
Block content from non-paying visitors.
RegistrationMagic is for you if…
Your site has a members-only section for paying customers.
You want to ensure that non-members can't access certain content.
RegistrationMagic Pricing: Free | Learn More About RegistrationMagic
We also like the WP-Members Membership Plugin if you're looking for an alternative.
11. SiteReviews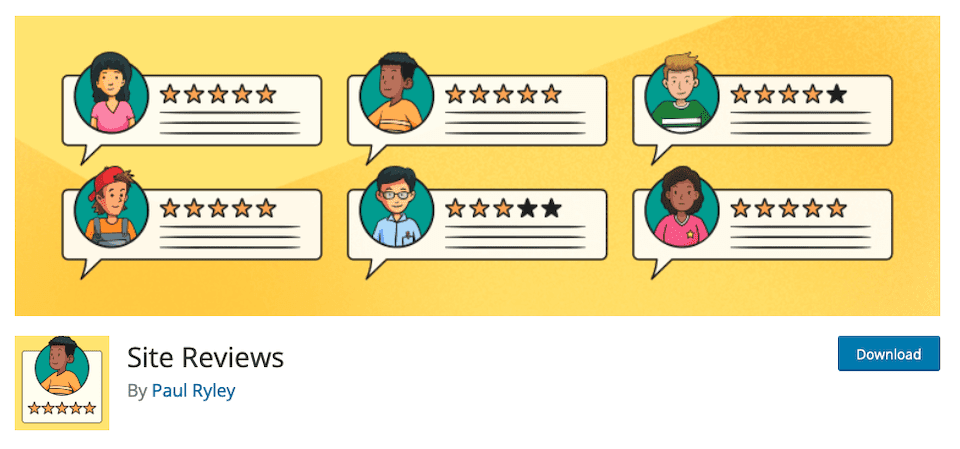 If you have products or services that you want customers to review – or anything that you want reviews for, actually – consider installing this plugin. You have a lot of control over who can leave reviews, and when a new one comes through, you'll get a notification. (We have a lot of other ratings and reviews plugins rounded up here, too.)
Key Features of SiteReviews
Opt to require users to log in before leaving a review.
Prioritize reviews with high ratings.
Ban specific words, names, email addresses, or IP addresses from leaving a review.
SiteReviews is for you if…
You want control over who's allowed to leave reviews.
You want a lot of choices when it comes to where reviews are displayed.
SiteReviews Pricing: Free with paid add-ons | Learn More About SiteReviews
12. WP Go Maps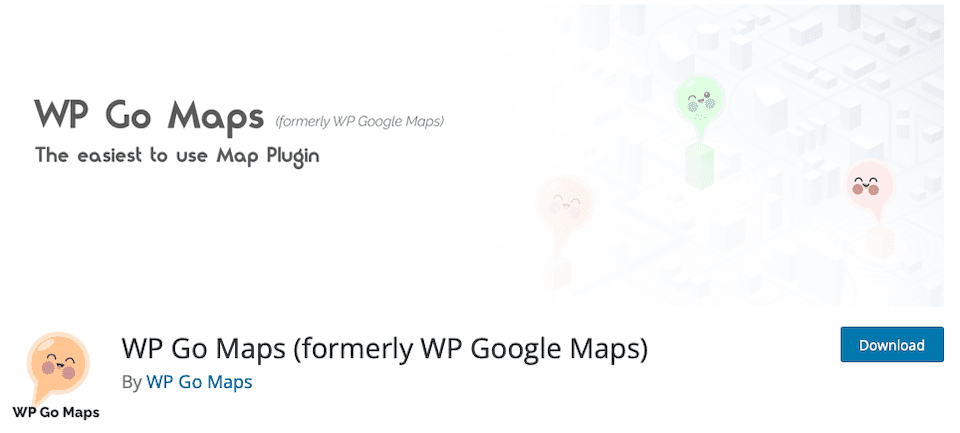 If you have a brick-and-mortar location (or several), integrating maps with your website is key for helping people get there. Markers show exact locations, and polygons give a broader view of the general area where your stores are located.
Key Features of WP Go Maps
Choose from different themes or create your own.
Show different routes to your store.
Set map type (roadmap, satellite, terrain, hybrid).
WP Go Maps is for you if…
You have one or more brick-and-mortar locations.
You want to show customers the areas where you deliver.
WP Go Maps Pricing: Free; Pro starts at $39.99 | Learn More About WP Go Maps
Check out these other Google Maps plugins, too.
13. WooCommerce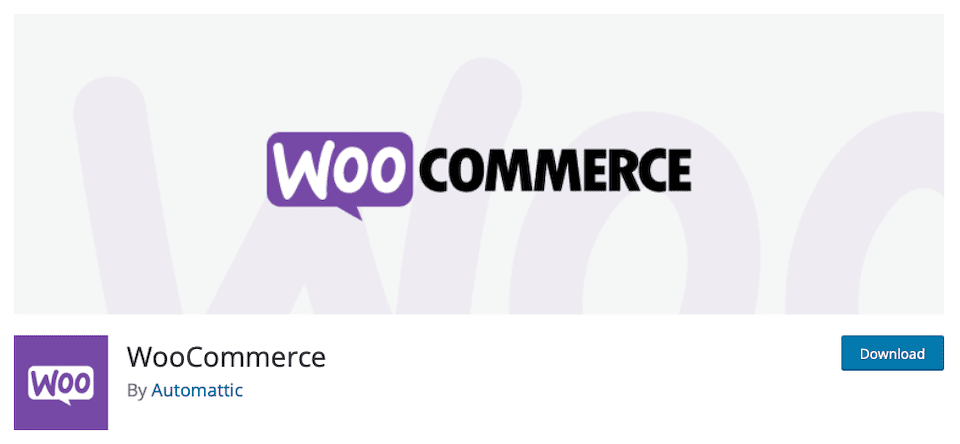 If you want to sell products online, WooCommerce is among the best (or the best) e-commerce platforms for WordPress sites. You have total control over how your store looks and functions, and you can sell pretty much anything you want, physical or digital, setting product variations as needed.
Key Features of WooCommerce
Accept all major cards, cash on delivery, and other payment methods.
Multiple shipping options, including shipping that's calculated in real-time and free shipping.
Add functionality with extensions and themes from the library.
WooCommerce is for you if…
You need an e-commerce plugin that does it all.
You've never set up a shop before and will find the guided wizard useful.
WooCommerce Pricing: Free | Learn More About WooCommerce
You may also want to check out the Customer Reviews for WooCommerce plugin.
14. WP Legal Pages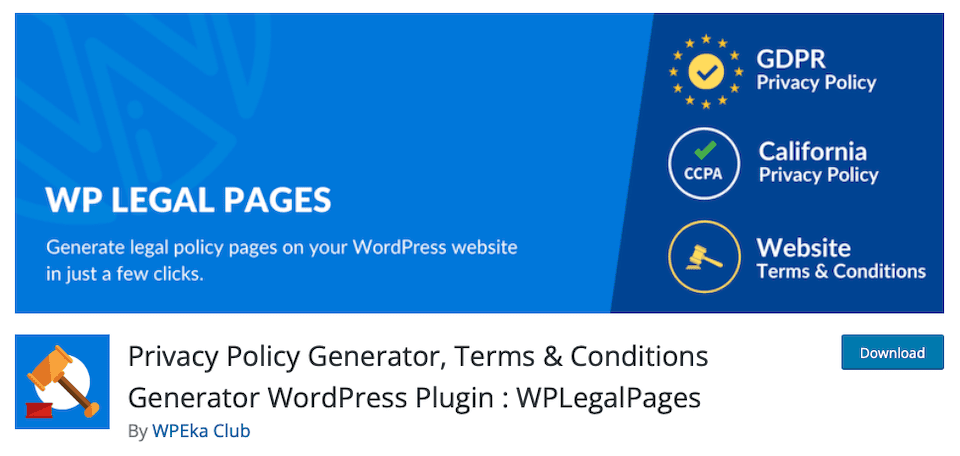 To make your business website legit and legal, you need different types of text to protect your company – and to let visitors know how you're protecting them, too. The WP Legal Pages plugin generates this text for you using your specific business information.
Key Features of WP Legal Pages
Generate different policies, including a privacy policy, terms, and conditions, affiliate disclaimers, etc.
Get geography-based copy that complies with local requirements.
Edit and update the pages however you need to.
WP Legal Pages is for you if…
You have a business website, period – everybody needs this!
You run an e-commerce shop and need to clarify a returns-and-refunds policy.
WP Legal Pages Pricing: Free or $39 per year for Pro | Learn More About WP Legal Pages
15. Counter Number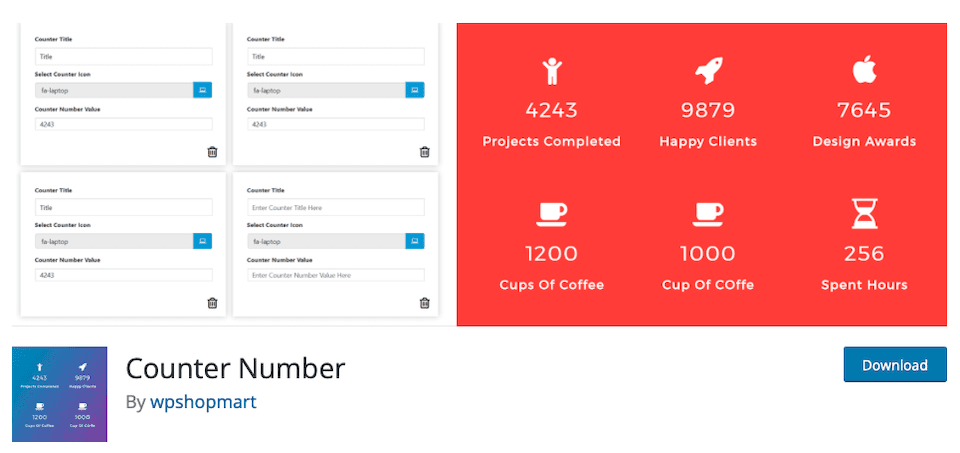 This plugin lets you add any counters to your website that you want, both serious and silly. Your visitors can see important stats about your business, like how many sales you've made, products you've created, clients you have, newsletter subscribers are signed up, cups of coffee you've consumed, etc. The fun stat(s) will communicate that you run a lighthearted and/or modern brand, but the real stats will instill a bit of FOMO and get potential customers to act.
Key Features of Counter Number
Customize each entry's icon, title, and number.
Choose the font family and size, as well as colors.
Easy drag-and-drop builder.
Counter Number is for you if…
Your stats are impressive enough to encourage visitors to take the next step.
You like to keep track of (and show off) your business' successes.
Counter Number Pricing: Free; Pro is $12 | Learn More About Counter Number
Check out more fun and weird WordPress plugins here.
Other Free Plugins and Tools for Business Websites
There are a lot of other great free plugins out there for Business websites we've featured on our blog. Here are some other important plugins and tools to check out:
SEO Plugins – Every business website needs a good SEO plugin. And there are some great free options that offer crucial SEO tools with their free versions including Rank Math and Yoast SEO.
Free SEO Tools – In addition to a good SEO plugin, businesses can take their SEO to the next level with some free options.
Events Calendar Plugins – Events calendar plugins are important for running, promoting, and managing events.
Testimonial Plugins – This list of testimonial plugins will give businesses a free option for showcasing testimonials in style.
Free WooCommerce Plugins – For WooCommerce stores, these free plugins give you additional WooCommerce features and functionality without the extra cost.
Lead Generation Platforms and Apps – Lead generation is crucial to any growing business. These options include free tools out of the box.
Final Thoughts on the Best Free WordPress Plugins for Business Websites
If you are just getting started, small businesses might benefit from a no-code solution by building a business website with Divi which has a lot of built-in features already. But for those looking to expand their existing business website with additional functionality, the free plugins covered in this article are a great start. Our best advice is to pick and choose the plugins you need based on what you're missing, not what's out there. You could end up adding bloat with plugins and features you don't actually have a use for. WordPress can do a lot out of the box, so make sure you're only installing plugins that will add to your experience or the user experience. And whenever possible, choose plugins that roll multiple features you want into one solution.
Do you have a business plugin that you can't live without? Tell us about it in the comments!