Lead generation is your doorway to earning more money. Without a regular (and, hopefully, increasing) flow of customers, your business won't survive.
There's a lot of competition out there, though — a lot. And to stand up to it, you have to (1) know where to find a potential customer, (2) know what to say to them when you do find them and (3) fine-tune your message so it's different from what other brands are saying.
That's a lot on your plate. Luckily, with free lead generation platforms and apps that are geared toward beginners — and many with upgrade options for when your business grows — you can get the help you need when your budget's still low.
Remember that lead generation is twofold: it refers to both attracting and converting leads. These free lead generation tools will help with one or the other goal — or sometimes both.
FindThatLead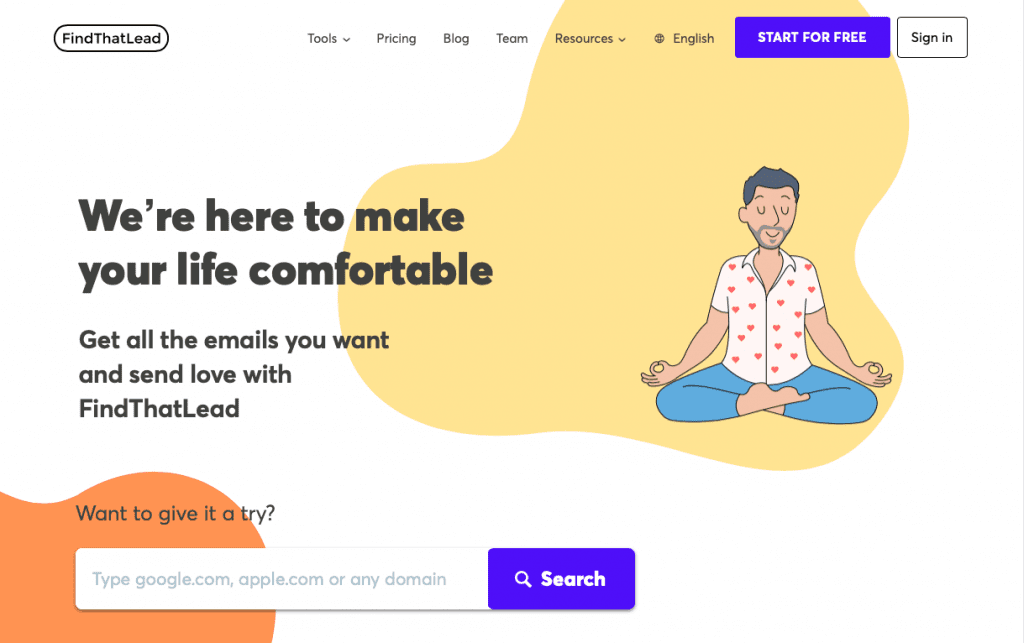 Best for: Finding contact information for employees of a certain company.
If you have a B2B business, you may want to directly contact professionals at other companies. FindThatLead lets you enter a URL address, then shows you contact information (name, email address and title) for people at that company.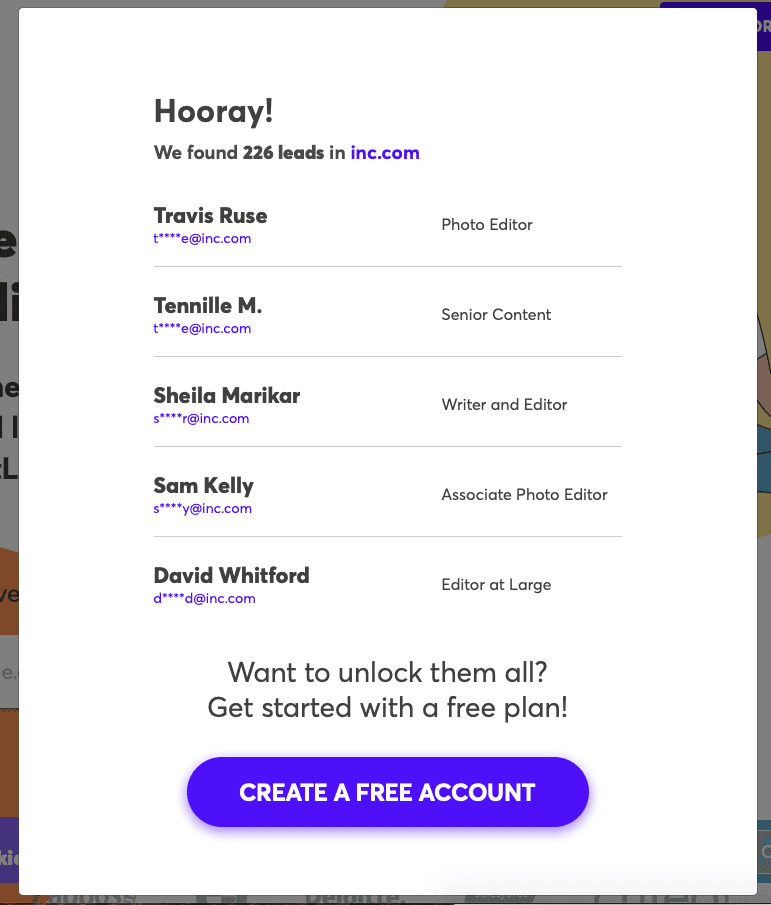 To unlock all the information that FindThatLead has, create a free account. You can also find email addresses by entering social media profile information, and you can verify email addresses so you don't waste time sending emails that won't be delivered.
You can start using FindThatLead for free, and while it's not completely clear what the freebie's limitations are, the website does say that you can test (almost) all of its features at no cost. We suggest playing around with it to see if it gives you the info you want, and then upgrade if you feel it's worth it — plans start at $49 per month.
Boomerang
Best for: When you want to set and forget the direct emails you write.
Boomerang is a super-simple Gmail add-on (that you don't need to be a Chrome user for — great news for us Safari devotees) that lets you write emails and then schedule them to send later. If some or all of your lead generation is homegrown — i.e., not fully-automated through something like MailChimp — this is a great tool for going on a writing-emails sprint all at once and then having them send whenever you schedule them to. You can also set reminders, which means Boomerang will tell you when you haven't heard back from a contact. From there, you can decide if you want to reach out again.
You can use Boomerang for free with limitations, but for $4.99 per month for the Personal plan, even the most budget-conscious user can afford to upgrade. You won't have a limit on message credits, and you can add notes to your messages so that you understand the context even if it's scheduled to return to your inbox three months from now. (Another feature of Boomerang is that you can schedule emails to clear out now and come back later.) If you end up using Boomerang a lot, there are two more paid plans that come with even more features, like scheduling recurring messages.
Now, it's important to note that Boomerang probably isn't a good fit for big businesses that have to juggle hundreds or thousands of contacts. But if you run a small business and like to provide a lot of personalized, one-on-one service, Boomerang balances direct contact with useful automation.
Hello Bar

Best for: Brands that want a bold way for visitors to convert.
We love how Hello Bar's homepage pop-up shows instead of just tells. Without even having to click or scroll, you see an example of what Hello Bar can do for your business. And if you want a bolder, more in-your-face way of getting visitors to take the next step, you'll think, "How can I get that on my website right now?"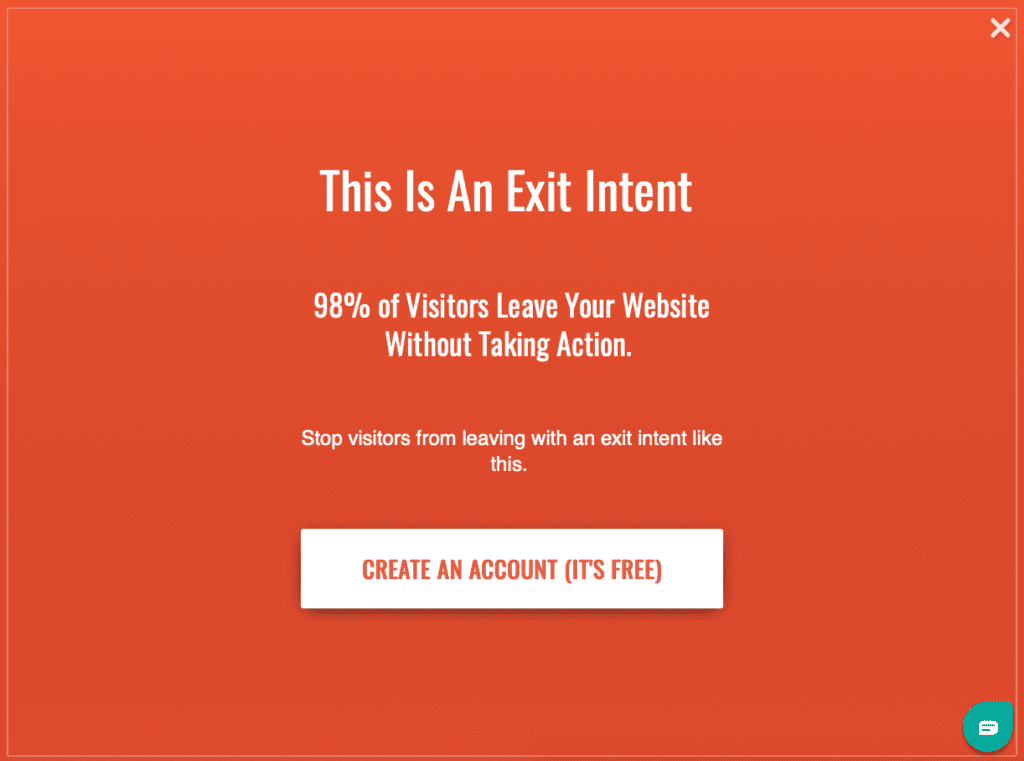 The good news is that it's a cinch to get on your site – you don't need any developer knowhow to get an eye-catching pop-up created and displayed (I threw one up on my site within about an hour of discovering Hello Bar). Branding options are limited if you don't pay for an account, but if you're not too concerned with their logo showing up on your website, you may not care.
You'll choose your pop-up based on your goal, whether that's growing your email list, getting more phone calls or making sales (you can also target a specific URL, make an announcement or send people to your social profiles). When you grow out of the free plan (because you have more views, want to add more pop-ups or targeting options, or feel like opening up extra design features), you can start with the Growth plan for $29 per month.
HubSpot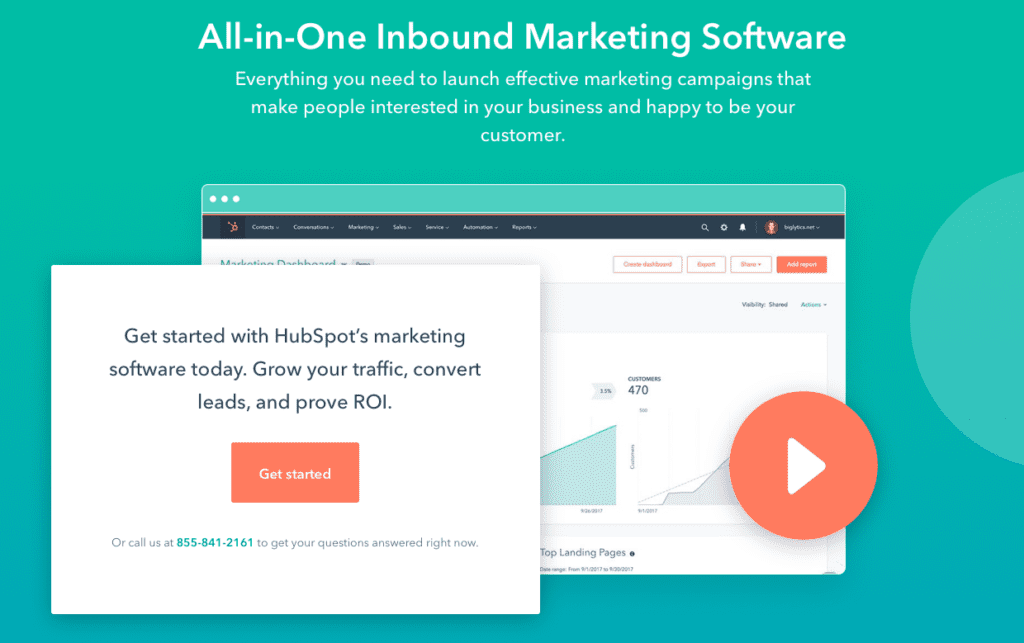 Best for: Creating landing pages that convert visitors into customers.
HubSpot has a ton of business tools for everything from CRM to sales, but for our purposes, we're going to talk specifically about their marketing hub. You can:
Create drip campaigns to send leads on the path to purchase
Launch landing pages (without the help of a designer or developer)
Attach forms to gather information
Chat with website visitors in real-time using their live chat feature (many consider Hubspot to be one of the best chat plugins for this feature alone)
Perform A/B testing to discover which methods will increase conversions the best
Let's talk a little more about the landing pages since they're the true conversion tools. Once a prospect is on your landing page, you can encourage them to opt-in to a free trial, demo, email list, webinar, etc. Enrich landing pages with features like embedded videos and personalized CTAs (which are based on the details you add about the contact in your CRM, like the industry they're in).
To create landing pages, you'll need HubSpot's Starter plan for $50 per month ($40 if you pay for one year upfront). However, you can start using some of HubSpot's free tools right now to see if you like the CRM. No-cost features include contact management, list segmentation, email marketing, and others that will most certainly help with free lead generation.
And.co
Best for: Freelancers who have to prove their worth.
Any freelancer knows that there's a big hurdle between discussing a project and actually having a potential client take the next step, like signing a contract, paying a deposit or even just saying, "Yup, let's do it!" Having a professional and thorough proposal shows that's you're a trustworthy expert, and laying out all of the details removes a barrier to entry that far too many clients never make it through.
You may write each proposal from scratch or plan to design your own letterhead and template at some point, but And.co provides an easy-to-use alternative. Create a proposal, add your branding, flesh out project details and accept a contract. There's a lot more, too:
Accept e-signatures for contracts and proposals.
Process deposits or full payments (the ultimate lead generation goal).
Set milestones so everyone knows what to expect.
Set up smart alerts so you know when the client views or takes action on the proposal.
Schedule auto-reminders to clients to nudge them to approve the proposal.
The free plan lets you create proposals for one client, includes the company's branding and supplies standard contracts. If you like how it works and feel like you'll use And.co a lot, upgrade to a Pro account for $18 per month — which is a bargain, considering all of the admin it streamlines for you.
Loom

Best for: Brands with products or services that are best expressed through video.
In the above entry, I mentioned barriers to entry — the things that stop potential clients in their tracks and prevent them from ever converting. If the barrier to entry you struggle with isn't proposal-related, consider a different approach. Loom lets you record your screen and your webcam simultaneously.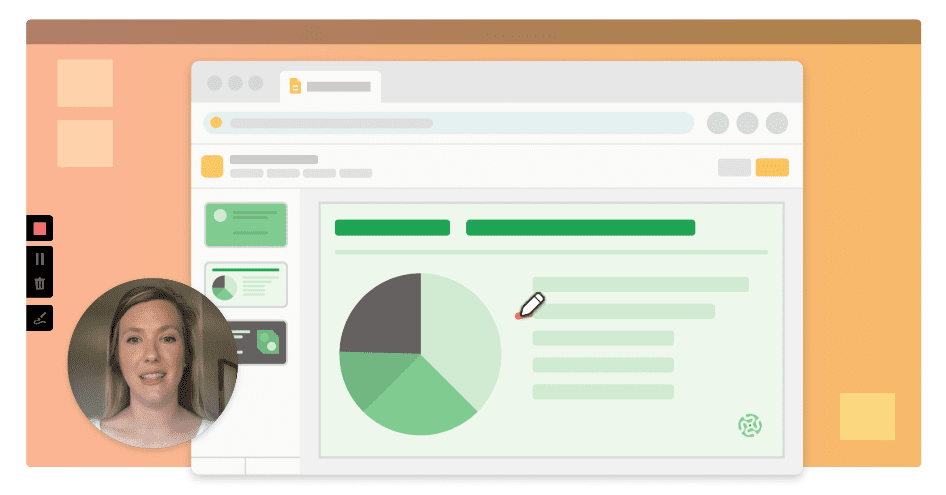 Why is this important? Let's say you sell video editing software that has a bit of a learning curve, and some potential customers never actually purchase it because they're afraid they'll never learn how to use it. You can create a Loom video that walks the user through a simple editing process while also talking to them — which is much more compelling than just watching a computer screen the whole time.
Loom is crazy-affordable, too. There's a Basic free account that lets you create up to 25 videos. You can upgrade to the Pro account for individuals, which costs just $8 per month — that one comes with unlimited videos, a drawing tool, CTAs and the ability to set custom dimensions when recording. And if you have a team of people who will be creating videos, the cost is still pretty affordable at $12 per month per creator (it includes engagement insights, too, plus a few other extra features).
Final Thoughts About Free Lead Generation
You can easily search for free lead generation tools and stumble upon lists boasting 30, 40, 50 or more tools you "have to try" — but don't let your FOMO get the best of you. There are great free tools out there, but it takes a lot for a zero-cost tool to work well and deliver results, so only some companies can actually pull it off.
Click through most of those suggestions on those lists — so many of them don't function correctly, have terrible reviews, live on low-quality websites or just create more work by offering another app for something you can already do with what you have. You also want a free tool that can become a paid tool should you need it to grow with you.
We also feel that lead generation shouldn't be as passive as some tools would have you think. Yes, it's a wonderful perk to automate a good deal of your to-do list, but some aspects of lead generation — like writing copy for a landing page, putting together an irresistible proposal or providing a highly-valuable walkthrough that will make a customer say, "Where do I sign up?" — should be humanized. The best free lead generation tools leave enough room for you to be the creative, distinctive and real brains behind the brand.
Learn more about lead generation with our easy-to-understand guide and three effective tactics.
Featured Image via Sammby / shutterstock.com