A hello bar is a great alternative to using a pop-up, an option that is unpopular with so many. Hello bars are less obtrusive, yet are constantly on display. This means you can present a specific message to your visitors, without distracting them from your regular content.
In this article, we will discuss the benefits of using a hello bar, or notification bar as they are also known. We are then going to consider some top tips for creating a hello bar and analyze some popular and reputable plugins that will cover how to add a hello bar to your WordPress Website.
Why You Should Be Using a Hello Bar
The main aim of a hello bar is to improve your website's conversion rates. Therefore, a hello bar should contain a clear message, prompting your audience to complete a particular action of your choosing. This could be to make a sale, opt into a service, enter their email address, or engage with you on social media.
Hello bars can also be used to share information, news, or announcements with your audience. However, using this feature for general chat is a wasted opportunity. If you want to see results, make your hello bar count.
Drive Traffic to a Landing Page

Hello bars can be particularly successful at sending traffic to a URL of your choice. More often than not this will be a landing page, although it could be another important page, like a contact page or popular blog post.
If you're promoting an eBook, product or service, advertising a free trial, or offering a discount, then display this news on a hello bar. Add a call to action button linking to a landing page encouraging your audience to complete the specific action you are targeting.
Increase Lead Generation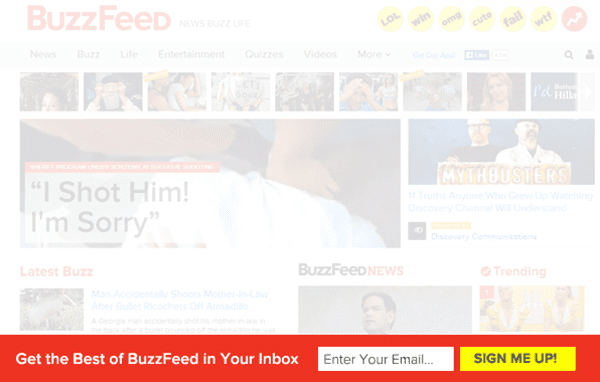 If your goal is to grow your mailing list then use your hello bar to encourage visitors to join your email list. Add a subscribe button, and if you have a lead magnet, promote it here to increase sign ups.
You can also display your contact information in a hello bar. Help draw attention to your email address, telephone number, or link to a contact page. Giving this information a prominent position on your site will remind your audience to pick up the phone or send a message.

Hello bars are a great way to grow your social media following. Try using your hello bar to ask for a follow, share, like, tweet, or pin. Alternatively, simply link to your social media profiles. You could also try combining this tactic with a social media competition or giveaway to increase conversions.
Top Tips for Creating a Hello Bar
Producing a hello bar isn't rocket science. However, if you want it to be successful there are few top tips you should consider before, and during, creation.
Keep Your Objective in Mind
As already discussed, the objective of your hello bar should be linked to one of your site's goals. If you want to generate leads, ask for emails. If you want to grow your Facebook following, point your audience to your Facebook page. As a rule, use a hello bar as you would a pop-up.
Consider the Design
It is important that your hello bar catches the attention of your audience. Use bright colors, but ones that still compliment with your branding. You want the hello bar to create interest but not to totally distract from the rest of the site's content.
Equally, the copy used should be concise and to the point. Tell your audience what you want them to do, and point them in the right direction with a call to action button.
Always Split Test
Always split test a hello bar. Try different variations of the bar color, the size of the button, and especially the text. This will help you to understand what appeals to your visitors and what they respond to. Track the results of each hello bar and then select options accordingly.
How to Add a Hello Bar to Your WordPress Website
There are numerous WordPress plugins you can use to set up a hello bar on your website. Whether you're looking for features and functionalities, attractive designs, or ease of use, there should be a solution for you. Here is our pick of the bunch, based on features, ease of use, reputation, and popularity.
OptinMonster

OptinMonster has created a 'floating bar', as one of the many lead generation options they offer. Floating bars attach to either the top or bottom of the browser window and scroll along with the page. Primarily designed to increase email subscriptions, the OptinMonster hello bars can be integrated with all major marketing service providers including MailChimp, AWeber and many more.
OptinMonster provides multiple trigger options based on a visitors behavior. Set a floating bar to appear according to a user's location on the page or time spent on your site. This personalized interaction can help target the right people at the right time and greatly increase conversions.
An easy to use split testing tool is also offered by OptinMonster. Simply click on the split testing button then use the form builder to make changes to your original floating bar. Track the analytics to learn which floating bar appeals to your audience and is more effective.
OptinMonster is a powerful tool for making a real difference to conversions. With the option of split testing and in-depth analytics, you will be able to create a hello bar that adds real value to your site.
Price: from $19 a month
SumoMe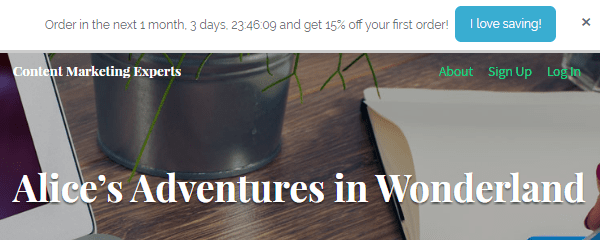 SumoMe's free 'smart bar' sits at the top of your website reminding your audience to take action. The smart bar design is professional and stylish, as well as 100% mobile responsive. The smart bar is part of SumoMe's suite of apps, which can be quickly installed and involves minimal setup.
The smart bar app has various customization options available to help you create a hello bar that will suit your site's needs. Write your own message, and select a call to action or social media button, to reflect your hello bar's objective. Change the color of the background and button, as well as alter the style of text, to work with your site's branding. Additional extras like adding a timer or an opt-in disclaimer are also possible.
To access SumoMe's advanced features, you will need to upgrade to the Pro package. Select from one of their 15 custom designed templates. Tailor smart bars to be displayed on certain pages, or to a particular audience. And set up split testing so you can test copy, templates, buttons and behavior.
SumoMe offers an impressive service, whether you opt for the free or premium version. If you are looking for a beautiful and effective hello bar, with the option of adding further features, then this is the plugin for you.
Price: from free / $29 a month
Hello Bar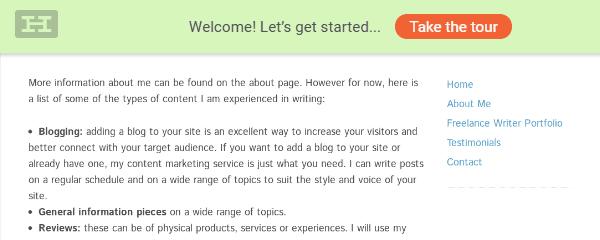 The hello bar, from Hello Bar, floats on the top or bottom of any page you enable it for. Use it to promote a link, collect emails, display your phone number, show social media share buttons, or make an announcement.
Designed for desktop, tablet, and mobile, Hello Bar is extremely quick to set up with an attractive style. The simple interface and visual editor make it easy to alter colors, fonts, and even textures. You can also add the appropriate call to action buttons and change the size and positioning of the bar.
All the features mentioned above are free to use. However, if you want further in-depth functionalities you will need to upgrade to the Pro Plan. This will include unlimited, targeted hello bars, as well as the ability to remove the Hello Bar branding, and lots more.
Price: from free/ $12 a month
WPFront Notification Bar

WPFront Notification Bar is a free WordPress plugin that enables you to add a hello bar to your website. Offering a range of options, you can select to display your hello bar at the top or bottom of your website, add a close button, and select specific pages or posts you want the hello bar displayed on.
The appearance of the hello bar is also easy to customize. Write your own text, add a call to action button, change the colors, and choose your preferred height for the bar. WPFront Notification is a good option for those on a budget, or who are just starting out in the world of hello bars.
Price: free
Final Thoughts
All of the solutions mentioned are great options for creating and managing a hello bar on your WordPress website. Once up and running, try comparing different variations of your bars, and monitor your results. Analyze how successful each hello bar is at increasing conversions. Then make the necessary adjustments to produce a truly effective hello bar.
How are you going to use hello bars on  your WordPress website? Please share your thoughts in the comments below.