As the most popular content management system (CMS) in the world WordPress is likely to be the first platform that many look to when considering a website. Whether the site is for them as an individual, business, non-profit or something else entirely, the WordPress community has most likely figured out a way to service all of their needs affordably and in a way that they understand (and can maintain independently)–even for brand new users. Which is a big deal! However, there is one consideration that may not be apparent to that same group of new users looking for a website, but which probably should. That consideration?
Do I really need a full website or will a single page website serve me better?
Oftentimes getting a new website and seeing all that is possible with WordPress brings to mind the old saying: it's like being a kid in a candy store. There are so many theme options, plugins to extend site features/capabilities, and WordPress itself is becoming ever more powerful as a platform in general that just about anything is possible. It can go to your head. One second you're thinking, "Hey, I'm a local business that gets asked just about every day what my hours are. I should create a website that people can visit to see our location, hour of operations and other basic info." And then after an hour or two of looking at what is possible with WordPress you're modeling your site off of some insanely complex multi-national business while concepting a full digital magazine based on your niche. It's exciting, but it's most likely overkill.
Instead, I'd like to suggest that for most people (especially those who do not plan on maintaining a blog) that a single page website will not only cover all your practical bases–but it'll convert better too. To make my case, I've included a full list of benefits below.
The Benefits of a Single Page WordPress Website

When creating a website it is easy to get caught up in what is possible instead of focusing on what is necessary. What is your objective? What is the one action you would like someone to take when they land on your website? Is it to buy something? Book an appointment? Read an article? Whatever that thing is, your entire design should be focused on eliciting that response. Everything else, for all practical purposes, is a distraction. So how can a single page website help you accomplish your design objective? Let me count the ways…
1. It Uses Storytelling to Inspire Action. Just like in comic books, where a grid pattern of illustrated panels is used to propel the momentum of a narrative, a single web page using interactive elements in a grid layout is perfect for propelling the interest of your site visitors towards the objective you've identified.
2. Single Page Constraints Force You to Simplify Your Message. There is only so much room on a single page website. This reality forces you to consider what information is necessary and what is not. Just because you can do or show something doesn't necessarily mean you should. Keeping everything to one page forces you to keep this in mind, which means you will most likely become a more effective communicator.
3. Scrolling is Intuitive. When on a website one of the single most intuitive behaviors is scrolling. It's not an accident that Tumblr. Twitter, Facebook, Pinterest and more all use something called "infinite scroll" to keep you on their platforms. It just makes sense. You scroll down, there's more, so you scroll down some more. As I'll explain in my next point, this process is easy to take advantage of.
4. Single Pages Convert. On a single page website there is only one way to go, and that is down. By carefully crafting the sequencing of your page elements and limiting the number of links or clickable objects, you can more easily guide visitors towards the exact action that you want them to take. This is why single page websites and/or what is commonly called a landing page convert so well.
5. There is Less to Manage. Many people shy away from getting a website altogether because they don't want the hassle of having to maintain it or pay the expense of hiring someone else to do the same. With a single page website there is less information to update and only one page to build/maintain. You can more or less leave it be once you've got it the way you like it. Just so long as you check in often enough to update your WordPress core, themes and plugins of course.
So you're sold. You clearly see the difference a one page website can make for the right project and your project is looking more and more like a perfect fit. So…what now?
Now, we look at some options.
Convertible: a Single Page WordPress Website Solution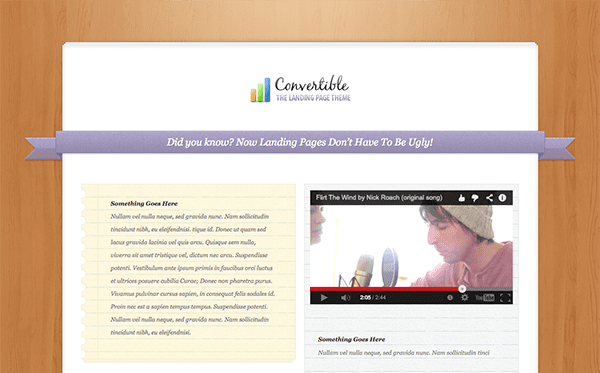 Convertible is a landing page theme Elegant Themes created to provide a beautiful solution for single page websites–that convert! It comes with a simple to use drag and drop builder that allows you to use the storytelling power I mentioned above by creating and then arranging various page elements into the perfect order.
Features Include:
Unlimited Colors
Buttons
List Styles
Image Slider
Ribbon Headers
Large Quotes
Testimonials
Paper Callouts
Video Embedding
Toggle Content
Tabbed Content
Content Sliders
Box Styles
Lightbox Images
To see the full range of what is possible with Convertible, feel free to head on over to its details page. But first, you should probably stick around to check out our next option. It's kind of amazing.
Divi: the Ultimate Single Page WordPress Solution?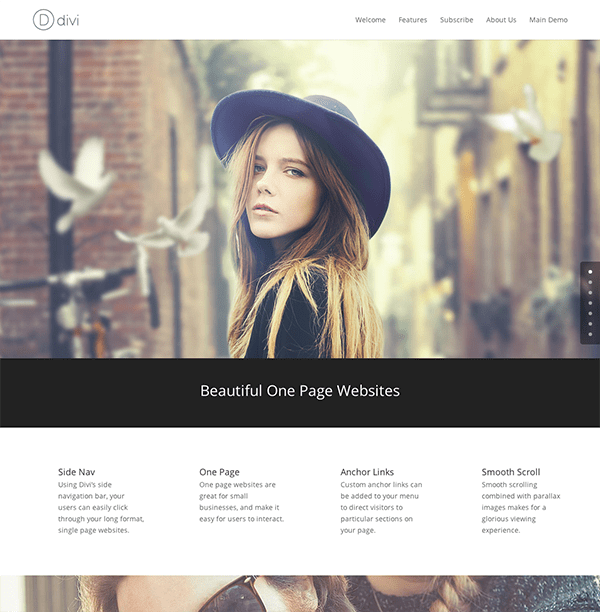 Divi is one of those rare WordPress themes that sort of boggles the mind. In a good way. It is so smartly designed and beautiful in appearance that it, more than any other theme available, lives up to the name Elegant Themes. And no, that is not hyperbole. It's true.
Divi does everything. And it does so using a simple backend drag-and-drop interface that anyone can learn to use, which makes it an incredibly empowering tool. Personally, I've begun using it for every new WordPress project I take on.
Want a large site with lots of optimized pages? Done. Want full-width video backgrounds, section backgrounds, beautiful calls to action, parallax, embedded galleries, videos and more? Done, done, and done. And all in just a few clicks, no coding required. It's the same story for single page websites using Divi.
By using Divi's drag-and-drop page builder all you have to do to create a single page website is add a new page, go to load layout, and select any of the pre-made page templates you see as a starting point for your own customizations. There is a pre-made layout for corporations, landing pages, sales pages, etc. Once you have the basic layout in place, you can make personalized modifications that best present your message, tell your story, and meets your objectives.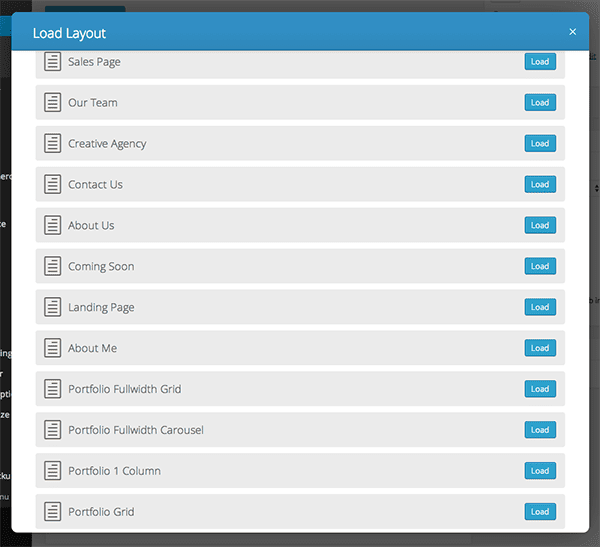 A good tutorial to brush up on during that process would be one we published recently called How to Design for Conversion Using the Divi Theme. And of course you will probably also want to poke around the Divi demo to see all of the pre-made layouts in action.
In Conclusion
A single page website is much more than a design fad or gimmick. It's a smart design decision that comes with a lot of benefits when used for the right project. A few things to keep in mind when creating your own single page WordPress website are: A well crafted single page WordPress website tells a story, it has a simple but effective message, it takes advantage of the intuitiveness of scrolling, it's optimized for conversion, and it gives you more time to run your business as opposed to working on your 5,000 page website.
At Elegant Themes there are two beautiful options for creating a single page website that are available to every member: Convertible and Divi. With these two tools at your disposal anyone from a complete novice to a seasoned WordPress professional can make a single page website to be proud of.