Running a business – whether it's an entirely online enterprise or a brick-and-mortar store with a supplementary e-commerce site – requires the maintenance of numerous tasks. It would quickly become overwhelming to try and manage all of these responsibilities manually, which is why you might want to automate some of them with a tool such as Microsoft Flow.
In this article, we'll take a look at this platform and what it can do for your business in terms of automating online processes. We'll also discuss its pricing options, and how it compares to similar solutions.
Let's get to it!
What Is Microsoft Flow?
Put simply, Microsoft Flow (now Microsoft Power Automate) is a digital workflow automation platform. It uses Artificial Intelligence (AI) and Robotic Process Automation (RPA) to boost productivity and streamline the workflows you need to keep your business running smoothly.
Essentially, Microsoft Flow works based on a system of triggers and connectors that you can customize to meet your needs. A 'trigger' is a specific action that initiates the rest of your automated flow. 'Connectors' enable you to sync platforms that aren't compatible out of the box, such as your cloud storage solution and your email service provider.
Some Microsoft Flow connectors include:
To help you properly configure your triggers and flows, Microsoft Flow also provides a library of automation templates. You can use these to quickly set up tasks such as:
Sending customized notifications to yourself, so you don't forget to complete key tasks
Automatically saving form responses to your preferred storage platform
Sending pre-written emails at the click of a button
Creating tasks in your calendar or project management app based on flagged emails
Syncing files between multiple cloud storage solutions
If none of the templates suit your needs, you can also build your own custom flows. The possibilities are so extensive that we can't cover every use case here. However, it's pretty safe to say that most administrative tasks, as well as many marketing and sales communications, can be handled by Microsoft Flow with minimal effort required from you.
Microsoft Flow Free vs. Paid
The main pricing options for Microsoft Power Automate start at $15 per user per month. Costs increase if you want to add AI and RPA functionality. There's also a per flow plan that starts at $500 per month for five flows and unlimited users.
One of these plans is probably a wise investment if you plan to use Microsoft Flow extensively to run your business. There's a 90-day free trial if you want to test it out first. However, for solopreneurs and developers, there is a Microsoft Power Apps Community Plan that may be worth checking out:

This plan includes access to Microsoft Flow for free. You will need a work or student email to sign up – personal email addresses such as Gmail accounts will be rejected. Additionally, you'll be limited to 750 flow runs per month and 2GB of file storage.
The Community Plan is intended for those who want to build their skills developing apps and flows. These projects can then be distributed to other users. However, you'll also gain access to the Power Automate platform for your own use.
Alternatively, if you're a Microsoft 365 user, Power Automate may be included in your plan. This option only includes some of the available connectors, and limits you to 2,000 API requests per day. For those who already use Microsoft 365 to manage other parts of their business, this is probably the best solution.
Note that these plans are rather new – Microsoft changed its licensing options in October of 2019. You may see references online to a Microsoft Flow free plan for personal use, but that option is no longer available as of this writing.
Microsoft Flow vs. Zapier vs. IFTTT
Microsoft Flow is not the only automation platform on the market. IFTTT and Zapier are considered its two main competitors, so let's take a look at how they all stack up.
IFTTT is a simple automation platform that's easy to pick up: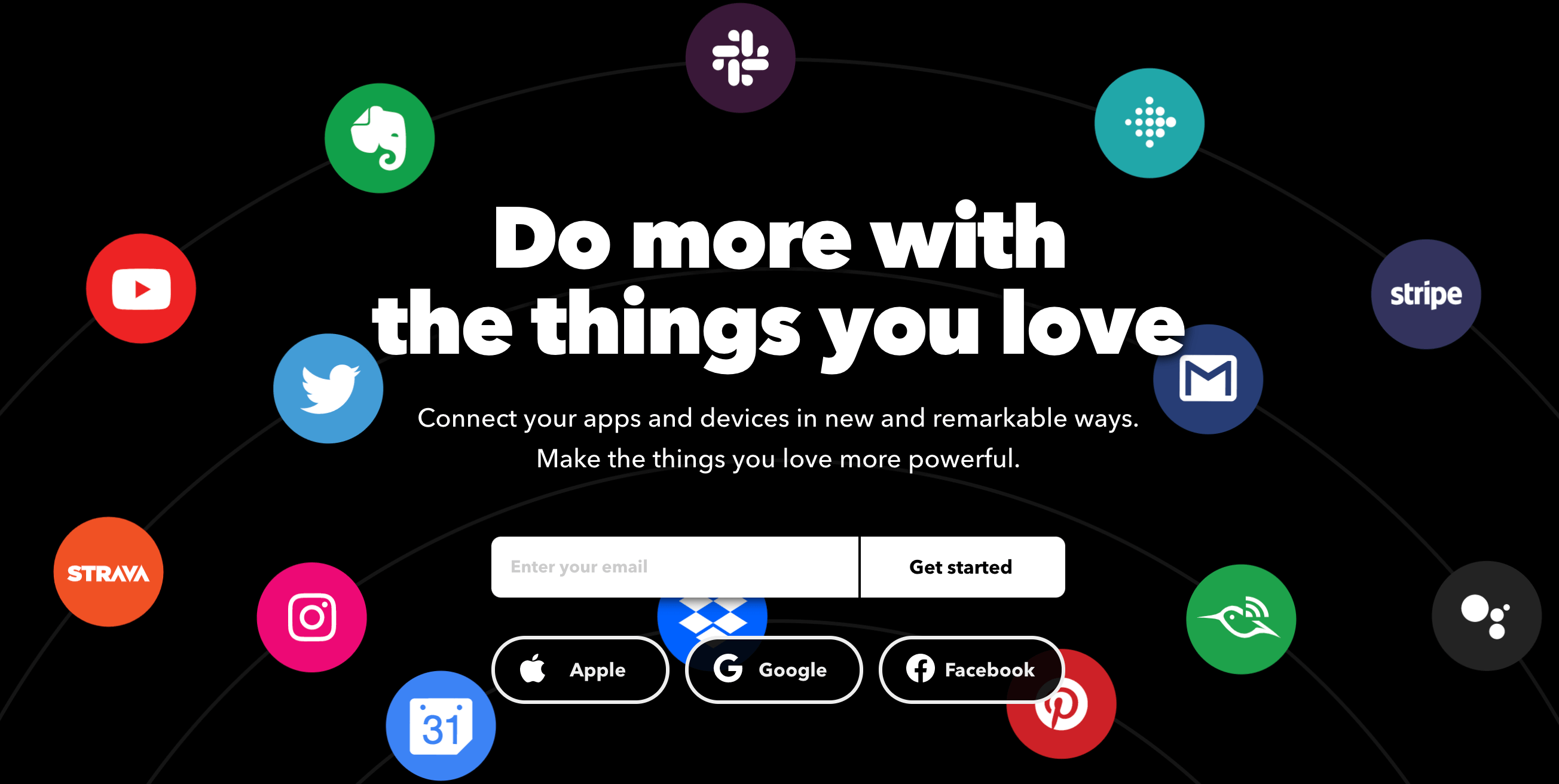 If you're new to automation, it should still be fairly simple to learn, but it's not able to complete complex tasks like Zapier or Microsoft Flow can. This tool only supports single action workflows, which may leave you still handling a lot of your responsibilities manually.
As a result, IFTTT is a popular solution for people wanting to incorporate automations into their homes. The platform works well with Internet of Things (IoT) devices for improving your living space, and setting reminders for personal tasks such as paying bills or taking out the trash. That's not to say it couldn't be used for business – but that's not where this tool shines.
On the other hand, Zapier does enable you to connect multiple platforms to build complex workflows, and has a huge library of connectors as well: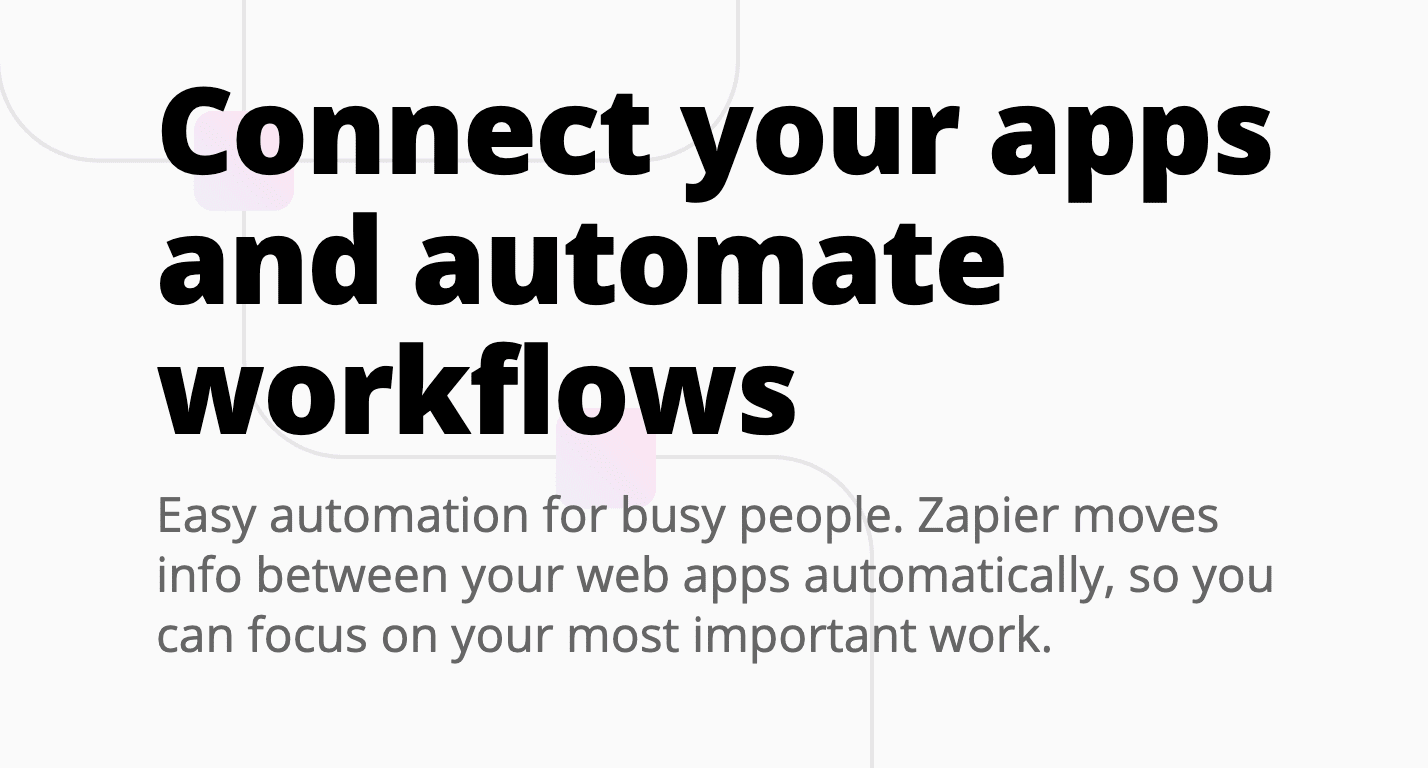 Its highly-optimized interface is designed to make it user friendly for beginners, despite its wealth of options. This platform is suitable for use in just about any business, and will likely boost your productivity significantly.
Additionally, Zapier integrates particularly well with G Suite products. If you're already using Google's platforms to manage key areas of your business, this may be the ideal automation platform for you.
When compared to IFTTT and Zapier, Microsoft Power Automate has the most to offer in terms of setting up advanced automations. However, some also consider it significantly more difficult to learn as a result. Naturally, it also provides the most seamless integration with Microsoft 365 products.
Pricing-wise, IFTTT and Zapier both offer fairly generous free plans. As we've already explained, Microsoft Flow free is no longer available except in the form of the Community Plan, which may not be suitable for some small business owners.
Conclusion
Choosing to automate some of your digital tasks can help streamline your business management responsibilities. Microsoft Flow is one solution you might want to consider, as it offers many automation flow options and connectors to integrate the platforms you already use to run your company.
In this article, we provided an overview of Microsoft Flow and what it has to offer. We also took a short tour of its new pricing options and compared it to its biggest competitors, Zapier and IFTTT. All in all, we think this is a quality solution for larger and tech-driven businesses looking to improve productivity, especially if you already use Microsoft 365.
Do you have any questions about Microsoft Flow? Leave them for us in the comments section below!
Image by Sammby / shutterstock.com