Having a strong online presence is one of the most important aspects of running a successful business. Whether you're starting a new blog, setting up an ecommerce website, or creating a portfolio to showcase your work, securing a good domain name is an absolute must. Understanding how to register a domain name serves as an important first step toward establishing your online presence. In this post, we will guide you through the entire process, explain what a domain name is, and offer insight into the ways you can register your new domain.
Let's dive in.
What is a Domain Name?
Also known as a uniform resource locator, or URL, a domain name is essentially your website's address. Without domain names, people would have to access your website through an IP address with a string of numbers, such as 12.364.23.354. Can you imagine how tedious it would be to navigate websites using that method? Thankfully, there's a better way: domain names. A domain name provides an easier way to navigate websites directly or through a search engine. A domain name helps your business be more memorable and easier to find and helps with search engine optimization (SEO).
How to Choose a Domain Name
When starting the process of choosing a domain name, there are a few things to consider. First, your domain should be related to your brand, website, or business name. Typing it should be easy, so avoiding overly long domain names is key. After all, you want your visitors to be able to easily type your domain into the browser directly, so keeping it short, catchy, and memorable is important.
Another consideration is to always opt for a top-level domain (TLD), such as .com. They are the most common, so most people consider them safe and reliable. Although there aren't any technical differences in TLDs, it's widely considered that .com will likely be more effective than a .net, .biz, or .org. In fact, according to w3Techs, .com domains make up nearly 48% of all domain names on the internet.
However, not having a .com TLD doesn't have to be a deal breaker. The most important thing is to find the right domain name for you. That means choosing a lesser-known TLD is okay if your desired domain isn't available as .com, and you're set on your choice.
Choosing a Registrar
Before registering your new domain, it's important to consider the best registrar for your business. Thankfully, several domain name registrars will fit the bill. But first, let's explain what a registrar is. Domain registrars are like an online store for domain names. You can buy, register, and point your domain to your hosting provider, where your website's files are located. That said, there are some hosting providers, such as SiteGround, where you can purchase your domain and hosting together. Generally speaking, we don't recommend doing this, as moving your domain could be difficult if you fall out of love with your hosting provider.
Check Domain Availability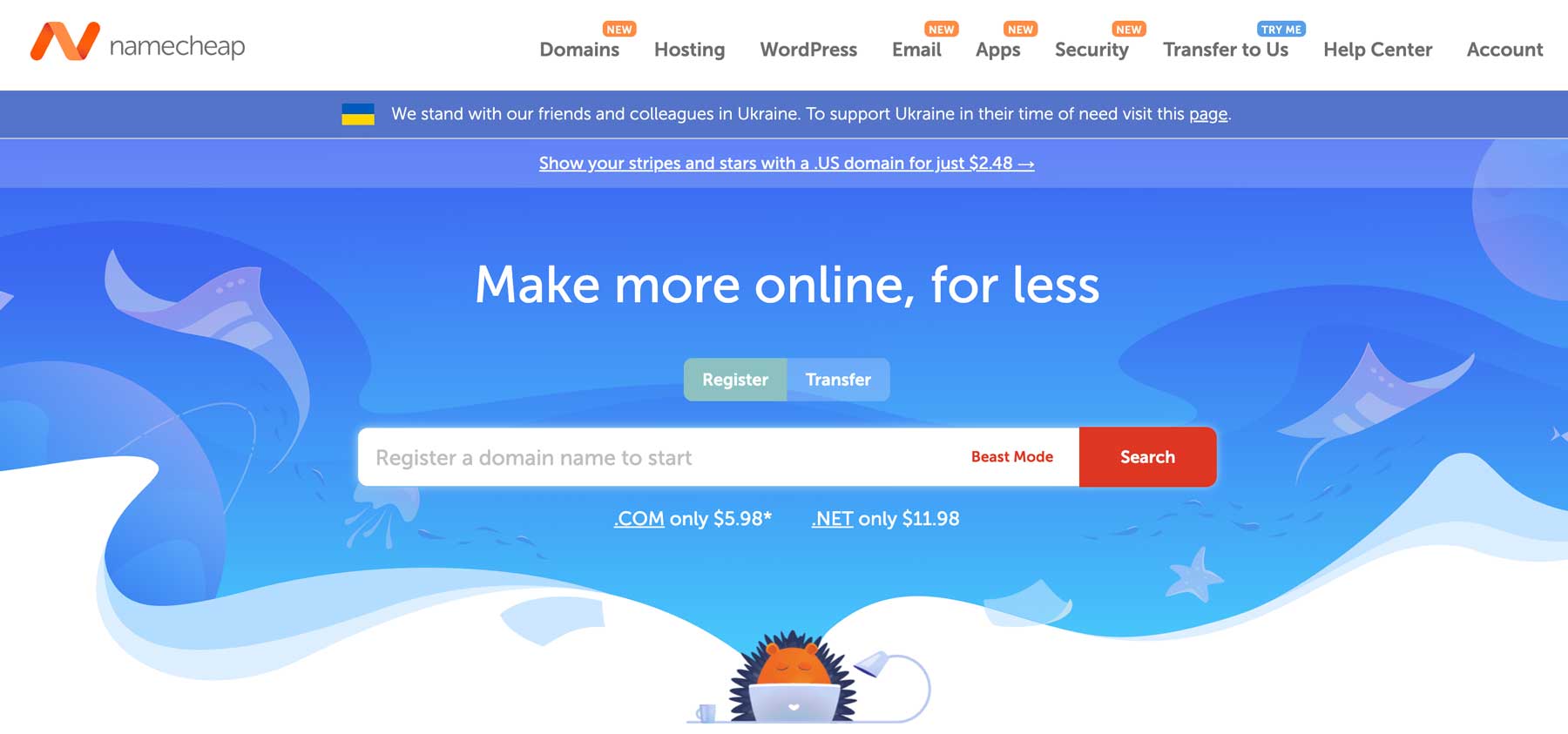 When brainstorming domain name ideas, checking for their availability is essential. All reputable domain registrars offer this capability, so it's typically easy to determine what is available. For example, Namecheap allows you to check for potential domain names without having to purchase anything upfront.
One thing to keep in mind is not to get frustrated if your first pick isn't available. With thousands of domain names being registered daily, it's not out of the realm of possibility to miss out on your favorite. That said, you can easily find variations of your initial pick, with most registrars offering similar options based on your initial search.
How to Register a Domain Name
There are nearly unlimited registrars, each capable of helping you find the perfect domain name. As previously mentioned, there are hosting providers that offer the same service. For this tutorial, we're going to cover an example of each. First, we'll walk you through securing a domain through one of the most popular hosting providers, SiteGround. Additionally, we'll show you how to register a new domain through a popular domain registrar, Namecheap.
How to Register a Domain Name Through SiteGround
SiteGround is one of the best managed hosting providers on the market. They are known for their excellent features, customer service, and value for the money. If you're in the market for a new provider to go along with your new domain name, SiteGround is the way to go. Setting up a new domain through SiteGround is fast, easy, and affordable. Let's walk you through the steps to purchase a new hosting plan and add a domain.
Step 1: Choose Your Hosting Plan
SiteGround offers three plans to get you started: StartUp, GrowBig, and GoGeek. If you're starting out, the StartUp plan is the most affordable option at $14.99 monthly, although SG typically offers up to 80% discounts. Start by selecting the StartUp plan.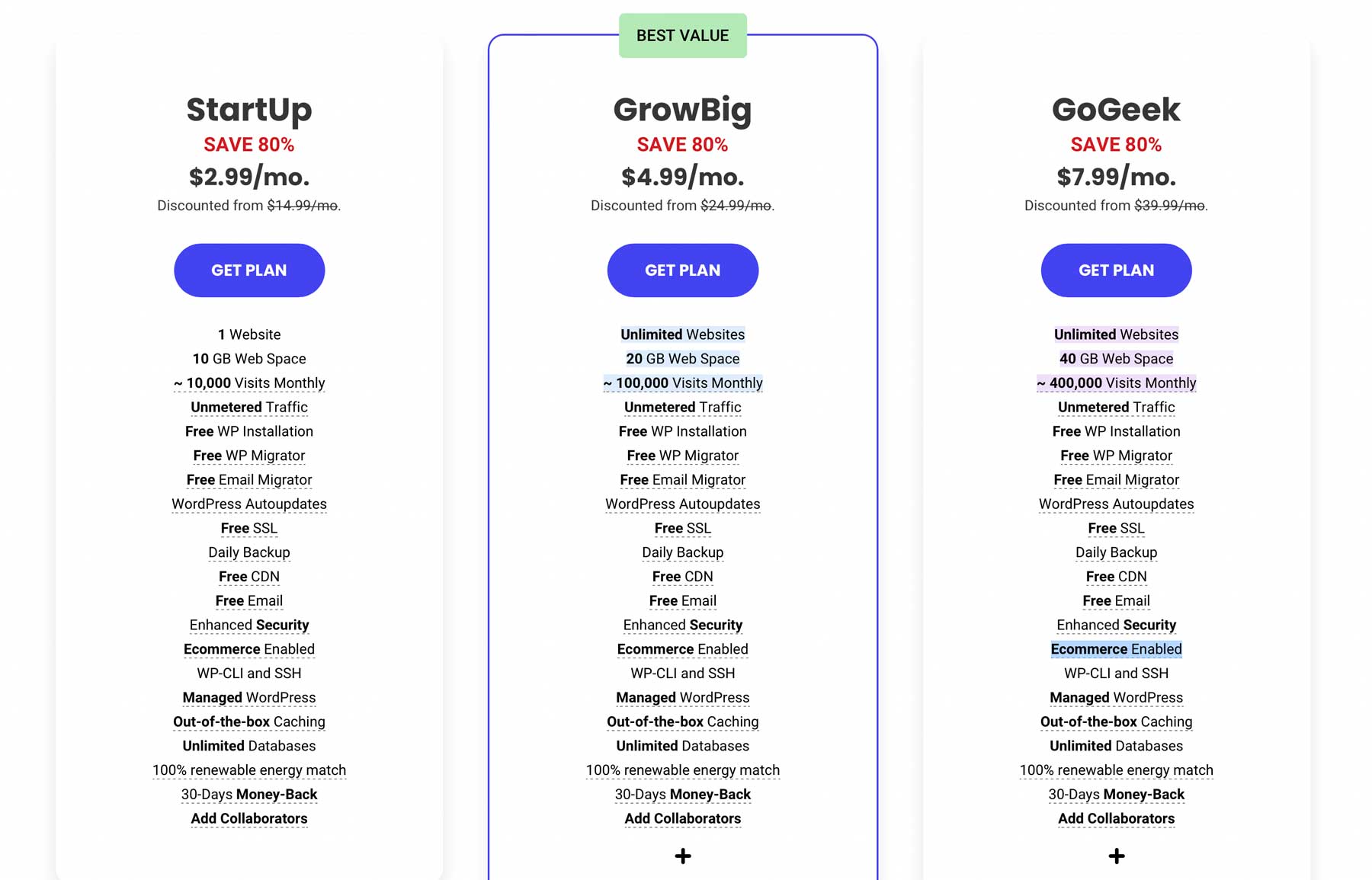 Step 2: Choose a Domain
When the screen refreshes, you'll be forwarded to the domain registration screen, where you can register a new domain or add an existing one. Select Register a new domain. Ensure the Domain Registration checkbox is selected.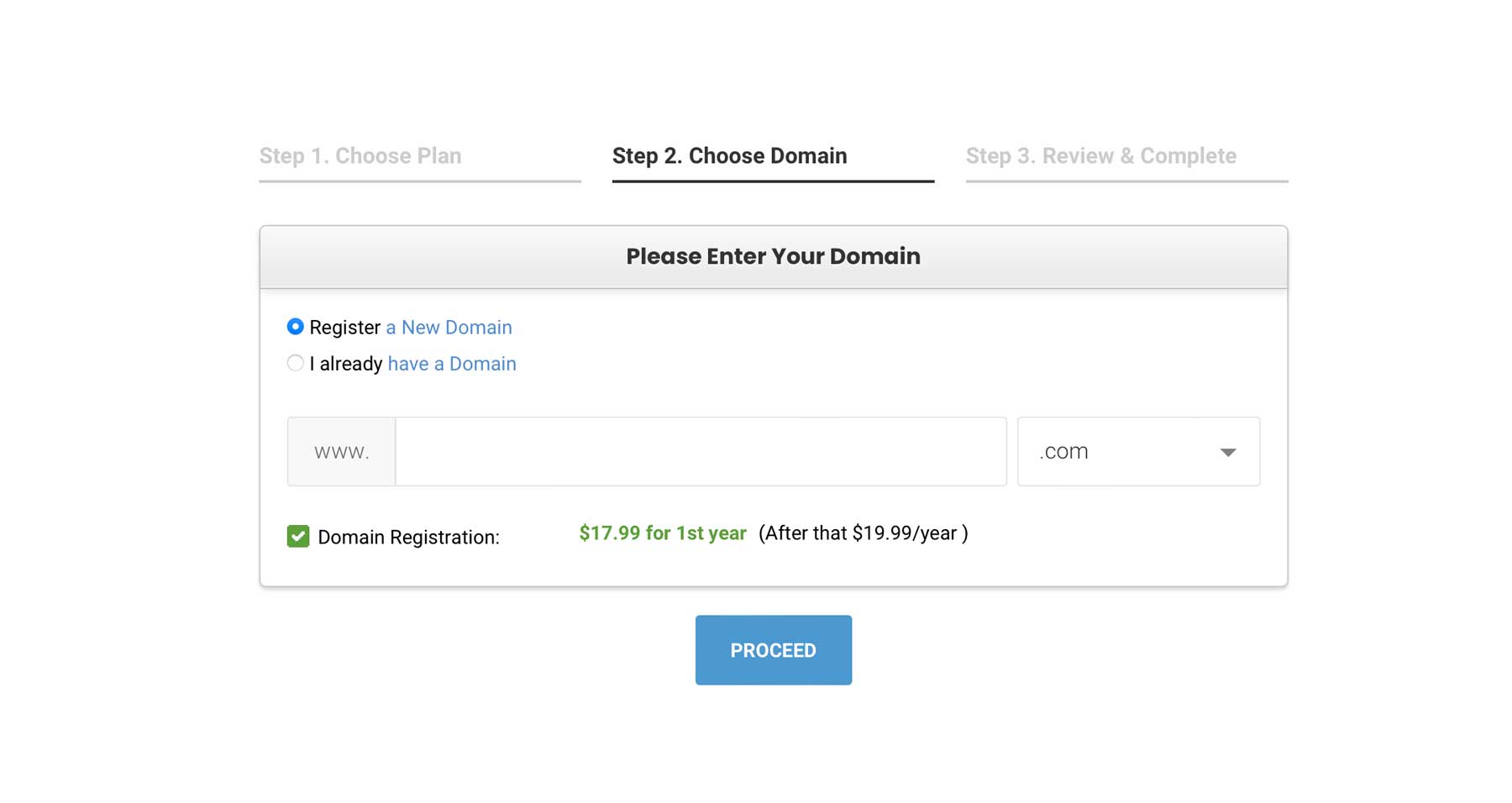 Step 3: Search for Domains
Type in your first choice for a new domain, then click proceed.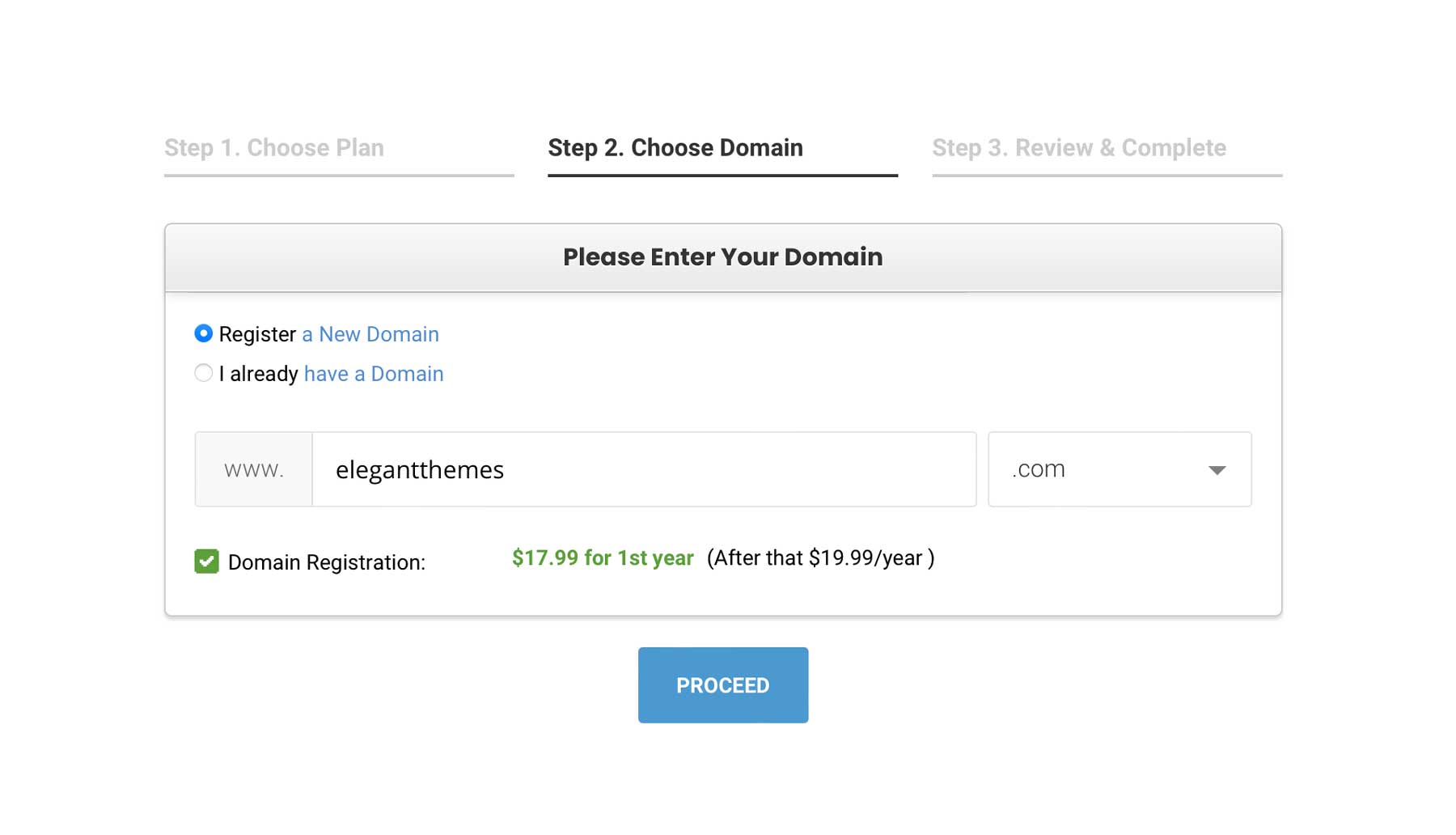 If your choice is available, you'll proceed to the next step in the process. If it's already taken, SiteGround will offer several alternative selections based on the original.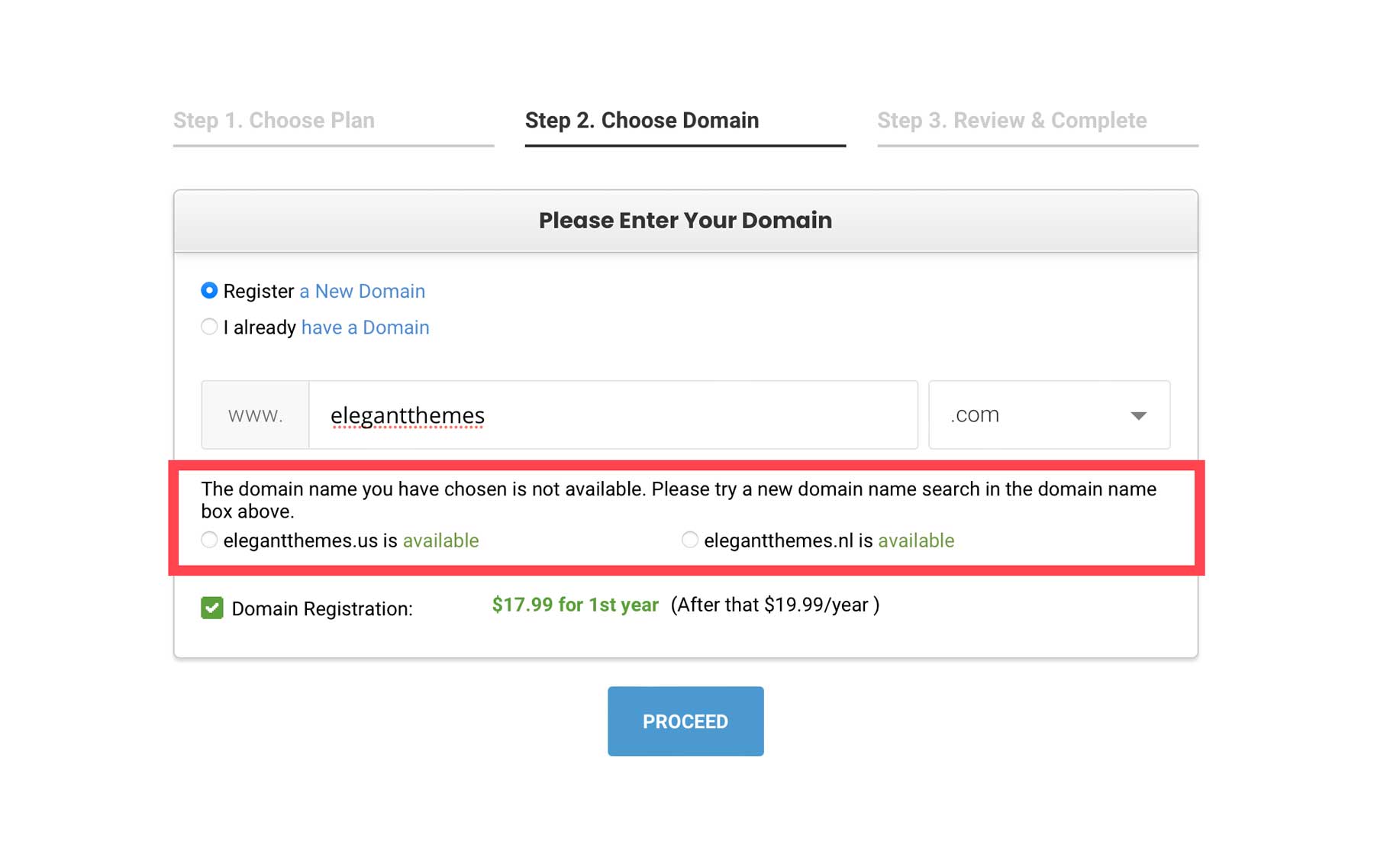 From that point, you can choose one of the suggested domain names or search for an alternate.
Step 4: Register Your Domain
The final step is to complete the registration process. You must complete the account and client information and input your payment method to secure your domain and hosting plan. Once the registration process is complete, your domain is secured, and you're ready to start building the website of your dreams.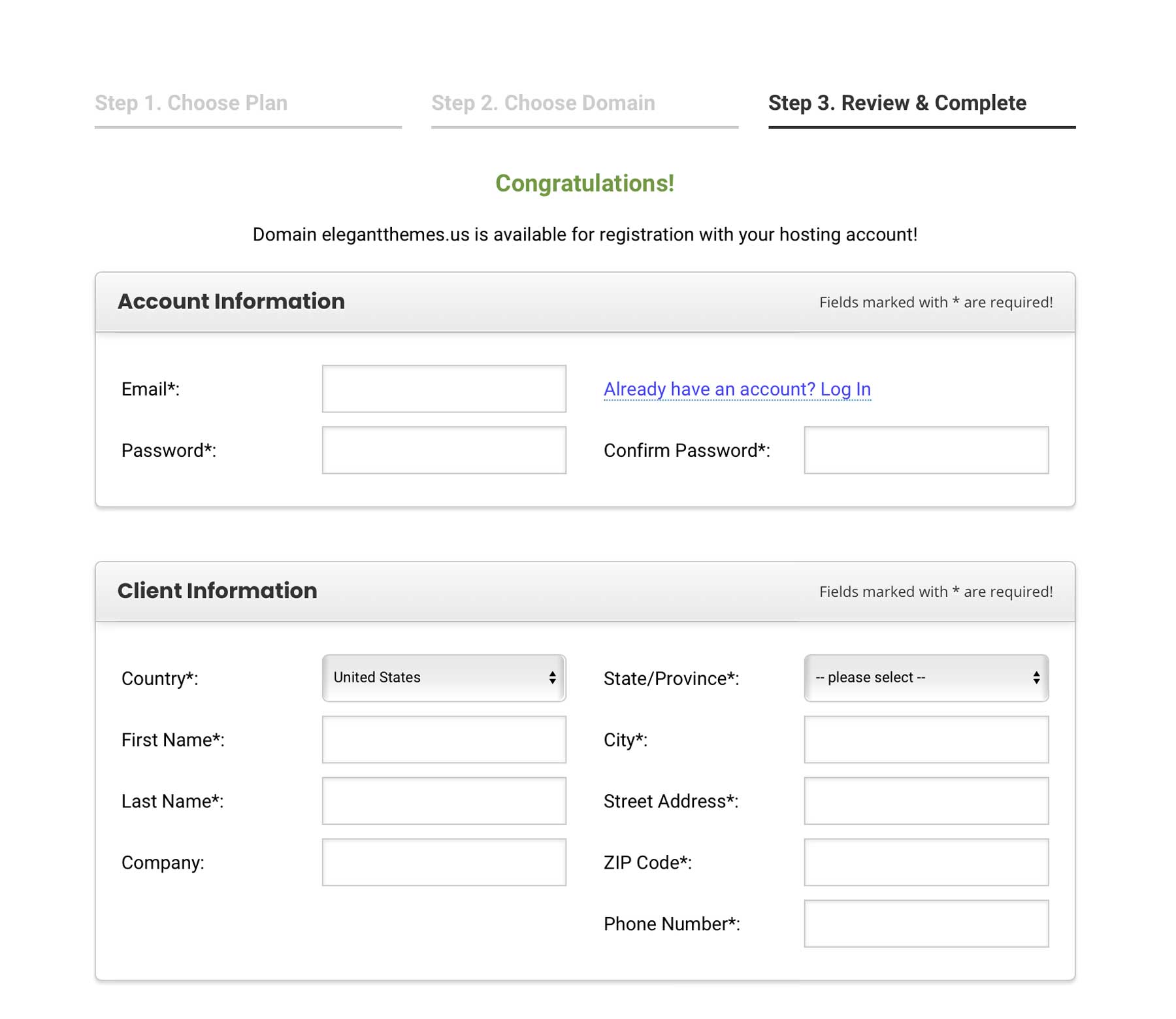 How to Register a Domain Name With a Domain Registrar
Namecheap is among the best domain registrars you can get. With affordable pricing, multiple options for TLDs, and a user-friendly interface, beginners and professional web gurus alike can register a new domain in minutes.
Step 1: Conduct a Domain Search
The first step to registering your new domain using Namecheap is to search for what's available. Fill in your choice on the Namecheap homepage and click search.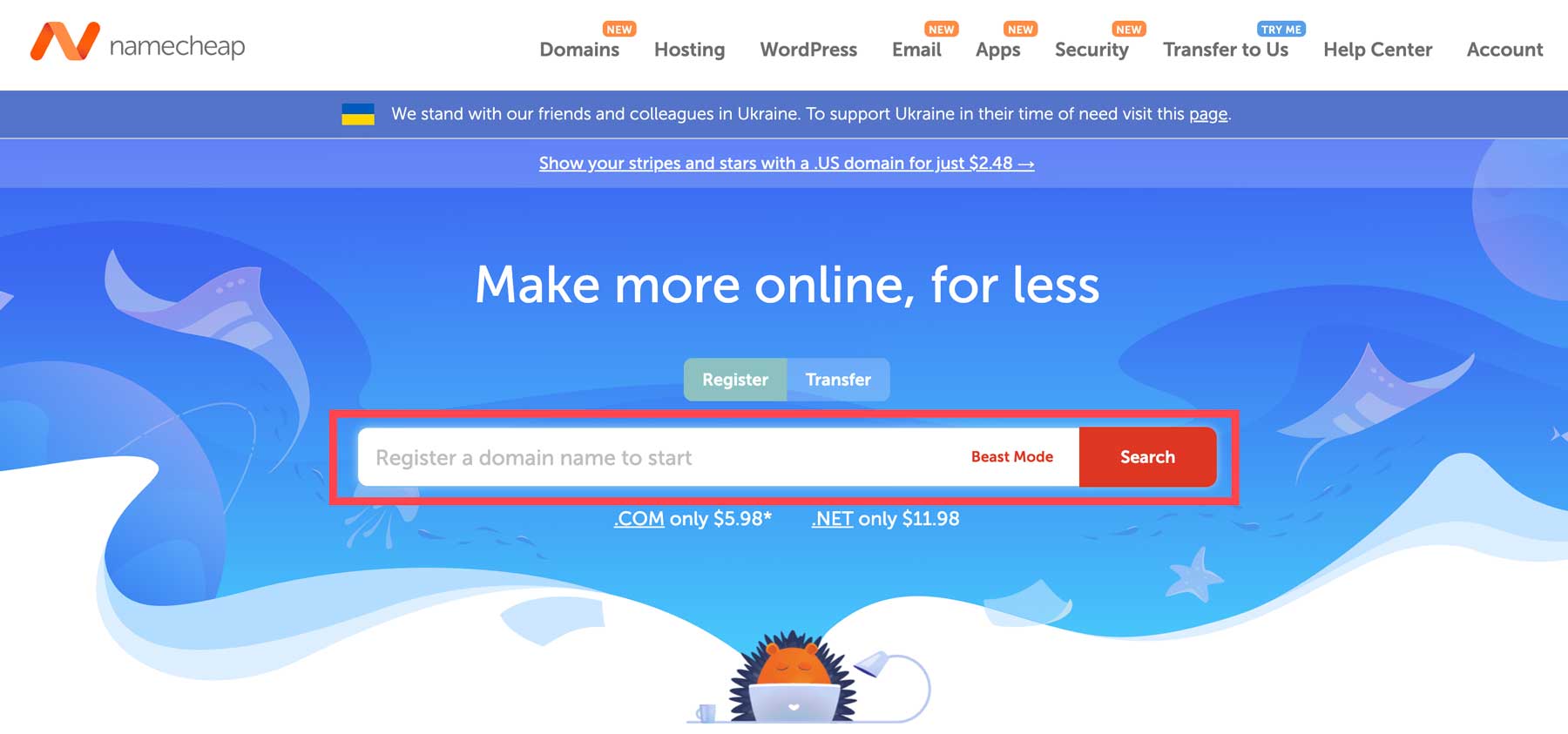 Step 2: Choose Associated Domains
Once you search for the domain of your choice, the registration page will appear, letting you know whether the domain is available. Additionally, you'll have the option to purchase similar ones should you want to map multiple domains.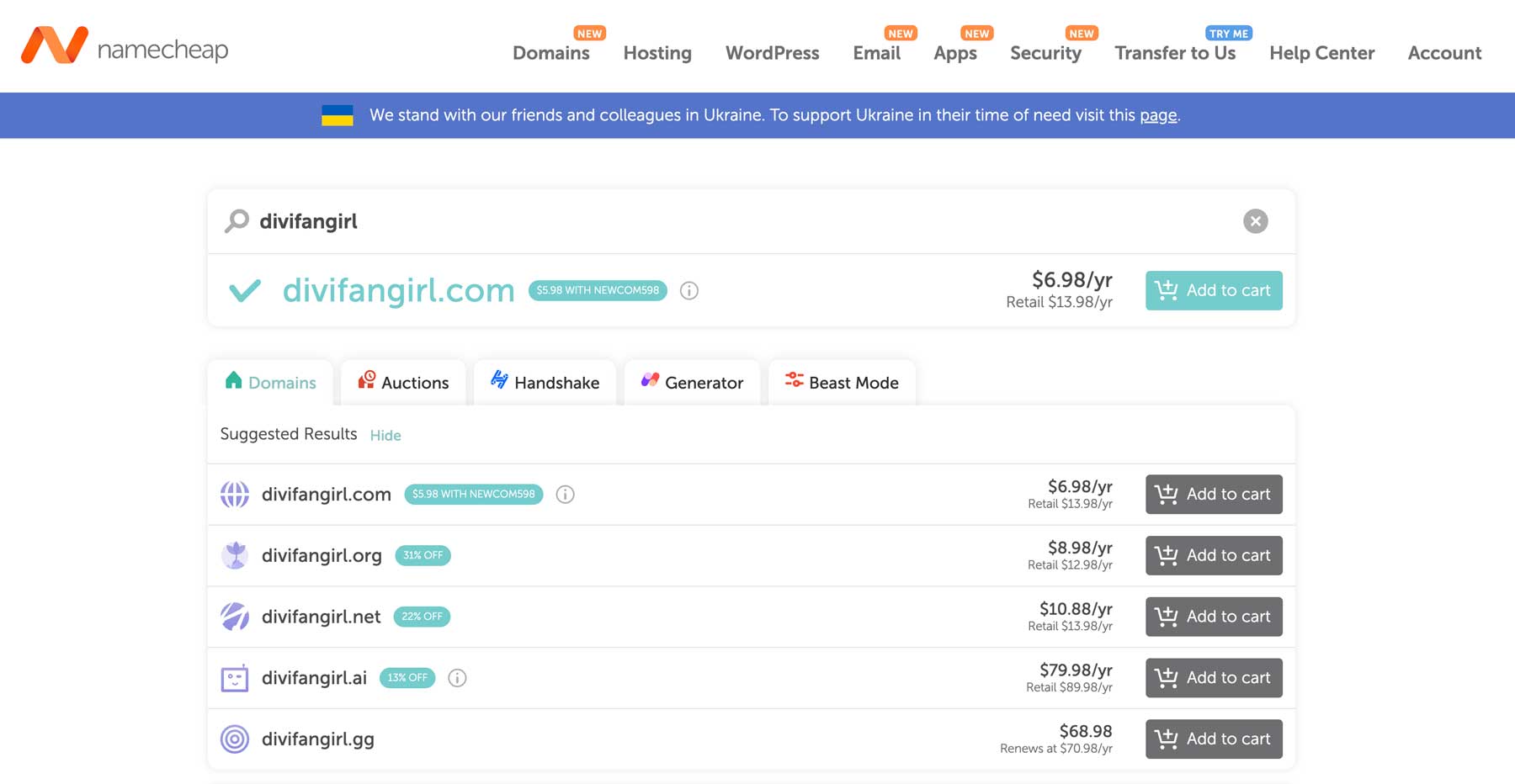 Once you've selected the domains you wish to purchase, add them to your cart.
Step 3: Purchase Add-ons
Namecheap will offer add-ons such as WordPress hosting, an SSL, and premium DNS, which provides DDoS attack protection and 100% uptime.
Step 4: Create A Namecheap Account
Next, you'll need to create an account to manage your domain and any add-ons you purchase.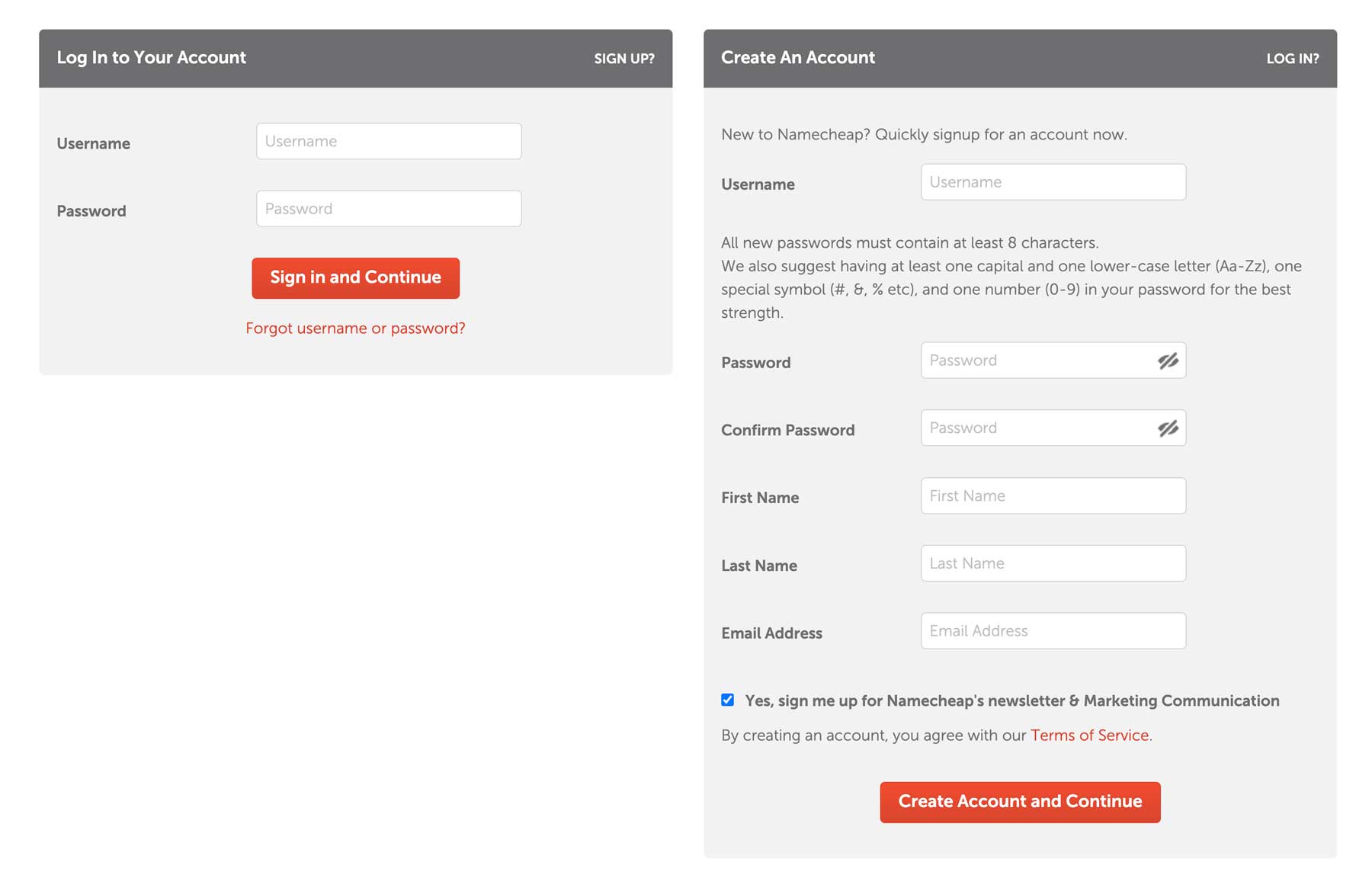 Step 5: Register Your New Domain
On the next screen, you'll take steps to register your new domain with Internet Corporation for Assigned Name and Numbers (ICANN). When a new domain is registered, it goes into a public directory. Your name and contact information will be recorded and available to anyone searching the ICANN directory.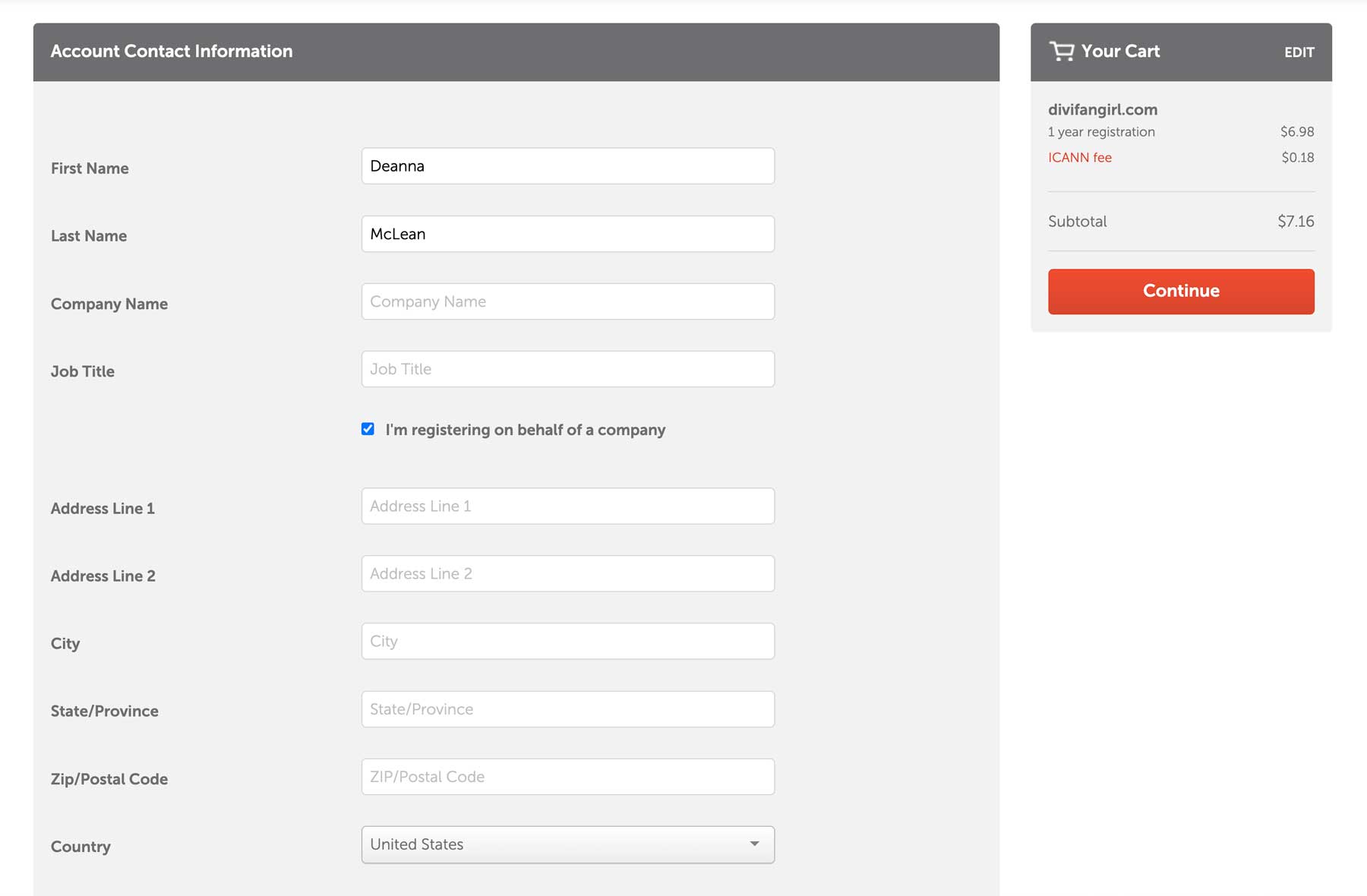 Finally, you'll set up your ICANN directory listing using the Whois database. This allows anyone with your domain name to learn who the owner is and their contact information. If you want that to remain private, you'll need to opt into the domain privacy service by checking the Associate to this domain and enable it at the time of purchase checkbox.

From there, the only thing left to do is purchase your domain.
As you can see, registering a new domain with a hosting provider or domain registrar is a straightforward process, making it simple for people with any skill level to achieve.
Final Thoughts on Registering a Domain
Registering a domain name is an exciting milestone in building your online identity. By following our comprehensive guide, you'll gain the knowledge and confidence needed to navigate the domain registration process effortlessly, ultimately securing the best domain for your business.
If you need both a domain and hosting, you should try SiteGround. However, if you only need to purchase and register your domain, Namecheap is the perfect choice to kickstart your new business.
Looking for more tutorials? Check out some of our most popular articles to help you become an online guru:
Frequently Asked Questions (FAQs)
Before we wrap up, let's answer some of your most common questions regarding how to register a domain name. Did we miss one? Leave a question below, and we will respond!
How can I register a domain name?
To register a domain name, choose a domain registrar or hosting platform like
Namecheap
or
Siteground
and check if the desired domain name is available. Then, fill out the registration form with your personal and payment information, select the desired registration length, and submit the form. The registrar will process your registration and verify your information before the domain is officially registered under your name.
Can I get a domain for free?
It is possible to get a free domain, but it may come with certain limitations. Some hosting providers offer free domains on their paid hosting plans. There also are free domain extensions like .tk. However, free domain extensions are infamous for their uses for scamming, and they may not have the same level of security, credibility, and reliability as paid options. It's important to consider the trade-offs carefully before choosing a free domain.
How much does it cost to set up a domain?
The cost to set up a domain can vary depending on the domain registrar and the type of domain you want to register. Generally, a domain can cost anywhere from $10 to $50 per year plus ICANN fees. Some registrars may offer discounts for multiple-year registrations or bundle domain registration with hosting services.
What is the best domain registrar?
The best domain registrar is subjective and depends on individual needs and preferences. However,
Namecheap
is considered one of the best domain registrars due to its affordable prices, user-friendly interface, and excellent customer support.
Do domains incur a monthly fee?
No, domains don't incur a monthly cost, but you must pay an annual registration fee when registering a domain name. Remember that your domain name will need to be renewed yearly, but the renewal fee is usually a little higher than the registration fee.
How long does it take to register a domain name?
Registering a domain name typically takes a few minutes to a few hours. It involves choosing a domain name, checking its availability, providing contact information, and paying the registration fee. Once the registration process is complete, the domain name becomes active and can be used to host a website or email service.
Is paying for a domain name worth it?
Yes, paying for a domain name is worth it. It provides a professional and unique online identity, increases credibility and trustworthiness, enhances search engine optimization, and allows personalized email addresses. The cost of a domain name is relatively low and offers long-term benefits for businesses and individuals.
What are the risks of not registering a domain name?
The risks of not registering a domain name include losing control over your brand and online identity, leaving your business vulnerable to cyber-squatters who may register the domain and hold it for ransom, and missing out on potential customers searching for your business online. Additionally, not registering a domain name may make it difficult to establish credibility and trust with potential customers, especially in today's day and age.
What is a domain extension?
A domain extension is the last part of a domain name that follows the "dot" symbol, such as .com, .org, .net, and .edu. It indicates the type or purpose of the website and is used for categorizing and distinguishing different websites on the internet. Various domain extensions are available, and each has its specific requirements and restrictions.
Which domain extension should I pick for my domain?
When picking a domain extension, consider your audience and the purpose of your website. If you're targeting a local audience, choose a country-specific extension like .us or .uk. If you want to establish brand identity, choose a unique extension like .io or .xyz. Stick to popular extensions like .com or .org if you want a wider reach and credibility.
Featured Image via Heena Rajput / Shutterstock.com