How often do you hear about UI design colors these days? Unless you're talking to a UI designer, not often. Browse a successful WordPress website, however, and you'll see different colors that communicate the brand's message, convey the website's structure, improve object recognition, and provide loads of other benefits.
Picking the right colors is important for achieving visual consistency in WordPress UI Design. For instance, using light colors for the navigation menu, and using bright colors for the background can make it difficult for a visitor to read menu items. Also, colors with low value contrast can make it challenging for color blind people to make out the images and words on your website.
A study by UserTesting found that males and females prefer sites with bright or dark colors, and sites that had a white/minimal interface received the lowest ratings. The results show the impact colors can have on website visitors.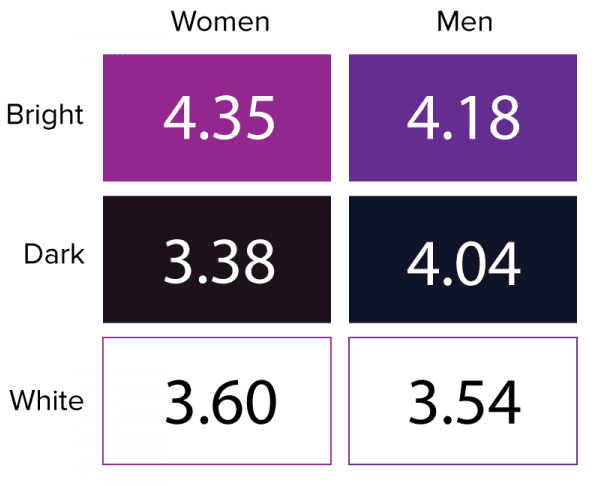 Another study by Ironpaper found that colors increased website recognition by 80 percent. Sites with a lighter color scheme saw 1.3 percent growth whereas sites with dark color schemes saw 2 percent growth.
Picking the Right UI Design Colors for a WordPress Site
When WordPress users integrate UI design colors, the results appear on the backend as well as the admin user panel. Here's how to pick the right UI colors for your WordPress site:
1. Know Your Demographic
Knowing the demographic of visitors you're targeting with your WordPress site is an integral part of choosing UI design colors. For instance, your color scheme should be different if your target audience consists of millennials than that of a website whose target audience is females.
Understanding color psychology will enable you to choose a color or two that are relevant to your target audience and in line with your website's purpose. For example, if your WordPress site targets men as its main audience, UI design colors should include grey, white, black, or blue. Avoid colors like yellow, purple, pink, and orange.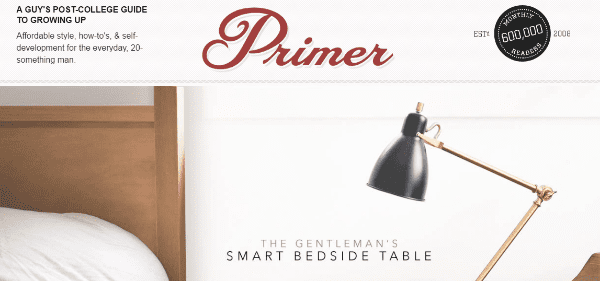 Look at Primer's website. Black stands out from other colors on the site. The background primarily utilizes the color grey.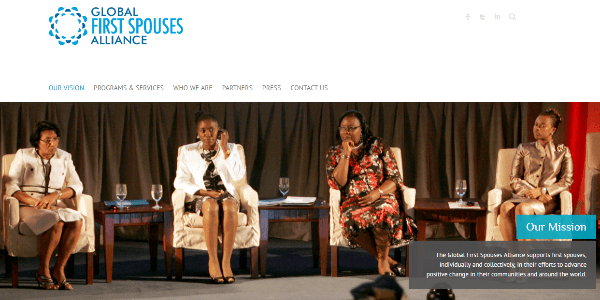 In comparison, Global First Spouses uses the color blue to cater female audiences. Blue is a color that's liked by both genders. Kissmetrics cited a survey that revealed that blue was the top favorite color of women (35 percent), followed by purple (23 percent), and green (14 percent).

2. Understand the Color Theory to Pick Right Colors
Color theory helps you understand the impact of different colors when they come together for certain reasons. In other words, it represents the interaction of colors via vibrancy and contrast. One of the categories of the color theory is the color wheel, which enables you to choose UI design colors for your WordPress site. Here are some color scheme options available at your disposal.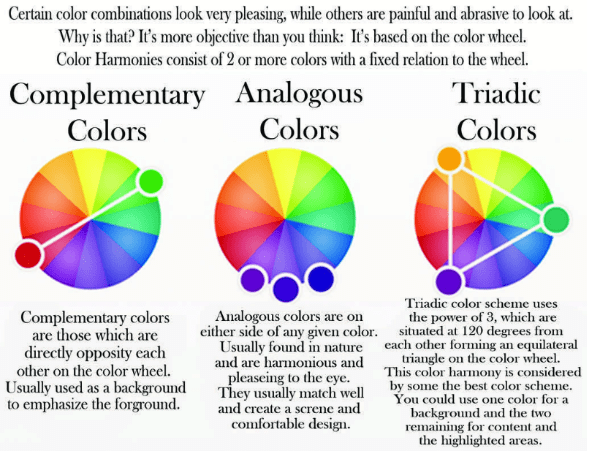 Analogous scheme: Colors that sooth the eyes and are visible in nature make up this color scheme. The color scheme is suitable for WordPress sites that want to display a calm image. By adding a touch of contrast, it can brighten the appearance of your UI.
Monochromatic scheme: This scheme involves a base color and other colors that are shades of the base color. It would be suitable on a photography website as it works well to add a color overlay. And because it doesn't draw attention to itself, it can be used to simplify your content.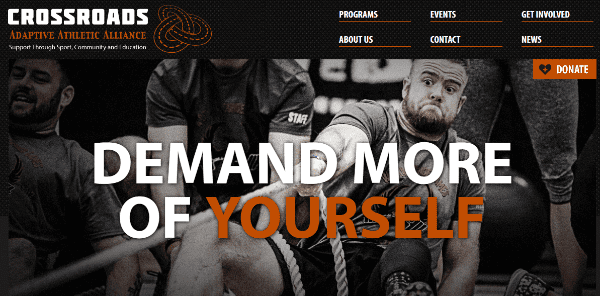 The UI design colors of this website integrate a dark background featuring orange accents. The monochromatic scheme works well to display athleticism and a feel of adrenaline.
Triadic scheme: This color scheme is used to achieve clean aesthetics and contrast for WordPress web design.  The color scheme has three lead colors and opposing hues in big quantities. The triadic color scheme works well to outweigh vivid colors and achieve a vibrant appearance.
3. See what Contrast Looks Like
Visitors with low vision need to be able to navigate your website, so it's important that you include enough contrast in the UI, especially between the background and front elements. You can mix contrast with your UI design colors to see the end result. Here are some tips on how to do that:
Color Saturation & Contrast: Color saturation refers to a color's intensity. A color that's 100% saturated is in its brightest, purest form. Utilizing muted or bright colors can be a great way to create a low or high contrast in WordPress web design. Bright colors are used to attract visitors' attention, when used against black.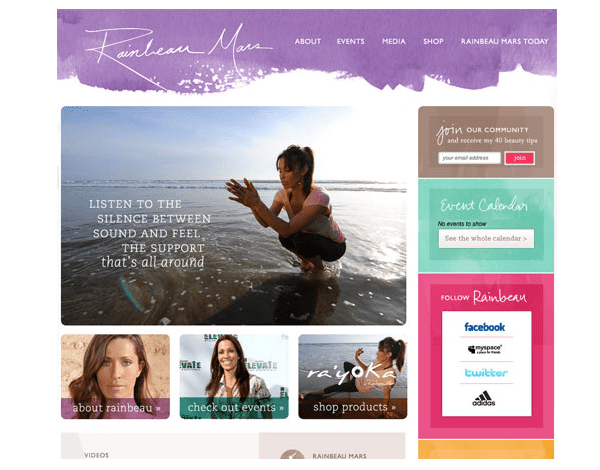 This website's UI design colors showcase contrasting saturation levels that get noticed. Colors are combined with muted saturation levels to create a soft outlook, and the watercolor effect emphasizes it further.
Color Value & Contrast: Color value is the darkness or lightness of a color. 100% white and 100% black are the often used contrasting values. However, you can play off darker and lighter colors of each other to highlight certain elements of your design while adding contrast.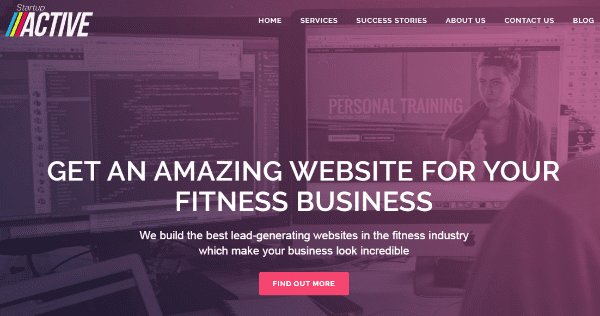 The UI design of this website has a light background featuring dark text. The contrasting values – shades of purple and bright white typography – makes the lead statement easier to read.

Color Temperature & Contrast: Colors can be categorized into groups according to their temperature: neutral, warm, cool. Blue and green are cool, while orange, red, and yellow are considered as warm. Brown, grey, white, and black fall into the neutral category. You can easily create a contrast my mixing temperatures in UI design colors.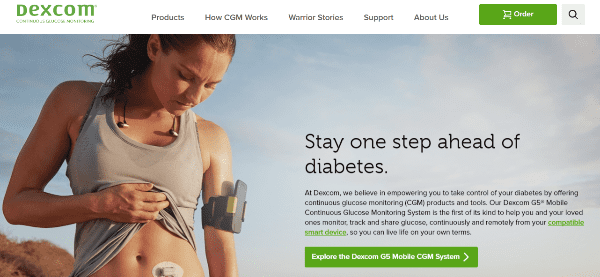 Dexcom's website design has contrasting colors with cool shades of green and black. The main image and the call-to-action, as a result, stand out well. Additionally, because the main color falls in the cool category, the combination with black and a light background gives it a cohesive look.
Depending on the amount of saturation, value, or temperature used in your site design, you can implement just the right contrast to increase your website's appeal.
4. Use Tools for Help
Different color combinations with hints of shades and tints will evoke different feelings in the visitor's mind. The best way to choose the right UI design colors is to generate a lot color schemes, and then go with the one has a strong connection with your brand's mission statement. The following tools will help you generate different color schemes and pick the exact UI design colors you're imagining for your website:
These tools work to fill different needs. They can be used by anyone from a beginner to an expert designer.
WordPress Plugins for UI Design Colors
Plugins are perfect for WordPress users who are new to web design. They enable you to take control of your theme's appearance, choose colors with an easy-to-use interface, and preview them in real-time before deciding on the best UI design colors.
While some WordPress themes will include a color customization option inside the admin area, plugins can be used to customize any WordPress site. Here are some options to get more color in all areas of your UI: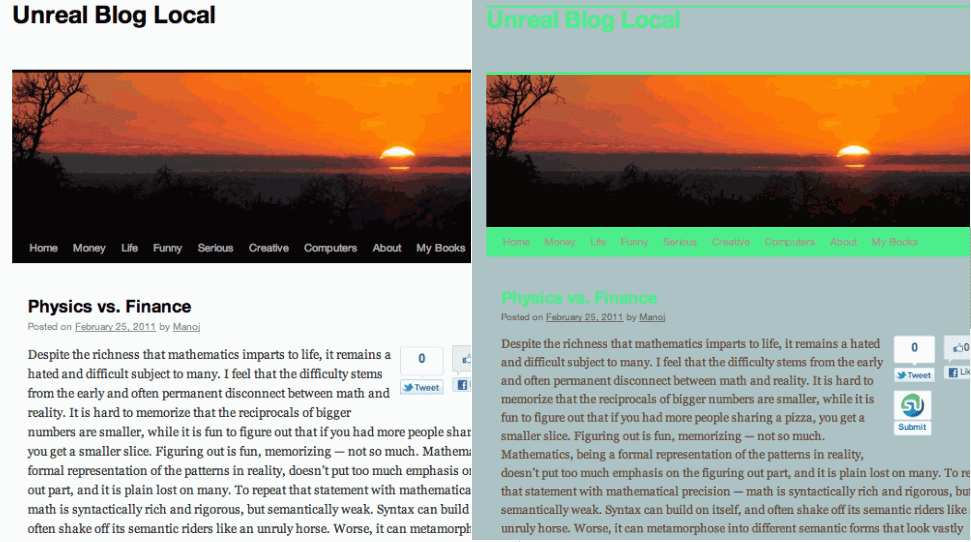 This plugin shows the current colors from your WordPress theme, and then presents a color picker if you want to replace them. Users can preview or implement changes, with an option to change colors in bulk. Theme Tweaker also generates a dummy child theme, so users can leave their original theme untouched. It's possible to save your work, and the plugin remembers saved color schemes for unlimited number of themes. The Pro version of Theme Tweaker provides additional features, such as the ability to tweak both the child and parent style files.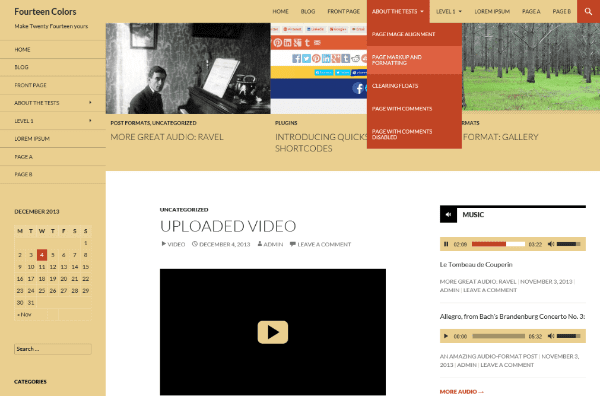 A blessing in disguise for WordPress users on the Twenty Fourteen theme. Fourteen Colors provides two color pickers, which allow users to adjust color choices for
Footer/Header/Sidebar
Navigation Menu Hover
Text Selection
Search Bar
Link
Featured Background Content
Video/Audio Player
And More
The plugin adjusts the user's choice automatically to ensure minimum contrast is needed to keep the WordPress site readable.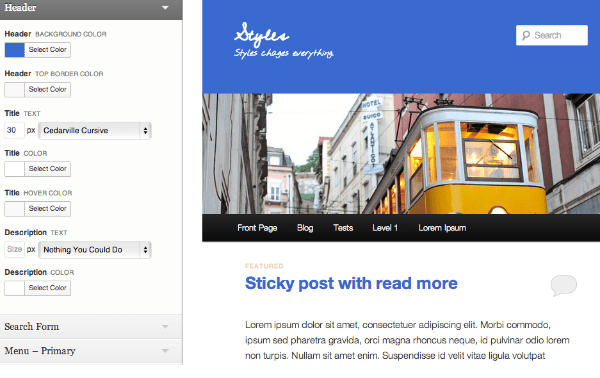 This plugin allows you to customize WordPress fonts and colors. Styles also provides free themes that users can try for live demos. The Theme Customizer sections are available for global styles, and they allow you to customize the default text color, default link colors, header styles, inner area background color, etc. Changes give you instant feedback, so you know what a change looks like before it goes live.
Final Thoughts
Now that you have an overview of UI design colors for WordPress, it's time to get started. The tips mentioned above will ease the job of finding the right colors, and live preview options will ensure that you see the UI in action and get second opinions before jumping in.
What are your thoughts? Do you have some more tips on picking UI design colors for WordPress users? Feel free to leave comments.
Article thumbnail image by karawan / shutterstock.com