Learning some Search Engine Optimization (SEO) skills can help boost your visibility in Search Engine Results Pages (SERPs). Even if you already have an optimization strategy in place, it could be worth taking the time to discover the latest updates in the field. Fortunately, SEO training courses can help you optimize your site and acquire new keyword research skills.
In this post, we'll look at some of the best SEO training courses that you can take right now. Let's get started!
1. Yoast SEO Academy
It's no surprise that one of the most popular SEO WordPress plugins offers one of the SEO training courses on our list. Yoast helps you optimize your content with keywords, effective meta descriptions, link building, and more. It also provides free and paid training to help WordPress users get started with building up their SEO skills.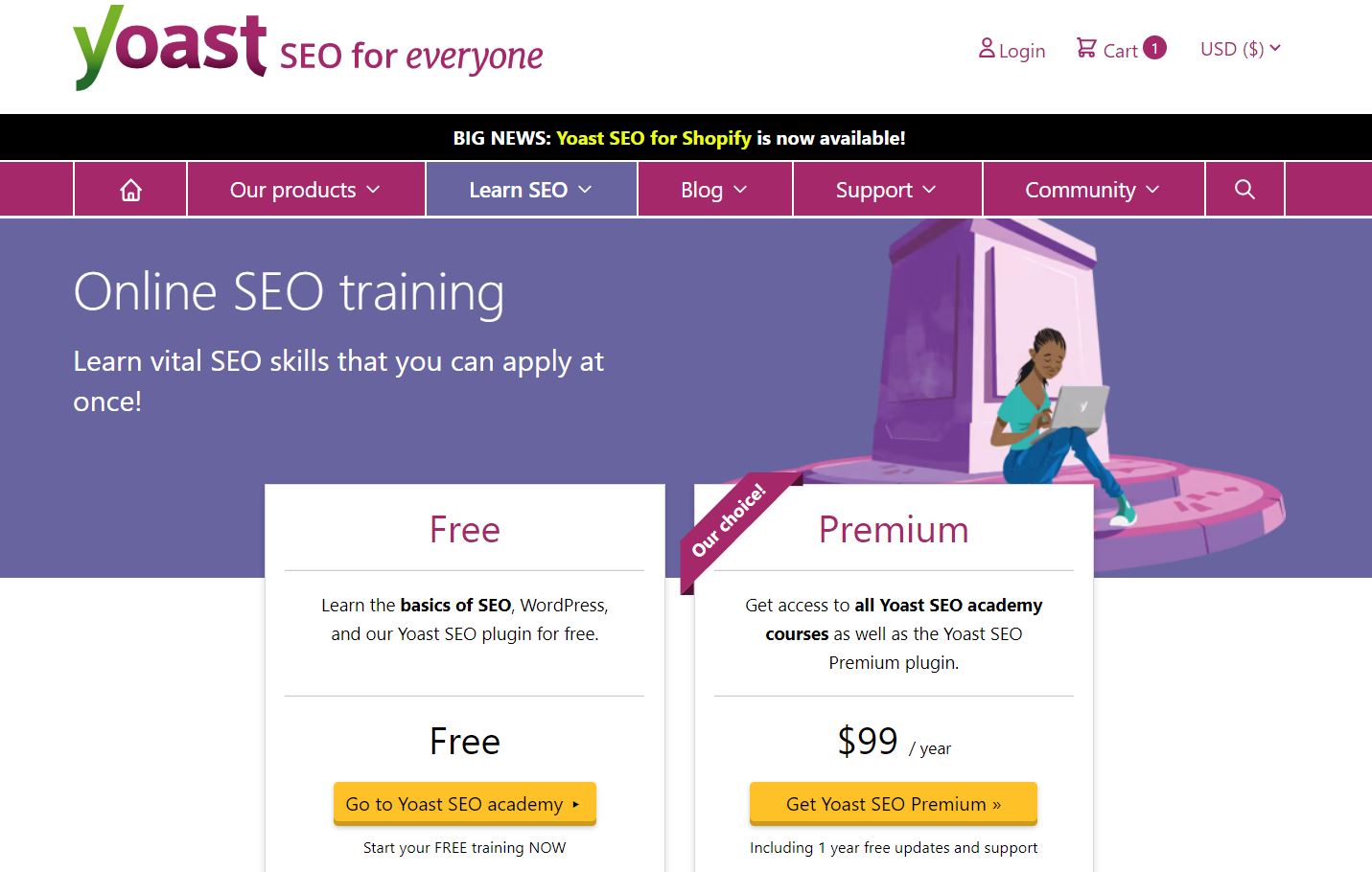 The free course covers the basics of WordPress and SEO. It also shows you how to leverage the Yoast SEO plugin. Meanwhile, the premium option gives you access to all Yoast SEO academy courses, plus the plugin's premium version.
The courses come with templates and step-by-step guides to help you apply what you've learned to your site. You'll also get access to optional assignments and quizzes.
What you'll learn:
How to use WordPress, the Block Editor, and the Yoast SEO plugin
How to do keyword research
When and how to optimize your site for local SEO as well as e-commerce
How to implement structured data for better search engine results
Yoast SEO Academy is for you if…
You are a complete WordPress beginner. Yoast's free course introduces you to the WordPress platform and SEO. Once you have a solid understanding of both topics, you can move on to the more advanced program with keyword research training.
Price: FREE for the basic course, or $99 per year if you purchase Yoast SEO premium | More information
2. SEO Certification Course by HubSpot Academy
HubSpot Academy specializes in digital marketing courses for businesses and professionals. Its SEO Certification Course covers the fundamentals of good SEO through professional videos you can watch.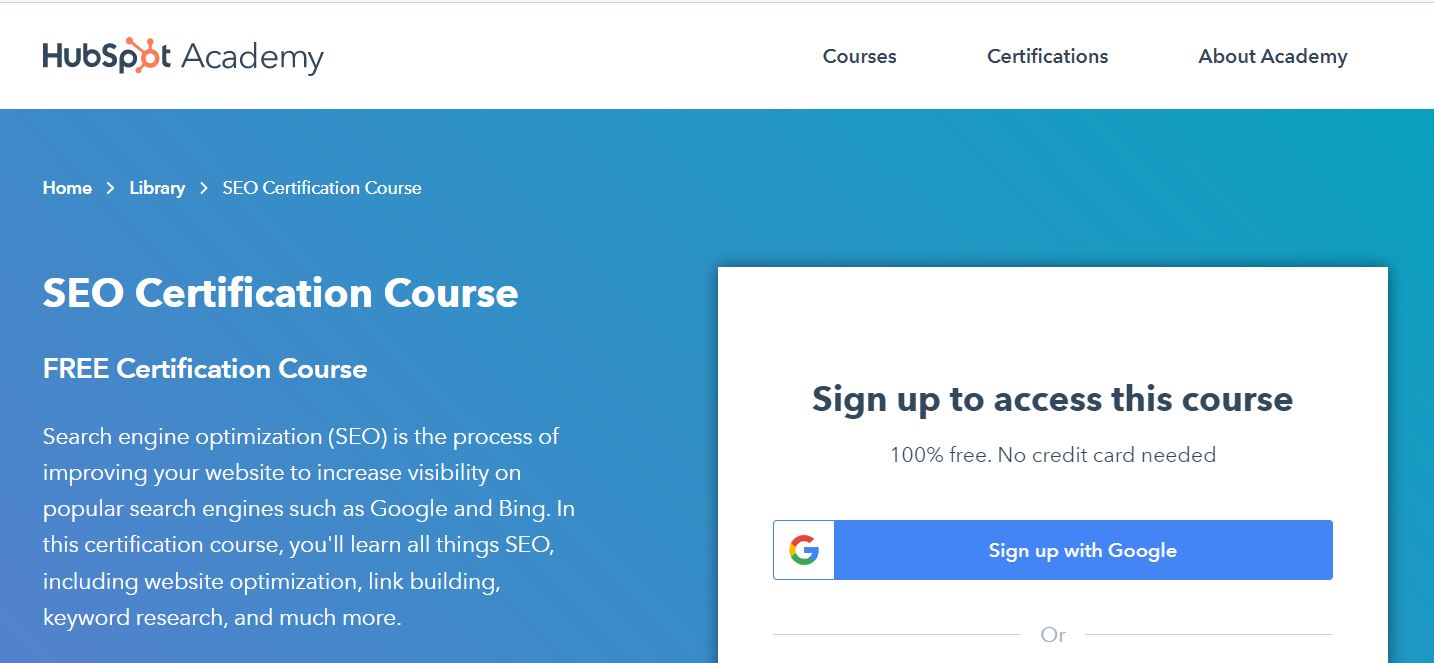 HubSpot is a Customer Relationship Management (CRM) platform, and is generally considered one of the main platforms in the field. It sells a variety of marketing tools designed to help businesses drive more traffic to their sites and increase their conversions. Therefore, this course is delivered by some of the top experts in SEO and marketing.
What you'll learn:
On-page and technical SEO
Keyword research
Optimizing your site for rich results (such as Google featured snippets)
SEO reporting and evaluation
HubSpot's SEO Certification Course is for you if…
You are a content creator, marketer, or small business owner. The course includes six lessons, with videos that you can watch at your own pace. This setup makes it ideal for busy professionals who want a quick induction to SEO.
Price: FREE | More information
3. SEO 2022: Complete SEO Training + SEO for WordPress Websites
The online learning platform Udemy offers a variety of SEO training courses to help you master various strategies. While there are many to choose from, we recommend SEO 2022: Compete SEO Training + SEO for WordPress Websites.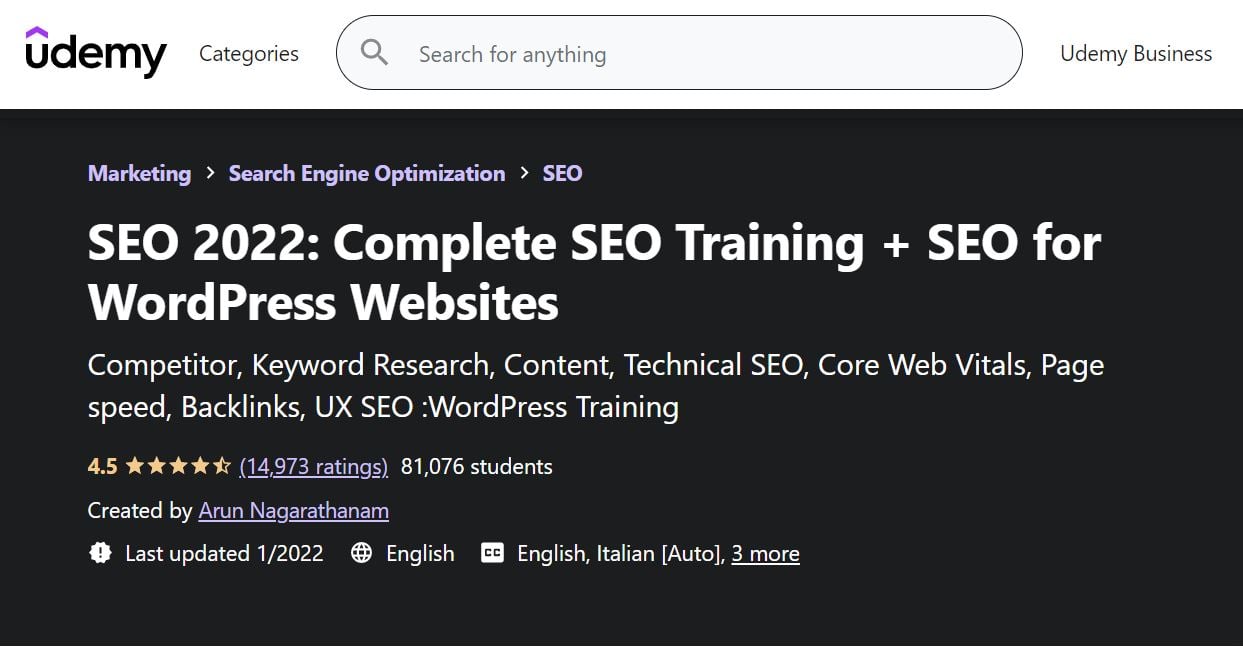 This highly-rated course covers over 50 factors that can help you reach that coveted top spot in Google. The material is based on research compiled from 10,000 keywords for the top 30 SERPs between 2014 and 2022. That kind of depth will give you insights into how the search algorithms have changed so you can make the best choices for now and the future of your site.
What you'll learn:
How to use the 50+ SEO factors that can help you boost your rankings
When to use long-tail keywords (and how to leverage them to get more traffic)
How to get indexed by search engines faster
SEO 2022 on Udemy is for you if…
You're a blogger, website owner, or online marketer who wants a complete, in-depth course on SEO. It's also the ideal keyword research training course for people who want to go beyond basic keyphrase optimization and meta descriptions and learn how to improve the overall UX of their sites.
Price: $109.99 (but often has steep discounts up to 85% off) | More information
4. SEO Training Course by Ahrefs
Ahrefs is an all-in-one SEO tool that offers plenty of free learning materials. Like HubSpot, Ahrefs is considered to be among the best services in its niche. And as such, the company includes an SEO Course designed for complete beginners.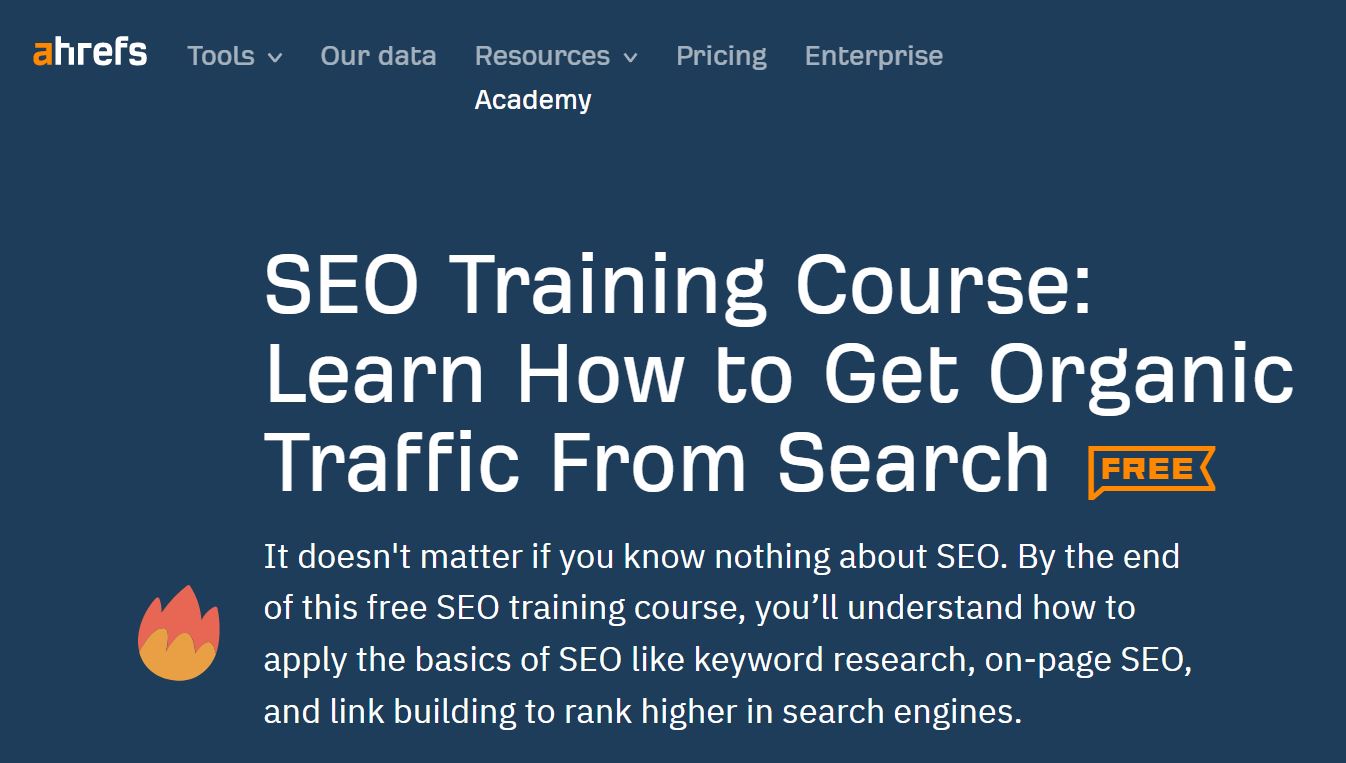 The course covers SEO basics, including keyword research and link building. It is designed to help website owners get more organic traffic and rank higher in the SERPs. The course includes 14 lessons delivered through videos and should only take two hours to complete.
What you'll learn:
The importance of SEO
Keyword research
Link building strategies
Technical SEO best practices
 Ahrefs's SEO Training Course is for you if…
You're a small business owner and WordPress beginner with no experience in SEO. This course gives you a quick overview of optimization techniques, making it ideal for people who want to learn some best practices with short, straightforward videos.
Price: FREE | More information
5. Search Engine Optimization (SEO) Specialization
Coursera is an online learning platform where different institutions deliver professional educational content. On this platform, we recommend Search Engine Optimization (SEO) Specialization by UC Davis. As the name suggests, this course is designed to help you become an SEO expert.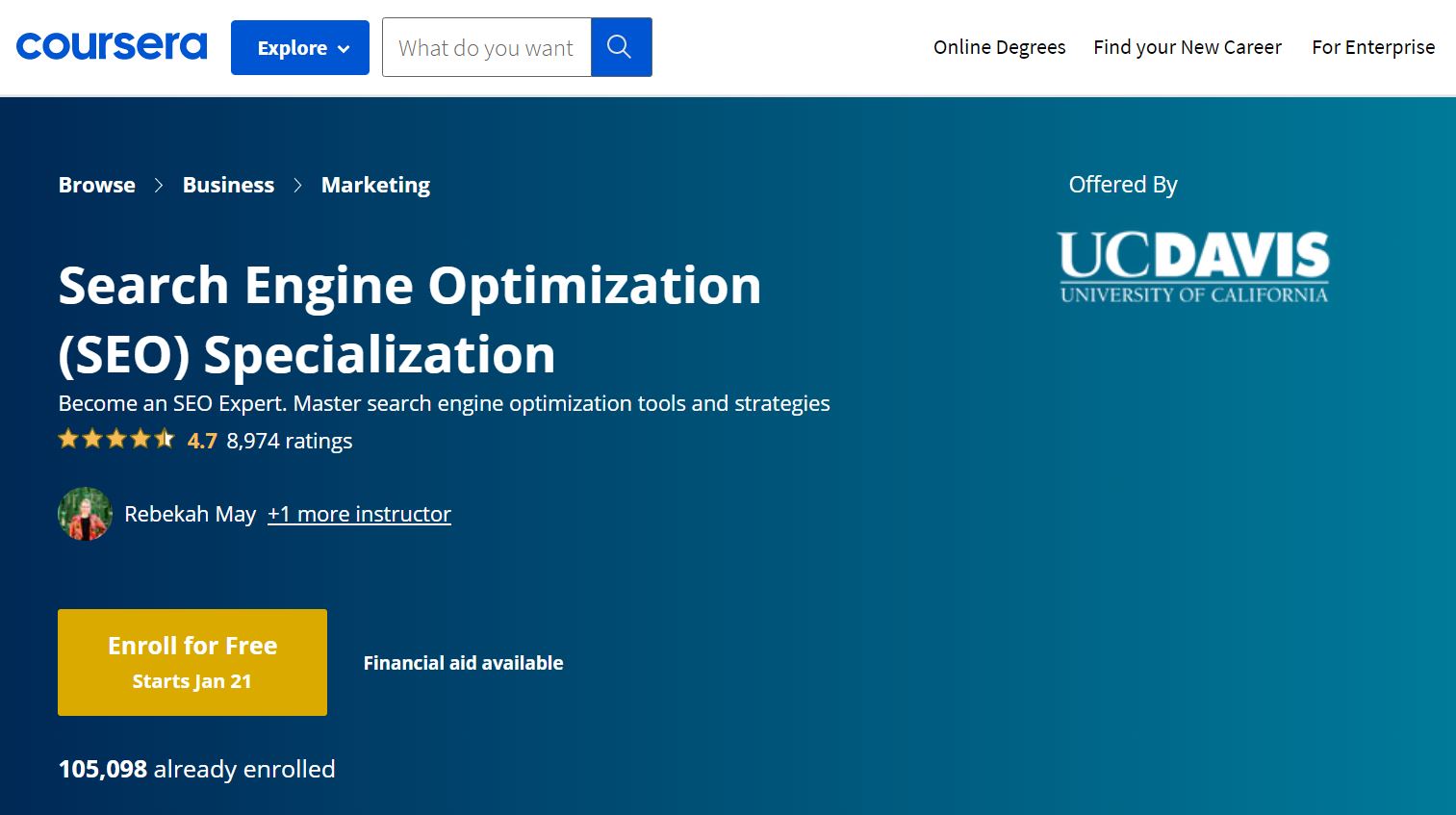 This program shows you how to build practical, real-world skills that you can apply to your digital marketing career. There are five courses included in the program, and it takes approximately five months to complete them all.
What you'll learn:
How to carry out a comprehensive SEO analysis of a website
How to create a report of your findings and present it to your clients
Why you should collaborate with influencers (and how to go about it)
How to build a productive relationship with your clients
Coursera's Search Engine Optimization (SEO) Specialization is for you if…
You're looking for a career in digital marketing or SEO consultancy. The entire course may take around five months to complete, and Coursera recommends putting in six hours of work per week. Therefore, it's mostly suited for full-time professionals and marketing students who wish to take an SEO-specific course.
Price: FREE for seven days, and then $49 per month after the free trial period | More information
6. Content Marketing and SEO Fundamentals by Semrush
Semrush offers a suite of marketing tools to help website owners improve their SEO and content strategies. It also has a variety of digital marketing courses, including Content Marketing and SEO Fundamentals with industry expert Eric Enge.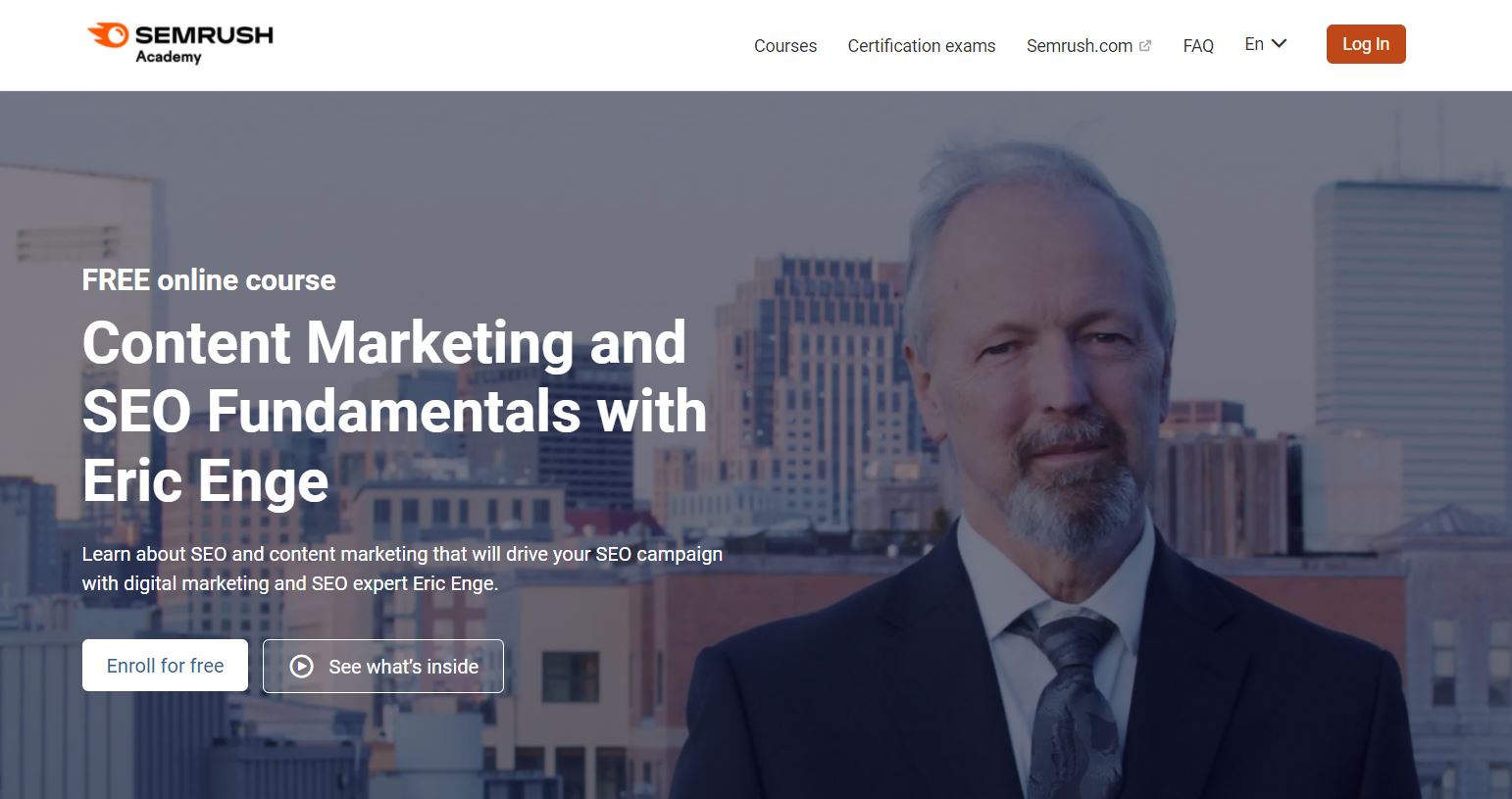 This course focuses on content marketing strategies that can boost your SEO campaigns. It contains eight video lessons with expert tips and additional reading materials.
What you'll learn:
How to create a content marketing plan
Why you should use guest posts in your SEO campaign
How to leverage interviews for SEO
How to improve your link building strategy
Semrush Content Marketing and SEO Fundamentals is for you if…
You're a digital marketer or content creator with some SEO knowledge who wants to take your skills to the next level. It's the perfect opportunity for people who want to create high-quality content and optimize it.
Price: FREE | More information
7. SEO Essentials Certification by Moz
Moz Academy offers various SEO courses for different levels and purposes. If you're looking for something that covers everything, you may want to check out the SEO Essentials Certification course.

This six-part course teaches you everything you need to know about SEO, with plenty of actionable tips to implement your skills in real-life scenarios. While the instructors use Moz's tools to demonstrate different SEO techniques, you can also apply the strategies with other software such as Semrush and Ahrefs, which we discussed above.
What you'll learn:
The fundamentals of SEO
Keyword strategies
On-page optimization
Effective link building
SEO reporting
Moz's SEO Essentials Certification is for you if…
You're looking for an efficient way to learn SEO strategies and implement them on your website. Each section includes an exam. Therefore, this course is also ideal for people who want to test their SEO knowledge.
Price: $595 | More information
Conclusion
Taking an SEO training course can be an excellent investment. Keyword research training can help boost your business's visibility in the SERPs and increase your conversion rate. Furthermore, you can choose from several online courses to optimize your content.
If you have zero SEO knowledge, you may consider taking a beginner keyword research training course by Yoast or Ahrefs. Alternatively, if you wish to build on your existing knowledge or enhance your content strategy, we recommend a program such as Content Marketing and SEO Fundamentals before moving into Moz's SEO Essentials Certification.
Do you have any questions about the SEO training courses featured in this post? Did we miss any that you recommend? Let us know in the comments section below!
Featured Image via Sammby / shutterstock.com