Google is always looking to provide better solutions to users' problems. One of the ways it tries to do so is by delivering answers directly within its results pages to save searchers a click or two. These are what we call "featured snippets."
Not only do Google featured snippets make research simpler, but they can also help bring more traffic to your website. In this article, we'll break down how they work and what their impact on your page views can be. Then we'll go over four steps to get your content to show up in these coveted boxes.
Let's get to work!
An Introduction to Google Featured Snippets
If you visit Google and type in "why is the ocean blue", here's what you'll see: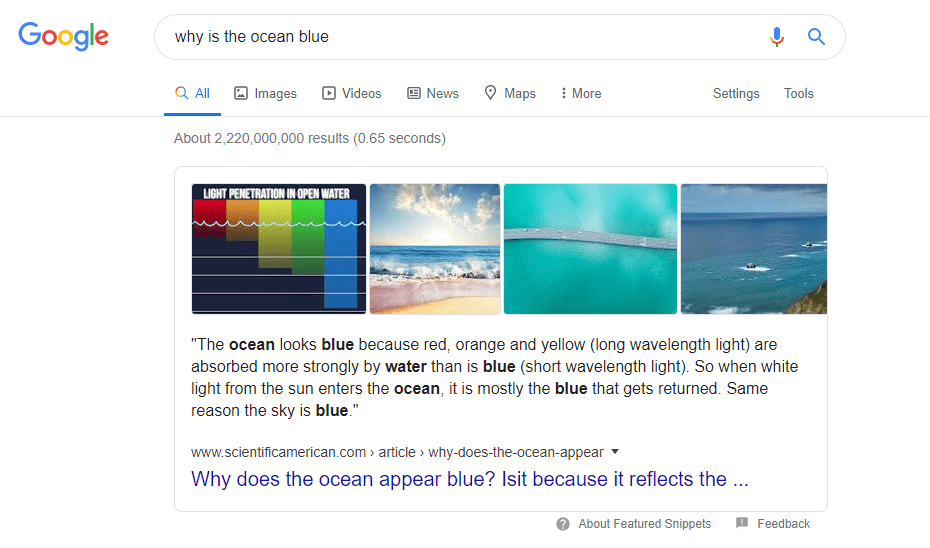 The box that appears above the first result is called a featured snippet. In short, when Google deems it has enough data to answer a specific query directly, it returns one of these displays. The idea is to help you and other users save time.
If you use Google regularly, you've probably run into several types of featured snippets. There are standard answer boxes, like the one above, but also list and table-based results: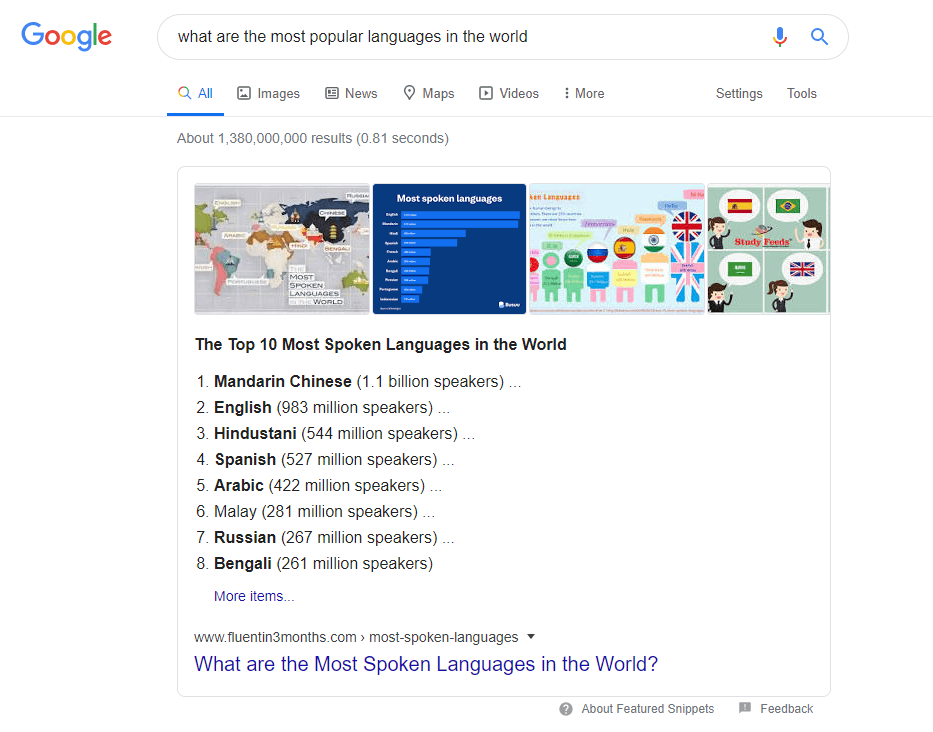 Featured snippets are similar to other rich Google elements, such as knowledge panels: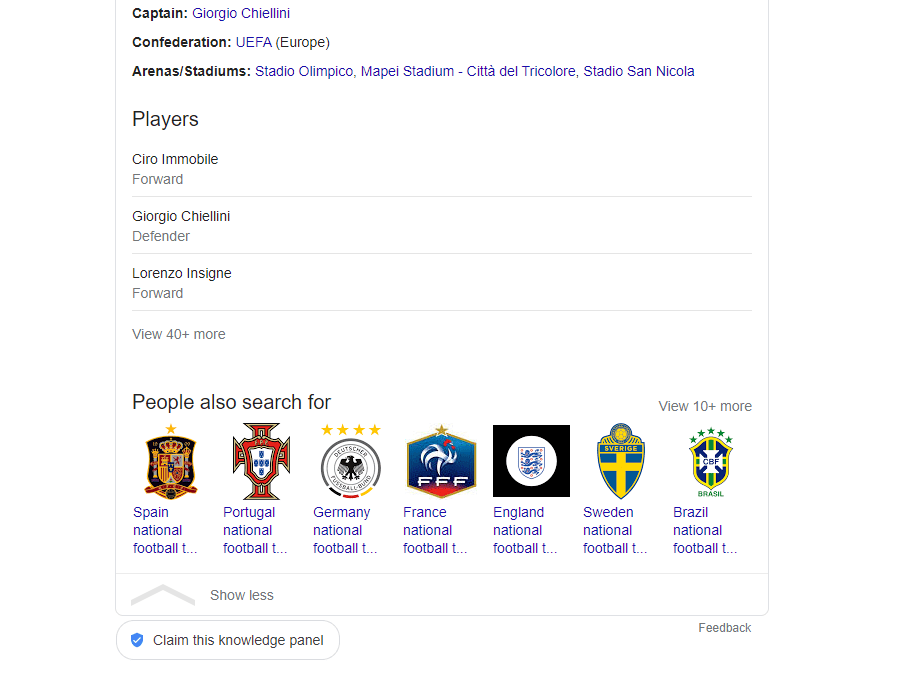 The difference when it comes to featured snippets is that they're designed to provide quick answers to simple questions. To do this, Google pulls information from the website that provides the most accurate answer. That determination, in many cases, comes down to formatting.
One interesting aspect of featured snippets is that while they get a lot of attention, they don't outperform the top results on Search Engine Results Pages (SERPs). Typically, the first result attracts an average of 31.7 percent of all clicks for a search.
Answer boxes, on the other hand, only capture about eight percent of all clicks for their queries. However, for a page to appear in a featured snippet, it doesn't have to be the top result for its corresponding search. In many cases, it doesn't even need to appear on the first page of results.
If you're already ranking among the top results for a specific search, getting your pages into answer boxes may help you draw in a bit more traffic. However, their real value lies in searches for which you're not ranking highly since they enable you to make your way to the top of the first page.
A Simple Guide to Getting Featured Snippets on Google (In 4 Steps)
There's no magic formula when it comes to Search Engine Optimization (SEO), nor is there one for featured snippets. However, there are guidelines you can implement to improve your pages' chances. Here are four steps that can help.
Step 1: Find Featured Snippet Opportunities
The first step to getting featured snippets is relatively straightforward. You want to identify opportunities to either optimize existing content or create new posts to target them. Note that if you discover queries that return outdated answer boxes, you might have an easier time "stealing" those positions.
The content Google selects for featured snippets can vary depending on how users phrase their queries. For example, if we search for "chickens fly", Wikipedia takes the spotlight: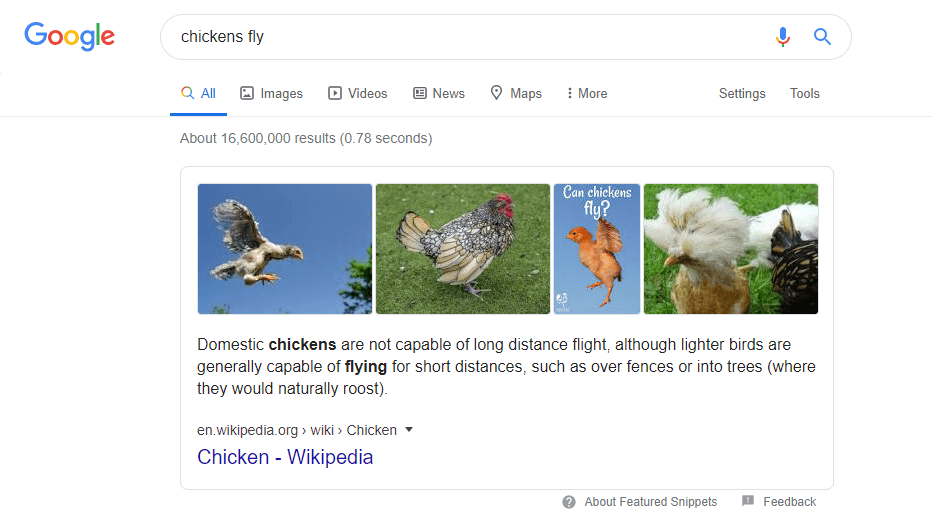 However, the search "can chickens fly" returns a different featured snippet: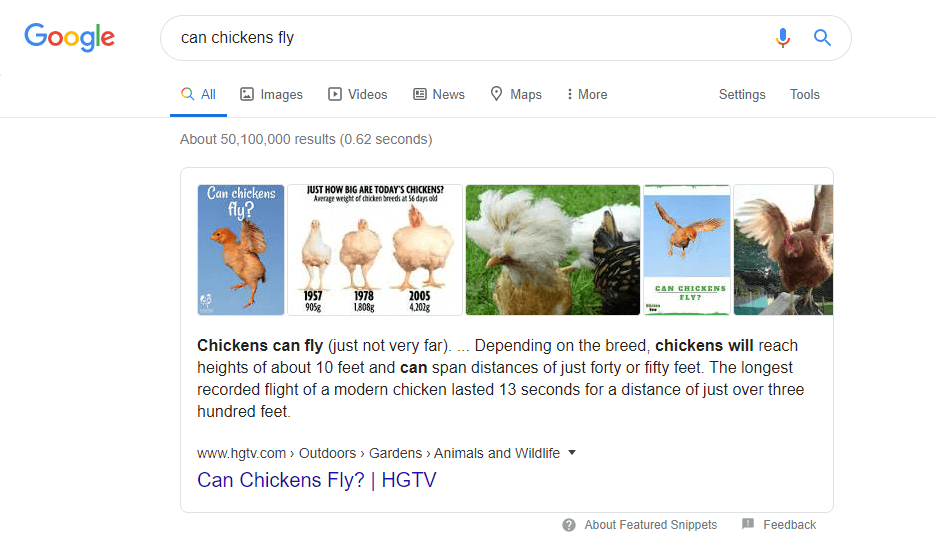 These examples demonstrate how important keywords are when it comes to identifying opportunities to target featured snippets. Notice that Google highlights part of the text within its answer boxes depending on the query. These terms provide valuable insight into the kind of content it prefers.
Tools such as Keyword Planner and Answer the Public can help you uncover questions with high search volumes related to your niche. Including these phrases in your content will help optimize it for featured snippets.
If you have the budget for it, premium keyword research tools such as SEMrush and Ahrefs will also tell you which pages on any given website appear in answer boxes. You can then keep track of both your own featured snippets ones your competitors currently have.
Step 2: Format Your Content to Favor Direct Answers, Lists, and Tables
When it comes to featured snippets, formatting is critical. Answering direct questions in your posts and pages is one strategy, but Google also favors lists and tables depending on the search query.
Let's say, for example, you want to know who's won the most Olympic gold medals: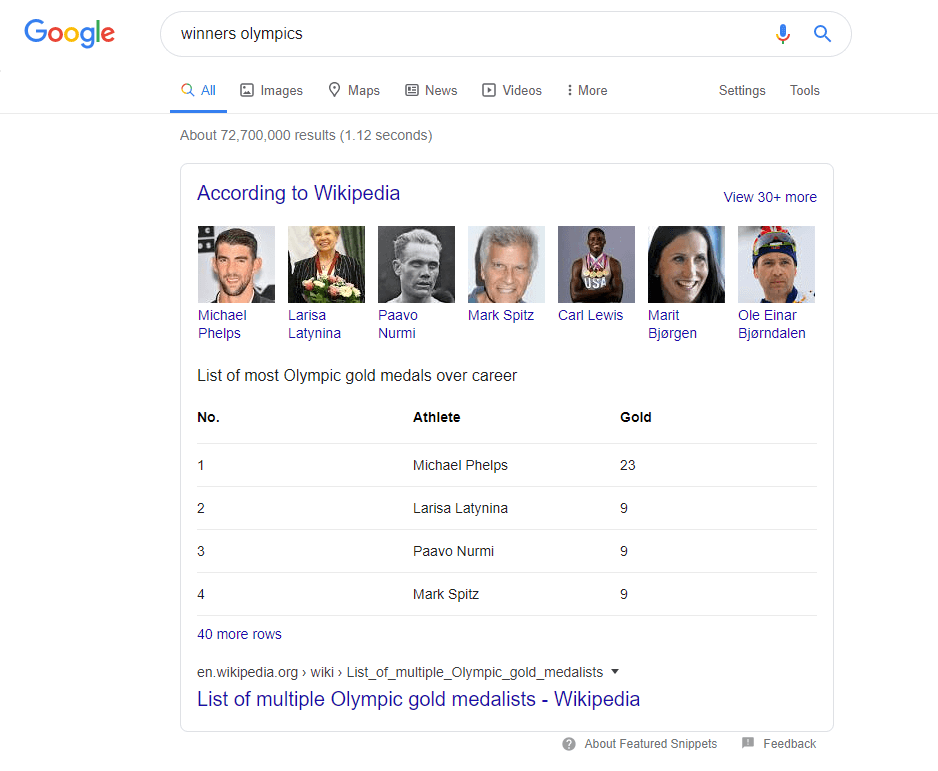 The same happens if you look up which countries have the most gold medals: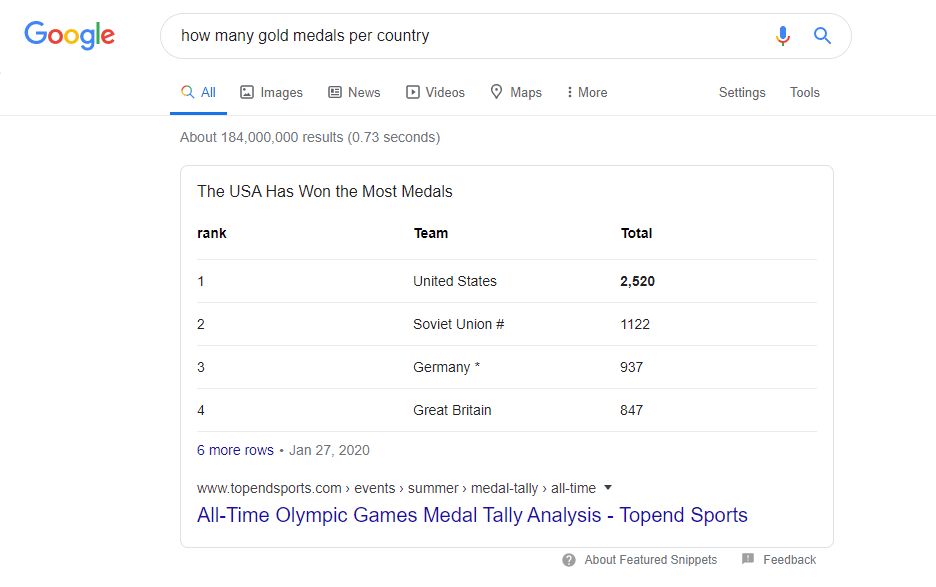 List-based featured snippets, on the other hand, are common when you look up tutorials or other content that involves steps:
At this stage, you should have a list of existing posts that you can optimize for featured snippets or new ideas to write about. You'll now want to determine the best format for your content to deliver answers to the questions you're targeting.
Here's a quick breakdown of which element you should focus on depending on the type of content you're publishing:
Use paragraphs to provide direct answers to simple questions.
Create lists to break down steps in tutorials for targeting more in-depth questions.
Focus on tables to answer queries that involve large amounts of data.
Whichever elements you use in your content, concision is essential if you want to maximize your chances of appearing in an answer box. It's also important you segment your content using subheadings. Some studies show that most answer boxes feature paragraphs, and tend to be 45 words long.
Step 3: Target as Many Queries as Possible Within Each Individual Post
If someone asks you "how do page builders work", they'll probably have a lot of related questions as well, such as:
What are page builders?
What are modules or blocks?
How do drag-and-drop editors work?
What are the best page builders?
All those questions can also double as long-tail keywords. Together, they provide perfect opportunities to create in-depth content that can outrank your competition, and target multiple search queries within one post.
For the example above, each question could easily be used in a subheading, with direct answers appearing in the following paragraph. The more queries you can address within one post, the better your chances of getting that content into a featured snippet.
This makes Frequently Asked Questions (FAQ) pages fantastic opportunities to maximize your chances of getting featured snippets. The list above might appear on the site of the developer of a page builder plugin, for example.
You can also target featured snippets using multiple formats. For instance, to go back to our example of who has the most Olympic medals, you could answer the question directly in a paragraph ("Michael Phelps has the most Olympic gold medals"), then share more detailed data in a table.
Step 4: Strengthen Your On-Page SEO
You're probably already familiar with the basics of on-page SEO, which include:
Proper keyword use
Using informative titles and subheadings that reflect the topic at hand
Writing engaging meta descriptions that inform potential visitors what your page contains
Including alt text for your images
Creating URL slugs that match each page's keyword
There's a lot more to on-page SEO than those basics. However, when it comes to featured snippets, these are the techniques you want to focus on. Since you're optimizing existing or new content to target specific questions, you need to make sure that you use those keywords or phrases accordingly.
Let's say, for example, you're dead set on nabbing the answer box for the query "can chickens fly?" Ideally, the page's title would include that question, as would one of its internal subheadings. The meta description might look something like this:
Chickens can fly, but not very far, due to their wing design. Let's talk about why that is!
Normal considerations regarding meta description length still apply in these cases.
As for the content of your post or page, you'd want to include at least one image of a chicken in flight, with alt text that includes the key terms "chicken" and "fly". You could also include multiple subheadings covering information such as "How Far Can a Chicken Fly?", "How Fast Can a Chicken Fly?", and so on.
While your content might not focus on the intricacies of flying poultry, all this advice applies across the board. To get your content in featured snippets, it needs to be built around questions and their clear, straightforward answers.
Conclusion
Obtaining the first spot on a SERP means that your page gets, on average, about 31.7 percent of all clicks for that search. Working to earn that place is still key, but you also want your content to appear in featured snippets whenever possible.
To maximize your chances of landing your coveted featured snippet positions, you'll need to follow a few guidelines:
Find featured snippet opportunities.
Format your content to favor direct answers, lists, and tables.
Target as many queries as possible within each individual post.
Optimize your on-page SEO.
Do you have any questions about how to get featured snippets on Google? Let's talk about them in the comments section below!
Article thumbnail image by TarikVision / shutterstock.com