Forums are a great tool to foster discussion and connection on the internet. With some of the best WordPress Forum plugins out there, it is easier than ever to create your own online community.
In this post, we'll provide you with our list of the most helpful WordPress forum plugins to help you get a forum up and running on your site.
Key Features of the Best Forum Plugins (What to Look For)
For those looking to create an online community, WordPress is a great platform to build on. When looking for a forum plugin, it needs to be able to do the job well. Look for these features of the best forum plugins:
User Accounts and Dashboards: User registration and management should be simple and efficient so users can register an account with ease and you can track user activity, receive real-time updates, and engage with the community.
Customization of Styles and Layouts: Look for a forum plugin with a wide range of customization options to help you create a forum that matches your brand's style and layout, from color schemes to custom fonts.
Advanced Moderation Tools: To keep forums clean and spam-free, look for plugins with a variety of moderation tools that allow administrators to manage the content of their forums, including features like moderation queues, flags, and automatic spam filters.
Simple to Use: You want a simple forum that does not inhibit a community from growing, with a user-friendly interface and clear navigation to help users easily find what they're looking for and participate in the community.
Option to Subscribe to Topics and Receive Notifications: Subscribing to topic notifications is an essential feature for keeping users engaged with the forum. Participation is key in keeping the forum interesting and worth visiting.
Compatibility: Ensure your forum plugin is compatible with essential plugins and themes you will use on your site.
The Best WordPress Forum Plugins
Most would agree that the popular WordPress forum plugins is BuddyPress. Although it's free and provides a core foundation for building forums, it is often used with other themes and plugins for a more polished design and user experience. Some of the best membership plugins and LMS plugins have built-in forums using BuddyPress integration. So, we've expanded our list to include other plugins and themes that can help you build online communities with the tools you need.
Here they are:
The Best WordPress Forum Plugins Listed In Order
Expand List
1. Answers by Creative Minds (CM Answers)

Answers by Creative Minds (a.k.a. CM Answers)  is a Q&A-style WordPress forum plugin designed to help you build engaging communities around answering questions. Its forum-like layout and functions focus on questions versus topics—making it perfect for creating a Stack Exchange/Quora-style forum. The basic free version has enough features to start, but the pro version is what makes Answers a great choice for building forums.
Key Features for CM Answers:
Forum topic views and answer counters
Forum-related email notifications for administrators and users
Sorting options in the question and answer pages
The forum template can be easily customized
Ability to monetize forums with PayPal/Stripe integrations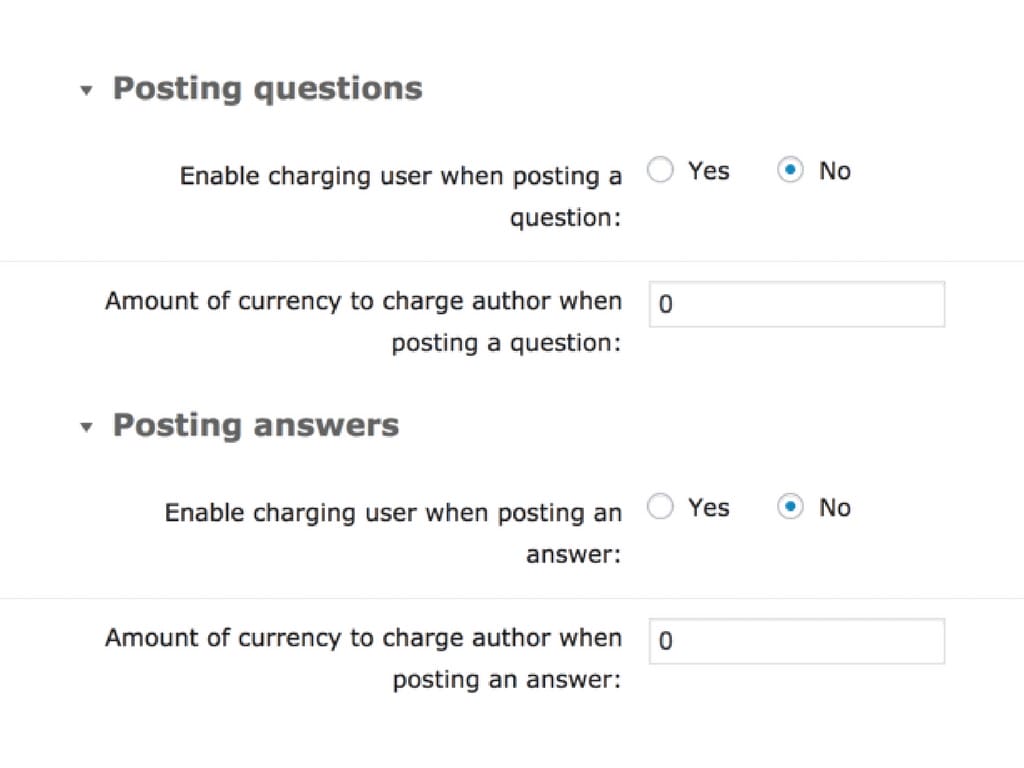 Not only is CM Answers a great tool for building a Q&A-style forum, but it also offers unique features that set it apart from other forum plugins. For instance, website owners can use it to replace the commenting system on regular blog posts (without the need for a comment plugin). And, the forums can be monetized which is an ideal choice for thought leaders and bloggers who want to create a paid community around their offerings.
CM Answers is for you if you…
Need a total Q&A forum solution
Have been kicking around the idea of creating a paid community (similar to a paid Facebook Group or Discord server)
CM Answers Pricing: $39 per year
2. ForumEngine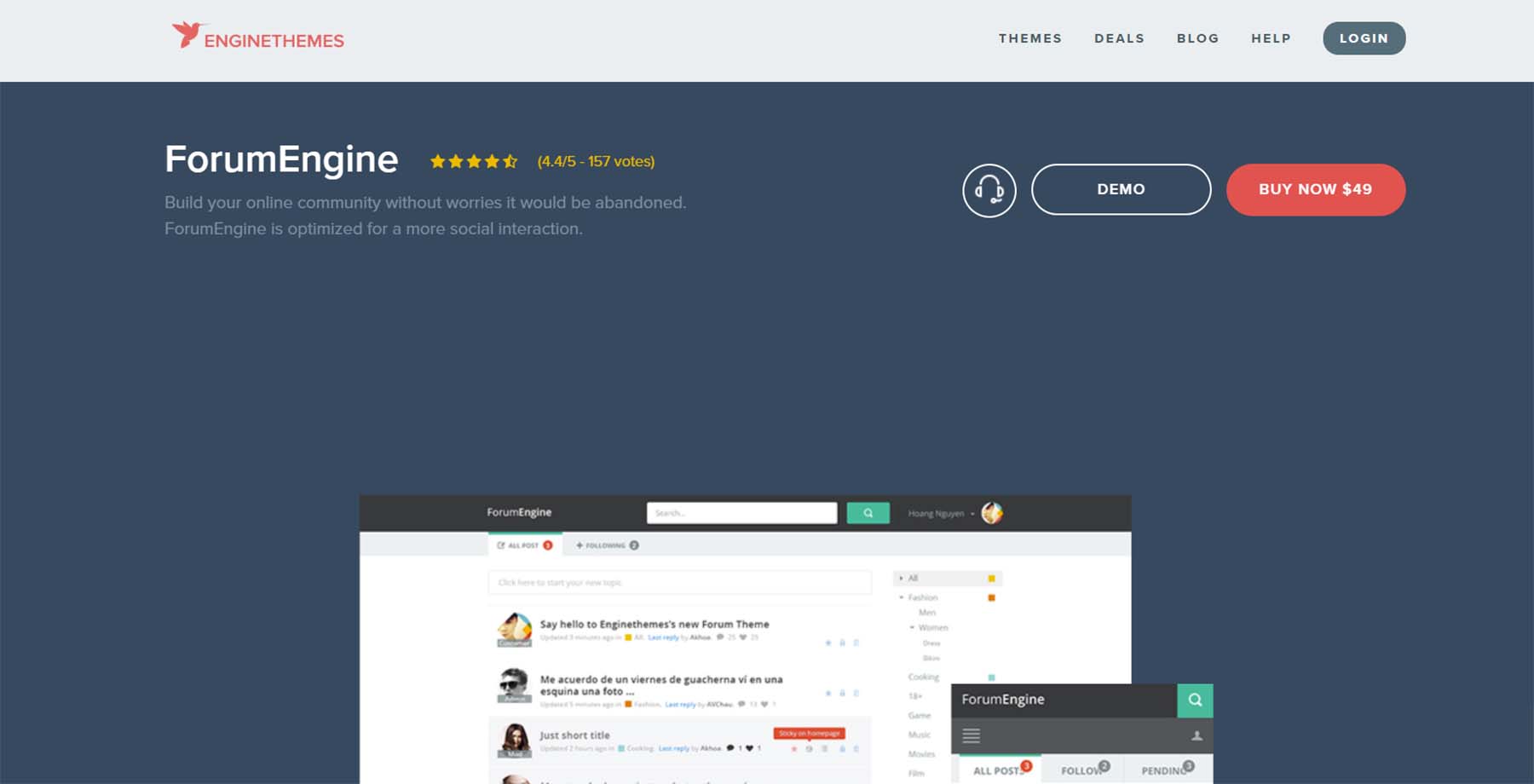 ForumEngine is a WordPress theme that makes it easy to turn your site into a discussion forum. Yes, theme. We've included it for those who may want a complete forum solution (or website) without having to build and design one yourself. A theme may be of particular interest to those who want to run a community forum on a separate WordPress installation on a sub-domain or in a root folder (eg. community.example.com or example.com/community).
Key Features of ForumEngine:
Frontend style customizer with other frontend controls
Adaptive design for mobile use
User badges and achievements
Live notification system
Translation support

One of its standout features is its detailed styling function, which gives you complete control over the look and feel of your forum. That, and individual users can customize styling their way with a front-end styler.
ForumEngine is for you if you…
Have the flexibility to use a theme versus a plugin for your forum solution
Want to pay a low Lifetime (LTD) price for the software
Like an active developer who listens to feedback and posts updates regularly
ForumEngine Pricing: $49 per year
3. Asgaros Forum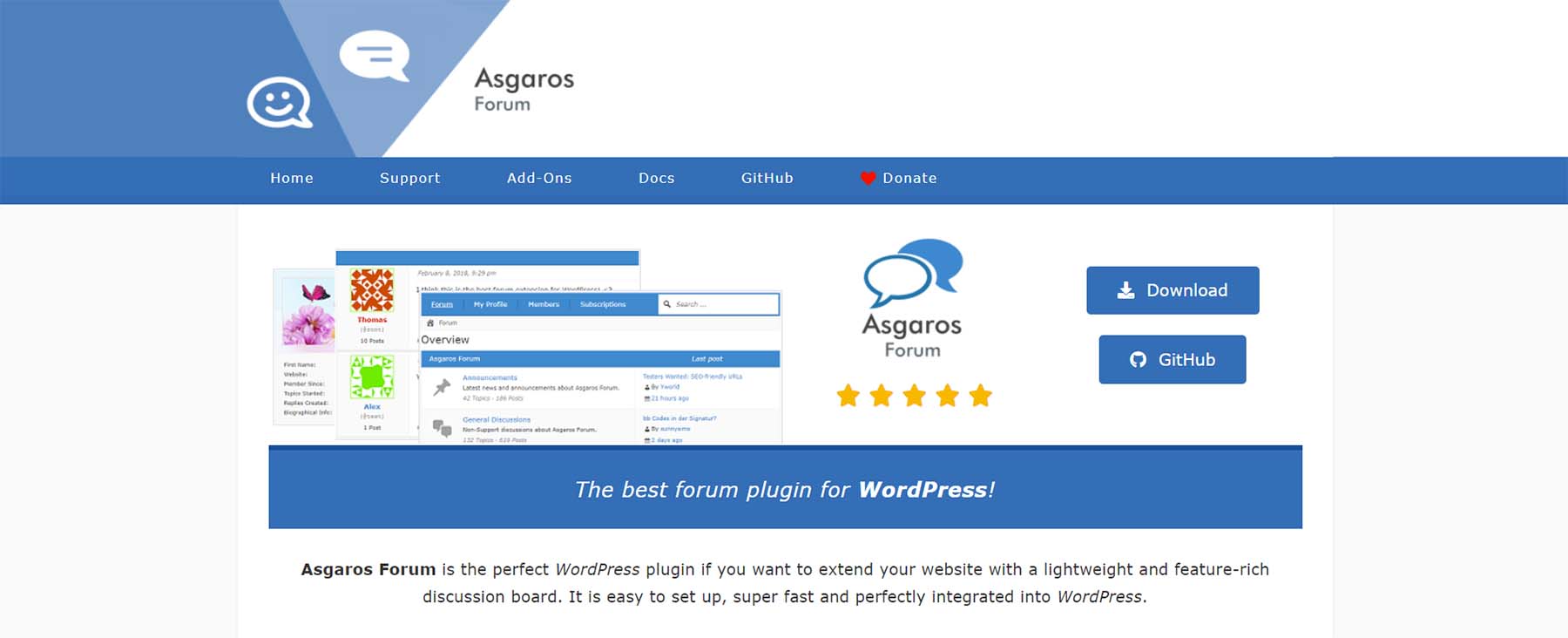 Asgaros Forum is a lightweight and straightforward WordPress plugin that makes it easy to add a forum to existing websites. It's designed to provide all the basic features of a forum without getting bogged down in unnecessary features and bloat, making it an ideal choice for websites that need a small and simple forum.
Key Features of Asgaros Forum:
Users create profiles that come with notifications and personal feeds
Users have access to media uploads within the forum
Forum statistics and analytics
Guests can guest-post within forums
Moderation system for approval processes and forum banning
Compatible with Multisite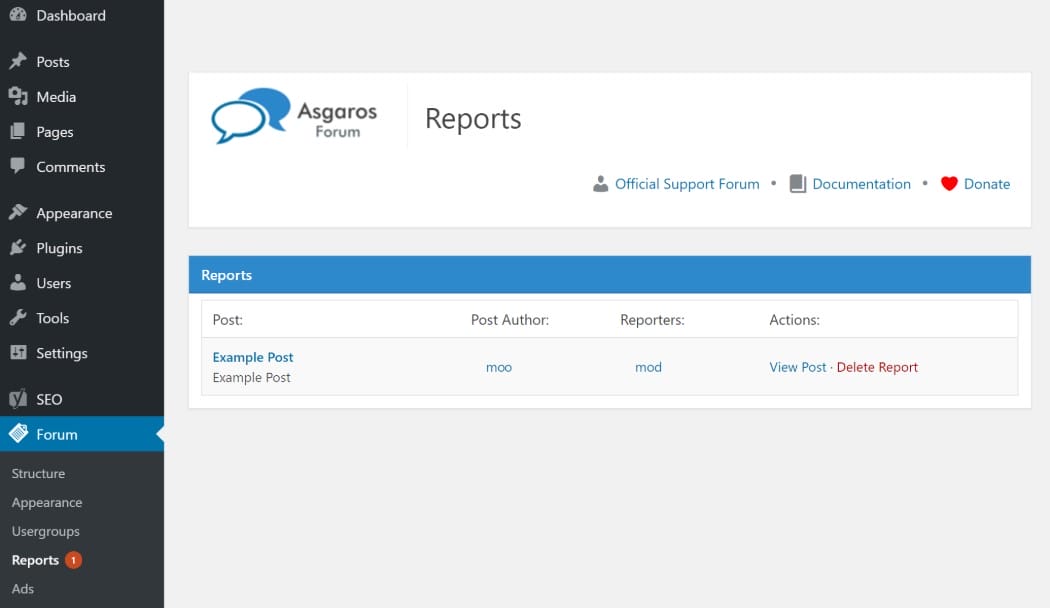 One of the great features of Asgaros Forum is its moderation tools. Moderators have deep visibility about who is online (in real-time), which makes it easy to keep an eye on what's happening in the forum. Additionally, the plugin offers a simple admin page with topic/user monitoring, usage reporting, and moderation tools.
Asgaros Forum is for you if you…
Need a forum solution that can be added to an existing website
Want just enough features to open up a forum but not too many to manage
Asgaros Forum Pricing: Free
4. wpForo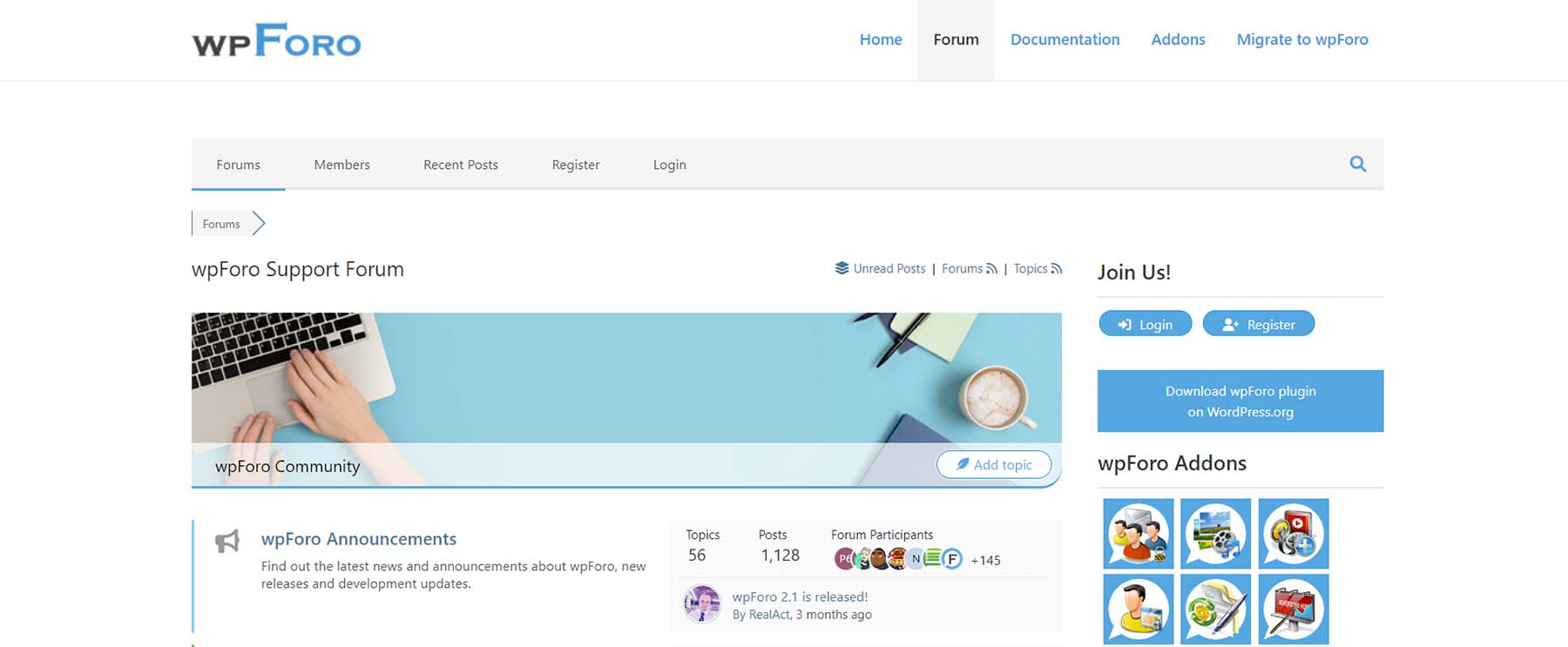 wpForo is a comprehensive and user-friendly forum plugin for WordPress. It allows site owners to easily create modern forums where their users can participate, ask questions, answer, up-vote, and subscribe to topics. This plugin brings everything you need to run an efficient and professional community, including a powerful and beautiful forum with unique features. The core features of the plugin are free, but if you need more, some affordable add-ons allow you to integrate WooCommerce memberships, GIPHY, private messaging, and many more.
Key Features for wpForo:
Easy drag-and-drop forum management system for admins
Member ratings and badges
Built-in forum sitemap, forum SEO tools, and caching system
Six end-user forum styles, including dark mode
Four forum layouts and designs
Built-in topic and forum subscription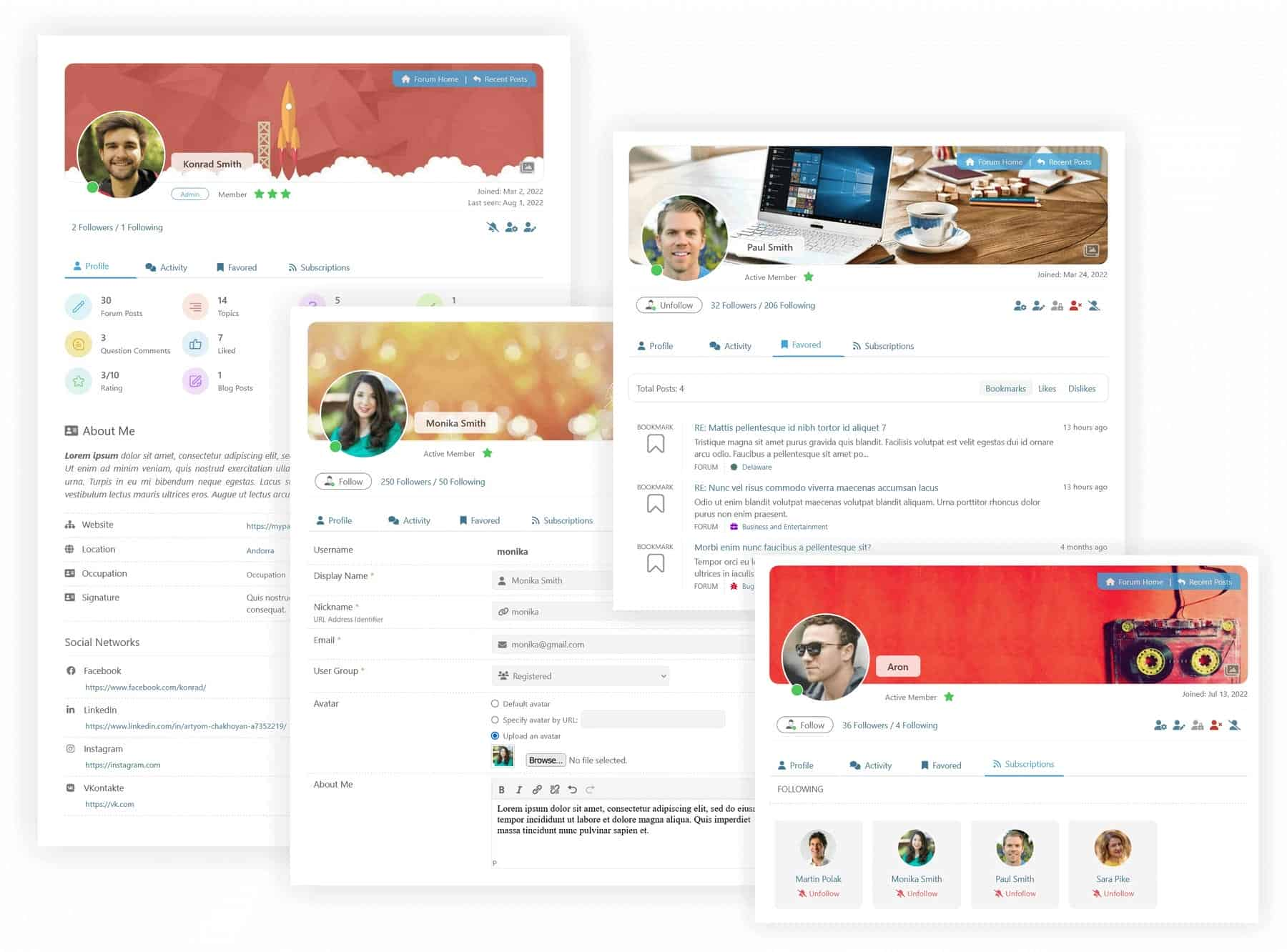 One of the reasons why many users prefer wpForo over other forum plugins is its modern design. Other forum solutions can tend to look dated (plus forums are hard to style anyways). It includes four major layout styles for site admins to use and six styles (sometimes called skins) that individual users can use to customize their experience (including dark mode!).
Engage your community even more with gamification and reward points to users for getting likes and up-votes using MyCred plugin integration.
wpForo is for you if you…
want a modern-looking forum option out of the box
Enjoy the core features and don't mind paying for the occasion extension/add-on
wpForo Pricing: Free with Paid add-ons available
5. WP Discussion Board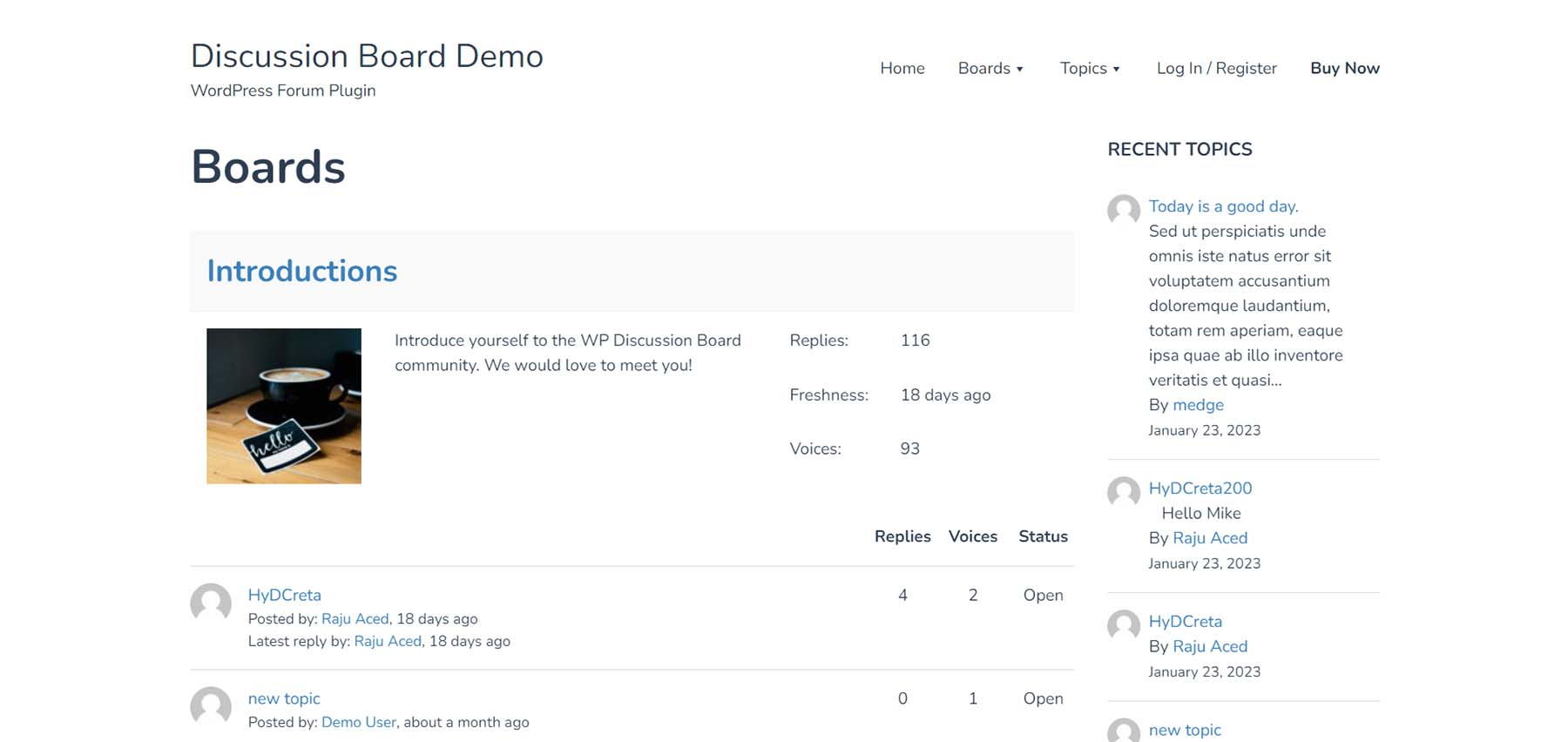 WP Discussion Board – WordPress Forum Plugin is a user-friendly and practical solution for those looking to add a forum to their WordPress site. With a simple setup and a form-driven front-end design, this plugin is accessible to users with no prior WordPress knowledge.
Key Features of Discussion Board:
User management for forum administrators
Frontend user self-serve and management
Spam reduction tools
Shortcode library to show forum on other pages and posts
Designed to look beautiful and work with any theme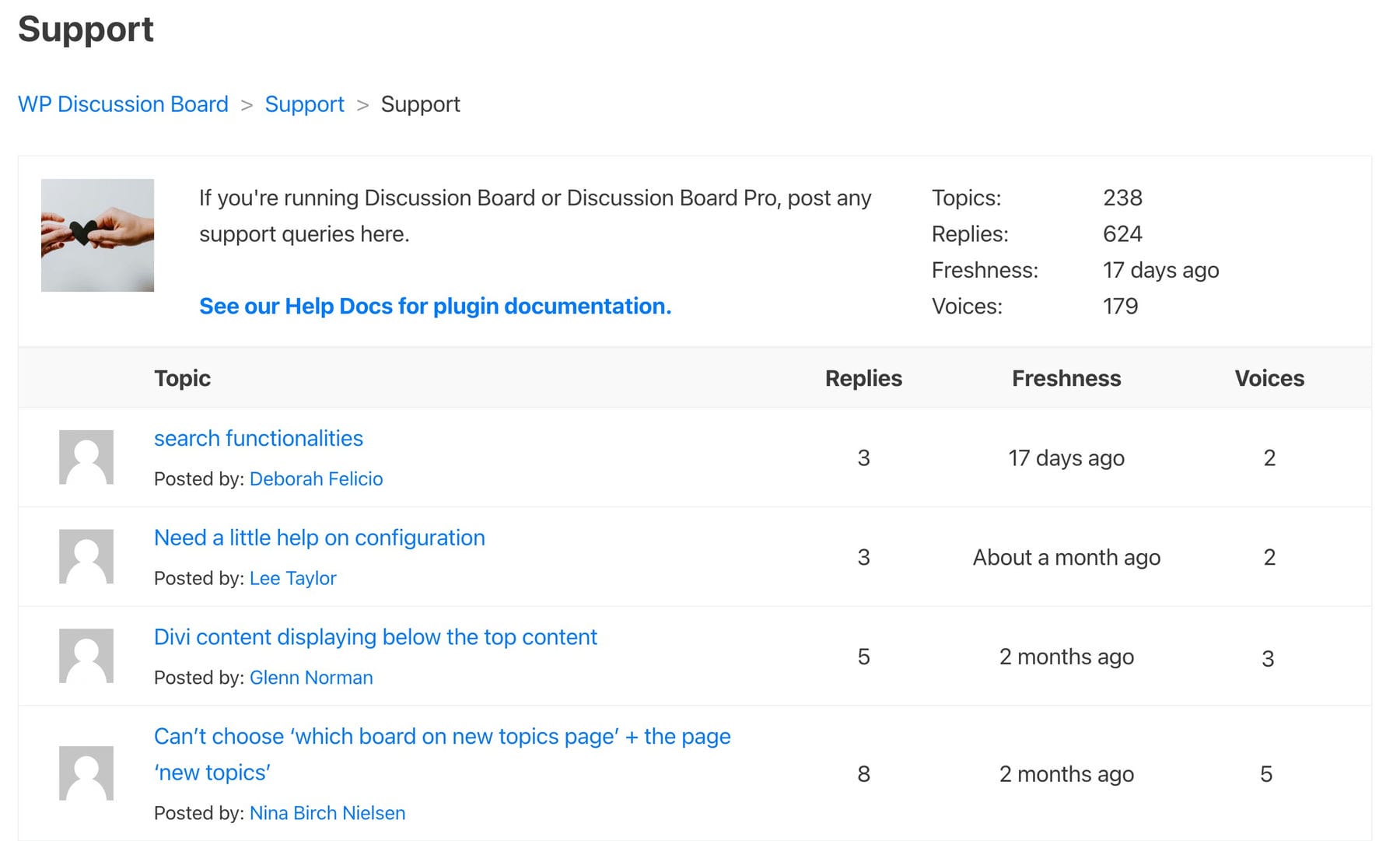 The Discussion Board offers a minimalist and modern forum that can be placed anywhere on your WordPress website. The user registration process is streamlined and effortless. Overall, Discussion Board is easy to look at which isn't the case with every forum plugin out there.
Discussion Board is for you if you…
Like the idea of using form submissions as part of the forum experience
Need dedicated moderation and spam protection tools built-in
WP Discussion Board Pricing: Free; Paid plans start at $49 per year
6. BuddyPress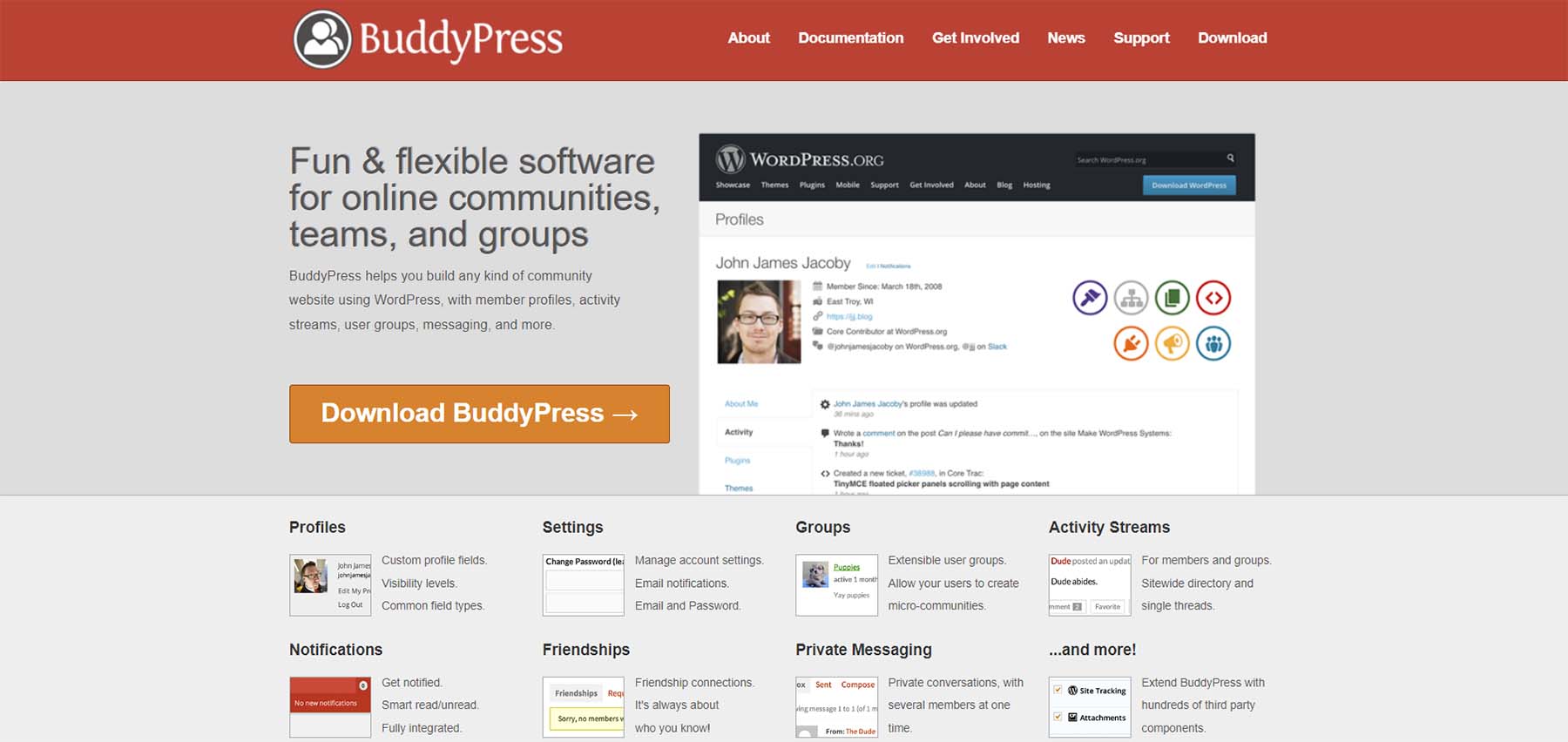 BuddyPress is a powerful plugin developed by the same team behind bbPress and WordPress. It goes in a slightly different direction than bbPress in that it can transform your website into a social media network. BuddyPress can work with any WordPress theme to help you create an online community complete with user profiles, messaging, and networking options. It's ideal for business owners and bloggers who want to build a community around their content and product.
Key Features for BuddyPress:
Users can control profile visibility
Admins can create custom profile fields
Friendships and friend connections
Public and private messaging
Customizable emails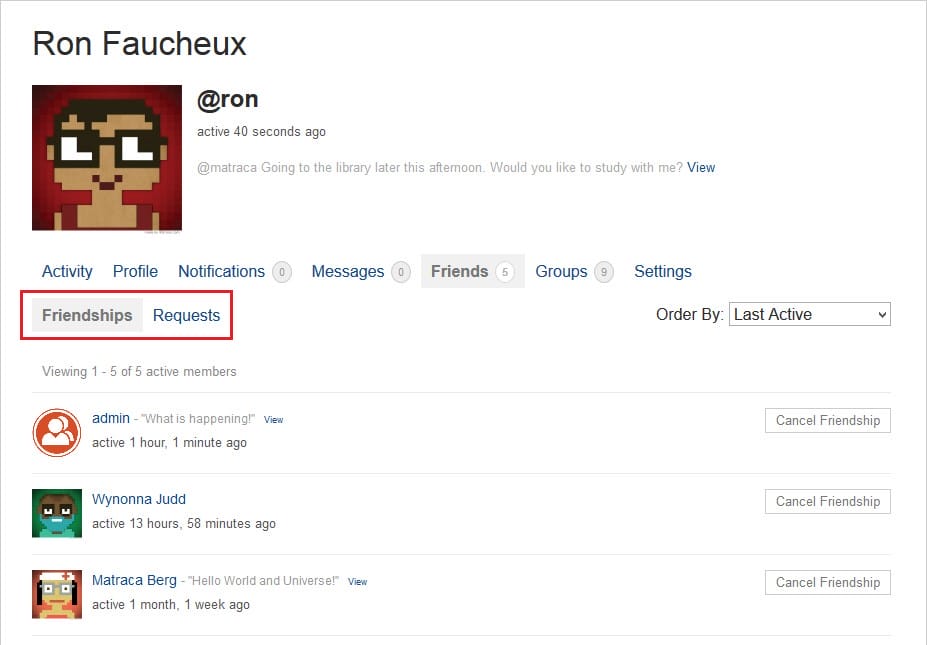 Forums are often great for creating community. BuddyPress goes the extra mile and brings social networking functionality directly into a WordPress website. It offers an exciting alternative to traditional forums and comment plugins with less emphasis on "staying on topic" and more emphasis on community engagement.
BuddyPress is for you if you…
Like the idea of building a social network for your users directly on your site
Want community engagement that goes beyond forums
Don't mind the extra setup that is entailed in creating social features
BuddyPress Pricing: Free
7. Sabai Discuss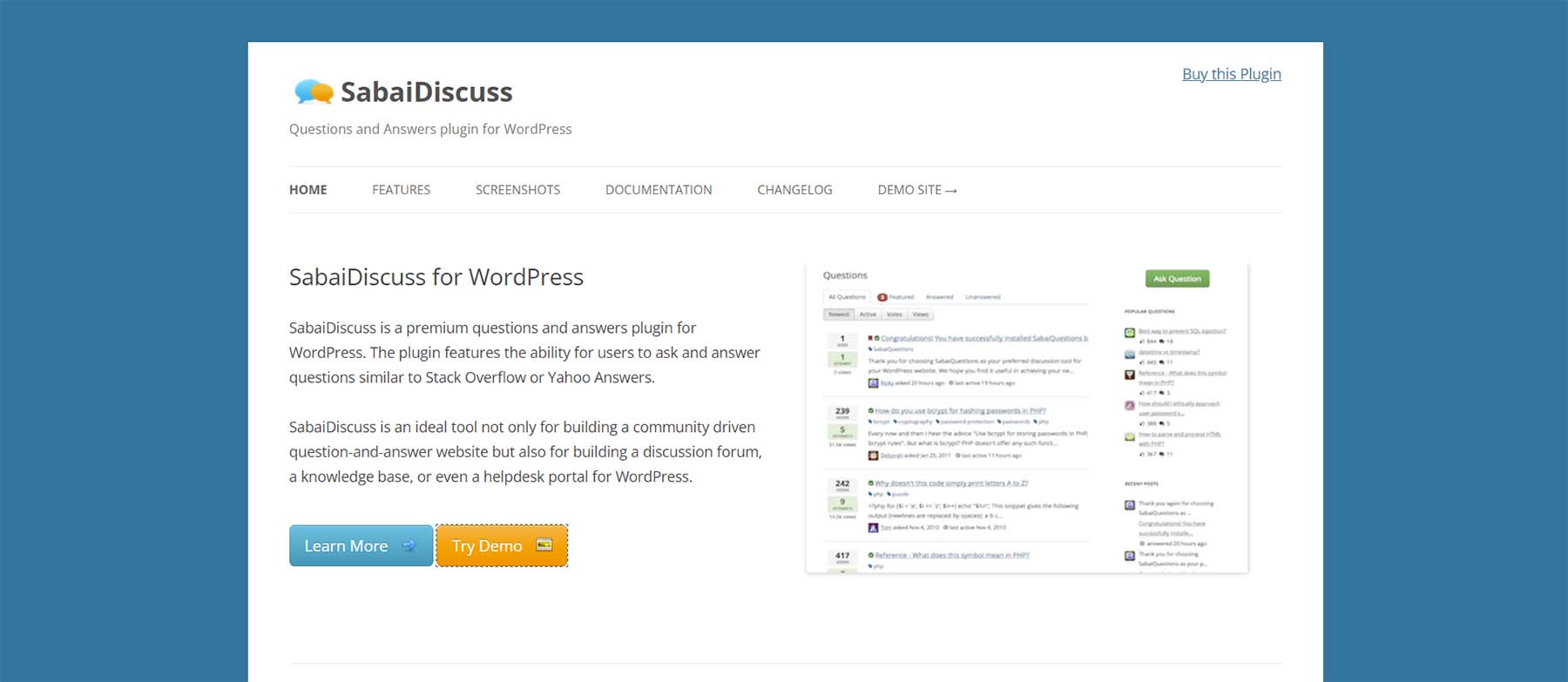 Sabai Discuss is a premium WordPress plugin that offers a unique take on forums. It combines the best of both worlds by offering both a discussion stream and a question-and-answer tool, making it ideal for those who want to create a community-driven Q&A website, a discussion forum, a knowledge base, or even a helpdesk portal.
Key Features for Sabai Discuss:
Discussion Stream makes it easy to stay on top of new activities with a streamlined information feed
Voting engine for threads within the forum
Upvote or downvote questions
Moderation system with user reporting
Forum users can use the frontend markdown editor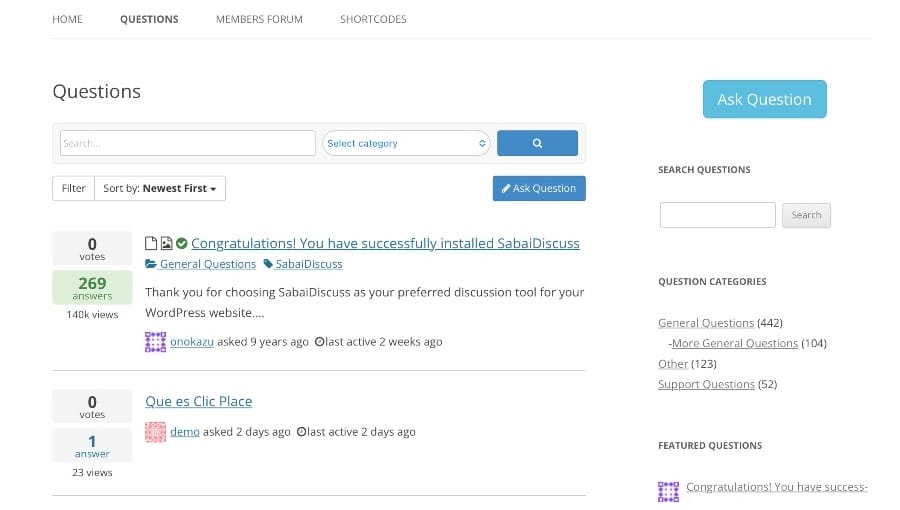 One of the standout features of Sabai Discuss is its attractive and easy-to-read interface. It's designed to look like a Q&A platform like Quora or Stack Overflow, and it does so in a way that's both functional and visually appealing. This makes it a great choice for those who want a forum that feels modern and engaging.
Sabai Discuss is for you if you…
Enjoy purchasing products from Envato Marketplace
Need a Q&A-based forum setup
Sabai Discuss Pricing: $24 (LTD) with 6 months of support
8. Simple:Press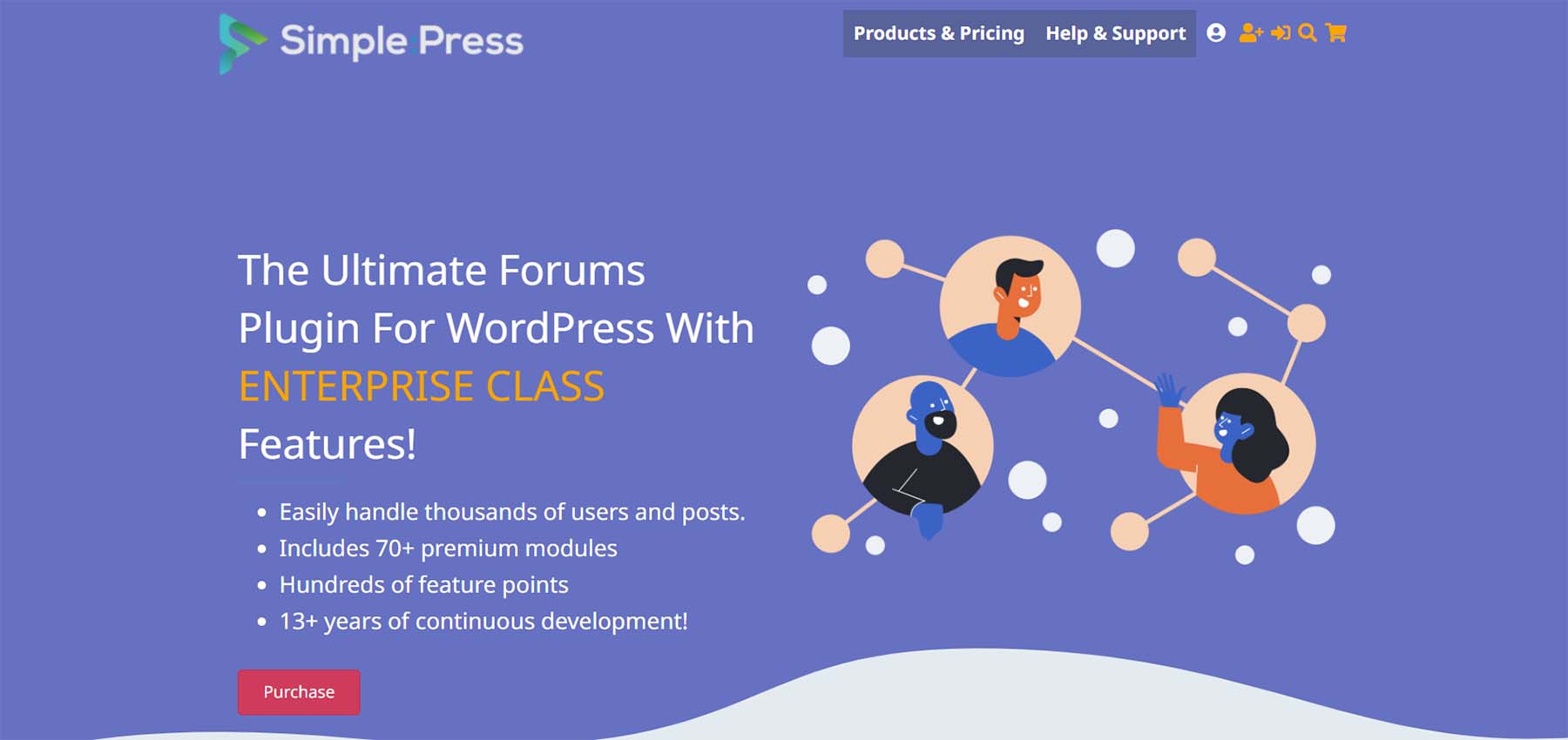 Simple:Press is a feature-packed WordPress forum plugin that offers a sleek and customizable interface. Its threads are clean and have simple colors that complement your website's content. The free version is fairly basic, but you can enhance its functionalities by purchasing a premium plan. Ideal for businesses that are planning for very large and complicated communities.
Key Features for Simple:Press:
Sub-forum support
Forum ranking and badges
User-defined signatures
Upload avatars or use Gravatar or WordPress avatar
Forum statistics for the admin
Member profile options for users
Monetization potential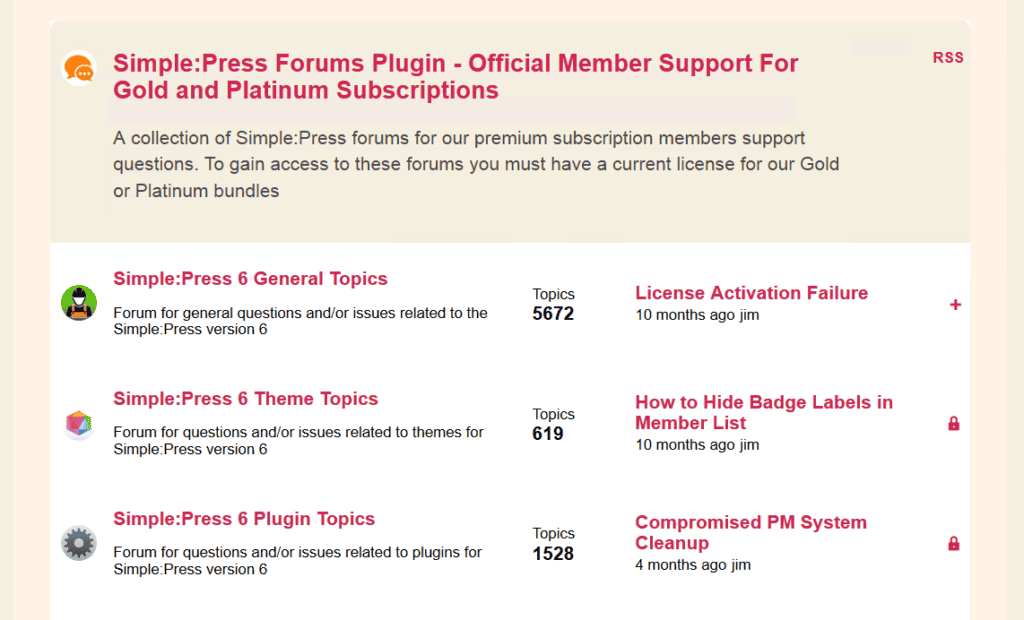 Simple:Press touts itself as an enterprise solution. If you are looking for a robust and complex community forum, Simple:Press aims to be the ideal plugin for your needs.
Simple:Press is for you if you…
Have enterprise-level dreams for your community
Don't mind paying a pretty penny for advanced features
Want a modern-looking forum
Simple:Press Pricing: Free; Paid plans start at $199 per year
Comparing All the Best WordPress Forum Plugins
Our list of the best WordPress forum plugins provides you with a glance into what's available to you as you build your online forum. Should you want to monetize your community, you can consider using a forum plugin with a membership plugin like MemberPress or Paid Memberships Pro. However, if you are just looking to build an online community, our list has plenty of options.
Forum Plugin Price Comparison
Before deciding on a forum plugin, perhaps you'd like to try one of the free options on our list. Doing so will give you the opportunity to try before you buy. However, if you need a little help with your decision, we've created a comparison table complete with pricing.
Forum Plugin Feature Comparison
Our top three entries offer different approaches to creating an online community. If you want to create a forum for people to find answers to their questions, CM Answers is a great option. Alternatively, you can take an all-in-one approach with ForumEngine, a robust forum theme that will have your online community up and running in minutes. Finally, there is Asgaros Forum, which is a great option if you want a lightweight plugin complete with a moderation system and multisite support.
🥇 CM Answers

🥈 ForumEngine

🥉 Asgaros Forum

Starting Price
$39/year
$49/year
Free
Live Notifications
✔️
✔️
✔️
Customizable Templates
✔️
✔️
✔️
Multisite Support
✔️
✔️
✔️
Multilingual Support
✔️
✔️
✔️
Guest Posting
✔️(pro)
✔️
✔️
Topic Subscription
✔️
✔️
✔️
Community Rating
4/5
⭐⭐⭐⭐⭐
Read Reviews
N/A
5/5
⭐⭐⭐⭐⭐
Read Reviews
Get CM Answers
Get ForumEngine
Get bbPress
What is the Best WordPress Forum Plugin?
When choosing any plugin on WordPress, it is important to look at features and pricing carefully. This means paying careful attention to what is (and isn't) offered with each pricing tier. WordPress offers many great free and cheap options for forum plugins, but in our opinion, CM Answers deserves the top spot. With a simple interface, customizable templates, and the ability to monetize, it's an excellent option to build your community.
Frequently Asked Questions (FAQs)
Before we wrap up, let's answer some of your most common questions regarding the best WordPress forum plugins. Did we miss one? Leave a question below, and we will respond!
Which is the best WordPress forum plugin?
CM Answers
is the best Q&A-styled forum builder. It lets you easily create your own community-run help forum by letting users ask and answer questions. It works much like Stack Exchange and Quora in that users ask questions and invite others to respond.
What is the best free forum plugin for WordPress?
BuddyPress
, created by the same developers behind WordPress, can convert your site into a social network. It offers user profiles, private messaging, and networking capabilities, making it a perfect choice for individuals aiming to cultivate an online community around their ventures. Therefore, BuddyPress is the best free forum plugin for WordPress.
How do I create a forum with WordPress?
WordPress is the perfect platform to create a forum using. The first step is to decide which
forum plugin
you want to use. From there:
Configure the plugin settings. Once you have chosen a forum plugin, you must configure its settings. This includes the forum's name, description, and public visibility & access rules. You can also set permissions for users, moderators, and administrators.
Promote your forum. Once your forum is set up, you must promote it so people know about it. You can add links to your forum from your websites, social media pages, and other online channels.
Moderate your forum. It is important to moderate your forum regularly to ensure that it is a safe and welcoming space for everyone. This includes removing spam, offensive content, and other inappropriate posts.
Adding a free WordPress forum plugin has never been easier than it is today.
Can WordPress be used as a forum?
Many plugins and themes are available that transform a WordPress blog into a feature-full forum ready for your engaged community. You can add it to your existing website or create a new website that runs the forum.
Is it free to create a forum with WordPress?
What are WordPress forum plugins?
WordPress forum plugins
let you add a discussion forum to your WordPress website. These plugins enable users to interact, discuss topics, and build communities online. They come with features like user accounts, customization options, advanced moderation tools, and more, fostering engagement and creating a dynamic platform for communication.
What features should I look for in a WordPress forum plugin?
When
choosing a WordPress forum plugin
, consider ease of user registration, style customization options, and advanced moderation tools. An intuitive interface with easy navigation is crucial for user engagement. Also, look for the ability to subscribe to topics, receive notifications, and check compatibility with your existing plugins and themes.
Can WordPress forum plugins integrate with my existing WordPress theme?
Yes, WordPress forum plugins can work well with your existing WordPress theme if it is from a reputable developer. It should work fine as long as it has been developed per WordPress theme guidelines and the CSS does not conflict with your forum plugin elements.
What is the best WordPress forum plugin for eCommerce websites?
wpForo
is an excellent choice for eCommerce websites. This comprehensive plugin makes it easy to create modern forums and includes features like up-voting and topic subscriptions. Plus, with add-ons, it integrates seamlessly with WooCommerce for membership and transactional functionality, enhancing your eCommerce experience.
Is there a WordPress forum plugin that allows for monetization?
Yes, the
CM Answers forum plugin
provides an opportunity for monetization. This Q&A-style forum plugin allows website owners to integrate PayPal and Stripe, making creating a paid community possible. This feature sets it apart from other forum plugins and is ideal for thought leaders and bloggers.
What are the best themes to use with WordPress forum plugins?
You can use any of the popular classic themes with a forum plugin. Astra,
Divi
, Kadence, and OceanWP are some themes that work with almost any plugin. If you use a custom-built theme, you must ensure that you have some basic CSS formatting and a more than 900 pixels wide template.
Looking for more great plugins? Check out this list of the best WordPress plugins, which includes a top recommendation for each plugin type!
Featured Image via M. Ageng sumantri / shutterstock.com